I was raised in the warm sunny southern city of Richmond, Virginia. It was a fine place to grow up, but when I graduated high school, I was chomping at the bit to see something different for my college experience. 
Eventually I landed on Concordia University in Montreal, Canada. Here was that "something different." 
Montreal is a city where everyone speaks more than one language, or has several citizenships, and dresses in outlandish Northern fashions. It's a North American city with an old world European charm and I was smitten as a kitten. 
Just like the rest of the Canadian metropolises, Montreal is home to people from all over the world: Quebecois, Anglophone Canadians, a large French and Arab community, a historic Jewish community, First Nations/Inuit peoples, American expats; the list is truly endless. During my time here I met some of the most amazing people that I still keep in touch with till this day.  
Let's start with the basics and talk about your hotel and Airbnb options.
Whether you're traveling with your family, friends, or partner, Montreal has some great places to rest your head for the night. Some of the more desirable and ideally located neighbourhoods to look for Airbnbs are the Plateau, Mile End, and Mont Royal. These neighbourhoods are where you can find a lot of shopping, good food, and some lovely outdoor parks.
For those of you who prefer a hotel, whenever my parents came to visit me at college they stayed at one of two options. 
The first is Hotel 10, right on the corner of Saint Catherine and Sherbrooke in the Plateau. This is a great option because it is centrally located and on two major boulevards making it very easy to find either on foot or in a car.  My mother also found the staff at this hotel to be more than hospitable and was on a first name basis with the doorman after day one. 
Another option is Hotel Chez Swan on Drummond Street in downtown Montreal.  This hotel is actually very close to the Concordia University city campus as well as a lot of bars, restaurants, and shopping.  Chez Swann is located in more of a tourist/college area but the hotel is gorgeous.  It has the feel of a boutique hotel with very modern and whimsical interiors.
Depending on what time of year you visit Montreal your wardrobe requirements will definitely change. Whatever the season, don't feel shy about what you want to wear in this town because you are in a completely judgement free zone. Personally I once wore a floral bikini top, a body harness, and Adidas track pants to a Spice Girls dance party. That was considered to be an understated look. Some people wore nipple pasties as their entire shirt for an evening under gigantic fake fur coats.
Speaking of Bar Le Ritz, there is no better ground to test some of the more risky portions of your wardrobe than a night out on the town. When it comes to going out options Montreal has far too many for the good of one individual. At the age of twenty-five, I am now a home body because of the diversity of partying I experienced in Canada. They have got your underground raves, EDM joints, R&B Hip-Hop dives, breweries, raunchy drag shows, and no shortage of themed dance parties.
As far as transportation you have several ways to get around the city. Montreal's metro is honestly the best, cheapest, and most efficient way of getting around town because it is open and snow free all year round. They have day, weekend, and weekly passes starting at only ten dollars. Keep in mind though that the metro does close down at around 1:00, however, it is different for every station so I wouldn't try to catch a train any later than midnight. My suggestion is to save your Uber rides for after the metro closes or if you're destination is more than 30 minutes away by metro.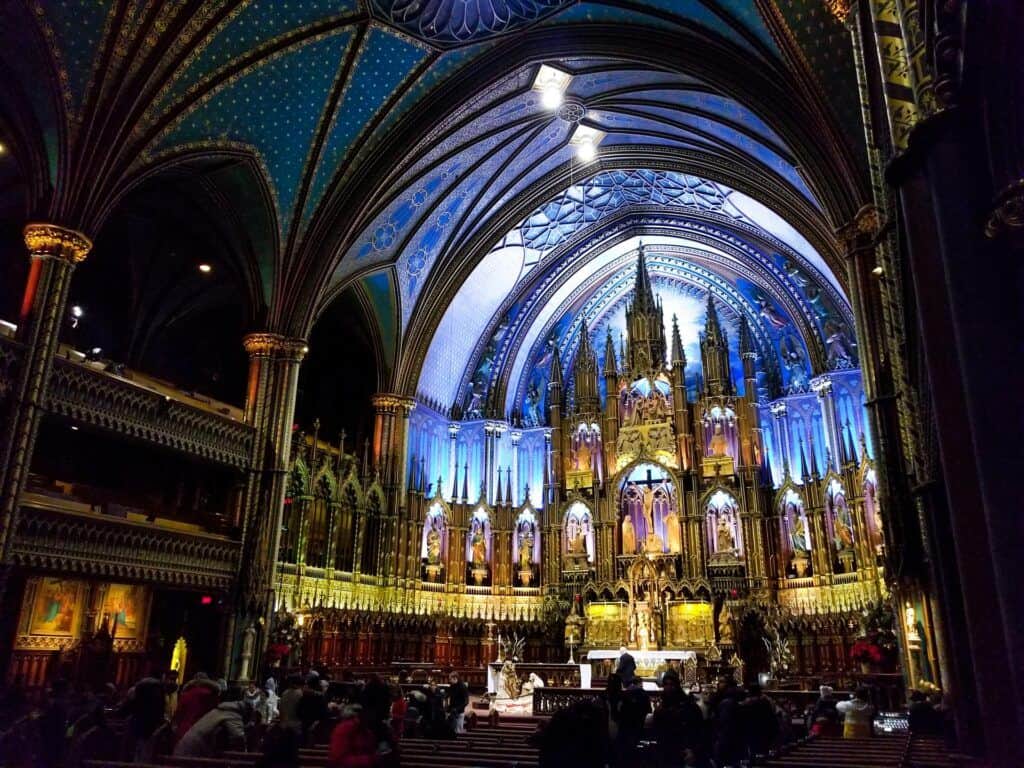 Day One (Friday):
Notre Dame Basilica of Montreal
We will start your trip in the place where it all began for Canada as a nation: Old Port.
This historic neighbourhood is filled with ships, multi-million dollar apartments, horse drawn carriages, and the Notre Dame Basilica du Montreal. This is one of the most beautiful catholic basilicas I have ever seen in North America; a Gothic revival built in 1824, mirroring the structure of its cousin in Paris.
However the Basilica du Montreal includes some amazing artistic works about Montreal history. Take special notice of the stained glass windows that depict scenes and important figures.
The first thing that you will notice when you enter the basilica is the giant pulpit with figures and scenes from the Bible. The basilica was named for the Virgin Mother, and the entire design of the interior is meant to reflect the presence and purity of Mary. The ceiling is painted a deep cerulean blue (Mary's signature colour) with 14 karat gold stars everywhere.
This basilica is so beautiful that every time my mother came to visit we always went down to Old Port for lunch and a visit to the Notre Dame du Montreal, and we're Jews.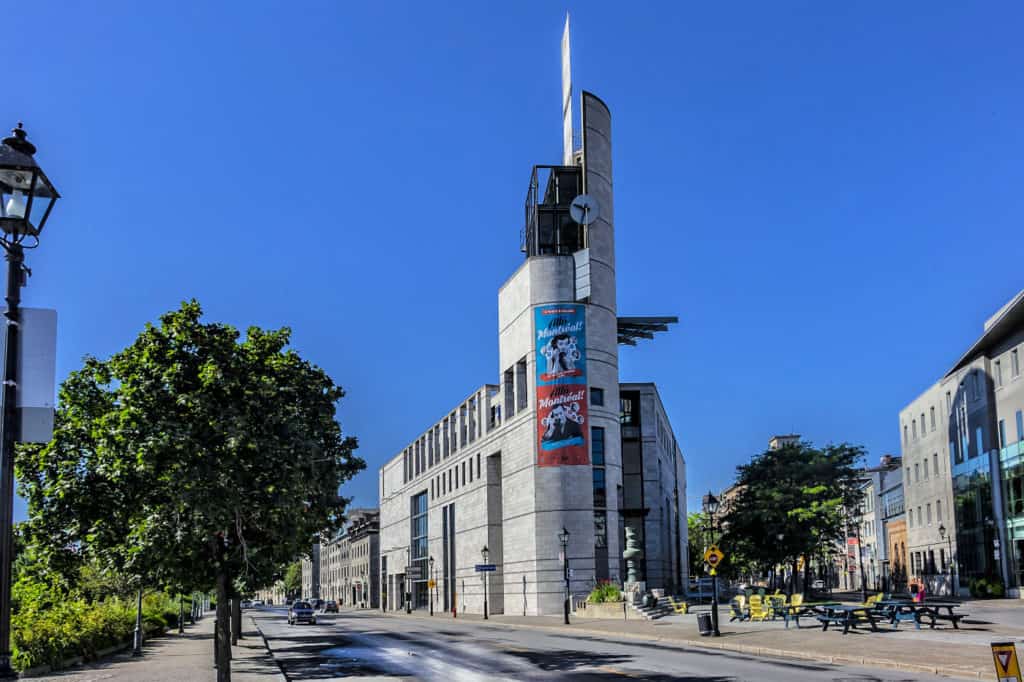 Visit Pointe-à-Callière Archaeology Museum
On the edge of the Saint Lawrence, just a five-minute walk from the Notre Dame Basilica, is a portal to Montreal's origins at the Pointe- à-Callière Museum.
The layers of archaeological remains show how Montreal grew from an Iroquoian village into a missionary colony.
Natives frequented the site for at least 4,000 years before the French founded a town there in 1642. The colony continued to develop, becoming the gateway to the French colonies in North America, the fur trade, and later the first great Canadian metropolis.
Glass flooring suspends you over the excavated remains of the colony with additional artefacts and tools lining the walls.
Since 1992, conservators and archaeologists have continued to excavate Ville Marie, presenting to visitors from across the world the full life and experience of a colonial settler in the New World.
Don't hesitate to check out some of their other temporary exhibitions, like Montreal a L'Italienne, which celebrates Italian culture and style history in French Canada!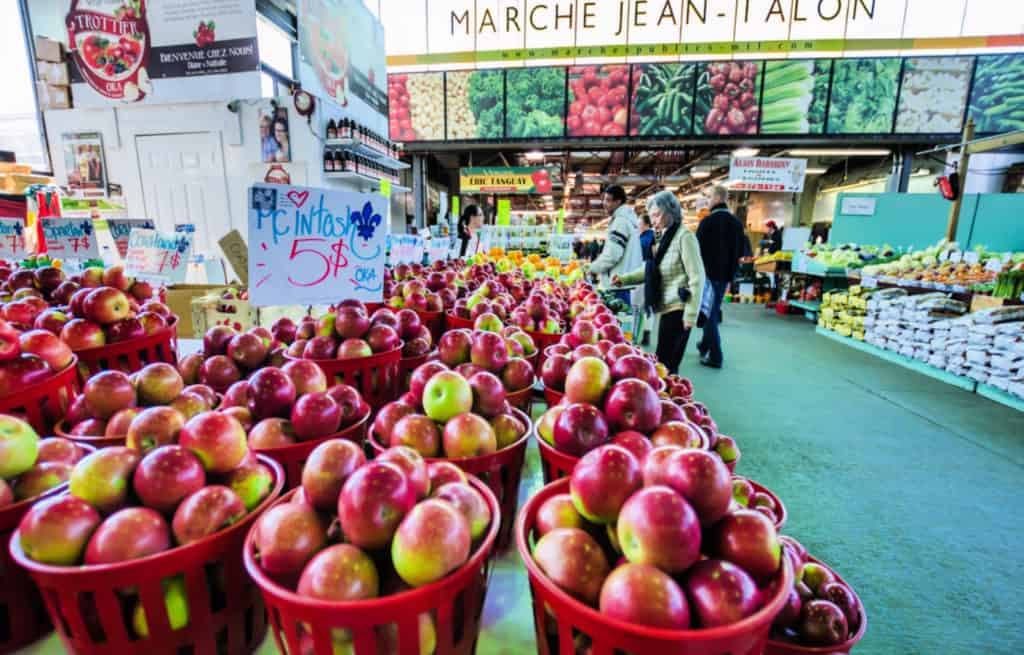 Sample the Food and Cuisine of Jean Talon Market
One of the best spots in town for food is Jean Talon Market in Little Italy.
This is the place my friends and I always went when no one could decide what they wanted to eat for lunch. There are enough options to satisfy any craving.
My go-to place in the market is El Rey Del Taco for their carnitas tacos.
Fair warning it is next to impossible to not leave with a bag full of fresh groceries from the market. The level of variety here at Jean Talon is endless: baked goods and pastries, local maple syrup, cheese, fish, flowers, meats, sausages, coffee, and more.
Don't be overwhelmed by all the options. Jean Talon's website has all the information you may need including a map of the entire market and its stores.
I recommend packing a picnic blanket and getting your carnitas to go, because just a few minutes away is Jarry Park. Make sure to swipe a bottle of bubbles from the SAQ, because no Montreal picnic is complete without a little bit of an alcohol buzz.
Late Dinner/Drinks at Restaurant Le Majestique
If you happen to be visiting Montreal with your significant other, I would highly recommend going out for a proper date while you're in the city.
Doll yourselves up and head to Le Majestique on Saint Laurent.
This seafood and oyster bar was one of my favourite places for romantic dates in the city because of the top-notch wine, beer, and cocktail menu.
Order some oysters, or any other delicious option from the menu or just sip on a Violette l'a Echappee made with white keys, crème de Violette, and citron. The warm amber aesthetic of Le Majestique and its alcohol are sure to charm both you and your lover.
An Evening With the Drag Queens at Cabaret Mado
Have you ever seen a bio-queen perform a burlesque strip tease to Prince's "Purple Rain"?
Cause I have, at Cabaret Mado in Montreal's Gay Village! At the tender age of eighteen, this was the very first drag show I ever saw and honestly, I haven't seen another show that even compares.
The 1920s inspired interior coupled with the most breathtaking gender-bending performances and an amazing playlist will keep you singing and dancing all night. Fair warning: this is one raunchy show, so if you have an attractive partner be warned, these divas don't hold back and have almost too much fun playing with the audience.
Apartment 200 (Alternative Option)
If you want to have a more boujie aesthetic for the evening then check out Apartment 200 in the Plateau.
This is a club where you can get all dolled up in your makeup and heels, order bottle service, and chill on fine leather couches while listening to the best of Future.
This was the club my friends and I went to when we wanted to dress up a little fancier than usual and have mysterious strangers buy our alcohol.
Keep in mind that the line for this club gets longer and longer as the night rolls on, and charm won't get you past the bouncer (trust me I've tried it). I would highly recommend making a table reservation on their website if you're a larger party, or want to guarantee yourselves entrance.
Day Two (Saturday):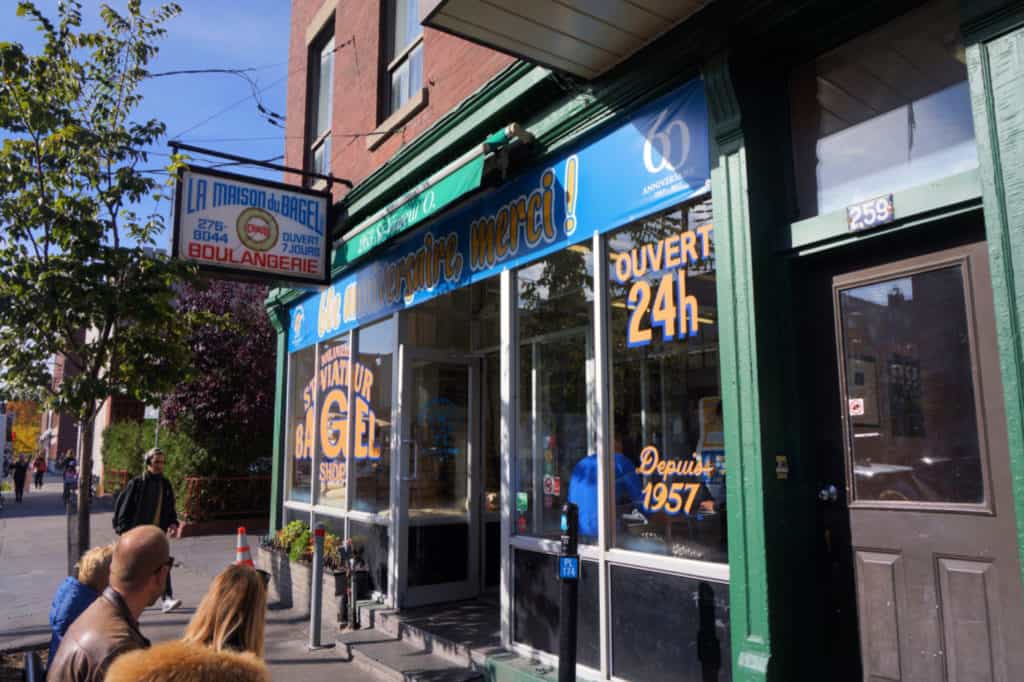 Bagels for Breakfast
It's breakfast on the run this morning with the signature Montreal Bagel from St. Viateur Bagels in Mile End. This bagel haven was started by Holocaust survivor Meyer Lewkowicz in 1957 and has since remained a family operation. For those of you familiar with the New York bagel, prepare to step into a whole other world of food flavor because the Montreal bagel is sweet! At only $1 per sesame seed bagel I would recommend loading up on two dozen to haul back home. These bagels freeze and re-toast beautifully, an edible memento of your trip.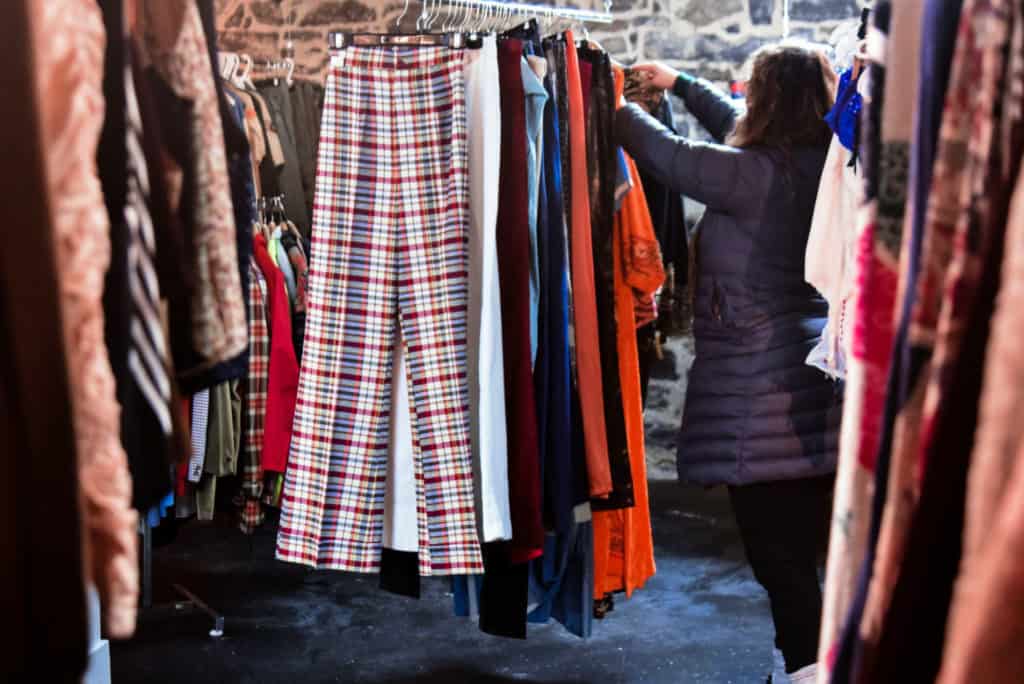 Thrifting on Saint Laurent and in the Mile End
If you have a penchant for clothes than I would advise you to bring an extra suitcase on this trip. The thrift shopping here is some of the best that I have ever experienced with a nicely curated selection of vintage fashions. There are two major hubs of thrift shopping in Montreal, Rue Saint Laurent and the Mile End neighbourhood. Since you are already in the Mile End I would start at Le Boutique 63 on Mont Royal and then make your way down Saint Laurent Boulevard. Definitely check out Eva B. right up the hill from the Saint Laurent metro station. This trove of treasures is where I procured my beloved chocolate brown Dianne Von Furstenburg wrap dress and orange suede cowgirl boots.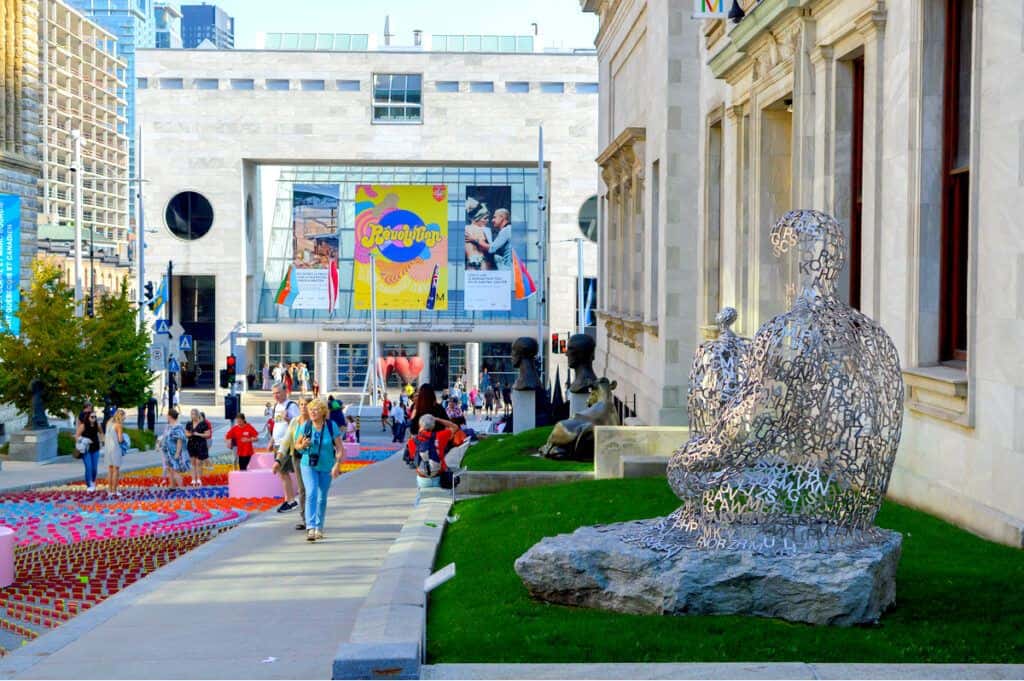 Le Museé des Beaux's Arts
On rainy days, my friends and I would visit the new and permanent exhibitions at the Museé Des Beaux Arts.
This internationally acclaimed museum features over 45,000 works of art from Canada and around the world. Some past exhibitions I attended included works by the noted American portrait artist Kehinde Wiley, landscapes by two-spirit indigenous artist and activist Kent Monkman, as well as an exhibition of art and artefacts from Pompeii.
The current temporary exhibition is entitled Riopelle: The Call of Northern Landscapes and Indigenous Cultures featuring works by modern artist Jean Paul Riopelle. Riopelle's work explores Northern and Indigenous cultures through his fishing and hunting experiences in the far North during the 1970s.
Dinner on Notre Dame Street
Fine dining is a large part of Montreal culture. This is a city that takes a lot of pride in its food and drink, and it is a well-deserved pride.
In West Montreal, on Notre Dame Street, are three of the best restaurants in North America: Joe Beef, Le Vin Papillon, and Liverpool House. All three restaurants are owned and operated by the same team: world-renowned sommelier Vanya Filipovic and head Chefs Frederic Morin and Marc-Olivier Frappier a.k.a. "Marco."
Liverpool House and Joe Beef's take patrons back to the basics of good cooking serving the freshest cuts off beef and fruit de mer in the city.
Le Vin Papillon is a little wine bar that offers a small plate dining experience with a seasonal menu, and international organic wine selections.
For two summers, I worked at Le Vin Papillon/Joe Beef and it was one of the best jobs I ever had (mostly 'cause food and drink were free). During my time there, I served a litany of famous individuals including Martha Stewart, Jennifer Lawrence, Tom Felton, and Woody Harrelson.
Reservations are a must at Joe Beef and Liverpool House! Le Vin Papillon doesn't take reservations so I would recommend getting there before 7:30 to avoid the rush.
Dancing at Club Datcha
Out in Mile End on Rue Laurier Ouest, is a small dance club and bar that is known for its neighbourhood vibe, low lighting, and portraits of Rasputin and the Romanovs. Welcome to Datcha, Montreal's only Russian-themed EDM club. The DJ starts playing in the afternoon around 6:00pm and goes until the wee hours of the morning. This place is definitely a city favourite because of its intimate nature. You can show up in a leather harness or your pyjama bottoms, it doesn't matter, everyone is accepted. All people care about is that the music and dancing doesn't stop.
Moonshine (alternative option)
If you happen to be in Montreal the Saturday after the full moon and want to experience some of the more underground aspects of the city's nightlife than I highly recommend you check out Moonshine.  Montreal's music and party kingpins orchestrate these raves in some of the most remote and obscure corners of the city.  My very first Moonshine was in the underbelly of an abandoned parking garage, complete with a giant sound system, crazy lighting, and loads of half naked people.  But don't let that scare you!  These events are more than safe and never disappoint if you're looking for a memorable night. (https://www.facebook.com/moonshinemu)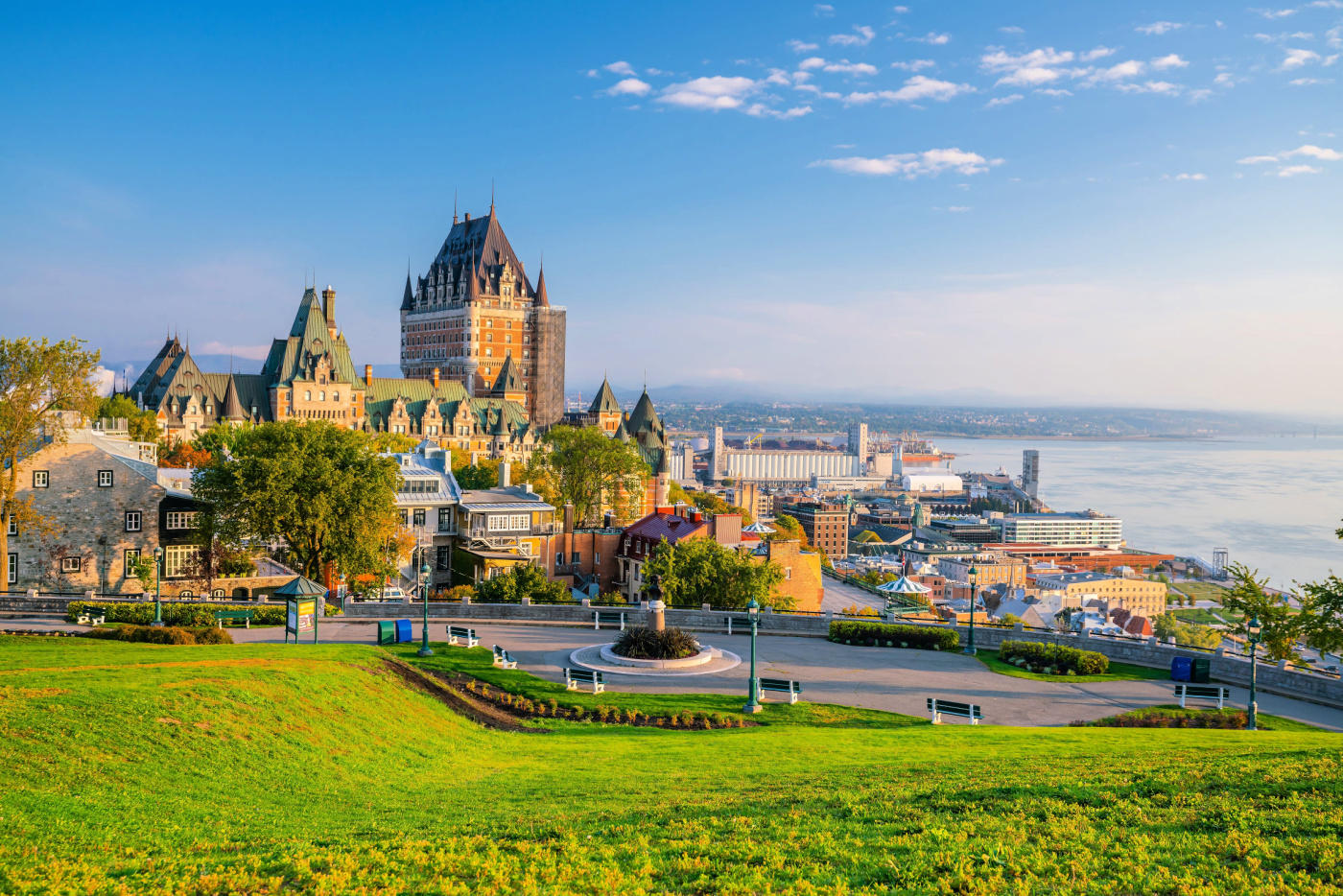 Day Three (Sunday): Option One
If there's anything you need to know about me, it's that I love a good day trip. No matter where I am in the world, if I'm spending time in one city, you can bet that I'm researching how to also visit a nearby city.
If you have similar proclivities, then consider spending your third day in Montreal not in Montreal at all, but by heading out to nearby Quebec City. The second largest city of the province is known for its rich French culture, well-preserved 17th-century architecture, and delicious Quebecois cuisine.
On a day trip, you'll be able to cross off the vast majority of the city's major tourist attractions — you can do so on a full-day tour or independently (it's 2-3 hours away by car/bus/train).
Old Quebec is one of my favourite neighbourhoods to wander around, as it contains the only remaining fortified city walls in North America north of Mexico. The iconic Chateau Frontenac is one of the most photographed hotels in the world, and Montmorency Falls are well-worth checking out, too — they're higher than Niagara Falls!
If you'll be in Montreal over winter, Quebec City is still a worthy day trip destination. December is a great time to visit Quebec City due to the abundance of Christmas activities, while February is home to Carnaval de Quebec, one of the world's largest winter carnivals.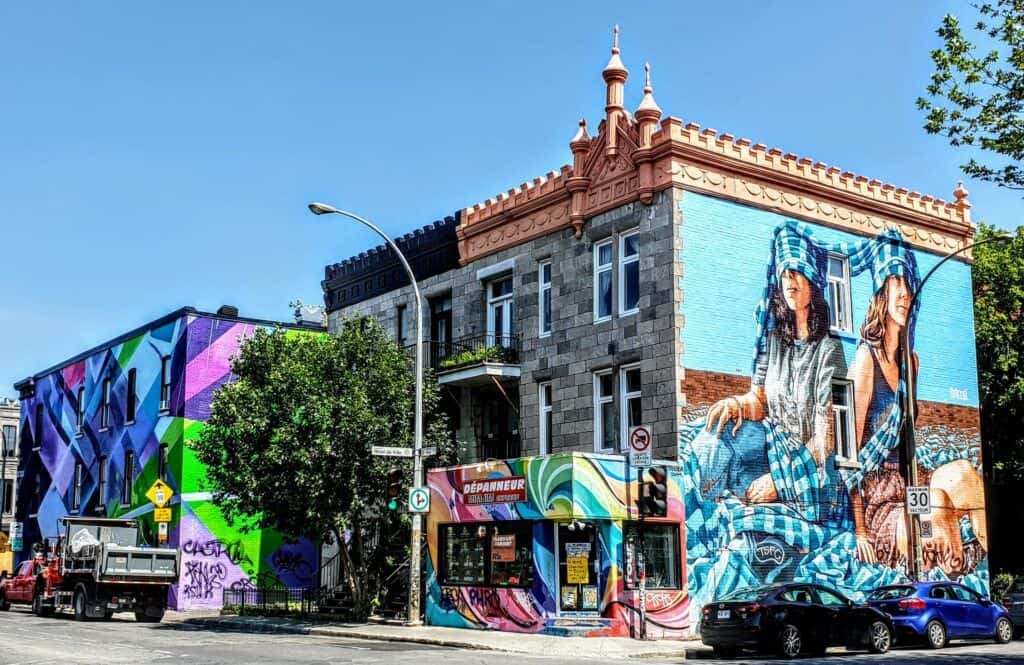 Day Three (Sunday): Option Two
If you're keen to dig more into Montreal's offerings, stay within the city on day three, spending your time hitting up two of its most iconic attractions.
Late Brunch at Beauty's
Every Sunday after a night out my girlfriends and I would drag our dehydrated hungover carcasses to Beauty's Luncheonette.
This diner, founded by Hymie and Freda Sckolnick, has fed the city of Montreal for over 70 years.
Until the time of his death, a few years ago, one could always find Mr. Hymie sitting at the counter, acting as host, and non-verbally pointing people to their table.
Other than Beauty's great story, there's enough food variety on the menu to please even the pickiest of eaters. Munch on a Montreal bagel with smoked salmon, cream cheese, red onions, and capers, or go for one of their delicious omelettes, sandwiches, blintzes and more.
Be sure to take home some their legendary rice pudding or buy an iconic Beauty's "Hymie" t-shirt after your meal!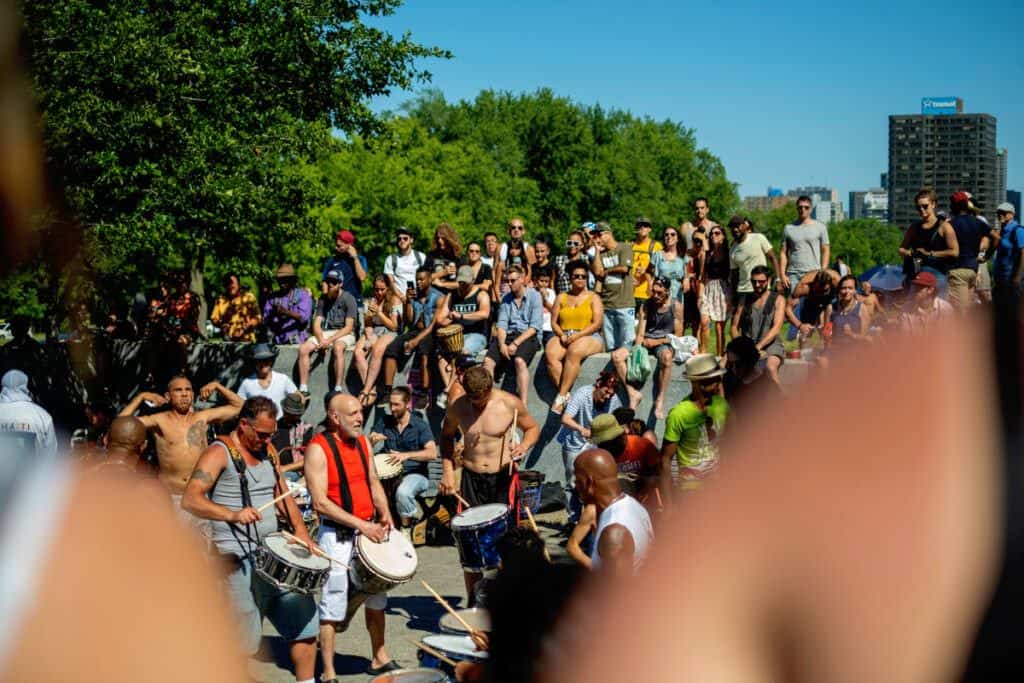 Tam Tams: The Montreal Drum Circle
Sundays in Montreal are generally reserved for brunch and drums.
Just around the corner from Beauty's is a weekly drum circle known as Tam Tams.
Montrealers of every age, colour, and creed grab their drums and head to the entrance of Parc Mont Royal for hours of jamming, vibing, and ganja smoking (yes it is perfectly legal).
When my mother visited with some of her cousins, one of them said that the environment reminded her of her days as a Dead Head. Even if you don't feel like participating in some of the more "free love" aspects of Tam Tams, I would highly recommend you at least stop by to check it out. The variety of humanity that will befall your eyes is a spectacle.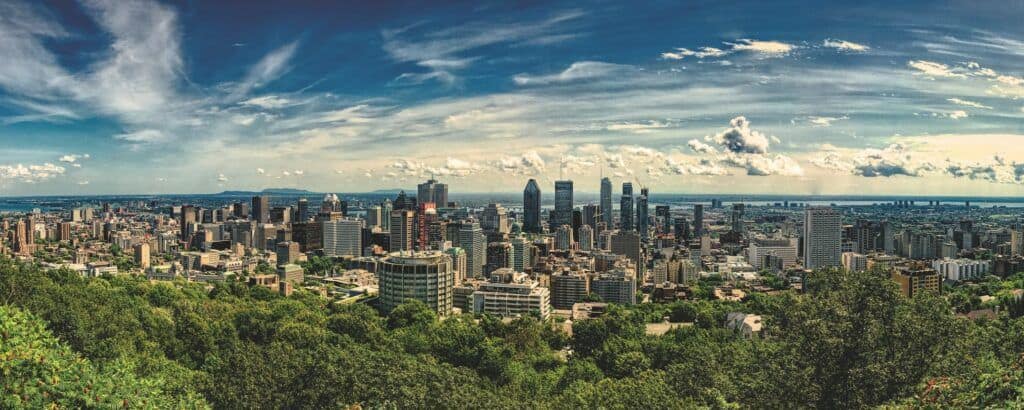 The End of the Guide: Climb Mont Royal
One of the best things about living in Montreal is that it is a city that still has a lot of access to nature.
Since you're already in Parc Mont Royal, it's time to climb the mountain.
Mont Royal and the surrounding park span an astonishing 200 hectares, hosting incredible biodiversity, hiking trails, bike paths, rock walls, and campfire areas. Fun fact: Parc Mont Royal was designed Frederick Law Olmstead, the same man who designed Central Park in Manhattan.
As you reach the top of the mountain your view expands onto a giant overlook of the entire city. This spot is definitely a place to take your last photos and reminisce about your favourite trip experiences.
The four and a half years that I spent in Canada helped shape the person writing for you today. If it wasn't for the harsh winters I would probably still be living there because life in Montreal was just too fabulous. It is definitely worth adding to your future vacation list and checking out some of the activities, clubs, museums, and restaurants included in this guide. Whether in the summer or winter it doesn't matter, Montreal is a city that invigorates and engages you from the first moment till the last.
Related Articles on Canada

🇨🇦 The Cost of Travel in Canada: A 2023 Budget Breakdown
🍁 22 Wonderful Things to Do in Toronto, Canada