Everyone who visits Zanzibar ends up taking a spice tour.
It's inevitable. After all, this cluster of islands off the coast of Tanzania is nicknamed the Spice Islands, and there was once a time when Zanzibar was the largest producer of cloves in the world.
Spices were first introduced by the Portuguese back in the 16th century, when they were transported over from colonies in Goa and Brazil. It wasn't until the Omanis arrived, though, several hundred years later, that the spice trade truly thrived.
The Sultan transported 50,000 slaves through Zanzibar each year, forcing a third of them to work on the spice farms in Tanzania — 30% of whom died every year due to the terrible conditions. These spice and slave trades combined to make Stone Town one of the richest cities in Africa.
These days, the production of cloves is declining while tourism is skyrocketing, resulting in much of the spice industry turning towards plantation tours as a way to stay in business.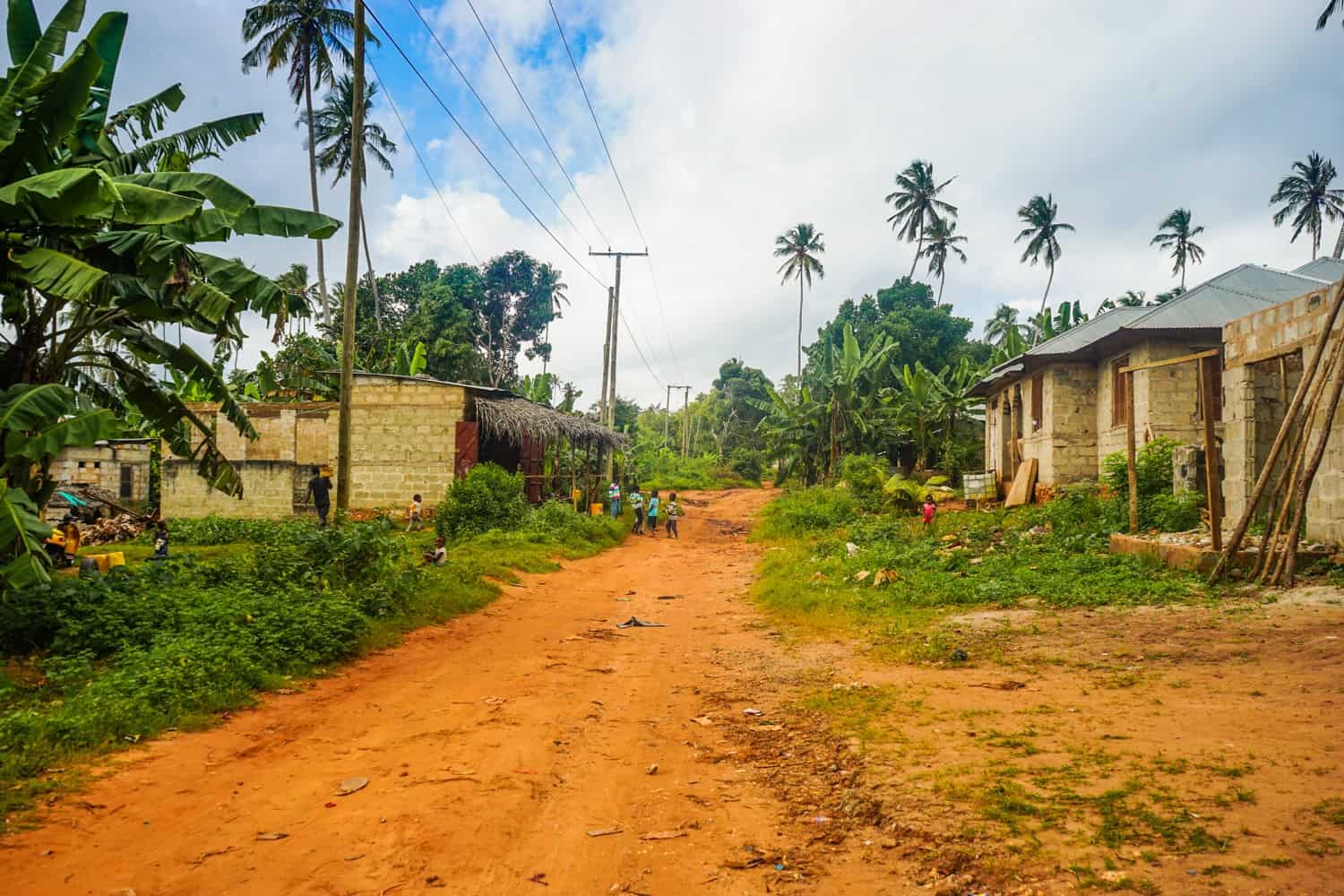 I chose to base myself in Stone Town for my week in Zanzibar, both to save money and to take a break from beaches after my recent trip to Mozambique. My plan was to spend most of my time exploring the narrow alleyways of Stone Town while taking the occasional day trip across the island to uncover what makes it so special.
And like every visitor to Zanzibar, the number one activity on my list was taking a spice tour.
Having that knowledge, though — that this was the one thing everybody comes to the Spice Island to do — gave me pause. I knew this would mean practically every tour company on the island was going to be offering inauthentic cookie-cutter experiences, featuring a conveyer belt crammed full of tourists being passed through as frequently as possible. Those are the type of tours that never fail to disappoint me.
I did my research, though, and I came across this tour. It was seemingly the only one on the island that also took you into a local village to meet a family and taste some of the food they grew on their land, before learning how to cook with them in their kitchen. From there, you'd be whisked off to a farm to learn about the spice trade of Zanzibar, while tasting dozens of their offerings. It sounded like my kind of experience, so I crossed my fingers and booked my spot in the minivan.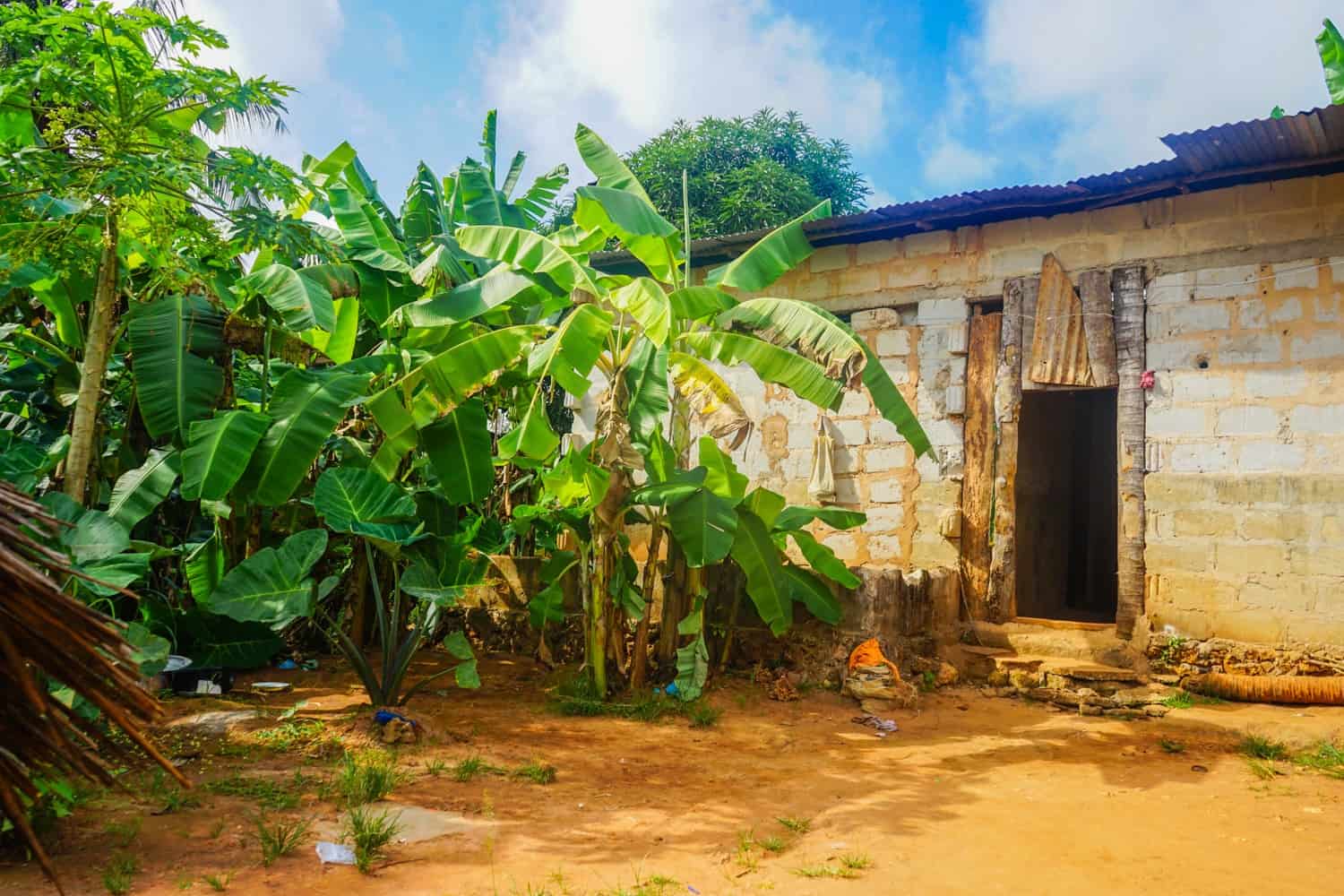 There can be many downsides to life as a solo traveller, but one of my greatest disappointments is turning up for a tour and discovering I'm the only person on it.
Still, my two [!] tour guides were friendly and chatty, so I was able to get some conversation in, as we discussed our favourite curries, ingredients, and cooking techniques on the drive out to the village.
When we arrived, I was introduced to the family who were going to be inviting me into their home, and they whisked me off for a tour of their garden. Their land was blanketed in cassava plants, and after I stopped to take a photo, my guide urged me to pull up some of the leaves. One of the women joined me, and together we collected food for our mid-morning snack.
We washed the leaves outside the hut and then placed them into a mortar, where I was then allowed to pestle them to pulp. The woman who was helping me cook brought out a coconut and began shredding the meat in preparation for making coconut milk. We added onions and peppers and spices to the milk, dropped in the crushed leaves, then took our bowl to the stove.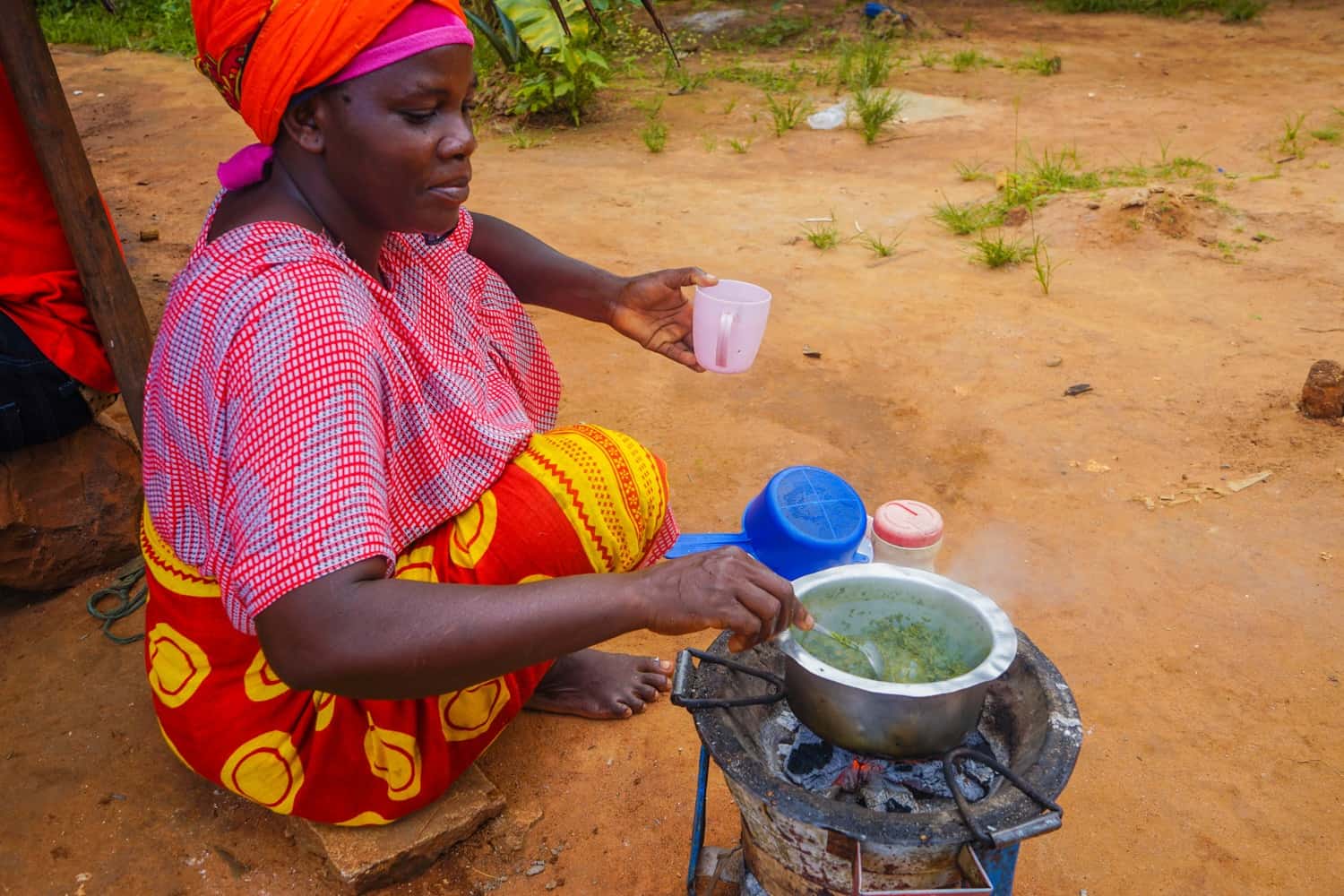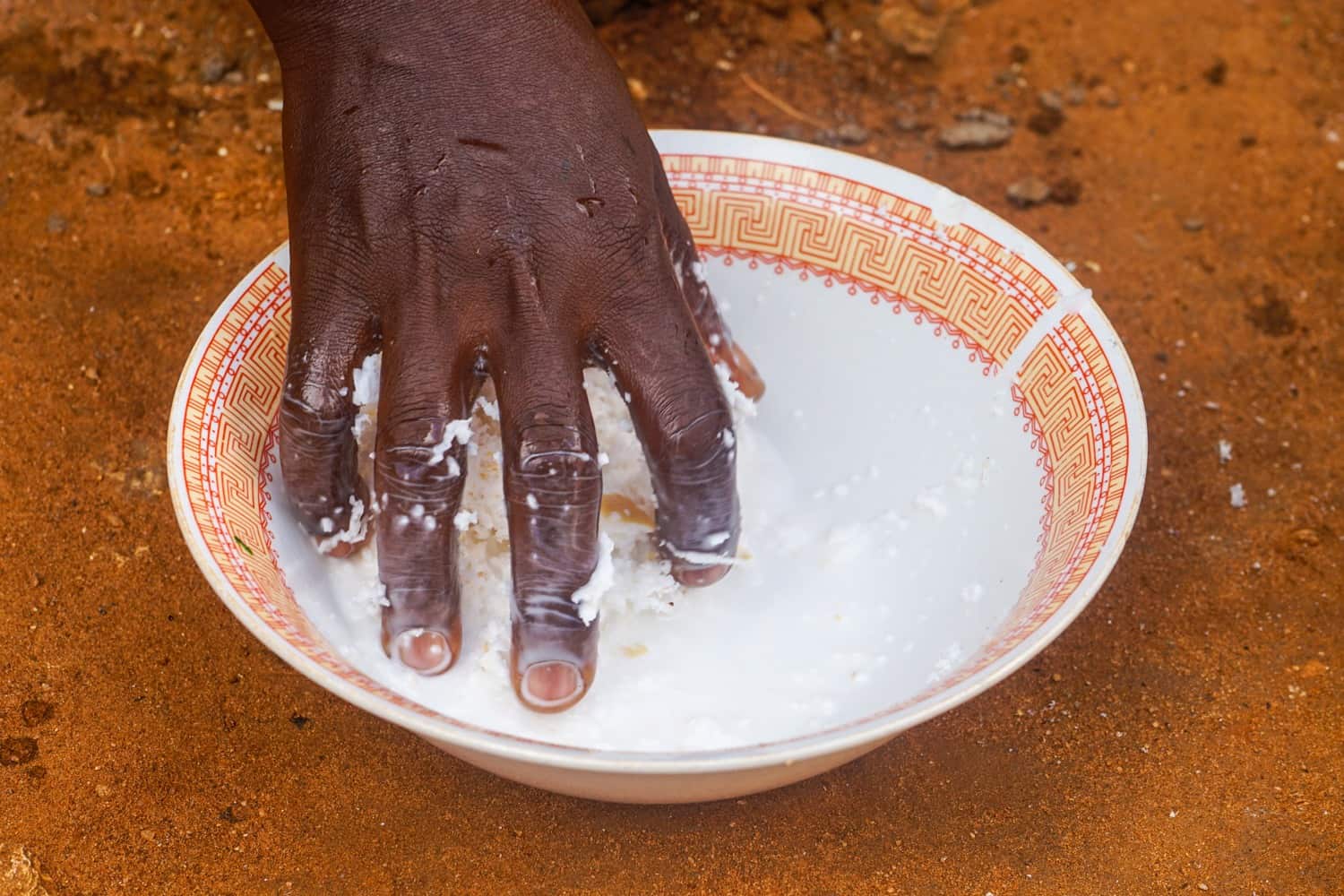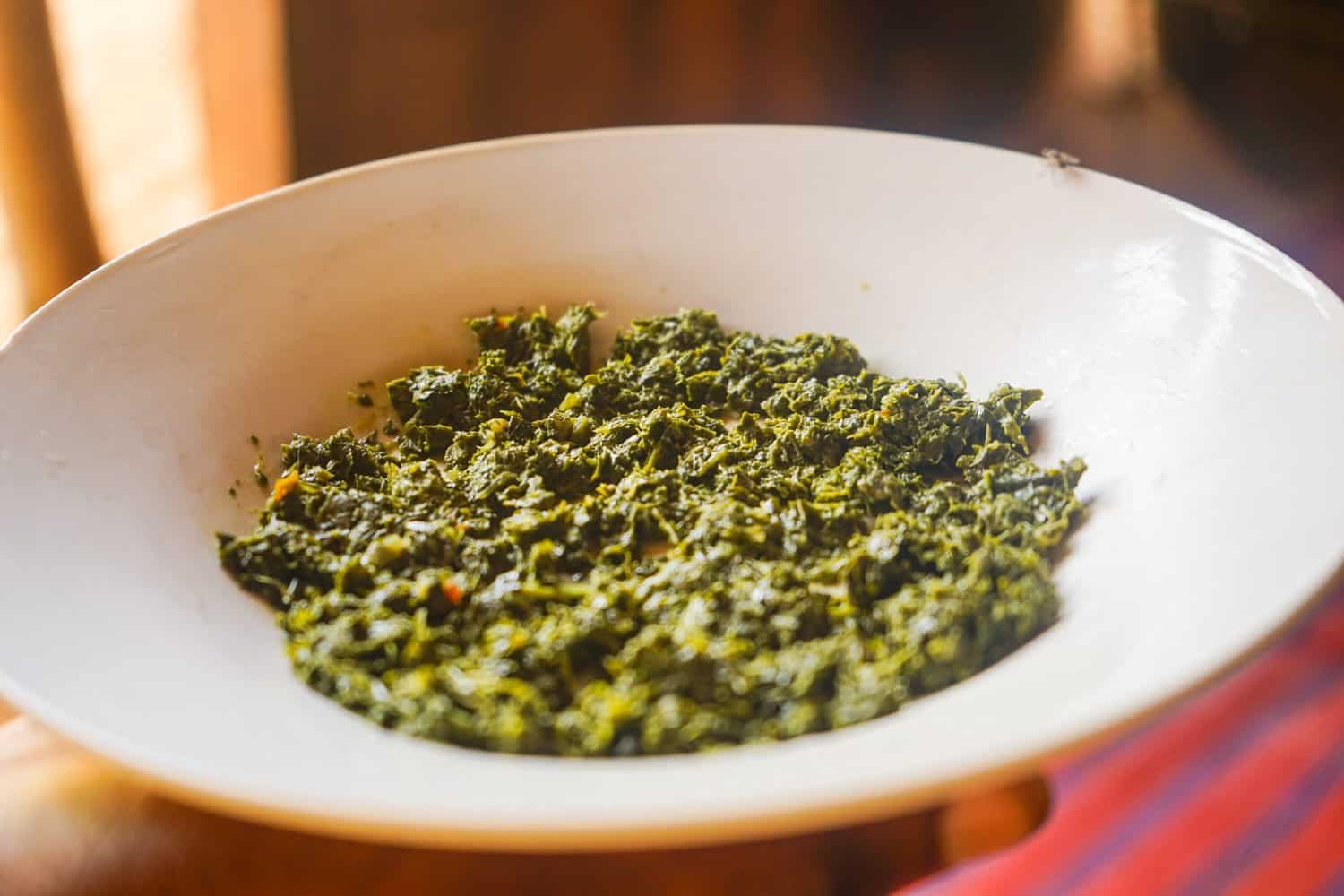 It was so delicious.
For something that was so simple and fast to make, I couldn't get my head around how tasty the dish was. It was a blend of salty, creamy, and nutty, and I devoured the entire dish within minutes. Ever since making it, I've been on the hunt for cassava leaves so that I can recreate it, but I've found spinach to be a reasonable substitution.
After thanking the family for letting me into their home, we took a quick walk around the village, and I mostly fell in love with this kid: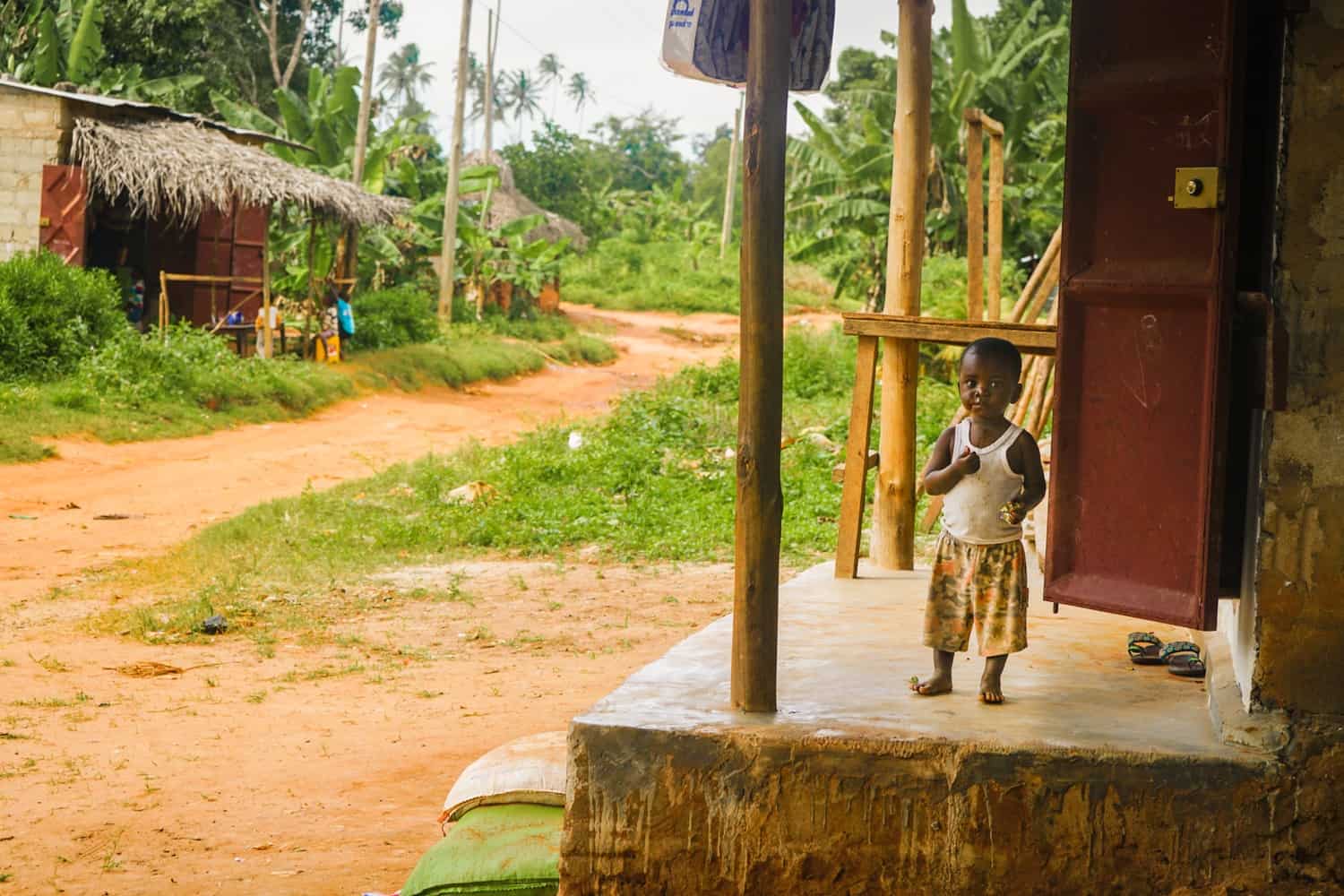 We said our goodbyes and I was whisked off to the spice plantation, my taste buds tingling in anticipation.
With the scent of cloves and cinnamon filling the air, I clambered out of the van and took my first steps towards the farm. I'd expected there to be a hell of a lot of organisation in a place that needs to keep track of dozens of spices, so I was surprised to discover that — to my eyes, at least — all of the trees and plants had been planted all higgledy-piggledy across the land with little order. It was like wandering through an overgrown forest, with trees, shrubs, bushes, and vines blocking the sun's rays from reaching me.
My guide motioned me over to something he referred to as the lipstick tree.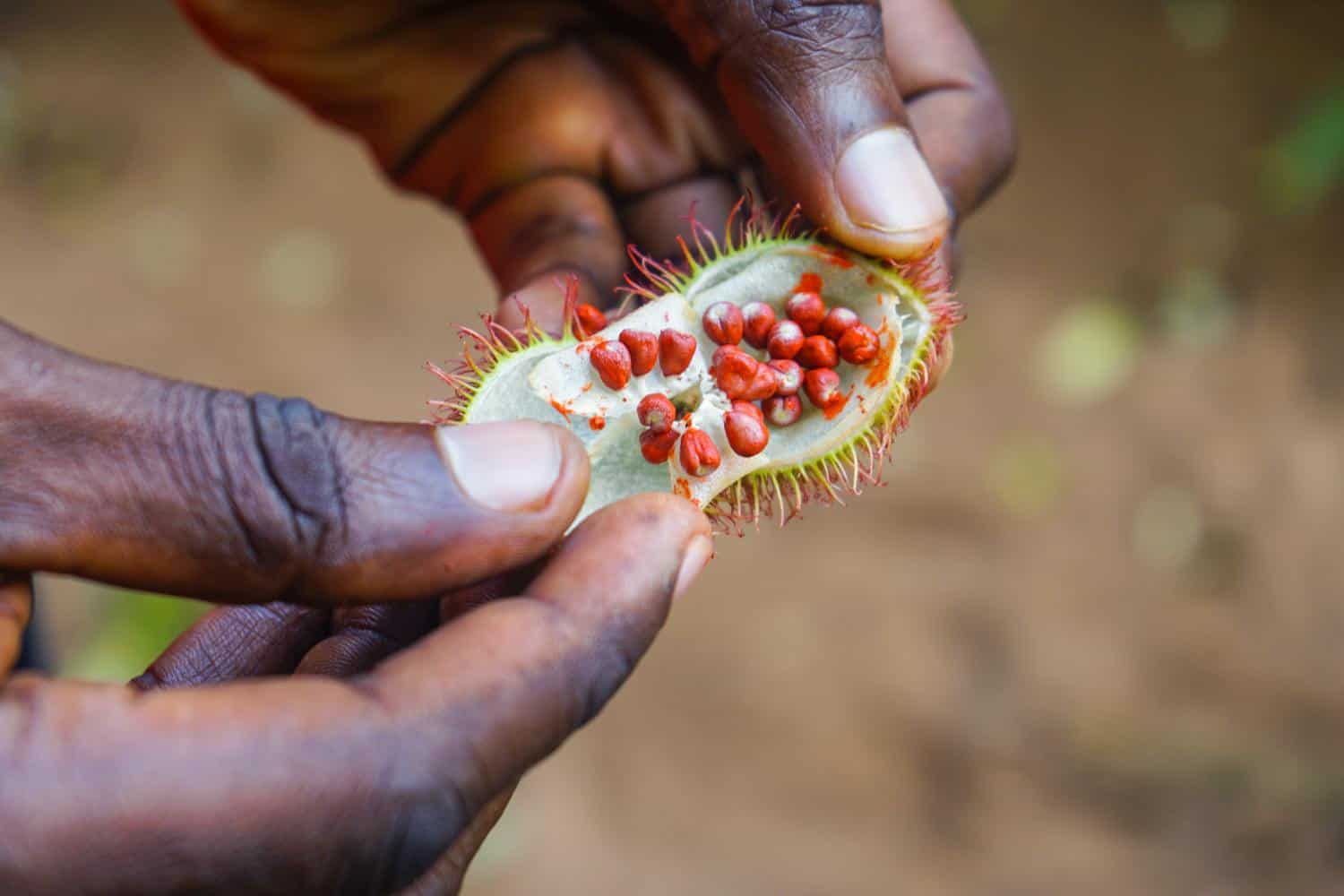 Also known as achiote, its seeds are used as a spice (including in cochinita pibil — my favourite thing to eat in Mexico!), as well as in lipstick and body paint, as demonstrated by one of the farm workers who was tagging along on my tour.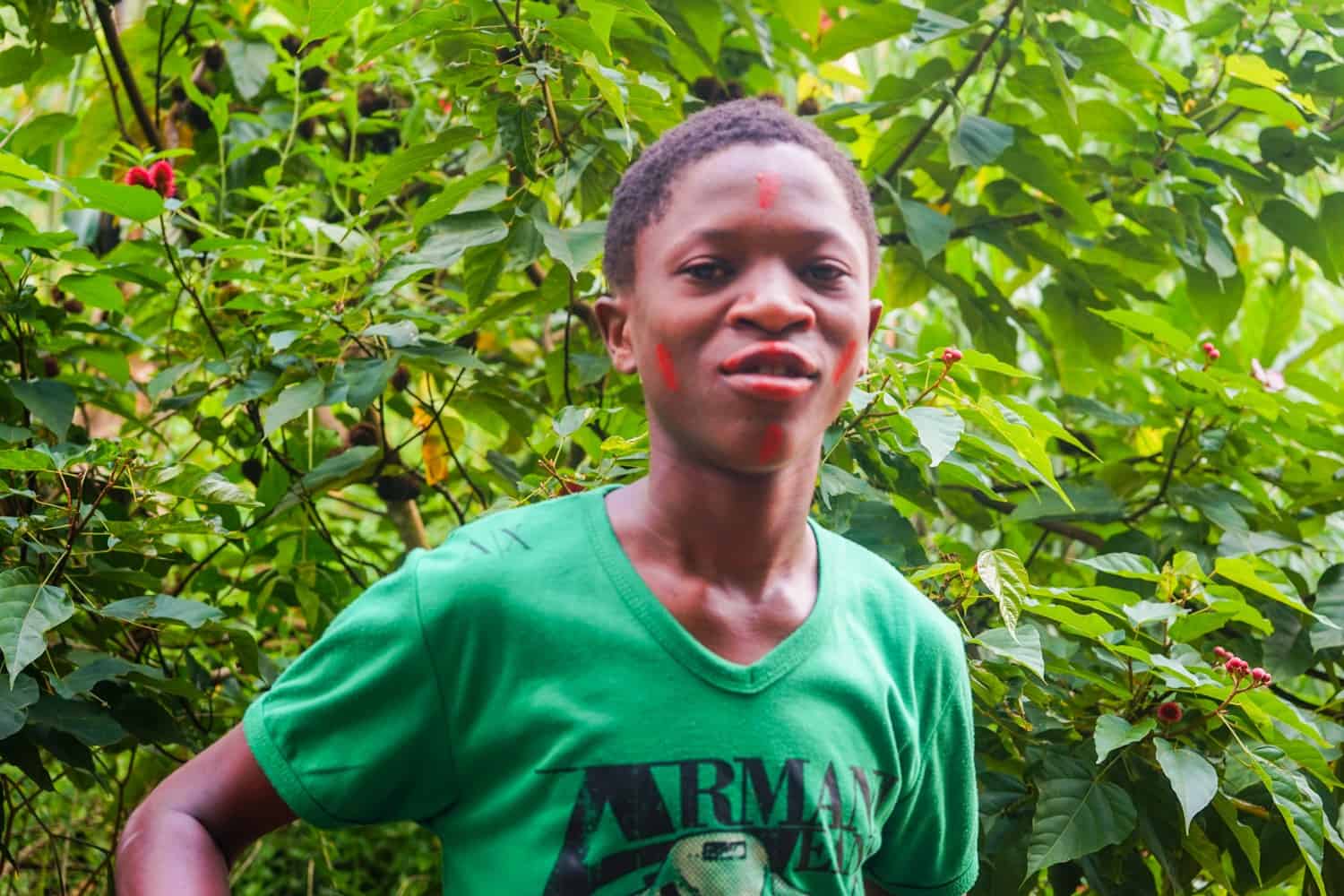 Almost any spice you can think of was grown on the land here, and as we trampled through the plants, I was thrilled to be using so many of my senses.
My guide would hack off part of a tree for me, then hand it over to crush between my fingers, smell, and taste, before asking me to guess what its name was. There was a time, back when I first started travelling, when I couldn't barely tell the difference between onions and garlic, but by this point in my life, I could easily identify anything I was handed.
I was introduced to — deep breath! — cloves, nutmeg, cinnamon, cardamom, turmeric, and ginger root, before moving on to durian and jackfruit, vanilla pods and cocoa, liquorice, breadfruit, saffron, iodine, ylang ylang, lemongrass, and every form of pepper you can think of. Pineapples, mangoes, soursop, bananas… There was so much to discover in this part of Zanzibar, and I was delighted to be sampling a ridiculous amount of it. I love spices.
And I especially love playing with spices when this is what my surroundings look like.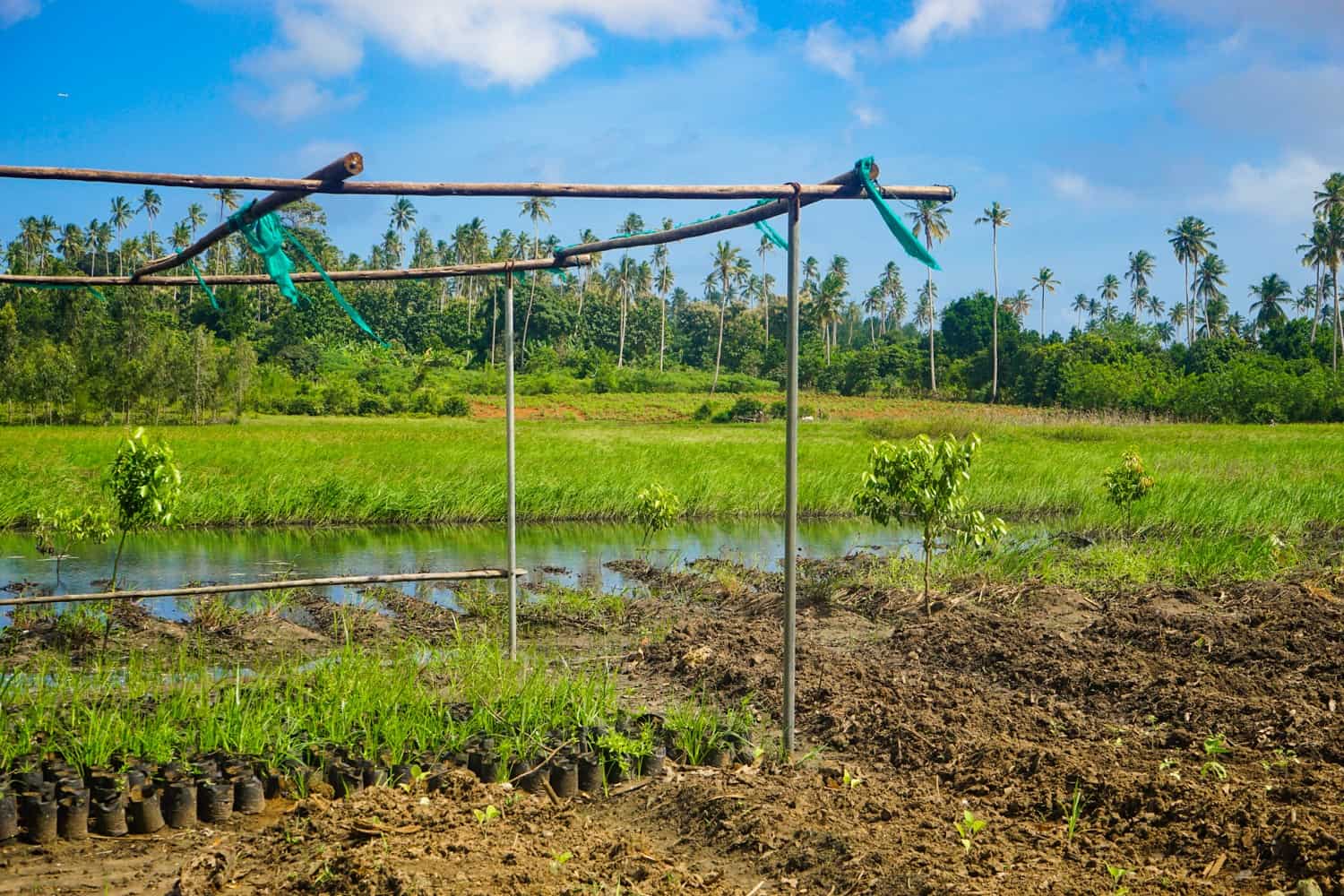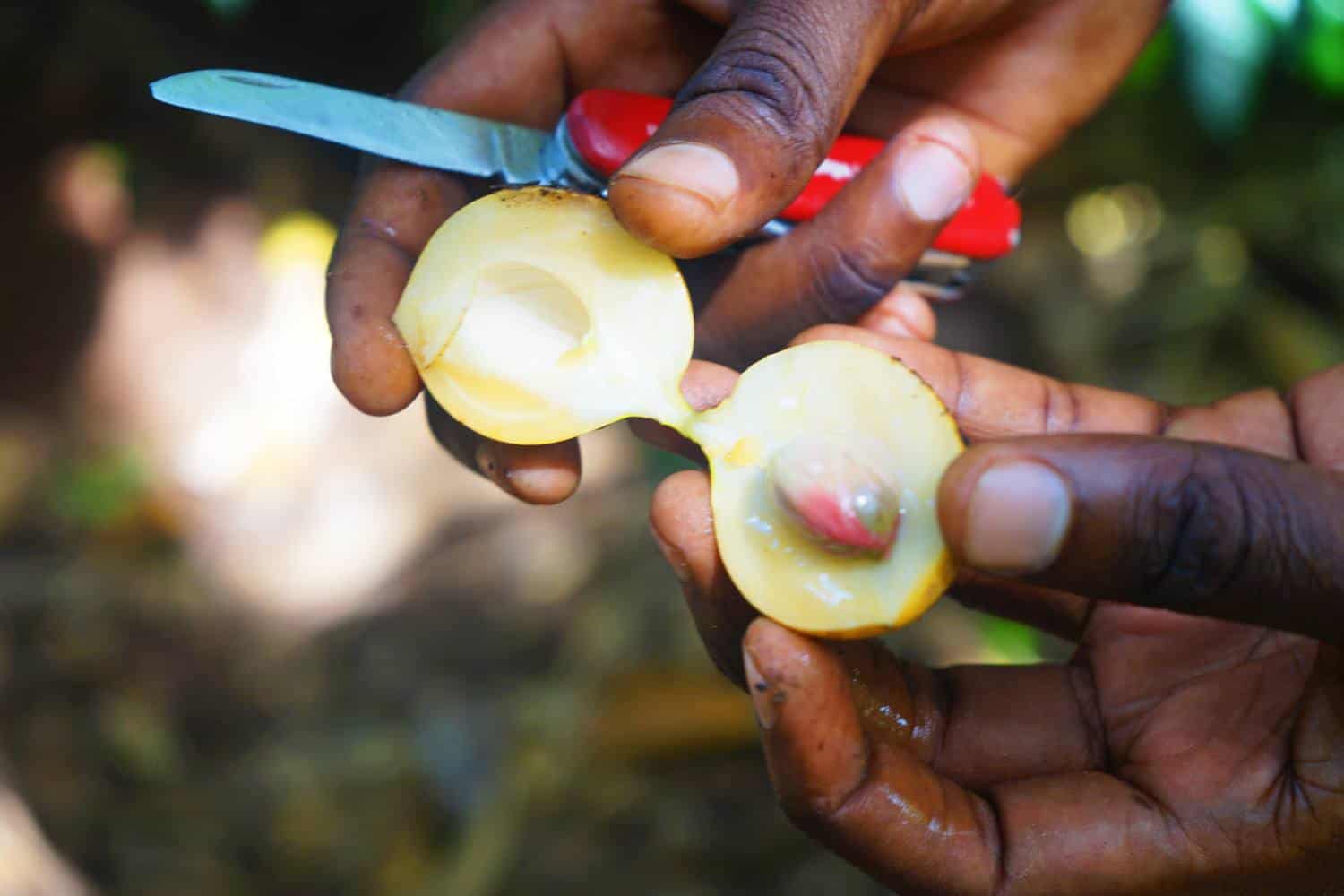 Moments later, something took place that I'd personally describe as awkward as hell.
My guide led me into a clearing and then pointed towards another guy. Taking his cue, he began to scale the nearest palm tree, climbing higher and higher and higher while I slowly realised I was about to be the sole recipient of a performance.
"Welllcoooooommmmme," he called out from in amongst the coconuts. "Welcome to Afriiiicaaaaaaa. Afriiiicaaaaaaaa!"
And, um, yeah.
I hate these kind of performances that are put on for tourists, and find them awkward and manufactured. I'd much rather, y'know, just sit down and have a conversation and feel like I'm on the same level as this guy, rather than feeling as though I'm being performed to because I'm a tourist.
With my guide watching for my reaction, I attempted to arrange my face into an expression that would convey just how excited I was by this development. Two men jumped out from behind a palm tree, bearing gifts. There was a crown made from leaves, as well as a necklace, and ring. Everyone was smiling at me as the crown was placed atop my head while I was trying not to cringe.
Several minutes later, the song was over, and I watched as the guy slid down the tree and handed me a fresh coconut. Someone hacked it open with a machete and handed it to me to drink.
At least that part was pretty damn cool.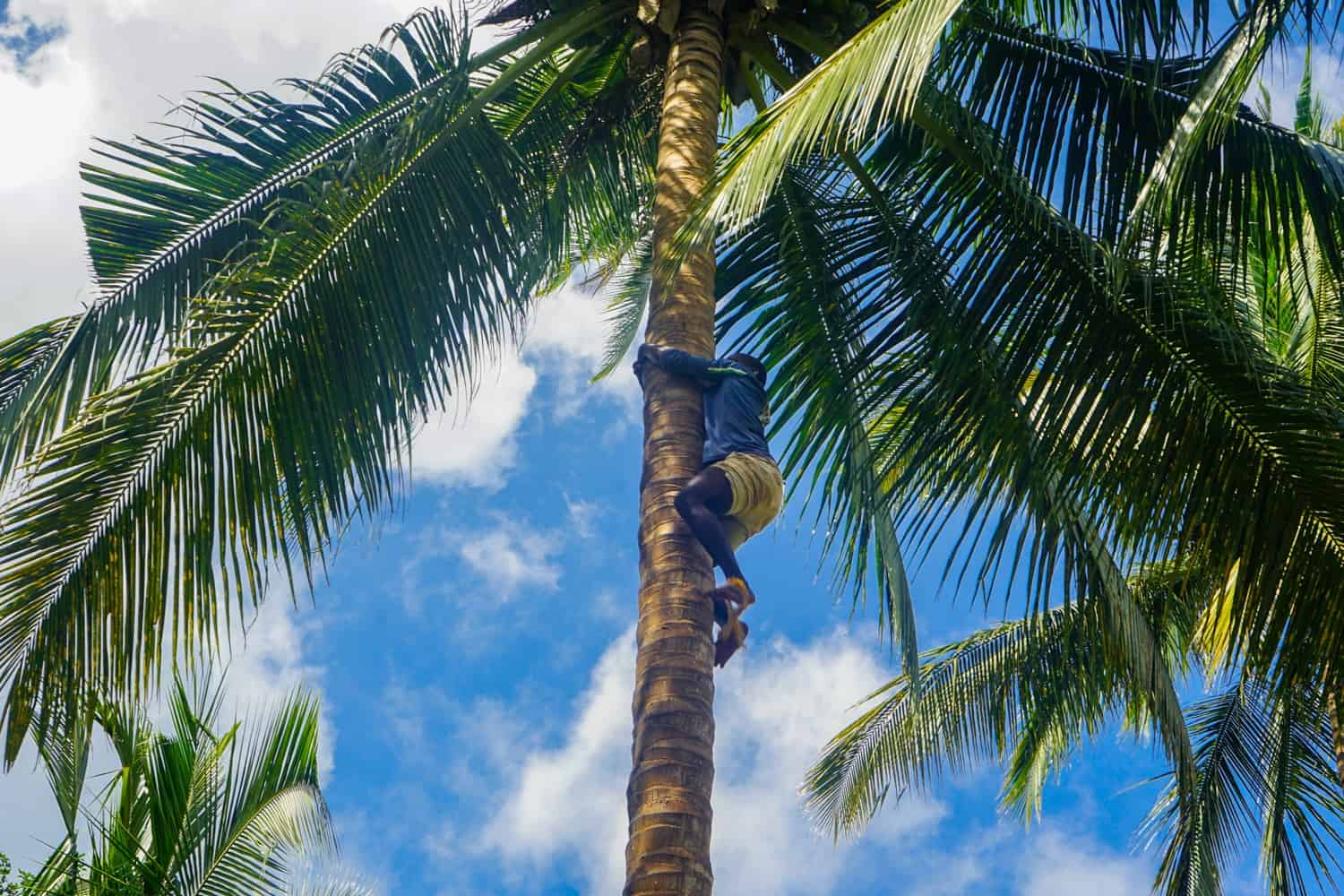 Next up: sampling some of the local fruits!
Now, I've travelled reasonably extensively in the tropics, so this wasn't an enormous learning experience for me. In fact, I felt a bit guilty as my guide was describing all of the fruits for me, expecting wonderment and nerves when I'd already tried them all before.
If you haven't spent a huge amount of time hanging out in humidity, though, there'll definitely be some interesting flavours to experience for the first time. Soursop and jackfruit are always a pleasure to eat (I live off of soursop smoothies whenever I'm in Vietnam!), and lychees, starfruit, and green bananas quickly followed.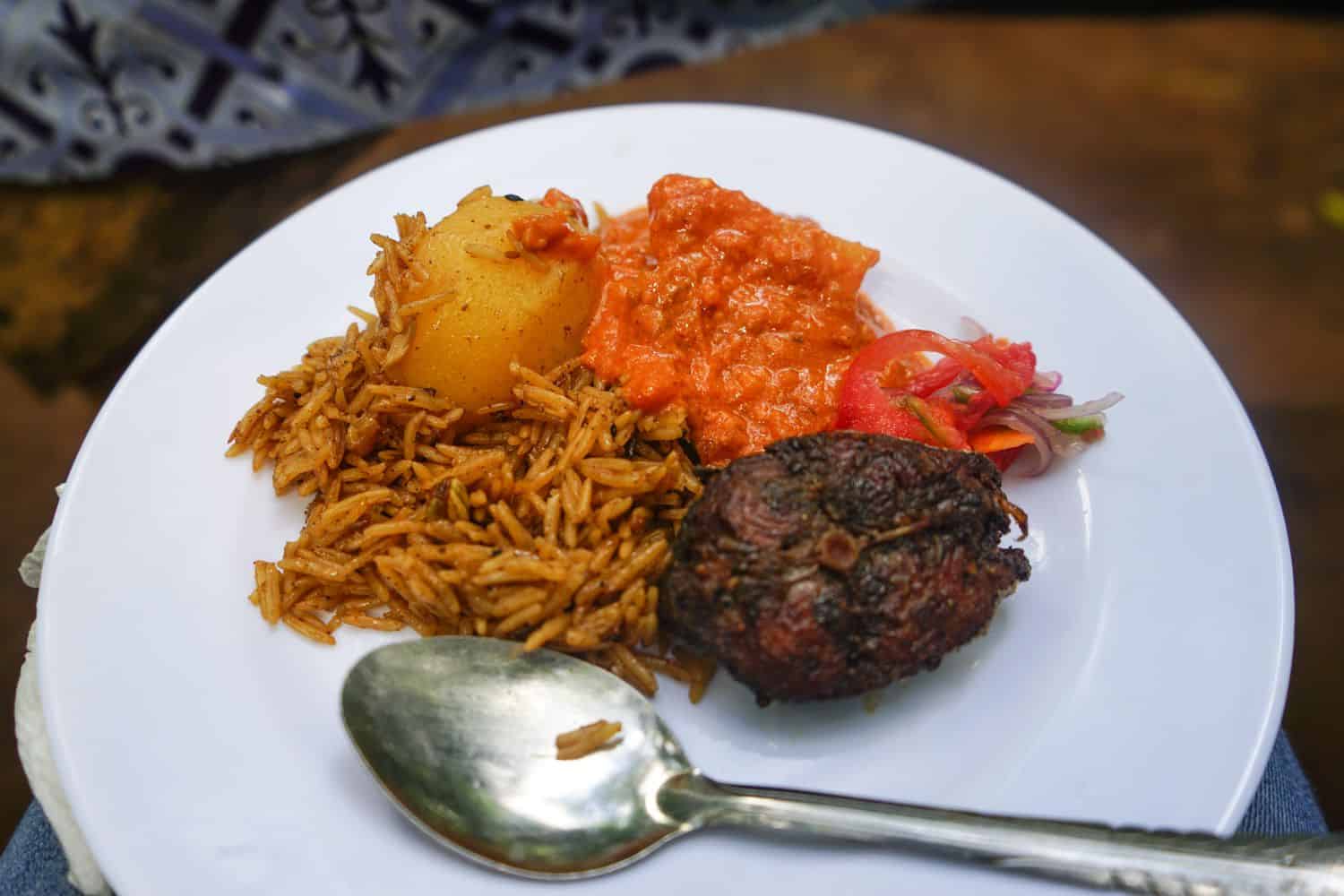 Lunch comprised lemongrass tea and a Swahili biryani containing nine of the spices I'd just been introduced to, along with fried fish, potatoes, salad, and a tomato sauce. I ate my lunch alone — #solotravel — and prepared myself for the inevitable sales pitch.
I'd spotted a stall close to the exit and as we made to leave, I was introduced to its offerings. I grabbed a couple of bits, despite knowing I'd get better prices in Stone Town. I wanted to support the farm and its community, so paid for some unusual-sounding teas and curry powders to take home with me.
After handing out a handful of tips to my many, many guides, it was time to leave.
Would I Recommend Taking a Spice Tour?
Yes! If, like me, you love trying new flavours, you'll gain a lot from the tour, and love getting to see how all of your favourite spices are grown. I spent a full week in Zanzibar and this was easily the highlight from my time on the island.
Overall, it was well worth the money I spent for the three-hour experience.
Tips for Taking a Spice Tour in Zanzibar
I took the Zanzibar Food and Spices tour, and booked it because it looked to be the most ethical option based on the reviews I read online. I loved my guides, enjoyed the experience, and would recommend it if you're looking to get your spice on in Zanzibar. The only downside was the weird, touristy performance put on towards the end of the tour that had me cringing, as well as the expectation that you tip all of your guides. I don't mind tipping when I travel — and I always tip well — but having to hand over money to five different people as a solo tour participant was a little meh.
It's a popular tour and does sell out, so do book early to avoid disappointment. You can check availability for your travel details using the calendar below:
As always in Eastern Africa, you'll want to pack both mosquito repellent and sunscreen. I always recommend getting a high-percentage of DEET before you arrive in the country, as it's surprisingly tough to find the strong stuff on the ground. And make sure to wear strong sunscreen to protect your skin — if you're going to be swimming, make sure you opt for a reef-safe option.
I always recommend packing a GRAYL water purifier bottle for travels to countries where you can't drink the tap water. I've used it to drink water all over the world, from Mozambique to the Democratic Republic of the Congo and never once got sick. The filter within the GRAYL kills 99.999% of all viruses, bacteria, and cysts in water, making it entirely safe to drink. Not only that, but it also means you don't have to ever buy bottled water again, so can both save the environment and your budget.
Bring small denominations of Tanzanian shillings for tipping your guides and buying spices and souvenirs afterwards. I found the spices to be more expensive on the farm than they were in Stone Town, but I still wanted to support the plantation and its owners with my money. When I was sipping cardamom tea in Lisbon months later, it was kind of cool to know I'd wandered past the exact plants it had been sourced from.
I stayed at Lost and Found hostel in Stone Town while I was in Zanzibar. For an island that's known for being expensive, this is one of the cheapest and best rated options around. I paid just $11 a night to stay in a double bed dorm room. Yes, that's right — solo travellers get to sleep in double beds in this hostel!
You can check out my post on how to travel Zanzibar on a budget for more information on how to save money while you're on the island. I also have a post on the cost of travel in Tanzania if you're planning on exploring the country in more depth.
Would you enjoy taking a spice tour on your travels?
Related Articles on Tanzania

💰 How Much Does it Cost to Travel in Tanzania?
🇹🇿 How to Visit Zanzibar on a Budget
🏖 22 Incredible Things to Do in Zanzibar, Tanzania
✈️ A Ridiculous Introduction to Travel in Tanzania