After a couple of slow and easy months in Chiang Mai, it was time to move on. Myanmar was calling my name — a country I'd longed to visit for years and a country I'd put off committing to for just as long. I nearly cancelled my visit this time around, too.
Finding a work-life-travel balance is one of the biggest challenges when it comes to living a life like this. In Chiang Mai, I was good with the work and good with the life. I was hunkering down in coffee shops and working on this site, writing freelance articles and finally achieving that elusive inbox 0. In the evenings, I was catching up with friends, eating good food and sipping toffee apple cider.
Work was good. Life was good, too. Travel was non-existent.
And therein lies the struggle.
A few days before leaving for Myanmar, I freaked out. I knew my work would fall by the wayside the second I packed my backpack and lugged it into a songthaew. It always does when I travel, the sensory overload and full days of exploring leaving my brain too crammed with stimulation to expend any creativity in writing.
My travel and life quota would be full but I wouldn't be able to achieve anything in between all the overnight buses and temple hopping and sunset cruises.
So I said no to Myanmar and resolved to stay in Chiang Mai for a while longer. I'd continue to work in coffee shops and meet up with friends and sip toffee apple cider while my social media feeds filled with photos of Dave doing all the things we'd planned to do together.
It was the FOMO that led to me changing my mind and leaving anyway.
And I'm glad I did.
Yangon was nothing like I expected. It was swelteringly hot to start with and, being ill-prepared as always for a country where I'd have to cover up, I did much of my wanderings in damp jeans. The buildings were crumbling and colourful and the roads chaotic — but, unlike in other Southeast Asian cities, there wasn't a scooter to be seen (they're illegal in Yangon). The food was delicious, with tiny plastic tables and stools a constant along the roadsides. I didn't spot many tea leaf salads — about the only Burmese dish I knew before arriving — but Shan noodle soups were soon to make my acquaintance.
We were staying in the heart of the downtown area and I was surprised at the lack of foreigners. November is high season for Myanmar and I expected there to be white faces everywhere. Of the tourists we did meet, there was a disproportionately high number of French people. And Chinese, as always.
Walking around, Yangon felt like a conglomeration of places I'd visited before. The colonial architecture reminded me of Penang, in Malaysia; the buses of Belize; the clouds of incense of Kathmandu; the trains of Sri Lanka. I need to learn to stop making comparisons and perceive a city for being itself, not a mishmash of the places I've visited before.
We began our Yangon explorations on the rickety Circle line, holding on as we bounced over the tracks and gazing out the window at lush grasses, the surprising number of factories, and bustling markets that took place in railways stations, quickly shifting out the way when we rolled through. It gave us an insight into daily Burmese life, and Dave struck up a conversation with a local, eager to share his opinion about the government and the fact that not much had really changed in the country for most people — lips not as sealed as they would have been a few years prior.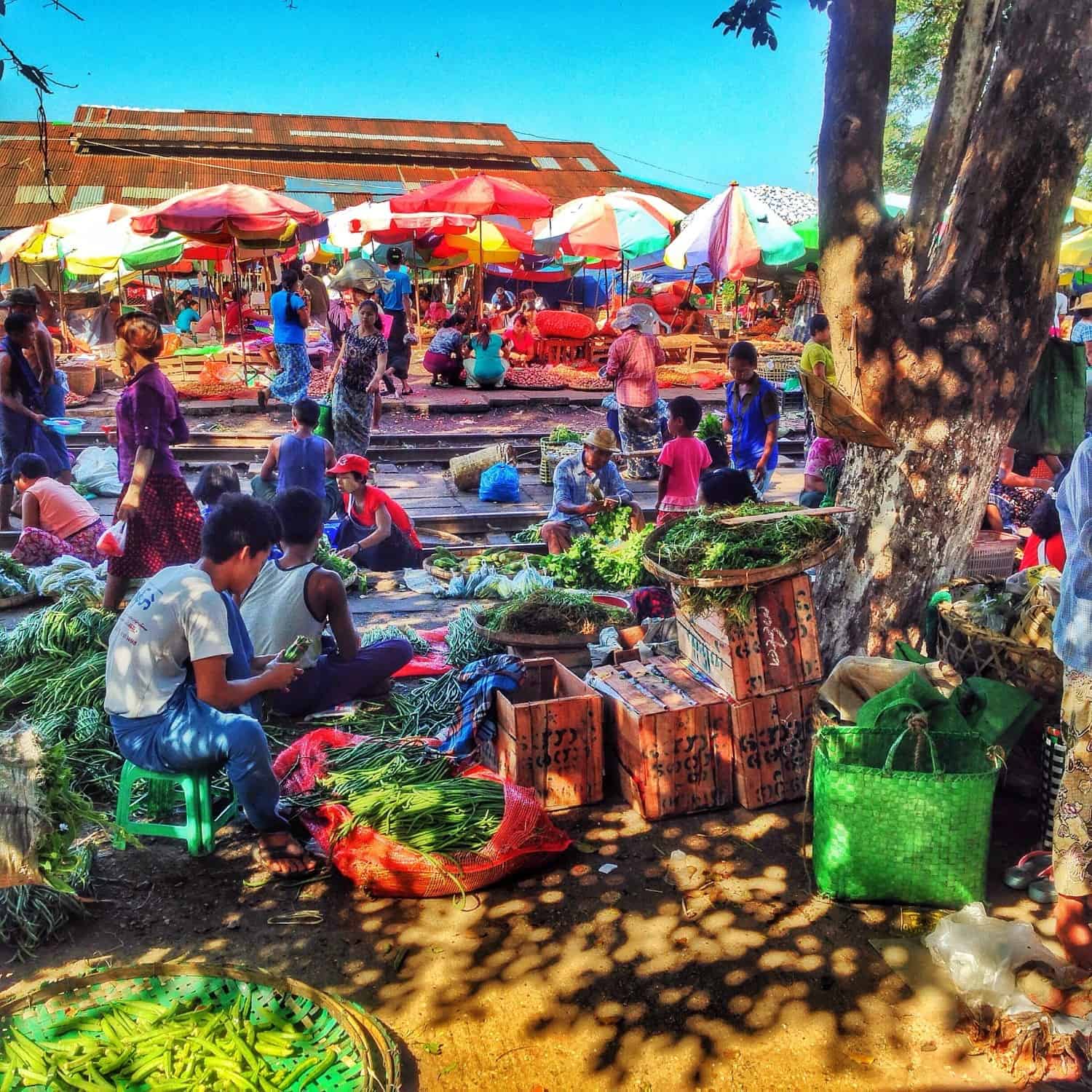 We pagoda-hopped our way across town, starting at Sule and ending in Shwedagon, via the icy air conditioning unit at Botataung. I'm one of the few travellers to have never experienced temple fatigue, always quietly awed by the shimmering golden stupas breaking up the city roofs and, in Myanmar, it was more shimmery than usual. Gold, gold, everywhere.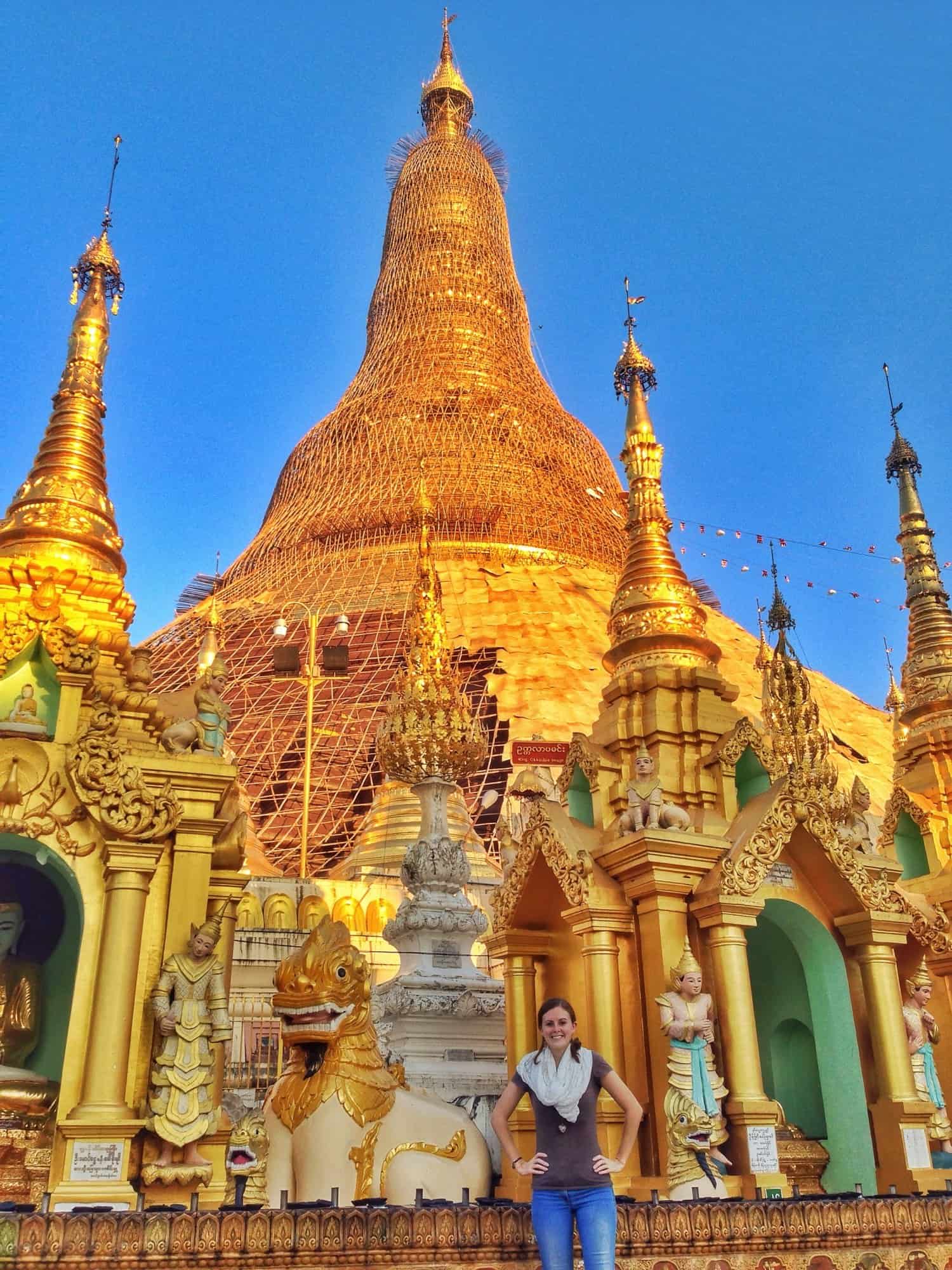 I was dreading transportation days in Myanmar, having heard dozens of horror stories, but travelling on a VIP bus was an oddly comfortable experience — it was my best overnight journey to date! It was air conditioned, the road was smooth, the seats were large and comfortable, the bus was quiet. Even breaking down an hour outside of Yangon was a bonus as it meant we arrived in Bagan at 7am instead of 5.
Bagan is the best.
I thought Angkor Wat was incredible but it has nothing on Bagan. Dave and I rented electric bikes to see the temples, and I loved our daily routine of biking around the temples in the morning, resting by the pool (and writing) in the afternoon and heading out again to a nearby temple for sunset. I can't wait to share more about this wonderful, magical place!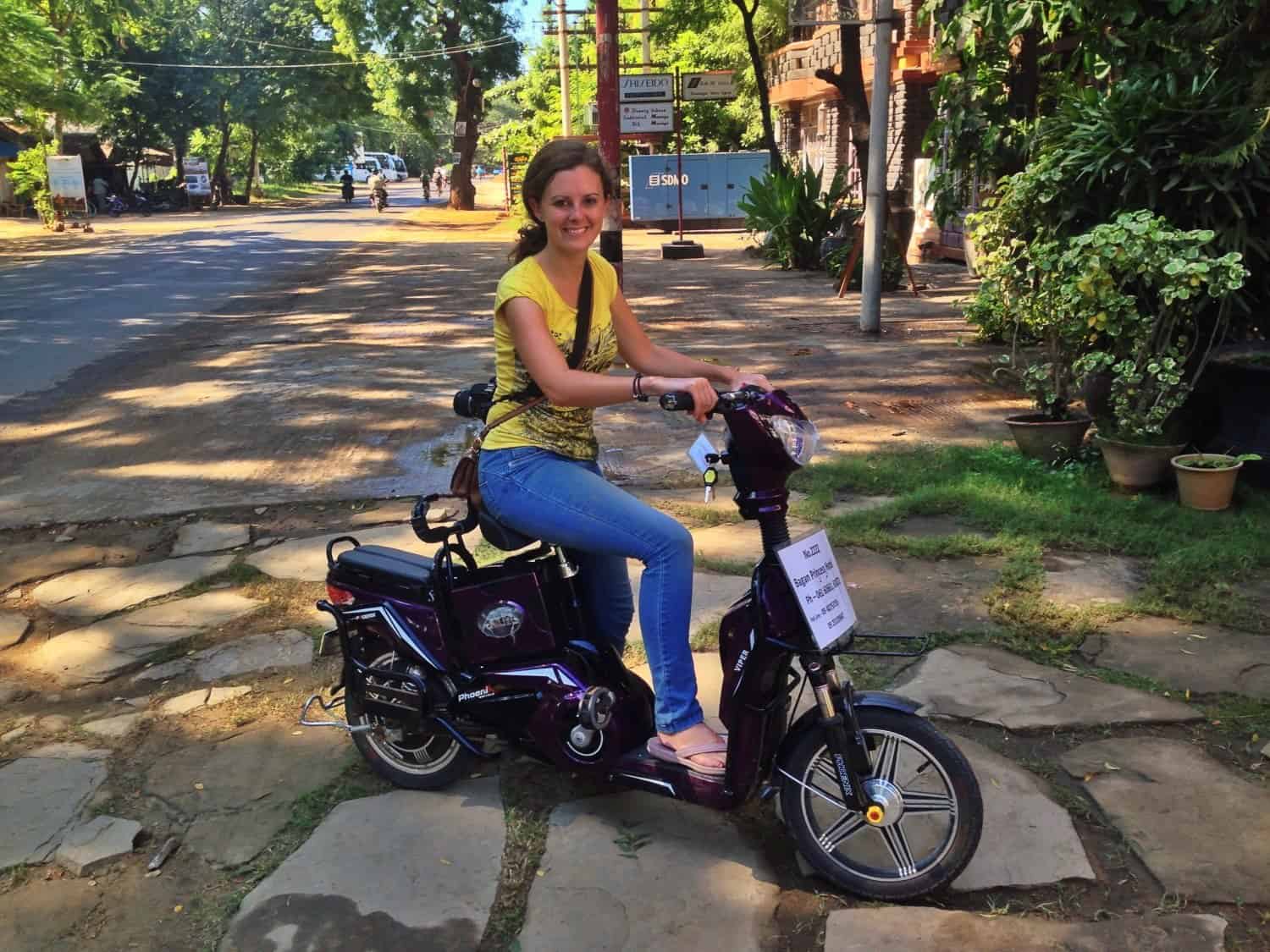 Dave and I also celebrated our three year anniversary this month, and splashed out on a fancy hotel to celebrate. We were planning on taking a hot air balloon ride at sunset but at around $320 each — not so much. While Myanmar was much cheaper than I was expecting, we only had a limited amount of USD to last us our two weeks and we didn't want to run out of money.
Onto the statistics for the month! 
Countries Visited: 2
Myanmar, Thailand 
Cities Visited: 4
Bagan, Bangkok, Chiang Mai, Yangon
Distance Travelled: 1800 km
Photos Taken: 771
Highlight of the Month: Watching the sun set over Bagan. A magical experience I won't be forgetting any time soon.
Lowlight of the Month: I'd say that my electric bike-related misadventures on my first day in Bagan were pretty traumatising. Not only did I reverse into a tree, drop the bike countless times and almost run over a monk, but I also drove straight into a temple wall. In front of many worshipping locals.
I pulled up outside the temple but hadn't realised I still had my hand on the throttle. When I released the brakes, my bike went hurtling forwards and smashed into the temple wall. Mortified.
Incident of the Month: I left my passport in my guesthouse in Bagan. Seriously. Dave and I were collected by a pick-up truck and taken to the bus station with 20 sleepy travellers at 6 am. It was half-way through that pick-up truck journey that I had the flashback of throwing my passport on the floor the night before and not picking it up that morning. Three years of travel and I'd left my passport behind.
Being British and not wanting to cause a fuss, I considered not telling anyone and just taking the bus to Kalaw. What do I need a passport for anyway? I'm sure I can just get a new one! That would be better than putting out some strangers I'd never see again.
The judgement levels were high in the truck when I had to ask if we could turn around. Our driver refused and told me to jump out the truck and walk back to the hotel myself. With a sorrowful glance at Dave, I did just that.
On my race back to my guesthouse, my pants fell down around my knees. Moments before, a local guy spotted me and began to yell, "LADY IS RUNNING! LADY IS RUNNING!" He got more than he bargained when I flashed him my underwear.
I raced into the guesthouse, and the receptionist raced up to me with my passport in hand. Now I needed a taxi and I needed one fast. I was about 15 minutes behind the pick-up truck and my bus was leaving in 30. All of the taxis were shuttling tourists from temple to temple in the cool morning air and I hadn't seen any on my jog to the guesthouse.
The guesthouse owner rode off on a scooter to find me a taxi and I got to the bus station with 10 minutes to spare. I sprinted around the station, only too aware that I didn't have my bus ticket and I didn't know which bus company we'd booked with. I jumped from bus to bus but couldn't find one with Dave inside. It had left without me.
I asked around and the next bus was in 12 hours, and would see me arriving in Kalaw at 3am, alone and with no idea which guesthouse Dave was in.
It was then that I saw Dave pull up in the back of a pick-up truck. A stressful start to the day!
My Favourite Photo: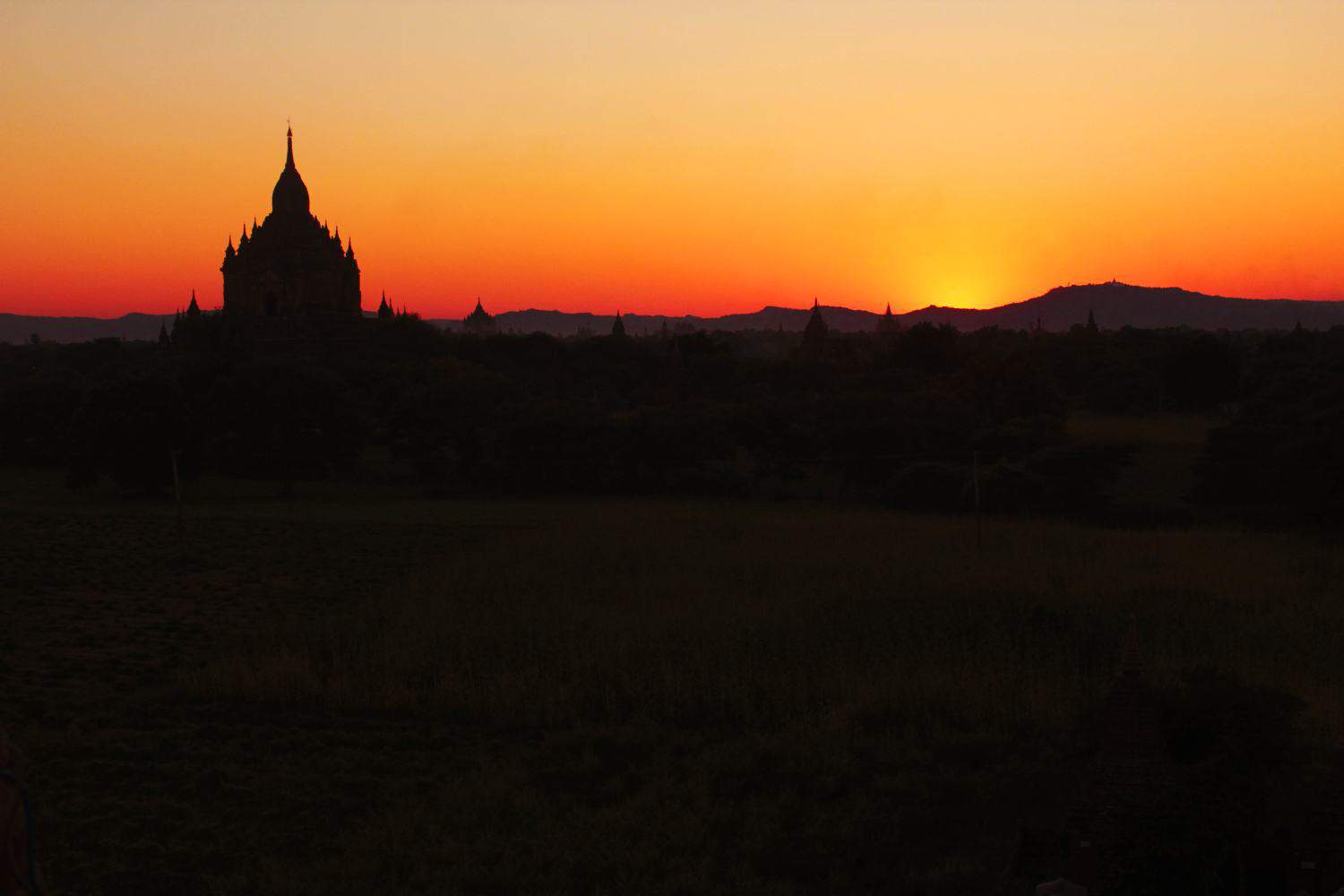 The Best Thing I Ate: 
A delicious bowl of steaming Shan noodles!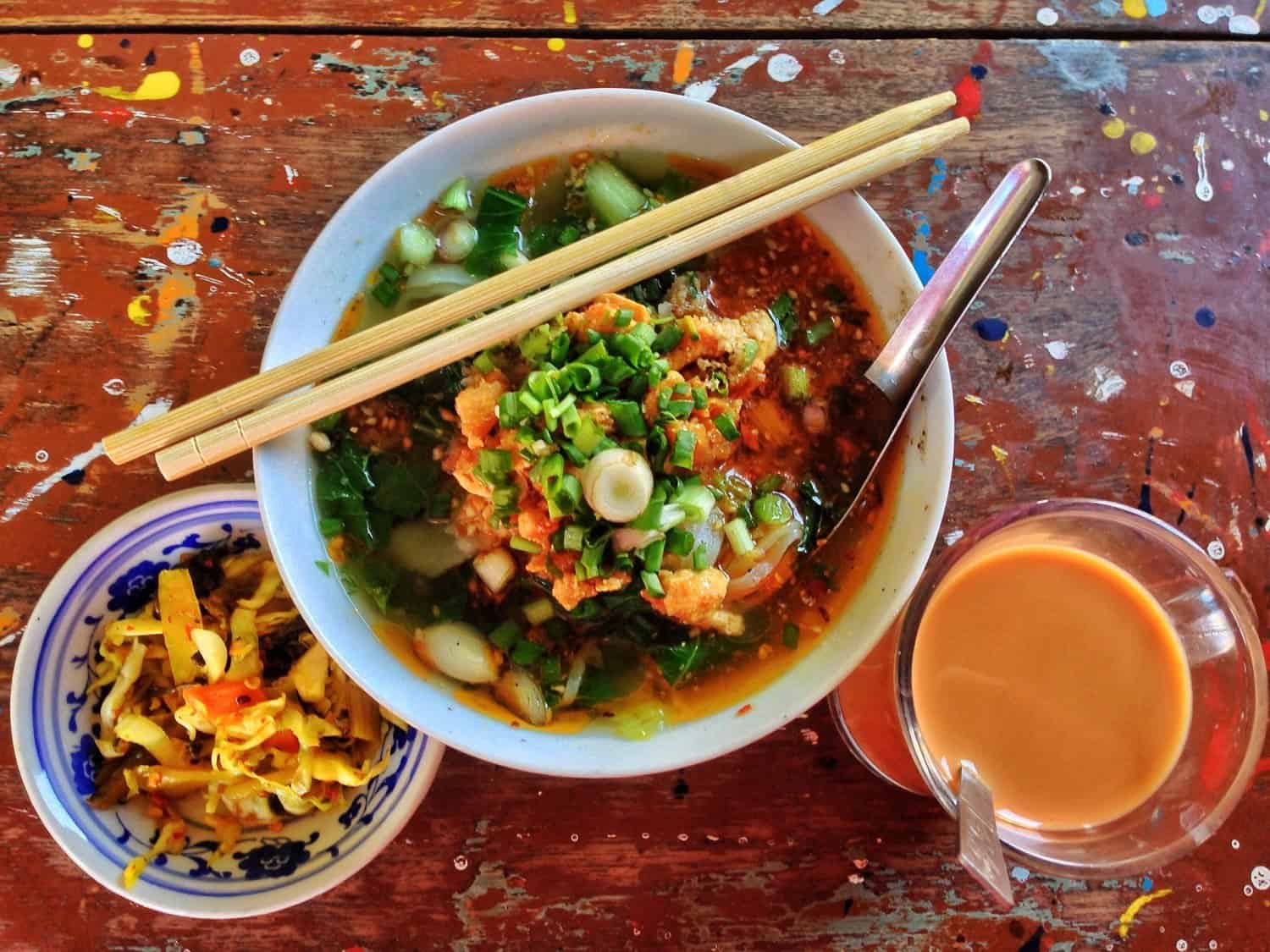 The Worst Thing I Ate: 
Money Spent: 
Accommodation:
Chiang Mai: $160.08 over 24 days: $6.67 per night
Yangon: $64 over 2 days: $32.00 per night
Bagan: $170 over 4 nights: $56.67 per night
Transportation: 
Scooter rental in Chiang Mai: $30.48
Gas for the scooter: $8.00
Flight from Chiang Mai to Bangkok: $37.49
Flight from Bangkok to Yangon: $62.89
Circle Train ticket: $0.19[!]
Overnight bus from Yangon to Bagan: $18.50
Electric bike rental for 4 days in Bagan: $11.00
Food: $278.34
Visas and Entrance Fees: 
Visa for Myanmar: $50.00
Sule Pagoda entrance fee: $3.00
Botataung entrance fee: $3.00
Shwedagon entrance fee: $8.00
Bagan entrance fee: $15.00
Miscellaneous:
Chiang Mai Gym membership: $40
Total Amount Spent: $959.97
The Next Month: 
I'll be finishing up my time in Myanmar with a few days of rest in Kalaw and a couple of days cruising around Inle Lake, before heading to Yangon to eat as much as possible.
Then, Taiwan! I'm thrilled to be heading back to one of my favourite countries in the world and I can't wait to show Dave how ridiculously friendly the Taiwanese are. We'll be spending time in Taipei, Kaohsiung, Kenting (a new destination for me!) and Hualien.
Looking to follow along with my travels through my monthly summaries? You can read the previous month's summary here, the next month's summary here, or head on over to the monthly summary page to read from the very beginning!