What an incredible month! From family time in London to a brief few days back in Sri Lanka, from a perfect three weeks in the Maldives to getting back to my base in Chiang Mai, I've been flying all over the world this month!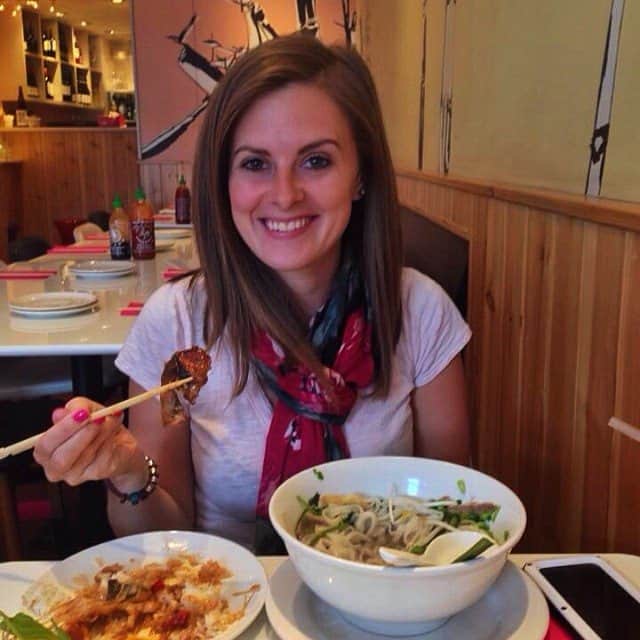 I started the month with a frantic race for a belly bar in a tiny town in Cornwall.
About a month ago, I woke up with a hole in my stomach — an event that happens more often than you'd expect. Every few months, I somehow manage to loosen the piercing and have no idea that it's slipped out of my stomach. I'm always having to replace them — and it can be tricky to do so when travelling!
This time it took place in Chiang Mai, where finding anything other than earrings was impossible. I scootered to fancy Western shopping malls and scoured every shop, always leaving empty handed. I visited an enormous five-floor jewellery shop and they didn't have them.
So, I did what anyone else would do in this situation and put a big, heavy, dangly earring in the hole and left it. For the next month, I caught my stomach on tables, on towels, and on t-shirts.
So, there I was in Cornwall, celebrating my mum's birthday with an infection in my stomach. It was painful, I could barely sit. It was hot and swollen, I felt dizzy. But I still didn't want to remove my earring because I didn't want the hole to close up.
And that was how I found myself racing around Cornwall, desperately asking shop owners if they had a belly bar. Fortunately, I found one and spent my last days in Cornwall soaking my stomach in Dettol, in salt water, in Savlon.
I don't know why I didn't think to go to a piercing place in Chiang Mai.
I then had a week in London where the plan was to catch up with as many of my friends as possible. As an introvert who was suffering from glandular fever (STILL!), I was left exhausted and drained from all of the stimulation, but it was so worth it! I got to hang out with so many of my friends from college and uni — some of whom I hadn't seen in almost three years.
I also got to treat my mum to a day of tourist fun! Despite having lived around here for much of my life, there's nothing I love more than being a tourist in my hometown. We spent out time hanging out in Shoreditch, eating bagels and getting mani-pedis, and even I got to introduce my mum to Vietnamese food for the first time! I'm pleased to say that she loved it. We finished off our evening with a sunset trip up the Shard, which was surprisingly great. So much better than the London Eye!
And then, it was time to say my goodbyes and fly back to Asia. After one night in Sri Lanka, where I reunited with Dave and gave him a box of vanilla flavoured Cornish fudge that was so amazing that I spent the rest of the day trying to secretly eat it, we were off to the Maldives!
And it was everything I hoped for.
We spent our three weeks island hopping to four different islands. First stop, Maafushi — my favourite island, even though it was the busiest. Which, in the Maldives, still isn't very busy. It had the best beach, the cheapest food and my favourite palm tree. We were experiencing the stereotypical Maldivian beach for less than $50 a day!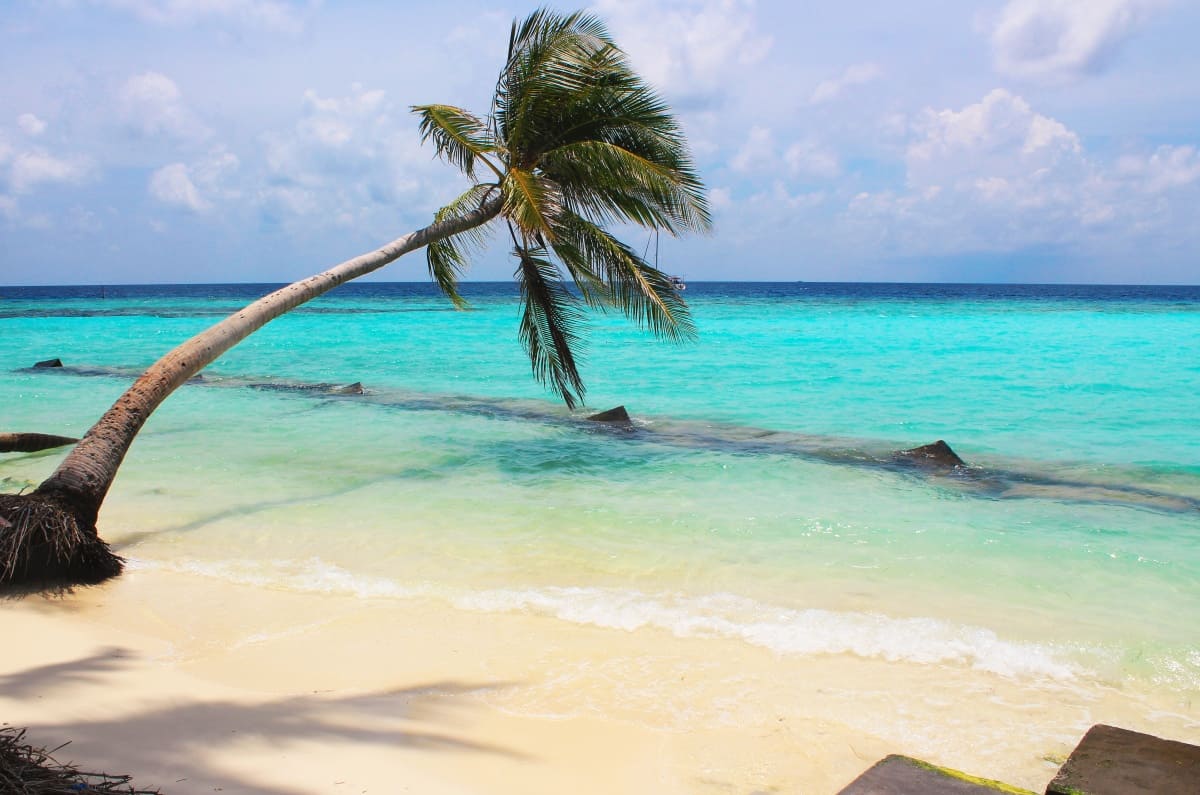 Our next stop was Fulidhoo, a very small island that I had no idea was so tiny. It was bizarre being the only tourists on an island, and it was definitely something we weren't expecting. It was wonderful, though. We had every beach to ourselves, and because there aren't loads of tourists visiting (there's only six beds on the island), the snorkelling was pretty great. Well, to me anyway. I got to see live coral for the first time! A particular highlight was watching a heron hunting for fish from just a few metres away.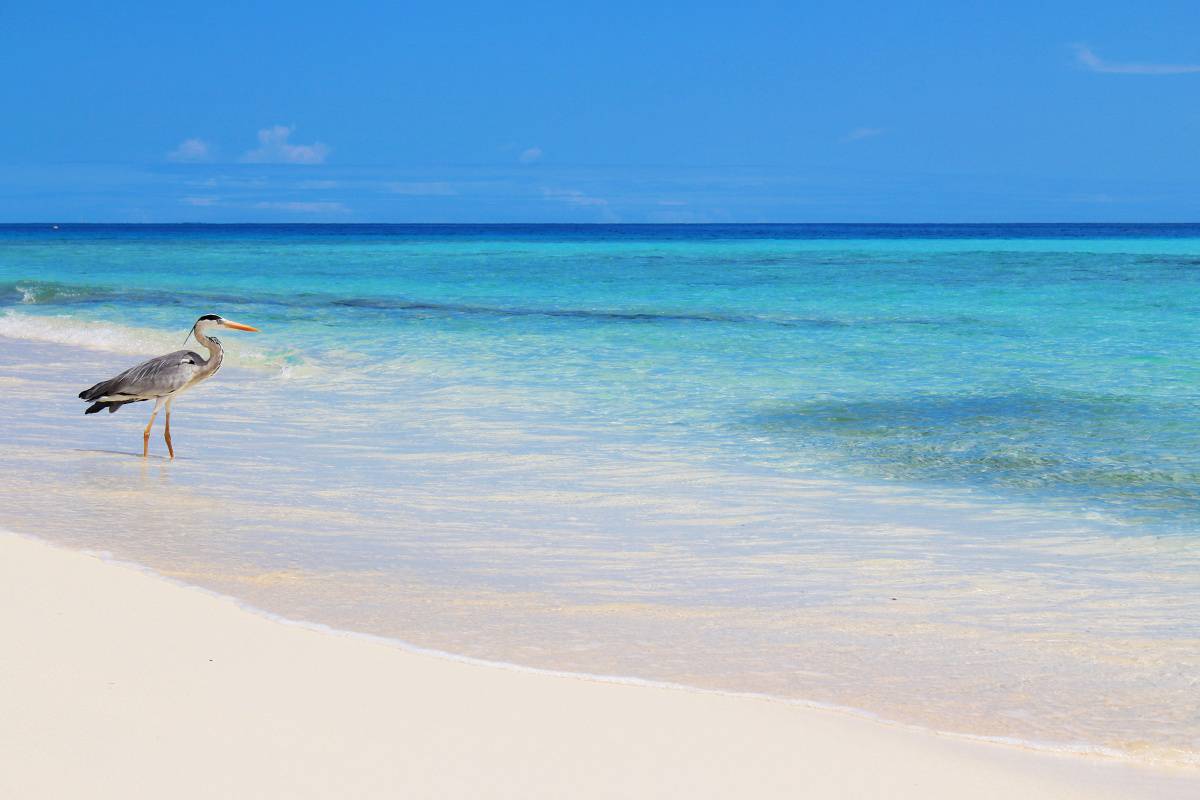 And then our final local island: Guraidhoo. This was my least favourite of the islands, which is a shame as we spent the most amount of time there! The beaches weren't great — there was plastic all over them — and they were rocky and full of shells. There wasn't a Bikini Beach, so sunbathing involved wearing big board shorts and a t-shirt, which wasn't fun when wet. There wasn't really all that much to do.
We did, however, take a snorkel trip, with the aim of seeing manta rays. Sadly, there were no mantas around, but I got to experience the best snorkeling of my life. Swimming alongside sea turtles, floating a metre above a massive reef full of colourful coral and thousands of tropical fish.
I'm totally not a snorkeling person — I get seasick on the boat and in the water, I always end up swallowing loads of seawater and gagging, and, well, usually I find it kind of boring. This, however, was really great.
If you're going to the Maldives, take a snorkeling trip — it's amazing! Here's a video Dave took of a turtle we saw:
It was Dave's birthday while we were in the Maldives and I decided to splash out and treat him to a few nights in one of the famous Maldivian overwater bungalows.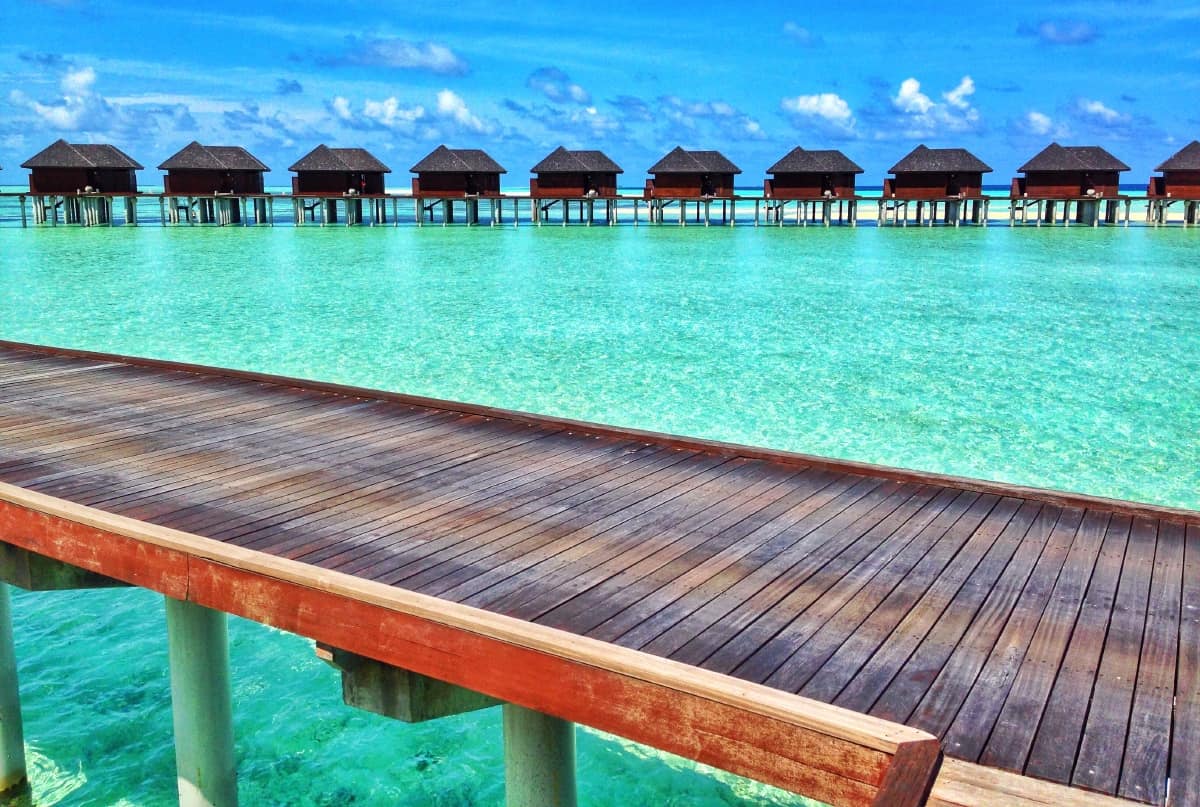 I'm a total budget traveller, and wouldn't opt to stay in resorts even if I could afford it. Let's be honest, I didn't gain a single insight into Maldivian life while staying here. Alcohol flowed freely, women wandered around in bikinis, there was no call to prayer to wake me up, there wasn't any Maldivian food available.
But for two nights it was perfect.
We were staying in a bungalow with an outdoor jacuzzi on our balcony, and steps leading straight into the ocean. We had a ridiculously enormous shower, and a bathtub looking out over the sea. The beaches were some of the best we experienced in the Maldives, and having two infinity pools to switch between was wonderful.
It was Dave's birthday present but it was totally a treat for me as well!
Then it was back to Guraidhoo for a final two nights, where our scammy guesthouse owner scammed Dave and I out of money. Once more, I'll say do not stay at Coral Heaven in Guraidhoo. After confirming the price of our transfer to and from the resort multiple times with several different staff members, when we returned to Guraidhoo, the owner decided to double the price. He did the same thing with the people who left the day before us. Ugh. What a horrible to thing to happen after such a wonderful few weeks in the Maldives!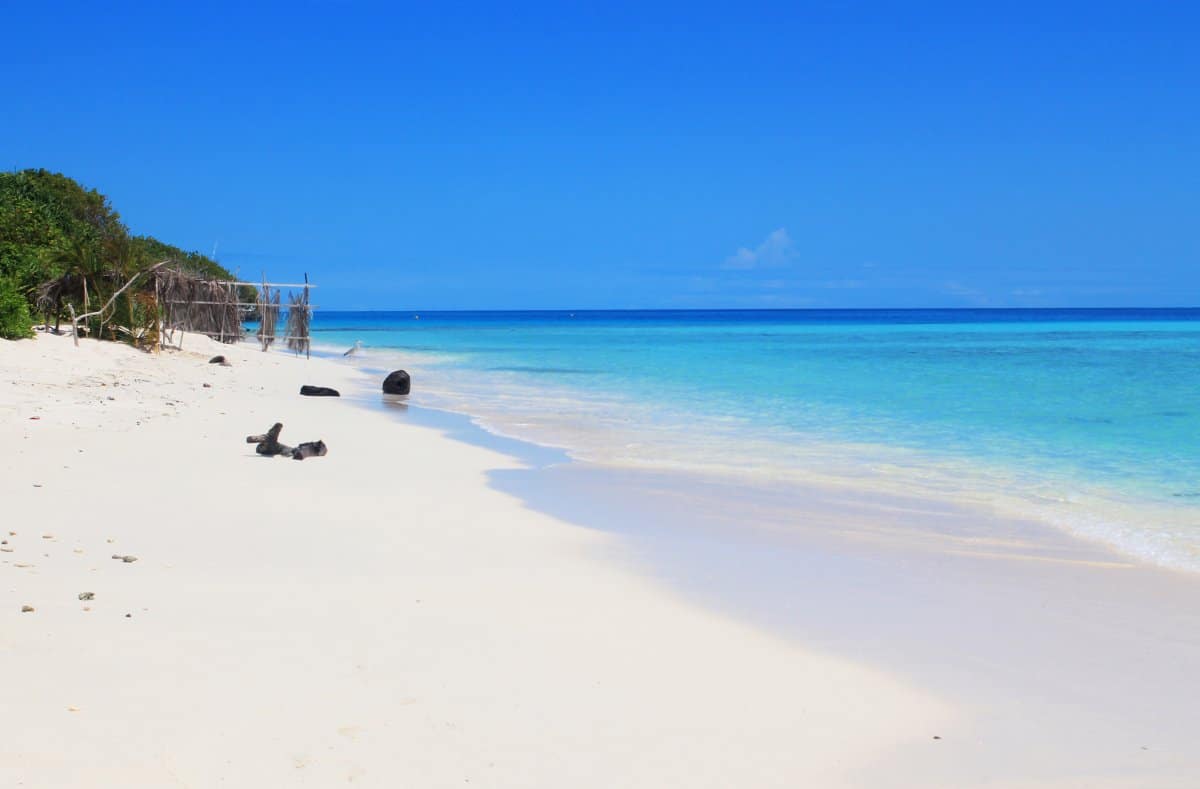 And then I finished off the month, with a long and dreary travel day, which shows just how unglamorous travel can be.
6am: Alarm wakes us for last minute packing. I consider pouring my bottle of shampoo on the bed to punish the scammy guesthouse owner or, you know, stealing his TV or something. Dave forces me to take the moral highground. I mentally compose the one star Tripadvisor review I'm going to leave. 
7am: Ferry from Guraidhoo to Male.
9am: Arrive in Male. Flight out of the Maldives isn't until 5pm, so we have lots of time to kill. We glumly walk in the sweltering heat for an hour in search of a cafe with Wi-Fi. The only one we can find is some kind of smoking cafe. The room is filled with around 20 locals, every single one of them smoking cigarette after cigarette after cigarette. We're bloggers. We want Internet. We step inside. 
10am: My lungs are dying. 
11am: My lungs have died. 
12pm: My lungs are definitely dead. My chest hurts. Am I having a heart attack? I bet I'm having a stroke. I raise my arms in the air and smile to see if I'm paralysed. I'm not. Dave stares at me. 
1pm: Dave and I decide to move on because my smoke-free-for-life lungs are 100% dead. I have chest pains, my tongue feels weird and I feel like I'm suffocating. My legs are shaking. I'm dizzy. We find a new cafe. There's no Internet, but there are cupcakes. And no smoke. I'm overjoyed.
2pm: We pick up our backpacks and trudge to the ferry terminal. The airport is a five minute journey from Male.
2:30pm: I step on the overloaded ferry and fall flat on my face. With my backpack and daypack on. In front of everyone. I'm pleased I didn't fall overboard and shuffle inside.
3:00pm: We arrive at Male airport. 
5:00pm: Take off! 
6:00pm: Landing! We're back in Sri Lanka and spending the next seven hours in Colombo airport. Dave finds a TV showing a cricket match. I try to sleep. I pay $15 for a smoothie and cup of coffee.
1:00am: Take off! We're heading to Bangkok. 
6:00am: Landing! We're in Bangkok after no sleep on the flight. It's 4am in Sri Lanka. 
6:30am: A nerve-wracking pass through immigration. Thailand has been clamping down on people who spend too long in the country and we're concerned we're going to be turned away. We make it through unscathed and without question. 
10:00am: Take off! We're flying to Chiang Mai. 
11:00am: Landing! We're in Chiang Mai. Finally. 
Finally, we're home.
Onto the statistics for the month! 
Countries Visited: 4
The Maldives, Sri Lanka, Thailand, United Kingdom
Places Visited: 10
The Maldives: Maafushi, Male, Fulidhoo, Guraidhoo
Sri Lanka: Colombo, Negombo
Thailand: Bangkok, Chiang Mai
United Kingdom: London, Padstow
Distance Travelled: 13,954 kilometres
Photos Taken: 1893
Highlight of the Month:
Arriving at Olhuveli and getting to see Dave's face when I surprised him with our fancy bungalow! We immediately jumped in our jacuzzi and spent the next few hours watching stingrays and tropical fish darting underneath us. So much happiness.
Lowlight of the Month: 
Being scammed by the horrible guesthouse owner in Guraidhoo. What a terrible way to end such a wonderful trip! So disappointing.
Incident of the Month:
I nearly missed my flight back to Colombo from London!
I'd booked all of my upcoming travel on one ticket with Sri Lankan Airlines: Bangkok – Colombo – London – Colombo – Kochi. As you know, I couldn't get my Indian visa, so I bought a flight to the Maldives instead. However, when I came to check in at Heathrow, the guy at the check in desk told me that my bag was going to be checked all the way to India.
I told him that I didn't have an Indian visa and needed to collect my bags in Colombo and he told me that wasn't possible. Because my layover in Sri Lanka was less than 24 hours, my bags would automatically be checked all the way through and there was nothing he could do about it.
Panic!
So for the next hour, I stood helplessly as he made phone call after phone call, convinced I was going to end up with lost luggage.
Half an hour before boarding, he finally figured out how to cancel my flight to India and get my bags checked to Colombo. Half an hour before boarding.
Security was crazy-busy at Heathrow. The guy working the security was all, "I hope you've taken all liquids out of your bags, because if you haven't, you'll be pulled aside for a detailed search, and the queue for that is over an hour!"
Double panic!
But I made it through. No liquids, plenty of sprinting towards my gate. And then I was on the plane.
Photo of the Month: 
I love all the different shades of blue in this photo from Fulidhoo!
Money Spent: 
Accommodation:
Padstow: N/A
London: N/A
Negombo: $25 for one night
Maafushi: $93 for four nights: $23.35 per night
Fulidhoo: $185 for six nights: $30.83 per night
Olhuveli: As this was a birthday present, I won't be disclosing how much I spent.
Guraidhoo: $218 for six nights: $36.33 per night
Chiang Mai: $6.67 for one night
Taxes and Fees for Accommodation in the Maldives: $216
Transportation: 
Flight from London to Colombo: $368
Transfer to and from Colombo Airport and Negombo: $20
Flight from Colombo to Male: $78.00
Ferry from Male Airport to Male: $0.71
Ferry from Male to Maafushi: $2.00
Ferry from Maafushi to Fulidhoo: $2.00
Ferry from Fulidhoo to Guraidhoo: $1.00
Tranfer to and from Guraidhoo and Olhuveli: $40.00
Ferry from Guraidhoo to Male: $2.00
Ferry from Male to Male Airport: $0.71
Flight from Male to Bangkok: $150
Flight from Bangkok to Chiang Mai: $35
Food: $791.84
Activities: 
Snorkeling off Guraidhoo: $50
Miscellaneous: 
Scammed by our Guraidhoo guesthouse owner: $30
Total Amount Spent: $2098.83
The Next Month:
I'm looking forward to taking a break from all the travel over the next month and — as you know — Chiang Mai is the perfect place for me to do so! I'm looking forward to staying put and working hard. I'm excited to share my experiences from all over South Asia with you over the next four weeks — The Maldives, Sri Lanka, and Nepal.
Looking to follow along with my travels through my monthly summaries? You can read the previous month's summary here, the next month's summary here, or head on over to the monthly summary page to read from the very beginning!