I landed at Heathrow airport and bounced my way through security and into the arms of my sister, Victoria.
It would have been more exciting if she'd actually recognised me.
It had been two years since I last saw her and I'd changed a lot since then — though I didn't realise I'd changed so much physically. Victoria had to look at the squawking girl waving manically in her direction a couple of times before realising that the girl was, in fact, me.
Like most visits back home, I planned for friends and family time, as well as taking a trip to a doctors to see if I had contracted cholera or dengue or Travel Death. This time, however, I was visiting because I had swollen, painful glands all over my body for seemingly no reason. I was convinced I had lymphoma and had begun making plans for how this would affect my travels — you know, how I'd fit in chemotherapy around flights.
I breathed a confused sigh of relief when a blood test showed was just mono. I found out after a five mile walk around a nearby park. Shouldn't I have been feeling worse?
Still, I took the prescribed treatment of naps and applied it to my life with gusto.
Aside from naps, I spent time falling back in love with London and wondering how I could convince Dave to spend an extended period of time here next year. Highlights included: introducing my family to Mexican food and margaritas, admiring my dad's jukebox, stuffing my face with cheese, meat and olive oil at Borough Market, a badass Mad Hatter-themed afternoon tea experience, watching The Bodyguard, eating delicious burgers with Victoria, and seeing *cough* Miley Cyrus at the O2. As always, I was super-sad to leave!
It was time to make a decision. I'll be writing an article in a couple of weeks fully explaining exactly why I changed my travel plans, but there were quite a few factors that led to me canceling my time in Latin America and deciding to head back to Southeast Asia. For those of you who have read this site for any amount of time, you probably won't be surprised to hear that I'm heading back to my favourite region of the world. After many hours of research and planning and soul searching and bickering, Dave and I decided to forgo our return tickets back to the US and buy some flights to Vietnam.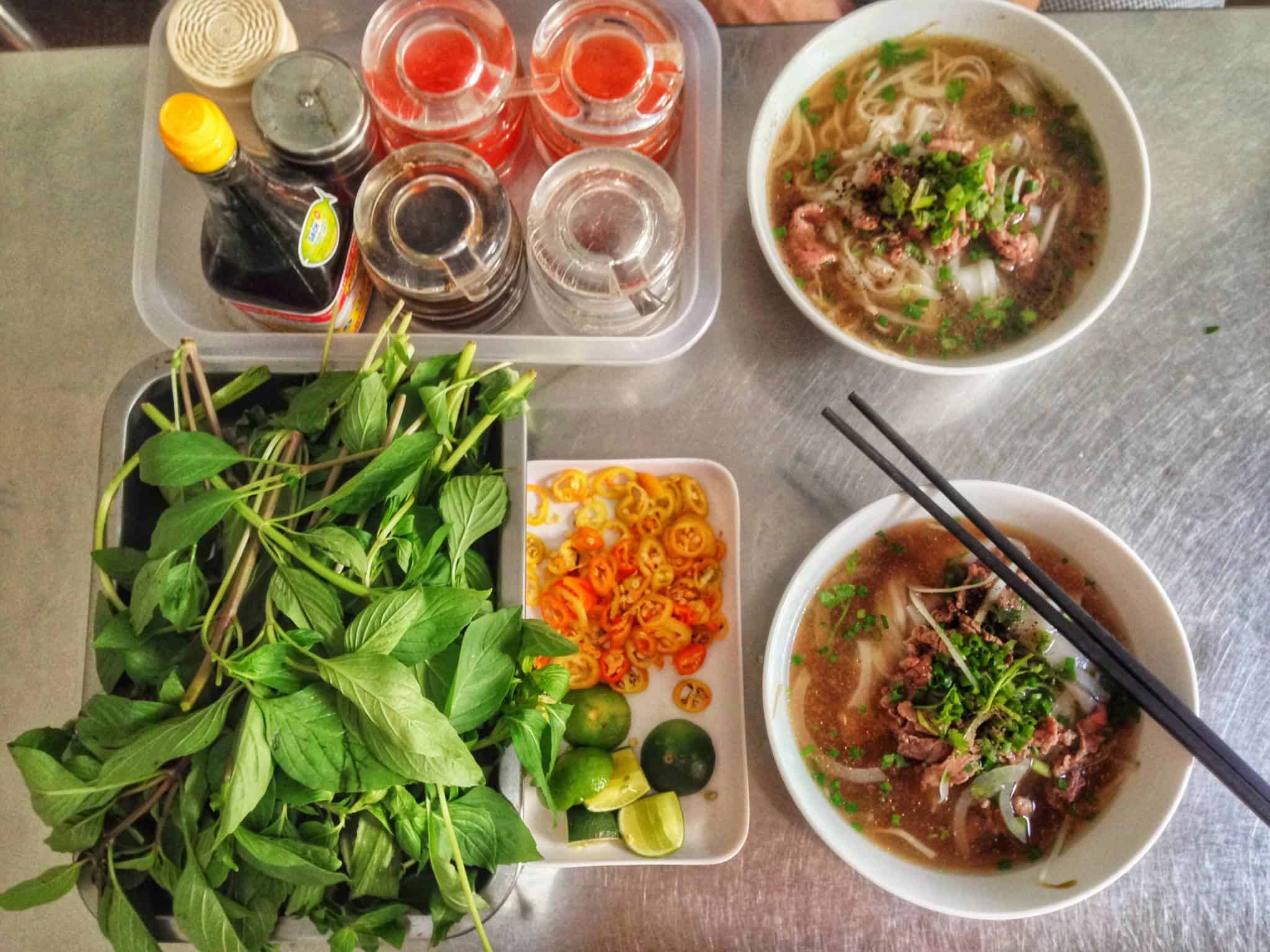 Whenever I have a long haul flight, particularly from Europe to Asia, I immediately start planning for long layovers to break up the journey. There are so many countries I haven't visited between the UK and Vietnam.
It took me at least a week to narrow down where I most wanted to visit: I could visit Stockholm, or Oslo, or Helsinki — all exciting because I've yet to visit Scandinavia but all expensive after spending so much money in recent months. I could finally stop being frightened of India and book a flight to New Delhi or Goa for a quick taster of the country. I could terrify my parents by visiting Iran, or terrify myself by visiting Egypt. I could go far out of my way and visit Mongolia for the first time! There were too many options and I just couldn't narrow it down.
In the end, though, I knew that I wanted to visit the Middle East — it's one of the few regions of the world that I'd yet to visit. After a bit of research, I excitedly booked flights for two nights in Muscat and a night in Abu Dhabi.
It was a struggle to find somewhere to stay in Muscat. The city is actually made up of three small towns that gradually expanded to form one sprawling city spread out over something like 50 kilometres. There's the fancy, expensive resort area on the beach that had little to do and was crazy-expensive; Muttrah, which is exactly where I wanted to spend my time but only had really crappy sounding guesthouses; or the Ruwi area that was where all the business-type hotels are. I wanted beaches, I wanted things to do, and I wanted to see the pretty waterfront in Muttrah. Given that public transport doesn't really exist in Muscat and I didn't want to blow hundreds of dollars taking cabs all over the city every day, I must have spent hours trying to work out where on earth I could stay!
In the end I opted for a lovely hotel in the Ruwi district, that offered a deal for two nights for the price of one, a free breakfast and a free airport transfer. It was perfect! While I didn't get to do all the activities I was hoping for — thanks to a combination of jetlag and mono — I still managed to spend a wonderful day exploring Muttrah. It was so beautiful.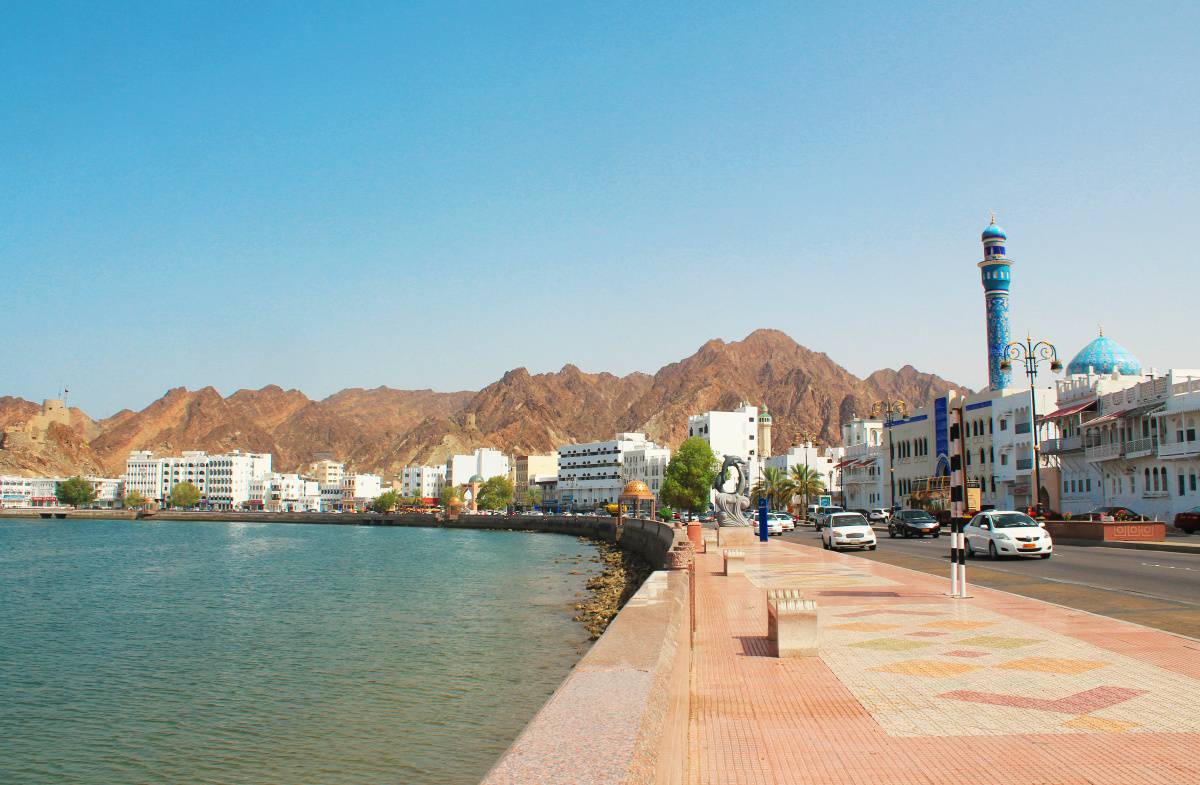 I can't wait to write about Muscat in more depth. Even though I'd read plenty of articles insisting that Oman was one of the safest countries in the Middle East, I still had a few safety concerns. I didn't know if I'd have problems with the men, like I did in Morocco. I didn't know if I'd feel unsafe as a solo female… I had no idea what to expect. Fortunately, I found the little time I spent in Oman showed me that it was nothing like Morocco in terms of hassle. The locals were incredibly friendly, always greeting me with smiles and welcoming me to their country. I received no hassle whatsoever from anyone, and, at times, felt like I was the only tourist around! I loved my brief time in Oman, and I can't wait to return to explore it in more depth.
The only downside: I don't really travel with light, long-sleeved clothes that would allow me to remain cool while covering up, and didn't see much point in buying some just for my three days in the Middle East. So, I found myself exploring in 46 degree heat while wearing jeans and a hoodie, and a scarf. I felt like I was melting!
Next, the UAE. I visited Abu Dhabi for one reason, and it was the only thing I did while I was there: Sheikh Zayed Mosque. I love visiting mosques around the world, and this seemed like the ultimate one.
It was definitely worth the heat, exhaustion, and rushing around. Sheikh Zayed Mosque was incredible!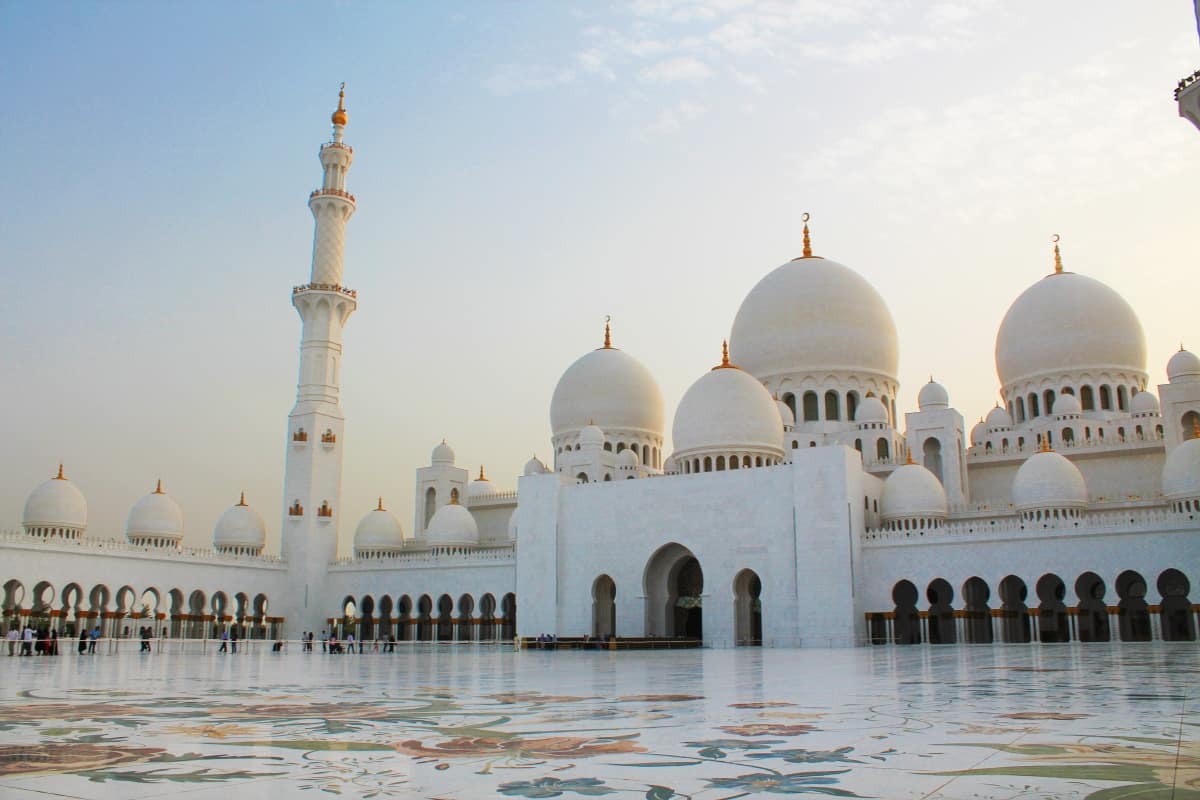 With my quick jaunt through the Middle East over, it was time for me head back to Southeast Asia far earlier than I expected.
Like most of my returns to this part of the world, it didn't take long for me to feel right at home and realise I made the right decision in returning. More on this in a couple of weeks.
I can't stop eating soup.
Onto the statistics!
Countries Visited: 4
Oman, United Arab Emirates, United Kingdom, Vietnam
Cities Visited: 4
Abu Dhabi, London, Muscat, Saigon
Distance Travelled: 11,999 kilometres
Photos Taken: 428
Highlight of the Month: Reuniting with Dave after five long weeks apart! Dave and I try to make sure we always spend at least six weeks travelling solo each year for many reasons: 1) We love solo travel just as much as couple travel and use this time to make friends and get out of our couple bubble. 2) We often spend 24 hours a day together and struggle to find our own space. While I've been absolutely astonished that we're able to spend every second of every day together without having a single argument, we still find ourselves craving space every now and then. So, solo travel is great for us but it's still a struggle to go from spending every second together to only chatting for 20 minutes a day over Skype. This particular time apart was perfect — especially as we used our time to visit our respective families — but being reunited is always fun. I'm happy to have my travel partner in crime back with me :-)
Lowlight of the Month: Discovering that I had mono and spending my time back home unwell. My mono definitely could have been a lot worse — I didn't have a fever and didn't have crazy fatigue, but I still felt a bit odd for much of my time in London. Blood tests are also never fun for a fainter like me.
My Favourite Photo:
I visited Sheikh Zayed Mosque an hour before sunset so that I'd be able to take photos during the day and at night. One of the highlights was getting to wander at sunset, when the sky turned pink and I finally had some respite from the 46 degree heat.
Money Spent:
Accommodation:
2 nights in Muscat: $83 ($41.50 a day)
3 nights in Saigon: $15 ($5 a day)
I stayed with my parents in the UK, so no accommodation expenses for there.
Transport:
2 x Trains to Central London and back: $32
Flight from London to Muscat: $559.43
Flight from Muscat to Abu Dhabi: $127.27
Taxi to and from Abu Dhabi airport: $40.00
Flight from Abu Dhabi to Saigon: $429.79
Taxi from Saigon airport: $7.50
Food: $488.76
Miscellaneous:
Shopping (I used my time back home in the UK to finish replacing everything in my backpack, as well as my backpack itself!): $921.18
Total Amount Spent: $2703.93 [So much for saving money during my month at home!]
Amount by Country (excluding flights):
UK: $1370.50 over 24 days = $57.11 per day
Oman: $111 over two days = $55.50 per day
UAE: $71 over one day: $71 per day
Vietnam: $34.50 over three days = $11.50 per day
The Next Month:
I'll be spending the next three weeks based in Saigon while I attempt to try as many soups as possible. I hope they'll help me recover quickly from The Mono. I'm feeling much better compared to last month but I'm still spending a lot of my days asleep.
I'll be celebrating my birthday on the 7th June and I was surprised when I realised that I'd be celebrating in Vietnam for the second year in the row! I definitely didn't expect that to happen after my less-than-amazing Vietnam experience last year. I'll be taking a weekend out from the pollution of Saigon and heading to Mui Ne for some beach time and seafood treats. I haven't visited Mui Ne before so I'm excited to check out a new destination in Vietnam.
In other news, I maintain a list of my top five countries I most want to visit and recently resolved to visit one of them this year. For those who are interested, my current list is: Ghana, Greenland, Iran, Madagascar and Nepal. Well, I'm working in a trip to one of those countries for my birthday, too: I'm going to Nepal!
Of course, even booking my flights wasn't without incident, as I accidentally booked the flight for the wrong day. AirAsia doesn't offer refunds or free changes, even within 24 hours of booking the flight, so I had to pay a $95 fee to change my flights! "Hi, I'm Lauren. I'm an expert traveller!"
Still, even being an extra $100 out of pocket can't dampen my mood. I've wanted to visit Nepal for SO LONG! I haven't decided how long I'll be staying there and where exactly I'll be going, but I'm planning for chaos and culture shock in Kathmandu, relaxation and yoga in Pokhara and jungle trekking in Chitwan, where I really hope I get to spot rhinos and tigers! Most excitingly of all, I'll be taking a two week vacation when I visit Nepal — no working, no writing, no answering of emails — I can't wait!
Do you have any recommendations for Mui Ne or Nepal? How do you feel about me returning to Southeast Asia again?
Looking to follow along with my travels through my monthly summaries? You can read the previous month's summary here, the next month's summary here, or head on over to the monthly summary page to read from the very beginning!