Talk about a change of scenery!
When I left you last, I was soaking up the sun in gorgeous Bali, and making the most of my last remaining weeks from this stint of travel. As I write this now, I'm sitting at my desk in a bright and shiny apartment with a cup of tea in hand, wondering if the past seven years were all a dream. More on that later!
I kicked off May with one of the most ridiculous flying experiences of my life.
After travelling to Singapore, spending the night in the airport, and then being told there was a problem with the plane's engine, I ended up enduring a full 19 hours sitting in a middle seat. If you think you've had an uncomfortable flight in the past, it had nothing on this one! Oh, and then the airline ran out of food half-way through the flight.
Despite my hunger and agitation, any flight is a good one when it means landing in London on a gloriously sunny day.
Dave and I opted to spend a full two weeks staying with my parents on the outskirts of London while day-tripping into the city. We needed time to decompress after such a hectic travel schedule, and it was wonderful to simply sip gin and tonics in the garden, head out for regular pub meals, and soak up the sunshine.
As always, being back in the homeland means doing all of those mundane things that aren't super-easy to achieve while travelling. Things like getting our phones repaired (Dave's broke in Thailand and mine bit the dust in Borneo), buying a new laptop (Dave's broke in Bali), and stocking up on medical supplies.
We spent a beautiful couple of days beer garden-hopping our way around London, and even scored tickets to see Frankie Boyle, who is now my favourite comedian of all time. I don't think I've ever laughed so hard before in my life!
Last year, I promised to explore more of my homeland in 2018, so when Dave's brother invited us to the Peak District for his birthday, we immediately switched up our plans so that we could make it happen.
It was my first time in this part of the country, and basing ourselves in adorable Bakewell was easily the right decision. We spent our days snacking on Bakewell tarts, gorging ourselves on excellent pub meals, heading out for long walks through the countryside, and sipping lots of wine. We even had a little bit of sunshine, which was amazing given that the forecast had been for thunderstorms for the entirety of the trip.
We only saw a tiny sliver of the Peak District over the few days we were there, but I can see Dave and I returning in the future for more hiking and exploring, especially as we now live in the U.K.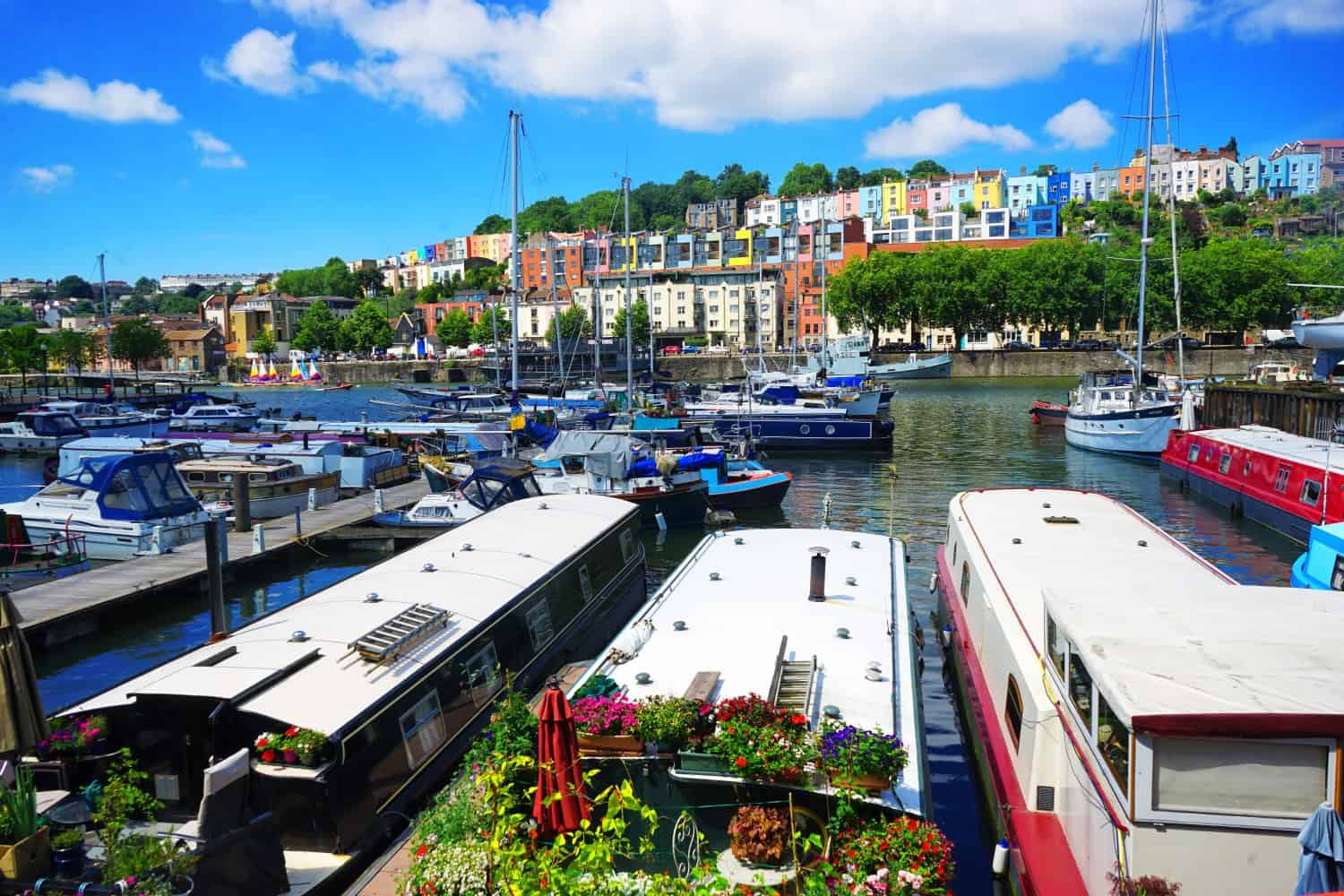 Wait, what?
This won't be news to anyone who subscribes to my newsletter, but for the heathens among us who don't: I moved to England! Bristol, to be exact.
I'm going to have an enormous post coming within the next couple of weeks that outlines why I chose Bristol, why it's one of the coolest cities in the world, and what my life is like here, so I won't reveal too much for now. Let me just say, though, that it already feels as though I made the right decision in moving here.
The final week of May, then, was all about moving. We managed to snag our perfect apartment within three hours of commencing our search, then 10 days later, were fully moved in. For the first time ever, we were moving into an unfurnished apartment and as people who could fit everything they owned into a 40 litre backpack, it was intense. There were so many small items to buy, so many things we forgot, so much money flowing out of our bank accounts.
But I'm glad we did it this way. Having our own furniture feels amazing and is helping make our apartment feel more like home. It's still going to be another 10 days before we get a sofa, and sitting on the floor in the living room has been weird as hell, but I can't believe how well we landed on our feet.
May was a good month.
Countries visited: 1
United Kingdom
Places visited: 4
Bakewell, Bristol, Buxton, London
Distance travelled: 7265 miles, including the flight from Singapore.
Number of flights: 1
Number of buses: 3
Number of trains: 4
Highlights of the Month
Having everything fall neatly into place: When I left Lisbon back in November, I was concerned I'd made a huge mistake. I'd been happy there. Happier than I'd ever been before. I had a huge community of wonderful friends, was surrounded by incredible restaurants and bars, and couldn't get enough of the beautiful weather. I adored Portugal, but it never felt like home. I was an outsider and Lisbon was a city that was slowly being taken over by people like me.
After leaving, I spent the following six months travelling and fretting. What if Bristol doesn't work out? What if we can't find an apartment? What if the rent's too expensive? What if I'll never be as happy as I was in Lisbon? What if we don't make any friends? What if the weather makes us depressed? What if England feels boring after seven years of travel?
We arrived in Bristol on a sunny afternoon and wandered through a park on the way to our Airbnb apartment. Dozens of people were picnicking on the grass, the smell of barbecues filled the air, and a nearby pub garden was packed with happy humans. We had been in Bristol for roughly four minutes when Dave turned to me and grinned.
"This already feels like home."
It did for me, too.
If you've read this site for any amount of time, you'll know that things going smoothly is a novelty for me, so the fact that moving here was one of the easiest things I've ever done was a tremendous surprise. We found an apartment within three hours of starting our search, were approved by the landlord an hour later, found all of our furniture within a couple of days, and are now living in one of the best neighbourhoods in the city.
We slotted into life in Bristol within a couple of weeks of arriving, and it feels so good to have a base again.
The perfect afternoon in London: When the sun is shining in London, there's nowhere else I'd rather be. Dave and I spent a full day wandering through eight different street food markets, sipping cider-based cocktails in a Rekorderlig cider garden at Underbelly on Soutbank, snacking on unlimited pintxos at Pix Pintxos for dinner, and then rounding it all off with an evening spent crying with laughter at Frankie Boyle.
I don't think London is the right place for Dave and I live to right now, but I'm ecstatic that Bristol's just a two-hour coach ride from my favourite city in the world.
Designing my dream home from scratch: Dave and I decided to opt for an unfurnished apartment when we moved to Bristol, mostly because every furnished apartment we saw was ugly. I found myself frequently cringing at other people's furniture choices and immediately pointing out the things I'd replace.
It was overwhelming to move into an apartment without so much as a fork to our names, but getting to invest in our comfort and tastes has meant the world to us. We've invested in the most comfortable bed we've ever slept on, and converted the second bedroom into an enormous office for Dave and chill-out zone for me. We're waiting for our gorgeous sofa to arrive, and have snapped up storage for all of our travel souvenirs.
It's already starting to feel like a home I could spend years living in.
Lowlights of the Month
Ten days in an uncomfortable Airbnb room: We rented out a room in an Airbnb apartment for our house-hunting fun, reasoning that we'd be spending all day outside in search of a home, so didn't really care where we stayed.
Wrong! We found an apartment on our first day in Bristol, and then had 10 days trying to work in an uncomfortable apartment. It was located on a main road outside a hospital, without double glazing or blinds that worked. The traffic noise and sirens woke us every few minutes throughout the night, and then we would be wide awake at 5 a.m. when the sun rose directly into our window. We didn't sleep properly for the entire 10 days and spent the whole time wishing we could just move into our apartment already.
I haven't had anything comfortable to sit on for almost a month: Dave and I spent several days searching for the perfect sofa, and when we finally found one, we were dismayed to learn it would take four weeks to be made. We agreed because let's face it: We've been travelling for years without having a sofa to sit on, so what was one more month?
A really annoying one, as it turned out.
We can't really buy any other furniture for our living room until we get our sofa in and can figure out what else to do with the room, so we currently have an entirely empty space and nothing comfortable to sit on. I've basically spent the past three weeks working in bed, while Dave's spent all day in his office chair.
In the grand scheme of things, it's hardly a hardship, but I know I'll enjoy living in Bristol a whole lot more when I actually have somewhere comfortable to sit in the evenings.
Um, spending all of my money: Who knew that buying absolutely everything for an unfurnished apartment could be so expensive? I should have, given that I tried to furnish our place without using IKEA. I was overwhelmed when it came to buying things like a bed and a sofa and had no idea what to look for or how to even design a home. Somehow, we're doing exceptionally well, even if May has been one of the most expensive months of my life.
Incidents of the Month
After a traumatising April, I'm pleased to announce that May was light on the incidents. Here's my worst:
The longest. flight. ever: Oh man, my flight from Singapore to London has put me off travelling long-haul for the foreseeable future! Our original plan was to fly into Singapore, spend the night airside in an airport hotel, then stumble out of bed and to our gate in time for our 6 a.m. flight.
Well. Our first disappointment was discovering that you can't check in for Norwegian flights online, and so we'd need to clear immigration at 4 a.m., check-in, and head through security to end up exactly where we'd just spent the night. It meant having only a few hours of sleep when we'd been planning for a little longer.
We boarded the plane — me in the middle seat — and sat there for an hour until the captain made an announcement. There was a fault with the engine, he told us, and they couldn't seem to fix it. They were going to try switching the plane off and on again, and if that didn't work, would call for an engineer.
We sat on the plane at the gate for four hours before they gave up and let us off and back into the terminal.
And then they fixed the error!
We were called back to the plane to board, but because this was a 787 and there was security at the gate, it still took another hour before everyone had boarded. By this point, I'd spent five hours sitting in a middle seat and we were still in Singapore. I couldn't stop laughing at how ridiculous our day had been, but had no idea it was about to get worse.
The captain made another announcement, telling us that a passenger had just let staff know that they'd packed their laptop into their checked luggage. This is something you can't do, due to the danger of lithium batteries, so now the ground staff would have to take off everyone's bags to find this person's laptop. We spent ninety minutes sitting on the plane, waiting for them to do so.
Take-off!
Finally.
I thought this flight was going to be rough anyway, given that it was already a 13 hour direct flight. In total, I spent nineteen hours sitting in that middle seat, and unfortunately, because of the long delay, the airline ran out of food half-way through.
Let's just say I had some very tired legs and a very hungry stomach when I finally touched down in London.
My Next Steps
I'm planning to go easy on the travel this summer. It's not only so that I can get to know Bristol better, but also so that I actually have time to write about my past six months of travel. Travel and work is tough to balance, and I've been failing on the latter ever since I left Portugal. I have so many blog posts to write, and I'm excited to sit in one place and focus on publishing them.
The first three weeks of June will therefore be spent building a life in Bristol. As I write this, I'm in the midst of furniture-buying and apartment-decorating, and our shell of a house is finally starting to feel like home — just in time for my birthday!
Yes, in just a few days I'm going to be turning 30, and I'm thrilled to be approaching a brand new decade of life.
In my twenties, I graduated with a masters in theoretical physics, visited over 80 countries, built a successful business, and met the love of my life. You can't say I didn't rock the hell out of this past decade! As for how I'll be celebrating the big day, I couldn't tell you. I know Dave has a big surprise in store for me, and surprises always make me both excited and terrified.
I also have a couple of trips back to London planned throughout the month, the first of which is to catch a Pearl Jam show with Dave. I'll be heading back at the end of the month for a few days of hanging out with friends before taking my next trip out of the country.
As you guys likely know, a light period of travel for me still means heading somewhere new at least once a month, so at the end of June, I'll be jumping on a plane to Zurich!
I've been to Switzerland before, but the vast majority of my time there was spent underground. I visited CERN as part of a college trip when I was studying particle physics, and spent a day exploring the LHC before flying back out again. I saw only the briefest of glimpses of Geneva, so I'm now taking advantage of my European base to start exploring my barely-visited countries in greater depth. On the agenda for this trip is a few days in Zurich, a day trip to Lucerne, and a couple of days spent checking out the tiny country of Liechtenstein for the very first time.
Have any recommendations for my time in Switzerland or Liechtenstein? Let me know in the comments below! If not, what are your plans for June?