July was another fantastic month, full of sunshine, ciders, and socialising, and I managed to squeeze a whole of travel in around it, too.
This month, I visited both Liechtenstein and Wales for the first time, checked out Zurich and Lucerne on a whirlwind trip to Switzerland, spent a few days exploring Oxford and recovered from it all in beautiful Bristol.
Let's get stuck in!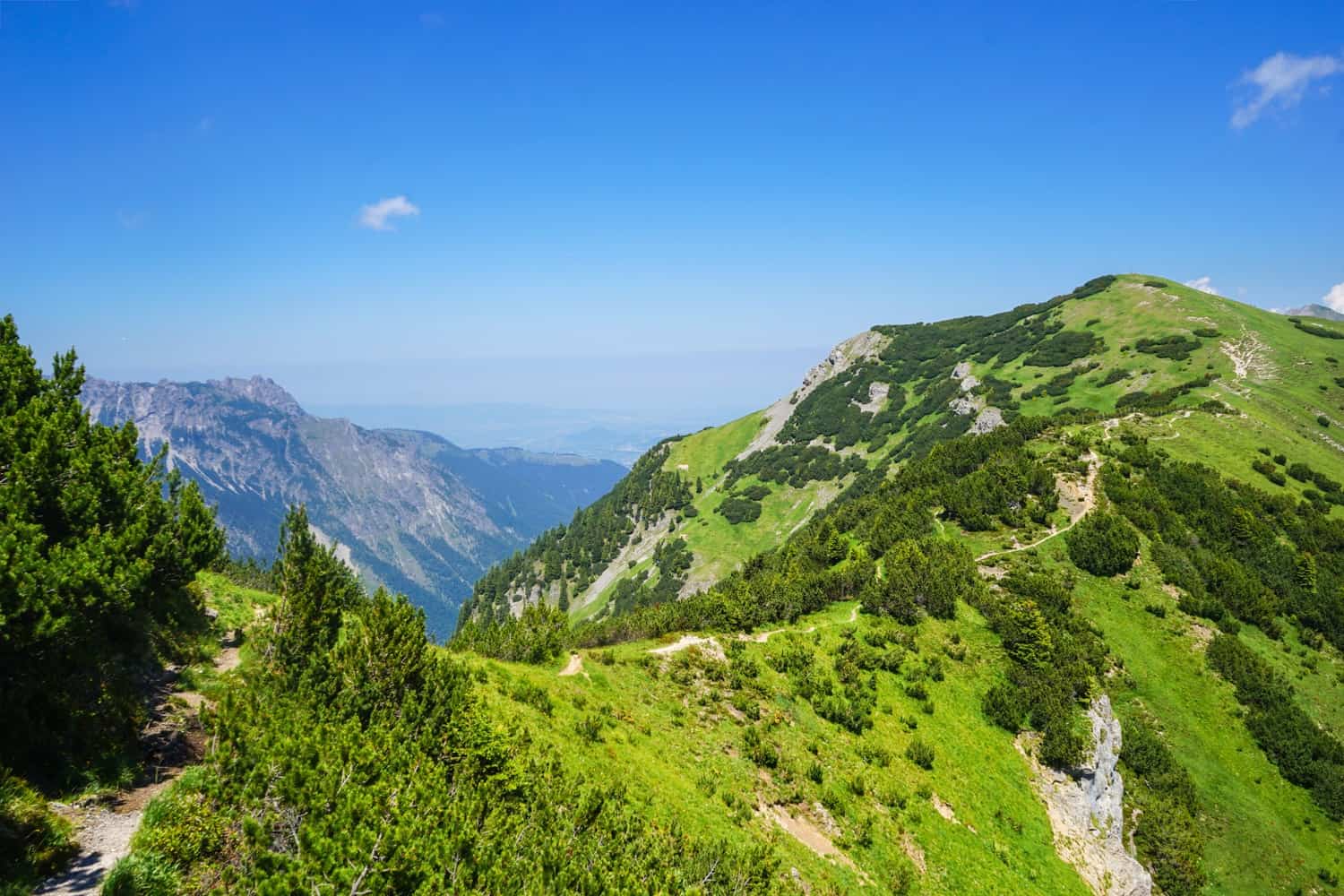 When I left you last, I had just arrived in Liechtenstein.
It was my first time travelling in this teeny-tiny microstate — the sixth smallest country in the world — and let me tell you: if you ever find yourself travelling nearby, you should absolutely go out of your way to visit.
Liechtenstein is such an underrated country, and one of the best I've come across for hiking. Even Dave admitted our hike in the country was the most consistently beautiful he'd ever been on. The views were incredible everywhere we went, and it had me wishing I'd allocated three or four days to the country instead of two.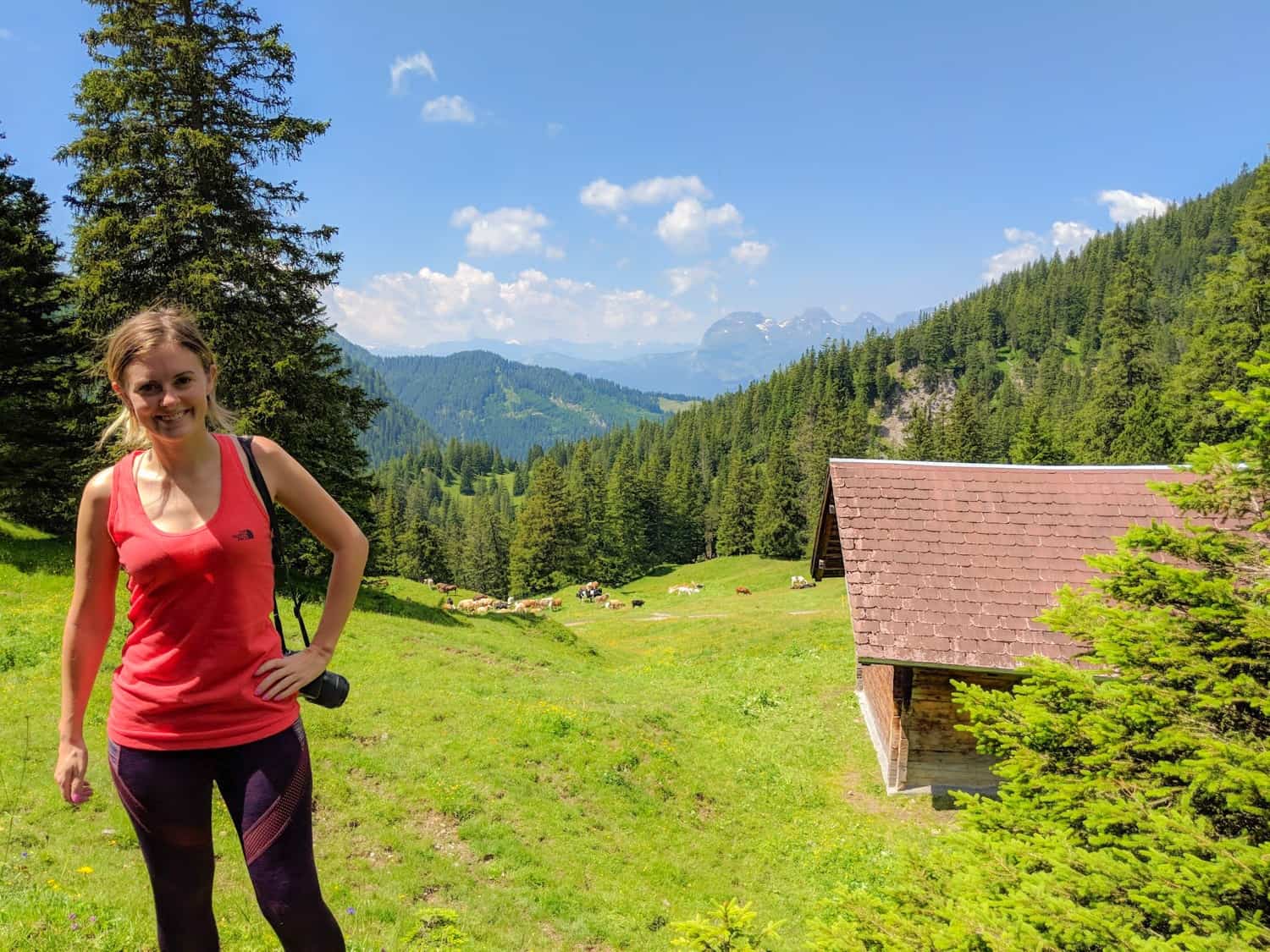 When we weren't climbing mountains in Liechtenstein, we were exploring its small capital of Vaduz, where we were basing ourselves. With the World Cup frenzy in full force, we found ourselves sucked into the mania and catching the games every evening. I felt international as hell when I realised I was sitting opposite my kiwi boyfriend in Liechtenstein, watching Uruguay play Portugal while surrounded by Swiss, German, and French families.
I can't see Dave and I planning a trip to only Liechtenstein in the future, but if I ever find myself close to this kickass microstate again, I'd go out of my way to return for another couple of days of hiking. I can't wait to share more photos from my hike with you!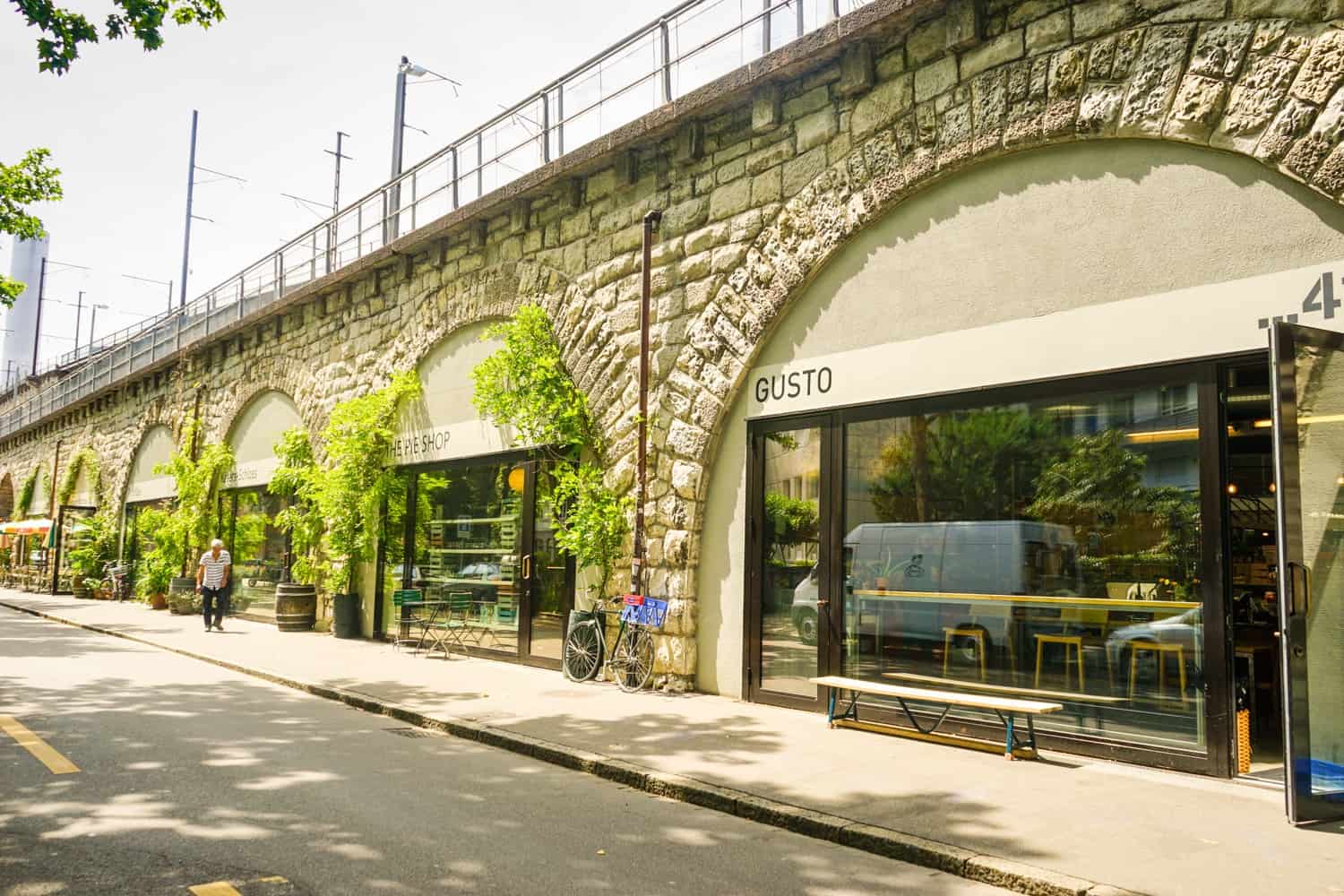 We hopped on a train to Zurich next with few plans for our time there. Zurich has a reputation for being a business-focused city that's attractive to bankers and traders and nobody else, but head out to Zurich West as we did, and you'll find a hipster neighbourhood that's anything but boring.
Like practically every story of gentrification, the neighbourhood was once the gritty industrial part of town, but has recently been revived into a thriving hangout full of bars and coffee shops. There's the old viaduct that's been converted into a row of restaurants and stores, a shop made from stacked shipping containers that soars 85 feet high, and Frau Gerolds Garten — an outdoor space full of street art, shipping container bars, food trucks, and a busy, buzzy atmosphere.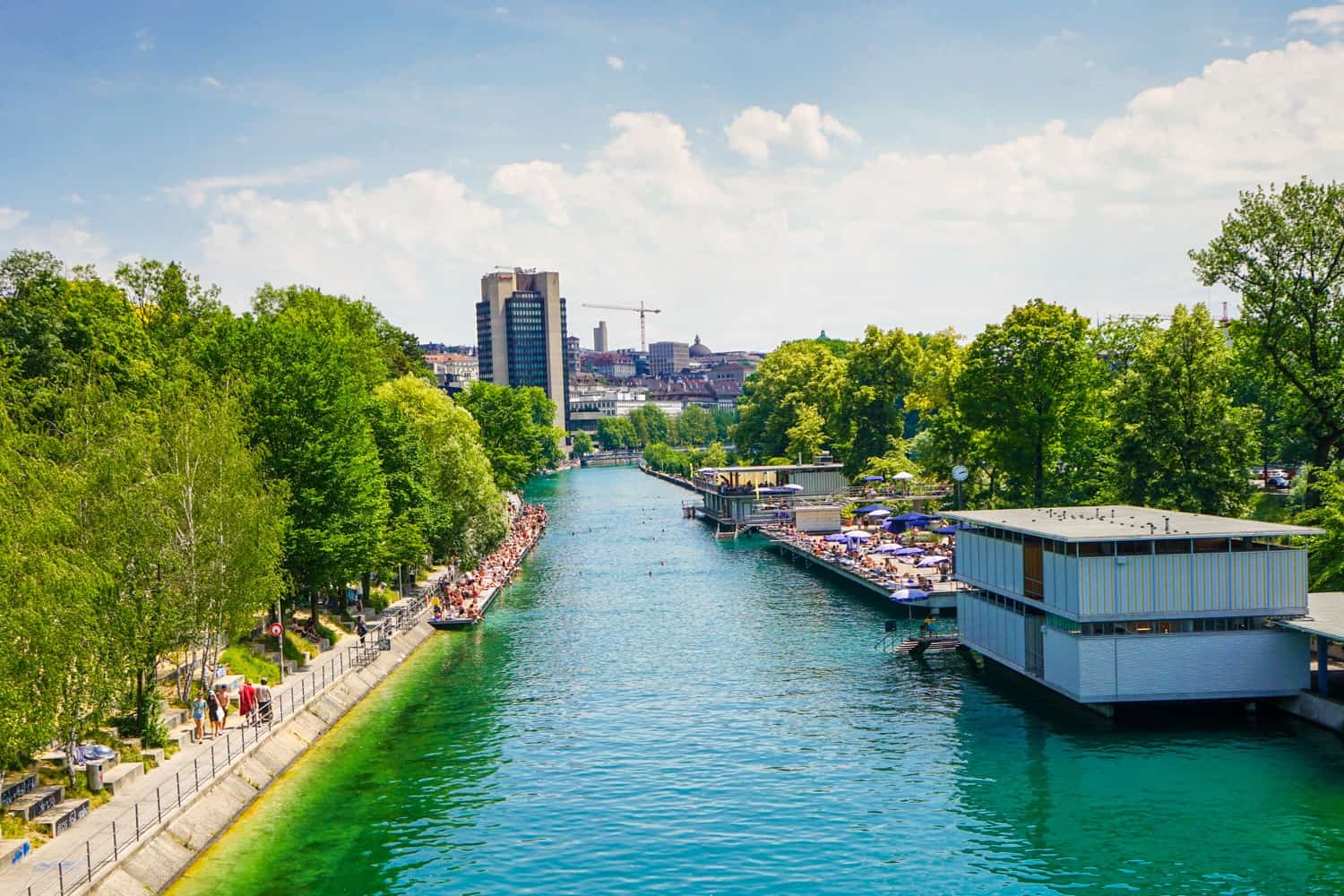 I loved seeing the residents of Zurich base their summertime fun around their river. After work, the waters were packed with swimmers, and when they weren't cooling off, they were sunbathing on decks, hanging with friends, listening to music, and drinking beer at nearby bars.
I was impressed by Zurich, and some of the cooler neighbourhoods reminded of Berlin, which was a pleasant surprise!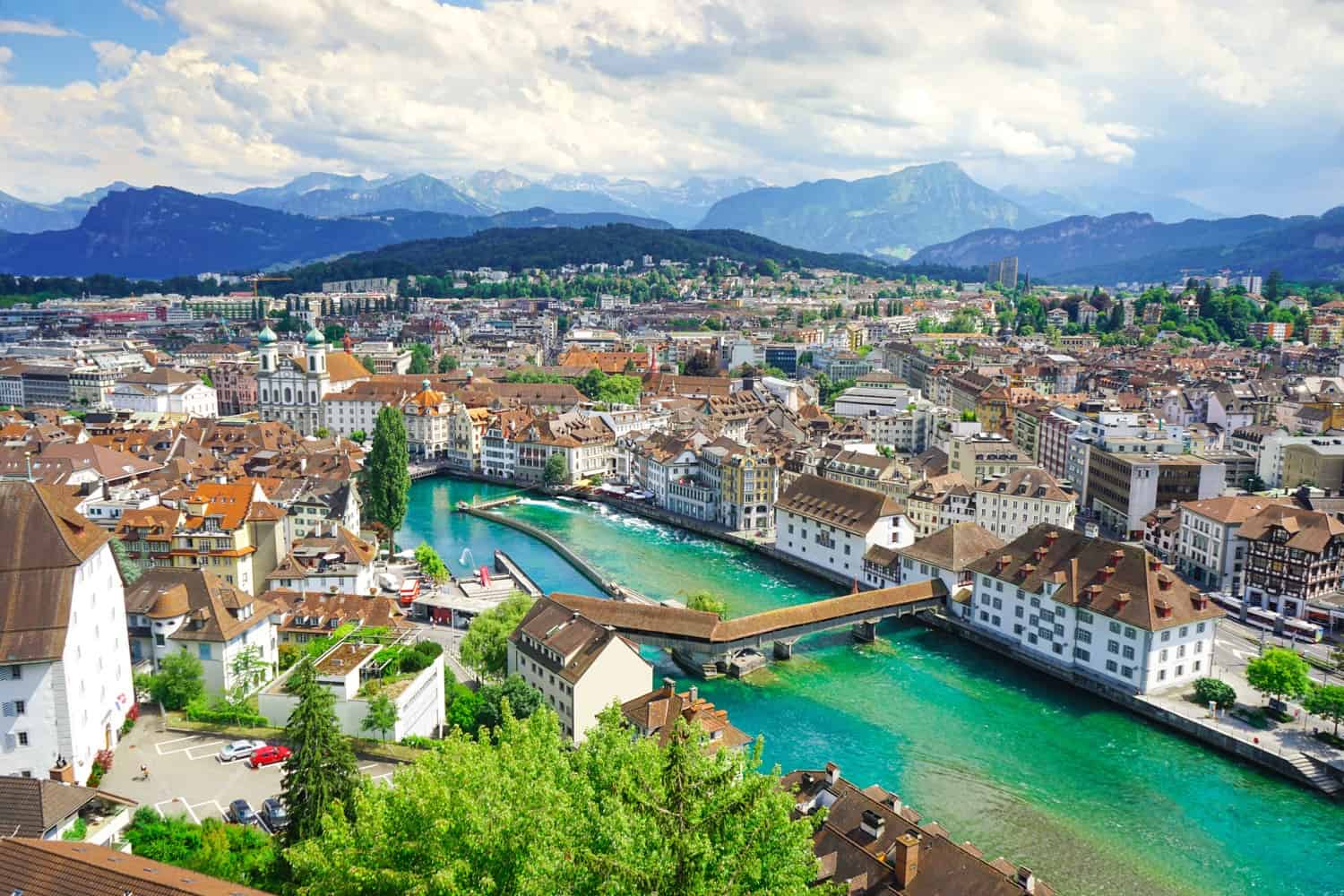 One of the highlights from this trip, however, was day-tripping out to beautiful Lucerne.
I'd always thought this city looked beautiful in photos, and after seeing it for myself, I was pleased that my assessment was accurate. What a lovely place to spend a day!
Dave and I got there in the morning and immediately set about finding the best viewpoints. Afterwards, we wandered along the old city walls, sunbathed beside the lake, drank wine in the sunshine, and had a kebab for lunch because Switzerland is expensive.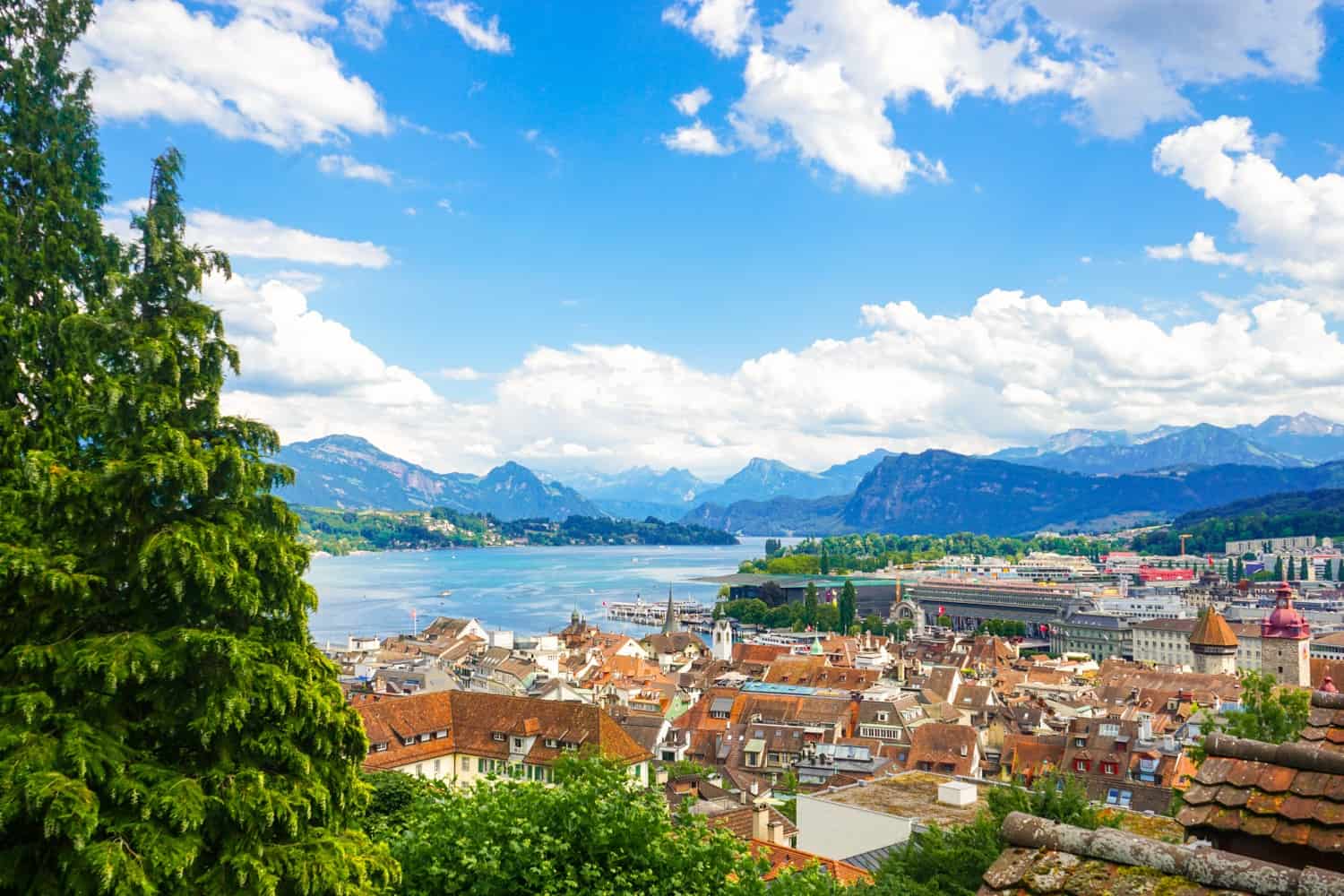 With our jaunt over with, it was back to the U.K. and home to Bristol for a brief respite before the next adventure. England was putting on one of the best summers I can ever remember, and the wave of consistent sunshine meant spending all day every day outside.
We barbecued in several different parks, took plenty of walks to nearby coffee shops, spent time reading books on our balcony, and marvelled at having a full month of bright blue skies.
Our next trip away was within the confines of the U.K., but that didn't make it any less exciting!
Dave's brother was graduating with a PhD from Oxford, and his entire family flew in from New Zealand, Australia, and the Netherlands to celebrate with him! I loved being able to cram in a wonderful pub dinner, walks around town, and a fun family celebration in the park with champagne and strawberries and cream!
Next up: Wales!
My parents were holidaying it up over in Pembrokeshire, so Dave and I took the opportunity to whisk his parents along with us, so that everybody could finally meet! Yes, one of the weirdest aspects of dating somebody from the other side of the world is the fact that after seven years of dating, our parents hadn't met!
It all went wonderfully!
We based ourselves in the small village of Solva and from there, headed over to cosy country pubs, went for walks alongside the harbour, and admired the cute nearby villages. We also explored St. David's — the smallest city in the U.K. with a population of just 1,500. Cities in the U.K. are named as such if they have a cathedral, and the one at St David's was one of the best I've ever seen! It was seriously impressive for such a small place.
We experienced just a small part of Pembrokeshire on this trip, but given that Bristol is nestled right up beside the welsh border, it definitely makes sense for Dave and I to explore more of Wales in the future. Especially as I'm part Welsh!
With that, it was back to Bristol to spend a couple of days showing Dave's parents around our new home. They seemed to love this super-cool city just as much as we do, and we spent time taking them to our favourite restaurants and cafes, and showing them around some of the best neighbourhoods in the city. Just a few days later, my parents swung through on their way back from Wales, so we got to head back to our favourite cafe once more for cake and lemonade in the sunshine.
And that was the month!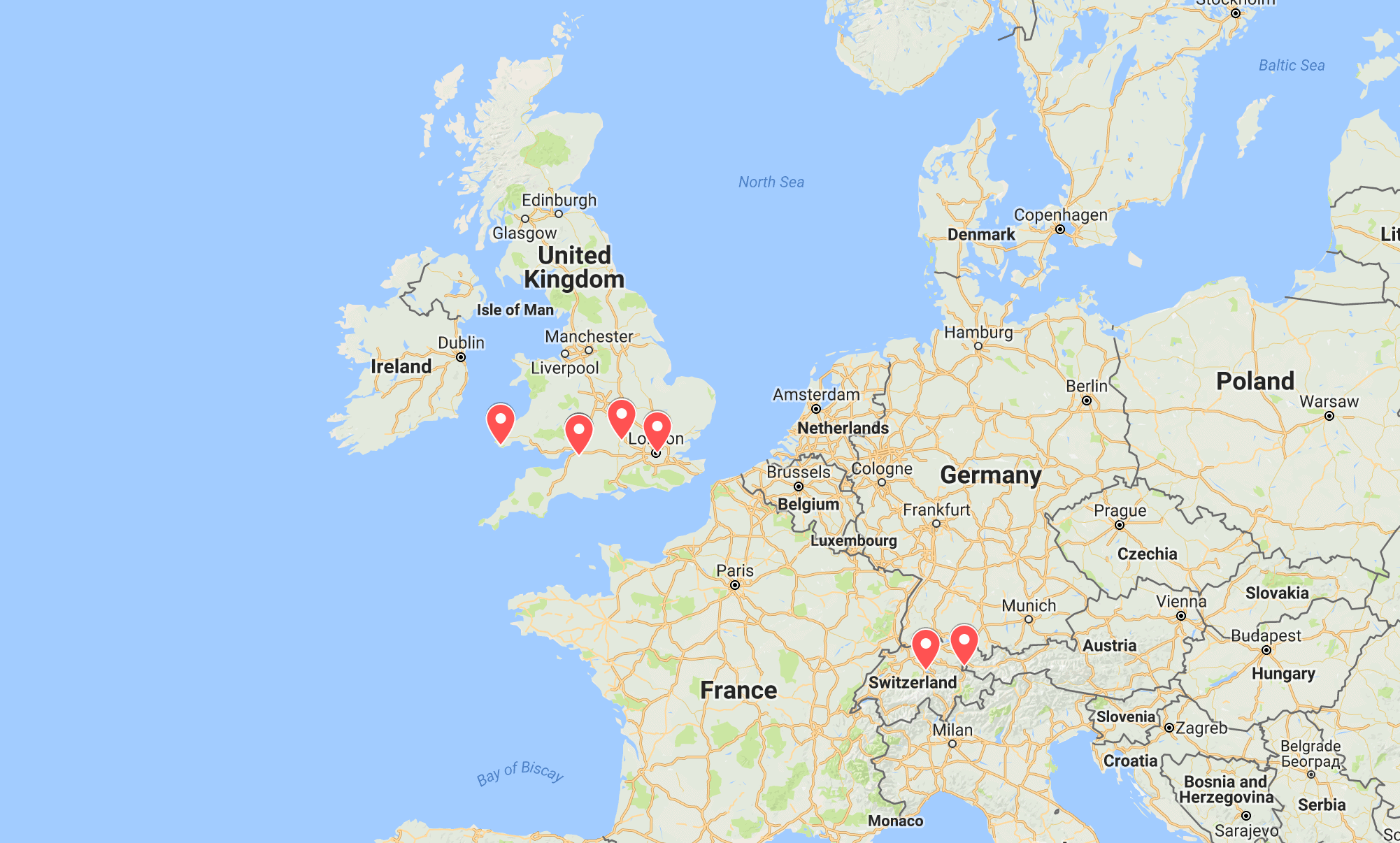 Number of countries visited: 3 or 4?
Is Wales a country, or is the U.K. the country? Wikipedia tells me they both are! So I guess that's 4 countries this month: England, Liechtenstein, Switzerland, and Wales!
Number of place visited: 9
Bristol, London, Lucerne, Malbun, Oxford, Solva, St David's, Vaduz, Zurich.
Number of photos taken: 170
Distance travelled: 1,937 miles
Number of flights: 1
Number of trains: 4
Number of buses: 3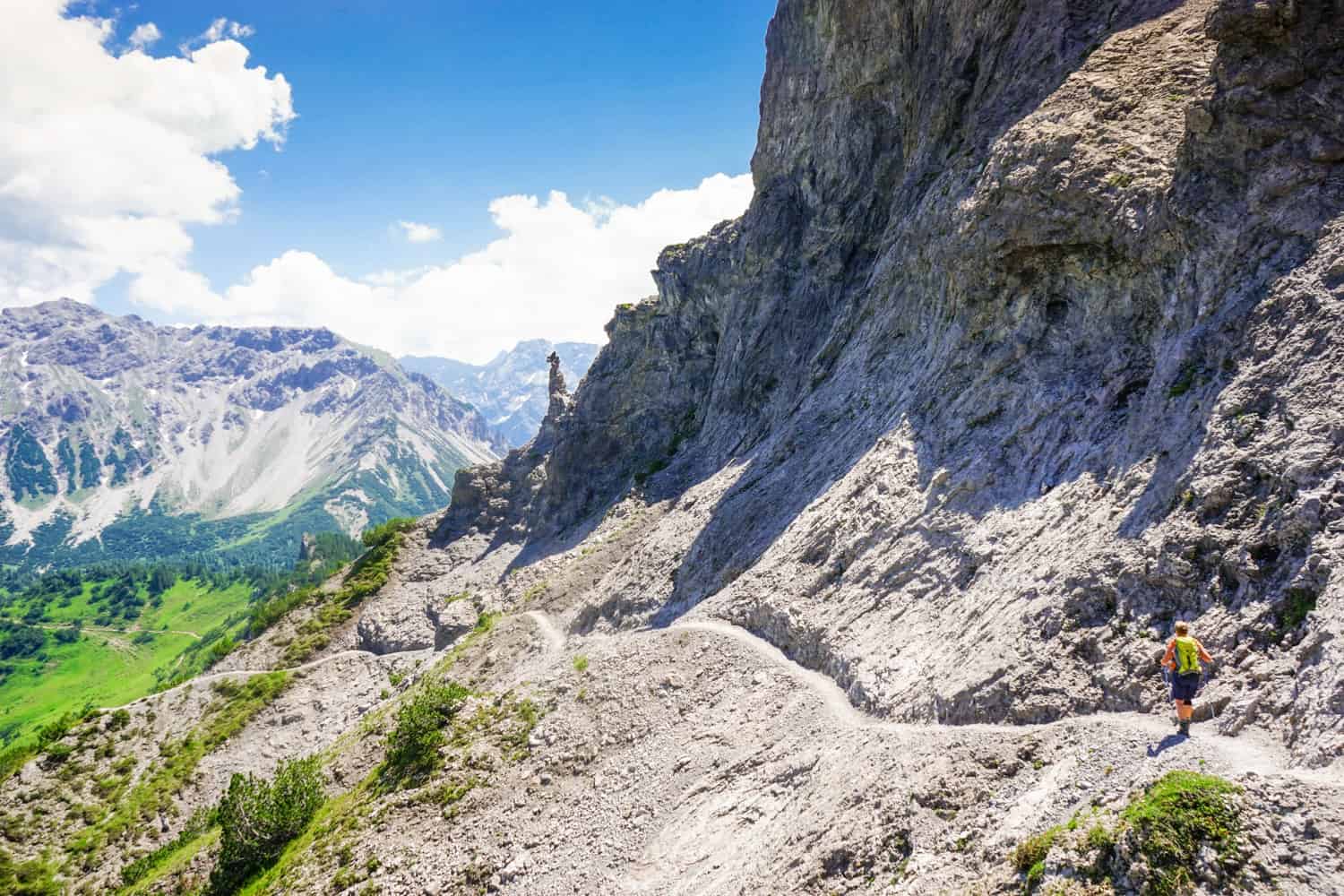 Highlights of the Month
Discovering Liechtenstein is great: I always thought that Liechtenstein looked beautiful, but I had no idea just how wonderful a country it was. I loved everything about it, from the hiking to the architecture to the friendly locals, and can't wait to write about my experiences there.
Experimenting with keto: I set myself a challenge at the start of the year to try going keto for a month, and I was finally ready to finally try it.
The idea with keto is to eat very low carb, high fat, and moderate protein. You'll want to consume about 20g of carbohydrates a day, which is, well, not a lot. I ate almost the same as I did on paleo, but cut out the potatoes and fruit and added in nuts, goats cheese, more vegetables, and bacon.
And… I'm still not sure how I feel about it.
Mentally, this diet works for me. My brain feels so free of anxiety that I don't know what to do with myself. I can't even imagine feeling nervous, let alone having a panic attack. My mind is clear, I'm full of joy, and dealing with buckets of energy. I also lost 8 lbs in two weeks. Buuuut, I don't feel as though it's working for my digestive health. My stomach gurgles non-stop, I often feel nauseated at the thought of eating, and, well, I'm currently 100 lbs and don't want to lose any more weight.
Going forward, I think I'm going to combine paleo and keto to see how they work for me combined. I already know that low carb is key for getting my anxiety down to nothing, so maybe it's time to reduce my fat consumption for a while to eat more protein.
Either way, it's always so much fun to experiment with my body to see how different things affect me.
Back to brown: I'm accidentally back to being brunette! I checked out a hair salon in Bristol for the first time last month, told them I wanted to stay blonde, they misunderstood, and I suddenly realised I was back to my natural colour!
At first, I was devastated and hated it. Looking into a mirror was a real shock, and I cringed at my boring hair colour every time I had to look at it.
And then it grew on me.
I have to confess that I was never really 100% happy with my blonde hair. Despite going to the highest of high-end salons in Lisbon, going blonde is still pretty rare in Portugal, and nobody could get me looking the way I wanted. And because Olaplex was a rarity in the country, my hair is damaged as hell from the constant bleaching.
Going back to my natural colour suits my skin tone a hell of a lot more, looks better, and will hopefully get my hair in a healthier state over the next year. I can always try going blonde again in the future, but for now, I'm happy to rock the brunette for a while.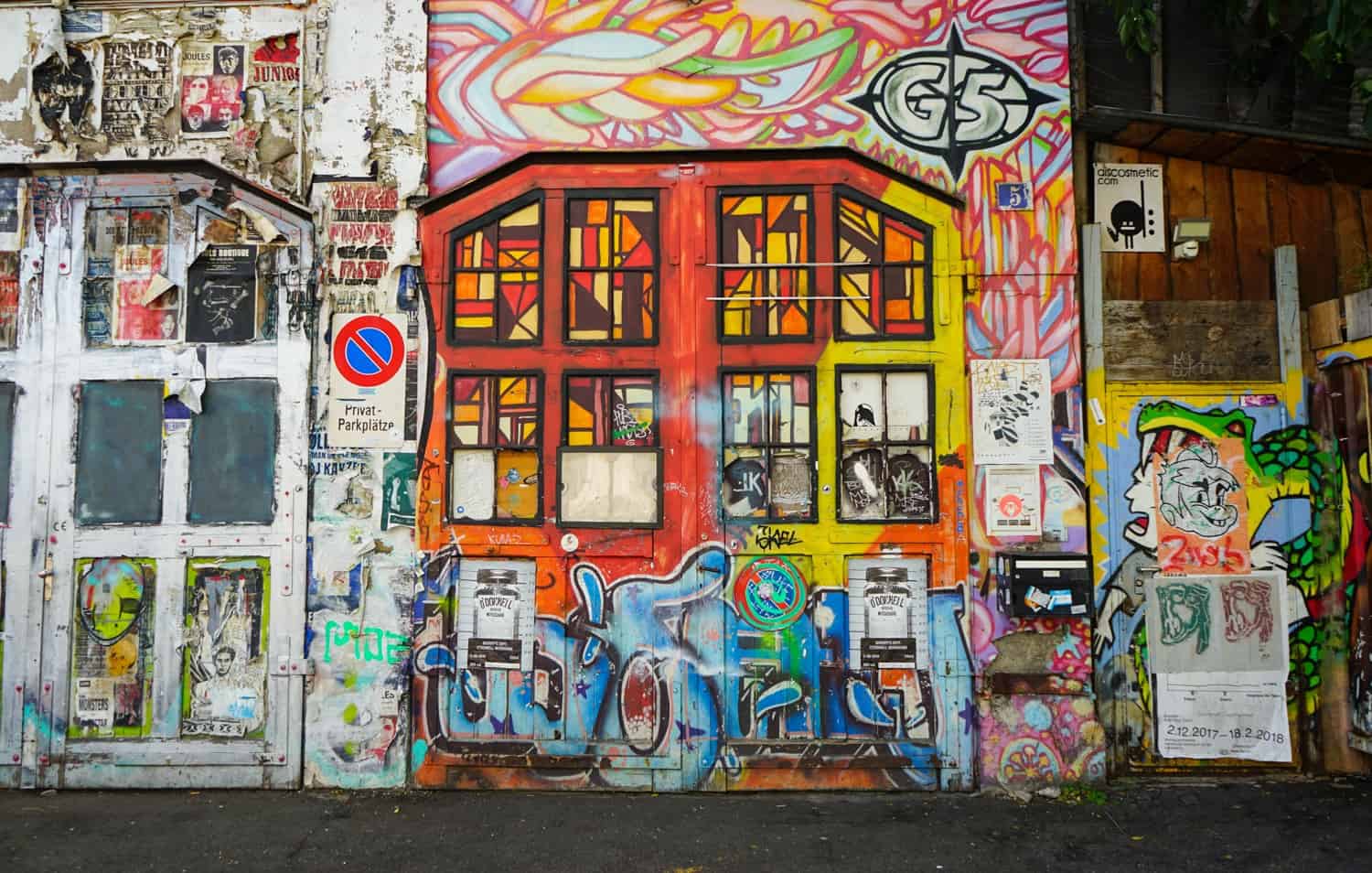 Lowlights of the Month
I don't have parasites! Last month, I mentioned I'd been dealing with stomach issues ever since contracting not-cholera while travelling in Borneo.
I got my test results back this month and good news! I don't have parasites! In some respects, this should be a highlight, but the reality is, I'm in pain and I have no idea how to fix it. Every test is returning clear and I'm finding myself with constant stomach cramps and no other symptoms for seemingly no reason at all.
Before I start taking a medical dive into possible causes by making appointments with specialists, I'm going to take matters into my own hands to see if I can get my stomach fixed. I plan to follow a strict elimination diet, take a ton of probiotics, and research which supplements are good for improving digestive health. Fingers crossed that this time next month I'll be able to tell you I'm feeling great again!
Suffering from writer's block: At the start of summer, I decided the next few months were going to be dedicated to work. I wanted to spend those sunny months getting my site in order, regularly posting long-overdue content, and doing everything I could to make up for my lack of publishing schedule whenever I travel.
Aaaaand I totally failed. This was one of my worst months for publishing frequency in a long time! I don't usually accept writer's block as a valid explanation because I think that sitting in front of a blank screen and just typing is the cure, but damn, I just could not seem to focus.
Every blog post I wrote made me cringe. It took half an hour to get a single paragraph to a place where I was happy with it. And motivation levels were low. I'll be working hard on improving this in August, as it's pretty rare for me to struggle so much with putting fingers to keyboard.
Leaving a bad review for the wrong Airbnb: So, using Airbnb in popular cities can be an ethically dubious way to travel these days. To negate that, I always make sure to stay in a private room with locals when I travel. It means I get to connect with people, save money, and not contribute to the housing problems Airbnb creates.
I stayed with locals in both Vaduz and Zurich on this trip, and one of them was far better than the other. I loved the apartment in Vaduz, where there was a friendly owner and peaceful surroundings. In Zurich, we were given a room with a broken bed! Every time somebody sat on the bed, the slats would collapse and we'd fall through to the floor. This happened one night at 3 a.m.! It was very annoying to have to continually lift up the mattress to put the slats back into place all night long.
Long story short: both hosts had similar names, I got them confused, and left a bad review for the lovely guy in Liechtenstein. Argh! Fortunately, I was able to get Airbnb to take the review down, but damn, I'm still feeling guilty about it.
Incidents of the Month
I thought Dave died: Hiking trails in Liechtenstein are not well-signposted, so it was inevitable that at some point, Dave and I were going to get lost.
That, unfortunately, happened in a place I describe as Thistle Hell.
We were on a ridiculously steep hill that was blanketed in thistles and struggling to walk down without falling over. Dave managed to do it, but I was more cautious and decided to go down on my ass. It was an endeavour I would describe as painful.
When I reached a clearing, I looked around and Dave was nowhere to be seen. I followed some footprints in the grass and ended up at a sharp drop with no further markings on the ground.
Obviously the logical conclusion to come to was that Dave had walked off a mountain and died.
My phone didn't have service, it was so windy that I couldn't hear a thing, and I was lost on a random mountain in Liechtenstein. I had no idea what to do or where to go.
I started whimpering at the thought of having to tell Dave's family he was dead when he popped up from behind me.
"Hello!"
I had never felt so much relief.
I bought tickets to the wrong concert: Hey, so, remember that time when I revealed my entire trip to Zurich and Liechtenstein was because I wanted to see Alice Cooper play?
Well.
It was roughly 24 hours before the gig when I looked at my tickets and realised I did not, in fact, have tickets to see Alice Cooper. What I did have was tickets for Hollywood Vampires: a supergroup featuring Alice, Joe Perry, and (ew) Johnny Depp. They perform classic rock covers of songs by rockstars who have died so, you know, it was my kind of thing anyway. They played songs by The Who, David Bowie, AC/DC, The Doors, and more.
But. I really wanted to see solo Alice! One of the best shows of my life was seeing him live when I was like, 17, and I've been desperate to catch another of his performances ever since. So while it wasn't all terrible, it also wasn't the amazing experience I was expecting.
How did I make the mistake in the first place? I'm fairly certain tickets were listed as something like, Alice Cooper and the Hollywood Vampires, and I just assumed the Hollywood Vampires were a support act. Sigh!
We stopped for lunch in somebody's garden: We were nearing the end of our hike in Liechtenstein and starting to tire after six hours of walking. We spotted a picnic table beside a small hut and ventured over there to hydrate.
We were sipping on our water when we heard a voice from inside the hut. A woman in full local dress wandered outside and blinked.
After chatting with her for a while, it suddenly dawned on us that this was her house and we were currently sat at a table in her garden having a drink. Still, the locals are wonderful in Liechtenstein and rather than chase us off her property, she poured us glasses of ice cold water, offered us energy-boosting snacks, and told us all about her interesting life spent looking after cows for a nearby village.
My Next Steps
August promises to be another wonderful month! After the lazy days of July, I'm determined to pull myself together and get a ton of work done, but that doesn't mean I won't be heading outside to explore, either.
One big event of the month with be Bristol's famous balloon festival — the largest in all of Europe. There'll be a whopping 130 hot air balloons taking to the sky this year to celebrate the event's 40th anniversary, and I can't wait to witness it for myself. Excitingly, it coincides with my mum's birthday, so my family will be hitting up Bristol once more to check out the balloons with us.
This year, I decided I wanted to whisk my mum away to a mYsTeRy DeStInAtIoN in August, and I'm thrilled to announce we decided on the Alsace region of France. We'll be visiting Strasbourg, Colmar, Riquewihr, and more on our wine-fuelled adventure, and most likely spending most of our time snapping photos of the beautiful buildings. It looks like a gorgeous part of the world and the perfect place for a mother-daughter trip away!
Other than that, I have no major plans this month. I'll be hitting up another few meet-ups in my quest to make friends in Bristol (we just got invited to a barbecue at our neighbour's and we're both like YAY!!!!!), checking out the Everyman cinema in Clifton (sofas! wine!), visiting Clifton Lido, hitting up a Blackbeard walking tour (he was born in Bristol!), heading to a gin and tonic festival, checking out a Pink Floyd exhibit, and catching a game of cricket at our local stadium.
What are your plans for August?