If you've been following along with my social media updates, you may have seen that I kicked off New Year's Day with a sudden hospitalisation in New Zealand.
After surviving one of the worst moments of my life, it feels surreal to now switch gears and turn my thoughts back to December.
Because December really was fantastic.
It was one of the best travel months I've ever had.
So for now, let's focus on that.
When I left you last, I had just finished exploring Delhi and had been blown away by this fantastic city. It should have been everything I hate in a place, but its chaos charmed me and left me naming it one of my favourite spots on the planet.
With that first Indian destination under my belt, it was time to hit the rails and head to Agra.
My first train experience here was a glorious one. We quickly made friends with the local family in the berth opposite us, and they plied us with homemade treats and in-depth discussions of cricket. It was everything I could have hoped for.
I'd expected the Taj Mahal to be overrated as hell.
I mean, how could it possibly live up to expectations when my expectations were about as high as they could get?
And yet, it was amazing. I was awestruck by this magnificent building and spent several hours taking photos or simply sitting beside it and gazing up. It was so worth seeing and I can't recommend it enough.
Most people seem to hate Agra itself, so I think I'm the only person in the world who actually liked it. I thought it was really fun! And there were so many attractions worth seeing outside of the Taj Mahal — Agra Fort, in particular, was fascinating.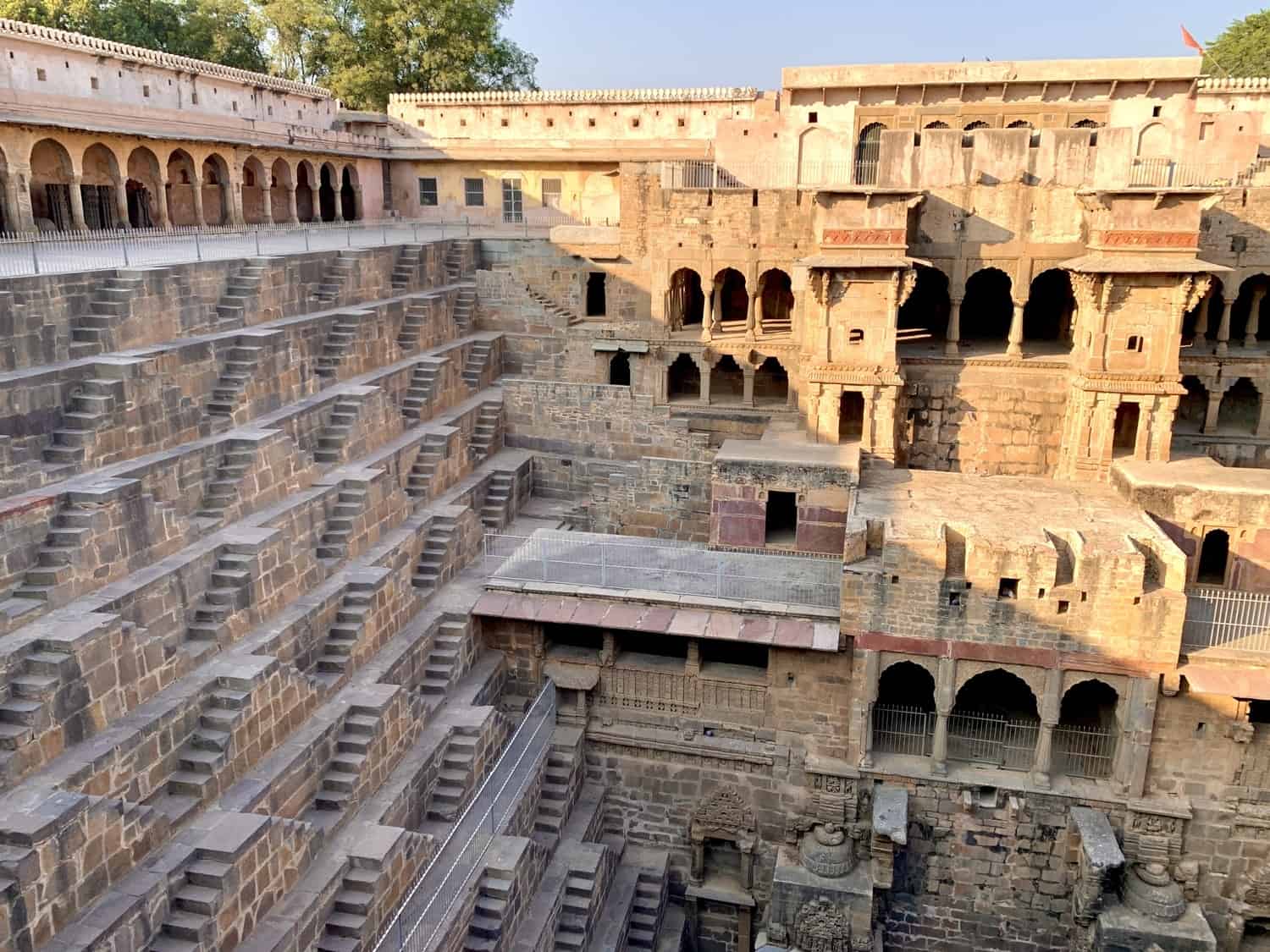 Onwards! It was time to finish up in the Golden Triangle and begin travelling into Rajasthan. But before reaching Jaipur, we hired a driver to take us to several spots I was eager to visit.
I particularly loved Chand Baori in Abhaneri — the stepwell pictured above. It was built in 800 AD and has 3500 steps, making it one of the deepest and largest in the world. I felt like I was gazing down at an Escher painting while I was there!
Everything we saw on the drive was incredible and had Dave and I discussing how India was full of the most wonderful monuments — structures we'd barely even heard of before arriving but were now some of the most impressive buildings we'd ever seen.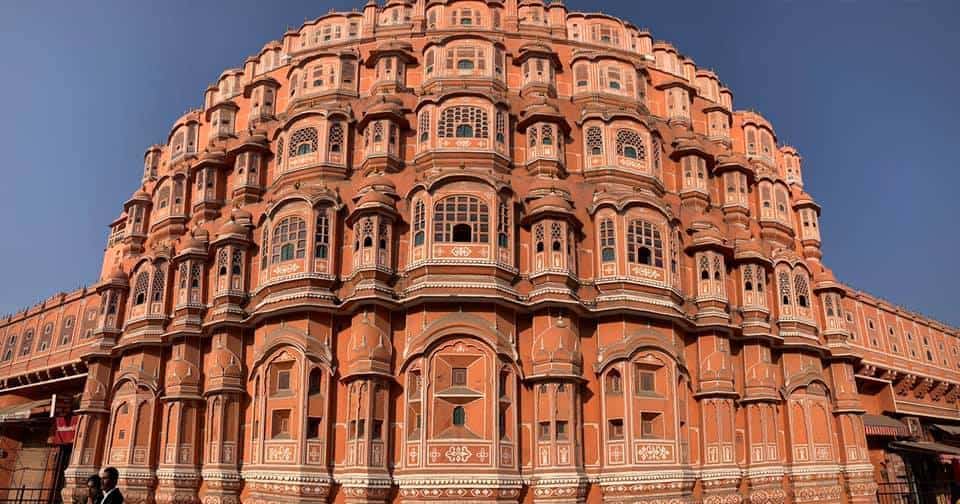 Jaipur rounded up my time in the Golden Triangle, and I've already written about how I kind of screwed up while I was in town.
By hiring a guide, I thought I was ensuring I'd see everything, but it actually meant that I saw everything at the worst possible time of day. Lesson learned! That was the last time I hired a guide for a day in India.
Bundi was a late addition to my Rajasthan itinerary, but when I stumbled on a few photos of this crumbling town, I couldn't say no to visiting.
And it ended up being one of my favourite places in the state! I loved the disintegrating buildings, the old painted signs on the walls, the lack of touts and hassle, and the dozens of stepwells. Everyone was so friendly there!
We spent one of our mornings checking out the famous miniature paintings at Chitrashala. While we were exploring, a guy who worked there took out his keys and motioned us over to a locked door. He then proceeded to unlock a handful of rooms in order to show us some of the lesser-seen artwork in the place. He took us around each individual painting, describing what they depicted and how old they were, taking an hour out of his day to speak to us and answer our questions.
I had prepared myself for him to ask for a hefty tip at the end, but instead, he shook our hands, thanked us for coming, and wished us a happy trip to India. That interaction summed up Bundi for me: so many wonderful and welcoming people!
I arrived in Pushkar and immediately decided it was my new favourite place in Rajasthan. You can basically repeat that sentence for every single place I visited in India. I love this country so much!
I had a lot of fun in this famous hippie town, watching the camels nonchalantly walking through the streets, climbing hills, catching the sunset from the ghats, and buying so many souvenirs from the markets.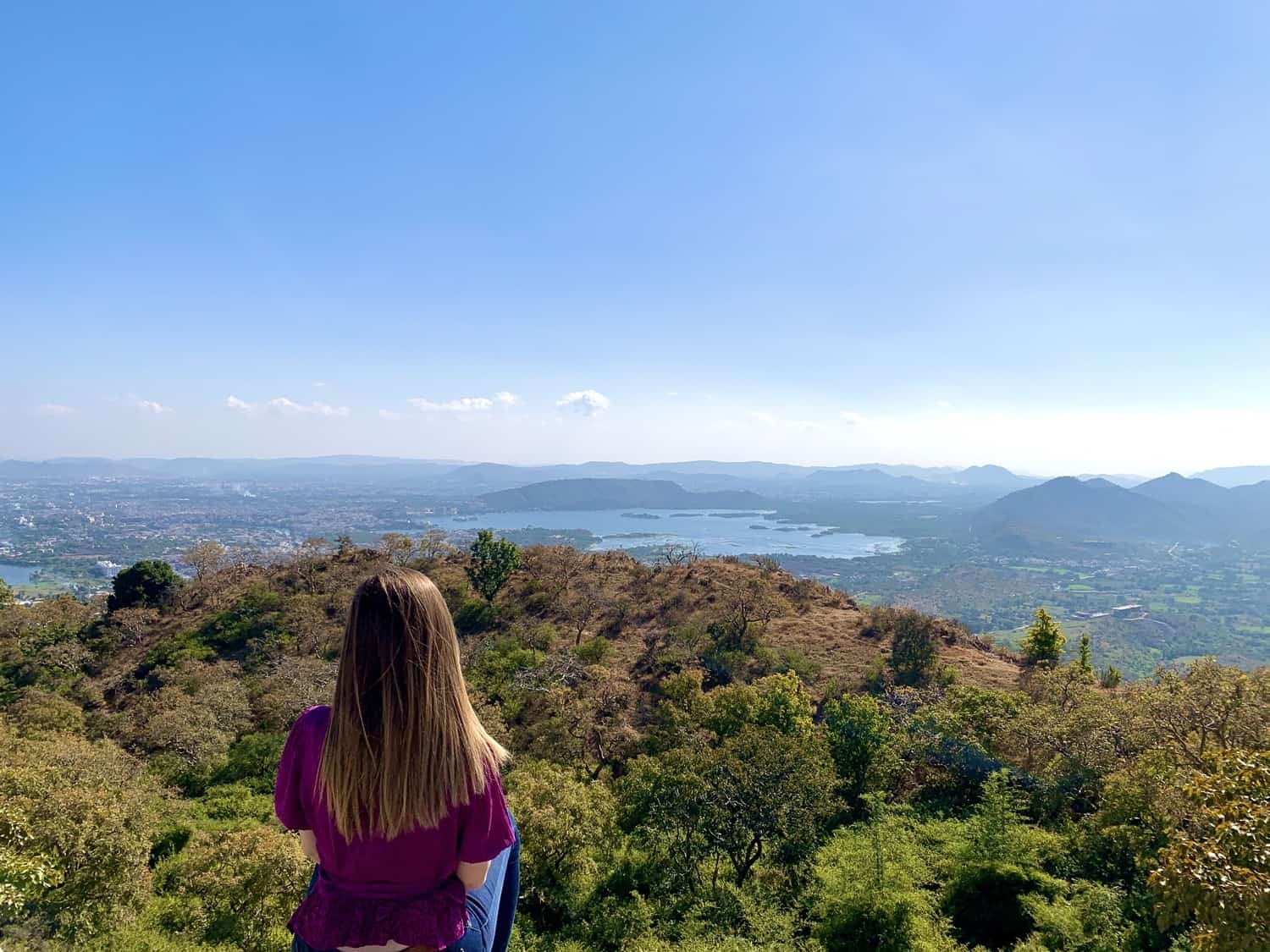 Everybody who spends time in Rajasthan falls in love with Udaipur, so it's no great surprise that I did, too.
Udaipur was a place to unwind, to get out in nature, and recover from the stresses that come from travel in India. On our first day in town, Dave and I wandered out to a secluded spot to watch the sunset, and while we were there, I had a feeling of unease wash over me.
Something was wrong.
It took half an hour for me to realise that I was noticing the silence. For the first time in two weeks, I wasn't being bombarded by car horns and revving motorbikes and music and… and it was making me feel unsettled.
When we weren't falling in love with Udaipur, we were taking trips out to the surrounding areas — Chittorgarh, Kumbhalgarh, and Ranakpur were particular highlights, and oh my god, it's going to take me an entire year to write about my time in India. I can't believe how much ground I covered. I can't believe that all of this amazingness is in just in one state in India.
I knew I was going to love Jodhpur before I'd even arrived, because colourful cities always manage to capture my heart. The buildings of Jodhpur are painted a beautiful shade of blue. 
I loved getting lost in the alleyways here and spending several hours exploring the city's imposing fort.
Dave and I turned to each other several times while we were in Jodhpur and talked about how we'd stop for a month here if we were still nomadic. It had such a laidback vibe, with so many chilled out cafes and rooftop bars to hang out in. I could definitely see us spending a few more weeks here at a later stage in our lives.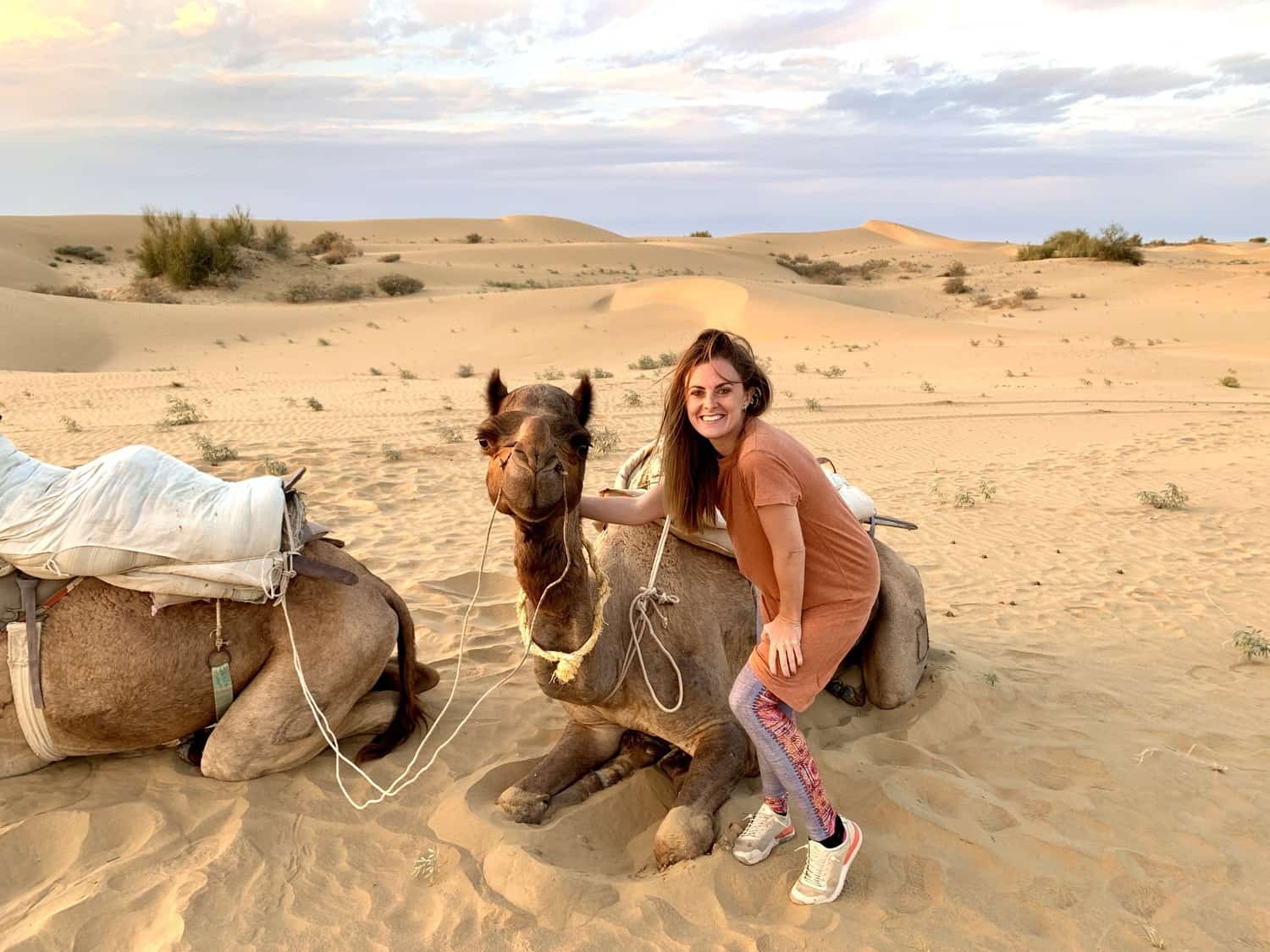 With the exception of Jaipur, Jaisalmer was probably my least favourite place in Rajasthan.
And that was probably due to travel burn-out.
It happens to the best of us.
I crammed so much travel into my month in India, and although I gave myself a minimum of three days in most spots, we still were taking day trips and filling our hours with sightseeing. We barely even turned on our laptops over the four weeks we were there. And so, by the time we reached Jaisalmer, all I wanted to do was lie in bed and write.
I knew I was burnt out because I told Dave I didn't want to take a desert safari. 
Before arriving in India, it had been the thing I'd been most excited to do! By the time I got there, though, I just could. not. be. both. ered.
Still, many of my travel regrets come from skipping out on things when feeling burnt out, so I forced myself on to the sand dunes and had a wonderful time in the desert.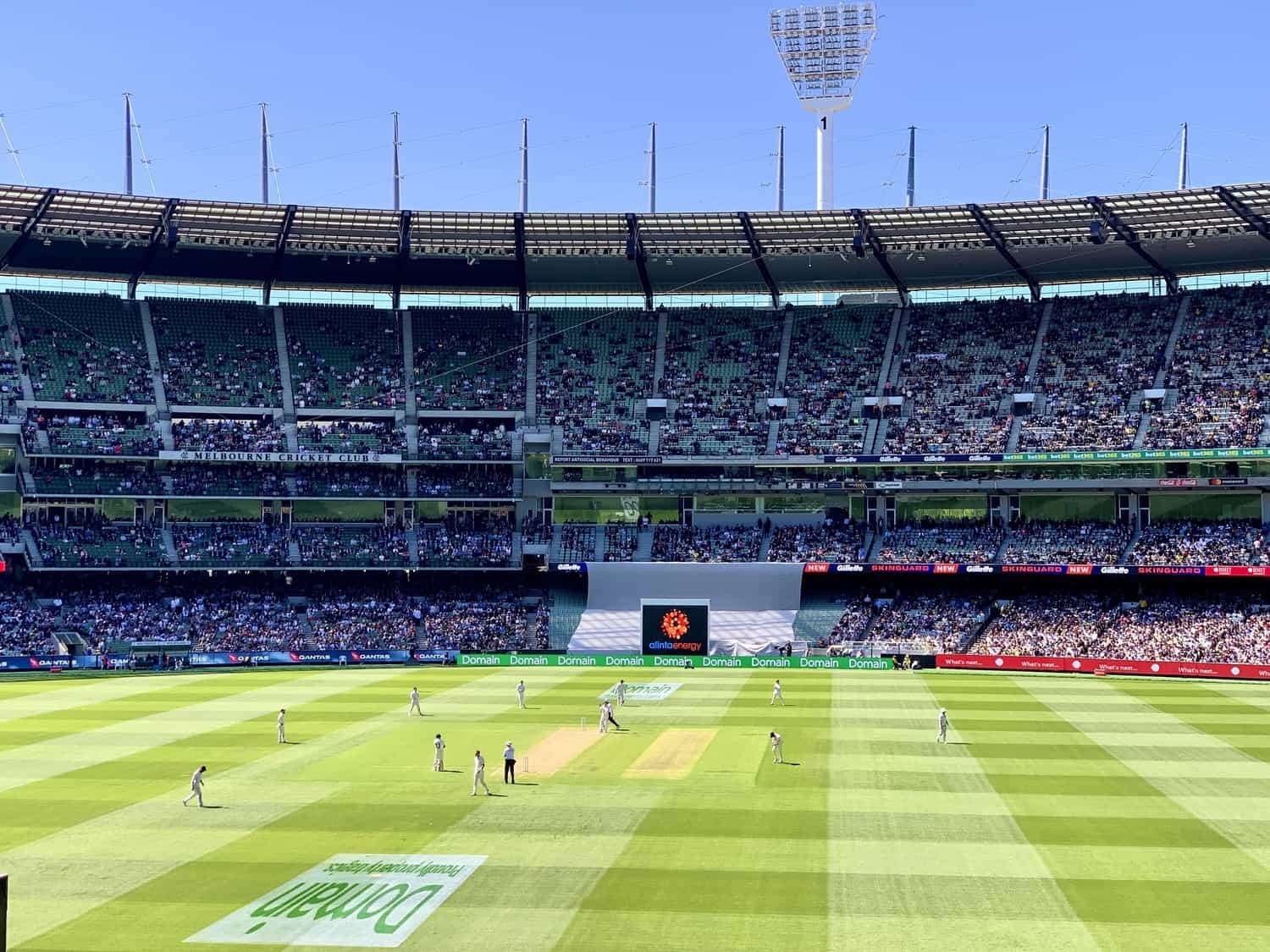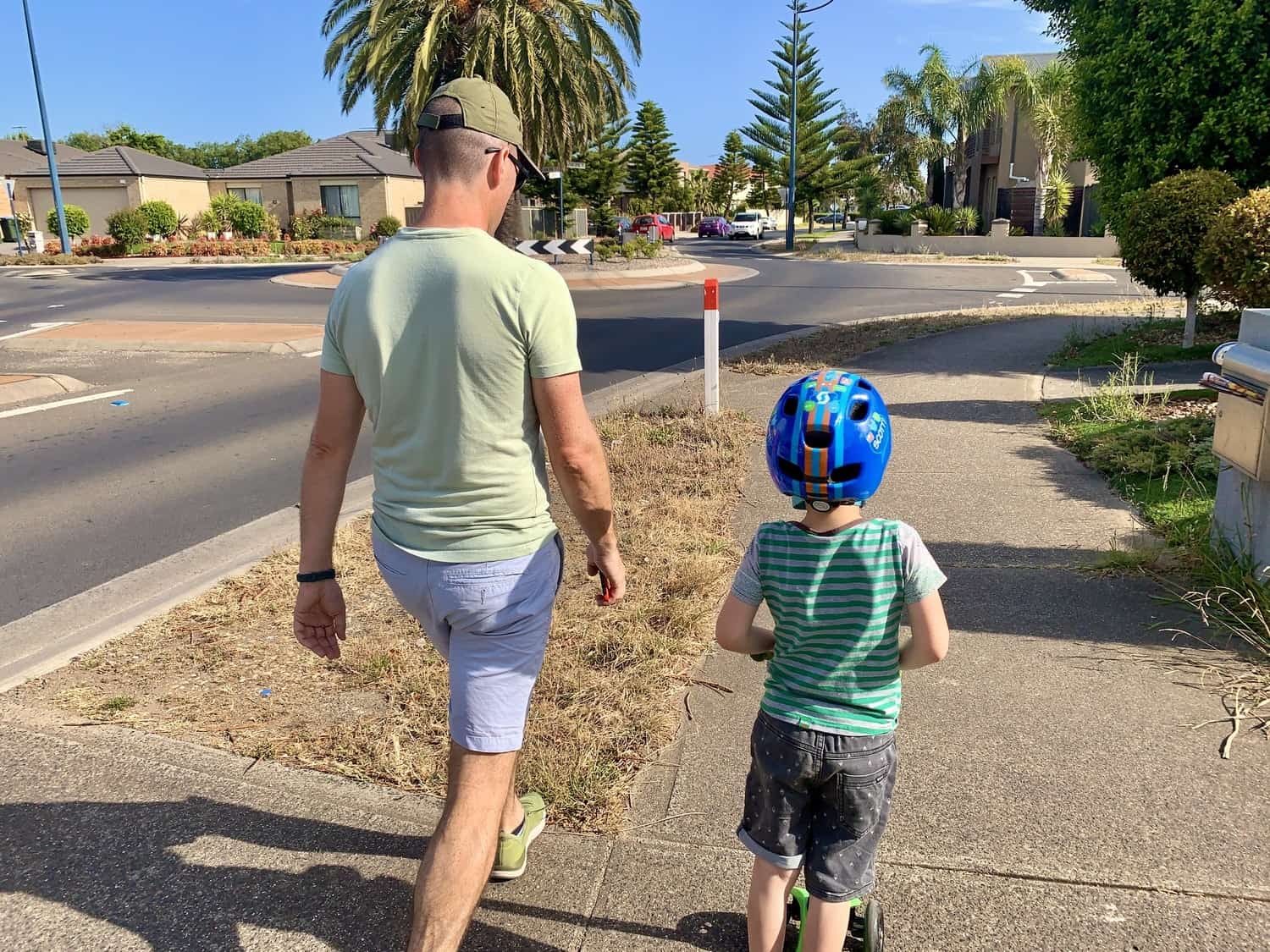 What a change of scene! From the chaotic streets of Jaisalmer to the quiet of the Melbourne suburbs.
I had a solid 30-hour travel day to get to the burning shores of Australia, flying from Jaisalmer to Delhi to Kuala Lumpur to Melbourne, and then it was time to throw myself into the holiday festivities. I had such a wonderful week in Australia this year.
I watched the Boxing Day Test at the Melbourne Cricket Ground, caught up with friends and family, and spent far too long trying to make Monty the cat love me.
As I struggle to belong in Bristol and make it feel truly like home, Dave and I often throw around the idea of moving to Melbourne. My time in the city this year had me seriously considering it. 
Of course, then everything went up in flames and I'm not sure I could live somewhere so vulnerable to climate change. It's a reminder of how privileged I am to be able to choose where I do live.
And then, New Zealand, when my life, and my body, promptly began to fall to pieces.
After one of the scariest flights of my life, I touched down in Christchurch Airport and immediately lost $400.
The ATM I was using froze mid-transaction, taking £200 from my account, then turning off. The ATM owner told me to contact my bank and my bank told me to contact the ATM owner, and I wasn't sure if I'd ever get my money back.
By the time we made it to our hotel for the night, I had other worries on my mind. I had begun to develop some very painful and terrifying symptoms.
Symptoms that would lead to me being admitted to the acute observation ward of the hospital.
But that's a story for the next monthly summary.
Countries visited: 3
Australia, India, and New Zealand.
Cities visited: 14
Agra, Bundi, Chittorgarh, Christchurch, Fatehpur Sikri, Hanmer Springs, Jaipur, Jaisalmer, Jodhpur, Kota, Kumbhalgarh, Melbourne, Pushkar, and Udaipur.
Distance travelled: 9,423 miles
Number of flights: 4
Number of trains: 4
Number of buses: 3
Number of boats: 1
Number of rickshaws: 17
Number of photos taken: 7,204
Guys, I swear I've never taken so many photos before! I have no idea how I'm going to start sorting through them all.
Highlights of the Month
Just everything about India: India was just the most incredible experience of my life and I'm urging you all to book a trip there already. I had so many magical experiences, saw so many amazing sites, and fell so hard for the country, despite having seen so little of it. And I felt so safe there! I felt safe and welcomed and so happy to be there.
Yeah, I'd say India is my favourite country in the world.
When can I return? Maybe in February?
Lowlights of the Month
The worst flight ever: You want to know what makes a formerly-nervous flier nervous about flying? Have every single person they know comment on how their upcoming flight is going to be a bad one. 
I flew out of Melbourne on one of the hottest days of the year.
It was 43°C/110°F with 50 km/h winds and a thunderstorm fast approaching. Hot weather makes for a bumpy ride at the best of times, but when you combine that with lightning and fast winds, it makes for something even more nerve-wracking.
Yikes.
And when most of the country is also on fire, it made everything feel that much more apocalyptic. While our flight bumped and jerked and dropped its way out of Melbourne, with the engine whining and every passenger gasping and wincing, it took a solid 15 minutes for us to even see a hint of blue sky. There was nothing but an orange-grey smog that blocked everything from sight for so long.
Australia, my heart breaks for you.
Incidents of the Month
So, it turns out I've been poisoning myself in Bristol: For those of you who have been following along on my health journey since moving to Bristol, you may remember that I've been dealing with stomach cramps ever since contracting cholera in Borneo.
Yes, I really am the picture of health.
Well, it turns out that I'm the cause of those stomach cramps.
When I moved to the U.K. several years ago, sick and exhausted, I was determined to take my health into my hands and start getting well. I figured my body must have been pretty inflamed after the stress of long-term travel, so I began taking tons of healthy supplements. Nothing hardcore, just things like Omega 3, vitamin D, magnesium, turmeric, ginger, garlic, B vitamins…
And, well, nothing seemed to help. In fact, I began experiencing excruciating stomach cramps.
With my doctors unable to find anything wrong with me, I tried more and more. An anti-inflammatory diet, taking a break from work, yoga, meditation… and I upped my supplement use.
I began experiencing joint pain and nerve issues, assumed it was due to inflammation — especially as I thought my house was filled with mould at that time — and began throwing anti-inflammatory turmeric in every meal I made.
I tried a Whole30, I tried moving house, I tried everything I could possibly think of, but I couldn't get rid of the terrible cramps in my stomach. The only thing that helped was leaving Bristol.
When I bought turmeric capsules, gave myself a huge dose, then ended up unable to move from pain, I suddenly realised what was happening.
Guys, I'm intolerant to turmeric.
I'm basically the only person who can't handle it, because when you google turmeric allergy, turmeric intolerance, turmeric joint pains, all you get is a thousand results about how turmeric is great for all of those issues.
And then I flew to India.
And if there's anything you need to know about Indian food, it's that every single dish contains turmeric. Or so it seems.
Unfortunately, every single dish is also the best thing you'll ever eat in your life.
And so began one of the most painful trips of my life, where I deliberately ate a ton of turmeric, knowing that I was going to be in agony for the entire time. 
Overall, though, I'm happy.
I've trying for years to get to the bottom of my Bristol-related health problems, and to have finally found a missing piece of the puzzle has me jumping for joy.
I just can't stop laughing about how I kept trying to treat my turmeric intolerance with even more turmeric, unknowingly poisoning myself for a solid 18 months.
My Next Steps
Well.
If I had been writing this blog post a week ago, I'd have been brimming with excitement over my plans for January.
I was aiming to road trip all over the South Island of New Zealand, head to a brand new country in the South Pacific, then fly back to Australia to drive the west coast for the first time.
It looked set to be another fantastic month.
Now, though?
Things are kind of up in the air for me.
I need to be close to a hospital for the next couple of weeks, which means no exploring and no hiking in New Zealand. The symptoms that sent me to the emergency room haven't yet improved and can be a sign of many serious illnesses. They're not really something that should be ignored.
Still, I'm willing to give my body a couple of weeks to heal and recover. I've been through a lot and my body has been on high alert. Processing the potential of dying will do that to you.
So who knows what the next month will bring. Either I'll start feeling better and can throw myself back into travel, or I'll need to flag it all to fly home and seek medical treatment.
What a way to kick off 2020.
Keep your fingers crossed for me!
What do you have planned for January?