Well.
It's certainly been a month.
Let's start with the good stuff.
I kicked off the month with a relaxed week spent hanging out behind the scenes of Never Ending Footsteps.
I'm currently working on a big update to my travel anxiety course to celebrate closing in on my 100th member, putting together an enormous collection of 5000-word travel guides to my favourite destinations, and refreshing older posts with more up-to-date prices and information to ensure they're still helpful and relevant. It may have meant that I was fairly light on publishing fresh content this month, but the benefits that come from this work should enable me to free up more time to work on new posts in the future.
When I was done with hard work, I closed my laptop and set off in search of balloons.
My new home plays host to the Bristol Balloon Fiesta every year: the largest hot air balloon festival in the world after the one in Albuquerque. A million people were set to descend on the city during the four day event, and I was looking forward to experiencing such a quintessential Bristol activity.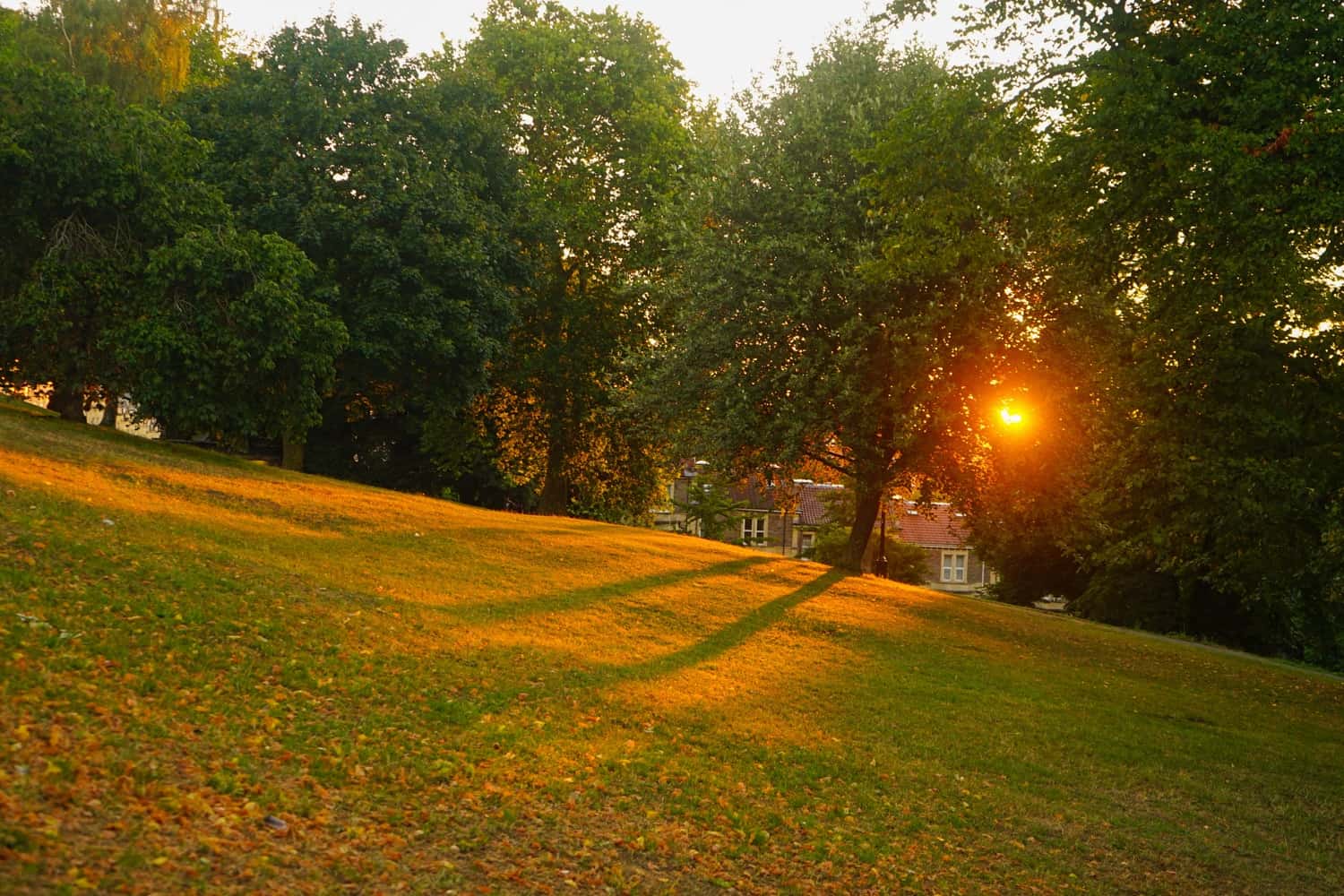 The first evening of the festival, Dave and I wandered to a nearby park for sunset and to watch the afternoon's mass ascent. A hundred and thirty balloons were due to take to the sky, and we huddled on a bench beside a couple who'd driven here from Leeds to see the spectacle. I cooed over their two adorable sausage dogs.
After an hour of waiting, I checked Twitter and learned the event had been cancelled due to high winds.
The next day, it rained.
Cancelled. Cancelled.
Not deterred, on day three, Dave and I set our alarm for a ridiculous 5:30 a.m., dragged ourselves out of bed, and set off across the city to Brandon Hill, which was supposed to be a good spot for watching the balloons. I was really hoping there would be balloons.
Although I hate waking up early, I also adore being awake early. There's something about being in fresh, cool air while the city sleeps that works for me.
With the sun rising through the trees, we found a spot on a hill, crossed our fingers, and waited.
An hour later, I was just about to give up when the woman beside me let out a gasp.
A balloon!
And then another. And another. And another. A giant one shaped like a fire extinguisher!
I watched with joy as the sky began to fill with a hundred balloons, then I circled the park to follow them on their journey across the city. Around me, families cooked sausages and bacon on disposable BBQs and everyone was in childlike awe of the magical sight in front of us.
In typical British fashion, that mass ascent turned out to be the only one from the four-day festival, thanks to the high winds and frequent showers, so I was grateful I forced myself out of bed to see it.
Now I can't wait for next year's event. I want to see the balloons from even more viewpoints around the city!
Now, you may recall from my previous month's summary that I was planning on whisking my mum away on a birthday wine-themed trip to France in August. Unfortunately, we had to call it off at the last minute when I found myself struck down with back pain while spontaneously peeing blood.
Sigh.
A trip to the doctors revealed I likely had the horrific combination of a kidney infection and kidney stones, and I was petrified to learn that passing a stone is more excruciating than giving birth without pain relief. I loaded myself up on antibiotics (yes, again), and braced myself for a pain that would have me rushing to A&E in search of morphine.
Fortunately, it didn't emerge. Sometimes kidney stones can hang around for years; sometimes they pass painlessly. Sometimes I feel like a ticking time bomb; sometimes I convince myself I don't have one at all. But so far, so good. My infection has cleared up, my back pain has faded, and I've yet to experience one of the most intense pains that a human can.
Unfortunately, that's all I have for you this month! The infection coupled with antibiotics knocked me down and out, and I barely left the house for the rest of August.
I realise this is quite possibly the least exciting monthly summary I've ever published, but life can't always be about sunsets, beaches, and wonderful travel experiences, right? Sometimes, the weeks are crappy and you spend all month hunched over, peeing blood and struggling to remember a time when you last felt well.
Or maybe that's just me.
Would you believe me if I told you that pre-travel I was the least sickliest person I knew and prided myself on my impenetrable immune system?
I'm certainly going through a rough patch health-wise at the moment, but I'm still remaining optimistic and hoping I can fight my way back to wellness sooner rather than later.
Anyway, I'll end this update with some good news for you guys: the next month is looking like it's going to be an incredible one!
My Next Steps
I'm going to be stepping things up on the travel front in September. I'm overjoyed to announce I have a exciting four weeks of European adventures ahead of me and I can't wait to get back on a plane!
First up: Greece!
Two years ago, I visited this gorgeous country for the first time and fell hard for its islands and cuisine. During that trip, I chartered a yacht with friends and spent a full week sailing to beautiful beaches. I've been talking about a return trip ever since, so I'm thrilled I get to do it all over again this year!
I've decided to make the most of this trip to Greece by visiting somewhere new in the country, too. Yes, I'll be heading to Athens for the first time! I'll have three days in the Greek capital, and I'm ridiculously excited to check out the ruins, street art, and coffee shops. Send your recommendations my way!
Next, we'll be bussing it over to the Ionian to start sailing the west coast of Greece. The next week will be all about cruising from island to island, stopping off at local tavernas, sleeping beneath the stars, mooring in tiny bays, and eating incredible food. I'm feeling very lucky right now!
When travel blogging friends Steph and Mike dropped me and Dave a message to let us know they were looking for a dogsitter, I think we agreed to everything they'd asked before they'd even finished typing. We'd looked after their adorable dog Leo for a month in Seattle back in 2016, and I've been obsessed with him ever since. They've since packed up their family and moved to Bologna, so we'll be heading straight there from Greece.
I fall more in love with Italy with each passing visit, so I'm ridiculously excited to be spending over two weeks in what is said to be the best place to eat in the country. I've been working my way through Pasta Pane Vino in hungry anticipation of our time there, and I can't wait to eat absolutely everything.
I'm going to try to squeeze in a few day and half-day trips while I'm there, as Bologna is such a good base from which to explore Italy. I want to visit San Marino to check out my last microstate in Europe, and nearby Modena, Parma, Ravenna, and Ferrara are calling my name, too.
It looks like it's going to be a pretty fantastic month!
And that was August! Leave me a comment below if you have any recommendations for Athens or Bologna, and let me know what travel plans you have for September!