Several weeks ago, I began planning what I wanted to include in my round-up of the past year.
As I composed the opening line in my head: "There's no doubt about it: 2018 was one of my quietest years of travel," I paused.
How many countries had I actually visited this year?
Well, there was Australia, New Zealand, Tonga, Thailand, Brunei, Malaysia, Indonesia, England, Wales, Switzerland, Liechtenstein, Greece, Italy, and San Marino.
Um.
Only I could describe visiting 14 countries as a slow year of travel!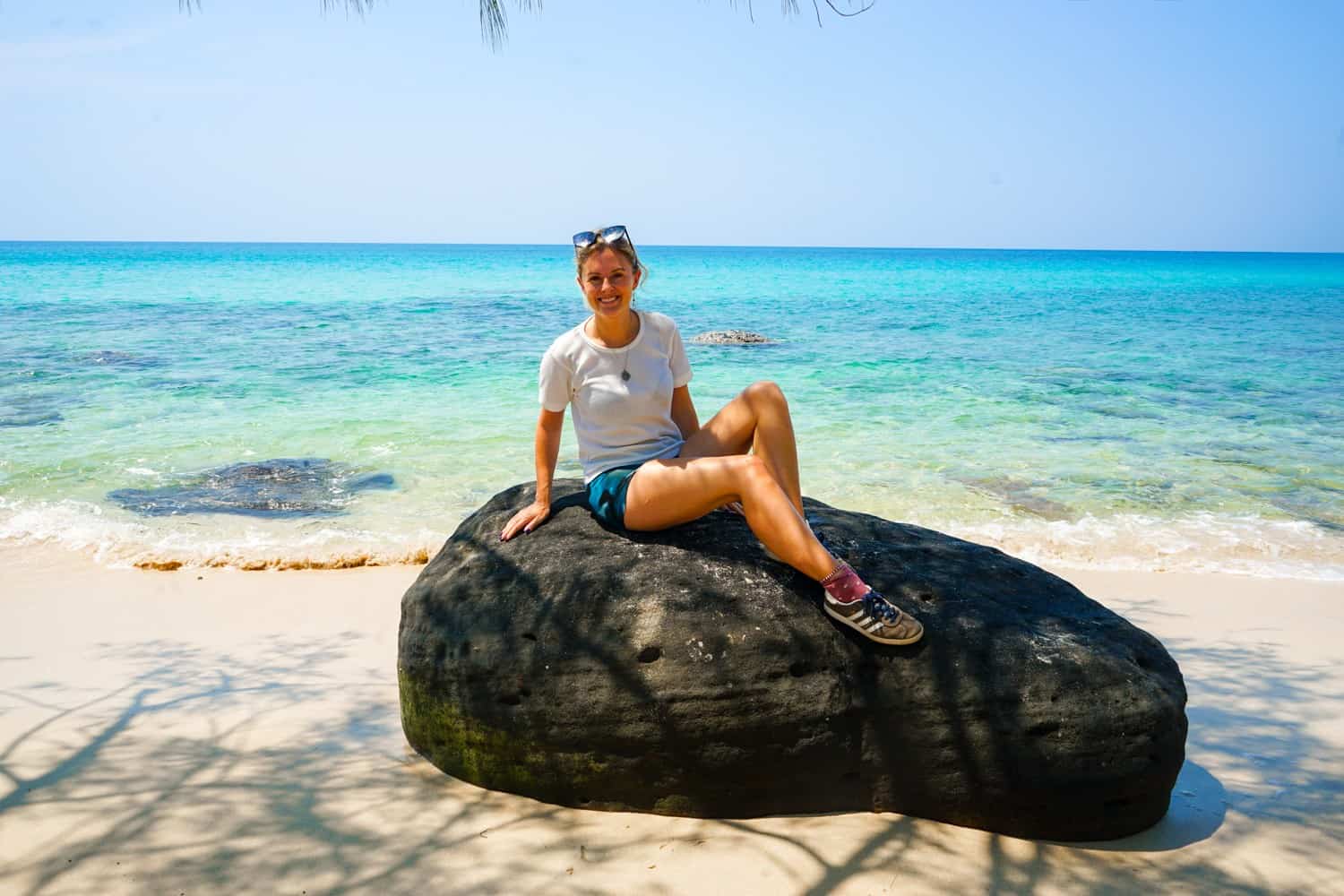 Still, this has felt like a year of less. When I look back over 2018, I can clearly divide the year into two.
Over the first five months of the year, I was travelling full-time, living the digital nomad dream, and making up travel plans on the fly.
I moved to the U.K. in May and between then and now, only left the country twice. I visited just four new countries this year, too, whereas I normally average eight or so.
Of the new countries I did visit, though, I loved that I chose spots that were small and rarely-visited.
Travelling through Tonga, Brunei, Liechtenstein, and San Marino was fascinating, and re-confirmed to me that getting off-the-beaten track and avoiding overtourism is exactly what I want to focus on in 2019. While everyone else is hitting up Venice and Barcelona and Lisbon and Amsterdam, you'll catch me in places like Accra, Algiers, Dakar, and Bamako. There are so many magnificent places in the world that aren't being talked about and I'm aiming to start making up for that.
Anyway, this post is about the past rather than the future, so let's take a look at what the previous 12 months had in store for me.
January: Australia, New Zealand, and Tonga
I rang in the new year with a promise.
A promise to make 2018 even better than the previous year.
2017 had been the best year of travel I'd ever had and I didn't want to lose that high. As I made my vow, I was sat in Melbourne, Australia with Dave's family, celebrating New Year's Eve the only way I know how: inside, saving my money and sanity.
I continued with the relaxed vibe into the first week of January before packing my bags and flying to the small town of Ashburton, in New Zealand. Dave's parents live here, and we usually opt to spend several weeks with them over the holidays. These family-focused periods are rarely exciting from a travel perspective, but for us, they're wonderful.
And then I flew to Tonga.
I set my sights on this South Pacific island because there was hardly any travel information about it online. Still, it sounded safe, the beaches looked spectacular, and it was fairly inexpensive. In other words, it was exactly the kind of place that gets my travel heart beating.
The main island of Tongatapu had little to offer tourists, but I still jumped on a day tour and had a look around with one of the best guides in the country. Mostly, I spent my time lying to said tour guide and pretending I could see everything he pointed out to me. It was awkward but made for a funny blog post.
I flew to 'Eua next, on one of the world's shortest flights. At six minutes long, it was quite the experience! 'Eua is a fantastic spot, though, with great hiking and beaches, and a laidback vibe. Very few of the very few tourists who visit Tonga opt to travel here, but I think it's well-worth making the six-minute journey for.
Ha'apai was, for me, the real star of the Tongan show. I chose to stay at Matafonua Lodge and it was there that I found my version of paradise. My days were spent sunbathing and snorkelling, and my evenings hanging out with new friends. The lodge was located on one of the most gorgeous beaches I've ever stepped foot on, and I was flabbergasted to have the entire stretch of sand all to myself.
Read all about it: What's it Like to Travel in Tonga? | The Cost of Travel in Tonga: A Detailed Budget Breakdown | Lying to Locals in Tongatapu | Exploring 'Eua: Tonga's Forgotten Island | Hospitalised in Tonga | Ha'apai: My South Pacific Island Paradise
February: Tonga, New Zealand, and Thailand
After such an incredible time in Ha'apai, I travelled to my final destination in Tonga and realised I'd made a mistake. It's not that the Vava'u island chain sucks, but that the weather more than did. I was the only guest in my hotel, every restaurant and store was closed, the internet was down, and it was pouring with rain.
I therefore spent four days in solitary confinement, eating canned mackerel and slowly losing my mind.
By the time I made it back to New Zealand, I was happier than ever. And not just because I'd survived a flight on what is known in Tonga as the Death Plane.
I spent the next week with Dave's family in Hanmer Springs. We set out on hikes in the nearby countryside, ate plenty of fish and chips, bathed in the hot springs, and I observed an alarming amount of backyard cricket. Dave surprised me with a day trip to Kaikoura, which was one of the few spots in the South Island I hadn't already been to. We spent our day seal-watching, drinking wine, and soaking up the beautiful views.
I rounded off my time in the country with a stint of alpaca trekking in Geraldine. I love all things alpaca, so couldn't get enough of this experience, even when the alpaca I was walking dragged me face-first into a ditch.
Next stop: Thailand!
I kicked off my time in Southeast Asia with a week in Bangkok spent eating everything I could in the Ari neighbourhood. It's all about hipster cafes and delicious street eats there, and I loved delving into the local food scene.
I travelled to Chaing Mai next, and was surprised to see how much it had changed since my last visit. My previous favourite neighbourhood, Nimmanhaemin, was packed to the brim with digital nomads and Chinese tourists to the point where I was desperate to leave. I spent a couple of nights staying within the old town and decided that was much more my scene.
Read all about it: Stranded in Vava'u While I Slowly Lost My Mind | Why Ari is My Favourite Bangkok Neighbourhood
March: Thailand, Brunei, and Malaysian Borneo
I've spent a lot of time island-hopping in Thailand over the years, so for this trip, decided to head to the Koh Chang island chain, which is known for having some of the best beaches in in the country, but without the crowds.
Koh Wai brought a spectacular stretch of sand into my life and fulfilled my desert island fantasies, thanks to its lack of power. Koh Mak was a beautiful island with isolated beaches (are you sensing a theme here?) and a fun expat community. I loved the day I spent scootering around the island, and couldn't get enough of the wonderful guesthouse I chose to stay in.
I saved the best island for last, because I'm convinced that Koh Kood has the best beaches in all of Thailand. This island is spectacular. Not only is it home to my favourite guesthouse on the planet, but it's also lined with the most incredible white sand beaches.
Next stop: Brunei!
I had been itching to visit Borneo for years, and Brunei would be a brand new country for me, so I booked a flight and flew to the island. Brunei was fine to explore for a day or two, but after that, I was restless and ready to leave.
My next destination was Kota Kinabalu, in Malaysian Borneo, and I quickly decided it was my favourite city in Southeast Asia. Within two hours of arriving, Dave and I decided to extend our stay from three days to three weeks, and set about exploring the city through our stomachs. Guys, this is one of the most underrated cities in the world for eating!
Read all about it: Returning to Koh Chang, Six Years Later | Koh Wai: Thailand's Best Kept Secret | Off the Beaten Track in Koh Mak | Koh Kood: The Prettiest Island in Thailand | Is Brunei Worth Visiting? My Experience in the Sultanate | How Much Does it Cost to Travel in Brunei? | One Bus, Six Hours, and Eight New Passport Stamps
April: Malaysian Borneo and Indonesia
I'm ready to declare April the worst month I've ever lived through!
I kicked off the month with a hefty dose of panic attacks. I've suffered from anxiety for as long as I can remember, but I'm fortunate to be able to control it by sticking to a low carb, Paleo-based diet. Unfortunately, while I adored the food in Kota Kinabalu, the Malaysian diet did terrible things for my mental health. Eating meals that consisted of fried and oily rice and noodles topped with sugar for three weeks straight caused my anxiety to return, and my days were filled with chest pains and tremors.
We left the city for the mountains and spent several days walking through the national park that surrounds the base of Mount Kinabalu. I passed on climbing Malaysia's tallest mountain, as I didn't have the right hiking gear, but I was still content to wander through nature for a few days.
We travelled to Sandakan next and then everything fell apart.
I awoke on our first day with a severe case of vomiting and couldn't leave the shared bathroom of our hostel. While Dave set off to see the sun bears and orangutans in their nearby sanctuaries, I couldn't stop throwing up. The room was spinning, my head was pounding, and I was wondering if I was going to die in this rundown cell.
Despite feeling terrible, we set off into the rainforest as planned. This could be the only opportunity I'd have in my life to see what makes Borneo so special, and I didn't want this weird virus to hold me back. We arrived on the Kinabatangang River and met with our guide. He was known as the best animal tracker in the country, having even shown David Attenborough around at one point.
My hopes were high, but I was still blown away when we jumped in a boat and floated towards a herd of pygmy elephants! These tiny animals are only found on Borneo and are super-rare, so it was one of the most magical experiences to spend an entire hour alongside them, within touching distance for much of it.
By the time we returned to our accommodation, the virus had hit Dave. And let me now mention that we were in a homestay, staying with an enormous family, all of whom hang out in their living room, which is separated from the bathroom by a single flimsy curtain. They heard absolutely everything as Dave and I tag-teamed in and out of their bathroom in misery.
I think we had cholera.
Our guesthouse owner insisted we did, and then ordered us to leave because we were too far from a hospital and he didn't want us to die. There was currently a cholera outbreak in Kota Kinabalu, he told us, stemming from a restaurant that we had regularly eaten at.
We left Borneo having seen very little, and flew to Bali to nourish our broken bodies. We ate vegan and paleo meals in hipster Canggu, spent time lazing by the pool, and recovered on the beach. Our time on this island was about as far away from Balinese as you can get, but at that time, I was too sick to care.
May: Indonesia and the U.K.
After three weeks in Bali, Dave and I decided it was time to find another home base. We had come to the decision a year ago that we wanted to live close to family in-between travelling the world, and the U.K. is the only place where we both have relatives.
We therefore flew from Bali to London via Singapore and what was my least comfortable flight of all time. Our plane broke down at Singapore airport, and I ended up spending nineteen hours in the middle seat!
After arriving, we drove to the Peak District to celebrate Dave's brother's birthday. It was my first time in this part of the U.K. and we chose to base ourselves in beautiful Bakewell for the experience. We went for long walks in the countryside, had pub lunches every day, and even found time to try some of Bakewell's famous tarts.
Bristol was our next stop, and I was surprised when everything fell neatly into place. That never happens with me!
We found the perfect apartment within three hours of commencing our search, then dropped our backpacks and spent an incredible amount of money. Yes, one of the problems that arise from having spent seven years travelling is having to get rid of anything that doesn't fit inside a backpack. We therefore moved into an unfurnished apartment with roughly 20 kilograms of possessions, then had to buy everything.
Still, despite the expenses, this was a good month for me. I was still dealing with the after-effects of my cholera infection and simply having a kitchen and a place to rest helped me take those first steps towards healing.
June: England and Liechtenstein
June was all about getting to know our new home and settling into living a less adventurous life for a while. I joined a gym, I went to a ton of meet-ups, I continued decorating our apartment, and I enjoyed having a fully-stocked kitchen for the first time in months.
I also turned 30! My twenties were life-changing for me and I still can't believe how much I achieved over the decade. Still, I was excited to be entering a new stage in my life, especially because everyone insists that your thirties are so much better.
Even when I have a base, you guys know I can never stay still for long (see: me living in Portugal last year and spending close to eight months outside of the country), so towards the end of the month, I made my way to Liechtenstein, which was a brand new country for me. This microstate captured my heart and I couldn't believe how incredible the hiking was.
July: Liechtenstein, Switzerland, England, and Wales
We continued with our explorations of Liechtenstein, opting to spending several days hiking outside of Malbun before heading to the adorable capital city of Vaduz. For such a tiny country, Liechtenstein had a surprising amount to offer.
Our next stop was Switzerland, and we travelled to Zurich to wander around the hipster Zurich West neighbourhood. Like practically every story of gentrification, the neighbourhood was once the industrial part of town, but has recently been revived into a thriving hangout full of bars and coffee shops. There's the old viaduct that's been converted into a row of restaurants and stores, a mall made from stacked shipping containers that soars 85 feet high, and Frau Gerolds Garten — an outdoor space full of street art, shipping container bars, food trucks, and a busy, buzzy atmosphere.
We squeezed in a visit to nearby Lucerne, too. Mostly because it looked like the prettiest city ever. Spoiler alert: it totally was.
After arriving back in Bristol, we were hitting the road again and heading straight for Oxford. Dave's brother was graduating from university there, and his entire family flew in for the occasion. Afterwards, we drove to Pembrokeshire, in Wales, with Dave's parents so that they could meet my parents for the first time! This part of Wales is lovely, and I especially enjoyed exploring St Davids, the smallest city in the U.K.
August: The U.K.
There's always one.
Every year, I find myself dealing with one month where absolutely nothing of interest happened. In 2018, this was August.
I was still fighting off my post-cholera cramps at this point. Five months after falling ill in Borneo, I was unsurprisingly beginning to tire of the endless stomach pains and clear test results. On top of that, I faced the double-whammy of a suspected kidney infection coupled with kidney stones, and on top of that, I had to cancel one of my dream trips.
I had decided to surprise my mum with a getaway in France for her birthday, but given the state of my health, it made the most sense for us to cancel our plans. I'm still gutted about this and hoping to whisk her away in 2019 to make up for it!
Altogether, it was a fairly boring and fairly depressing month.
September: Greece and Italy
In September: progress! My stomach cramps finally faded away, and I'm convinced that travel healed me. Of course, travel also caused the cramps in the first place, so you could say I'm dealing with a bit of a love-hate relationship here.
I hopped on a plane at the start of the month, then hit the ground running in Greece.
I decided to spend three days in Athens to kick off our adventure, as I hadn't been there before, and I left feeling as though I'd discovered a really cool city. I loved wandering around ruins, I loved basing myself in the Exarcheia neighbourhood, and, as always, I loved the food! Greek food really is one of my favourite cuisines.
The main reason behind my trip to Greece, however, wasn't the ruins.
It was the water.
I'm ridiculously fortunate to have friends who know how to sail, and every so often, we charter a yacht and spend a week sailing in Europe.
The Ionian is one of the best places to do this, so Dave and I jumped on board a 47ft vessel with three of our favourite people. This week was one of blissed-out joy. Our sailing holidays are always far more about the holiday than the sailing, so while we managed to get in a couple of hours with the sails out, we mostly focused on relaxation. We moored at empty bays to spend our days alternating between swimming and reading, spent our evenings eating delicious meals in tavernas, and generally marvelled at how well rested we all felt. One particularly highlight was mooring up in a secluded bay and sleeping beneath the stars.
We flew to Italy next, to dogsit for some travel blogging friends. We adore their dog Leo, so immediately jumped at the chance to spend three weeks taking care of him. I mean, three weeks in Bologna with the best dog in the world? We were never going to turn down an opportunity like that!
We quickly fell hard for Bologna and dived stomach-first into its incredible food scene. When I wasn't eating ragu and playing with Leo, I was day-tripping around the Emilia-Romagna region. I spent several hours wandering around beautiful Ferrara and was seriously impressed by the famous mosaics in Ravenna.
October: Italy, San Marino and the U.K.
October continued to be all about living my best Italian life.
I day-tripped to San Marino because I couldn't resist visiting a brand new country when I was staying so close. The views from this teeny-tiny country blew me away, and I was thrilled to discover I was one of only a handful of tourists who had made the trip.
I threw in a couple of food-themed day trips, too, heading to adorable Modena for balsamic vinegar tasting, and Parma to eat parmigiano reggiano and prosciutto. The food in Italy is fantastic, even if it's not particularly great from a Paleo standpoint.
With my final international trip of the year under my belt, I flew back to Bristol and made a promise to take a break from travel.
No more travel for at least three months.
What?
I know.
I had to finally pay attention to the fact that long-term travel had destroyed my health and I needed a break to work on improving it. It's not normal to suffer from five infections a year, and the damage that frequent food poisoning and antibiotic use has done to my gut is going to take a while to recover from. It was time to start prioritising my health.
November/December: the U.K.
Several weeks later, I was taking another trip!
This one I could justify, as it was just a quick jaunt to the Cotswolds, which is an hour outside of Bristol. Dave and I spent three days snuggling up inside our cosy cottage, reading books beside the fire, hiking in the countryside, and squealing when we awoke one morning to snow.
We also immersed ourselves fully into Bristol life once we returned. I started joining fitness classes, we began challenging ourselves with recipes from our travels, and we found ourselves with more invitations than we knew what to do with.
While the past two months have been quiet on the travel front, I can't deny enjoying my much-needed rest. Within the past couple of months, I finally started to feel as though the missing piece (having friends) of our Bristol jigsaw puzzle was finally about to slot into place.
Moving to a new city where you know barely anyone and work from home makes it incredibly tough to make friends, but at the end of the year, we were heading to Christmas parties and Christmas dinners, setting out for drinks with newfound friends, and skipping along to co-working meet-ups every couple of days.
I feel as though I'm ending the year on a high.
And that was 2018!
I think it's fairly obvious to everyone that I didn't quite pull through on making 2018 the best year ever.
Despite a strong start, falling sick in Borneo wrote off almost the entirety of the rest of the year as I fought to make my way back to health. It's only within the last month that I feel as though I'm getting back to normal.
Despite my cholera-themed year, I still managed to squeeze some wonderful adventures into my time on the road. Tonga was one of my favourite experiences of the year, with island-hopping in Thailand coming in at a close second. Obviously, the whole cholera thing was my biggest lowlight.
Just as I did last year, I'm planning on leaving 2018 with a dream of making 2019 the best year yet. I've got a ton of awesome trips already planned out, like walking the Camino de Santiago in Spain and overlanding in West Africa, and if they go to plan, it's looking like I'm going to have an incredible year.
Although knowing my luck, I'll probably contract rabies within seconds of entering 2019.
When does anything I do ever go to plan?
How was your 2018? Share away in the comments below!