As a physicist, I tend to try and analyse, well, every single aspect of my life and my travels are no different. At the end of each year I find myself yearning to write a series of thirty posts rounding up the past 12 months – my travels in photos, my travels by numbers, my top incidents of 2012, my favourite places of 2012, my least favourite places…
So with that in mind, I've decided to try and cram all of these individual ideas into one jumbo post of summarising madness. For each month, I've included a brief summary of what I got up to with untold incidents and adventures and I've ended with statistics of the countries visited, how far I travelled and the amount I spent.
Hopefully you'll find the information helpful and the stories entertaining!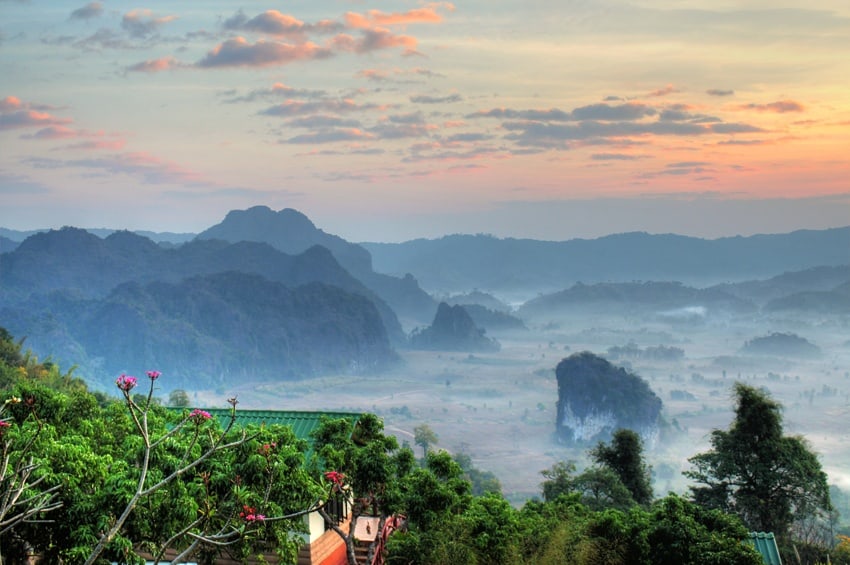 January
2012 began for me at home in Chiang Mai. I spent my New Years Eve in a Pink Floyd bar with drinking a cocktail called David Gilmore (incorrectly spelt, much to my displeasure…) where I was tricked me into believing I had ghosts looming behind me and played the longest game of pool in the history of pool-playing. Heading out onto the rooftop terrace of our apartment at midnight and watching hundreds of floating lanterns lighting up the sky for the first time was awe-inspiring and the perfect way to start the year.
However, my highlight for January was the week-long scooter road trip around Northern Thailand. Over eight days we travelled 1,500km, taking in the mountains of Chiang Dao and the bizarre temples of Phayao; we witnessed a stunning sunset and sunrise in Phu Lang Ka and some of my favourite temples were in Nan. There was even more temple madness in Phrae and we ate pork and stared at horses and carriages in Lampang before almost killing ourselves when our brakes failed on a mountain.
It was a good start to the year.
Countries visited: Thailand.
Distance travelled: 1,596km.
Money spent: £326 = $528.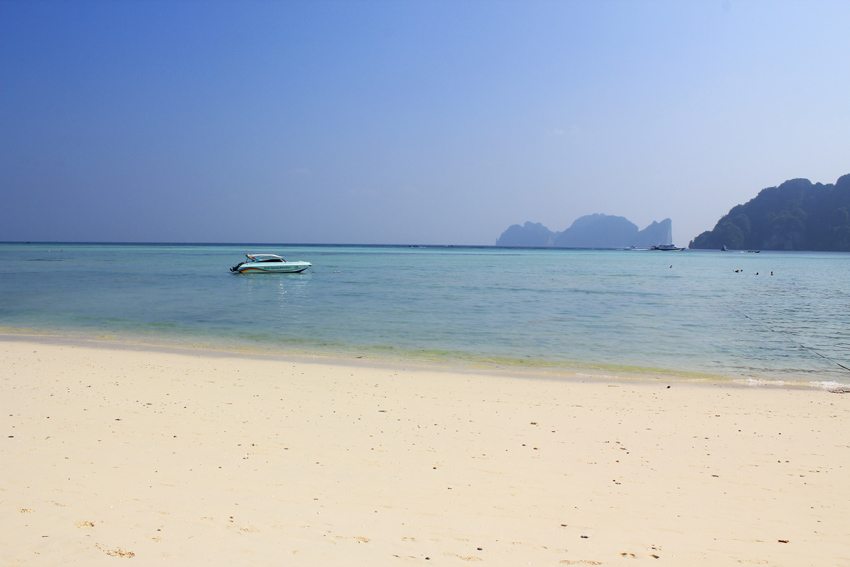 February
The first half of February was spent cramming in goodbye parties with fellow travel bloggers as the majority of us left Chiang Mai and went our separate ways. I had a particularly traumatising dentist appointment where I firmly believe the dentist drilled too far into my teeth than was necessary. (I'd had my teeth checked before leaving London and I find it highly unlikely that a tooth had deteriorated so much over 8 months that I needed a two hour appointment to get it filled…) A way to extract extra money from me? Possibly. Either way, the drilling managed to kill off one of the nerves in my teeth, which led to me being in a lot of pain, needing a root canal and spending days on Tramadol, staring at the ceiling and thinking I was made of candyfloss. Not the ideal last week in Chiang Mai I had planned for.
In med-February, I finally left Chiang Mai to head south and explore some of the islands. First up, was Koh Chang where I fell in love with Lonely Beach and had a particularly fun night drinking buckets with Poi and Kirsty and attempting to defeat them in a rap battle. Dave and I had a brief stop in Phuket, where we discovered Nai Yang – a beach in the north that wasn't as bad as the rest of Phuket, though that isn't saying much… A couple of days in Koh Phi Phi was a pleasant surprise and Koh Lanta, where I was planning on spending a few weeks, ended up disappointing.
Countries visited: Thailand.
Distance travelled: 1928 km.
Money spent: £906 = $1468.
March
As March rolled around, Dave and I needed to do a visa run and after deciding to head to India to celebrate Holi, we backed out at the last minute and decided to go to Bali instead. There, we spent two weeks learning to surf, cycling through rice paddies and canoeing across holy lakes. A monkey made me cry. Unfortunately, the majority of my time in Bali was spent in agony with my dying tooth but my reluctance to have a root canal meant that I had to put up with the pain until the nerve died and I could feel nothing more. My trust of dentists in Southeast Asia wasn't particularly high so I chose to wait to root canal it up until I was back home in May.
At the end of the month we had a decision to make. Dave and I had planned to spend our last few weeks on the Thai islands on Koh Lanta but we had been so unimpressed during our first visit that neither of us were particularly enthused with returning. No, Koh Lanta would have to wait for another time, we would be returning to Phi Phi!
Countries visited: Thailand, Indonesia.
Distance travelled: 3981 km.
Money spent: £624 = $1016.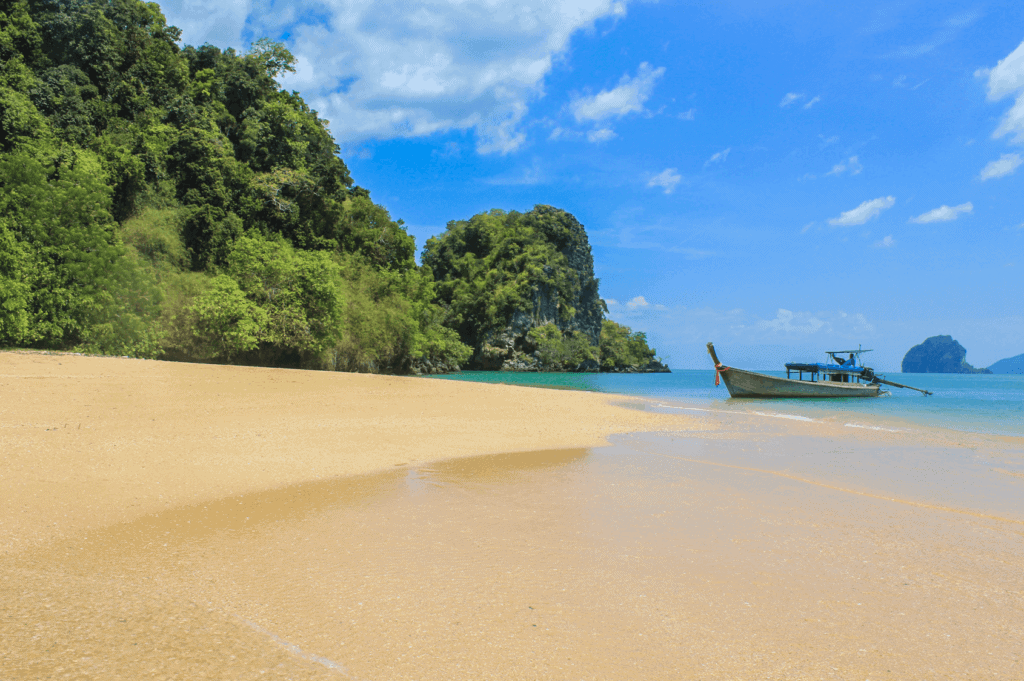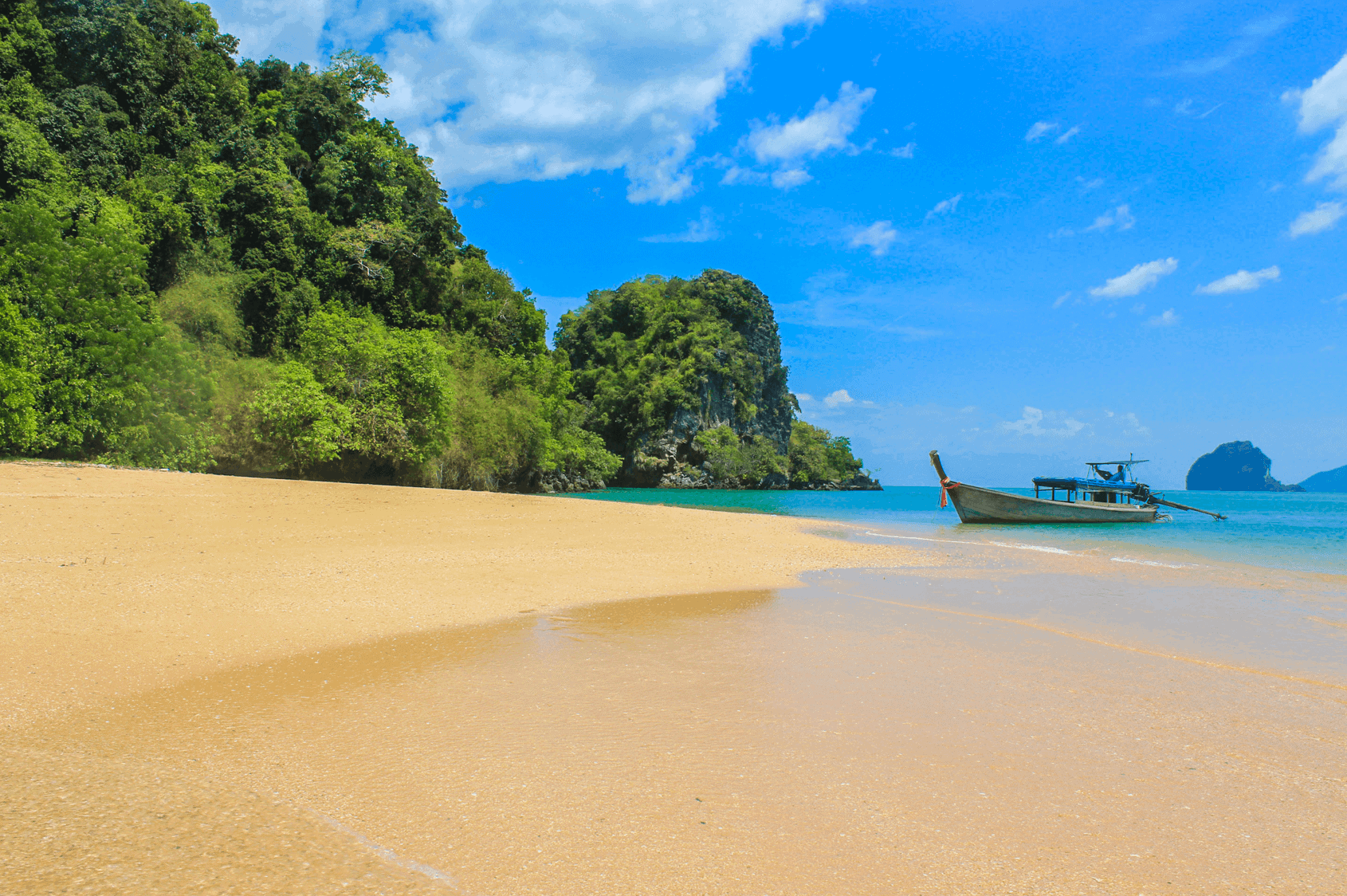 April
My two weeks on Koh Phi Phi were a surprise, mainly because I found that it was actually possible to be productive while on the island. I don't often mention how tough I find the work/travel balance and on Phi Phi I was definitely spending too much time working and not enough time exploring. I had a strict routine which had me working for 12 hours a day and sunbathing on a beach for two. By the end of two weeks I wanted to throw my laptop into the ocean.
I then began to do some serious research into Thai islands. I wanted to find an island with an amazing beach with next to no tourists, that wasn't super expensive and most importantly, didn't have wifi. Did such a place even exist anymore?
Koh Yao Noi managed to tick all of the boxes and is probably my favourite place in Thailand. I actually really didn't want to write about Yao Noi and wanted to keep it as a secret for myself. Judging by the number of emails I get from readers who have planned a trip there after reading my post, I'm pretty certain the island doubled its number of tourists in 2012! The perils of travel blogging…
Towards the middle of the year I returned to Phuket, intending to fly up to Chiang Mai and was then caught in one of the scariest experiences of my life. Looking up at the airport to see every single person sprinting towards me with terror in their eyes is a scene that will stay with me forever. The subsequent waiting and not knowing and being convinced we were about to die for over six hours was petrifying. And now, nine months later, I still haven't completely recovered. Every time I enter an airport, it takes me right back to that day on Phuket and I'm met with an overwhelming urge to run straight back out again.
Fortunately, the tsunami wasn't as bad as expected and we made it safely back to Chiang Mai for Songkran — the perfect way for me to blow off some steam after the trauma of the previous day! Songkran, the Thai New Year and the biggest water fight in the world, was so much fun!
Countries visited: Thailand.
Distance travelled: 1794 km.
Money spent: £653 = $1036.
May
As Dave flew back to Melbourne to see family I had two weeks left in Southeast Asia to try and cram in everything I still wanted to see! I decided on a week in each of Laos and Cambodia. To say it was exhausting and action-packed would be a huge understatement and I was travelling in the way that I often advise people not to — but I'm really glad I did.
After sitting next to a corpse on the slow boat to Laos, I attempted to recover in Luang Prabang — only to be greeted with the worst guesthouse in the world. Despite that, Luang Prabang grew to be one of my favourite cities in Southeast Asia. Everybody I met in Laos was astonished and horrified that I'd be skipping Vang Vieng on my whirlwind tour of Laos but Don Det was much more my style. I spent four days in a $5 bungalow lazing in a hammock overlooking the Mekong. I could have stayed for months. However, time was running out and I had to get to Cambodia where I spent three wonderful days exploring Angkor Wat.
Reuniting with Dave in Bangkok had him both amused and terrified over my transformation into a hippie and then it was time to fly to Europe. Our few days in Amsterdam were wonderful, if not freezing and when Dave decided to hit up Spain and Italy I flew home to see my parents for some family time and root canal fun.
Countries visited: Thailand, Laos, Cambodia, Netherlands, England.
Distance travelled: 13,041 km.
Money spent: £609 = $987.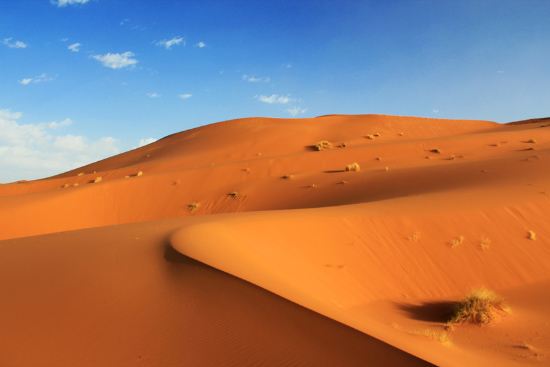 June
I was excited to reunite with Dave once more, especially as it was in my favourite European country, Slovenia! We spent a week in beautiful Ljubljana but it was our trip to Lake Bled that was the real highlight. Dave surprised me with a sunrise hot air balloon ride over the lake. I was absolutely terrified during the experience but by the time it was over I was desperate to do it again! So. Much. Fun.
Dave and I finished up our time in Europe with a couple of days in Vienna. The cold, rainy weather and the fact that we were staying quite far away from the centre meant that I was left feeling rather disappointed. The city was big, white, dull and felt like any other European city. Unimpressed.
As Dave flew over to the US for a month of road trips, conferences and hiking, I flew to Morocco — somewhere that has always frightened me but that I was also desperate to visit. My week in Marrakech was a wonderful introduction and my time in the Sahara Desert was life-changing. I was beginning to fall hard for Morocco but my time in Essaouira started to change all that. I was harassed by men everywhere I went — they would grab me, spit at me, shout at me and call me a whore. All this while I was covered from head to toe with no skin exposed. Morocco was beginning to stress me out…
Countries visited: Slovenia, Austria, Morocco.
Distance travelled: 5316 km.
Money spent: £470 = $736.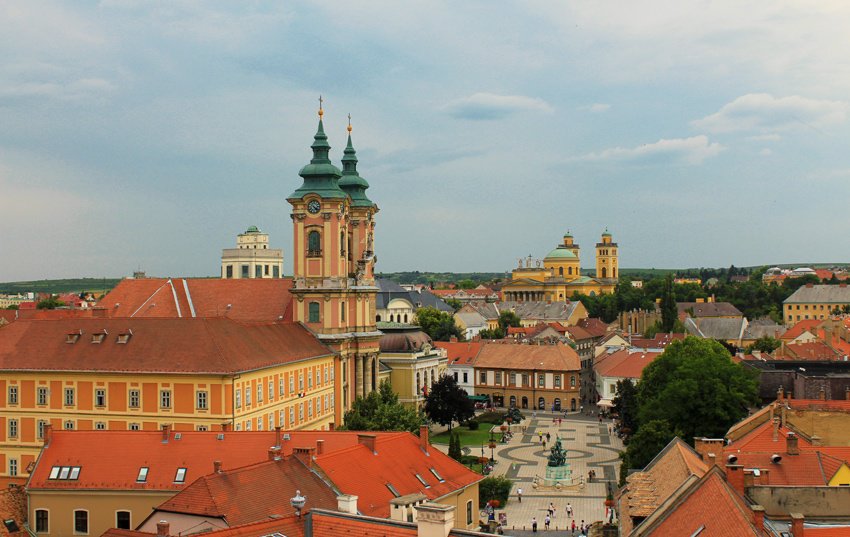 July
I had originally planned for just over a month in Morocco but the hassle and chaos was slowly starting to wear me down. When a local guy grabbed my boobs in the street and whispered threatening things in my ear before spitting on me I had had enough. I loved Morocco. I absolutely adored the country… I just couldn't handle the majority of the men. Next time I visit, I probably won't be travelling solo.
After Morocco, I needed a break from travelling and flew back home to London to spend a couple of weeks recovering before starting my big Interrail trip. I met back up with Dave (yay!) in Frankfurt we began our overland adventure to Istanbul. We began to make our way east, taking in rainy Prague, even rainier Bratislava, surprising Budapest and beautiful Eger.
The highlight and biggest surprise for me was Budapest! I had first visited at the start of my travels in 2011 and was hugely disappointed with the city — I didn't understand just how or why so many people around the world loved it! For a long time it was my least favourite city in the world. When I returned this year, I was astonished by how quickly I fell in love with the capital. Something had changed (I blame the ruin bars) and I left knowing that I'd like to live there at some point in the future. I definitely didn't see that coming.
Countries visited: Morocco, England, Germany, Czech Republic, Slovakia, Hungary.
Distance travelled: 3733 km.
Money spent: £542 = $845.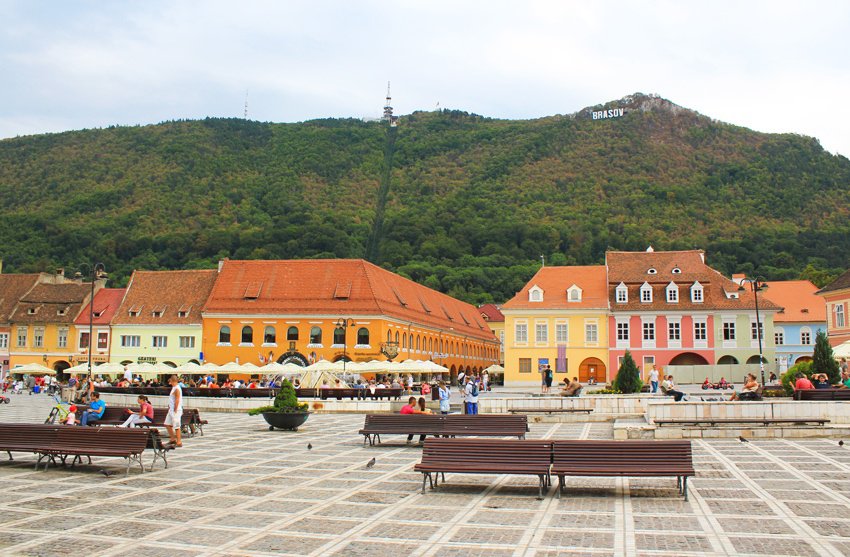 August
August was all about Eastern Europe. Croatia is one of my favourite countries in the world and I took great delight in showing Dave around Zagreb and the stunning Plitvice Lakes. In Bosnia, we both fell in love with Sarajevo and the beautiful, yet incredibly touristy, Mostar. We travelled for 28 hours just to sit on a beach in Montenegro — a ridiculous decision in hindsight but one we were both grateful for. Next was Serbia where Belgrade was gritty and grey and wasn't somewhere I particularly but the scenery we passed in the south makes me want to return to explore other areas.
We missed our first train in Romania, having no idea that we'd crossed a timezone and had to wait eight hours for the overnight train to Bucharest — not a great start! Romania still managed to find its place as one of my favourite countries. With a plate of fried pork fat and a Hollywood-style sign in medieval Brasov, an impressive fortress in Rasnov and some of the prettiest and most colourful buildings in Sighisoara, Romania is definitely a place I could see myself living.
And then it was over. As somebody who absolutely despises big cities, I was really looking forward to seeing what I'd make of Istanbul. Within five minutes of arriving, I had declared it my favourite city in the world.
Countries visited: Croatia, Bosnia & Herzegovina, Montenegro, Serbia, Romania, Bulgaria, Turkey.
Distance travelled: 4,374 km.
Money spent: £885 = $1387.
September
I spent the entire month of September travelling around Turkey — from awe-inspiring Ephesus to the alien-like landscapes of Pamukkale. I was struck down by vertigo in Selcuk, which was one of the scariest moments of my life, and still managed to conquer my fear of seasickness and boats, by sailing around the coast of Turkey for two weeks. There was lots to be proud of this month.
I had fallen in love with Istanbul so much that I couldn't possibly leave Turkey without returning and spent my final week in the city doing all of the tourist activities I'd skipped on my first time around — Aya Sofya, the Blue Mosque, the Grand Bazaar and the spice markets. Turkey was fast becoming one of my favourite countries!
Countries visited: Turkey.
Distance travelled: 1,637 km.
Money spent: £1652 = $2684.
October
As October rolled around, the temperatures in Istanbul dropped significantly, bringing with it a change. It was time to return to Southeast Asia. Bali was wonderful as usual, with a couple of days in Ubud and the rest of the time spent with friends in Nusa Dua. We found time to meet up with Debby, a local blogger, who took us to a couple of awesome, relatively unknown beaches — Pandawa Beach and Green Bowl Beach.
After Bali, we flew to Cambodia. I had been desperate to explore more of the country after my short visit in May, I needed to see more than just Angkor Wat. We landed in Phnom Penh a few days after the former King of Cambodia died, the mood in the city was very somber. My day spent at The Killing Fields and S-21 was emotional and heart-wrenching but something I believe everyone who visits Cambodia should see…
And then, to the coast! The next three weeks were spent on my new favourite beach of Southeast Asia: Otres Beach! It's located several kilometres away from the main part of Sihanoukville, and the fact that there are only several dozen guesthouses on the beach meant that the beach was incredibly quiet and peaceful.
Countries visited: Turkey, Indonesia, Cambodia.
Distance travelled: 14,575 km.
Money spent: £1151 = $1846.
November
November continued in much the same way as the previous month. My planned two weeks in Cambodia soon stretched out to a month as my love for the country grew. I ended up living on Otres Beach for almost two weeks in total.
After being attacked by sandflies, jellyfish, fishes and a kerb, we headed to the chilled-out town Kampot for five days of relaxing. We rented a scooter and explored nearby Bokor Hill, I tried Vegemite for the first time and soon developed an obsession that has led to me carrying a jar in my backpack, and we took a day trip to Kep where I massacred a plate of crab — the best meal ever! Kampot was wonderfully relaxing and although the graze on my leg grew to be infected and my sprained ankle meant that I could hardly walk, it was a place that I'd love to return to! Yes, I was definitely feeling like I was cursed in Cambodia.
With my Cambodian visa due to expire, it was with a heavy heart that I crossed the border into Thailand. First up, was a night in Sukkhothai, a brand new destination for both Dave and I! I was amazed at just how fantastic the ruins were! We rented a scooter and spent most of the day riding around the temple complex and I ended up wishing we had a week to see everything. I highly recommend visiting while you're in Thailand.
And then, of course, it was time to head to Chiang Mai for a couple of weeks. The Yi Peng festival was magical, staying in a different area of town meant that we could explore a different side to Chiang Mai — one that I actually preferred, and Dave and I went to the cinema together for the first time! Chiang Mai will always feel like home to me and I'm certain I'll be visiting at least once a year…
Countries visited: Cambodia, Thailand, Vietnam.
Distance travelled: 1930 km.
Money spent: £701 = $1115.
December
As December rolled around I finally got to make it to Vietnam! I'd been desperate to visit for quite some time and was delighted to discover that for the first time in my life I had found a country where I wanted to eat EVERYTHING. I frequently struggle with food in Southeast Asia as I can't handle any amount of spice in my food and I don't like peanut and coconut. As you can imagine, Thailand is always tough for me to travel through and eat local food. In Vietnam, however, all of the spices and herbs and, well, everything is kept separate! You can make the food exactly as you like and for me this meant entirely bland with nothing added. Honestly, it was the first time in my life where I felt comfortable ordering something completely unknown and feeling confident that I would like it. This was a huge deal for me!
After a few days in Saigon it was time for yet another epic motorcycle ride — this time through the Mekong Delta. Travelling in a clockwise direction, we rode down to the southernmost point of Vietnam before turning back and racing back to Saigon! We definitely needed a few extra days on this trip. Despite the rush, I thoroughly enjoyed my time scootering around. So many rice paddies and so river ferries, we didn't see another Westerner after the first couple of days and it was great to see places far off the tourist trail. I love that I ended the year in the same way that I started it: on the back of a scooter!
And then, with a missed connection and night sleeping in a Kuala Lumpur hotel courtesy of Air Asia, it was time for me to head to my final country of 2012 and a brand new continent. Australia! Dave and I rented a car in Brisbane and spent seven days driving down to Melbourne. Port Macquarie surprised me with lots of stunning beaches, the Blue Mountains were incredible and my favourite part of the trip, Sydney was mostly uninteresting and confirmed my dislike of big cities and then I ended the year with Christmas and New Years in Melbourne!
Countries visited: Vietnam, Malaysia, Australia.
Distance travelled: 10,877 km.
Money spent: £692 = $1126.
It's been a fantastic year, truly the best year of my entire life. When I look at everything I've done, all the things I've seen and how much I've grown and developed as a person, I feel incredibly fortunate and proud of the life that I've created for myself.
Thank you so much for following along with my adventures over 2012. Thank you for every Facebook share, tweet, email and comment. I hope I've managed to keep you entertained with my mishaps and inspired with my photos of beautiful places.
I'll hope you'll continue following along in 2013.
-Lauren.