Sailing the Greek islands was a trip of firsts.
My first time in Greece. My first time on water without experiencing motion sickness. My first time properly learning how to sail. My first time travelling carry-on only.
Yes, if you're going sailing, whether it's for Yacht Week or chartering a yacht with friends as I did, the key is to pack light. Life on the water is incredibly simple and you'll spend the vast majority of it in swimwear.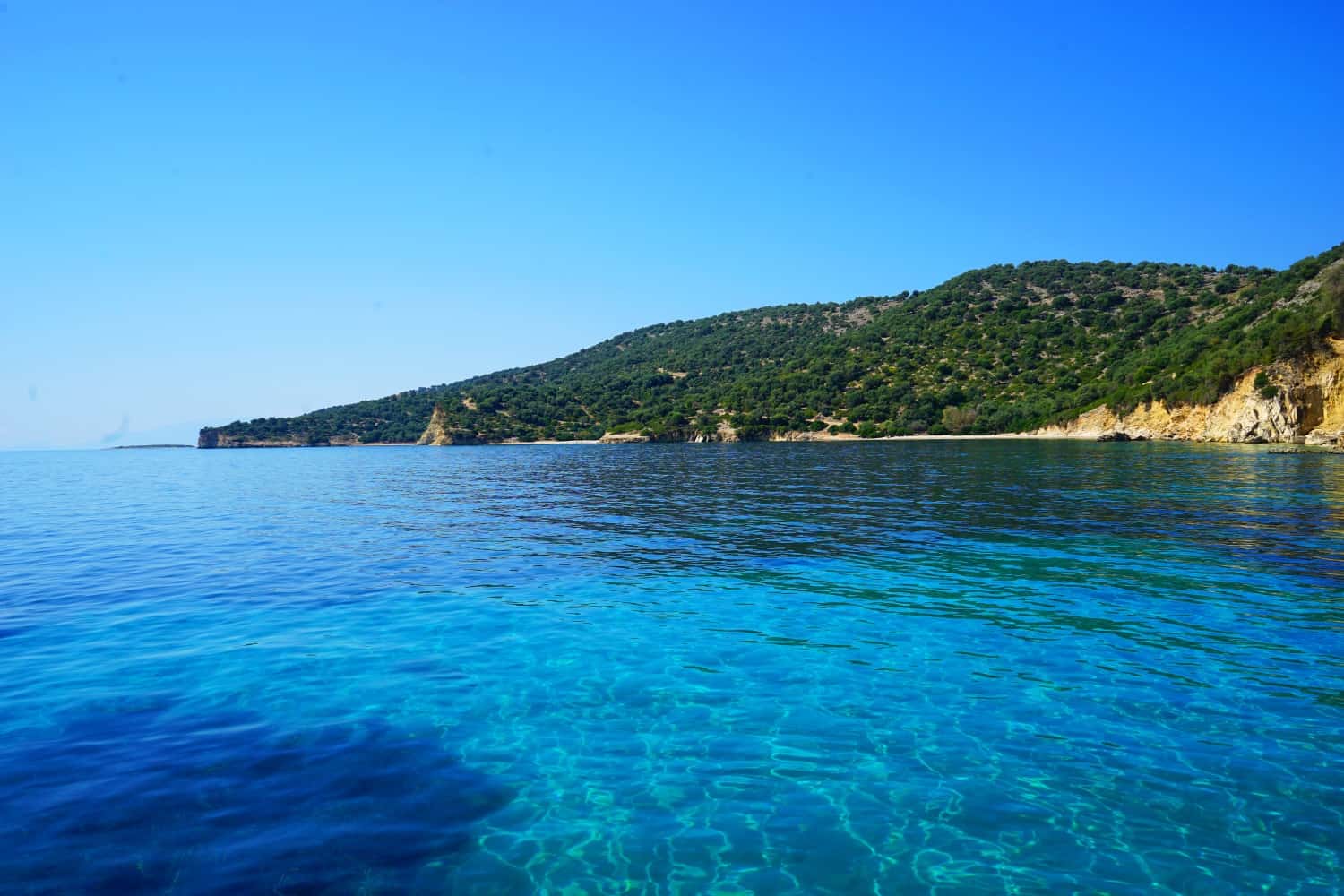 What was it like traveling with just a carry-on bag for the first time? Surprisingly freeing! The biggest upsides were not having to worry about lost luggage, not having to wait for my bags at the baggage reclaim, not having to pay to check my backpack, and not experiencing back pain from walking around with a heavy pack on.
The biggest downside? My backpack wouldn't fit under the seat in front of me on the plane so I had to put it in the overhead lockers. Embarrassingly, I don't possess enough upper-body strength to lift my bag up that high. Hahaha. So I had to ask someone to put it up there for me every time I get on a plane. So mortifying.
Anyway, I'm excited to share this detailed packing list with you. I know you guys have been asking for more information on what I take with me on my trips, so consider this the first of many country/region-specific guides!
Which Backpack to Bring?
When it comes to sailing, you really don't need to bring a huge amount of stuff with you. You'll spend the vast majority of your days in the water and will quickly stop caring about what you look like. With so few essentials on a trip like this, you can easily travel with a carry-on backpack.
I recommend a backpack over a suitcase or holdall, simply because getting on and off the boat via a wobbly, slanted wooden plank is tricky enough as it is. You don't want to try to do that while wheeling a suitcase along after you!
I opted to bring the Osprey Farpoint 40l backpack (a brand new purchase!) with me. I'm already a huge fan and plan on making this my main backpack for all of my future trips! It's super-comfortable, easy to pack, and has plenty of compartments to help you keep your belongings organised. You can read about why I always travel with Osprey backpacks here.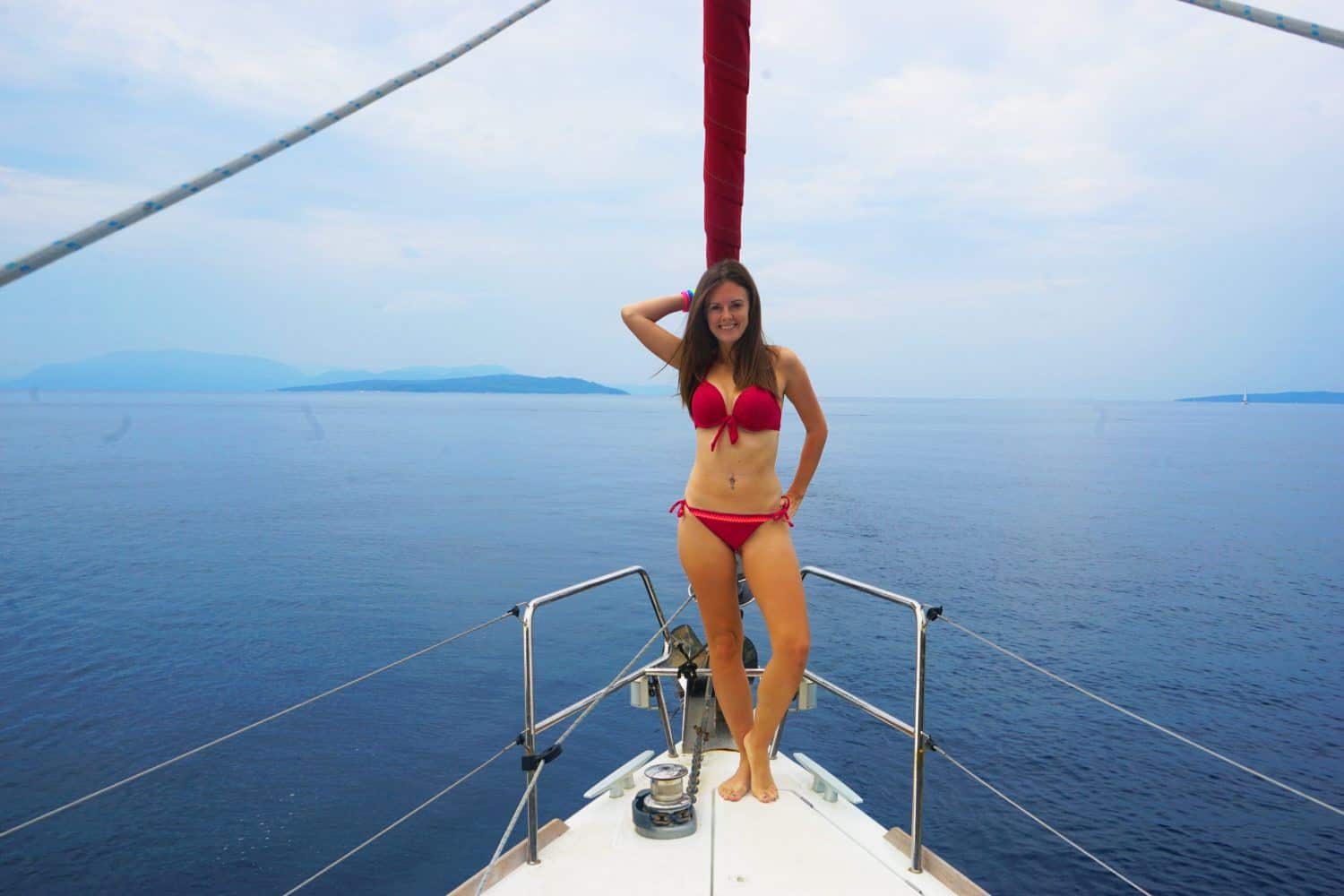 Clothing
When it comes to living the yacht life, you'll want to bring a load of swimwear with you. But you won't spend the entire time in it. You'll also want clothes for mornings and evenings when the temperature drops, and if you get sunburnt, you'll definitely want something to cover up with. Remember that you won't be able to do laundry on the yacht, so bring enough outfits for the amount of days you'll be spending at sea.
Note: I always, always overpack when it comes to tops. I'm so tiny that most of my strap tops will ball up to the size of a sock, so I take advantage of this and bring quite a few options!
Five bikinis
Two strap tops
Three vest tops
Seven t-shirts
Two pairs of denim shorts
One dress
Enough underwear for the length of my trip
One outfit to keep you warm: Take a look at the projected weather forecast for the evenings, then make the decision as to whether this is necessary. For me, anything below 20 degrees Celsius has me shivering, so those 15 degree evenings put me in jeans and a fleece for the night.
Flip-flops: You don't really need anything other than flip-flops for a sailing trip — I travelled with these tropical-themed Havianas — and even then, I only wore them when heading out for dinner in the evening. If you're planning on doing any hiking while you're there, you may want to bring some Teva sandals with you — I've travelled with, and really like, these ones.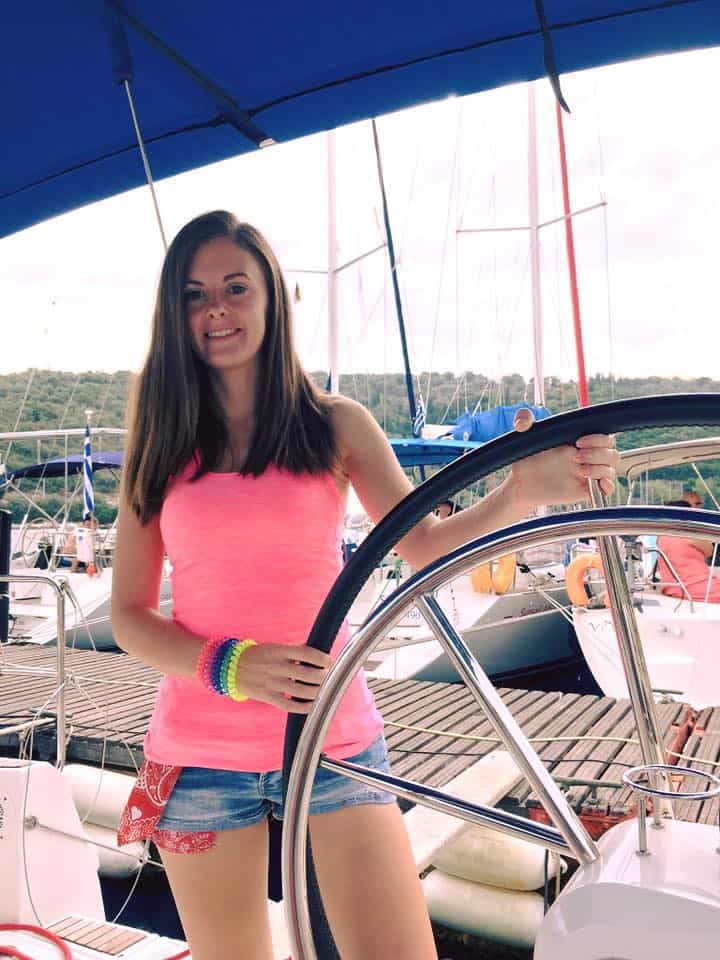 Accessories
Sunglasses: I bought three cheap pairs from H&M with me and managed to only lose one of them, which is a new record for me! Does anyone else immediately lose every single pair of sunglasses they buy?
Quick-dry travel towel: These get a lot of hate from travelers, but I absolutely adore mine! Although we were given towels to use for showers on the boat, I still had to bring one for beach use and general sunbathing. My Sea to Summit DryLite Towel in extra large was perfect for this and didn't take up much space in my backpack.
Medications
Pretty self-explanatory here! I didn't bring much with me, just a very basic first aid kit. You'll be able to stock up on anything you forget at pharmacies in the villages you moor at.
Dramamine
Painkillers
Imodium
Anti-histamines
Band-aids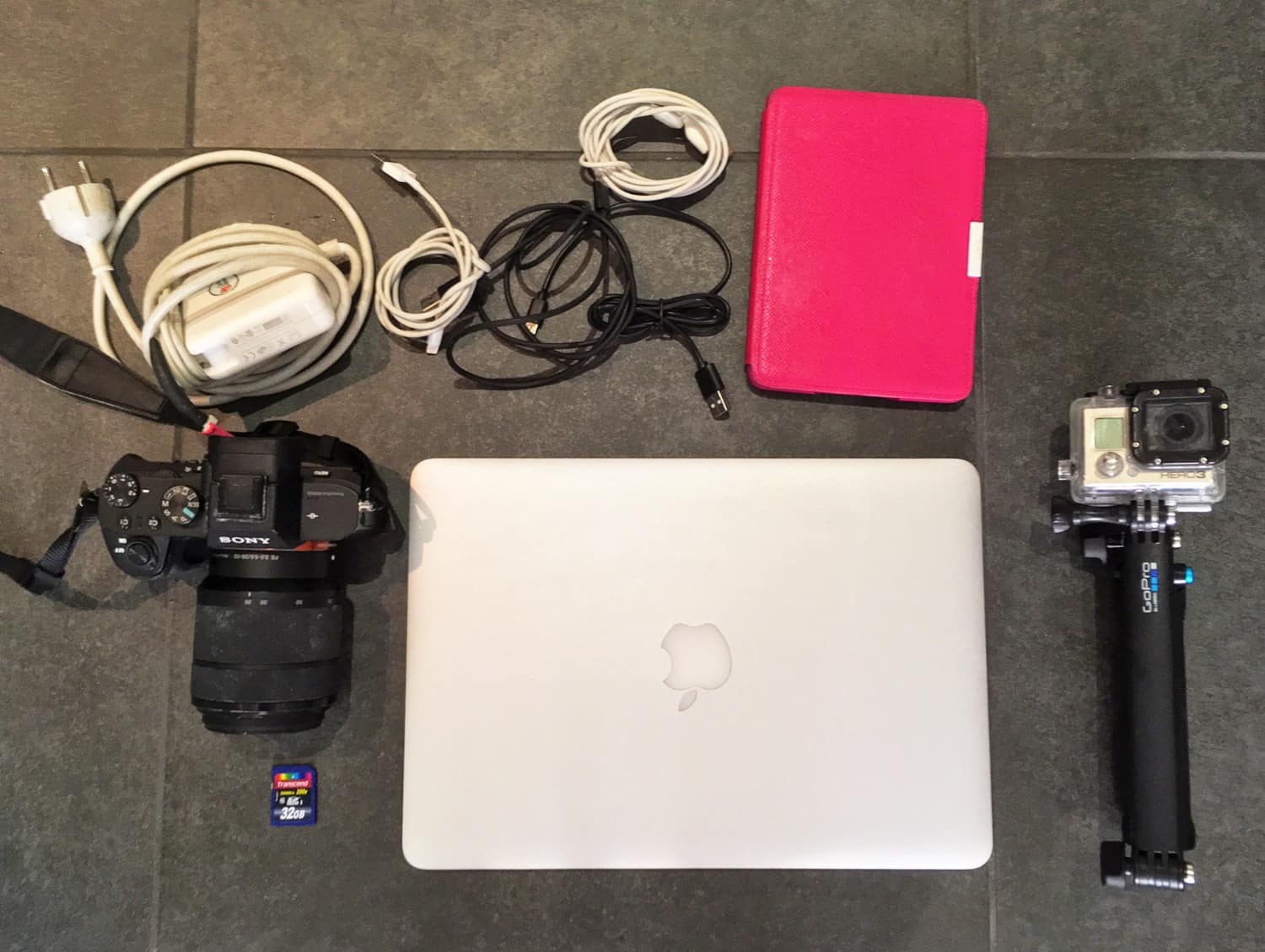 Technology
I always bring a shit-ton of technology with me on my trips, so you may not want to bring as much as I did. One essential, though, is a camera. You'll be wanting to snap as many photos as possible while you're in such a spectacular part of the world. Here's all the tech I brought with me:
Sony A7ii with 28-70mm lens: My main DSLR these days is the Sony A7ii with a 28-70mm lens, along with a couple of 32 GB SanDisk SD cards. At $2,000 for the full set-up, this is pricey, and I bought it as an investment in this site. I'm incredibly happy with the quality of the camera and lens, though, and would highly recommend it if you have the cash and are looking to invest in a mirrorless system. If you're not into photography, just bring whatever camera you usually use on holiday.
GoPro HERO3+ with accessories: GoPros are fantastic for sailing trips, because they're small, lightweight, and come with an underwater casing. I used mine with the GoPro 3-Way Grip, because it's great for taking selfies, but in the future, I'd consider getting a floating selfie stick to use. I was way too nervous about accidentally letting go and watching my GoPro sink to the bottom of the sea.
iPhone XS with a local SIM card: Wi-fi was pretty rare, even when we were moored in a village, so I'm glad I picked up a local SIM card before getting on the yacht. Too Many Adapters has a detailed guide for buying SIM cards in Greece — we paid 10 euros for 5 GB of data, which is great value for money for Europe. I also used my phone as my camera while we were actually sailing.
Kindle Paperwhite: I read a lot of books on this trip, making my Kindle my very best friend. I read whenever I was sunbathing on the yacht in the middle of the day, or in the evenings while everyone was showering before dinner.
Various chargers/adapters: Make sure you bring a European travel adapter with you!
What not to bring: I also brought my Macbook Pro with me. I didn't touch either, so would leave them both at home next time. I also brought a portable battery box for charging, but we had USB power on the boat at all times, so I didn't need to use it.
Toiletries
Because I was going to be travelling carry-on only for my trip to Greece, I had to be cautious with how many toiletries I brought with me and what size they were. I recommend just heading to the supermarket or drug store and picking up travel-sized products of anything liquid you want to bring with you. Here's what I took on board with me:
Toothbrush and toothpaste: Self-explanatory. I picked up a sample-sized tube of toothpaste beforehand and brought my normal toothbrush with me.
A razor: Again, self-explanatory!
Deodorant: You'll definitely want some of this, as you'll be hot and sweaty for much of your time on the ocean. Again, I grabbed a small roll-on deodorant from a drug store in advance.
Sunscreen: It seemed pointless buying a teeny tiny sized bottle of sunscreen as I knew I'd probably get through all of that in a day. I recommend just picking up a big bottle once you arrive in Greece, so that you'll have enough for your stay.
Solid shampoo and conditioner: I love LUSH's solid shampoo and conditioner bars — they leave my hair feeling soft and shiny, are super-lightweight and small, and last me over three months when using them continuously! Because they're so small, I'd definitely recommend picking up some conditioner, too — that salt water can really mess up your hair.
A small bar of soap: Just a random bar of soap I took from the bathroom of a fancy hotel I stayed at once.
Tangle Teezer: I've been traveling with a Tangle Teezer since I first started traveling, and it was a lifesaver on the yacht! It's the only hairbrush I've found that can get rid of all of all of the knots in my crazy, curly hair.
A toiletry bag: I use one of these small bags I got from Sephora.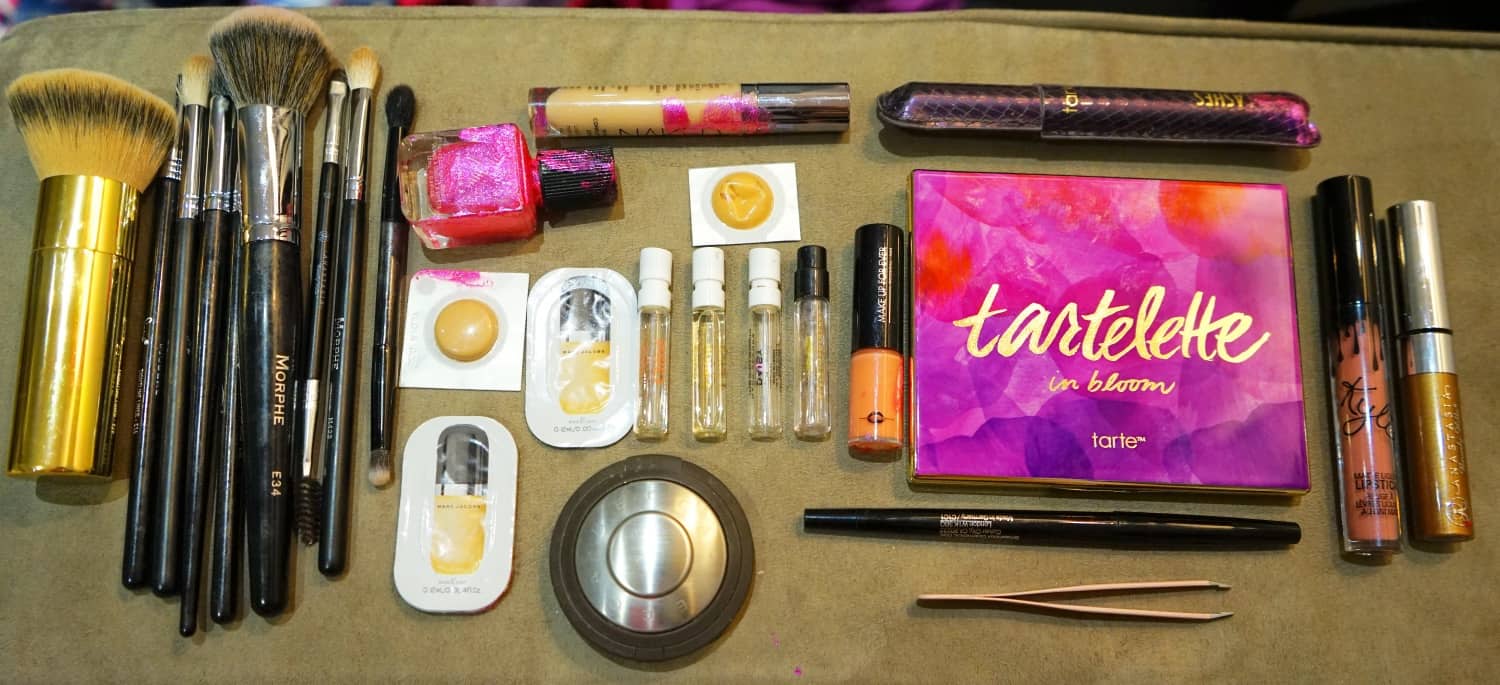 Beauty Products
I save all of my samples I get from Sephora for short trips like these, so grabbing a few items to take with me was super-simple.
While I quickly learned that I wasn't going to be wearing a full face on the yacht, having a teeny tiny sample sizes meant that I didn't really care if I'd brought anything unnecessary. Here's what I brought: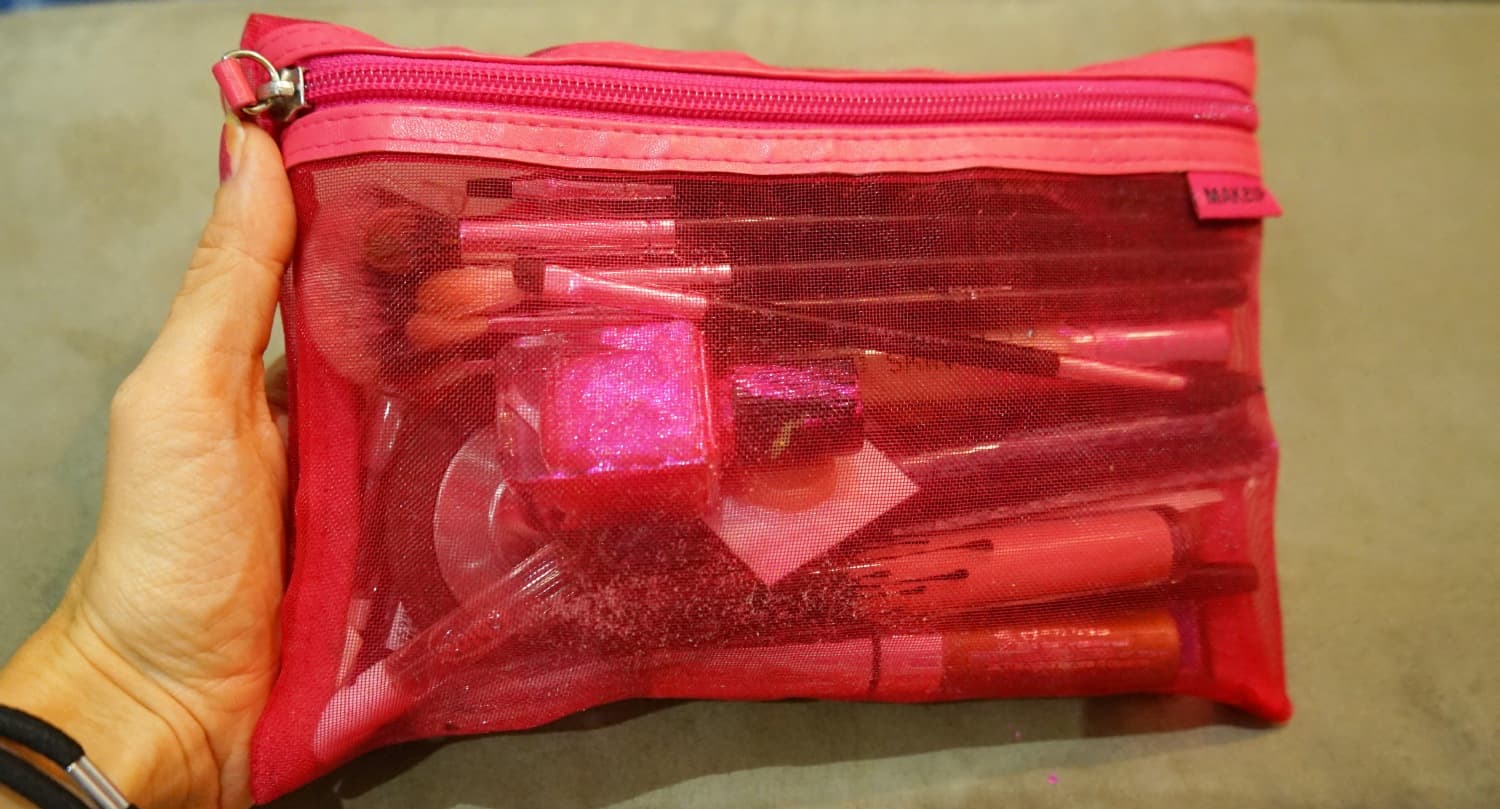 If I could redo my makeup packing, I'd leave my foundation, primers, bronzer, and highlighter behind. I was sweaty enough as it was without putting products all over my skin. I'd also probably leave the lipsticks behind next time and just rock a lip gloss, as I didn't wear those often, either.
As you can see from the photo, though, the extra products hardly took up much space, so I wasn't annoyed to be carrying them.
Miscellaneous Items
A dry bag: An essential for spending time out on the water. It meant I could put my camera in my dry bag, get some air in it so it floats, and swim off to a little beach with my camera and take some great photos. The extra air helped it to float, which was useful.
Travel Insurance
If you've read any other posts on Never Ending Footsteps, you'll know that I'm a great believer in travelling with travel insurance. There's an awful lot of ways to injure yourself on a boat — whether it's with the anchor (Lindsay Lohan just lost half a finger to an anchor accident on board a yacht!), breaking your foot by kicking a cleat, getting rope burn, or falling overboard.
In short, if you can't afford travel insurance, you can't afford to travel.
Travel insurance will cover you if your flight is cancelled and you need to book a new one, if your luggage gets lost and you need to replace your belongings, if you suddenly get struck down by appendicitis and have to be hospitalised, or discover a family member has died and you need to get home immediately. If you fall seriously ill, your insurance will cover the costs to fly you home to receive medical treatment.
I use SafetyWing as my travel insurance provider, and recommend them for sailing trips to Greece. Firstly, they're one of the few companies out there who will actually cover you if you contract COVID-19. On top of that, they provide worldwide coverage, don't require you to have a return ticket, and even allow you to buy coverage after you've left home. If you're on a long-term trip, you can pay monthly instead of up-front, and can cancel at any time. Finally, they're way cheaper than the competition, and have a clear, easy-to-understand pricing structure, which is always appreciated.
With SafetyWing, you'll pay $1.50 a day for travel insurance.
Related Articles on Greece

🇬🇷 11 Highlights From My First Trip to Greece
🏛 How to Spend Three Perfect Days in Athens
⛵️ Conquering My Fear of Sailing in Greece
And that's it for my sailing packing list! Have you ever been on a sailing trip before? What would you do differently?