One of my biggest travel surprises of 2016 has to be how hard I've fallen for Greece!
The two weeks I spent there was one of the best trips I've taken in several years.
And that was wonderful, because this was the first real trip I'd taken after ending my full-time travels and finding a base in Lisbon. I was nervous about it — I'd arrived in Lisbon so burnt out, so unwell, so stressed and anxious, and so over travel. So Greece was me dipping my toe back into the travel waters to see how I felt about it.
Greece was me realising that I could never be fully over travel.
Greece was me learning that finding a base was the best decision I could have ever made. That I can still travel as much as I used to, but that I function so much better when I have a home to return to between trips.
Greece was the place that helped me rediscover the joy I once had for exploring new places.
And while I took a slightly unconventional route around the country — visiting Corfu and sailing around the Ionian rather than hitting up Athens, Santorini, and Mykonos — I still fell madly in love.
Here are the highlights from my time in Greece.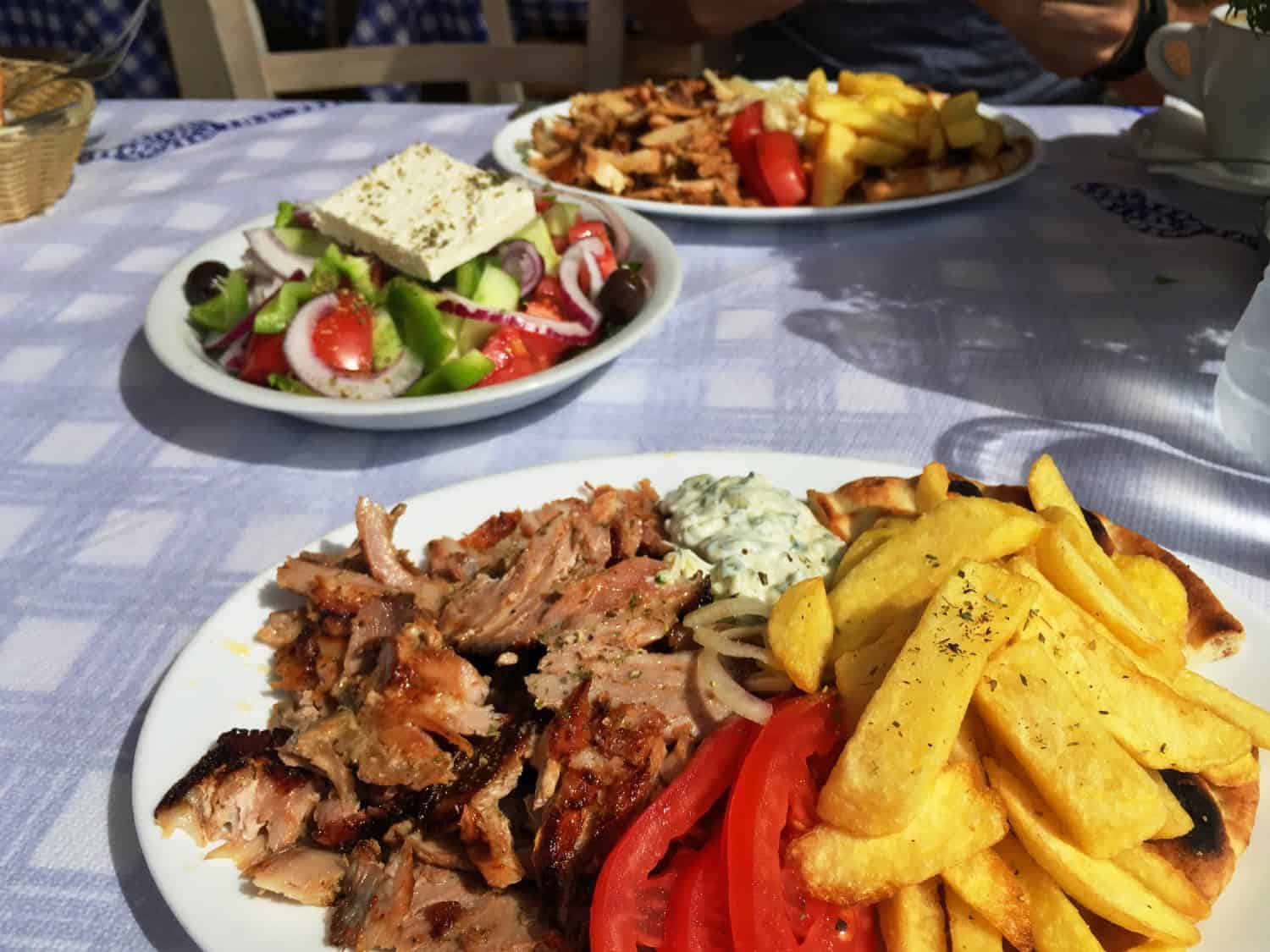 The Food, Of Course
Like I could go to Greece and not write about the incredible food I found there!
I don't think I had a single bad meal over the two weeks I spent in the country, even when I was eating in some no name town where I felt like I could be stabbed.
My meals were all about the freshest Greek salads with enormous slabs of feta cheese on top: so good that I doubt I'll ever eat a Greek salad outside of Greece again! It was all about the fresh bread and virgin olive oil. The tastiest olives I've ever tried. The rich moussakas. The tender kleftiko. The lamb souvlakis. The grilled octopus. It was ordering a plate of fried feta for an appetiser and that being perfectly acceptable.
Practically everything I ate in Greece was the best version I've ever tasted of that dish, and it had the country shooting up into my top five places around the world in which to eat.
I'm already planning a return to Greece next year and a lot of my motivation comes from missing the incredible food.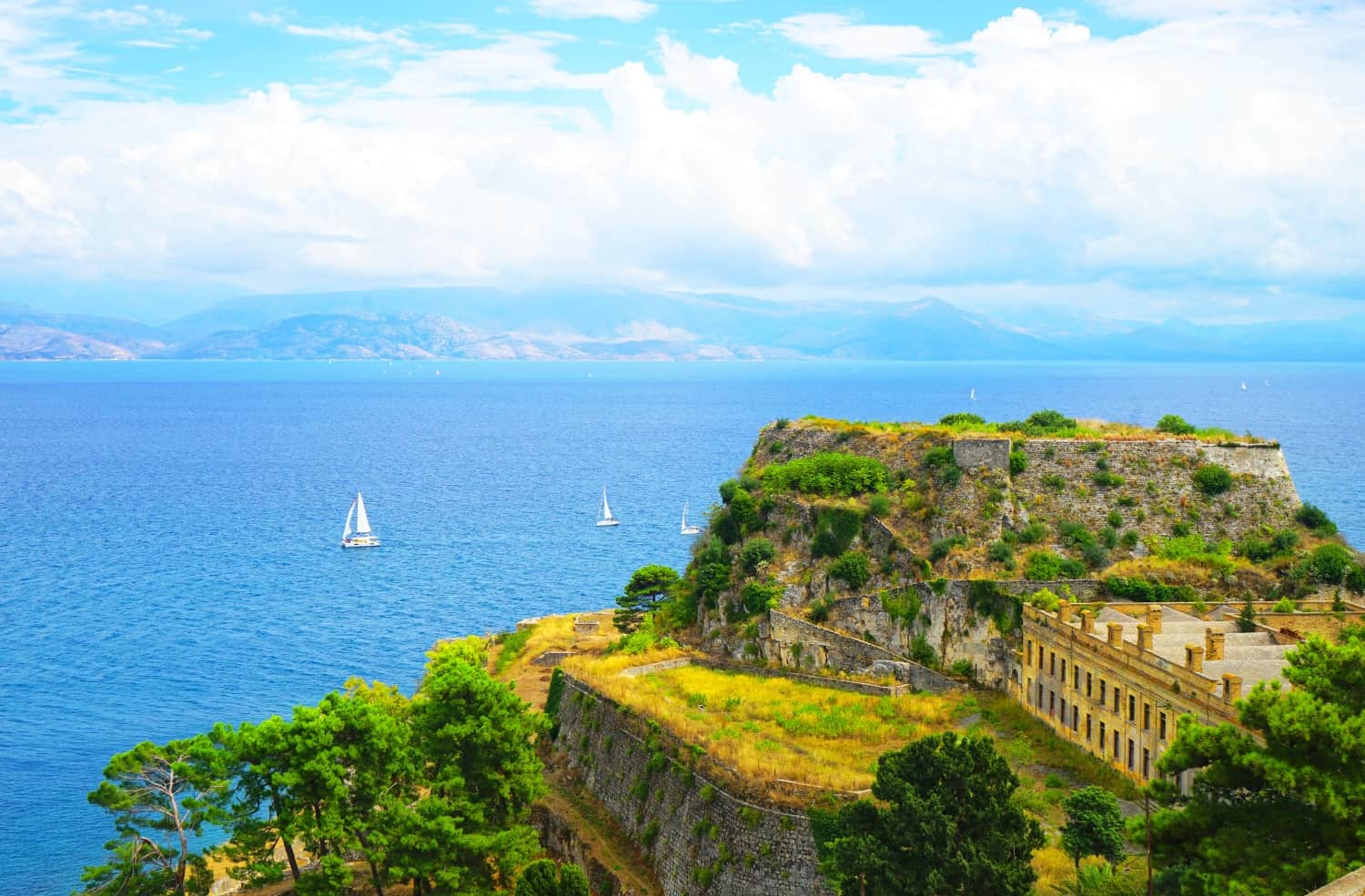 Discovering that Corfu Isn't Full of Chavs
Corfu doesn't have the greatest reputation in the U.K.
It's kind of known as a bit of a hotspot for chavs who are heading out on cheap package holidays to drink themselves to oblivion in their resorts. Even though we were heading to Corfu in the shoulder season, I was concerned that was all we'd experience there.
But it wasn't at all!
Corfu Town doesn't really attract the obnoxious British holidaymakers I was fearful of running into, and I fell in love with its chilled-out vibe. Wandering through the Old Town was my favourite activity from our four days there: I loved gazing up at the crumbling, colourful buildings and feta-hopping my way across the cafes and restaurants in town. And I can't not mention Corfu's old fortress, which was full of fascinating history (it's been a part of so many sieges from the Ottomans over the years!) while still being fun to clamber all over.
I would totally return to Corfu Town in the future and that's something I never thought I would say!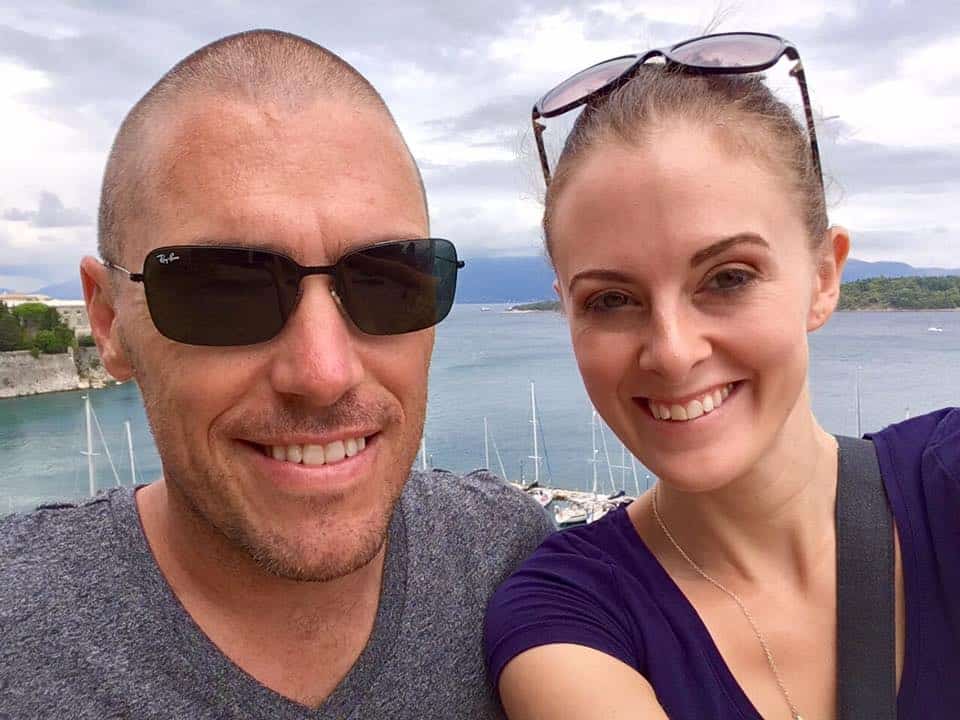 Celebrating Dave's Birthday at Corfu's Banknote Museum
You think I'm joking, but I'm not.
Corfu's banknote museum is easily one of the best museums I've ever been to. Entry to the museum was free and the old lady who worked there gave us an hour-long tour for free, too.
And who knew that one of the best ways to learn about the history of a country is through its banknotes?
We saw banknotes dating from 1822 (which were enormous) to the present day, some of which were issued during the Second World War by the occupation government, some bills were worth 100 billion drachmas due to hyperinflation after the war, and my favourite were the 5 drachma bills that were actually just 10 drachma notes that had been cut in half, because they'd been the smallest denomination at that time!
If you're ever in Corfu, go to the banknote museum! It's so worth a visit.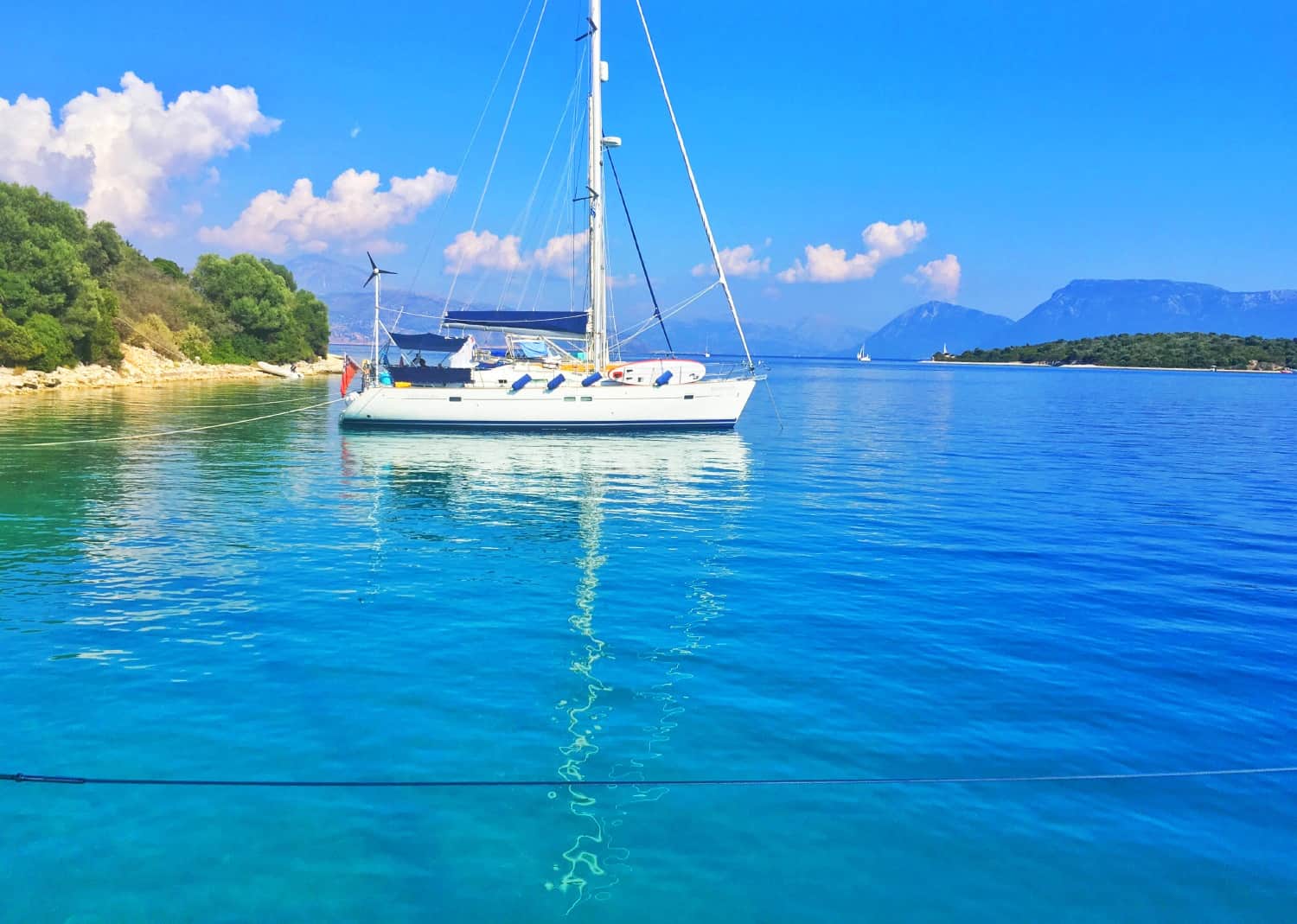 Spending the Night Sleeping Under the Stars
As our sailing trip drew to a close, one of our final nights on the yacht was spent tied up in a secluded bay with only a few other boats around for company.
The water was so calm I felt as though I was on dry land, the other people on the yachts surrounding us were quiet so we barely knew they were there, and the night's sky was cloudless. That night, Dave and I kept our hatch open so that we could look up at any point and see the Milky Way twinkling above us.
This was easily my favourite place where we spent the night and I wish we could have stayed for longer.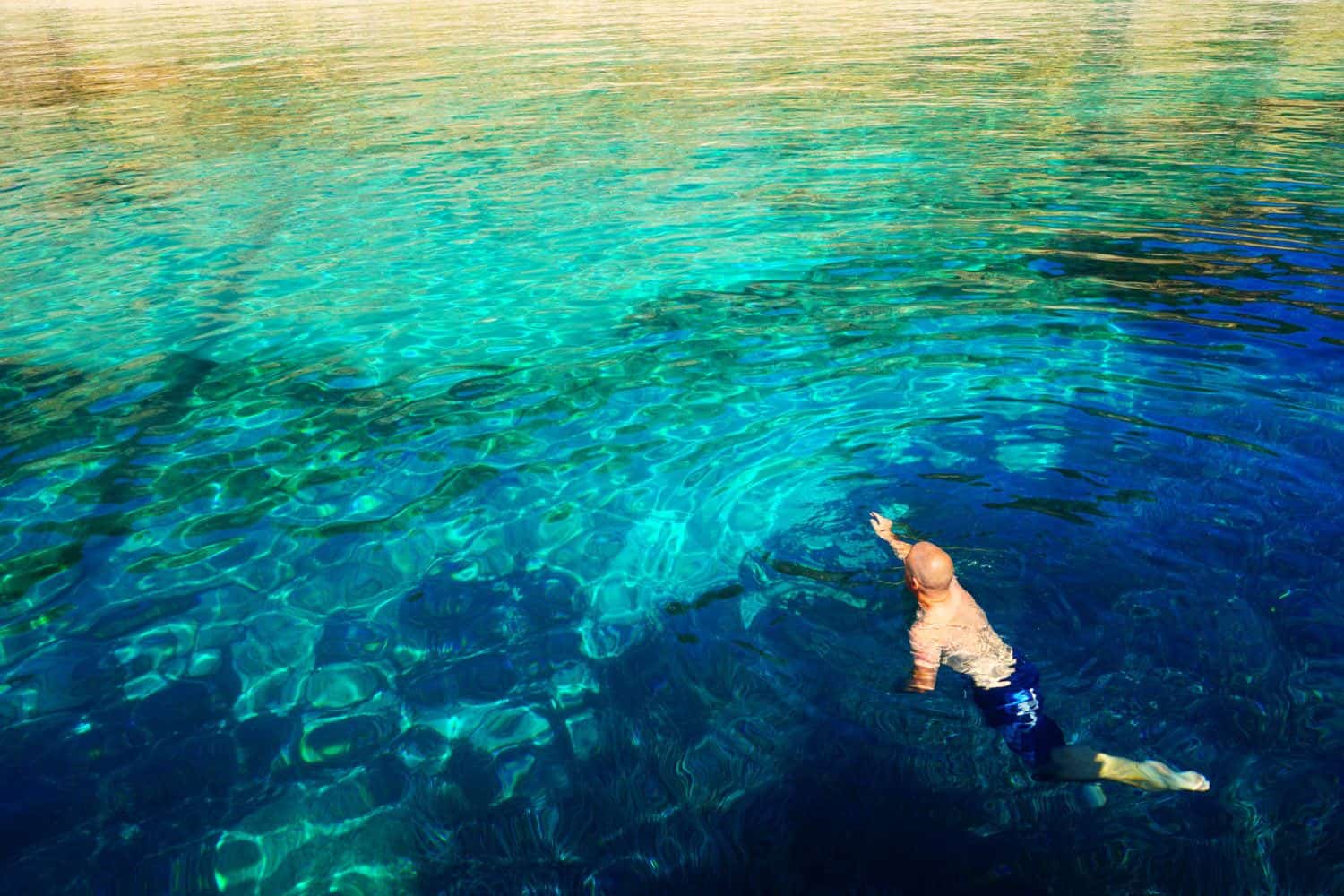 Swimming in the Warmest, Clearest Ocean Ever
I was expecting the water in Greece to be chilly, because that's all I've ever experienced in the Mediterranean, so I was pleasantly surprised by just how warm the ocean was on our sailing trip — the temperatures were similar to what I've experienced in Southeast Asia!
And the visibility was ridiculous. We would be tied up in water depths of 20 metres and you could easily look down to the ocean floor and see the hundreds of fishes swimming beneath us.
All of that transformed me from a nervous ocean swimmer to a water baby who was forever jumping off the side of the boat and spending all day splashing around in the sea.
And you know what? It was so. much. fun.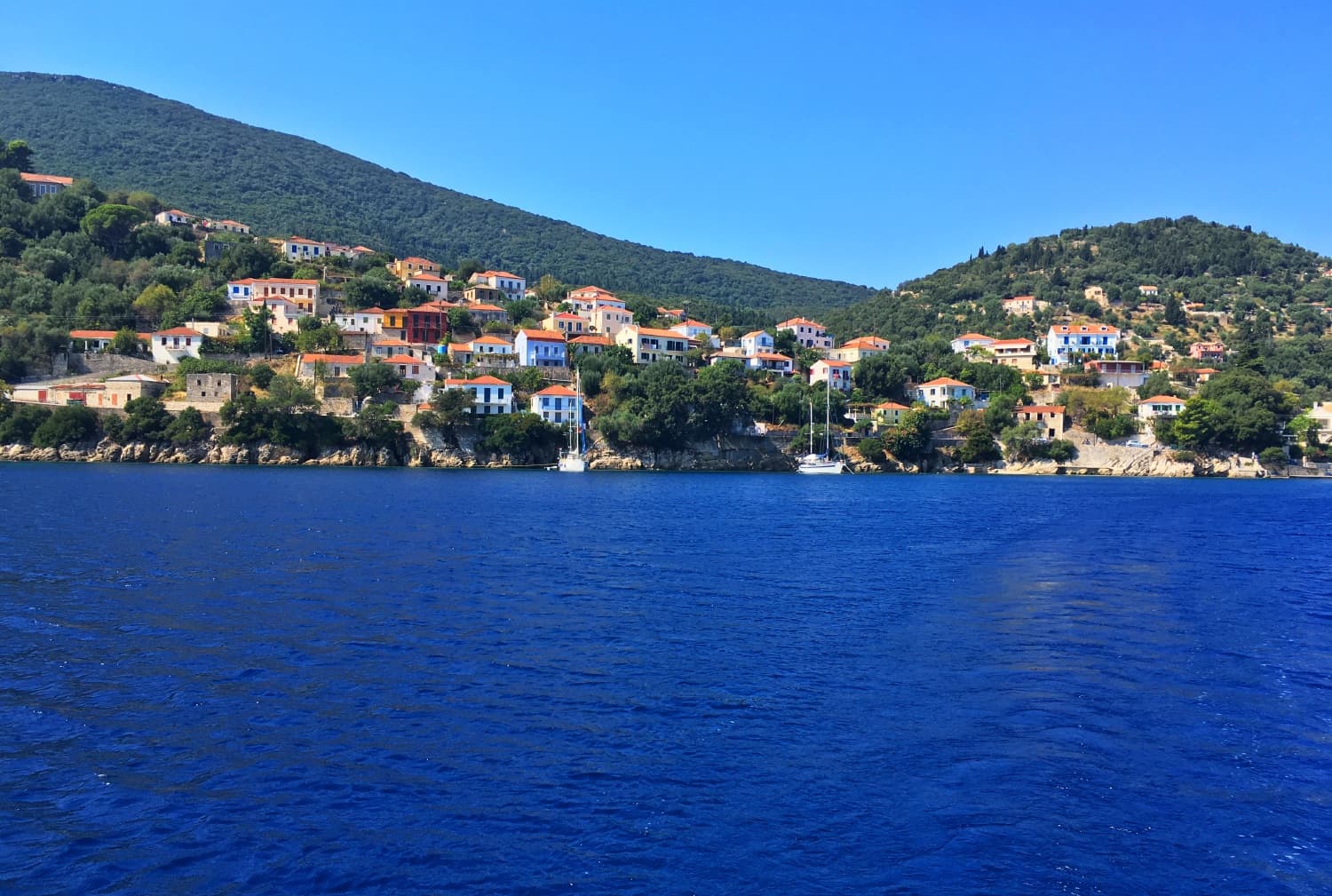 Checking Out Kioni
One of the prettiest places we stopped at on our sailing adventure was the cute fishing village of Kioni. I mean, just look at that location! I loved gazing up at the colourful buildings from the water and then later wandering through the olive groves and cypress trees.
While we didn't spend much time in this tiny village, it was the prettiest stop on our trip and I could have totally stayed there for several days.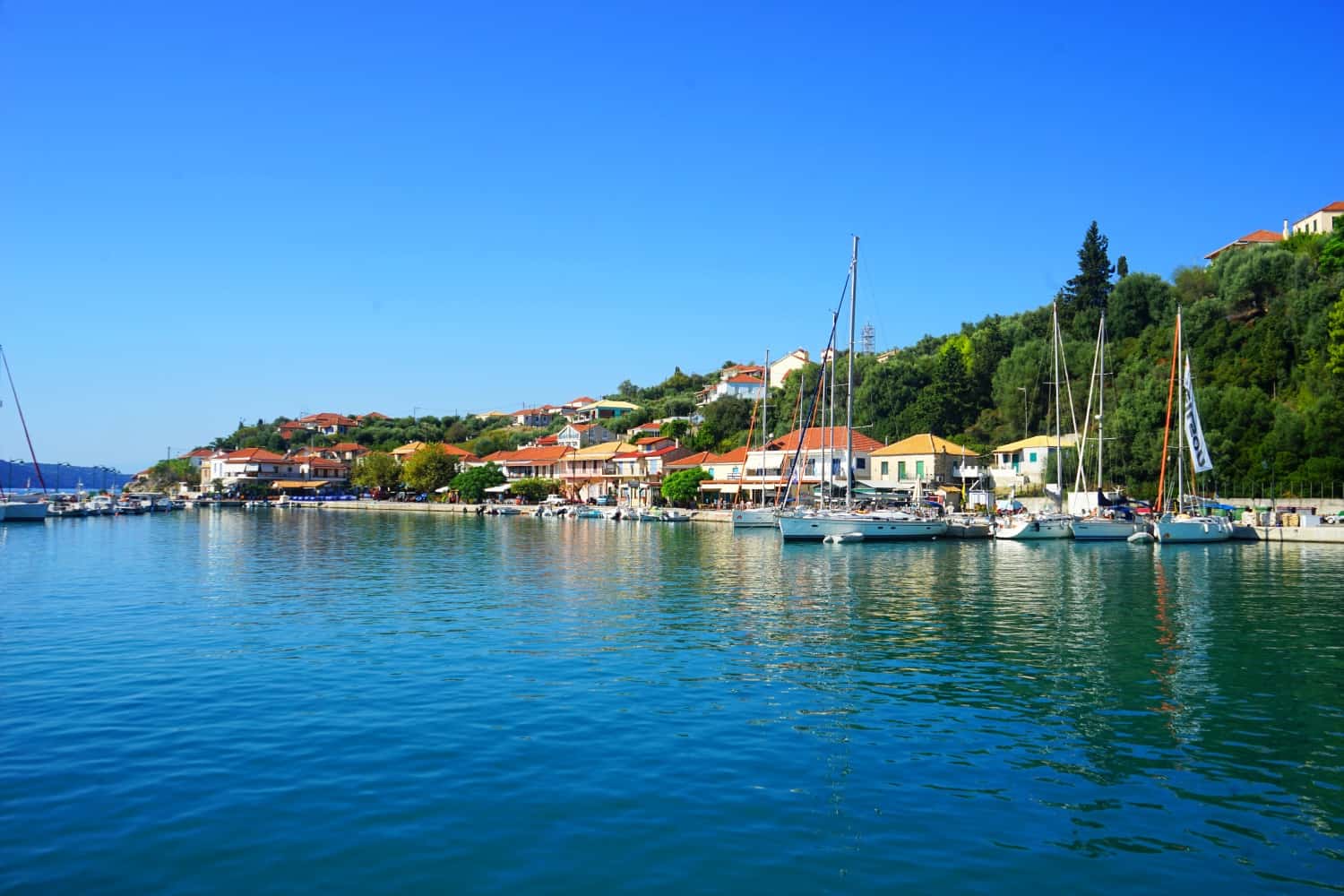 Mornings Spent Overlooking the Calm Ocean
Mornings were my favourite time to be on the yacht. The water was calm, barely anyone else on neighbouring yachts were awake, so the only sound was the gentle lapping of water against the boat, and the sun was just high enough in the sky for it to be warm, but not sweat-inducing.
Those mornings were some of my biggest highlights. Frying up eggs for breakfast with Dave in the kitchen, stretching out in the cockpit and reading my Kindle in the sunshine, and excitedly waiting to find out where we would be exploring later that day.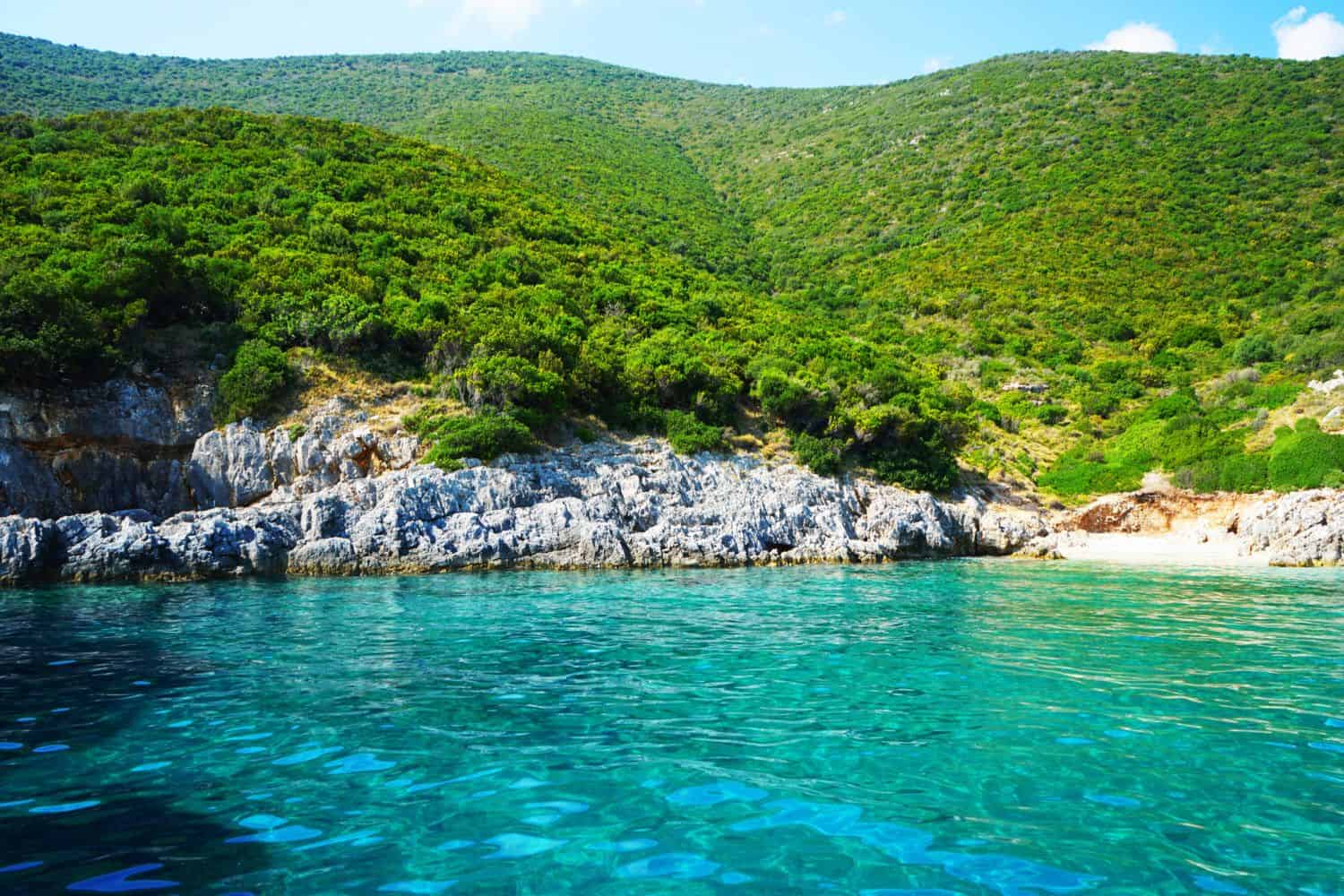 Having Our Own Private Bay for the Day
One of my favourite days was when we moored up in a tiny bay on the island of Ithaca. That photo above shows pretty much the entire spot.
We were the only yacht tied up here for the afternoon, meaning we had out own little bay to ourselves. We snorkelled with the fishes, swam out to the little beach to sunbathe, and basked up on deck, feeling like we were the only people around for miles.
Probably because we were.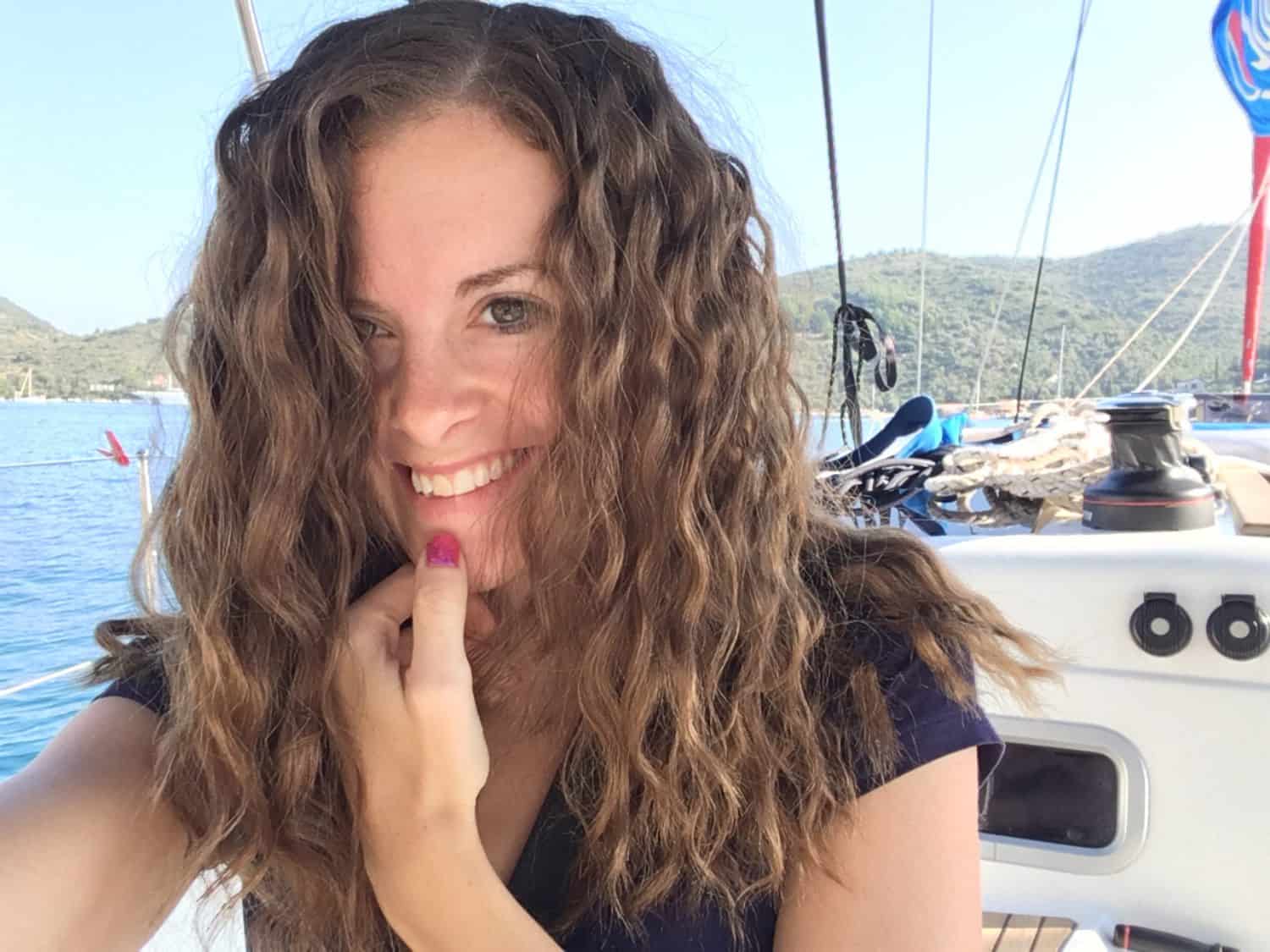 Embracing My Sea Hair
For as long as I can remember, I've hated my hair. Every hairdresser I've been to has commented on how thick and uncontrollable it is. It's curly, it's frizzy, and the smallest drop of water is enough to cause it to jump up into an afro.
On the boat, however, I realised why so many people are obsessed with sea salt sprays for their hair. Thanks to all that sea water, I was able to let my hair hang free and natural, and it was far less frizzy than usual (here's a photo of what my hair is usually like when I don't do anything to it). I thought I'd go crazy without my hair straighteners to tame my hair, but I actually grew to love it.
It's great to know that if I ever did decide to buy a yacht and sail around the world, I wouldn't have to worry about my wild mane getting in the way.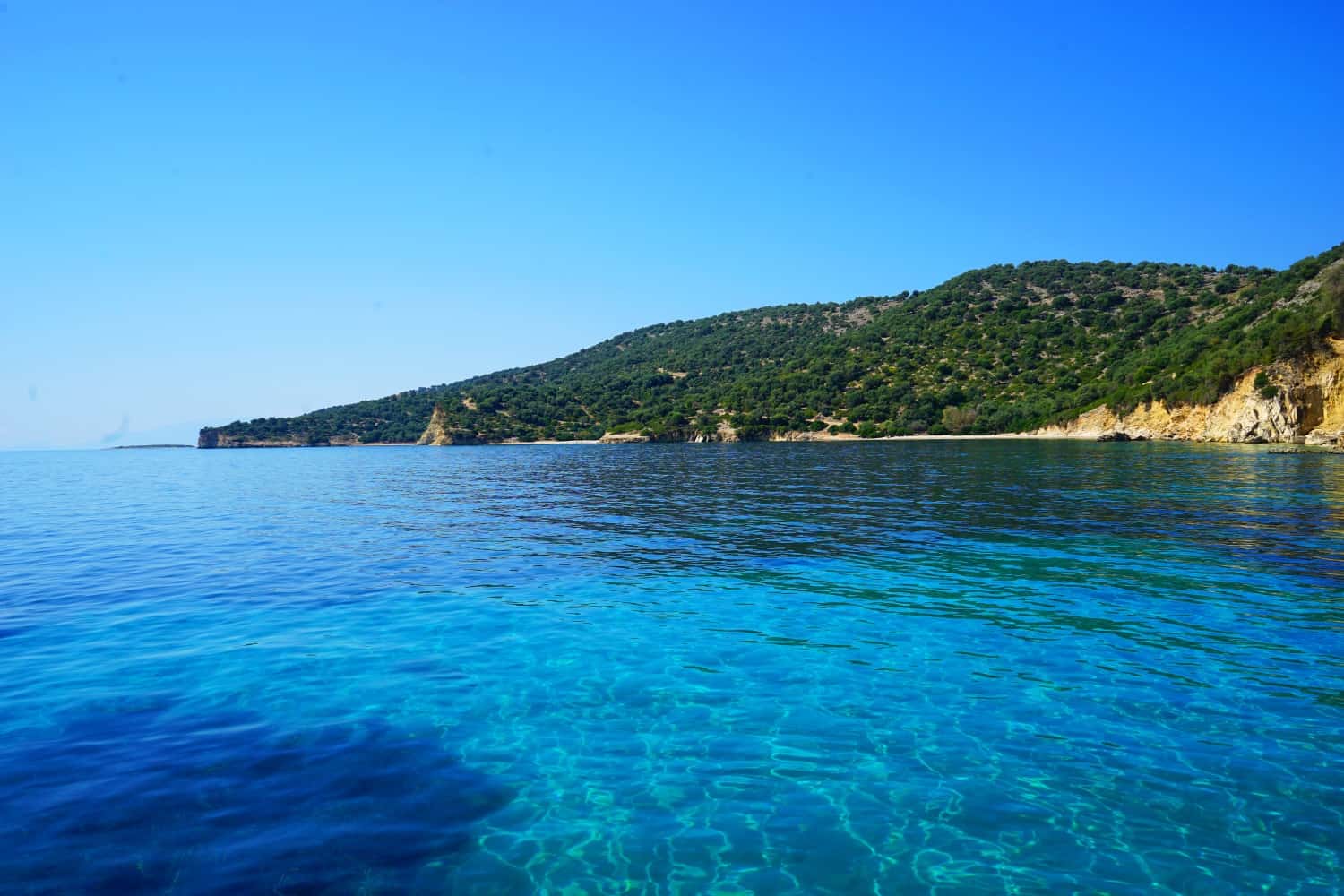 Moments with Vodka North
On every sailing trip, there's something called *The Moment*. It's been a mainstay of every trip Dave and his friends have taken, and I love getting to join in with them.
Someone runs downstairs to blast out some music through the yacht's speakers — always Mr Brightside by the Killers — someone else fills everyone's cup with a generous pour of Vodka North (a Nordic berries-flavoured vodka that's hard to find outside of Greece), and we all cheers to being in a beautiful part of the world. We then down our drink and jump off the side of the yacht into the water.
This never fails to boost my mood and leave me feeling so alive.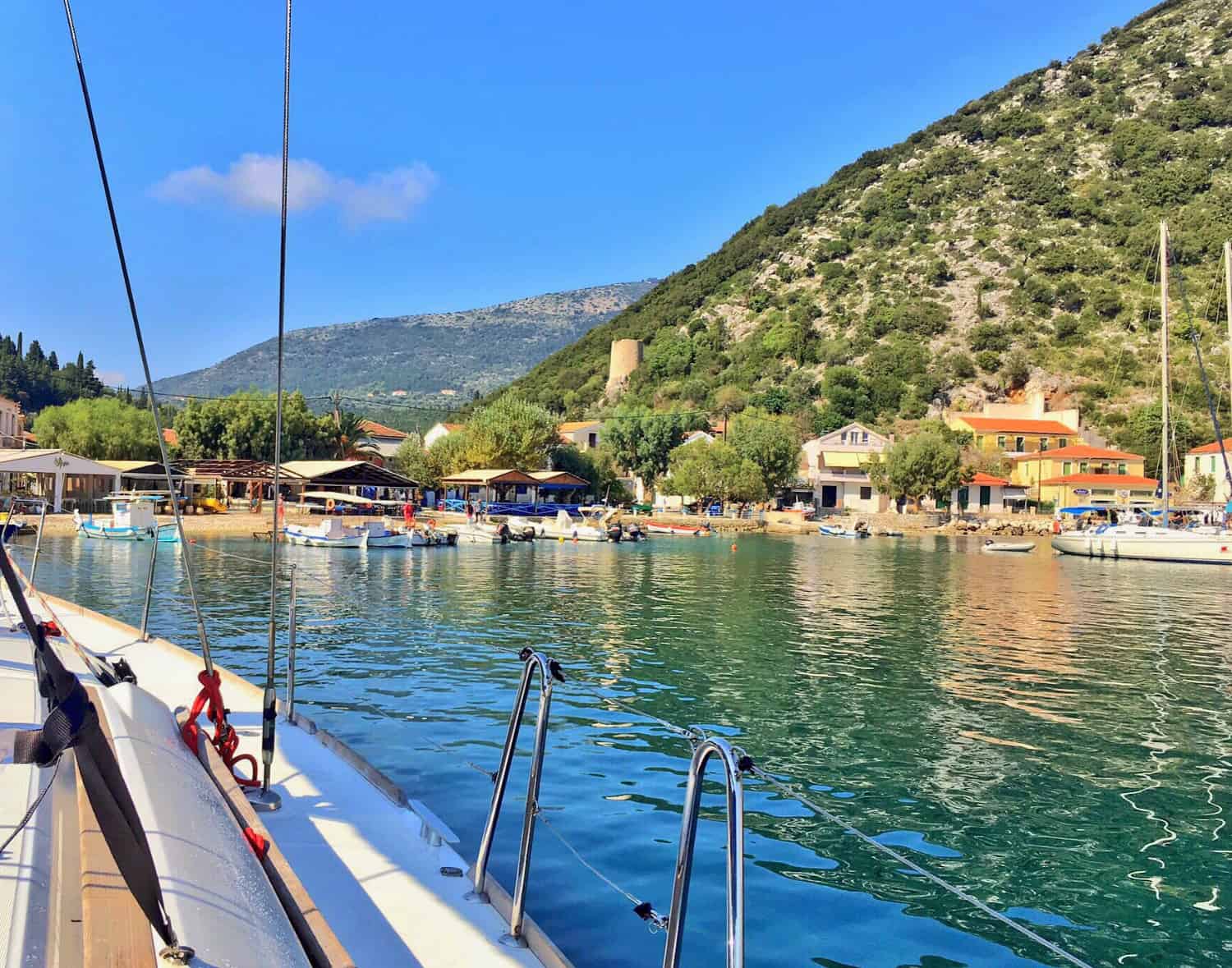 Meerkating in Frikes
Frikes was one of my favourite mooring spots, and it's mostly because we were one of the first yachts to take our spot there. We were then in prime position in the harbour to do some meerkating.
The winds were strong in this part of Ithaca, and those coupled with the large wake from passing ferries meant that mooring was a bit of a challenge for anyone who arrived later on in the evening. And that meant we could spent our afternoons with a Vodka North in hand, wincing as we watched the disastrous attempts at mooring, backs straight and necks craned, looking just like meerkats.
When we had dinner that night, we sat and watched someone attempt to moor for a full forty minutes in the darkness before giving up to head somewhere else.
How Can You Sail the Ionian, Too?
I've had quite a few readers reach out to ask how you can take a similar sailing trip around the Ionian, and given that I'm probably not going to be writing any more posts about Greece, I'mwhacking that information to the end of this post.
We chartered a 47ft yacht through Sunsail, leaving from Lefkas, for an eight-day trip. It cost roughly $1000 per person for the week (there were only five of us, but we had enough room for eight people, so you could definitely cut down the costs if you travelled with more people).
I was fortunate that both Dave and his best friend know how to sail, so we didn't have to hire a captain for our trip. If you don't know anyone who can sail, you can hire a skipper through Sunsail, who will sail the boat, moor for you, and take care of anything technical. It'll be pricier to do this, but you'll still be able to do essentially the same as we did, but without having to panic about how to actually sail.
As you can tell, I'd definitely recommend the experience!
Plotting My Return to Greece
I know that practically every time I write a post about a place I've visited, I end it by talking about how I'm already making plans to return.
Greece is no exception, but I'm totally convinced I'll revisit next year. I'm already putting together plans to head out for another sailing trip next autumn, and Dave and I are talking about heading back in the summer to check out the islands on the Aegean side.
And to eat, of course.
Have you been to Greece? What was your highlight from your time there?
Related Articles on Greece

🧳 A Carry-On Packing List for Sailing in the Greek Islands
🏛 How to Spend Three Perfect Days in Athens
⛵️ Conquering My Fear of Sailing in Greece