I'm obsessed with Greece.
From the moment I stepped foot in this beautiful country, it was love at first mouthful. There's something about Greece feels so healing. Being there calms my overactive mind, soothes my worries, and leaves me feeling healthier and stronger than ever. And the food? I've been to over 90 countries and Greece is my number one destination for eating.
I believe Athens is one of the greatest European cities out there, and it's the perfect destination for a city break. This city is magnificent! With great street art, incredible food, colourful neighbourhoods, and so much history, there really is something for everybody.
I think three days is the perfect amount of time to spend in Athens, so today, I'm excited to share exactly how you can do so.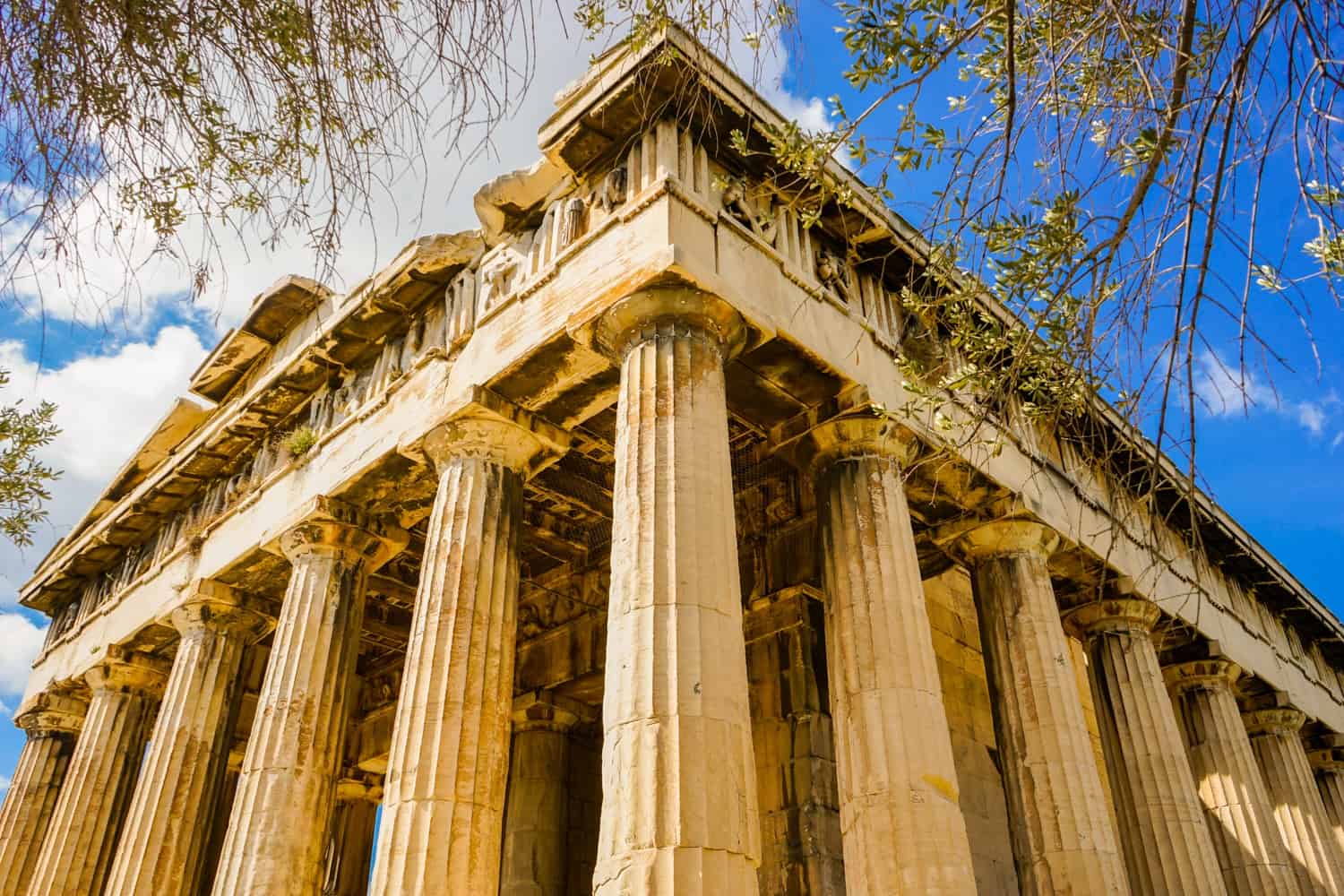 Day One: Begin Diving Into Athen's History
The first thing you should do in Athens is a no-brainer: buy your combined ticket.
What's that?
Well, it costs €30, and for that, you'll gain access to all of the main attractions in Athens, including the Acropolis. Not only will you get to explore the most famous site in the city, but you'll also be able to enter the Ancient Agora, Roman Agora, Hadrian's Library, Aristotle's School, Kerameikos, and the Olympieion — you can visit each of these once over a five-day period, and you can buy the ticket at the entrance to any of them. I bought mine from the Ancient Agora, as that's where I visited first. You'll save a whole bunch of money by doing this, so the only reason not to get the combined ticket is if you think you'll only want to see one or two of the attractions.
(If you're short on time, you can buy the combined ticket online before you arrive in Athens, then you can just show the QR code on your phone in order to gain entry. I'd do this on any future trip to the city in order to avoid queueing to buy the ticket.)
As we were serenaded by the screeching sounds of a teenager learning to play Despacito on his accordion, we lined up at the Ancient Agora to buy our ticket.
The Ancient Agora was built in the 6th Century BC and was once the centre of life in ancient Athens. Used as a marketplace and gathering spot, this was where you'd have found people like Socrates, Aristotle and Plato casually wandering around town. Almost all of the commercial, political, and social activity took place in the ancient Agora, so this is a hugely important area to check out.
We kicked off our explorations with a wander around the Temple of Hephaestus, which is the best-preserved temple in Athens. And it sure was impressive when you consider that it was built in 415 BC — it was in great condition, as you can see from my photo above.
The views were pretty acceptable, too.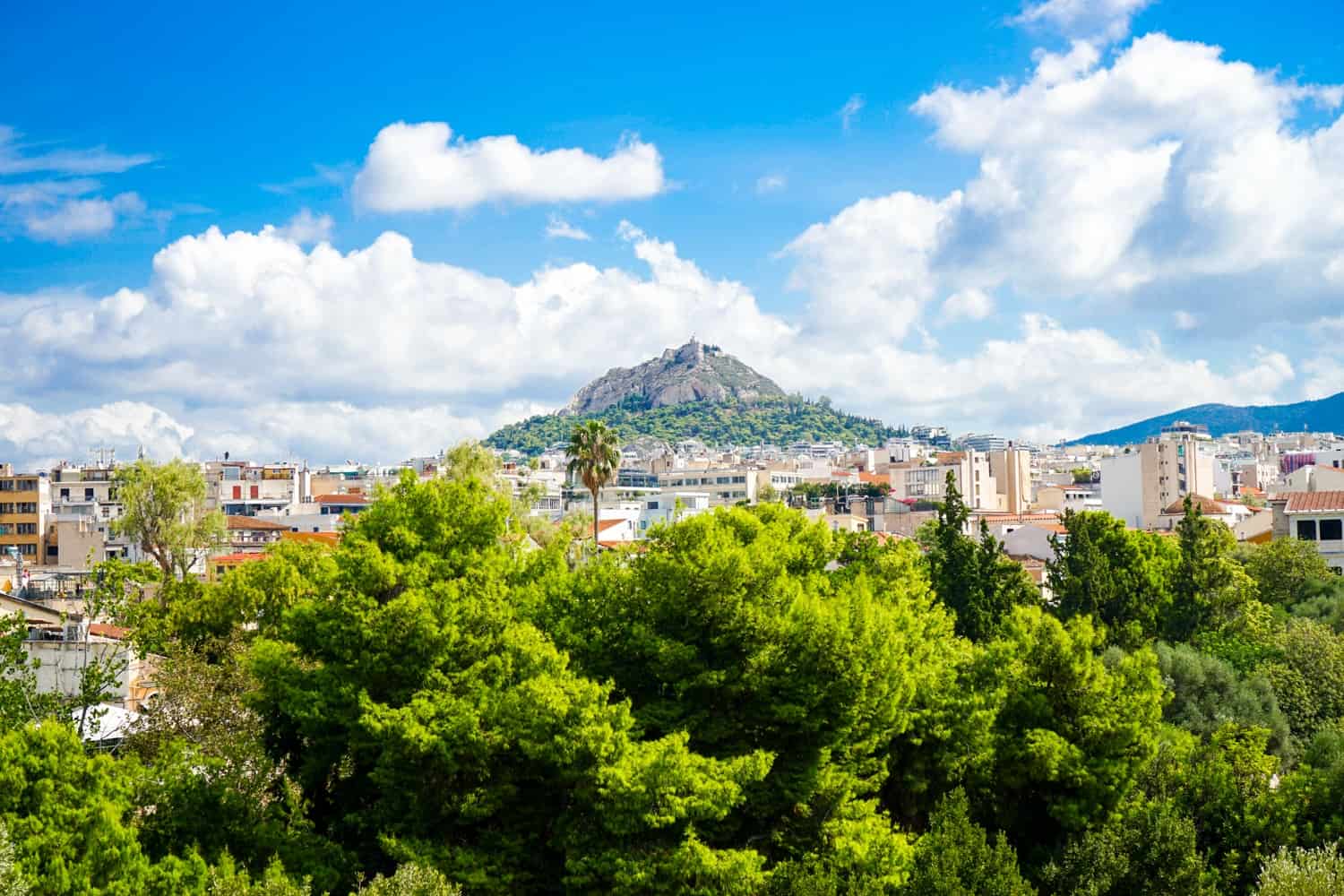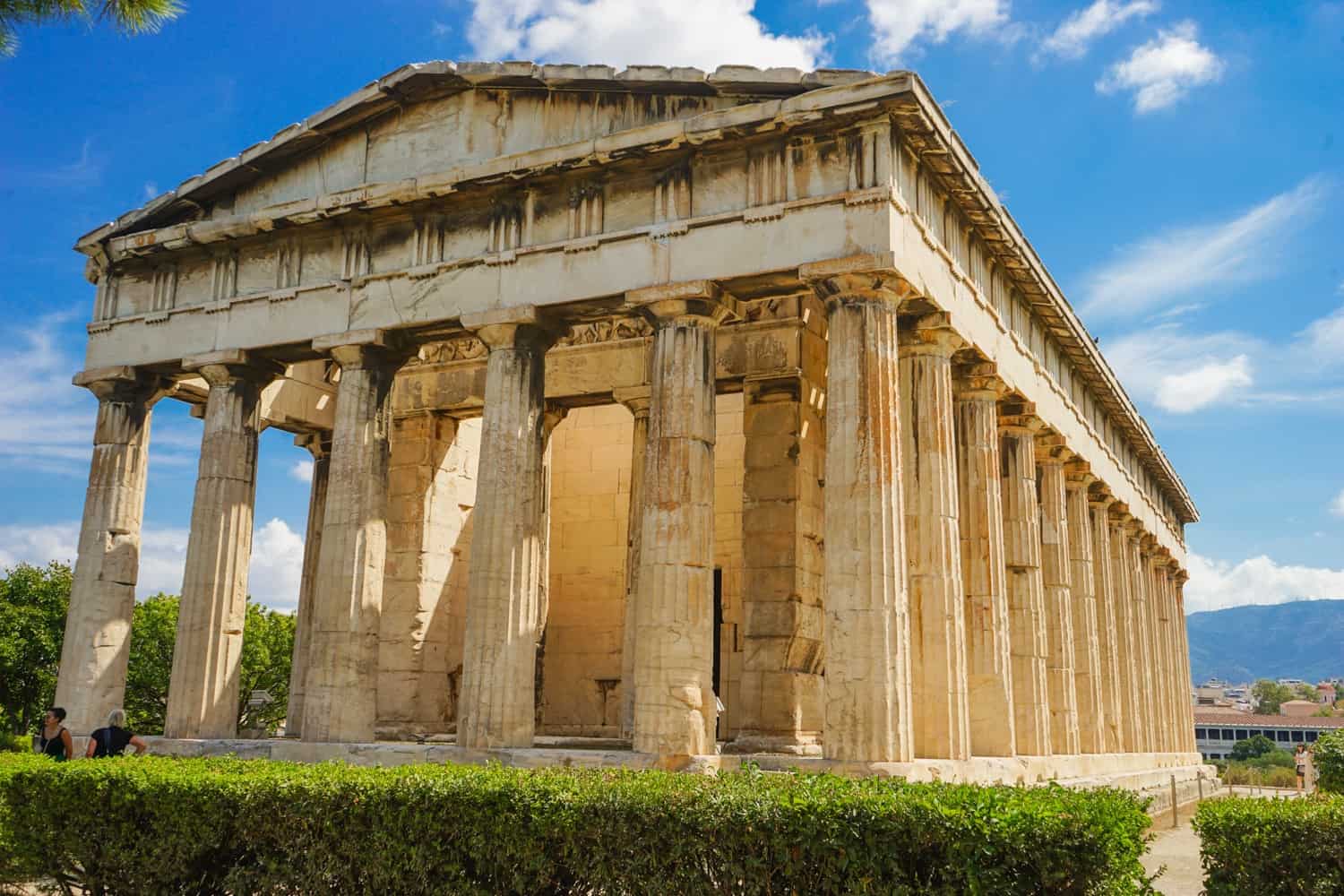 Aside from the Temple of Hephaestus, the Ancient Agora is also home to your standard ruin remnants: collections of rocks, stumps, and fallen-down walls, hinting at the temples and stalls that would have once stood here. But, as always with ruins, you'll have to use your imagination, because it is still a pile of rocks on the ground.
There's the Stoa of Attalos here, too — built in the 2nd Century BC, although since reconstructed — which currently acts as a museum for the Ancient Agora. And the Byzantine Church of the Holy Apostles, which was built in 1000 AD, is one of the few structures in the Agora that's still standing.
Before arriving in Athens, I kind of assumed it would feel like a poor man's Rome, but at this point, I was well and truly eating my words. Athens was pretty goddamn awe-inspiring.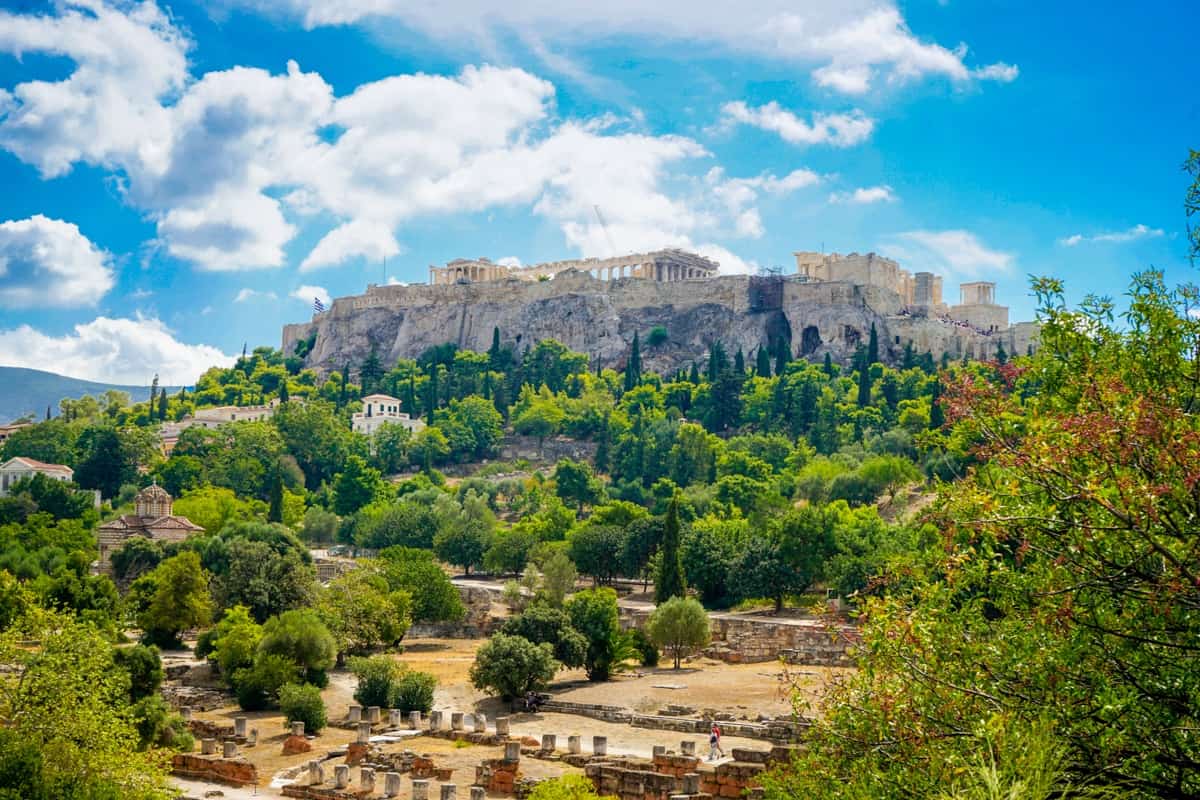 Next, you'll want to make your way over to the Kerameikos Cemetary, which is another site that's included in your combo pass. This spot was one of the most important regions of ancient Athens. Once used as a neighbourhood for pottery and painters, it was the place where those famous Athenian vases were produced.
It was later transformed into a cemetery: one of Athen's most important.
As you walk around the site, you'll also be able to spot pieces of the Themistoclean Wall, which was built in 478 BC to protect the city from the Spartans.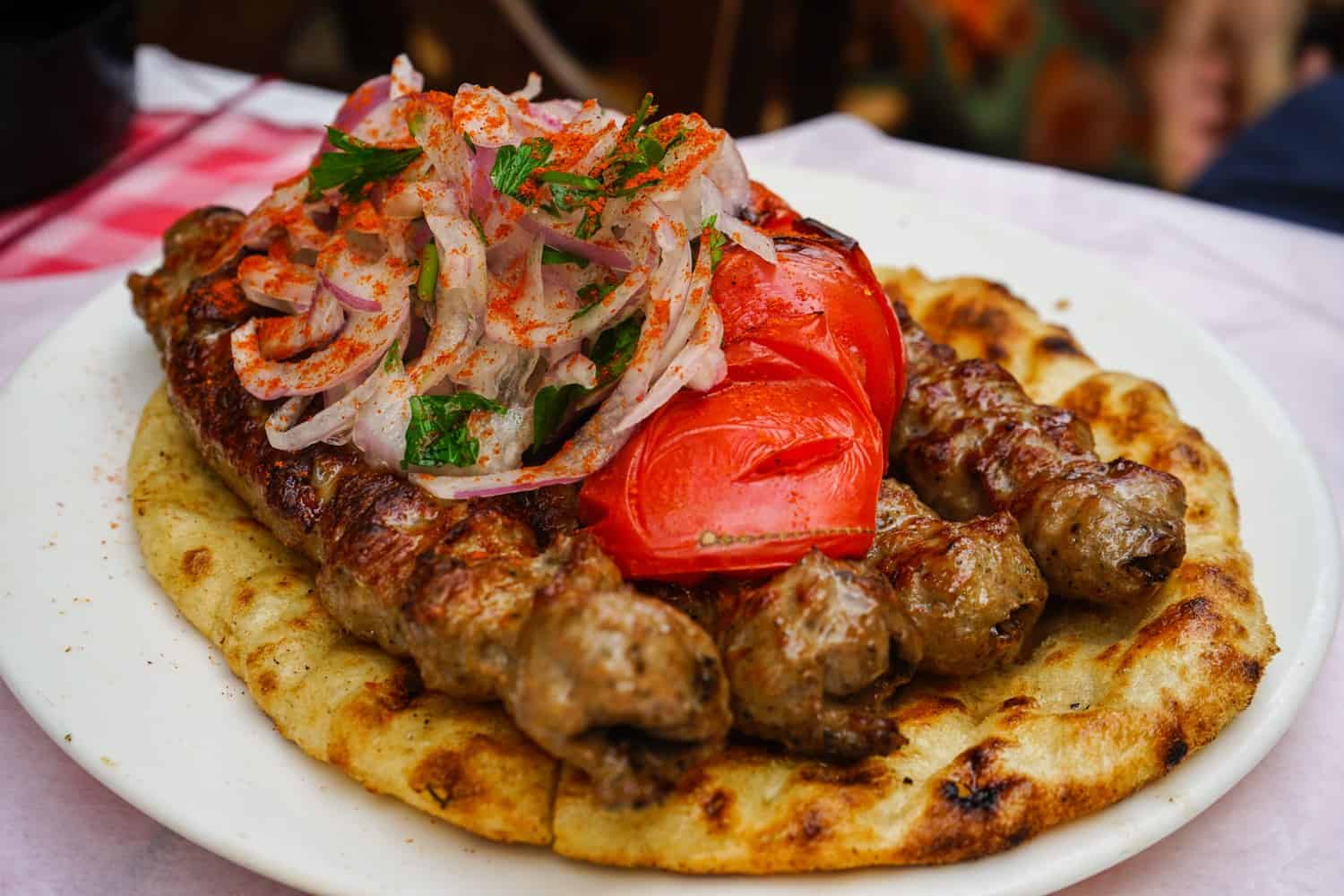 I'm convinced that it's impossible to have a bad meal in Greece: their cuisine is too delicious to mess up. I've yet to have a meal that wasn't excellent in this country, whether I've been sat beside a congested motorway in the middle of nowhere, snacking at a taverna on a yacht in the Ionian, or dining in the most touristy parts of Athens.
The latter was exactly what we opted for at lunchtime, and it should have been terrible.
I settled on the most touristy restaurant on the most touristy of streets, with touts outside, and a menu in English with photos of the dishes. What can I say? We were starving by this point, so decided to give in and eat an overpriced, poor meal.
Except it was amazing! Because Greece.
While I wouldn't necessarily recommend heading to a touristy restaurant for any of your meals in Athens, I suspect you won't be all that disappointed if you do end up there. Eat anywhere in Athens! It's always going to be delicious.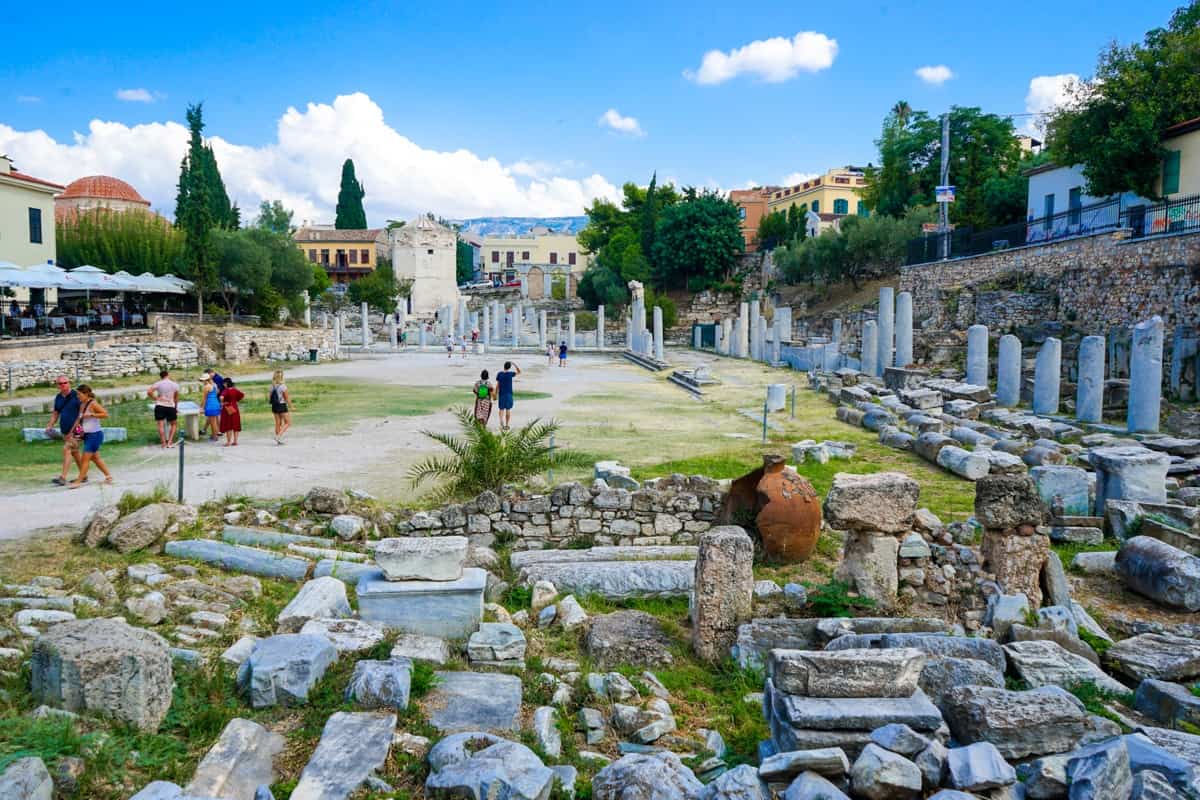 With stomachs satisfied by kebabs, we set off to hit up the second Agora in Athens. The Roman Agora was built in the 1st century BC, financed by Caesar and Augustus, and like the ancient Agora, was used as the city's marketplace. You enter the site through the Gate of Athena Archegetis, which was built by Julius Caesar and dedicated to the goddess Athena.
The most well-known and well-preserved building is the Tower of the Winds: a large octagonal marble tower that functions as a sundial, weathervane, and water clock. It's believed to be the first meteorological station in the world, and worth having a look inside.
One of my favourite neighbourhoods in Athens was Plaka, so you're going to want to head there after the Roman Agora. If you've been to Athens before, you're probably not surprised to hear Plaka was one of my highlights — everybody who visits this city falls in love with this neighbourhood! You could spend hours wandering around its photogenic streets.
Plaka is all about clean colourful streets, bustling cafes, and amazing places to eat. It's popular with visitors, but busy for a reason, and I still loved spending an afternoon cafe-hopping through the picturesque streets and taking photos of all of the colours.
While you're in Plaka, you have to check out Anafiotika's white-washed buildings and narrow streets for an insight into what Greek island life is like. The buildings look a lot like what you'll find on Santorini.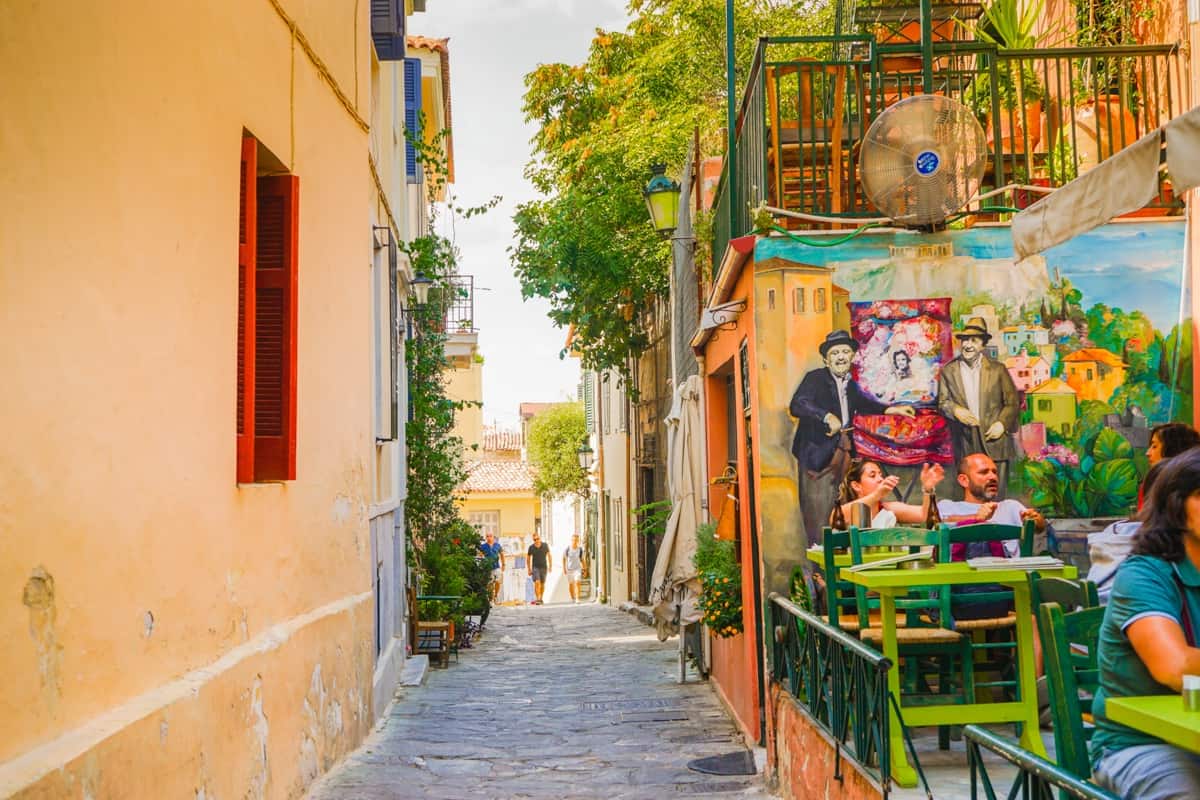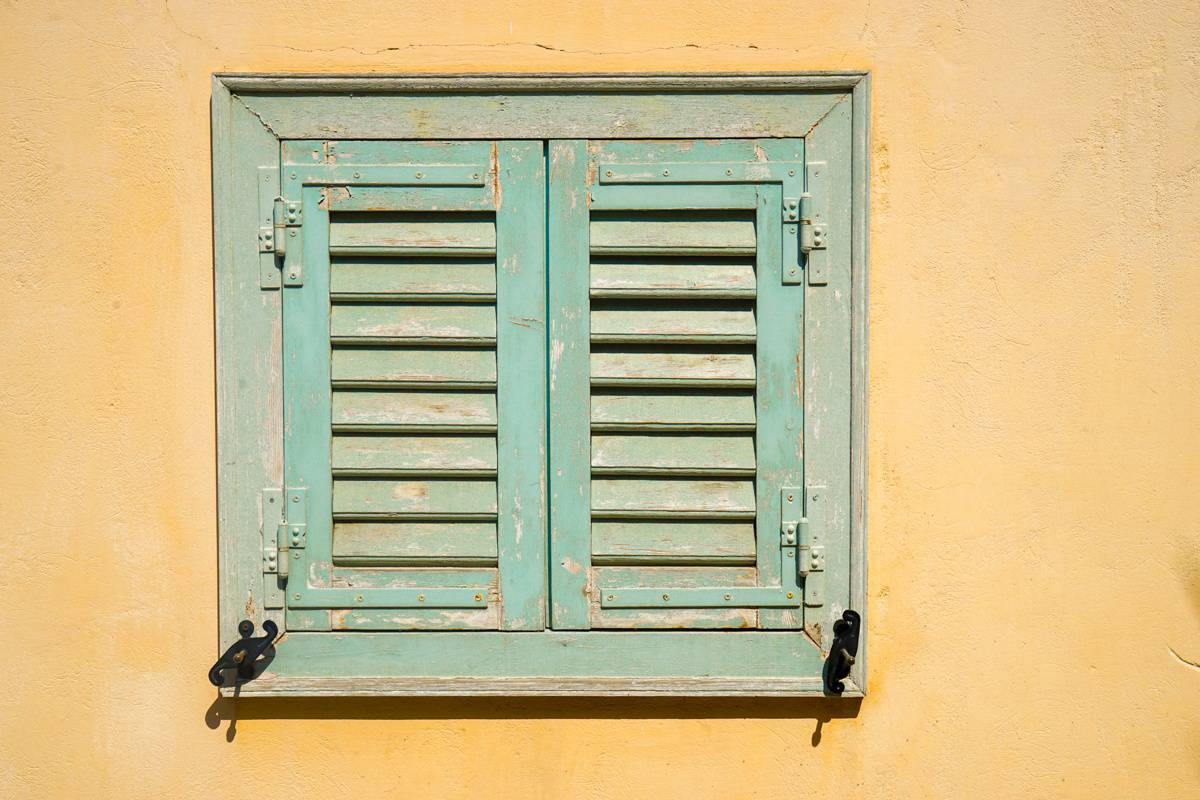 Grab dinner in Plaka or in a restaurant overlooking the Acropolis. You'll have an early start tomorrow, so you'll want to get an early night.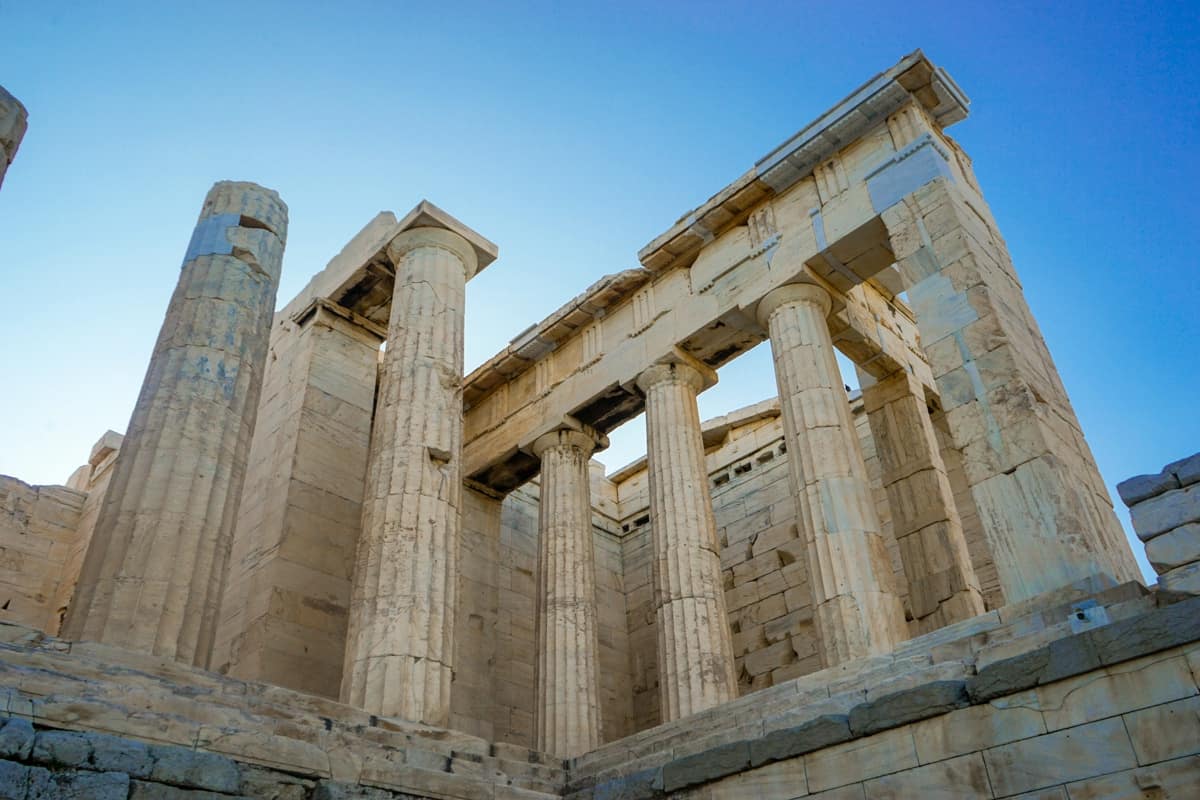 Day Two: All Acropolis, All the Time
Against popular belief, I highly recommend saving the Acropolis for your second day in Athens. As tempting as it is to head straight to the most iconic building in the city, there's several reasons why you should hold off until later.
Sunrise is the absolute best time to see the ruins, and who wants to spend their first day in a new city waking up at 6 a.m.? Not me! On top of that, the Acropolis is going to make every other site in Athens pale in comparison, so I recommend not hitting it up on your first day.
We got to the southeast gate at 7.30 a.m., half an hour before it opened at 8, and this turned out to be the best decision we could have made. When the gate opened, we rushed past everyone else, ignored every ruin and attraction near the entrance, and focused solely on racing up the hill.
Our determination paid off because we had the entire complex to ourselves for a solid five minutes. In this age of overtourism, getting to marvel over the Acropolis with nobody else around felt magical.
Below is what the entrance to the Acropolis looked like when we reached the top, with just Dave in the photo, and below that is what it was like half an hour later. Yes. Half. an. hour. later. It was unbelievable how many people ascended the hill in such a short period of time.
In short: the southeast gate at 7:30 a.m. — it'll allow you to see the site without anybody else around.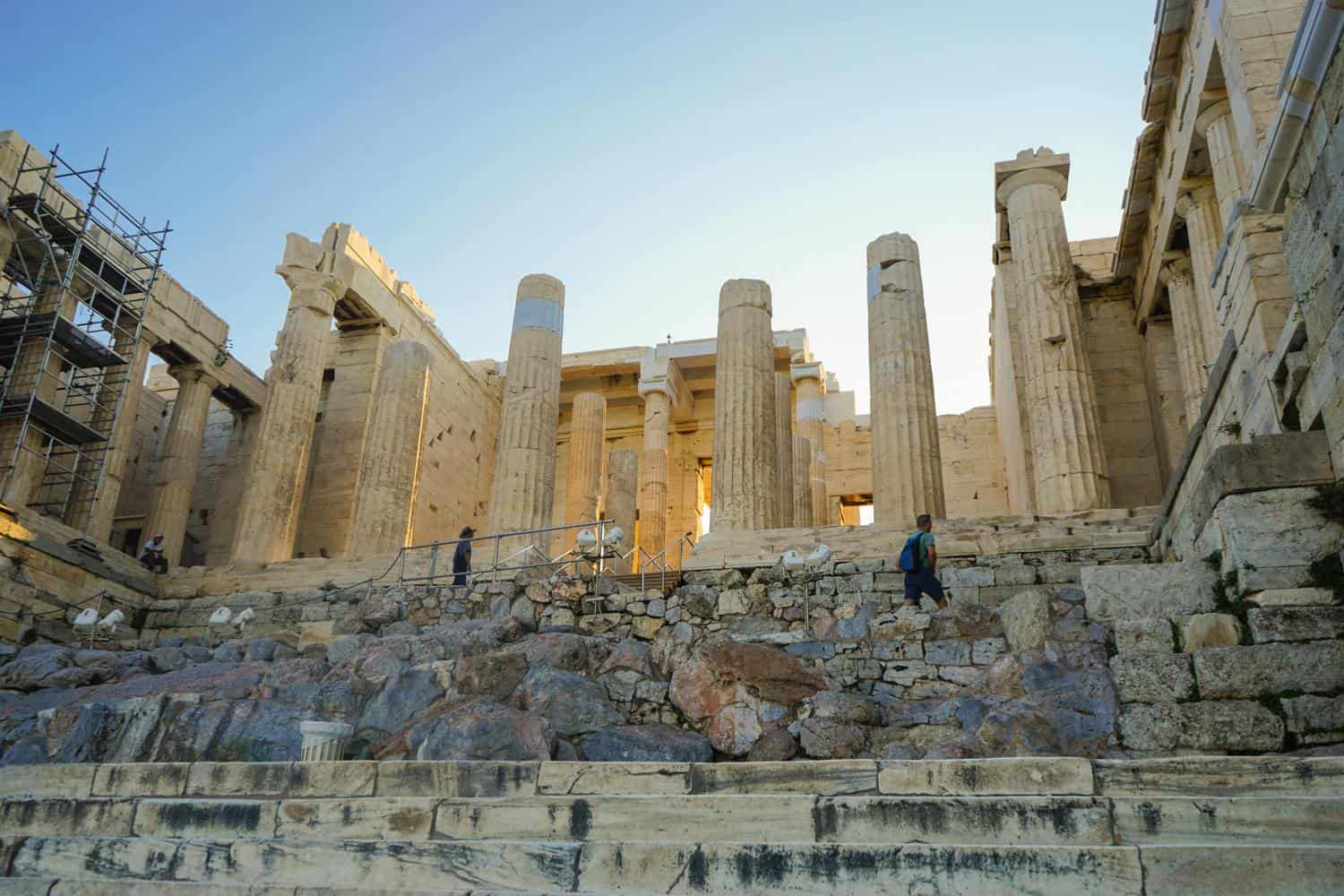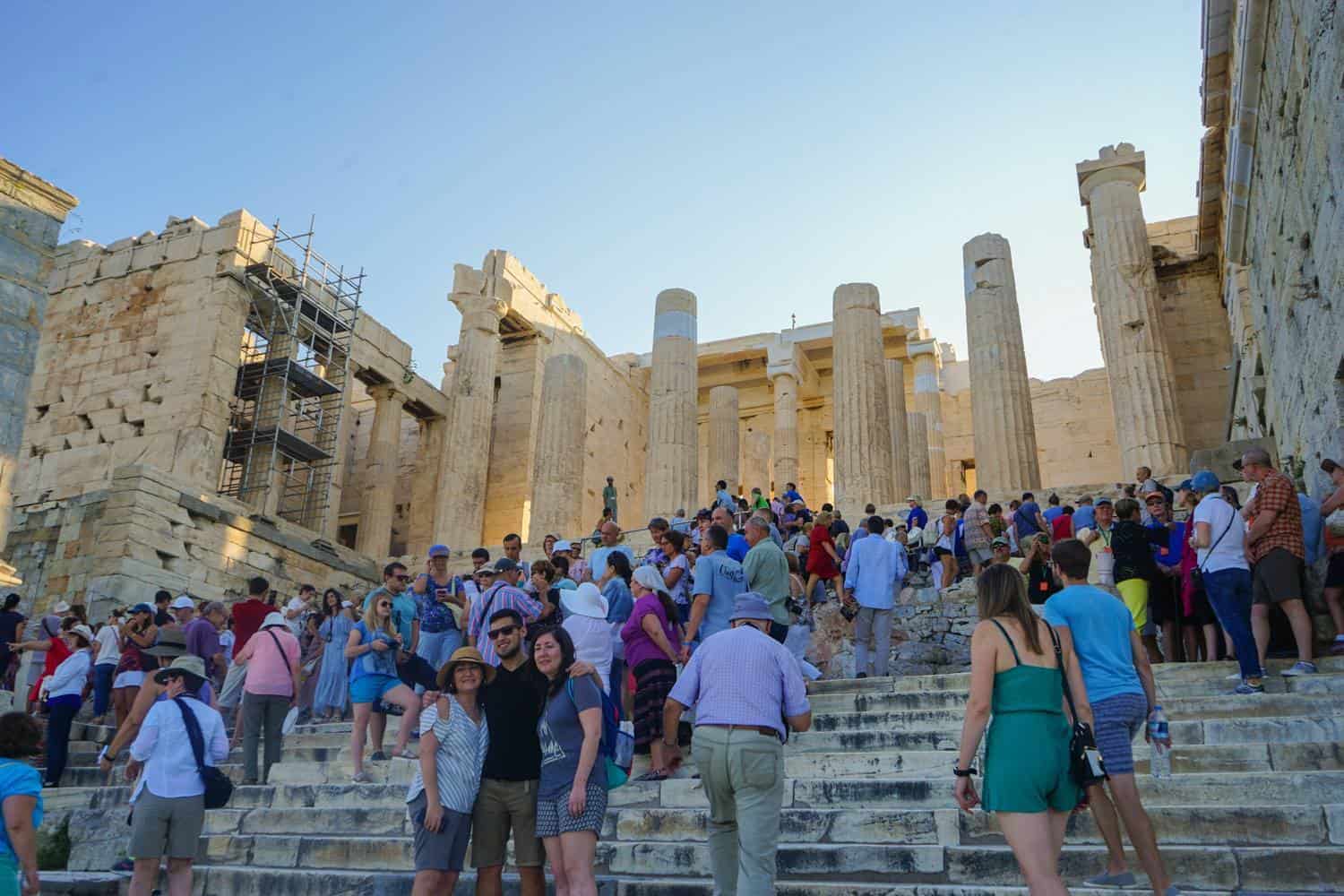 Yikes.
I recommend avoiding the main gate in favour of the southeastern gate, which is close to the Acropolis Museum. Queues will be much smaller at the southeast gate, so you'll be able to make your way to the top of the hill before everyone else.
When you reach the Acropolis, snap a couple of photos then take a moment to appreciate what you're witnessing, rather than checking it out from behind a camera.
Several minutes later, it's time to start bracing yourself for crowds.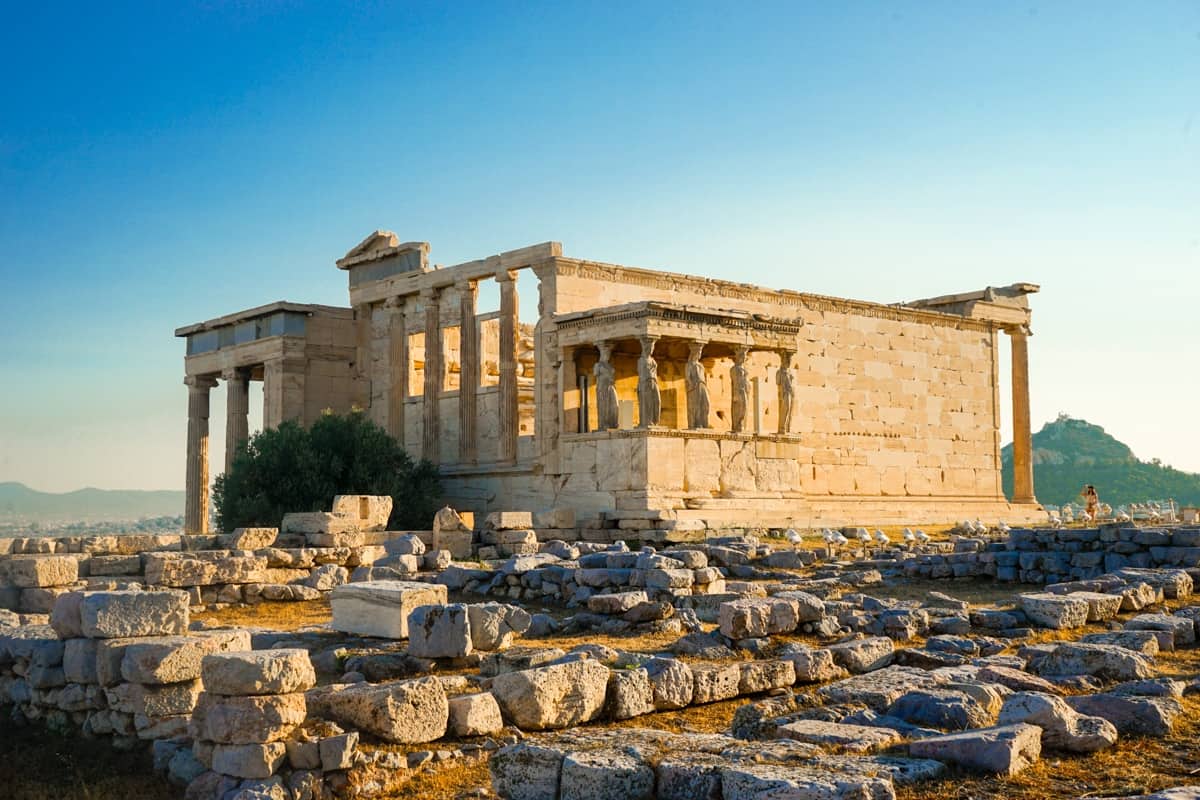 The Acropolis is the name given to the complex on top of the hill, and it's made up of several individual buildings.
There's the Temple of Athena Nike, the iconic Parthenon, the Old Temple of Athena, the Legendary Olive Tree of the Pandroseion, the Porch of the Caryatids at the Erechtheion… and on your way down, the Odeon of Herodes Atticus.
Oh, and while you're exploring all of the monuments on top of the hill, make sure to wander off to the sides to snap a photo of Athens from above. They ended up being some of my favourite photos from my time there.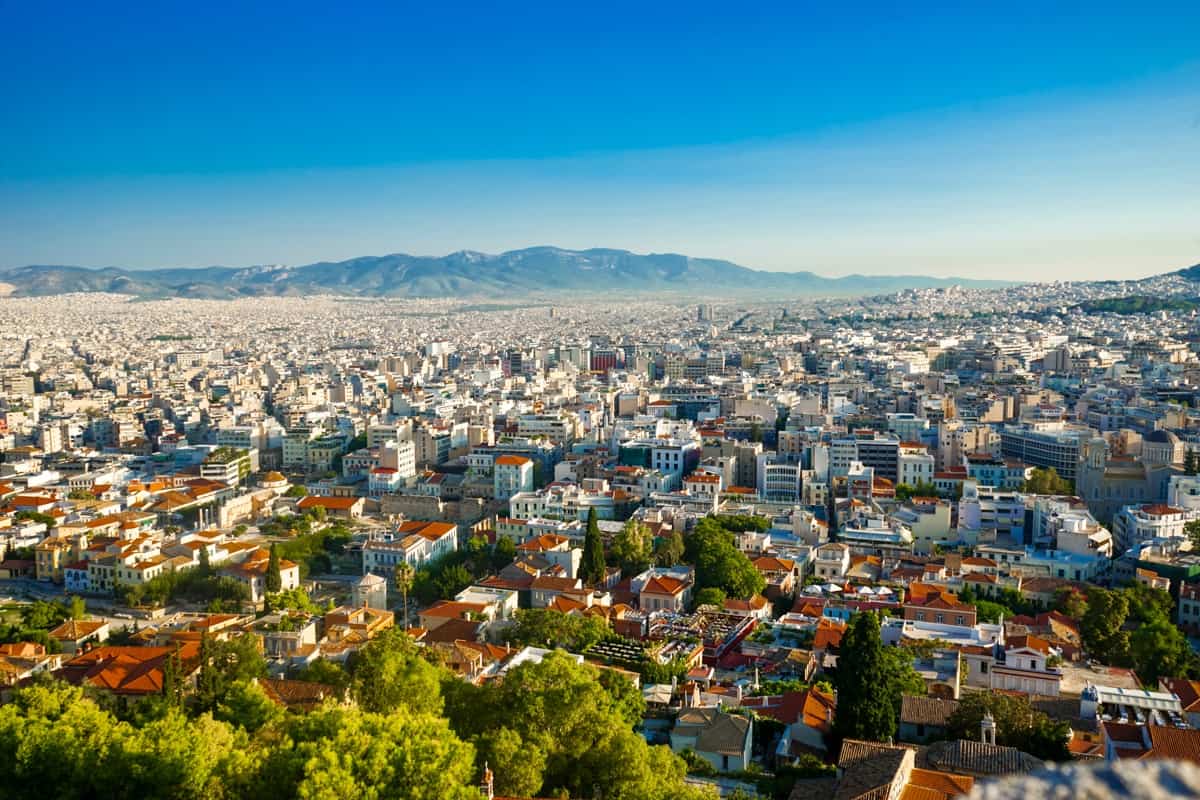 Something that sounds boring but isn't is the Acropolis Museum, and I recommend spending a couple of hours there.
As someone who identifies as a museum-avoider, I listened to the recommendations of everyone who had been (they insisted I go inside!), and made myself check it out. And I loved it. The museum houses tons of sculptures unearthed from the Acropolis and it was fascinating to check them out.
You'll also get to learn about how my country took the Parthenon Marbles, plopped them in the British Museum, and refuses to give them back to Greece. Awkward.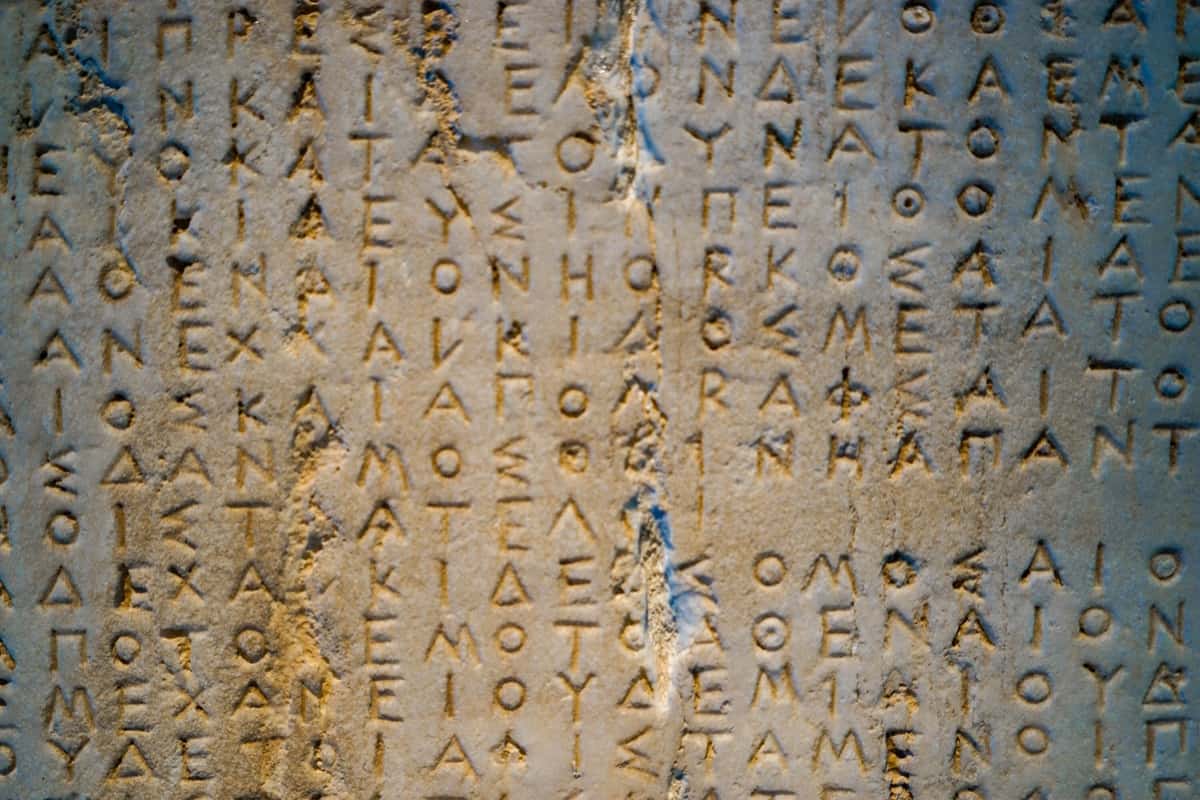 Head to Syntagma Square next to watch the changing of the guard. This takes place every hour on the hour, so attempt to time your visit perfectly. The guards wear fun outfits, march around in unison, and generally make for interesting photos.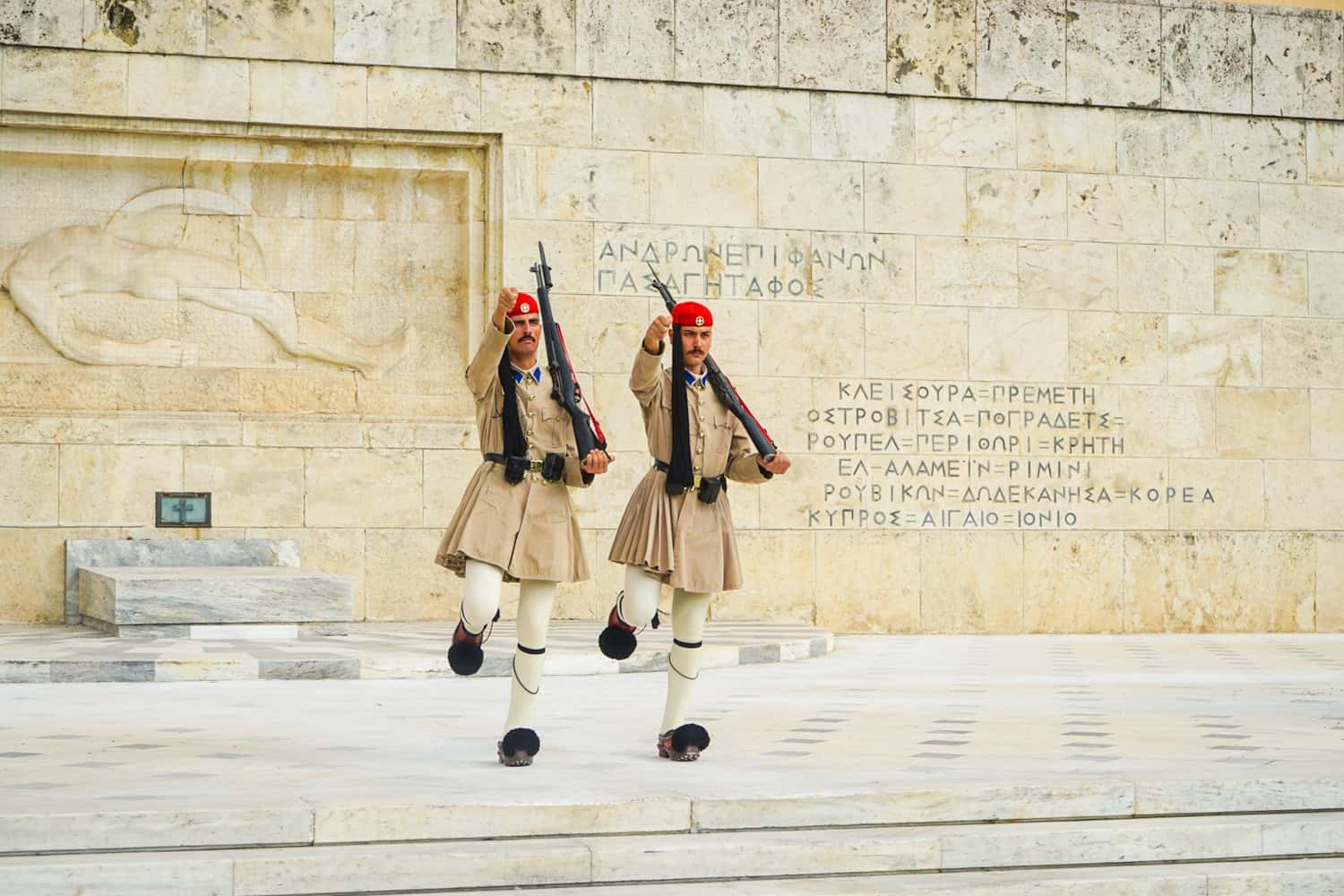 From Syntagma Square, wander over to the enormous National Archaeological Museum to get your history on. Again, I'm not a museum fan, but this one was seriously impressive and complements the ruin-themed explorations you've done so far.
When you emerge from the museum, you'll be in the achingly cool Exarchia neighbourhood, where I chose to base myself in Athens. And I loved this neighbourhood. Even if you're not staying there, it's well-worth a wander and meal in the evening. So many great restaurants and bars! I especially recommend Atitamos for Cretan food and Giantes for excellent meals all round. I ate at both multiples times while I was in the city.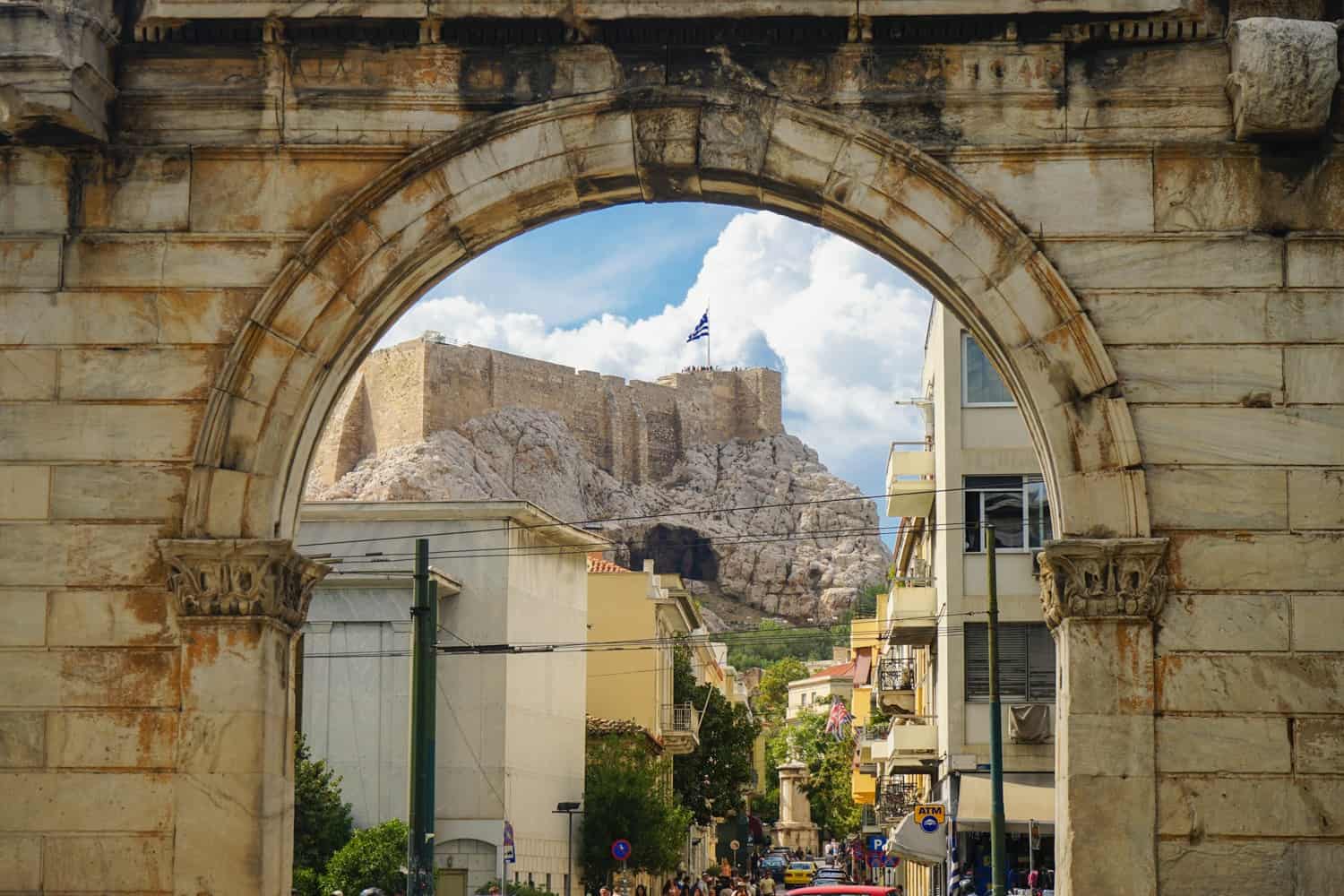 Day Three: Everything Else
We'll keep this day more chilled out and spend most of the day crossing off the final remaining attractions on your combined pass. By this point, you've visited the Acropolis, checked out the Ancient and Roman Agoras, and still have a handful of attractions to explore. Fortunately, unless you're huge on ruins, these can all be seen fairly quickly.
Start your day by heading to Monastiraki for some ruins, architecture, and shopping. If you're looking to stock up on tat souvenirs, this is the place to come. Opposite the Monastiraki metro station, you'll find Hadrian's Library and the Tzistarakis mosque — the former was built in 132 AD by Emperor Hadrian, and was the largest library of Athens. Today, it's little more than a handful of columns, but you get free entry with your combo ticket, so it's worth a wander around.
Beside the library is the mosque, which was built during Athens' Ottoman rule.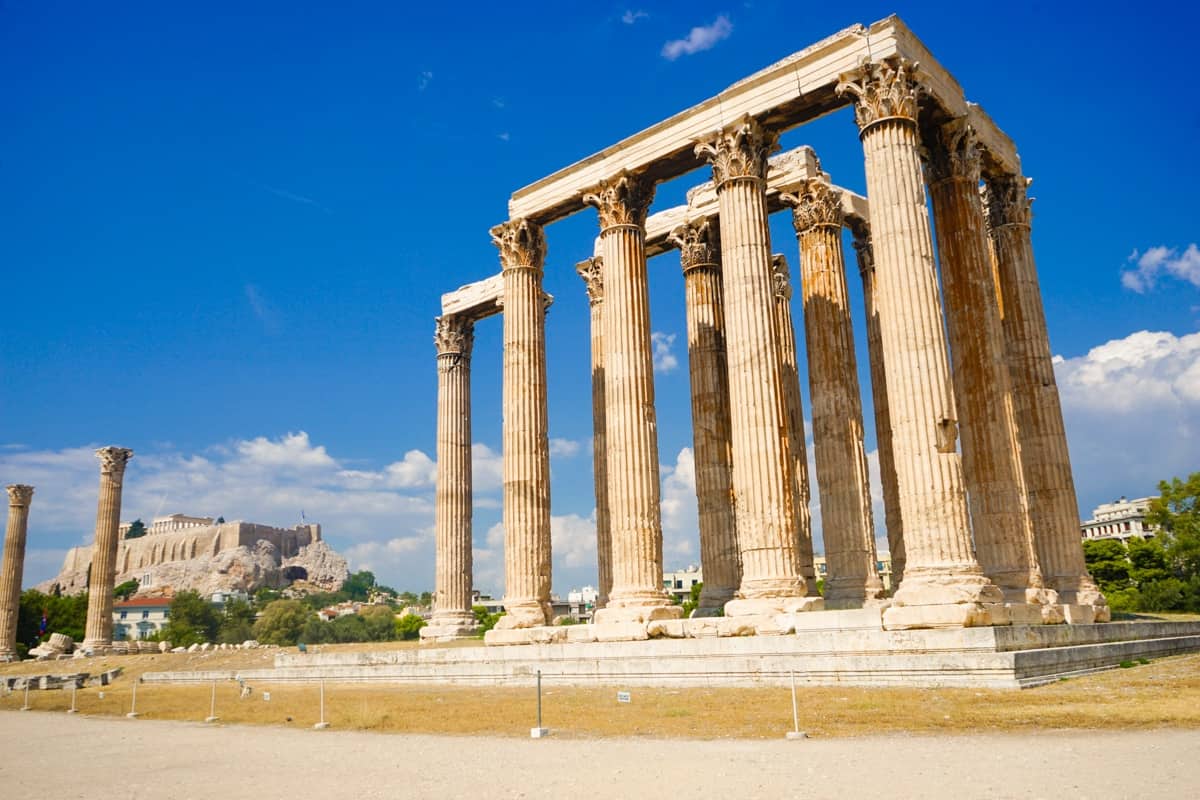 Next, head to Hadrian's Gate for the picture-perfect photo of the Acropolis framed by the archway. I loved the photo I snapped of this view! Just beside the gate is the Temple of Olympian Zeus, one of the largest temples in ancient Greece. To give you an idea of its size, in my photo, you can see just 15 columns. When it was built, there were over a hundred.
From the temple, wander over to the Panathenaic Stadium to check out the world's only stadium that's built entirely of marble. Built in 330 BC, it was also home to the first modern Olympic Games, way back in 1896.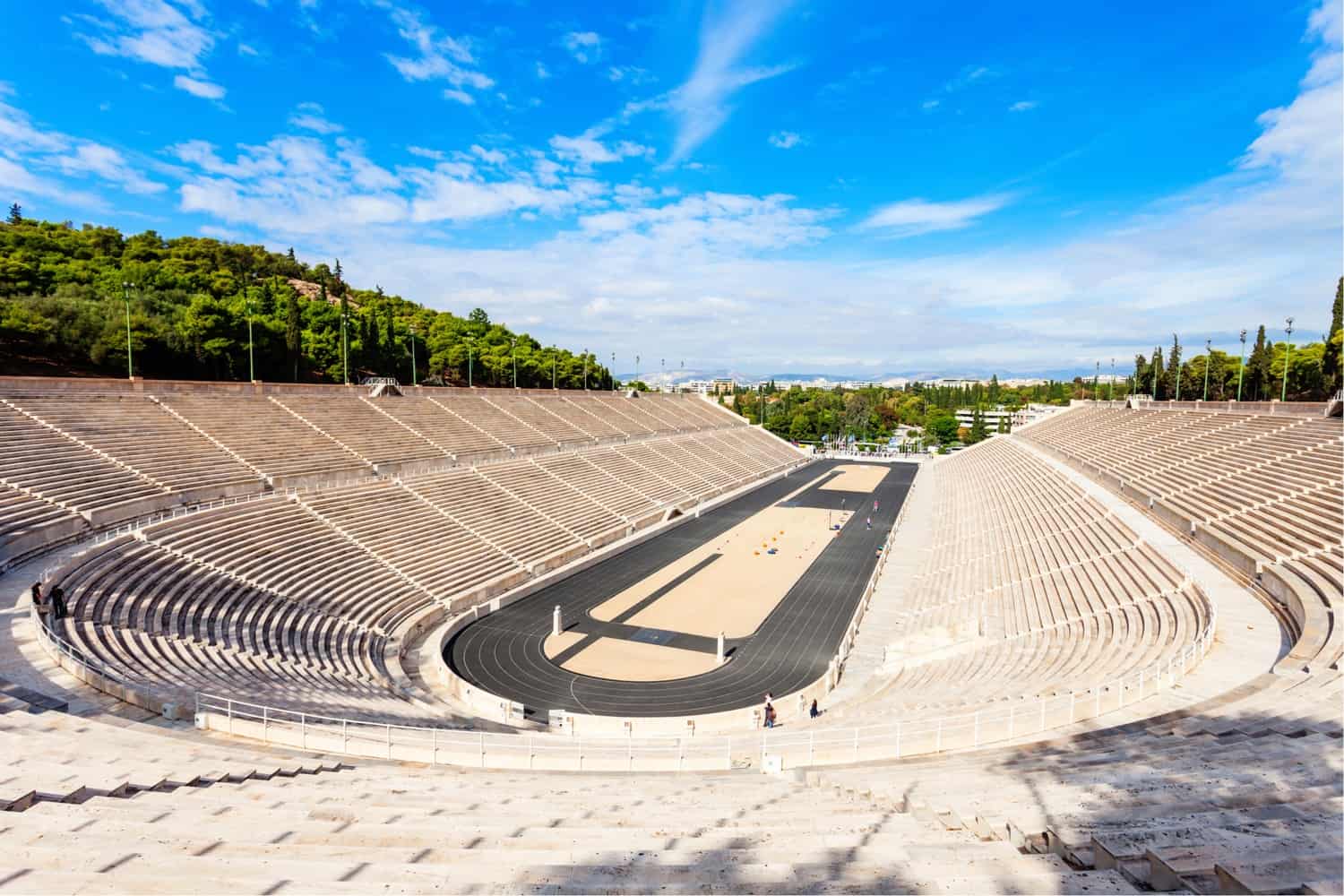 If you're anything like me, you're probably well and truly tired of staring at archaeological marvels, so grab a souvlaki from Monastiraki and head to the National Garden for a relaxing stroll and rest.
If you were to ask me which of the sites from the combined ticket aren't worth it, I'd have to go for Aristotle's Lyceum. The ruins are far from impressive, relative to everything else you can see in Athens. The only reason to go is to see somewhere of great historical significance. This the school Aristotle founded in 335 B.C. and later taught at, along with Isocrates, Plato, and Socrates.
These days, it's simply a bunch of rocks on the ground, so you likely won't spend too much time staring at them.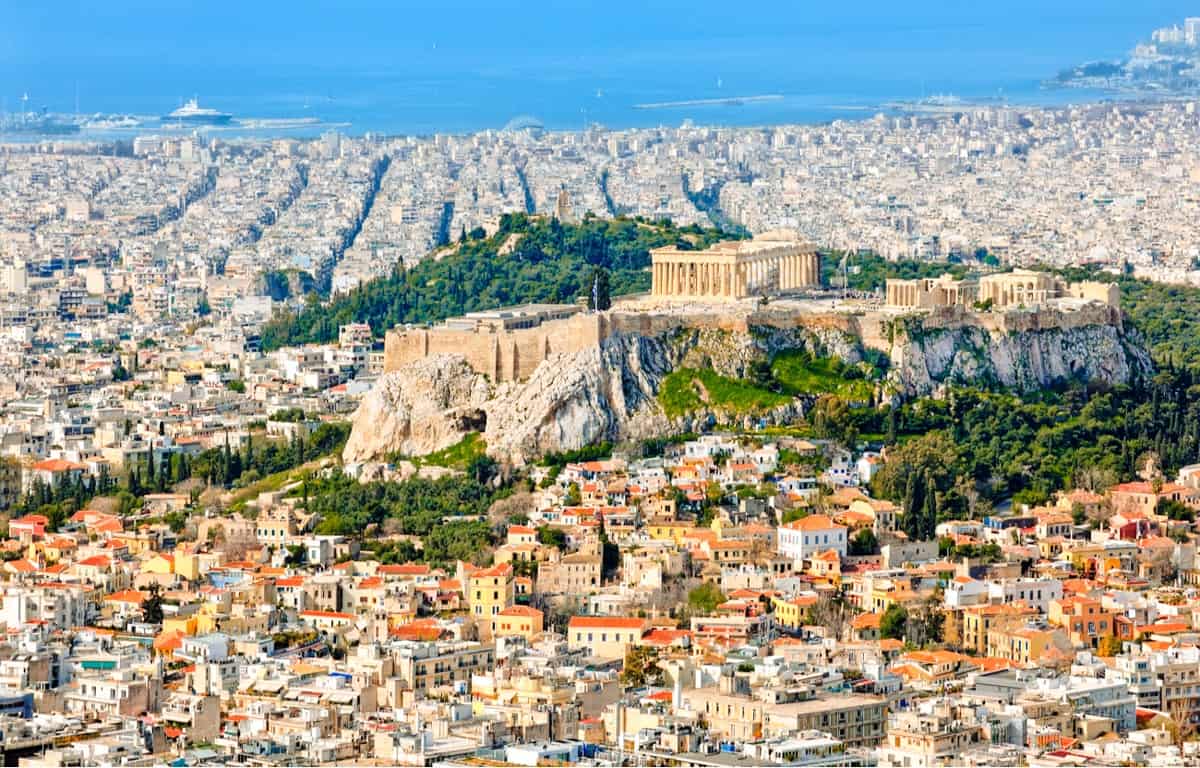 To round off your time in Athens, you're going to want to head to Mount Lycabettus to get one of the best views over the entire city.
If you're into walking, go for the hike to the top. It'll take around 20 minutes, but the path is pretty steep. Otherwise, you can take a cable car or taxi to the top.
This is the perfect spot for sunset, looking down over the Acropolis and the sea.

And that's how to spend three days in Athens!
What to Know Before You Visit Athens
August is the worst time of year to visit: Sorry, but it's true! Like much of Europe, Athens is at its worst in summer. It's overwhelmingly hot, crammed full of tourists and cruise ship passengers, and most of the locals have left in search of cooler climates. It's not going to be a disaster if you do visit in August, but keep in mind that it's going to get pretty uncomfortable as you explore those ruins in the heat.
I visited in mid-September and thoroughly enjoyed my time there. It wasn't too hot, there were plenty of locals around, prices weren't extortionate, and the masses of European tourism had dissipated for the start of school.
There's Uber in Athens: That always makes getting around a less stressful experience! I used Uber to get from the airport to my hotel and from my hotel to the bus station when it came time to leave. No problems with either experience! There is a Greek equivalent called BEAT, which might be worth downloading before you arrive in the city. It has more drivers available than Uber, so if you plan on taxiing your way around town, could help save some time.
Sundays in the low season is where it's at: Here's a fun fact for you! On every Sunday, between 1st November and 31st March, all of the main attractions in the city (including the Acropolis!) are totally free to enter. If you're down for some low season travel, that'll save you a bunch of money.
Consider the metro: I really enjoyed using the metro in Athens! It was clean, easy to navigate, and cheaper than taking Ubers all over the city. A one-way ticket on the Athens public transport network costs €1.40 and allows you to use any method of transportation for 90 minutes. A day pass comes in at €4.50. The best value pass, however, is the €22 tourist pass. Valid for three days, it entitles you to unlimited travel around the city over that time, and includes a round trip to and from the airport. You can pick up your pass at the bus and metro ticketing area at the airport in the arrivals hall.
Traffic can be wild: I found the streets of Athens to be fairly chaotic for a European city, but it was nothing too outrageous. Just enough that I wouldn't recommend renting a car while you're in the city.
I felt safe in Athens: Athens has a bit of a sketchy reputation, but I found that to be outdated and false when I visited. I walked around on my own all the time in the city and never experienced any hassle or stress. Take the same precautions that you would at home and you'll be fine.
Don't forget travel insurance: And finally, I'm a firm believer that if you can't afford travel insurance, you can't afford to travel, and this holds true for every country in the world.
Travel insurance will cover your costs if your phone gets pickpocketed on the Athens metro, offer compensation if your flight gets cancelled, pay for you to replace your lost luggage, cover your medical bills if you get struck down with appendicitis, and ensure you don't face any emergency travel costs to get back home for a family emergency. Nobody likes to think about things going wrong on their trips, but travel insurance is a must to ensure you're not out thousands of dollars if the worst case scenario comes true.
I use and recommend World Nomads travel insurance for visitors to Athens. They're a great company who have always been easy to contact whenever I've been facing difficulties on the road, have never given me any issues when making a claim, and I've been happily paying for their coverage for eight years of travel and counting.
I've had to make two separate claims with WorldNomads over that time — once when I dropped and smashed my new phone in Thailand (they covered the cost of repairs) and once when I crashed a rental car in New Zealand (they paid the $1,5000 damages, without me needing to pay any fees or excess!)
Related Articles on Greece

🇬🇷 11 Highlights From My First Trip to Greece
🧳 A Carry-On Packing List for Sailing in the Greek Islands
⛵️ Conquering My Fear of Sailing in Greece
Have you been to Athens before?
[photos of Plaka via: Svetlana Ryajentseva, colormaker/Shutterstock; sunset via Sven Hansche/Shutterstock; Lycabettus via Ppictures/Shutterstock; Panathenaic Stadium via: saiko3p/Shutterstock]