Oh, man, this is going to sound really lame, but when I went shopping for my first backpack, I felt like I was Harry Potter picking out his wand.
At first, everything felt wrong.
Empty backpacks were surprisingly heavy and tugged on my shoulders, causing me pain within minutes of pulling them on.
Front-loading packs were too wide and looked ridiculous.
Backpacks I liked were too long for my tiny frame and dangled over my ass rather than resting on my hips.
As I tried on and discarded uncomfortable backpack after uncomfortable backpack, I couldn't help but feel like a fraud. It had to be a sign: how could I expect to travel the world when I couldn't even find a backpack that fitted properly?
But then: magic!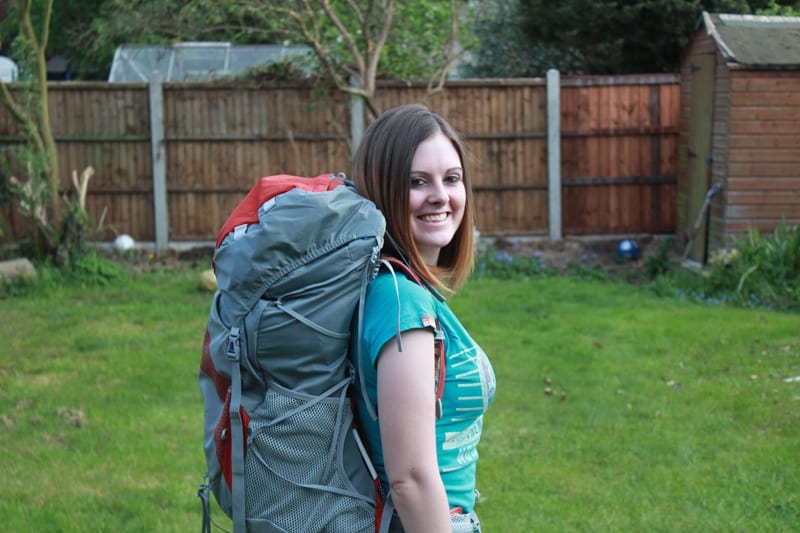 I threw an Osprey Exos 46 litre pack up onto my back and the world faded away, until there was just me and my backpack. I couldn't believe how it could settle on to my hips and seemingly disappear. It was so light, I felt like I wasn't even wearing it anymore. I felt as though I could fly. Just me and my backpack.
"It's The One," I gasped at the bemused guy in the shop.
And so it was.
That backpack took me from Croatia to Russia, Taiwan to the Philippines, New Zealand to Malaysia, Serbia to Turkey, and fifty-odd countries in-between. Over and over, I'd insist people try it on and beam as they marvelled at how light it felt on their back. I didn't realise it at the time, but I'd actually bought a hiking backpack designed for multi-day/month walks. Ha. But it was perfect for someone as lacking in strength as me.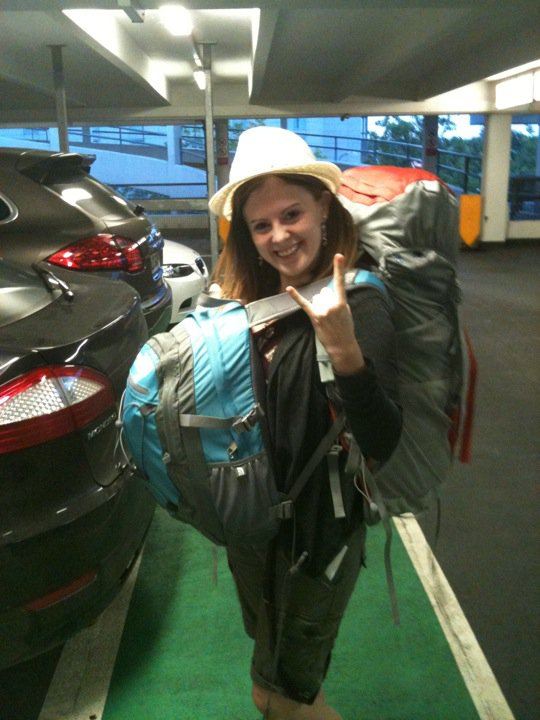 Most people who do any kind of travel find themselves quickly transforming into a minimalist when they realise how little they need to survive, and while I dabbled for a few years, my craving for more possessions than five t-shirts won out.
After two years of living out of my backpack, I missed owning things. I wanted to be able to choose from more than two pairs of shorts, I wanted to travel with perfume and shower gel, rather than relying on a bar of soap to get clean. I wanted hair straighteners and a bulging makeup bag and two pairs of jeans and dresses for date nights and shoes that weren't flip-flops. I guess I didn't want to look like I was living out of a backpack anymore?
It was time for an upgrade.
Back in the U.K., I headed to an outdoor store once more and this time, opted for the Osprey Farpoint 70 litre pack, relishing in having double the space to fill with things. I'd learned a lot from my first backpack, too: the Farpoint was front-loading rather than top-, because the latter had grown to be a pain in the ass. Packing and unpacking through a small hole in the top of a pack is frustrating and time-consuming, and not being able to padlock anything had left me nervous about security, although nothing had ever been stolen from it. I also loved that it gave me The Overflow Pouch — a detachable daypack on the front of the pack that I never remove — instead, whenever I'm packing in a hurry, I shove a ton of things into The Overflow Pouch so I can pack in under two minutes flat.
Like the Exos that came before it, my Farpoint took me around the world several times more, and it was perfect.
Well, until Bangkok Airways ripped a hole in the side of it, that is.
So, that was a problem.
A problem that couldn't be solved without an entire roll of duct tape, of course.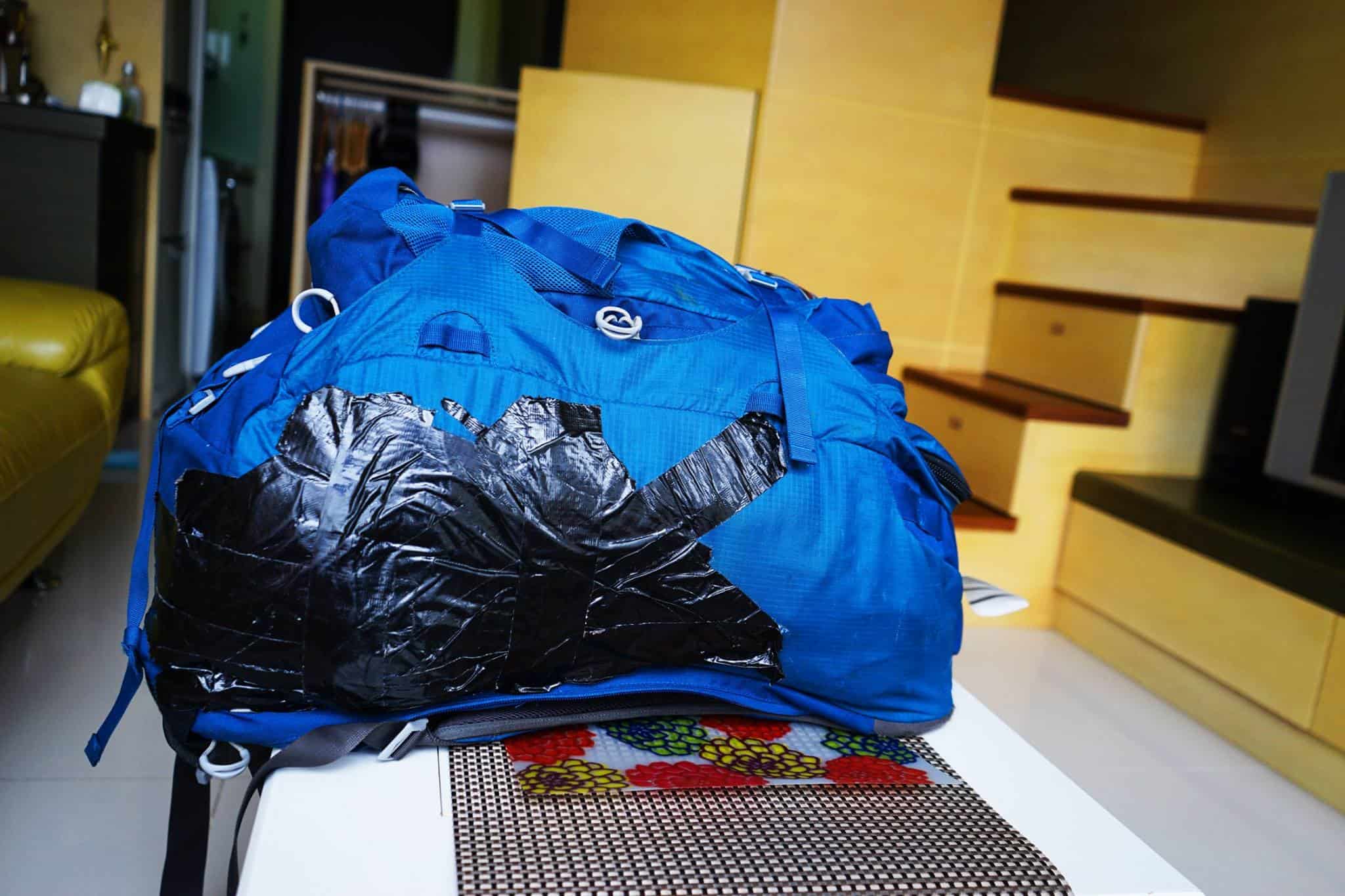 The Number One Reason Why You Should Choose Osprey
And now we get to the entire point of this post. I chose my Osprey backpacks based on comfort, but I'll be sticking with them for their lifetime guarantee. From their site:
Osprey will repair any damage or defect for any reason free of charge – whether it was purchased in 1974 or yesterday. If we are unable to perform a functional repair on your pack, we will happily replace it.
Sounds perfect, right? Hmmm. As a traveller, I've learned to take warranties with a grain of salt. Guarantees are great and all, but how would I take advantage of them if I was travelling through Mongolia and moving every couple of days? Many warranties require you to be in the country where you bought their product, and what if it takes up to 28 days to replace? It can be near-impossible to arrange things like this when you're constantly on the move, so I always assumed I'd just end up buying a new backpack if it broke.
The duct tape lasted me until Melbourne, where I had two weeks to see what happened. Tons of people have gushed about Osprey's lifetime guarantee to me, but none of them had actually tried to get anything repaired or replaced.
Here's my personal experience with using Osprey's warranty.
Getting in touch with the international distributor was easy: I sent an email to the Australian distributor listed on Osprey's international customer service page, explaining that I was currently travelling and that I needed a repair or replacement within eight working days. I received a phone call an hour later from them. They could repair my pack and turn it around within four days. Sweet as!
The repair guy was super-helpful: I drove out to the repair centre, where I met with the guy who'd be patching my backpack up. He ran through how he'd fix the pack — by replacing the entire side panel — then offered to use thicker material to patch it up so that it wouldn't tear again.
We'd have even been covered if we didn't have a car: I wasn't sure if I'd have access to a car to pick up the pack — I was travelling after all — once it had been repaired, but the guy reassured us that Osprey would courier the pack out to us for free if we couldn't get there. That's pretty cool.
There are repair centres all over: You can find international distributors in Australia, Canada, China, all over Europe, Hong Kong, Taiwan, Indonesia, Israel, Japan, South Korea, Mexico, New Zealand, the Philippines, Singapore, South Africa, Malaysia, Thailand, Brazil, Uruguay, Argentina, Bolivia, Chile, Colombia, Ecuador, and Peru.
Additionally, I dropped Osprey an email to see if I'd be screwed if my backpack broke in a country without an international distributor. Obviously they operate on a case-by-case basis, but the guy I spoke to said that it's likely you could either have a replacement part shipped out to your location, or you could ship your broken backpack to a nearby country, get the repairs done, and have it shipped back out to you.
While there are a few other backpack companies that offer lifetime guarantees, I couldn't find any that would guarantee a repair or replacement backpack in pretty much every country around the world, and many of the policies excluded general wear-and-tear or if you'd been using it unreasonably or not taking proper care of it.
Osprey covers you for absolutely everything, no matter what the cause and when it happened.
I'm really happy with the repair: I have my backpack back and it stands out from the crowd on the luggage carousels!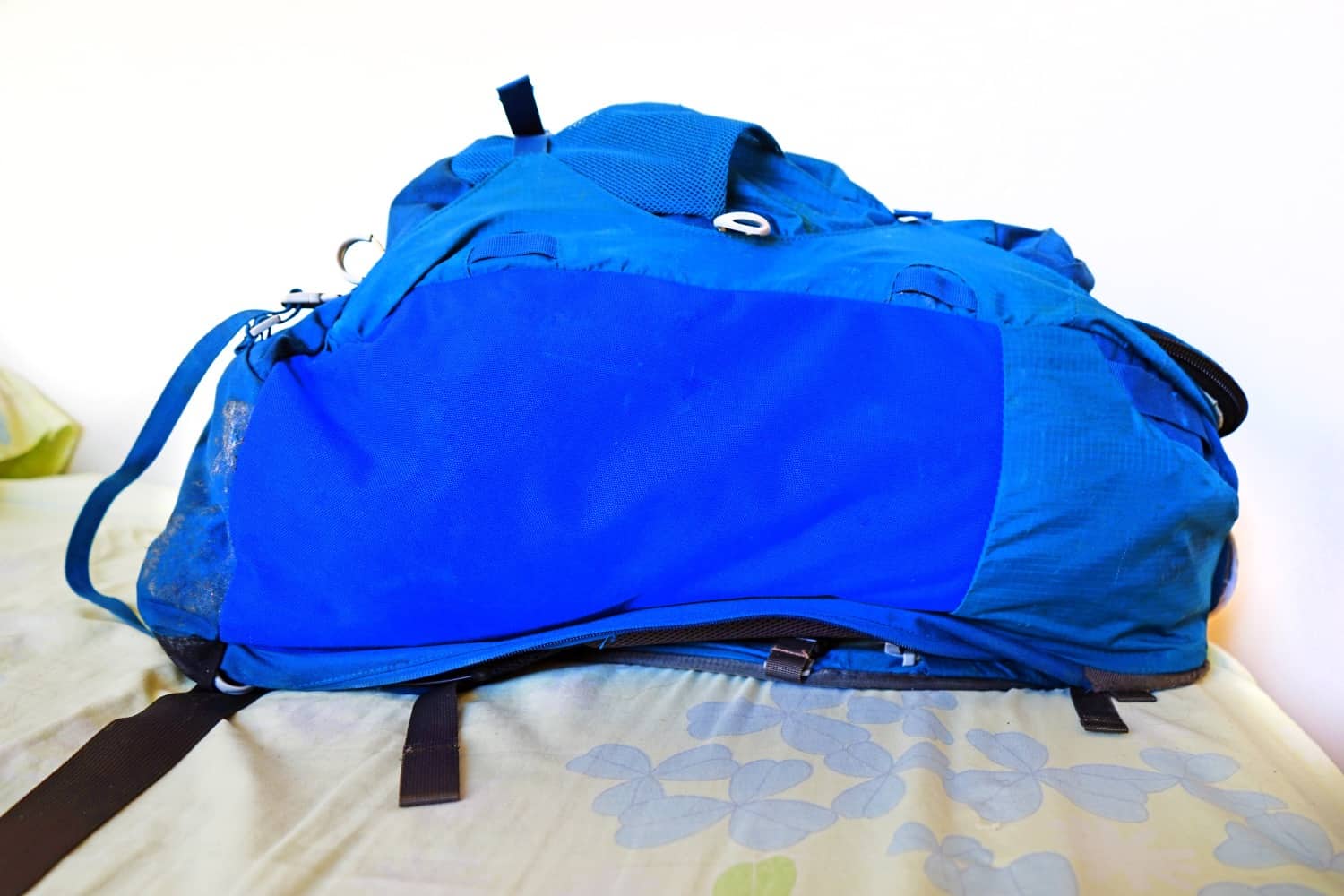 I know this post totally reads like it's sponsored, but it's not, I promise! I just really love Osprey backpacks, am so happy with mine, and wanted to share the kickass-ness of the Osprey waranty with you! If you're looking to buy your first backpack, or hunting down a replacement, I'd wholeheartedly recommend checking out Osprey.