I swear I haven't become that person.
You know, that traveller that's carry-on only and then talks non-stop about being carry-on only.
I've always been able to detect this sense of superiority from much of the carry-on traveller crowd. But also: I have to hold my hands up here, too, because there have definitely been times in the past where I've spotted a traveller in Southeast Asia with a backpack totalling 100 litres and pointed it out at Dave with a snicker. I try not to be judgmental towards anyone's travel style now, though, as long as it's not hurting anyone.
I guess what I was trying to say above is that people who travel carry-on only often like to talk about how their way is best.
And now I'm doing exactly the same…
Fuck.
Okay, well, to summarise this introduction: I'm an enormous hypocrite.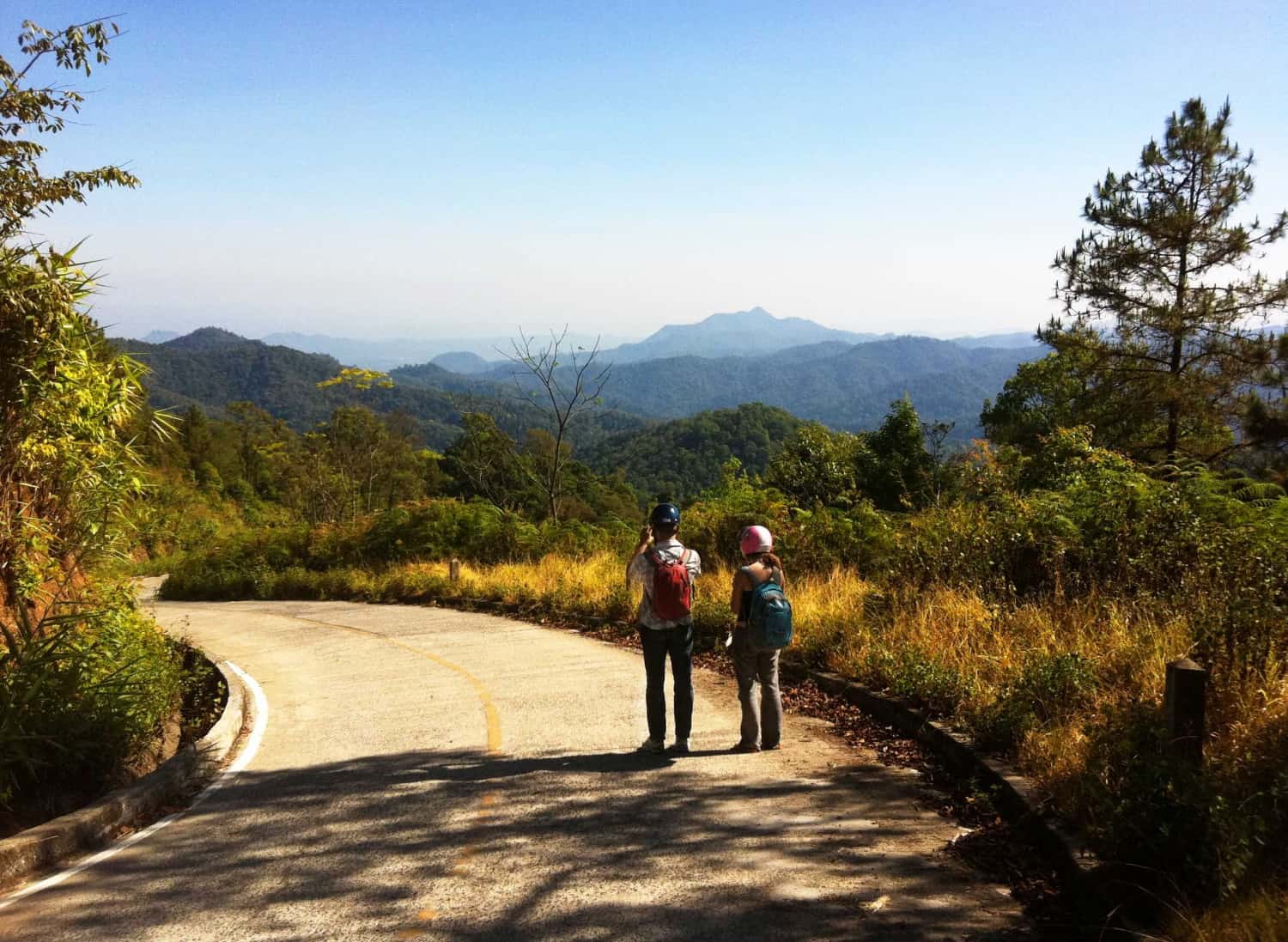 Let's start again.
When I made the decision to start a travel blog with the intention of using it to travel long-term, I knew I wanted to do so with a carry-on-sized bag.
I'd spent the better part of a year doing little but reading travel blogs and I'd come to the conclusion that small backpacks were best. I wouldn't be tempted to overpack, I wouldn't have to worry about lost luggage, and I wouldn't have to focus on building my core strength. Travel bloggers were showered with praise in the comments whenever they announced they were packing everything in for the carry-on life, and this had convinced me it was the only way forward.
When it came time for me to buy my backpack, however, my body had other ideas.
I've always likened my first backpack purchase with Harry Potter hunting for a wand, which makes me a weirdo. But every backpack I tried on felt wrong until I stumbled upon the Osprey Exos 44l. I dutifully filled it with travel gear in the outdoor store I was in, hoisted it on to my back, and felt it dissolve. I was astounded to be wearing a full backpack but feeling as though there was nothing on my shoulders. It felt right.
I'd found the One.
When I got home, I began researching size limits for carry-on luggage on different airlines and realised with a sinking heart that my new beloved backpack was an inch too long to be allowed in the cabin.
It turned out I was going to be a checked luggage kind of girl after all.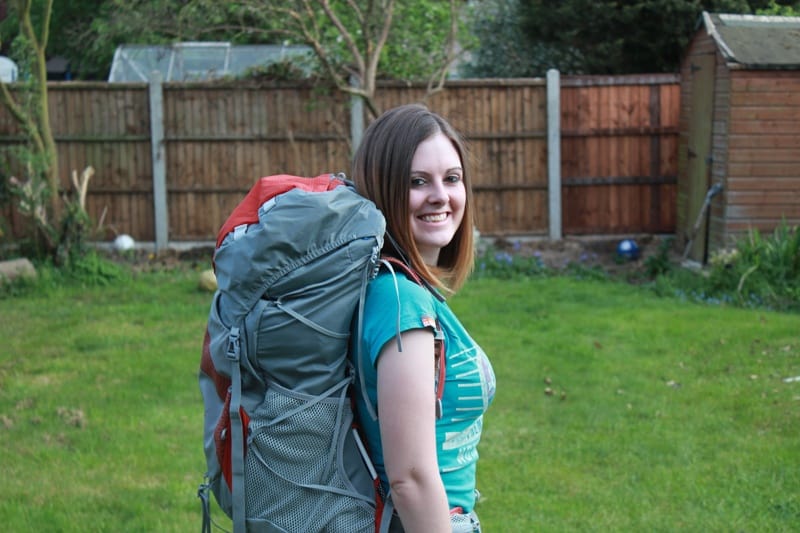 The Great Expansion
I quickly learned I'd made the right decision.
I didn't have to throw something out whenever I bought something new!
Packing didn't require an hour of thoughtful organisation in order to make everything fit!
I didn't have to wear the same three t-shirts over and over and over!
Three years later, I upsized further.
I pushed my Exos to one side and upgraded to a Farpoint 70l backpack, and felt again that this was the right decision. By this point, my one year trip had morphed into full-time travel, and I whole-heartedly believed I was going to spend the rest of my life living out of a backpack.
If that was the case, I would certainly need a few more home comforts.
It started to get ridiculous.
I began travelling with hair straighteners. Two pairs of jeans. Enough make-up to last me through the next decade. Fifteen tops. Three pairs of shoes. Two cameras. Two travel towels. Two laptop chargers. A tablet and a phone and a Kindle and an external hard drive and three camera lenses and enormous over-ear headphones. A six month supply of daily contact lenses. An enormous jar of Vegemite.
I started to attract passive-aggressive comments from carry-on travellers the world over.
I didn't care because I was comfortable and it was worth it.
When I arrived in Portugal, my bag was stuffed to the brim. It weighed over 20 kilograms and I had a 10 kg daypack hanging from my front. Needless to say, travel days had become a painful affair, and I'd found myself making changes, like using taxis over buses to get anywhere.
It was an incredible feeling to drop my backpack in Lisbon and know I wouldn't need to pick it up for quite some time.
It's been 18 months and I haven't touched it once.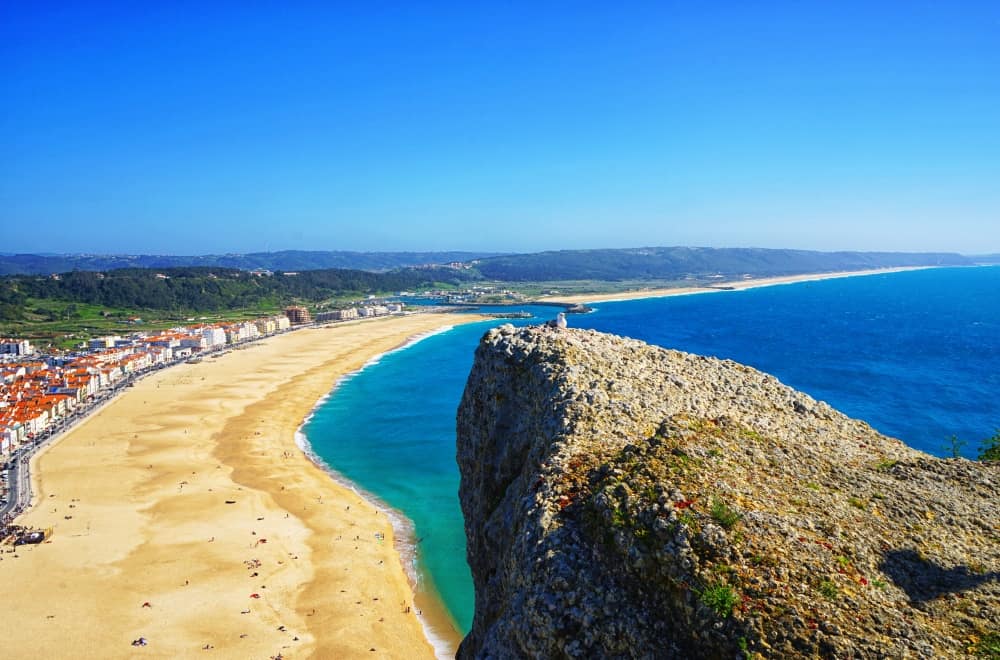 Making a Change
Now that I had a home to put my things in, I no longer needed to carry everything I owned on my back, so I was able to try carry-on travel on for size.
I started small, with a three day trip to Girona, Spain.
At first, I used my tiny daypack, but even that felt challenging. I had become so accustomed to carrying everything I could potentially need on my back that I wanted to pack all I owned for my long weekend getaway. When I eventually narrowed it down to a laptop and a couple of outfit changes, it felt as though I was learning how to be a minimalist again. It felt good.
I'd always rolled my eyes at people who had gushed about how wonderful it was to not have to dawdle around the baggage claim for their bags after stepping off a plane — like your time is that important — but, um, actually… it is wonderful. And saving money on checked luggage suddenly felt exciting. I must have spent well over $1,000 in checked luggage fees over the entirety of my travel blogging career.
As soon as I returned to Portugal, I went full carry-on. I bought the Osprey Farpoint 40l backpack and haven't looked back. I love this backpack.
I took it on a six-week country-hopping adventure around Europe. I took it on a month-long trip across Southern Africa. I took it on my recent road trip in the US.
I have a fairly extensive travel adventure coming up in a month's time; a long-term stint on the road that will take me from snow-capped mountains to steamy rainforests, and I'm still going be packing carry-on for that.
I'm a convert.
Here's some more positives I've found from being a carry-on traveller, as well as some situations where I'd likely leap back to checked luggage life.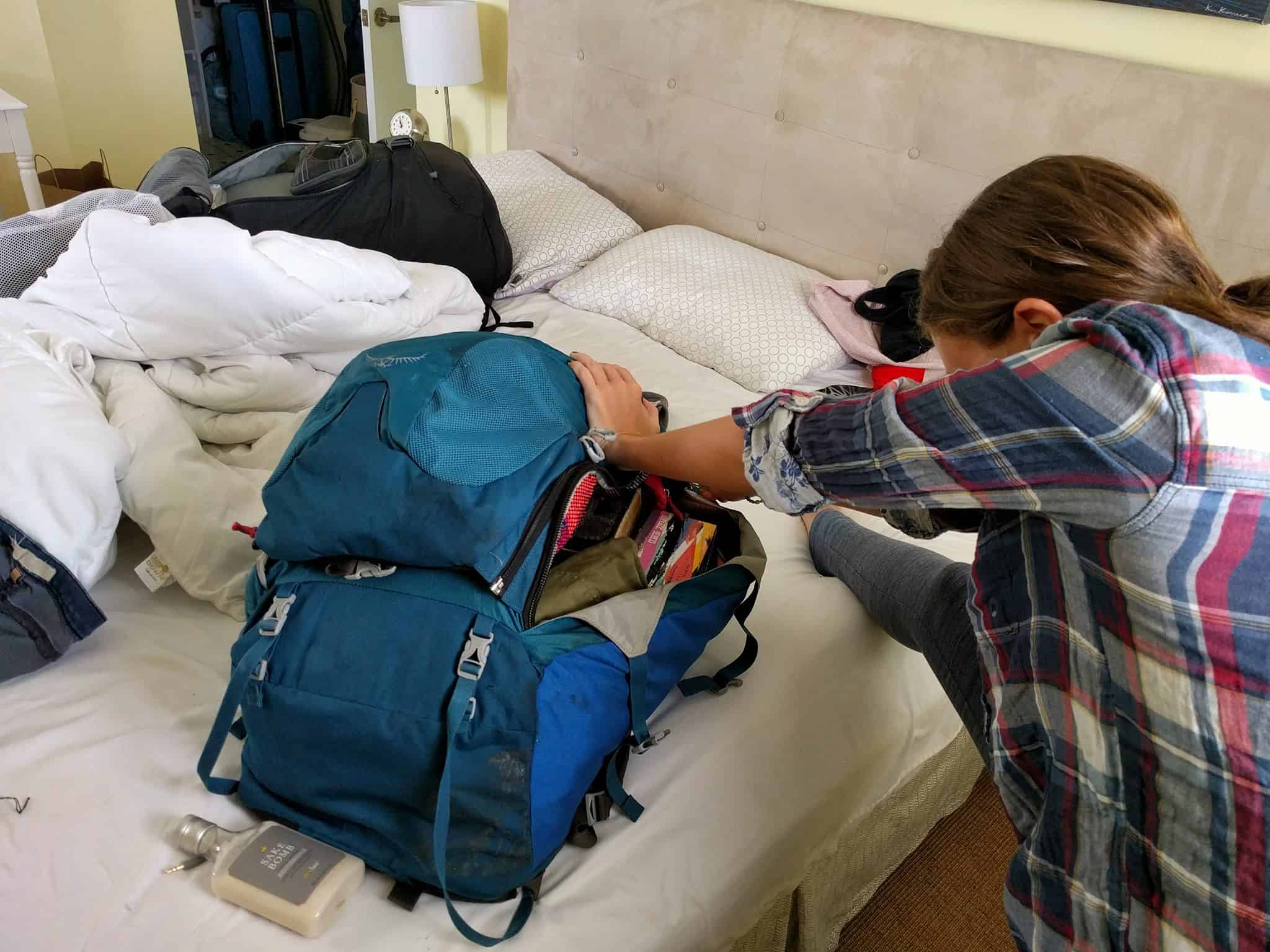 It Gets Me Thinking About What I Need
Here's a bit of an embarrassing confession: over the past couple of years, I've transformed from a minimalist to a materialist.
Maybe you've noticed.
As my income from this site has grown, my travels have become increasingly lavish. I swapped dorm rooms for Airbnb apartments and fancy hotels. I treated Dave to a luxury resort in the Maldives. I bought an expensive camera I didn't need because I still shoot in auto. More makeup than I could use in — let's be real — my entire lifetime. When I grew so irritated by budget travel bloggers being comped luxury suites and talking about how it's so worth it to splurge every now and then, I decided to spend $2,000 of my own money on a 5-night stay in a hotel in Berlin so that I could talk about if it was really worth it when you're actually spending your own money. Yes, I made my point and maybe gained a handful of new readers who are tired of endless sponsored content on blogs, but I also spent $2,000. I could have, y'know, given it to charity.
Once I started spending, I struggled to stop.
Strangely, it was moving to Lisbon that halted me in my tracks.
It was falling in love with having a base and pondering whether I'd one day like to buy my own house someday.
It was realising that I had tripled my income since ending my full-time travels, but was still breaking even.
It was heading off for month-long trips around the world, functioning just fine, then coming home to a house full of stuff that I'd just realised I didn't need to survive.
Carry-on travel helps me work my way back to a more minimalist way of life, where I value both possessions and experiences, but the latter a hell of a lot more.
I Don't Have to Worry About My Luggage Getting Lost, Stolen, or Damaged
I receive a handful of emails a year from travellers who are concerned about lost luggage. The truth is that these incidents are exceptionally rare. After six years of travel and over 250 flights, I have never had an airline lose my luggage. I've never had anything stolen either, but I have had an airline break two of my backpacks.
The first time was on a flight from San Francisco to Seattle. I hauled my backpack off the luggage belt and discovered the frame had been snapped in two. It was frustrating, but easily solved with a new purchase. The second time, I wasn't so fortunate. A flight from Bangkok to Trang resulted in a large tear across the side of my pack, and Bangkok Airlines would only offer me $20 in compensation. I took it, because Osprey has a lifetime guarantee on their products, and they were able to repair it for free. I made my way through an entire roll of duct tape until I was somewhere long enough for me to be able to send it off.
Luggage-related incidents are incredibly rare, but they do happen. And by travelling with a smaller carry-on-sized bag, you can eliminate these risks.
You can't lose your luggage if it's stowed at your feet for the entire journey.
You can't have your belongings stolen on a sketchy bus ride in Thailand, because you won't need to store your bag in the hold.
You can't discover an airline's damaged your luggage if you have it with you at all times.
Carry-on travel gives me greater peace of mind, which is never a bad thing.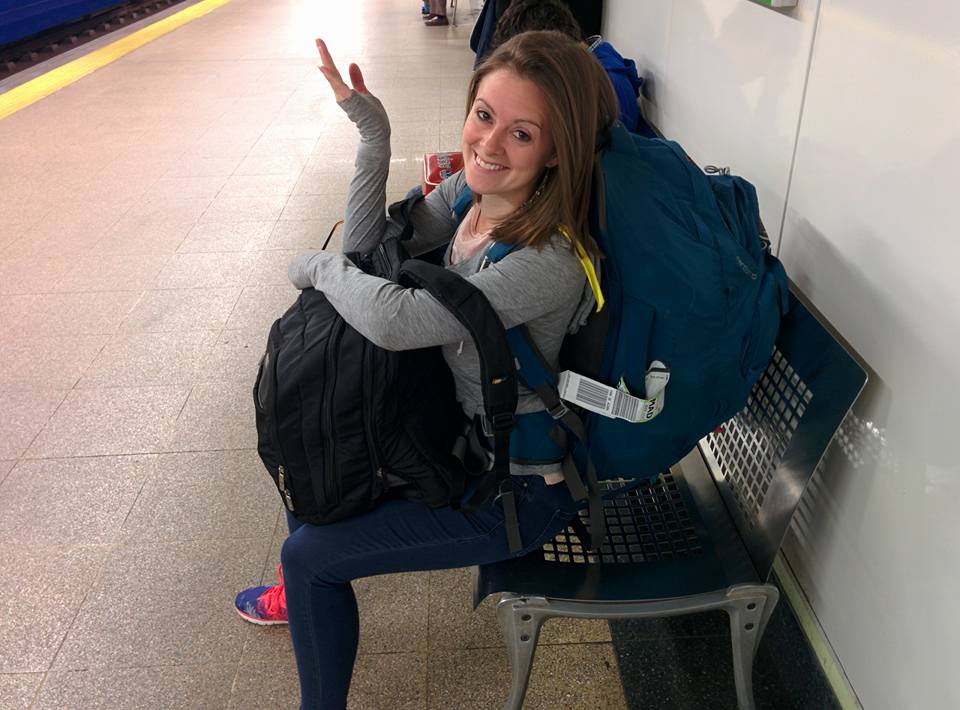 My Back Thanks Me for It
If you ever meet me in person, ask to see my biceps.
Actually, don't, as that would likely terrify me.
I'm one of the few people who can flex like their life depended on it and still not cause even a stir in their arms. Everything stays flat! My super-fit friends in Lisbon find it hilarious that it looks like I have no biceps, no matter how hard I work out. And it's the same for the rest of my muscles.
Simply put: I am weak.
If, like me, you're tiny and feeble, the lighter your backpack, the better. And therefore, the smaller your backpack, the easier it is to keep it lightweight.
Carry-on travel limits how heavy my bag can get, and that helps reduce pain levels when I've been walking around in circles for two hours looking for a hostel that no longer seems to exist.
The Exceptions
Now that I've successfully handled so many trips with my trusty Farpoint, I can think of very few scenarios where I'd need a larger backpack. Here are a handful of them:
If I was to go nomadic again: The carry-on life works for me, and a big part of that is because I have a home to put my Overflow Possessions in. If I was to pack in my life in Portugal, sell everything I own, and travel full-time again, I confess I'd struggle to do so with such a small backpack. Having so few things gets old when you've been doing it for four years straight.
If I was going to do something ridiculous, like skiing: Can you imagine me skiing? Haha! Well, actually… the joke's on you, because I can ski! By which I mean, I went on a school trip to Italy when I was 14, where I spent a week snowploughing down the mountains. If I ever decided to take it back up again, though, I'd imagine I'd need to bring a lot of equipment with me? As you can tell, I am very informed about skiing situations.
If I was going to go somewhere very cold: My favourite thing in the world is being warm. My second favourite thing is hot showers. My third favourite thing is hot water bottles. I hate being cold! And so, if I was going to visit somewhere that was unbelievably freezing cold, I'd probably want to pack all the clothes I own and do a Joey.
So there you have it! Once I went carry-on, I never went back!
Or, I might go back in the future.
But probably not.
What do you think? Is carry-on travel for you or do you check your luggage all the way?