Tonga is one of my favourite countries in the world.
I can't stop talking about how incredible it is. It's full of some of the loveliest people on the planet, has some of the best beaches I've ever stepped foot on, offers up dozens of islands to explore, and can even be experienced at an affordable price. It's even one of only two places in the world where you can jump in the water and swim with humpback whales.
I'm on a mission to convince everybody to go to Tonga and that includes you, so let's get started with a post about what it's like to travel in this South Pacific country.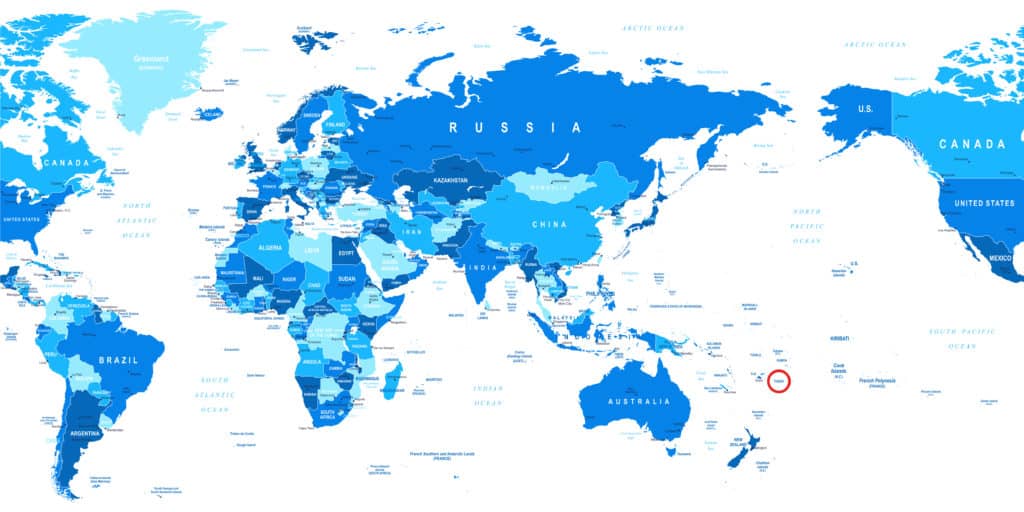 Where is Tonga?
Tonga is a small island country located in the South Pacific, roughly a third of the way between New Zealand and Hawaii. The country itself is made up of 172 islands of which 36 are inhabited. And if you know your Pacific islands, I can tell you that Tonga is found south of Samoa, east of Fiji, and west of the Cook Islands.
For a country that doesn't see much international tourism, getting to Tonga is surprisingly simple if you find yourself in Oceania. There are flights up for grabs from Australia, New Zealand, and Fiji, and you can usually score some pretty sweet deals on return tickets. I flew from Auckland to Tongatapu on a return fare of 350 USD.
If you're coming from further afield, you can expect to spend more money to get there — of course — but it shouldn't be all that difficult to find a flight. There are three flights a week operating from Los Angeles to Tongatapu (via a layover in Fiji). And if you're based in Europe, Air New Zealand operates daily flights from London to both Los Angeles and Auckland — from either destination, you can then easily get over to Tonga.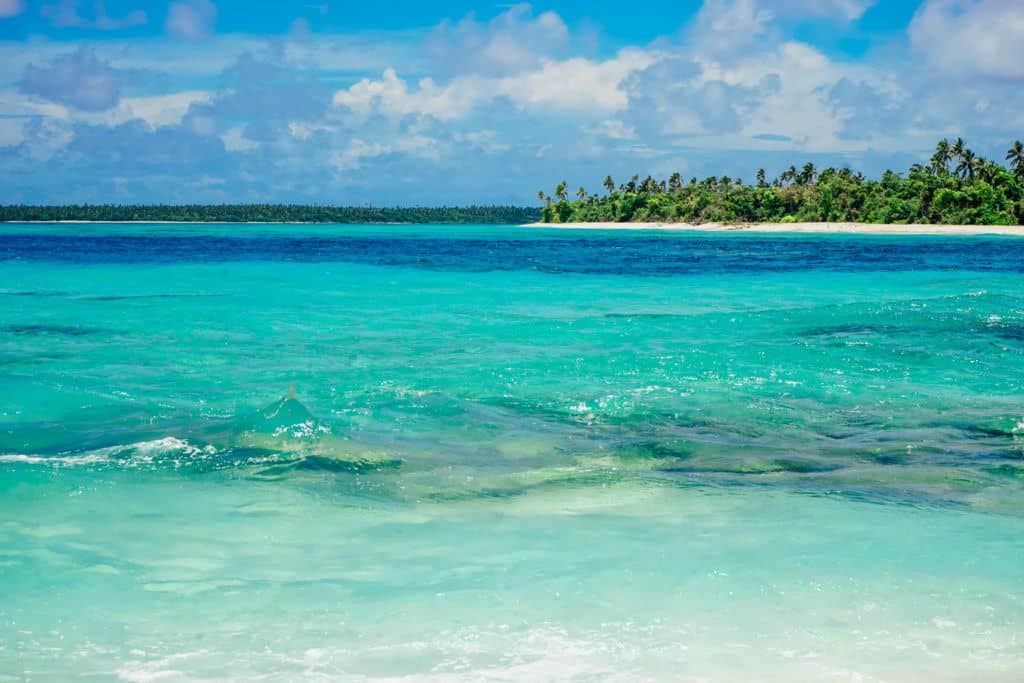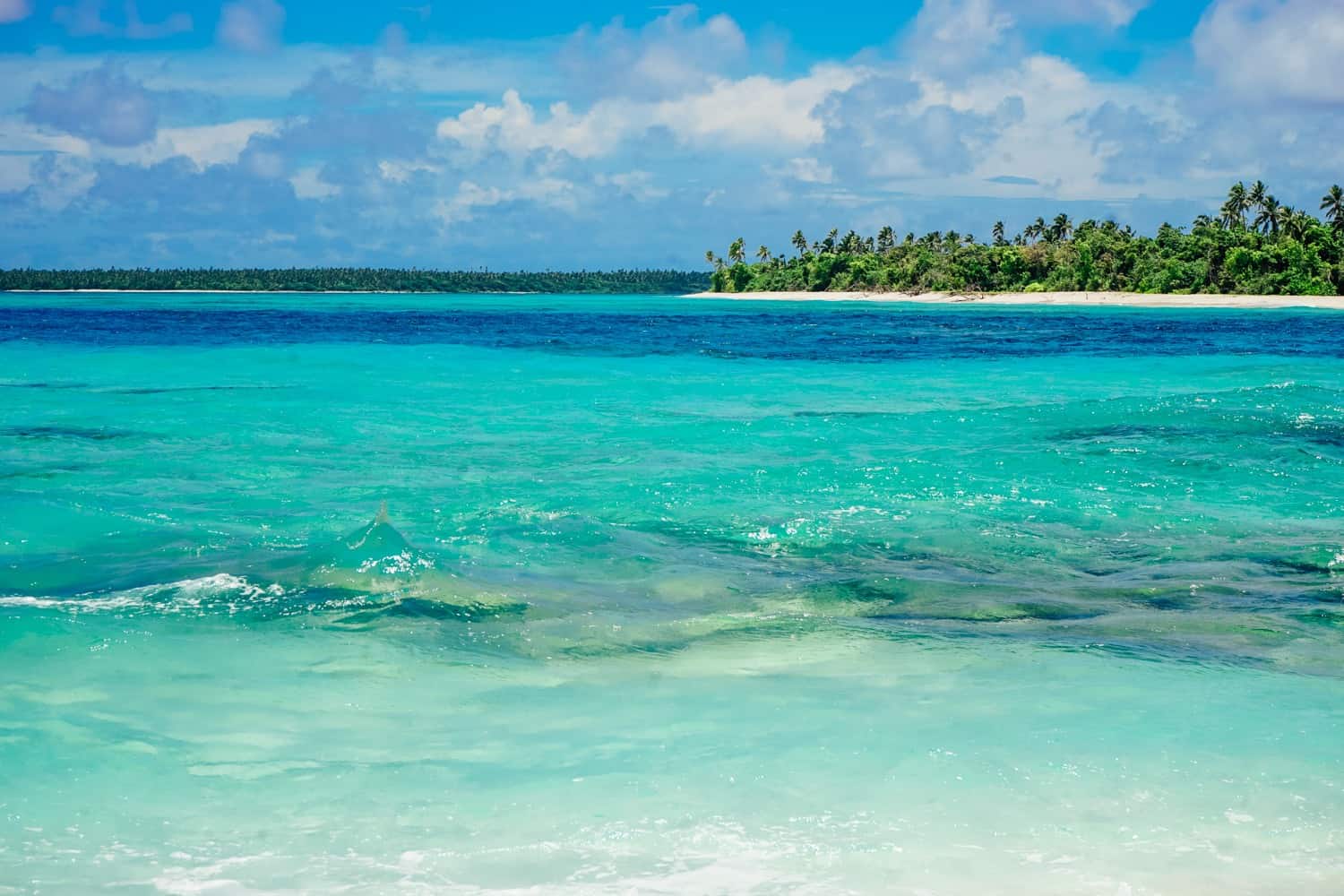 Which are the Main Islands of Tonga?
One of my favourite aspects of travelling to a country that doesn't have extensive coverage online is getting to do tons of research. However, I know not everybody enjoys this part of travel planning, and that's why I'm writing up this enormous guide!
So I knew I wanted to visit Tonga — I love travelling to South Pacific islands, even if I know nothing about them — but I wasn't sure where in Tonga I wanted to visit. After all, in the previous section I mentioned that this country is home to 36 inhabited islands. I had two weeks to travel in Tonga: which three or four islands would be best for me to visit?
It was time to start reading. Well, attempt to start reading, because let's just say that information on the vast majority of these islands is scarce.
I find it easiest to look at a map, so let's a look at how Tonga's islands are spread out. As you can see below, there are four main island groups: the Tongatapu Group, the Ha'apai Group, the Vava'u Group, and the very isolated Niuas Group:
We'll start with the easy one, which is the Tongatapu Group, in the southern reaches of the country. Tongatapu is the name of the main island of Tonga and home to the nation's capital: Nukuʻalofa. It's on this island that you'll find the country's largest airport, so it's most likely that your flight will arrive here. The vast majority of tourists who do touch down in said airport, however, promptly leave. Tongatapu is seen merely as a stopover destination by many: somewhere you have to visit before you set off in search of paradise. Personally, I spent a day on the island, exploring all of its highlights, and found it interesting and worth exploring.
Within the Tongatapu Group, you have several other islands that are worth spending time on. The main one is called 'Eua, and that was the one that I chose to visit. 'Eua is accessible via one of the shortest flights in the world — such a cool experience! — and is home to some incredible hikes and vistas. In terms of other island options, there are a couple of specks of paradise off the coast of Tongatapu that are each home to a resort: Pangaimotu, Atata, and Fafa. If you're in Tonga to have a typical beach vacation full of relaxation and rest, these three are the islands to check out.
North of the Tongatapu Group, you have the Ha'apai Group. This region of Tonga comprises 51 islands, of which only 17 are inhabited. Most visitors choose to visit one of three islands: the main island of Ha'apai, which is called Lifuka; Foa Island, which is home to the incredible resort of Matafonua (one of my favourite places in the world); and Uoleva Island, which offers up Serenity Beaches Resort. There are other islands with accommodation in Ha'apai, but they often can't be booked online, so can be tricky to find and get to.
The most popular group of islands for travellers is the Vava'u Group, which is located north of Ha'apai. Unfortunately, I encountered a tropical storm while I was in Vava'u, so I didn't get to see it at its best, but this part of the country is just as spectacular as the rest. In terms of where to visit, first of all, you have the large island of 'Utu Vava'u. This is where the main town of Neiafu is found. I stayed on this island, in the excellently-reviewed Mystic Sands Resort. The second-largest island in the Vava'u Group is Pangaimotu, and Hunga Island is famous for being the spot where humpback whales gather.
And finally, you have the Niuas Group. And let me tell you, I want to go there so badly! However, there's so little information about these isolated islands online that it left me hesitant to visit.
While getting there is relatively easy — the Tongan airline, Real Tonga, operates weekly flights from Vava'u — what do you do when you get there? There's no accommodation on the islands, for starters, because why would there be when no tourists ever visit? Some people recommend bringing a tent and camping on the island; others urge you to phone the tourism bureau in the Niuas to ask them how to find somewhere to stay.
But what an incredible experience it would be, to visit a place that's been entirely untouched by international tourism. To speak to people who are so isolated from the rest of the world, who only gained access to a high-speed internet connection three years ago. Maybe one day I'll get there!
With your knowledge of the Tongan islands, you can now start to put together a travel itinerary. While I recommend attempting to see an island in each of the Tongatapu, Ha'apai, and Vava'u groups, you'd likely be just as impressed by the country if you choose just one island to explore in depth.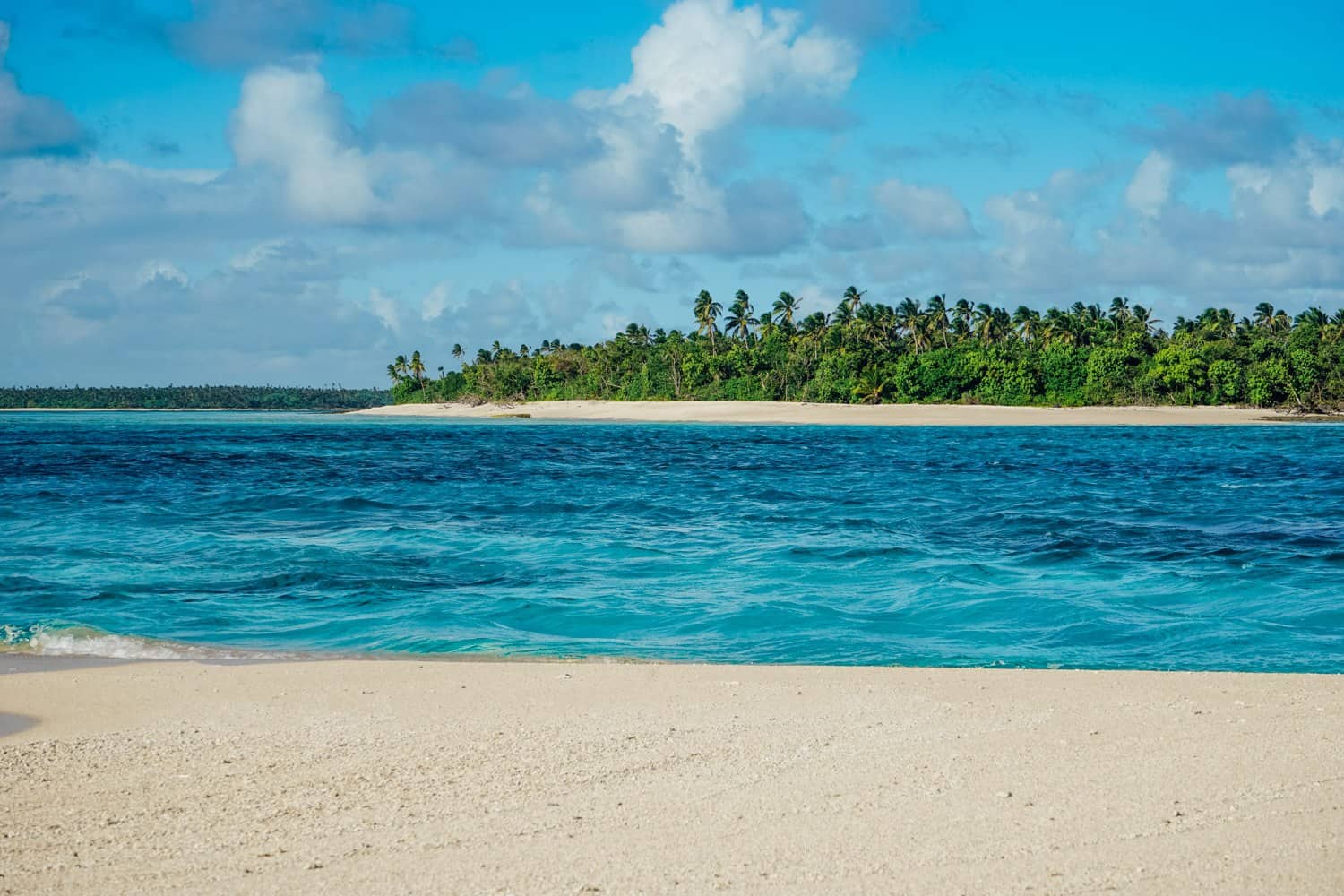 The Best Time of Year to Visit Tonga
I came to Tonga in January because that was my only option.
I spend Christmases in Oceania, where I always aspire to explore a South Pacific country while I'm in town. January, then, is when you'll catch me on the islands. Even though — yes — it's cyclone season.
Despite only being able to travel in the wet season, I've been fortunate with the weather. When I spent three weeks in the Cook Islands, French Polynesia, and Fiji, I encountered just one day of rain. Over my two weeks in Tonga, I experienced only three wet days. So while there's an inherent risk in travelling when cyclones are lurking, I anecdotally have had close to entirely blue sky on my trips.
However.
Unlike other places I've visited in the South Pacific, in Tonga, low season means low, low, low season. I was the only person staying at my hostel in Tongatapu, one of two people in my guesthouse in 'Eua, and spent most of my time in Vava'u alone. Ha'apai was the only spot that had several other people staying in the guesthouse, but it was far from full.
There are pros and cons to visiting at this time of year. The advantages are lower prices, never struggling to get into your dream accommodation (when I visited in 2018, some guesthouses were already fully-booked for high-season 2020), and the islands are peaceful and calm. The odds of sunny days are probably higher than you'd expect, too.
The cons outweigh the pros for me, unfortunately. Most people come to Tonga to swim with humpback whales as the coastline is swarming with these gigantic mammals between July and October. You're practically guaranteed to get up close and personal with newborn whale babies if you take a trip out on the water. If you stay on dry land, you'll likely end up watching whales swimming past your guesthouses from all over the country. Not being able to see the whales on this trip made me feel as though I was missing out on one of the main highlights of Tonga.
On top of that, I found the lack of other guests a little frustrating at times, and the fact that many of my guesthouses weren't running tours in the low season meant I missed out on a couple of activities I had originally hoped to do.
If you can visit Tonga at any time of year, choose the high season unless you're tight on cash or love the idea of being alone in paradise.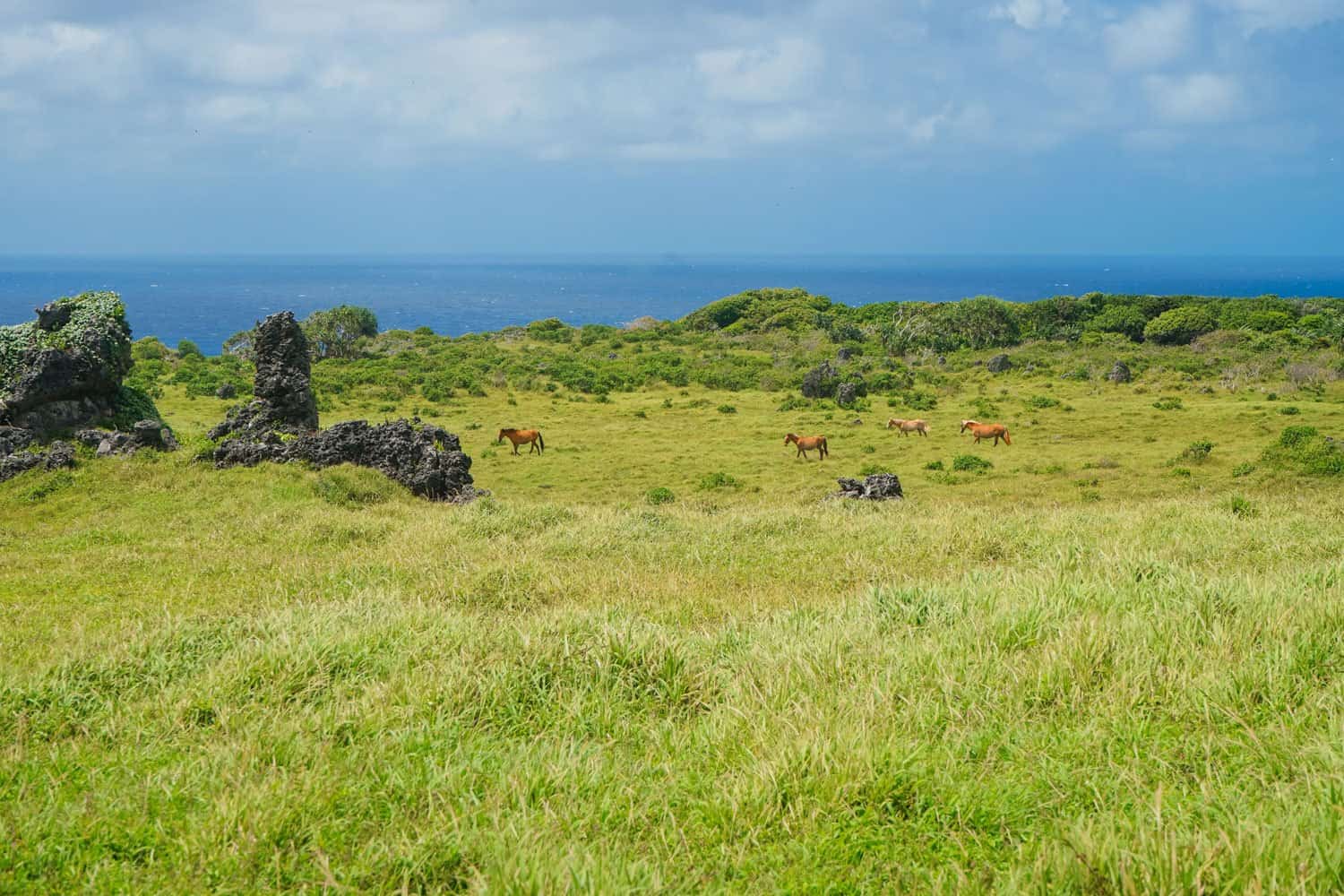 Connectivity Isn't Great
Tonga is a developing country in the middle of a vast ocean, and with that comes a whole bunch of connectivity problems.
My guesthouses in Tongatapu and 'Eua both advertised Wi-Fi online, but when I turned up, both owners informed me they didn't actually have it. Fortunately, I'd had the foresight to pick up a local SIM card from the airport in Tongatapu, along with 3GB of data, in case I needed to tether my laptop at some point during the trip. I did, often.
Despite this, I was barely online. The highest download speed I found was a mere 0.5 mbps in Tongatapu, and it was worse on every other island. I opted for a SIM card from U-Call, which has the best coverage but slowest speeds across the islands, and while I usually had an Edge signal, it was close to unusable for much of the time.
This is a destination in which to disconnect and to relish the opportunity to do so.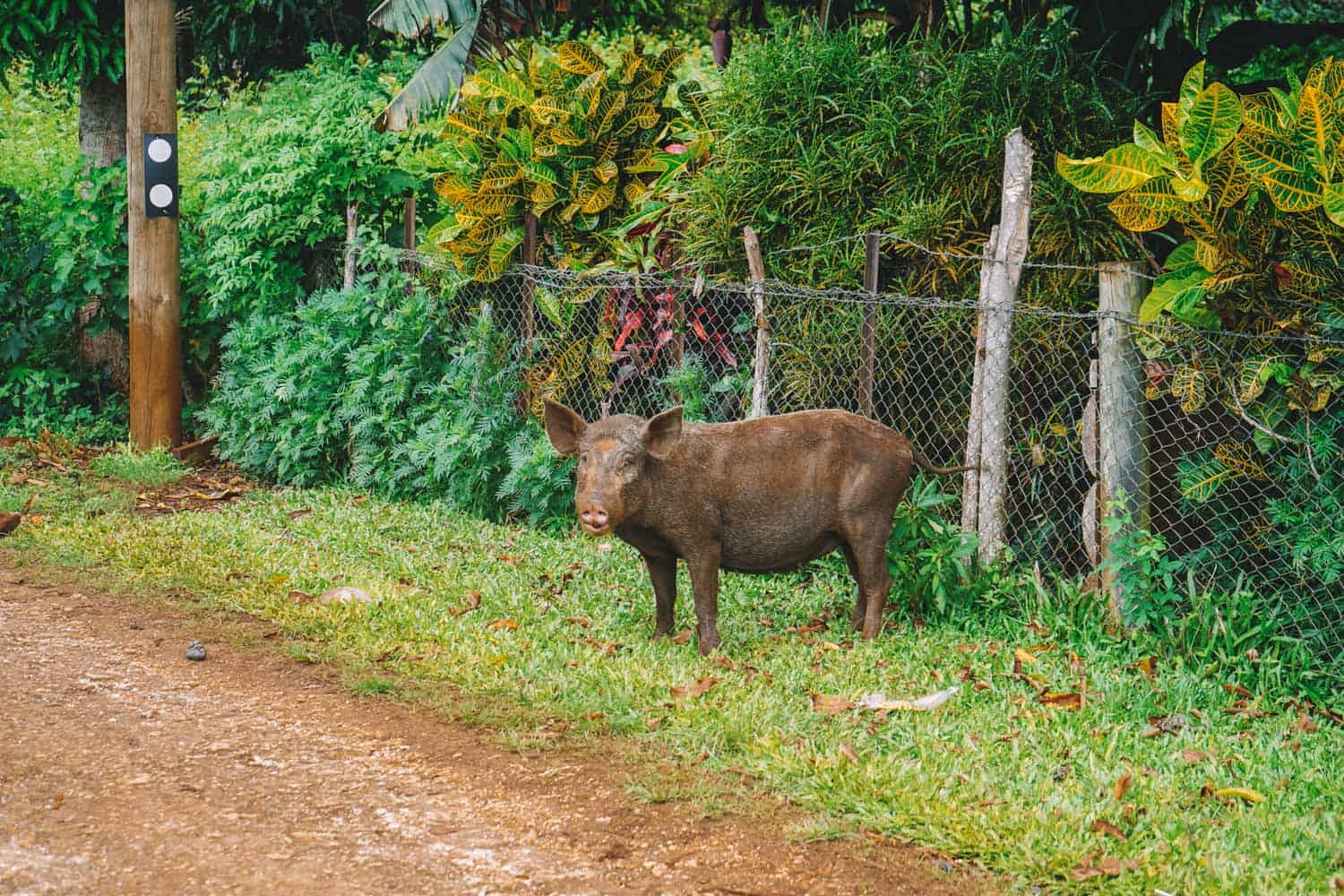 Pigs Are Everywhere
In love with piglets? Come to Tonga. I've never seen so many pigs.
Introduced by Captain Cook in the 1770s, you'll now find them roaming the streets, sunbathing on the beaches, fishing in the ocean, lazing in gardens, attempting to get into stores, and generally running around your feet whenever you leave the house. I must have seen hundreds of pigs while I was exploring the islands, never going more than a few minutes without hearing a telltale grunt.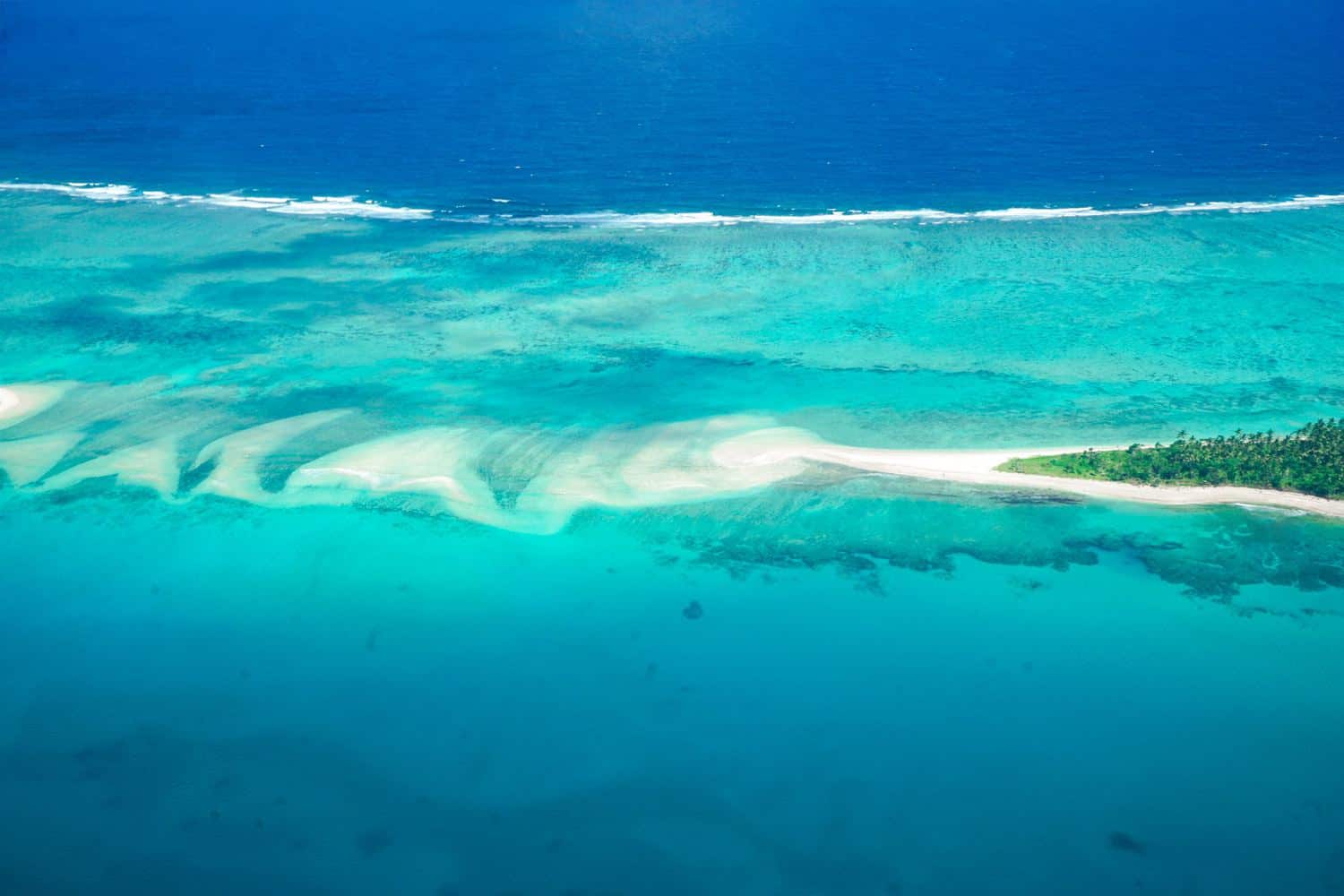 You Can Take One of the Shortest Flights in the World
The flight from Tongatapu to Eua is just six minutes long and let me tell you, it was the longest six minutes of my life.
The plane was more like a canoe than an aircraft, thanks to the lack of aisle, and there were only four seats. Our calm pilot rested his arm out of the window! It was a tiny vessel and a bumpy ride, but a terrifying cool journey nonetheless.
I highly recommend splurging $70 on the flight to experience what it's like to soar in such a tiny object, but if money is tight or nerves are high, you can get the ferry for much less.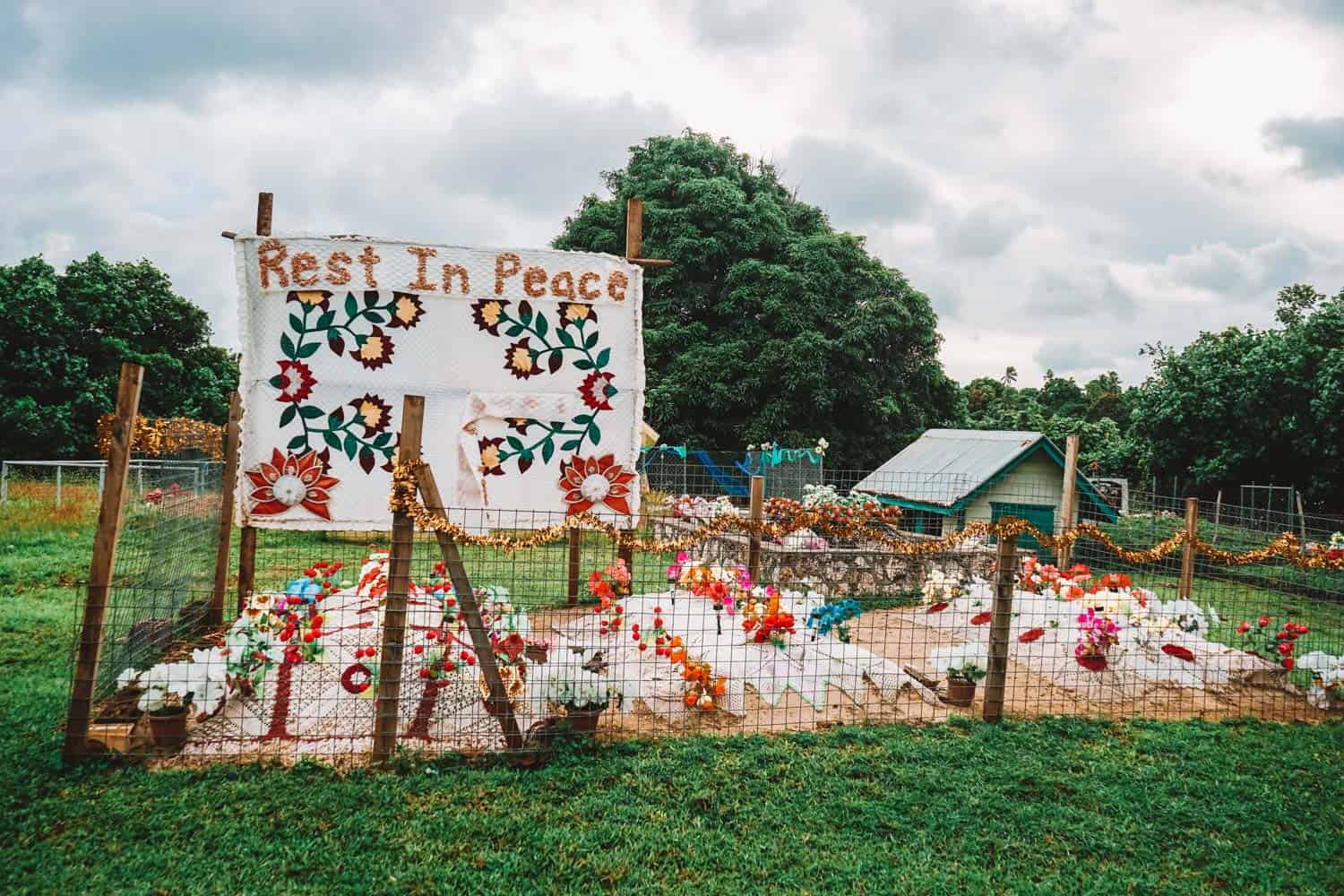 This Is a Deeply Religious Country
Tonga is a very, very Christian country, although the locals will never try to convert you or judge you for not adhering to the same beliefs. There are, however, some rules you should abide by while you're in the country in order to show respect.
It's illegal in Tonga for men or women to go topless, and women should aim to keep their knees and shoulders covered unless staying at a resort. In practice, though, it's fine for men to be topless at the beach, and I spotted plenty of local women wearing vests and strap tops. Wearing black in Tonga means that you are in mourning, so it's wise to avoid wearing this colour if you're not grieving.
The greatest impact the religion will have on your trip is keeping you inside on Sundays. On Sunday, it's against the law to exercise in Tonga, and no business transactions can take place either. That means no swimming, so running, no snorkelling, no kayaking, no doing laundry, no working… this is a day to go to church, to feast, and to spend time with family. Plan for this in advance so that you don't slip up and discover you don't have anything to eat while there are no stores open.
At one particular church, I discovered that at every Sunday service, somebody will stand up and announce the sums of money each member has donated to the church that week. There's so much pressure on the locals that they'll often take out large loans to ensure they contribute the highest amount of money. The interest rates, unsurprisingly, are extremely high.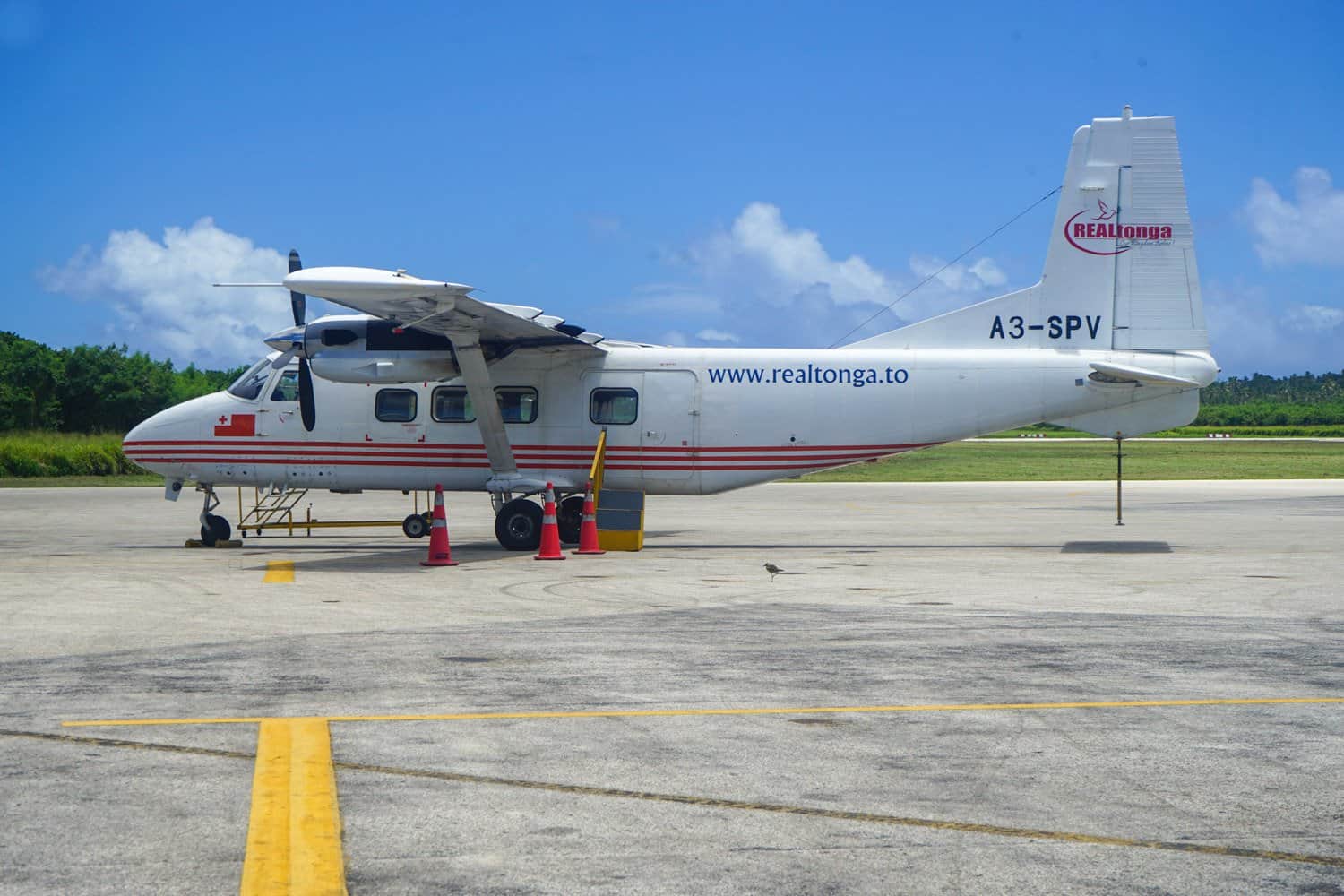 Real Tonga is a Pain in the Ass
If you want to get from island chain to island chain, the easiest way to do so is with Real Tonga. They're the only airline to operate in the country, and they're, quite frankly, atrocious.
For starters, they operate an MA60, which is otherwise known as the Death Plane. It's one of the most dangerous planes to have ever taken to the sky and regularly crashes. When Real Tonga added the MA60 to its fleet, New Zealand suspended $10 million of aid and issued a travel warning for the country. While Tonga withdrew the MA60 shortly afterwards, they've since snuck it back into their lineup, and I was unfortunate enough to fly on it.
It is my belief that although the MA60 is controversial and dangerous relative to other aircraft, it is likely safer than travelling by car. Or at least that's what I told myself when the plane started juddering mid-flight.
Aside from that, flying Real Tonga can be a real frustration. I wasn't issued any kind of receipt or boarding pass for my flight to 'Eua, so had no idea if I was even on the flight until I got to the airport. They cancel flights regularly and often alter departure times without informing passengers. Once, when a pilot fell ill for a week, they cancelled all flights over that time because they had nobody else to cover for him.
My biggest recommendation would be to spend the night in Tongatapu before leaving the country because flights are regularly cancelled.
I ignored this advice and booked my flight from Vava'u to Tongatapu, then had an onward flight to Auckland two hours later. My flight out of Vava'u was cancelled and there was no way off the island for several days. I had to contact a friend in a panic and get him to log onto the Air New Zealand website and change my flight for me. My internet, unsurprisingly, was too bad to do so.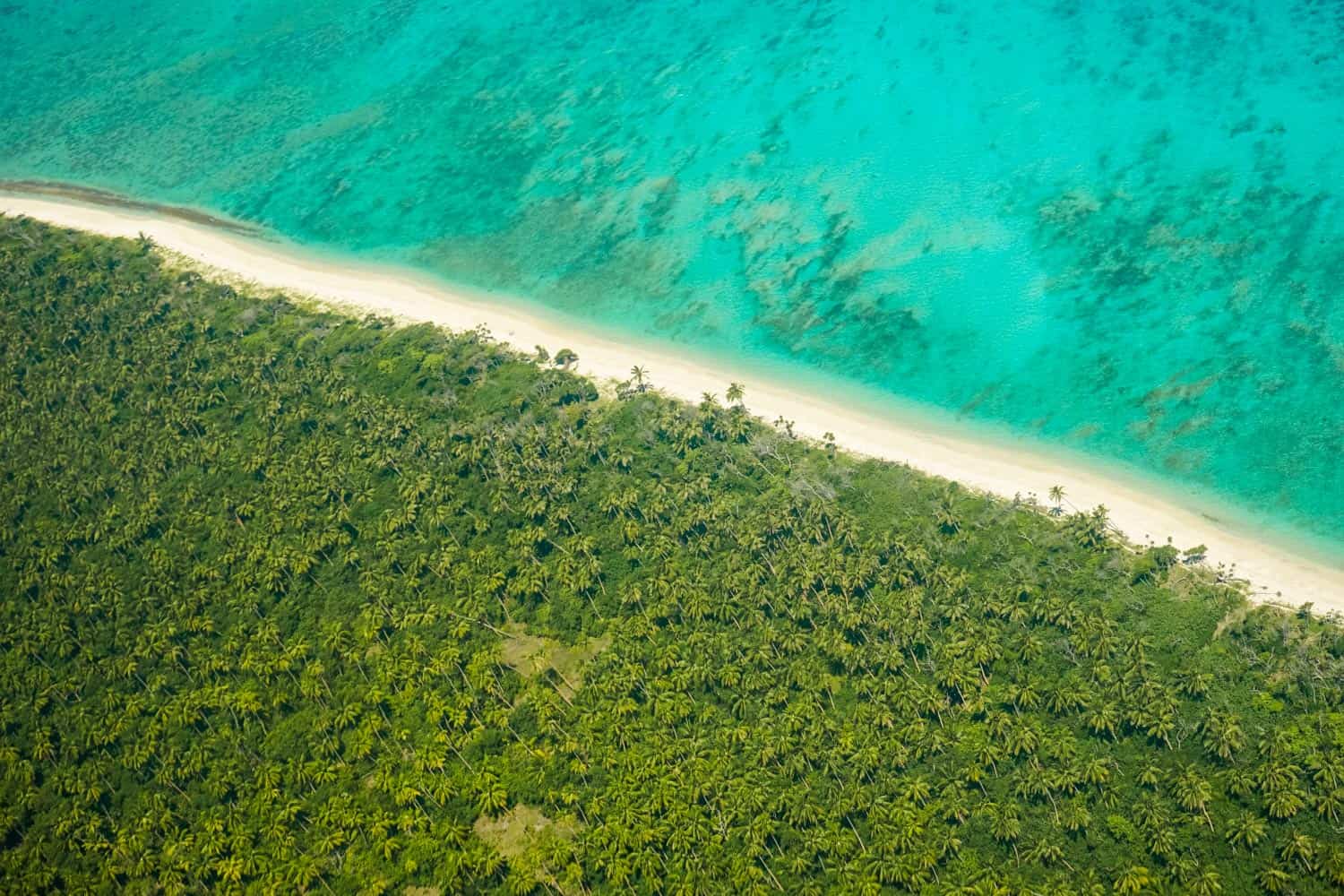 Let Me Tell You About the Fakaleiti
Fakaleiti roughly translates to "like a girl", and is one of the more interesting aspects of life in Tonga.
Traditionally in Tonga, if a woman were to give birth to only boys, she could then go on to choose one of them to be her daughter. The designated daughter, the "fakaleiti", would then be raised as a woman, taught to cook, clean, raise siblings, and take care of her parents. She would wear dresses, if she wanted, and learn to apply makeup. In more modern times, being a fakaleiti can be a lifestyle choice, and there is little stigma attached to it, although there are occasional reports of physical abuse.
Fakaleiti don't label themselves as gay or transgender, and reject being referred to by Western terms that can't fully explain this type of — I guess — third gender. They generally consider themselves to be women and as such, have sex with straight men. Some, however, will marry women and go on to have children.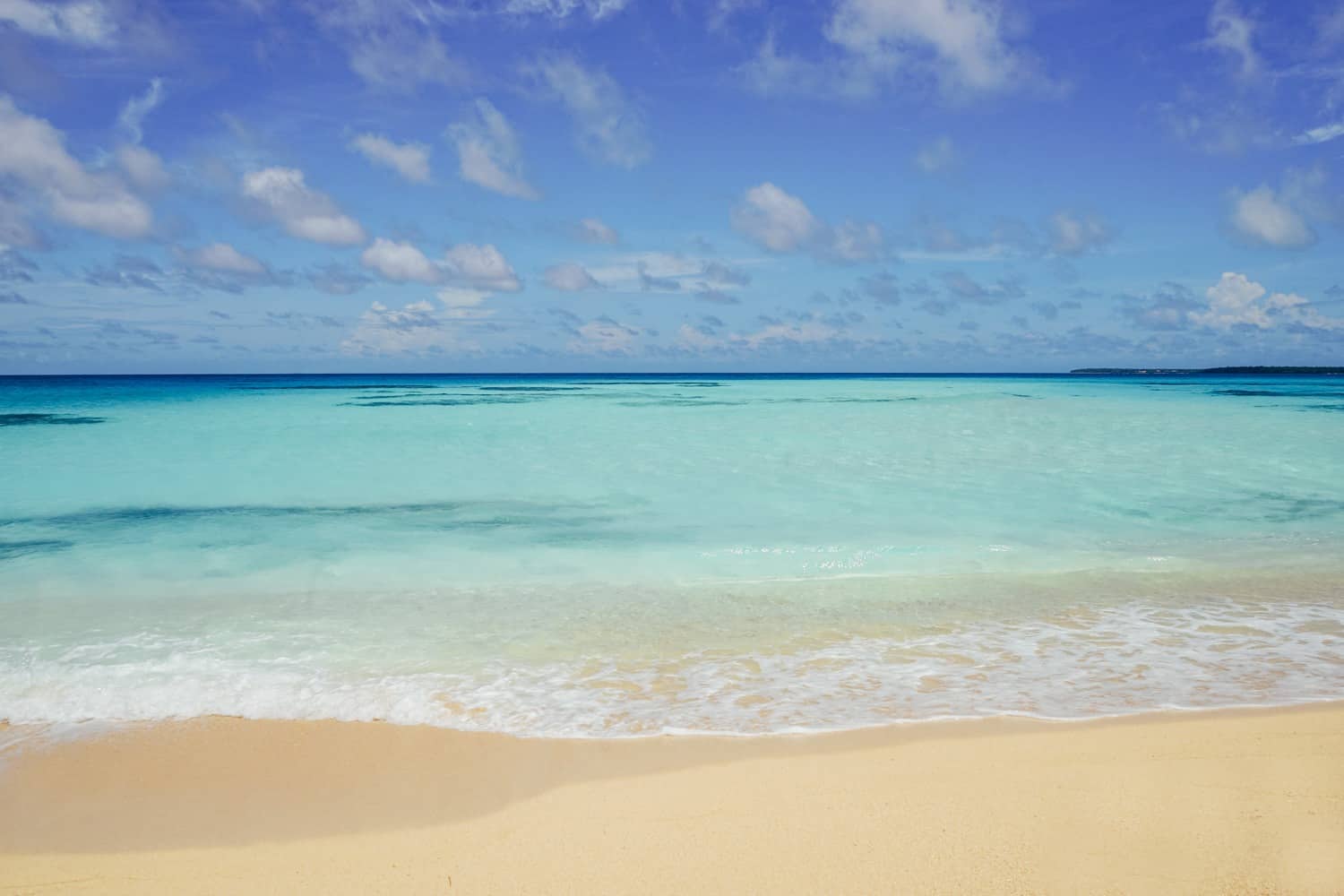 The Eldest Sister Ranks Highest
If you thought that was fascinating, wait until I delve into social status within the country.
Men are ranked higher than women in Tonga, but within the family, the sisters are ranked higher than the brothers. The eldest sister in every family holds the highest status within the home, and in Tongan culture, if this sister asks any of her younger brothers or sisters for anything, they must give it to her and always obey her orders.
Most surprisingly of all, if the oldest sister decides she quite likes the look of her younger sister's newborn baby, SHE CAN TAKE IT. Yep, she can take that baby and raise it as her own, and there's nothing the younger sister can do about it. It happened to one of the staff members at a guesthouse I stayed at — and she was devastated — so it didn't appear to be that rare of an occurrence.
While it's pretty bewildering to those of us who haven't been raised in a similar culture, it's important not to judge. Many Tongans are happy and accepting of these social rules, and indeed, many younger siblings are more than happy to give their children away to their sister; to share everything within the family unit. It's a complex issue and you'll hear differing opinions on it as you travel across the country.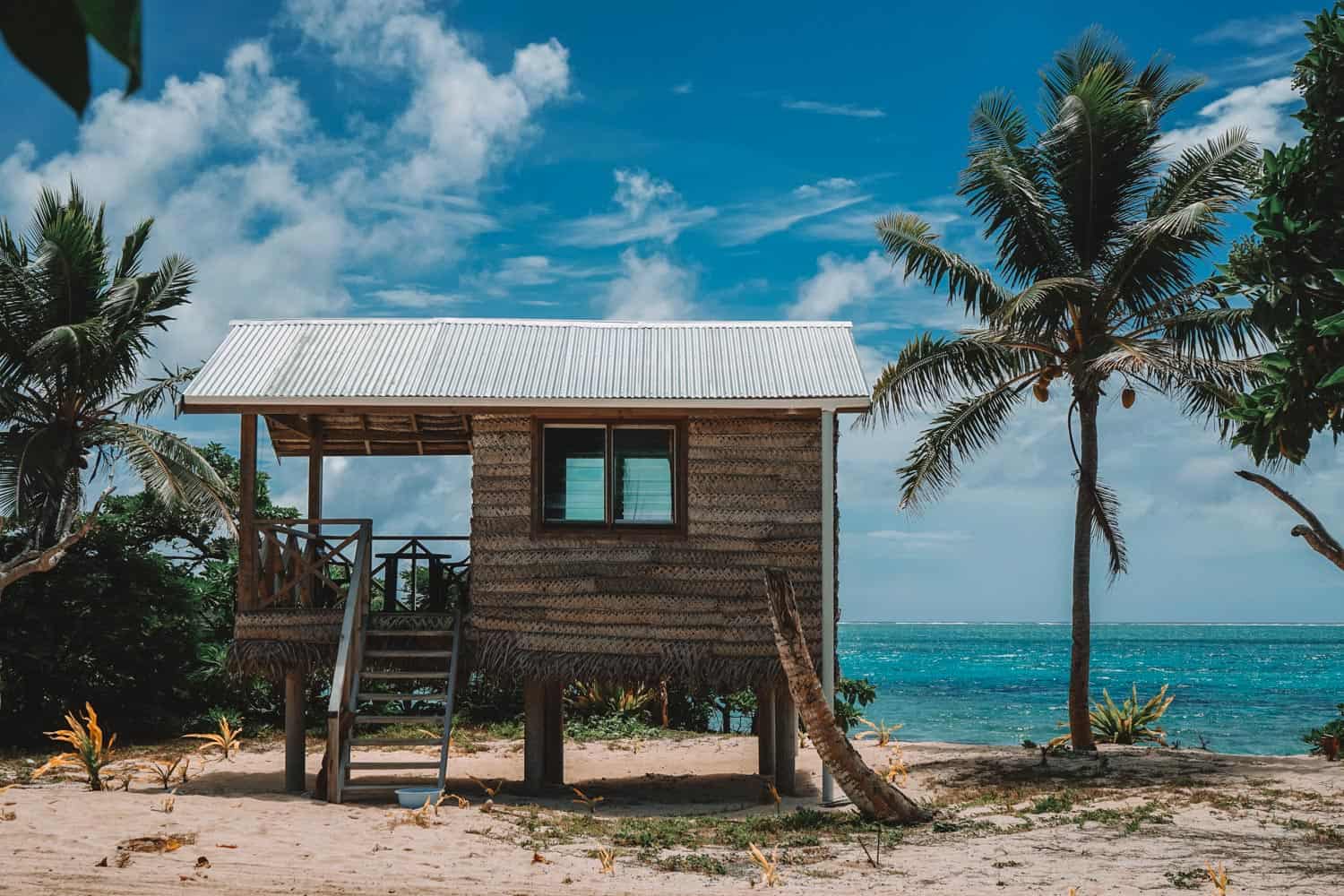 You Can Go Budget or Full-On Luxury Travel Here
I found Tonga fairly easy to visit as a budget backpacker, as there were plenty of hostels and cheap guesthouses on the islands, inexpensive ferries if you didn't want to take a flight, and the food was cheap.
In Tongatapu, my hostel charged just over 8 USD for a dorm bed, and there are backpacker islands in Vava'u that charge $30 for a private room on your own little beach.
That's not to say that this is a destination for roughing it. There are plenty of gorgeous resorts and luxury experiences to indulge in if you're willing to splash the cash. I planned to stay at the incredible Mounu Resort while I was in Vava'u, at a ridiculous $300 a night, but cancelled at the last minute when it was pouring with rain. It looks like one of the most spectacular islands on the planet.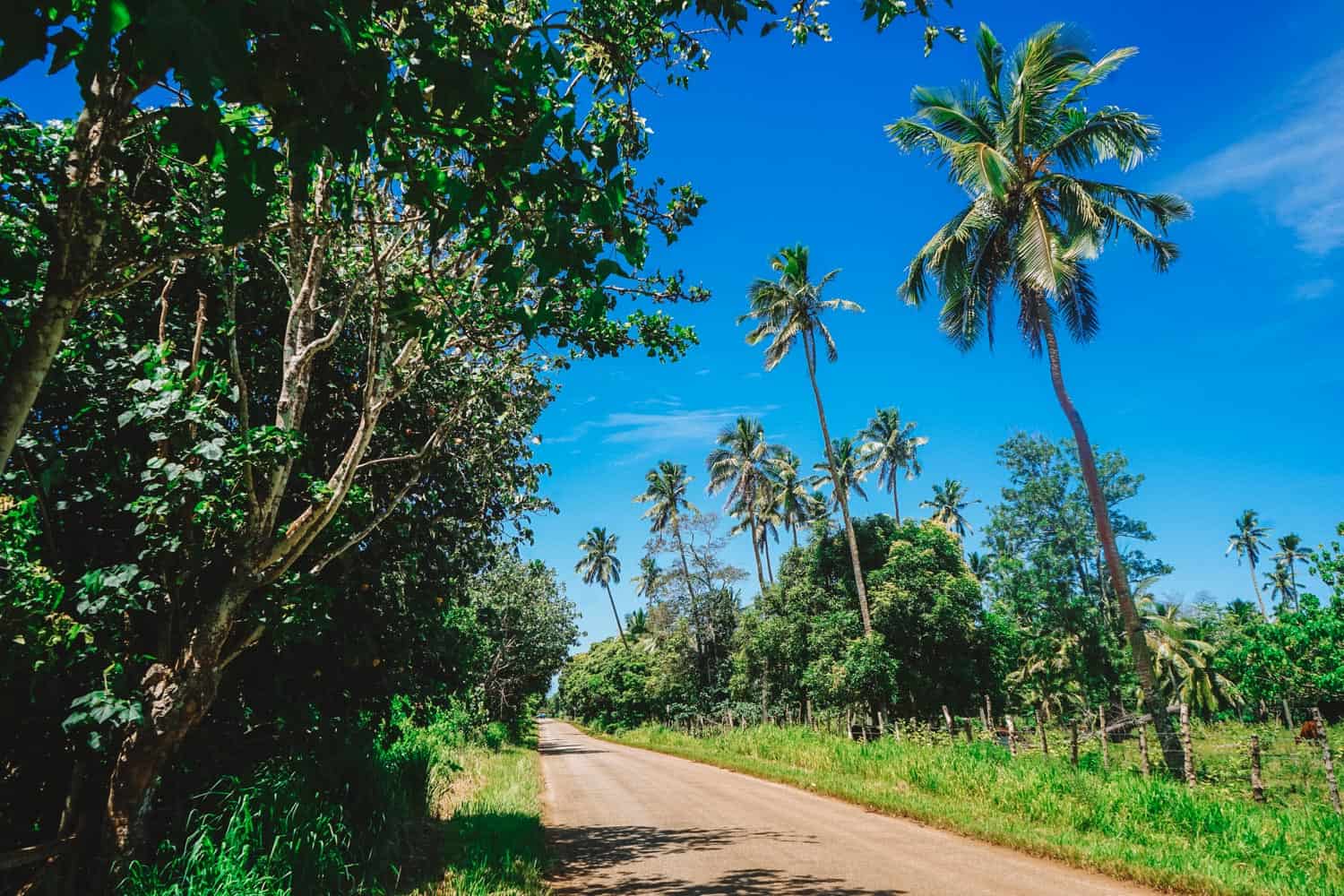 There Are No Traffic Lights in the Country
Fun fact! It really doesn't affect your trip either way, but I found it fascinating. I'm not sure I've ever been to a country that doesn't have traffic lights before.
Island time is king on Tonga and most cars drive so slowly that it's never a problem. Outside of Tongatapu, traffic is very, very rare.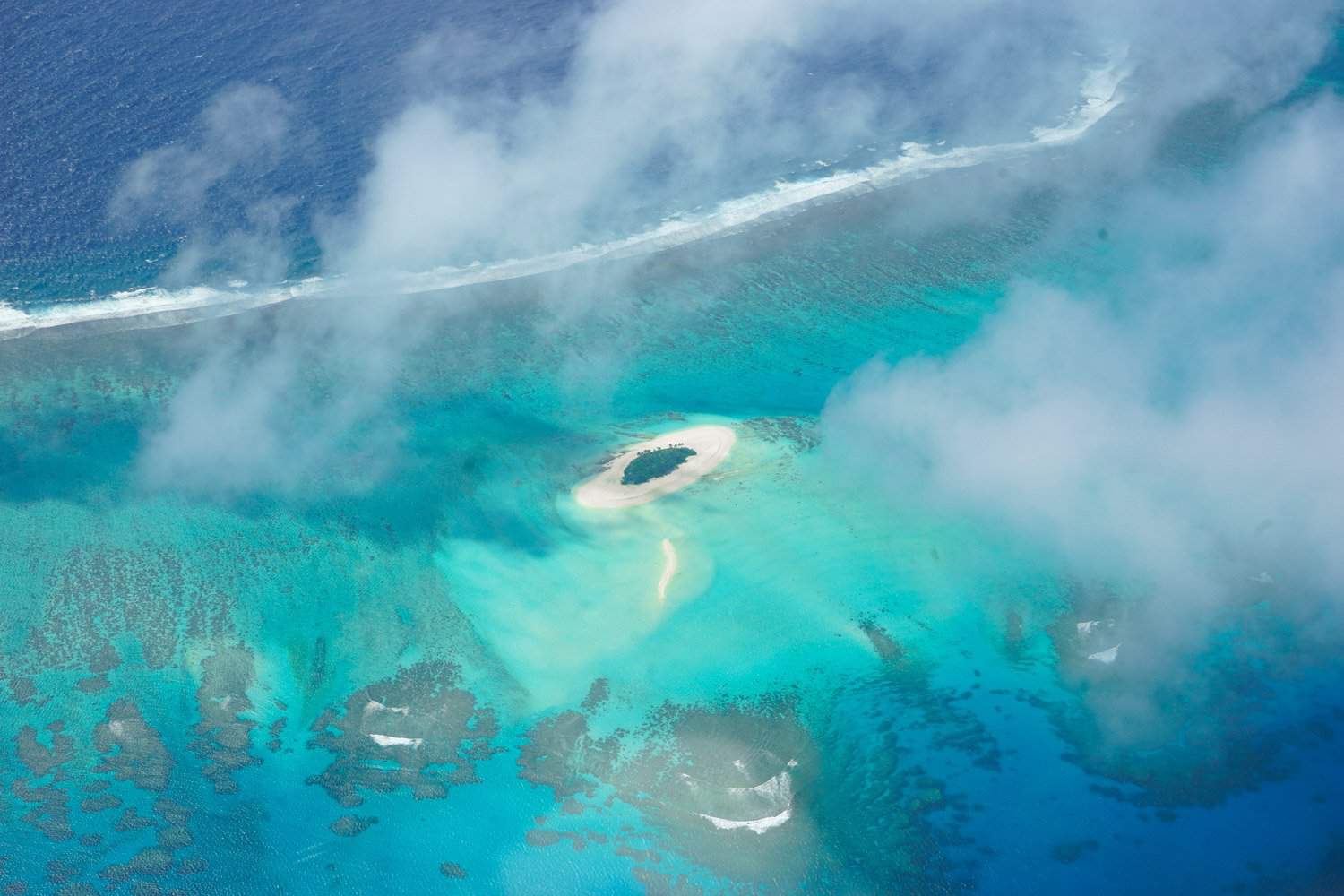 There are so Many Islands to Explore
Despite Tongatapu and 'Eua being less than a 10 minute flight away, they couldn't have been more different.
You should go to Tongatapu to learn about the country. Its geography is flat, with a huge lagoon and a coastline lined with blowholes. There are royal tombs and palaces to take photos of, ruins to explore, and landing sites of famous explorers to check out. The island is blanketed in palm trees and looks beautiful when you come into land.
On the other hand, 'Eua is a eco-friendly destination that's all about hiking. It's got rainforests and mountains, along with beautiful beaches in the west and rugged cliffs in the east. There are wild ponies to wander alongside, and myths and legends to learn about as you trek through the jungle.
Ha'apai is simply gorgeous. Every single beach photo in this post was taken in Ha'apai, and after seven years of travel, I count them as some of the best I've ever stepped foot on. You come here to relax, unwind, and skip along some of the most incredible beaches ever. There are around 50 islands making up the entire island chain, so you could spend months working your way around all of them.
In Vava'u, you come to swim with humpback whales, to charter a yacht, and to dive in clear waters. Vava'u has more tourists, nightlife, and accommodation options than Ha'apai, although the islands are still calm and sleepy. There are 50 islands in the Vava'u island chain.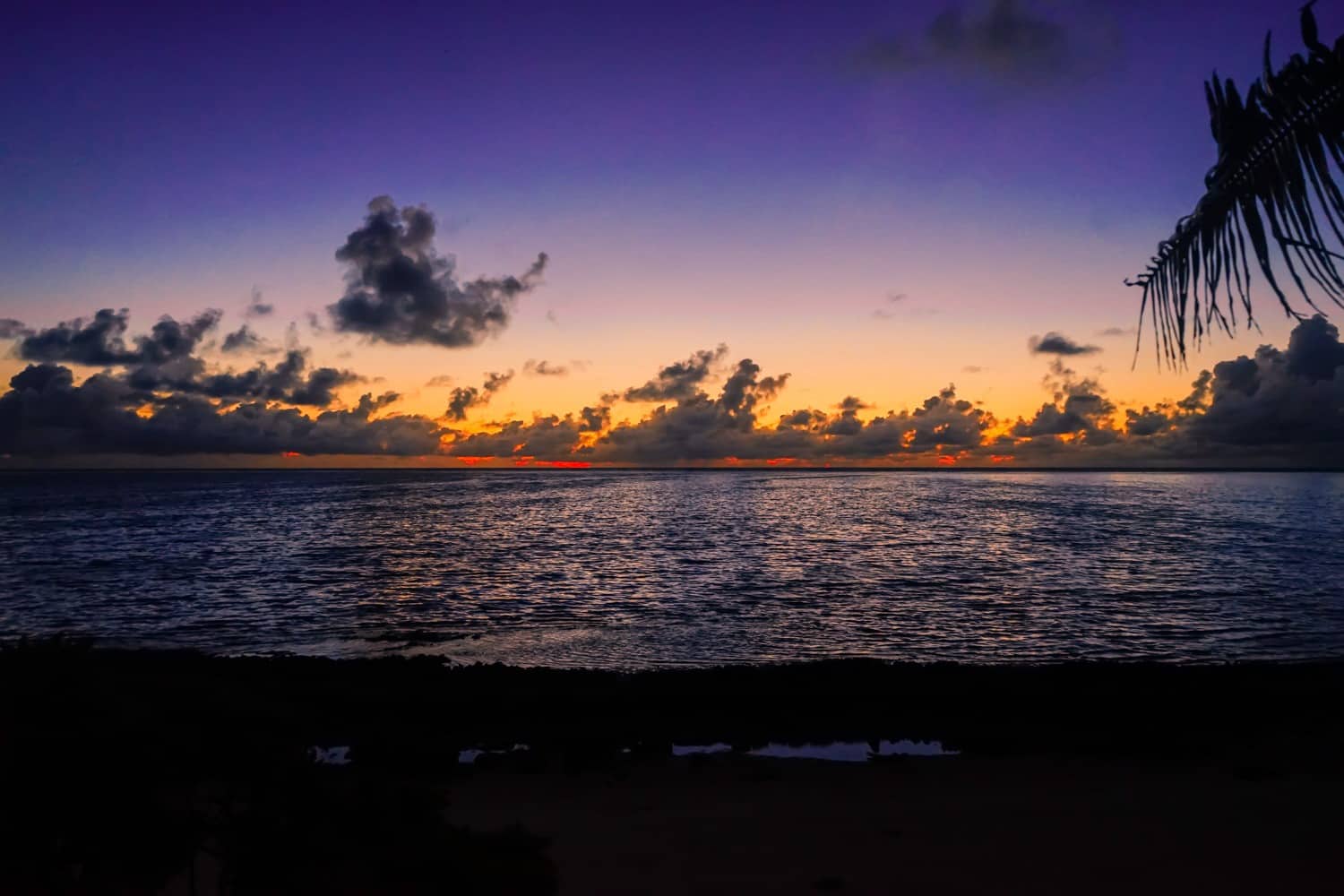 There Are Some Seriously Isolated Parts of the Country
If you're more adventurous than I am, you might consider checking out the Niuas. Despite finding flights that could take me there and back while I was in the country, I wasn't quite brave enough to venture over there. There's simply no information about them online.
Any (extremely dated) articles about the islands mention there being one guesthouse you can stay on, but then I discovered an article saying it had closed down after a tsunami in 2009 and hadn't yet been rebuilt. On the Tongan tourism board website, they encourage you to phone the tourism bureau in the Niuas to ask them how to find somewhere to stay. Other websites advise you to turn up with a tent and camp, or arrive and hope a local invites you into their home to stay.
It sounds like such a fascinating part of the world, as there are very few places that have been influenced by close to zero tourists these days.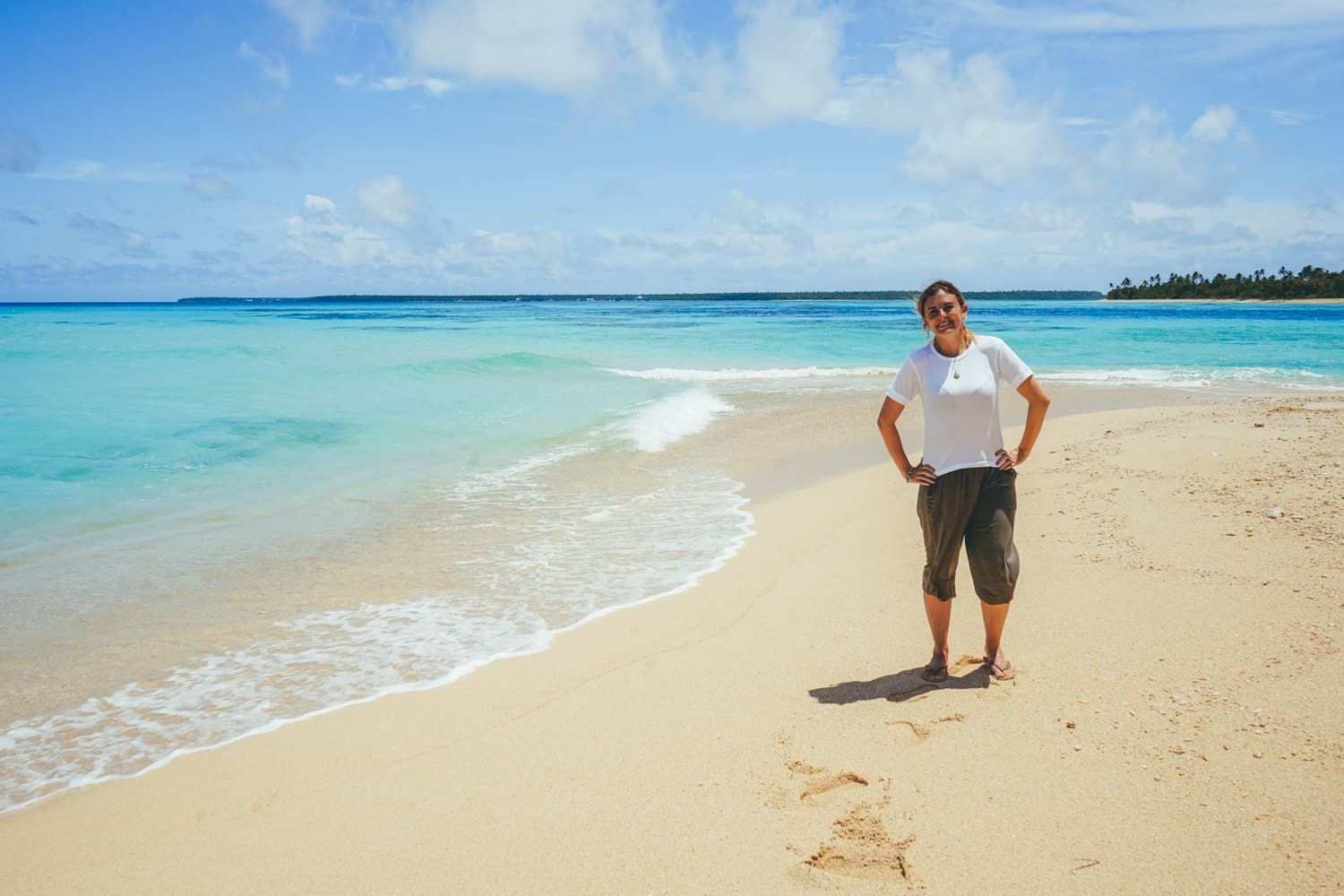 Obesity is a Big Problem
On my flight from Tongatapu to Auckland, I couldn't believe how many people requested a seatbelt extender.
Tonga has the highest levels of obesity in the world, and a big part of that is due to the type of food they import from New Zealand. Mutton flaps are popular in the country and they're full of calories — 420 per 100 grams. An incredible 40% of the population has type 2 diabetes and more than 90% of the population is overweight or obese. Life expectancy has dropped from 75 to 64 in recent years.
In Tonga, big is seen as beautiful. At feasts, Tongans will say, "Kai ke mate," which means, "eat until you die." One of their kings — Tupou IV — holds the Guinness world record for being the heaviest monarch, weighing in at 220kg/33 stone/440 lbs.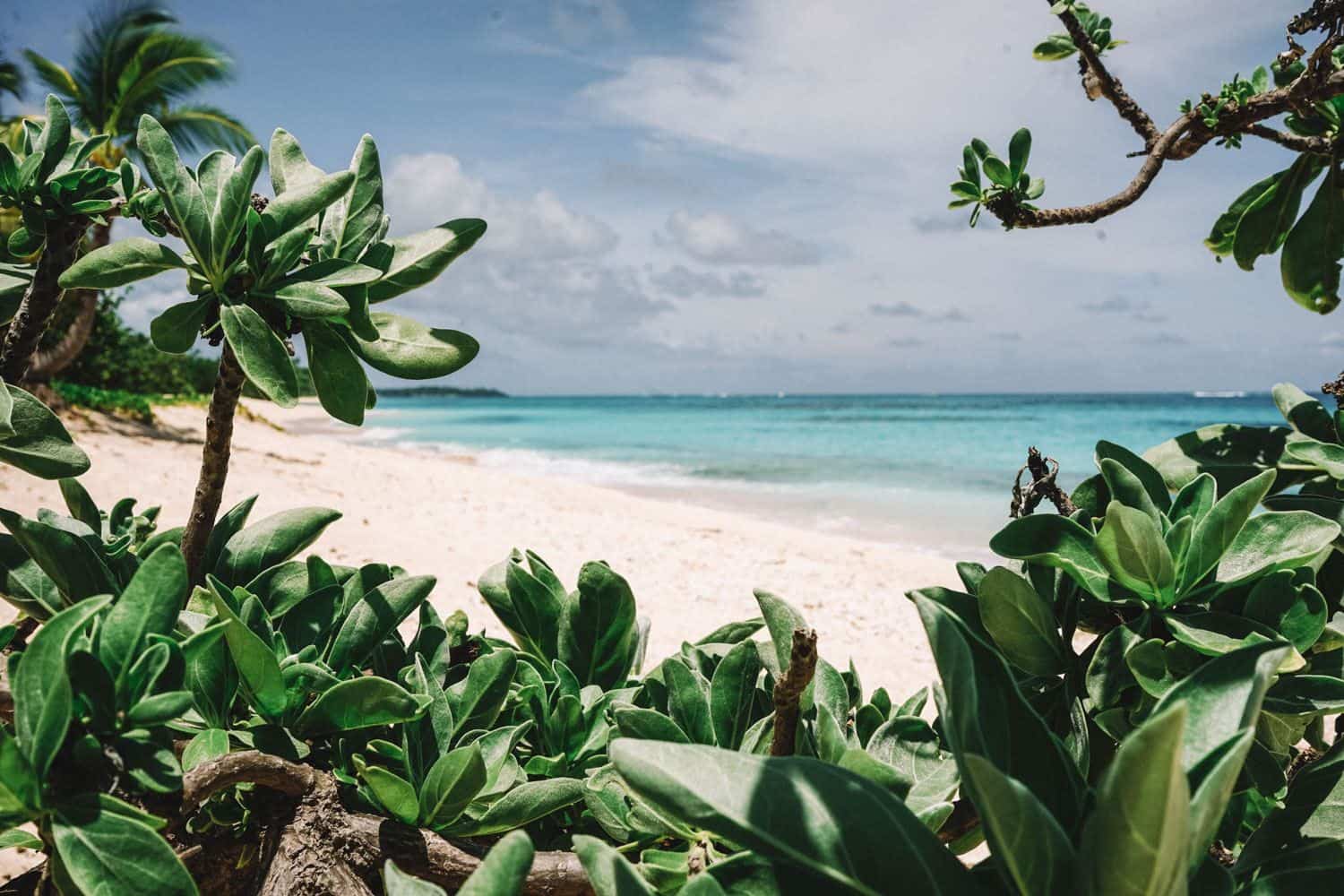 The Locals are Lovely
In Tonga, every single local I encountered was friendly, welcoming, and helpful. I could sit and list the dozens of positive interactions I had, but I'll narrow it down to just a few.
In Vava'u, every time I left my room, a local would pull over in their car and ask if they could drive me to where I was going.
When I told a local in 'Eua that I was hoping to try a traditional Tongan pig while I was in the country, he rang around the island and 30 minutes later, presented me with a bag of crispy pork that his friend had brought around from his family's feast.
When I got sick in 'Eua, the airport staff told me they'd hold the plane for me[!] while my guesthouse owner took time out of her day to take me to the hospital, where the doctor left her home on her lunch break to prescribe me some medication.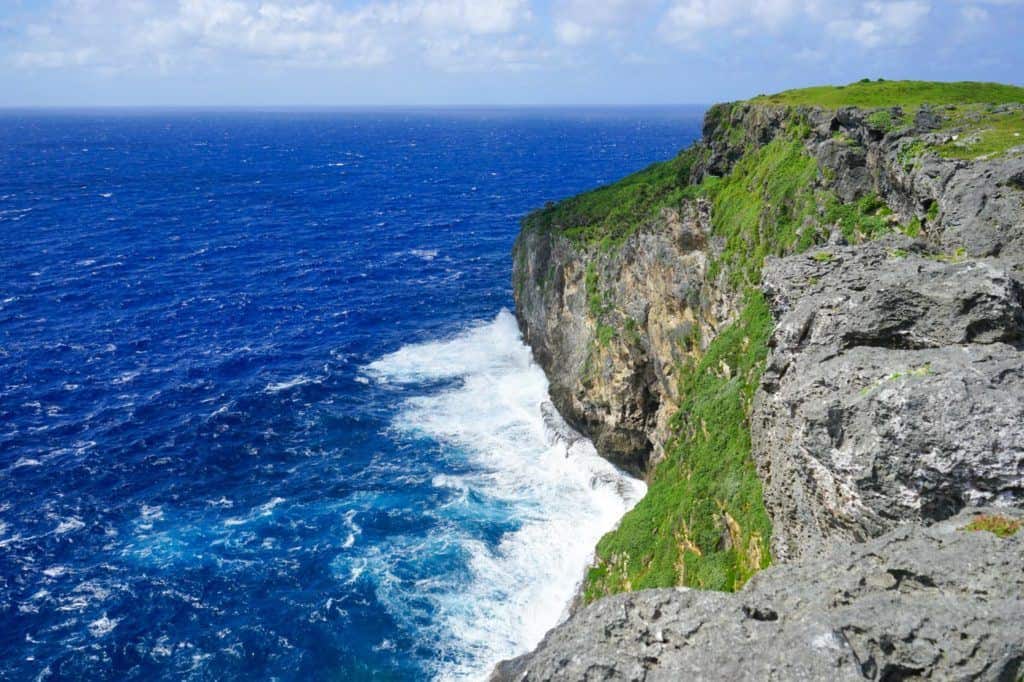 Is Tonga Safe? Absolutely!
I've visited a hundred countries over my past decade of travel and I can tell you that, in terms of the safest countries in the world, Tonga would rank in my top 10. Crime levels are close to non-existent in this country and scams are rare. I listed all of the ways that I felt welcomed in this country in the previous section, and I at no times felt as though I was in any kind of danger while I was island-hopping around.
I felt safe on Tonga as a solo woman and didn't feel as though I attracted any unwanted attention while I was on the islands — and I met other solo travellers exploring the country, too.
As with everywhere in the world, you'll want to take basic safety precautions, as you would similarly do at home. So, not drawing attention to expensive drones and cameras, dressing conservatively, taking care not to drink too much alcohol, keeping a close eye on your possessions in public places, and all of that common sense-type stuff.
But if you're worried about visiting Tonga due to safety reasons, let me reassure you: this is a wonderful country that will welcome you with open arms.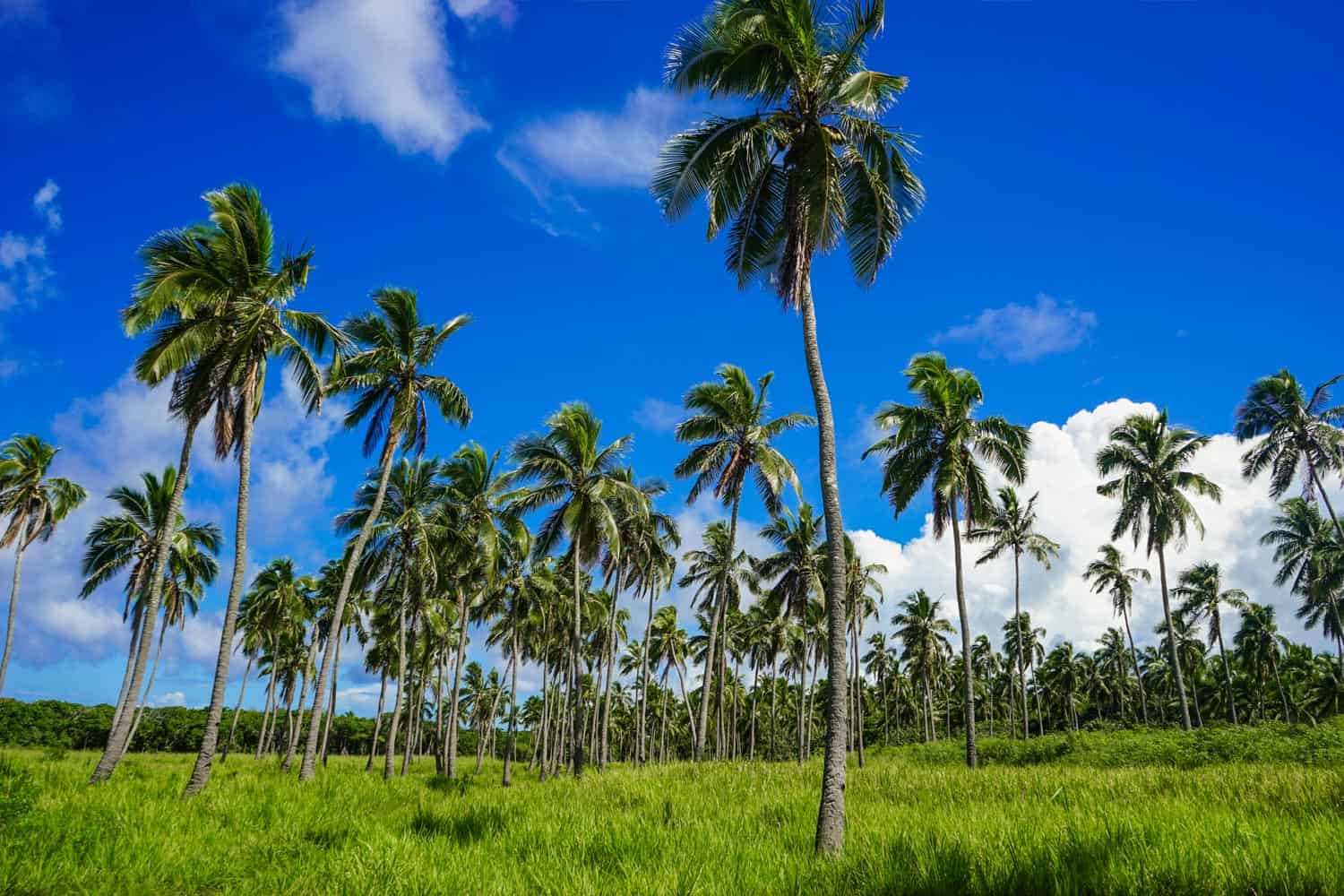 There Still Isn't Much Information About the Country Online
It isn't too difficult to gain a general idea of where you should go in Tonga. You have the main island of Tongatapu and tiny 'Eua, which is just off the coast of Tongatapu. North of these are the island chains of Ha'apai and Vava'u, and then even further north you have the remote Niuas.
When it comes to deciding which islands to visit in Ha'apai and Vava'u, though, I struggled. There isn't much accommodation listed online and many of the guesthouses require you to call to book, listing their phone number on a website that hasn't been updated in a decade. Because some islands don't have power, it's tough to get in contact with anybody.
I didn't bother grabbing a Lonely Planet Tonga for this trip because I'm travelling for six months and didn't want to lug it around the world with me, but I think it would have helped a lot to have a breakdown on which islands are best for which type of person. I did a lot of guesswork; most of it paid off.
I learned that Tongatapu is worth visiting for one or two days, 'Eua is underrated and worth spending three or four days in, Ha'apai is paradise and you should spend as long as you can in Matafonua Lodge, and Vava'u should take up as much space in your itinerary as Ha'apai.
And that's Tonga! I absolutely fell in love with this gorgeous country and can't wait to start writing about it in more depth. Have I convinced you to visit yet?
Related Articles on Tonga

💰 The Cost of Travel in Tonga: A Detailed Budget Breakdown
🤫 Lying to Locals in Tongatapu
🐴 Exploring 'Eua: Tonga's Forgotten Island
🏖 Ha'apai: My South Pacific Island Paradise
🏥 Hospitalised in Tonga