One of my highlights of this year has been successfully walking the South Downs Way.
This trail is so beautiful! Not only is the scenery breathtaking, but the pubs are cosy, the locals friendly, and the walking challenging — but in a good way. I loved the simplicity of a long-distance walk, where you're offline and immersed in your destination, where the only thing you have to worry about is putting one foot in front of the other. Where the only decision you have to make is which excellent pub to eat your meals in.
Today, I'm excited to start writing about my walk by sharing a huge overview of what it's like to tackle the South Downs Way.
Let's get stuck in.
What is the South Downs Way?
The South Downs Way is one of the 16 National Trail walks that criss-cross their way around the United Kingdom. National Trails are long-distance footpaths, with distances ranging from 79 miles on the Yorkshire Wolds Way to a whopping 2,795 miles[!] on the England Coast Path.
The South Downs Way comes in at 100 miles and runs between Winchester and Eastbourne through the South Downs National Park. It's said to be one of the easiest of the National Trails, but it was its reputation as one of the prettiest that had me sold.
Plus, its location in the south of England meant that we would be more likely to encounter dry weather. That's always an added bonus in this country!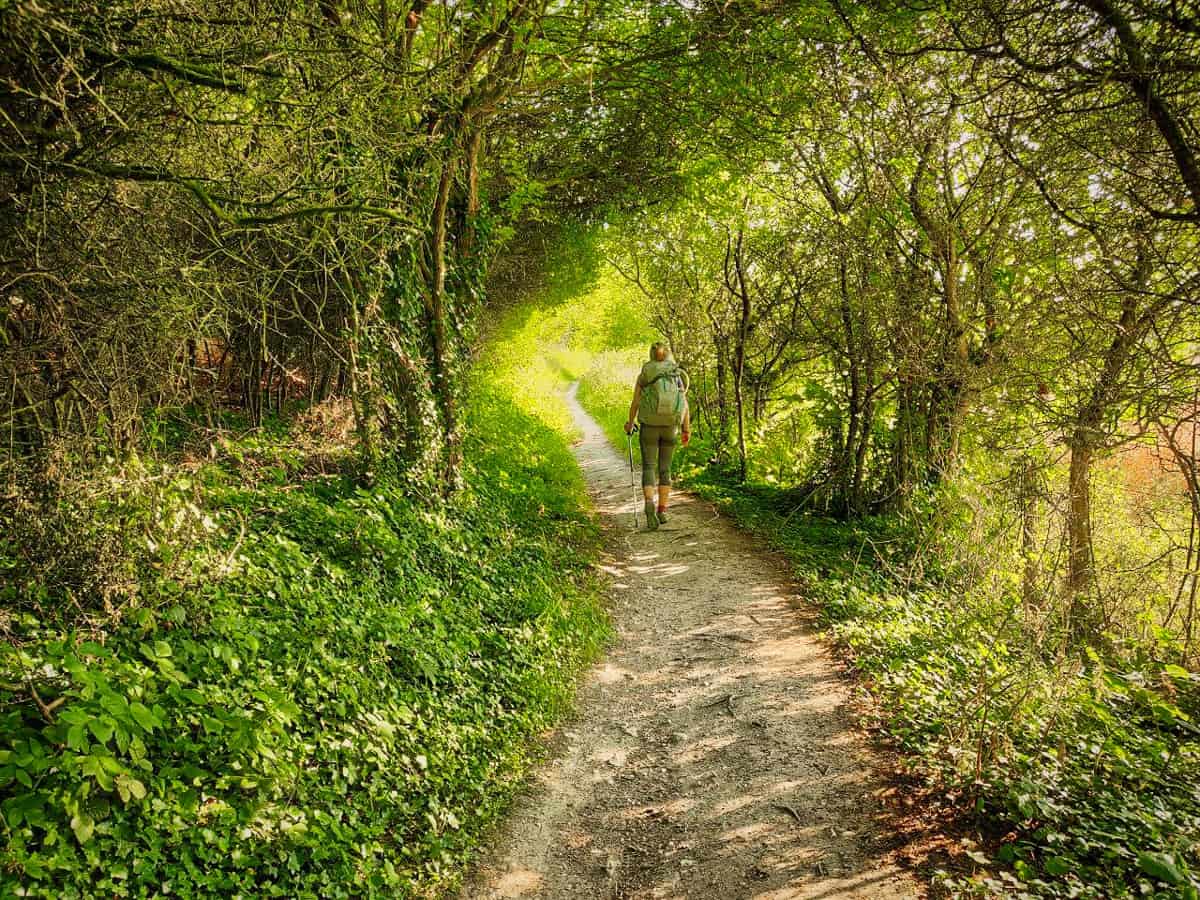 Most People Walk it in Eight Days
There's a decent amount of accommodation around, with villages scattered all along the trail — but not on the trail — so it's fairly easy to set your own milage for each day.
Some people opt to blast through the trail in six days and some take as many as 10. We settled on eight days for our walk, although by the end of the adventure, we both agreed that one extra day would have been appreciated. We had two challenging walks, where we racked up 20 and 22 miles, but the rest of our mileage felt comfortable.
This is the route we decided on:
Winchester to Cheriton: 8 miles/13 km
Cheriton to East Meon: 13 miles/21 km
East Meon to South Harting: 12.5 miles/20 km
South Harting to Amberley: 20 miles/32 km
Amberley to Steyning: 12.5 miles/20 km
Steyning to Kingston-near-Lewes: 22 miles/35 km
Kingston-near-Lewes to Alfriston: 13 miles/21 km
Alfriston to Eastbourne: 10.5 miles/17 km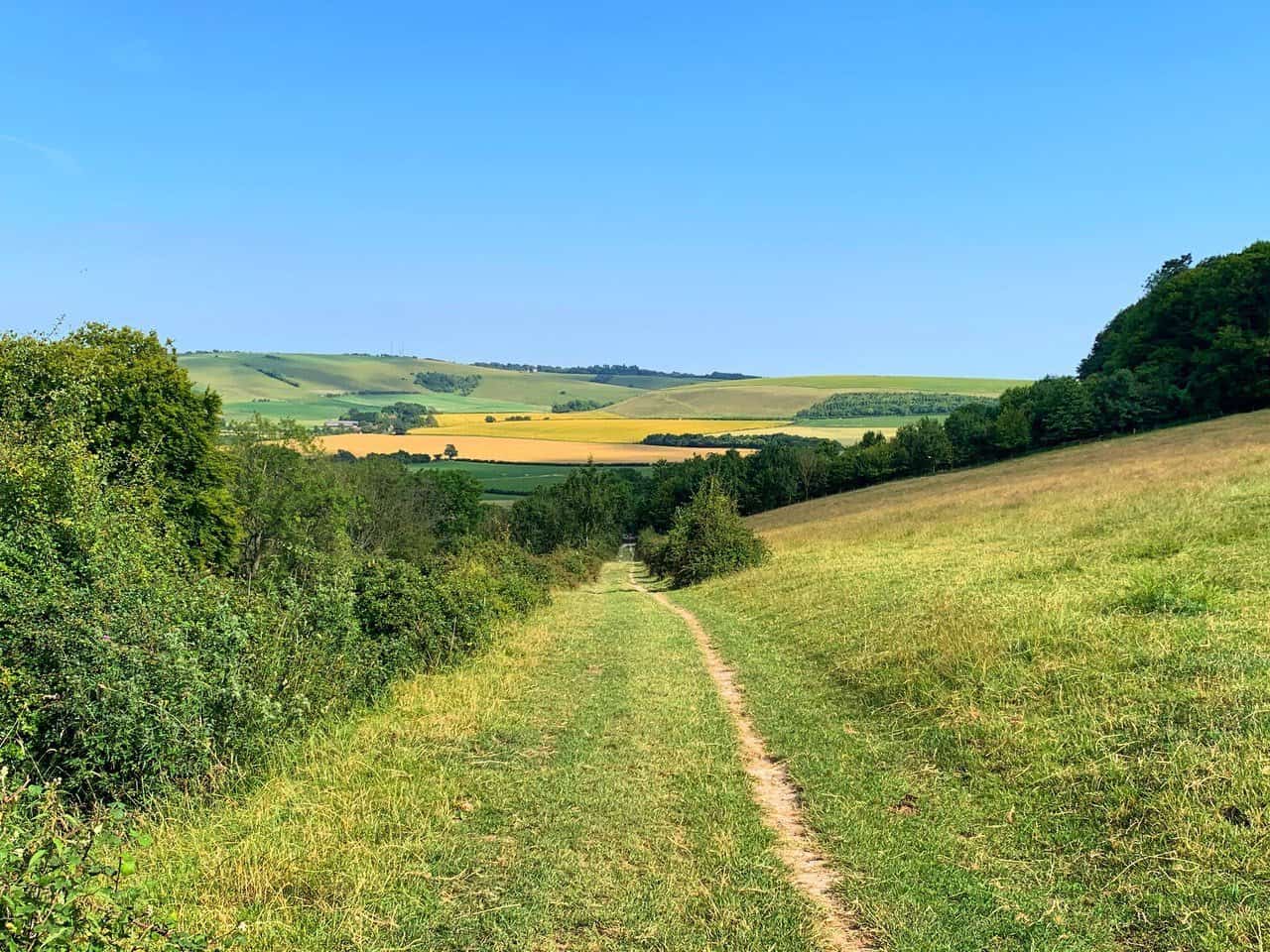 It's Not Just for Walkers
The South Downs Way is a public bridleway, open to walkers, cyclists, and horse riders. We encountered far more cyclists than walkers, but only a handful of horse riders. That could, of course, be because cyclists travel faster so were more likely to overtake us.
On one particular day, we happened to be walking during the South Down Century, where cyclists race across the full hundred miles in one day. Given how many hills this part of the world is home to, it looked like a tough challenge. We ended up feeling envious of the riders on every downhill then smug during every climb!
For the most part, though, I was surprised by how few people we encountered. We met just three other people that were walking the entire distance, although there were dozens of other people out on day hikes. It wasn't rare for us to walk for a couple of hours without seeing another human.
This is Such a Beautiful Walk
What a beautiful part of the world!
I couldn't get enough of the scenery on the South Downs Way, and it proved to me that my home country is prettier than I've always believed. When you picture stereotypical scenes of the English countryside, they probably originate from the South Downs Way. I felt like I was walking through a postcard for much of our journey.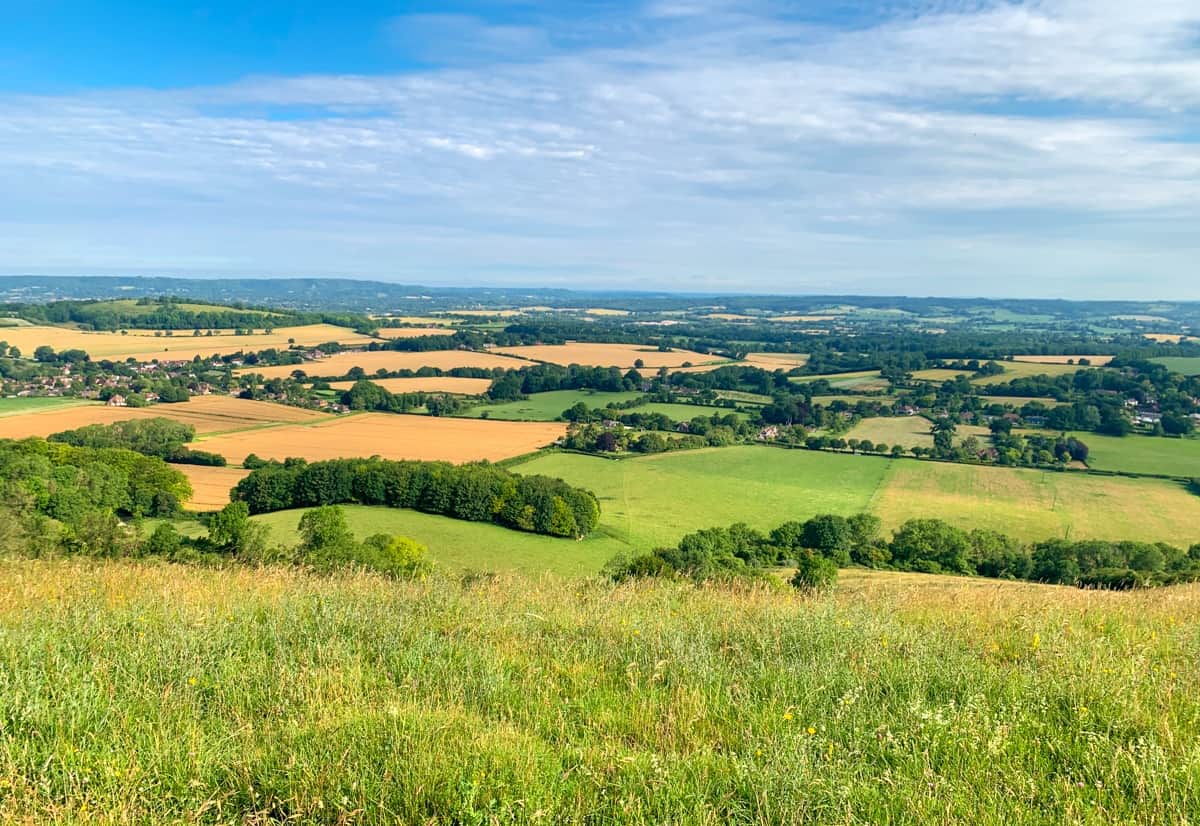 I Can't Recommend the Trailblazer Guide Enough
The Hadrian's Wall Trailblazer guide had been fantastic to use, so I knew I needed to pick up the same guide for the South Downs Way — the latest version was published in 2022.
Trailblazer guides are so good for walking in the U.K.!
On the South Downs Way, I especially appreciated the hand-drawn maps for every part of the trail (here's an example from my copy of how great they are) — I'm not sure I would have been able to find my own way without them. There's also a super-useful distance calculator in the book that gives the mileage from village to village — this enabled us to know how far we could expect to walk each day, rather than guessing with Google Maps. There's great recommendations on pubs to eat in, perfect lunch stops along the way, and accommodation to stop off at.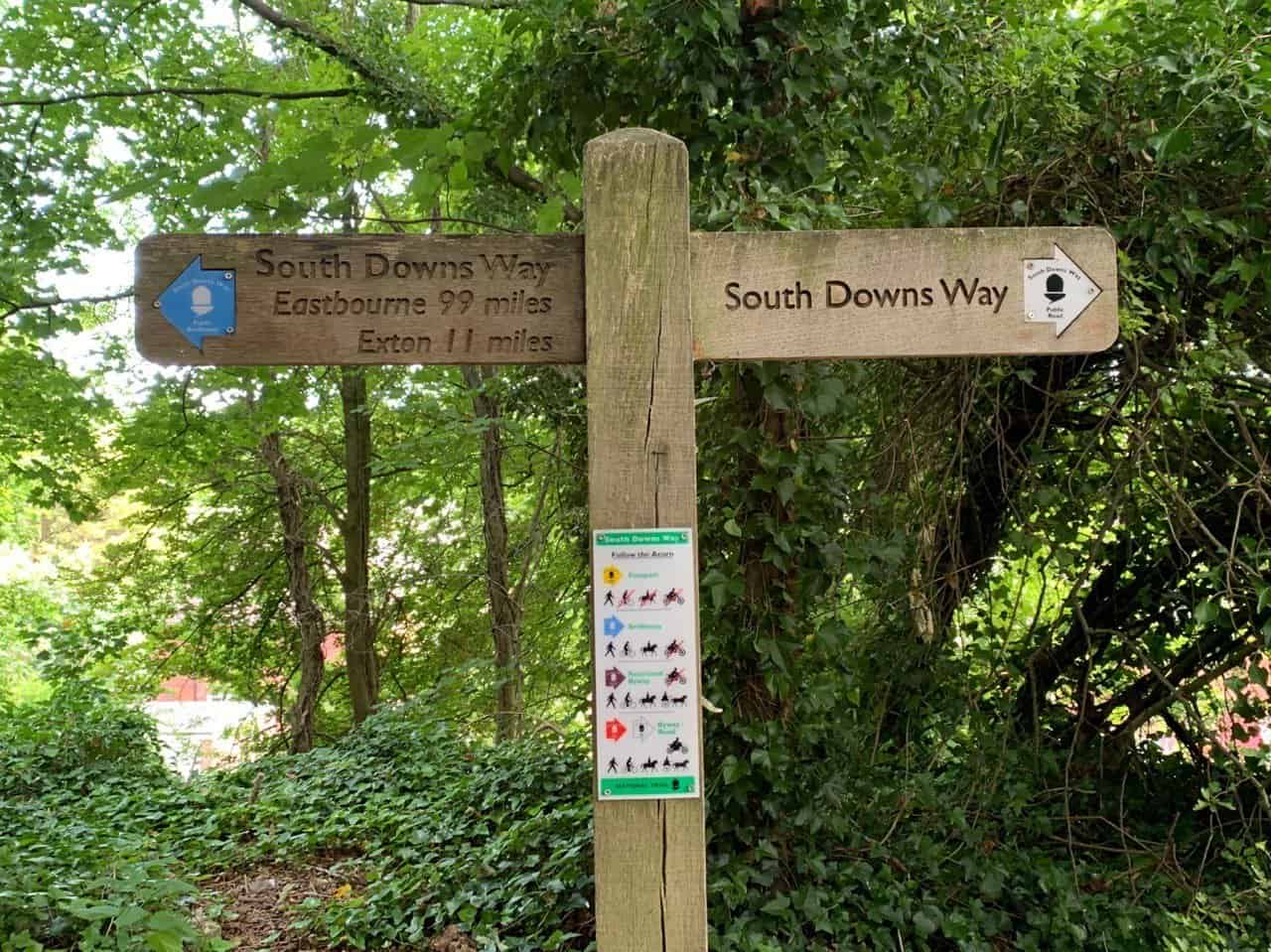 It's Extremely Well-Signposted
I won't say it's impossible to get lost on the South Downs Way — mostly because I did actually get lost on the South Downs Way.
But! It's pretty damn hard to lose the trail.
There are signposts every few hundred metres and whenever you come across a fork or turning in the path. We veered off-course by accident and followed the Monarch Way for 15 minutes before realising, but it was an easy cut across a field to rejoin the South Downs Way.
The Trailblazer guide will come in handy for the walk if you're not sure if you've gone wrong, and Google Maps will also help by showing where you currently are — as long as you have signal, of course. Be sure to cache your maps for offline use each morning.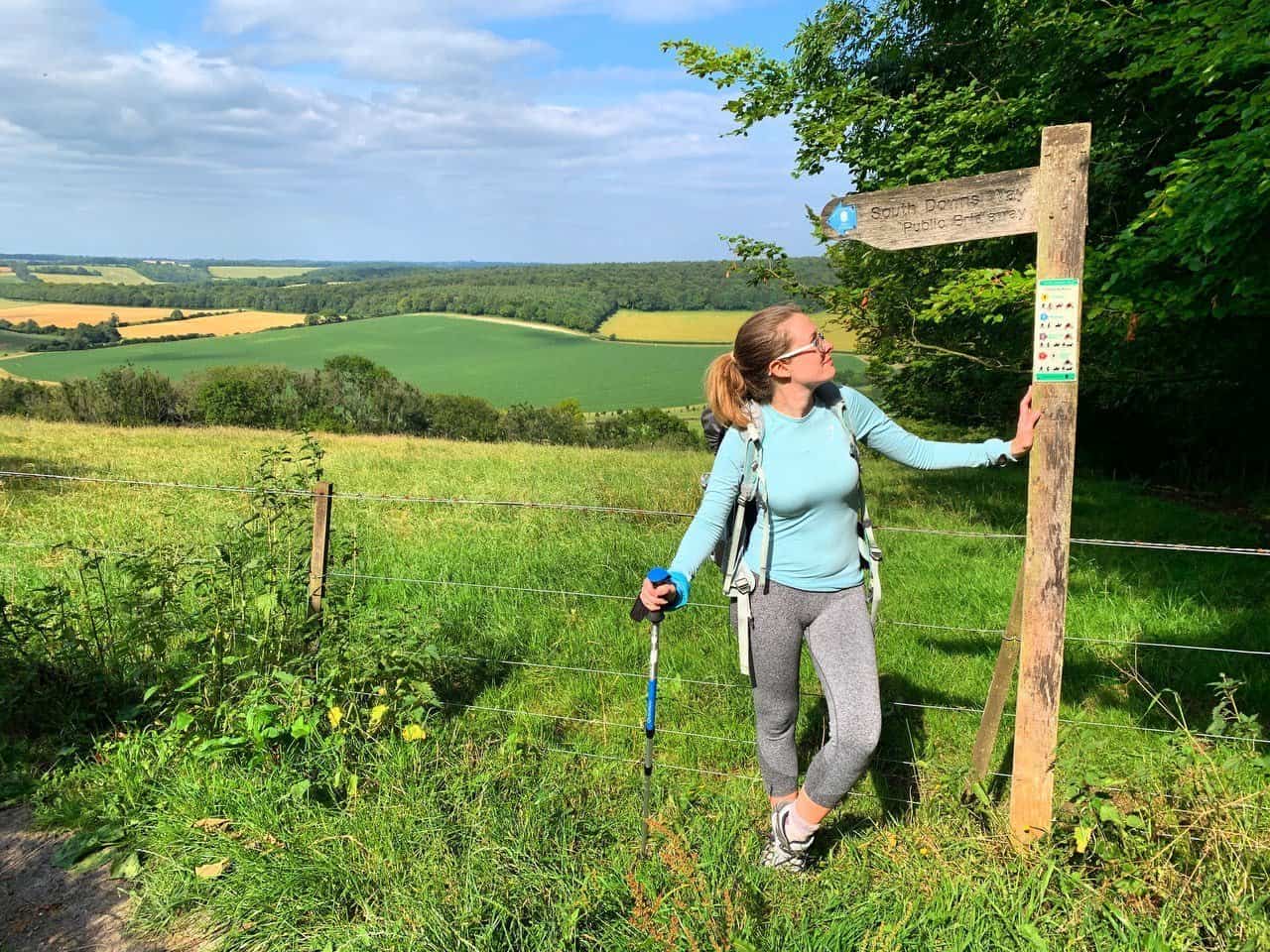 July is a Great Time of Year to Walk It
In the U.K., school holidays start on around the 15th July and last until around the 5th September, so early-July was a fantastic time to walk! You'll want to avoid school holidays, because the trail gets far more crowded when the kids are on vacation, and that means accommodation is much more in demand.
August seems to be full of rain in the U.K. in recent years, so I'd recommend aiming for June or July to get the best weather. We started on the 8th July and it landed us with wonderful sunshine.
The British summer can always be temperamental, so I know we had a fair bit of luck. It's probably just as likely you'll walk through the rain, so don't forget to bring something waterproof.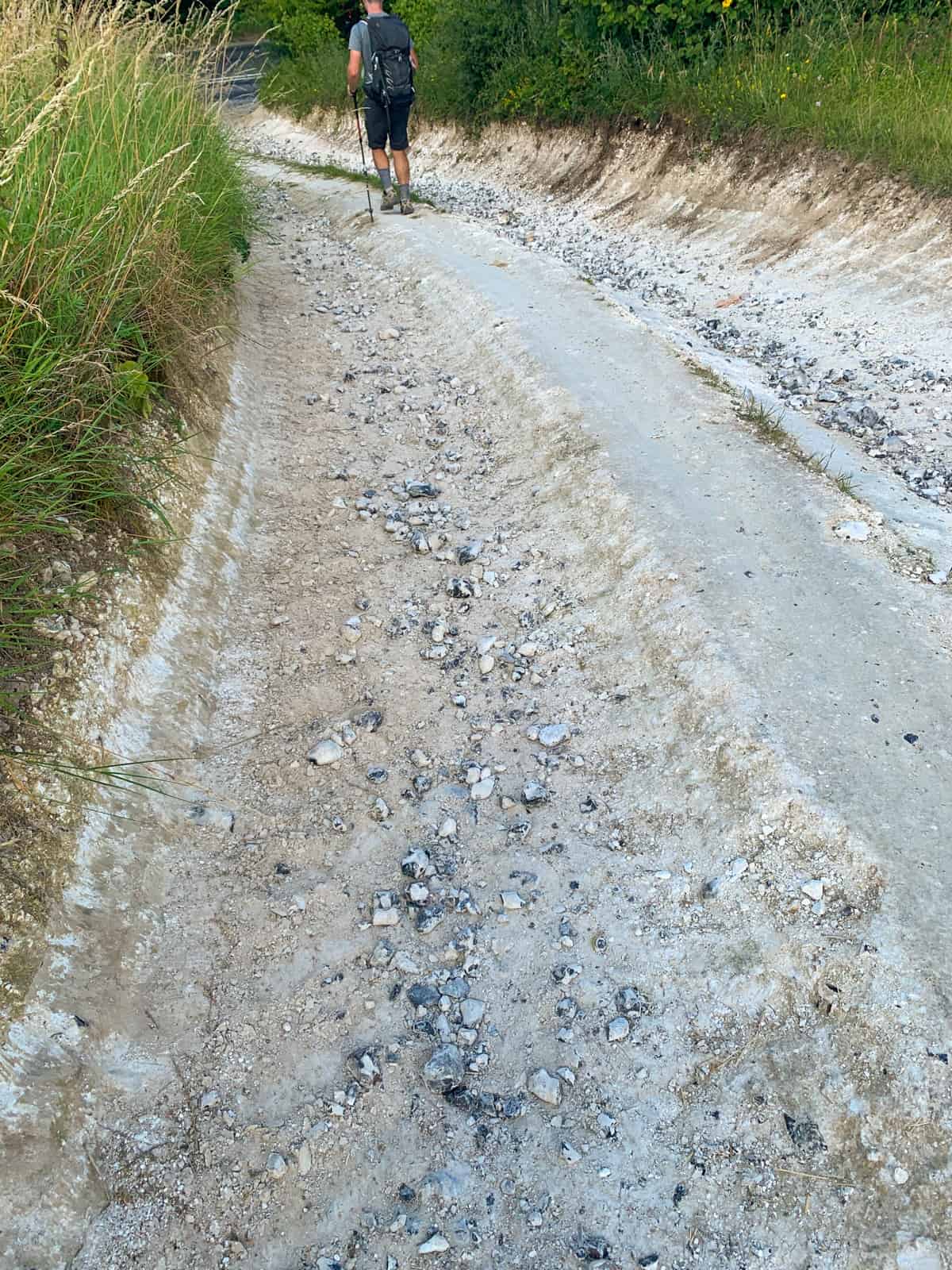 The Surface of the Trail Makes It Far From Easy
As I mentioned at the start of this post, the South Downs Way is regarded as one of the easiest of the 16 National Trails. Don't let that fool you, though: this walk is still challenging.
The hardest obstacle — literally — was the surface of the track. I hated it.
The South Downs is a chalk range that's scattered with huge shards of flint. This combination is tough underfoot and acts as a meat tenderiser on your soles.
To my great surprise, it wasn't my blisters that held me back, but the acute aching in the soles of my feet. Imagine slapping your feet down on a hard, uneven surface for ten hours straight and you have some idea of how painful the walk can be for your arches. While blisters tend to go numb after ten minutes of walking, the exact opposite occurs on the soles of your feet when walking on a rigid surface. It would usually take a solid night's sleep for my feet to stop hurting each day — just in time for me to start walking again.
And if, like me, you don't actually have any arches, the walk can be even more excruciating. Yes, I'm fortunate to have feet that are as flat as the floor I stand on and it made for a tough challenge.
That's why I recommend investing in hiking poles for you walk, even if you hate them. They'll help your feet so much! I invested in this high-end pair from Black Diamond and adored them.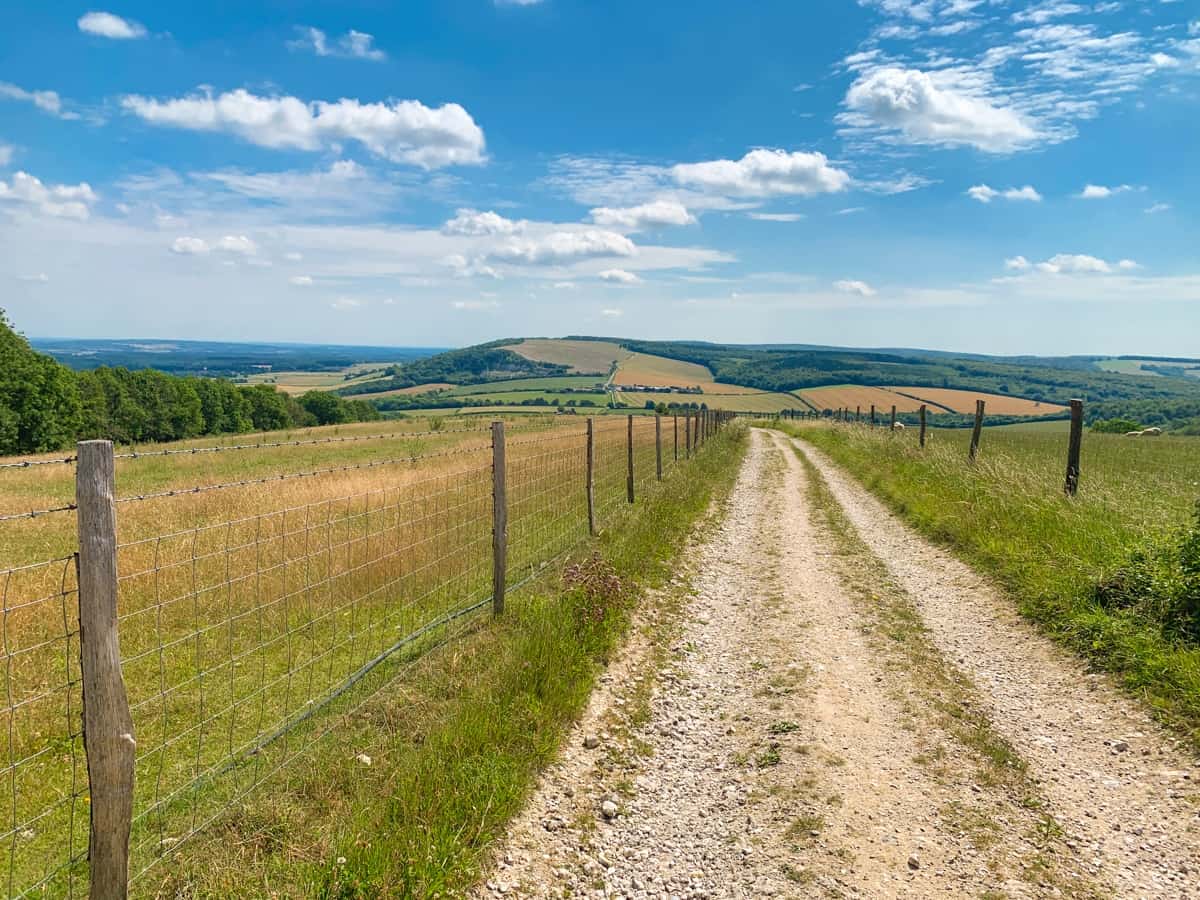 There's Also a Lot of Slopes to Contend With
Not only is the surface of the South Downs Way constantly conspiring to destroy your feet, but there's a remarkable amount of ups and downs to deal with. There's nothing quite like scaling a 300-metre hill only to see it immediately descend once you reach the top.
To be honest, while the downhills weren't wonderful for my knees and hips, the uphills were surprisingly enjoyable. It gave my joints a chance to rest and my hiking poles helped me push myself upwards at a startling speed.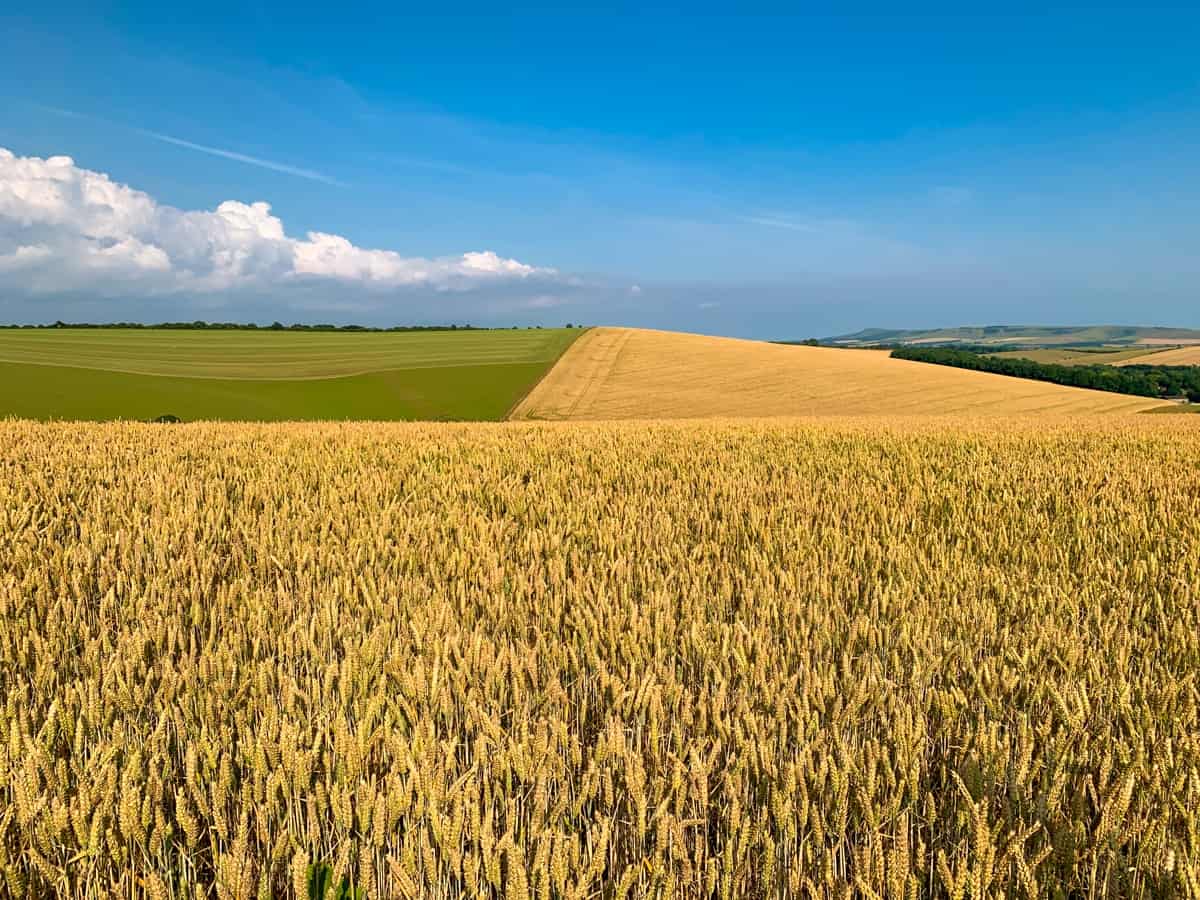 Plan for a Lot More Milage than You Expect
While I'm focusing on some of the downsides to the South Downs Way, let's talk about mileage.
Because the South Downs Way travels across a chalk range, there's little accommodation built on the track — it passes directly through only a handful of towns and villages. What that means is that unless you're camping, you'll need to wander off the trail each evening, then kick off every morning with a mile-odd trek uphill to rejoin the path.
While the official mileage for the walk is 100 miles, we ended up tackling 121 miles in total.
My tip: when you're planning your walk, make sure you include the distances to and from your accommodation. The Trailblazer guide has a mileage chart at the back that tells you the exact distance between towns, so you can work out the total distance in advance.
Most of the time, we would have to walk a mile off the trail to reach our accommodation, but some towns can be as many as three miles away. Keep this in mind when planning out your days, as it quickly adds up. While an additional mile doesn't sound like a big deal when you're sat on your sofa at home, when you're actually out walking, it can be super-demoralising after an exhausting day.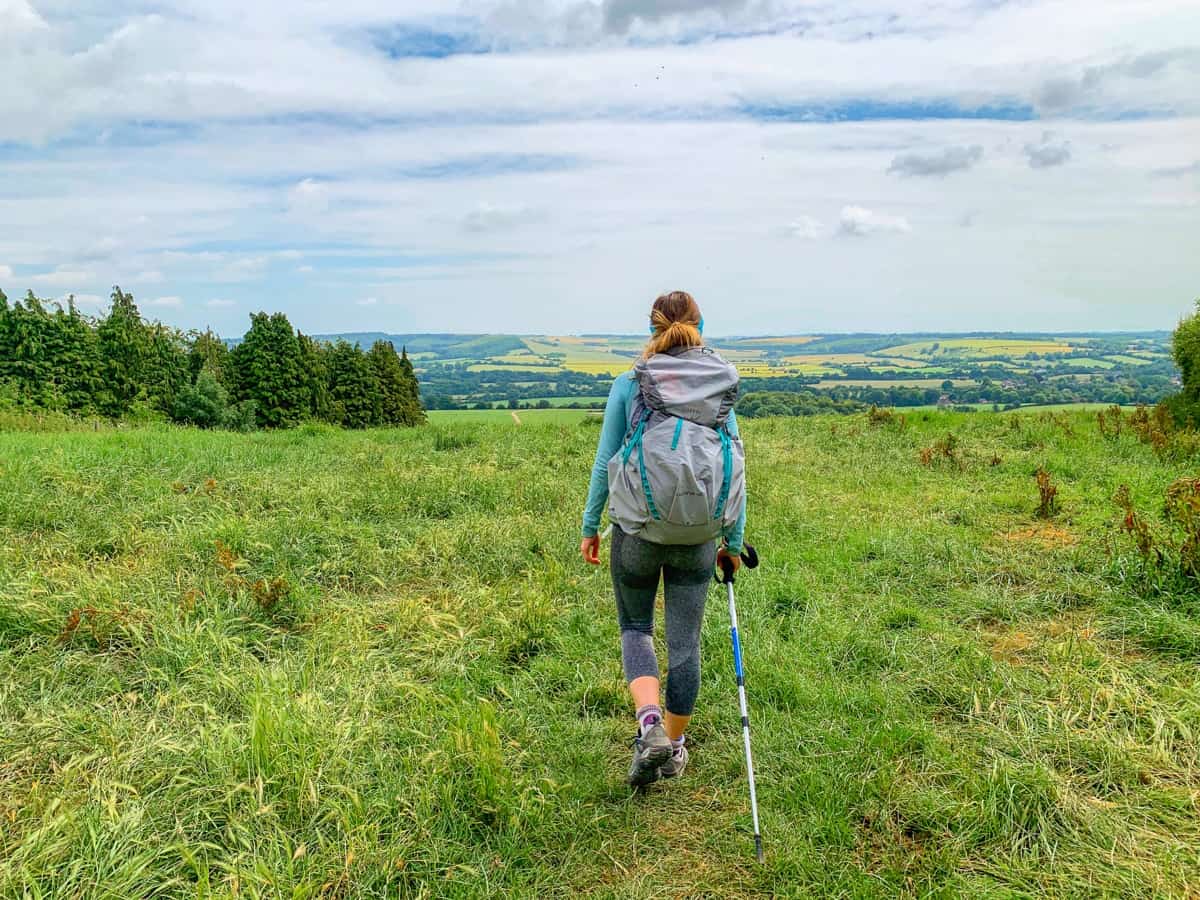 My Essential Travel Gear for the South Downs Way
Fun fact: several years ago, I attempted to walk the length of Hadrian's Wall and ended up having to drop out on day three. Why? My shoes! My shoes had never felt perfect and once I started to walk long distances every day, my ankles ended up so bruised that I could barely move my feet.
I was gutted.
My biggest recommendation is therefore to invest in gear for the walk several months before you intend on walking it, then practice, practice, practice to make sure it's a perfect fit. I set out on 10-mile walk once a week in the two months leading up to the South Downs Way.
Merrell are king when it comes to long-distance walking, and I decided on the Merrell Accentor shoes for this walk. They were so comfortable! Always, always, always size up! Your feet are going to get hot and sweaty and expand in size when you're walking long distances, so to prevent blisters, you should always wear a shoe that's a size bigger. This was the first walk where I didn't get blisters on my heels and I believe it's from wearing a larger shoe.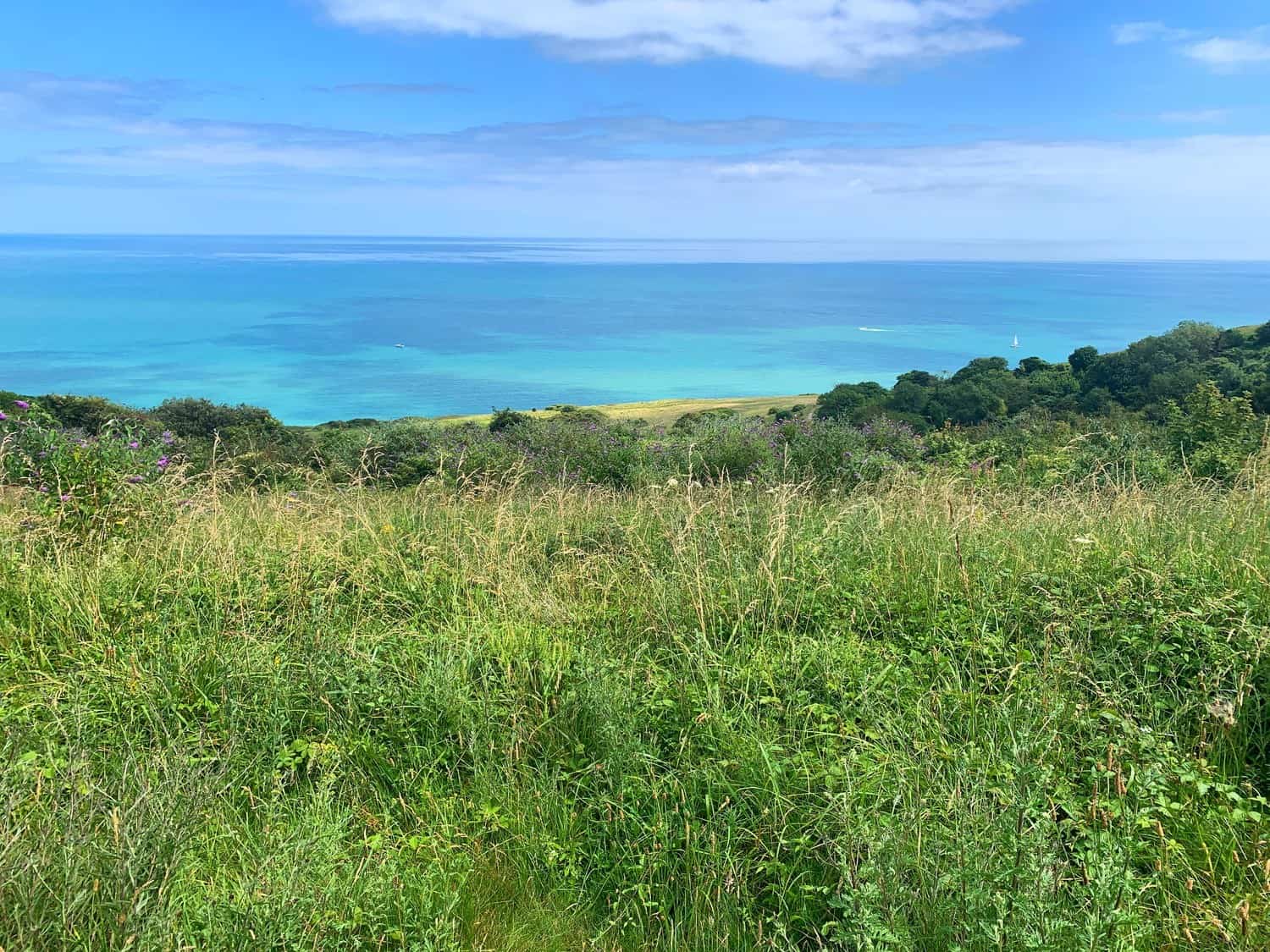 I also highly, highly recommend taking walking poles with you. As someone who believed walking poles were exclusively for douchebags and grandparents, I'm holding up my hands and confessing to being a convert. I loved this pair from Black Diamond!
Hiking poles will help you conserve energy, keep your weight off your hips and knees, and help so much on the uphill and downhill. On a trail like the South Downs Way, I view them as a hiking essential.
I also invested in a new backpack for this walk and I freaking love it! The Osprey Lumina is part of their ultra-lightweight range (it weighs just 770 grams!) and is one of the lightest backpacks out there. And it's so incredibly comfortable! Probably the most comfortable backpack I've ever worn. It is, however, absolutely overpriced, as Osprey recently discontinued it.
Instead, I recommend looking at the Osprey Eja, which is another fantastic Osprey backpack that I've owned and love. It's lightweight and excellent for long-distance hikes.
(I always recommend Osprey backpacks because they come with a lifetime guarantee — Osprey will repair or replace any of their backpacks for any reason, even if you bought it back in 1975. An airline once tore a hole in my Osprey backpack and they had it repaired and back in my hands in under a week — all for free!)
I also invested in an Osprey reservoir to slip inside it. Again — a life-changing piece of kit. I found that I drank so much more when I had a mouthpiece beside me at all times.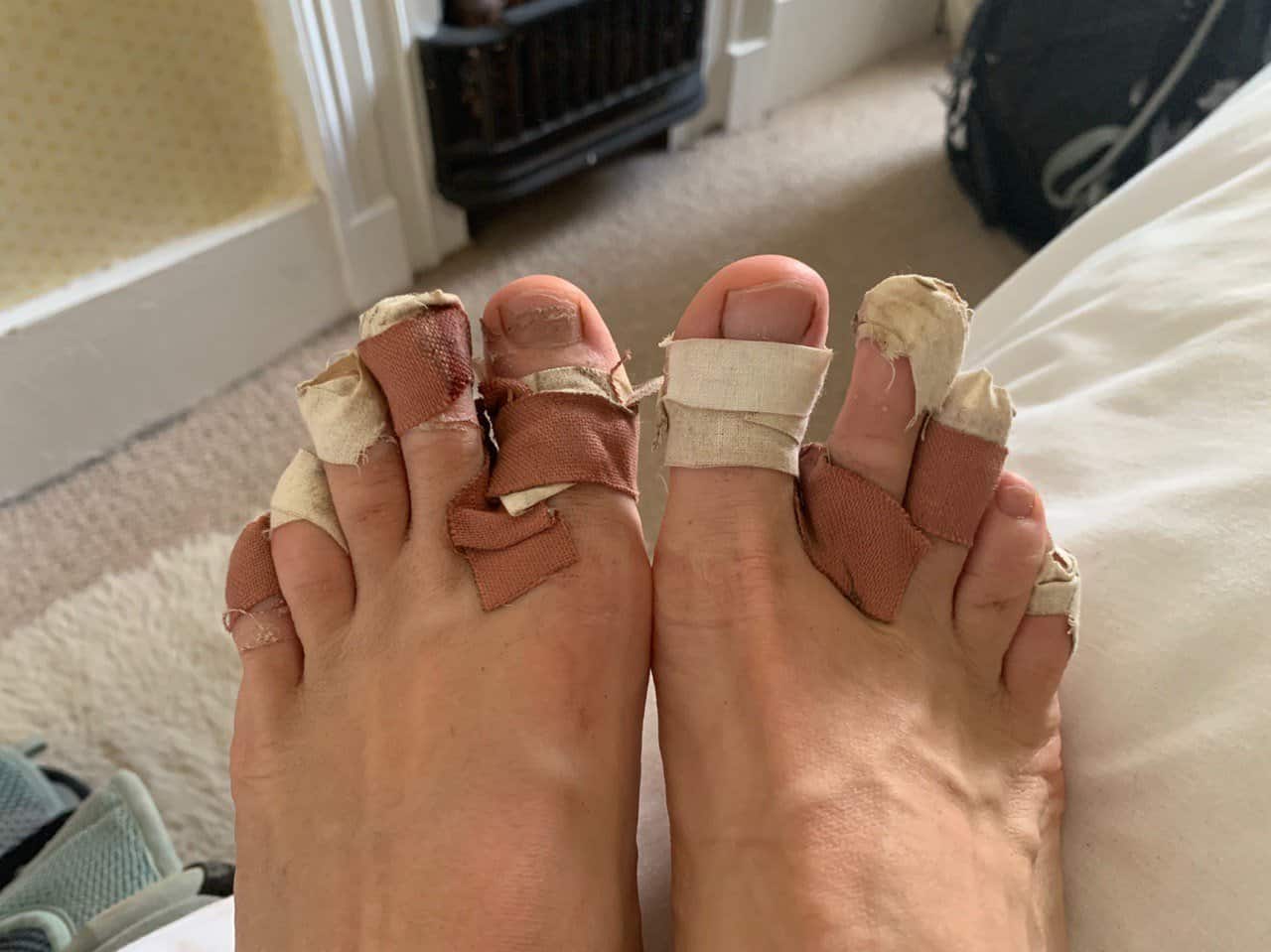 You Can Transport Your Bag
For those of you who want to make your walk a little easier, there is a bag transportation service you can utilise.
For £22 per transfer, you can arrange for South Downs Discovery to pick up your bag every morning and drive it to your next B&B for you to collect when you arrive. Honestly, I don't really see the point of doing this unless you're in the U.K. as part of a larger trip and have tons of luggage with you.
My backpack weighed just 5 kg and contained very little, so as long as you pack light, you won't feel the need to have it transported.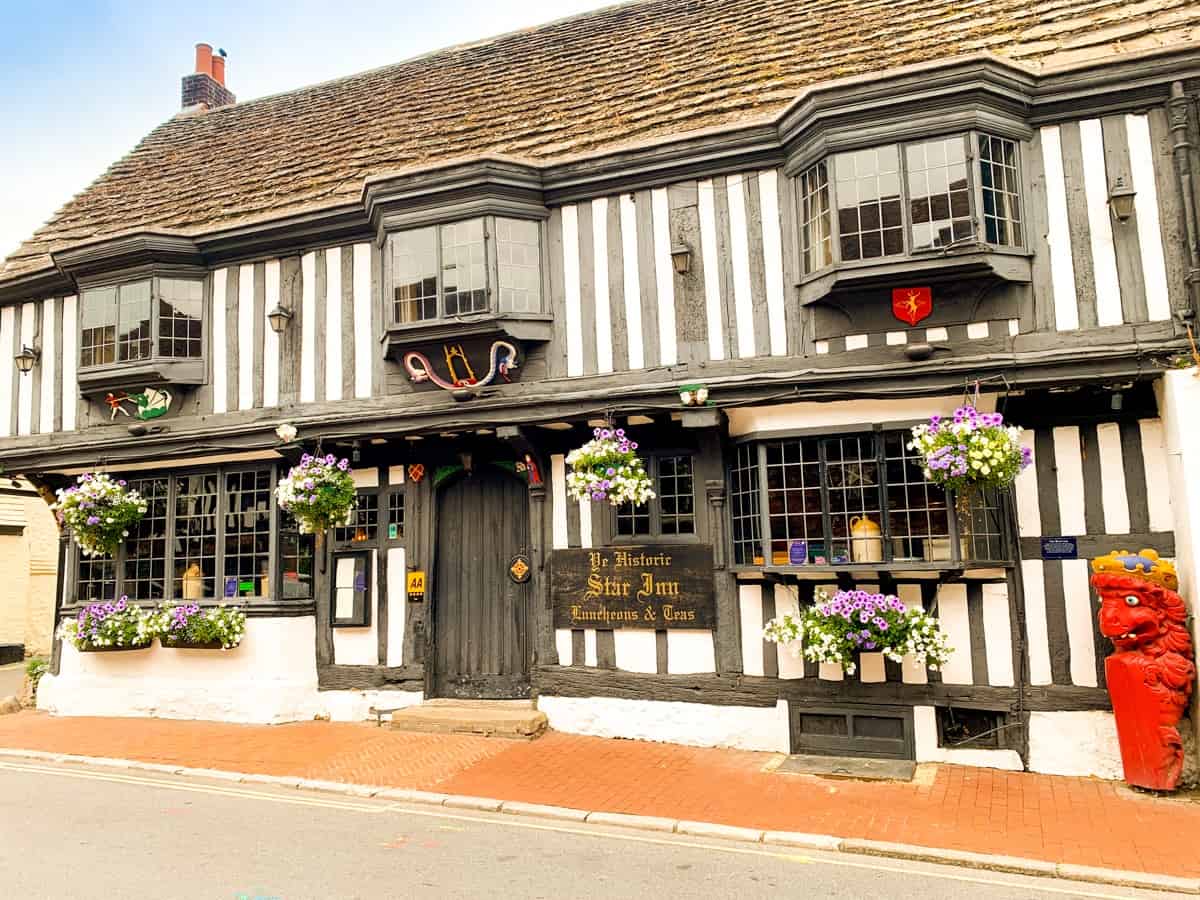 There's a Range of Accommodation to Stay At
From camping to youth hostels to cosy pubs to five-star hotels, there's a whole range of accommodation available to suit different price ranges. I, however, recommend staying in as many pubs and B&Bs as possible — the accommodation was one of the highlights of our walk! And let's face it: heading downstairs to have dinner is exactly what's needed after a long day of walking.
Here's where we stayed on the South Downs Way:
Cheriton: The Brick House B&B — What a lovely spot! We really liked this B&B. Fantastic breakfast with homemade sourdough bread (the owner runs classes on how to make sourdough bread, so you know it's going to be great!). There was an-suite bathroom, an exceptionally comfortable bed, and a pub just a few metres away.
East Meon: Ye Olde George Inn — While the room was nothing mind-blowing, the food at the pub below more than made up for it! It was especially nice to have some avocado toast for breakfast rather than a full English, which you'll find yourself eating plenty of on this track.
South Harting: The White Hart — We loved the White Hart! This was probably our favourite place we stayed on the entire walk. A cute, high-end pub with excellent food and lovely rooms out the back — all en-suite. I highly recommend staying here.
Amberley: A Barn at South Downs — This is a great place to stay, with a lovely pub within walking distance — you can probably tell what my priority was on this walk. Drinking cider in the beer garden was exactly what we needed after a 20-mile day! The barn is cosy and comfortable, and the breakfast is the absolute best.
Steyning: Uppingham B&B — Such a lovely owner and bright, airy room! It came with an en-suite bathroom complete with bath, which was greatly appreciated for soaking my blisters. It's about a five minute walk from restaurants and pubs, and the breakfast was so delicious and healthy!
Kingston near Lewes: Airbnb in Kingston — Another wonderful place to stay! The owner really helped to make our visit perfect. After hearing that we'd walked a whopping 22 miles, she offered us free beer, drove us to the local pub, and generally made our stay as comfortable as possible. The room was spacious with an en-suite bathroom, supplies for breakfast, and a little terrace to sit out on.
Alfriston: The Star Inn — The Star Inn is one of the oldest in the country and it has a fantastic pub to eat at. The rooms are comfortable, if a little dated, and the large TVs were great for watching England beat New Zealand in the Cricket World Cup — sucks to be Dave. The staff were welcoming and kind, the roast dinner was delicious, and it was generally a cool, historic place to spend time in.
Eastbourne: Albert & Victoria B&B — I mostly stayed here because the the rooms looked so old fashioned that I thought it was funny. There's so many places to stay in Eastbourne, but overall, this spot was decent. Really friendly owners, a large breakfast, and a good location, close to the waterfront.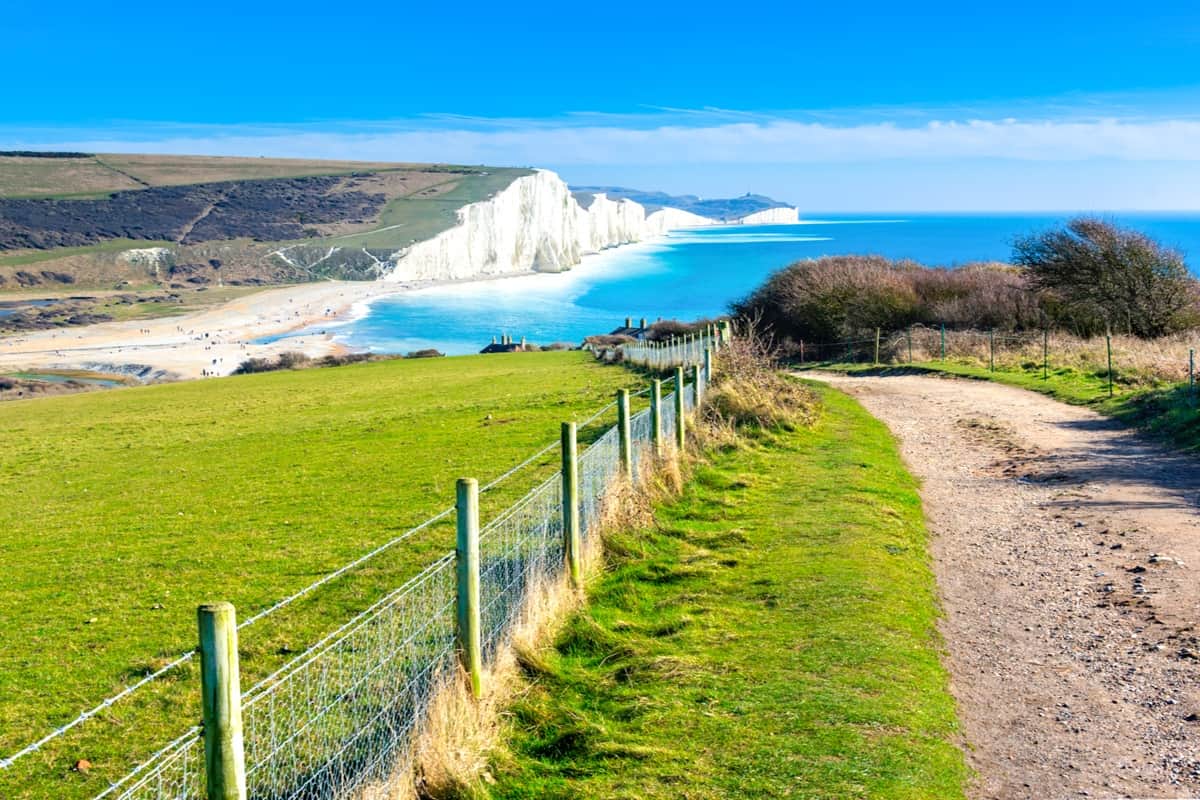 The Final Day is Spectacular
The best day of the walk is undoubtedly the final day — the trail over the white cliffs of the Seven Sisters and Beachy Head is known as one of the best day walks in the country. If you do only one day of the South Downs Way, make it this one.
Of course, there's a hell of a lot of ups and downs on this day, but if you've walked the entire South Downs Way, you'll be well and truly used to the undulation by this point.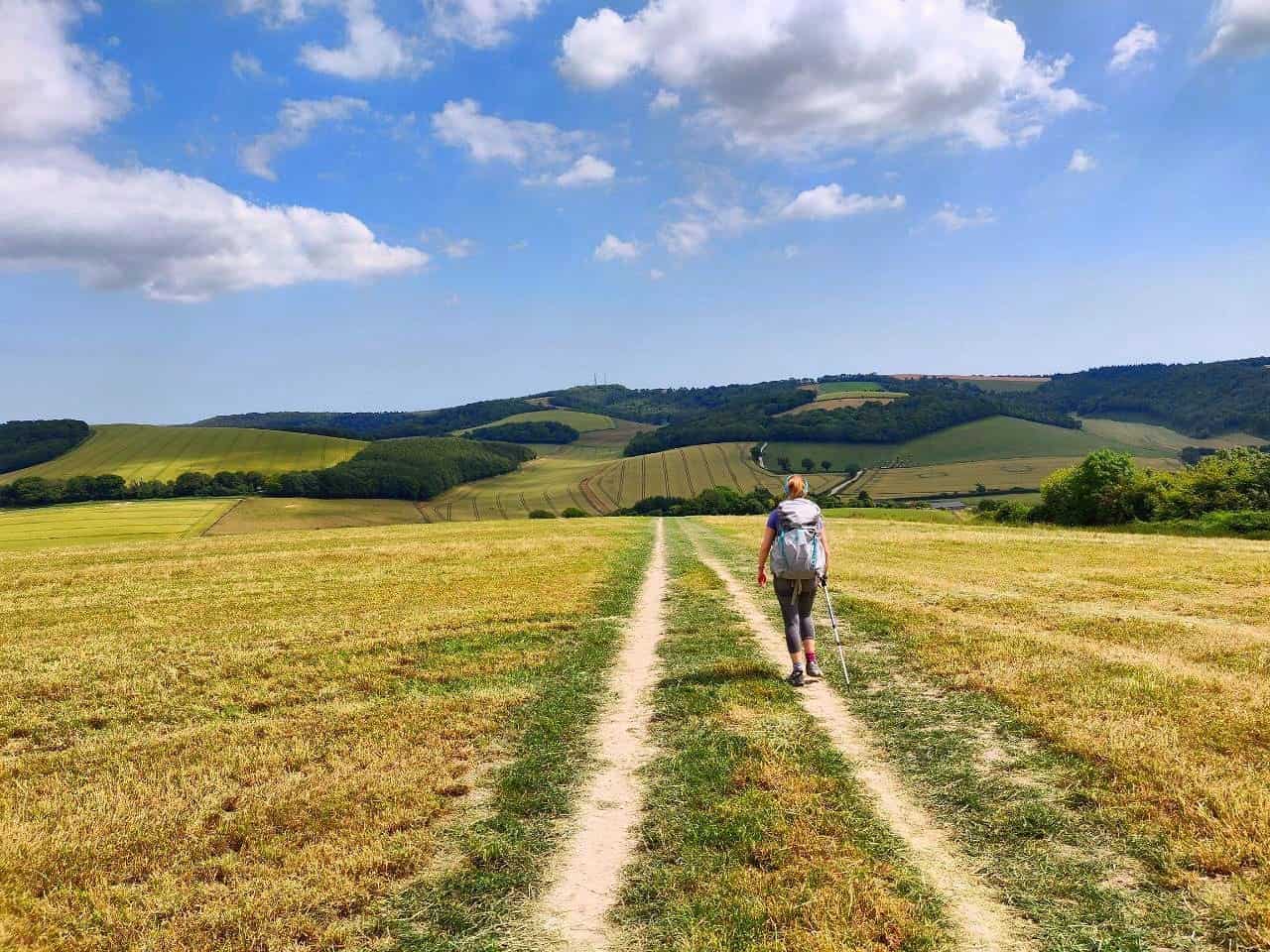 I Felt Safe Walking Alone
Here's one for all my solo women out there: the South Downs Way felt extremely safe to walk alone.
Throughout my time on the trail, I would separate from Dave in order to spend some time with my thoughts. On one day, I walked the vast majority of the path alone.
Every time I did so, I felt exceptionally safe. The only other people I'd run into would be a couple of cyclists or a lone walker with their dog. For the most part, you'll be walking alone without any other humans in sight.
Walkers in Britain are an oddly talkative bunch for a country that's full of socially-awkward people — so whenever you do run into someone, they'll usually be down for a chat.
The only thing you'll have to look out for are the cows. Well, kind of but not really. Walkers get trampled by cows every few years or so on the South Downs Way, but the chances of that actually happening are very slim.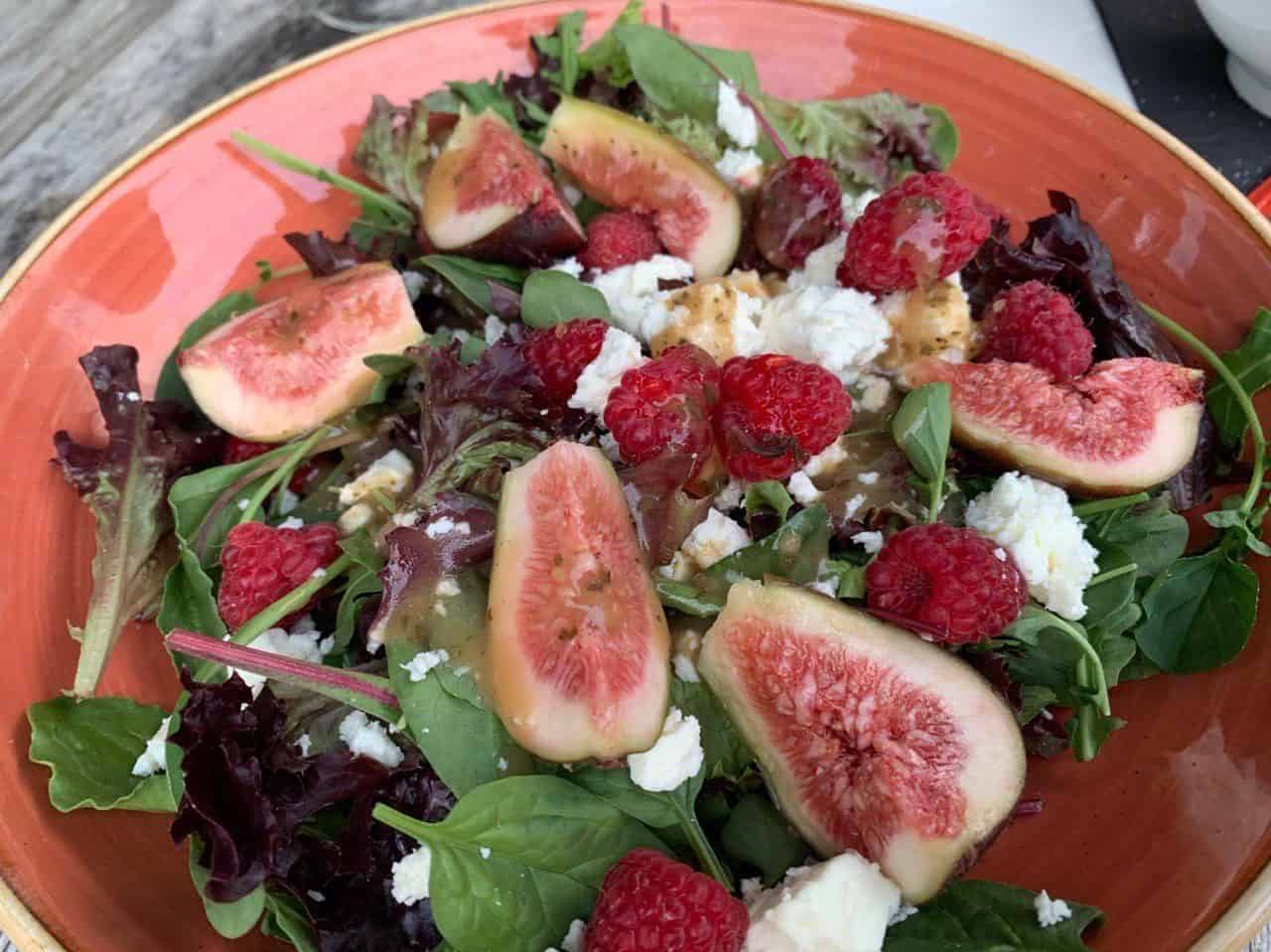 You'll Eat Well on This Walk
I was concerned about how accessible food would be on the walk so dutifully packed my bag full of protein bars before leaving.
I needn't have worried, though — there was plenty of options for eating! And if there weren't? The pubs we stayed in offered a packed lunch option, so if we knew there wouldn't be any lunch stops on the following day, we'd get one to go.
Breakfasts and dinners were easy — everywhere we stayed on the trail offered breakfast, and they were uniformly delicious. Dinners were easily accessible, too. If we were staying in a pub, we'd simply walk downstairs to eat. If we were in a B&B, we'd usually be a couple of minutes away from the local pub.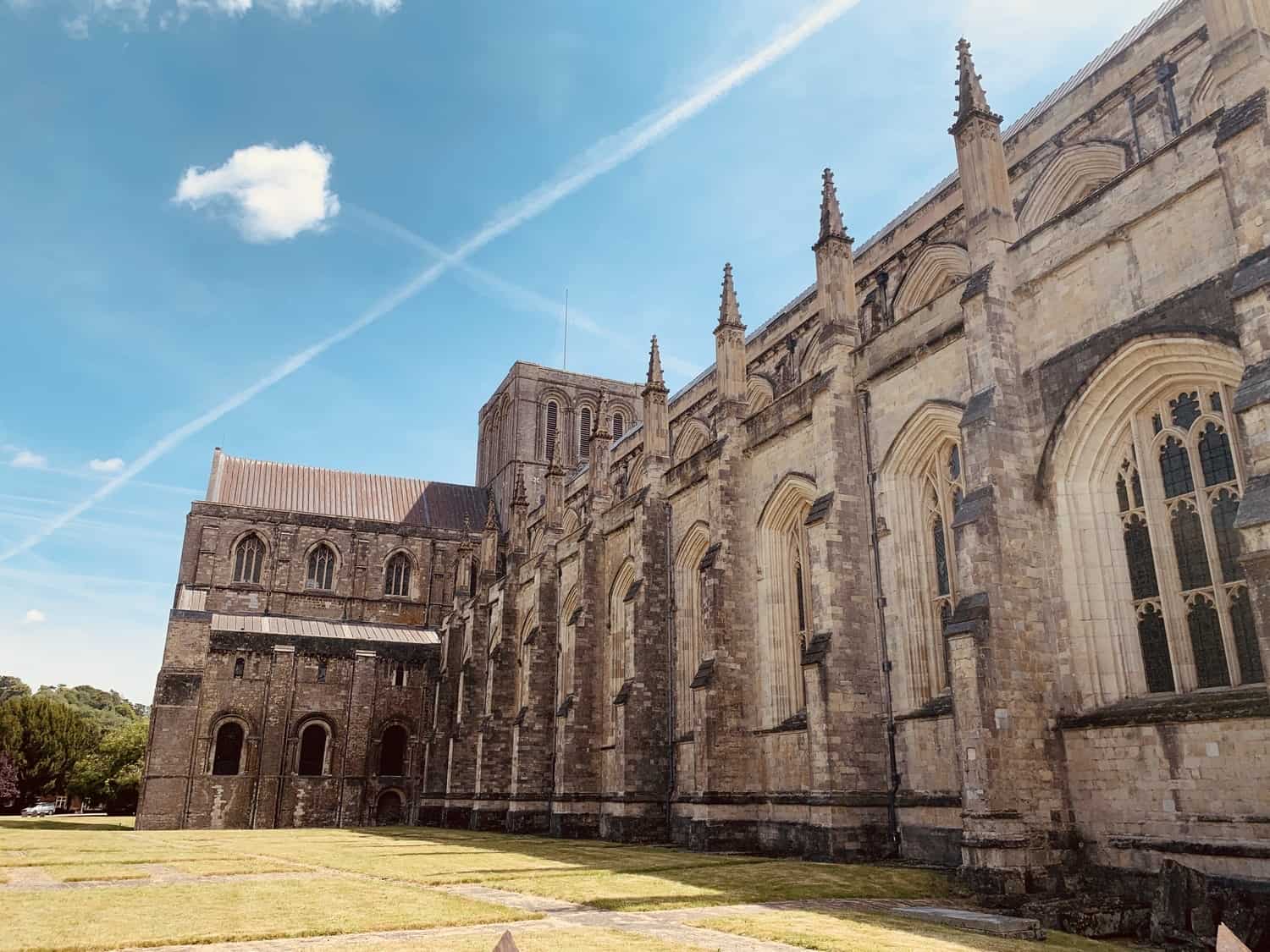 Make Sure to Give Yourself Some Time in Winchester and Eastbourne
If you have enough time, I recommend booking a night in both Winchester and Eastbourne. Winchester is a wonderful city that's regularly voted once of the best places to live in the country; Eastbourne… has to be seen to be believed.
I loved Winchester and wished I'd had more time to explore its beautiful buildings. We spent a couple of hours hitting up the main attractions: Winchester Cathedral (one of the largest in Europe), The Great Hall (a 13th Century hall featuring a round table that's falsely linked to King Arthur), and the City Mill (where the walk starts from), and decided we'd return at some point to spend even more time there.
I also enjoyed spending a night in Eastbourne after finishing my walk. Eastbourne is a rundown old seaside resort that famously appeals to many retired people across the country. Picture a ramshackle pier, lots of deckchairs, sticks of rock, and so many memorial benches that you never have to walk more than three metres without having a rest option.
Still, I was surprised by how much I enjoyed being in Eastbourne. I used to spend family holidays at the seaside in the U.K., so it filled me with a certain amount of nostalgia. My Kiwi boyfriend was 100% bemused by it.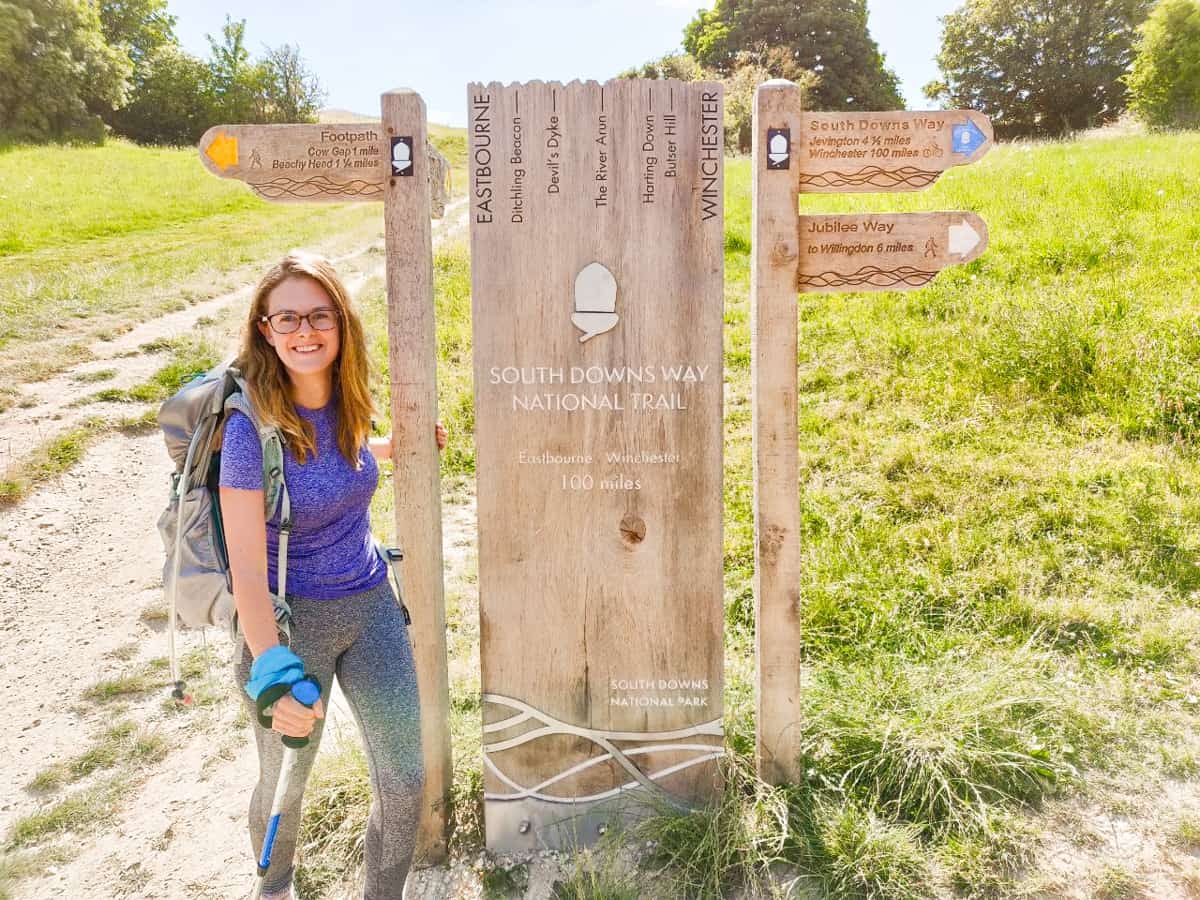 I Wholeheartedly Recommend Walking the South Downs Way.
Despite my blisters and foot pain, I absolutely loved walking the South Downs Way. In fact, there was a part of me that was eager to turn around at the finish line and walk back to Winchester!
This is such a wonderful trail through a beautiful part of the country. It made for a fun physical challenge and was a great way to spend a week in nature. With plenty of accommodation options, dozens of fantastic pubs, and hundreds of spectacular views, I'm convinced it's one of the best National Trails in the country. I preferred to the Hadrian's Wall Walk and my boyfriend enjoyed it more than the Cotswold Way.
In short, if you're considering walking this trail, go do it! As long as you're prepared for the tough surfaces, you're going to have a great experience.
Stay tuned, as I'll be sharing a budget breakdown and packing list for the South Downs Way next!
Related Articles on the United Kingdom

💰 The Cost of Travel in London: A 2023 Budget Breakdown
🚶🏼‍♀️ How Not to Walk Hadrian's Wall
🏴󠁧󠁢󠁳󠁣󠁴󠁿 15 Best Things to Do in Edinburgh