When I first visited Edinburgh, I was bewildered. At only fourteen years old and coming from a completely different part of Europe, I felt as if I had entered into a Scottish haven –- the rolling hills all around, the sandstone buildings that make you feel incredibly small and the pipers playing purely Scottish melodies on every corner all created a grand atmosphere of ancient fairytales. 
I lowkey wanted to get lost in this capital city of Scotland and never find my way back to my school group. The city was way too magical to ever want to leave it behind.
I study and live in Glasgow now, which means taking the bus to Edinburgh takes only about an hour and a half, and the train just 30 minutes. I love visiting the city from time to time, re-discovering all the incredible places that are very familiar to me at this point, and walking up the steps to the Old Town where the medieval vibe truly comes alive. 
What I love the most about Edinburgh is the architecture and street design. I'm a firm believer that the way cities are built has an impact on your mindset, and when you walk down beautiful streets while looking up at magnificent buildings that are centuries older than you, it inevitably makes you feel mesmerised. Visiting Edinburgh is like transporting yourself back in time, and I'm absolutely here for it.
My dad can attest to this – he visited Edinburgh with me once and he's been regularly coming back ever since because he loves the city so much. He calls me up sometimes and says, "Guess what?! I found cheap flights to Edinburgh again! See you next month!" This is another perk of visiting the capital of Scotland. You can usually fly there from the rest of Europe for prices that are ridiculously cheap. And trust me, once you go to Edinburgh, you'll absolutely want to use those discounts to visit again.
Because if there's one thing I know for sure, it's that it's way too easy to fall in love with Edinburgh.
Whether it's walking down the Royal Mile between Edinburgh Castle and the Palace of Holyroodhouse, climbing up Arthur's Seat for an amazing view of the city, going for a coffee to the very café where J. K. Rowling wrote Harry Potter or having fun at the windy beach, Edinburgh has many various experiences to offer. And it's completely up to you what you choose to do once you're in the city!
There's no subway in Edinburgh, therefore the best way to get around is either by foot or by bus. Buses can be a little bit confusing in some European cities, however, Edinburgh isn't one of them – it's fairly easy to figure out which bus goes where. All you have to do afterwards is hop on a double-decker and enjoy seeing the city from the top of the bus!
There are many amazing things you can do in Edinburgh. Without further ado, let's see what they are!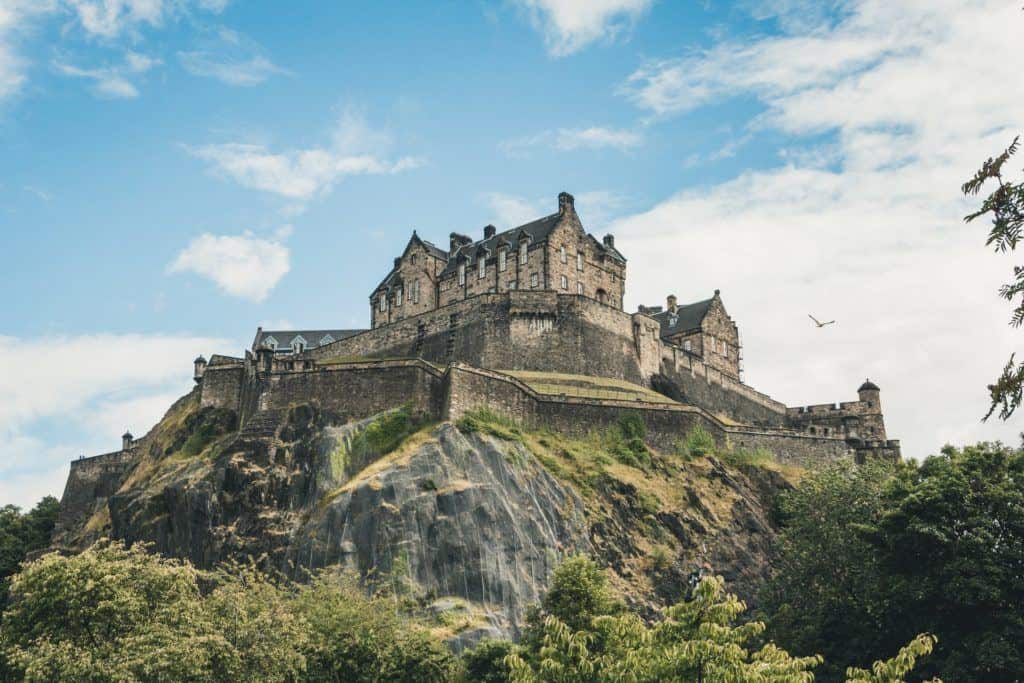 Visit Edinburgh Castle
The moment you find yourself in the city centre of Edinburgh, you're bound to notice Edinburgh Castle. It's located high up on Castle Rock (which is actually of volcanic origin) where it oversees the city from its strategic position. Edinburgh Castle has stood in its place for centuries and has been involved in many historical events, such as the Wars of Scottish Independence.
The castle is the second most-visited paid tourist attraction in all of the UK, which makes it a definite must-go during your stay in Scotland. I've visited the castle twice and I highly recommend checking it out.
The ticket usually costs £15.50 per adult (16-64). Children's tickets are for £9.30, and all children (5-15) must be accompanied by an adult. When you book your tickets on the official website, you can see that there are also various family bundles depending on how large your group is.
Once you're on the grounds of Edinburgh Castle, you can go inside the Great Hall where armour and weapons are on display. The place has been restored so that it looks like it used to in medieval times and there's also an interesting wooden roof.
Many more things are worth seeing, such as Honours of Scotland – the oldest crown jewels in Great Britain – or the Stone of Destiny, which has been used in the process of the inauguration of kings for centuries. One of my favourite attractions is the One O'Clock Gun which fires every day except for Sundays precisely at 1 PM.
If you feel a little bit lost at any point, don't worry – there's a map provided by Edinburgh Castle to guide you. You can have a look at it online or grab it whilst you're on the premises.
And why not visit The Tea Rooms after you've seen everything you'd planned? You can have some tea, a light lunch and discuss your castle experience with family and friends!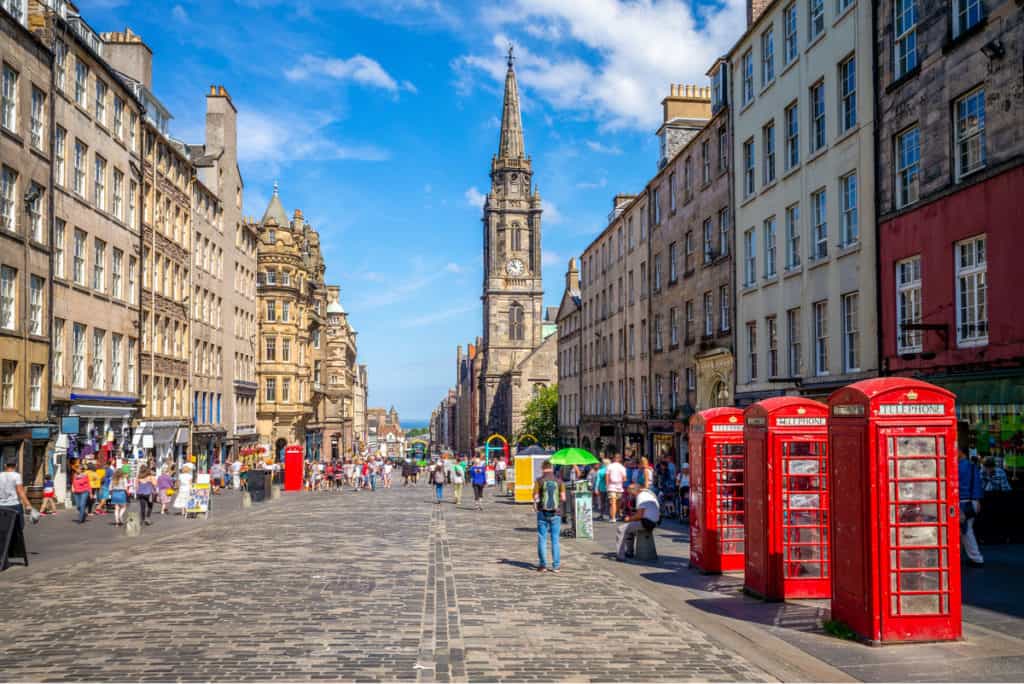 Stroll Down the Royal Mile
The Royal Mile is arguably the most famous street in Edinburgh. Not only is it the main street in the centre of the Old Town but it also connects two very important landmarks, Edinburgh Castle and Holyrood Palace. This means walking up or down the street is extremely convenient, and many vendors figured this out a long time ago – the street is full of tourist shops and restaurants.
The distance between Holyrood Palace and Edinburgh Castle is around one mile, which explains the title. I promise you the one-mile walk won't be boring at all. You'll have so many beautiful buildings to look at and shops to visit that you'll reach the end of the street before you even realise it.
One of my favourite spots on Royal Mile is a David Hume statue. Hume is one of the Scottish philosophers whose name has become an important part of history and putting his statue on the most popular street in Edinburgh only proves his relevance. When you look at the statue, you can see that Hume's toe is golden. That's because tourists touch it all day long with the hope it'll bring them good luck!
Whether you want to buy a tartan scarf in a gift shop, grab a coffee in Starbucks or stumble upon attractions such as the John Knox House devoted to storytelling tours, Royal Mile has something for everybody.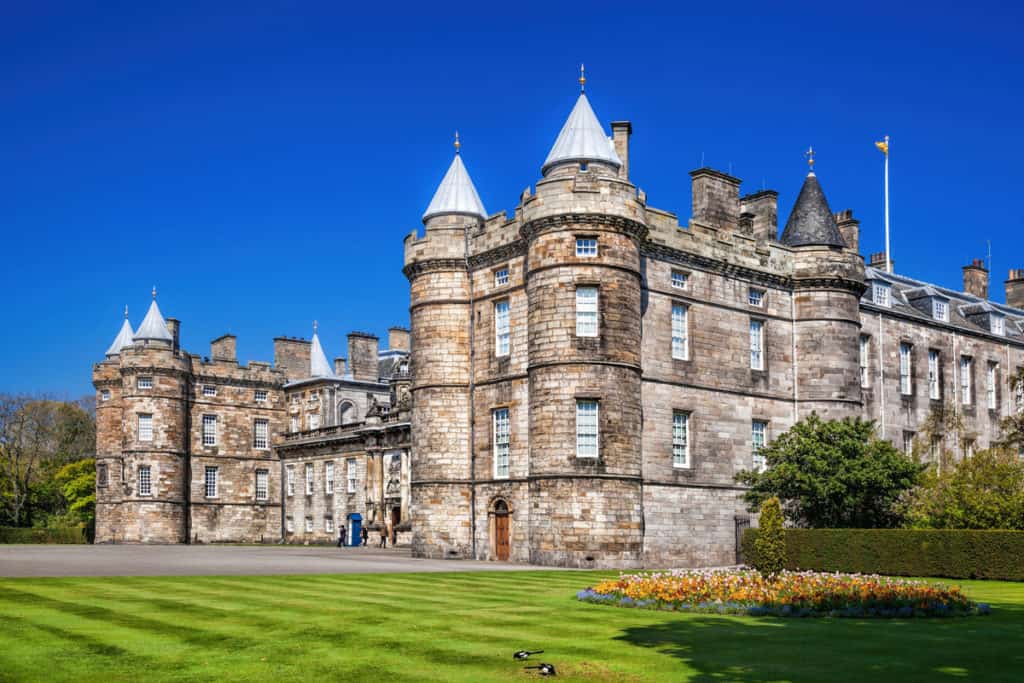 Check Out the Palace of Holyroodhouse
To finish off your walk down the Royal Mile, the Palace of Holyroodhouse awaits you only – you have three guesses – one mile away from Edinburgh Castle. The place is commonly called Holyrood Palace or Holyroodhouse and it's the official Scottish residence of the British monarch.
Who knows? You might get lucky and visit Edinburgh right when the Queen is there as well! She usually doesn't spend much time in the Holyrood Palace and moves quickly to her second Scottish home, the Balmoral Castle in the countryside, but you never know.
In any case, you can always book tickets and explore what the palace has to offer. Ticket prices differ based on what you'd like to see. Tickets targeted specifically at Palace of Holyrood cost £16.50 per adult and £9.50 per child (5-16). There are family bundles as well.
The tour lets you discover places such as the State Apartments, the Throne Room or Holyrood Abbey. If you'd like to explore the premises of British Monarchs and learn more about the history of Great Britain, the tour of Holyrood Palace is absolutely worth your time. Not only is it educational but also plain gorgeous.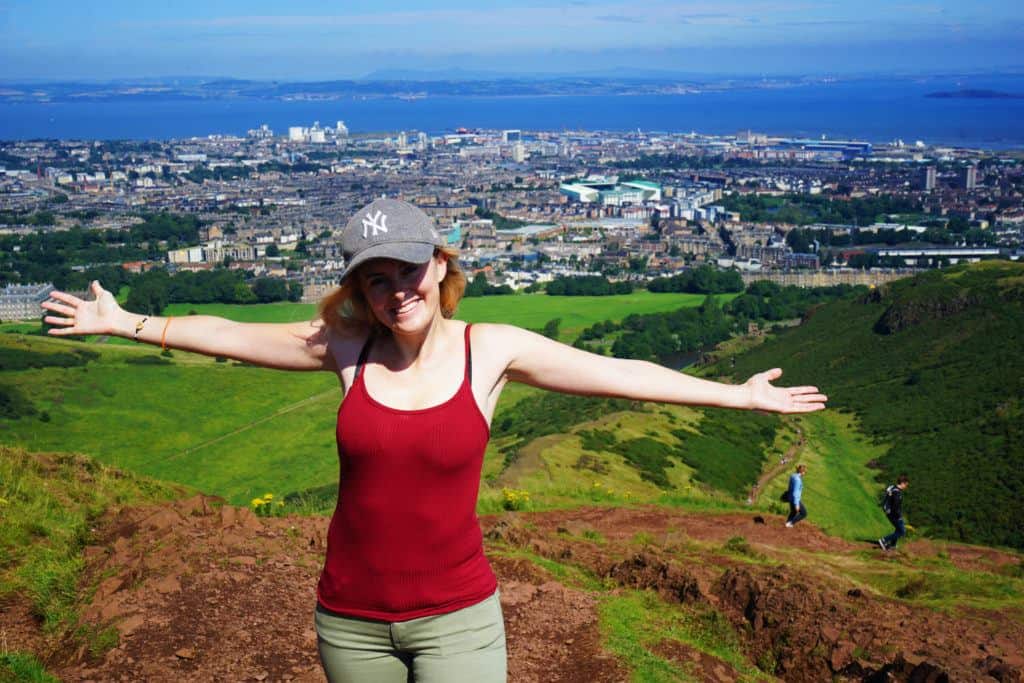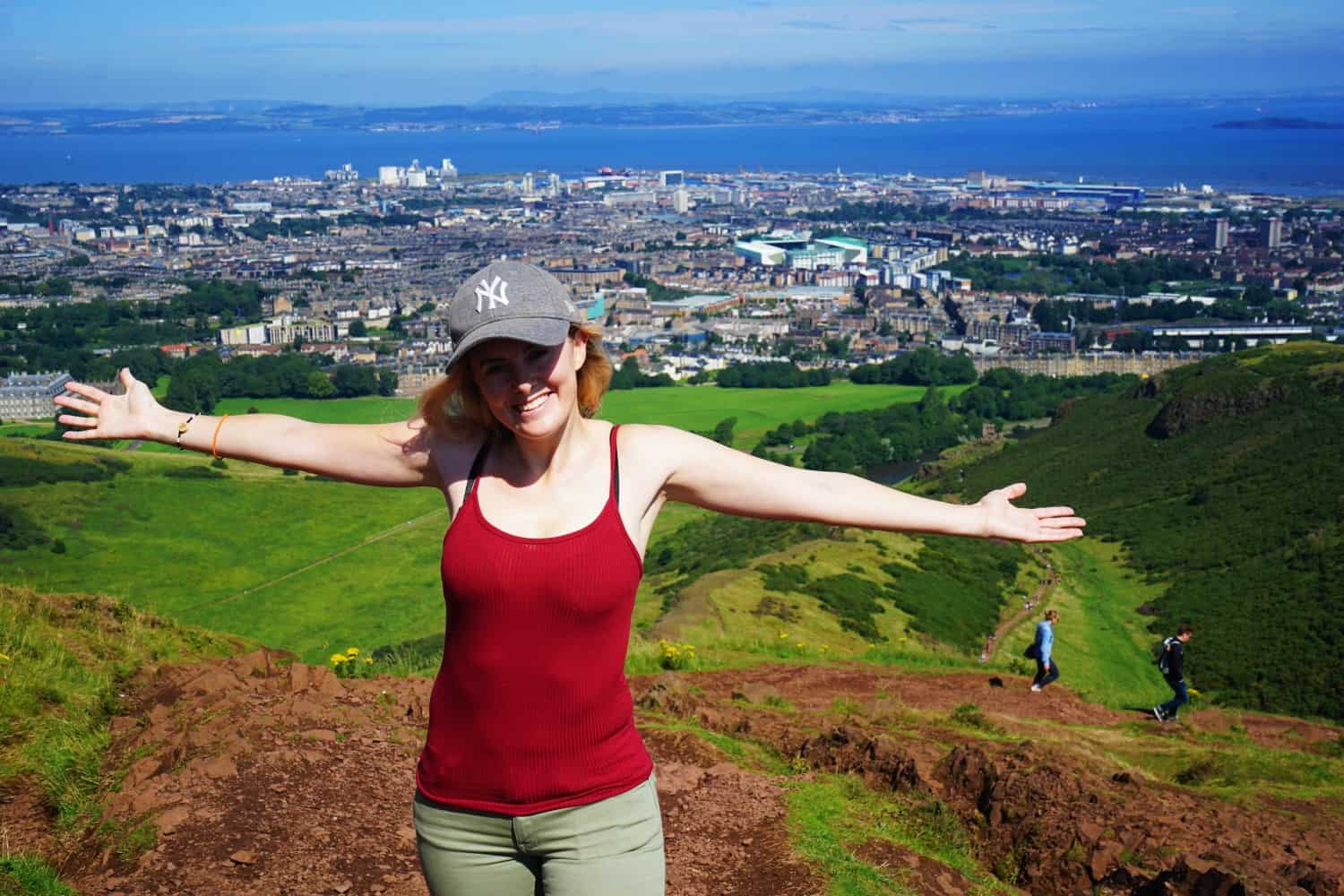 Climb Up Arther's Seat to Enjoy the View
One of my favourite features of Edinburgh is how hilly the city is. There are plenty of hills you can climb up and enjoy a beautiful view of Edinburgh, as well as the Scottish countryside and the sea. I've always enjoyed hiking up Arthur's Seat the most because it's not too hard and it's so high up that the view from there is astonishing.
This ancient volcano can be found next to the Holyrood Palace – it's actually right in the Holyrood Park. You honestly can't miss it. Once you're somewhere in the vicinity, the large hill will inevitably pop into view. All you can do is either marvel at its beauty from afar or devote the next hour of your life to going up it!
I reached the top once. It's safe to say I felt so accomplished I took a selfie at the highest point! You can't even see my face in the picture because the wind is so strong at the top of Arthur's Seat that my hair was blowing into my eyes like mad, but hey, it was worth the try.
And if you're a history enthusiast, you might find it interesting that Arthur's Seat is associated with the legendary King Arthur. It's actually considered to be one of the possible locations for his castle Camelot.
Pretty cool if I do say so myself.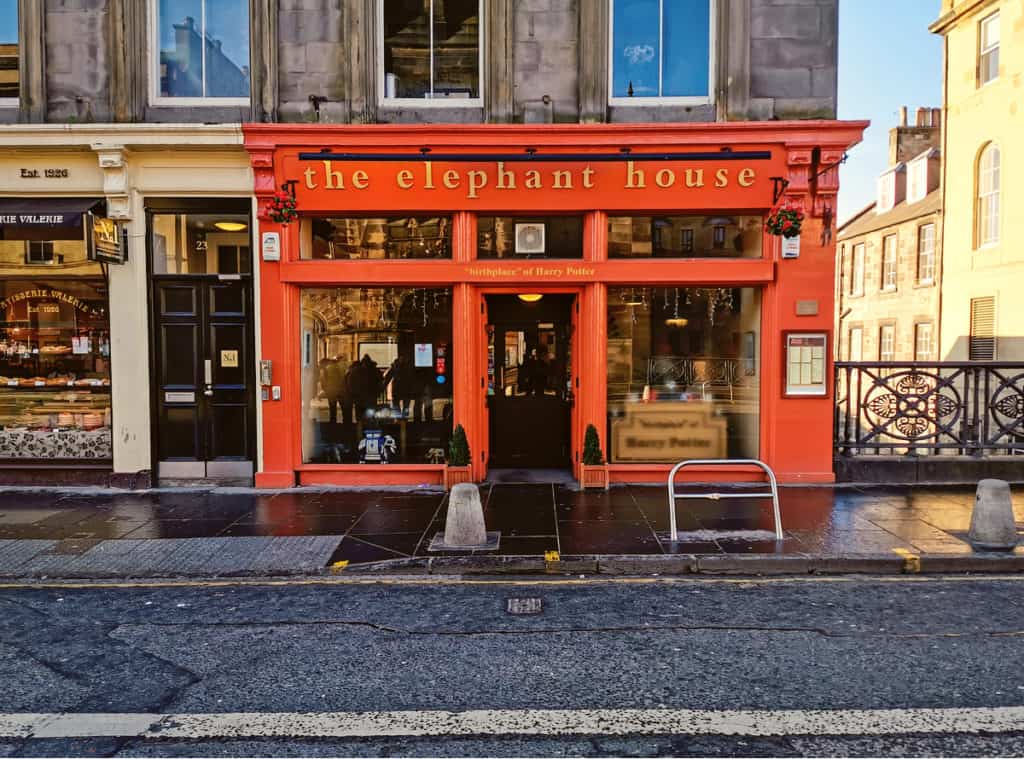 Have a Coffee at the Elephant House, Where J.K. Rowling Wrote Harry Potter
Any Harry Potter fans? If you're in love with the Harry Potter books and would love to explore real places connected to the series, Edinburgh is the perfect place to go. J. K. Rowling has lived in Edinburgh and has worked on her magical book series in many places scattered throughout the city.
And The Elephant House is one of them! I still remember the day I entered the café and felt strangely connected to Rowling – she used to sit in the back room of this café and write Harry Potter with the hopes of it being published one day, and here I am, another writer trying to make my dreams come true. The Elephant House is magical if only thanks to Rowling's former presence.
The café itself is fantastic, too. The back room offers some beautiful views of Edinburgh Castle and the coffee tastes great. There are little statues of elephants positioned throughout the café, and you're bound to find Harry Potter references during your visit.
My favourite part about the place? The toilets. I'm not even joking. Visitors of The Elephant House have made it their task to make the toilet walls as colourful as possible, and throughout the years, they've scribbled notes related to the Harry Potter series everywhere.
Trust me, doing your business has never been such a great experience. Reading Harry Potter quotes, spells and jokes everywhere around you automatically conjures up a smile on your face.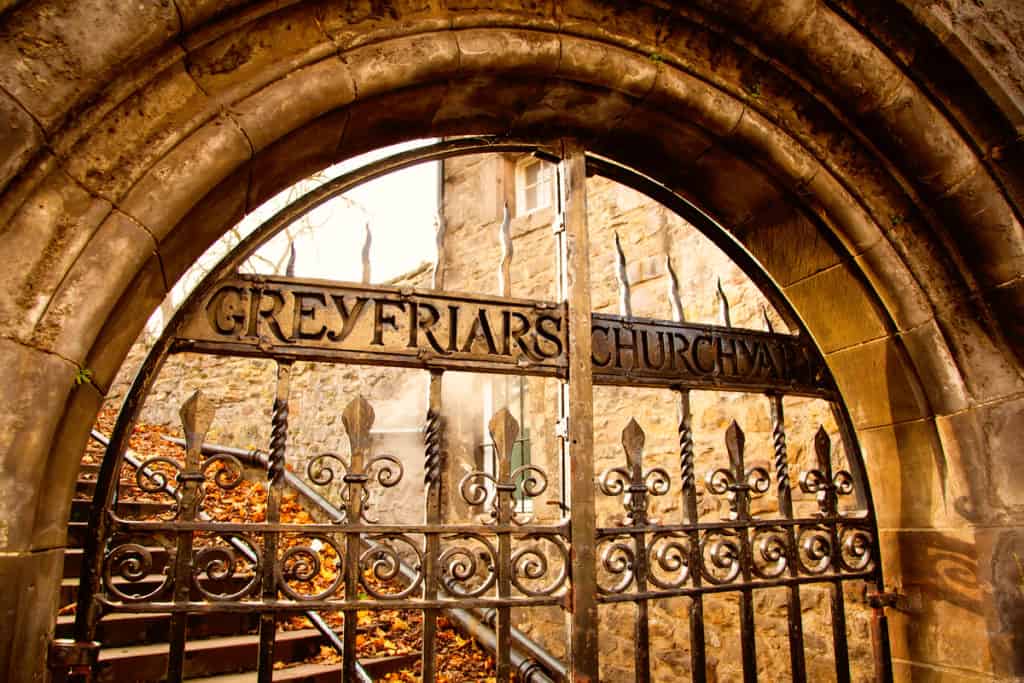 Take a Magical Harry Potter Walking Tour
If you're a proper Harry Potter enthusiast and you'd like to know all there is to know about the places connected to the Harry Potter series in Edinburgh, visiting The Elephant House might not be enough for you. You might want to see more, and that's completely understandable. After all, there are so many places to discover!
That's why taking a Harry Potter Magical Guided Walking Tour with Get Your Guide is an excellent idea. You can either become a part of a small group or have a private guiding experience, whichever you fancy most, and you get to explore Edinburgh through the lens of Harry Potter – you can earn points for your house, participate in an audio-visual quiz and learn new things about the city where the magical book series came to life. One of the places you get to visit on this 2-hour walking tour is the grave of Tom Riddle in Greyfriars Kirkyard.
If there's ever been a magical way of exploring Edinburgh, this is definitely it. As a big fan of Harry Potter, I can confirm that visiting Edinburgh has made me feel closer to the story more than ever before.
The ticket costs £12 per person on Get Your Guide.

Breathe in the Sea Air at Portobello Beach
One of the perks of Edinburgh is that the city is bordered by the sea. Although the Scottish weather is usually way too cold for swimming, walking on the beach and breathing in sea air still makes for a refreshing experience.
I stumbled upon Portobello Beach by accident when my dad and I decided to hop on a bus in Edinburgh, see where it takes us and get off at a random bus stop. We winded up in Portobello, and it wasn't long before the crashing waves of the ocean and the salty wind let us know we found ourselves at the sea front. We walked by the ocean, took pictures and saw at least five different dogs running around the beach with their owners.
I wasn't even surprised. If I had a dog and lived in Edinburgh, you'd see us at the beach every single day.
There's a great restaurant overlooking the beach, The Esplanade Bar & Restaurant, where we ended up drinking some coffee after our walk. I highly recommend this place if you're looking for somewhere to relax and grab a bite to eat. The best thing about The Esplanade is the lovely view of the ocean. Even though you're sheltered with a steaming cup of tea in your hands, you still feel like you're out there, watching the waves wash over the sand.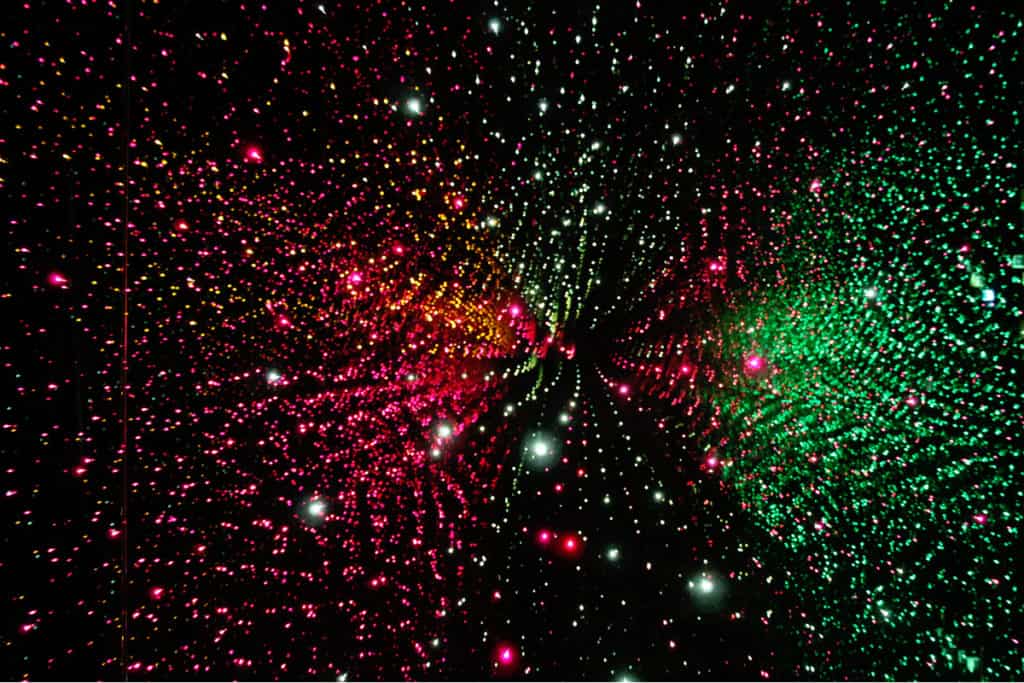 Visit Camera Obscura and World of Illusions
As historical as Edinburgh is, there are lots of modern attractions and venues to visit as well. If you're not up for looking at statues and castles all day long, an amazing way to experience Edinburgh is to check out Camera Obscura and World of Illusions located right on Royal Mile.
As the name suggests, this popular attraction is devoted to everything illusion-related, which makes it an extremely immersive experience. There are 6 floors with over 100 interactive exhibits! Light, colour, puzzles, optical illusions, mazes, tunnels and more play a big role in the attraction's appeal.
While the rooftop terrace lets you use telescopes through which you can observe Edinburgh from a great height, the lower floors offer attractions such as Magic Gallery, Bewilderworld or Eye Spy Edinburgh. All these are highly interactive and make for an unforgettable experience as you lose yourself in light and colour.
And then there's the famous Camera Obscura. The official website describes it thus:
"A dark room. A large table. A beam of light. When you walk into our special rooftop chamber, things seem pretty straightforward. But wait… An image of Edinburgh appears on the table. The narrow closes of the Old Town. The wide open streets of the New Town. What happens next is like nothing you've seen before."
Sounds intriguing, doesn't it? The whole place is very easy to find due to its proximity to Castle Edinburgh and it also makes for a fun quirky experience after a long day of interesting castle exhibitions.
The full ticket price is £18 per adult, £16 per student (you have to carry your student ID) and senior, and £14 per child (5-15). Children under 5 years of age can enter Camera Obscura and World of Illusions for free.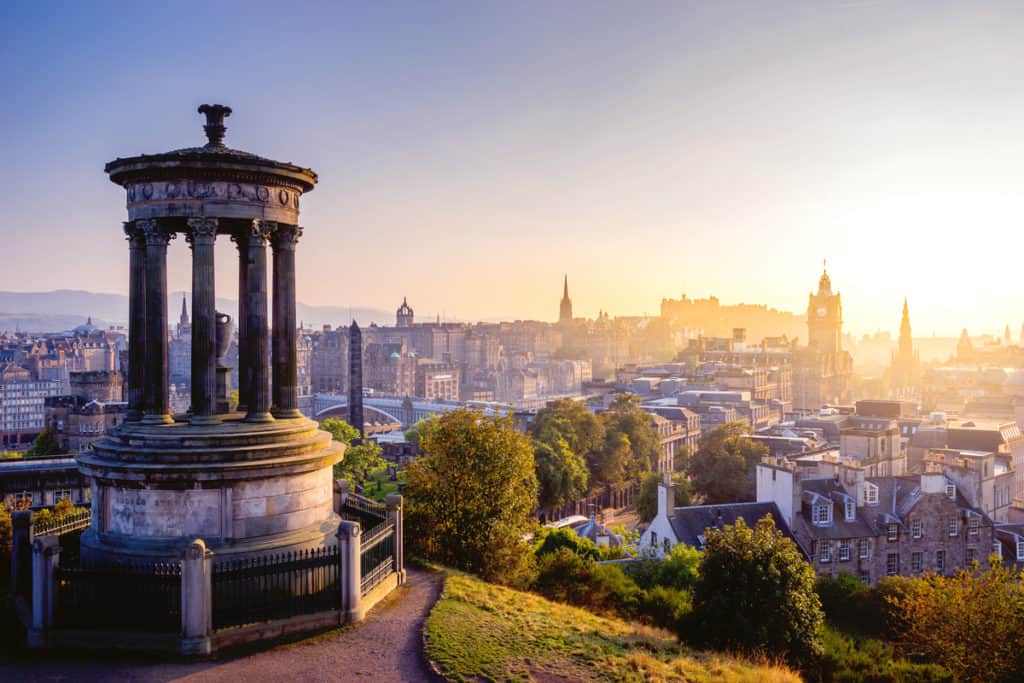 Calton Hill: Where the Most Famous Edinburgh Photos Are Taken
When you google pictures of Edinburgh, there is one particular spot that's usually all over the screen – and that's the top of Calton Hill. The monument positioned on the hill, Dugald Stewart Monument, is a beautiful circular temple that definitely makes for a gorgeous desktop wallpaper, so no wonder Edinburgh is often promoted with this structure in the foreground. It only adds to the monumental beauty of Edinburgh that can be seen below the hill.
Calton Hill is a UNESCO World Heritage Site, and for a good reason. Several historical structures can be found on the hill, such as City Observatory, Andrew's House (the seat of Scottish government – it's located on the southern slope) or the National Monument of Scotland. I've stood next to the monument many times and let me tell you… it's huge. It makes you feel like you're the size of an ant.
It's also nice background for selfies. Just in case you wondered.
Going up Calton Hill is much easier than conquering Arthur's Seat so it might be preferable for you if you're not big on hiking, and the view from there is magnificent. The sea, the hills all around, the historical buildings and monuments and the beautiful architecture of Edinburgh – all of it right at your fingertips.
The only thing I have to say is that it's very windy up there. Make sure to take a hat or something to cover your ears with. Although that goes for most hills in Scotland, to be fair. Scotland likes its wind to be fierce and strong.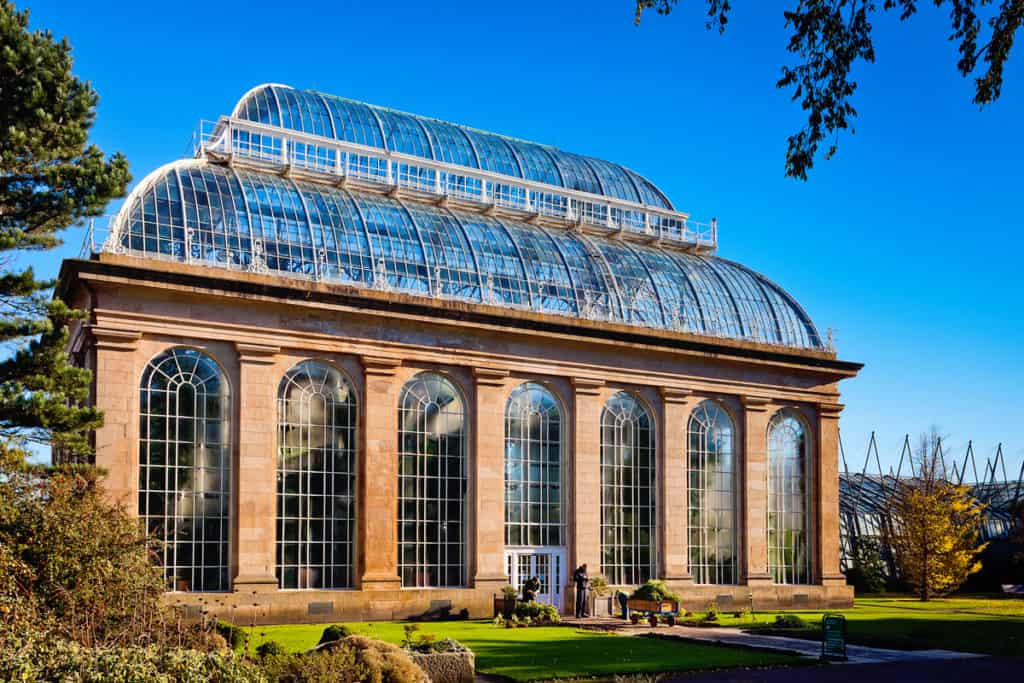 Marvel at the Royal Botanic Garden
After spending so much time in the centre of a bustling city, it makes complete sense to strive for a moment of peace and quiet. Luckily for you, Royal Botanic Garden Edinburgh (or RBGE) isn't too far from the centre of New Town – it only takes about half an hour on foot to get there and it provides you with everything you need for peaceful few hours spent in nature.
What's more, you actually get to learn a lot about plants from all over the world and their history. The garden itself is over 350 years old! The complex contains one of the richest collections of living plants in the world, including rhododendrons and high alpines.
During your visit, you can enjoy a gorgeous view of busy Edinburgh from a quiet and relaxing place. You can also buy something to eat and drink on the premises, which means you get to spend as long as you want wandering around the garden without going hungry.
The entry to Royal Botanic Garden Edinburgh is free, so why not see the beauty of it for yourself?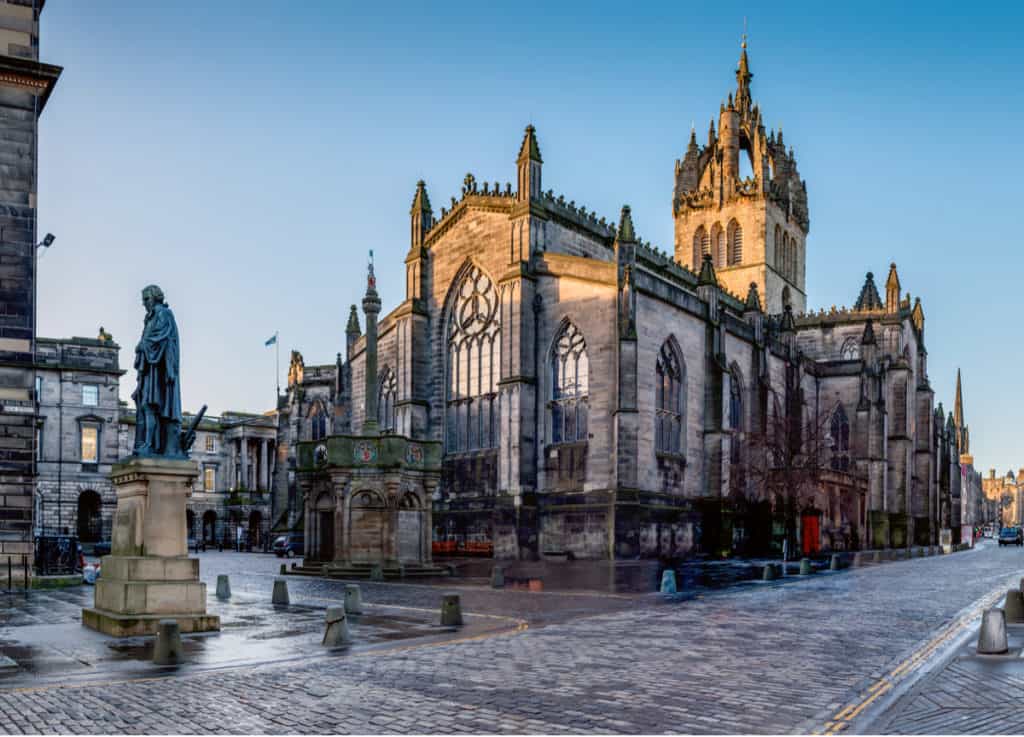 Explore St Giles' Cathedral on High Street
It wouldn't be Europe if there wasn't at least one gorgeous cathedral worth visiting in every capital city, am I right?
Well, Edinburgh definitely showcases its European roots in a spectacular fashion – the St Giles' Cathedral is one of the many ancient buildings in the city that are simply stunning. The history of St Giles' Cathedral dates back to the 14th century, and it's safe to say this parish church has played a role in many historical events, such as the Scottish reformation. John Knox himself was the church's minister here!
The cathedral is located on High Street in the Old Town. Once you find yourself in the Old Town, it's honestly impossible to miss it. Its architecture is breath-taking.
If you love exploring cathedrals and enjoying their serene atmosphere, St Giles' Cathedral is a must-go for when you arrive in Edinburgh.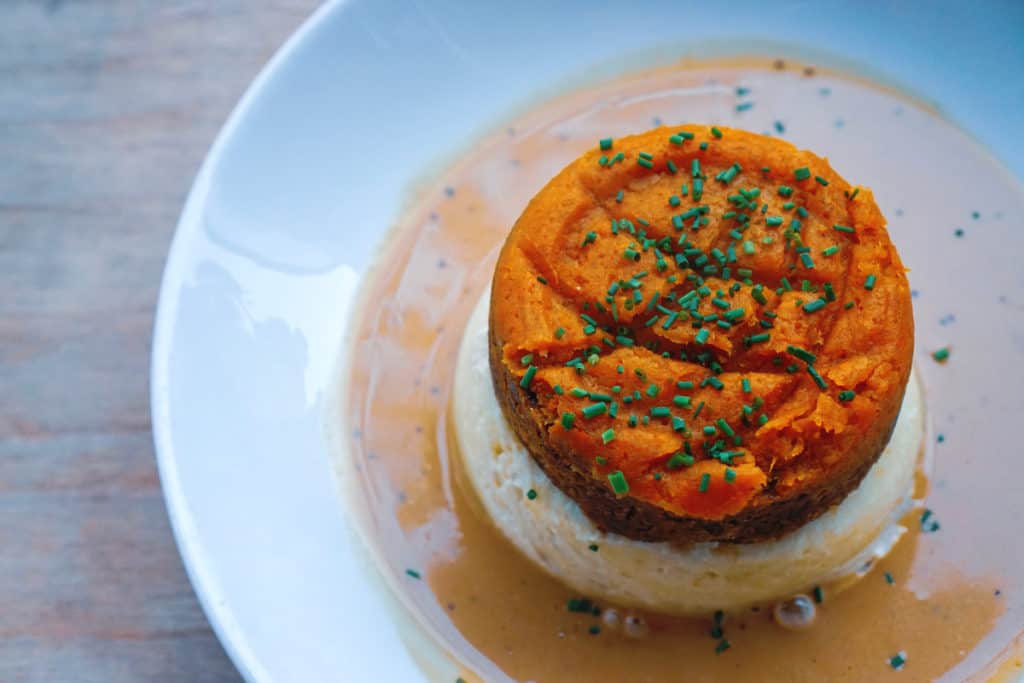 Sample Scottish Cuisine at Makars Gourmet Mash Bar
If you're visiting Scotland, there's no way you can get away without having a taste of Scottish cuisine! As strange as Scottish food may seem to some people, it's an absolute treat for others. I mean, leaving Edinburgh while not having tasted haggis is basically a crime. And because haggis can be made out of vegetables nowadays, not even vegans get a pass.
Located in the city centre, Makars Gourmet Mash Bar is a top-notch Scottish restaurant that serves local meals with meat as well as in plant-based versions. Scottish dishes you can eat in this restaurant include scotch egg, haggis, vegetable bake or mashed potatoes.
And of course, it wouldn't be a proper Scottish venue if you couldn't buy some top-quality whiskey! For those who prefer soft drinks, don't hesitate to order Irn Bru. This Scottish lemonade is very popular, and for a good reason. I can personally confirm that the drink tastes great. I'd prefer it over Coke any day.

Take Part in a Scottish Highlands Tour
Each time I find myself in the Scottish Highlands, I can't help but gawk at the astounding beauty of the Scottish landscape. Hills covered with green, fog so dense you can't see the mountaintops and iconic Highland cows – if any of this sounds alluring to you, why not take part in a guided tour that lets you see the Scottish countryside for yourself?
The Loch Ness, Glencoe & the Scottish Highlands Tour, which you can book with Get Your Guide, starts right in Edinburgh. From there, a bus will take you across Scotland on a tour that lasts over 9 hours. This means you get plenty of time to stop at many various points and experience the Scottish Highlands properly. When I found myself there for the first time, I remember thinking, "Wow. Scotland really knows how to rock gloomy weather."
The tour stops include Kilmahog where you'll learn more about Highland cows while drinking a cup of coffee, Glencoe, and Fort William where you can eat some delicious lunch and hear new information about the 'wee' kilt. And what would a Scottish Highlands Tour be without seeing the Loch Ness Lake to top it all off? For extra fee, you even get to go on a boat cruise on the lake itself!
I, for one, absolutely enjoyed being on a boat on the famous Scottish lake. I remember being shocked at how dark the water was – the lake's deepest point is 230 metres. That's deep enough to hide the Loch Ness Monster, if you ask me. I didn't get to see Nessie (which is what some people affectionately call the mythical monster) while I was there, but you never know… Maybe she was waving at me from the bottom of the lake.
The tour ends back in Edinburgh where you can disperse from the group and continue enjoying Scotland's capital city after a long refreshing day in nature.
Loch Ness, Glencoe & the Scottish Highlands Tour costs £50 per person with Get Your Guide.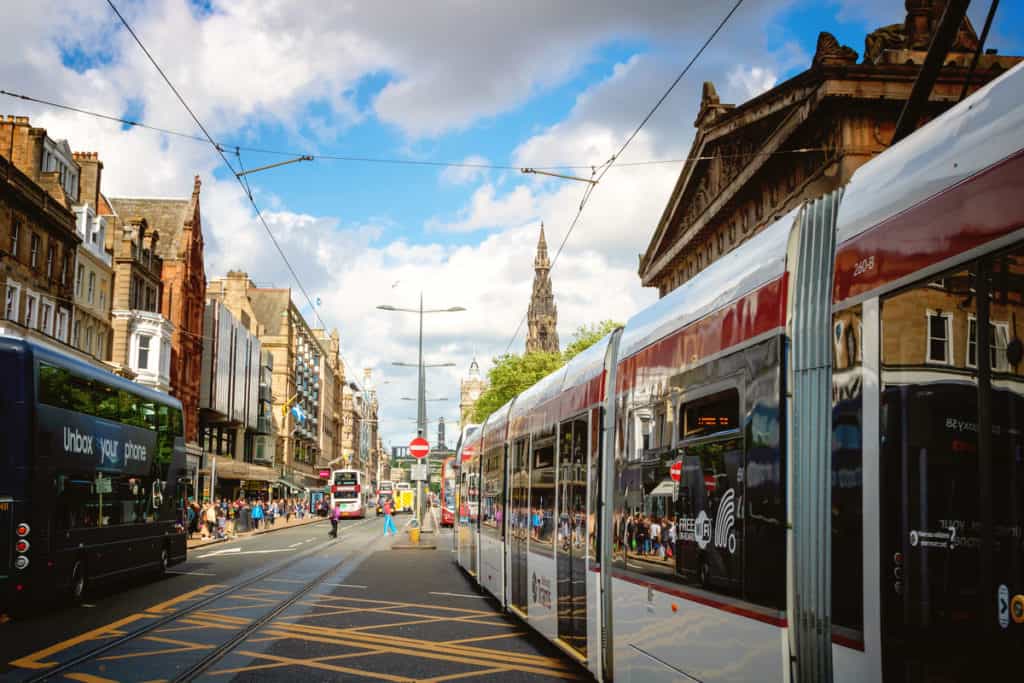 Experience the Bustle of the City on Princes Street
The centre of Edinburgh is essentially split into two parts – Old Town and New Town. While Royal Mile rules the Old Town, Princes Street is where all the bustle and hustle of the New Town happens.
Filled with shops, restaurants and cafés, Princes Street is the perfect place to go if you're in the mood for a meal or a shopping spree. You can buy yourself plenty of things in LUSH, Primark or H&M, after which you can head to Starbucks for a cup of coffee.
In short, Princes Street is everything you'd expect from the main shopping street in a city centre – convenient and crowded. The difference between some other cities and Edinburgh is the fact that while you're strolling down the Princes Street, you have an amazing view of Edinburgh Castle and the Old Town, therefore you're still taking in the ancient European atmosphere.
Edinburgh is very open in its layout, and so while streets in other cities may be a little bit claustrophobic, Edinburgh always gives you a space to breathe during your shopping trip.
That's my definition of ideal.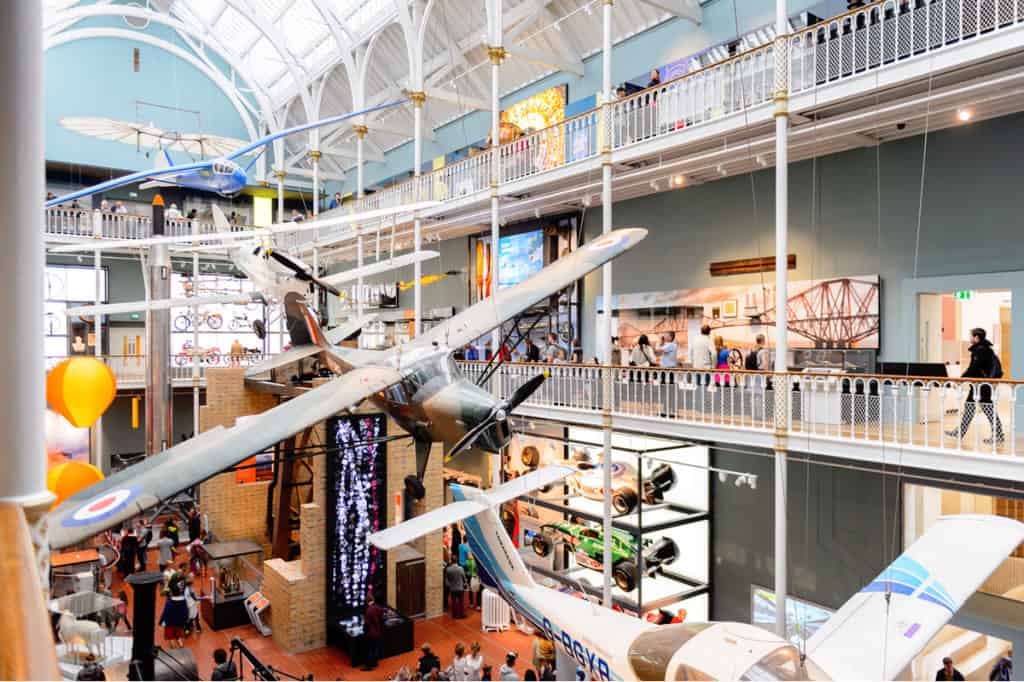 Visit the National Museum of Scotland
Capital cities in Europe are always full of interesting museums, and Edinburgh is no different. Visiting the National Museum of Scotland might be a great idea if you want to expand your knowledge on not only Scotland itself but also other cultures from all over the world.
There are many various galleries to explore depending on your interests – Fashion and Style, Kingdom of the Scots, Scotland Transformed, Artistic Legacies and much more. After your experience, you can stop at the museum café and the shop to complete your educational experience.
National Museum of Scotland is one of those museums you don't have to pay for, which is one of my favourite things about Europe in general – so many educational opportunities are for free! You can just walk in, take in the relaxing atmosphere and learn new things about Scotland and beyond.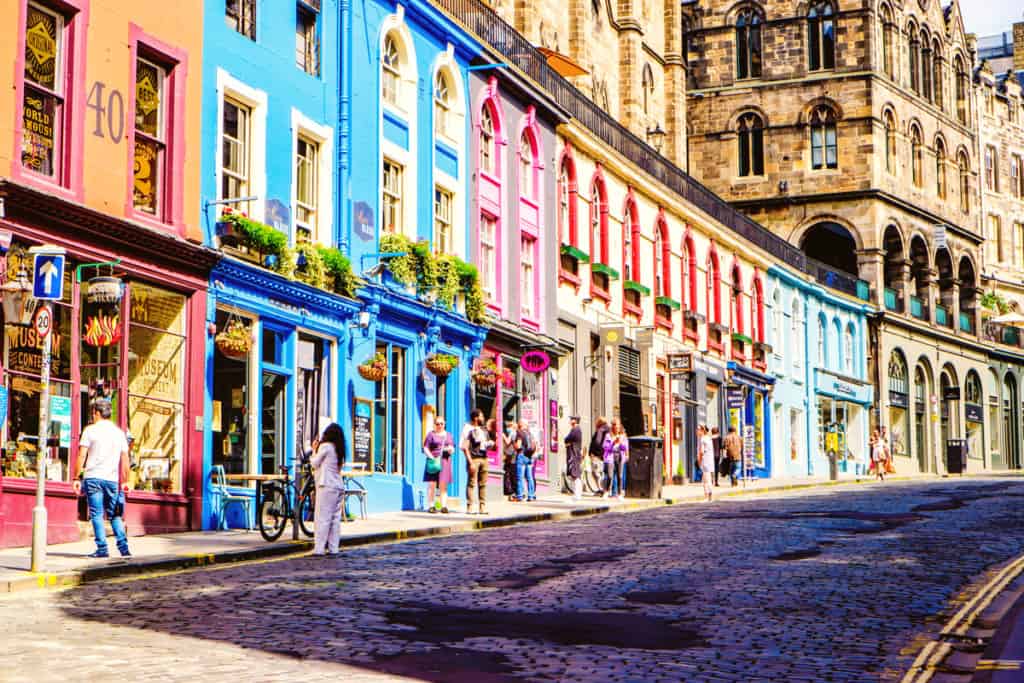 And That's Edinburgh!
Edinburgh is a city that absolutely knows how to turn gloomy weather into a magical experience. With its ancient monuments, breath-taking architecture, refreshing coast and stunning greenery all around, the capital of Scotland conjures up its own specific atmosphere that you can't find anywhere else.
Whether you visit Edinburgh in the summer to enjoy its scenic beauty or in the winter to experience the magic of the city's Christmas markets, Edinburgh will always have plenty of places to impress you with.
And while you're there, try out a deep fried Mars bar. It may look off-putting but trust me… this weird Scottish treat is to die for.