How has it taken me so long to get around to writing a budget breakdown for London?
London is everything to me.
I was born in this incredible city and spent the first 23 years of my life exploring everything it has to offer. Even now, a decade after leaving to travel the world, I consider London home and return every single year to spend my summers strolling its streets.
Whether you're a local or a tourist, it's impossible to run out of things to do and see in this magnificent place. A list of things to do would stretch into the hundreds, if not the thousands; my top restaurant recommendations would require months to visit them all. You could spend a week in London doing nothing but visiting world-class museums and leave with just as many left on your to-do list. And that's before I even dive into the countless day trips that are up for grabs around the U.K.
And all of this wonder? Yeah, it won't be a surprise to hear that it comes at a steep price.
London is expensive, but there are plenty of ways to keep your budget to a minimum — when I returned to the city after backpacking in Southeast Asia, I was still able to keep my costs low by staying in hostels and eating the delicious street food. But if you're all about that luxury life? London is unlike anywhere else in the world, with so many world-class hotels and restaurants to dip into.
Today, I'm going to be sharing exactly how much you can expect to spend on a trip to London.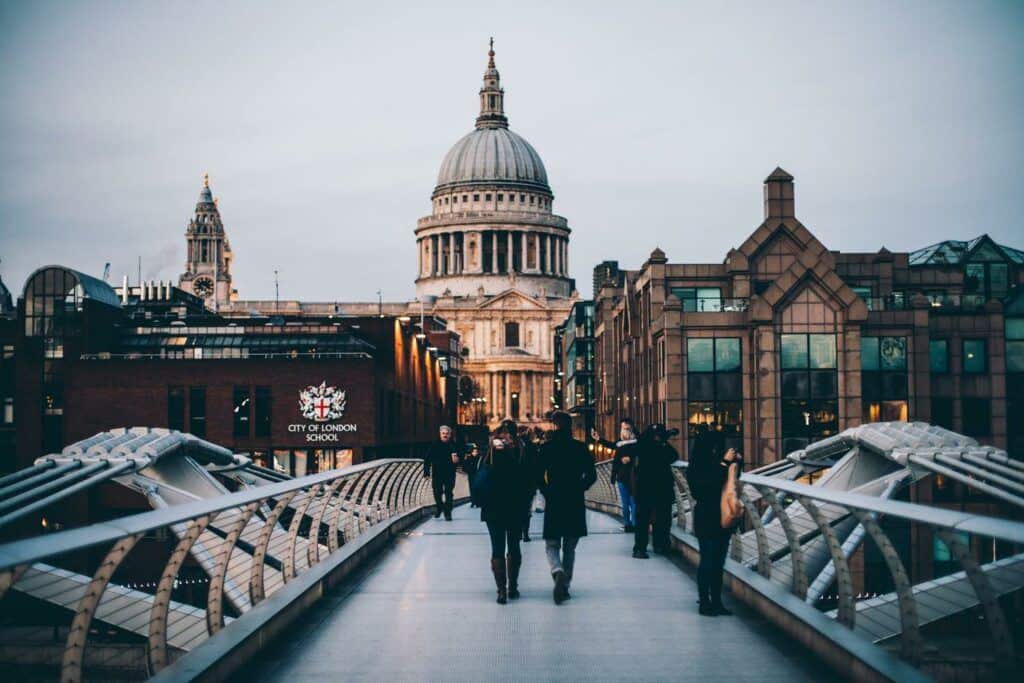 The Cost of Accommodation in London
The Lilac Door ($146 a night): The Lilac Door is an adorable family run bed and breakfast full of charm and warmth. Clean, comfy and simply decorated rooms provide guests with a welcoming vibe. And that welcoming air is carried throughout the establishment with attentive and kind hosts and a stellar breakfast with options of gluten-free, vegetarian or an English plate. In fact, they take the "breakfast" part of bed and breakfast quite seriously with a multi-tiered spread of croissants, yogurts and omelets. Use the energy from the breakfast fuel to walk to attractions such as Dulwich Picture Gallery and Crystal Palace Park.
Blackbird ($207 a night): Taking in all the elegance at this hotel, it might be surprising to learn this is a pub first and an accommodation second. Fuller's Pub in Earl's Court is a classic 'pub with rooms' and serves a high-end gastronomic menu. The brew is known best for their cask conditioned ale, but the impressive drink options carry over into wine and spirits. The best part? After you've had a few, you don't have to stumble far to find peaceful sleep. This is a classy all-in-one kind of establishment. In fact, there is a wistful darkness to Blackbird. The dramatic touches of décor bring on the romance while the crisp cleanliness allows comfort to be on the forefront.
Milestone Hotel Kensington ($428 a night): This is Cinderella's escape. Glamour and British tradition mingle endlessly in this residence. The rooms and suites boast dramatic colored headboards, floor-stroking curtains and stylish chandeliers. Set aside some "me time" to reset and sweat at the 5-star Wellness Spa which offers a variety of rejuvenated treatments, a sauna, yoga and Pilates classes and a resistance plunge pool. The hotel is a haven for dining and drinking options with a list of bars and restaurants on the property and happenings such as teatime and a picnic in the park. When it's time to leave the premises (and it might never be), the staff is flawless in accommodating their guests.
THE AVERAGE COST OF ACCOMODATION IS $264 PER DAY
The Cost of Transportation in London
Your first travel experience from London is going to depend a hell of a lot on which airport you choose to land in. Heathrow, Gatwick, Luton, Stansted, or even London City: all are potential options, but only London City is anywhere close to the centre of the action. For every other airport, you can expect an hour or two of public transport to get into central London. Yeah, it's a pain in the ass.
Once you're there, though, moving between attractions is a breeze. Buses, double decker buses and trams are all frequent and notable ways to travel in London. Prices vary per trip from $2 to $6 but you will need a prepaid Visitor Oyster Card or Oyster Card to get on and off each mode. It's important to note, you can hop on and off as much as you'd like within one hour of your journey's first touch in and you will never pay more than $6.43 each day no matter how many touches you make. If you opt for the 7-day pass you'll pay $26.
The underground railroad, better known as the Tube, is a busy network that covers 9 zones. It's a common and inexpensive way to get around, as long as you purchase the correct card rather than buying a single ticket pass during your journey. A single ticket costs $6.50, that's more than double what you'd pay on an Oyster Card at $2.85. In fact, if you plan on using public transportation for more than one trip during your stay it's best to get the Oyster Card.
The overground railway is another option, although not as commonly used as its underground counterpart. Stops are less frequent, but the view is better. Connected to the railway system, Docklands Light Railway, or DLR is an innovative driverless option linking Emirates Air Line cable car and London City Airport. Oyster Card applies.
When you tire of the railway and bus system, hop on a boat instead. The Uber Boat by Thames Clippers is a unique way to skip the (oftentimes) chaotic London transportation scene and enjoy the beauty of the surrounding Thames River. Oyster Cards are accepted and kids under five ride free, while an adult single fare starts at $5.50 and an unlimited River Roamer ticket goes for $21.
And sometimes you just want to oversee your own pace throughout a city. In that case, pedaling through London will do the trick. There are many dockless bike share systems with companies such as Santander, Jump and Mobike. But if you're looking for both quality and a measly price tag, Mobike is your pick. They offer some of the cheapest rides starting at $1 per 20 minutes but if you're in town for a while, the best choice is the 30-day rental for only $14.
THE AVERAGE COST OF TRANSPORTATION IS $8 PER DAY
The Cost of Food in London
Yeah, I'll point directly at the elephant in the room right now: English food has a terrible reputation. Jellied eels, spotted dick, and toad in the hole are often called out by visitors to my homeland, with many still believing the British cuisine pre-millennium is still in favour. That couldn't be any less true!
London is one of the greatest cities in the world for eating these days, and you're going to have so many delicious meals while you're in town.
The full English breakfast is stacked with a smorgasbord of goodies: eggs, potatoes, sausage, baked beans, toast and tomatoes. Shepherd's pie is a national indulgence, but it is not exactly a pie, more like a casserole of meat and gravy. The beloved pie and mash is set up with two flaky pastries sandwiching meat stacked next to mashed potatoes and smothered in gravy. It's a tasty way to feast.
When it comes to eating out, you will find breakfast to be a bit cheaper than lunch and dinner even when you go for the full traditional English breakfast for $9. If you're not a big breakfast person, go for a croissant and a cappuccino and dish out $7 for the whole shebang.
Lunchtime is a casual happening and might consist of a sandwich for $8 (we are known to use butter instead of mayo), a traditional English pie with various meats for $11, a sausage, mash and gravy plate for $11 or a plate of chips (also known as French fries) for $4. If you want a lunchtime beer at a restaurant you can save a few bucks as they run for $5 in casual cafes versus the pricier option of $7 in a pub. 8 14 28
Dinner is the most expensive spurge but it's usually worth it. Fish and chips run for $21 but if you do it right, you'll want to buy two! Fish and chips are my go-to during my time in London but not all dishes are created equal. Some are cheaper ($10) during the lunchtime hour but be mindful of the difference in price and tastiness. Grilled cod, flounder or salmon starts at $15 while a good steak will go for $20. A glass of wine starts at $8 and cocktails start at $10. Keep in mind, if you eat in a gastro pub, you're more likely to see meal prices drop to about half of those in a proper restaurant but the quality is still high enough to do the trick!
After you've eaten your way through the city it's ok to step outside the traditional English cuisine to taste the many flavors from all over the world. With an abundance of individuals from different cultures and backgrounds residing in London it's sensible that their country's cuisine has also set up shop. There is an overload of outside influence across the city. If you are craving any type of food derived from any culture, chances are there is a restaurant serving it.
AVERAGE COST OF EATING OUT IS $57 PER DAY
The Cost of Activities, Tours, and Entrance Fees in London
Where to even begin? There's so much to do in London that I could write an entire article for each and every activity.
We'll start things off with the big hitters.
When it comes to paid activities within the city, the London Eye is one of my favourites.
I've been for a ride on this giant observation wheel three times now — once in the morning, once at sunset, and once in the evening — and it's one of my favourite places to take friends who are new to the city. It's a great first destination in London, in my opinion, as it gives you a sense of the size of the city and where the attractions are in relation to each other. I recommend going at sunset, as at this time, you'll still be able to make out the monuments but also get to watch the city start to light up. Prices come in at £24.50 for a standard ride or £34.50 to skip the line. As somebody who has spent over an hour queueing to board the Eye, I recommend the latter if you can afford the extra cash.
The Tower of London is another iconic location that you have to check out. Blending together over a thousand years of history, while you're there, you can catch a glimpse of the Crown Jewels
Churches and museums grace nearly every corner, enlightening history fanatics of the centuries old religious presence and modern art spirit that lives there. Most of the to-dos are best seen by simply walking through them. Big Ben, the Tower of London and Tower Bridge are all a sight to be seen and an opportunity to capture that 'London pic'. The London Eye is an experience for those craving a 360-degree view of the city. The windowed pods adjacent to River Thames carry you up and around for views you can only see on the Eye. Prices start at $28.
Piccadilly Circus is London's version of Time's Square. It's busy, brightly lit and full of people. But most importantly, it's free. Yes, people watching at the circus is totally free of charge and totally worth it. For all you night owls, take notes. Pubs, Broadway productions, restaurants and clubs will keep you happily vibing until the wee hours of the morning if you so choose.
Hyde Park and Kensington Gardens is a beautiful way to see a different side of London. Picnics, bike paths, swans, blooming gardens and a memorial walk pathed with history are all features of this must-do. There are no costs associated with this venture but there are vendors scattered around eager to serve you a coffee or lunch to accompany you on your stroll.
And day trips?
There's so many opportunities to get around the
After you've wandered every museum, toured every church and sat in every pub, it's time to explore the outskirts. Oxford and Cambridge offer a portal back in time with winding cobble stoned roads, thousand-year-old churches and universities that hold both clout and tradition. Stonehenge is a mystery worth digging into during your time here. Just short of a three-hour drive from London, you will find a pile of rocks strategically placed. By whom? No one knows. Day trip tours start at $80.
The Cost of Travel Insurance in London
If you've read any other posts on Never Ending Footsteps, you'll know that I'm a great believer in travelling with travel insurance. I've seen far too many Go Fund Me campaigns from destitute backpackers that are unexpectedly stranded in a foreign country after a scooter accident/being attacked/breaking a leg with no way of getting home or paying for their healthcare. These costs can quickly land you with a six-figure bill to pay at the end of it.
In short, if you can't afford travel insurance, you can't afford to travel.
Travel insurance will cover you if your flight is cancelled and you need to book a new one, if your luggage gets lost and you need to replace your belongings, if you suddenly get struck down by appendicitis and have to be hospitalised, or discover a family member has died and you need to get home immediately. If you fall seriously ill, your insurance will cover the costs to fly you home to receive medical treatment.
I use SafetyWing as my travel insurance provider, and recommend them for trips to London. Firstly, they're one of the few companies out there who will actually cover you if you contract COVID-19. On top of that, they provide worldwide coverage, don't require you to have a return ticket, and even allow you to buy coverage after you've left home. If you're on a long-term trip, you can pay monthly instead of up-front, and can cancel at any time. Finally, they're more affordable than the competition, and have a clear, easy-to-understand pricing structure, which is always appreciated.
With SafetyWing, you'll pay $1.50 a day for travel insurance.
HOW MUCH DOES IT COST TO TRAVEL IN LONDON?
Accommodation: $264 per day
Transportation: $8 per day
Food: $57 per day
Activities: $38 per day
Total amount spent per day: $367
Related Articles on the United Kingdom

🥾 What's it Like to Walk the South Downs Way?
🚶🏼‍♀️ How Not to Walk Hadrian's Wall
🏴󠁧󠁢󠁳󠁣󠁴󠁿 15 Best Things to Do in Edinburgh