Seeing Geneva for the first time was an incredible experience. Before my visit, I'd heard many things about this second most populous city in Switzerland – it's the home to many international organisations such as the United Nations or the Red Cross, it's one of the financial centres of the world, and it's where lots of essential global diplomacy takes place.
In other words, it might be a little bit boring for a traveler.
However, nobody had prepared me for how picturesque Geneva is. The city isn't that big. When you compare it to other European cities like Berlin or Vienna, it's actually quite small. The population is around 200 000 inhabitants, and the city stretches on for almost 16 square kilometres. As small as Geneva is, it's an incredible city that has a lot to offer! Geneva is located very close to the Jura mountains which are often covered in snow, creating an amazing backdrop for the old Swiss city. What's more, Geneva is right on the shore of Lake Geneva, one of the largest lakes in Western Europe.
All in all, the nature surrounding the urban space is just stunning. If you're looking to stay in a city that's located in the midst of beautiful wilderness, Geneva might be perfect for you. And while there are mountains and a lake hugging the city, Geneva itself is also the centre of culture and economy thanks to its international importance. It's the ideal mix of nature and culture, if you ask me. The buildings in the historical city centre are exactly what you would expect from an old European city – monumental, ancient and gorgeous. When you walk down the streets of Geneva, you definitely feel the fairytale-like European atmosphere that transports you back in time. Especially during Christmas!
Geneva is the most populous city of Romandy, which is the French-speaking part of Switzerland. It's time to brush up on your French language skills! Personally, I loved speaking in French during my stay in Geneva – I was surprised at how similar Swiss French is to French from France! Except for a couple of exceptions, it should be very easy for you to understand what people are saying.
And if you can't speak French, don't worry. Geneva is an international city for a reason! With so many global organisations, worldwide trading and tourists from all over the planet, it should be easy enough for you to get by using English. Or maybe even German and Italian would do since these languages are spoken in the other parts of Switzerland!
My favourite thing about Geneva is probably how it combines picturesque elements with classiness. There are so many museums, grand buildings and wisdom-related attractions, which brings out the spirit of knowledge and European intellectual culture. At the same time, though, the streets of Geneva can truly enchant you with how picturesque they are. Geneva mixes the small-town vibe with the European grandness of the past really well, and exploring the city makes for an incredible experience thanks to that.
When you visit Geneva, be prepared to see many museums, statues and buildings that date back centuries. All of this lives in harmony with peaceful nature that's just a throw of a stone away. Because of this, visiting Geneva is a great idea for a weekend getaway or a leisurely holiday full of discovering new knowledge in beautiful museums as well as hiking in the mountains.
Here are 15 best things to do in Geneva!
See the Geneva Water Fountain
The first thing I saw when I hopped off the bus was a large water fountain in Lake Geneva. It sprayed so high I actually gasped! I swear I'd never seen a water fountain this big. That was the day I realised water can rain on you no matter how far away from the source you are… as long as it's high enough.
The Geneva Water Fountain (Jet d'Eau in French) is one of the most popular tourist attractions in the city. Five hundred litres of water per second (!) are sprayed as high as 140 metres by two pumps, creating an immense water jet that's truly impressive to look at.
The current Jet d'Eau was installed in 1951, however, the history of water jets in Geneva dates all the way back to 1886. The water used during the performance comes from the lake, therefore no water is being wasted.
When you come closer to have a look at the water fountain, make sure to stay cautious, though. The wind can change at any second, and you might end up completely drenched! This doesn't sound like the best idea, especially if you're visiting during winter.
Beware of the water jet. That's all I'm saying.
Explore the Palace of Nations
One of the most vital places in Geneva is the Palace of Nations (Palais des Nations in French), which is the home of the United Nations Office at Geneva. The building was built back in the 20th century to serve as the headquarters of the League of Nations, the first global organisation to try to maintain global peace. The place has been the seat of the United Nations Office since 1946.
One of the most striking features about the palace are all the different flags that mark the entrance. When I found myself standing in front of the building, seeing all the various colours representing countries from all over the world made me think of how much beauty there is in diversity and collaboration.
If you want to explore the Palace of Nations from inside, you can book a group tour and discover much more about the UN. You'll be able to see where thousands of international meetings take place and where politicians collaborate together in the pursuit of keeping peace between nations!
Just so you know, the tours aren't running during the Coronavirus crisis.
Soak Up the Atmosphere of Vieille Ville
Vieille Ville, or Geneva Old Town, is the historical city centre of Geneva. It's the place to go if you want to walk down picturesque streets, stop at small cafés and experience the ancient European atmosphere.
Ancient streets, small squares, museums, statues and historical landmarks – that's what you can expect from Vieille Ville. The oldest place you can find there is Place du Bourg-de-Four, a square located in the very heart of Geneva Old Town. The square is so old that it used to serve as the Roman marketplace! It's a great meeting point for groups and it's lined with incredible restaurants, cafés and medieval fountains. And if you visit during Christmas… well, let's just say you're bound to enter a fairytale.
And that's not all. There are many other amazing places to see in Geneva Old Town, including St. Pierre Cathedral, Maison Tavel – the museum of history of Geneva – or the famous Hotel de Ville.
Personally, soaking up the atmosphere of Vieille Ville is a great experience in and of itself, no matter how many historical landmarks you explore. Vieille Ville isn't that big, so you'll be able to walk it all on foot and properly enjoy the maze of old streets and medieval squares.
I highly recommend you stop at a café and enjoy a cup of coffee while you're taking in the beautiful historical city centre. It's one of the best ways to enjoy Geneva Old Town if I do say so myself.
Climb the Towers of St. Pierre Cathedral
While you're in Geneva Old Town, there's one building you definitely can't miss, and that's St. Pierre Cathedral (Cathédrale Saint-Pierre in French). This magnificent cathedral is extremely close to Place du Bourg-de-Four, making it an easy destination when you're exploring Vielle Ville.
St. Pierre Cathedral used to be a Roman Catholic church, however, it turned into a Reformed Protestant church during the Reformation. The cathedral is actually associated with John Calvin (Jean Calvin in French) himself! There's a wooden chair inside the church that was used by this leader of the Protestant Reformation when he was still alive. Before my visit to the cathedral, I'd never seen a chair this old!
The cathedral was rebuilt throughout the centuries, which means there are many architectural styles that add to the beauty of the building, such as the Gothic style and the Neoclassical style.
Nowadays, you can enter the cathedral for free and marvel at the beauty of its interior. If you'd like to see an amazing view of Geneva and the Water Fountain on Geneva Lake, you can climb up the North and South towers to get a 360-degree panorama view.
Check Out the Flower Clock
I've seen many strange clocks in my life, however, nobody prepared me for a clock made out of flowers. If there's one city that could display something so strange and beautiful, though, it would definitely be Geneva – after all, Geneva is famous for its amazing watchmaking tradition! And that's why I wasn't all that surprised when I saw The Flower Clock (L'horloge fleurie in French), an outdoor clock made out of over 6 500 flowers, in the Jardin Anglais park.
The plants on the clock change depending on the seasons, and therefore The Flower Clock always blooms in beautiful colours no matter what time of year you visit. It was created in 1955 to honour nature as well as watchmakers from Geneva, and it's one of the largest flower clocks in the world!
I loved looking at The Flower Clock because it reminded me of the beauty people are capable of creating. The flowers are gorgeous, the colours striking and the whole message behind the clock is beautiful as well. Plus, it makes for great pictures!
So why not take a photo with a clock made out of flowers?
Discover the Reformation Wall
The Reformation Wall (Monument international de la Réformation in French) is a very interesting landmark to explore no matter if you're a history enthusiast, a protestant or simply someone who would like to find out more about the Reformation. Located on the grounds of the University of Geneva, the wall displays many statues and reliefs that represent important figures from the times of the Reformation.
Since Geneva was the centre of Calvinism and the University of Geneva was founded by Calvin himself, it only makes sense for the fortification walls to be made into an important monument commemorating this period of time. The Reformation Wall is beautiful, and the sculptures are so well-made that it still blows my mind when I remember the sight. They were created by the French sculptors Paul Landowski and Henri Bouchard, and the monument was then inaugurated in 1909 to celebrate 400 years since Calvin's birth.
Some of the notable people displayed there include John Calvin, John Knox, Oliver Cromwell, Theodore Beza and many more. If you look closer, you'll be able to see the motto of Geneva as well as the Reformation engraved on the wall – Post Tenebras Lux, which means "After darkness, light" in Latin.
The Reformation Wall is an important monument for Geneva as well as protestants, and it's definitely one of the places you should visit when you're in Geneva. It speaks of the city's past, and it's a beautiful monument to behold.
Hike of Mont Salève and Enjoy the View
While you're in Geneva, it would be a shame not to go explore the nearby mountain range, especially if you love hiking. Mont Salève is a great place for that! It's actually called "Balcony of Geneva" – you get an incredible view of the whole city once you get high enough.
What's more, Mont Salève isn't just a place to hike. You can go mountain biking, paragliding, trekking, or even skiing when there's enough snow (usually in the winter months). You might even get lucky and be able to see Mont Blanc when the sky is clear!
The place isn't too far from Geneva, therefore visiting Mont Salève makes for an excellent one-day trip in nature. If you're not too keen on hiking, you can get in the cable car that will take you up in under five minutes! The price for the cable car is usually 13.3 CHF per adult. If you have the Geneva City Pass, it's for free.
Be aware of one thing, though – due to renovation works, the cable car is closed until 2023.
Visit the Museum of Art and History
Like many European cities, Geneva is full of interesting museums. One of the most vital ones is the Museum of Art and History (Musée d'Art et d'Histoire in French). It's actually the largest art museum in Geneva, and it's the home of many vast art collections that focus on various subjects, such as archaeology, graphic arts, fine arts, applied arts, or even watchmaking!
The official website of the museum says this about their watchmaking collection:
"The Watchmaking, Enamelling, Jewellery and Miniatures section honours Geneva watchmaking (enamel watches, complicated masterpieces) and Swiss specialities (small or fancy jewellery watches, music and automaton mechanisms). French clock-making, with its great watchmakers (Breguet, Leroy, Lépine, etc.), also has a prominent place, while miniatures on enamel, ivory or vellum underline the dexterity of Geneva and European artists."
Many notable artists have their work displayed here, which is why visiting the museum is a must for any art enthusiast who finds themselves in Geneva! During your visit, you can get an audio guide that will explain everything there is to know about the works of art in your target language, making your experience all the more educational and enriching. As you walk through the museum, you'll learn plenty of new information not only about Geneva but also about art in general.
The entrance fee is 5CHF per adult. You can enter for free if you're a holder of the Geneva City Pass.
Head to the International Red Cross Museum
Speaking of museums, did you know there's an International Red Cross and Red Crescent Museum in Geneva? It opened in 1988 and it strives to educate its visitors about history, humanitarian action and all the challenges that come with it.
The International Red Cross museum is probably one of the most interesting museums I've ever been to because it manages to display a very specific topic in an incredibly creative way. The exhibitions are just as artistic as they are educational, and the museum does a great job at making you reflect on how humanitarian action affects you and everyone else.
There are always interesting exhibitions running at the museum, often displaying contemporary art that basically invites you to a warm and open debate about social and cultural issues. The International Red Cross museum really makes you think about what's important in life and what humanitarian action truly involves.
If this sounds enticing, don't hesitate to visit the museum! It was one of my favourite stops in Geneva. The entrance fee is usually 15 CHF per adult, and you can enter for free when you have the Geneva City Pass.
Take a Selfie With the Statue of Frankenstein
Everyone knows of the novel Frankenstein. However, not everybody is aware of the fact that Mary Shelley actually wrote Frankenstein near Lake Geneva, at the village of Cologny.
This was where she spent the summer with her friends, including her husband and the famous poet Lord Byron. One evening, they decided that each of them would write a ghost story… and the rest is history. Shelley wrote Frankenstein, managed to turn the short story into a novel and became the author of an absolute classic.
In memory of her novel, you can nowadays find a statue of Frankenstein in Geneva – it stands near the Skatepark de la plaine de Plainpalais and it looks as if it's walking forward, a tortured look in its eyes. The statue has been standing there since 2014.
If you're a fan of horror books, why not snap a selfie with the statue? You don't see Frankenstein wandering the streets every day, after all. It could also make for an excellent artistic shot at sunset, in my opinion.
Enjoy a Day of Self-Care at Bains de Pâquis
If there's one thing Geneva does excellently, it's using its lake to its full potential. Not only is there a large water jet but the lake is also the home of Bains de Pâquis, a spa designed to make you relax and take care of yourself. It's the perfect place to go if you want to enjoy a slow and pleasant day swimming, having a massage, going to a sauna and more.
At Bains de Pâquis, you can enjoy everything a spa usually offers – a sauna, a Turkish bath, a hammam and different kinds of massages. And you can also learn Taï-chi there!
What's more, Bains de Pâquis is where you can find a beach to relax at during the summer. There are swimming lessons available, or you can just swim on your own and enjoy the hot summer weather. There's also a restaurant on the premises where you can have a delicious meal and a cup of coffee.
Honestly, I'd go to Bains de Pâquis every single day if I lived in Geneva. It's the most relaxing place ever. The price varies based on what experience you're going for. For example, the admission fee to the beach is 2 CHF per adult (older than 16 years) and 1 CHF per child. Children under the age of 6 can go to the beach for free.
Enjoy a 1-Hour Cruise on Lake Geneva
Going on a boat cruise is a great idea if you want to relax, be near the water and see Geneva from a brand-new angle. With Get Your Guide, you can book your ticket for a Lake Geneva Cruise that will show you various sights of the city as well as the Swiss Alps.
The cruise starts at the Pierres du Niton and it goes toward Pointe à la Bise. Along the way, you'll get to see the Geneva Water Fountain from up close, all the different gardens that bloom along the shore, manicured and clean, important buildings such as the Palace of the Nations, and if you're lucky, you might even catch a sight of Mont Blanc, the highest mountain in all of Europe!
The price of the ticket is 9 CHF per person. It doesn't include any food or drinks, so make sure to be prepared for that. Before you depart from port, you'll be able to download an app with an audio guide in an area with free Wi-Fi. The guide will tell you everything you need to know about the sights you pass by while you sit back, relax and enjoy the view!
A boat cruise is a lovely way to explore a city from a completely new perspective, especially in the spring or summer months when being near the water makes for such a refreshing experience.
And remember – always stay hydrated!
Have an Amazing Dining Experience at Café du Soleil
You've just walked all over Geneva, you've filled your brain with a tremendous amount of new information, you've taken it all in, and now you're exhausted. On top of exhaustion, you feel like hunger has literally become the core of your personality – food is all you can think about.
Been there, done that.
Well, I have great news for you. Geneva is full of amazing restaurants that offer delicious Swiss meals and a dining experience you won't forget. And one of those is definitely Café du Soleil, a restaurant located at Place du Petit-Saconnex. Café du Soleil is the perfect place to go if you want to sit down, enjoy a lovely evening with your family and friends, and most of all… have a great Swiss meal.
The restaurant serves various delicious meals, for example oriental-marinated chicken skewers, cured beef platters from Valais, or the famous cheese fondue. Omelettes, grilled meat, salads and homemade desserts are also on the menu, featuring desserts such as meringue and double cream from Gruyère. Honestly, my mouth is watering just thinking about it.
What's interesting about the café is that it's actually over 400 years old! Yes, you've heard me right. What's more European than dining in a restaurant that was already open back in the 17th century? Not many things, I'll tell you that.
The official website of the restaurant describes the vibe thus:
"A kind of poetry emerges from this authentic Genevan "bistrot" where the time seems to have stopped. The terrace is as gracious as one from a provençal village and bring some peace at the shadow of its wonderful plane tree."
So why not book a table at Café du Soleil? You can taste the famous fondue from Switzerland, have a delicious meal, enjoy the Genevan atmosphere and have a fun evening with your close ones.
Nothing can beat that.
Take a Day Trip to Annecy
Geneva is surrounded by beautiful landscapes and small towns that will impress you with their picturesque vibe. Thanks to the city's proximity to the French borders, it's really easy to go to France for a short trip and make your travel experience even more exciting!
One of the most beautiful towns I have ever set my foot in is Annecy. This stunning town is located at the shore of a lake (Lac d'Annecy) that's so clear it takes your breath away, and the lake is connected to a bright blue river that goes through the ancient streets of Annecy and turns the town into what is often called "the Venice of the Alps".
With Get Your Guide, you can book a guided half-day trip to this gorgeous town where you can soak up the lively atmosphere brought alive by various markets, vendors and busy restaurants with a view of the river.
There are also mountains perching high above the lake, making for an even better view when you go swimming. I've got many photos from my travels, but the photos I took in Annecy belong to the most breath-taking ones.
Since Annecy is just 45-minutes from Geneva, it makes for an excellent trip during your holiday. A guide will tell you everything you need to know about Annecy during your visit, and then you'll also have plenty of time to explore one of the most picturesque towns in France on your own.
If you want a guide, make sure to book the morning tour. The afternoon tours are usually self-guided. When you book this trip with Get Your Guide, you will pay 69 CHF per person. The bus ride and the walking tour are included in the price, however, food and drinks aren't. It's up to you which café you stop at in Annecy, so make sure to choose a seat with a lovely view of the river!
It's honestly quite hard to express how beautiful Annecy is. So why not see it for yourself? Once you're there, you'll know what I'm talking about when I say Annecy looks like paradise on Earth.
Wander Around the Botanical Garden Greenhouse
Almost every European capital has a botanical garden. I find that botanical gardens are a great place to go to escape the hustle of the city and enjoy a peaceful walk in nature. What's special about the botanical garden in Geneva, though, is its stunning greenhouse.
Officially called the Conservatory and Botanical Garden of the city of Geneva (Conservatoire et Jardin botaniques de la Ville de Genève in French), the botanical garden has over 14 000 species from all over the world, and many of them can be found in the main greenhouse!
If you're interested in plants or if you're just looking for a moment of peace and quiet, walking through the garden and exploring the lovely greenhouse is a great idea. You'll immediately feel much more relaxed.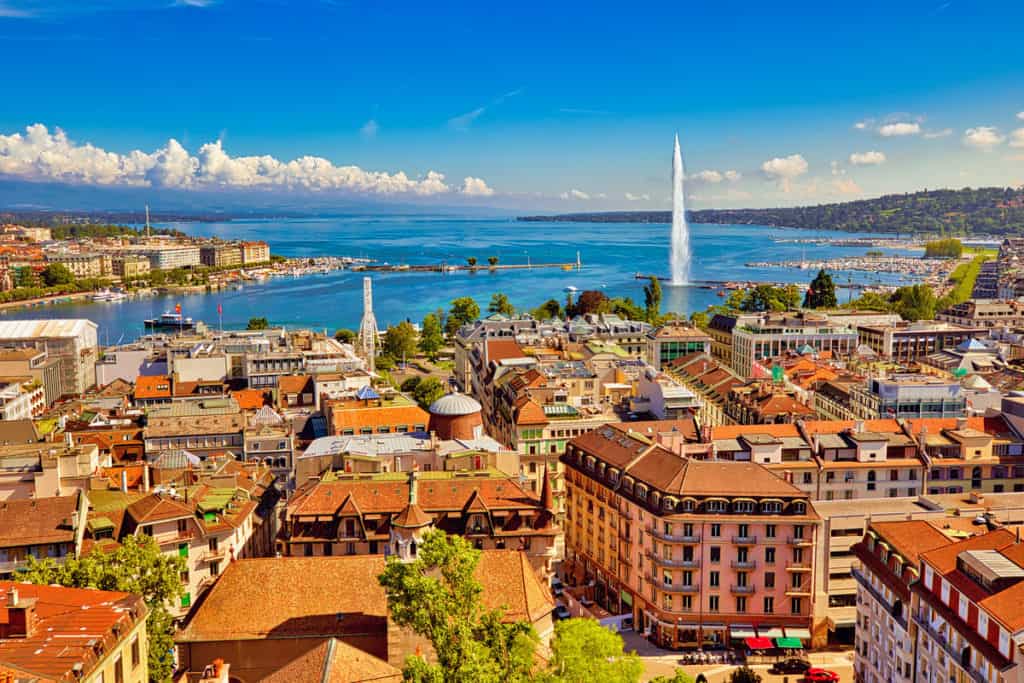 And That's Geneva!
Geneva is probably one of my favourite European cities because of how picturesque it is. With its incredible landscape, a large lake, ancient monuments and educational museums, Geneva is a jewel among cities.
Plus, it's so close to the Alps and the French borders that many travel opportunities open up to you while just being there! You can visit Annecy, go see the highest mountain in Europe, take a boat cruise on the lake and much more.
No matter what time of year you go to Geneva, you're bound to have an amazing time.
Related Articles on Switzerland

🇨🇭 Top Things to do in Zurich, Switzerland
🥼 A Private Tour of CERN's Large Hadron Collider