When I was planning my South Pacific trip, I had an image in my mind of what my dream island would look like. It would have beautiful scenery that encompassed beaches, jungles, ruins, lagoons, and volcanoes, along with friendly locals, great food, the ability to visit on a budget, and plenty of options for activities.
Well, I'm pleased to say that I found an island just like that. It's called Huahine and it's perfect.
Here's what made it the highlight from my month in the South Pacific:
Where Is Huahine?
Huahine is located in French Polynesia: a French territory in the middle of the Pacific Ocean. While this group of islands is most famous for being home to Tahiti and Bora Bora, it's actually composed of 67 inhabited islands spread out across an area as large as Europe. And I'll let you into a secret here: the lesser-known spots are some of the best.
Huahine is part of the Society Islands, which is one of French Polynesia's five island chains. Both Tahiti and Bora Bora are also part of the Society Islands, as you can see in the map above, along with popular Moorea, and that makes island-hopping across the territory's hotspots a breeze. I did exactly this on my recent Polynesian adventure, making my way from Tahiti to Maupiti to Raiatea to Huahine to Bora Bora. And Huahine? It was my favourite of the five islands I chose.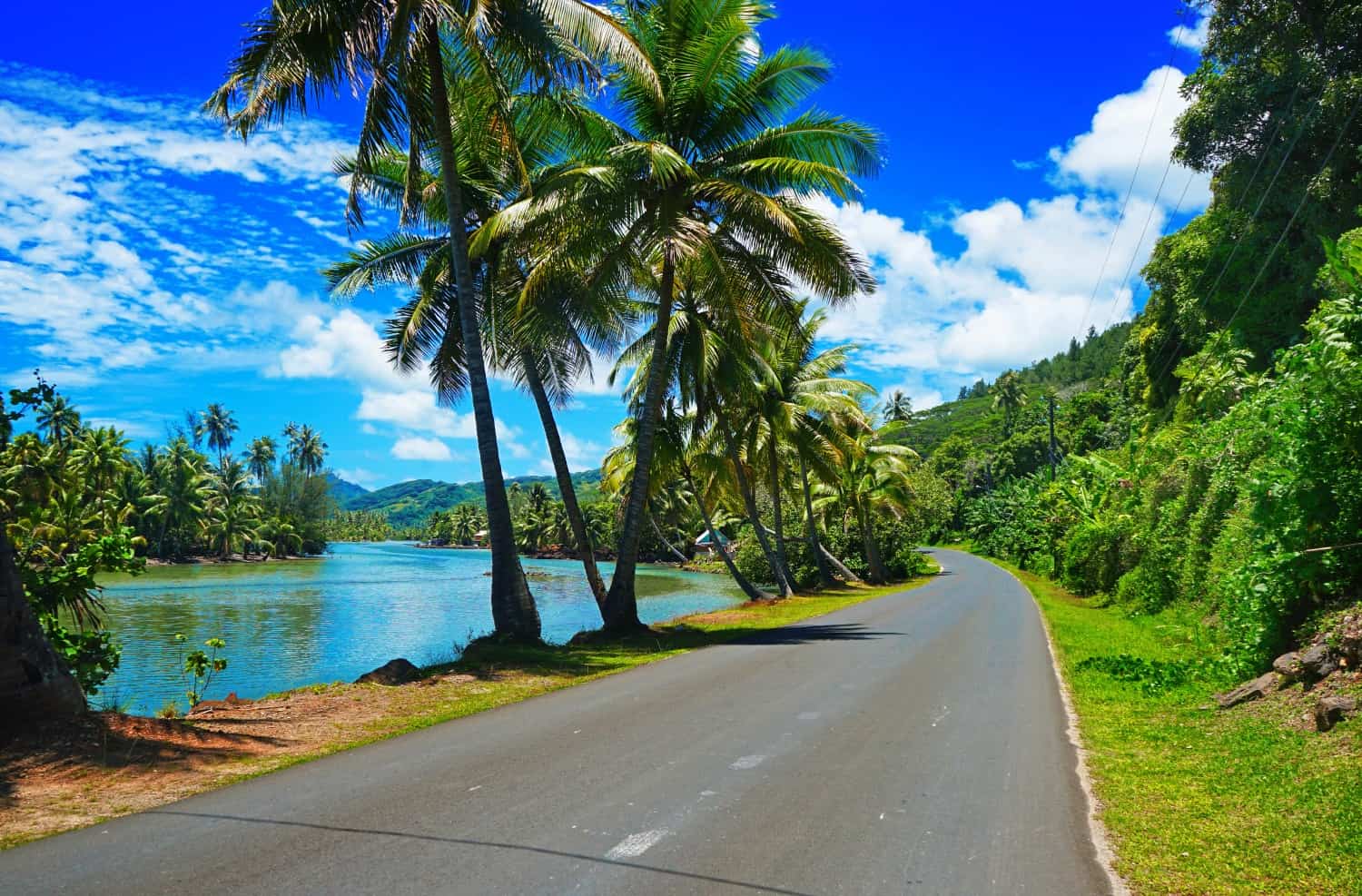 How to Get to Huahine
Getting to Huahine is super-easy. There's just one international airport in French Polynesia, on the island of Tahiti, so that's where you'll find yourself when you first land in the territory.
Once you've arrived, you can then simply board a short 40-minute flight to Huahine and before you know it, you'll have touched down in paradise.
It's the Most Affordable Island I Visited
Huahine was one of the cheapest islands I visited in French Polynesia and the South Pacific in general. And yes, I. know. it's. not. Southeast. Asia. cheap., but this is a paradise island in the middle of the Pacific Ocean, in a region that has a reputation for being one of the most expensive in the world. When you take that into account, I found it offered great value for money!
I stayed at Pension Fare Ara for $43 a night, which included breakfast, an airport pickup, and a friendly puppy to play with. The guesthouse was a ten-minute walk from the best beach on the island (and probably the best one I found in all of French Polynesia!), and a dozen great restaurants. The owner was lovely and had a ton of advice for off-the-beaten-track activities, and there were bicycles to rent, too. I would totally stay here again and highly recommend it. There's a reason why it's the best-rated property on the island!
For even cheaper accommodation options, there's plenty to choose from. In particular, I recommend Alaroots, where dorm beds are priced at just $11 a night!
Everything else is inexpensive, too: I hired an ebike for $50 a day, lunches were around $10 and dinners were $15.
I guess I just didn't feel like I was being ripped off on Huahine, and I'd definitely felt that way on other South Pacific islands — I'm looking at you and your grocery store prices, Aitutaki.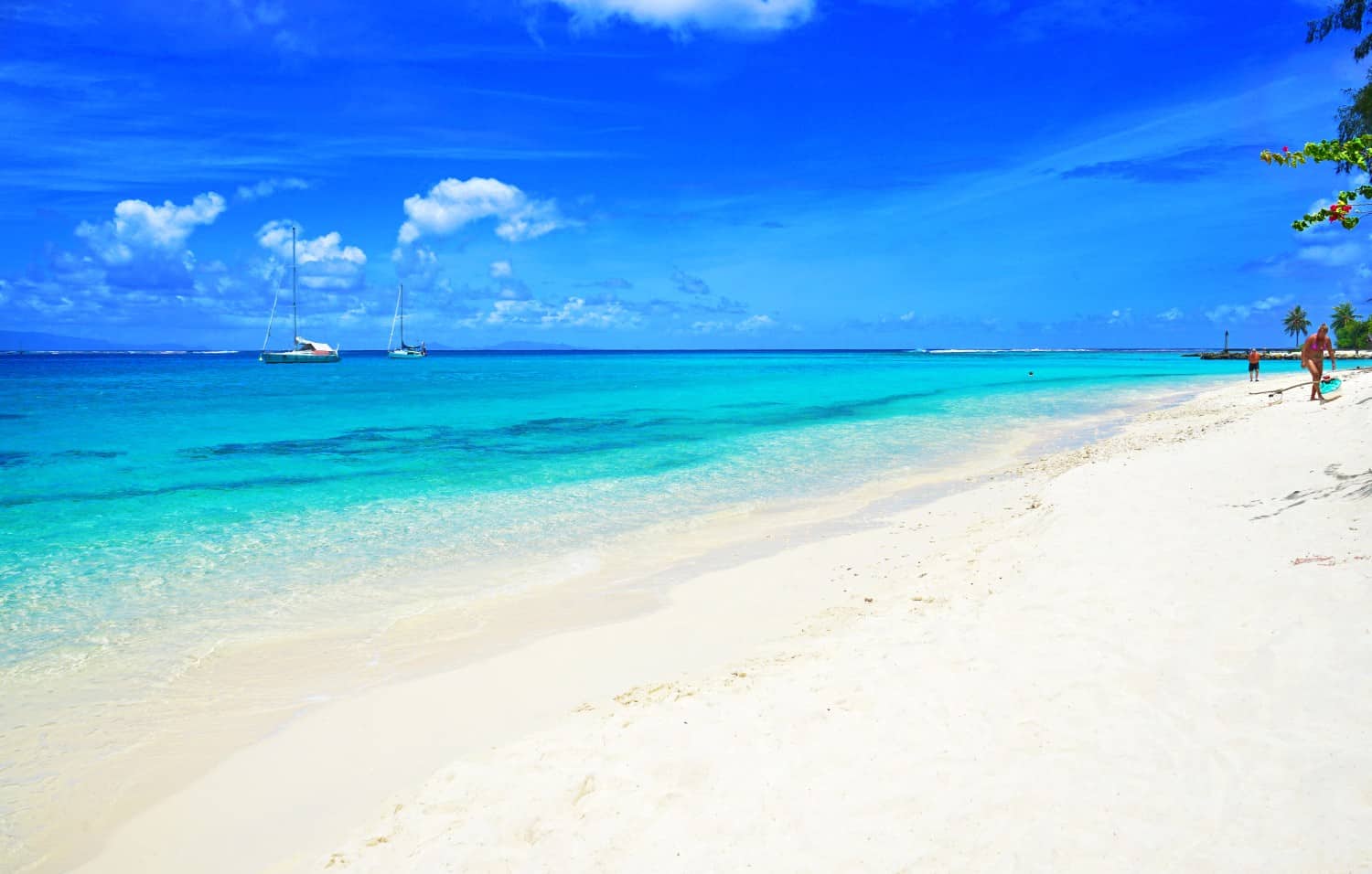 There's a Seriously Spectacular Beach
I fully expected the best beach I'd visit in French Polynesia would be on Bora Bora, but it was this gorgeous one on Huahine that stole my heart instead. Just look at those colours!
Fare Beach had dazzling white sand as soft as icing sugar, a warm, calm ocean that was turquoise blue and so clear I could see my toes when paddling neck-deep. It was peaceful: there were no car engines, no music, no loud conversations — just the sound of the sea lapping gently at the shore. And it was surrounded by beautiful scenery: palm trees slightly back from the beach and a jungle-clad volcano further inland.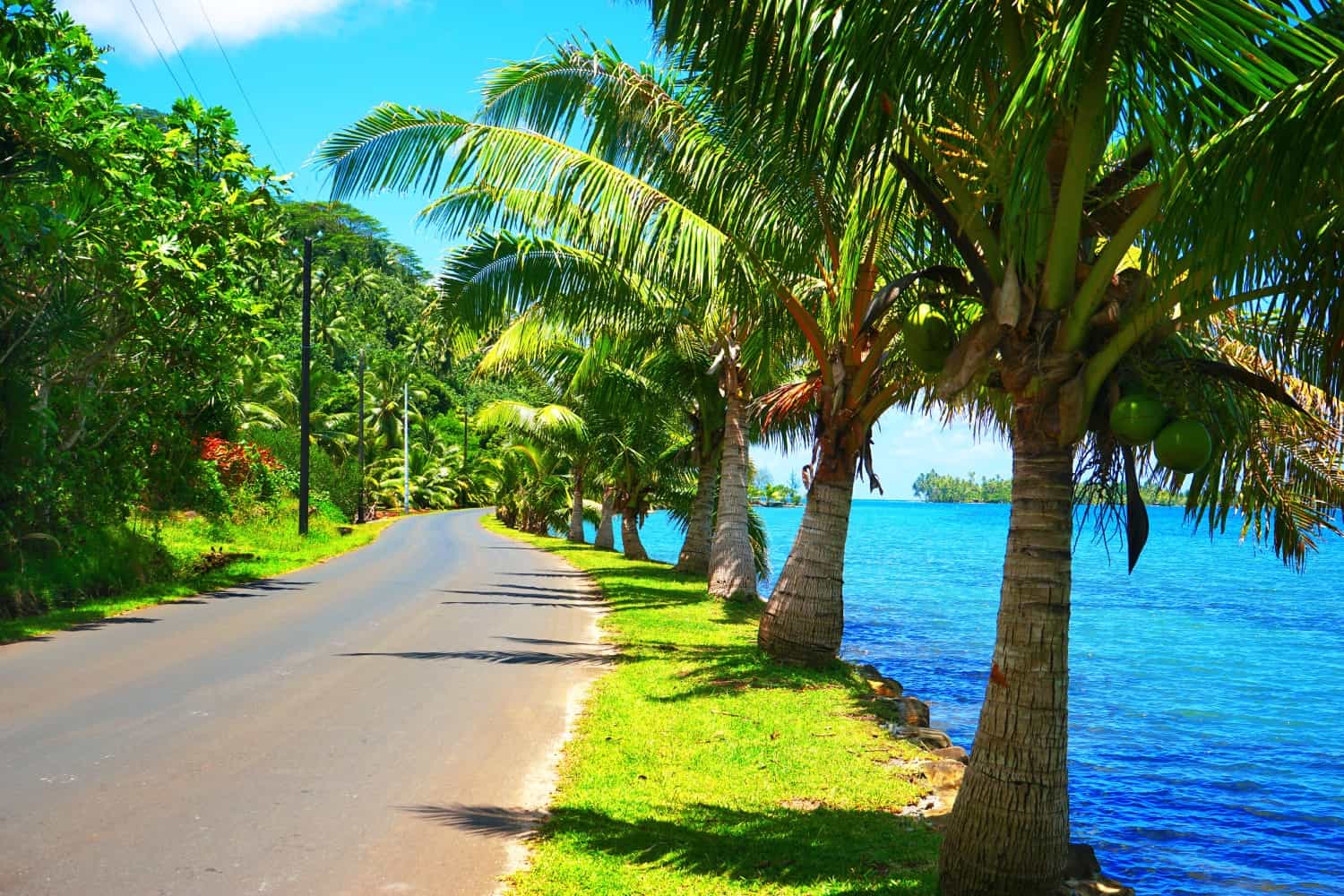 There are So Few Tourists
Huahine is one of the least populated islands in the Society Islands, and it's not filled with tourists either. With only eight small villages dotted around the 20-miles-in-circumference island and 5,000 residents, hopping on a bicycle and riding for just a few minutes is all it takes to feel like you're on your own private island.
The photo of the beach I posted above? That wasn't an artful angle to make it seem as though I had it all to myself: it was actually just everyone who was on the beach! Whenever I spent my afternoons sunbathing there, I never had to share that spot of sand with more than three people at once.
Away from the beaches, the island is just as quiet. As I explored by bike, the roads were often deserted, with a car passing me by only every ten minutes or so. When I went to see some ruins, I had them all to myself. When I went on a hike, I didn't meet a single person.
In some respects, it's not all that surprising, because have you even heard of Huahine? I know that I hadn't until I started to plan this trip. But it's also kind of shocking at the same time, because Huahine is a 30 minute flight from Tahiti and a 30 minute flight from Bora Bora. It's so easy to get there from the main tourist hubs of the region, but so few people make the journey.
And honestly, unlike some places I've visited (Maafushi, in the Maldives, for example), I don't think it's going to change any time soon. There purposely isn't much tourism infrastructure on the island, there are no major hotels or resorts, and I didn't see or hear any construction going on. Unless Huahine receives some kind of major publicity, I can see it continuing being overlooked in favour of Tahiti and Bora Bora for many years to come.
And that's definitely a reason for me to return.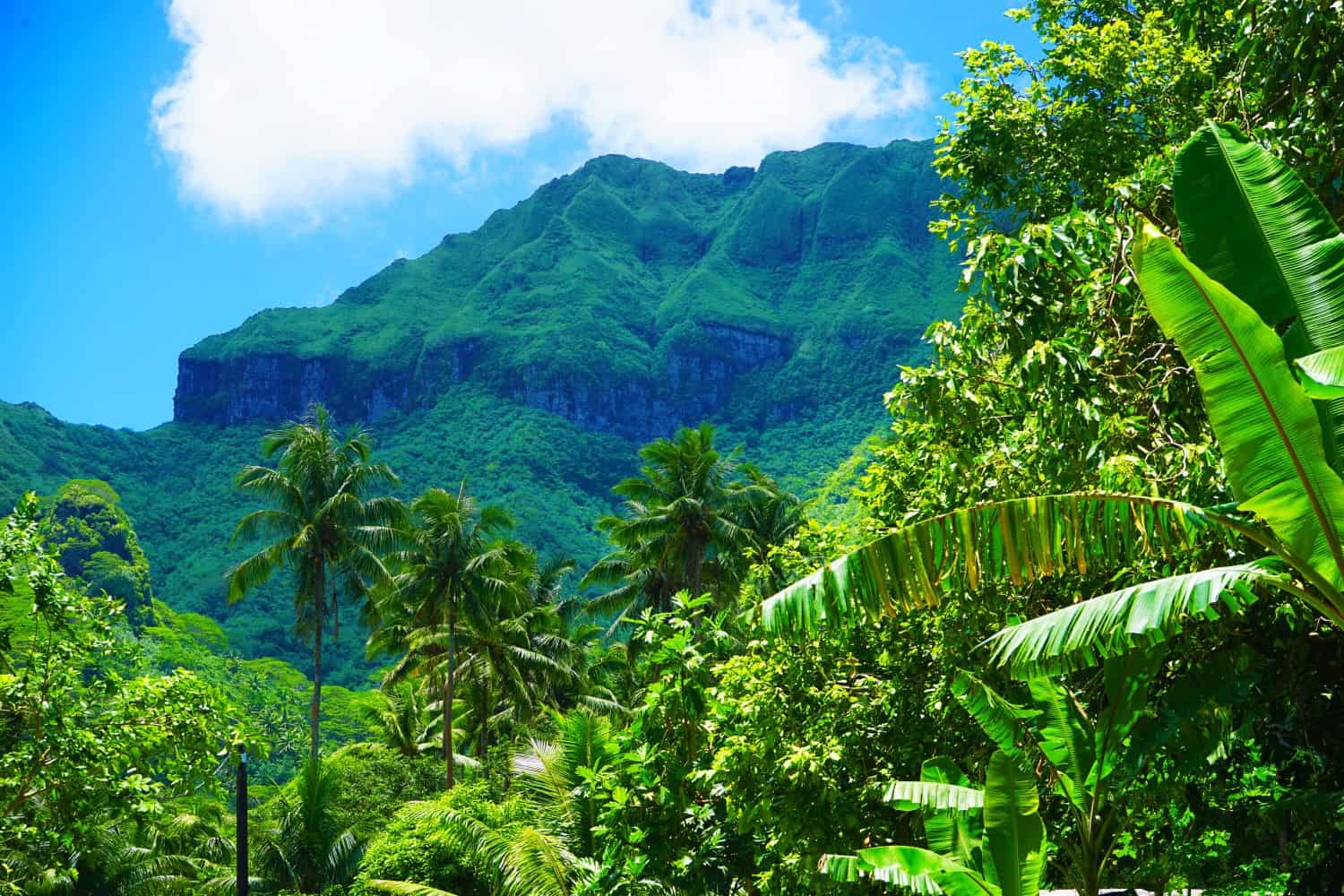 The Scenery is Breathtaking
Huahine has everything you could possibly desire from a South Pacific island. You've got amazing white sand beaches, palm trees lining every road, extinct volcanoes to climb, glistening lagoons to paddle in, dense jungle, old Polynesian ruins to explore, smooth roads to cycle along, vanilla bean plantations to wander around…
No matter where you are in Huahine and what direction you're looking in, I guarantee there'll be something beautiful before you.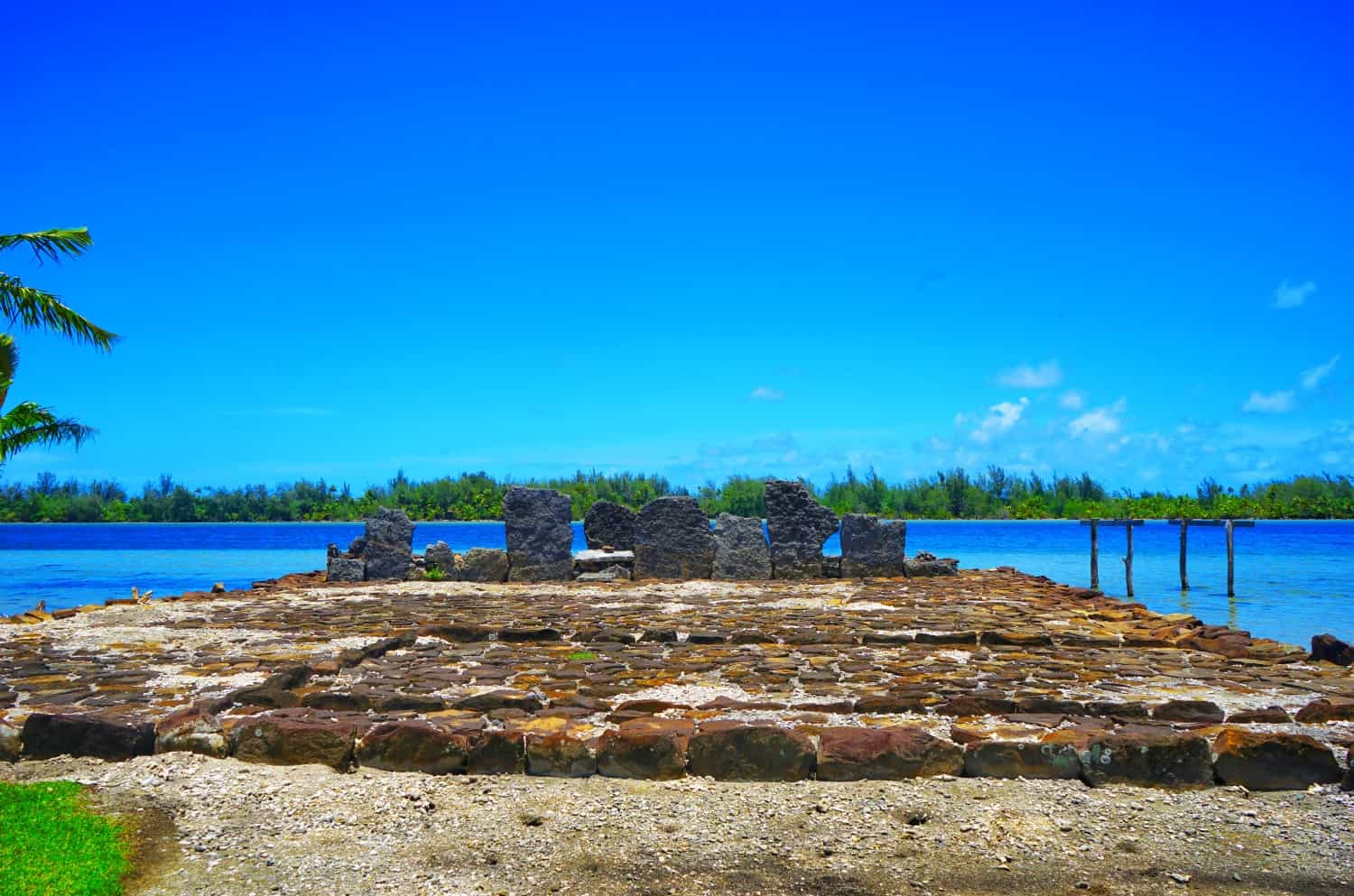 There's a Ton of Ancient Ruins
The ruins on Huahine are said to be as significant as the ones on Easter Island, which is, well, rather surprising, really.
But in all seriousness, Huahine is covered in ancient Polynesian ruins, and they're all free to visit and clamber over. And although they do now look like piles of coral and stone, they used to be religious temples; sites where human and animal sacrifices took place; places for villagers to build canoes and braid ropes. James Cook is said to have witnessed a sacrifice here. There's even some 400-year-old fishing traps made of stone that are still in use today.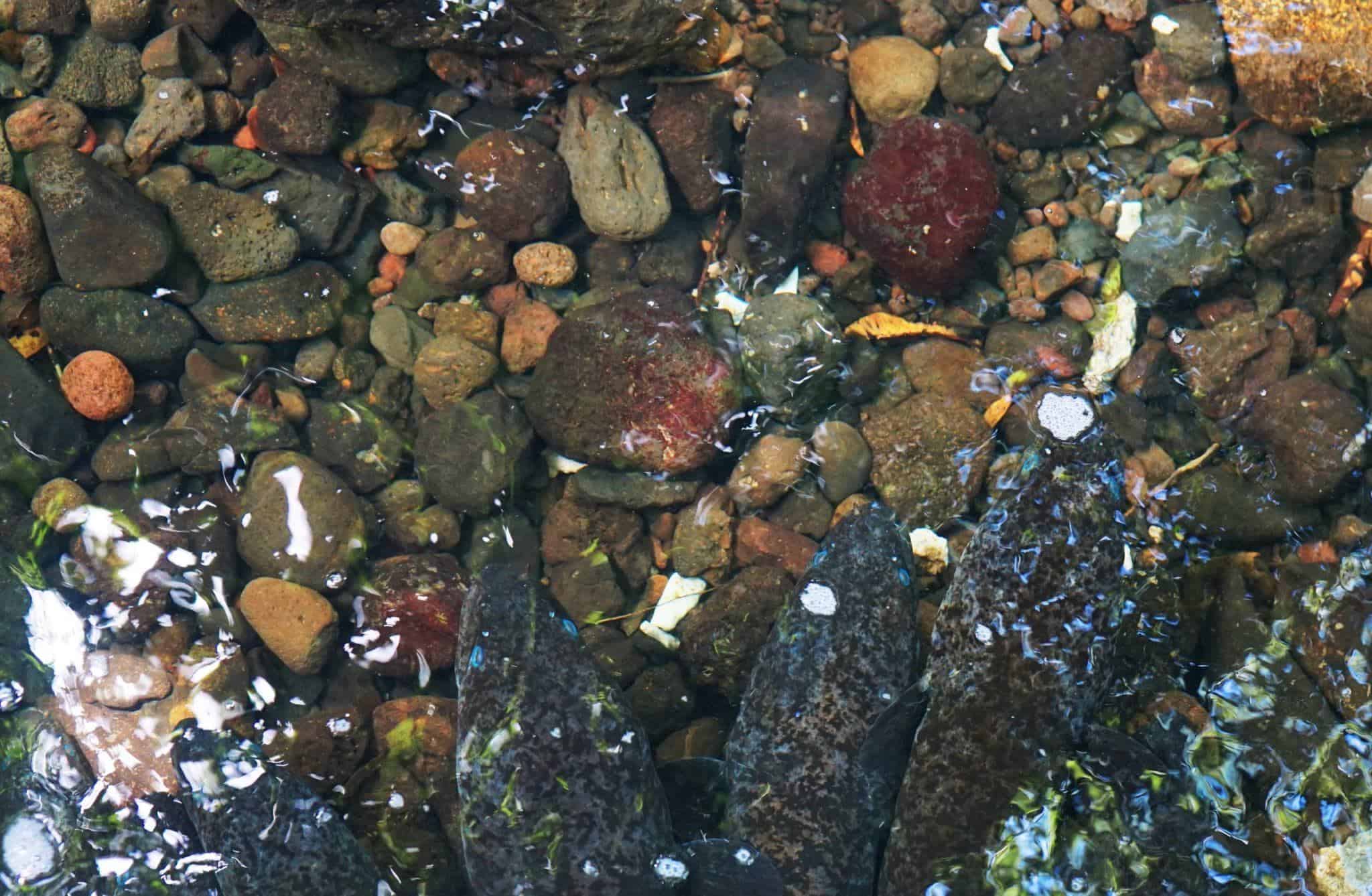 You Can Feed Sacred Blue-Eyed Eels
Here's a really bad photo of them.
One of the things I was most excited about seeing in Huahine is the sacred blue-eyed eels. You'll find them swimming around in a river in the village of Faie, where they're worshipped by the locals. Pull up alongside the riverbank and you'll find a small stall where you can buy tins of mackerel to feed them.
While I was there, a couple of small children were running around in the river, wrapping their arms around the eels and raising them up in the air to show them to me. Given that the eels grow to six foot in length, this was no mean feat. And fun fact: I just misspelled eel as eek and that feels very appropriate.
Rather than joining the kids in the water, because the eels were creeping me out, I decided to stare into their bright blue eyes instead. Which was probably just as creepy, to be honest.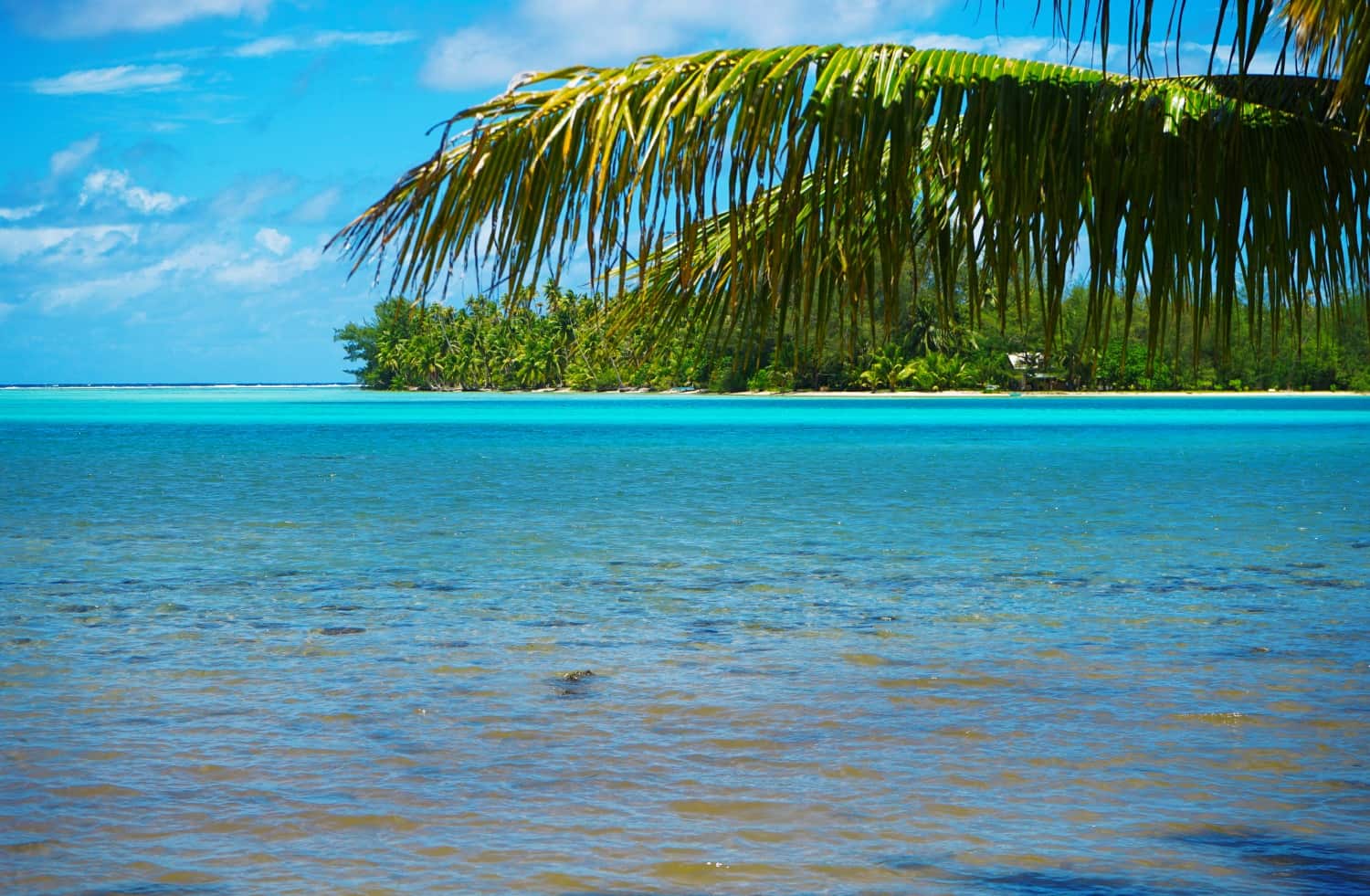 There's So Much to Keep You Busy
I spent three days on the island and left feeling like there was so much more I wish I'd been able to see.
Huahine is actually comprised of two large islands, which are connected by a narrow strip of land. I saw maybe a quarter of one of the islands, and none of the other.
I missed out on so many beautiful beaches, and I especially wanted to check out the ones the locals surf at to see what they're like. I wanted to check out several different hikes to viewpoints around the volcano, but it was raining when I tried. I didn't get a chance to visit the vanilla bean plantations. I couldn't find the time to take a boat across to the black pearl farm. And I missed the whole other island of Huahine.
I feel like I could easily spend a week on this island before I started getting itchy feet.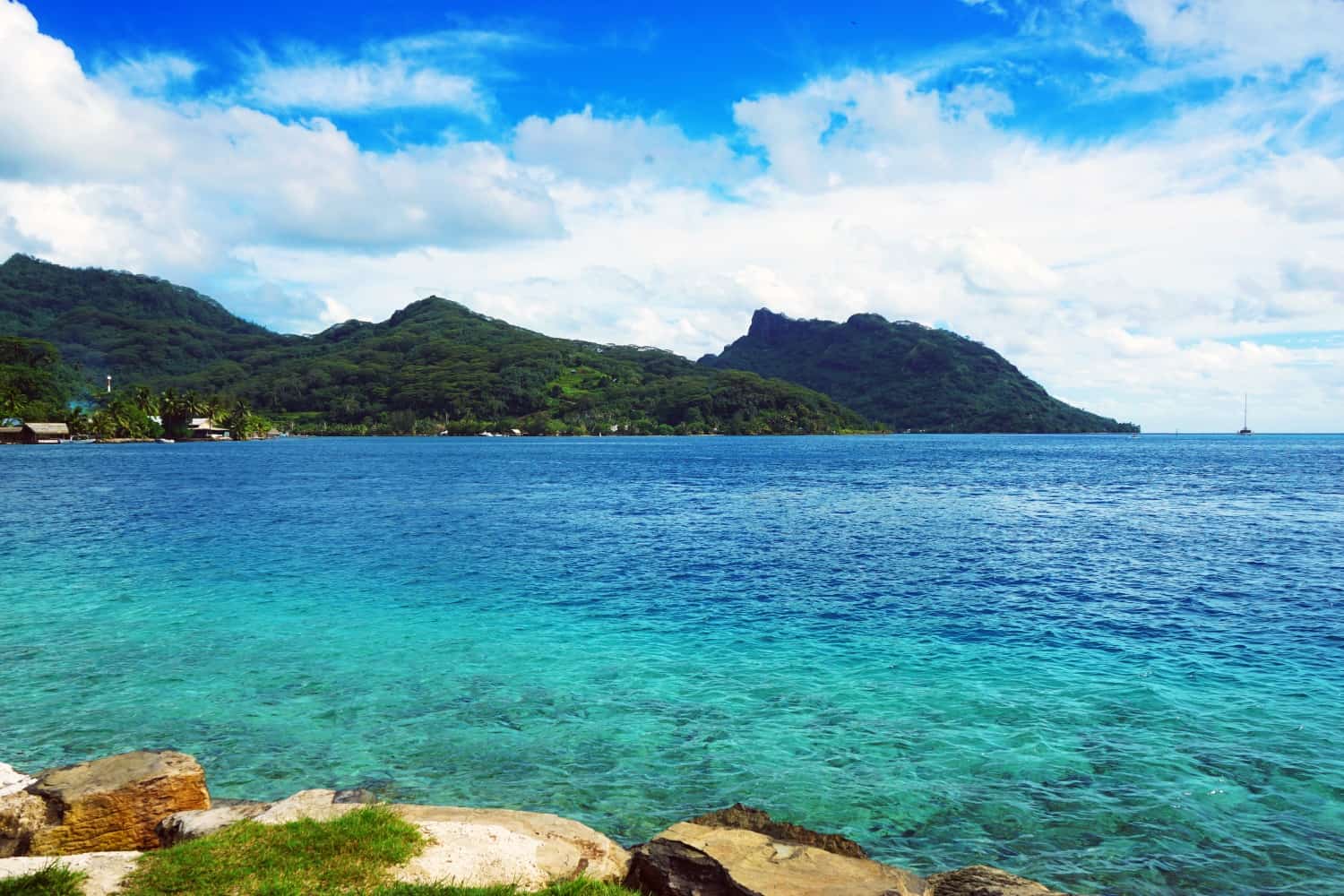 Huahine Looks Like a Pregnant Woman
Huahine means pregnant woman in Tahitian, and that's because when you stand in the main village of Fare and look to the left, the hills look like a pregnant woman lying down. My guesthouse owner parked up here and said, "Look! Can you see her boobies?"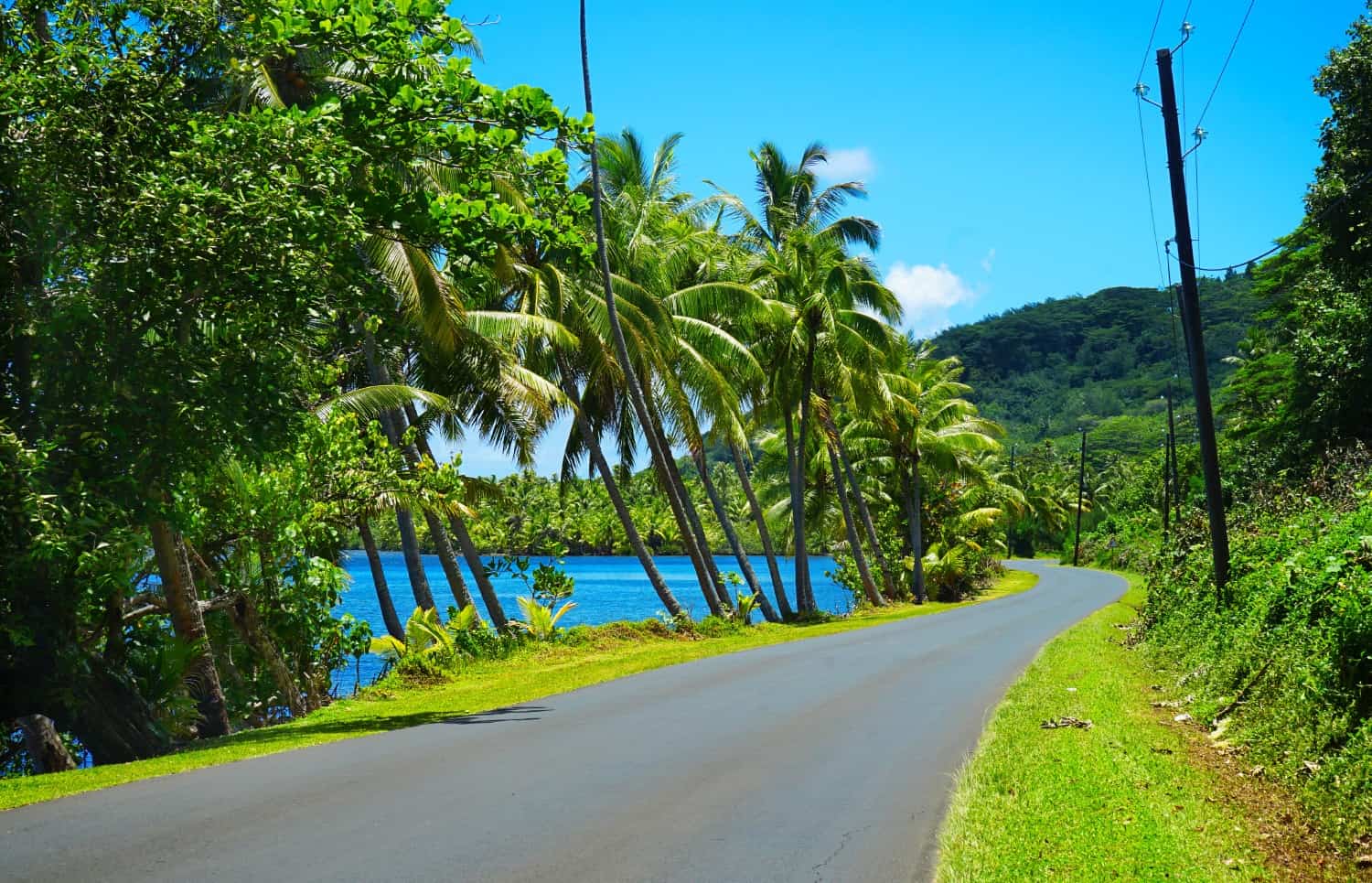 There's no doubt that Huahine was my favourite island from my entire South Pacific trip. It has the scenery, the friendly locals, the affordability, the great accommodation options, good food, plenty to see and do…
As I've been writing about French Polynesia, I've found myself planning returns to this region to check out some of the other island groups. If I do manage to make it back, though, I think I'll struggle to not return to Huahine.
Does Huahine sound like your kind of paradise island?
Related Articles on Travel in French Polynesia

💰 How to Plan a Budget Trip to the South Pacific
🇵🇫 What's it Like to Travel in French Polynesia?
🏖 How to Travel Bora Bora on a Budget: It's Possible!
🛫 Flying in French Polynesia is Spectacular
⛰ Meet Maupiti: the Bora Bora of 50 Years Ago
🙈 Stranded and Afraid in Maupiti
🏝 How Not to Travel Raiatea