Some people only know Turkey for its sparkling blue sea, lined by long stretches of beach. Others make the trip to see its utterly unique natural wonders, such as the fairy chimneys of Cappadocia or the travertine-lined thermal springs of Pamukkale. If you've got two weeks in the country, though, why would you not see it all?
Even though it's a sizable nation, 14 days in Turkey is enough time to cover a lot of what makes it such a wonderful place to explore. By balancing nature hikes with beach days, pilgrimages to Ottoman mosques with strolls through Ancient Greek ruins, you'll quickly see why so many different types of visitors have fallen in love with the country.
A Note on Travel in Turkey
Turkey can be a time-consuming country to traverse. The easiest option would be to rent a car, but you can also manage by using the modern, air-conditioned long-distance buses or through cheap domestic flights with local airlines like Pegasus or Anadolujet. Bear in mind, however, that if you're planning on taking public transport, you may want to simplify your Turkey itinerary by cutting out some of the south coast towns and adding a day in Cappadocia, Antalya, or Bodrum to catch your breath.
Day One: Istanbul
As always, we like to hit the ground running! While Istanbul may not be the official capital of Turkey, it is the nation's most exciting city by a mile. Start at one of the enduring symbols of the city: Hagia Sophia. Originally a church, then converted into a mosque, before becoming a museum and then, controversially, being turned back into a mosque, it has survived almost 1,500 of historical and political upheaval.
The muted pastel colors of the exterior speak to its centuries-old age but belie the shimmering surfaces that await on the inside. Ostentatious, low-hanging chandeliers sparkle only slightly more than the golden Byzantine mosaics of Jesus in the vestibules or the golden Arabic script inscribed upon circular wooden plaques attached to columns. Hanging over it all is the remarkable dome, an architectural first when it was built that has been restored to reveal bright blue and gold paintwork meant to resemble the heavens.
Directly opposite the Hagia Sophia is the slightly more modern Sultan Ahmed Mosque, built in the 1600s. It's commonly known as the Blue Mosque, not because of the outside but because of the stunning blue tilework that decorates the interior's walls and pillars.
Not all of Istanbul's wonders are above the surface. A few steps away from the city's most famous mosques is the Basilica Cistern, an eerie Roman-era water storage space that echoes with the sound of tourist footsteps. Don't miss the Medusa head column bases.
Grab a soft, warm simit (sesame-coated bread similar to a bagel) from a street stall, as you make your way up towards the Topkapi Palace. A fitting headquarters for the Ottoman Empire, there's a lot to cover in this sprawling complex, from the Disney-like Gate of Salutation to the opulent Harem. Innumerable tiles and geometric patterns in bright hues decorate the walls and pillars, even managing to outdo in color the flowers that fill the courtyards and gardens.
If you aren't completely exhausted, spare a moment to visit other parts of the Topkapi complex. The İstanbul Archaeological Museum preserves mosaics, marbles and other treasures from old Constantinople, while the Hagia Irene is the city's oldest surviving church, now completely bereft of its former splendor and a somber contrast to the Hagia Sophia.
Where to stay in Istanbul: There are a lot of reasonable options not far from the center of town, but the Peradays B&B is a bit quirkier than some of the other comfortable and clean but rather bland accommodations. The breakfast is awesome, and the location is very conveniently situated for the main sights.
Day Two: Istanbul
Turkey is famous for its scrumptious breakfast platters, consisting of vegetables (particularly olives, tomatoes and cucumber), cold cuts, local cheeses, dips and, of course, freshly baked bread. If your accommodation doesn't offer this morning repast, Dogaciyiz Gourmet is consistently a great place to go for the full spread, washed down by a glass of sweet tea.
After you've prepared for the day with a hearty meal, head to nearby Dolhambace Palace, Istanbul's more modern alternative to the Topkapi. Built along the Bosporus in the mid-19th century, it's a much more Western-style exhibition of luxury, featuring plentiful gilt finishings and glittering crystal chandeliers.
Time your trip to the Galata Tower to coincide with the midday call to prayer. Standing atop the hundreds-year-old stone edifice and enjoying the 360-degree views as the city's many mosques echo the adhan all around is a completely unique and moving experience.
In Taksim Square, you can sample some of the country's favorite street eats from the surrounding stalls, like durum (kebab wrap) and kofte (a kind of ground meatball). If you have an interest in historic luxury hotels, pop into the nearby Pera Palace for a leisurely drink in the Orient Bar. This hotel has played host to such luminaries as Ernest Hemingway, Alfred Hitchcock and Agatha Christie. You can also pay a visit to the famous Room 101, which now hosts an exhibit that memorializes Mustafa Kemal Ataturk, Turkey's first president.
Cross the Golden Horn to the old town where you spent most of the previous day to visit the Grand Bazaar, sometimes described as the oldest shopping mall in the world. It's a sprawling series of covered streets filled with tchotchkes, decorative objects and apparel, making for a gloriously chaotic shopping experience.
Finish the day with a boat ride on the Bosporus. You can take a public ferry and cross over into Kadikoy on the Asian side of Istanbul for an evening meal, or opt for a dinner cruise with a tour company. While dining on local delicacies, you'll pass by such sights as the Rumeli Fortress, the Beylerbeyi Palace and the Maiden's Tower, as well as the striking neoclassical Haydarpasa Train Station.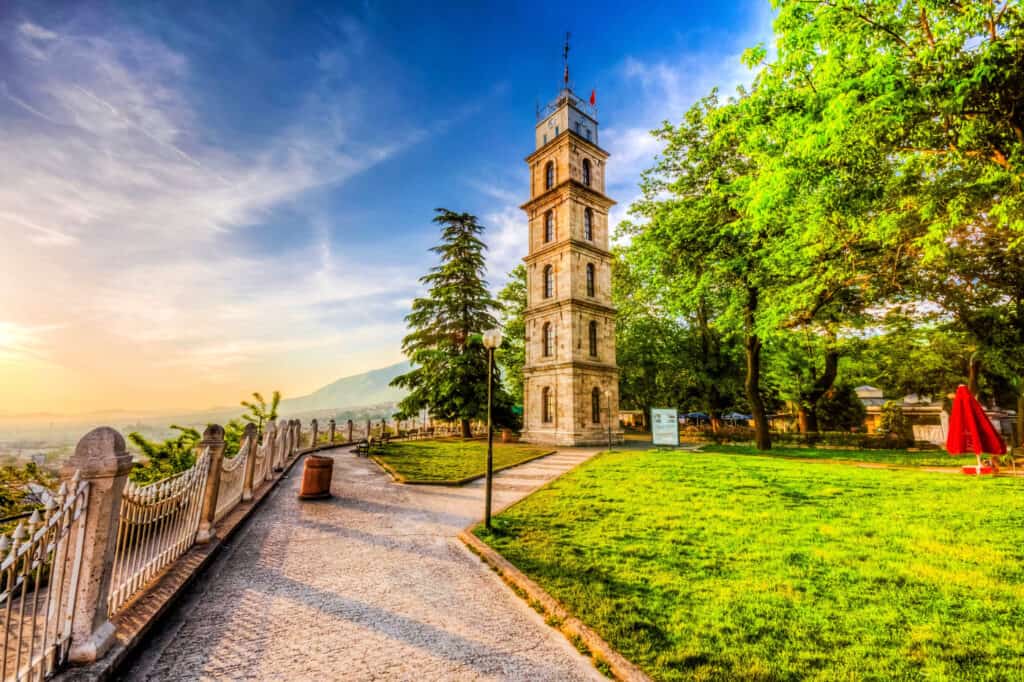 Day Three: Bursa
While you could easily spend at least another day or two checking out some of the further afield parts of Istanbul, there are a lot of other cities to see in Turkey!
Just south of Istanbul is Bursa, once the capital of the Ottoman empire, now the fourth most populous city in the country. At its heart is the bazaar, which is particularly famous for the Kozi Han courtyard, dotted with cafes and surrounded by luxurious silk emporiums for big spenders. We just stuck with a coffee and some people watching.
Next door is the city's Grand Mosque, a 20-domed building with a beautiful marble fountain at the heart of its gold-accented white walls, though overall it's fairly plain compared to what you'll see in Istanbul.
Venture 20 minutes to the northwest where the Muradiye Complex boasts a number of early Ottoman tombs in greatly varying degrees of splendor, though the most ornate have some truly dazzling bright blue Iznik tiles.
End the day by trying Bursa's local specialty, the Iskender kebab: thin slices of meat layered atop pide flatbread and slathered with spicy tomato sauce, yoghurt, and butter. Delicious, but not something we'd recommend every day if you want to keep your cholesterol in check!
Where to stay in Bursa: The family-run Avlu Tophane guesthouse is just a short saunter away from the city center, but what sets it apart are the excellent, welcoming staff, who are happy to help answer all questions, including one of the most important: where to go for good food.
Day Four: Day Trip to Uludag Mountain
In addition to the remnants of early Ottoman history, Bursa is the gateway to Uludag National Park. In the winter, it becomes one of Turkey's most popular ski resorts, but we visited in the summer when the slopes are a rich green – though you'll still need a jacket for the upper climes, which can be chilly even in July.
A cable car runs from the outskirts of town up Uludag Mountain, giving you gorgeous views of the city as well as of the natural beauty below. More than 8 kilometers long, the ride takes just over 20 minutes from the bottom to the top, gliding over vertiginous heights. Once you've arrived, there are numerous hikes you can do, wandering absently through alpine meadows and woods. It makes for a nice change of pace after darting about cities for a few days.
On your return from the cable car station, consider eschewing the local bus and walking back towards your accommodation. This way, you can pass by a few local landmarks that aren't worth going out of your way for but still hold some interest: the Green Mosque, with its elaborate mihrab; the Green Tomb, a hexagonal building with tiles that look more blue than green, but are no less striking for all that; and the Irgandi Bridge, a rebuilt 15th-century construction lined with cute-looking shops selling the usual tourist souvenirs.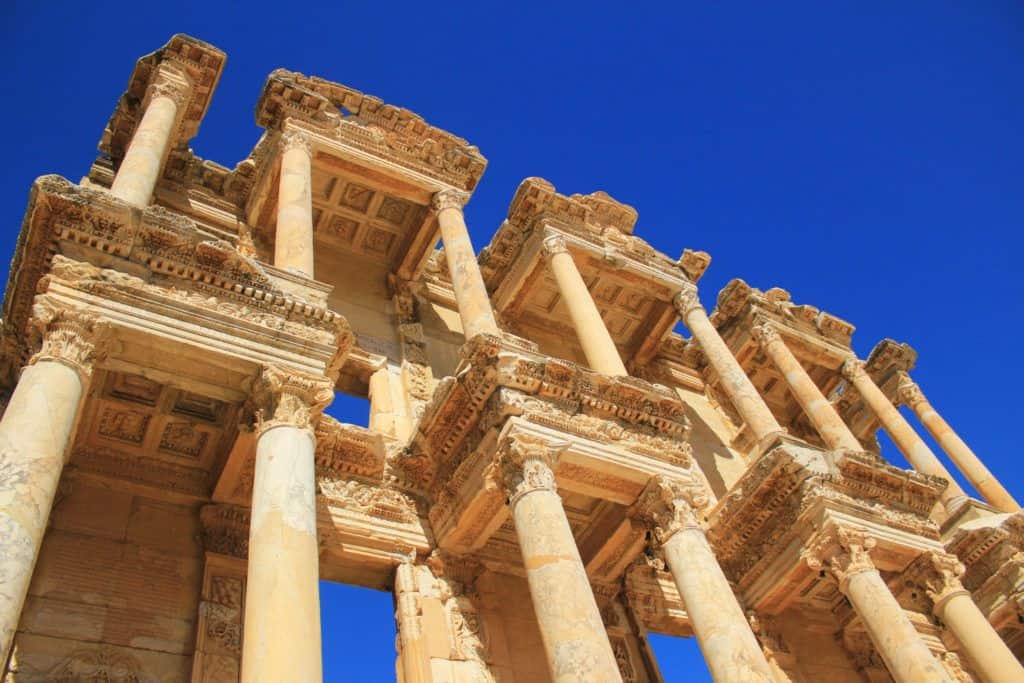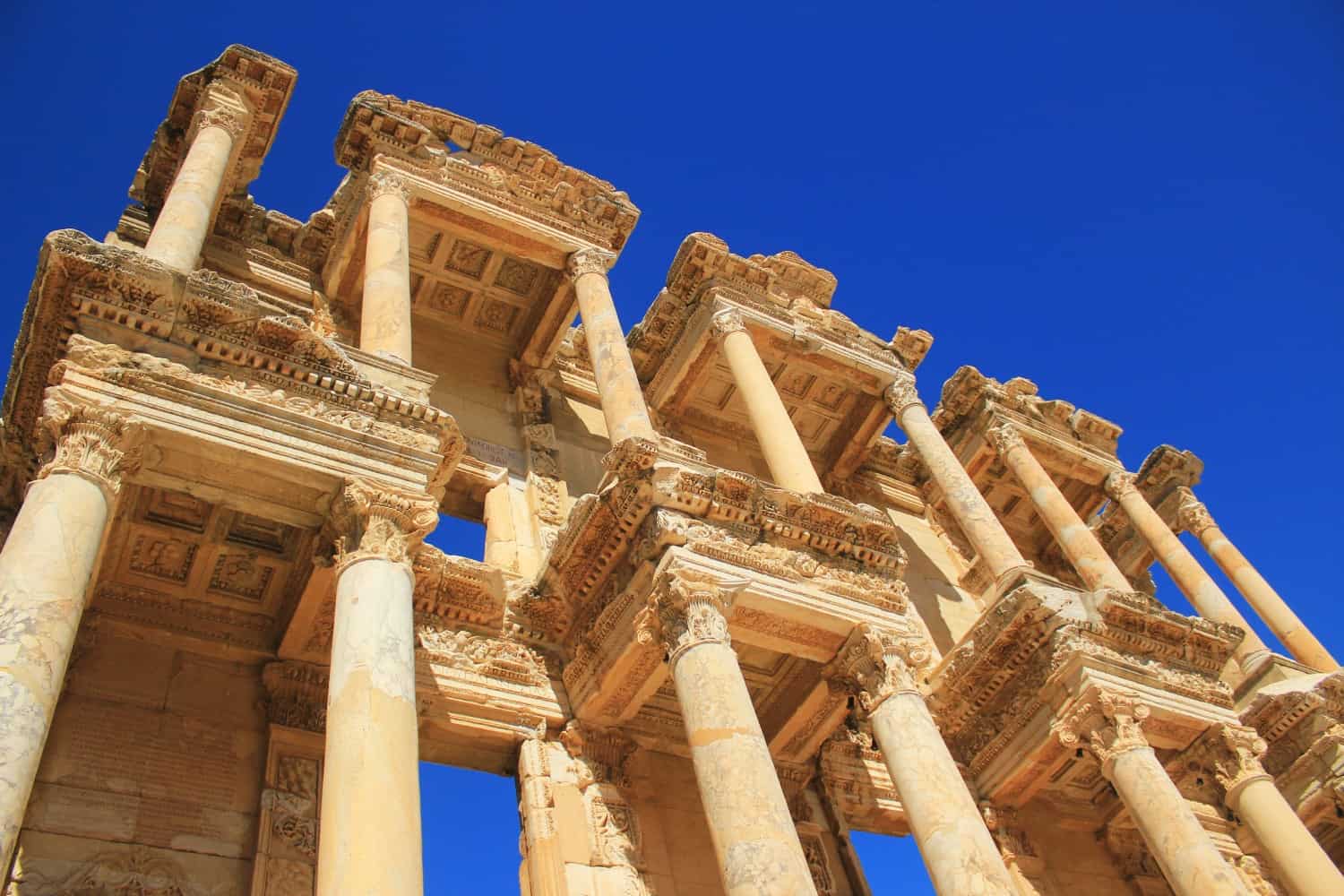 Day Five: Izmir and Ephesus
While Izmir itself has limited appeal as a tourist destination, it is a great jumping off point to reach one of Turkey's most iconic destinations, Ephesus. Once a prominent Ancient Greek city, it is now a collection of picturesque ruins that attract biblical tour groups (thanks to its association with the New Testament) as much as history buffs. It also lends its name to Turkey's most popular beer, Efes.
Ephesus' most famous attraction is one you'll probably have seen before, perhaps as a screensaver: the Library of Celsus. All that remains is a colonnaded marble façade that hints at former grandeur, but it still holds an atmospheric allure. As you wander amidst the rubble and the half-standing buildings, make sure you don't miss the sizable amphitheater (said to once hold 25,000 people, although we didn't count the seats) or the terraced houses, which give an idea of how the former inhabitants used to live.
The easiest way to get to Ephesus is through a tour, though you can also make the trip from Izmir using a combination of train and bus.
Where to stay in Izmir: While Izmir isn't short of well-known, brand-name hotels, we like the small, local spot called Deka Evleri because everything feels more personalized and unique. Plus, it's in a good location for the train to Ephesus.
Day Six: Day Trip to Cesme/Alacati
Later on in this Turkey itinerary, we'll take you through our favorite parts of the Turquoise Coast, named because of its sparkling blue waters. Before that, however, make a day trip to the Izmir peninsular and the towns of Cesme and Alacati. Compared to the southern resort towns, this area hasn't yet attracted the same degree of international tourism and so still retains more of its local flavor. In fact, it used to be predominantly where locals holidayed, as it isn't quite so far from the major cities of Istanbul, Izmir, or Bursa.
The peninsula is dotted with sandy beaches and relaxed dining options. While Cesme has its picturesque marina and castle, Alacati is where you'll find pretty stone houses lining cobbled, higgledy-piggledy streets reminiscent of charming Greek villages.
You'll also see plenty of people windsurfing, as this part of Turkey is known for having some of the best conditions for the activity, though we haven't yet had a chance to try it here ourselves.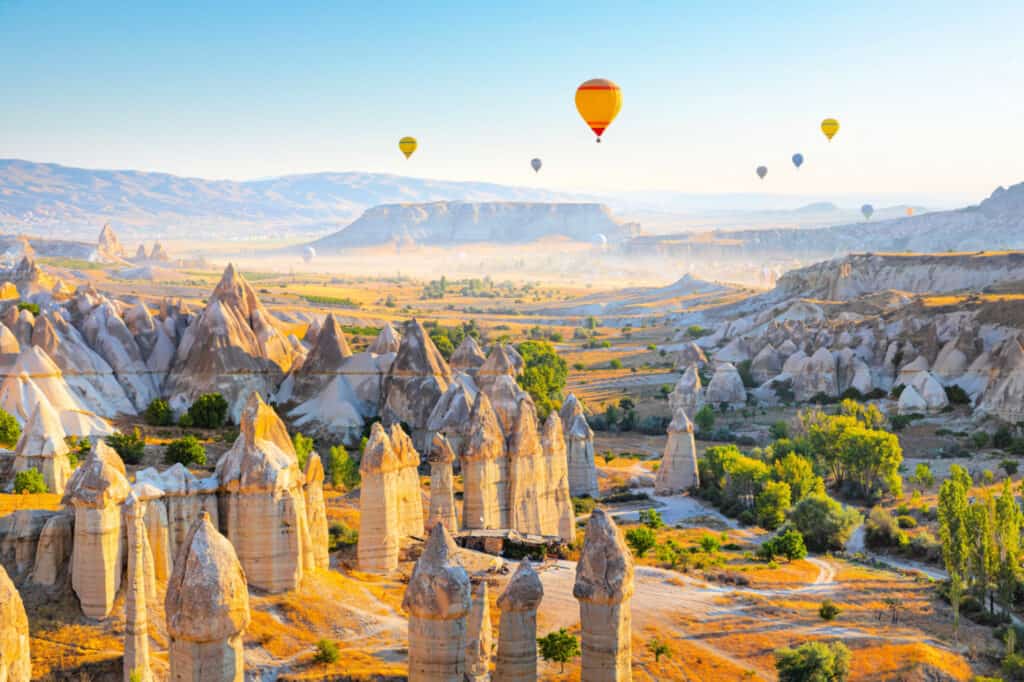 Day Seven: Cappadocia
Cappadocia is one of the most magical places you'll spend your 14 days in Turkey, a landscape full of fairy chimneys, hidden cities, and rugged terrain that's perfect for energetic hiking. We recommend basing yourself out of Goreme, which is a convenient village from which to reach most of the major sights.
Start your day at the Goreme Open Air Museum, a complex of churches cut out of the rock face just 15 minutes from the town center. Each of these has its own distinctive shape and its own distinctive frescoes, many of which are incredibly preserved considering they date mostly from the 10th, 11th and 12th centuries.
In the afternoon, head out to Love Valley, named because the rock spires (coyly called fairy chimneys) resemble enormous phallic pillars. There are well-worn trails through the countryside, though that didn't prevent us from getting lost. Still, with the help of Google Maps it's fairly easy to get yourself back on track. If you have the time, we recommend hiking all the way to Uchisar Castle and back, as it has great views over the surrounding country and is itself a landmark, visible for miles around.
Where to stay in Cappadocia: Cappadocia is as famous for its cave hotels as it is for anything else, but not all are created equal. We love Luvi Cave because it has spacious stone rooms, a great location and one of the best terrace views in Goreme.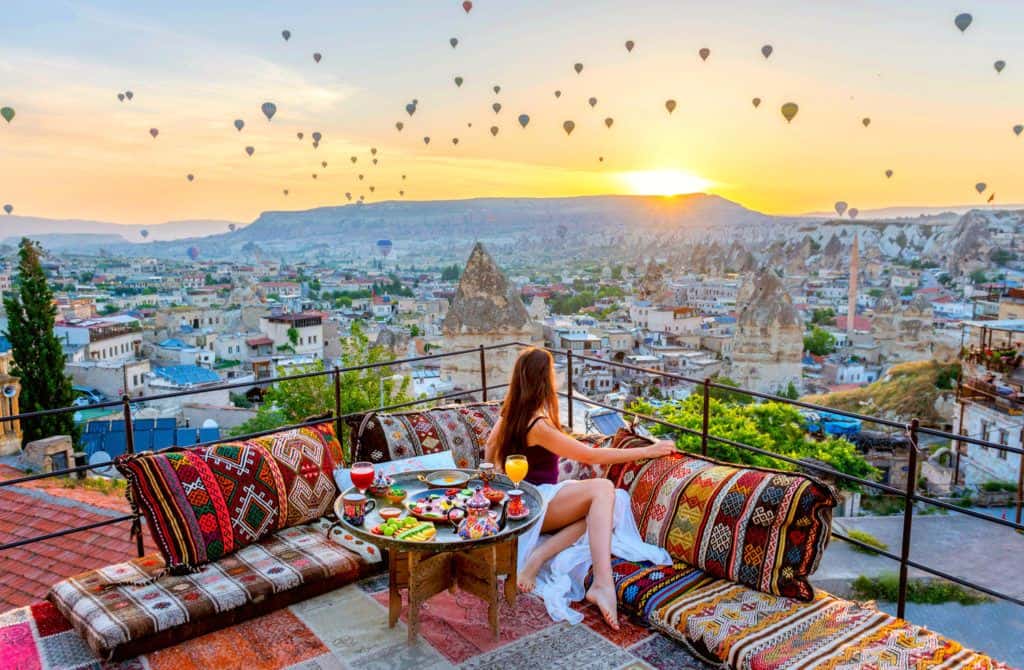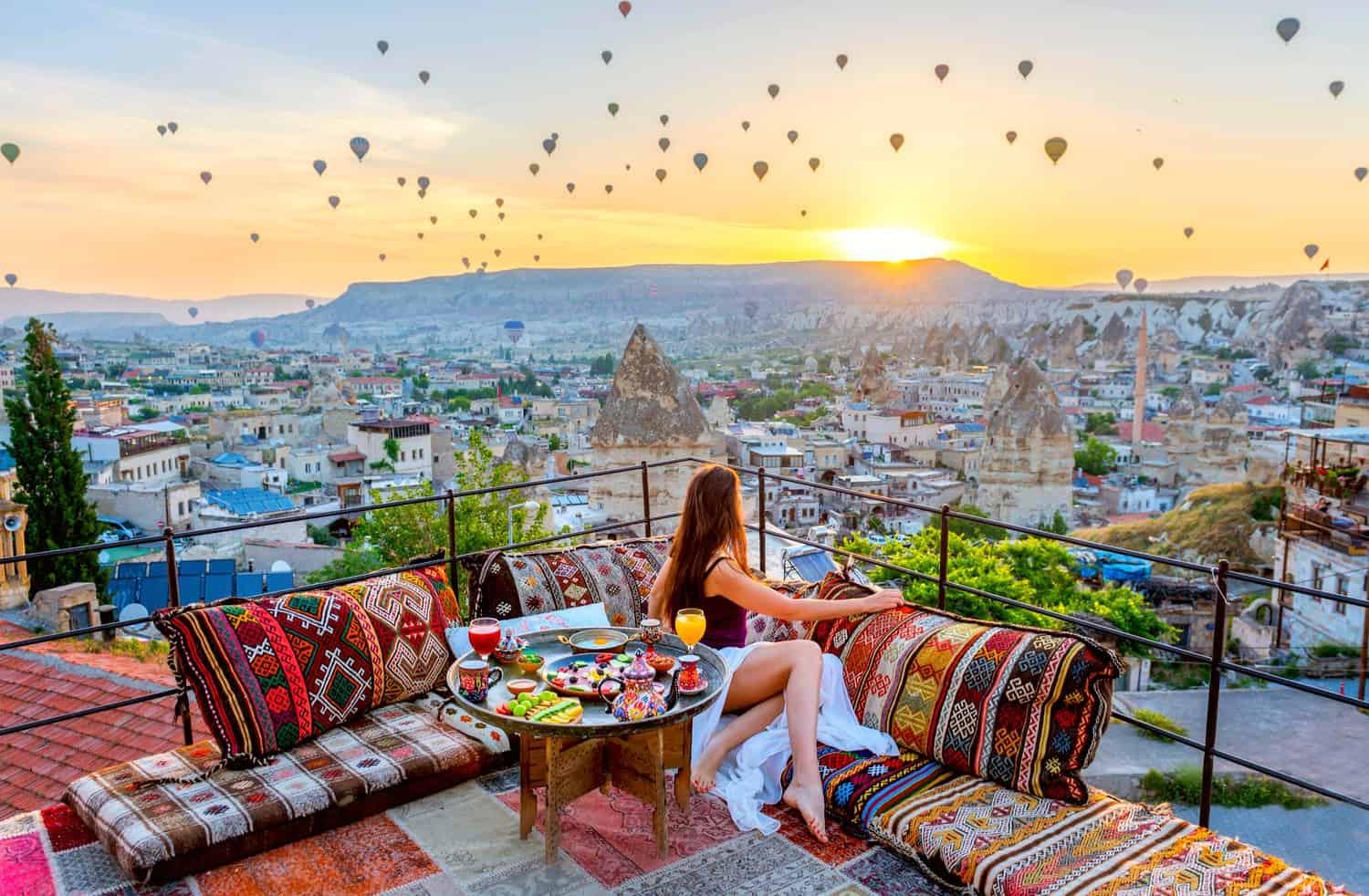 Day Eight: More Cappadocia
Get up early to catch the sunrise and ride a hot-air balloon. There are numerous tour companies offering different kinds of packages to suit your desires, including this one that includes hotel transfers and a light breakfast prior to the ascent.
While riding over the gorgeous scenery as the morning light filters through it is an utterly incredible experience, those who really can't bear heights can rest assured that hiking up to a nearby hill and watching the sky fill with colorful balloons is an incredible vista in itself. In fact, if you decide to spend an extra day in Cappadocia, it's definitely worth forcing yourself out of bed early twice and experiencing both sides of the coin.
Another thing you absolutely have to do while in Cappadocia is visit one of the underground cities. Personally, we'd recommend Kaymakli, partly because it's a bit closer to Goreme (you'll still need to hire a taxi) and partly because it's generally less crowded than the other main option, Derinkuyu. Parts of the city are almost 3,000 years old, though it's been expanded many times over the centuries. Only a small portion is open to visitors today, however, for safety reasons.
At the entrance, you'll find people offering their services as guides. While you might not need their assistance to find your way through (the one-way route is clearly marked), it's worth hiring someone to give you context about the purpose of the different rooms, especially because most of them are hard to identify without aid.
Be aware that it can get a bit claustrophobic underground, as many of the passageways between the rooms are narrow – not so much that you will get stuck, but you should at least expect to crouch down to fit through. In fact, it's incredible to think that people once inhabited these rooms, admittedly usually only for short periods of time in order to flee persecution.
If you're still aching for adventure once you return to Goreme, you can take a leisurely stroll through the Rose Valley, admiring the pink hue of the landscape under the sun.
Day Nine: Konya
Konya has a long-standing association with Sufism, and several of the city's attractions are connected to this Islamic practice. Turn up on the right day of the week and you can even see a mystic dance performance by whirling dervishes at the Mevlana Cultural Center.
Even if your schedule doesn't coincide with the ritual, however, there are still informative exhibits about Sufism at the Mevlana Museum. This modest complex sticks out of the cityscape like a sore thumb thanks to its copper-green tower. Here, you can learn about the Sufi beliefs and visit the rather grand mausoleum of one its most famous adherents, the poet Rumi.
Just a short walk away, the Aziziye Mosque is worth visiting just to get a glimpse of the unusual blending of Ottoman and Western architecture into a curious puzzle of a building.
Spend the rest of your time in the city wandering around Alaaddin Hill, where another beautiful mosque awaits. Don't miss the dazzling domed ceiling of the nearby Karatay Madrasa, a museum whose display of Seljuk tiles is underwhelming compared to the tiled décor of the building.
Where to stay in Konya: Accommodation options in Konya are limited, so don't expect anything as spectacular or unique as you'll find in Cappadocia. Bablin Butik is a reliable option, situated nearby the main sights and with clean rooms. We have to admit the somewhat over-egged décor might not be to everyone's taste, but as long as you plump for at least a king room, you won't find yourself overwhelmed by the dark wood furniture.
Day Ten: Antalya
You can't visit Turkey for two weeks and not spend some time by the sea. Built overlooking beautiful blue water, Antalya is one of the easternmost points of the Turkish Riviera, a region filled with seaside resorts that trace their way along the southwest of the country.
In Antalya, Konyaalti Beach is the city's most easily accessible hotspot, its pebbled surface stretching for eight kilometers and framed by the Taurus Mountains, which make for a rather lovely backdrop.
Once (or perhaps if) you tire of lounging beside the cooling waters, head into Antalya's old town, where you'll find such landmarks as the stocky Hadrian's Gate and the Hidirlik Tower, both built in the 2nd century. Mainly, though, the point of visiting this part of Antalya is just to enjoy meandering through the quaint streets, before eventually ending up at the old marina for a meal and to watch the sun set.
Where to stay in Antalya: The big question in Antalya is whether you want to be closer to Konyaalti Beach or closer to the old town. Despite the fact that, from what we've seen, rooms in the old town tend to be a bit more compact, we still lean that way because the buildings are more atmospheric, in particular Hotel Lykia, which is located in a cute stone edifice and offers a lovely patio and pool area.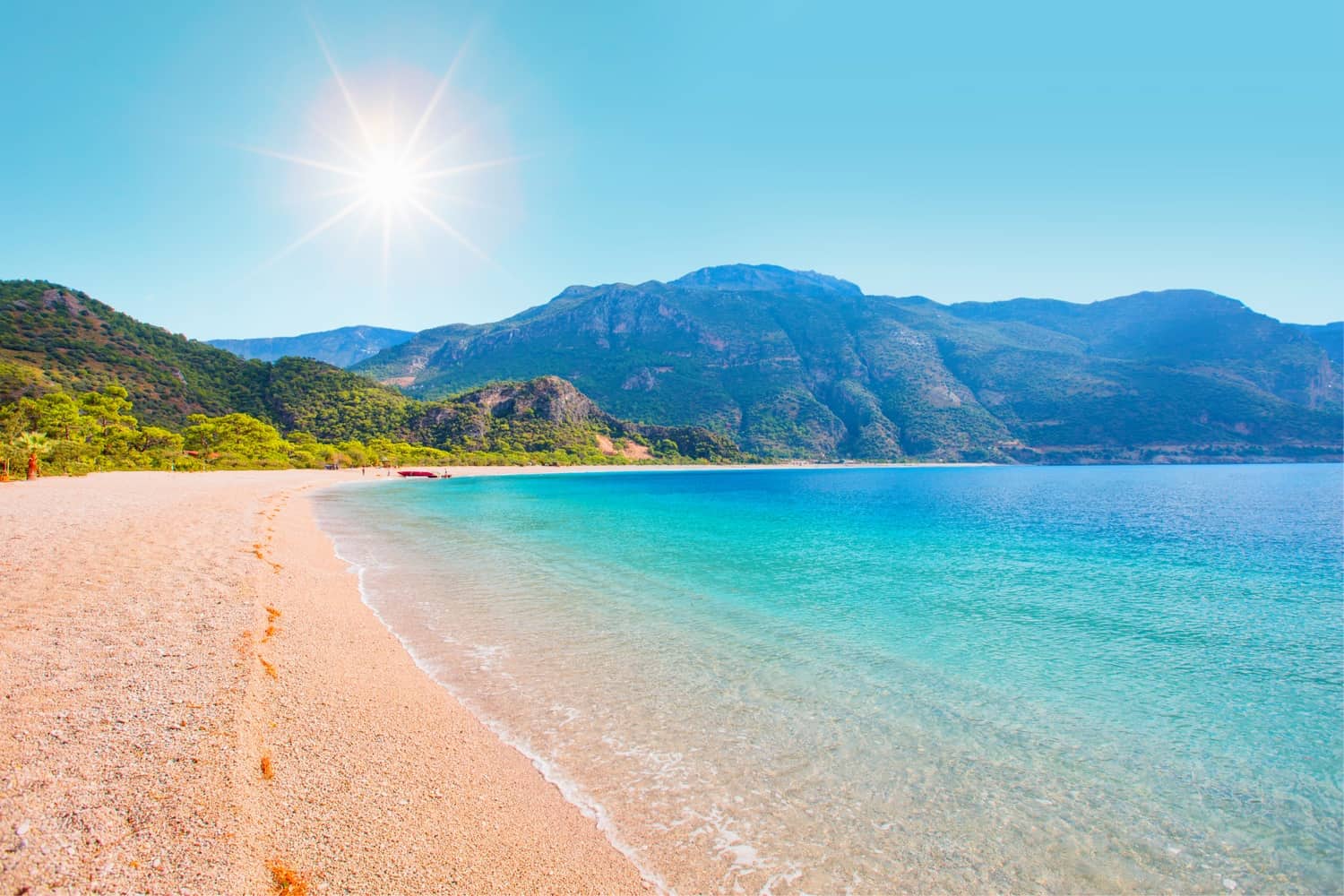 Day Eleven: Kas/Oludeniz/Fethiye
Turkey isn't short of pretty beach towns. If you've rented a car, we'd recommend driving along the coast, stopping at the various villages as you go. If you're going by public transport and have to travel according to the set timetables, however, it might be wise to limit your meanderings.
There are three spots we particularly recommend visiting. Kas is the smallest of the trio but perhaps all the more charming for that, with a relaxed vibe and cool bars. Whitewashed houses with terracotta roofs crowd a small piece of land encircled by hills.
Oludeniz's Blue Lagoon is surrounded by some of the nicest beaches we saw in Turkey. Not only that, but paragliding off the nearby Babadag Mountain is a legendary (if terrifying) experience.
Fethiye is the largest of the three and also has the most interesting historical sight, the Lycian rock tombs. These final resting places are carved out of the cliff wall above the town. Climbing up a series of steps set into the slope, you can even enter one, the Tomb of Amyntos, though most people will probably find the views down upon Fethiye more engaging than the now-barren stone vault.
Where to stay in Fethiye: We particularly love the crisp modern furnishings at the Yacht Boheme Hotel – as well as lounging about by the pool. As its name suggests, this boutique spot overlooks the marina, where luxury yachts are berthed. It's also about 15 minutes' walk from the downtown area.
Day Twelve: Bodrum
The last stop on our exploration of the Turquoise Coast, Bodrum has more of a party atmosphere than the other beach destinations we've mentioned so far, probably because it's somehow simultaneously gained a reputation for being a good option for a cheap getaway and become a destination where the wealthy anchor their yachts. Many resorts have staked a claim to sections of sand here, but there's also the sizable public Yahsi Beach, which packs in the loungers and umbrellas.
Thanks to its advantageous coastal position, Bodrum also boasts an impressive fortification. Officially called the Castle of St. Peter, it was originally constructed by crusader knights but later seized by the Ottomans. Today, its battlements are patrolled by peacocks. There are great views of the harbor from the stone walls, but also spend a little time exploring the building's (amusingly random) museum of underwater archaeology, which details the finds that have been retrieved in the nearby waters.
If, like us, this inspires you to go on your own treasure hunt of sorts, there are several scuba diving businesses in operation, which rent equipment and take visitors down into the blue depths of the ocean in search of reefs and wrecks.
Where to stay in Bodrum: There are a ton of enormous resorts in this part of the world, but with just three rooms the Townhouse offers something much more unique and personalized. The accommodation boasts spectacular views as well as its own bar and restaurant if you're feeling too lazy to go anywhere. Having said that, the prime location means you're not far from a host of alternative eating options.
Day Thirteen: Pamukkale and Hierapolis
Pamukkale is arguably one of Turkey's most Instagram-famous attractions. Its name literally means 'cotton castle' due to the white mineral deposits that have formed over the years as a result of the thermal springs. These waters have been revered for their healing properties at least since Ancient Greek times, when a spa town, Hierapolis, was built here to cater for tourists.
You can still bathe in the pools even today, though there are strict rules around where you can and can't go, as the Turkish government attempts to preserve the site from rampant tourism. Regardless of these restrictions, it's worth making the trip to see the strange formations of travertine, which lend everything here a slightly otherworldly appearance, like the surface of a foreign planet.
While in the area, you may as well visit Hierapolis, though it is little more than ruins bar an impressive theater and some tombs in the necropolis. Nearby, the Antique Pool feels rather more like a water park than the remnants of a Roman bathing place, though there is something romantic about the ruined pillar fragments submerged beneath the transparent waters.
Where to stay in Pamukkale: The large rooms at the WhiteHeaven Suite Hotel make up for some of the, um, questionable designs on the soft furnishings. We are particularly keen on the breakfast, served poolside, and the complimentary shuttle bus to the travertines.
Day Fourteen: Istanbul
After gallivanting across the country, you'll probably be in need of some much-deserved rest and relaxation. Fortunately, Istanbul is not just famous for its delicious cuisine and storied historical sites. It's also renowned for its traditional Turkish baths, where visitors are steamed, scrubbed, and massaged into bliss. One of our favorites is the Kilic Ali Pasa Hamam, which maintains its beautiful old stonework but also offers the comfort of modern-day amenities.
If you didn't manage to pack in everything we recommended from the first two days in Istanbul – and it is admittedly a very full schedule – you can squeeze the rest in today. Alternatively, prolong your post-hamam relaxed state by ending your trip at one of the chilled bars overlooking the Bosphorus, gulping back a nice cold Efes as you watch the boats go by, before making your way to the airport to catch your flight out.
And That's How to Spend Two Weeks in Turkey!
Traversing Turkey in just 14 days is bound to be an exhausting experience, but there are just so many wonderful experiences you won't want to miss. If you feel you absolutely must simplify your visit and spend a couple of extra days just chilling out, we would recommend skipping Konya (which is culturally fascinating and breaks the journey between Cappadocia and Antalya, but still not as interesting as the other cities listed here) or picking one of the Turquoise Coast locales and sticking there for a few days, rather than visiting them all
If, on the other hand, you want to extend your trip, it's worth exploring some of the cities further east, like Gaziantep and Mardin. In recent times, visits here have been curtailed due to their proximity to the Syrian border. As government advice about travel to the region relaxes, however, it's worth considering exploring a different aspect of Turkey's culture and history.