Olympic National Park provides adventurers with soaring mountains, deep mossy valleys and one-of-a-kind beaches. In a country full of amazing national parks, there are none like this one.
On any day you can make your way through diverse landscapes, starting at glacial-torn valleys through dense rainforests before arriving at what feels like the end of the world.
Locals from Washington sure love having this park within their backyards and without the mass of crowds that flock to Yellowstone, Yosemite and the Grand Canyon. But any chance you have to travel to the far north-west corner of the contiguous USA should be grabbed firmly with both hands.
You can arrange a private tour of the park and enjoy the expert knowledge of your guide, but there is no better feeling that discovering this place on your own two feet. Olympic is large enough to be its own state, and there are no shuttles around the park. So having a car is a necessity, unless you plan on completing a mini thru-hike.
In line with other huge national parks in the States, you could spend weeks trekking through the mountains and jumping out of the forest straight onto remote beaches. You can rest assured knowing your three days in Olympic National Park will be packed with adventure and picturesque landscapes.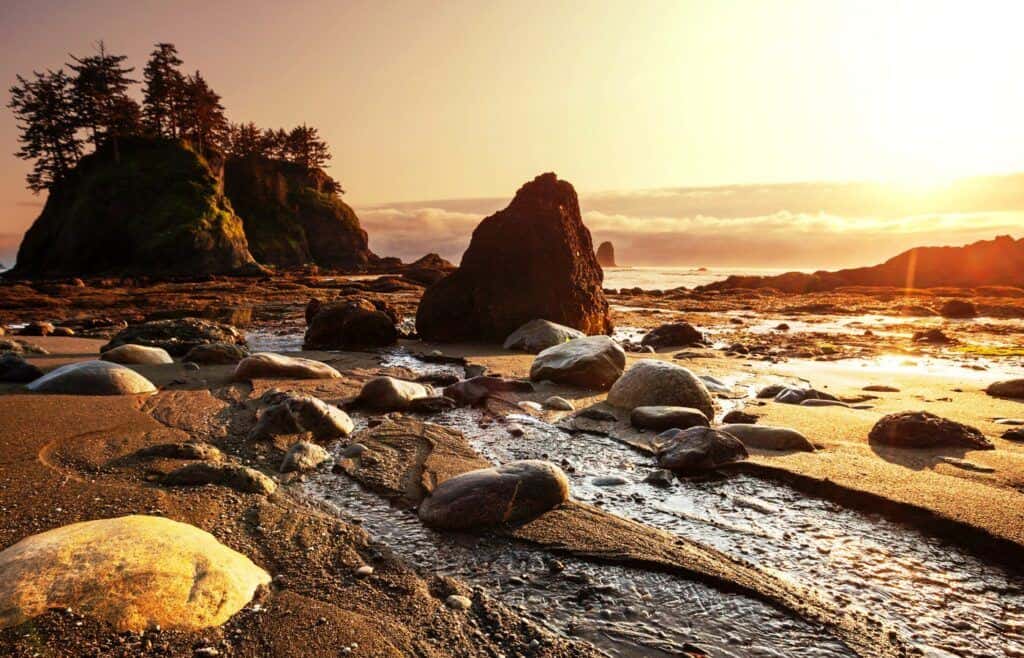 How to get to Olympic National Park
Getting into the park from either Seattle or the state capital of Olympia will take around two hours of driving. From Seattle you have two options, you can either stick to Highway 101 that straddles the Olympic Peninsula as it leads you to the park, or you can take the ferry to Port Angeles where a simple 15 minute drive to the entrance awaits.
Keep in mind that Seattle has some notorious rush hour traffic, so it's best to beat the sunrise and get on the road as early as possible. For ferry-goers, plan to be in line by 7am.
Where to Stay
Camping
Camping is one of the best ways to experience the beauty of Olympic National Park. Enjoy the crisp evenings around the campfire seeing if you can spot a star or two poking through the canopy.
There are 105 campgrounds within the national park; all are first come, first served with three exceptions. Those are Kalaloch, Sol Duc and Mora which accept reservations from June to September before switching back in the off-season.
Some campgrounds have spaces for RVs so be sure to research ahead of time if you are after a pure wilderness experience. Dispersed camping is also available on a lot of trails if you want to complete an overnight hike, at a cost of $5 per person.
Lodging
If you don't wish to camp in Olympic National Park, you will have quite a few lodging options for the duration of your trip. Ideally you will spend both nights at this location but there are options to split between two regions of the park to save on driving time.
There is a bevvy of splendid hotels, lodges and motels in Port Angeles, unfortunately you will spend a lot of time driving back and forth, eating into your activities.
Forks, on the other hand, is well-placed. Once you have completed your adventures in Hurricane Ridge, Forks is near many of the park's highlights. Having said that, if you can, two nights at Lake Crescent Lodge is ideal. This beautiful property has amazing lake and mountain views, along with being a wonderful place to kick back after a big day on the hills.
Where to Eat
Sit-down style restaurants in Olympic National Park are rare, with Lake Crescent Lodge, Sol Duc Hot Springs and Lake Quinalt Lodge being notable exceptions. However, they are only open during the peak months so it's best to have a backup plan.
For snacks, sandwiches and drinks head to the Fairholm Store & Marina at Lake Crescent or peruse the limited options at any of the Visitor Centers. It is wise to load up on meals prior to entering the park. Campgrounds have food safe lockers and the more time you spend in the park enjoying the scenery, the better.
When to Go
What makes Olympic National Park so spectacular is the rainforest environment backed by the towering mountain ranges. Olympic National Park receives a ton of rain throughout the year. There is an average of twenty days of rain or snow from November to March and around 15 days of rain in the Spring.
However, Spring is one of the best times of the year to visit and hike through Olympic National Park. The raindrops fall from the sparkly pine trees, and the rising morning fog is a wonderful sight. Having a comfortable rain jacket that you can hike in will be a handy asset for any trek.
Summer brings less rain and of course more crowds. The popular hike on Hurricane Ridge is a key attraction. It is worth getting up early so you can pass the late risers on your way down. But such is the amount of space in the park, it is easy to separate from the crowds and enjoy the summer sun in the mountains.
Winter sets in early at Olympic, the Autumn provides mild temperatures great for long distance treks. But soon the snow falls and Hurricane Ridge along with other sections of the park become closed off and only accessible on the weekend for exciting snow activities.
Day 1: Hurricane Ridge & Lake Crescent
Stop 1: Hurricane Ridge
As you make your way towards Olympic National Park be sure to take the road that leads directly to Hurricane Ridge. The drive from Port Angeles will take you around an hour.
If you find yourself with a bit of time, be sure to stop at Country Aire Natural Foods for the best deli sandwiches in the region and load up on fresh snacks that will keep you moving across the hills.
Begin your first day with a great starter hike. Hurricane Hill is a moderate and popular 3.2 mile (5.1km) return trek will provide a picture-perfect preview of what lays ahead in the coming days. The beautiful meadows follow you as you hike so be sure to keep an eye out for deer wandering along the ridge.
From the top you will have dramatic views toward Mount Olympus and the snow-capped mountain range to the south. If you face north, you will look down upon the wonderful Straight of Juan de Fuca.
Before returning to your car for adventure number two, be sure to stop at the Visitors Center for great information about the park.
Stop 2: Lake Crescent
From Hurricane Ridge complete the hour drive to Lake Crescent, an ancient glacial lake teeming with turquoise waters. The lake is surrounded by beautiful meadows stocked with wildflowers. Lake Crescent is the perfect spot to set up a picnic and enjoy lunch in front of magnificent vistas.
Once you're fueled up, you can head out on the lake in a rented paddleboard, kayak or canoe. There are also options to enjoy a guided boat tour.
Whatever water adventure you decide on, be sure to leave time for the brilliant hike to Marymere Falls. The simple trek is only a 1.8 mile (2.9km) hike that will give your camera a hearty workout.
The well-maintained trail leads you through old-growth forests of cedar, hemlock and alder trees. After rain this section of the hike fills the air with the smell of petrichor. After a few river crossings, you will reach the falls with views of the tumbling water as it joins the rapid rivers.
Alternatively
Moderate/Difficult – Klahhane Ridge
Beginning in the Hurricane Ridge area, leave the gathering behind and enjoy a challenging and rewarding hike further into the mountains. The 5 mile (8km) return trek features roughly 1700ft (518m) of elevation gain, and more access to sprawling meadows and wilderness.
Most of the elevation gain is completed within the first third of the trek, shooting you out of the forests into a beautiful high-alpine meadow. Encounters with mountain goats are common and on a good day you will have panoramic views of Olympic Peninsula.
Difficult – Mt Storm King
Reward yourself with an even better view of Lake Crescent with a strenuous 3.8 mile (6.1km) round-trip and a bumper 1700ft (518m) of elevation gain.
Once you have made your way through storybook old-growth forests, you will have a challenging and exposed scramble to the top. This hike may be a leg-burner but the views of the lake from the summit are well worth breaking a sweat.
Day 1 Camping Options
One of the best campgrounds in Olympic National Park is on the edge of Lake Crescent. Fairholme Campground has 88 sites, with fire pits, tables and spots for RVs. Fairholme operates on a first come first served basis so check it out after arriving from Hurricane Ridge.
Day 2: Hoh Rainforest
Stop 1: Sol Duc Falls
As you go further into Olympic National Park on your way to Sol Duc Falls, enjoy a warm-up hike on the Ancient Grove Trail. The easy 0.6 mile (1km) trail leads you through dense ancient rainforests on your way to the Salmon Cascades overlook. Depending on the time of year (Sept-Nov) you may watch the swarm of salmon traveling upstream.
Now that you are all warmed up it is time to get those hiking shoes on again and trek down to Sol Duc Falls, arguably the most gorgeous in the park. The short hike is only a 1.6 mile (2.6km) round-trip, but you will hear the thundering falls long before you reach the viewpoint.
Unlike other waterfalls in the park, you get to view Sol Duc Falls from a bridge around 50ft (15m) above the ground. In the spring and after rain, the waterfall is at its peak.
Stop 2: Hoh Rainforest
If you are well-stocked with food and water, you can head straight through Forks, the home of Twilight, for Hoh Rainforest. However Forks represents a great option to load up on goods for the afternoon and potentially the evening as well.
Once you're ready to go, stop at the Hoh Rainforest Visitor Center for last-minute information before journeying into the Hall of Moses. The simple 0.8 mile (1.3km) loop takes you through entrancing mossy forests, by ponds and blooming wildflowers. It is hard to imagine that above the moss-laden trees are towering snow-capped peaks.
Stop 3: Cape Flattery
Day 2 has been a busy one, with rainforests, hikes and bewildering waterfalls. End it at Cape Flattery, the most western point in the contiguous USA for what hopefully will be an unforgettable sunset.
While technically outside of the park boundaries, you can't come all this way and not see the sun fall from the overlook. Additionally, the drive along the Cape Flattery Tribal Scenic Byway comes with scenery that lays the platform for a glorious end to your day.
Day 2 Camping Options
There are primitive camping spots and turnouts near Cape Flattery if you are living the vanlife. But the beautiful Kalaloch Campground is one worth considering. This campground is right on the Pacific Ocean and because of its amazing location, you will have to make a reservation in the summer months.
There are 170 sites at Kalaloch each with their own sunset view. So if you choose to stay here for the night, you may want to skip Cape Flattery and enjoy the scenery. Even better, tomorrow's itinerary is all about the beaches, so why not get a head start and wake up on one?
Alternatively
Moderate/Difficult – The Hoh River Trail
The Hoh River Trail is a 17.3 mile (27.6km) point-to-point trek that is one of the most popular hikes in Olympic National Park. However, once the overload of beauty has set in, many hikers retrace their steps after just a few miles. But if you have a backcountry setup, continue on as the scenery only gets better.
The trail becomes more wild as you make your way toward glacial fields, with mountains soaring on either side and the sparkling blue Hoh River rushing by. The meadows where elk often roam quickly disappear as you climb through the narrowing valley and eventually reach a high alpine lake. Direct views of Mount Olympus are your reward along with the booming sounds of the Blue Glacier moving down the mountain.
Epic – Climb Mount Olympus
A mountaineering trek up Mount Olympus is not for the uninitiated. But for those that can, Olympus is high on the bucket list for climbers in the state of Washington. Featuring over 5000ft (1524m) of elevation gain, Mount Olympus is one of the most isolated peaks in the entire state.
It is one of the most difficult country high points on mainland USA and is home to a total of six glaciers. Olympus is as a great climb to train for, but for now we will just sit in awe as it stands proud above us.
Day 3: Rialto Beach, La Push & Lake Quinalt
Stop 1: Rialto Beach
After a couple of days wandering through vibrant, green forests, it's time to get out into the open air. Olympic National Park has 73 miles (117km) of pristine, undeveloped coastline, the largest such stretch besides Alaska. With fierce tides and monstrous rains washing away tree trunks, the sandy shorelines are adventurous.
There are many great beaches including the trio in La Push which is next up. But start your morning with a simple trip to Rialto Beach.
Rialto is the most accessible beach in the park and features dramatic rock formations including the iconic Hole-in-the-Wall. Explore the tide pools and try your hand at some bouldering before heading inland for the day's epic ending.
Stop 2: La Push
La Push is home to not one but three beaches that all encapsulate what the Olympic Peninsula is about. To keep things simple, their names are First Beach, Second Beach and Third Beach.
The Second Beach is rated as the best one to visit, with beautiful tidal pools, forest trails and with ancient trees strewn across the sand. However for sea stacks and waves crashing into the shore, First Beach is a wonderful coastal experience that will have you reaching for the camera often.
Stop 3: Lake Quinault
As you make your way out of Olympic National Park on your journey back to Port Angeles, there is one last stop. Lake Quinalt provides beautiful forests flanking the calm waters, with intimidating mountains coating the background. Park at the Ranger Station where you will find the Falls Creek and Quinalt Loop Trail.
The 1.3 mile (2.1 km) hike is the perfect leisurely stroll to end your time in Olympic National Park. The thick conifer forest provides plenty of shade without taking away the lake views. Find a spot by the water and enjoy your last picnic in the park.
After three days of hiking adventures, if you're still feeling energetic, add another 2.7 miles (4.3 km) to your hike for a flat stroll to Cedar Bog and Cascade Falls.
Final Thoughts
A 3-day itinerary is enough time to see the sights, although you will be on the go throughout. There is a lot of driving to get from point to point, thankfully the scenery never stops providing the goods.
Overall Olympic National Park promises to be an unforgettable experience. It has something for everyone, with from enjoyable, casual trails to over-mountain epics. There are wonderful RV, car and tent camping options with on-site facilities while the many backcountry sites await for those in search of solitude and time in the wilderness.