One of the most prominent points of interest in the US Southwest is Grand Canyon National Park. Measuring a mile deep, 18 miles wide, and 277 miles long, the name is anything but an understatement! Being that the canyon is as deep as it is, the weather in the canyon itself is actually much warmer than the rims above and other areas of higher elevation.
Grand Canyon National Park sees just under 6 million visitors a year on average, making it the second most visited national park, just behind Great Smoky Mountains National Park. In terms of peak season, Grand Canyon National Park has a fairly standard peak of mid-May through mid-September.
Since most visitors stay above the rim, the highest temperatures of summer are more manageable as it's often 10-20 degrees (Fahrenheit) warmer in the canyon than above the rim.
Don't let moderate temperature forecasts fool you though, hikers often don't realize how badly they're getting burned due to more moderate temperatures and breezes. Bring sunscreen or a hat (or both)!
If you'll be staying in the park and camping, make sure you reserve your spot well ahead of time. With its popularity, especially during peak season, getting reservations at the Grand Canyon can be a herculean task.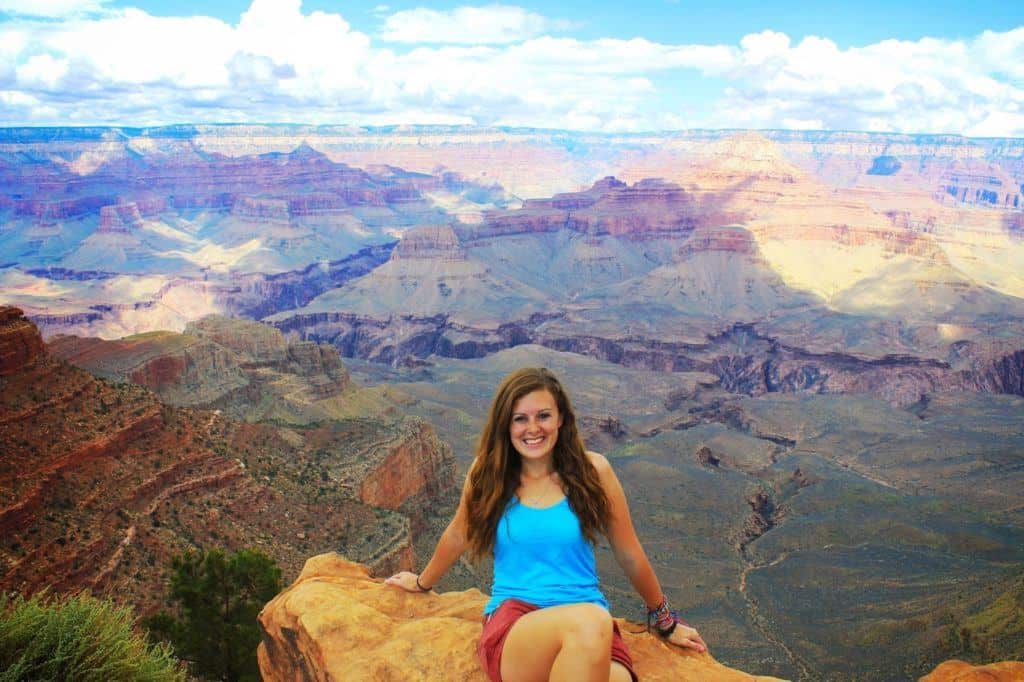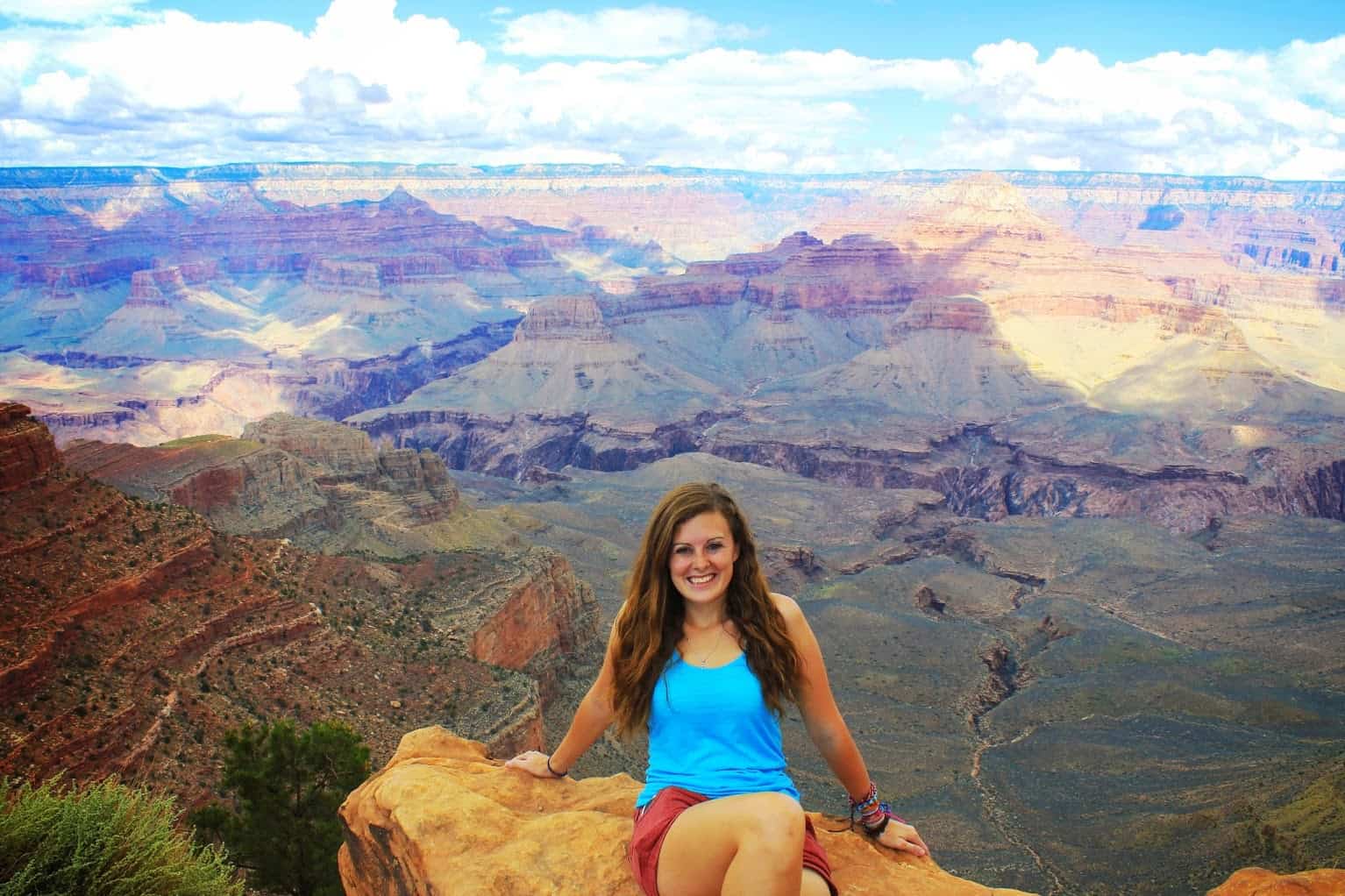 Before Entering the Park
Unlike Yosemite, shuttles are currently operational at Grand Canyon, however they have limited capacity, so you'll want to plan for slightly longer wait times just in case.
Certain areas of the Grand Canyon have a limited season while others are open year-round. The South Rim of the Grand Canyon is open 24/7 throughout the entire year. The North Rim has a shorter season, only being open from mid-May through mid-October.
The significant majority of visitors spend their time at the South Rim as the Northern one is harder to get to and, while enjoyable, offers a higher level of difficulty. This itinerary will be based around spending three days in the area of the South Rim.
Plan on an entrance fee of $35 per car. While that may seem a bit more expensive than average, admission is good for seven days if you want to extend your trip! You can also check out the park's list of fee-free days on their website.
Day 1
As mentioned before, this itinerary focuses on the South Rim as the North Rim is not nearly as popular or accessible, except to the most avid of backpackers. The South Rim of the Grand Canyon is at an elevation around 7000 feet, so make sure to moderate your effort on the first day if you aren't used to higher elevations.
Feel free to pick the hikes you like best and only concentrate on enjoying those ones if you feel the elevation affecting you. With the combination of heat, sun, and elevation, it's easy to over-exert yourself. However, if you're attentive and smart about taking your time, there is a vast desertscape to enjoy!
The simplest and most popular way to get into the park is via Arizona Highway 64/US-180 North. Follow Highway 64 all the way in until it becomes S Entrance Road and take that all the way until you see the visitor center area on the right.
Stop 1: Yavapai Point via Rim Trail
Length: 1.6 miles
Elevation Gain: 82 feet
Type: Out and Back
Difficulty: Easy
Estimated Time to Complete: 45 minutes
You'll be starting out your first day near the visitors' center as you'll need access to the shuttle since there are restrictions on where private vehicles can go on the south rim.
Yavapai Point is a great first hike in the Grand Canyon as it allows you to get a sense of how you'll adjust to the altitude. A very manageable trail for all ages, it's well-manicured and flat throughout the mile and a half. Expect decent amounts of shade and for it to be especially comfortable if you arrive in the morning.
Of course, being popular and near the visitors' center, expect crowds to form quickly; early morning is your best bet if possible!
Stop 2: Pipe Creek Vista
Length: 3 miles
Elevation Gain: 127 feet
Type: Out and Back
Difficulty: Easy
Estimated Time to Complete: 1 hour
If Yavapai Point wasn't a challenge for you, head over to Pipe Creek Vista! The trail is paved and quite flat throughout, making it an approachable out and back to test your fitness on something a bit more challenging. Assuming you felt confident with Yavapai Point, Pipe Creek Vista shouldn't be too difficult.
Stop 3: South Kaibab Shoshone Point Trail
Length: 5.1 miles
Elevation Gain: 305 feet
Type: Out and Back
Difficulty: Easy
Estimated Time to Complete: 2 hours
You'll need to get on the Eastbound Kaibab Rim Bus (orange bus) for this one. Getting there is quite simple as the orange bus drops you right at the trailhead and you're on your way! You'll be able to take the same bus back to the visitors' center when you're finished with your hike.
This is the longest hike so far, but if you feel confident and acclimated, South Kaibab is one of the best parts of the park and you won't want to miss out! It's a well-maintained trail that is pretty flat throughout. If you take your time and take breaks as necessary, this trail can be completed by anyone.
Stop 4: South Kaibab Trail to Ooh Aah Point
Yes, you read that name right. The official name really is Ooh Aah Point and if you hike it, you'll see why! If wildflowers are in season, you're in for a treat!
After a long first day, many may be tired and decide to skip this one. If you aren't in that camp, this is the way to end you first day in the park. While just under two miles, there are a couple of steep points. The first steep descent is about 0.2 miles into the trail and lasts about one tenth of a mile.
At the turnaround point (approximately mile 0.9), you'll come down a steep descent that quickly turns into a fairly steep ascent. Luckily, that section only lasts about a tenth of a mile. You'll run into a short, steep uphill about 1.5 miles into the trail, but the majority of the trail, outside of those points, is moderate and flat. Trekking poles may come in handy if you plan on bringing them!
Day 2
With many of the best spots in Grand Canyon National Park being located on the South Rim, you don't have to go on as many long drives to see all the sites you want! Day 2 starts near where the first day did and has some longer hiking opportunities without being too strenuous.
Stop 1: Grand Canyon Rim – Mules to Mather Point
Length: 6 miles
Elevation Gain: 413 feet
Type: Out and Back
Difficulty: Easy
Estimated Time to Complete: 2.5 hours
The main attraction for most visitors to the Grand Canyon is the ability to walk along the rim and enjoy the spectacular views that come with it. Starting near the visitors' center, this 6 mile out and back is mainly paved and maintained well.
If you want to do this hike, you'll want to prioritize it and get there as early as possible. If you take this hike first thing in the morning, you may run into crowds on your way back, but you'll minimize the amount of people out there with you. While a beautiful trail, it is immensely popular, so plan accordingly. If you get halfway out and don't want to hike back through the crowds, you should be able to pick up the blue bus and take it back to the visitors' center!
Stop 2: Rim Trail – Yavapai Geology Museum to Verkamp's
Length: 1.5 miles
Elevation Gain: 39 feet
Type: Out and Back
Difficulty: Easy
Estimated Time to Complete: 40 minutes
Time to get back on the orange shuttle! Take it towards the Yavapai Geology Museum stop and you'll be dropped off right by the trailhead. At just a mile and a half, this may be a welcome stroll after the Mules to Mather Point trek!
If you have the time, consider stopping into the Yavapai Geology Museum near the trailhead or taking a look at the Hopi House, which was built in 1904 and styled after 1,000-year-old Hopi pueblo dwellings.
In looking at this trail you may notice that it's a point-to-point trail. If you're unfamiliar with that term, it means that the trail's start and end are in different places. Don't worry, you don't have to turn around and do it again (unless you really want to). At the end of your hike, if you walk past the Hopi House towards the train depot, you'll find a stop for the blue shuttle which will take you back to your starting area near the visitors' center.
Stop 3: Grand Canyon Greenway: Visitor Center to Village Loop
Length: 4.9 miles
Elevation Gain: 259 feet
Type: Out and Back
Difficulty: Easy
Estimated Time to Complete: 2 hours
One of the best things about Grand Canyon National Park is that one trailhead area can take you in so many different directions. After you take the blue bus to the visitors' center, you'll be near the trailhead for the last hike of the day.
This trail can get a little busy, so taking a break, having a late lunch or snack, and browsing through the nearby buildings may help you wait out the crowds. Other than that, it's an approachable trail that slopes gradually downhill for 2.5 miles and is a gradual uphill for the next 2.5, making it manageable for all skill levels.
Day 3
The final day starts in the vicinity of Grand Canyon Village. Depending on how much time you have before you have to head back to the real world, you can skip hikes as you see fit. If you've got time to fit all of them in, so much the better!
Not much travel time required, since Grand Canyon Village is just across from the visitors' center and trailheads of the last two days. You might even have a little extra time to sleep in!
While the trails on day three may be a slightly more of a challenge, you're ready for it!
Stop 1: 1.5 Mile Resthouse via Bright Angel Trail
Length: 3.2 miles
Elevation Gain: 1,184 feet
Type: Out and Back
Difficulty: Moderate
Estimated Time to Complete: 1 hour
Aptly named because there is a rest house located at the turnaround point of this trail, which offers a place to rest and, during the summer months, water. This trail is well-trafficked, and part of the popular Bright Angel Trail, so hiking it first thing will provide the best experience.
You'll have a fairly steady descent as you start, with a small, sharper drop about a mile in. Since it's an out and back, you'll run into that same drop going the other way around mile 2.2, but that'll be the biggest challenge of the hike. It's definitely worth it to take some time to enjoy the break at the 1.5-mile resthouse.
Stop 2: Maricopa Point, Powell Point and Hopi Point via Bright Angel Trail
Length: 4.7 miles
Elevation Gain: 465 feet
Type: Out and Back
Difficulty: Moderate
Estimated Time to Complete: 2 hours
If you only have time for one hike today, make it this one! At the better part of five miles, it can be a bit of a workout with the elevation gain, but the views promised are well worth the sweat! With plenty of opportunities to stop and take pictures and/or breaks, this trail is worth the price of admission.
While it starts from the same area as the previous hike, the two hikes offer unique experiences and you should take the time for both if you have it! The very beginning of this trail is a bit of an uphill and the very end a bit of a downhill, but you can expect your elevation gains and losses to be moderate and spread throughout the trail.
Stop 3: Shoshone Point Trail
Length: 2.1 miles
Elevation Gain: 150 feet
Type: Out and Back
Difficulty: Easy
Estimated Time to Complete: 1 hour
If you have the time for one more, make the drive to Shoshone Point Trail. When leaving the Grand Canyon Village Area, turn onto Center Road and follow that until you hit Arizona Highway 64/ S Entrance Road and make a left. Follow that until you see E Rim Drive and turn right. The bonus of this trail is the opportunity to drive the eastern portion of South Rim and enjoy all of its scenic pull-offs.
With the crowds you've likely experienced, Shoshone Point Trail is a fun way to end your Grand Canyon Trip. Parking by the trailhead shouldn't be much of a hassle as this is one of the more secluded spots of the South Rim area. A unique feature of this hike is the trees. You might be surprised when you find yourself feeling more like you're in a forest than the desert you've spent the last three days in.
Depending on your plans, there's a picnic area with restrooms about a mile into the trail that you can stop at if you feel like packing a lunch. Since you shouldn't run into much in the way of crowds, you'll have the luxury of taking your time and enjoying this last hike!
Hopefully this itinerary has helped inspire your next Grand Canyon National Park adventure and we can't wait to hear all about it!