I like to think that Dave and I work so well together as travel partners because we each love and hate alternate aspects of the travel experience.
I am obsessed with the planning and research but am completely hopeless with directions and navigation and logistics. Dave finds the planning stages to be tedious and time-consuming but can navigate his way around a city with ease.
It works perfectly for us — I get to indulge in my wanderlust and spend days and days researching places to visit and itineraries to follow, and once I check Dave's happy with the plan, he makes sure we actually end up where we're supposed to be.
One of my favourite ways to travel, however, is when neither of us can decide where we want to go next.
After an amazing six weeks spent in the Pacific Northwest, we had six weeks left on our US visa but weren't sure where to go next. Whenever we're in this situation, we simply split the time period into two — Dave decides where we'll go for the first three weeks, and I do for the second.
Dave and I like different things when we travel — I love quiet towns over cities, whereas Dave prefers somewhere with lots of activities, I like tiny beaches and Dave likes to have somewhere he can run. However, we're also not very fussy when it comes to travel and are always happy to try something new and go somewhere we'd never considered before.
Dave adores New York City and instantly opted for spending time on the east coast. The first time I visited New York, however, six years ago, I hated it and had no desire to ever return (spoiler alert: I loved it second time around!). I chose to spend my three weeks in the Southwest, road tripping from Arizona to Texas — a region I've been desperate to visit for years and a region where, aside from the Grand Canyon and Monument Valley, Dave hadn't heard of any of my planned stops.
I couldn't wait to revisit New York to see if my opinion had changed, and I couldn't wait to explore a part of the US that Dave had never considered visiting before.
It was going to be amazing.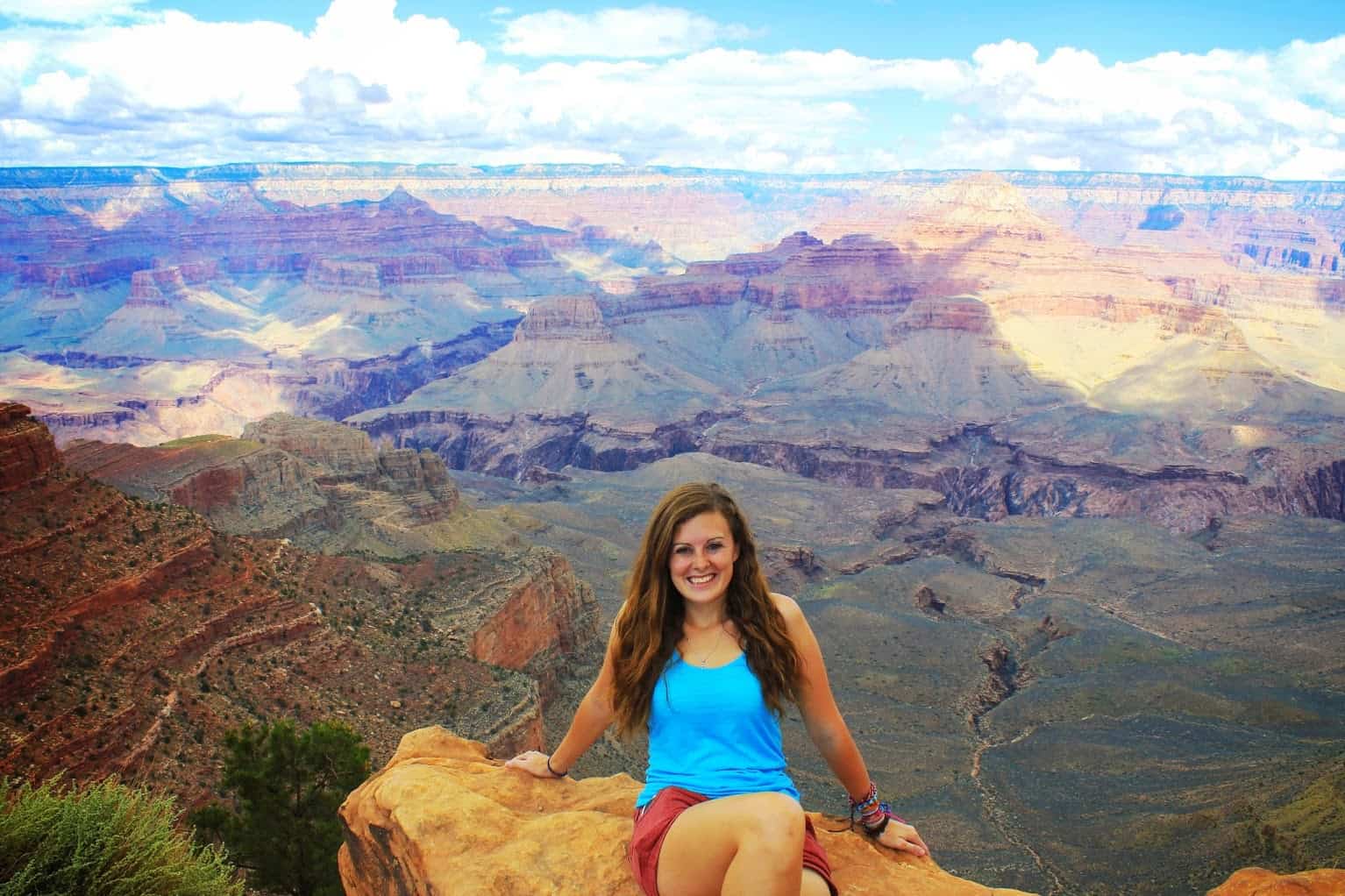 When it came to planning the road trip, it didn't take long for me to come up with an itinerary. I'd been dreaming of this part of the US for several years so I immediately knew where I wanted to go and what I wanted to do.
There was just one horrible aspect.
The car hire.
I couldn't believe how shockingly expensive one-way car hires are in the US.
To rent the car for 10 days, from Phoenix to Austin was going to be $250.
Oh no, wait!
It was actually $1000 once you took into account the one-way hire fee of $750.
In fact, I calculated that it would be cheaper to rent a car for seven days in Arizona, return it, rent a new one to drive to New Mexico and return it on the same day, rent a new one to explore New Mexico and then return it, rent a new one to drive to Texas and return it the same day, and then rent a new one and explore Texas. That ridiculous itinerary of car-changing fun would have saved us $300.
We grumbled and complained and ended up paying around $100 a day for a little car I couldn't park very well.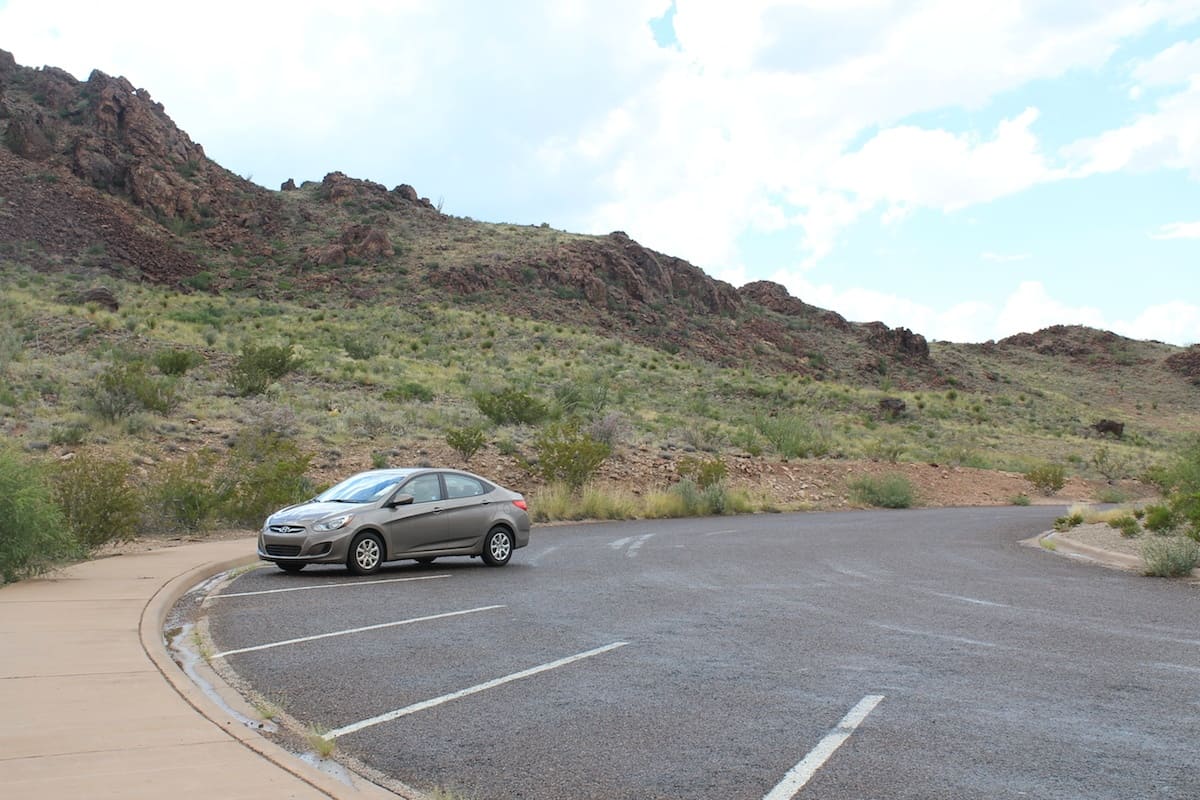 Yep, it had been seven years since I'd last driven a car. I had never driven an automatic and I had never driven on the right hand side of the road. Let's just say it made for an interesting road trip that I found bewildering and Dave found terrifying.
Here's our route, along with lots of recommendations, should you decide to follow in my footsteps:
The Grand Canyon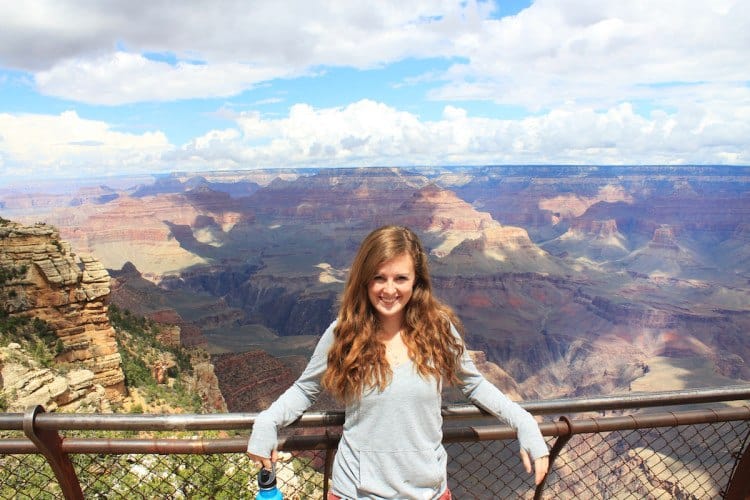 After flying into Phoenix, we jumped in our super-expensive rental car and drove straight to Flagstaff, our base for exploring the northern parts of Arizona.
Of course, our first stop had to be the Grand Canyon. I'd always felt slightly embarrassed whenever I had to confess I hadn't yet seen the Grand Canyon and now I can finally say that I have.
We wisely decided to spend the day on the South Kaibab trail and within ten minutes of walking the crowd had dispersed and we had the path to ourselves. We probably saw around 50 people over the space of several hours, which was an unexpected delight. The trail takes you down into the canyon and gave you a completely different vantage point than the canyon's edge. The hike was incredible though tough, and completely surpassed my expectations.
One of my fondest memories comes from just after I'd completed the hike. Dave had continued hiking further into the canyon without me while I'd headed back alone. Upon reaching the top, I made my way to the edge of the canyon, sat down and dangled my legs over the side and sat in peaceful awe for several hours.
Things to Know
We decided to stay in Flagstaff over Sedona as it's slightly closer to the Grand Canyon, and we rented a private room in a house through Airbnb (£51/$83 a night, book here). Our hosts, Rob and Aude, were super-friendly and also keen travellers so had plenty of stories to share. They were extremely knowledgable about the entire Southwest region and were only too happy to offer tips for our itinerary. The house is located just outside of Flagstaff, which made for an extremely quiet and peaceful experience. We loved it.

Entrance to the Grand Canyon is $25 per vehicle for a 7 day pass.

Unsurprisingly, food at the Grand Canyon is mediocre and overpriced. Pick up a delicious salad or baguette at the New Frontiers Natural Supermarket in Flagstaff before you leave for much cheaper, and more enjoyable, option.

Diablo Burger in Flagstaff has some of the best burgers I've ever had. Expect to queue for half an hour as a minimum but it's definitely worth it. They get extra points for actually cooking the burger medium rare when you ask for it.
Monument Valley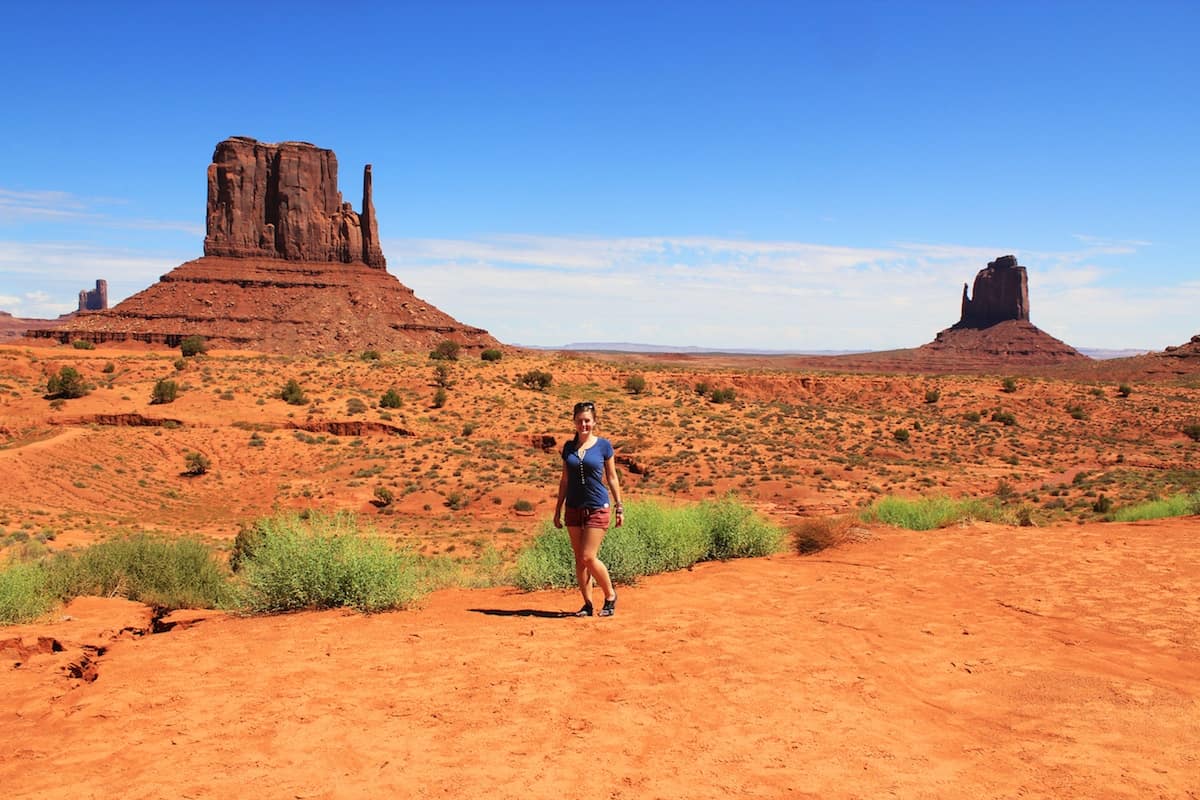 Monument Valley was a last minute addition to our itinerary when I saw it was only a three hour drive from Flagstaff. I've always been keen to visit Monument Valley but assumed it would be too far to visit on this trip. Fortunately it's right on the Arizona-Utah border.
We had two options for exploring the valley — either stand at the lookout, take photos and drive back to Flagstaff, or take our inappropriate-for-the-drive rental car into the valley for an 11 mile expedition across the rough, rocky, ditch-filled-with-water-y terrain. Given the prices we were paying, we were obviously going to make the most of our rental car!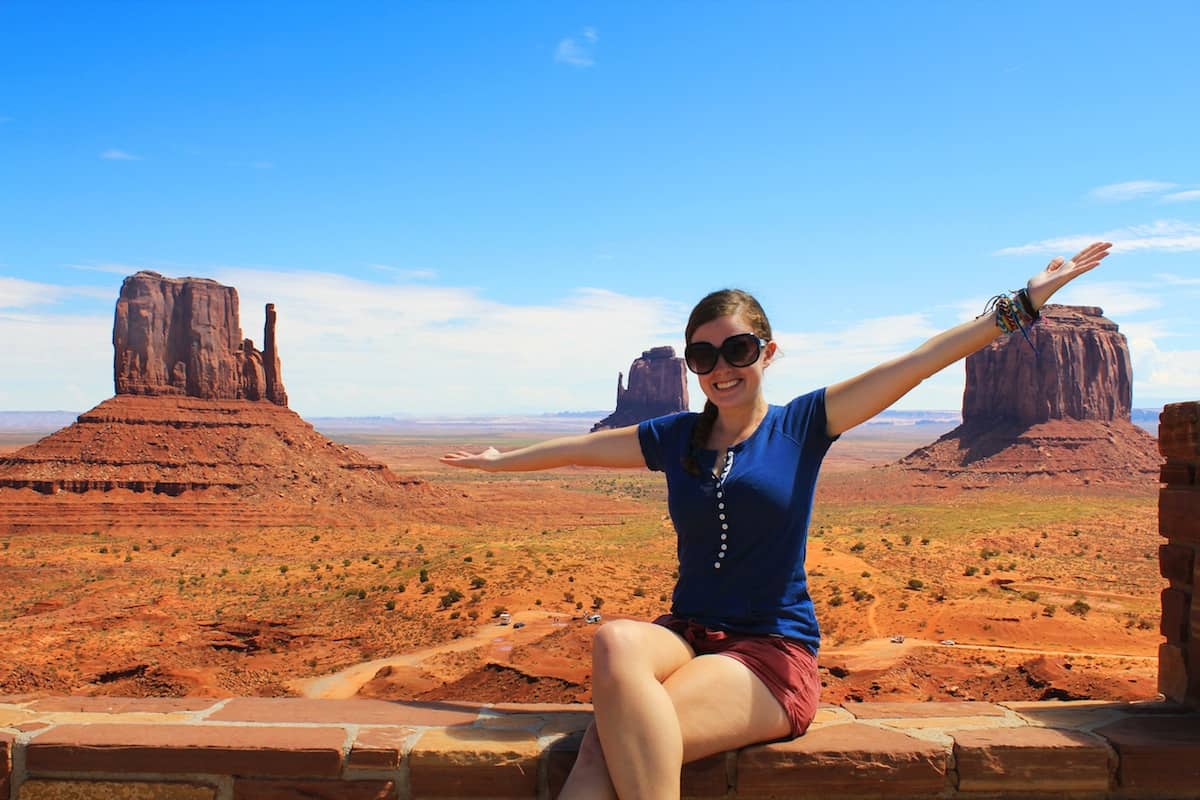 As we inched our way down into the valley, I noticed we were the only ones brave enough to take such a tiny car through the valley — everybody else was driving 4x4s! This was probably for good reason given that it took us well over two hours to drive the 11 miles loop. It was so completely and utterly worth the bumps and terror, though, as we sped through mini-lakes that had water rushing up as far as our windscreen.
Just one day after a visiting the Grand Canyon, I was announcing that Monument Valley was, in fact, far superior, and one of the most stunning sights I'd seen.
Things to Know
Entrance to Monument Valley is $5 per person.

If you're short on time you can take an overpriced, overcrowded jeep tour through the valley, though these didn't look enjoyable. I recommend taking your own car down there for a fun-filled experience — just make sure it hasn't been raining beforehand.

The visitor centre has a restaurant and gift shop. We bought average-tasting sandwiches from the gift shop and were then told the restaurant was only for guests who had ordered from a menu and had to eat our sandwiches in the car.
Arizona Roadside Attractions
Driving down to Tucson, we decided to break up the journey with a few roadside attractions.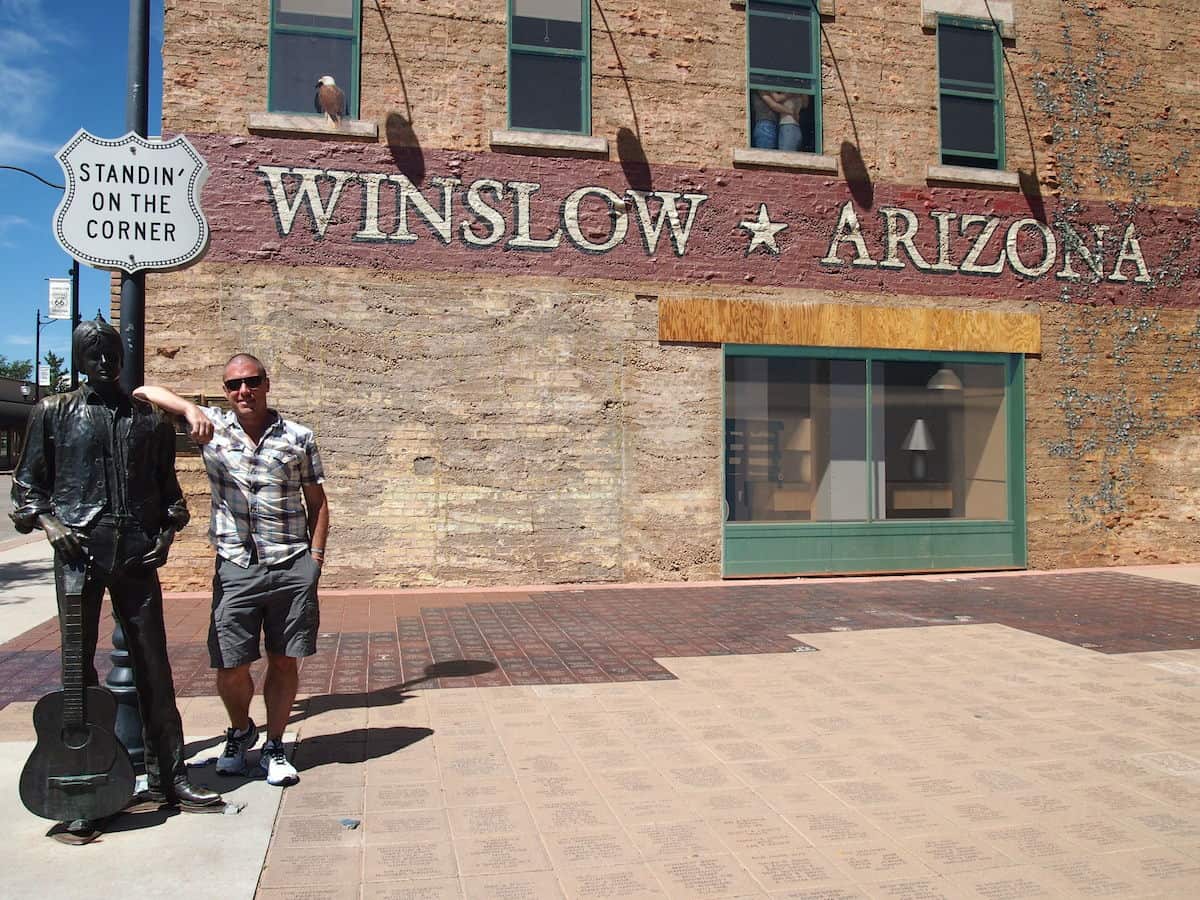 Our first stop was an indulgence for Dave — a stop in the tiny town of Winslow, famous for being mentioned in Take It Easy, a song by the Eagles. I had no idea what the fuss was about but yes, there was a corner in Winslow that was filled with nostalgic biker couples slow dancing as the song blared out from a nearby speaker.

Because Dave got to indulge in his inner music geek, I also indulged in my inner physics geek. Meteor Crater is the largest impact crater in the US (1.2 km across) and the best preserved on Earth, and it was badass. I loved it.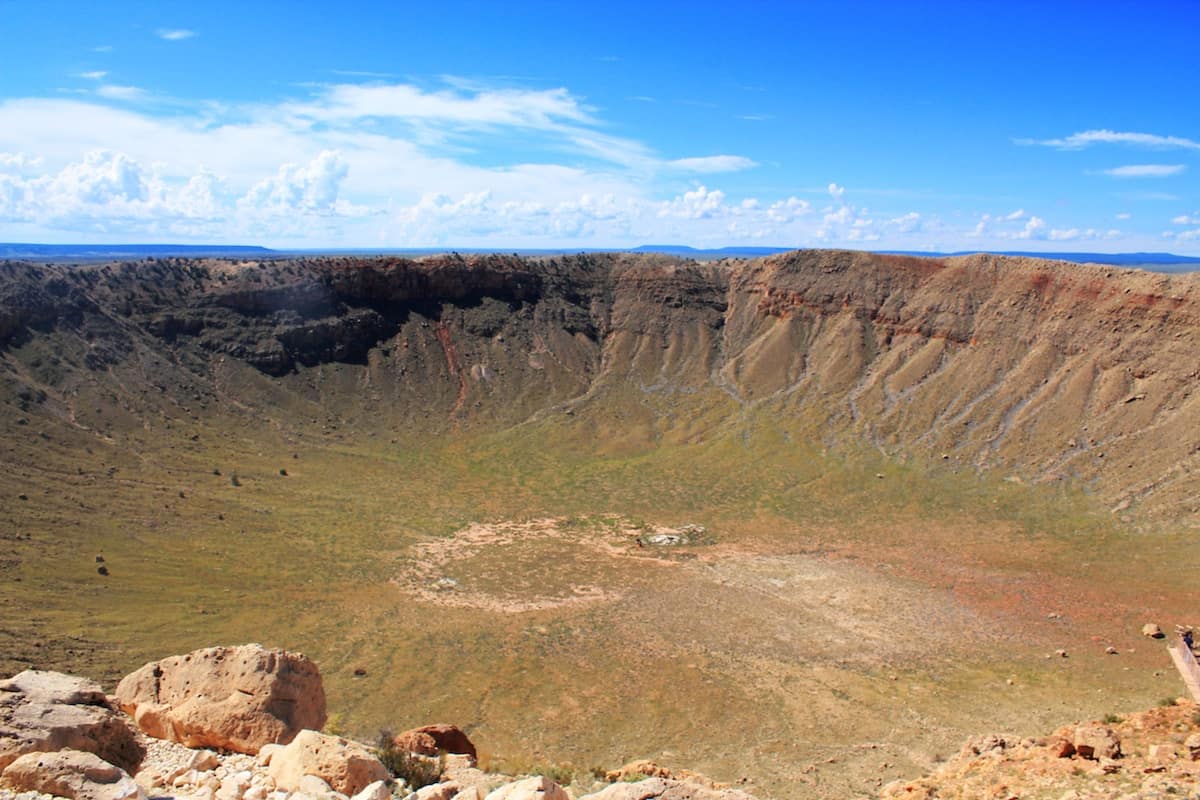 Things to Know
The Meteor Crater entrance fee is a shocking $16 per person.

Finding the Standin' on the Corner Park in Winslow that has the statue and plays the music can be tricky — it took us over half an hour of driving around in circles before we found it! After many GPS screw-ups, we finally discovered that it's located on the northwest corner of Kinsley Avenue and 2nd Street.
Saguaro National Park and Sabino Canyon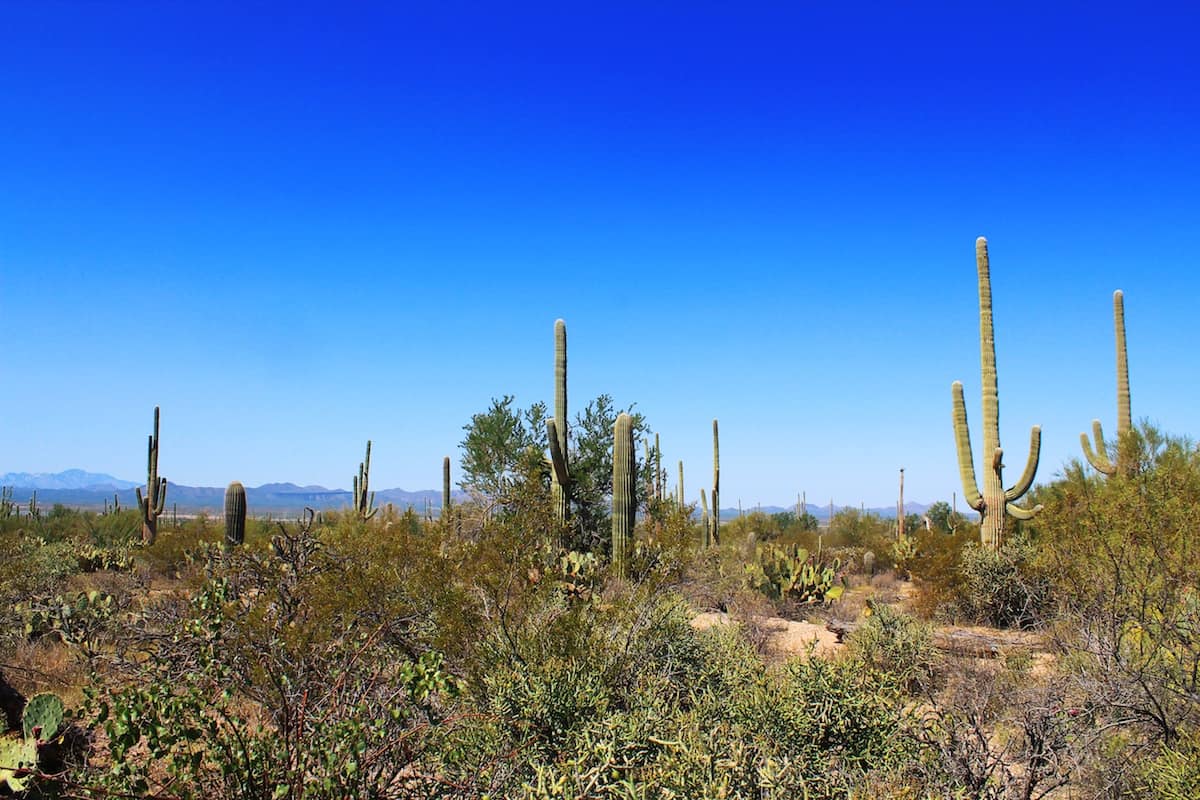 My time in Tucson was spent freaking out about the various terrifying creatures that were waiting to attack me — poisonous rattlesnakes, scorpions, tarantulas, black widow spiders, Gila monsters and more. Am I selling it to you?
When I wasn't freaking out about my impending doom I was squealing with excitement at seeing so many cacti, thanks to our visits to Saguaro National Park and Sabino Canyon. I hadn't ever seen a wild cactus before in my life, so this was particularly exciting for me.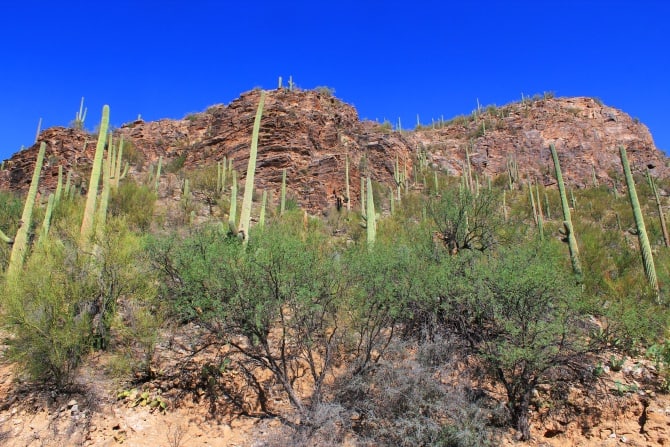 We hiked for several hours in the dry, desert heat until the water in my bottle was hotter than the temperature of my mouth. It was one of the most unusual landscapes I'm come across, too, with nothing around but cacti, sand, dirt and dangerous animals.
Tombstone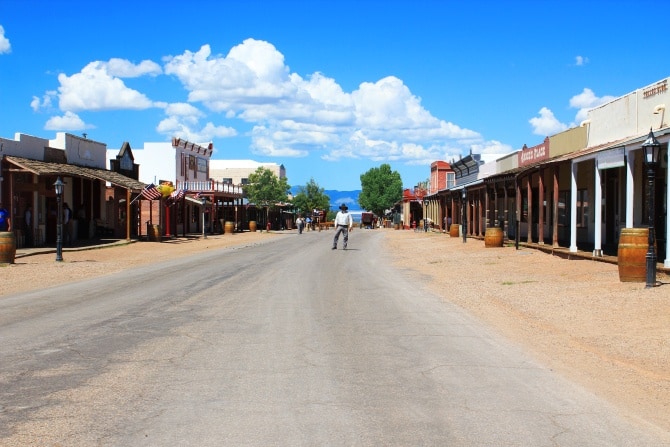 Tombstone wasn't really on our way to New Mexico, but once I had found out about this super-cheesy Wild West town I decided it was worth the detour.
It was even sillier than I had imagined and I loved it. We visited a cemetery with amusing gravestones, wandered the main street where only horses and cowboys roamed, and smiled politely at everyone who was holding a gun. Unfortunately, we didn't stick around for their scheduled shootout reenactment, but I'm sure it would have been just as amazing as it sounds.
I have a feeling that Dave thought it was the lamest thing in the world but I absolutely adored it! I love cheesy tourist attractions and Tombstone was one of the best.
Things to Know
Tombstone is a 75 minute drive from Tucson and, like most destinations in this region of the world, requires a lot of driving on long, straight highways. Tombstone isn't particularly well signposted but you'll know you're there when you see the huge sign for Boothill Cemetery.

The cemetery is definitely worth a visit. There's no charge to get in and you'll get to wander around the graves of famous cowboys in the region. Sadly, the original tombstones have weathered away and the replacement ones look… very fake. Still, it was fun to wander around and read the descriptions on the gravestones: "Six-Shooter Jim. 1885. Shot by Burt Alvord" and similar.

We ate lunch at the Crystal Palace Saloon and Restaurant and the food was surprisingly great for such a tourist town. Built in 1879 as brewery, the restaurant still has the original bar, though it mostly feels like you're eating in a kind of Wild West Disneyland. Everyone's dressed in full costume and the gunfighter actors regularly drop in take photos with people. I found it to be tacky yet amazing.
White Sands National Monument
I developed an obsession with deserts after visiting the Sahara Desert in Morocco, and White Sands has been high on my list from the moment I first learned it existed. It was one of the strangest, prettiest places I've visited.
We rented toboggans that were essentially plastic dustbin lids, some wax and spent hours racing up the sand dunes and sliding back down again at surprisingly high speeds. With never more than around ten other people in the park with us it felt like we had it all to ourselves. We decided to return for sunset, an evening that had us feeling like we were the only people for miles around. We couldn't see another person, couldn't hear a single sound. It was one of the best sunsets I've experienced, and one of the very few times I've experienced total silence.
Things to Know
We decided to stay in Tularosa, located an hour away from White Sands. While it's possible to base yourselves much closer — in Las Cruces or Alamogordo, we couldn't find any decent affordable accommodation in either cities. Tularosa is a tiny village with a population of just over 2,000, which gave us an insight into small town New Mexico. The apartment we stayed in (£44/$72 a night, book here) was cosy yet spacious, located near to an amazing Mexican restaurant and was extremely quiet at night. My favourite part was being able to stargaze at night, thanks to the low levels of light pollution.

Entrance to White Sands National Monument is $3 per person for a 7 day pass.

We ate at Mexican restaurant Casa de Suenos every single night that we were in Tularosa. The food was surprisingly great for such a small town, with the chips and salsa being especially good.
Roswell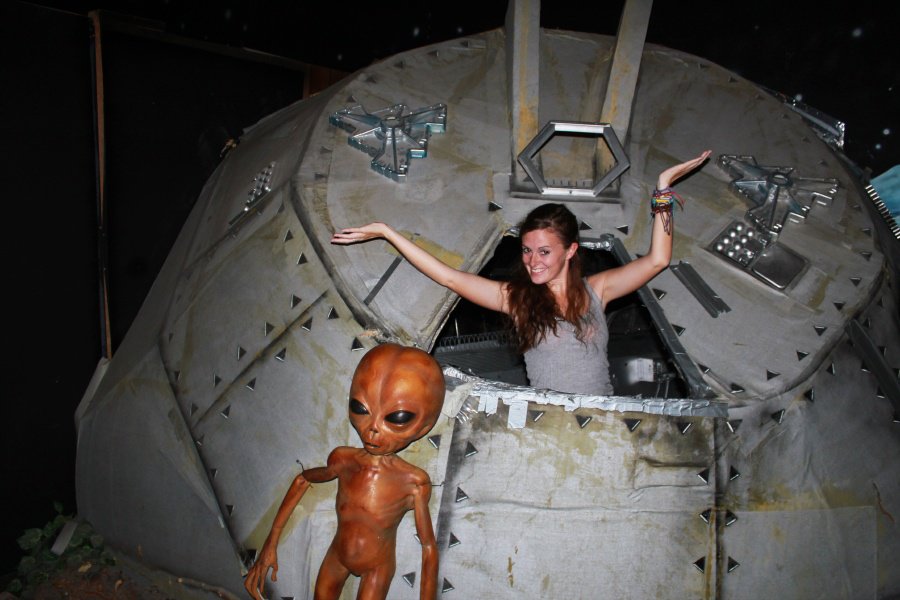 Roswell was another late addition to our itinerary when I realised it would only add a couple of extra hours to our journey. I'd read articles in the past talking about how delightfully tacky Roswell is and I knew it would make for an amazing blog post.
There were aliens everywhere. Inflatable aliens outside of shops, alien t-shirts to buy, alien lampposts, alien parking spots, alien burgers for sale and alien-themed drink dispensers. My favourite part was the dozens of aliens you could pose with at Alien Zone.
Things to Know
Entrance to the UFO Museum is $5 per person, and to Alien Zone is $3 per person.

The Alien Zone is definitely worth visiting and was the highlight from my time in Roswell. It was tacky and cheesy and left us with our favourite photos from the entire road trip. It was hilarious.

The UFO Museum was a huge disappointment — but worth visiting for the comedy value. It's poorly put together with hardly any information about the crash. Instead, it has dozens of posters with random physics terms thrown together to try and make it seem legitimate. There was even a dry ice/LED spaceship performance in the middle of the room. A visit to the museum is good for laughing at how terrible it is — but not if you want to actually learn about the crash.
Big Bend National Park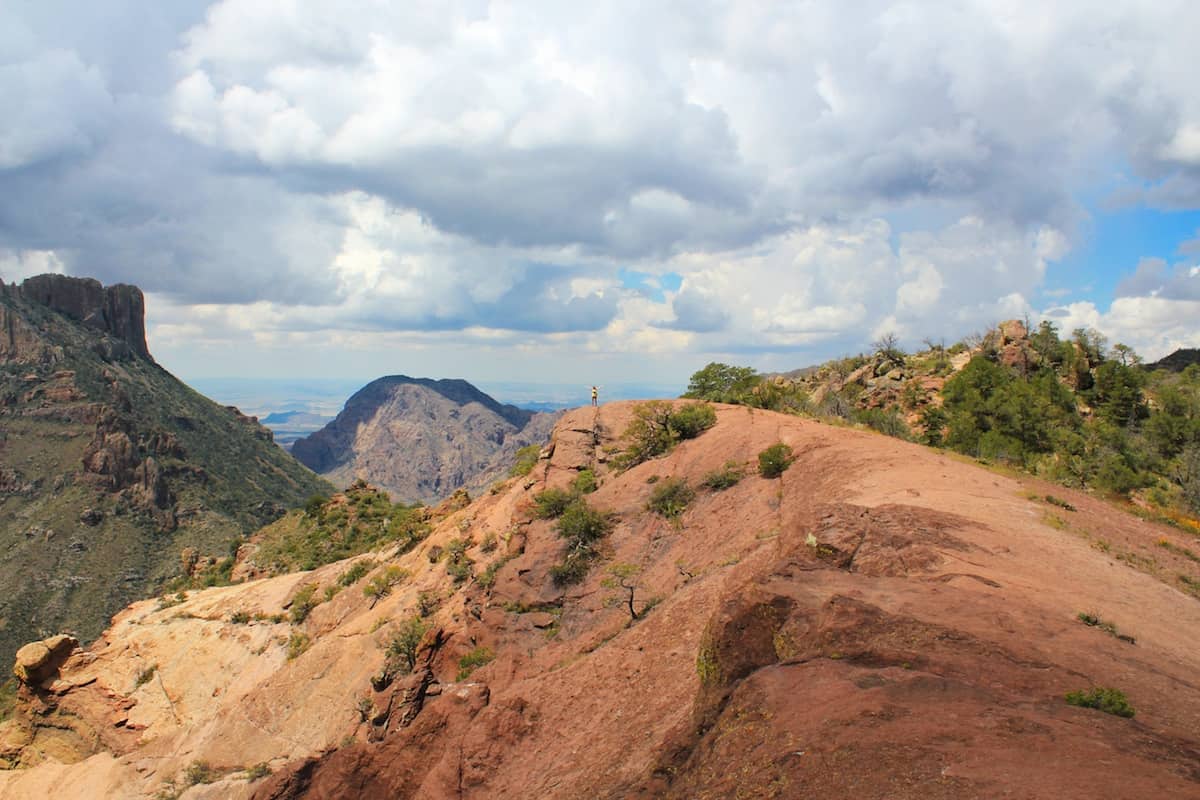 Big Bend National Park wasn't somewhere I'd heard of before this road trip. The drive from White Sands to Austin would have taken an entire day and we needed to stop somewhere to break up the journey. Big Bend National Park is one of the largest and one of the least visited National Parks in the US.
Our day of hiking featured incredible scenery, gazing across the Mexico border, trying to cross a stream and ending up sinking to our knees in mud, and nervously stepping over wild tarantulas that crossed our path. Yes, wild tarantulas. It actually pretty much cured my fear of spiders.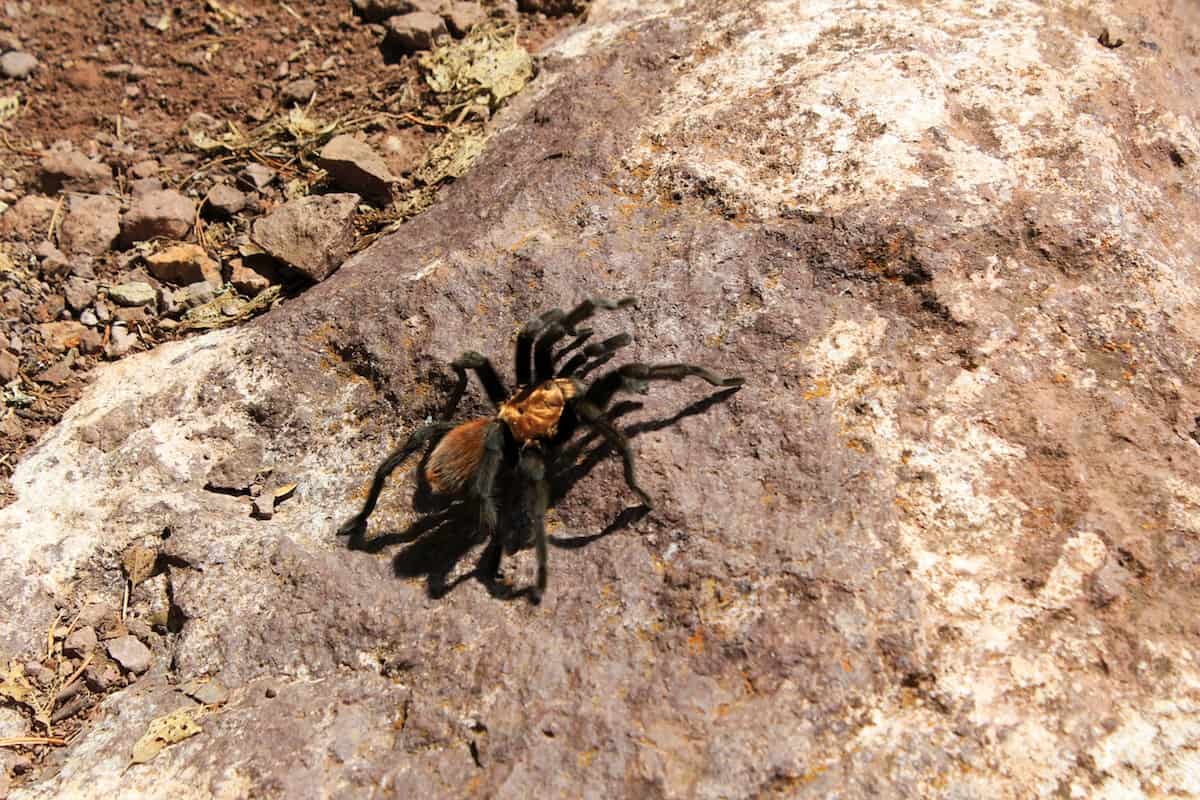 Things to Know
There are a few options for where to use as a base for visiting Big Bend, and we decided to go with Alpine, one of the closest options (though still over an hour away from the park entrance). We stayed at the Maverick Inn ($92 a night, book here), which was lovely. We had an incredible free breakfast with so many food options, a swimming pool, daily cleaning, a huge shower and an extremely comfortable bed. I loved it.

We hiked the Lost Mine Trail after hearing it's one of the best introductory hikes in the park. The hike is five miles long and climbs 1000 feet — it was pretty much all uphill. However, the views were absolutely incredible — and despite it being one of the most popular hikes in the park we only saw two other people.
Austin
After falling so hard for Portland, Dave and I were both keen to visit Austin — a place we were frequently told is similar. Fortunately, this coincided with Dave's birthday, so I planned a kick-ass day that involved a tasty salmon-based brunch, watching a film at a super-fancy cinema, sunbathing in a park and then having a typical Austin BBQ where I experienced my first meat coma. There was so. much. meat.
Much like in Portland, all we really did in Austin was eat, as evidenced by the fact that I didn't take a single photo. I didn't see as much of the city as I had planned because by the time we arrived, we were so exhausted from the frequent 8 hour drives and having to move every day. The food was incredible, though, and I can't wait to return to eat my way around all the food trucks!
And that was the road trip! I'd like to say that this is the best road trip I've ever done, mainly because it was. But I've only road tripped twice before in my life — in Australia and New Zealand — so I don't think a statement like that holds much weight.
But I will say that this is one of the most spectacular regions of the world I've visited — and one that I can't wait to return to. There was so much natural beauty, so many bizarre roadside attractions and so surprisingly few people at most of the attractions (Grand Canyon and Monument Valley excluded). It's not often that you get to visit an incredible place and find that you're the one of only a few people there.
So, if you're considering road tripping in this part of the world, do it!