Seeing the fall foliage in New England was something I had been dreaming of for years.
One thing my daydreams hadn't included? Spending my life savings on achieving this goal. Yes, as soon as I began putting together a plan to road trip New England in the fall, I discovered this could easily work out to be one of the most expensive things I've done in North America.
Our aim, then, was to spend as little money as possible while not sacrificing the enjoyment and comfort of our road trip.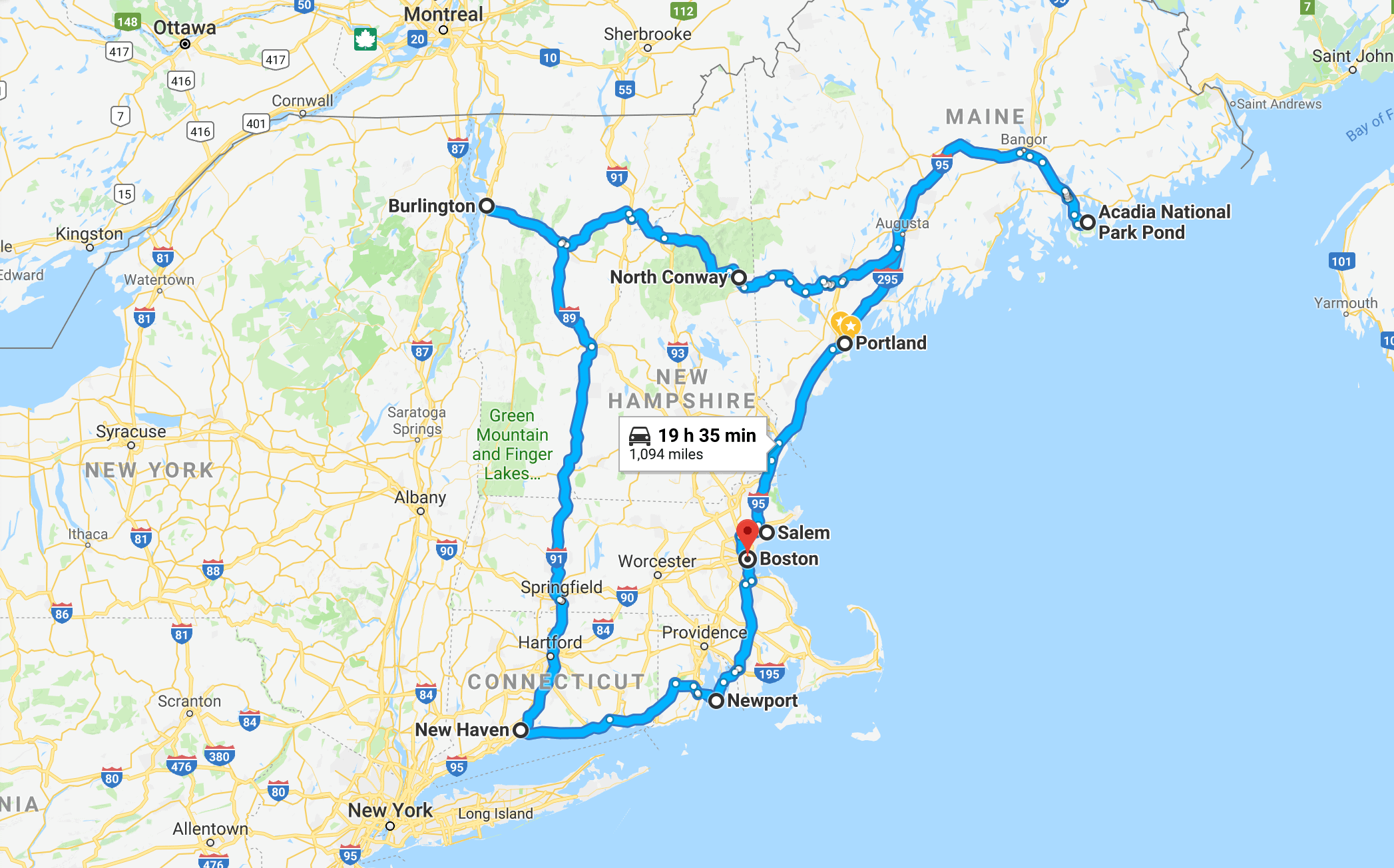 My Perfect New England Itinerary
We put together a near-perfect itinerary for seeing as much of the region as possible without tiring ourselves out. Thanks to the compact size of New England, driving times were rarely more than four hours per travel day, despite many detours, and we subsequently gained a small taste of what this part of the country has to offer.
Here's how we spent our two weeks in New England:
Boston, MA: 4 nights
Portland, ME: 2 nights
Acadia National Park, ME: 2 nights
North Conway, NH: 2 nights
Burlington, VT: 2 nights
New Haven, CT: 1 night
Newport, RI: 1 night
Before leaving, I was concerned this trip would work out to be slightly too ambitious and fast-paced — I rarely enjoy a trip that sees me moving every two days — but it actually felt pretty relaxed. If I could have changed anything, I would have added an extra day in beautiful New Haven, because I fell for it during the 24 hours I spent there.
Let's get into how you can do the same trip without going broke, because let's face it: hitting up this part of the world during the autumn months can make for a pricey adventure.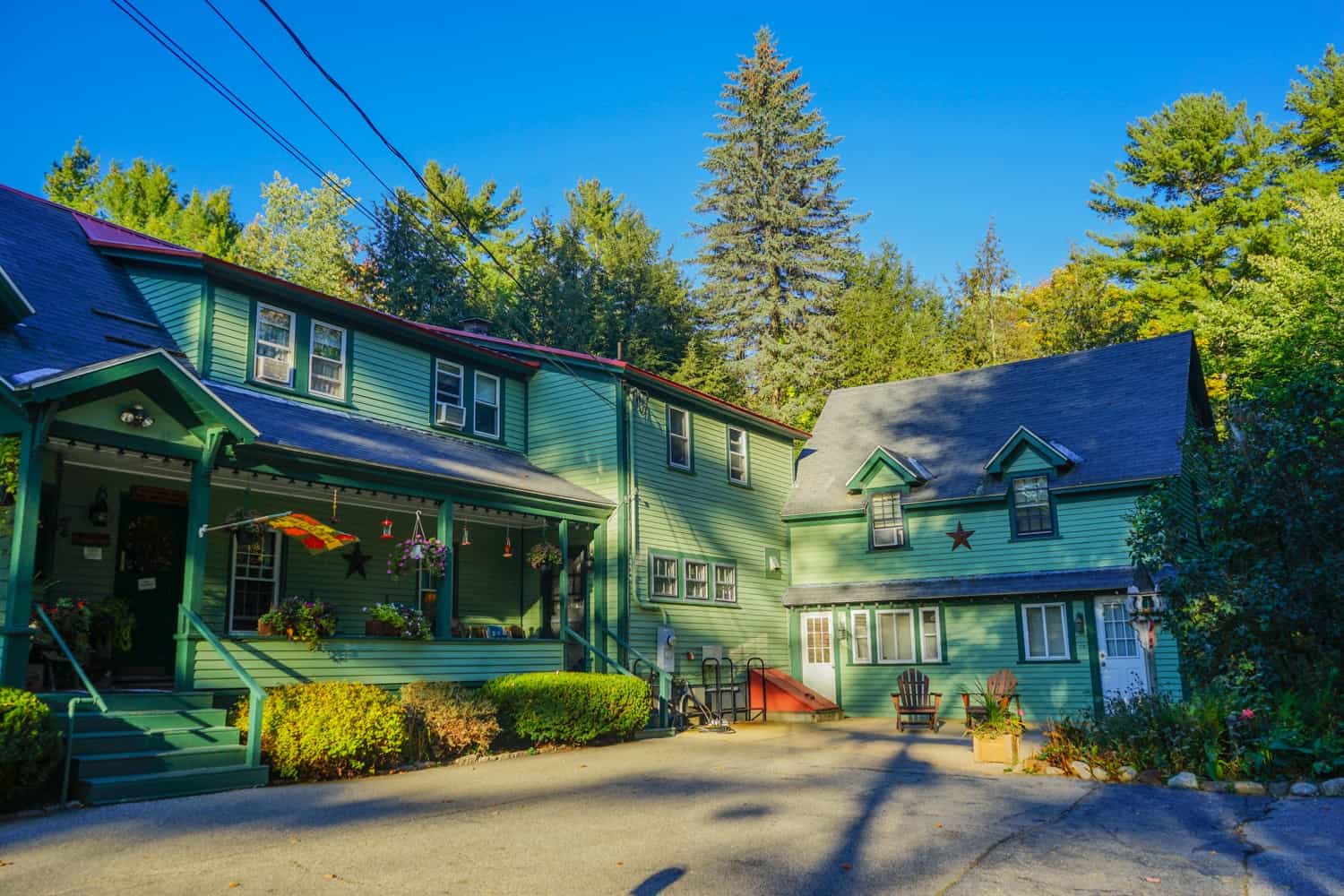 The Cost of Accommodation in New England
On this road trip, we primarily opted to stay in Airbnb apartments because they were far more affordable than the alternatives. As an example, here's what I found when I searched for a dorm bed in a hostel for October in Burlington, Vermont.

Yes, that is a dorm bed for over 100 US dollars a night. So that would be $216 a night for both me and Dave to stay there, which, I'm sure you'll agree, is outrageous, especially when there was a 4.95-rated place on Airbnb for $75 a night.
Because September/October is the time of year to visit the northeast U.S. — thanks to the beautiful fall foliage — guesthouses, hostels, and hotels leap at the chance to charge extortionate prices. After all, there are clearly plenty of people out there who are willing to pay them.
We, however, were not.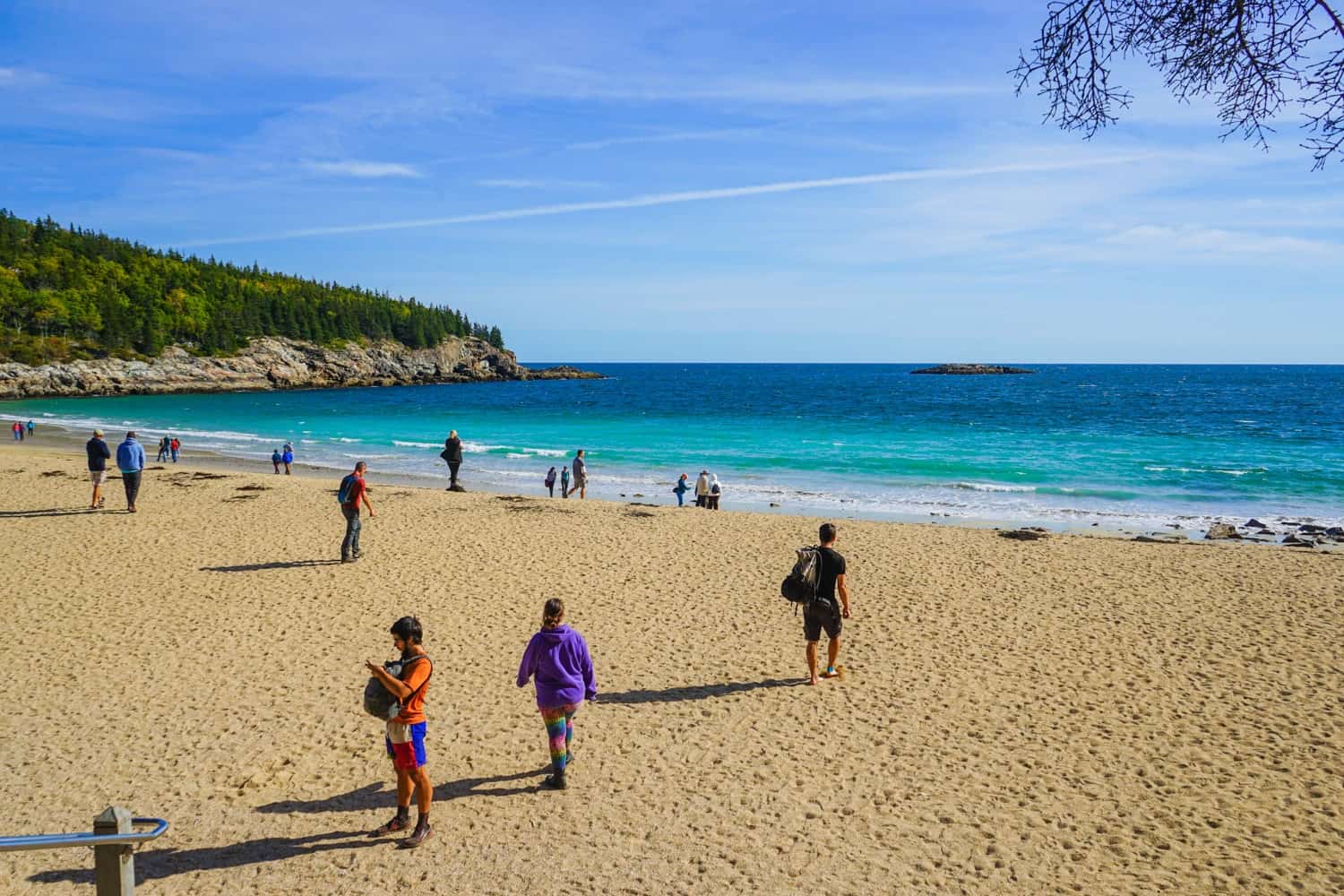 I was surprised to discover that Airbnb apartments in New England were not only cheaper than any alternative, but that they looked far more comfortable than the budget motels and hostels of a similar price.
And in the time of COVID-19, Airbnb offers you that extra level of comfort and safety.
You won't be passing through communal areas, like you would in a hotel, and most of the time, you won't need to even meet the owner. Instead, you can keep yourself isolated from the crowds, knowing that you're prioritising your health and wellbeing.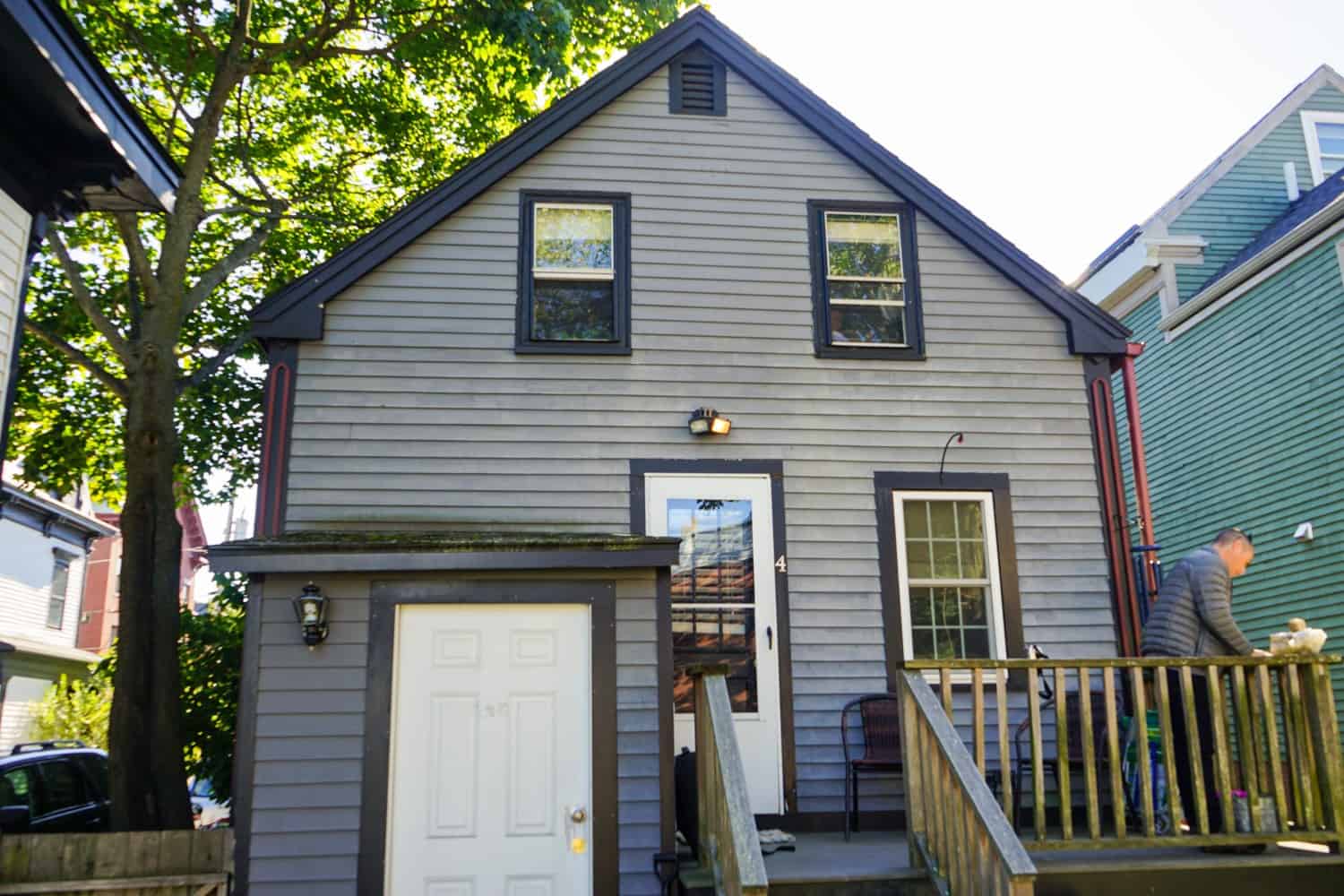 I stayed in some fantastic places on the trip — here's how it broke down. All prices are, as always, in US dollars.
Airbnb in Boston ($80 per night): This apartment in Somerville was adorable! The hosts were flexible with our late check-in time, had decorated our room with cosy fairy lights and a welcome board, and were super accommodating and friendly. They were some of the best hosts I've encountered on Airbnb! While the location wasn't great for exploring Downtown Boston, Somerville was a cute neighbourhood with lots of beautiful houses to wander around.
Airbnb in Portland ($85 per night): I personally found this Airbnb a little creepy, but this room ended up being an excellent choice, as the owner was away while we were there, so we had the entire apartment to ourselves. Judging by the other reviews on this property, this wasn't a rare occurrence, either. The room was in a reasonable location — a little far from best areas of town — and the bedroom was spacious. It was one of the cheapest options in Portland.
Airbnb in Acadia National Park ($85 per night): If you're going to be spending time in Acadia National Park and want more of a local experience than you'll get in touristy Bar Harbor, staying in this Airbnb apartment is a must. The owners are incredibly knowledgable about the park, can recommend the perfect hikes and activities for you, and are great to chat to. Seriously — they've walked every single hike the area, so if you're looking to find the best viewpoints, get away from the crowds, and see Acadia in the way that locals do, these guys will show you how. On top of that, the breakfast was seriously fantastic, and it was especially wonderful to sip beers on the outdoor porch at sunset after a long day of walking.
Guesthouse in North Conway ($149 per night): The Spruce Moose was the cheapest option in town but still pretty overpriced. It was a pleasant enough place to sleep, in a central location, and breakfast was included. The dog slobbered all over my clothes, and the owners were clearly stressed from what was their busiest week of the year, so I didn't feel particularly welcomed. It was alright. If you're on a tight budget, it's a good option as it's one of the cheapest places in town.
Airbnb in Burlington ($75 per night): The owners of this Airbnb apartment in Burlington were so much fun to hang out with while we were in town. They have a Japanese toilet, an awesome dog, and like to talk about how much they hate Donald Trump! Really, do you need anything else from your accommodation?
Airbnb in New Haven ($51 per night): This Airbnb was a steal. It was within walking distance to Yale, in a safe and quiet neighbourhood, and so cute and cosy. It's in a separate section to the main house, so you won't need to worry about exposure to the owner in these virus-filled times, and you have access to your own bathroom and living area. There's also your own private deck, which is perfect for having a drink in the sunshine in the afternoon. This place offers seriously great value for money, and it's in the most gorgeous-looking house!
Airbnb in Newport ($60 per night): Our Airbnb apartment in Newport was hands-down one of our favourites from the road trip. You're staying in an adorable self-contained house with your own entrance at the back of the main house, complete with a spacious living room, kitchen, and washing machine. Seriously — having access to laundry facilities was so welcome after a week of road-tripping. The owners were incredibly welcoming and kind, commiserating with us when the rain prevented us from seeing anything and giving us a ton of excellent food recommendations at mealtimes. I'd honestly go back to Newport just to stay here again.
The total cost of accommodation in New England was: $87.07 a night.
That works out at $43.54 per person per night.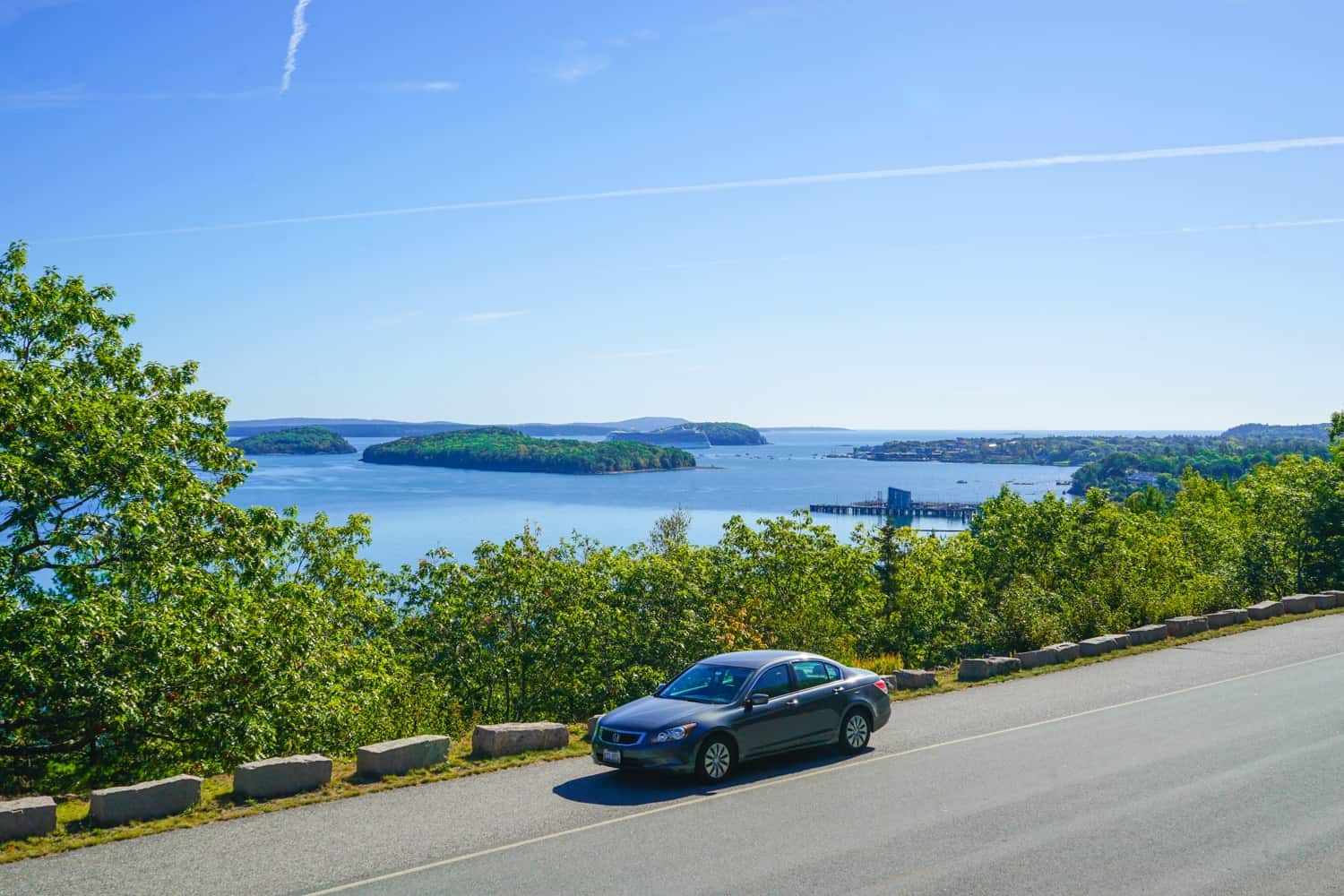 The Cost of Transportation in New England
We didn't need to shop around for transportation in New England because renting a car was so affordable! We simply loaded up RentalCar.com's car rental section of the site, entered in our dates, and picked one of the cheapest options. We hired a Hyundai Accent from Alamo at a price of $23.22 a day.
Gas is inexpensive in the U.S., so for our (roughly) 1,000 mile road trip, we spent $103.96, or $10.40 per day.
New England is notorious for being packed full of toll roads, and many of them are cashless. Because of this, you'll want to shell out for an EZ Pass from your rental company to save on fees. We paid $21.04 for an electronic toll device from Alamo and $12.05 in tolls. Had we not had the EZ Pass, we would have been charged an extortionate fee for every single toll we racked up, so this definitely saved us money.
My total cost of transportation in New England was: $33.01 a night. This works out at $16.51 per person per night.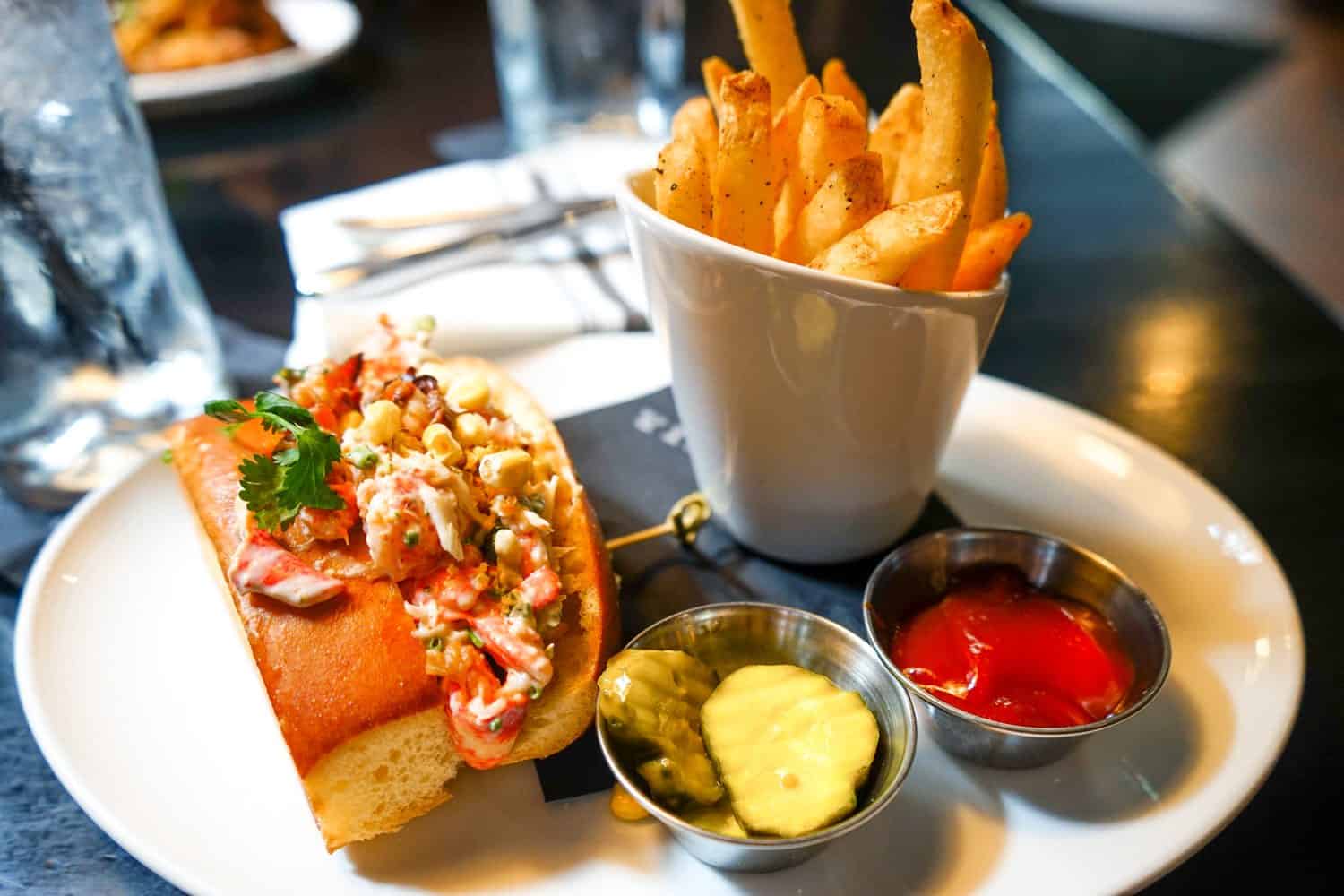 The Cost of Food in New England
Food is always my downfall when it comes to sticking to a budget, and especially so when I'm travelling with Dave. With my boyfriend by my side, I find it hard not to treat every evening as a date night, and often seek out the best restaurants in town to make every meal as special as possible. I can't help it: food is easily my favourite aspect of travel and it makes me sad to have to skip out on the best versions of local specialties.
Still, there were plenty of ways we managed to keep our costs lower than we perhaps otherwise would have on this road trip. We always made sure to carry our foldable, lightweight Vapur water bottles to cut down on plastic consumption, save money by drinking tap water, and save space and weight in our backpacks. On top of that, we ate at least one of our meals outside of a restaurant in order to stay healthier and save on food, whether it was eggs, tomatoes, chorizo, and mushrooms for breakfast or a paleo-style snack for lunch.
All in all, I averaged $11.60 per meal, and we still managed to treat ourselves to some delicious eats. Lobster rolls, blueberry-filled cocktails, and pumpkin-flavoured whoopie pies were particular standouts from our road trip, and it was made so much more enjoyable by us not feeling as though we had to resort to Subway to save money.
In New England, I spent $487.44 on food, which works out at $34.82 per day.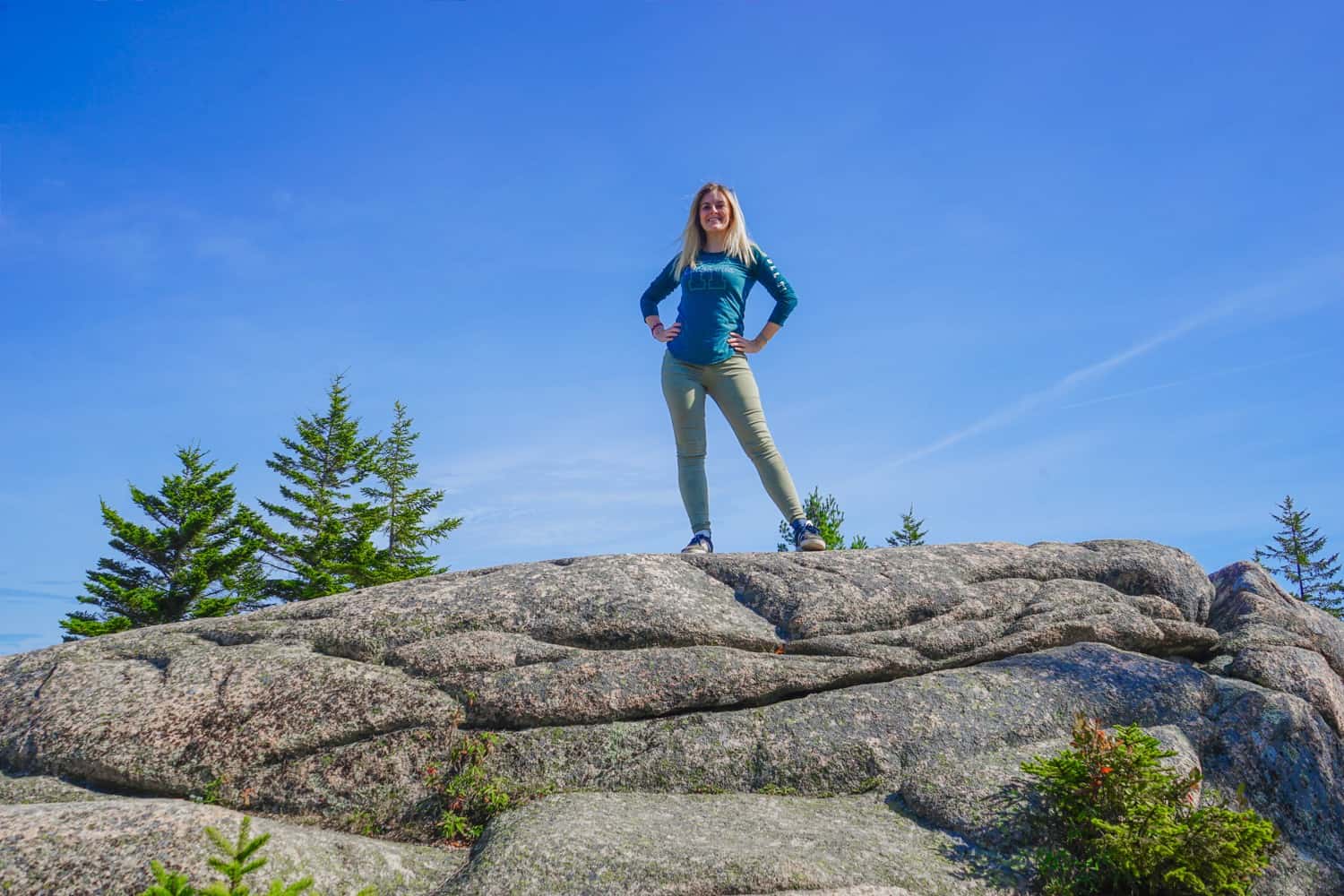 Activities and Entrance Fees
We managed to keep our activity costs low by making our road trip all about the scenic drives and the even more scenic hikes. We decided to splurge on activities that were unique to the region, like the Fenway Park tour, which took us around the oldest baseball stadium in the United States, and the Cryptozoology Museum, which had me in tears of bemusement. Here's what we opted to spend our cash on:
Fenway Park tour in Boston: $20.00
We loved our tour of Fenway Park! Despite not knowing the second thing about baseball (the first is obviously that the games are so long), I found it a fascinating look into Boston's history, and touring the stadium with one of my good friends who's a huge Red Sox fan made it even more enjoyable.
Peabody Essex Museum in Salem: $20.00
This was very crap! When Dave and I turned up in Salem and found a dreary, depressing town full of witch statues and tacky Halloween displays, we jumped on TripAdvisor and stumbled upon the incredible reviews of the Peabody Essex Museum. We paid the $20 entrance and were well and truly bored for the entirety of our visit. So bored! I cannot tell you how bored we were.
Entrance to Cryptozoology museum in Portland: $10.00
If you've read my post about the International Cryptozoology Museum, you already know I consider this a must-see if you'll be stopping off in Portland, Maine! It's full of weird and wonderful creatures, like Mothman and Bigfoot, and is displayed as though these monsters actually exist. Most of the museum-goers believe they do.
Entrance to Acadia National Park in Maine: $25.00
I loved Acadia National Park, and couldn't get enough of the wonderful views and hikes the park offered. It's such a relaxed, lowkey national park to spend time in, with dozens of walks to wander along and a lovely beach to laze on. Much like the rest of Maine, I seriously loved it here.
A night at Vermont Comedy Club: $20.00
Vermont Comedy Club is rated highly among comedians and comedy fans alike, so I couldn't resist checking out a show while I was in town. As an inexperienced comedy appreciator, I thought it was a kickass venue and spent a hilarious evening laughing until my sides ached. I wished I could pack this club up in my backpack and take it around the world with me!
We also did a whole ton of free stuff! Like wandering around Sommerville and Cambridge, and walking the Freedom Trail in Boston. Hiking in the White Mountains. Island-hopping along Maine's coastline. Driving across Vermont to see the beautiful fall colours. Exploring both Harvard and Yale.
My total cost of activities came to $95. This works out at $6.78 per person per day.
Travel Insurance
If you've read any other posts on Never Ending Footsteps, you'll know that I'm a great believer in travelling with travel insurance. I've seen far too many Go Fund Me campaigns from destitute backpackers that are unexpectedly stranded in a foreign country after a scooter accident/being attacked/breaking a leg with no way of getting home or paying for their healthcare. These costs can quickly land you with a six-figure bill to pay at the end of it.
In short, if you can't afford travel insurance, you can't afford to travel.
Travel insurance will cover you if your flight is cancelled and you need to book a new one, if your luggage gets lost and you need to replace your belongings, if you suddenly get struck down by appendicitis and have to be hospitalised, or discover a family member has died and you need to get home immediately. If you fall seriously ill, your insurance will cover the costs to fly you home to receive medical treatment.
I use SafetyWing as my travel insurance provider, and recommend them for trips to the U.S. Firstly, they're one of the few companies out there who will actually cover you if you contract COVID-19. On top of that, they provide worldwide coverage, don't require you to have a return ticket, and even allow you to buy coverage after you've left home. If you're on a long-term trip, you can pay monthly instead of up-front, and can cancel at any time. Finally, they're more affordable than the competition, and have a clear, easy-to-understand pricing structure, which is always appreciated.
With SafetyWing, you'll pay $2.75 a day for travel insurance.
New England in the Fall: Not as Expensive As You Think
My total expenses for road tripping New England came to:
Accommodation: $609.56
Transportation: $231.14
Food: $487.44
Activities/Entrance Fees: $95
Travel insurance: $81.70
Total amount spent over two weeks: $1504.84
Average daily amount spent: $107 per day
Given that there are dorm rooms in parts of New England for over $100 a night at this time of year, I think this is a low daily spend, and proves you don't have to spend your life savings to check out the fall foliage. Opt for private rooms in Airbnb apartments, rent your own transport, reuse water bottles, don't eat out for every meal, and make the beautiful views your main activity for the trip.
Do you dream of visiting New England in the fall?