I couldn't believe it: I'd been in New Hampshire for under an hour and already my underwear was soaked.
I reached for my crotch as I took a step back.
"Oh! Don't mind the dog, he's a big softie really," beamed the owner of my guesthouse before she spotted the enormous puddle of drool that had rapidly been deposited on my jeans.
I stared back at her in horror.
"Oh no, oh no, oh no!" She had finally noticed my predicament and rushed to the kitchen to grab me a towel.
Dave exited the bathroom at that moment and looked me up and down. "Nice wet patch."
I grimaced.
Let me say now that I essentially am in love with every dog that exists on the planet and I want to hold them all EXCEPT SLOBBERY DOGS. Sorry, slobbery dogs. I can't handle your buckets of excess saliva.
As I attempted to dry myself off with a tea towel, the owner explained that we couldn't yet check-in, so we'd have to find something to do for the next three hours instead.
We dropped our bags and I dragged Dave to a nearby laundrette.
It was at the laundrette when we discovered the detergent dispenser was out of order. Fortunately, a friendly local saved the day (and my damp crotch) and gave us some of his washing powder, not accepting anything but our thanks in exchange.
It had been a rollercoaster of a welcome to New Hampshire.
Still, we had several hours to kill and I couldn't bear the thought of wasting our first day in the White Mountains staring at a room full of washing machines. I leapt on my phone to research the area surrounding North Conway, where we were staying, and was beckoning Dave out the door minutes later.
In the car, I directed him through Echo Lake State Park, up a nerve-wrackingly steep road, and into the car park at the top.
With the smell of burning transmission fluid swarming around us, I took Dave's hand in mine and led him to Cathedral Ledge. Ahead of us lay a breathtaking view of unbroken wilderness.
Together, we sat down, and I took a photo of a guy taking a photo of his girlfriend pretending to take a photo.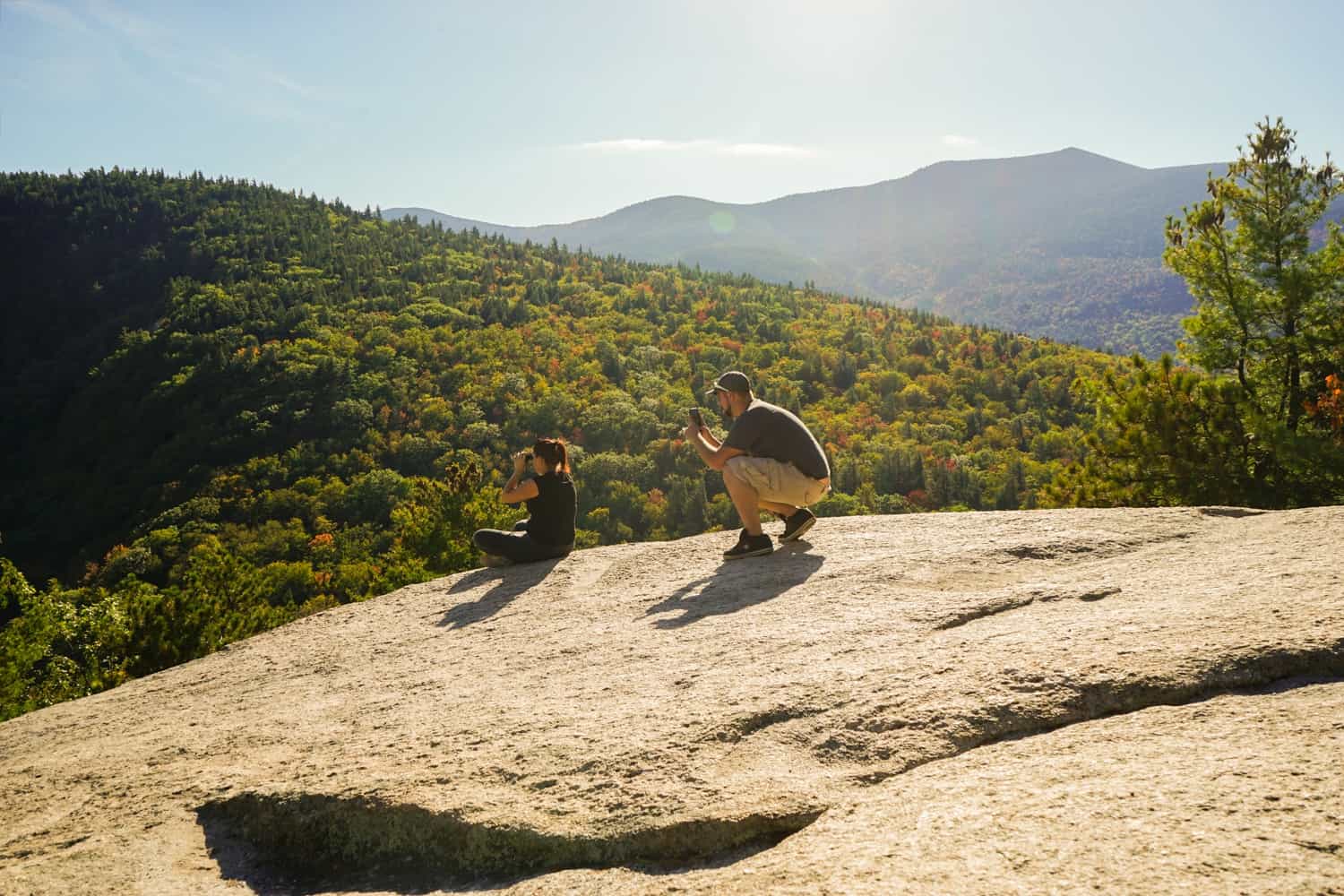 Under the warm autumn sun, this viewpoint felt as though it could hold its own against the thousands of others I've witnessed over six years of travel. And yet, Cathedral Ledge is by no means a popular or particularly well-known spot in this part of New Hampshire — in fact, it's barely mentioned online.
I took this as a fairly obvious sign that we were going to wish we had a hell of a lot longer in the White Mountains.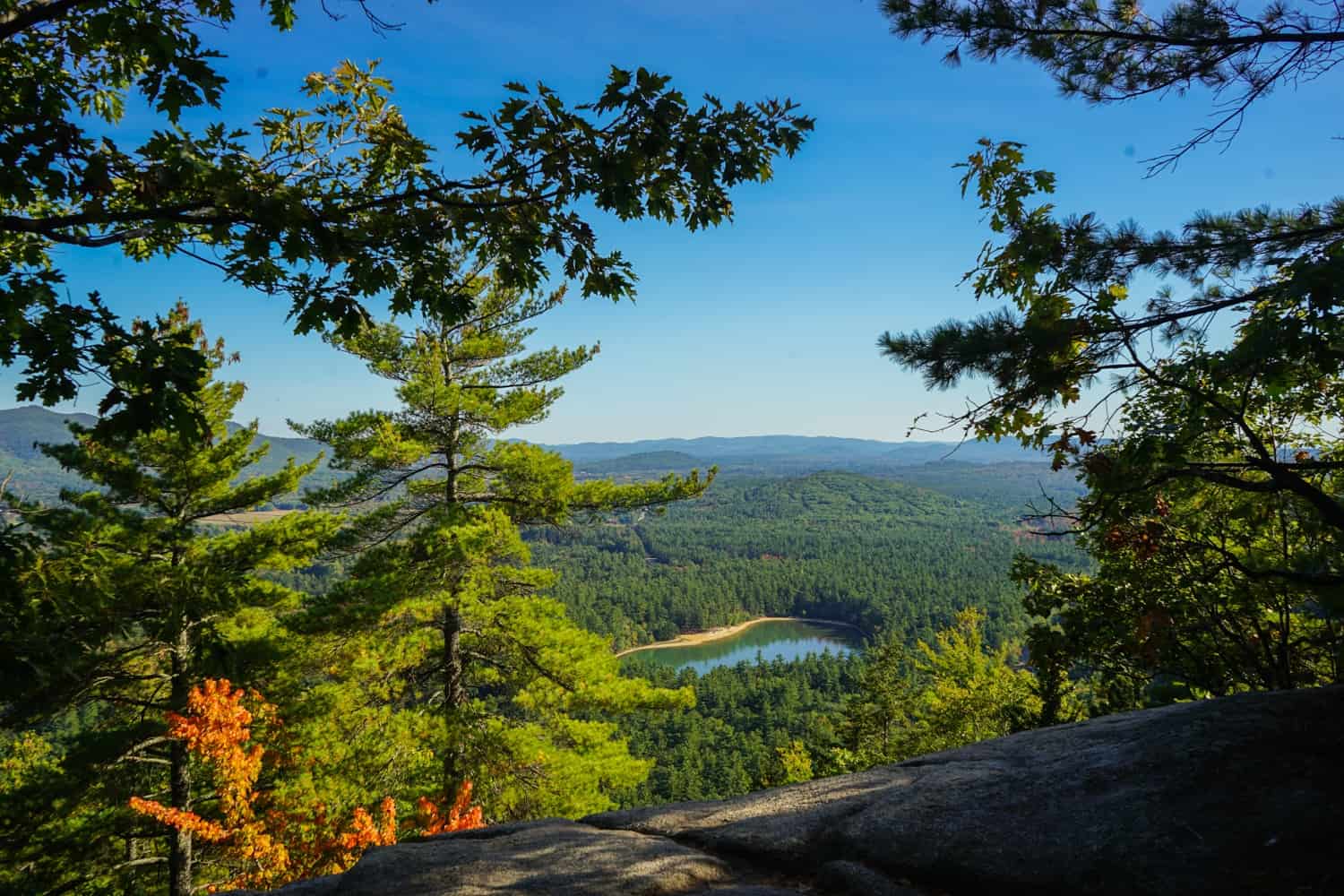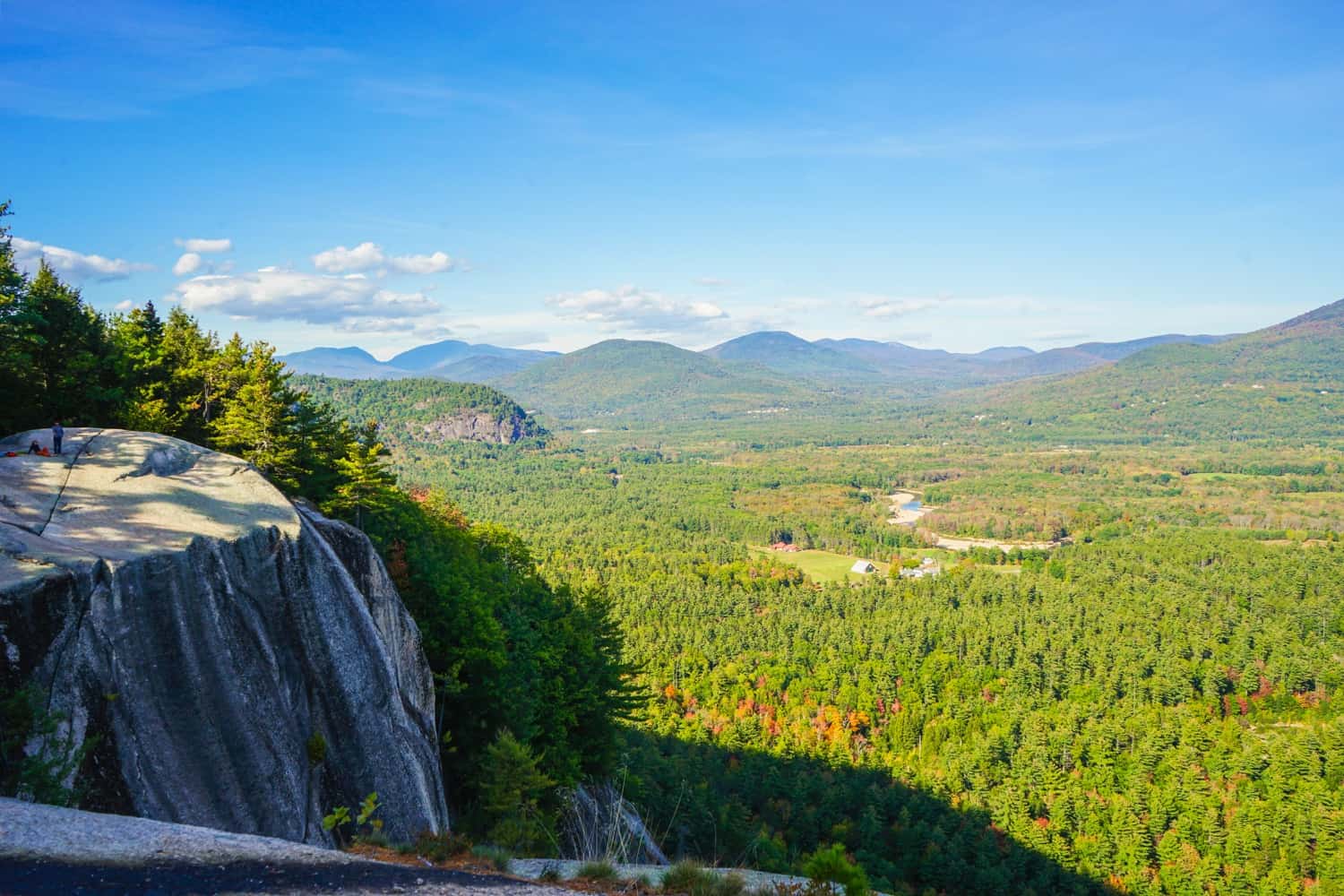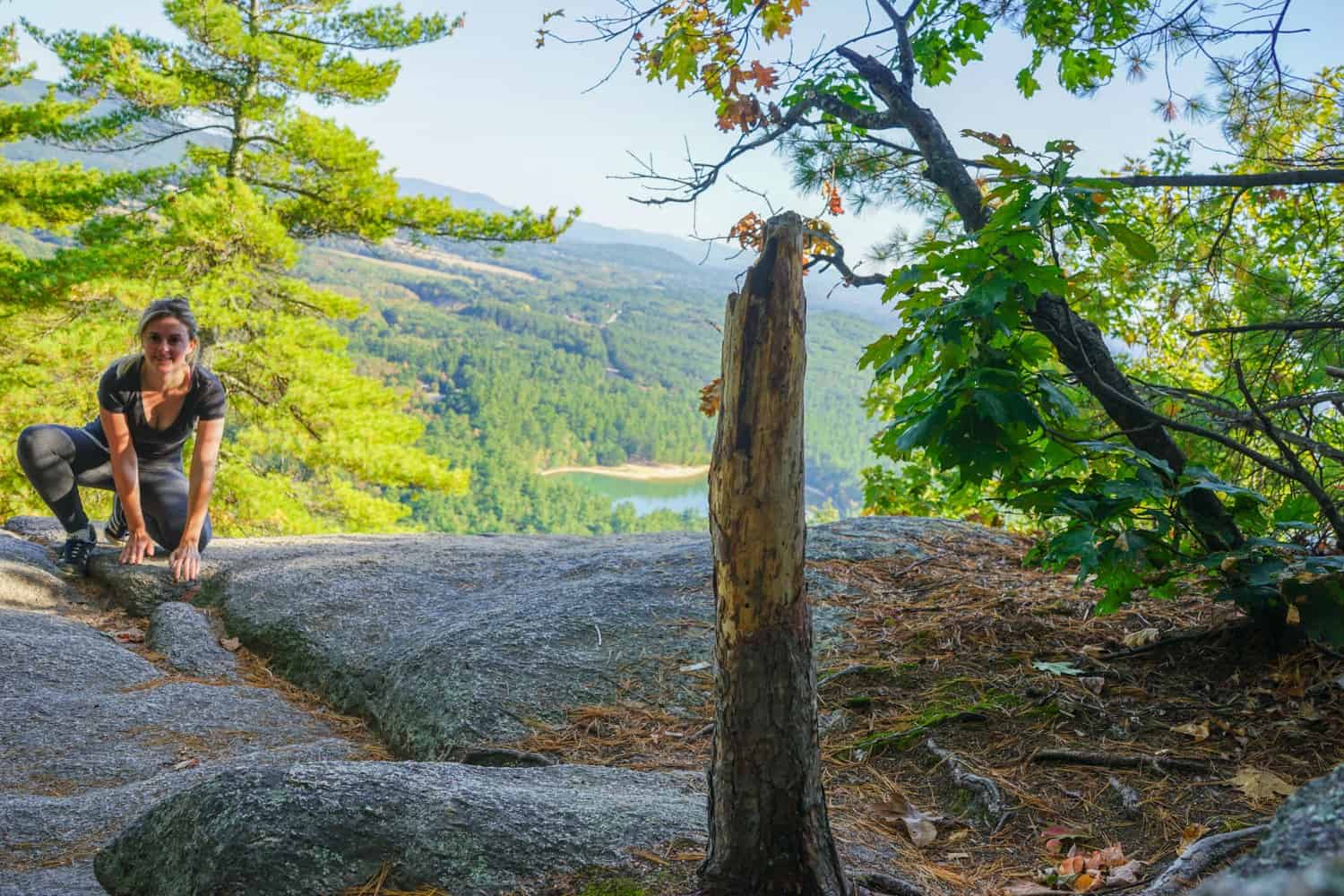 Back in North Conway, I was overjoyed to stumble upon the Flatbread Company later that evening: an Italian restaurant that was all about organic ingredients, free-range meats, and catering for those of us with food allergies or an overly-restrictive diet.
I haven't had a single pizza since completing my Whole30 over a year ago, so to discover there were gluten- and dairy-free pizzas on offer just about made my year. When I discovered they were actually delicious? I just about died.
On top of that, they had a pumpkin spice whoopie pie that may have been one of my culinary highlights from my entire road trip.
It had been the perfect first day in New Hampshire.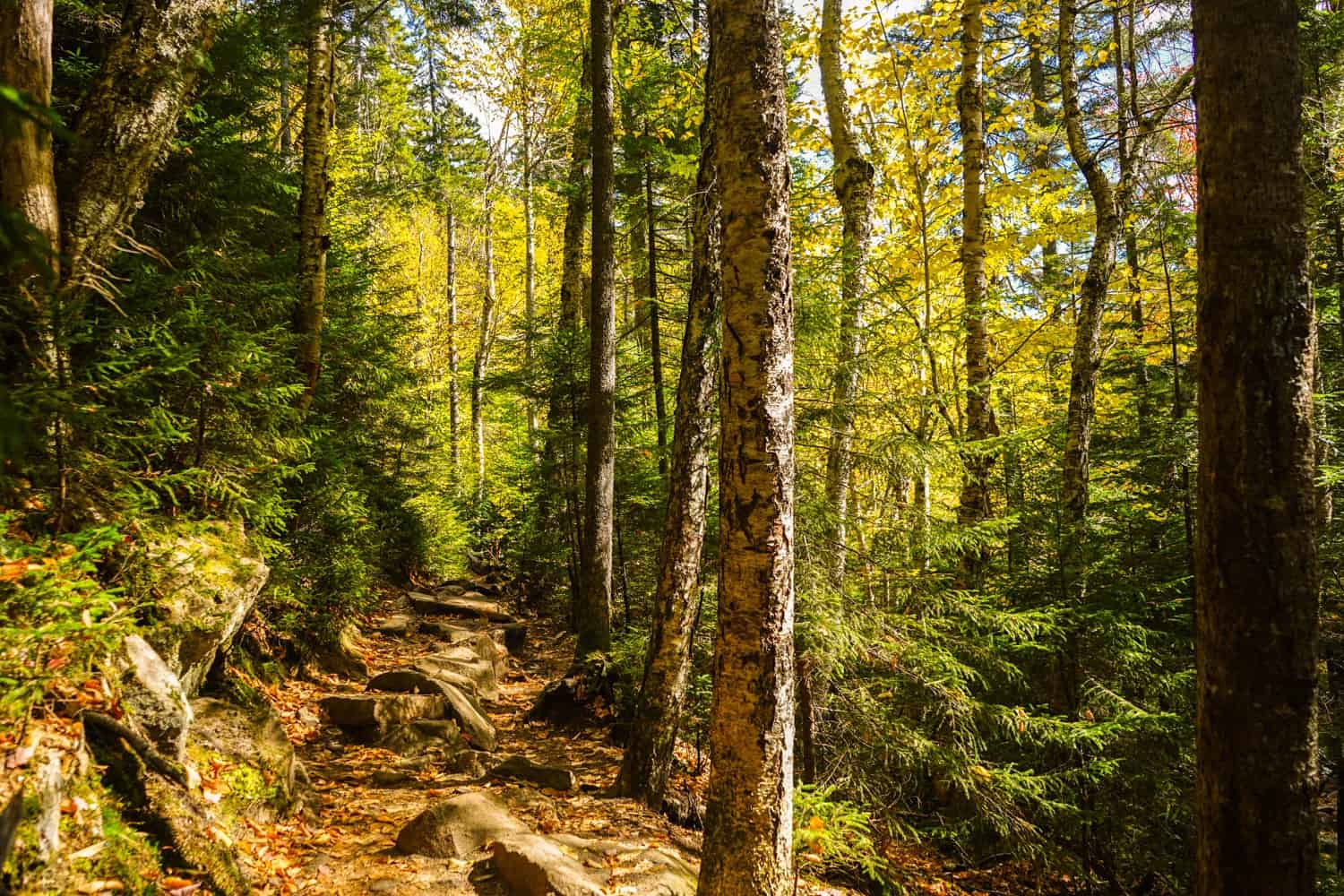 In our room that night, Dave and I turned to our laptops and began to research how to spend a day in the White Mountains.
Yeah, I'll hold up my hands and confess we left our research to the last minute. And I'll also confess that while Dave actually researched what to do, I mostly googled how to tell if you have a broken kneecap.
The previous day, in Acadia National Park, I had managed to tumble down a boat ramp and land knee first on a sharp rock. I was now able to walk on it, but it still ached, and bending my knee put me in a lot of pain. I couldn't help but wonder if an action-packed day of hiking was really what I needed right now.
It definitely wasn't what I needed, but I also wasn't about to spend my time in New Hampshire hanging around inside the guesthouse collecting saliva in my pants.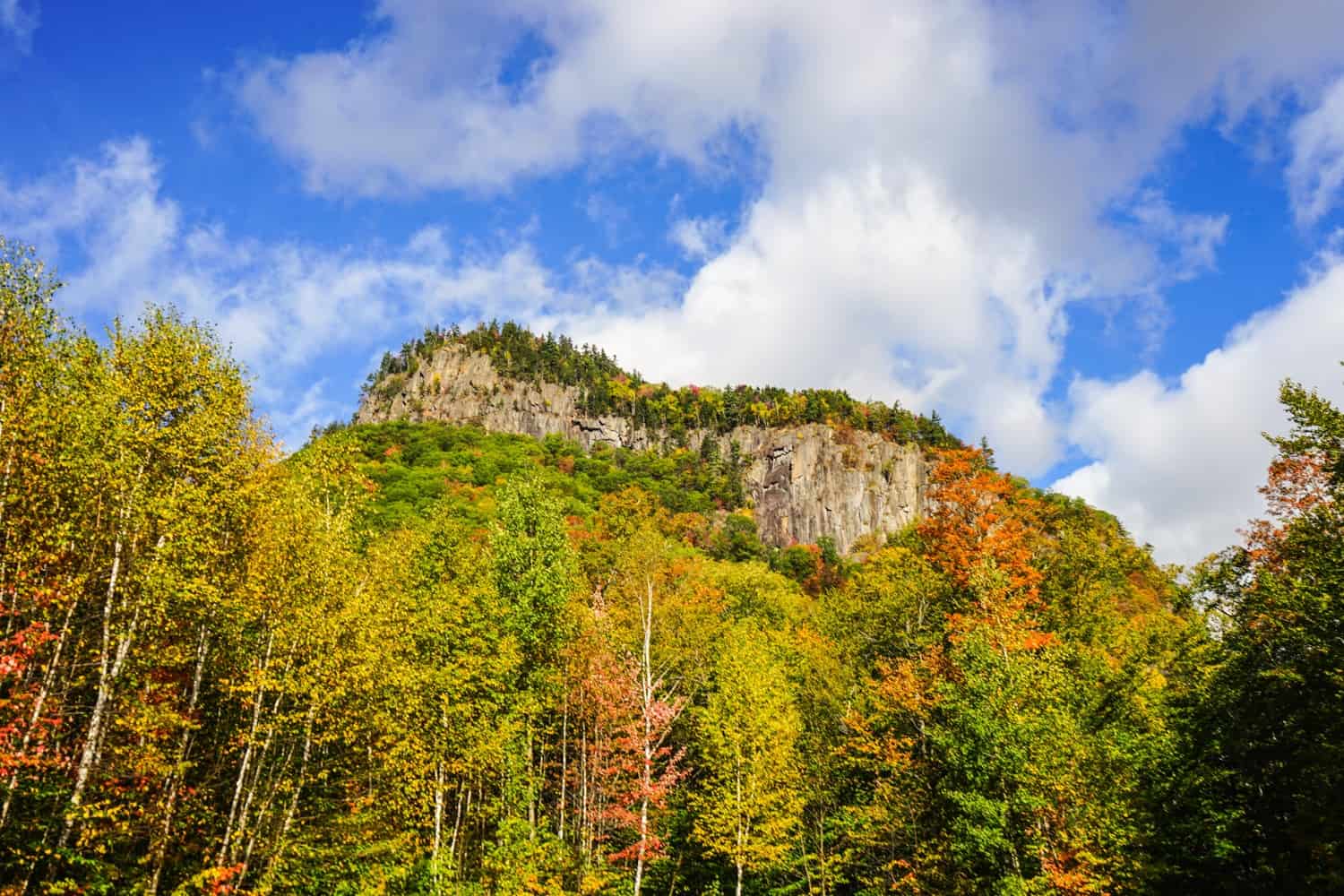 The highlight of breakfast the following day was when the guesthouse owner asked how we'd like our eggs done, and the grumpy American guest answered "the white crispy and the yellow runny" — I thought I was the only person ignorant enough to have ever referred to the parts of an egg as the white and the yellow! It was so exciting I almost cried.
With mine and Dave's stomachs full of white and yellow, we drove to the Local Grocer — a nearby health food store combined with cafe, deli, and yoga studio — to stock up on treats for the day.
Our destination for the morning was a difficult-rated climb to Arethusa Falls, which Dave had deduced from his research would be the perfect introduction to the White Mountains. Difficult? It sure was! The majority of the hour-long climb was uphill, and those final ten minutes, where we could hear the waterfall but felt doomed to never reach it, were a killer.
As always, though, the hike was worth the effort, and the 50-metre-high waterfall towered over the small group of people who were lazing on the rocks below. This hike wasn't a popular one, due to its difficulty rating, which ended up being a huge bonus and when Dave and I eventually found ourselves with the waterfall all to ourselves.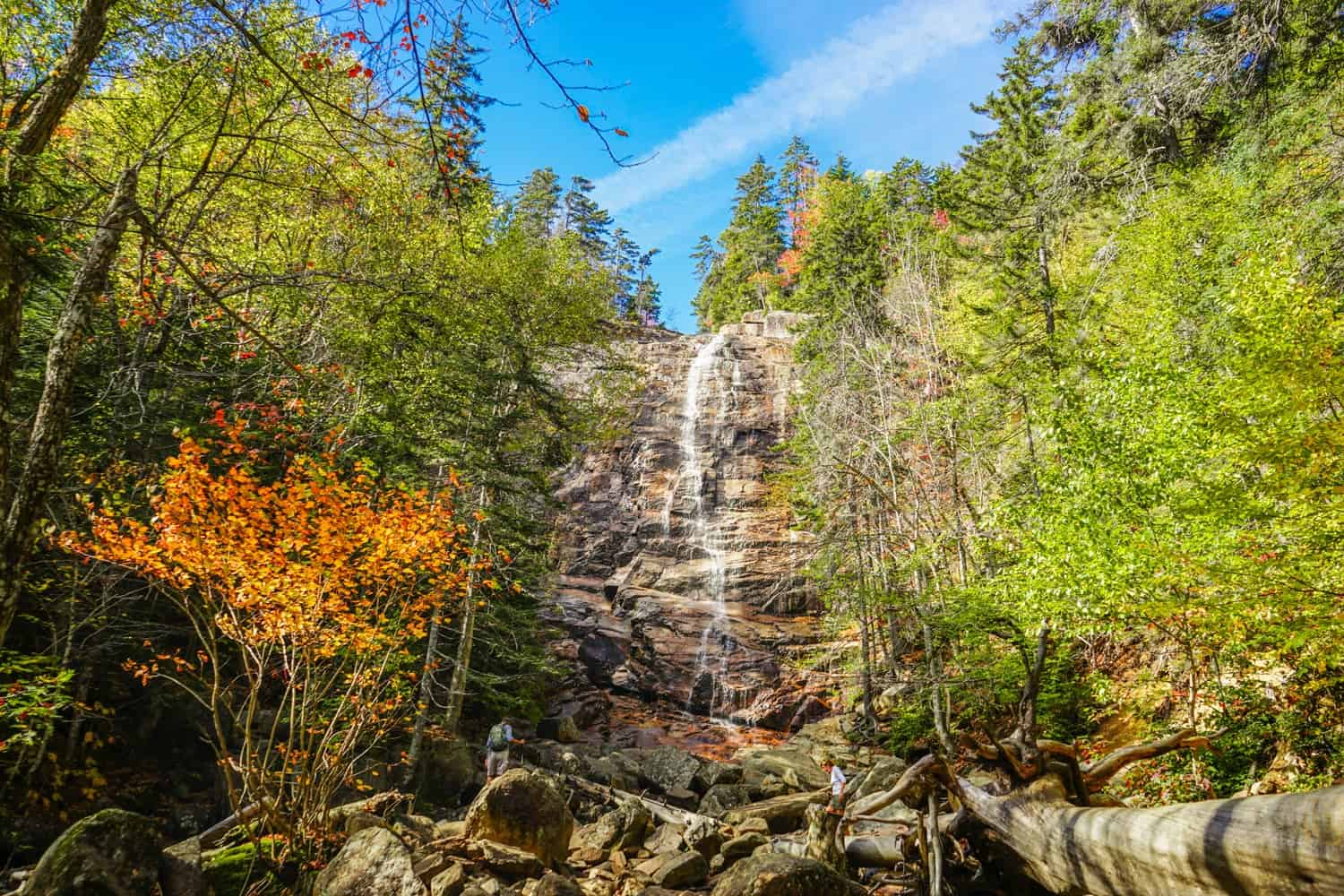 Kneecap update! It was aching.
Our hike to the waterfall ended up sucking three hours out of our day, so by the time we were back down to ground level, we were ready for some protein.
Once we were back on the road, it didn't take long for us to spot the perfect picnic stop, surrounded by more fall colours than we'd seen on the road trip so far. We'd managed to time our fall foliage road trip poorly — while we were in the region at a time that usually guarantees peak foliage, 2017 had been unseasonably warm and the colour change had been delayed. In New Hampshire, at higher altitudes, we were finally starting to see some of the oranges and reds I'd been dreaming off when planning this adventure.
Well, one of us was seeing them.
The other one of us was colourblind, which was something we somehow both forgot when planning a trip that was all about telling the difference between red and green.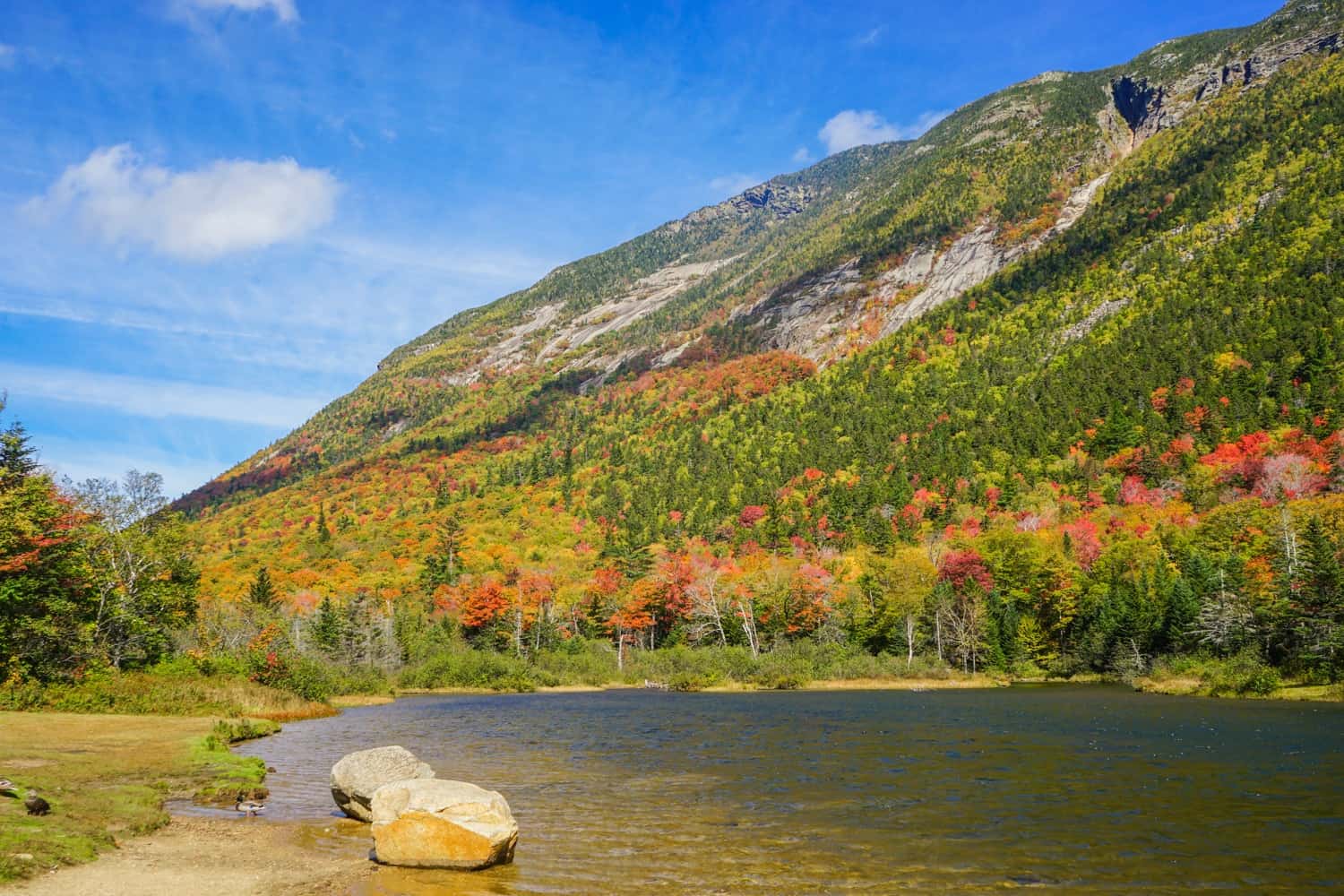 Our second hike of the day was the one I was most excited for: a climb to the top of Mount Willard, to a viewpoint that had looked incredible from the photos I'd seen online.
Like our hike to the waterfall, this was a trek that was mostly and continuously uphill, and when we were 15 minutes from the top, I swear I told Dave to go on without me because I didn't think I could make it. My knee was throbbing, the climb was relentless, and I was now convinced it wouldn't be worth pushing myself.
And just like every other hike I've been on, I pushed myself anyway and was rewarded with a sight that made all the pain fade away.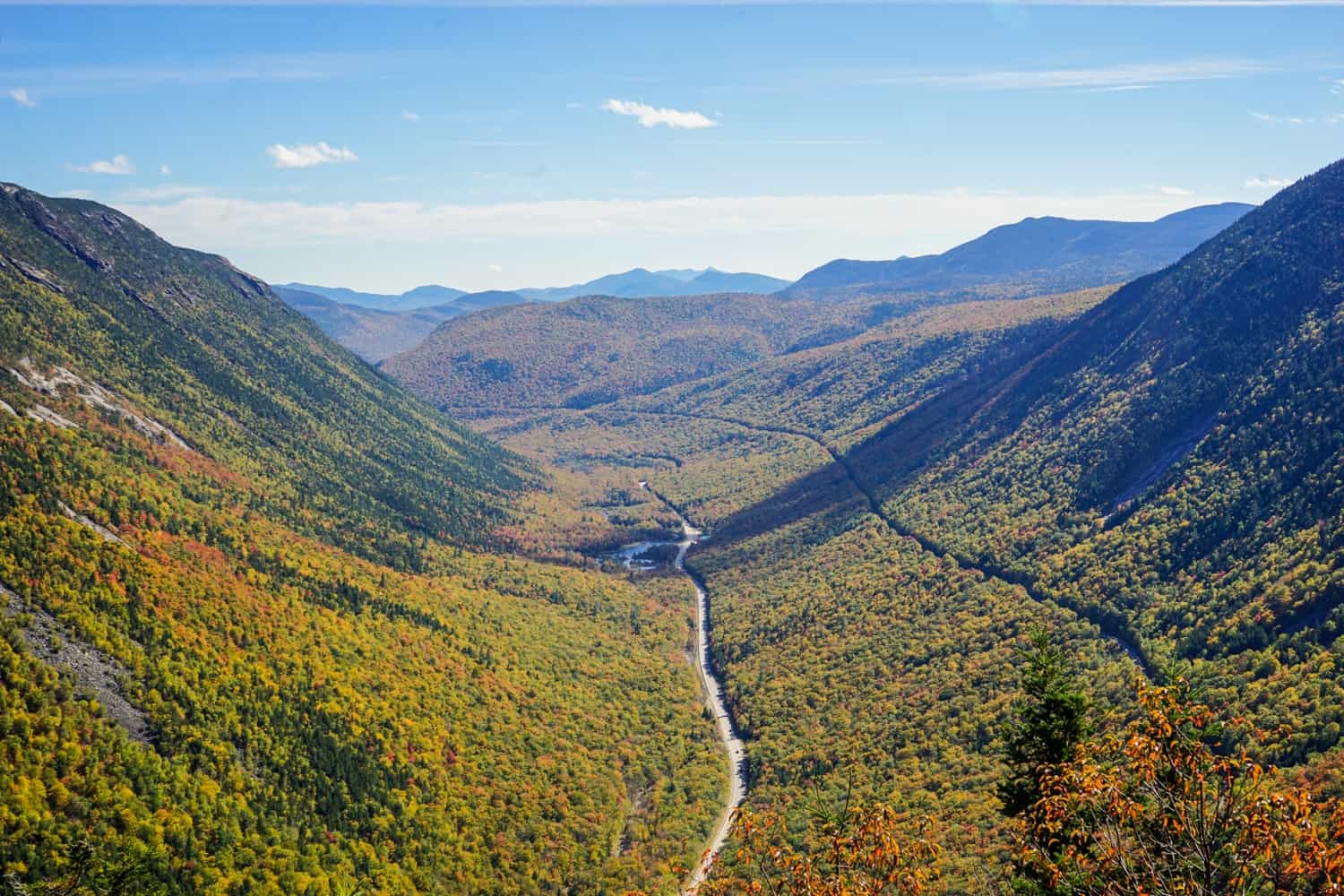 As I stood above the valley, fall colours stretching out before me, all I could think about was, why does nobody talk about this place? New Hampshire is underrated as hell.
One of the greatest lessons that travel's taught me over the years is that your biggest trip highlights will almost always surprise you.
Before arriving in New England, I expected the highlights of our road trip would be the autumn colours, the challenging hikes, and the beautiful landscapes.
Nope!
One of my biggest highlights was actually taking a nap in the White Mountains.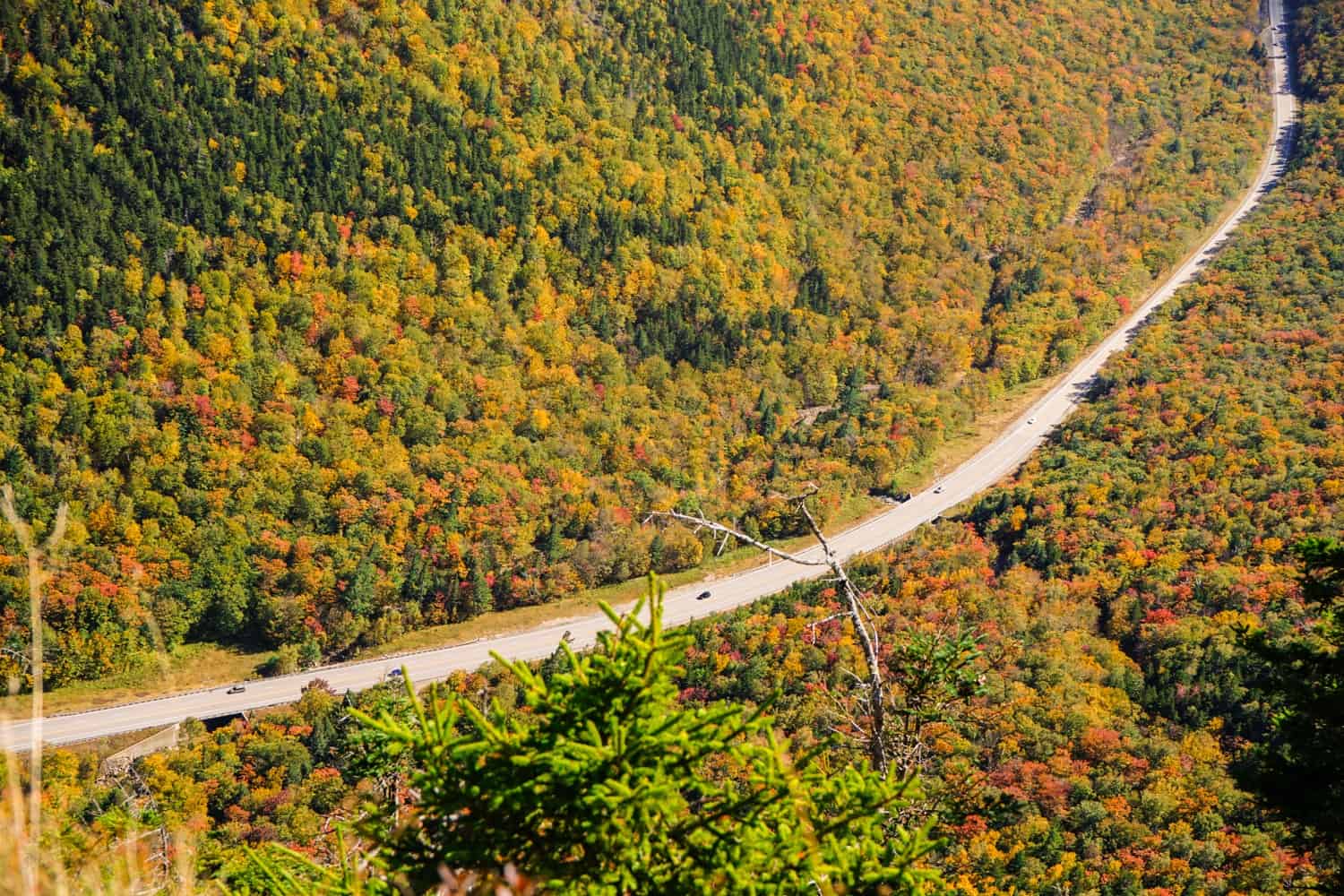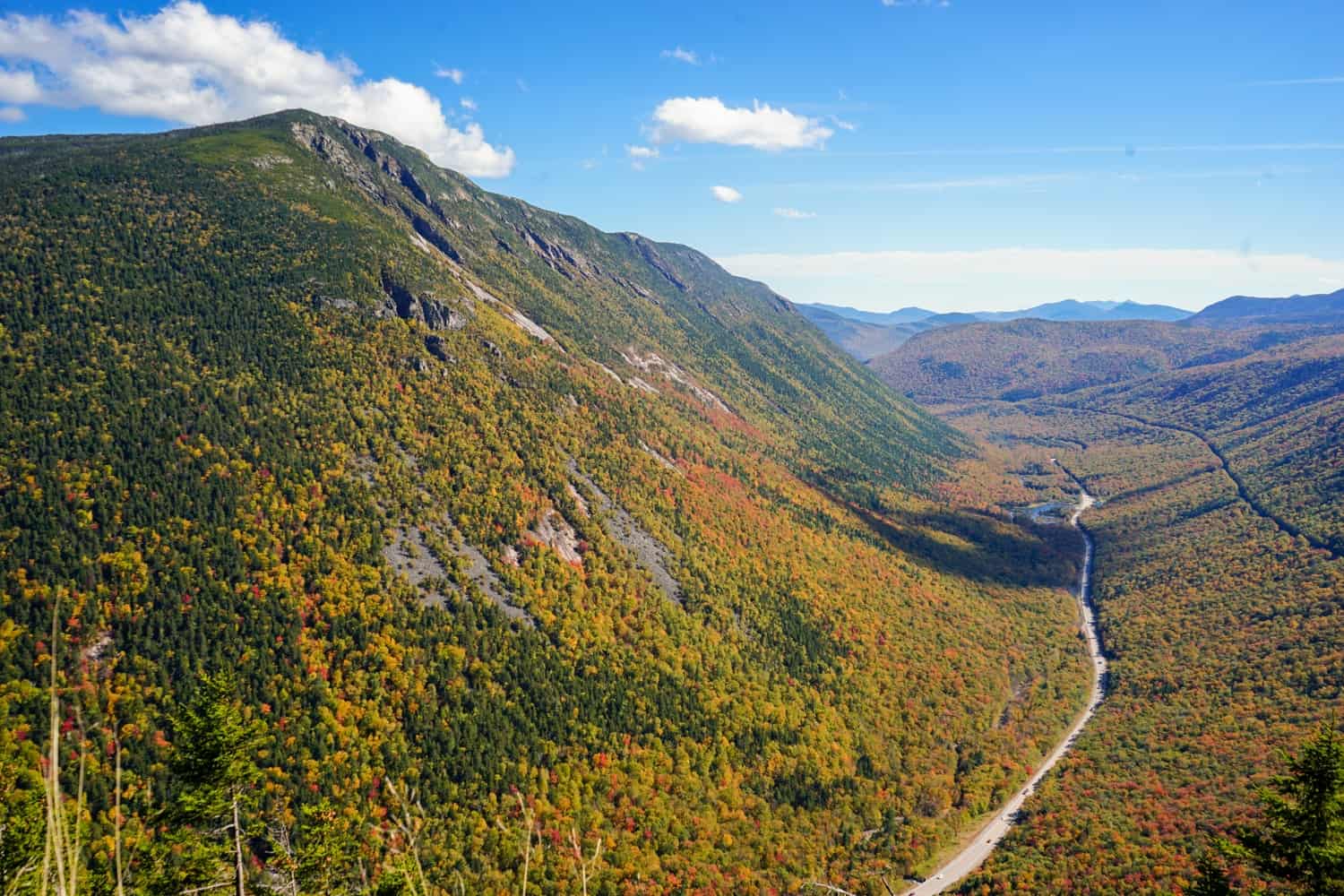 Because that's precisely how I spent the next two hours.
And I'm not going to lie: dozing atop Mount Willard was wonderful.
And sure, if I was a good travel writer, I would have scrambled down the mountain and tried another hike on for size, or driven to the summit of Mount Washington or…
But instead, I threw out our plans for a third hike of the day, stretched out on one of the granite rocks beside Dave, and drifted off to sleep while he did exactly the same. Occasionally, we woke to snap photos of the view, as though it had somehow transformed into something even more spectacular while we were asleep. Sometimes I stared up at the bright blue sky, inhaled the fresh air and fragrant flowers that surrounded me, and listened to the birds sing.
Looking back, I have no regrets.
I'm thankful I took the time to listen to my body, to slow down, and to be present. Far too often, I shove my travel writer cap on and force myself to check out dozens of attractions so that I can ensure I'm recommending the absolute best.
Or I refuse to eat in the same restaurant twice in order to gain a better taste of the food scene.
Or I simply prevent myself from simply pausing, relaxing, and absorbing what's in front of me.
Sometimes there's so much to see and do that I want to write an invaluable travel guide to the area and burn myself out through over-exploration.
It felt good to sleep instead.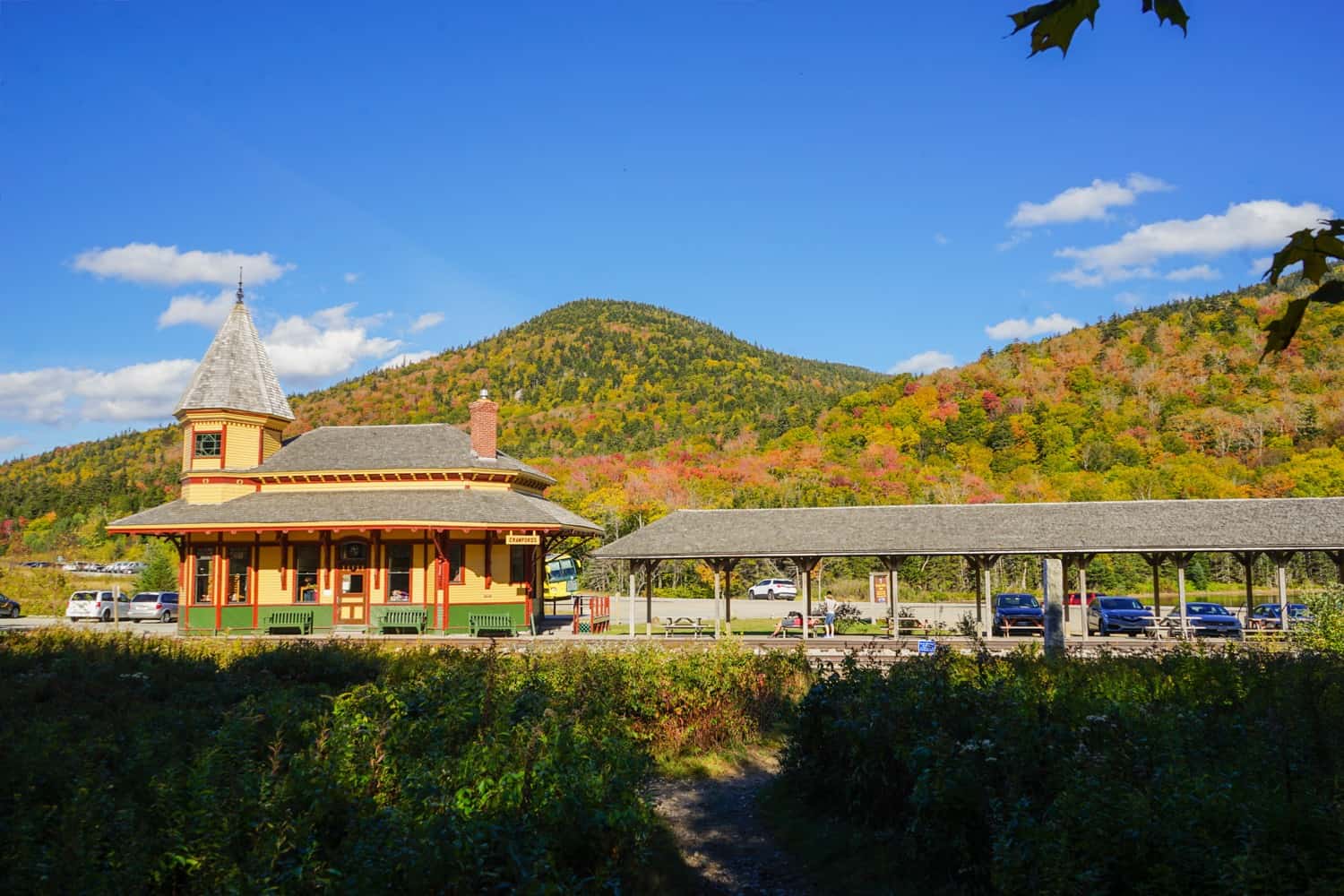 Remember my injured knee?
By the time I'd worked up the motivation to descend to the car park, I was hobbling and nothing I said would convince Dave that I was capable of tackling a third hike in the park.
Continuing on with our theme of listening to what our bodies were craving, we drove straight to a nearby pub for cocktails, blueberry ale, and a perfect view of the way we'd come.
We'd spent just a few hours in the White Mountains and I was already obsessed.
Have you spent time in the White Mountains?