Yosemite, one of the crown jewels of the United States' National Park system, is on almost every traveler's bucket list. With its ancient trees, diverse wildlife, and wide variety of hikes for all skill levels, there are few places that can compete with Yosemite National Park!
If you've been dreaming about the Sierra Nevada mountains but aren't sure how to best spend your time in the park, look no further than this three-day itinerary for your travel inspiration!
With Yosemite's popularity comes crowds, however. It's likely you already knew this, but it's often better to start your days early if at all possible, especially if you plan to hike some of the park's more popular trails. While you can start your days as early (or late) as you like, these will best be enjoyed if you're willing to get up before the crowds.
As a rule of thumb, you'll want to allocate three full days to properly see Yosemite. While you can compress it into one or two days and pick your favorite trails from this list, this itinerary gives you an idea of how to spend three full days in Yosemite!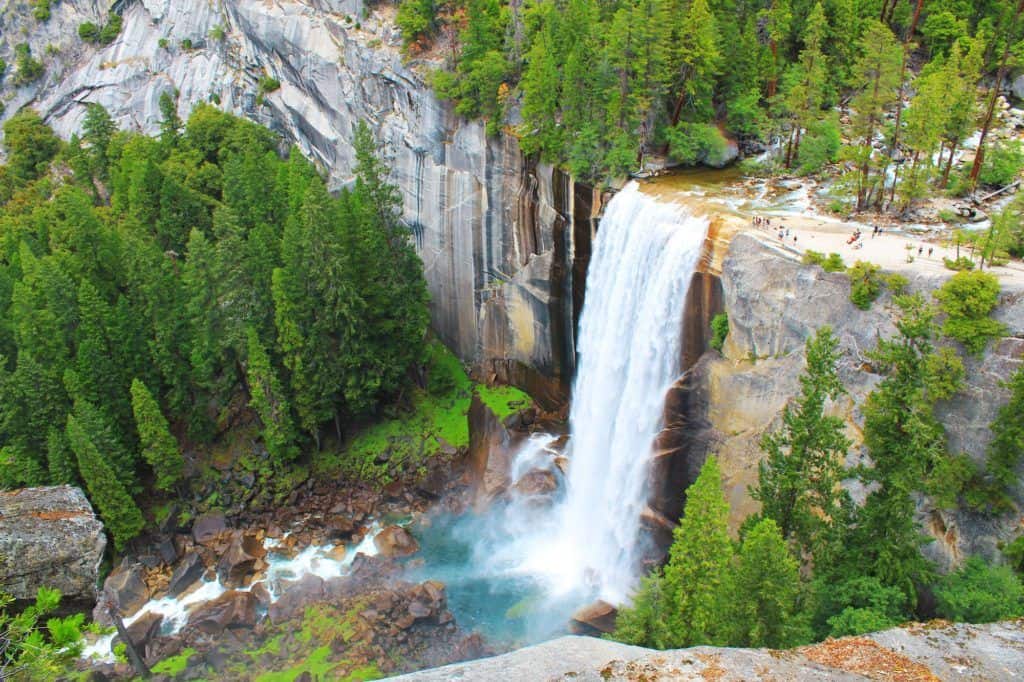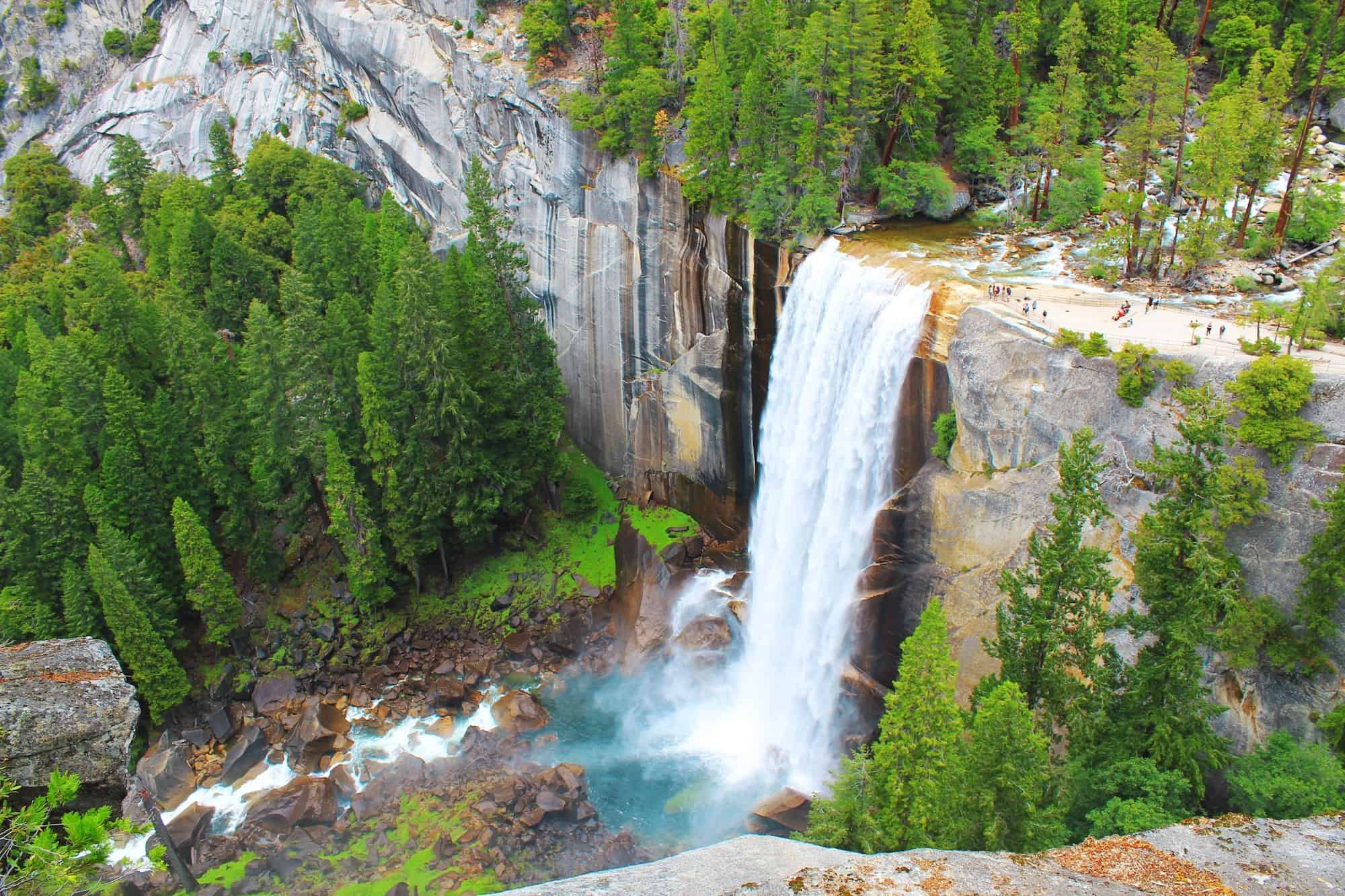 Before Entering the Park
Yosemite is open 24 hours a day, 365 days a year! While the most desirable and popular time to visit is during the summer, you can experience significantly fewer crowds outside of the most popular May to October months. If this isn't an option, you still have some ways to avoid crowds and headaches.
A day pass will get you unlimited re-entry into the park for three consecutive days and may be your best option if you're following this itinerary and looking to save money. Regardless, you'll want to get your pass ahead of time through the government website to avoid frustrations with trying to get one at the gate. If you happen to have a national parks pass of some sort, you will not have to pay the day use fee to get your pass. Be sure to note your pass after adding the day use pass to your cart when reserving online.
As always, before you enter the park, make sure you understand what wildlife you're likely to encounter. While most people will not run into bears or coyotes, you'll want to refrain from trying to feed or touch any animals that cross your path for your safety and theirs. In terms of planning, this itinerary plans for 3-4 stops per day, assuming you're taking your time and stopping for meals and snacks throughout the day.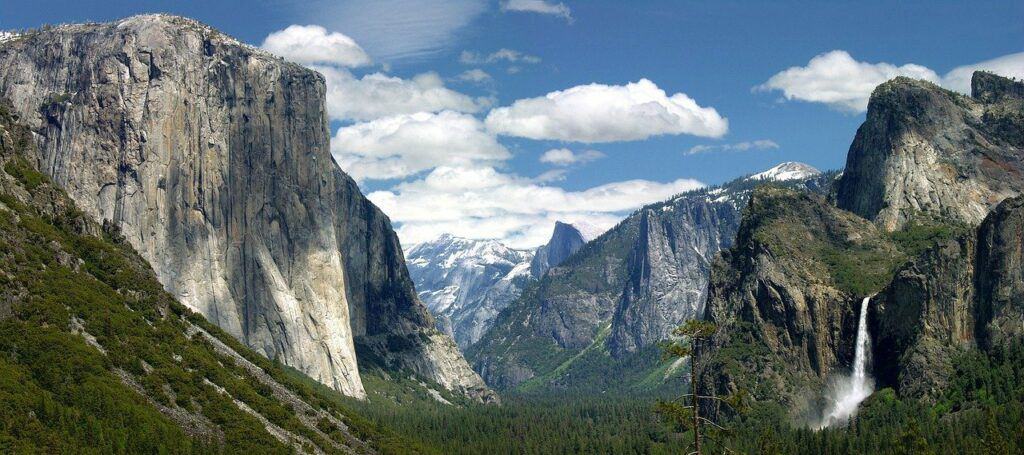 Day 1
While you can shorten this itinerary to fit the time you enter the park, it's written with the assumption that you'll be starting in the morning.
Day 1 is focused on Yosemite Valley hikes. Yosemite Valley is likely what you think of when you think of the classic Yosemite. Yosemite Valley includes famous hikes such as Bridalveil Fall, Upper and Lower Yosemite Falls, and Half Dome.
Stop 1: Bridalveil Fall Trail
Length: 0.5 miles
Elevation gain: 85 feet
Type: Out and back
Difficulty: Easy
Estimated time to complete: 15 minutes
If you pass through Tunnel View (a great stopping point if you have time) upon entry to the park from the west, you'll find yourself quickly at Bridalveil Fall. One of the best-known spots in the park for an easy day hike, Bridalveil will fill up quickly when it comes to parking. Your best bet is to get there early as parking can be difficult. There are parking lots to the west and east of Bridalveil, so if the first parking lot is full, you may have better luck a quarter mile or so down the road.
It's worth noting that at the time of writing this, the Bridalveil Fall Trail is closed for rehabilitation (as is the Southside Drive approach to Bridalveil just up the road) but is expected to open in Fall 2021. Nearby is the West Valley Loop Trail which is equally beautiful and just over 6.5 miles long, but you can enjoy the trail even if you take a shorter version!
Stop 2: Mirror Lake Trail
Length: 1.6 miles
Elevation gain: 98 feet
Type: Out and back
Difficulty: Easy
Estimated time to complete: 45 minutes
If you continue up the road, you'll immediately realize that Yosemite is a park filled with its share of difficult trails that guarantee a good workout. While you can stop along the way, if you're looking for something a bit shorter, your best bet is the Mirror Lake Trail. At just over a mile and a half and paved, this picturesque trail is a great match for hikers of all skill levels. The longer version via the Valley Loop Trail is a bit over 6 miles and gives you a better lake view, although the short version will still give you a good glimpse of Mirror Lake! As with Bridalveil, this trail is incredibly popular, so going early or late will be your best bet to minimize crowds.
Stop 3: Vernal Fall Foot Bridge Trail
Length: 2.3 miles
Elevation gain: 557 feet
Type: Loop
Difficulty: Moderate
Estimated time to complete: 1 hour and 15 minutes
If you continue onward, the road will eventually turn into Happy Isles Loops Road (which is also a bike path if you brought your bikes and have some extra time) and take you towards the Vernal Fall Foot Bridge. This trail does have a bit of an elevation gain and is rated as moderate. While there is some elevation, it is a relatively gradual gain in the first mile and a relatively gradual loss in the second mile, so don't let the elevation gain deter you! As a bonus, the Vernal Fall Foot Bridge itself, about a mile into the trail, is a fun photo spot and you'll be able to say you walked some of the famous John Muir Trail! Again, expect crowds.
Stop 4: East Valley Floor Trail
Length: 6.2 miles
Elevation gain: 282 feet
Type: Loop
Difficulty: Easy
Estimated time to complete: 2 hours and 45 minutes
It's assumed that the first three trails will probably take you a bit over two hours to hike. Depending on when you got in and how much traffic you sat in (and it may have been more than you expected!), you might be ready to call it a day. If you're abounding with time and/or energy (or need to tire out some kids), the East Valley Floor Trail is a great option! The trail takes the average person just about two and a half hours to complete and is reasonably flat and easy throughout.
If you want to do the hike but have a bit less energy, following the paved bike path will give you a very similar experience. If you brought mountain bikes with you, this is definitely a great opportunity to bring them out! Parents of younger children will be happy to note that there are a couple of bathrooms accessible throughout the trail and plenty of great stopping points!
This loop will have you back by the Curry Village Pavilion which houses multiple options for dining and drinks! Outside and nearby, you'll find some picnic tables as well as the amphitheater just a short walk away. Especially convenient if you choose to stay at the Curry Village lodging itself!
Day 2
Day 2 is focused on the Tuolumne Meadows region of Yosemite. Located in the high country of Yosemite, Tuolumne Meadows itself is at a higher altitude and considered to be alpine meadows. At a higher elevation, you'll notice the weather will be cooler so bring the necessary layers as you'll be about twice as high as you were in the valley!
Fun fact: the original grant for Yosemite only protected the Yosemite Valley that you just saw and the Mariposa Grove (which will be saved for later!). Those two areas account for 5% of the park and the other 95%, of which Tuolumne meadows is a part of, wasn't added for another 26 years!
The only problem with visiting a park the size of the state of Rhode Island is that getting from place to place takes time. Budget at least an hour and a half to drive from the Yosemite Valley to Tuolumne Meadows following this route. If you plan to say at the Tuolumne Meadows Lodge, continue up the Tioga Pass Road until you see the Tuolumne Meadows Lodge Road and follow that to the right.
Stop 1: Tuolumne River Loop – Dana and Lyell Forks
Length: 3.5 miles
Elevation gain: 187 feet
Type: Loop
Difficulty: Easy
Estimated time to complete: 1.5 hours
If you aren't staying at the Tuolumne Meadows Lodge, follow the Tioga Pass road until you turn onto the Tuolumne Meadows Lodge road and turn left at the fork. From there, take it to the Dog Lake parking lot, which you'll find before hitting the lodge itself.
The Tuolumne River Loop is a great start for the second day at just over three miles with a very moderate elevation gain. This is a great way to test your endurance at the higher elevation! The majority of the elevation on this trail comes in the first half mile, with most of the remainder spread out over the last mile and a half, so this trail is approachable for hikers of all skill levels! The trail starts on the John Muir trail for just under half a mile until you reach the foot bridge at Dana Fork.
It should all be fairly self-explanatory, and you can expect other hikers, but you may want to have a map of it downloaded (or a physical copy!) just in case. There are food lockers in the vicinity of the parking lot so you'll want to take out any food from your car and deposit it in those if you can.
Stop 2: Lembert Dome
Length: 1.8 miles
Elevation gain: 715 feet
Type: Out and Back
Difficulty: Moderate
Estimated time to complete: 1 hour and 15 minutes
You won't have to drive anywhere for this one because you'll really just be starting from the other side of the park Dog Lake parking lot. There is some elevation gain, but don't let that deter you if the Tuolumne River Loop was doable for you! About 0.2-0.4 miles into the trail is where it's the steepest and the rest is a fairly gradual uphill. At 0.4 miles and at the end of the steepest part, you'll see a junction in the trail, make sure to follow that to the left. This well-marked trail promises great wildflower views for those interested in the hike!
Stop 3: Dog Lake Trail
Length: 3.6 miles
Elevation gain: 613 feet
Type: Loop
Difficulty: Moderate
Estimated time to complete: 2 hours
You have a couple of options for getting from Lembert Dome to Dog Lake Trail. It will take a bit under a mile walk to go from the Dog Lake parking lot (assuming you parked there) if you pick up the PCT and walk west, following the Tioga Pass Road until you cross over. You'll see a dirt road which you'll follow until you hit the fork. You can take either road, but if you go left, look for your next right to reach the trailhead. If you go right, follow the road until you see the trailhead. Driving is similar in that you'll follow the Tioga Pass Road back the way you came and look for the dirt road turnoff on your right and follow it to the parking area.
While it may seem counterintuitive, and you can absolutely do the Dog Lake Trail first, if you're unsure about how you'll handle the elevation, following this itinerary in order will allow you to gage your fitness and see if you want to head to the Dog Lake Trail. The first mile can be difficult for some people as it holds almost all of the elevation gain. After that, the next 1.7 miles are pretty flat, and the remainder of the hike is downhill. The flat part of the trail circles Dog Lake and the view is absolutely rewarding after that first mile!
Day 3
Day 3 is focused on the Mariposa Grove region of Yosemite. If you're looking to be awe-struck while standing under some of the largest trees you'll ever see, Mariposa Grove has to be a stop you make! It's about a two-hour drive from Tuolumne Meadows to Mariposa Grove, so get your rest after you finish your Tuolumne Meadows hiking!
Stop 1: Washburn Trail
Length: 4.1 miles
Elevation gain: 583 feet
Type: Out and back
Difficulty: Easy
Estimated time to complete: 2 hours
Hopefully you've got an early start on your last day in Yosemite! At the very end of your drive, just before the Welcome Plaza, you should see a parking lot just past the roundabout that gets you to the Plaza. From there, the trailhead isn't a long walk.
Washburn Trail is a great starter hike for your last day. If you don't plan to spend a full day in the park and want to cut day 3 short, Washburn gives you a great taste of the trees in the Mariposa Grove section of Yosemite. The first few tenths of a mile is a decent uphill with the remainder of the trail being more moderate until 2 miles in when you'll turn around and have a gradual decent until the very last bit of the trail. The turnaround point is right by Mariposa Road and the trailhead to the next trail, so you can also cut this short and turn it into a point to point 2 mile-long hike instead if you like.
Stop 2: Mariposa Grove of Giant Sequoias Trail
Length: 6.2 miles
Elevation gain: 1,213 feet
Type: Loop
Difficulty: Moderate
Estimated time to complete: 2.5 hours
If you parked at the visitors center (and parking near the Mariposa trailhead is often in flux, so you'll want to check Yosemite's website ahead of time), it is about a two mile walk to get to the Mariposa Grove of Giant Sequoias Trail. You'll also want to pack some snacks since the Mariposa Arrival area, by the trailhead, has water during the summer but no food services. You'll, of course, have to walk the two miles back to the parking lot if you aren't able to park by the trailhead as well.
While there are some inconveniences like the lack of food at the arrival area and the possibility of downed trees, for hikers that have the capability to take on this hike after the two miles from the visitors center, this is the quintessential experience of Yosemite's Mariposa Grove. If you're going at a time when the shuttle is running, depending on what programs to clear downed trees are going on, this may be more accessible.
Stop 3: Grizzly Giant Loop Trail
Length: 2 miles
Elevation gain: 351 feet
Type: Loop
Difficulty: Easy
Estimated time to complete: 1 hour
While you can do this trail and the Mariposa Grove trail if you have the time and energy, this third and final stop on the itinerary could also be considered as an alternative stop 2. If you have to park at the visitors center and walk the extra two miles each way, opting to complete this trail and the Washburn trail may be a better plan.
Although substantially shorter than the Mariposa Grove trail, it isn't wanting for classic Yosemite beauty. This more family-friendly option still takes you to the largest Sequoia tree in the entire park and the California tunnel tree at just about a half mile into just a two-mile stretch. Take your time and enjoy this one because it's a spectacular photo opportunity.
There You Have it!
While Yosemite National Park has enough acreage for a lifetime, if you only have three days to spend, you'll want to see Yosemite Valley, Tuolumne Meadows, and Mariposa Grove.
Avid adventurers may note a lack of Glacier Point trails. Yosemite will be shutting down the Glacier Point Road, so construction delays are expected throughout 2023. While you can still enjoy Glacier Point, it is much more work to get there than usual.
Hopefully this itinerary has helped inspire your next Yosemite National Park adventure and we can't wait to hear all about it!