In order to visit Liechtenstein, I had to commit to walking.
Dave and I had plans to spend a week in Zurich, Switzerland, and knowing that we would be so close to Liechtenstein was all it took to have me craving popping over for a visit. I'd wanted to visit this microstate for several years, and I knew this would be the best opportunity I'd have to see what makes it so special.
There was just one problem.
My travel partner puts his all into not being a country-counter.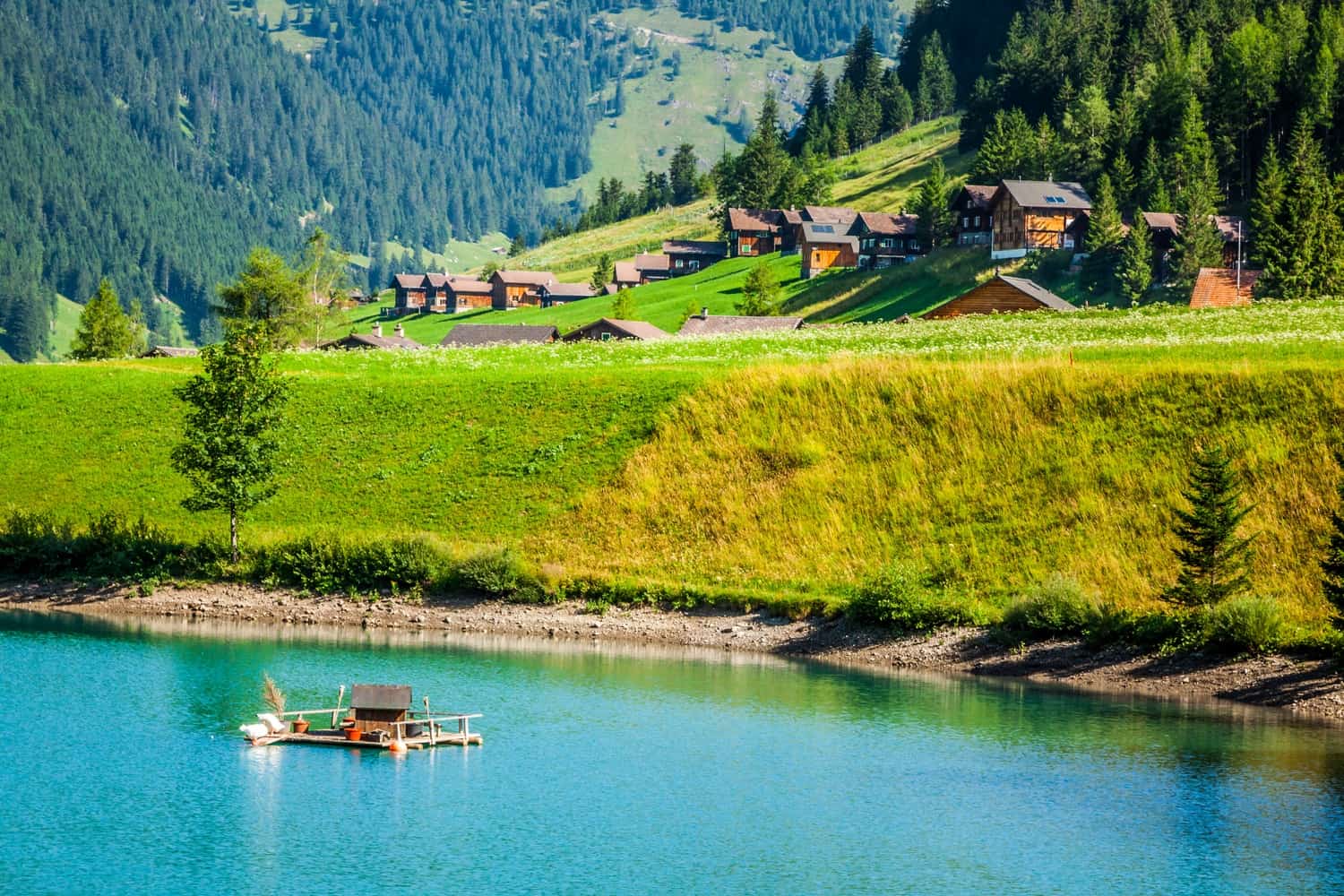 Dave sees absolutely zero point in going to a place for the sake of it and always rolls his eyes when he suspects I'm pushing him towards a new country for the sole reason of it being a place we haven't been to before. He would be happy spending the rest of his life revisiting the countries he already knows and loves, with little desire to head somewhere new.
Fortunately, Liechtenstein is all about the mountains, and Dave? He loves to walk.
I gathered a strategic set of photos of Liechtenstein that depicted hikers walking along desolate trails and asked if we could spend a few days exploring the country on foot.
It was almost too easy.
His eyes lit up and suddenly, I was planning a trip to Liechtenstein.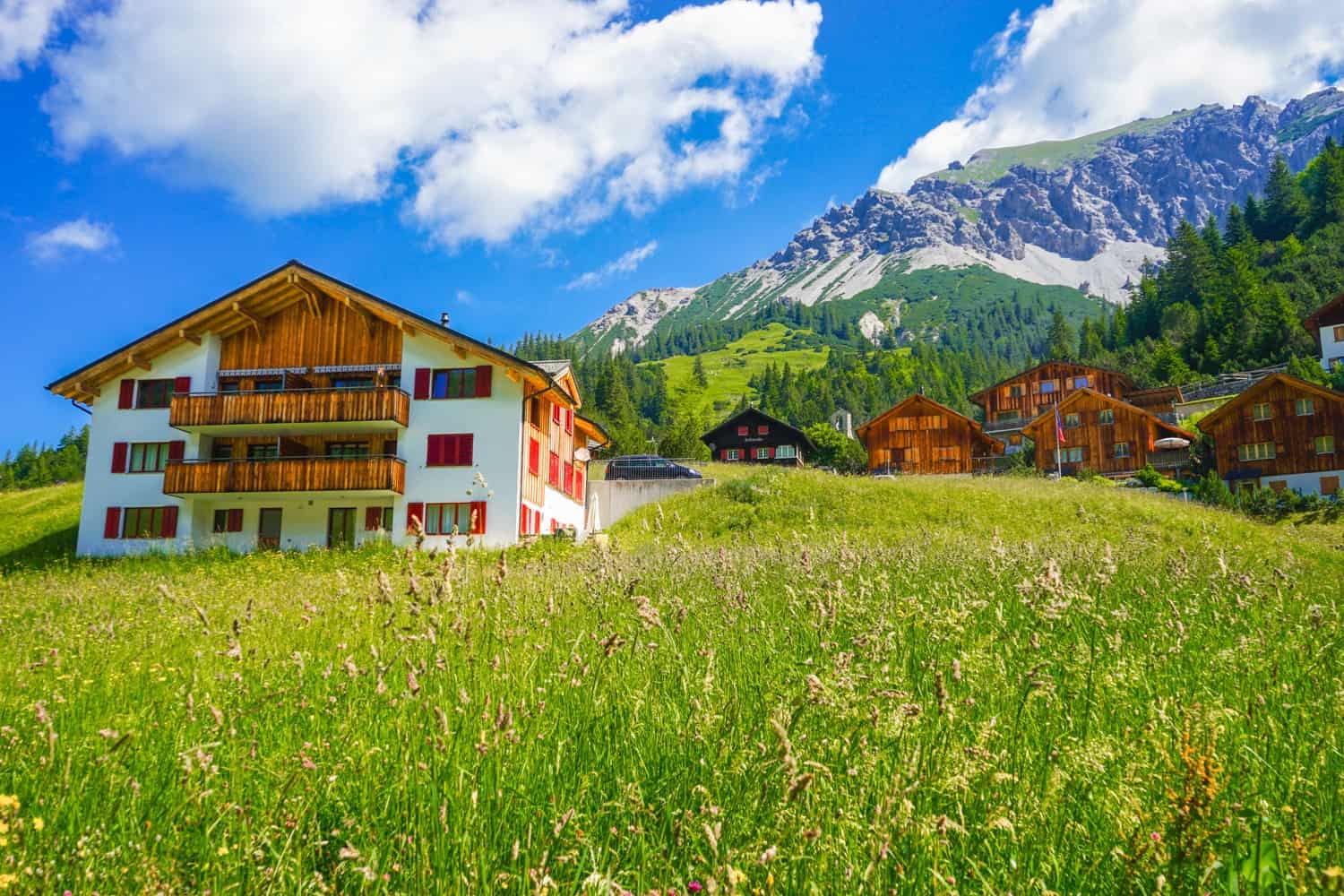 We gave ourselves three days to see as much as possible, with one of those days dedicated to getting our hiking on.
And we researched hard for this walk. Knowing that Liechtenstein was ridiculously scenic and full of hiking trails had us struggling to narrow down which trek would give us the best overview of the country. While we originally planned to undertake a short hike in the morning and one in the afternoon, we eventually settled for one long walk out of the ski resort village of Malbun.
We jumped off the bus from Vaduz, then hit up the Malbun tourism office to have a chat about our planned hike. The staff were so helpful! They gave us a free map to use, pointed out where the trail started, and commended us on our choice of walk.
We were going to be following the paths out of the village and up to the Schönberg, a mountain that stands at 2,104 metres. From there, we would be descending via Bärg back to Malbun, then recovering from it all with a cool glass of craft beer from the Liechtensteiner Brauhaus.
We grabbed a quick breakfast, then hit our first snag of the day. It turned out there wasn't a supermarket in Malbun, and we had zero supplies for our hike. Fortunately, there was a small souvenir store that was open, but their food offerings weren't exactly the definition of protein.
"A can of veal cheese for you?" I asked Dave, then grinned as he shuddered back at me.
We bought what we could — some handfuls of fruit and several packets of souvenir jerky — and then it was finally time to start walking.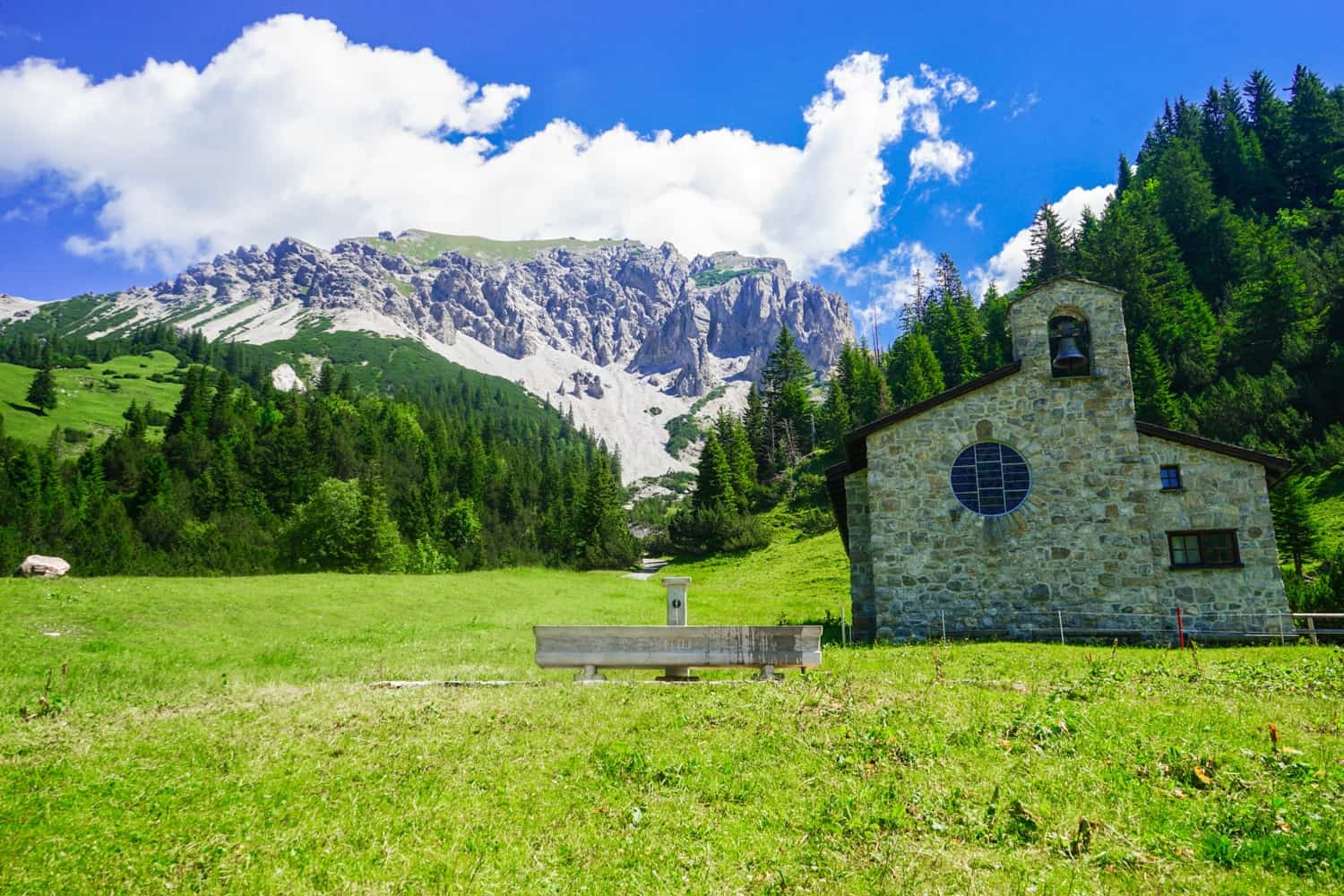 First impressions: Liechtenstein was devoid of other people.
As we tramped along the trail, there was nothing to observe but a cool breeze, a snow-capped mountain, and the sound of ringing and clanking in our ears.
Wait, what?
Ringing and clanking?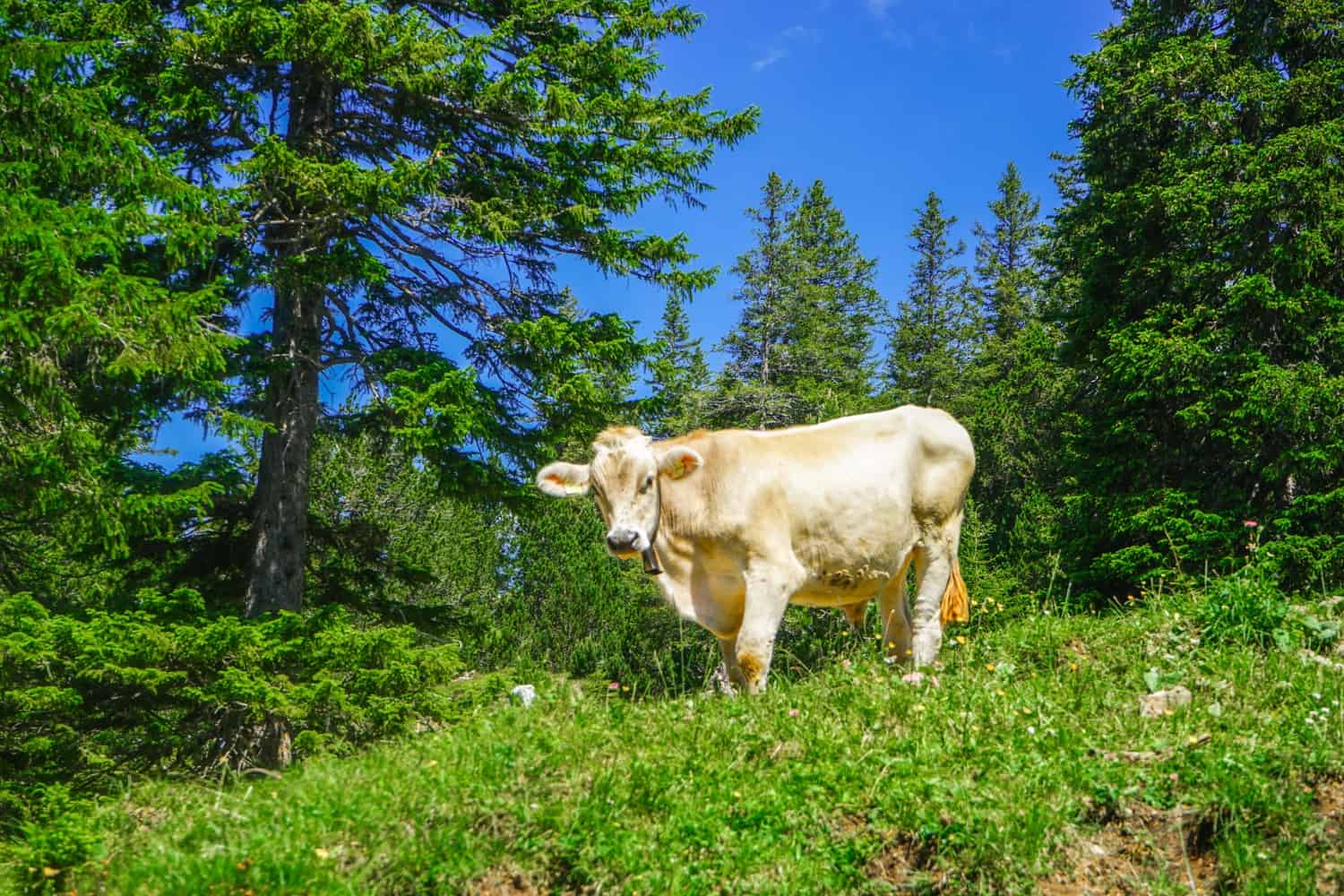 Liechtenstein: does not need more cowbell.
I've never experienced anything like it.
The number of cows outnumbered us by several dozen, and the metallic bells around their neck were alarmingly loud. Klong, clank, ding, clink, chime, gong, crack, clang, tintinnabulate.
No, you used a thesaurus to look up another word for ding.
There wasn't a single person in sight.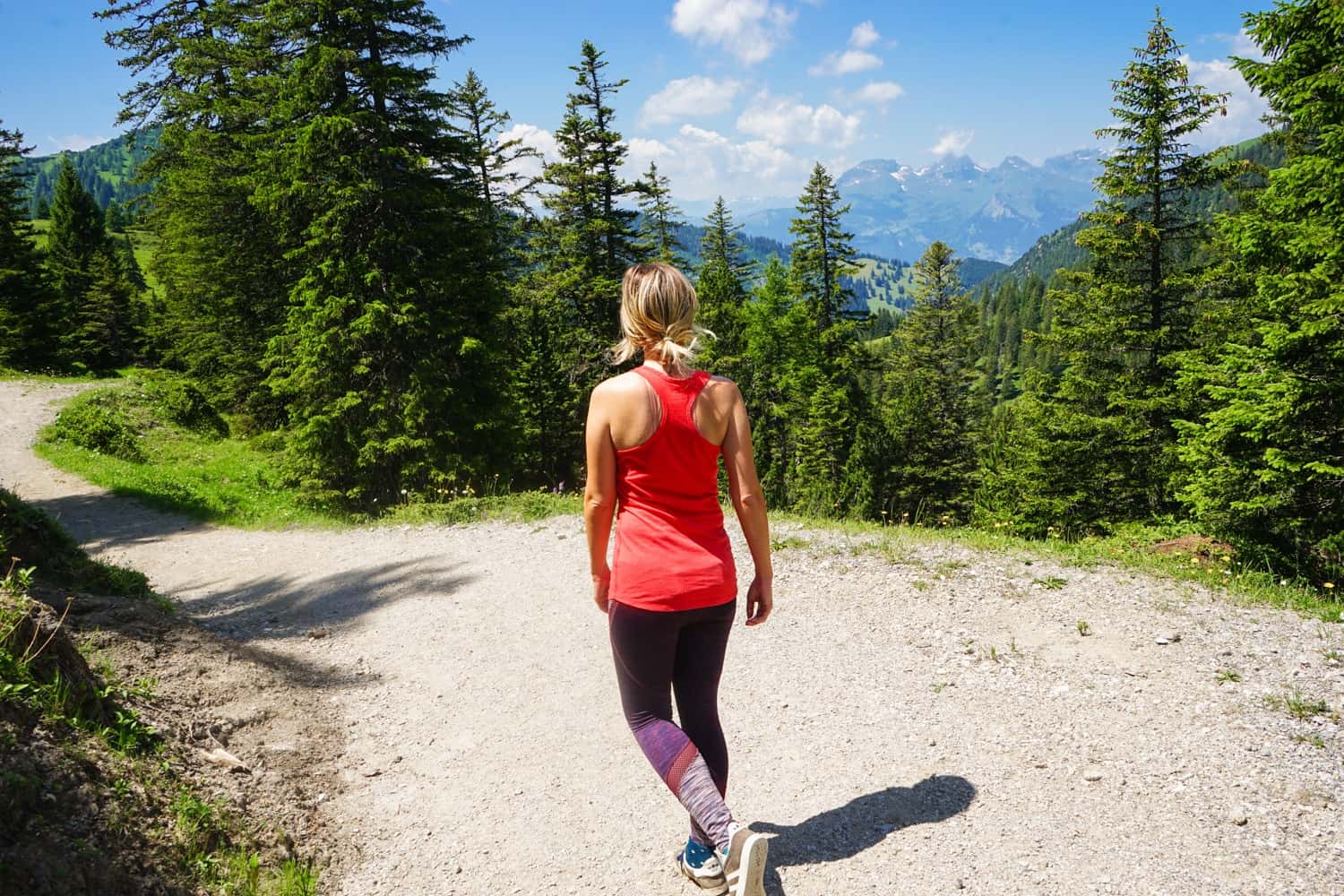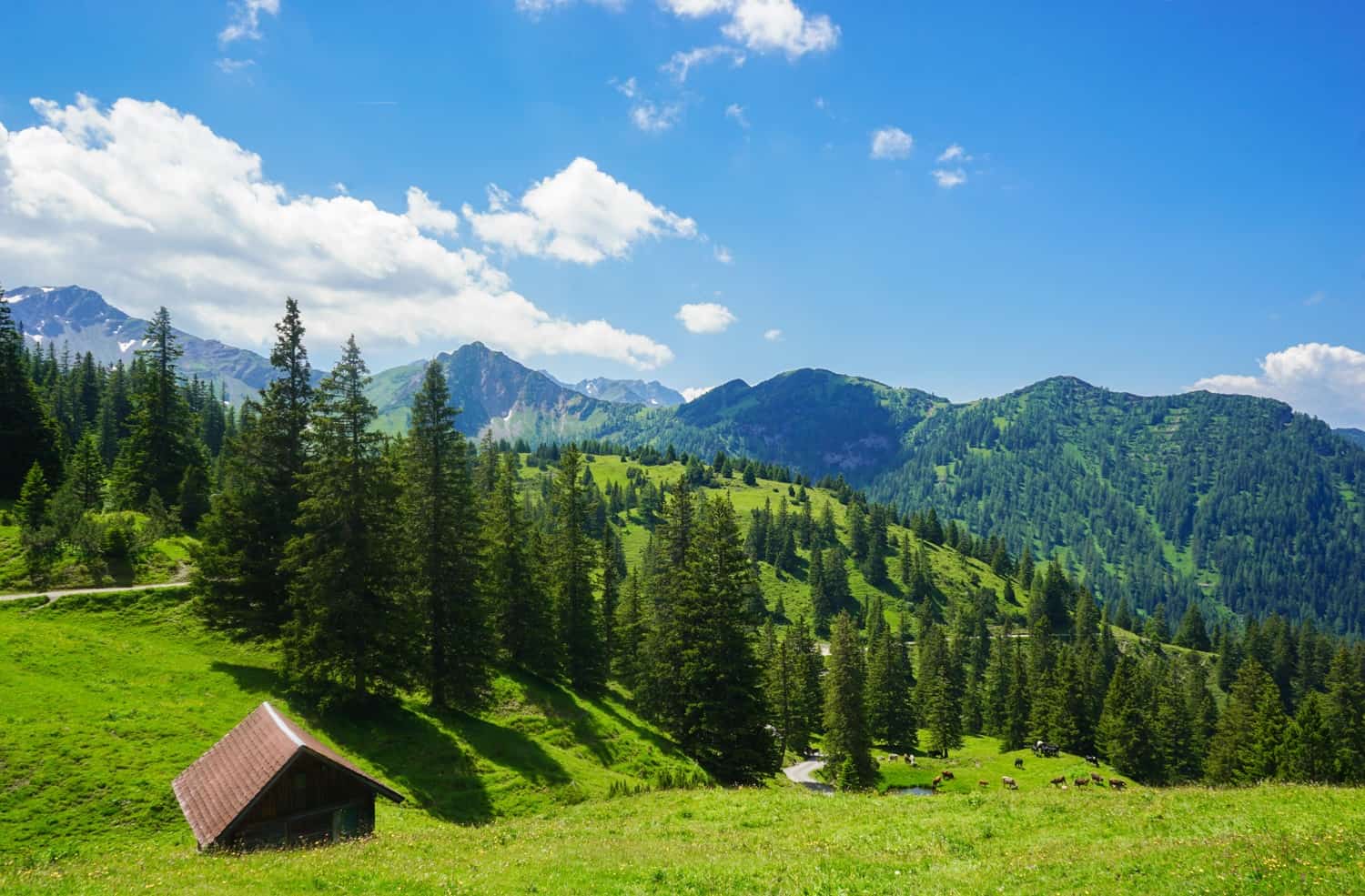 The hike we'd opted for had sounded like it was going to be fairly easy.
It was a 12 km (7.5 mile) route that would involve walking through the Rätikon mountain range of the Alps. Excitingly, we were in town at the perfect time of year. June is flowering season in Liechtenstein and we were going to be on one of the best hikes to make the most of it.
And the views? They were out of this world.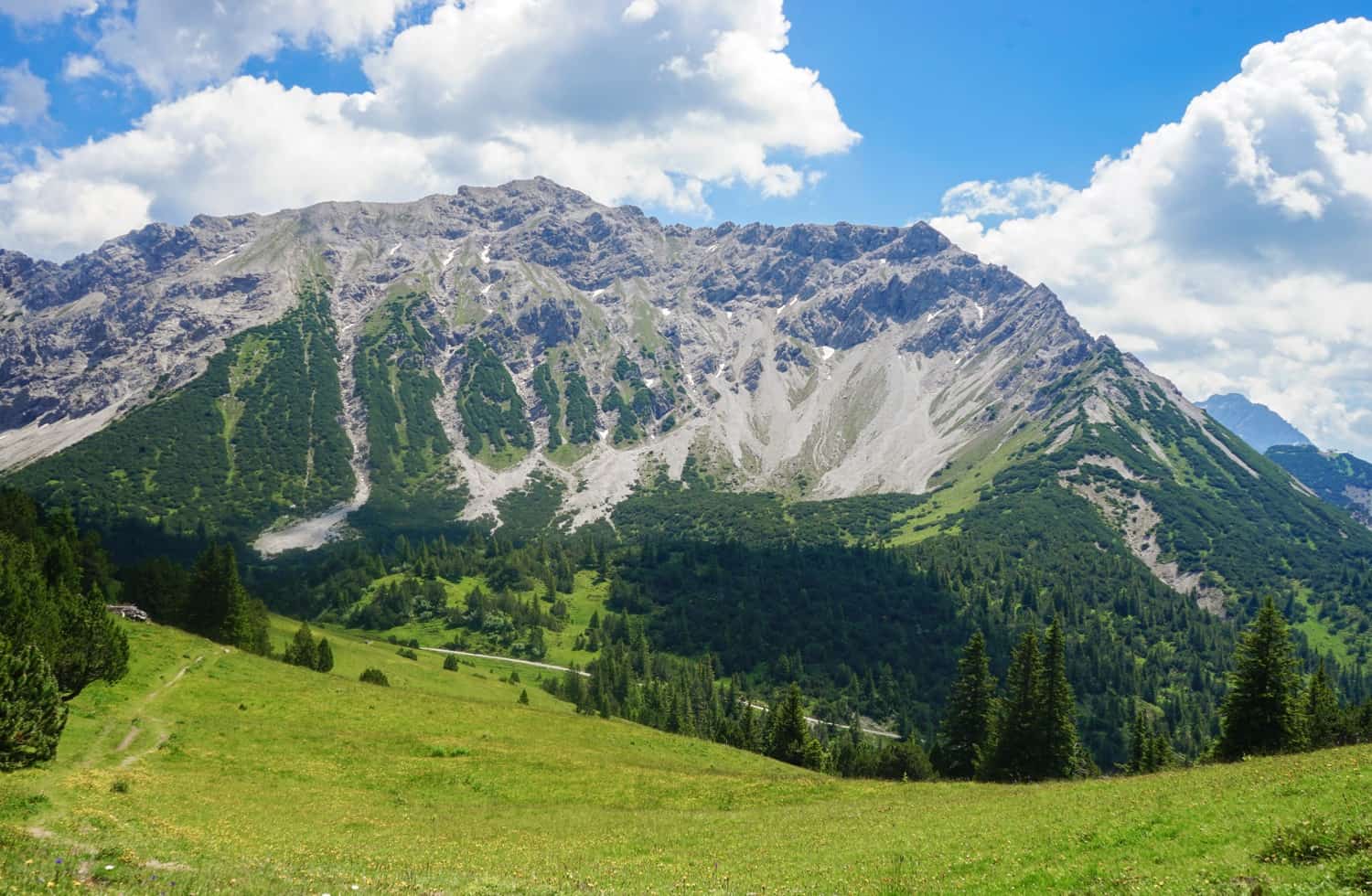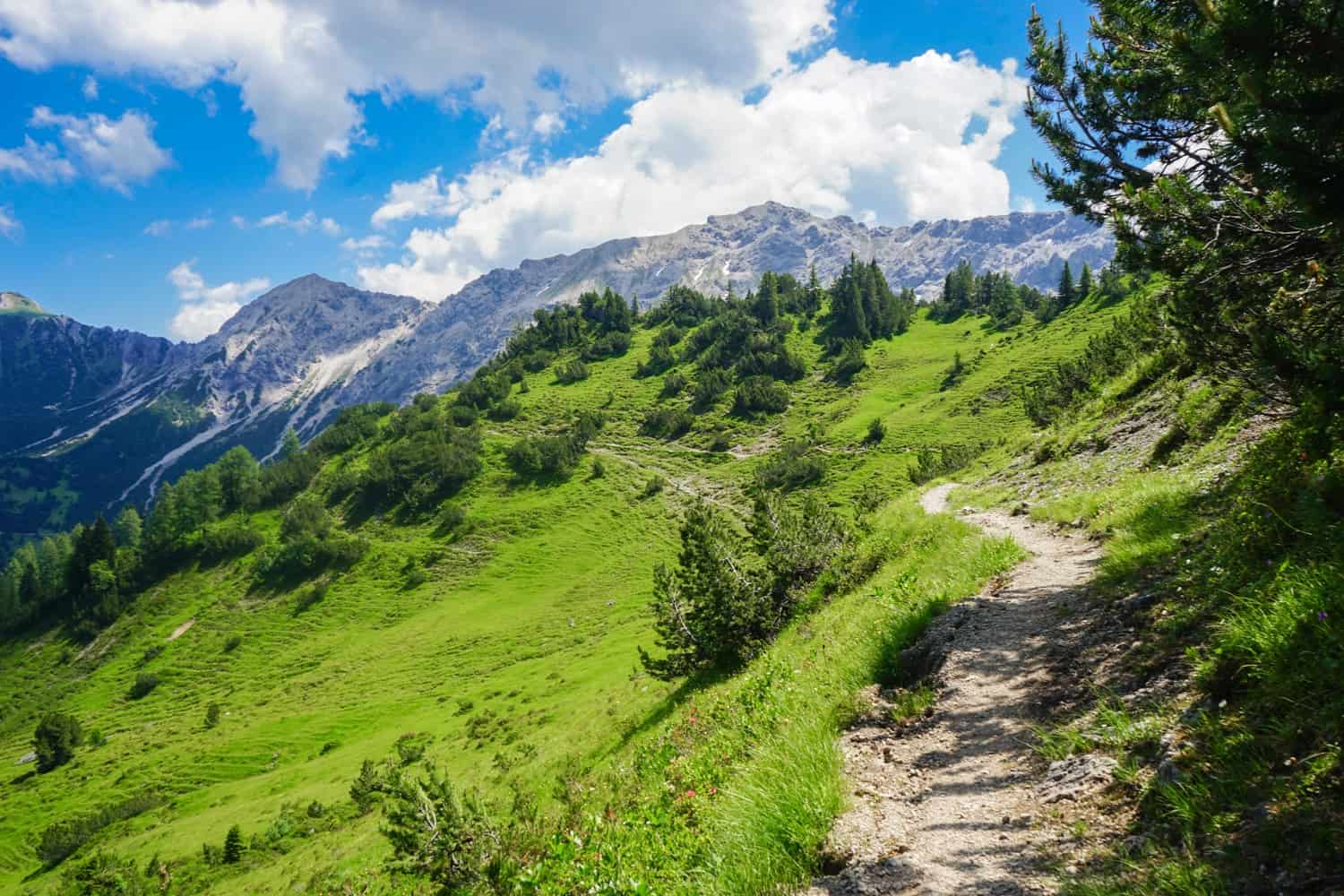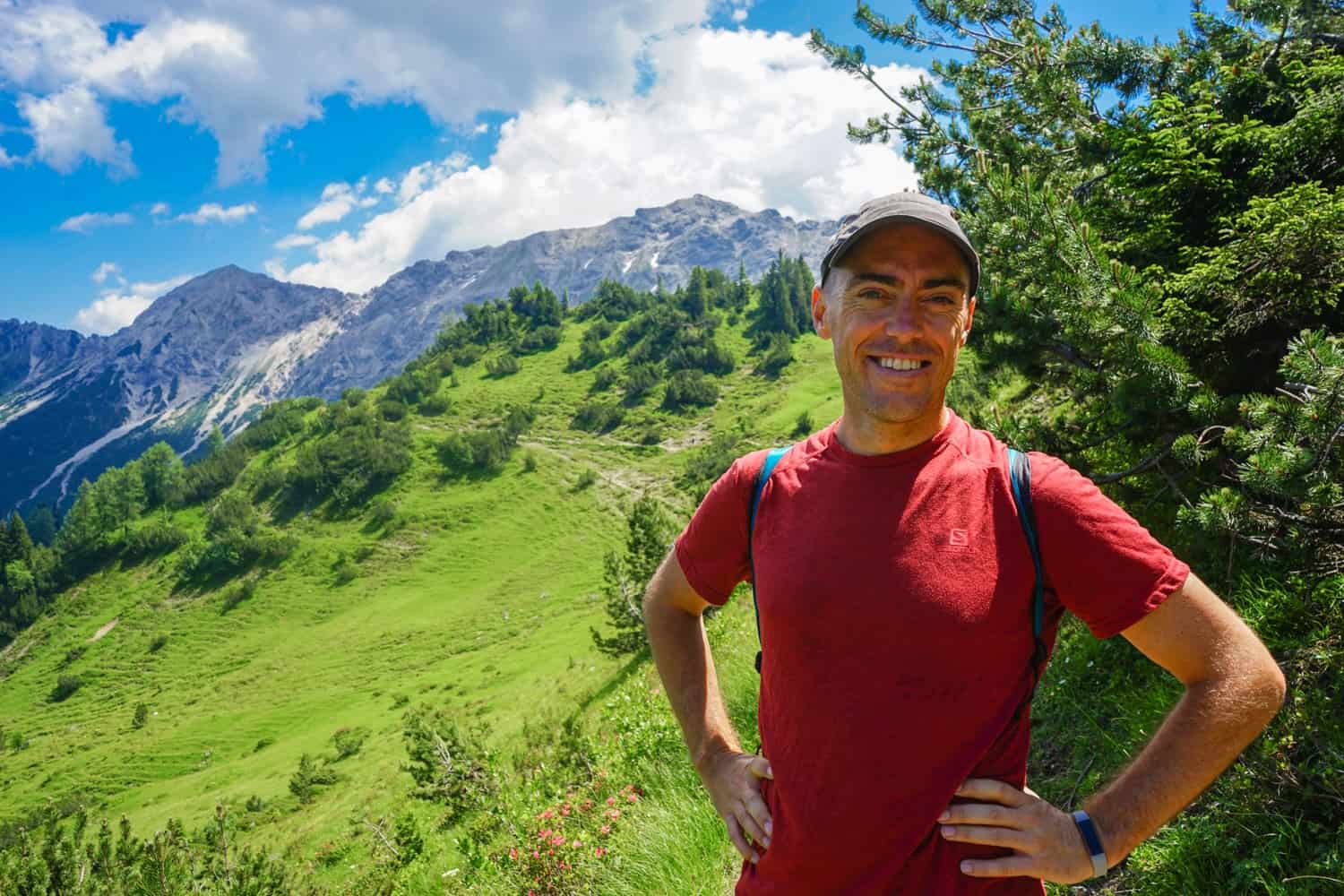 The trail quickly switched from a wide gravel path to a narrow dirt track, and we passed the time by chatting about how easy it would be for my uncoordinated feet to slip and fall down the mountain. Several minutes later, I fell over.
For the most part, though, this was a beautiful, simple hike that was filled with incredible scenery. Just an hour into our walk, Dave was confessing it was the prettiest hike he'd ever done, and I eagerly agreed with him.
My greatest challenge was safely navigating myself along a surprise rocky walkway without slipping on the loose pebbles.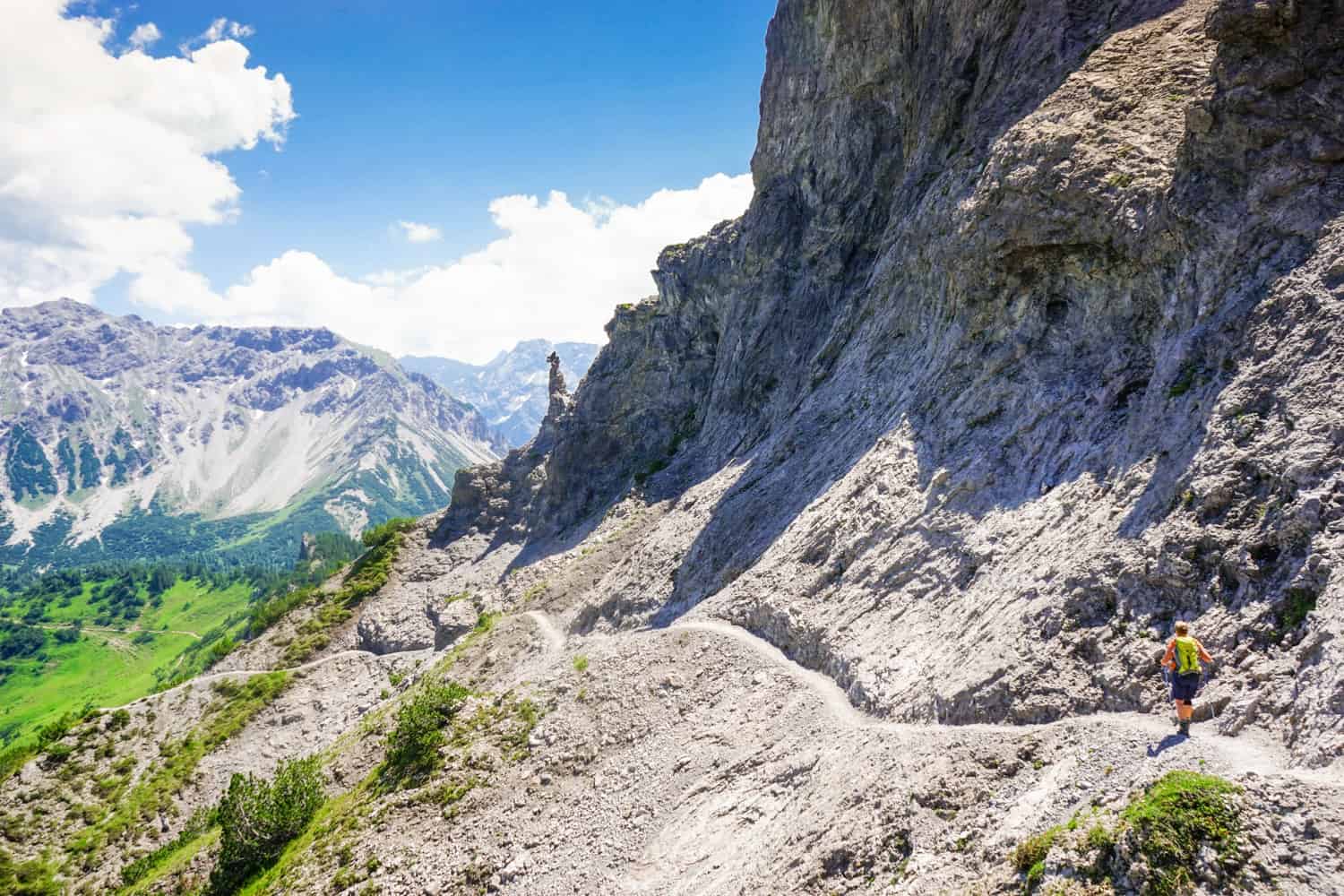 Our lunch break offered up a quintessential Liechtensteinian experience: sitting atop a mountain, gazing down into three different countries. As we sat at the summit the Schönberg, we had Austria to our left, Switzerland to our right, and the entire trail to ourselves. We had only come across three other walkers so far.
In a country this beautiful, it was baffling that there wasn't more people out exploring.
I snapped photos while inhaling the thin air and packets of souvenir jerky.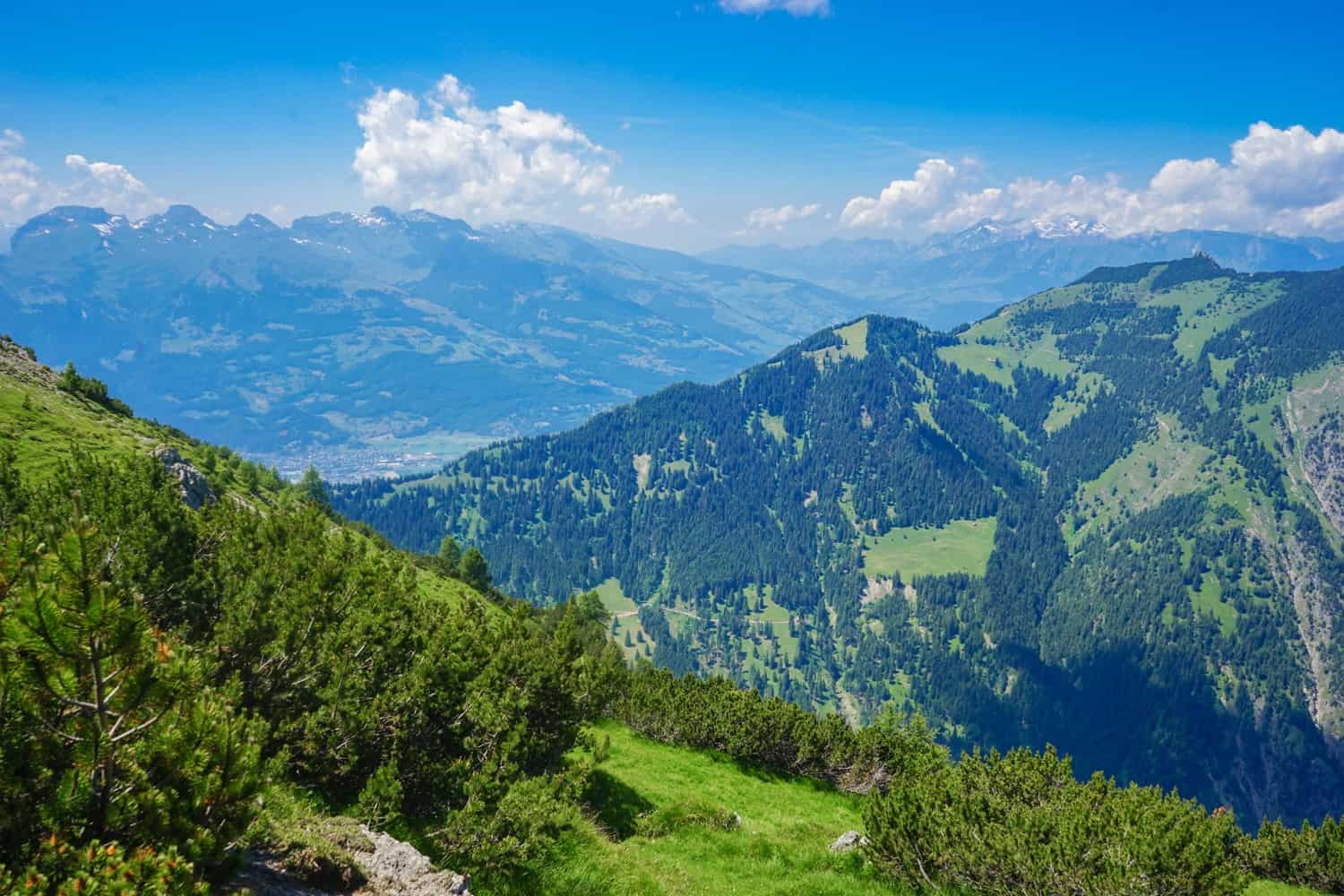 We'd reached the highest part of the hike, so I knew it was going to be downhill from here. And in my opinion, walking downhill is trash. I hate it.
And in Liechtenstein, walking downhill means walking steeply downhill, with nothing to hold on to.
These descents were intense.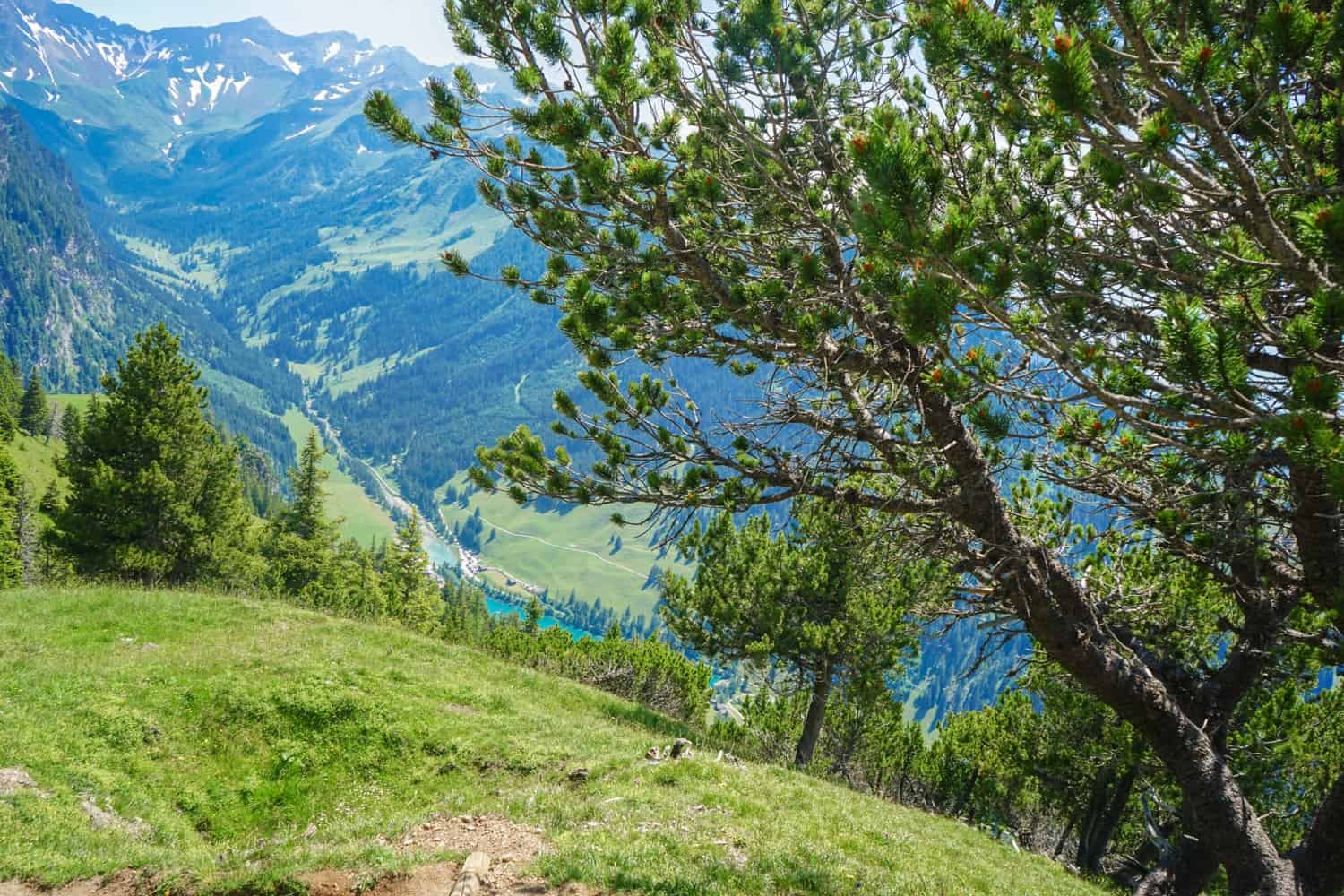 And then we lost the trail.
It happened in a place I described as Thistle Hell.
Dave and I found ourselves at the peak of a ridiculously steep hill that was blanketed in thistles. It was so precipitous that attempting to run down it would have me looking like a contestant in the annual Cooper's Hill cheese rolling event.
There were two options: either throw myself down the hill, cheese-rolling style, and hope for the best, or drop to my ass and begin to fill it with pricks.
Lmao, sorry.
But guys, thistles.
They're now my least favourite terrain to slide over.
I attempted to crab-walk down the side of the mountain, carefully spreading my fingers around the prickly plants and failing on an epic scale. It was an endeavour I would describe as both futile and painful.
When I finally reached the small clearing at the bottom, a solid ten minutes after Dave, I was all alone.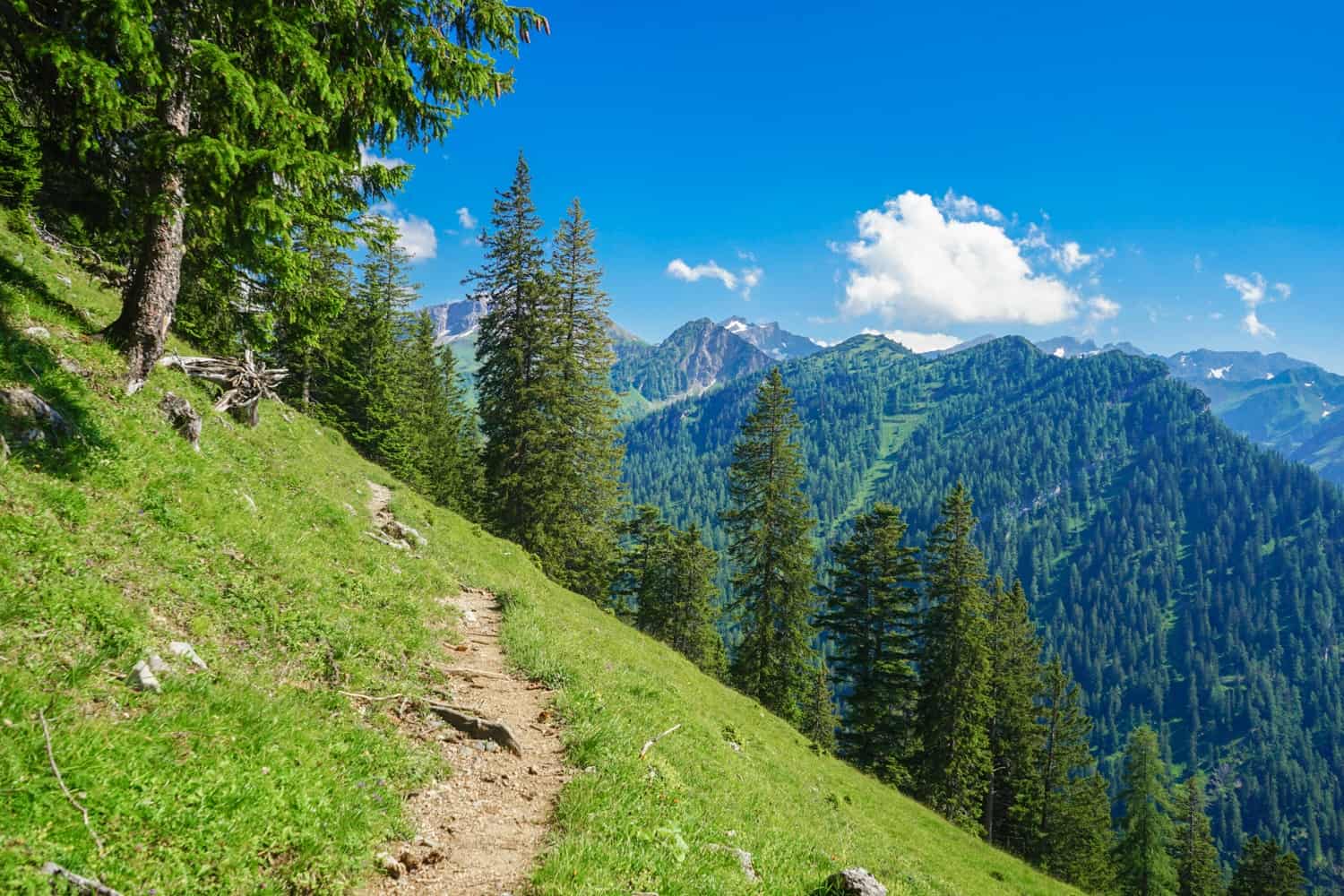 I followed some footprints in the grass and ended up at another sharp drop with no further markings on the ground.
Uh oh.
Apparently Dave had walked off a mountain and died.
I began to panic.
My phone had no service out here in the countryside, and it was so windy that I couldn't hear a thing. I tried shouting Dave's name, spinning in every direction in desperation.
I was lost on a random mountain in Liechtenstein, my boyfriend had died, and I had no idea what to do and where to go. I was well and truly off the trail at this point.
I let out a quiet whimper.
I couldn't believe I was going to have to phone Dave's family and tell them he was dead. I couldn't believe I was going to spend the rest of my life climbing these mountains in search of Malbun. I couldn't believe that this had all gone so terribly wrong.
I felt a tap on my shoulder.
Dave.
"I thought you were dead!" I exclaimed, as I wrapped my arms around his neck.
"I was literally a hundred metres away, down there," he pointed to a small wooden hut below us. "I thought you saw me waving."
I shook my head. "Nope. Just thought you'd walked off the side of a mountain by mistake."
"I'm not you. I don't just fall off things."
"Good point."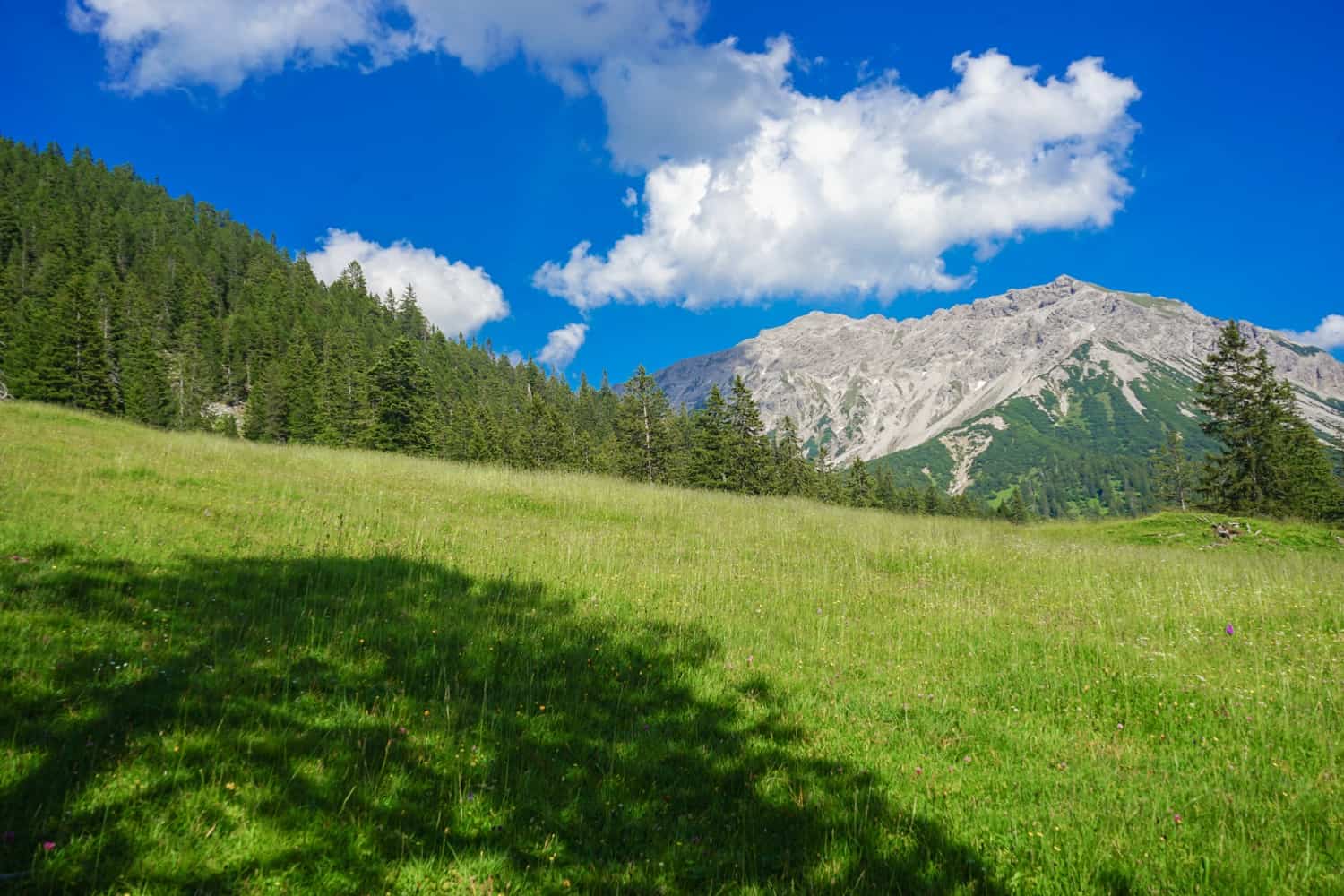 Despite having little confidence that we were heading in the right direction, we continued to make our way through the grass. There was a small picnic table beside the hut where Dave had been waiting for me, and we ventured over there to hydrate.
We were sipping on our water when we heard a voice from inside. A woman in traditional local dress wandered out of the hut and blinked.
After chatting with her for a while, it suddenly dawned on us that this was her home and we were currently sat at a table in her garden having a drink.
Whoops.
The locals are wonderful in Liechtenstein, though, and rather than chase us off her property, she poured us glasses of ice cold water, offered us energy-boosting snacks, and told us all about her interesting life spent looking after cows for a nearby village.
She spends six months of every year up here in the mountains, living alone, without electricity, simply taking care of cows.
Refreshed and rejuvenated, we set off for Malbun. Fortunately, we could glimpse the tiny village from our trail, although we had no idea if it was going to lead us there. At this point on our hike, we'd been in out in the mountains for five hours and hadn't seen a signpost for two.
Part of me was very tempted to slide down to the bottom of our hill and walk into Malbun from there, but the other part of me is an enormous completionist, so we persevered in order to follow the trail back to the start.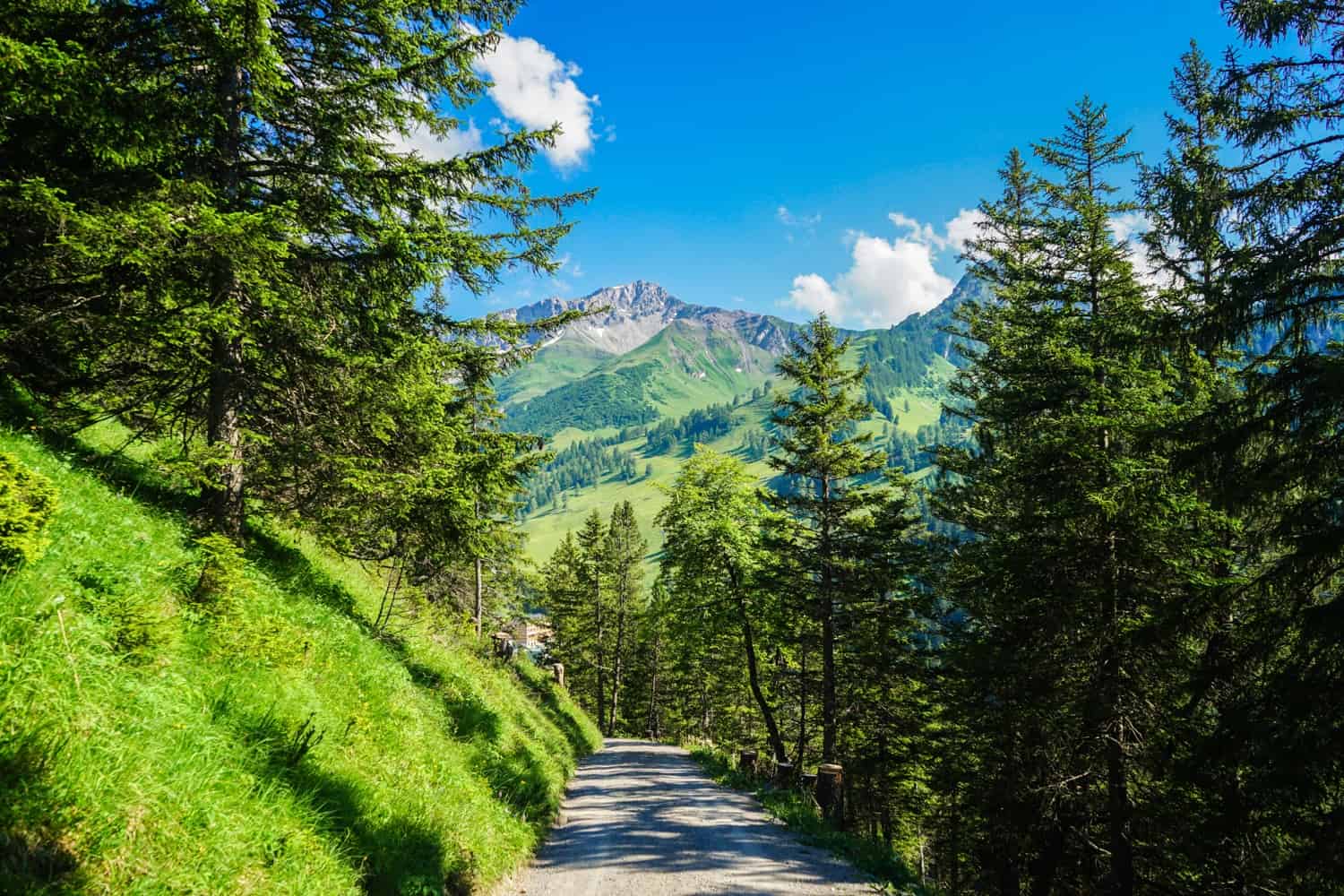 And that was the hike!
A few wrong turns later and we were coming into Malbun, exhausted, happy, and deeply in love with Liechtenstein.
It was time to get our hands on a frosty beer.
It's not often I decide to publish a blog post with as many photos as this one, but in a country this beautiful, it was impossible to narrow them down to just a few.
So, hopefully this blog post has convinced you that Liechtenstein is worth a visit, and that it's definitely worth taking a walk around when you get there.
What to Know About Hiking in Liechtenstein
How to get from Vaduz to Malbun: If you decide to do the same hike as us, you'll need to get to Malbun first. From Vaduz, take the Liemobil bus #21, and get off at the last stop in Malbun.
The route I took: You can see a short guide to the hike we took on the Liechtenstein tourism board's website, along with a vague map. If you head into the tourism centre in Malbun, you'll be able to chat with the staff about the route and grab a more detailed map. Obviously it didn't help us, as we still managed to get lost, but it was still better to have than not. When you don't have cell service, you can't rely on Google Maps to show you the way.
What to take with you: Make sure you stock up on supplies before you arrive in Malbun, as there aren't any supermarkets in town. And, of course, you'll want to ensure you have good hiking shoes (I love my Oboz Sawtooth shoes), pack sunscreen, and bring enough water to last the entire day (two litres per person is a good amount).
Alternative hikes in Liechtenstein: There are so many hikes in this country! You can see a list of them on the local tourism board site. Some of the other popular options include the Princess Gina Trail, the Three Sisters Track, and the Liechtenstein Trail, which takes you through every municipality in the country.
Ensure you have travel insurance: You know, just in case your partner falls off the side of a mountain and dies.
I use SafetyWing as my travel insurance provider and have nothing but good things to say about them.
Related Articles on Liechtenstein

🇱🇮 What's it Like to Travel in Liechtenstein?
💰 The Cost of Travel in Liechtenstein
And that's it for my Liechtenstein blog posts. What a wonderful country! I hope you've enjoyed reading about it as much as I have writing about it :-)