Karibu sana Tanzania! (Welcome to Tanzania!)
If you're planning on travelling to Tanzania, get used to hearing this welcoming Swahili expression. I lived in Tanzania for a year and never tired of it. But I also never tired of Tanzania — the culture, the language, the scenery, and the people all captured my heart, which made leaving all that more emotional.
I moved to Tanzania to work on a Global Affairs Canada project for a year, during which time I lived in Mwanza, a stunning port city on the shores of Lake Victoria, towards the western region of the country. It's a place that had some of the most beautiful sunsets I've ever seen, but it was the rest of the country that had me falling head over flip-flops in love with Tanzania.
Over my year in the country, I put my all into seeing as much of it as possible, visiting places that so many people dream of seeing one day. I'll never forget the moment I saw wild elephants for the first time or how it felt to welcome in the new year beside the turquoise waters of Zanzibar. Even battling my way to the top of Mount Kilimanjaro was a life experience I'll always treasure.
Today, I'm excited to share just how much you can expect to spend on a trip to Tanzania. The good news is that it is possible to visit the country on a budget — I have a budget breakdown for Zanzibar, for example, where I outline how you can average just $50 a day in spending — but the bad news is that I don't recommend doing so.
In Tanzania, your money can go a hell of a long way when it comes to food, transportation and, in some cases, accommodation. But if you're going to be flying to the east of Africa from any other continent on the planet, you're probably going to spend a lot of money on flights. Plus, all of those once-in-a-lifetime experiences can quickly eat up your budget. That being said, what's a trip to Tanzania without going on safari?
One thing's for sure, a trip to Tanzania will stay with you forever. Tanzanians are incredibly friendly and hospitable, and they love when foreigners come to explore their country. It also doesn't hurt to learn a bit of Swahili (hello = jambo; thank you = asante; you'll hear hakuna matata a lot, too: it means no worries!) I've never been anywhere where the locals appreciate me speaking the local language more than Tanzania.
Even though I lived in Tanzania for a year, I quickly learned that the time of year makes a huge difference to the type of trip you'll want to put together. In Tanzania, there are both short and long dry seasons and short and long wet seasons.
Peak (dry) season: June to October. This is the long dry season in Tanzania: these are the months where you'll encounter the least amount of rain. Because of this, it's also the most popular time of year for tourists to visit, as it coincides with northern hemisphere school holidays. And because of that, you'll encounter more crowds and higher prices. The wildebeest migration in the Serengeti is usually during June and July, and that's always super-popular!
Low (wet) season: April – May (long rains) or November – January (short rains). These months will be the best time to plan your trip to Tanzania only if you're looking to save money on accommodations and excursions while in the country.
There's also the short dry season, which is my personal favourite time of year to visit. That runs between February and early-March. You've got the great weather combined with smaller crowds and slightly cheaper prices.
With all of that in mind, let's start taking an in-depth look at how much you can expect to spend while travelling in Tanzania.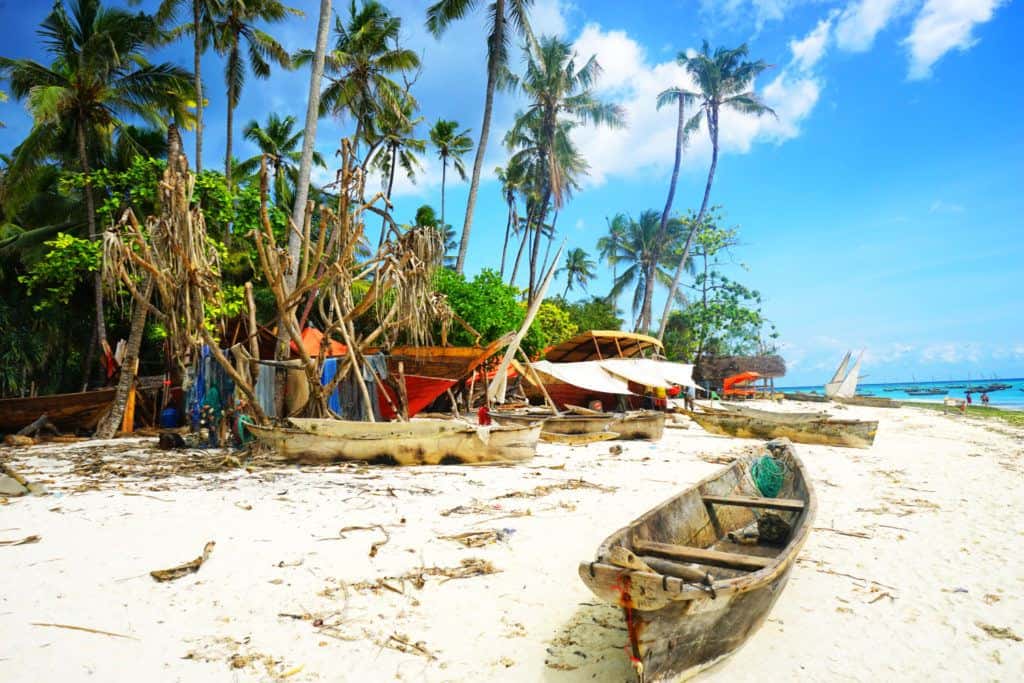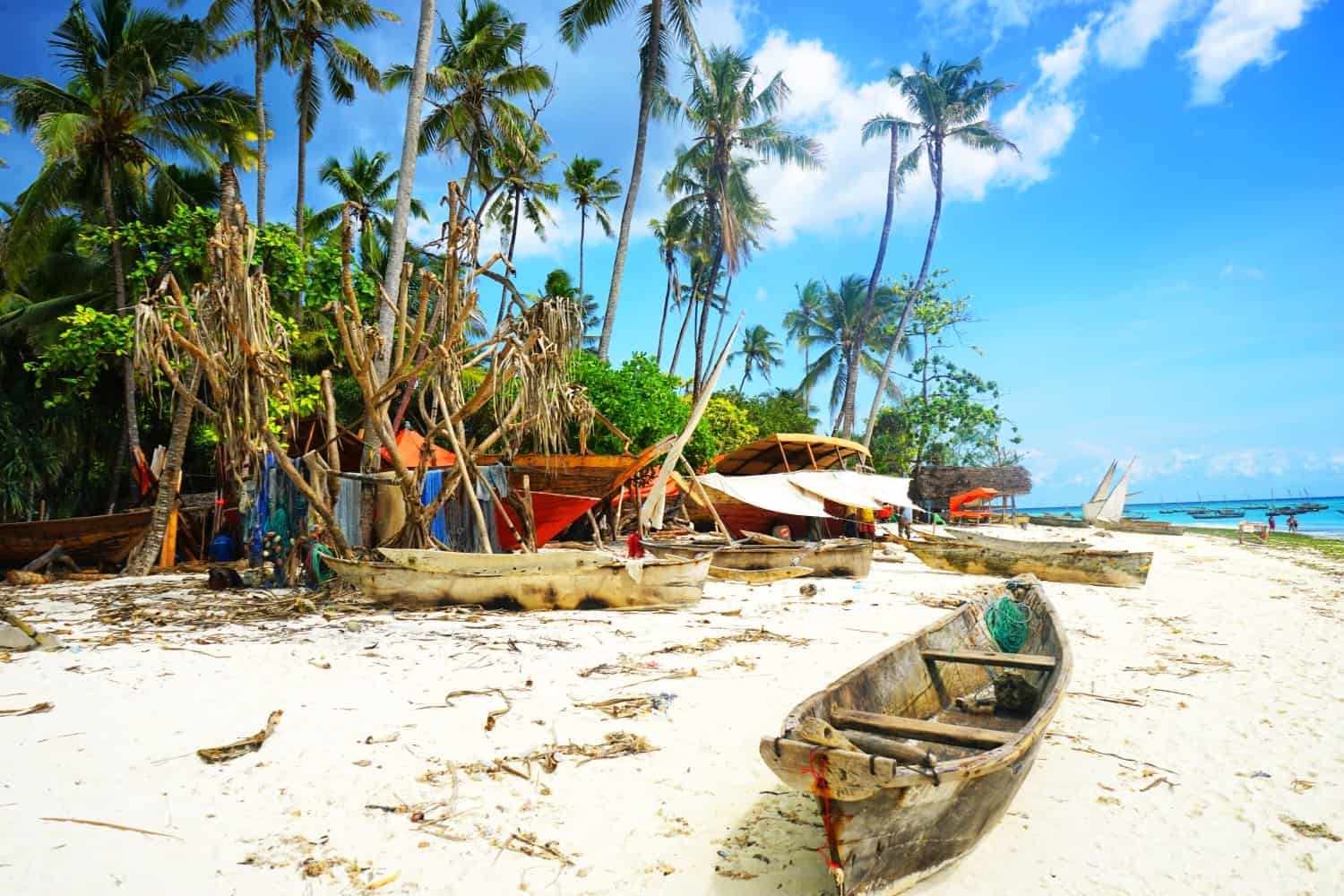 What's Included in this Post
This budget breakdown covers how much I spent on accommodation, transportation, activities, and food while I travelled around the country.
I've not included my flights into and out of Tanzania as this is going to vary significantly based on where you'll be arriving from.
The amounts in this guide are listed in U.S. dollars, simply because the vast majority of my readers are from the U.S. I also included some prices in Tanzanian Shillings (TZS), as this is the local currency that you will use the most. But most of the tour operators and accommodations will also take USD.
Okay — let's get started!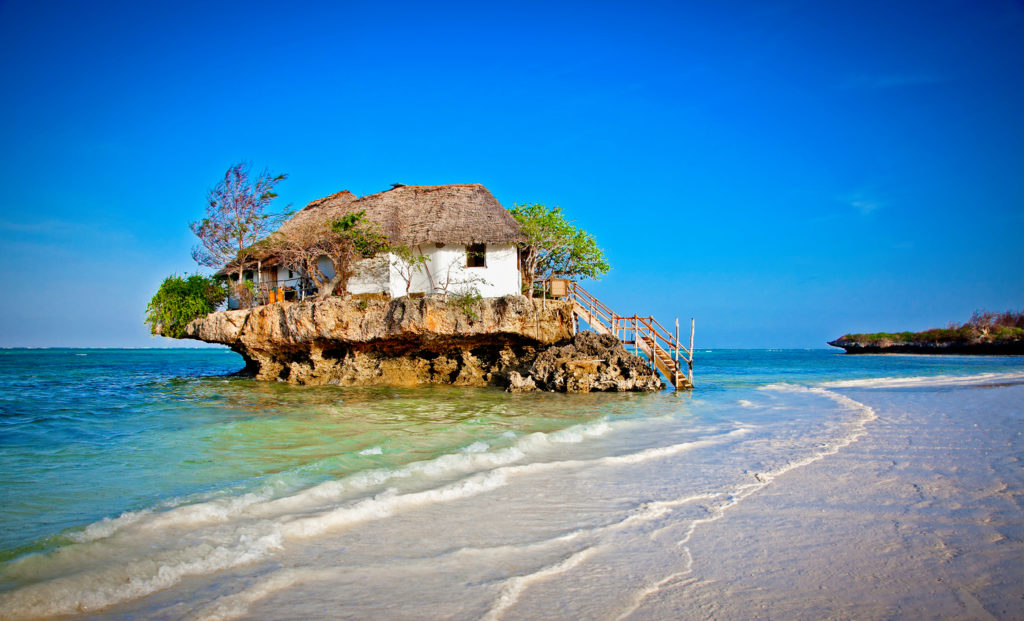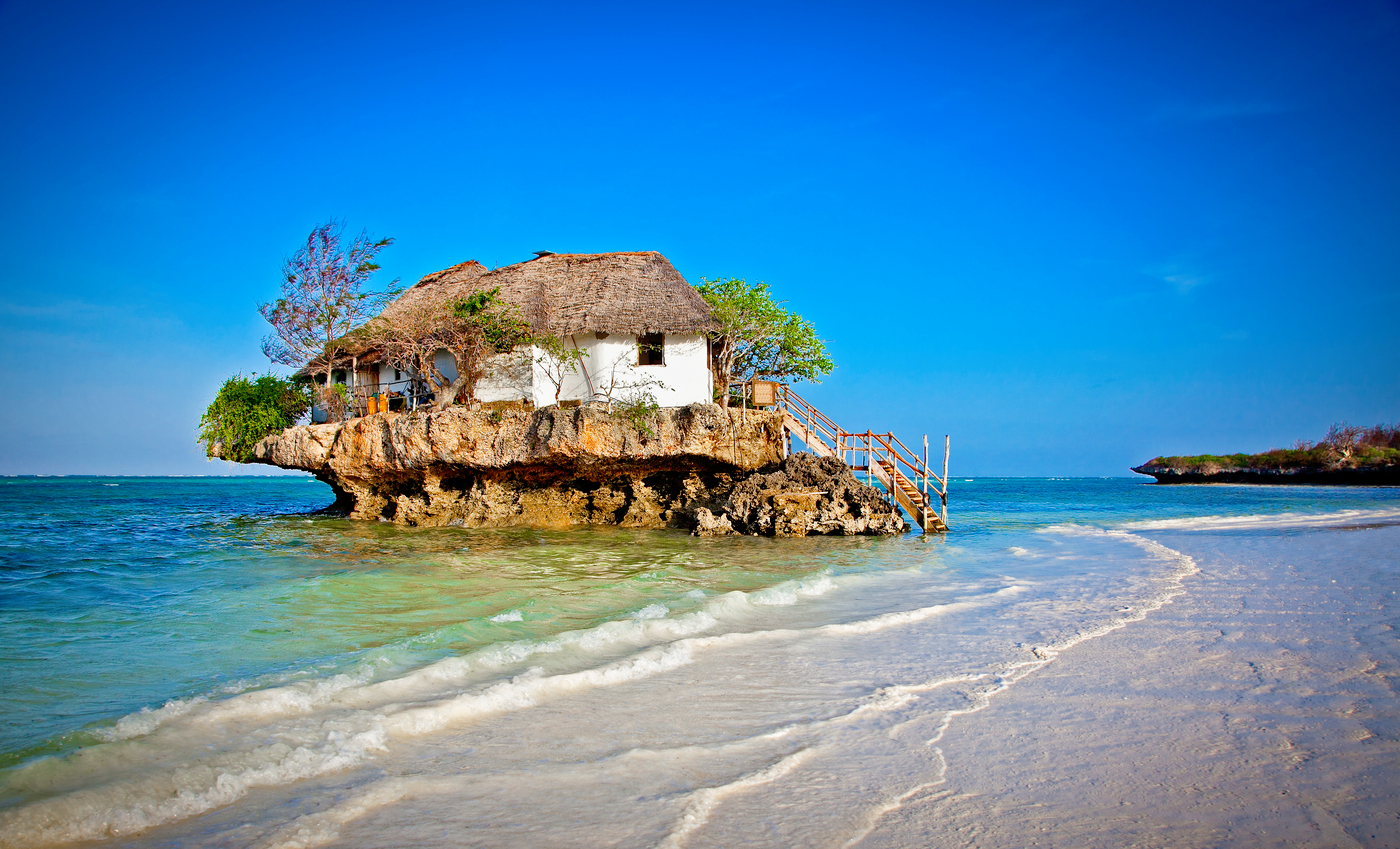 How to Save Money on the Cost of Accommodation in Tanzania
As always with travel, it's possible to cut your accommodation costs down to zero if you have the time and patience to seek out an offer.
Housesitting is a great option for free accommodation. This is where you'll take care of somebody's house while they're away, and usually look after their pets, too. It's best for long-term travellers or retirees as you can't pick and choose dates and destinations, so you need to have a lot of flexibility as to where you go and at what time of year. If you do have that freedom, it's a wonderful way to cut down your travel expenses, soak up some home comforts, and live like a local for a while. Trusted Housesitters is the best site for getting started with housesitting, as they have the highest number of listings.
I'm suspecting, though, that for most of you, you're not interested in the free accommodation and just want somewhere clean, safe, and affordable to rest your head each night. If that's the case, there are several options available for you.
The first of these are hostels. In Tanzania, you'll come across hostels all over the country, finding them on tiny islands, in large cities, and even in the national parks. They're one of your best options for saving money.
Hostels in Tanzania are on a par with the rest of Southeast Africa, and you can expect to spend around $10 a night for a dorm bed for a well-reviewed hostel in Tanzania, with the price increasing to slightly about $20 a night for the absolute best of the best.
When it comes to private rooms in hostels, you can expect to spend around $25 a night for a clean, basic room in a good location, so if you're travelling with friends or with your partner, you may find it cheaper to grab some privacy over settling for two beds in a dorm room. $40 a night will get you an exceptionally well-reviewed private room in a hostel or hotel.
I use HostelWorld to find the cheapest hostels, as they tend to have the greatest number of listings at the lowest prices.
And, of course, there are always hotels, which will usually come in at around $20-$50 a night for a decent, clean, mid-range property in a central location. I always use Booking, as they have the most accommodation options for the cheapest prices.
The Cost of Accommodation in Tanzania
When it comes to accommodations in Tanzania, even the budget-friendly options emit a feeling of luxury. There were some places I stayed in that offered amazing value at a fraction of what I would pay for a hotel of similar caliber in Canada.
Most quality, mid-range accommodations will cost you around $20-$50 a night. High-end stays can fall anywhere between $100-$200 a night, depending on location and amenities.
When it comes to going on a multiple-day safari, you're looking at (brace yourselves!) anywhere from $350 – $1,500 a night for private lodges or around $225 a night for camping. Bargains can be had, however, and I'll be sharing some of these later on in this guide.
When it comes to accommodation in Tanzania, I have a ton of recommendations for you.
Dar es Salaam — Cefa Hostel ($34 a night): You'll likely spend some time in Dar, the bustling urban metropolis and central landing city for incoming arrivals from abroad. Cefa Hostel is a comfortable launching pad to the rest of your time in Tanzania. The rooms are clean and comfortable, the wifi is strong (which is not always the case in Tanzania) and it's just steps away from the ocean. The owner is also incredibly welcoming and can help you with all of your onwards bookings, connect you with locals, and show you the Dar that she knows and loves.
Don't let the fact that it's a hostel put you off booking — it's a guesthouse, really, as there aren't any dorm rooms on the property, it's clean and quiet, and attracts couples on a mid-range budget.
Zanzibar — Demani Lodge Zanzibar ($20 a night): Zanzibar is a must (I repeat a must!) during your time in Tanzania. This semi-autonomous island is probably what you envision when you have dreams of being in paradise. I was lucky enough to travel to Zanzibar a couple of times during my year in Tanzania, and my favourite place to stay was Demani Lodge in Page. The lodge itself is beautiful. There's a ton of cozy places to sit, a pool to lounge by, and beautiful landscaping. Not to mention, you're right across the street from the glorious Page beaches! I can't recommend it highly enough.
Mwanza — Malaika Beach Resort ($135 a night): Here's the thing. I lived in Mwanza, so I never had to stay anywhere else besides the room I rented out. But word gets around fast and I quickly learned that Malaika is THE place to be on Sundays because of their infamous Sunday buffet brunch. I fondly remember many Sundays spent here, eating the delicious food then spending the afternoon by the infinity pool with stunning views of Lake Victoria. Friends let me know the rooms are also immaculate and well worth the extra spend during your time in Mwanza.
Moshi — Kilimanjaro White House Hotel ($34 a night): If you're trekking up Mount Kilimanjaro, then you'll be spending some time in Moshi before and after. I'd recommend staying at Kilimanjaro White House Hotel. For starters, it's nearly at the foot of Mount Kilimanjaro, so you can get some close-up views of this mighty mountain. But beyond that, the service is amazing and the staff make you feel right at home. Even if you have an early morning check-out, they'll arrange your breakfast for the road!
Arusha — Mrimba Palm Hotel ($38 a night): Arusha is likely going to be a stop during your Tanzania trip. With superstar attractions like Serengeti National Park, Arusha National Park, and Lake Manyara nearby, why wouldn't it be!? Mrimba Palm Hotel is the perfect place to stay. It's a quiet and friendly place and the rooms are large and clean. The food is reasonably priced and a tasty breakfast is included. But it's the staff that will help you with anything from getting a SIM card or going to the closest ATM.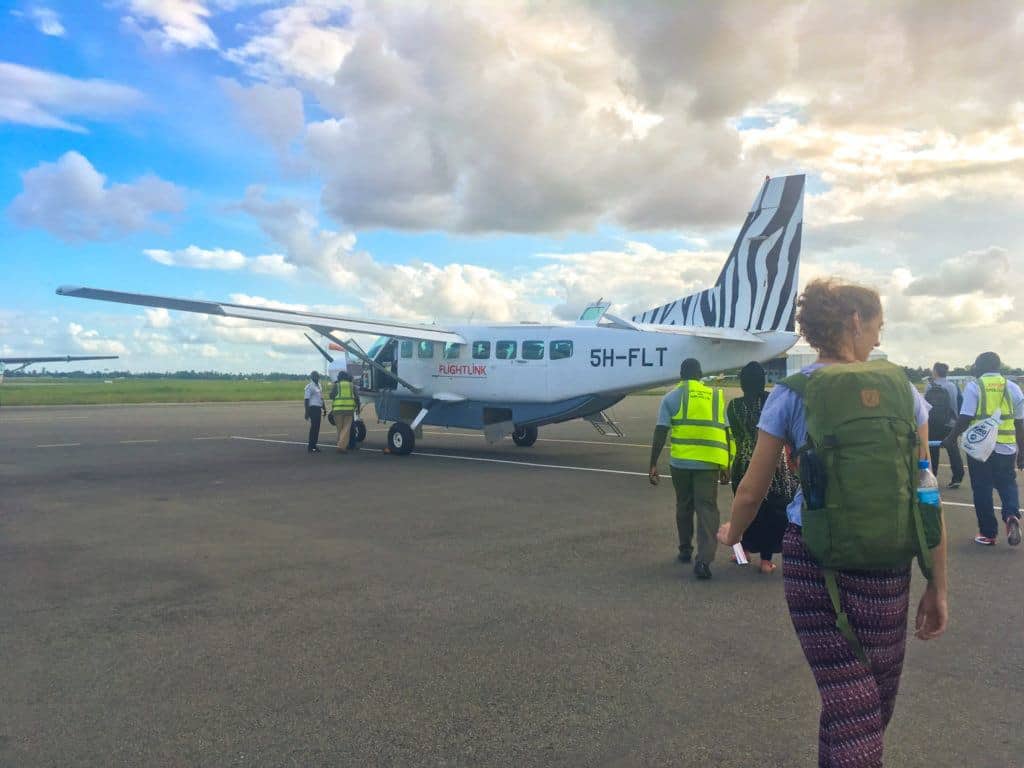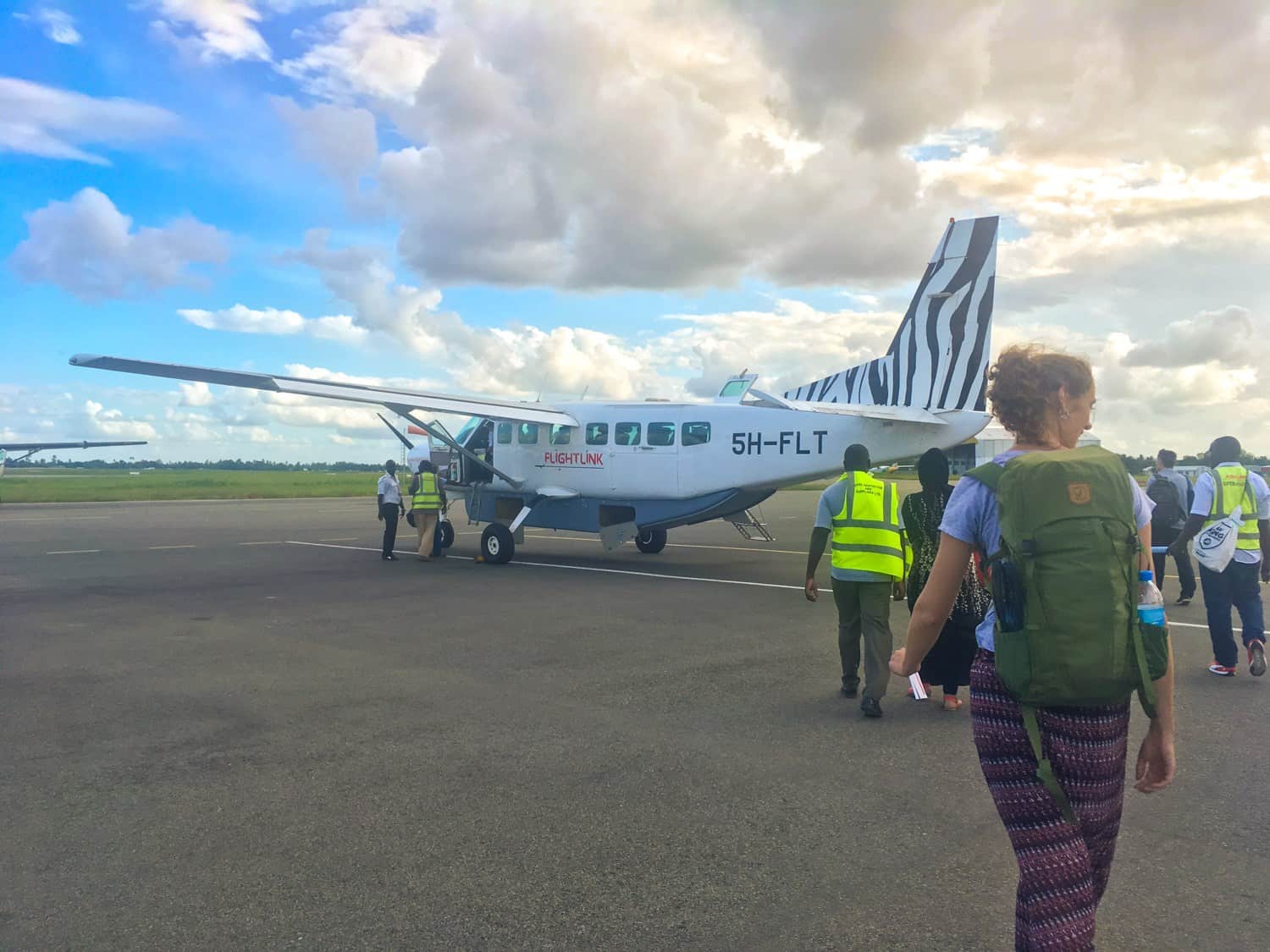 The Cost of Transportation in Tanzania
Transportation around Tanzania can be quite affordable, if you're up for a little adventure. I had firsthand experience of all the below transportation methods and I took the most pleasure from taking dala dalas and boda bodas.
Dala dala (minibuses) — You'll see dala dalas everywhere in Tanzania. These are minibuses that you share with anywhere from 8 to 16 people (there's no such thing as a limit in Tanzania). If they can squeeze one more person or animal in, they will. The great thing about dala dalas is their affordability and accessibility. They come and go from stops quite frequently and it only costs 25 cents or 400 TZS for a one-way journey within a city.
Boda bodas (motorcycle taxis) — Taking a Boda Boda may seem daunting and intimidating at first. Of course, don't take one if you're not comfortable, but these are a fast and cheap way to get around. Not to mention, it's very thrilling to be on the back of a motorbike just to get from point A to point B. But I would only recommend taking a boda boda when the driver has a second helmet for you to use.
You also might need some basic Swahili and negotiating skills if you're a foreigner taking a boda boda, because there's no official price scheme. That being said, talk to someone at your accommodations about what the general rate is for locals in the area and try to approach a boda boda driver with confidence. When I lived in Mwanza, I generally paid only 80 cents to $1.30 or 2000 – 3000 TZS to get around on a boda boda. And knowing some Swahili gave me the confidence to negotiate fair prices.
Taxi — Taxis are an easy and safe way to get around in Tanzania. Though it's important to note that taxis aren't very budget-friendly and you should strive to use taxis that are recommended to you by an official tour guide or accommodation staff member. If I ever took a taxi while living in Tanzania, it was recommended to me by someone I trusted. Usually an average taxi drive in the city costs between $8.60 and $17.21 or 20,000 – 40,000 TZS.
Plane — City transportation is one thing, but when it comes to getting around the country, that's a whole other story. While there are several long-haul bus rides available, these can get quite lengthy and unpredictable. If you only have a short time in Tanzania, I would recommend taking flights to travel from one part to another, especially considering they're still relatively budget-friendly. Here are some of the routes and their respective prices from Skyscanner:
Dar es Salaam to Moshi — $71 or 165,000 TZS
Dar es Salaam to Zanzibar — $35 or 81,000 TZS
Dar es Salaam to Arusha — $66 or 153,000 TZS
Moshi to Mwanza — $58 or 134,000 TZS
Ferry — If you plan on going to Zanzibar (how could you not?), then you have a choice between taking a flight or a ferry. I found the ferry between Zanzibar and Dar es Salaam to be pretty decent and comfortable. Four ferries leave in each direction per day and it takes around 2 hours. One way costs $35 or 104,000 TZS.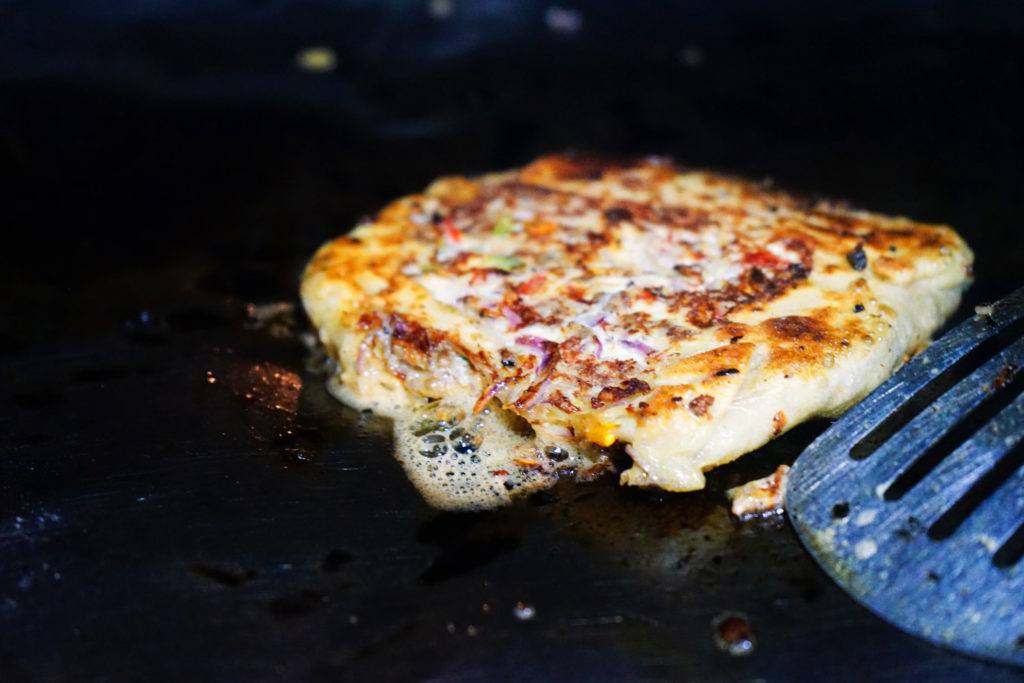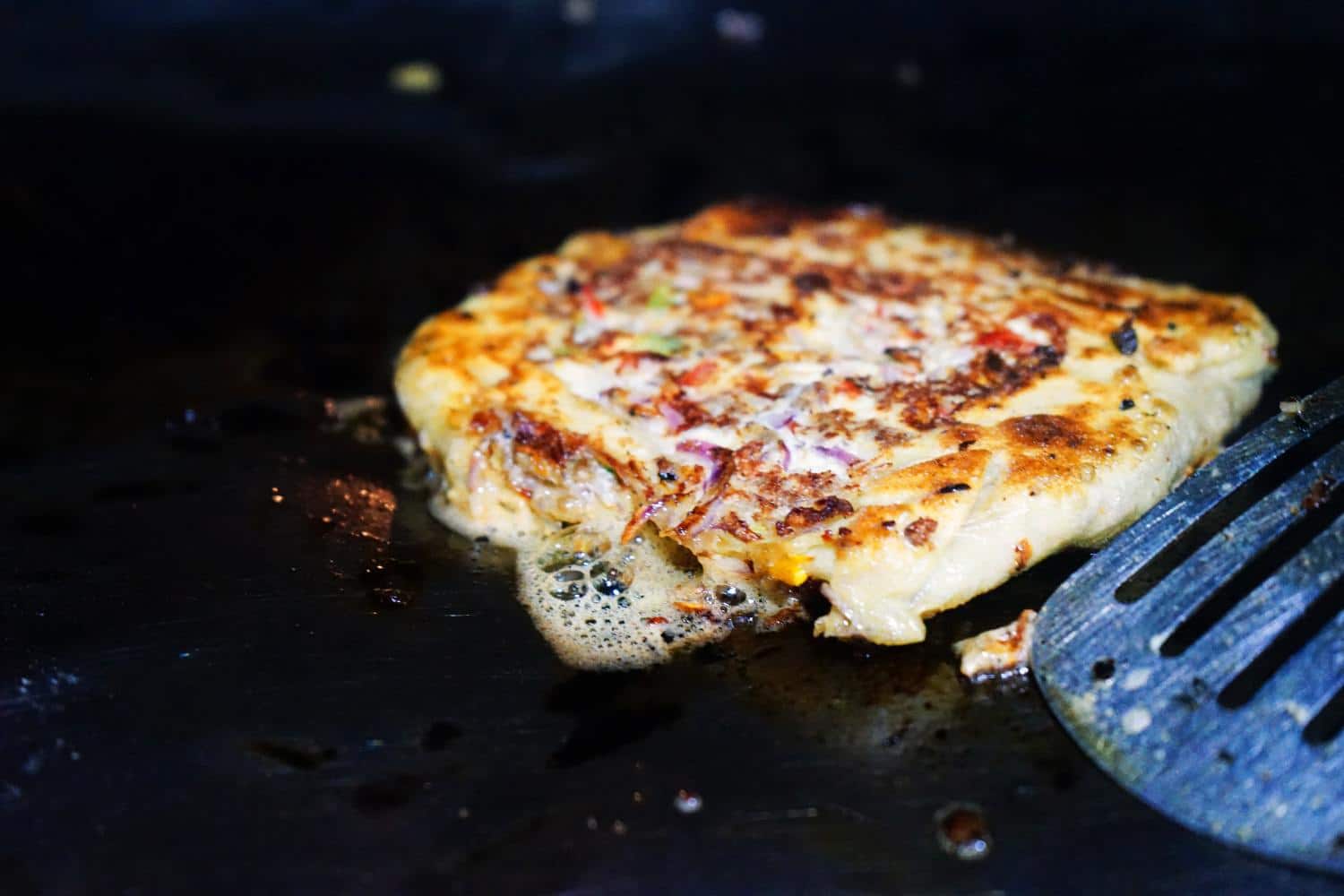 The Cost of Food in Tanzania
One of the best parts of living in Tanzania was how much access I had to fresh fruit and vegetables at low costs. Whenever I went to the local market, it was pretty obvious that whatever I saw was from the crop of that day or week. And when avocados cost around $0.17 or a juicy mango costs $0.13, I question my decision to leave once I'm confronted with hefty prices at the grocery stores in Canada.
I categorize food in Tanzania in one of two areas: local food and western food. You can expect local food, whether it's sold on the street or at a small restaurant, to be very affordable.
Some typical Tanzanian dishes include: ugali (cornmeal paste), mshikaki (marinated beef), chips mayai (egg mixed with fries), nyama choma (grilled meat), pilau (rice mixed with spices) or rice and beans. All of these dishes, whether combined or alone will cost you around $1 – $3 (2300 – 7000 TZS). Therefore, eating only local food can cost you as low as $5 per day.
If you're eating at a more western restaurant or hotel, then be prepared to pay a reasonable price. But I'm letting you know ahead of time, it will feel like a punch in the gut once you're used to local food prices. For a typical western meal, you might pay about $15 – $20 (35,000 – 46,000 TZS) per person.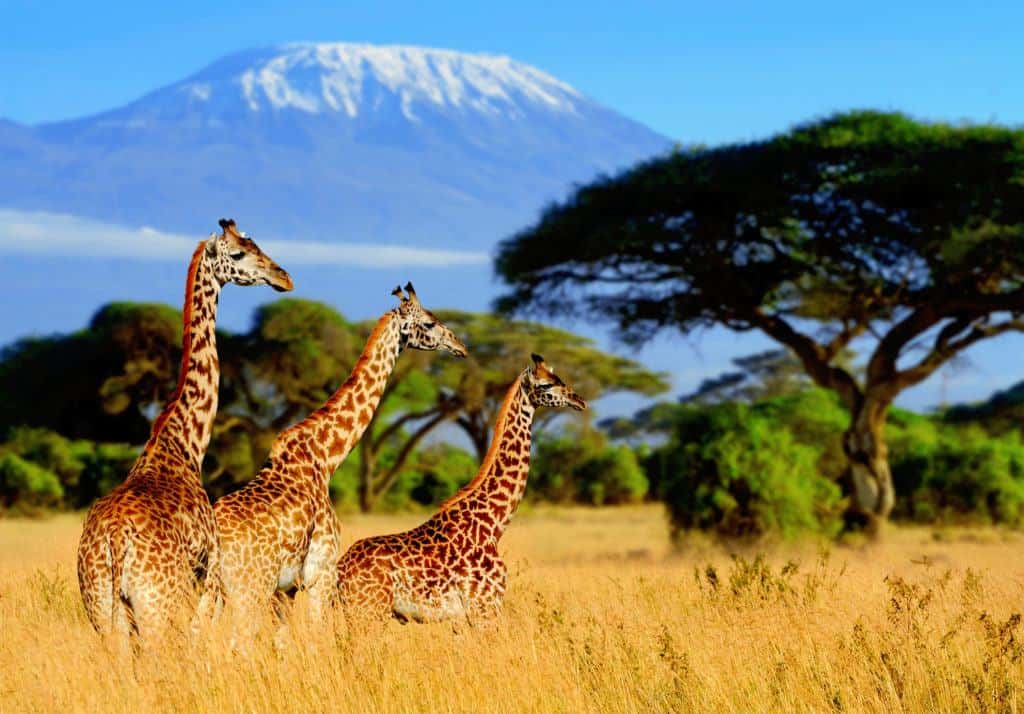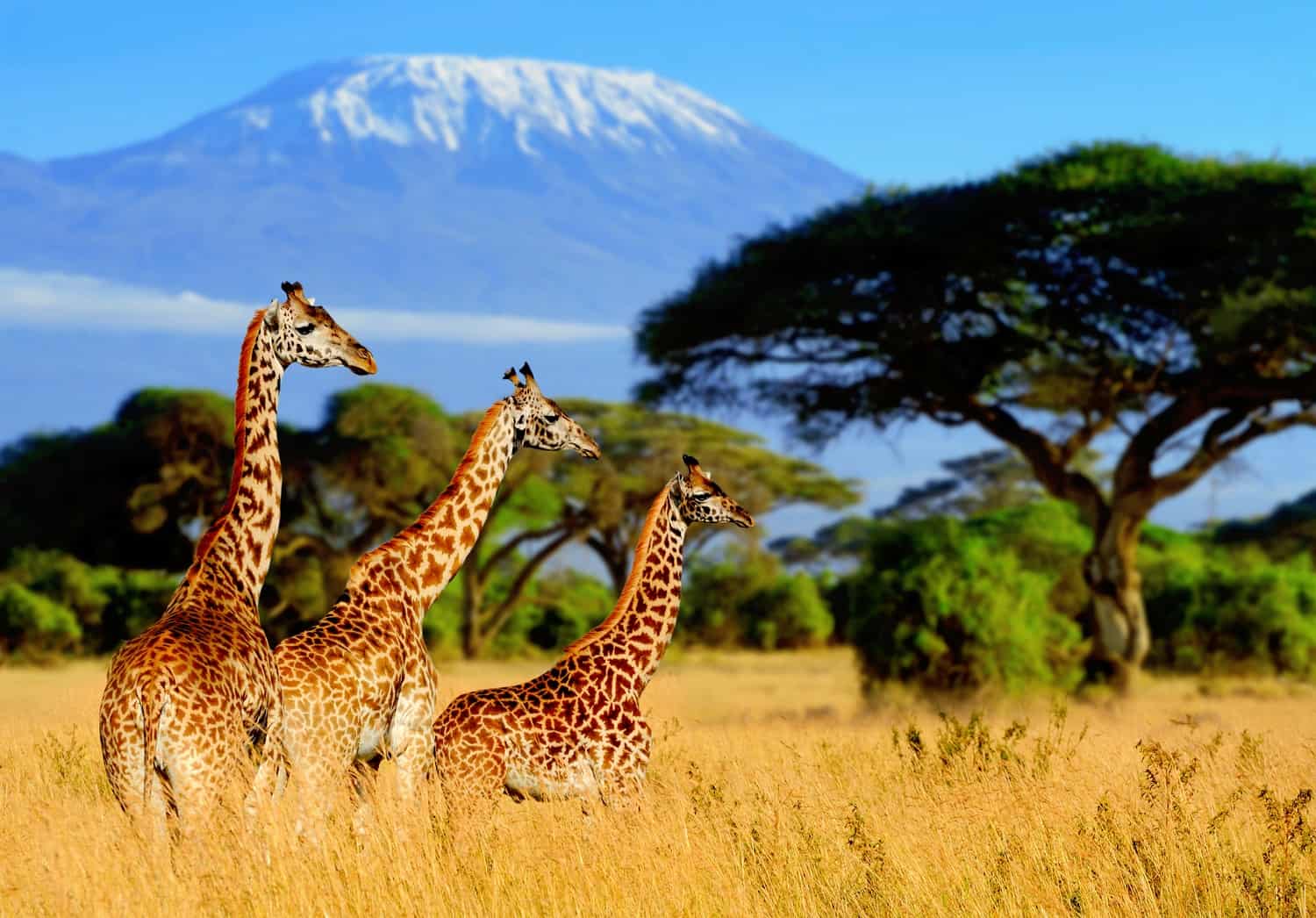 The Cost of Activities and Entrance Fees in Tanzania
Saving the best for last—the experiences are the best part of any trip to Tanzania. You have access to vast nature, incredible wildlife, some of the world's best beaches, and Africa's tallest mountain. It's understandable then why Tanzania is home to activities on many bucket lists.
Seeing animals in Serengeti National Park, climbing Mount Kilimanjaro and waking up in Zanzibar on New Year's Day, are among some of my favourite travel experiences of all time. Because climbing Mount Kilimanjaro might not be easy or accessible for everyone, I'd recommend a safari and Zanzibar excursion for everyone who visits Tanzania.
Luckily, you're spoiled for things to do in this stunning and welcoming country. There are plenty of gorgeous national parks, small day-hikes and places to explore. Every day feels like an adventure.
Below is a breakdown of some of the costs you might expect for the top attractions in Tanzania. Keep in mind that this mostly consists of just entrance fees. I included how much I paid for an all-inclusive safari and my Mount Kilimanjaro hike at the bottom, but your final prices might change depending on the companies you hire and the length of stay.
Additionally, when you go on a guided safari or tour, tipping is customary. For a safari, I would add around $15 extra per day and for a guided trek, I would add around $25 extra per day.
Serengeti National Park: $60 per person, per day
Lake Manyara, Tarangire and Arusha National Park: $45 per person, per day
Mount Kilimanjaro: $70 per person, per day
Gombe National Park: $100 per person, per day
9-day Mount Kilimanjaro Hike (Lemosho Route): $2,599 per person
2-day camping safari in Serengeti National Park: $500 per person
If you're like me, and love to make the most of your time, tours are a great way to experience a country. In particular, I recommend hopping over to Get Your Guide — a marketplace for tours that I've used over the world.
I took this spice tour in Zanzibar, for example, while I was on the island, and loved it so much that I wrote an entire blog post reviewing it.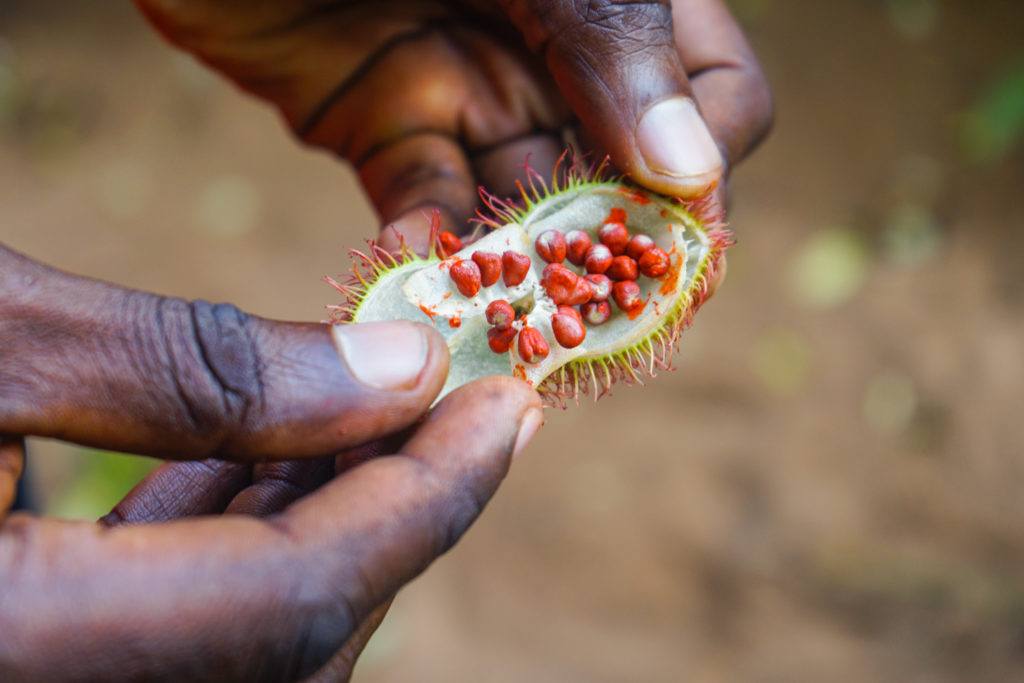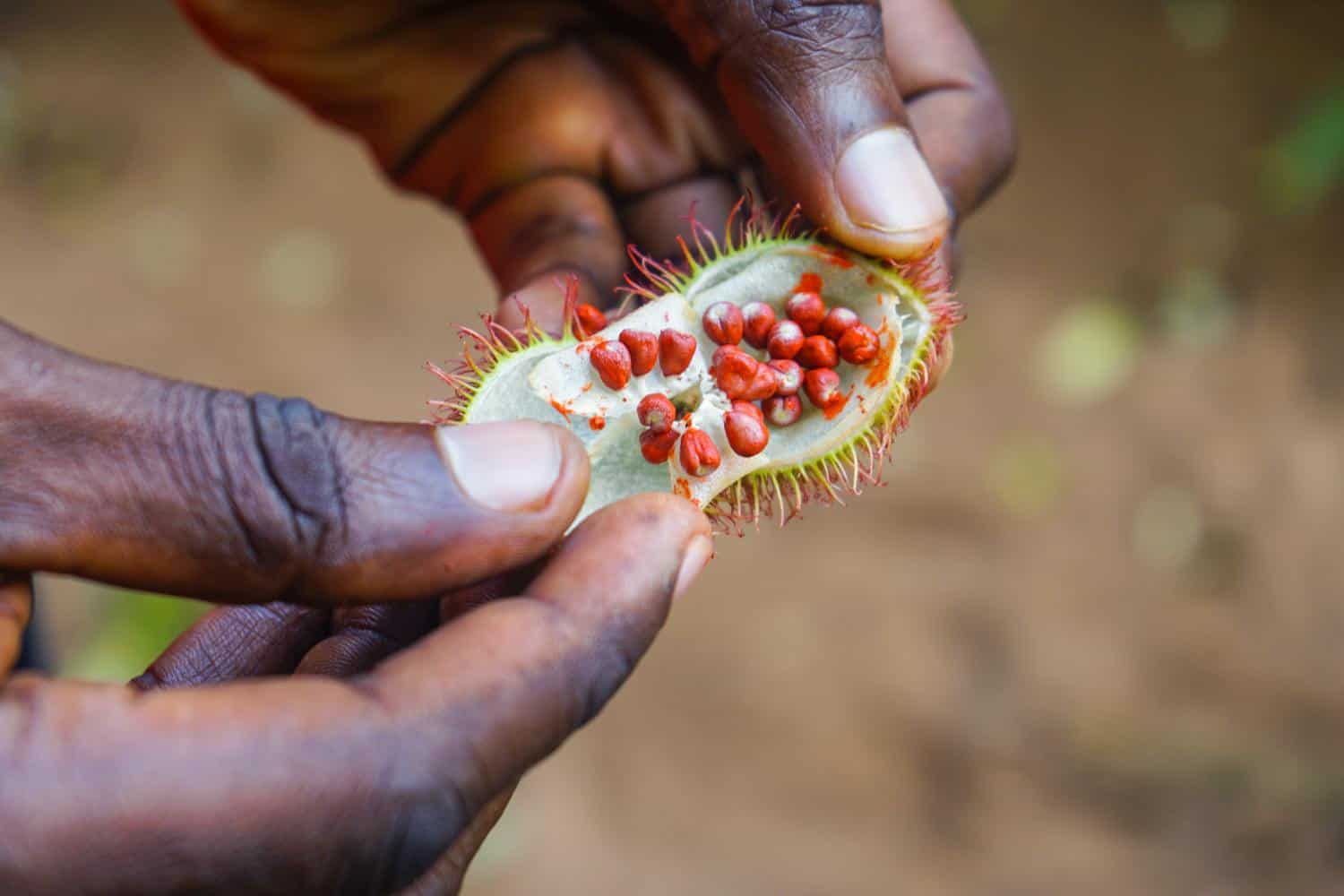 Miscellaneous Costs
Tanzanian SIM card: I don't know about you, but one of my least favourite aspects of arriving in a new country is having to figure out how to get connected. Specifically: buying a local SIM card so that I have data to use while I'm in the country.
There's locating a store that will sell you one, language barriers to deal with, various forms of ID you might need to bring, scams to navigate, and… well, it's a headache. In Zanzibar, I actually got scammed when I tried to buy a local SIM card! I ended up being charged five times the actual price by the store owner and didn't realise until after I'd left.
This year, I started using Airalo, which sells local e-SIM cards for travellers. What that means is that you can buy your SIM card online before you arrive in Tanzania, and then as soon as you land in the country, you can switch on your data and start using it. It's worked flawlessly for me and I'll never go back to physical SIM cards. You'll pay $5.50 for 1 GB of data or $20 for 10 GB in Tanzania, and can top-up on your phone through the Airalo app.
However, if you're on a tight budget and don't mind a bit of hassle, you can opt to save money by buying a SIM card from a local store. In Tanzania, I recommend getting a SIM card with Vodacom. The wifi connection isn't always great but data is super cheap this way. Even better, Vodacom has the widest coverage network in Tanzania and you can top up anywhere at a Vodacom booth in the country.
I paid $2.16 (5,000 TZS) for the sim card and $4.31 (10,000 TZS) for 10 GB of data per week. Not a bad deal at all!
The Cost of Travel Insurance in Tanzania
If you've read any other posts on Never Ending Footsteps, you'll know that I'm a great believer in travelling with travel insurance. I've seen far too many Go Fund Me campaigns from destitute backpackers that are unexpectedly stranded in a foreign country after a scooter accident/being attacked/breaking a leg with no way of getting home or paying for their healthcare. These costs can quickly land you with a six-figure bill to pay at the end of it.
In short, if you can't afford travel insurance, you can't afford to travel.
Travel insurance will cover you if your flight is cancelled and you need to book a new one, if your luggage gets lost and you need to replace your belongings, if you suddenly get struck down by appendicitis and have to be hospitalised, or discover a family member has died and you need to get home immediately. If you fall seriously ill, your insurance will cover the costs to fly you home to receive medical treatment.
I use SafetyWing as my travel insurance provider, and recommend them for trips to Tanzania. Firstly, they're one of the few companies out there who will actually cover you if you contract COVID-19. On top of that, they provide worldwide coverage, don't require you to have a return ticket, and even allow you to buy coverage after you've left home. If you're on a long-term trip, you can pay monthly instead of up-front, and can cancel at any time. Finally, they're more affordable than the competition, and have a clear, easy-to-understand pricing structure, which is always appreciated.
With SafetyWing, you'll pay $1.50 a day for travel insurance.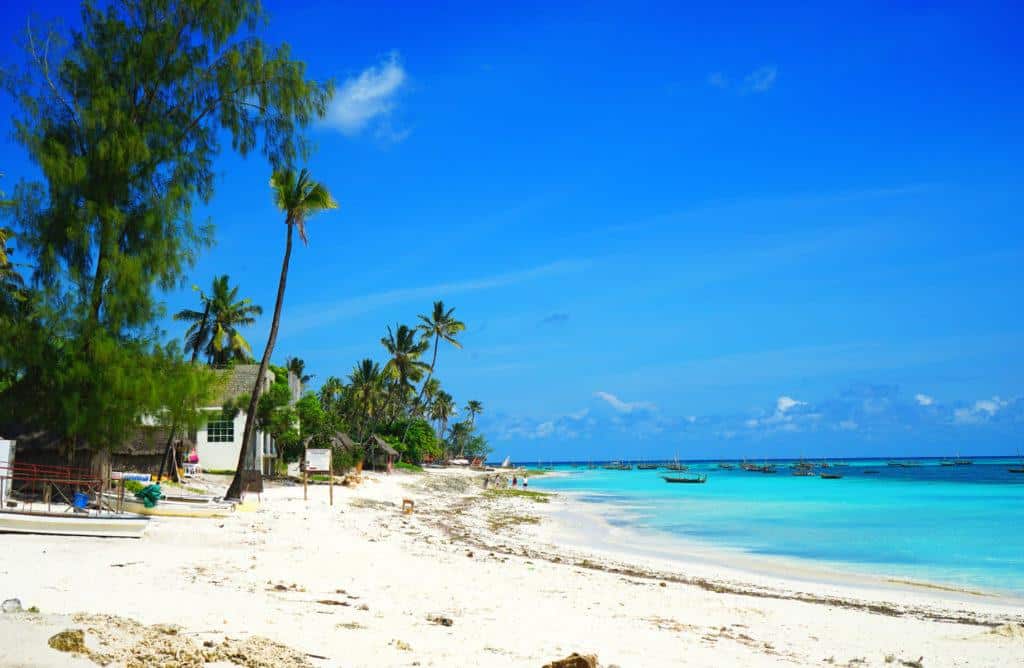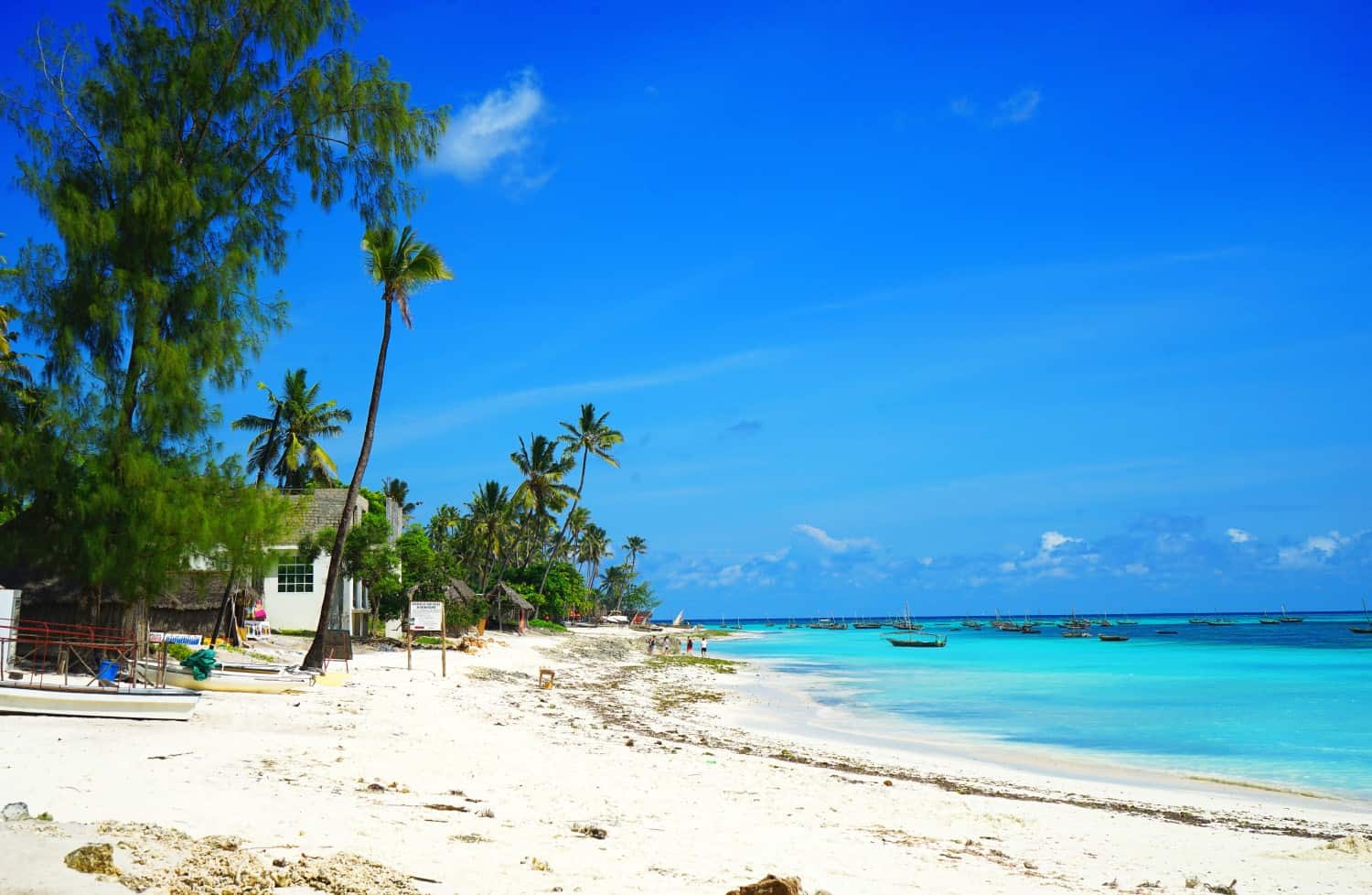 How Much Does it Cost to Travel in Tanzania?
It's time to tally up all of my expenses to see my total travel costs! For activities and entrance fees, I just included the bare minimum for an average day, as this price will vary greatly depending on the activities you choose to do.
Accommodation: $30 per day
Transportation: $10 per day
Food: $5 per day
Activities/Entrance Fees: $45 per day
Average amount spent in Tanzania: $90 a day!
Related Articles on Tanzania

🇹🇿 How to Visit Zanzibar on a Budget
🏝 22 Incredible Things to Do in Zanzibar, Tanzania
🌶 Why You Must Take a Spice Tour in Zanzibar
✈️ A Ridiculous Introduction to Travel in Tanzania
Author bio: Born and raised in Toronto, Lydia has found "home" throughout her travels around the world. She's a passionate storyteller and writer and you can usually find her dreaming about new adventures or having a deep conversation with a friend.
[Photo of the safari is via: Volodymyr Burdiak/Shutterstock]