At the top of the Oslo Fjord at the southern tip of Norway, Oslo is Norway's biggest county and capital city. It's not very often one gets urged to visit the city because it is often overshadowed by its stunning fjords and natural settings. Well, I'm here to change that.
Oslo is an incredible Scandinavian city, bursting at the seams with greenery, fun outdoor activities, exciting museums, and tons of excellent seafood. It's one of the fastest-growing capital cities on the continent, with an ultra-modern build of incredible contemporary architecture.
But this modern facade covers a long and fascinating history. Founded as a city at the end of the Viking Age in 1040, the city has been home to Vikings, Medieval communities, and still-reigning royals before it became the modern city it is today.
The city is clean, quiet, and overflowing with green spaces. While the capital is only home to around 700 thousand people (one of the smaller capitals in Europe), locals are friendly and welcoming and live an excellent quality of life.
With an international airport, a seaport, and major train stations, the city is a fantastic base to explore southern Norway and even branch into Sweden and Denmark. While it's certainly not the cheapest city on the bucket list, the incredible natural scenery, impressive architecture, and cleanliness will make up for it. There are also tons of free activities that you can do in the city that make it possible to travel without breaking the bank.
Norwegians love to spend time outdoors. Even in the midst of winter, when the sun only shines for a few hours each day, locals like to take advantage of the sunshine and spend time skiing, cross-country skiing, and hiking through snowy trails. That said, the city really comes alive in the summer, when some fantastic hiking and biking trails open up to the public, along with opportunities to swim, fish, waterski, and go boating.
In this article, I will look at how to spend three days in Oslo, Norway's capital and most diverse city. Continue reading if you're in the market for a relaxing yet exciting Scandinavian adventure!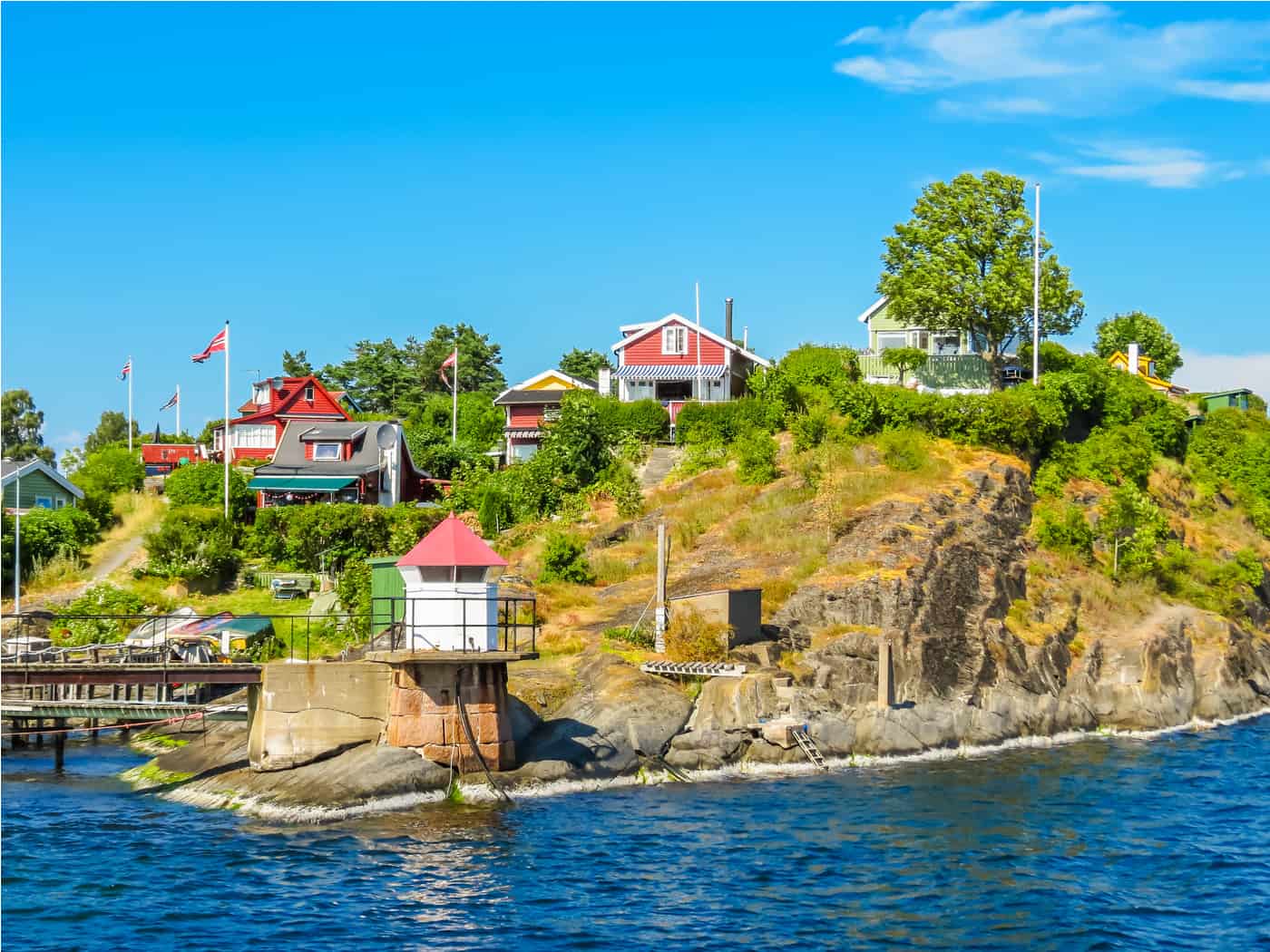 How Long Should I Spend in Oslo?
If you're wondering how many days to spend in Oslo, the capital of Norway is the perfect destination for a long weekend visit. It's small enough to explore the highlights of the city as well as its surroundings, dive into the city's historical background, and enjoy some of Norway's most pristine nature. 
With three days in Oslo, you could easily fit in all the major attractions without rushing around from destination to destination, all while waking up at a reasonable hour and enjoying a bunch of time to relax.
Conveniently, the city is super easy to walk around, with few hills and abundant pedestrian footpaths. Of course, Oslo also has an efficient public transport network that connects the inner city with just about any residential area you might want to visit during a short trip. This ease of getting around means you won't have to spend hours in transit from one attraction to the next and can make more of the little time you have in the city.
That being said, I highly advise following our efficient itinerary and making some changes according to what interests you most. Fitting in the best highlights of any capital city in three days can be overwhelming, so make sure you plan out your routes to ensure you don't skip out on anything important!
Day 1 – The City Center: Exploring Gamle Oslo and Sentrum
Whenever I visit a new city, my favorite thing to do is walk. Walking is one of the best ways to see the ins and outs of a city, passing by places and people you would otherwise miss if using public transport. This route runs through the entire center of the city, hitting all the classic landmarks and beginning and ending at two gorgeous spots to swim in the fjords.
The route begins at the Sorenga Waterfront on the city's eastern side. This area houses one of Oslo's best seawater pools, with clean and safe water perfect for a morning dip. Sorenga is a new neighborhood with a vibrant young community. The pool is open year-round, with saunas popular during winter, and cold water swimming is encouraged for summer dips when the weather is warm.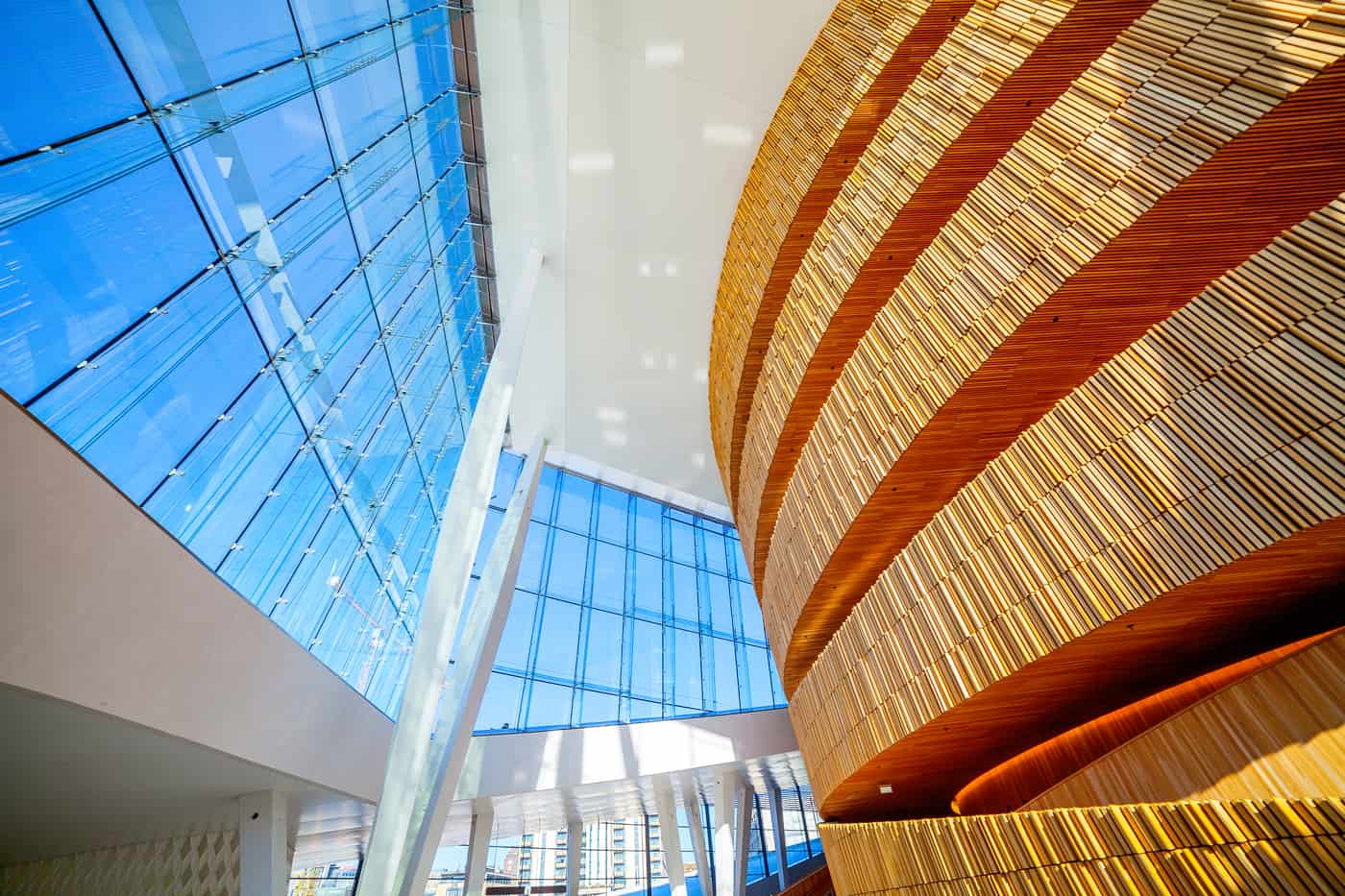 After a refreshing start to the day, enjoy a stroll through the lush Kongsgarden just around the corner, one of several medieval historical sites in the city. Just a ten-minute walk through the harbor, the Oslo Opera House is one of the city's most iconic modern architectural feats. With incredible glass walls, mirrored sides, and an angular concrete hill to climb, this gleaming building looks like an abstract boat emerging from the harbor. Wander around it and enjoy incredible city views from the slanted walkway.
Once you've marveled at ancient and modern Oslo, stroll seventeen minutes along the harbor to Vippa, a vibrant food court marketplace on the edge of the Oslo Fjord. The space allows farmers, producers, and chefs starting out in the field to sell their products to visitors, all while doing so sustainably. Grab a bite to eat and fuel up for a day of walking and exploring.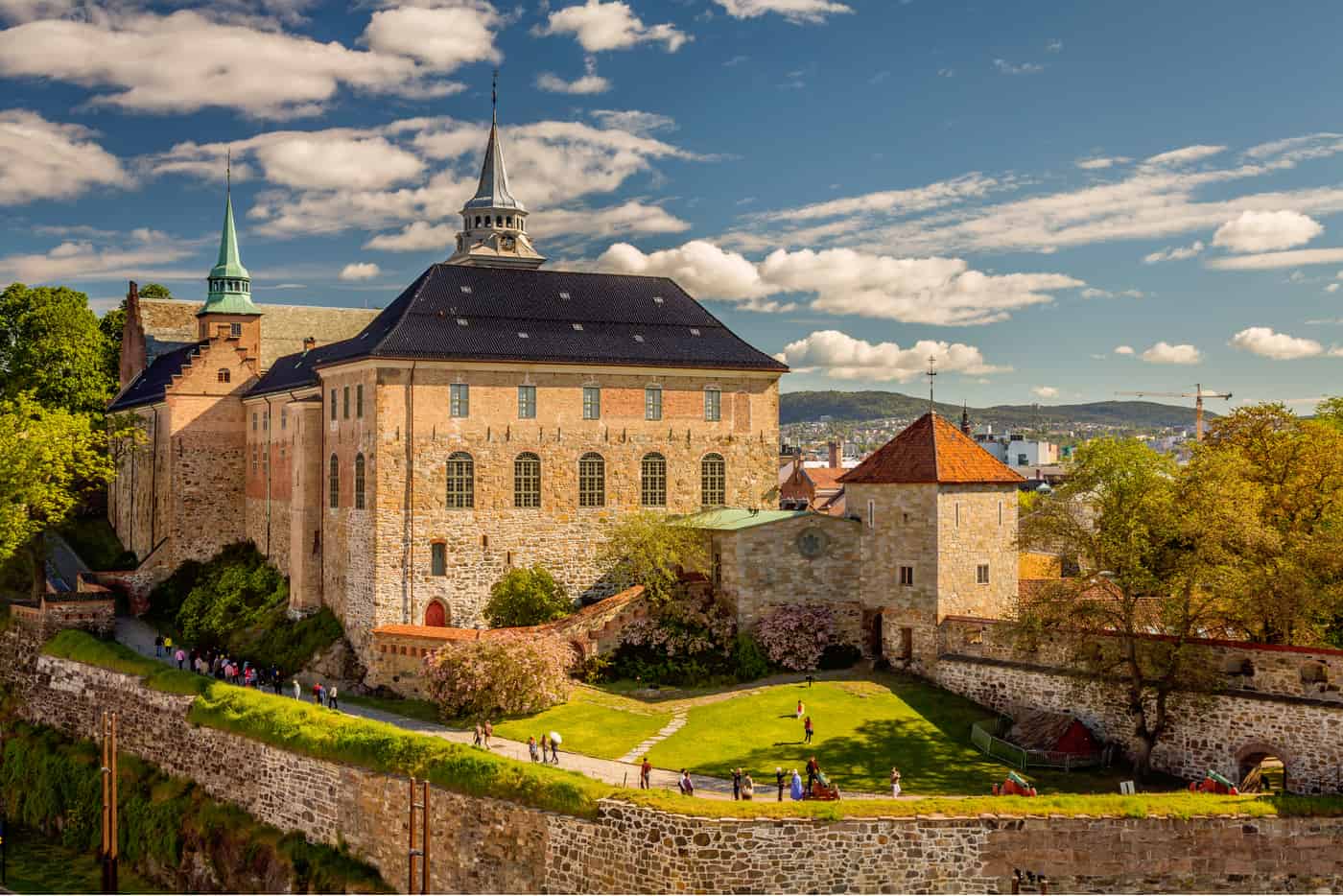 Next, it's an eleven-minute walk to Akershus Fortress, a medieval castle built in the 12th century to protect and provide a royal residence for the royals in the city. For a small fee, you can enter the fortress and tour the castle, but it is free to walk around the grounds.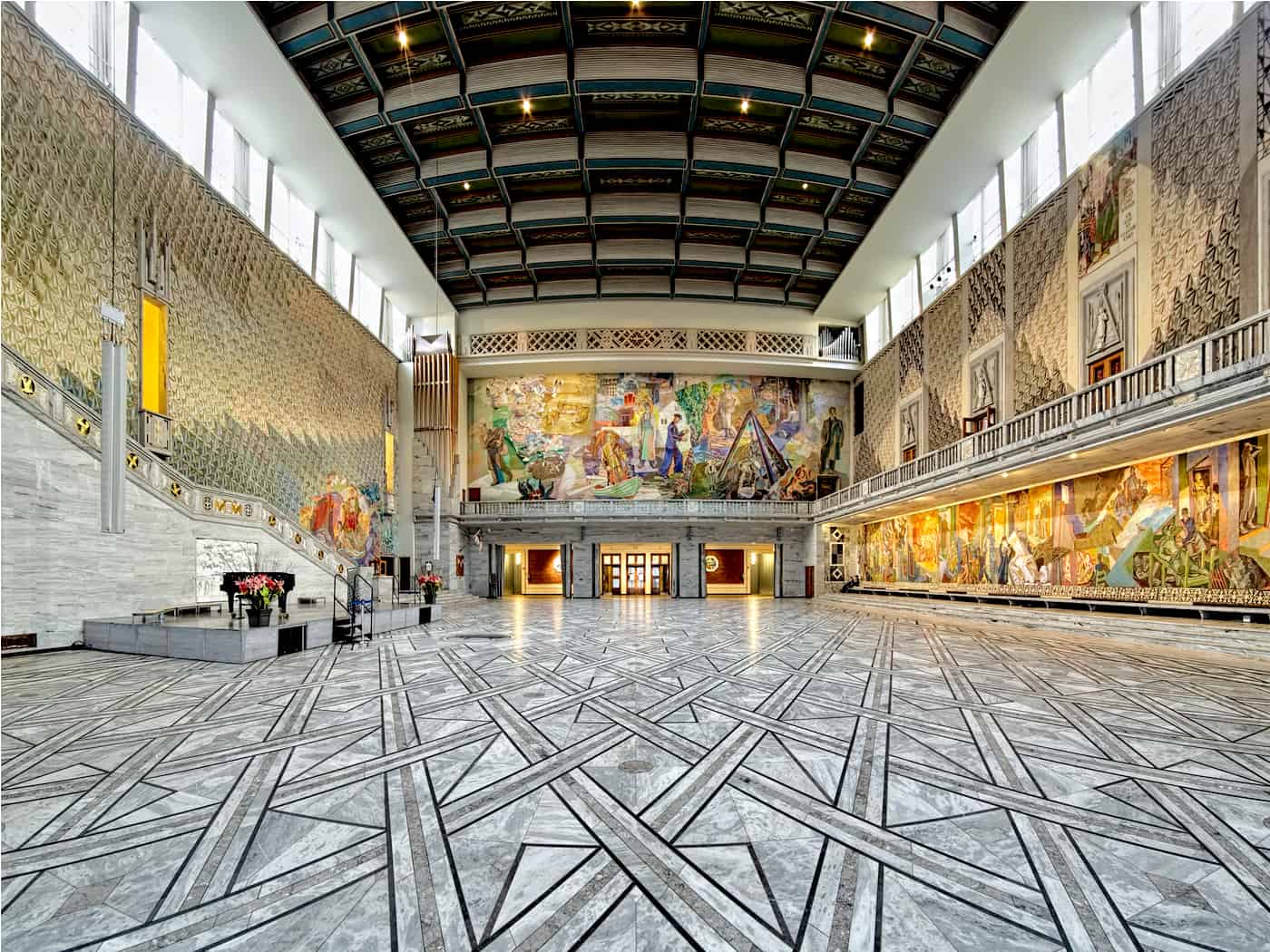 Walk along the harbor for another ten minutes, passing incredibly manicured flower beds along the way, to reach the Oslo City Hall (Radhuset). This iconic municipal building is the capital city council of the country and is the setting for the annual Nobel Peace Prize Ceremony. This stark modern structure was built during the Second World War.
Right beside this modern structure sits the Oslo National Theatre. As one of Norway's largest and most prominent venues for performing arts, you would be lucky to get a ticket to watch a performance in this incredible building that has been standing since 1899.
Next, enjoy a slow loop up and down Karl Johans Gate, arguably the most famous street in Oslo, ending by heading back up towards Oslo Cathedral and The Royal Palace. The road is lined with incredible restaurants, boutique stores, and brand-name shops, so even though the walk is only ten minutes, you could spend hours on this street.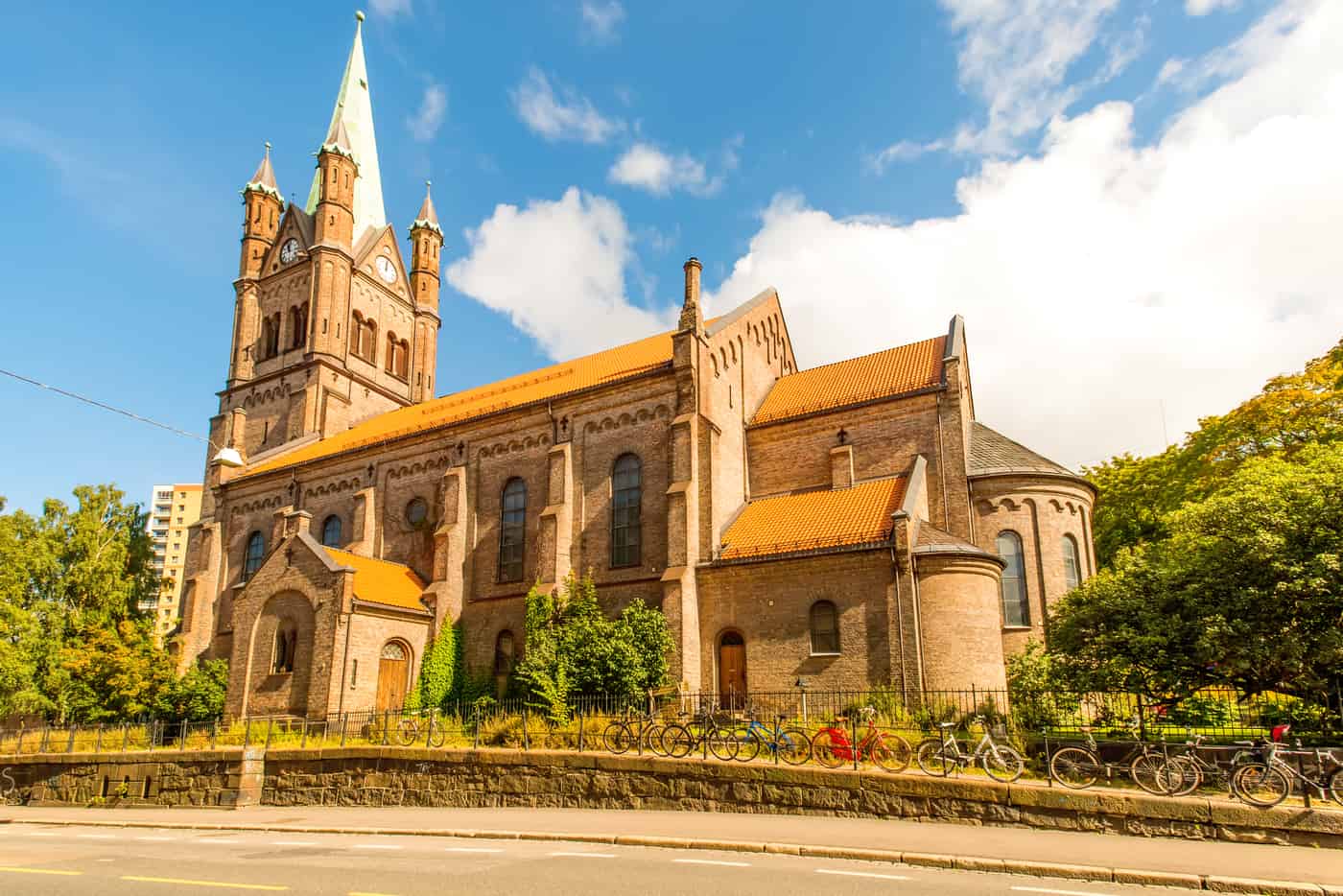 If you continue walking down the street, you'll run into the Oslo Cathedral, an impressive structure built by the King of Norway in the 12th century. The building was one of the most important places in the city for 500 years until a fire destroyed it in 1624. The current structure you see today was built in 1694 and was restored in the 1800s and 2000s.

At the end of Karl Johans Gate, end your walking tour at the iconic Royal Palace. Locally known as the Det Kongelige Slott in Norwegian, the palace is the current residence of the Norwegian royal family. It was built in the 1800s and is surrounded by manicured public parks and private gardens. It continues to be one of the country's most iconic symbols and is open to the public during the summer months.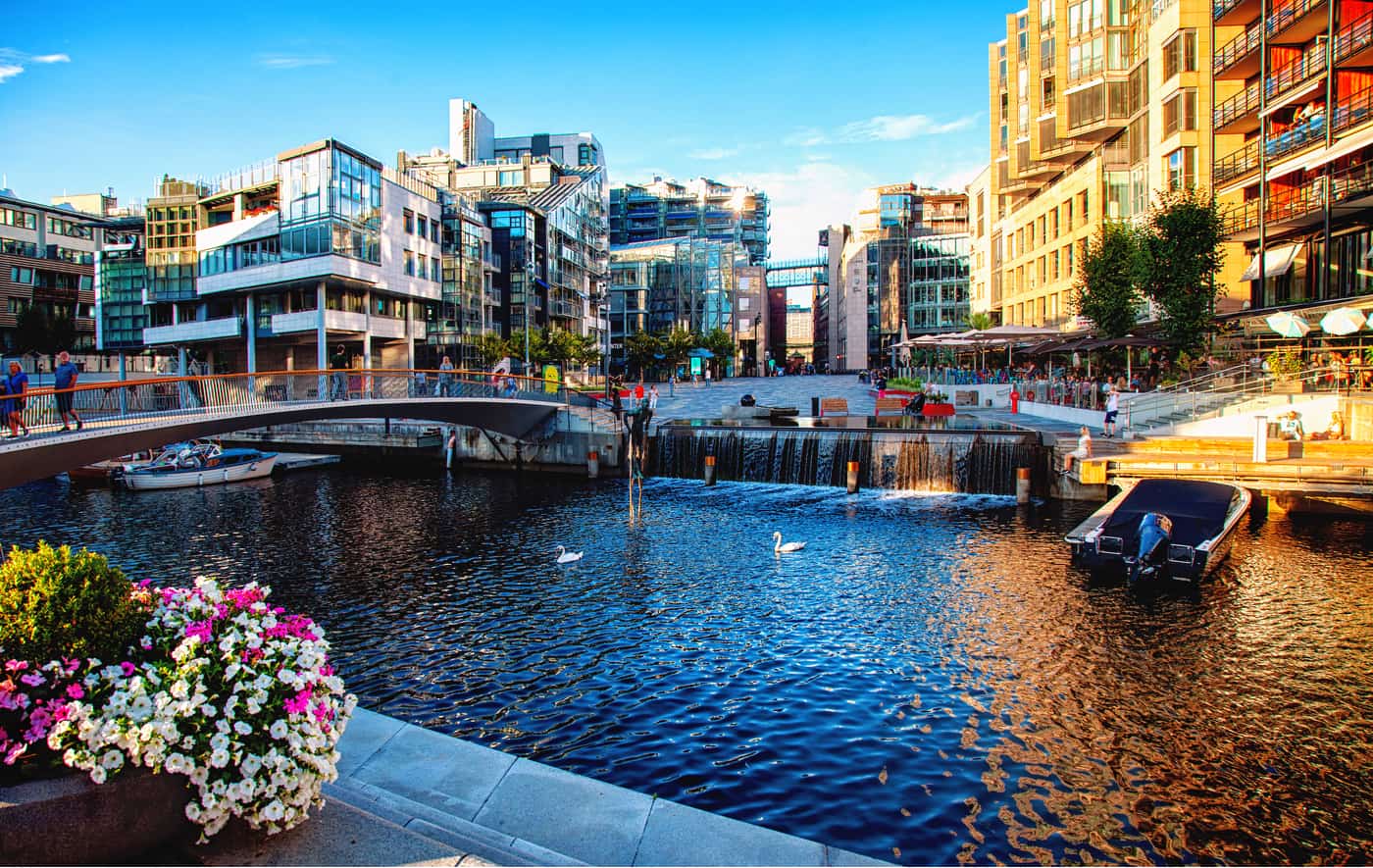 After a day out and about on your feet, end the day as you started it – with a dip in the waters of the Oslo fjord. Aker Brygge is a small commercial area along the water that houses many restaurants, cafes, and shops in a modern complex. If you continue walking down the dock, you'll pass over some incredible bridges, residential buildings, and the Astrup Fearnley Museum of Modern Art; which is well worth a browse if you have the time.
At the very end of the pavilion, there are a few artificial beaches and floating docks, usually dotted with locals sunning themselves during the warmer months. Enjoy an afternoon swim and a cold shower before heading to one of the fjord-side restaurants in Aker Brygge for a well-deserved meal. The Salmon is a great seafood restaurant known for its fresh Norwegian catch.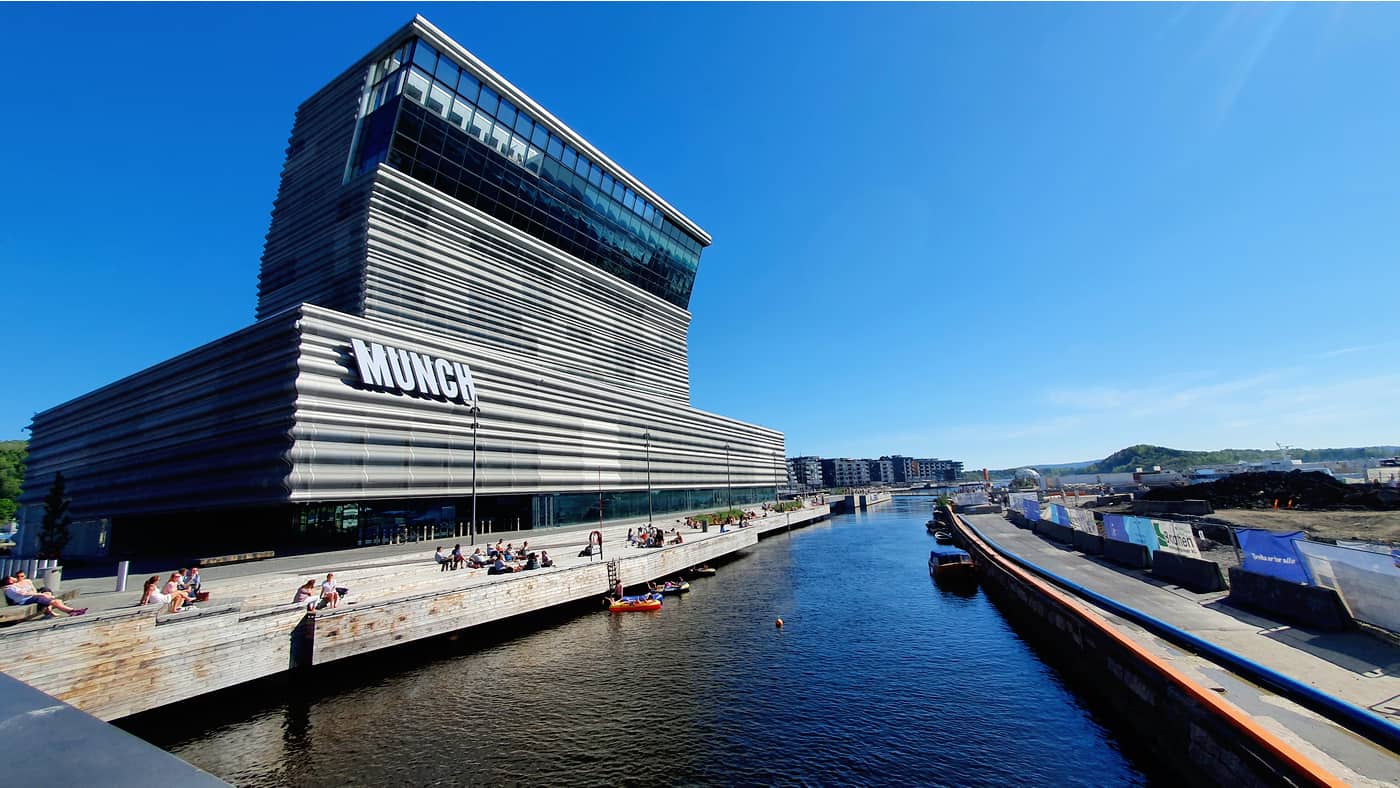 Day 2 – Art, Culture, and History: Oslo's Best Museums and Gardens
With a small taste of Olso's modern art the evening before, I hope you'll have wet your appetite for a much-needed day soaking in some of Oslo's art, culture, and history.
Start your second day in Oslo at the Munch Museum, an incredible modernist building in east Oslo, filled with thousands of works of art produced by the famous artist Edvard Munch, along with his private collection of tools, books, and art supplies. This museum is in the same waterfront area as the Opera House you would have visited the day before and is home to three versions of Munch's iconic 'The Scream'; a painting, a drawing, and a print.
While you're by the water, grab a bite to eat at BonBon Oslo, serving delicious crepes with savory and sweet fillings. It's a little pricy but well worth it for a tasty crepe outside in Oslo! The Vandelay is another excellent breakfast and brunch spot, serving classic dishes with streetside seating.
After a relaxing meal, take a twenty-minute bus journey up north to The Oslo Botanical Gardens and Natural History Museum / Botanisk Hage Naturhistorisk Museum (or walk the twenty-minute journey). Located in Toyen, this expansive botanical garden has manicured lawns and incredibly diverse local flora. Most of the area is designed as an Arboretum, with over 5500 different types of plants. The area is used as a recreational space for the city, so it is as popular with locals as it is with tourists. The Botanical Gardens are a living museum featuring two greenhouses and various themed gardens.
At the northern corner of the gardens, the Natural History Museum offers the chance to explore over 4.5 billion years of natural history, focusing on the Scandinavian region. If you're interested in geology and archeology, this museum could keep you occupied for hours.
Next on the agenda is a visit to the historical neighborhoods of Damstredet and Telthusbakken. Just over a mile walk from the Botanical Gardens, the journey should take at most 25 minutes whether you walk or use public transport. Damstredet and Telthusbakken are two picturesque cobblestone streets lined with wooden houses built in the first half of the 19th century. Well preserved and still inhabited today, walking in this area is a sure way to make you feel like you've taken a step back in time.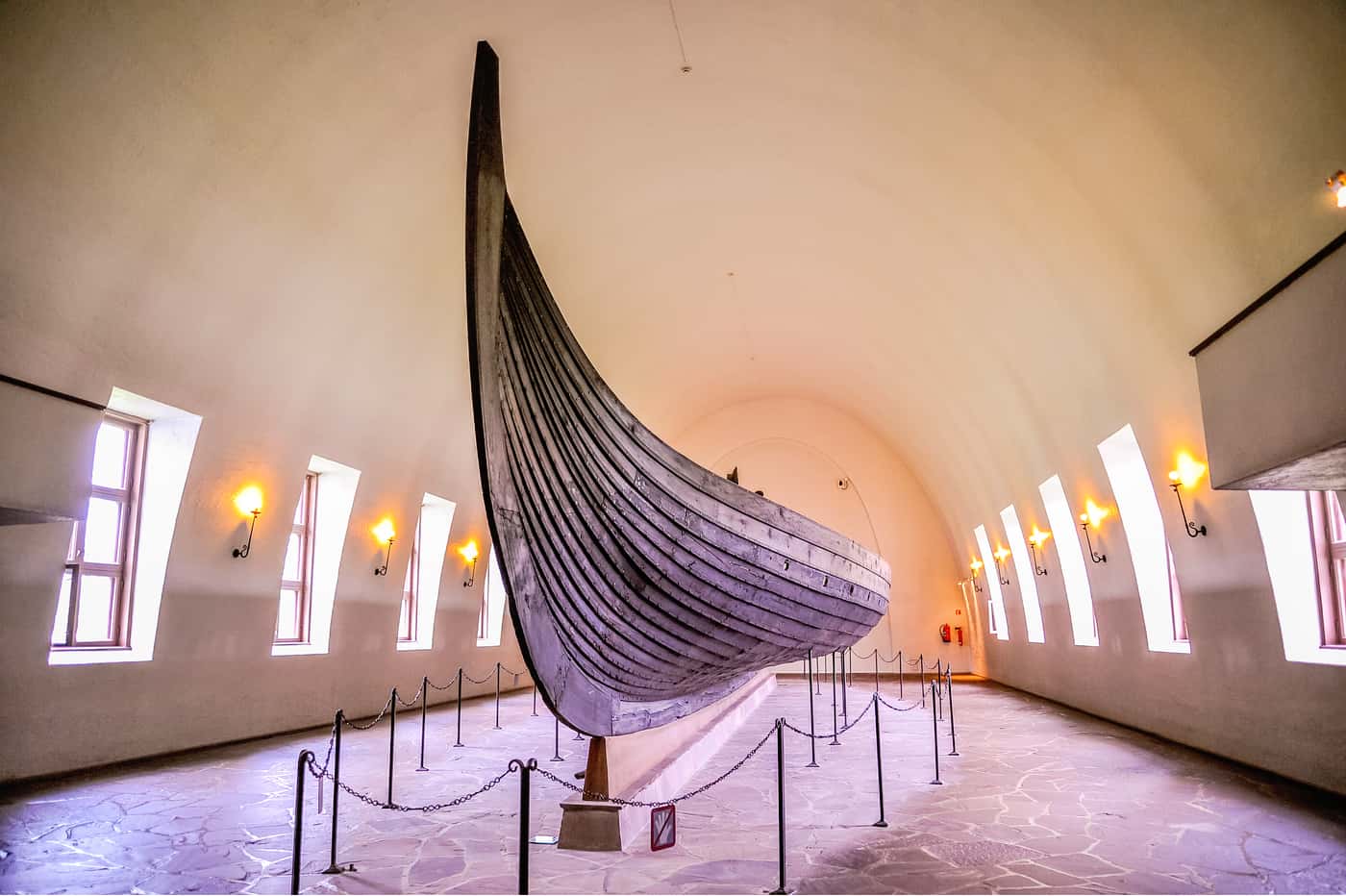 Taking a journey even further back in time, a trip to Oslo wouldn't be complete without visiting the Viking Ship Museum. Just 30 minutes away by public transport, the Viking Ship Museum sits on a peninsula called Bygdoy, just across the fjord from Oslo Sentrum. This museum houses three of the best-preserved Viking ships in the world. Take note that the museum is closed for renovation until 2025/2026.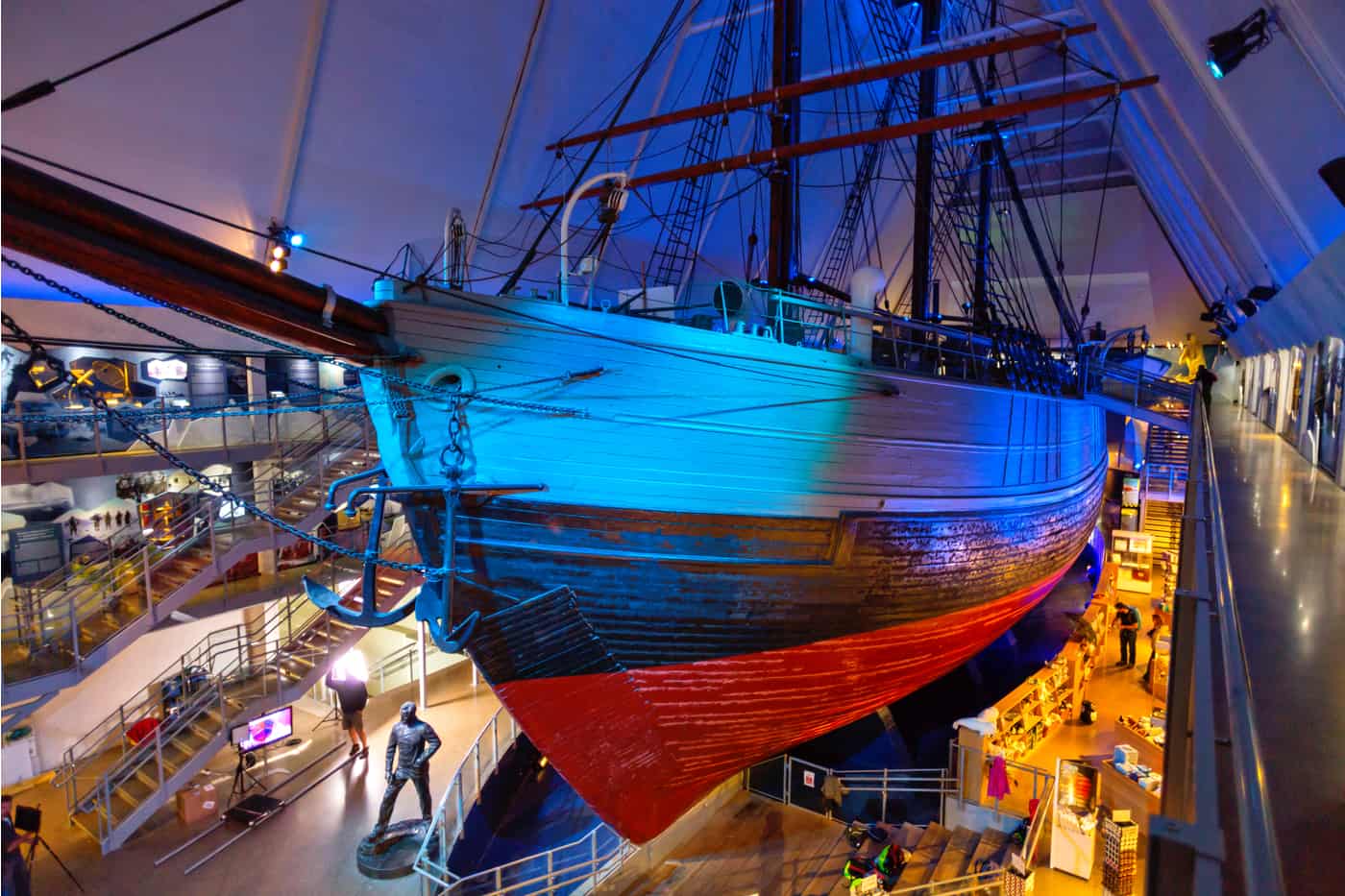 But don't worry; there are many more museums to visit if you're visiting before 2026. A short walk away on the same peninsula, The Fram Museum might just be the most exciting museum in Oslo. This museum houses the original expedition ship used to explore the Arctic and Antarctic by famous Norwegian explorers during the Heroic Age. The child-friendly museum uses interactive technology to make you feel like you are on board the original vessel.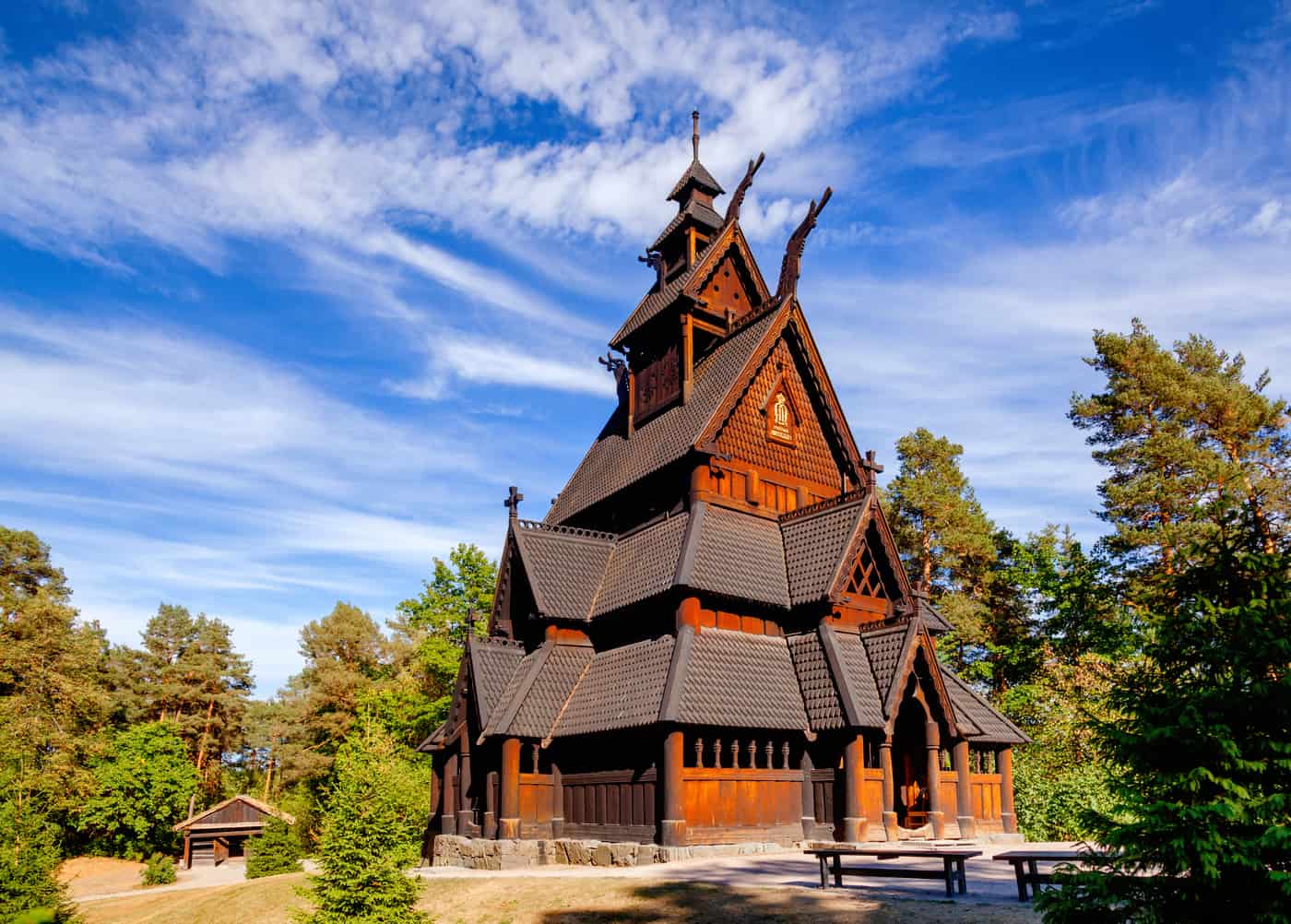 Your final museum for the trip, the Norwegian Museum of Cultural History, or Norske Folkemuseum (about one mile away), depicts how Norwegian people have been living from the 16th century up until today. The open-air museum includes 160 historic buildings surrounded by lush foliage, showing what life is like in different regions in Norway. From cities to mountains, it's one of the most incredible museums to enjoy a taste of life in Norway centuries ago.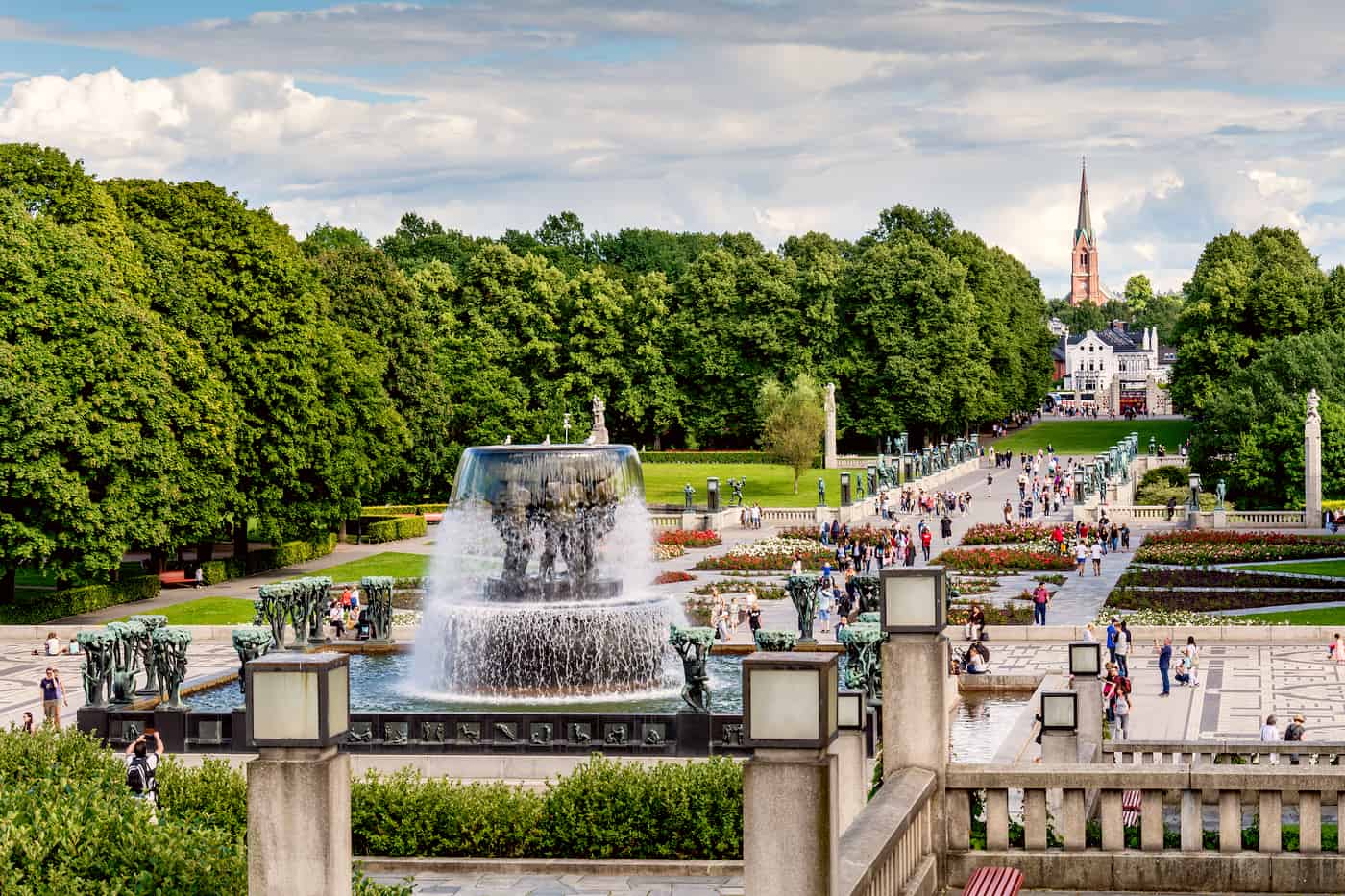 Day 3 – A Day in Nature: From Vigeland Park to the Oslo Fjords
Day three calls for a bit of relaxation and nature therapy. Start your day in west Oslo at the famous Frogner Park. Oslo's equivalent of Central Park, this incredible park features incredible rose gardens, color-coordinated flower beds, lush lawns, and impressive fountains where one can enjoy a light stroll or lay around on the grass.
Inside Frogner Park, Vigeland Sculpture Park is an incredible park packed with over 200 sculptures by Gustav Vigeland. These bronze, granite, and cast iron sculptures are an icon of the city, and Vigeland Sculpture Park is currently the largest sculpture park by one single artist.
After a morning in the park, I recommend taking advantage of the gorgeous location and enjoying the natural scenery of the Oslo fjord. Hovedoya Island is the closest island to Oslo city, located just a seventeen-minute ferry ride from the port at Aker Brygge. There are plenty of ferries and boat tours that can bring you to and from the island year-round.
The island is home to incredible forests, beaches, and cultural sites, which will make you feel a million miles from the hustle of the city center. There are two popular beaches on the west of the island, while inland is best for hiking. Part of the island is protected as a nature reserve.
On the island's northern part, you can visit the ruins of a Cistercian monastery built in 1147. In the same area, a couple of cannon batteries made by Norway's army in 1808 stand tall and strong.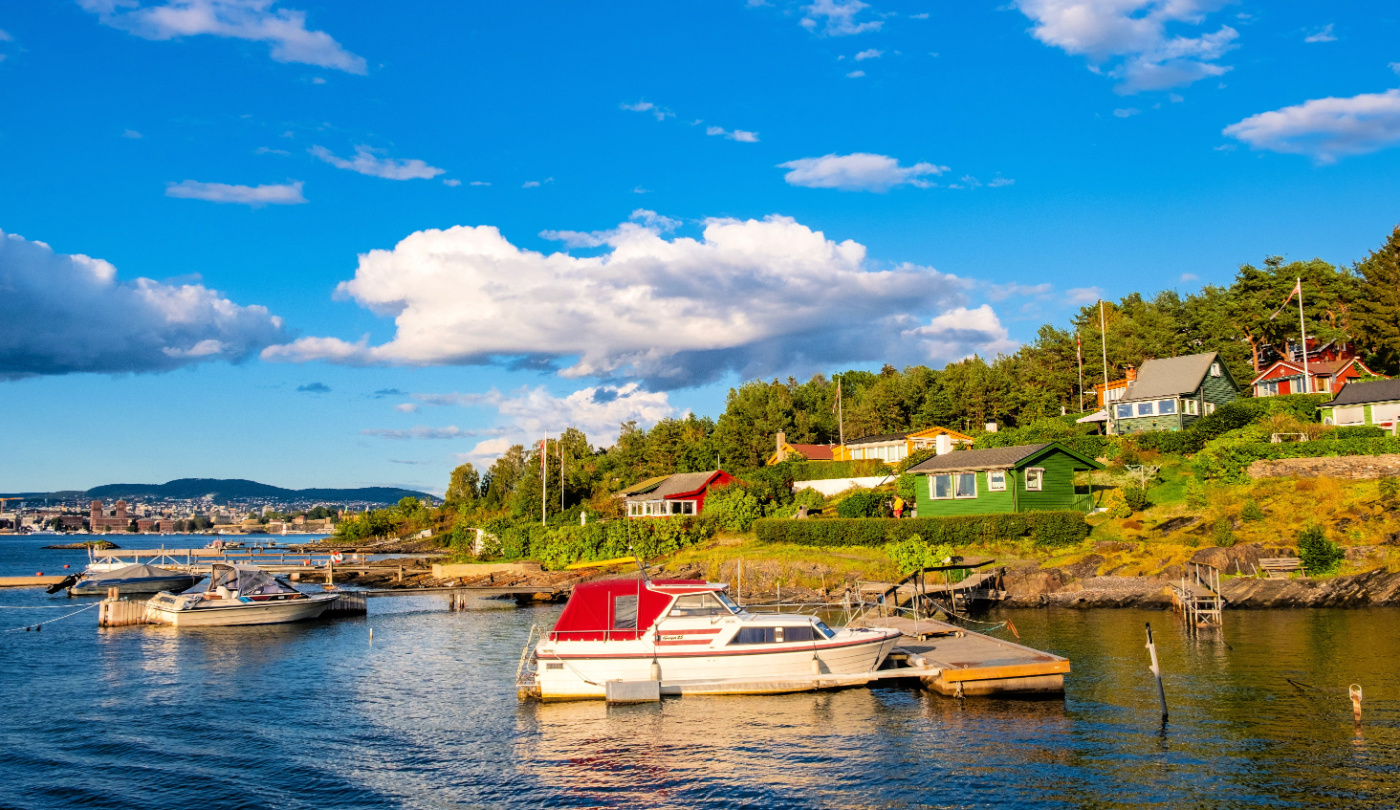 The next island, Lindoya, is another stunning fjord island worth visiting. It will take you about 20 minutes to travel by ferry from Aker Brygge, transiting through Hovedoya on the way. The idyllic island is home to around 300 summer cottages, owned mainly by locals, painted a classic red, yellow, green, and white. The island looks like something out of a postcard, with picture-perfect traditional wooden cottages overlooking the ocean.
The beauty of this holiday island is that there isn't much to do here. Other than swimming in the pristine water or enjoying boating activities, the island has a football field and a small kiosk shop in the center of the island. Similarly to Hovedoya Island, the northern part of the island is preserved as a park.
If you feel like a guided tour might suit you best, this Oslo Fjord Sightseeing Cruise on an Electric Boat cruises past all the major attractions along the waterfront that you would have already visited on days one and two of your adventure. It's a great way to see the city from a different perspective.
By the time you return to mainland Oslo, I have no doubt you'll be peckish for a tasty meal. Your most convenient option would be to grab a bite at one of the waterfront restaurants on Aker Brygge. Olivia Aker Brygge serves up delicious and affordable Italian food, while Pastis Bistrobar beside it is one of the area's top modern French restaurants. Although slightly busy with tourists during the summer months, this remains one of the most beautiful places to watch the traditional Norwegian sailboats docked alongside the Oslo fjord.
What to Know Before you Go
Where to Stay for Three Days in Oslo
If you only have three days in Oslo, I highly recommend finding a place to stay in the center of town. Luckily enough, the city is so small and compact that even staying outside the city center means you won't be too far from the heart of Oslo.
Your best bet would be to find a hotel, Airbnb, or guesthouse in Sentrum or Gamle Oslo, two of the busiest parts of town.
Camillas Hus is a boutique hotel in the center of Oslo Frogner. Located just above the Royal Palace and Gardens, this hotel is just a short walk to the beautiful Homansbyen high street lined with shops and restaurants and just a short walk or tram ride from the harbor and other main attractions in the city.
Set in a historic converted home, each room is beautifully designed with a blend of antique and bespoke modern interiors, with warm wallpapers, luxurious linens, and tons of natural light. All rooms come equipped with a desk, private bathroom, wardrobe, and tea and coffee facilities. Some even include a private balcony.
Wake up to the smell of freshly baked bread and breakfast pastries, which you can enjoy along with your a la carte breakfast each morning.
With such a cozy atmosphere and incredibly friendly and helpful staff, Camillas Hus is bound to make you feel right at home in Oslo.
The Best Time of Year to Visit Oslo
There's no doubt about it; the best time of year to visit Oslo is in the summer months, between June and August. During summer, the weather is warm, and the days are long – really, really long. The entire country comes alive during the summer when locals from other Scandinavian countries visit their holiday homes in Norway.
That being said, just like the Danish and Swedish visit to catch a break from the city, so do most Norweigian locals take a few weeks off to spend time in the Southern Oslo Fjords or further afield. This means that during school holidays, in particular, the city of Oslo is quiet, often populated with more tourists exploring the streets than locals.
Nevertheless, summer brings about tons of events and fun activities to do in Oslo when temperatures hover at a moderate 20 degrees celsius – not too hot, not too cold.
Norway's summer is very short, around three months, to be precise. So, make sure to book your accommodation well in advance to avoid losing out. Attractions begin to close up shop or limit their hours around late September or early October when the days are shorter. However, you will usually find more affordable flights and accommodations during shoulder tourist season.
Winter in Oslo is freezing cold and dark. With daylight only lasting a few hours each day. Even then, with most days being overcast, you can expect a lot of snow, rain, and cold temperatures. Of course, there are some exciting things to do in winter in and around Oslo, from skiing at the local ski resort to ice skating and dining in cozy restaurants. Accommodation is undoubtedly the cheapest during winter when few tourists journey to this northern Scandinavian city.
Getting Around Oslo
One of the things that make Oslo so great for a weekend visit is that it's super small and easy to get around. With most major attractions just a few short miles from one another, the city is relatively easy to explore on foot or bike.
Like any European capital city, Oslo has an efficient, safe, and reliable public transport network connecting all parts of the inner city to the surrounding suburbs. Tickets are priced by zone, and all buses, trams, trains, and undergrounds are included in one easy-to-use ticketing system.
Take heed: you need to scan into every bus, tram, or train you catch. If you try your luck traveling without a ticket, ticket patrols are common, and fines are hefty – don't risk it just because of the small fee!
If you're staying within the city center (which I recommend you do for a short trip), a one-way journey within Zone 1 costs around $3.75. Zone 1 includes the Oslo city center, while Zone 2 tickets can get you into Oslo's residential suburbs. A 24-hour Zone 1 ticket costs $11.30, while students and children under the age of 18 travel for discounted prices.
If you are staying in the outskirts of the city center in areas like Sandvika, Lillestrom, or Asker (only a short distance from the city), you will need to make use of a Zone 2 ticket to get into the city. A single ticket within Zone 2 costs $6.20, while a 24-hour pass will set you back $18.50
The easiest way to plan your trips is using the Ruter App on IOS or Android. Buying tickets using this app is the cheaper option, as riders are required to pay an additional fee of $2 to purchase a ticket on board the transportation.
Oslo is the central hub of transportation for the entire country. The city is home to Oslo Gardermoen International Airport (OSL), which services flights from within Norway, Europe, and across the globe.
Oslo Central Station (locally referred to as Oslo S) is the central railway station in Oslo and the largest in the country. The station services international and local trains that connect the city to all four corners of Europe by rail. It also includes a bus terminal that services express buses across Norway and into Scandinavia.
You can also catch an airport express train from this station, which is just a ten-minute sprint from the city and is operated by Flytoget. Local trains are operated by VY and are often cheaper than Flytoget, covering the same distance for a reduced fare.
Uber is available in Oslo, although this is the only city in the whole country where you will find an Uber. Taxis are abundant, and prices are similar to Uber.
Safety Advice
Oslo is easily one of the safer cities in Europe, if not the world. Although international crime figures label the city as extremely safe, there are a few less secure areas and neighborhoods where you should be extra careful, like in any big city.
With a high quality of living and low poverty rate, most of the crime experienced here is petty theft of an opportunistic nature. Regarding crime, the city is super safe to walk around at any time of the day. However, you should always be aware of your surroundings and take precautions when walking alone to avoid petty theft like pickpocketing or muggings.
There are also a few scams to look out for in Oslo:
The first is a common taxi scam, where taxi drivers pretend their meters are broken just to charge you an inflated price for your trip. When taking a cab, ensure the driver turns on the meter and that it works. I also advise opening out your own map of the journey to ensure you aren't taken on a whirlwind ride to make the trip longer and more expensive.
Second, if someone approaches you outside an ATM cash machine and mentions that they can help you 'avoid local bank fees,' they are not to be believed. Instead, these scammers will skim your card and watch for your PIN, only to duplicate your details and drain your account at a later stage. ALWAYS make sure you cover your hand when putting in your PIN.
While not so common, there have been reports of locals distracting tourists by throwing bird poop on you, offering to help you clean up your shirt while pickpocketing you in the process. Another pickpocketing scam is known as the 'Guessing Game Scam,' where a busker on the side of the street will distract passers-by with an intriguing guessing game while their accomplice pickpockets innocent bystanders in the crowd.
The best way to avoid these scams is to keep your personal belongings close to you, especially in crowded areas.