Cordoba is a bit of an underrated gem as Spanish cities go. It's not as frequented as Madrid, the nation's buzzing capital at the very center of the country, nor as popular as Barcelona, the frenetic cultural heartland where Gaudi's stupendous architecture jostles a fabulous set of Mediterranean beaches for prominence.
Ask someone where they plan to visit in southern Spain and they'll probably talk about trips to the monumental castle and cathedral of Seville, or the expansive Alhambra palace complex of Granada. At best, Cordoba might be an afterthought.
While we don't want to take anything away from all the other Spanish spots – in fact, we absolutely love them – Cordoba is its own unique experience. For one thing, it feels a lot more intimate, like a neighborhood more than an actual city. Wandering through the pedestrianized streets in the old town, it all just seems so cozy and welcoming and small. Part of that illusion is down to the fact that most of the main sights are packed into an area that would take less than half an hour to traverse if you marched across at a brisk pace.
This impression of diminutiveness doesn't mean that there aren't hugely impressive things to see. The Mosque-Cathedral of Cordoba alone is worth the trip, as it's one of the most unexpectedly amazing religious edifices we've ever seen, fusing Islamic and Christian aesthetics into a cross-cultural marvel.
On balmy spring and summer days, the city's numerous plant-encrusted patios make for enchanting spots to while away afternoons sipping upon cooling beverages. For more adventurous pursuits, on the other hand, there are centuries-old relics to clamber over further out into the suburbs.
Cordoba may not have something for everyone, but what it does have is 100% worth seeing.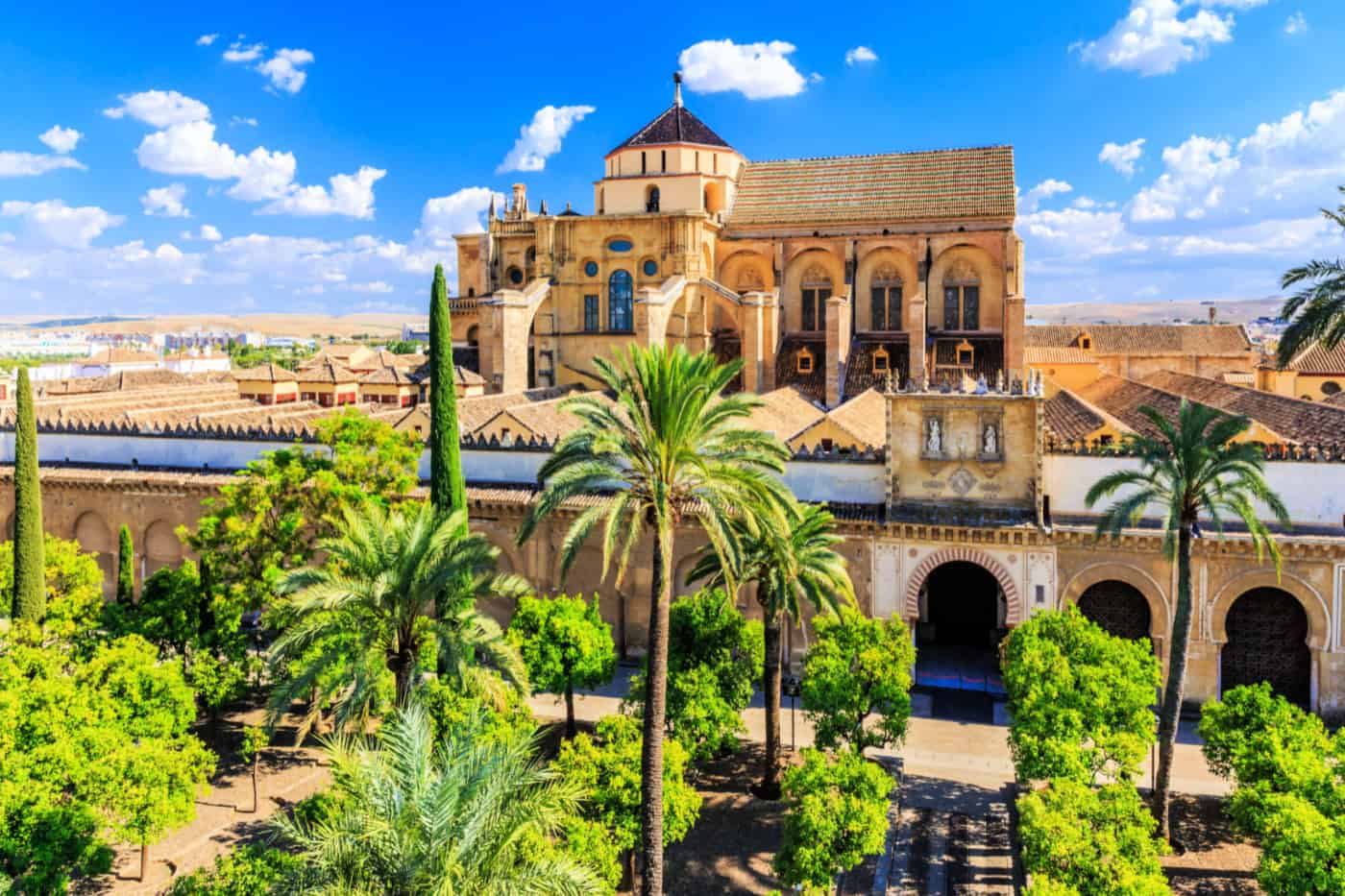 How Many Days to Spend in Cordoba
A long weekend or three days is really the perfect amount of time to spend in Cordoba. Due to the proximity of all the major points of interest to one another, you could arguably squeeze most of the city proper's attractions into 24 hours, but it would be a rather frenzied affair.
We certainly enjoyed having plenty of downtime to relax in shaded patios or buzzing plazas with a glass of tinto de verano, the Cordovan version of sangria made from red wine and lemon soda.
The Mosque-Cathedral on its own can easily take up half a day and is a lot to absorb, which is why it's best paired with some leisurely street explorations of the Jewish Quarter.
Use the second day to see the rest of the city, including some of the most important Gothic and Renaissance palaces and churches.
Finally, experience the local transportation network with a trip out of town to the ruins of the former caliphal city of Medina Azahara, before storming the battlements of the ominous Castillo Almodovar del Rio.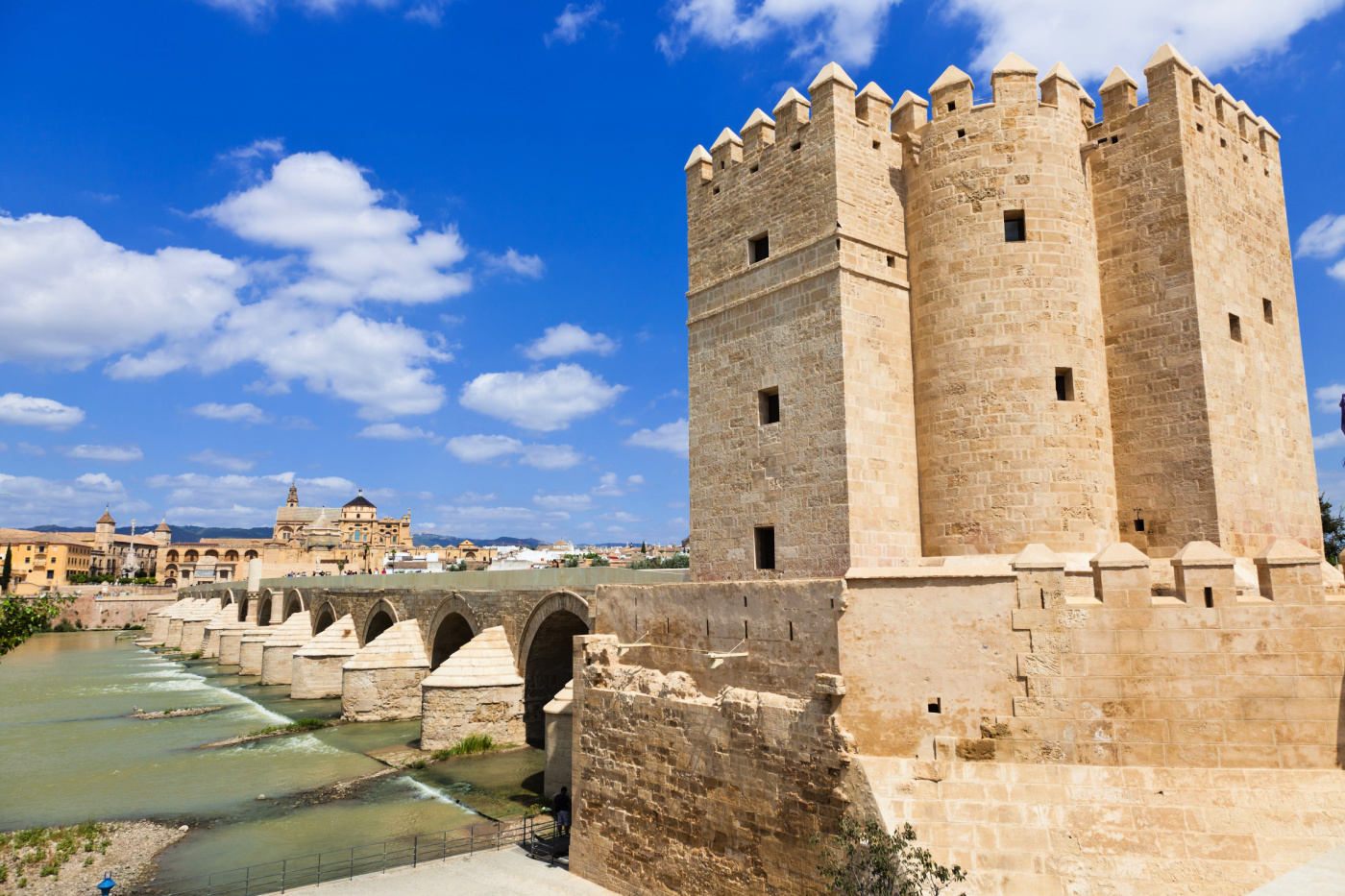 Day One: A Mixture of Muslim, Christian and Jewish Heritage
Founded in the 2nd century BC by the Romans, Cordoba is a city that has been built up cultural layer by cultural layer. It's not unusual to visit a site and read a plaque that claims a site was originally a Roman temple, then a Visigoth church, before being supplanted by an Islamic mosque, which in turn was converted into a Christian house of worship.
A good example of this is the Puente Romano (Roman Bridge), where we're going to start our Cordoba itinerary. Providing a way to ford the Guadalquivir River, this stone structure derives its name from the fact that the Ancient Romans built a crossing here more than 2,000 years.
None of this original bridge remains, of course, though some of the oldest parts that you can still see today do stem back to the Renaissance. Most of the so-called Roman Bridge, however, is actually not so much BC ancient as 21st-cenutry modern – it was extensively renovated between 2006 and 2008.
Despite the long history behind the construction, we'd be lying if we said it was on our list of the most beautiful or romantic bridges we've ever seen, mainly because up close so much of it looks like it was built yesterday. Still, the triangular cutwaters at the base of the bridge arches are an interesting feature.
And yes, in the right light, it has its charm, which is what attracts lovers to come canoodling upon its walls at sunset. Plus, Game of Thrones fans might be interested to know it served as the filming location for the Bridge of Volantis (with a little CGI magic to make it a touch more impressive, of course).
The Roman Bridge makes for a good place to orient yourself. At the southern end, you'll see the Torre De Calahorra (Calahorra Tower), which houses a nice little museum that recreates the Cordoba as it was around 1000 AD, complete with several dioramas and an explanation of how adherents of the three principal Abrahamic religions lived side by side.
The main attraction, though, is the view from the top of the tower, which gives you a glimpse of Old Cordoba and, in particular, the Mosque-Cathedral.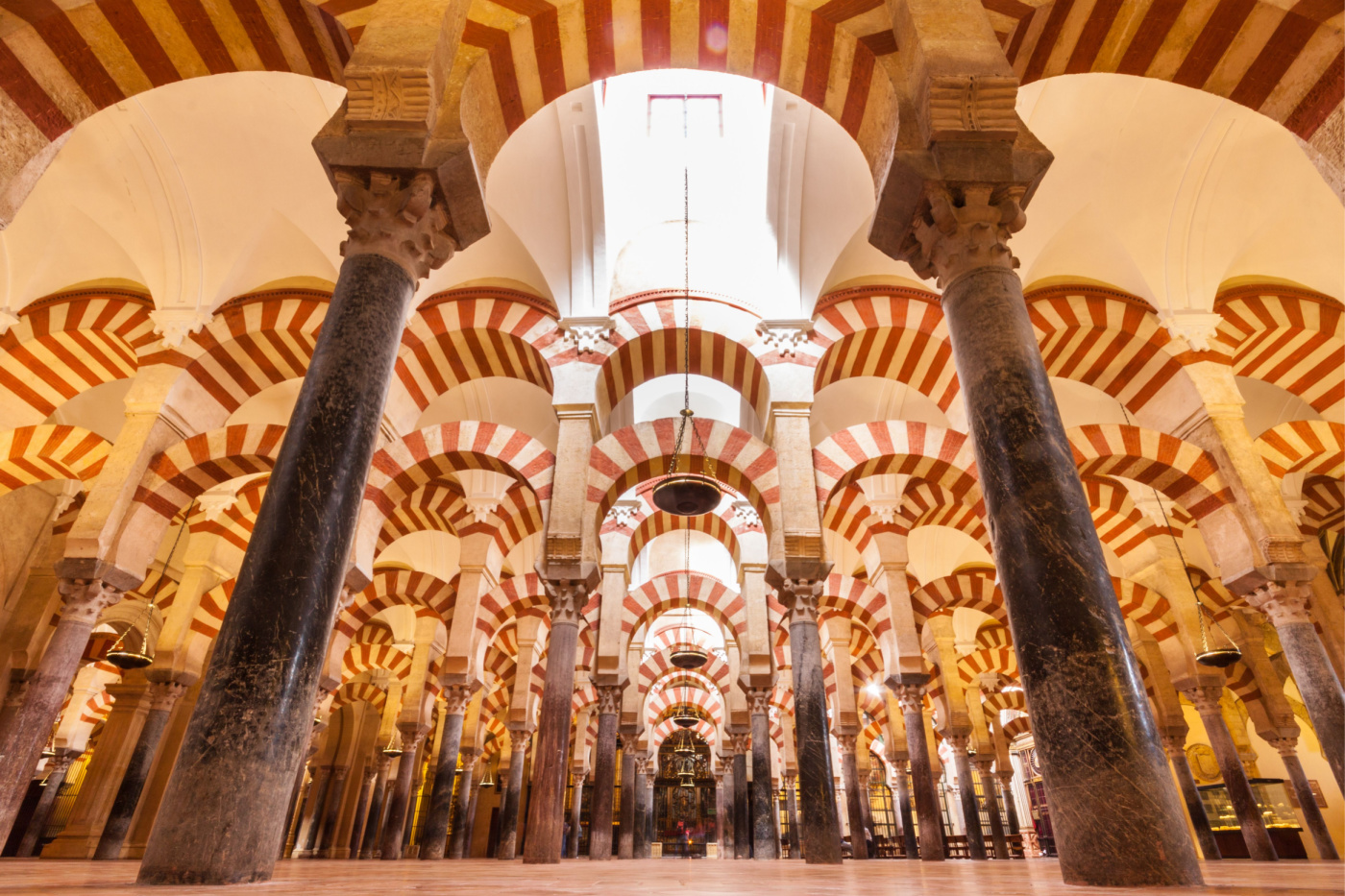 The Mosque-Cathedral, more colloquially known as the Mezquita, is indisputably Cordoba's number-one attraction and its crowning glory. This expansive quadrangular building dominates the center of town, as it has done for more than a millennium. Excavations beneath the structure have uncovered what some scholars believe is the remains of a Visigoth church (see what we said about the layers?).
While this fact is disputed by experts, what is almost universally agreed is that a mosque was built on the site in the late 8th century. This original building was then gradually expanded by successive Islamic rulers, each one more determined than the last to make Cordoba into a center of culture and sophistication.
In 1236, when Ferdinand III claimed the city as part of the Reconquista, the mosque was transformed into a cathedral. Rather than completely subvert the Arabic architecture, however, many of the features were kept intact.
Instead, Christianization took the form of commissioning a number of chapels, which were designed to, well, christen the building, so to speak. It is this utterly fabulous fusion of Muslim and Christian elements that makes the Mezquita an inimitable marvel today.
The Mezquita is right opposite the northern end of the Roman Bridge, passing the Puerte del Puente (Gate of the Bridge, an unremarkable memento of the Renaissance). You'll have to walk further up a side street, however, to enter the complex via the Patio de los Naranjos (Courtyard of the Oranges Trees).
This in itself is a pretty space to sit a spell, as long as you don't mind the steady stream of tourists rustling by. Citrus trees have grown here since the early days of the mosque, when the courtyard was used for ritual ablutions. Now, they provide some shade from which you can sit and gaze up at the minaret-turned-belltower, which grandly extends, like the Tower of Babel, into the sky.
Entrance to the Patio de los Naranjos is free, with kiosks and self-service machines along one side where you can buy entrance tickets to go inside the Mezquita. Unlike the Alhambra of Granada or the Alcazar of Seville, there's no need to prebook in advance, just rock up on the day.
Audio guides are available as well, or you can organize a guide to take you through the sprawling setup. In our opinion, unless you really want to dig into minute detail or prefer the personal touch, there is more than enough detail available through the free QR codes situated throughout the Mezquita – the people running the place have done an outstanding job of setting this up for visitors.
As you enter the Mezquita, the first thing you'll notice is the row upon row of double-tiered arches, striped in sandy yellow and terracotta hues, that run down the hall. As you stroll about, you may pick up on subtle differences between the style of features such as the ceiling, floor and pillars, which result from the different eras when various parts of the mosque were built.
Honestly, we could dedicate thousands of words just to all the amazing things you can find inside the Mezquita, going into minute detail about the different chapels dotted throughout, each with its own unique paintings and gilded treasures. However, we'll try and limit ourselves to the things you absolutely cannot miss.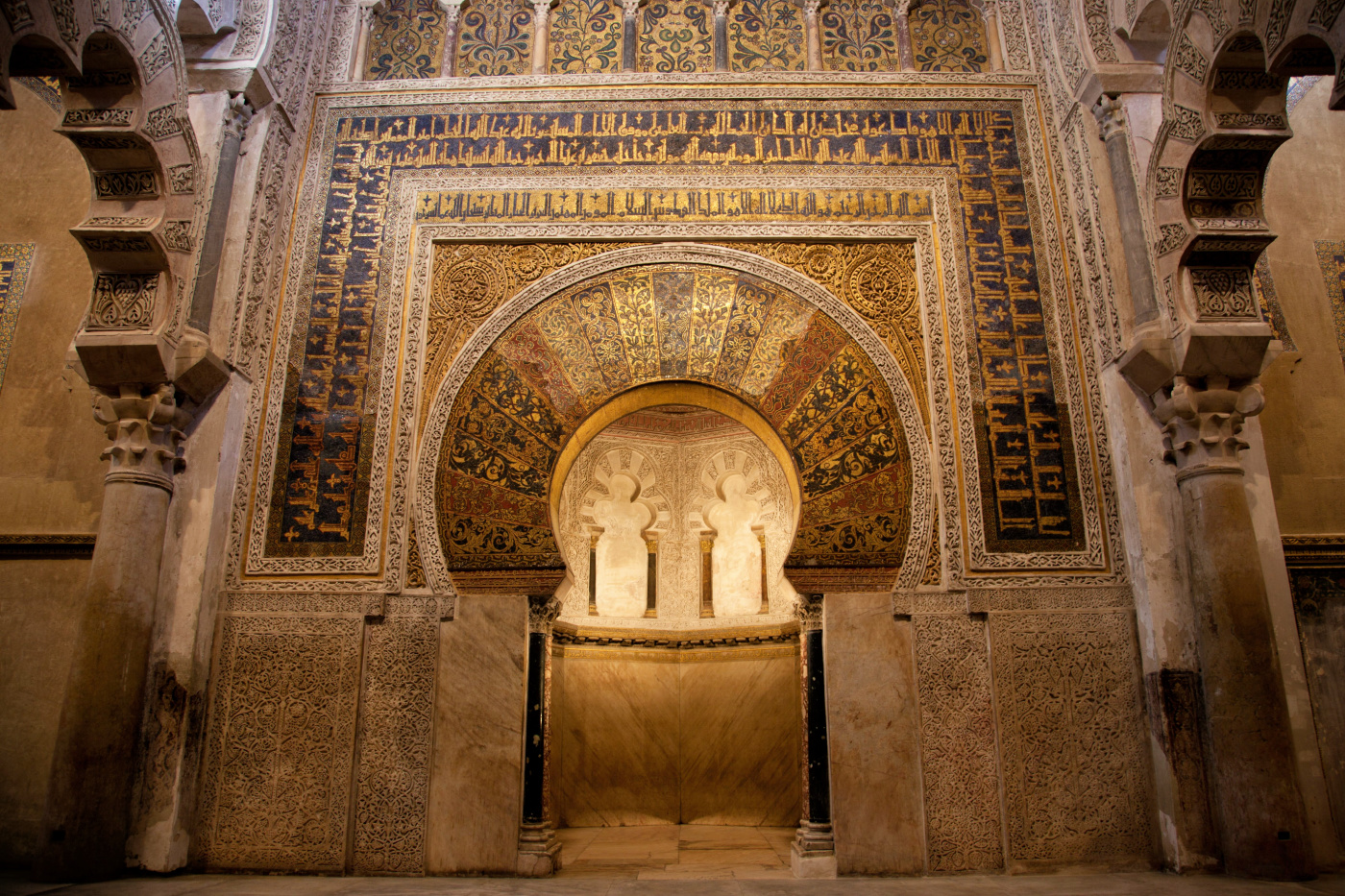 First on our list is the mihrab, the traditional niche indicating the direction of Mecca. This is a common feature of all mosques, but the one on show here is particularly beautiful: a glittering ensemble of golden mosaics and scripture from the Quran. Beside this is the Chapel of St Teresa, which contains not just the Processional Monstrance of the Corpus Christi, a remarkable piece of silverwork, but also the elaborate Sepulcher of Cardinal Salaza, crafted entirely out of black and white marble.
It's fair to say that while the Mezquita owes much of its elegance to the Islamic builders, it was the Christian architects who took the bling-bling to another level. This is best demonstrated in the main chapel, a dizzying display of white marble vaults that wouldn't look out of place amidst the extravagance of Versailles. It's here, too, that you'll find a masterpiece of wood carving, in the form of mahogany choir stalls and a stupendous episcopal throne.
Once you've finished exploring all that the Mezquita has to offer, you'll probably need some refreshment. Fortunately, there's a whole bunch of eateries just behind the Mosque-Cathedral in what used to be the Jewish Quarter.
We favor the Patio de la Juderia, which is set in a quaint little courtyard and serves traditional Cordovan specialties. For something hearty, try the flamenquin, a kind of deep-fried pork roulade stuffed with ham and cheese that you'll find at all the tabernas in the neighborhood.
If that sounds a little heavy for your tastes, the salmorejo soup is a cold tomato-based affair created specifically to help counteract the hot days. (If you come to the Patio de la Juderia in the evening, you can time your meal to coincide with the daily flamenco show.)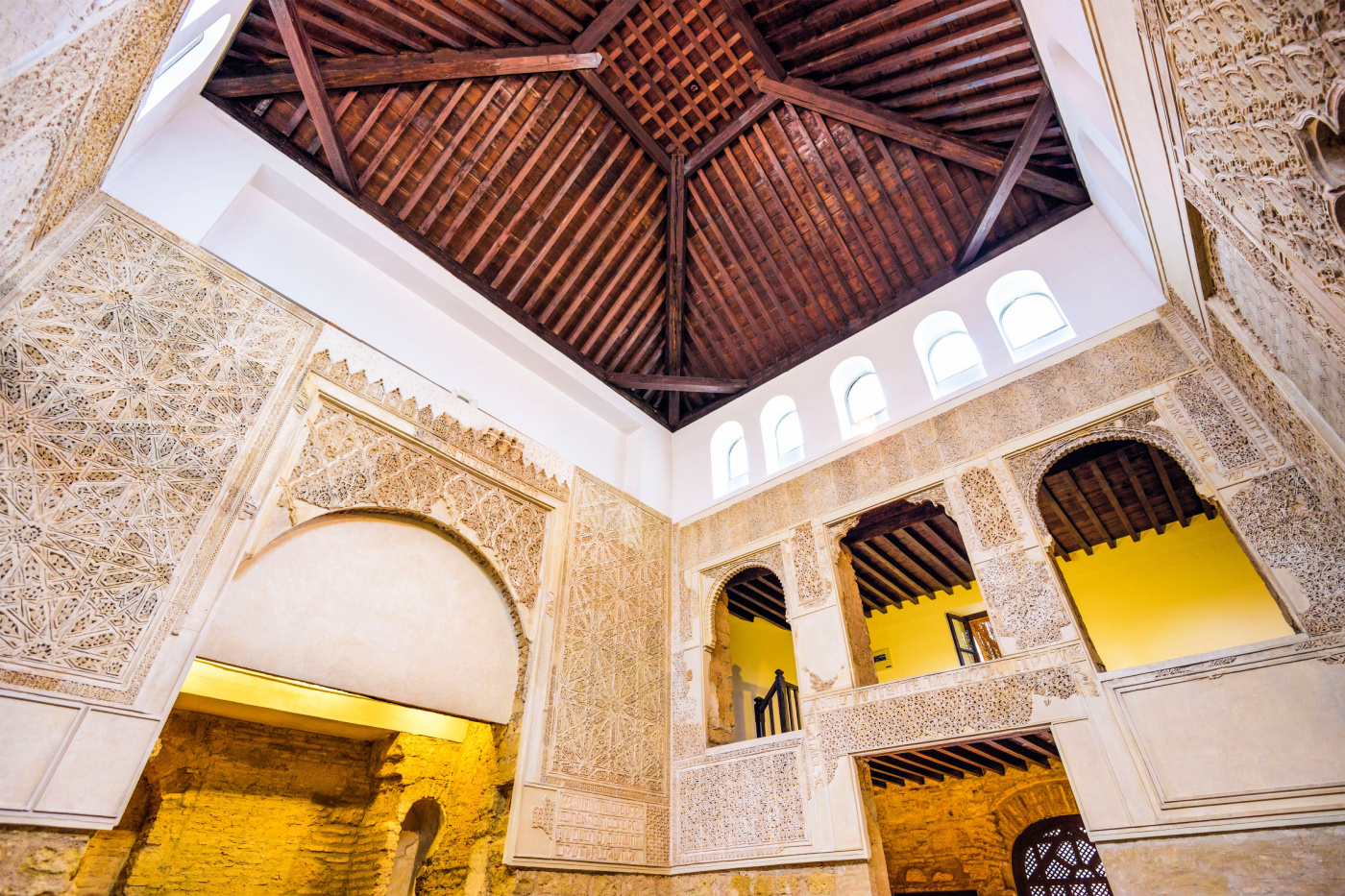 In the afternoon, explore the rest of Jewish Quarter. This is arguably the prettiest part of Cordoba today, where white-washed houses accented with brightly painted lintels and pots filled with flowers line the alleys. A lot of these former residences are now shops with tourist knickknacks or restaurants cooking up traditional eats, but a few still house local families.
We don't want to be overly prescriptive about your route, since part of the charm of the Jewish quarter is just to see where your feet take you, but ensure you at least pay a visit to the easily missed Cordoba Synagogue. This small, half-crumbling building still contains some stunning plasterwork and lays claim to being one of the best-preserved medieval synagogues in all of Spain.
Elsewhere in the quarter, you can also find a bullfighting museum that details the history of the bloody pursuit, as well as a statue in memory of the Cordovan-born Maimonides, one of the most important Jewish philosophers in history.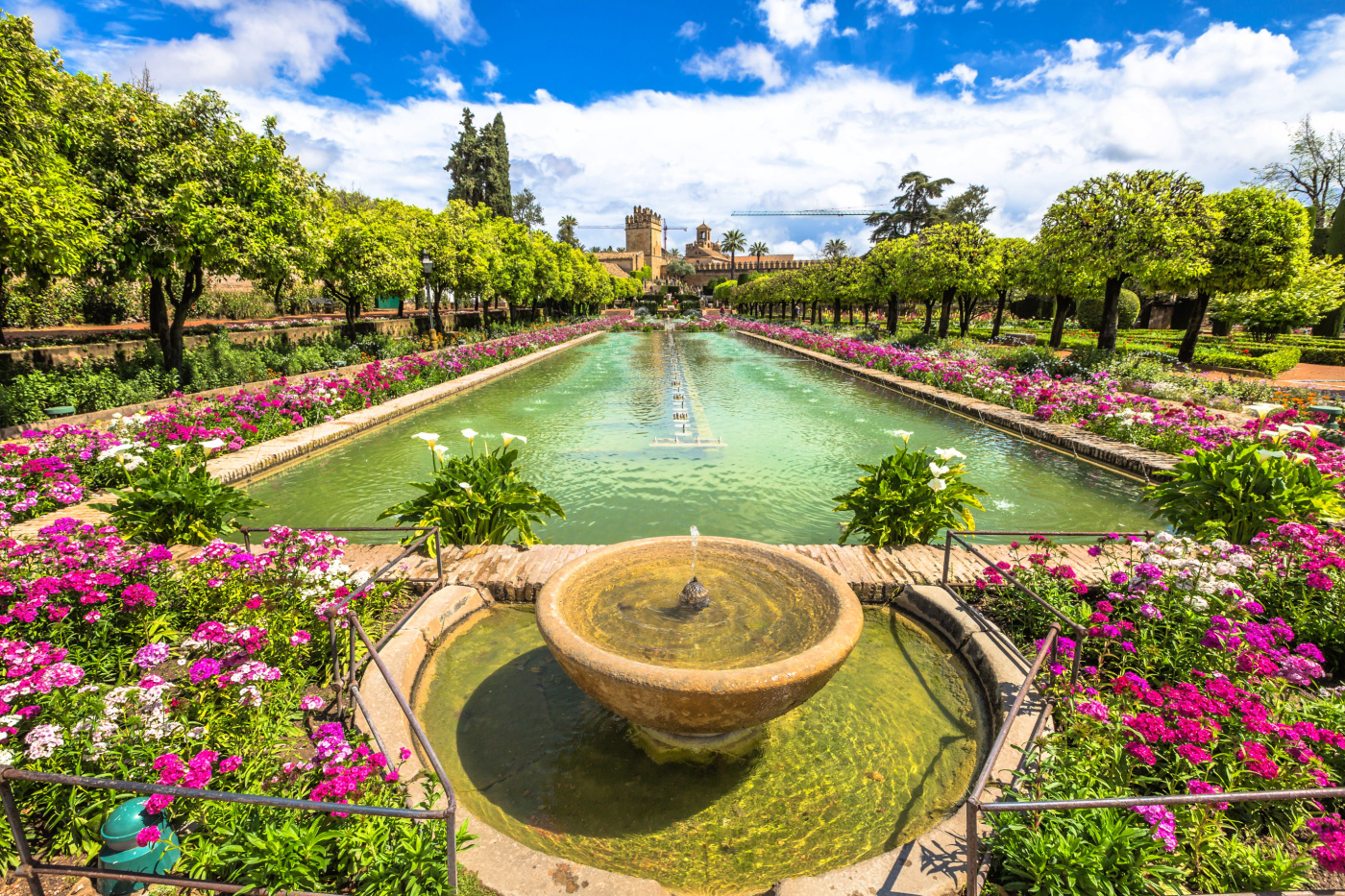 Day Two: Urban Nature at its Finest
Begin day two exactly where you began day one: at the Puente Romano. Instead of venturing away from the Guadalquivir River, however, wander west along its banks, past some scenic old windmills. After five minutes, you'll come to the Alcázar de los Reyes Cristianos (Castle of the Christian Monarchs).
While the site was formerly a Visigoth fortress, then an Islamic palace, the structure you can see today was built in 1328 by King Alfonso XI of Castile.
The walls of the castle remain impressive, and you certainly wouldn't think that contained within these stern fortifications were some of the prettiest and most well-manicured gardens in Cordoba.
In fact, most of the square footage inside is taken up with a series of ponds surrounded by citrus trees and other flora. To get an idea of the grand scheme behind the design (and if you want a good view of the rest of Cordoba), you can climb the Torre de los Leones (Lion Tower) at one corner of the castle.
As part of your visit, there are a couple of different patios and halls to explore, including a room dedicated to a series of Ancient Roman mosaics discovered in the Plaza de la Corredera in the mid-20th century.
Not all of the former Islamic palace that once existed here has been destroyed. Just a few steps away from the Alcazar de los Reyes Cristianos are the remains of the caliphal hammam. For history buffs, it might be worth poking your head in briefly, though there really isn't too much to see.
Your next major port of call is the Palacio de Viana, but before you get there, you'll probably want to stop for some grub on the way. You can either head back into the streets of the Jewish Quarter to try another of the tavernas located there, or you can make your way to Jardines de la Victoria, a narrow sliver of urban park that contains Cordoba's attempt at a fashionable food market.
On a sunny day, this is a great spot to sit in the sun with some wine or beer complemented by local cheeses and tasty croquetas.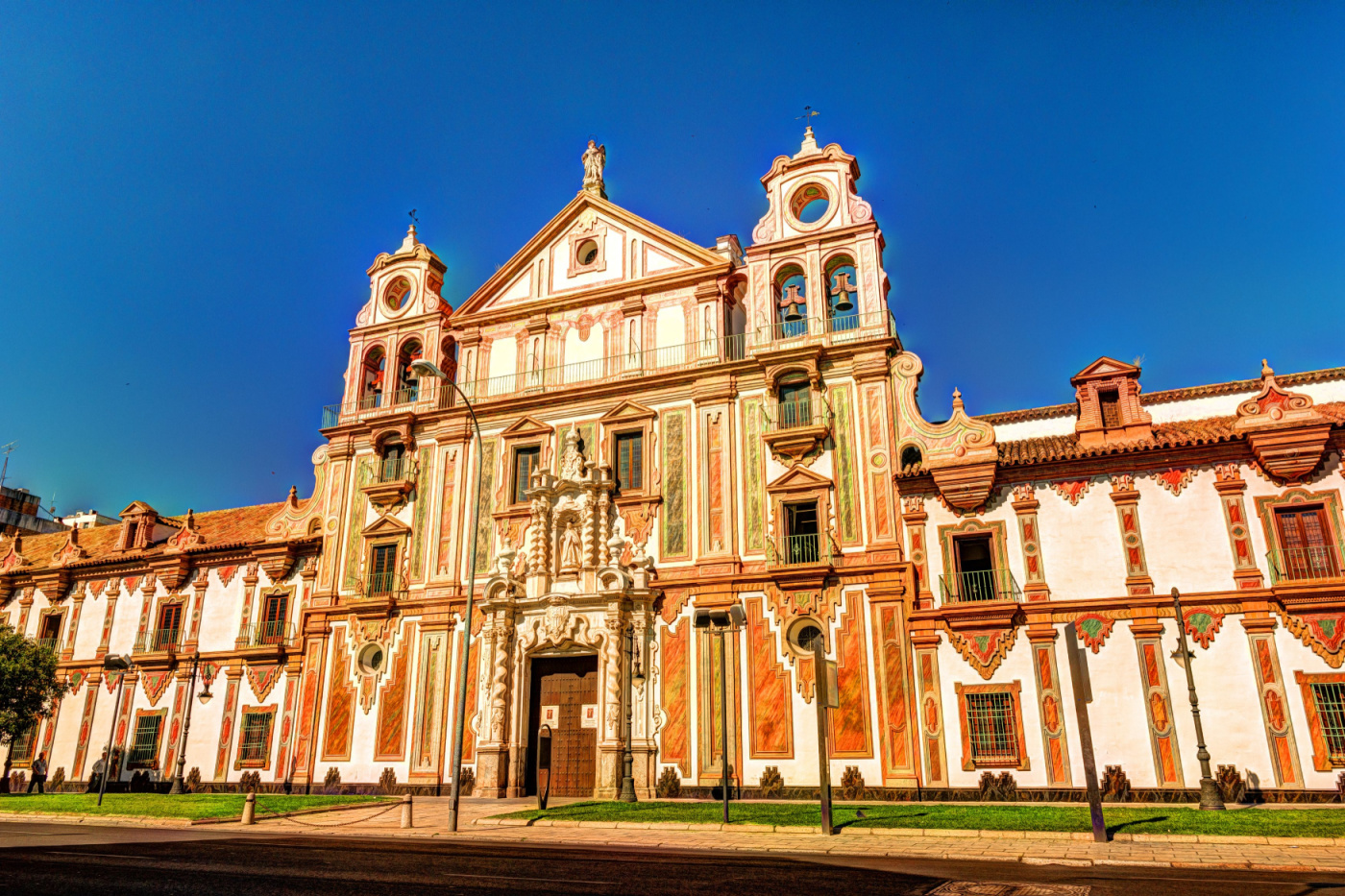 Another short stop you can make on your way to Palacio de Viana is the Palacio de la Merced. Formerly a monastery and now a governmental building, it has a fabulous Baroque façade ornamented with bells. While the interiors were completely out of bounds when we visited, the exterior is still worth a few gasps and a snap or two.
We've already alluded to this indirectly a few times, but Cordoba is famous for its patios. These spaces traditionally provided people with a space to cool off within their homes – a space that could also be turned into an oasis of soothing plant life.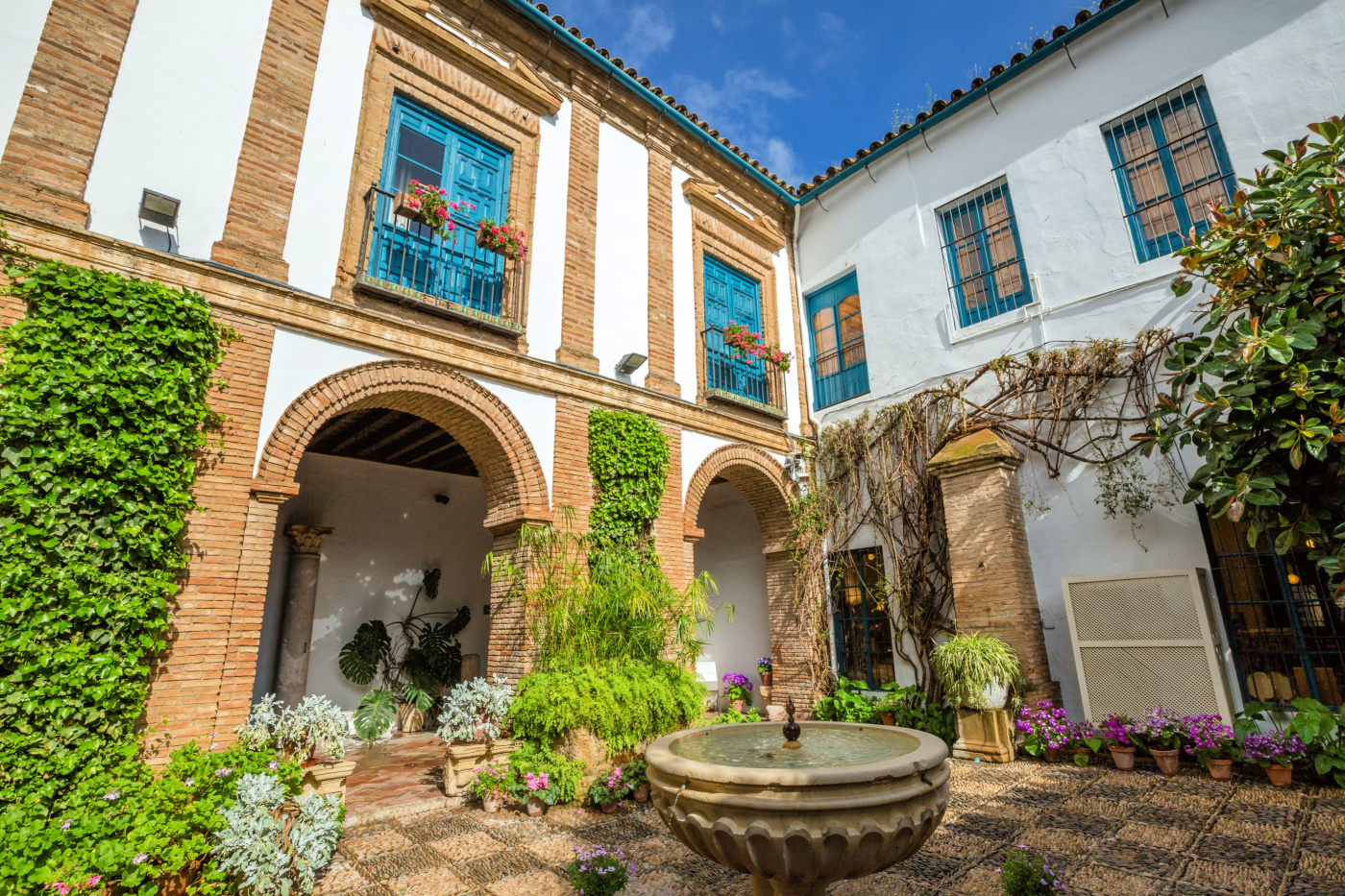 In May, there's a Cordovan festival dedicated to the art of a well-designed patio, where residents open up their homes so everyone can enjoy and experience all that the city's public and private courtyards have to offer. The Palacio de Viana is the essence of this ideal.
While it is visitable throughout the year, it's in spring that the palace is at its finest. Twelve separate courtyards function as a showcase of different ways to approach patio aesthetics, from the dialog between greenery and stone in the Patio de Las Columnas, to the modest Patio de La Alberca, which features a play of water and potted plants.
If you arrive at the right time, you can also take a guided tour of the palace's grand rooms, which still exude a faded glamour. Several noble families owned the building since its original construction in the 15th century, and their touches can still be seen today.
Complete your second day in Cordoba with dinner or an aperitif at the Plaza de la Corredera, a square surrounded on two sides by striking orange-red apartments that are the stuff of Instagram dreams.
Especially during warm evenings, you'll see all sorts of local life buzzing about around you, from local residents gathering for a drink and a chat at one of the several cafes, to children playing football, to dog owners taking their canines for an end-of-day stroll.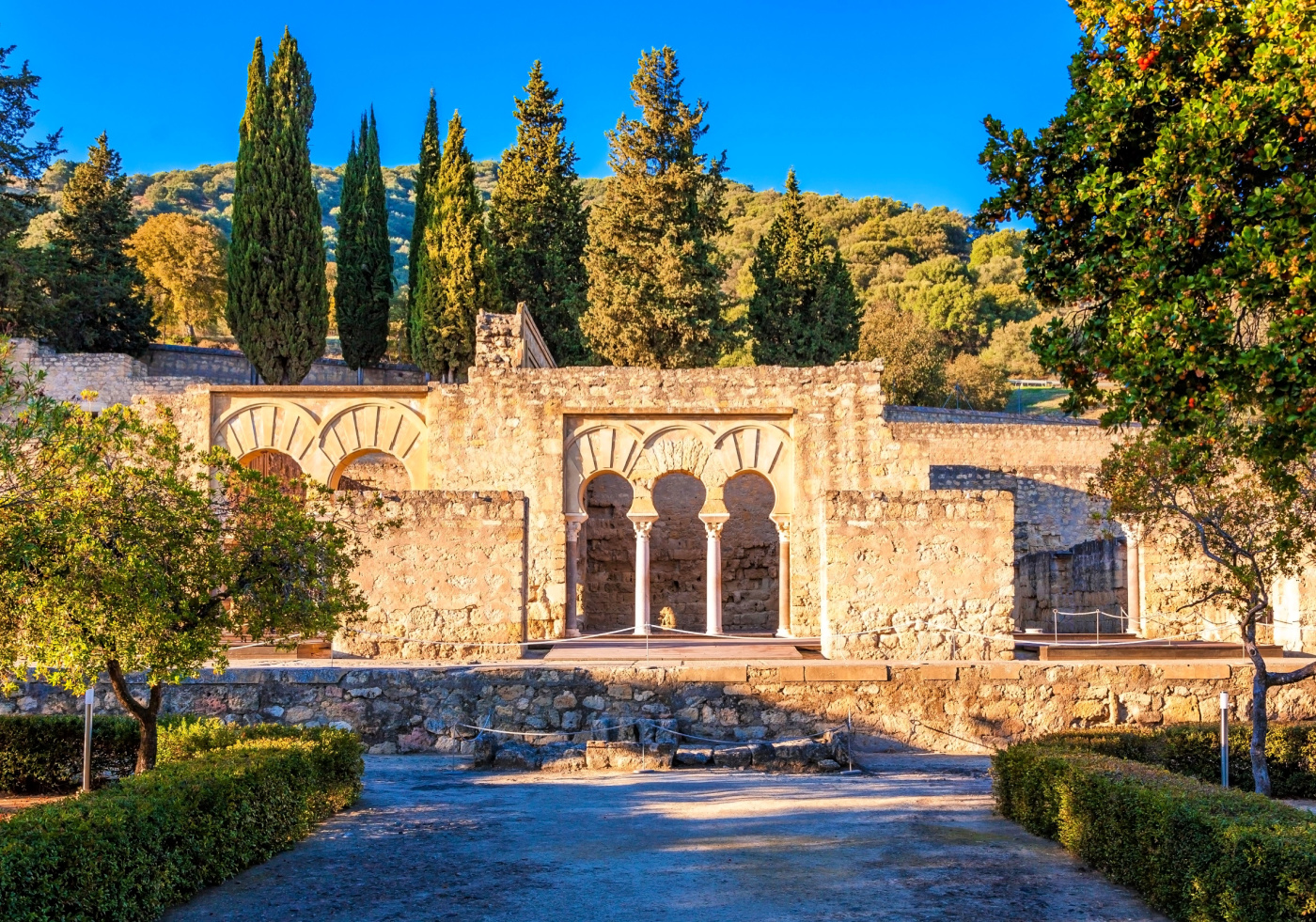 Day Three: Rural Relics
One of the most underrated ways to experience a city's character is to travel on its public transport. This is particularly true if you're riding an overground service, where you can also gaze out the window at the changes in the passing cityscape.
For your third day, we recommend heading out of town on the bus. Just half an hour to 40 minutes away from Cordoba city center is the UNESCO World Heritage Site of Medina Azahara, also known as Madinat al-Zahra.
This palace-city was established on the side of a slope in the 900s by Abd al-Rahman III, the first Caliph of Cordoba, who wanted to crown his newly established realm with a brand-new capital. Sadly, Medina Azahara lasted for less than a century before envious rivals assaulted and then ransacked the place.
To reach the site, you have to first head to the newly built facility at the base of the hill. From here, you can hop on the shuttle bus up to the main site. Before you do, however, set aside some time to wander through the museum as well as the series of glass-fronted storage rooms, which are filled with pieces of building, sculpture and other decoration recovered from the wreckage of Medina Azahara.
There's also an informative video that reconstructs what the palace-city once looked like all those centuries ago.
As you can probably imagine, the modern reality is pretty underwhelming compared to the video reconstruction. After 1,000 years of neglect, very little of note remains, though for the romantic at heart (and we include ourselves in that category), it's still worth visiting just to help visualize what living in this grand folly must have been like.
So far, only some of the foundations of the terraced main palace buildings have been excavated, with other parts still waiting to be unearthed. A couple of elaborately sculpted walls and arches have been carefully pieced back together from shattered remnants. In fact, the whole site is an ongoing, painstaking restoration project.
It's definitely worth considering taking part in a guided tour, which will help you better conjure up the past.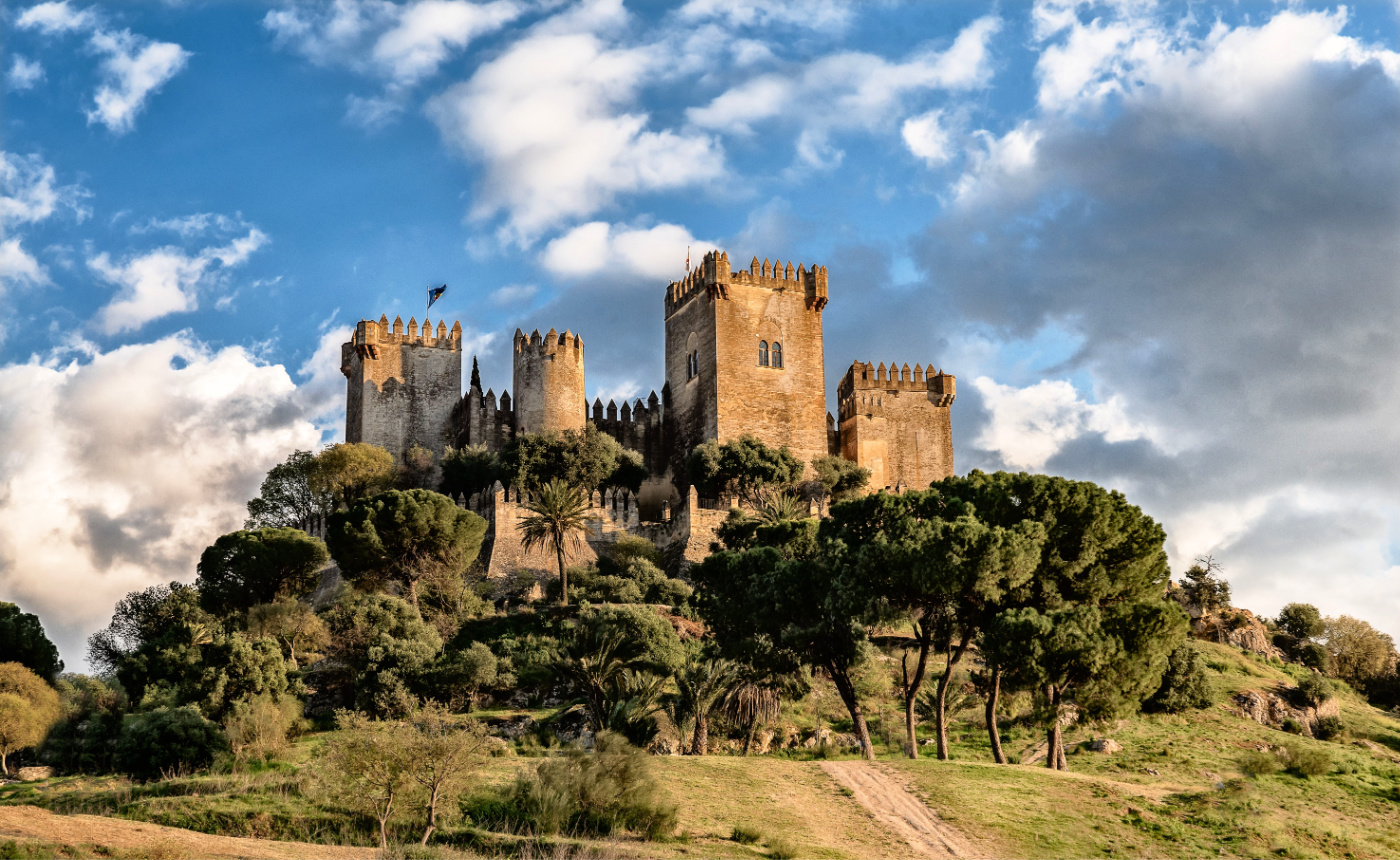 Further west from the half-submerged remains of Medina Azahara is a structure that has been much more comprehensively rejuvenated – though arguably with a less scrupulous approach to historical verisimilitude. The Castillo Almodovar del Rio was originally a Moorish construction.
Like so much in the region, it was later expanded and adjusted when it fell into Christian hands. More recently, it's another part of the Cordovan region that has been featured in Game of Thrones.
While it does have a certain air of newness to it, this doesn't entirely detract from the fact that it's still a very impressive feat of masonry. Sitting commandingly atop a hill, it sprawls across several thousand square meters, almost all of which can be traversed, from spiked battlements to arid courtyards.
Inside are a handful of those typical castle exhibits you can see all over Europe, featuring armored medieval knights and banqueting halls with drooping pennants. Between the crenellations, you can see the town of Almodovar del Rio with its white-washed houses stretching across the land below.
On your return to Cordoba, use your remaining time wisely – and by that we mean, go get some pampering done! We mentioned the ruined caliphal baths earlier, but we personally found the modern replicas a little more enjoyable to visit, especially after hours wandering Medina Azahara and Castillo Almodovadr del Rio.
Not far from the Mezquita is a Cordovan outlet of the Hammam Al Andalus, a luxurious Andalusian chain that gives you a flavor of the traditional hammam experience. This particular location riffs playfully off the Mezquita's arches in its interior design, which makes for a nice, circular way to wrap up your three-day excursion.
What to Know Before You Go
Where to Stay in Cordoba
There are lots of beautiful boutique properties dotted around Old Cordoba, but one of our favorites is the Ermita Suites. The apartments here are like something out of an interior design magazine, blending the old architecture of the building seamlessly with tasteful modern touches. 
All rooms come with a kitchen, so you can make your own meals if desired. Plus, the property is just steps away from the glorious Mezquita and all the other major attractions.
Alternatively, if you want something that's a little more affordable, La Trinidad boasts a similar style of modernism, though without as much attention to detail. Located just off the bustling Plaza de las Tendillas, it's right on the cusp between Old Cordoba and the newer financial district. 
All the attractions are still close by, and as a bonus the square has lots of cafes and restaurants where you can sample the local fare.
The Best Time of Year to Visit Cordoba
In our opinion, the best time of year to visit is in either May, June or September when you'll have the highest number of dry days but also a nice warm daily temperature of between 65 and 75 degrees Fahrenheit (around 20 to 25 degrees Celsius).
From late autumn until spring, you're more likely to catch a rainy spell. Still, the temperature is fairly mild even at the coldest time of year, averaging a very reasonable 50 degrees Fahrenheit (about 10 degrees Celsius) during the day.
In summer, on the other hand, the weather regularly exceeds 80 degrees Fahrenheit (about 30 degrees Celsius). In these temperatures, wandering through the busy, narrow streets of Old Cordoba can feel a little stifling, though you can always rely on some salmorejo to cool you down.
If you're someone who likes to participate in local celebrations, remember that the Patio Festival takes place annually in May. This quirky community event sees the city's residents open their patios to the public, as part of a friendly contest to see who can most beautifully decorate their space with seasonal flowers.
While accommodation does rise a little in price, it's worth it to see the city overflowing with colorful blooms. Historically, a lot of Cordoba's houses were built with patios where residents could escape the heat, which is why the festival is so hotly contested each year. It's free to take part, though some places will set up a small donation box if you want to help fund the floral fun.
How to Get Around Cordoba
Everything you will want to see in Cordoba itself is easily reachable on foot. In fact, many of the center's pretty streets are pedestrianized, so you don't have much choice other than to walk!
If you do want to visit the suburbs, there is a robust bus network that covers the entirety of the city, with single tickets costing €1.30. You can also hail a local taxi, just make sure the meter is turned on when you start your journey – there should be no need to negotiate fares.
As we've already noted, Medina Azahara is located outside the city, about 15 to 20 minutes drive away from the city center if you go by cab. There is a direct tourist bus, which costs €10 and departs from outside the Alcázar de los Reyes Cristianos, on the Avenida Alcazar.
This will take you to the site and back, but it only runs once a day in the winter (at 11am) and twice a day in the summer (at 11am and 4.30pm), leaving you 2.5 hours to navigate the Medina Azahara – plenty of time, in our opinion. (Please, please, please check this information when you arrive in Cordoba! Times and schedules can be changeable, and we don't want you to get caught out.)
As an alternative route to Medina Azahara, you can instead take the much more frequent local bus, though this will take slightly longer since it isn't direct. This might be preferable, however, if you plan to tack on Castillo Almodovar del Rio, which is further out west but is also ideally situated on Cordoba's transport network.
Safety Advice
Cordoba is a very safe city for tourists (and residents, for that matter). However, it does have the same problem as many parts of Spain with petty crime, such as pickpocketing and bag snatching. You can also still witness remnants of the so-called 'rosemary scam', where elderly gypsy ladies will thrust a sprig of rosemary upon you, insist on reading your palm and then demand money for the intrusion.
The simple solution is just to shake your head and walk away – this particular trick is so well documented and so commonplace around Spain that nobody expects you to hand over any coins, not even the ladies themselves.