Budapest is a center of culture, art and architecture. With a distinct and unique atmosphere, the city's nightlife indeed delights European youth. Coined the 'Paris of the East', its UNESCO World Heritage landmarks and monuments are sights to see, especially at night.
One side of the Danube river is called Buda, and the other is Pest. In this city, you have the best of both worlds: Buda is charming, quiet and especially classy. Filled with museums, castles and elegant homes on old, cobbled streets, Pest is quite different. It is wild and cosmopolitan, brimming with ruin bars and historic landmarks.
What makes this city unique is its historic cultural influence: from the Romans and Turks to the Austro-Hungarians and Soviets, Budapest's mesh of influences makes it a fascinating place to visit.
Why three days in Budapest?
Budapest is the perfect place for a long weekend getaway in Europe. You'll have the chance to visit all the must-see attractions and landmarks, as well as indulge in the thermal baths and unique Hungarian cuisine.
Three days in the capital is enough time to see and do things without rushing, with some left over for coffee and typical Hungarian snacks!
In addition, Budapest is known as a party city. Its nightlife is incredible, as many establishments fit a lot of wants and needs. Three days is indeed plenty of time to experience a taste of this nightlife, as well as to explore the city's historic monuments.
Day 1: An Introduction to its History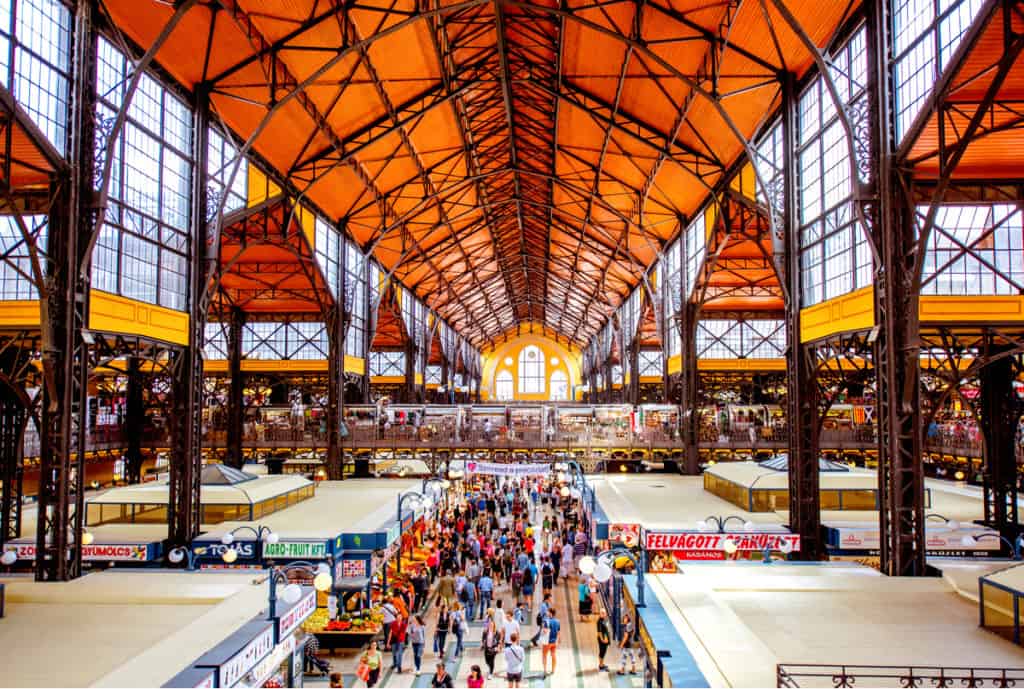 Eat your way around Central Market Hall
Begin the day at the southern end of Pest at Central Market Hall, also known as Nagy Vásárcsarnok in Hungarian. Built for the millennium celebration in 1896, the large market hall is spread out over three levels, with bright tiles lining the roof. If you are a foodie, this is the perfect place for you.
From food stored in jars and paprika to cheese curds covered in chocolate and tasty strudels, you can find all types of foodstuffs at the central market. On the upper level, there are yet more eateries and souvenir shops for you to splurge on little gifts to take home with you.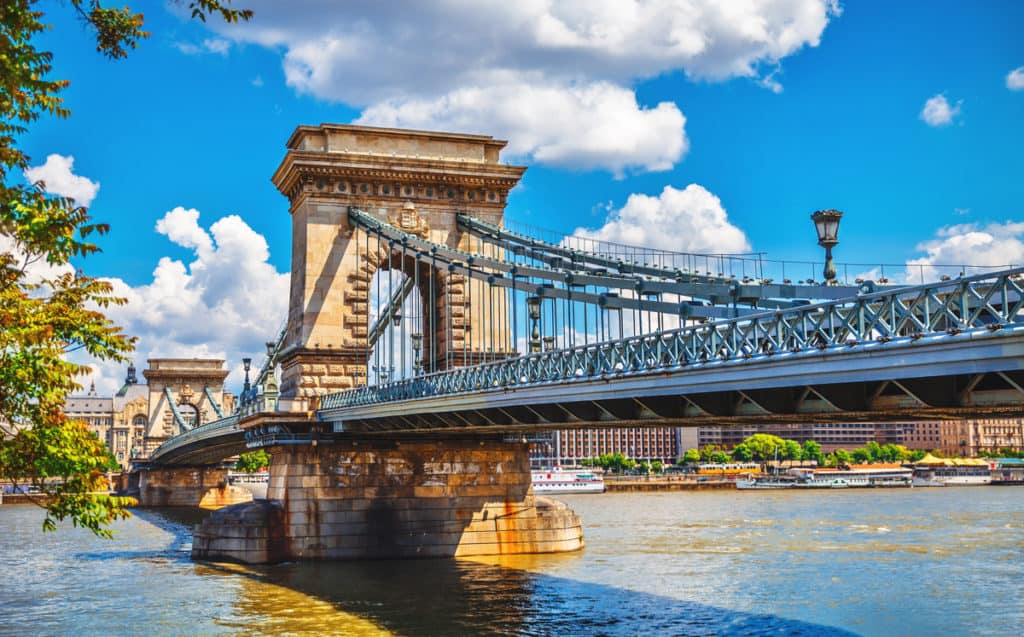 Cross the Chain Bridge
Walk back toward the town center and cross the pedestrianized Széchenyi Lánchíd Chain Bridge. Built in the 1840s, it is one of the oldest and longest suspension bridges in the world when built. Most importantly, the Chain Bridge we see today was the first permanent construction that connected Pest and Buda across the river. Be sure to spot a pair of lions that guard each of the abutments.
After crossing this iconic bridge, you'll land in Castle Hill on the Buda side of the Danube, which was once the seat of Hungarian royalty.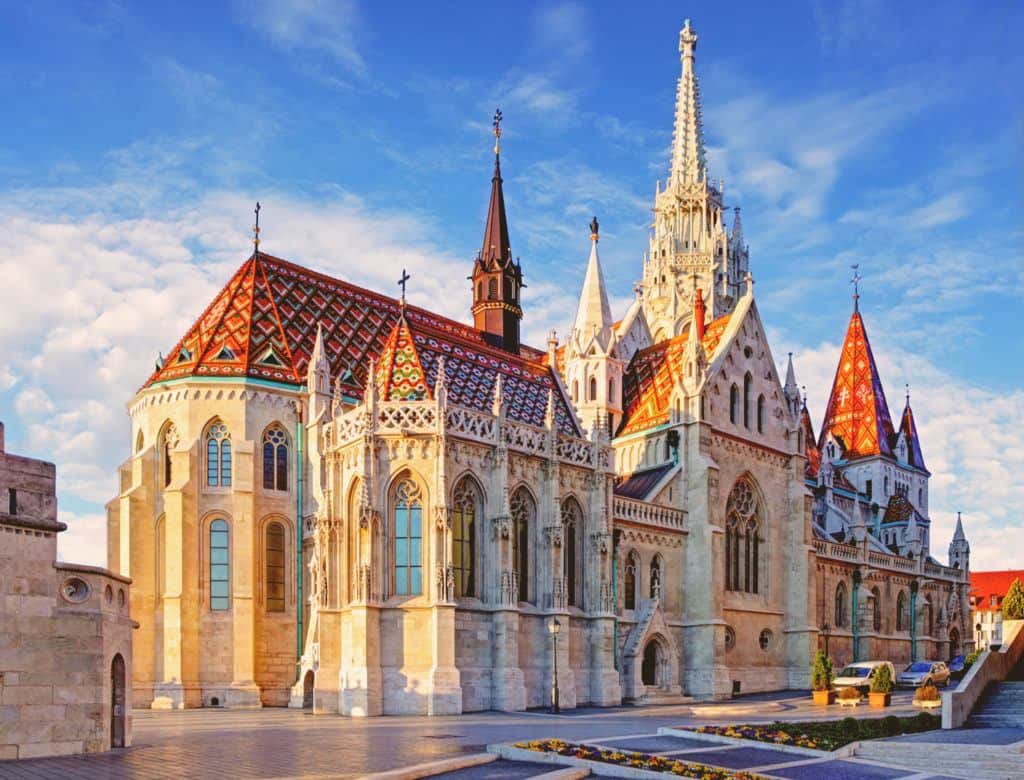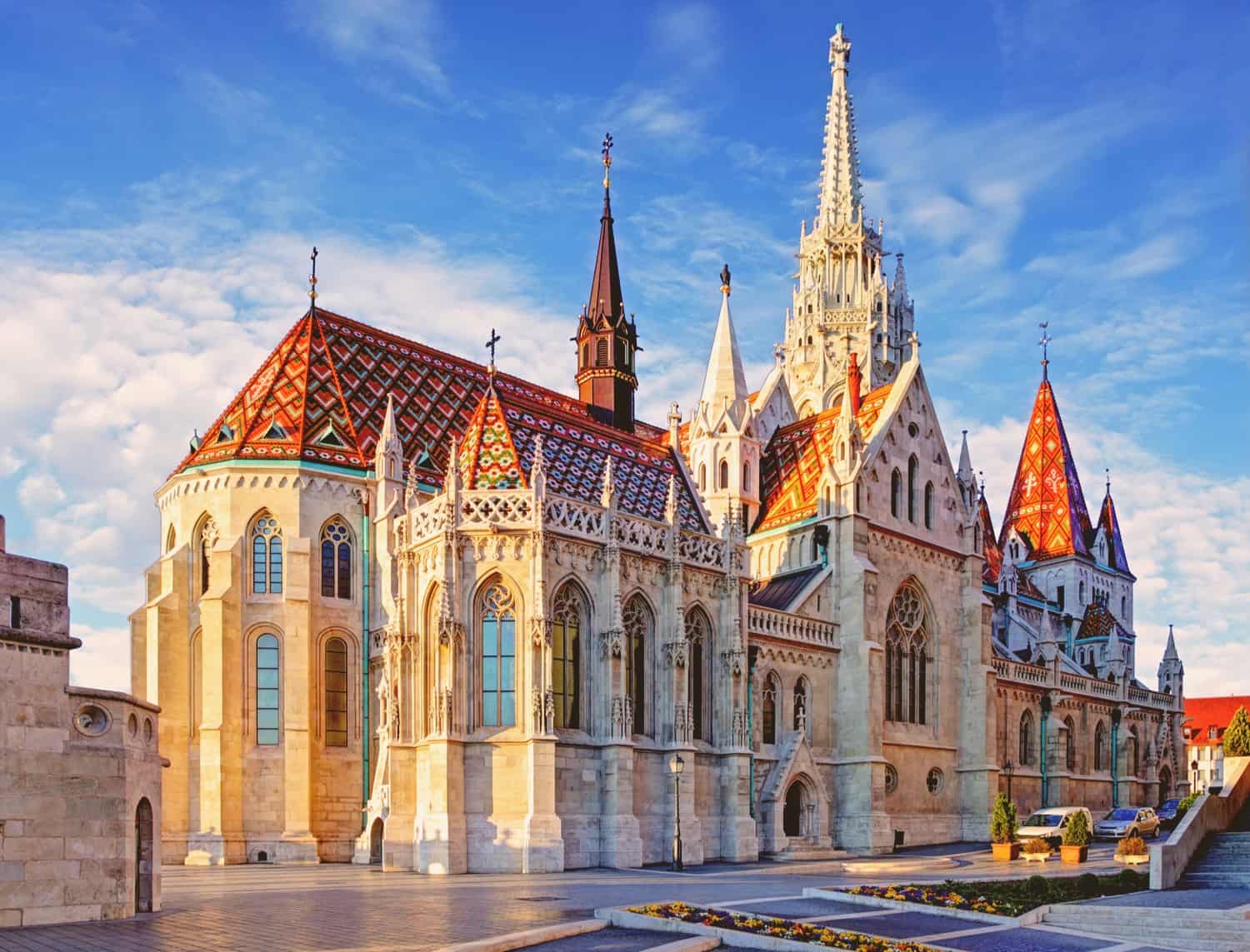 Matthias Church
You must visit the rich and colorful Matthias Church in Buda. With its majolica tiled roof, vivid interior and frilly Neo-Gothic spire, Matthias is one of the most important churches in Hungary, and it certainly made an impression on me.
The church's real name is the Church of our Lady of Buda, however, it was awarded its nickname for Hungary's favorite Renaissance king, Matthias, who was married there twice.
The place of worship was originally built in the 11th century, though subsequently demolished and rebuilt several times – it was a mosque for a time, which explains its oriental feel and use of color that isn't normal in European churches.
For incredible views, climb up almost 200 steps to the top of the church tower, which needs a second ticket. You'll be rewarded with views over both sides of the Danube. It is totally worth it!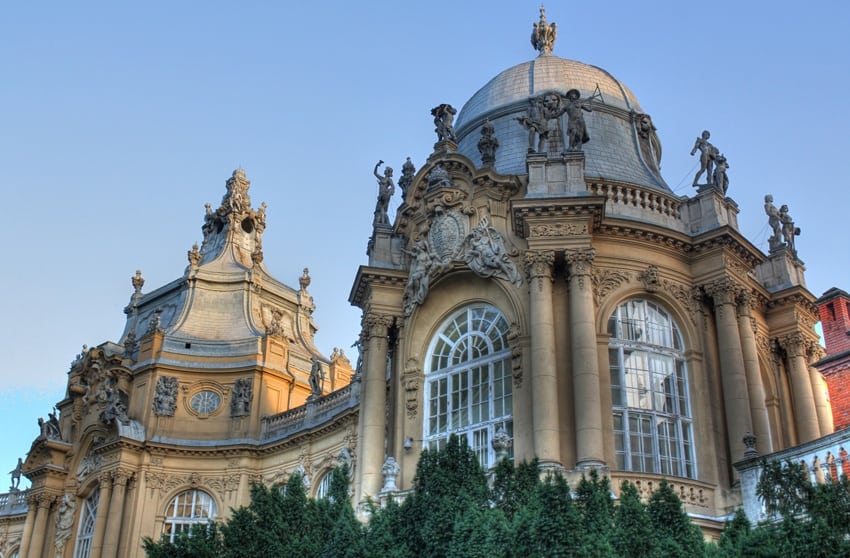 Buda Castle and Hungarian National Gallery
Buda Castle is often called the Royal Palace or the Royal Castle, as it was formerly the main seat of administration for the Hungarian kings. Construction of the site began in the 14th century.
During the Turkish occupation, the castle sadly fell into ruins. In the 18th century, it was renovated, with a Baroque intervention. After WWII's damage, the Buda Castle needed another renovation. As a result, the palace is quite large, but not very architecturally interesting.
What is most interesting is the two important museums that it houses: the Hungarian National Gallery and the Budapest History Museum. These both beautifully showcase and exhibit Hungarian history. On the first day of your visit to the city, it is well worth visiting here, as you will get a well-rounded and detailed explanation of Hungary and its capital city's history.
The Hungarian National Gallery holds over 100,000 works of Hungarian art ranging from medieval stone carvings to canvases by 19th-century Romanticists like Károly Lotz. Tours are guided in English.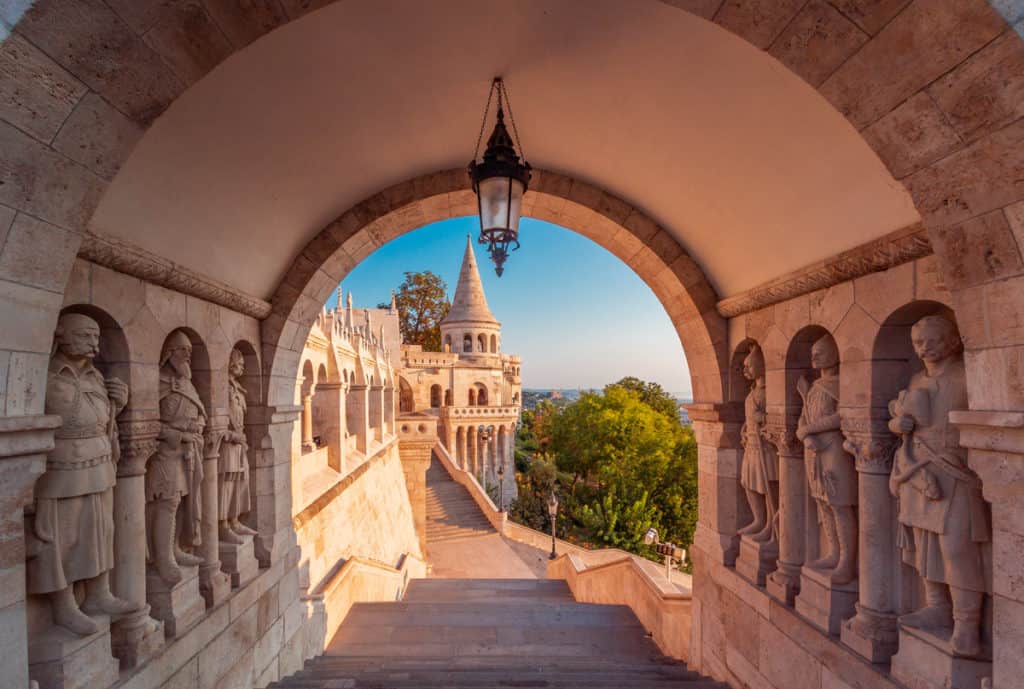 Explore Fisherman's Bastion
The Fisherman's Bastion, translated as Halaszbastya in Hungarian, is located adjacent to Buda Castle, in Trinity Square. Its terrace is easily recognizable and is one of Budapest's most iconic sites. Straight out of a fairytale, the terrace is decorated with turrets and archways. The views are absolutely incredible. Take many photos from atop its terrace!
End your day with a pub crawl to Budapest's ruin bars
Budapest's 'ruin bars' are a must-see attraction. I would suggest a pub crawl to visit as many as possible so you can try their special and cheap drinks. The ruin bars are quirky-cool drinking places in abandoned and dilapidated pre-war buildings, featuring weird interiors with mismatched furniture and eclectic art.
One place I visited, in particular, had large rectangular tables which fit around 10 patrons, where you eventually started talking to your neighbor. This conviviality and eccentric interior are indeed unique to Budapest.
Day 2: More sight-seeing with some relaxation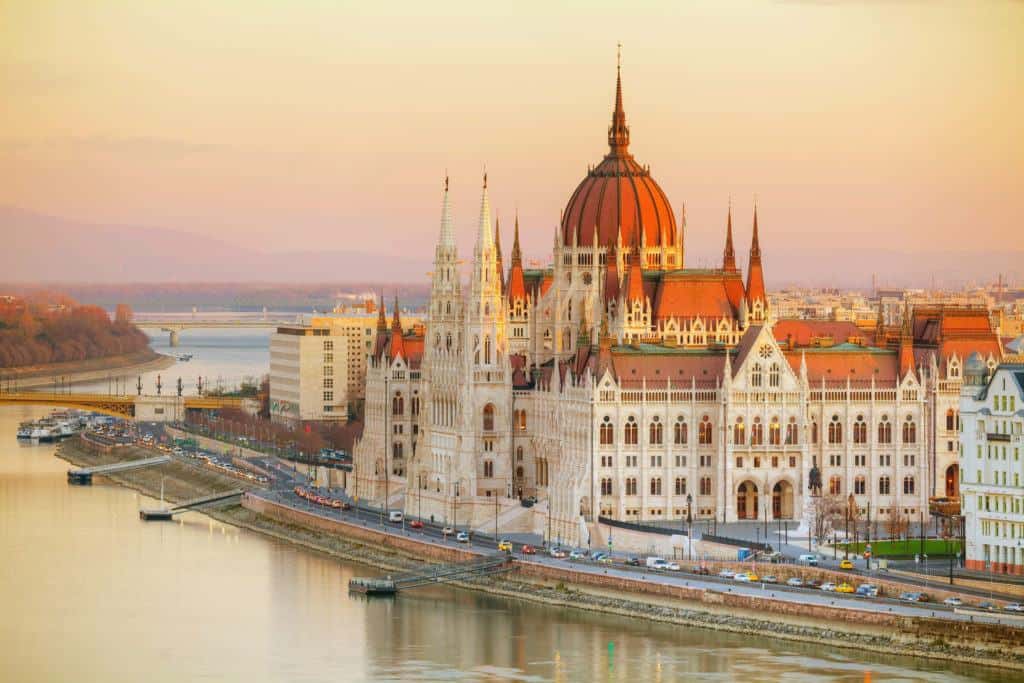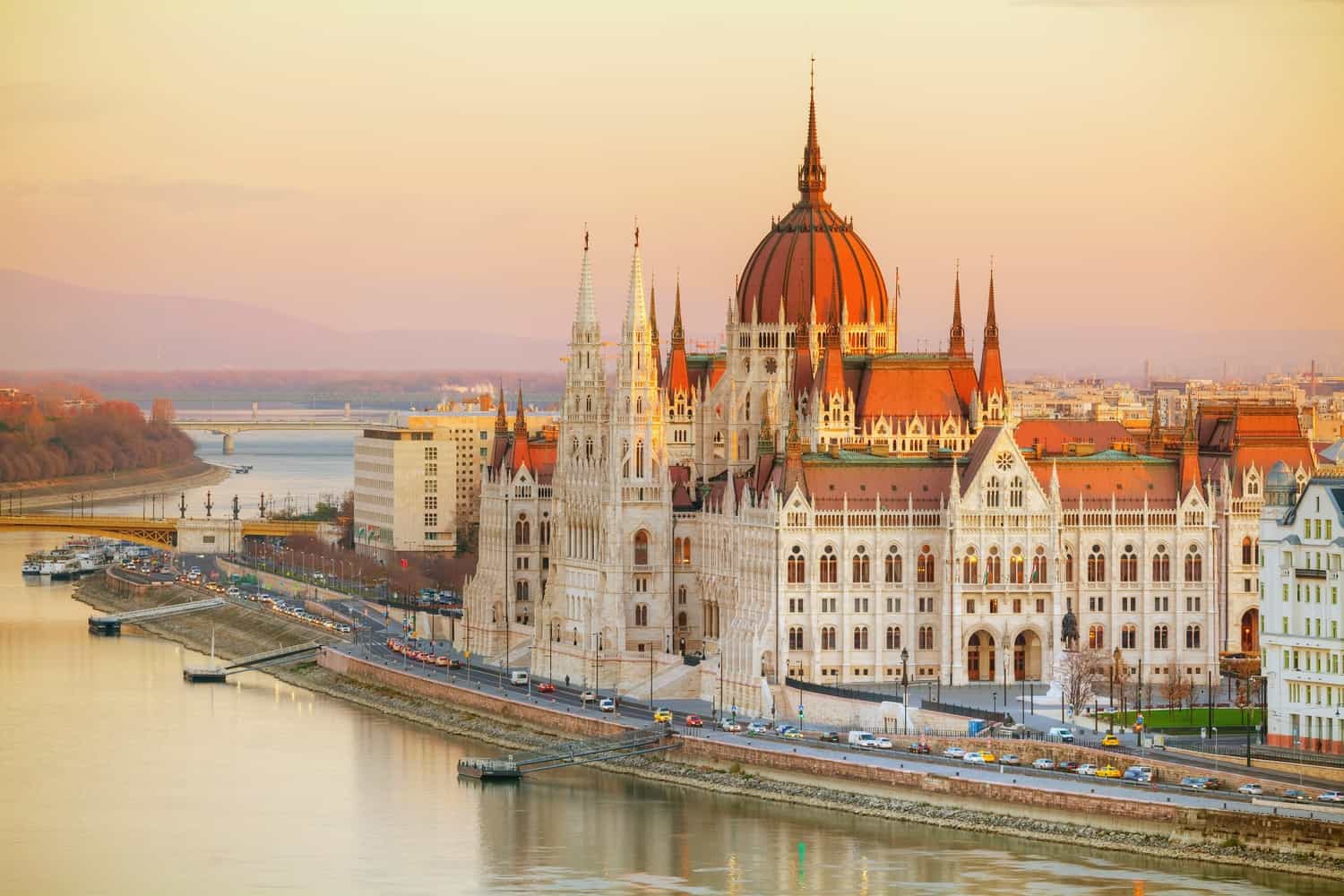 Parliament Hill
To begin day two in Budapest, head back to the Danube to the Hungarian Parliament Building, which is truly magnificent. The cream-colored political hub is located on the east bank of the Danube River.
Construction began in 1885 and it took 19 years to build. Neo-Gothic in design, it is topped by a Neo-Renaissance egg-shaped dome. The glorious pile was inspired by the Houses of Parliament in London, and it is grand (it is the tallest structure in Hungary).
The building opens early at 8.00 am. You should book tickets online and in advance. Perhaps for this particular monument, I would also suggest a guided tour.
See here for a great tour that lasts 4.5 hours. You'll view the Hungarian crown jewels and explore the maze of chambers and staircases while learning about the building's history from an experienced guide.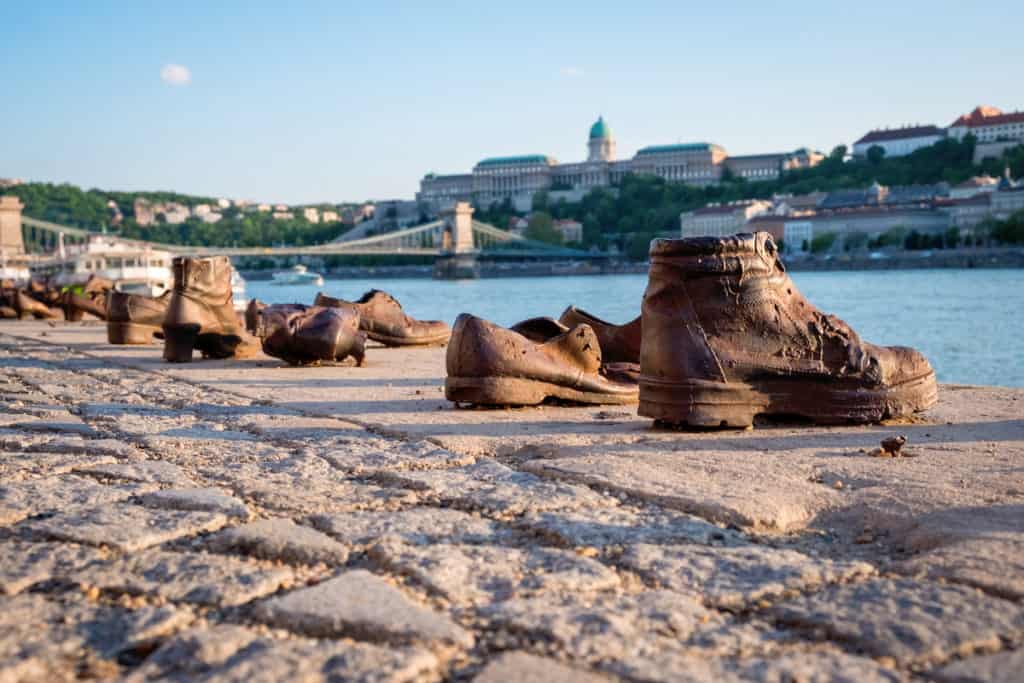 A mark of respect: Shoes on the Danube, a Holocaust Monument
Located close to the Parliament, you'll find 60 pairs of iron shoes from the 1940s. These shoes are a memorial to the people killed by Budapest's Arrow Cross militiamen during WWII.
Nearly 10,000 Jews were rounded up, ordered to remove their shoes, and shot so their bodies would fall and float into the Danube. Their murderers kept their shoes, which were valuable wartime commodities, yet at present, they are a sign of remembrance for those lost to atrocities.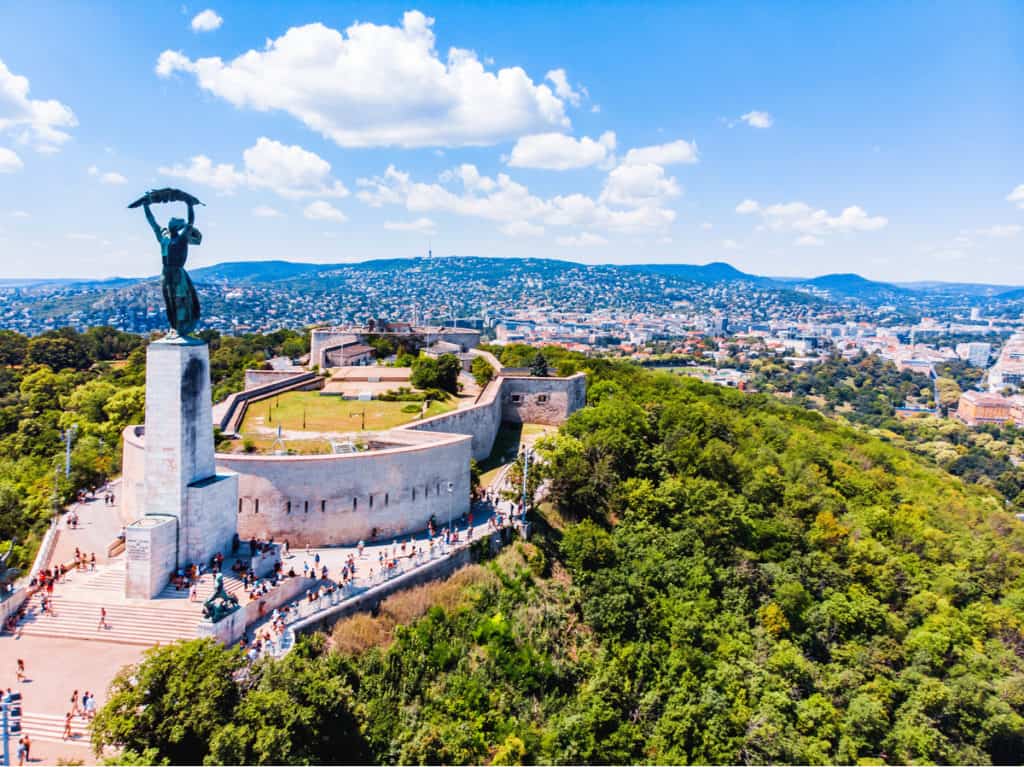 Hike up Gellért Hill and see its statues
For a stunning viewpoint in Budapest, hike up to Gellért Hill, named after St. Gerard, a monk from Venice. Although an effort to climb, it is indeed worth it. A network of footpaths leads you through peaceful parkland to the historic citadel resting at the top of the hill. From up there, you can see all of Budapest. On the way up, you will see a memorial statue of Bishop Gellert.
Another statue atop the hill is the glorious Liberty Statue, built in 1947. It is of a woman waving a palm branch, and locals have nicknamed it the 'great bottle opener'. The statue celebrates Budapest's heroes who fought for the city's independence.
Heading back down the hill, be sure to visit the Gellért Hill Cave Church found in an intricate network of caves under the hill. Constructed in the 1920s by a group of Pauline monks, the cave church is easy to find thanks to the turrets decorating the monastery.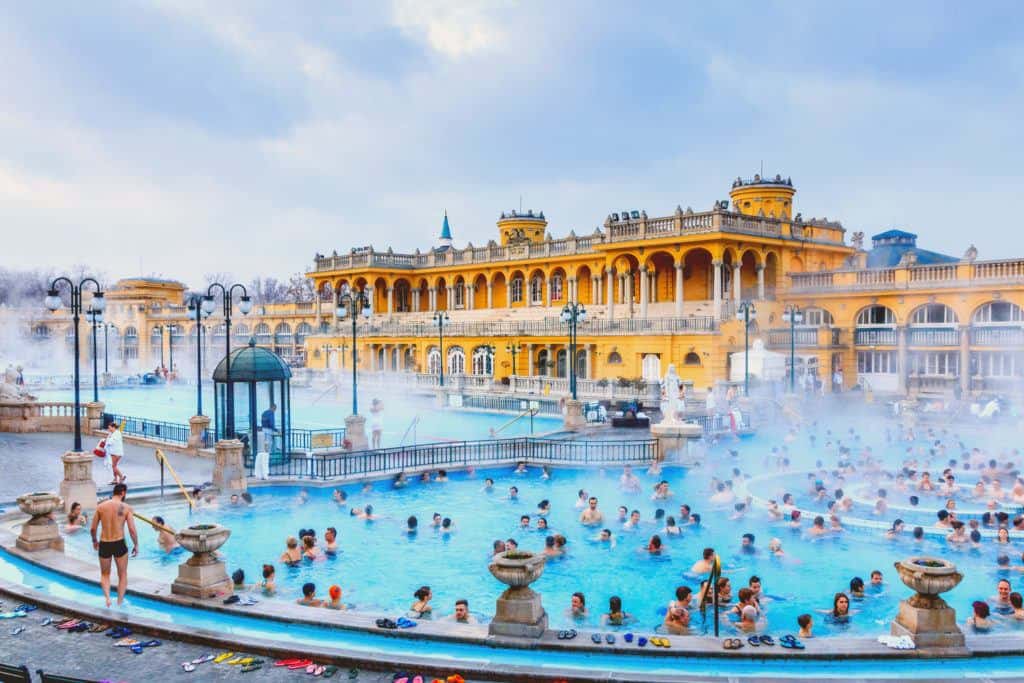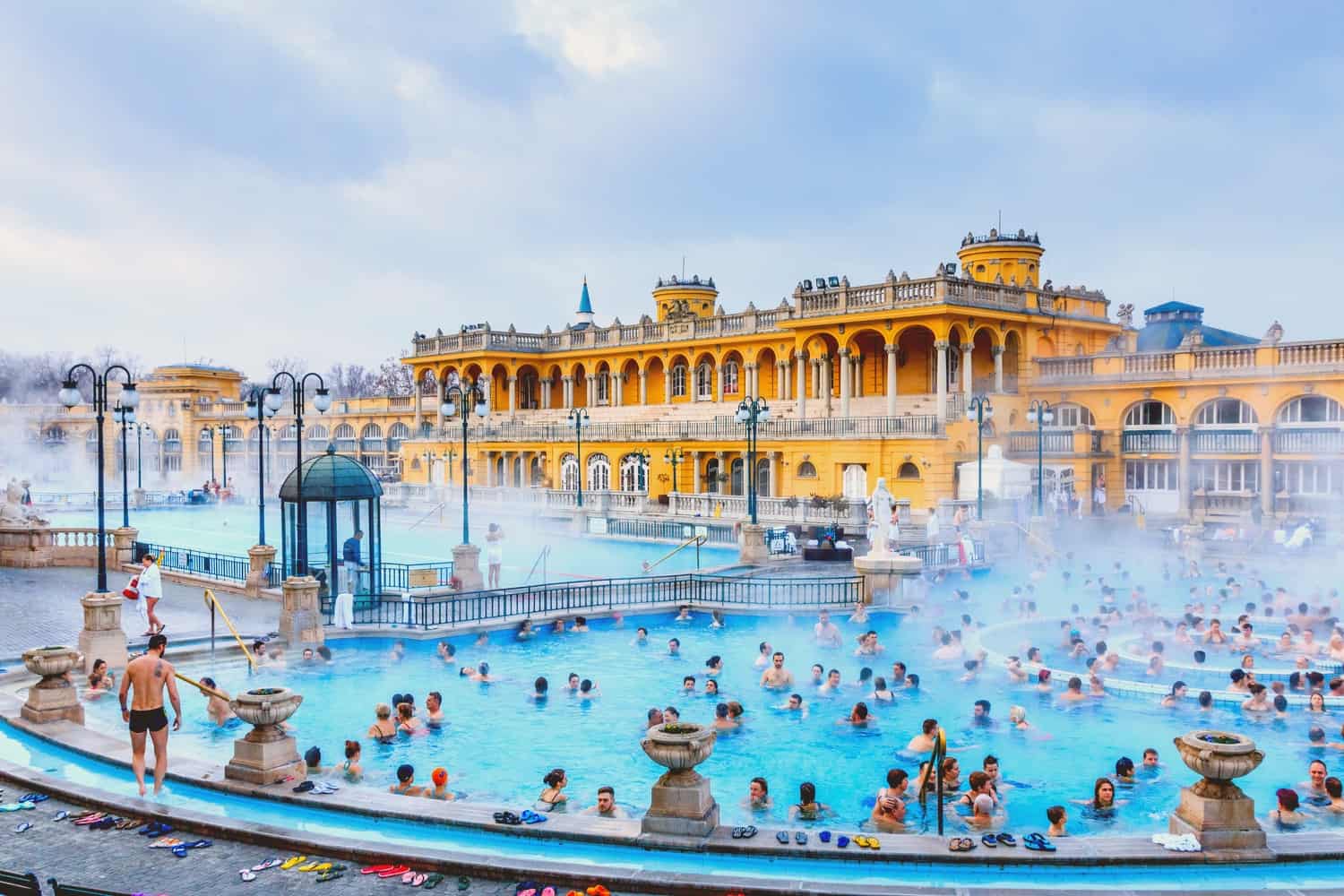 Relax in a thermal bath
The Romans colonized Budapest partly because of their famous thermal springs. By the 1920s, Budapest was known as a spa town. Széchenyi Thermal Baths are the most elaborate and ornate, housed in a historic building near Heroes' Square.
If you are searching for a thermal bath less infested with tourists, I recommend the Gellért Thermal Bath. The grand hall is free for visitors to look around, but one has to pay a small fee for a soak. Only open until 7.00 pm, the baths are located near the Danube at the foot of Gellért Hill, perfect for an after-hike dip.
Day 3: Lots of walking!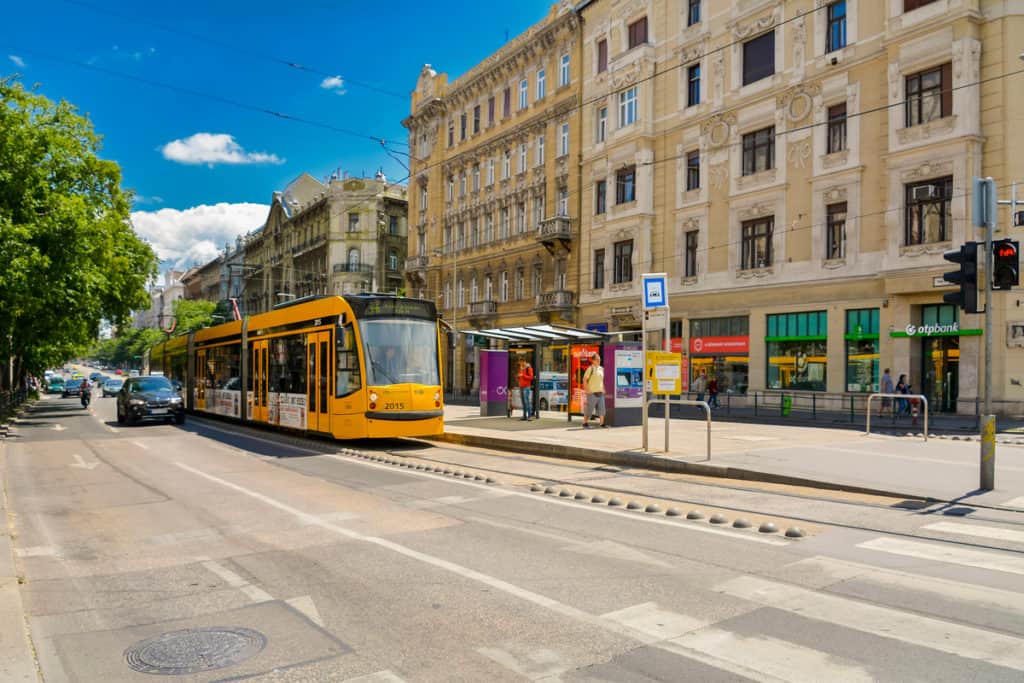 March along Andrassy Boulevard
The elegant and wide Andrassy Avenue is one of Budapest's major cultural hubs. Housing a range of museums, exhibition halls, and fine Neo-Baroque and Neo-Renaissance architecture, think of the Avenue as the Parisian Champs Elysees.
It connects the city center with the city park (Városliget). The avenue is named after Count Gyula Andrássy, one of Hungary's prime ministers of the 19th century.
Pop into the Liszt Museum
Along Andrassy Avenue, the Liszt Museum is located in a yellow brick building on the second floor. This is the former apartment where Liszt spent the last years of his life composing. The museum is a much-loved destination for music fans. If popping by on a Saturday morning, the museum hosts intimate concerts.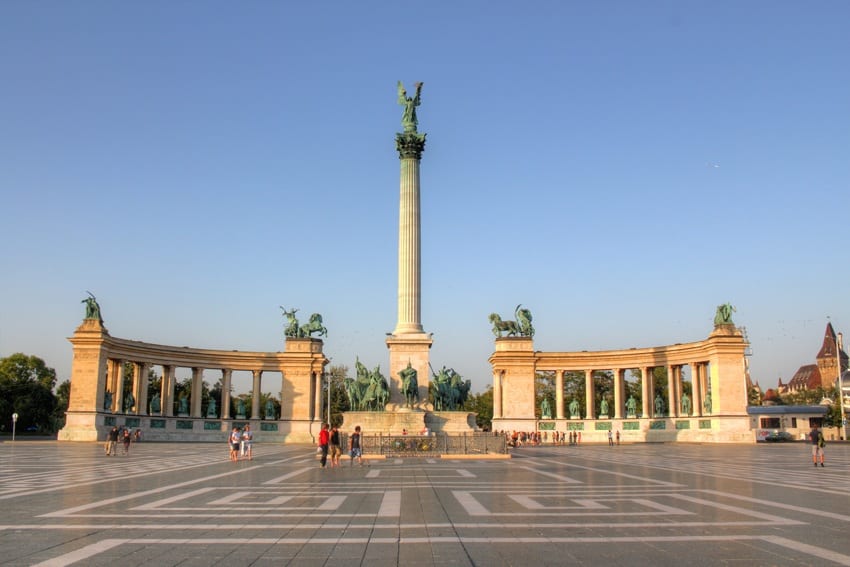 Heroes' Square
This is the grand finale of Andrassy Avenue. The complex filled with sculptures was built to commemorate the 1000th year of the Hungarian state. Its centerpiece is the Millennium Monument.
This square in particular has witnessed many political rallies and movements in Hungary. Its location now has blended into a mix of a Communist neighborhood and a new and budding edgy city.
Marvel at the history of the Jewish Quarter
After exploring the city's history and monumental buildings, head on a walking tour that takes you around the Jewish Quarter in Pest. Discover the Jewish heritage of Budapest with a passionate historian guide, learning about the Jewish district and its turbulent history from the late 1700s.
With this particular tour, explore the interior of the Rumbach Street Synagogue.
To finish the tour, head to a café serving traditional Hungarian food, with big portions and for an affordable price. Visit Mazel Tov, a refurbished warehouse for some scrumptious brunch.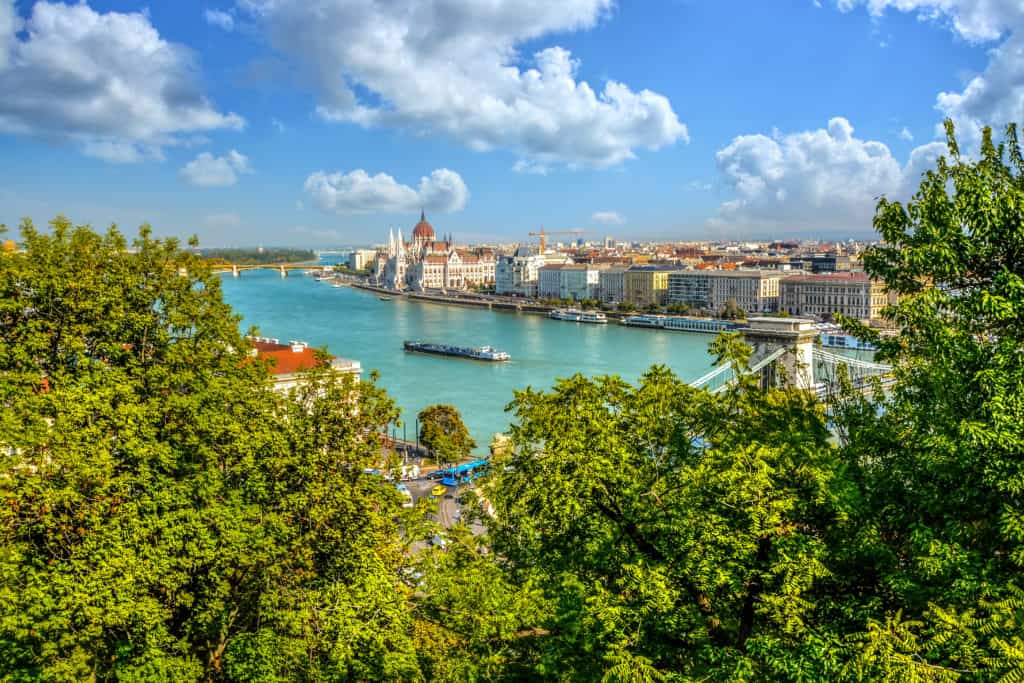 Danube River Cruise
A tranquil river cruise on the Danube, which separates hilly Buda from pedestrian Pest, is a lovely way to see some of the top sights of Budapest from the comfort of a boat. See the iconic Hungarian Parliament Building, built in the classic Gothic-Revival style, the Buda Castle, Matthias Church, Széchenyi Chain Bridge and Margaret Island.
Some have particular themes: craft beer, wine, dinner, and sunset cruises to name a few. If you have some time on your hands and are feeling adventurous, you can also book a cruise along the Danube from Budapest to Vienna!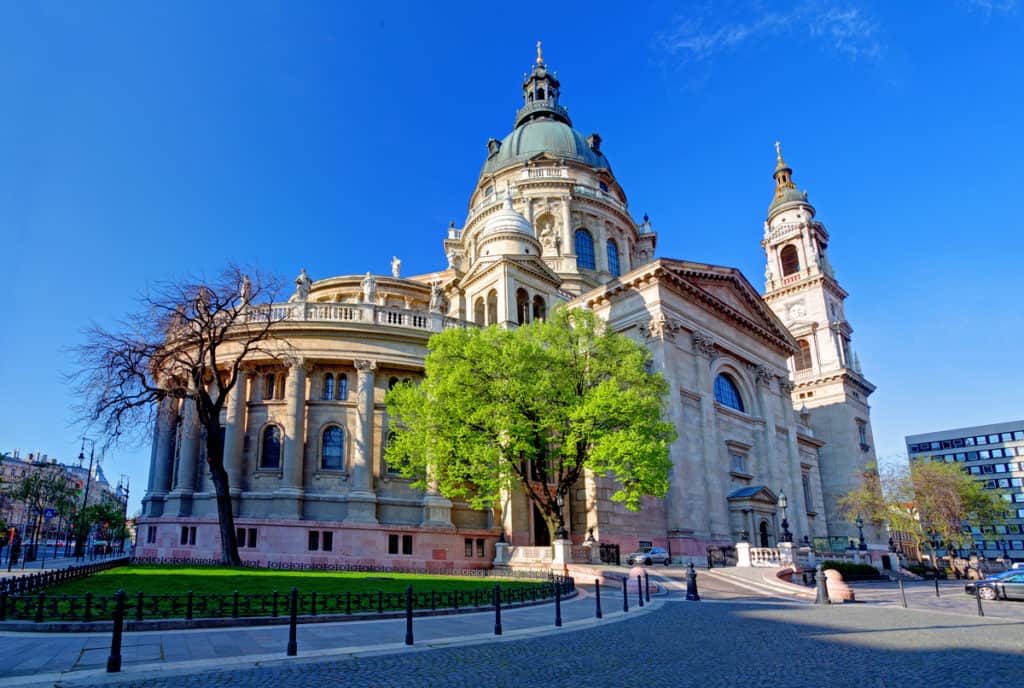 Where to stay in the city
When I visited Budapest previously, I stayed in Hotel Oktogon Haggenmacher. A four-star hotel located centrally, it features air-conditioned rooms, a fitness center and spa, free Wi-Fi and a bar (which is perfect for a nightcap).
You are always looked after, as the hotel offers a 24-hour front desk as well as a concierge service. To and from the airport, I handily used their incredible airport transfers.
The building of Hotel Oktogon Haggenmacher is absolutely beautiful. It is a historic renovated building, with a modern touch inside. The extensive breakfast they serve daily was perfect, just what I needed after a very comfortable sleep.
If you are looking for comfort, coziness and stylish interiors, Hotel Oktogon Haggenmacher is a hotel that I would 100% recommend for your three-day stay in Budapest!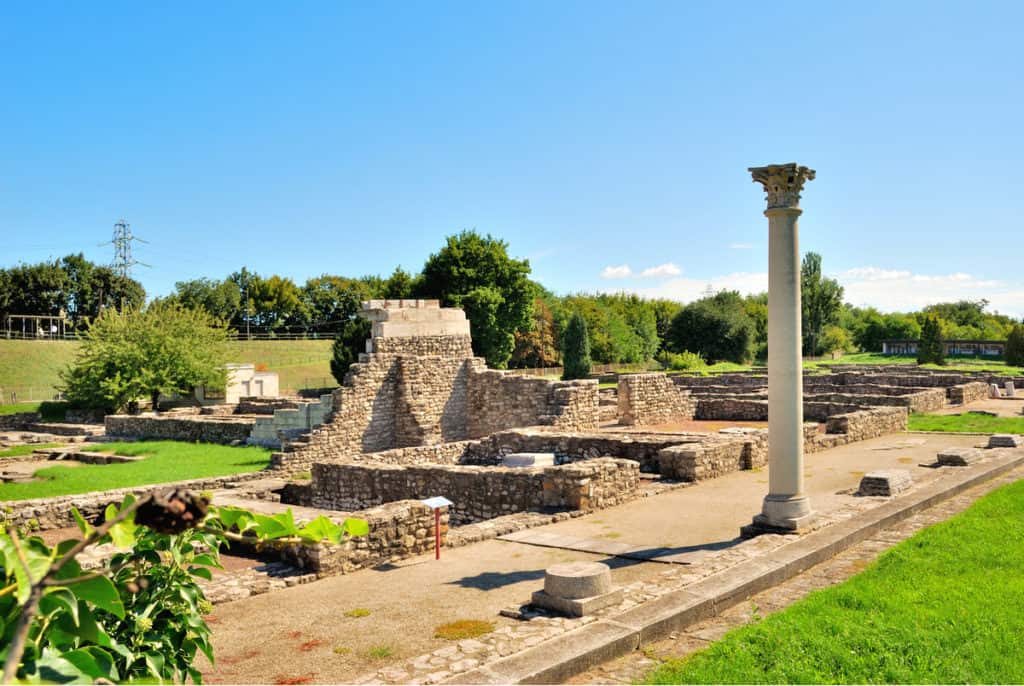 Best time of year to visit Budapest
The capital city of Budapest has a continental climate with warm summers and cold winters, meaning that it experiences significant annual variations in temperature.
The best time to visit Budapest is from March to May and September through November, essentially the off-peak seasons. At these particular times of the year, the weather is glorious and the city isn't overcrowded with tourists.
There are also key events during this period to enjoy your visit: Budapest Spring Festival (March-April) and Budapest Beer Week in May. The Spring Festival is the largest cultural event in Hungary, gathering the best of Hungarian and international performers.
On one occasion I visited Budapest in the summer (in August) and the balmy nights were perfect for the Sziget Festival, the weeklong international outdoor event held on an island in the Danube. If you are visiting during this time, I would highly recommend booking a ticket, even if for one day, to see your favorite pop artist in the basking sun!
Springtime in Budapest usually experiences sunshine, except in May when rain downpours are common. The city magically springs to life during this period, with colors and climate in bloom. The city's terrace beer gardens and sidewalk cafes are ready to be sat in, remaining open until mid-October.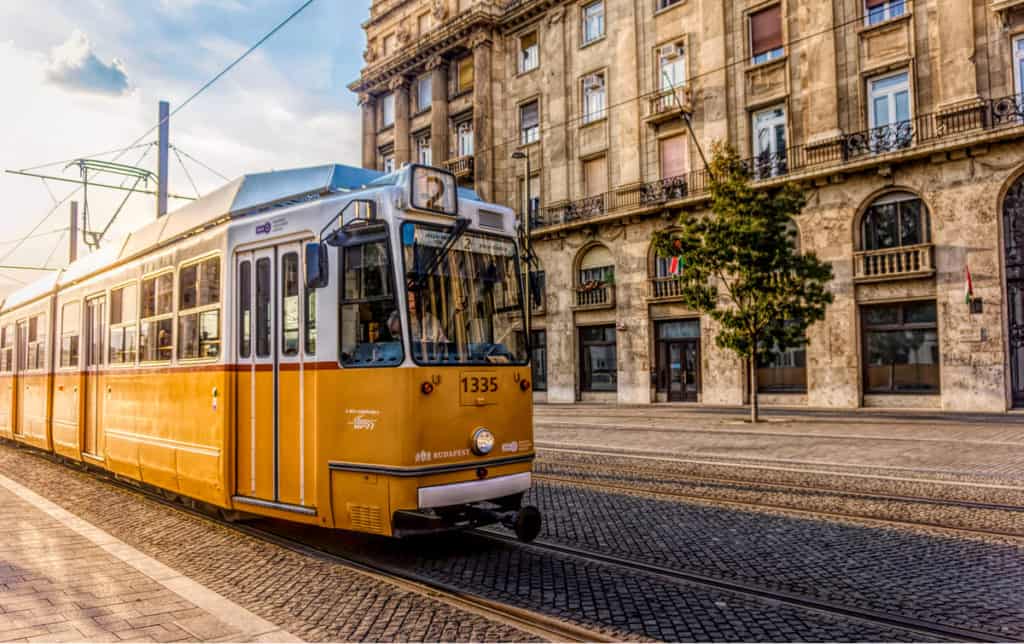 How to get around Budapest
Budapest is a walkable city, however, it is incredibly easy to get around thanks to its efficient public transport network operated by the Budapest Center of Transport (BBK). Buses and trams are the primary forms of transport in Budapest (the trams are what I used if I was traveling further than 25 minutes), however, you can also use the metro as a first-timer.
There are currently four metro lines, line 1 a UNESCO World Heritage Site, being the oldest subway in Continental Europe! Single tickets cost 350 Hungarian forints and you can change metro lines with a single ticket. Travel passes are available for 24 hours, 72 hours or a week, all with varying prices.
If you are staying for longer than a week, and are planning to return to the city, I would suggest purchasing a Budapest Card, as you can have unlimited transport access for the period you choose.
For riding the tram, more than 30 routes are operating across Budapest. The most popular lines are the 4 and 6, which run along Grand Boulevard, connecting Buda and Pest. Tram line 6 runs 24 hours a day, daily. Fares for the tram are identical to the metro.
If you want to use a taxi, it is not suggested to hail a cab from the street, as many companies are looking to scam foreign visitors. Instead, use reputable companies like Fótotaxi, City Taxi, Uber or Bolt, which you can easily call on your mobile.
When you are in Budapest and using public transport, I would suggest downloading the BKK Futár app, which will tell you when all modes of transport run. Trust me, this makes it so much easier to plan your trip, whether in advance or in real-time.
MOL Bubi Bikes is Budapest's bicycle-sharing system. With more than 170 docking stations and 1,800 bicycles, the network provides excellent coverage of the central parts of Pest. You can rent a bike through the app, and you'll need to use the 'Pay-as-you-go' option, which charges by the minute: for a half-hour bike ride, it costs HUF600, or less than €2.
Since 2019, Lime electric scooters have been introduced in Budapest. The cost of using Lime e-scooters consists of a base charge of €1 per ride, and an additional 15 cents per minute. All you have to do to ride is to download the app and scan the individual scooter's QR code: simple and easy!
To best discover the city, walking is the mode of transport I would highly recommend in Budapest. Most attractions, restaurants, bars and thermal baths in Budapest are easily within walking distance of the city's central hub.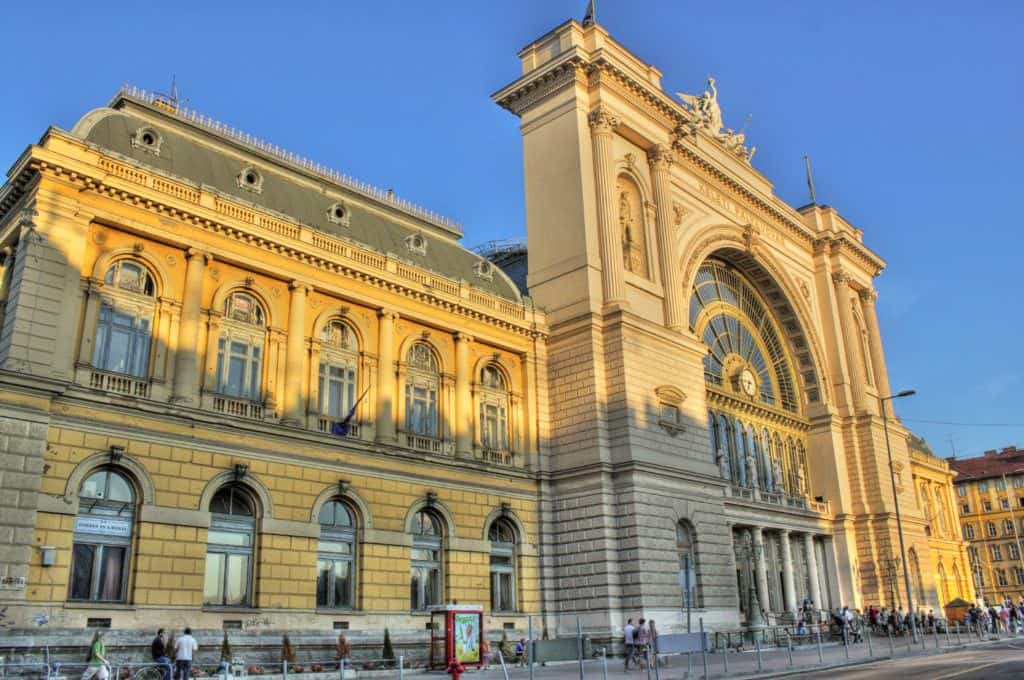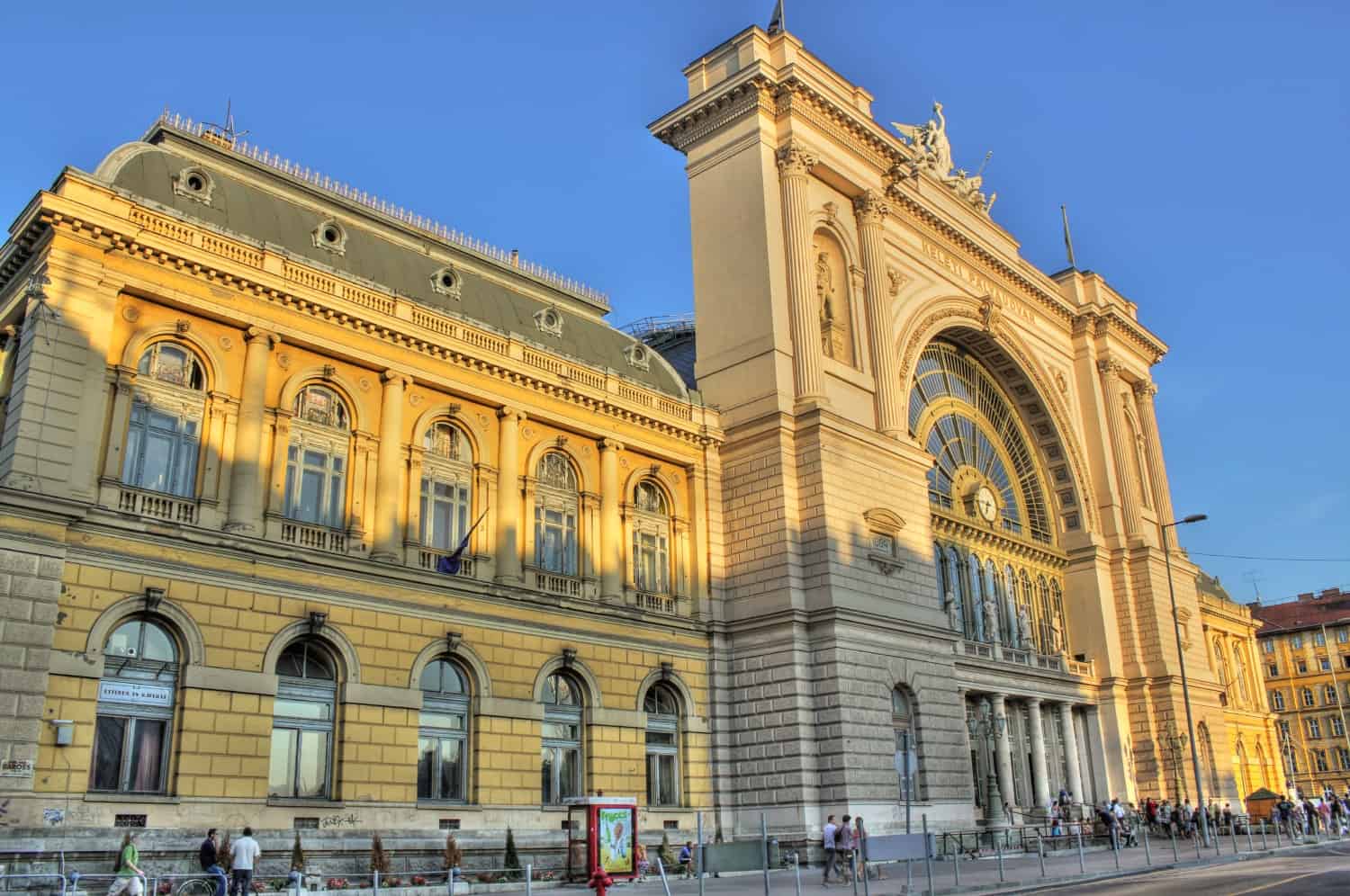 Safety advice
Budapest is a relatively safe city, especially for tourists. Travelers need to avoid areas that are risky for walking alone at night. The XVIII district, located in Pest, should be specifically avoided.
Petty crimes such as pickpocketing and bag snatching are the main problem in Budapest, for tourists. As in any other major city, tourist areas and public transport are the main places where thieves operate.
To be more specific, pickpockets are most active on public transport, on escalators leading down and coming up from the metro, and in crowded shops and food markets. Pay special attention to your belongings, do not carry large amounts of cash, and try not to carry your passports with you on the go.
As of late, the Russian invasion of Ukraine is ongoing, and the security situation continues to be volatile. It is strongly advised to not travel from Hungary to Ukraine.
Additionally, some clubs, restaurants and taxis overcharge. Always check the price of food and drinks before you order. Taxi drivers may receive a commission for taking you to certain establishments.
Always be aware of what you are drinking. As Budapest is a capital city with many inhabitants, drink spiking can happen in Budapest bars and nightclubs. Stick with people you trust when you go out, and never accept food or drinks from strangers or leave your drink unattended.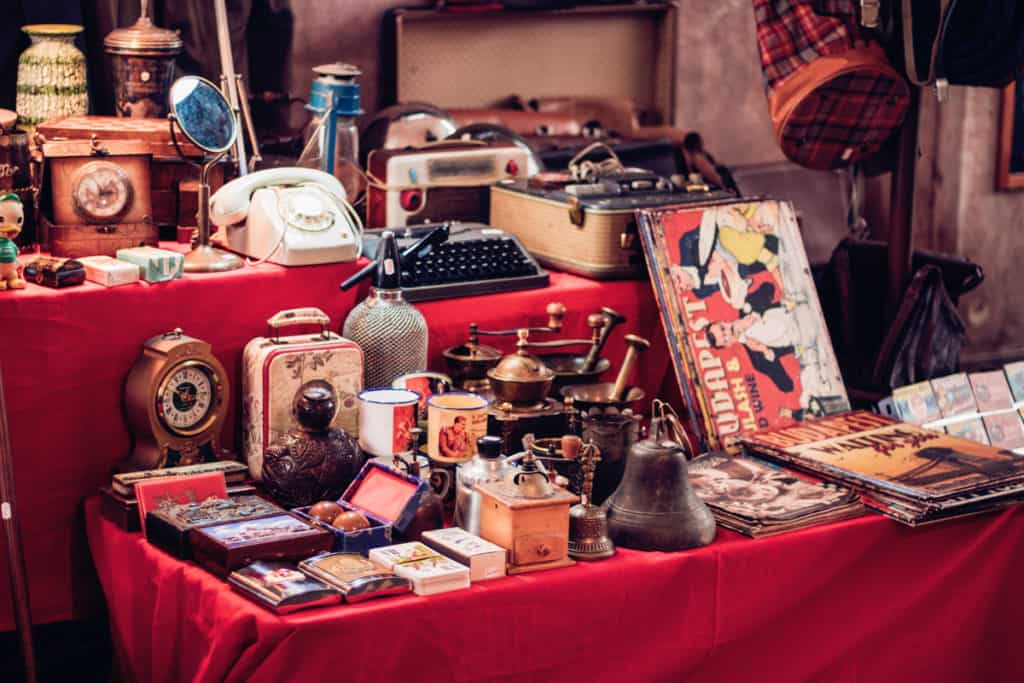 What to know before you go
A very important and essential thing to get right is how to pronounce the place you are visiting. It is not 'Boo-da-PEST' but 'Boo-da-PESHT'. When conversing with locals in the capital city, be sure to correctly pronounce its name!
Hungary has removed all COVID-19-related entry requirements, although you must still meet standard entry requirements, such as holding a valid passport and visa.
The currency used in Budapest, Hungary is the Hungarian Forint (HUF), usually abbreviated as Ft. It is possible to come across establishments that accept the Euro, yet it is best to be well-equipped with some HUF.
Unlike many other countries in Europe, Hungary has an active tipping culture. 10% of the total is appreciated in all cases, with higher percentages for exceptional service. If you are in a café/ restaurant, be sure to hand your tip directly to the server.
Finally, in Hungary, locals do not 'cheers' with beers. When Habsburgs Austria defeated Hungary in the 1848 revolution, Austrians celebrated the defeat by toasting and clinking beer cups. As a form of protestation, Hungarians promised to never do this again, and have not since.
Note that this rule doesn't apply to ALL drinks (like wine or palinka, a local fruit brandy). Remember to look people in the eye when raising a glass of anything other than beer!