Of all the scenic drives in the world, South Africa's Garden Route might be one of the most beautiful. Not only is it geographically exquisite, winding past beaches, lagoons, farms, forests, and mountains, but it's also home to some of the most exciting outdoor activities, gorgeous accommodations, and friendliest locals in the country.
There are enough outdoor adventures to attract the wildest adrenaline junkies and elegant hotels and spas to entice the luxury-seekers, making the drive an exceptional location for a family holiday, a romantic honeymoon, or a trip with friends.
Just a few hours away from the iconic Mother City of Cape Town, the Garden Route is the perfect adventure for those who like short driving stints paired with fun activities, unrivaled views, exciting wildlife, and tasty food. It's a treat for the senses in every way imaginable.
I've driven this route every year since I was a child, and I am still blown away by the beauty and charm that every small town along the way has to offer. In this post, I'm going to share all my knowledge about the best things to do on the Garden Route with you, from the best hotel recommendations to some of the most incredible outdoor activities and everything in between: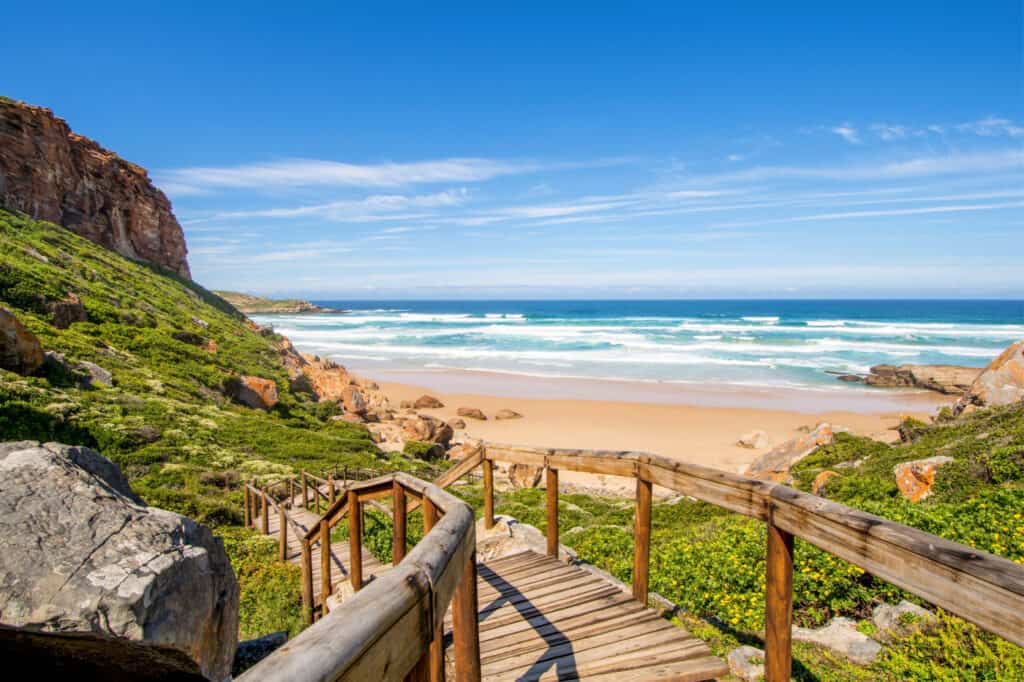 What to Know Before You Go
If you're visiting South Africa from abroad, I recommend prioritizing your time in Cape Town over other cities. Luckily for you, Cape Town International Airport makes it easy to travel to this ocean-side metropolis, which is not far from the start of the Garden Route.
If we're being technical, the Garden Route stretches around 125 miles (200km) along the Indian Ocean in the Western Cape of South Africa, beginning in Mossel Bay and ending at Storms River. It will take you between four to five hours to reach Mossel Bay from Cape Town, which is the most common direction to drive.
You can find numerous car rental agencies in Cape Town, whether you rent a vehicle on arrival at the airport or once you're in the city center. Alternatively, if you'd like to end your Garden Route journey in Cape Town, you could fly into Gqeberha (previously known as Port Elizabeth) and work your way down the Garden Route.
From start to finish, the Garden Route drive will take just around two and a half hours to complete. However, packed with endless small towns and villages, gorgeous Indian Ocean beaches, and incredible scenery, I would advise spending a few nights (at least) exploring the area.
Depending on how much time you have to spare, I recommend spending a night at the three biggest towns along the route; George, Knysna, and Plettenberg Bay. This way, you'll be able to explore all the hidden gems between them, without rushing through the drive.
In South Africa, we drive on the left side of the road. While the streets are generally safe and well-maintained throughout the route, do make sure you're a confident driver with an aptitude for reading maps.
It's also essential you purchase additional travel and car insurance in South Africa. Although I haven't had any bad experiences along this route, we are still in South Africa, and it's best to take precautions. Rather safe than sorry, I say!
The route is easy to follow and pretty much follows one road (the N2), so you shouldn't have issues getting lost. Google Maps will work wonders on the trip, which is well marked out. There are some stationary and temporary speed cameras along the road to keep the roads safe. Long story short — don't speed, especially through small towns where there can be loads of young kids playing along the roads.
If you're continuing past the Garden Route to Gqeberha, take note that the quality of the roads declines significantly when you leave the Western Cape and enter the Eastern Cape. Watch out for potholes on smaller roads, and always have a spare tire on hand!
Now that you have a better idea of what to expect and how to prepare for your drive, it's time to plan your itinerary. I've written the list in order of distance from Cape Town to make things easier to plan. Here is my list of some of the best places to stay, eat, and have fun along the Garden Route
Go on a Game Drive at the Garden Route Game Lodge
Set just inland of Mossel Bay, the Garden Route Game Lodge guards the entrance to the Garden Route. It's the closest game lodge to Cape Town and one of the biggest private game reserves in the Western Cape.
The lodge offers an impressive selection of rooms, villas, and cabins, ranging from basic to luxurious. No matter your budget, this is one of the area's more affordable luxury game reserves!
During your stay, you'll be treated to a daily sunrise and sunset game drive in one of the reserve's traditional safari Land Rovers. The reserve is home to all of Africa's Big 5 animals, as well as white rhino, giraffe, and a myriad of buck species. If you're wondering what to do on the Garden Route, this is your chance to get up close and personal with some of Africa's exciting wildlife.
Hike the St. Blaize Trail in Mossel Bay
If you're a hiking, walking, or trail running fan, this is one of the greatest activities on the Garden Route. The St. Blaize trail is a 13.5km hike that follows a contour path along a cliff in Mossel Bal towards the Cape St. Blaize Lighthouse. The entire walk will take around six hours to complete from start to finish and is one of the most spectacular ways to take in the gorgeous scenery.
Although you can walk the trail in either direction, most hikers start at the cave below the lighthouse and walk toward Dana Bay. There is parking available at either starting point. Aside from the incredible ocean views and potential whale sightings, you'll also get a good dose of exercise during this hike.
Although not a hugely strenuous hike, don't underestimate this trail. You should have a reasonable fitness level and be able to walk on bumpy terrain for hours. Make sure you dress for the occasion! If you encounter a problem along the way, getting back to the main road can take a while, so it's better to come prepared.
Spend the Night at Botlierskop Private Game Reserve
Set in the heart of the Outeniqua mountains, midway between Mossel Bay and George, Botlierskop is a private game reserve that offers sweeping views of the Indian ocean. The reserve is stretched across 4200 hectares of pristine land, home to the Big 5, cheetahs, black impala, zebra, giraffe, wildebeest, and hippos.
Depending on your budget and the reason you're visiting, choose from tented lodges to manor suites and self-catering villas. There is even an entire village of accommodation built with children in mind for those traveling as families.
Unlike many private game reserves, this one welcomes day visitors with open arms. Whether you stay the night or visit for the day, you can partake in various exciting activities like traditional game drives, safaris on horseback, spa treatments, and even activities for kids. Check out this three-hour game drive excursion as an idea.
There are also a few restaurant options where you can sit back and enjoy fine dining in a uniquely African safari environment.
Wander the Wild Oats Community Farmer's Market in Sedgefield
Sedgefield is a small town surrounded by wetlands and lakes between George and Plettenberg Bay. It's home to one of the most exciting landmarks on the Garden Route, the Wild Oats Community Farmers Market.
Everybody loves a farmer's market!
The market is held every Saturday morning between 7:30 am and 12 pm in summer and 8 am to 12 pm in winter, come rain or shine. It's hosted just on the outskirts of this one-horse town, next to the gorgeous Swartvlei Lake, and has been running for over 15 years.
The small and rustic market brings together some of the region's top farmers, from large-scale wineries to family-owned vegetable farms, to sell and advertise their products to locals and travelers.
The environment is relaxed and wholesome, and the market has done well to bring together people of diverse backgrounds to share their common passion for farming, nutrition, and environmental awareness.
Whenever I drive past the market, I grab some homemade rusks (a classic South African biscuit to dunk in tea or coffee) and a vetkoek (a deep-fried bread) for the road. If you're staying in the area, this is also a great place to buy some fresh local cheeses, meats, and produce.
As we say in South Africa, 'Local is Lekker' (nice)!
Walk with Giants at the Knysna Elephant Park
For an experience you will never forget, stop at the Knysna Elephant Park to meet an incredible herd of African elephants. The park is open every day from 9 am to 4 pm.
Founded to house and care for orphaned African elephants, the park has been running for over twenty years to rescue these majestic creatures from poachers. The park is designed to rehabilitate and relocate the animals, with some being released into the wild and others sent to other facilities based on their needs.
If you're interested in learning about elephants, their backgrounds, and their behaviors, visit the interpretation center for an educational experience like no other.
At the moment, the park is home to a herd of eight feisty elephants, making them the largest domesticated matriarchal herd in South Africa. The best thing about the park is that the elephants are encouraged to do as they please, interact with those they want to, and go where they want to go.
With no fences, this creates a space where you can experience the beauty of these huge animals in their natural environment and on their terms — something all animal rehabilitation centers should strive for.
Enjoy a Fresh Croissant at Ile de Pain in Knysna
Ile de Pain is a bakery that could put any genuine French croissant to shame. It's located in a quaint center on Thesen Island in Knysna, surrounded by the picture-perfect Knysna Lagoon.
The bakery has a cafe-style deli and is always buzzing with activity. In fact, you might struggle to get a table during the summer months, so reservations are advised.
It is undoubtedly one of my favorite restaurants along the Garden Route, serving feasts for breakfast and lunch and a range of artisanal bread and pastries for takeaway. No matter how much of a rush I am in, I will make sure to stop at this restaurant for a meal or to pick up some favorite pastries when I pass through Knysna.
My favorite thing to order here is French toast for breakfast and sourdough flatbreads for lunch. You'll thank me later.
The setting is just as incredible as the food, with an outdoor courtyard covered by a canopy of leafy trees. Inside, you'll find seasonal flowers and art installations. My favorite has to be the bakery Christmas tree, which is decorated with real croissants, buns, and dried citrus fruit.
Go shopping on Thesen Island in Knysna
While you're in Knysna, spend some time browsing the cute boutique shops on Thesen Island. Follow the main road over the bridge, and you'll arrive at the heart of the island. It's pretty small, and there are a bunch of underground parking spots if you can't find anywhere on the street to leave your car.
Thesen Harbour Town is the commercial part of a residential group of islands that are very popular with South African holiday-makers. Once a single island that housed a sawmill (which still exists as a hotel today), Cape-Cod-style homes line the canals on today's Thesen Island. So a lot of the shops here are interior designer boutiques that sell bespoke pieces to holiday homeowners on the island.
Grab a Bite to Eat at East Head Cafe
East Head Cafe is a local landmark of Knysna, perched on the cliffs of East Head. It's a meeting place for family, friends, and lovers, who visit day and night for a wholesome and casual atmosphere paired with tasty food.
Naturally, the views are the best part of this restaurant, which offers walls of glass windows and outdoor seating so you can make the most of the scenery. The restaurant is set in the sandstone cliffs of East Head, with views gazing out across the Knysna Lagoon into West Head and its mystical milkwood forests.
The food here is simple yet tasty, made using the best of the best local products, including locally caught seafood. I love the classic beer-battered fish and chips sold here, which comes with a tangy homemade tartar sauce. The grilled calamari will hit the spot if you prefer a light meal instead.
If you have the time, this boat cruise ventures out from the Knysna Keys towards the heads and is a great activity on the Garden Route to pair with your East Head Lunch.
Visit the Castles of Noetzie Beach
Picture yourself on a deserted beach surrounded by cliffs, lush mountains, and castles. You heard me — Noetzie Beach is pretty much just that. Located just a ten-minute drive east of Knysna, Noetzie is a magical kingdom on the Indian Ocean.
The area was originally known as Noetziekamma, which meant 'dark water' in Khoisan (a local tribal language). It's pretty hidden from the N2 highway, set on a secluded and pristine stretch of beach, so you'll have to get your maps out for this one.
Archeological evidence found that Noetzie has been a popular location along the coastline for the past 3500 years. However, the castles here don't carry the history of battles and royalty you might expect. Instead, they were and are a series of holiday homes built by local families who lived in the area.
The oldest 'castle', known as 'Norths's Cottage', is only about a century old. It was built in 1930 using stone for practical reasons and made to look like a traditional fairytale castle for fun. This set the trend for the other castles that were erected here.
Nevertheless, Noetzie is still a mystical spot to visit along the Garden Route.
Enter Another World at Kaaimans Grotto in Wilderness
Have you ever been to a place that makes you feel like you're in another dimension, with no familiarity with the real world outside? Well, this is how I felt when I emerged from the iconic Kaaimans Grotto during my first visit.
The cave is located on a cliff under the N2 as you make your way around the corner from Victoria Bay into Wilderness. It lies on a set of unused rail tracks that used to service the iconic Outeniqua Choo-Choo.
The only way to access the cave is via the train tracks, which includes a short hike through an abandoned tunnel. I have only ever made the journey from the nearby Victoria Bay, which is a longer trek through two tunnels and across an abandoned, rusted, and frankly, terrifying railway bridge suspended five stories above shallow water.
At the end of the tunnel, you'll be met by a friendly man and an otherworldly scene. Dug into the side of the cliff is a huge cave covered with hanging shell ornaments, hand-crafted wooden furniture, and house plants which might give you the creeps at first.
The cave goes way deeper into the mountain than you would expect, complete with over ten rooms, a small kitchen, and an office. Apparently, the grotto used to be a popular food and coffee stop for the Choo-Choo train. Today, it's an eerie rest home for homeless people and those struggling with addiction in the area.
Sleep in the Trees at Zinza at Tsala Treetop Lodge in Plett
Hidden in the treetops of an ancient indigenous forest, Tsala Treetop Lodge is a boutique hotel with a distinctly African spirit. The incredible architectural wonder is unlike anything in the world, with a relaxing yet captivating ambiance emanating through the wooden walls.
On top of the beauty of the actual structures, the views from the hotel are equally as impressive. The lodge is located between Knysna and Plett, making it an incredible place to base yourself if you want to explore the Garden Route.
Although on the pricey side, you'll be paying for what you get here – an incredible room curated with an Afro-Baroque taste, a private plunge pool, incredible food and wine, unrivaled views, privacy, and world-class service.
Do yourself a favor, and don't skip this one…
View this post on Instagram
Indulge Yourself at The Bungalow in Plett
If you're able to splurge on accommodation, I recommend spending a night or two at The Bungalow by Raw Africa Boutique Collection. Set on Hobie Beach in the iconic beach town of Plettenberg Bay (locally known as Plett), the boutique hotel is a new space with incredible ocean views.
The five-star accommodation includes a restaurant, shared lounge, and a lounge bar, and it is only a 25-minute walk from Central Beach!
There are fourteen guest suites on the property. Some rooms are self-catering, some have a tub and walk-in shower, and others boast views of the sea. Bring your entire family or visit for a romantic getaway. For whatever reason you visit, you won't be disappointed.
Dine by Candlelight at Emily Moon River Lodge
Another incredible option for an overnight stay, Emily Moon River Lodge, is one of the most beautifully designed boutique hotels I have ever set my eyes on. Every detail, from the interiors to the food plating, has been carefully curated with incredible taste with a distinctly African flair.
The lodge is set just inland of Plettenberg Bay, on the banks of the Bitou River, boasting some of the most gorgeous rivers, wetlands, and mountain views from every room.
Owned by a local family, the lodge is filled with unique trinkets and treasures that the family has collected over years of travel across Africa and Asia.
If you cannot spend a night at this bespoke hotel, do yourself a favor and, at the very least, visit for dinner. Depending on the weather, you can sit inside the eclectic dining room or outdoor terrace at Emily's Restaurant.
You won't find a more romantic spot than this.
Visit the Mid Week Market at Old Nick Village in Plett
Located on the N2, Old Nick Village is a must-visit pit stop for anyone driving through Plett. It's also a wonderful place to spend some time exploring if you're staying in the beach town, and it is known as a landmark shopping destination on the Garden Route.
The Village comprises a collection of buildings connected by lush gardens, featuring an eclectic mix of local manufacturers, creative designers, antique shops, and restaurants. It was originally built in 1880 and had a rich trading history.
The village hosts the Mid Week Market every Wednesday, where visitors can browse fresh local fruit and vegetables and sustainably farmed meat and dairy products. Whenever you visit, Old Nick Village is home to local designers and curators who are fueling the South African economy in style, and is worth checking out.
Go Wine Tasting at Bramon Wine Estate
If you're planning a trip to South Africa, you probably know that Cape Town is one of the most famous wine regions in the world. But did you know there are some incredible wineries along the Garden Route, too?
The Plettenberg Winelands might be small, featuring just 18 vineyards over about 60kms, but it certainly packs a punch. Most wineries offer wine tasting, special cellar door prices, and tasty meals served at trendy restaurants overlooking the vineyards.
Bramon Wine Estate is a boutique vineyard that paved the way for the Plettenberg Winelands in the early 2000s. Founded by a local family, the vineyard is set overlooking the Tsitsikamma Mountains in The Crags and is known for its award-winning Methode Cap Classique sparkling wine — South Africa's very own version of 'champagne.'
Hike Through Robberg Nature Reserve
Just 8km south of Plett, Robberg Nature Reserve is an icon of the area (and the Garden Route). Not only is this peninsula an internationally recognized nature reserve, but it's also a national monument and World Heritage Site.
When you find yourself in Plett, dedicate a cool morning to hiking the area, which offers different hiking trails that vary in difficulty. They might be different, but they all boast incredible ocean views. I've spotted a couple of great white sharks off the peninsula myself — enough to make me stay out of the water in Plett! In fact, Robberg is known to be one of the only places in the world to watch these ocean beasts cruise through their natural habitat from the land.
The peninsula is packed with indigenous wildlife, crashing waves, majestic sand dunes, and deserted white sand beaches waiting to be explored.
Bungee-Jump Off Africa's Highest Bungee Bridge
If there's one adrenaline-fueled activity you've heard of along the Garden Route, the Bloukrans Bungee Jump would be it.
The jump takes place at the highest arch point of Africa's biggest bridge, otherwise known as Bloukrans. The bridge sits 702 feet (216 meters) above a rocky river and forms part of the N2 highway. Just getting to the jumping point is enough of a thrill as you make your way on a zipline.
Experience the ultimate adrenaline rush as you plunge through the impressive Bloukrans River Gorge, surrounded by incredible natural beauty. I'll level with you; this one isn't for me, but that isn't to say it doesn't rank high up on the Garden Route bucket list for others!
Walk Along Storms River Suspension Bridge
As you reach the end of the Garden Route, you'll reach one of the most picturesque national parks in the country. The Tsitsikamma National Park is a multidimensional location, offering up coastal scenery, forests, a fynbos ecosystem, rivers, and even reefs.
Some of the main attractions in the park include snorkeling or diving the reefs, hiking along some of the famous otter and dolphin trails, and whale watching from the pristine beaches. Active adventurers will enjoy these Blackwater Tubing and Paddleboarding tours.
The park is also home to what locals call the 'Big Tree'. You guessed right, this tree is massive and is located just a short walk from the N2 into the forest.
My favorite thing to do in the Tsitsikamma National Park is to explore the trails, one of which leads you to a suspension bridge dramatically hanging over the rumbling Storms River mouth below. This might just be one of the most beautiful places I've visited, so I highly recommend adding it to your list.
Cheese Tasting at Fynboshoek Cheese Farm in Storms River
At the very eastern end of the Garden Route, treat yourself to an indulgent cheese-tasting experience at the Fynboshoek Cheese Farm in Storms River.
This modest farm is easily one of the most loved destinations for a boozy weekend brunch, attracting local crowds from around the region. Some even refer to it as the 'secret cheese farm' because of its elusive allure.
Set on the banks of a small dam, the farm produces its own cheeses and prepares delicious lunches and snacks straight from the source. Their motto is to deliver food as it is presented by nature, with as little interference as possible. What I love about the farm restaurant is that it has no menu and simply serves the freshest food that it has available on the day.
From the charming traditional farmhouse to the magnificent surroundings to the friendly staff to the freshly-prepared food, this cheese farm is nothing short of an exceptional experience.
And that brings us to the end of our list of fabulous and fun activities to do on the Garden Route in South Africa. Whether you're an avid adventurer keen to get your adrenaline flowing or prefer a more luxurious and relaxing vacation, the Garden Route has something for every type of traveler and personality.
Its striking beauty draws in hundreds of thousands of tourists each year, but its wholesome atmosphere and welcoming locals will make sure you come back for more.