Johannesburg, otherwise known as Jo'burg or Jozi by locals, is a booming metropolis with so much to explore. Unfortunately, many people tend to overlook Johannesburg in favor of Cape Town or Kruger National Park; but I am here to change your mind!
Or at least give you a different perspective.
Often referred to as the city of gold, and originally designed for gold mining, it has now transformed into the world's largest urban forest and a multicultural melting pot. Johannesburg is truly one of the most dynamic cities in South Africa.
I used to be a bit skeptical of Jo'burg, but once I visited and experienced it for myself, I fell in love. The South African city is the largest in the country with over 8 million people living in it. It has incredible energy and vibrant culture that is worth exploring.
I enjoyed some of the best food in the world, experienced amazing nightlife, explored some of the city's incredible museums and galleries, visited historical sites, and spent time in nature.
I know what you are thinking. Is three days enough in Johannesburg?
And the answer is ABSOLUTELY! Three days is the perfect amount of time to really get to know Johannesburg and explore some of the city's hottest spots.
You won't be pressed for time, so you'll be able to take your time and fully experience the city. But for more than three days you'll probably start to feel like you're going around in circles and you may want to move on.
Jozie is perfect for a cheeky three-day adventure as many international flights land in Jo'burg, so if you're looking for a quick weekend getaway or just the start of an epic adventure, this city is a great place to begin.
So many people sadly skip Johannesburg because they've either not heard much about it or have the wrong idea. But with this guide, you'll be ready to hit the ground running and explore Johannesburg in all its glory!
If you're a fan of culture and big cities, then chances are you'll want to stay for longer. But for those with limited time, here is my travel guide on how to spend 72 hours in Johannesburg, South Africa.
Day 1: Soweto and the Apartheid museum
Start your first day in Johannesburg with a journey to Soweto, one of the city's most vibrant and historic townships.
Many of the tours are on a bike — I took this tour and loved it — and will take you through the town's main sites, such as Nelson Mandela's home and Hector Pieterson Museum.
You will learn how Soweto came to be, what was once a place of displacement and suffering is now a vibrant, colorful community that gives visitors a unique insight into the country's history. During Apartheid, many families were segregated from each other. Now, the community of Soweto is thriving and has a culture like nowhere I have seen before.
Soweto is the birthplace of much of the country's history, including Nelson Mandela and Desmond Tutu. On your tour, you will learn about the struggle of the people and how they fought for their rights.
Taking a tour of Soweto township is an incredibly powerful experience. It was here that the 1976 student riots began, and these riots are still a major part of South Africa's history. Seeing everything first-hand can be difficult, but it is also inspiring.
Keep in mind some parts of Soweto look like a traditional neighborhood, while others don't, you will see people living in shanties and it can be a difficult sight.
So just remember to be respectful and follow the guide!
While you are in Soweto you will see the famous Soweto Towers. These towers are decommissioned cooling towers from a local power plant. They have become an icon of the city, and it is definitely worth stopping by to take some photos.
And if you are feeling adventurous, you can try the bungee jump at the towers! It is a 100m jump from the suspension bridge that connects the two towers. It is an exhilarating experience that I highly recommend!
The tour I took is popular and does sell out, so be sure to book early in order to avoid disappointment! You can check tour availability for your travel dates below: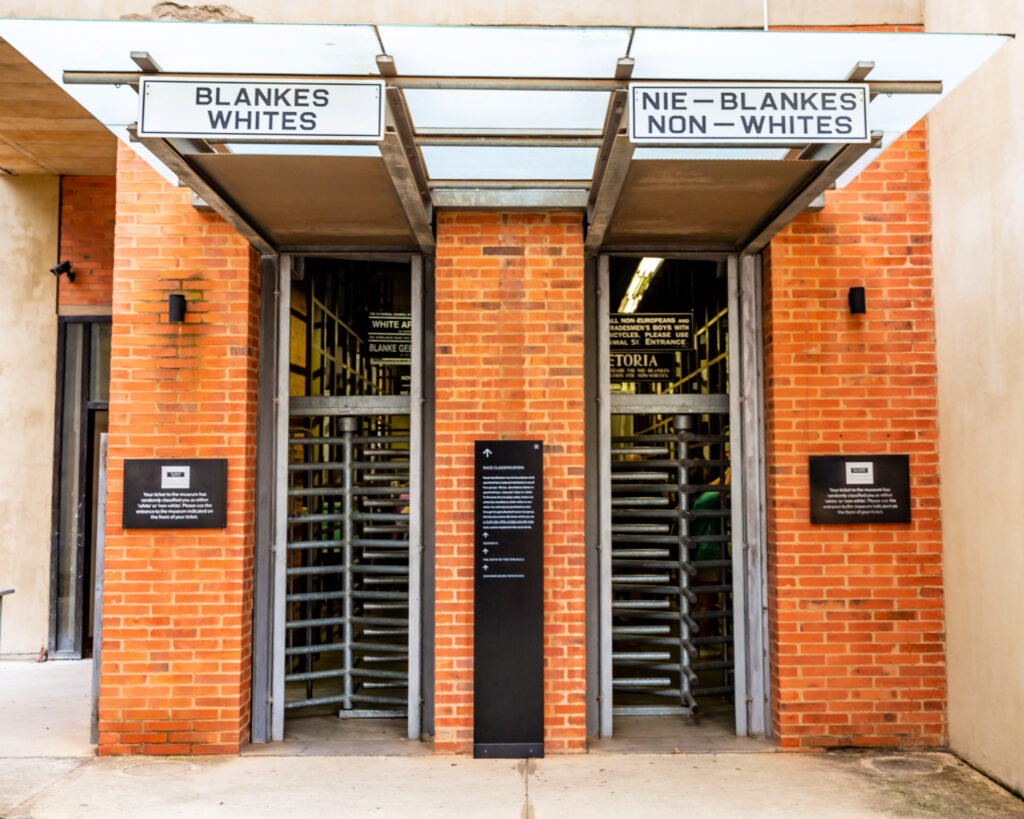 After your adventure in Soweto, head to the Apartheid museum. This museum is a must-visit if you want to understand South Africa's history and how it has shaped the country today.
You will start getting a ticket that says either black or white on it. From there you will be forced to enter the museum through the entrance designated for your race. This is a powerful experience that will give you insight into what life was like during apartheid and how it affected South Africans.
The museum contains interactive displays, video footage, photographs, and artifacts that tell the story of apartheid and its aftermath.
Remember, Apartheid didn't end until 1994. So South Africa is not too far removed from the struggles of this dark period in their nation's history.
It is important to understand the hardships of black South Africans and how they overcame this system. It can be extremely emotional, but it is an important experience for visitors to have.
As you are planning your trip keep in mind that The Apartheid Museum is open on Wednesdays to Sundays from 9:00 to 17:00. Entrance for adults is 150 Rand.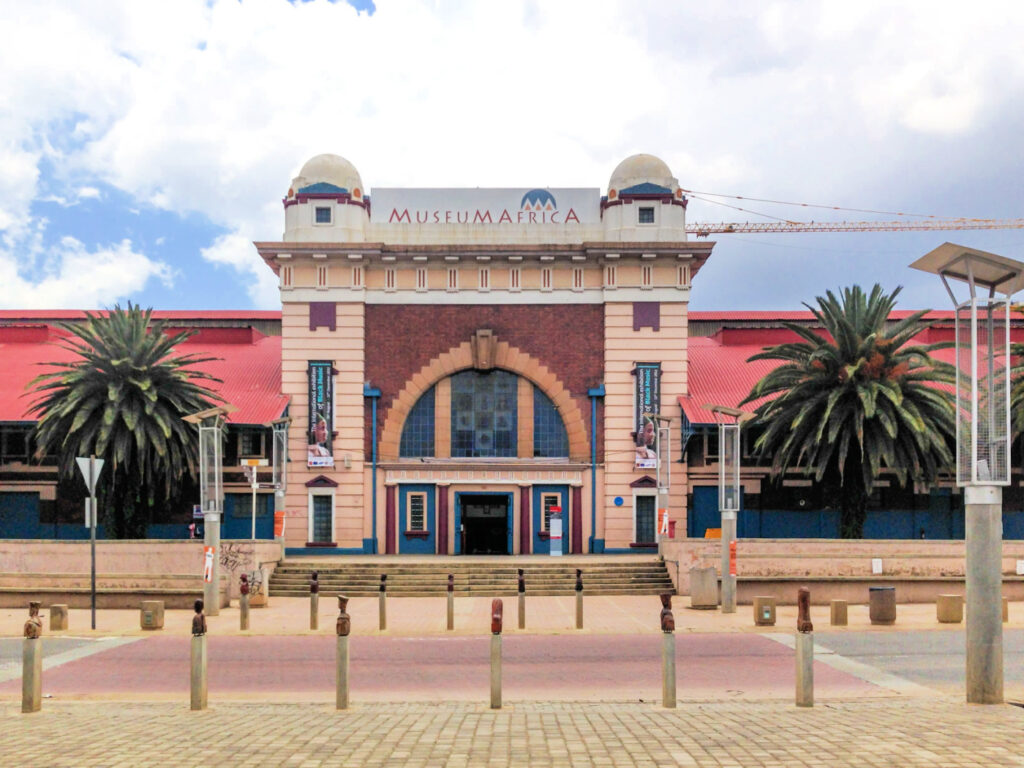 Day 2: Constitution Hill and Downtown Jo'burg
On day two, it's time to explore downtown Johannesburg. Start your day on this fabulous walking tour of the city center of Johannesburg.
Your tour will take you through the streets and alleyways of downtown, giving you an intimate look at this bustling city.
Museum Africa, in Newtown, is your first stop, where you can learn about the history and culture of Johannesburg. The museum houses artifacts from the city's past, including traditional tools and musical instruments.
Your tour will then take you to the Workers Museum – the last remaining municipal living quarters for African men in Johannesburg.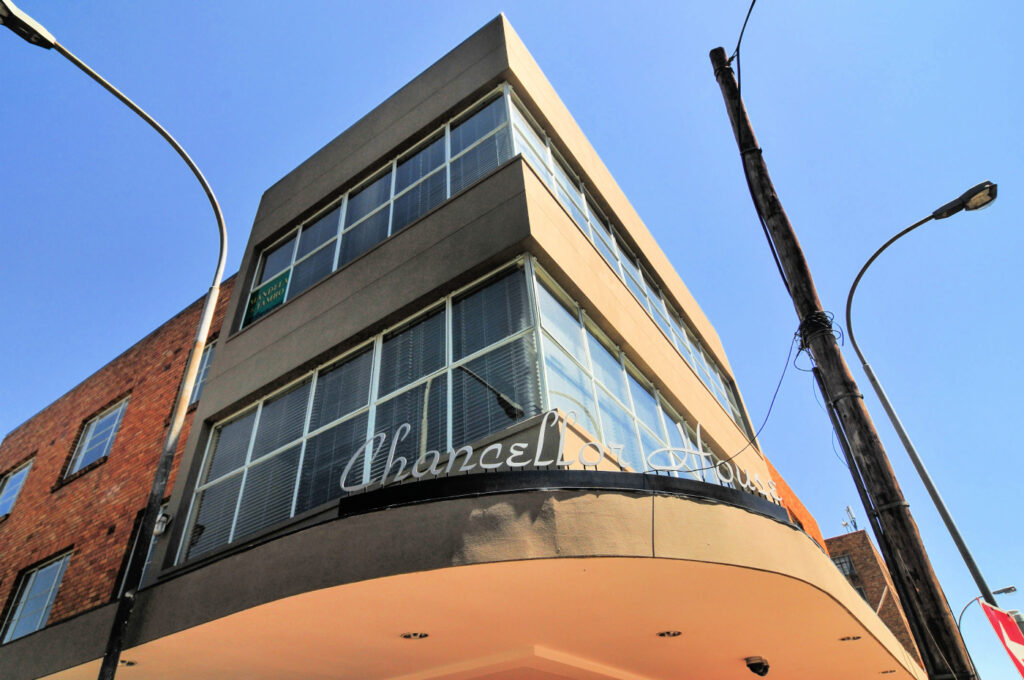 From there, visit Chancellor House to see where Nelson Mandela and Oliver Tambo set up South Africa's first black-owned law firm.
Your group will head to Main Street to see some of the city's most impressive old buildings. Once you're there, follow Main Street until you reach Gandhi Square – a commercial and retail hub that's always abuzz with activity.
The next stop on your journey is the top of Africa, where you'll be inside the tallest skyscraper on the continent, The Carlton. Afterwards, you will be able to enjoy a delicious braai lunch in the Maboneng District.
If you don't know what Braai is, it is a traditional South African BBQ perfect for sharing with others. Enjoy the meal as you are surrounded by street art, cafes, and galleries that make up this lively neighborhood.
This area has been transformed from a derelict industrial zone into one of Jo'burg's trendiest spots. The walking tour is a great way to explore the area and see how it has been revitalized. So take an hour or so to wander around and enjoy the sights.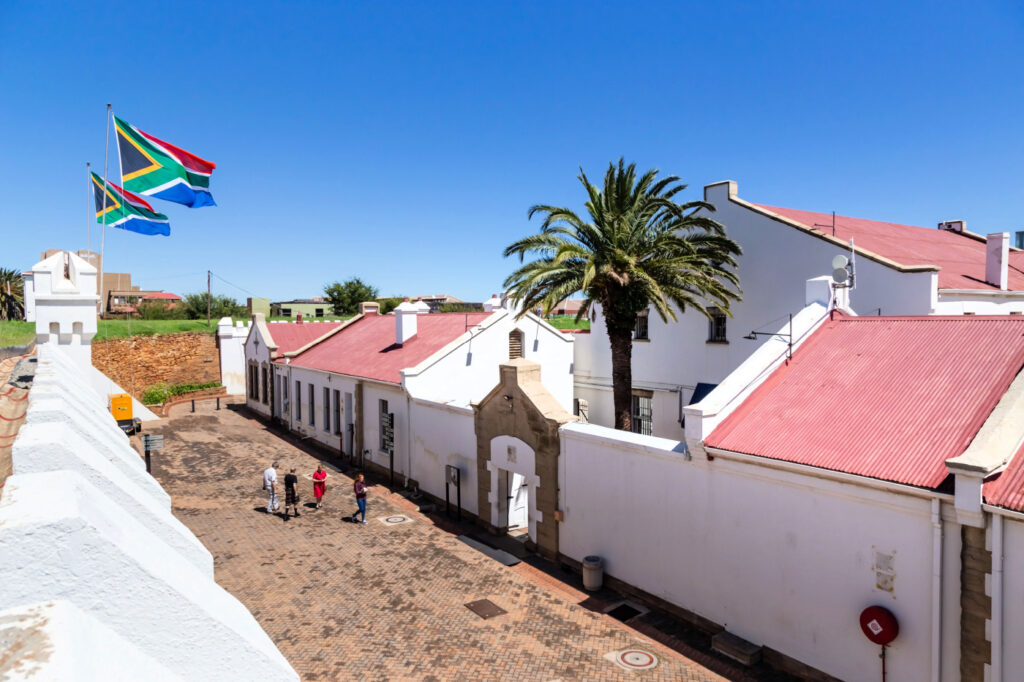 Finally, finish your day with a visit to Constitution Hill. This is the site of South Africa's Constitutional Court, which was built on top of the old prison where many political prisoners were held, including Nelson Mandela.
Constitution Hill is a living, breathing museum that documents South Africa's difficult journey to democracy. The fortress stands as a former prison and military fort, marking South Africa's separation from its past. Today, it is home to the country's Constitutional Court which protects basic rights for all of its citizens.
There is no other place in South Africa that can powerfully illustrate this journey than Constitution Hill. You can take guided tours of the fortress that focus on its history and the fight for freedom. It is an incredibly important place to visit and a must-see in Jo'burg.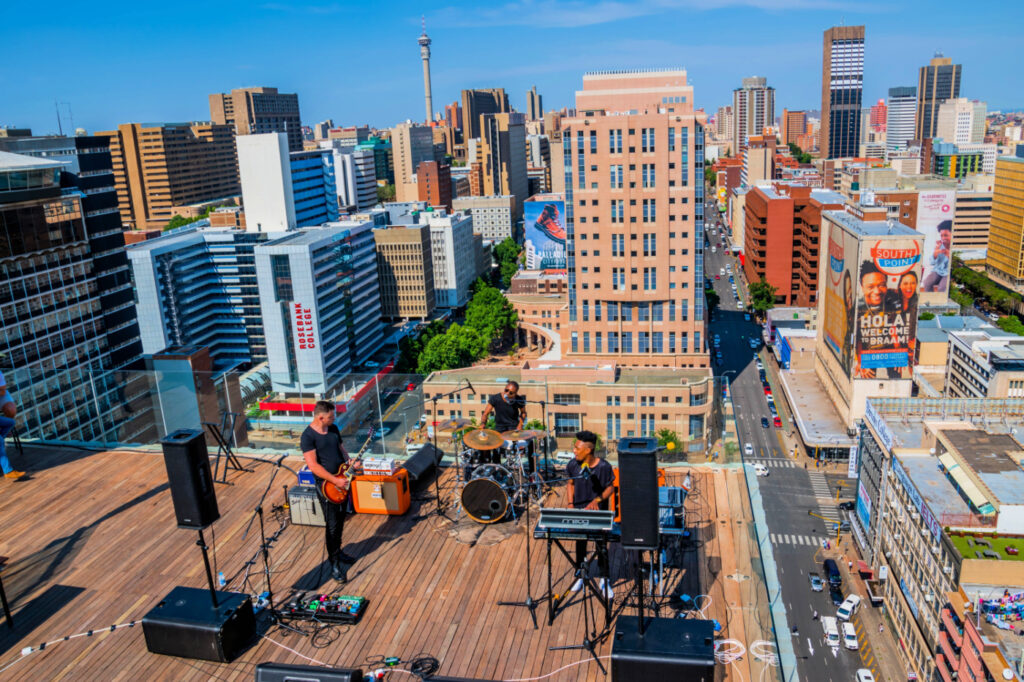 After visiting Constitution Hill, head to one of the many delicious restaurants nearby for dinner. Try out the best local dishes and learn a bit more about South African cuisine during your stay in Johannesburg.
And don't forget to sample some of the city's nightlife, from rooftop bars to live music venues there is something for everyone in Downtown Jo'burg!
My favorite place to go out is Randlords. The venue is on the 22nd floor which will give you an unbelievable view of Johannesburg with its floor-to-ceiling windows.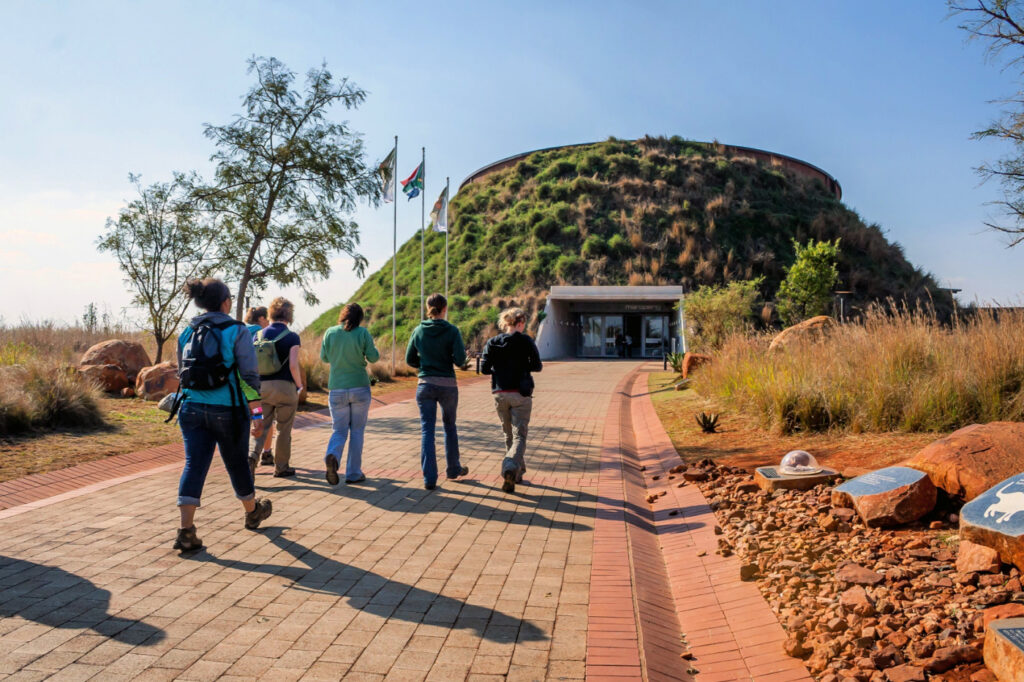 Day 3: The Cradle of Humankind and Markets
For your final day in Jo'burg, head out to the UNESCO World Heritage Site – The Cradle of Humankind.
This site is one of the most important archaeological sites in the world. It is home to an incredible collection of fossils and remains from some of our earliest human ancestors. Yes, it's time for another tour!
Tour the caves and explore this fascinating piece of history. Learn about the evolution of humanity and the importance of this site in understanding our past.
Walk around the Sterkfontein Caves, a series of underground limestone caves that contain some of the most well-preserved hominid fossils in the world.
The tour is the perfect way to experience South African history firsthand and understand more about our ancestors and the origins of humanity.
The Cradle of Humankind is also home to some incredible wildlife, so make sure you keep your eyes peeled for some of the animals that call this area home.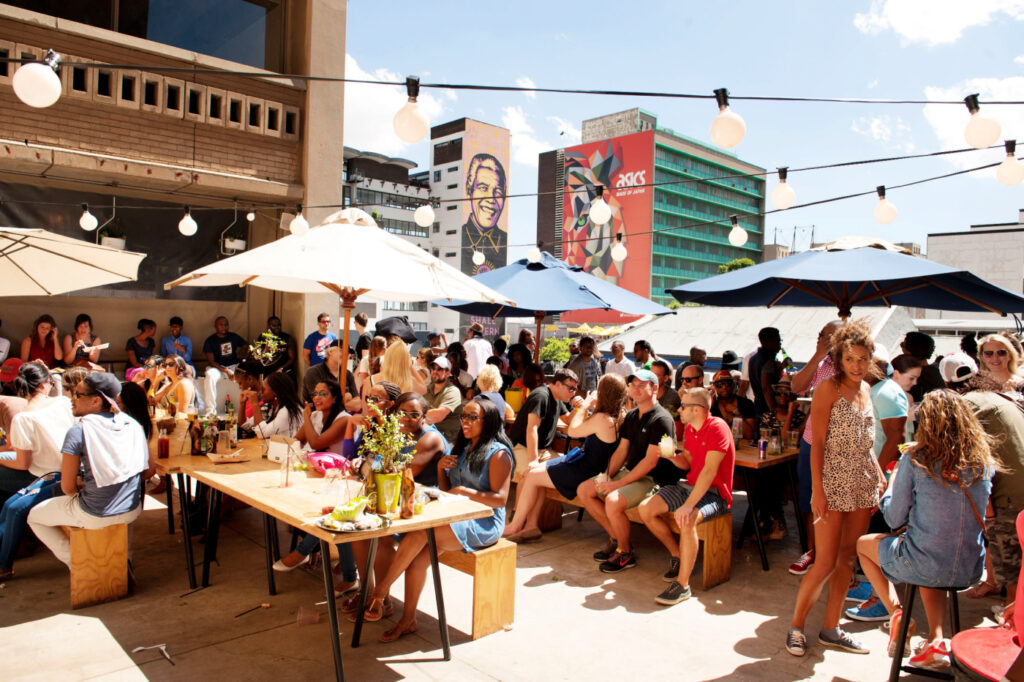 Finally, finish your trip with a visit to the bustling markets of Johannesburg. Honestly, this was one of my favorite parts of the city.
If it's a Sunday, you will want to head to the Rosebank Rooftop Market, where you can find some of the best local talents in food, fashion, and crafts. Wander around the maze of stalls and enjoy a bite to eat or a few souvenirs for your friends back home.
If it's not Sunday, head to the Neighbourgoods Market. This is a weekly market with everything from fresh produce and artisanal cheeses to live music and street food. It's a great way to get a taste of Jo-burg in one place!
No matter what you decide to buy. Whether it's a piece of jewelry, artwork, or clothing, there are plenty of unique treasures to be discovered in the markets of Johannesburg.
So that's how you can spend three amazing days exploring Jo'burg! Whether you want to visit historic sites, shop at local markets, explore the nightlife or just enjoy some delicious food, there is something for everyone in this vibrant city.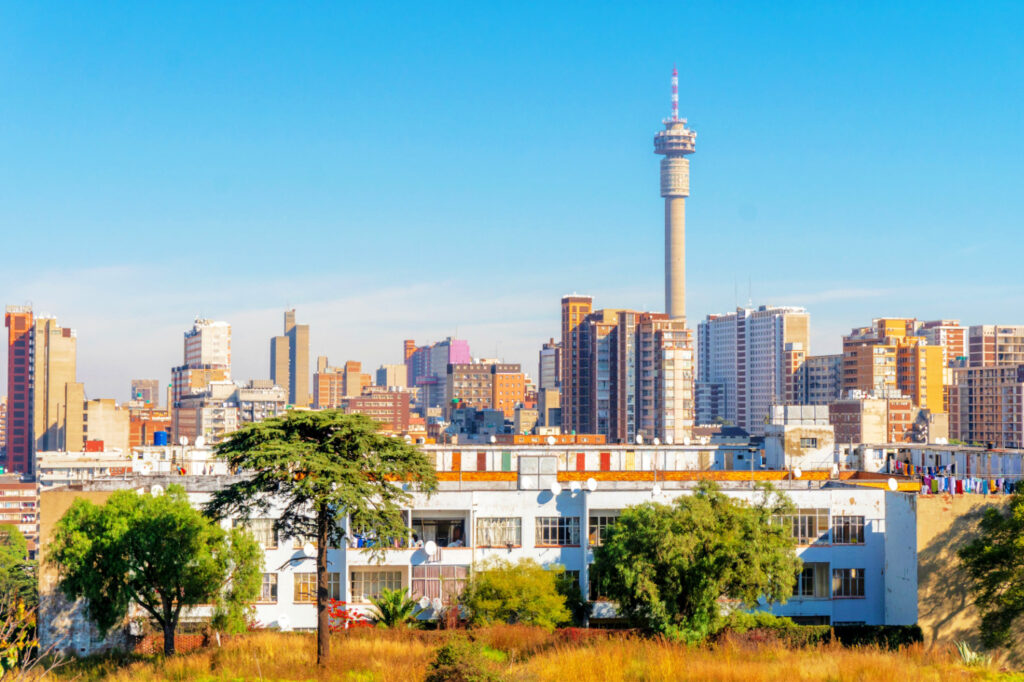 Know Before You Go
Just like you, I know that reading travel blogs can help me get ideas about what to do while visiting a new city. But there are always a few things I wish someone would have told me before I arrived as well.
So, with that in mind. Here are a few things I think you should know before you go to Johannesburg!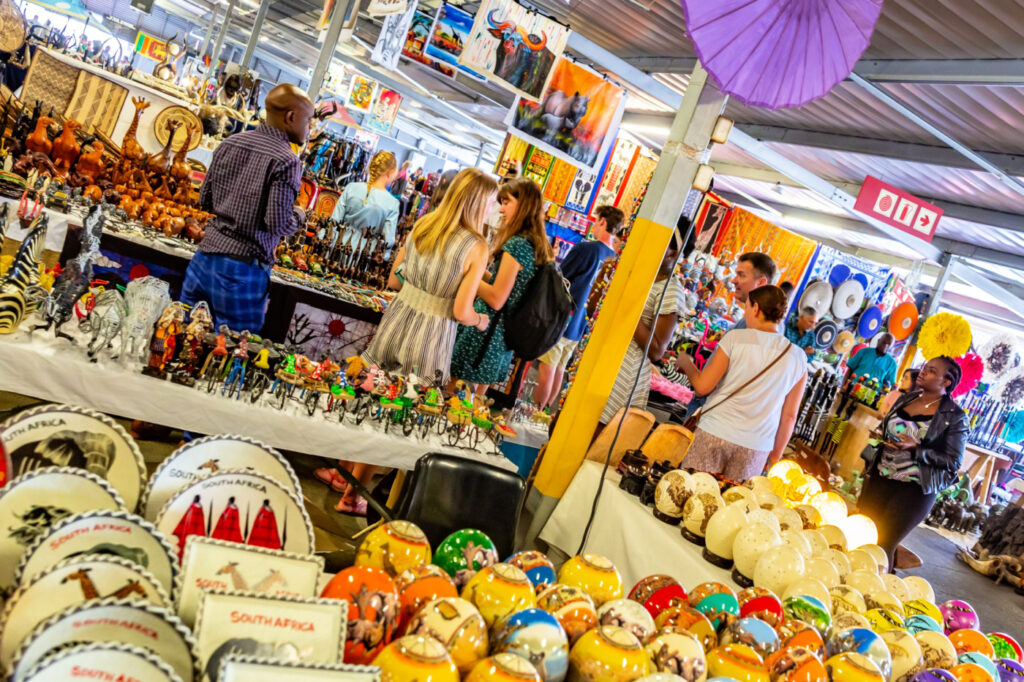 Where to stay in Johannesburg
Jo'burg has many different neighborhoods and they all offer something different. It's important to choose a place that is close to the things you want to see and do while also staying in a safe area.
When you are driving around Jo'burg you will notice just about every single home is gated and guarded. Accommodations are no exception and I suggest staying at a hotel or Airbnb that has 24/7 security guards. Staying in an area with good security always gives me peace of mind while exploring the city and I want that for you too.
I highly recommend this Boutique Hotel in Bedfordview. It is a little bit out of the city center in one of the more affluent areas but is still close enough to get around. The hotel offers a great place to relax and it has a beautiful outdoor pool to enjoy your breakfast by. You will feel safe here and it's only a 10-minute drive to the city center. And if you are needing to catch a flight it is only 13 minutes away from the airport.
The Giglio Boutique Hotel is a beautiful five-star hotel that goes above and beyond for its guests. When staying here I felt like an absolute queen with the huge king-sized beds and the Jacuzzi tubs that are in the room. It's a great place to stay for those who want the luxury experience and honestly, I didn't think the price was steep at all. It was perfect for me!
Best Time of year to Visit Johannesburg
Johannesburg is in the southern hemisphere meaning its seasons are opposite of Europe and the United States. The best time to visit Johannesburg is during the spring and autumn when temperatures are mild and there is less likelihood of rain.
In summer, from November to March the city can be quite hot and humid so if you don't mind high temperatures then this is also a great time to visit. But when I tell you it is insanely busy in summer, I mean it is BUSY!
So many people escaping the cold winter of Europe and the US, come to South Africa. Prices will skyrocket on accommodation and flights so just keep that in mind when planning.
Winter, May to August, is the best time for safaris as this is when most of the animals have their young which makes them more visible. It's also a bit cheaper than in summer.
The autumn months, March to May, are considered the best overall time to visit Johannesburg as the weather is still quite warm. The temperature varies between 17°C and 23°C during this season, and the sun is ALWAYS shining, making it perfect for exploring the city on foot.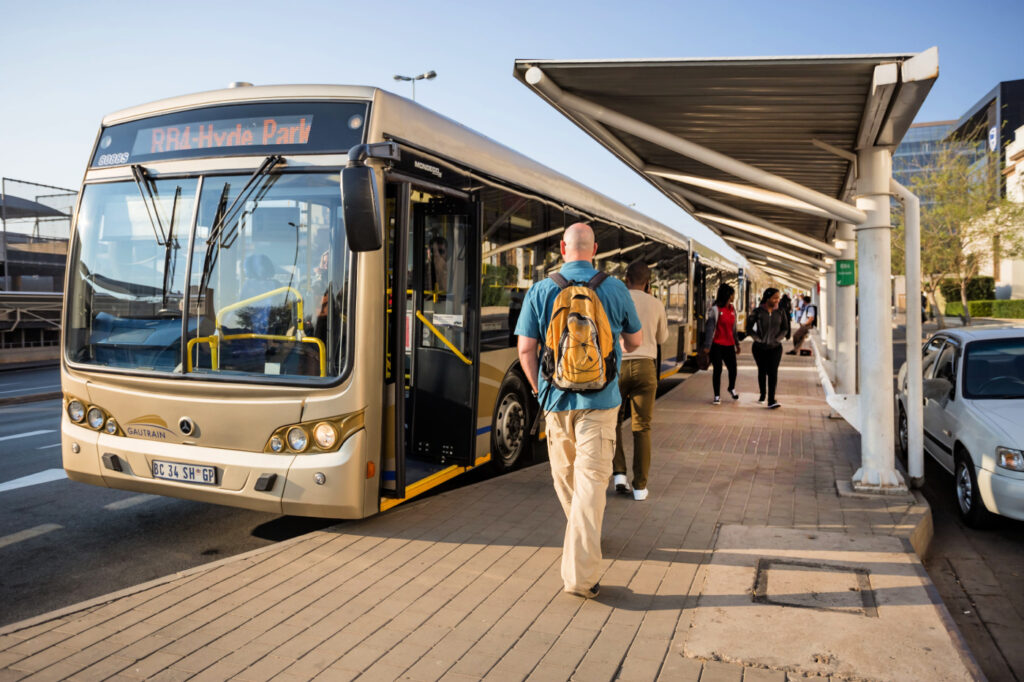 How to Get Around Johannesburg
I am so glad someone had me download the Uber and Cabify apps before I arrived in Johannesburg because it is the most convenient way to get around the city. There are other methods of transportation such as Gautrain, Metro Buses, and Taxis, but they can be quite unreliable and not always safe.
Uber and Cabify are affordable and you can use the GPS on your phone to find out how far away your driver is. I recommend using these services if you need to go to a specific place, but if you're just exploring then it might be best to take a stroll around the city.
If you're still unsure, I recommend reserving a car and driver through your hotel. They can help you connect with reliable transportation so that you're able to explore Johannesburg worry-free.
No matter what method of transportation you choose, make sure you stay safe and never carry large amounts of cash with you while traveling around the city.
Safety Tips for Johannesburg
This is a big one because safety is a huge priority while traveling. I would like to preface this by saying that I felt extremely safe the whole time I was traveling in Johannesburg.
However, South Africa in general is still struggling in the safety department and is experiencing high levels of crime, so it's important to take precautions.
Here are some tips I recommend:
Keep your valuables close to you and out of sight. Become familiar with your surroundings before venturing off so you don't need to rely on your devices while walking.
Avoid walking around after dark or in isolated areas.
Don't carry large amounts of cash with you and be sure to keep your valuables in the hotel safe.
If you're taking public transportation, try to stay in well-lit areas and don't travel alone if possible.
If you're hailing a cab, make sure it is a registered company and that the driver has their ID displayed in the vehicle.
Overall, I found Johannesburg to be an incredibly welcoming city, but like any place, it's important to stay aware and be mindful of your safety. With these tips in mind, you should have no problem having a great time while exploring Johannesburg!
I hope this has helped plan your trip to Johannesburg and that you have an amazing time! South Africa is one of my favorite countries and I know you will fall in love with it too. Whether you're here for safaris, shopping or nightlife, Johannesburg has something for everyone.
Happy traveling!