South Africa sits high on the bucket list of most adventurous travelers.
It's a wonderful country; one that that everyone should aim experience at least once in their lives (although most, like me, end up coming back for more).
Located at the southern tip of Africa (the clue's in the name!), South Africa offers up a fascinating blend of culture and history, wild animals and exquisite landscapes, friendly people and delicious food, creating what Nelson Mandela called a Rainbow Nation.
Most tourists head straight to Cape Town, chasing the city's vibrant sunsets, bright-white beaches, world-class food scene, and begging-to-be-hiked mountains. While I'm arguably Cape Town's biggest fan, there's so many other places worth exploring in South Africa. 
As one of the most contemporary cities on the continent, Cape Town often surprises many tourists with its 'Europeanized' atmosphere. Likely the result of years of international tourists visiting the city, Cape Town is one of the safer and most aesthetically attractive cities in South Africa.
On the other hand, South Africa's biggest city, Johannesburg, has a much more African ambiance. This incredible metropolis lies a short drive from Pretoria, one of South Africa's three capital cities. Yep, South Africa has three capital cities! You've got Cape Town, the legislative and tourism capital; Pretoria, the executive capital; and Bloemfontein, the judicial capital.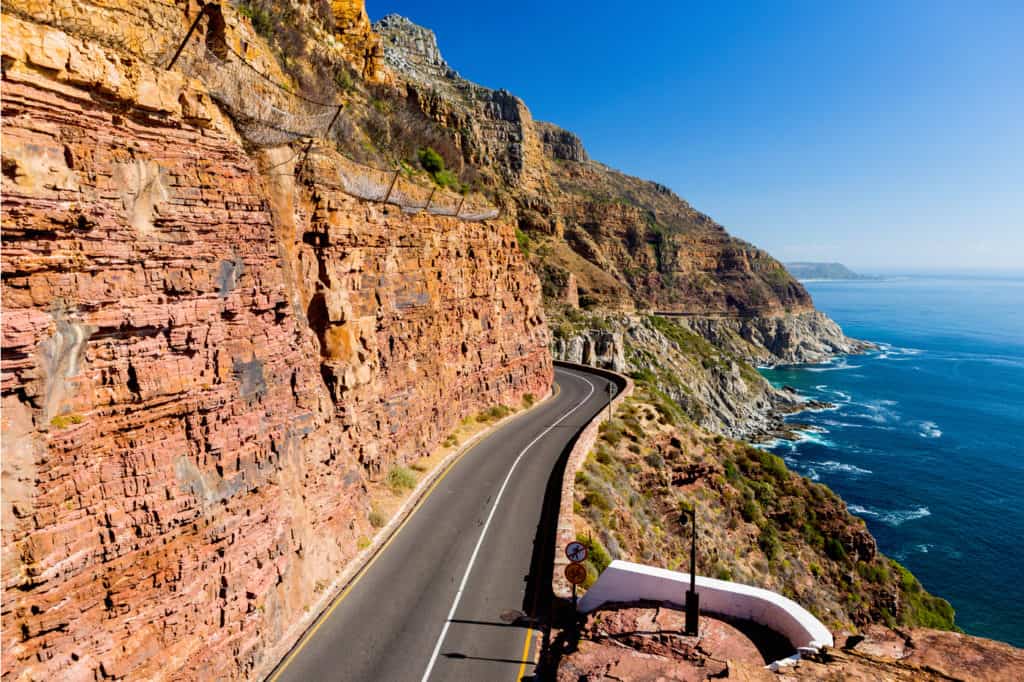 The country is nothing short of a melting pot of natural wonder. As a Cape Town local born and raised in this spectacular country, I should know.
My experience in the country is vast, having spent my entire childhood in Cape Town, driving the Garden Route every year and exploring towns near and far. I've visited some of the best parts of the African bush, surfed the west coast (Atlantic) and east coast (Indian) oceans, explored most of the biggest cities, and studied the deep culture and heritage of the country.
Other than Cape Town, my favorite places in South Africa are mainly along the east coast, from the Garden Route and towards the Eastern Cape wild coast. I won't lie, I haven't spent much time in Pretoria or Bloemfontein, but neither of these cities hold much appeal for tourists anyway. 
When compared with the USA or Europe, the cost of travel in South Africa is relatively affordable. Besides the stark natural beauty, tourists flock to this far-flung country each year to experience the incredible quality of life. Part of it – South Africa has some of the best restaurants in the world. I've traveled the world over, yet I have never found another place serving such incredible food for a reasonable price.
Accommodation is also relatively cheap for those paying in Dollars, Euros, Pounds, or other strong currencies. Due to the country's ever-volatile political situation (including a bit of corruption here and there), the local Rand currency remains weak, making it one of the cheaper places to visit.
However, with tourists bounding into the country at peak times, certain establishments in areas like Cape Town hike up prices to meet the wealth of those visiting. Overall, value for money is incredible here, and you can expect to live a pretty luxurious daily life for what you might pay for a lower-class experience elsewhere. More often than not, you'll be surprised at how affordable things are.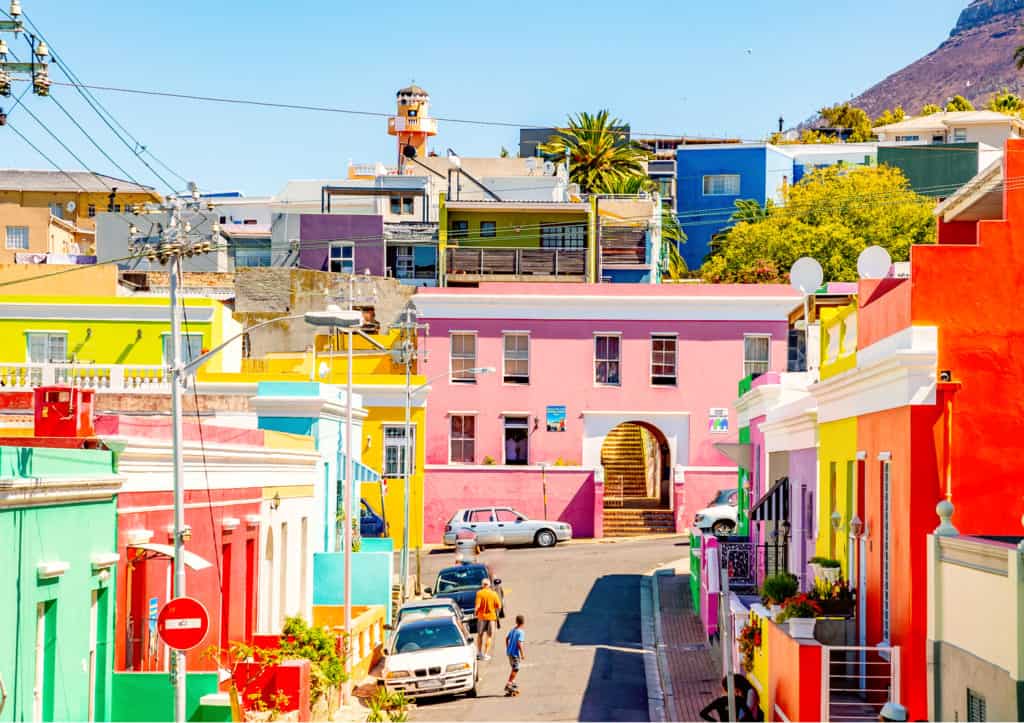 The Cost of Accommodation in South Africa
Let's start with how to save money on accommodation in South Africa
As mentioned, you'll be getting some real bang for your buck in South Africa, especially if you're traveling on the US Dollar. Hotels are of exceptional quality and are affordable compared with other destinations, making it possible for even mid-range vacationers to stay in ultra-luxurious hotels. That being said, as a popular tourist destination, South African hotels and game reserves are catching on and charging increased rates for international guests (or, if you want to think of it in a more positive light – discounted prices for local guests).
While it isn't possible to rig this system unless you have a South African ID card, there are other ways to save on accommodation if you're looking to save cash with a South African budget. Naturally, certain areas are more expensive than others. For example, a house on the beach at Clifton in Cape Town could set you back $600 per night (because of its prestigious location); however, a similar house just a few miles south in Kommetjie would cost about half the price.
Similarly, any house rental in Cape Town will be significantly more expensive than renting a house in Plettenberg Bay, another beautiful beach town up the east coast. So, I advise weighing up what is most important to you and picking and choosing your destinations according to your South African budget.
Another tip is to avoid travel during the busiest months, when accommodation is in high demand. Cape Town is busiest in mid-summer, with the highest prices between Christmas and New Year in December. The entire summer season, between November and March, is the most expensive time to visit this city.
On the other hand, Durban gets most of its tourists in winter (May to July), when the weather is mild but still warm. Game reserves are busiest during their wet season between May and October, as this is when game viewing is at its best. While you don't want to visit too far out of season, traveling in shoulder season is ideal.
Housesitting is a great option for free accommodation. This is where you'll take care of somebody's house while they're away, and usually look after their pets, too. It's best for long-term travellers or retirees as you can't pick and choose dates and destinations, so you need to have a lot of flexibility as to where you go and at what time of year. If you do have that freedom, it's a wonderful way to cut down your travel expenses, soak up some home comforts, and live like a local for a while. I have friends who have housesat in castles before! For free! Trusted Housesitters is the best site for getting started with housesitting, as they have the highest number of listings.
Workaway is an international community that offers young travelers a chance to work or volunteer their time or services for free (or affordable) accommodation. Over 130 hosts and organizations offer volunteer work in South Africa in exchange for accommodation.
Although Couchsurfing can be risky, South Africa has over 46 thousand hosts willing to invite you into their homes for free. The Couchsurfing website allows you to connect with locals by occupying spare sofas or bedrooms in local homes. It's free and is one of the best ways to gain insight into the South African culture and way of life.
If you are looking for something other than free board and lodging and are happy to pay for accommodation, there are plenty of affordable places to rest your head.
Airbnbs are one of the most affordable options for quick stays for those after privacy and personal space. Depending on the time of year you visit, you could rent an incredible two-bedroom beach house in Cape Town for as little as $150 per night.
Hostels are another cheap option, with shared dorms costing much less than a private hotel room. At some trendy hostels, you can find a bed for under $20 per night, and most hostels offer incredible special rates during the off season.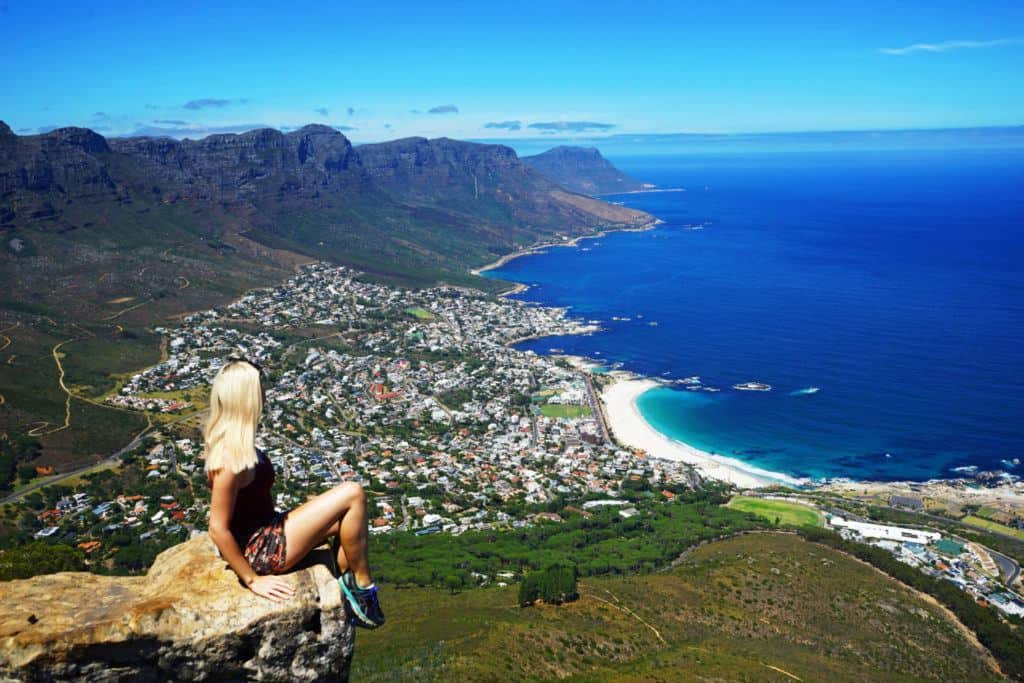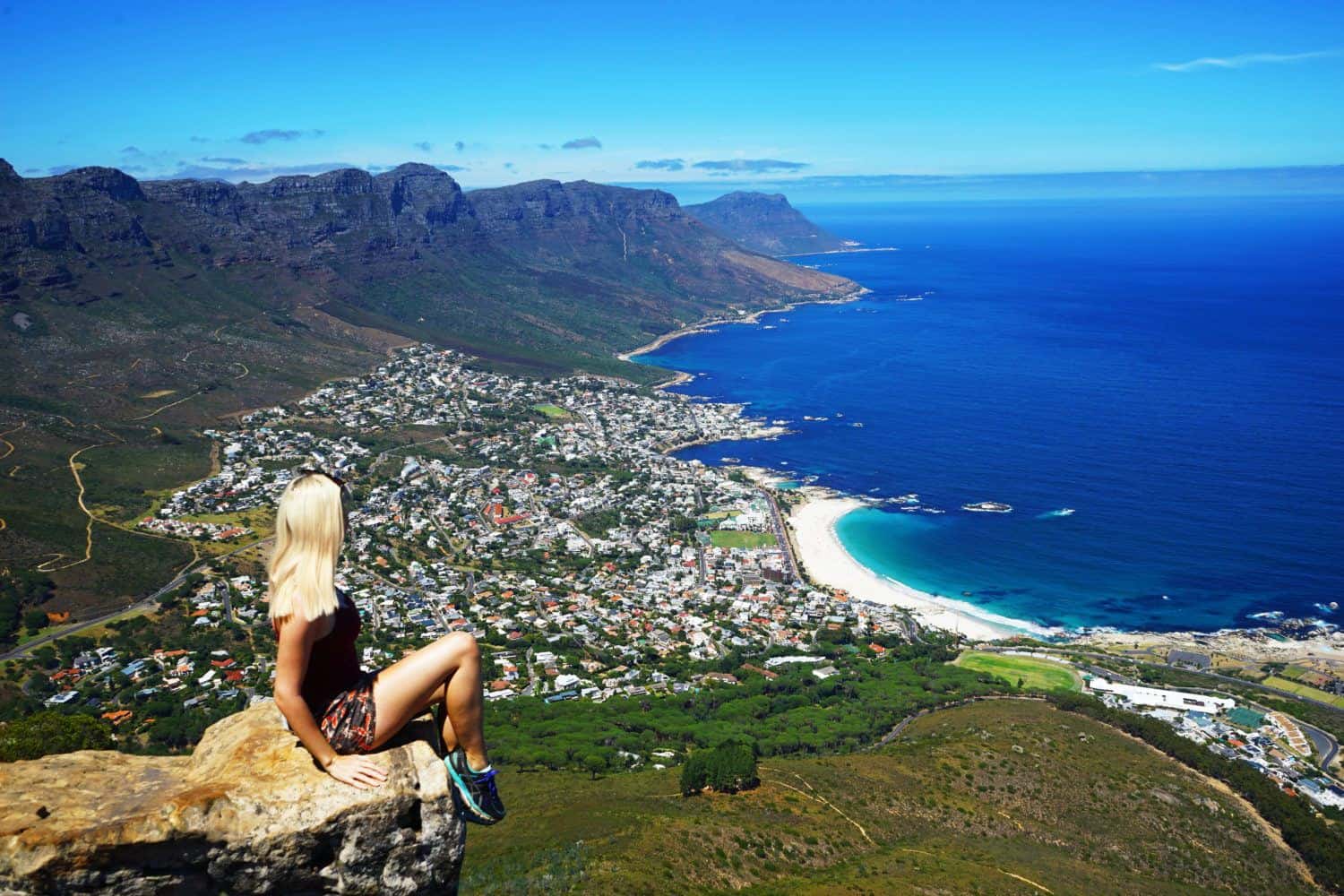 The Best Hostels in South Africa
Cape Town: Never At Home is a hostel chain in Cape Town, with a property on Kloof Street and in Green Point ($70 to $90 for a bed in a four-person dorm) in the heart of the city. The hostels aren't cheap, yet they are set in prime locations and organize all sorts of group activities and tours. But the best thing about them might be the trendy local bars they have on site.
Plettenberg Bay: Nothando Backpackers Lodge ($23 to $35 for a bed in a dorm) in Plettenberg Bay blends the affordability of a hostel with the luxury of a guesthouse. Set near Central Beach, the property features a garden, shared kitchen, lounge, and BBQ facilities.
Coffee Bay: Known for being a hotspot for backpackers, Coffee Shack Adventure Backpackers, and Accommodation ($20 to $30 for a bed in a dormitory) is set overlooking the ocean in Coffee Bay, the Transkei. The accommodation has BBQ facilities, a shared lounge, a kitchen, and a bar.
Kruger National Park: Joy River Backpackers ($30 to $40 for a bunk bed) in Moremela is among the highest-rated hostels in the Kruger National Park region. It's just outside Blyde River Canyon and features a garden with unbeatable mountain views.
Johannesburg: There aren't so many hostels in the city of Johannesburg, but if you are looking for a social backpacker vibe with a low price tag, CURIOCITY Backpackers ($30 to $40 for a dorm bed) is the place to book. With a splash pool, bicycles for rent, and a games room, you'll leave with tons of new friends.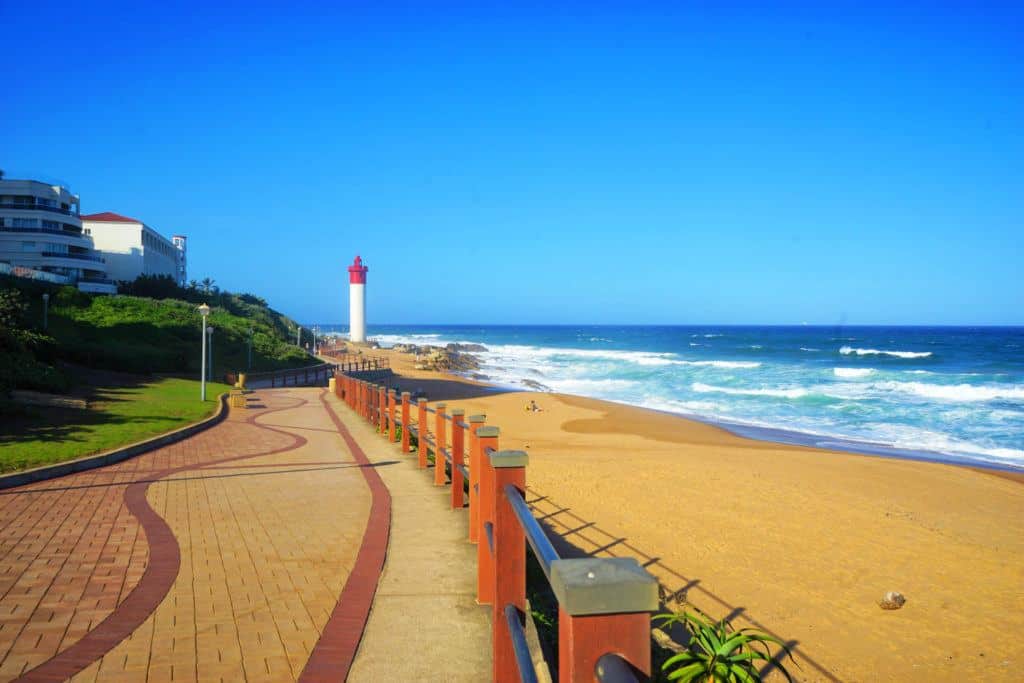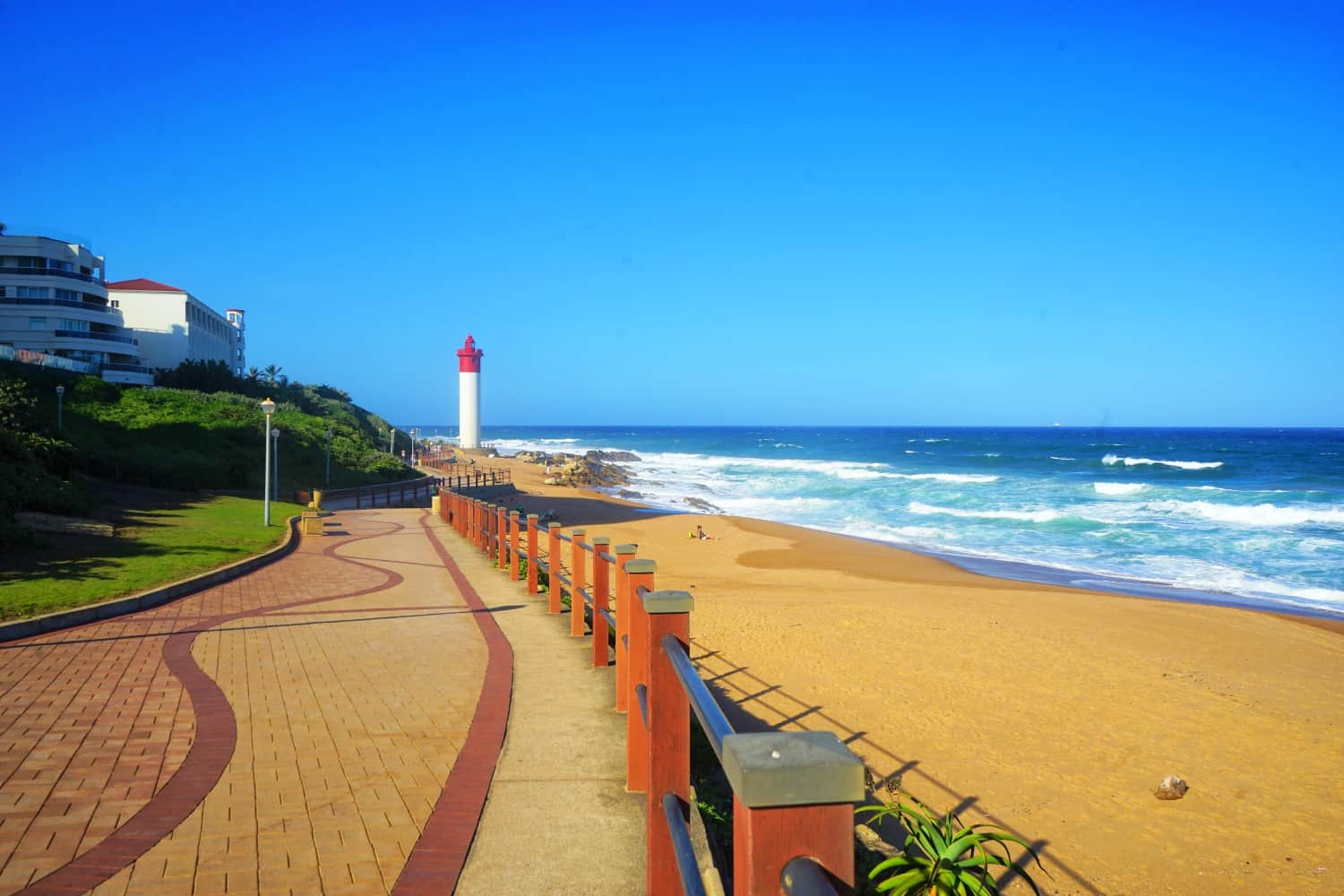 Where to Stay While Traveling in South Africa
The country is enormous. It spreads across 470,900 square miles, bordering Namibia, Botswana, Zimbabwe, and Mozambique with coastlines along the Atlantic and Indian Oceans. The natural terrain ranges from sub-tropical forests to deserts to bushveld to wetlands, with varying climates to go with it.
Because of its sheer size and natural diversity, choosing where to go can be challenging. As a Cape Town local, I can assure you that you could spend months exploring this city alone, and still run out of time. However, if you're visiting for a quick stay, I recommend spreading your trip across a few of the most beautiful and exciting towns and cities in South Africa.
One of the country's main driving routes (for locals and tourists) is known as the Garden Route. Starting in Cape Town, the Garden Route drive stretches from Mossel Bay to Storms River before the Eastern Cape's Wild Coast takes over. If you were to spend two weeks in the country, I would recommend the following itinerary:
Day 1: Cape Town
Day 2: Cape Town
Day 3: Cape Town
Day 4: Cape Town
Day 5: Franschhoek / Stellenbosch
Day 6: Knysna
Day 7: Plettenberg Bay
Day 8: Coffee Bay / Transkei
Day 9: Durban
Day 10: Durban
Day 11: Kruger National Park
Day 12: Kruger National Park
Day 13: Johannesburg
Day 14: Johannesburg
If you have a bit more cash to spare and aren't sold on the idea of a shared dorm or couch, South Africa is known for its incredible hospitality industry and beautiful hotels. The price of hotels in South Africa vary significantly:
Cape Town: There are so many gorgeous hotels in Cape Town. If you're willing to spend some cash for a luxurious African experience, I recommend staying at the iconic Mount Nelson Hotel ($870 a night) in the city center. With its lavish gardens and world-class high tea, this hotel has an old-school Cape Town atmosphere. For more of a lively vibe, The Silo Hotel (around $1400 for a luxury suite) is a newer hotel with a rooftop pool and deck overlooking the waterfront.
Franschhoek: Under an hour outside Cape Town, Franschhoek and Stellenbosch are the country's premier wine regions. Even if you can't spend a night, it's an absolute must to spend a day here while visiting Cape Town. You can choose from hundreds of wine farm hotels and farm stays. The most famous and aesthetically beautiful is Babylonstoren ($520 for a room), a huge farm with incredible gardens and a world-class spa. If you prefer a more low-key hotel, Petit & Grande Plaisir ($116 to $300 for a suite) offers self-catering accommodation with an outdoor pool.
Plettenberg Bay: If you're all about unique accommodation, Tsala Treetop Lodge (around $1000 per bungalow per night) in Plettenberg Bay is an African gem tucked away in the treetops. Each room at this luxury lodge has a living room with a fireplace and a free-standing bath overlooking the forest. Emily Moon River Lodge (between $300 and $600 for a unique suite) is another gorgeous spot featuring free-standing lodges, each decorated with bespoke furnishings from across the world.
Durban: Set on the beach in the Umhlanga neighborhood, The Oyster Box ($460 to $640 for a classic room with a sea view) is undoubtedly Durban's most famous luxury hotel. However, if you're after a more affordable option, Lavender Moon Guest House ($105 for a suite with a garden view) is my favorite spot in the country, and offers gorgeous air-conditioned accommodation with a pool area.
Johannesburg: Most accommodations in Johannesburg are set in busy neighborhoods or high-rise buildings. For a bit of respite from the busy city, The Giglio Boutique Hotel (around $200 for a superior suite) is a five-star property set in a luxurious house with a pool, garden, and terrace.
Kruger National Park: There are almost too many game farms to choose from in the Kruger National Park. Pondoro Game Lodge ($990 for a suite, including game drives and all meals) is set on the banks of the Olifants River inside a private game reserve in the park, offering daily safari drives and incredible food.
Overall, accommodation in South Africa is well priced, considering value for money. Hotels in Cape Town are typically the most expensive, with some of the world's highest-rated hotels located in this city. Game lodges or bespoke accommodations are also usually more expensive; however, with all meals, game drives, and activities traditionally included, you really do pay for what you get.
High-end properties charge upwards of $1,000 for one night of luxurious accommodation. Alternatively, you could stay in a mid-range hotel or guesthouse for between $150 and $400, depending on the time of year and the location of the hotel.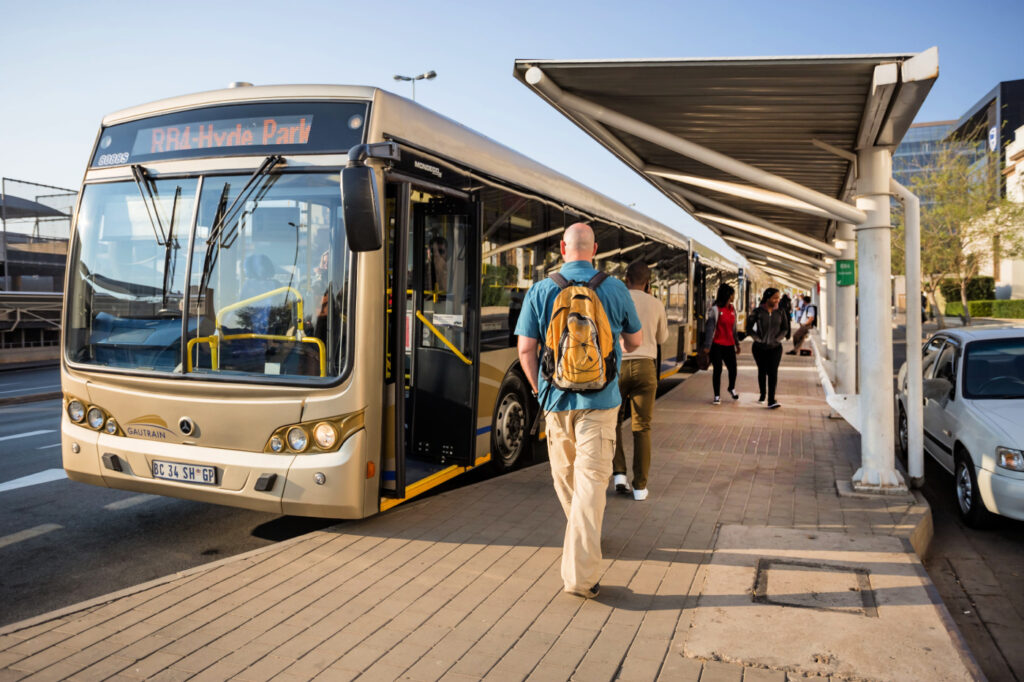 The Cost of Transportation in South Africa
There's a lot to see and do in South Africa, and the country is spread out across a huge area. Depending on where you visit, there are a few optimal ways to get around the country. One of the first things you'll have to get your head around is that public transport is not typically efficient, reliable, or safe in most areas, even in big cities like Cape Town and Johannesburg.
Strikes are common, routes and limited, and security is an issue, especially for tourists. Of course, you can catch some safe public transportation, including the MyCiti Busses in Cape Town and the Gautrain in Johannesburg.
MyCiti Busses were introduced to the city in 2010 when the country hosted the FIFA World Cup. The bus system runs along the Atlantic Seaboard, into the city center, Hout Bay, and up the west coast towards Big Bay. It doesn't, however, service the southern or northern suburbs (as of now). The busses are accessible for wheelchair users, and fares are based on distance, ranging from 60 cents to $2.
Also built for World Cup crowds, Johannesburg's most reliable form of transport is the Gautrain, a super-fast train connecting the Johannesburg's OR Tambo Airport to Johannesburg city and Pretoria. A one-way journey from the airport into the city will cost $13 per person, making this a relatively expensive form of transport in Johannesburg.
If there's one thing I recommend to ease your cost of travel in South Africa, it would be to rent a car for the duration of your stay. Not only will this come in handy for road trips, but it is also the safest, most cost-effective, and most efficient way to get around.
Roads are best maintained in the Western Cape (Cape Town to Plettenberg Bay) and deteriorate outside of this province. Roads are well signposted and relatively safe, however extra caution should be given to taxi and bus drivers.
Parking is abundant (and very cheap) and traffic is minimal, only bad at peak work hours between 7 am and 9 am and 3 pm and 6 pm on weekdays. Drivers are expected to pay local car guards to look after their cars (around $1 or R10, or R20), when parking in cities.
You can rent a car from all major airports and city centers, with Avis, Thrifty, Hertz, and Europecar being the most popular. A car rental will set you back between $22 and $70 per day.
Ubers are another excellent option, especially if you're planning on drinking. An Uber from Cape Town city center to Clifton beaches could cost between $3 to $5.
If you want to travel cross-country, flying is the safest and most convenient way. A flight from Cape Town to Johannesburg or Durban is only two hours long, while a flight from Cape Town to Port Elizabeth or from Johannesburg to Durban will take about an hour. This being said, the country doesn't offer the same availability of budget airlines as Europe and America, so flight tickets can be pricey for the distance you'll be flying.
Common transit routes and their corresponding prices:
Rough cost of a return flight between Cape Town and Johannesburg – $117 to $230
Rough cost of renting a car for two weeks in Johannesburg – $230
Rough cost of renting a car per day in Cape Town – Between $22 and $70 per day
Rough cost of fuel to drive along the Garden Route – $120 to $250 depending on fuel consumption
Rough cost to fly between Johannesburg and Durban – $23 to $85 (one-way)
Rough cost of a bus from Cape Town to Durban – $83 (return)
Rough cost of a bus from Johannesburg to Cape Town – $73 (return)
Rough cost of fuel from Cape Town to the Franschhoek and Stellenbosch Winelands – $10 to $15
The Cost of Food in South Africa
I have to say, food has to be one of South Africa's most significant attractions. The country has access to incredibly fresh produce and world-class chefs that put together unique and authentic dishes. The bigger cities and tourism hubs house fantastic restaurants, from cozy holes-in-the-wall spots to five-star fine-dining experiences.
Most traditional South African dishes are meat-based, and there aren't many restaurants that serve authentic African food in the cities. The demand is higher for international cuisine, so you can expect to find a variety of Mexican, Asian-fusion, and Italian restaurants owned and run by locals of those countries.
Some of the most loved South African dishes include boerewors, a type of sausage best prepared on a braai (a wood or coal barbeque). A pack of 'boeri' would cost under $3 from a grocery store to prepare at home. Cape Malay curry and Biryani are very popular in Cape Town, which is home to a large Cape Malay population. An authentic curry in the Bo Kaap (an experience on its own) won't cost you more than $6.
When you're in Durban, make sure you try a traditional Bunny Chow, which is an Indian curry served in a hollowed-out bread roll. One of these will cost around $5 and keep you full all day. Durban has a huge Indian population (the second biggest outside of India per square kilometer, in fact), so you will find some of the tastiest authentic Indian food in this city.
For dessert, indulge yourself in a decadent malva pudding with custard. Most likened to an English sticky toffee pudding, malva pudding is a syrupy cake heated in the oven. A family-sized punnet of Malva costs around $5 from the South African premium grocery store Woolworths.
When it comes to alcohol, South Africa is known for producing a tasty liqueur called Amarula. This milky liquor is made from the fruit of an Amarula tree, which can literally get an elephant drunk if they eat the rotting fruit. A shot of Amarula at a bar will cost around $1, while a bottle of the liqueur will set you back at approximately $10.
Woolworths sells everything from fresh organic produce to ready-made meals. You'll want to shop at this excellent store if you're staying in self-catering accommodation. Comparable to America's Whole Foods or the UK's Selfridges, Woolworths is definitely the most expensive grocer in the country – for a good reason.
A cart full of goodies, including fresh meat and fish, could cost you around $120, which is super affordable compared to shops of the same quality in different countries. Other shops like Pick 'n Pay, Checkers, Spar, and 7Eleven are just as impressive and provide even more value for money.
Breakfast is a religion in South Africa. With a super active community and outdoorsy lifestyle, many locals view breakfast as the day's most important meal. Whether you prefer a classic French croissant, scones and tea from the country's colonial past, a full English breakfast, or a Middle Eastern shakshuka, South African restaurants have it all.
You might expect to pay between $6 and $12 for an incredible breakfast with coffee and freshly squeezed orange juice. A cappuccino alone will cost around $2.2. If you're willing to cook at your Airbnb, the ingredients for a full breakfast could cost as little as $2
For lunch, beat the heat and choose a fresh salad or a tasty sandwich. A BLT with all the bells and whistles on freshly baked ciabatta will cost you around $6, while a salad packed with superfoods and nutritious fresh ingredients might cost $8. Alternatively, save some cash and head to a grocer to pick up a ready-made meal. A meal for one person (like a curry or a wrap) will cost only $3.
After a day of exploring, there is nothing better than picking out a restaurant for a delicious and well-priced dinner. A 250g fillet steak main with sides and a drink at one of Cape Towns' trendy restaurants will cost under $20.
If you're in a more remote region, prices are even lower, and of course, there are cheaper restaurants in the cities where you can find an incredible pasta dish for around $6. Cooking at home is always a good option when you have Woolworths to shop at. Ingredients for a three-course meal could cost as little as $6 per person.
If you're prepared to splurge for dinner, you could head to an incredible chefs-choice restaurant for a fine dining experience like never before. These restaurants often need to be booked in advance and include around eight courses with wine pairings. While a meal of this quality might set you back hundreds anywhere else in the world, you can expect to pay between $90 and $110 per head for this incredible experience.
Alcohol is as cheap as you might expect here. A classy cocktail at a high-end bar should cost around $6 – never more than $8, or you know you're being taken for a ride. A double shot of alcohol and a mixer will cost around $5, while a shot of tequila or a draught of beer might cost $3. South Africa is one of the world's best-known wine regions. A bottle of fine wine from the liquor store sits between $6 and $9, while you'll pay double that for the same bottle at a restaurant.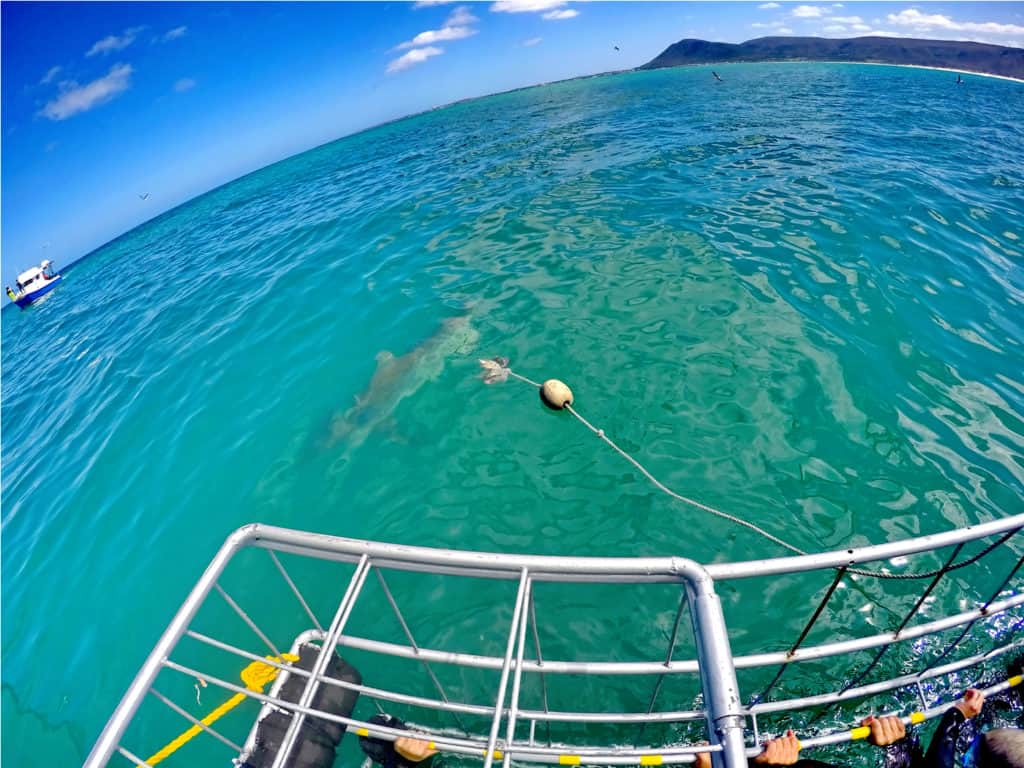 The Cost of Activities in South Africa
There are countless tours and activities to take part in across South Africa. In fact, many of the most touristy activities are just as popular with locals. You'll find tons of resident Cape Townians reading their books at Kirstenbosch National Gardens, shopping at the V&A Waterfront, and hiking up Table Mountain and Lions Head. This shows just how authentic the country is. There are a few activities I don't recommend doing, so your best bet would be to pick and choose what you're most interested in.
The most popular would be joining a game drive at a game reserve. Luckily, the cost of game drives (morning and evening) is typically included in most parks' accommodation rates per person.
However, if you don't have the cash for this all-inclusive experience, you can join a day trip game drive at places like the Garden Route Game Lodge and Botlierskop along the Garden Route, and Pilansberg near Johannesburg. This nine-hour round trip from Cape Town to Aquila Private Game Reserve will cost just $160 per person and will have you back in the city by dinner time.
A three-hour guided game drive at Botlierskop costs $35 per person, and a 12-hour safari from Johannesburg to Pilansberg goes for $150 per person.
A journey on the iconic Franschhoek Wine Tram, which cruises through the Cape winelands allowing you to hop on and off at the region's best wine farms to taste their products, costs around $40 per person.
You can't visit Cape Town without venturing to the top of Table Mountain. If you aren't prepared for the strenuous hike, you can take the cable car up for $17. Alternatively, join this tour that includes cable car access and a visit to Cape Point. After a day exploring the city, join a sunset cruise around Cape Town's gorgeous beaches on a catamaran for $33.
Just past the boundaries of the Garden Route, you'll pass by the famous Bloukrans Bridge, which is home to Africa's highest bungee jump. A ticket for this adrenaline-pumping activity in South Africa costs just $82, including a zipline and skywalk.
Explore the prison island where Nelson Mandela served his sentence with a ferry trip and tour of Robben Island for under $50. However, if you're short on time (or are susceptible to seasickness), I recommend you skip this tour and visit the District Six Museum in Cape Town instead.
I would also highly recommend joining this tour of Soweto (Johannesburg's largest informal settlement) on a full-day apartheid tour for $115. These tours, in particular, are super-popular, so do book in advance if you're planning on doing this. You can view tour availability using the widget below:
Popular entrance fees:
Cape Point Nature Reserve (Cape Town) – $22
Kirstenbosch National Botanical Gardens (Cape Town) – $13
Table Mountain Cableway Ticket (Cape Town) – $24
Two Oceans Aquarium (Cape Town) – $15
Zeitz MOCA Museum (Cape Town) – $15
District Six Museum (Cape Town) – $2.5
Gold Reef City (Johannesburg) – $13
Johannesburg Art Gallery (Johannesburg) – $5
The Apartheid Museum (Johannesburg) – $12
The Cradle of Humankind (Johannesburg) – $10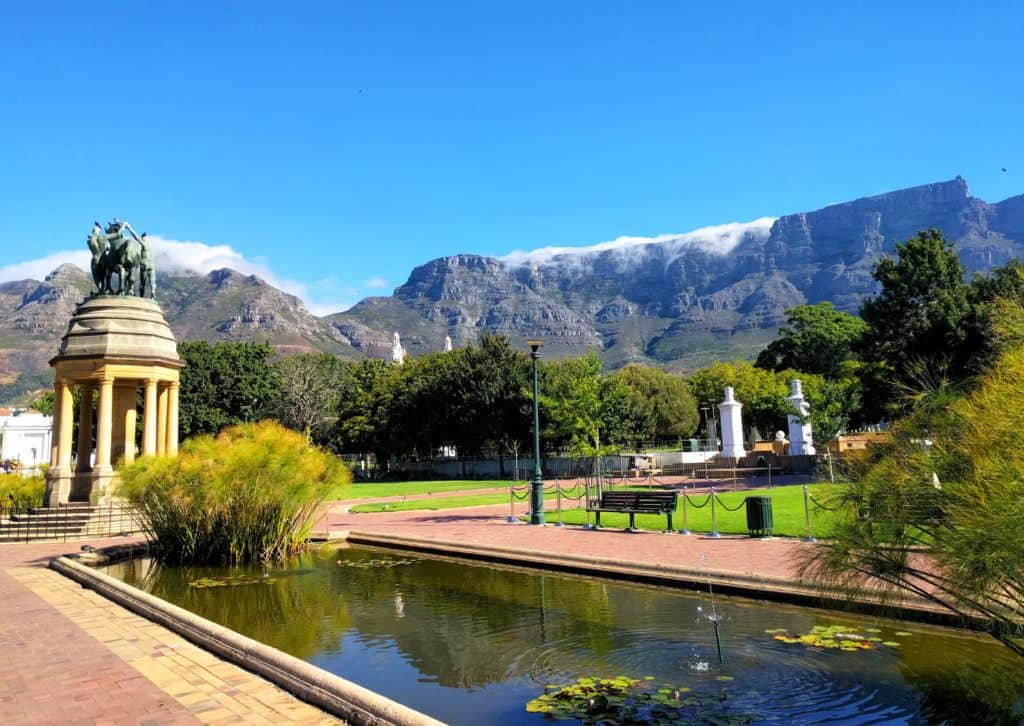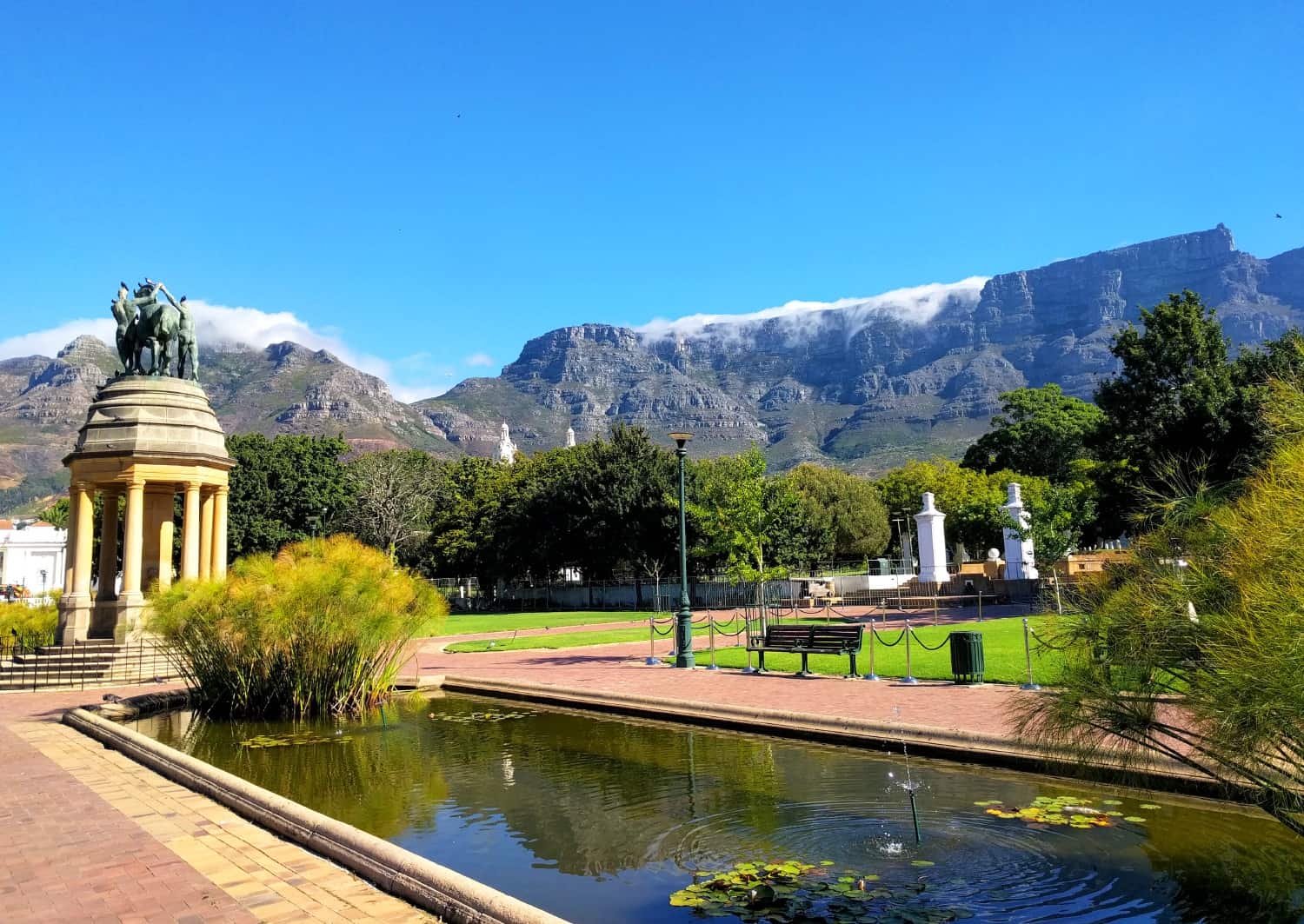 Total Expenses for a Mid-Range Trip in South Africa
All that said, it's hard to calculate average daily South Africa travel expenses because of the wide variety of activities to do, places to eat, and types of accommodation to stay in – all varying significantly in price. If you choose a mid-range hotel in a good area, rent a car, eat great food but skip out on fine-dining experiences and enjoy a few low-key activities each day, you can expect to spend the following per day in South Africa:
Accommodation: $150 /day
Transportation: $40 /day (not including flights and long journeys)
Food: $70 /day
Activities: $30 /day
Total Daily Expenses in South Africa: $290