A mix of old and modern, Bali is a popular escape for adventure travelers, vacationers and families alike. Here ancient Hindu temples line the coast above exotic white and black sand beaches. The island is enveloped by culture and cuisine waiting to be explored. Where one can dine among terrace rice fields as easily as they can sip a Bintang in Kuta.
Not just a place to relax, increasingly Bali is becoming a destination for adventure. The surf has always been great, but now you can white water raft, cycle and ride ATVs through lush rainforests.
Such is the popularity of Bali that it's hard to get off-the-beaten path. But with a mix of the top attractions and a couple of hidden gems, enjoy a well-rounded experience with our guide to best things to do in Bali.
Summit Ganung (Mount) Batur
Looming ominously above the scattered clouds, Ganung Batur is the tallest peak on this beautiful Indonesian island. At 5633 ft, or 1717 metres, above sea level, Mount Batur offers a striking vista from its base, along with unforgettable scenery from its summit.
For many, venturing to the mountainside town of Kintamani to see the towering volcanic peak is as close as they get. Perched along the cliff-face, Kintamani offers stunning views of the mountain from the many restaurants that line the edge. From there, you can venture down into the valley, completing a loop around Mount Batur and along the picturesque crater lake, Danau Batur.
But for the adventurers among us, those who aren't afraid of an early wake up and some hiking under the stars, then climbing the mountain is one of the best things to do in Bali. Many sunrise tours ($55) depart from Ubud, an hour away, and lead you into the central highlands. Along the marked trails, embark on a two to three-hour trek, which ends with unforgettable views of the sun rising over the misty landscape.
If you like your lie-ins, there are sunset options, too, starting from $63.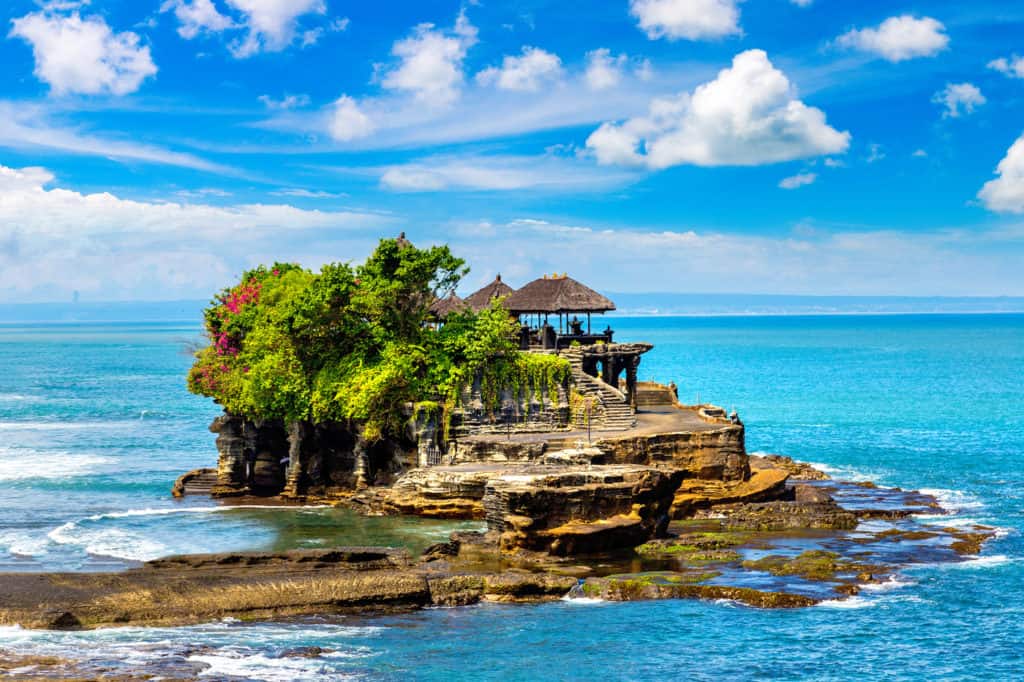 Explore Pura Tanah Lot
One of Bali's most recognizable sights, Pura Tanah Lot, is a must-see on your travels around the island. The Hindu temple, on a large rocky islet that juts out from the surface, was built in the 16th century. It continues to be one of the most sacred and stunning sites in Bali, and has now received UNESCO World Heritage status.
At high tide the swirling ocean envelopes Tanah Lot, with the waves crashing against the edge turning the site into a coastal apostle. During high tide, visitors cannot cross to the main temple, leaving you to admire the site from afar. Because of this, many try to time their visit to be in line with the low tide, so they can see the main temple up close. Keep in mind you won't be able to enter.
From the many cliff-side cafes and bars, you can enjoy a Bintang beer or some Kopi Lewak (more on that below) as the misty sea rises over the famous temple. After exploring some of the market stalls around the temple, grab a seat and enjoy the spectacular sunset showing off Tanah Lot in a whole new light. If you don't have your own transport, you can sign-up for a five-hour guided tour of the temple at sunset for just $15.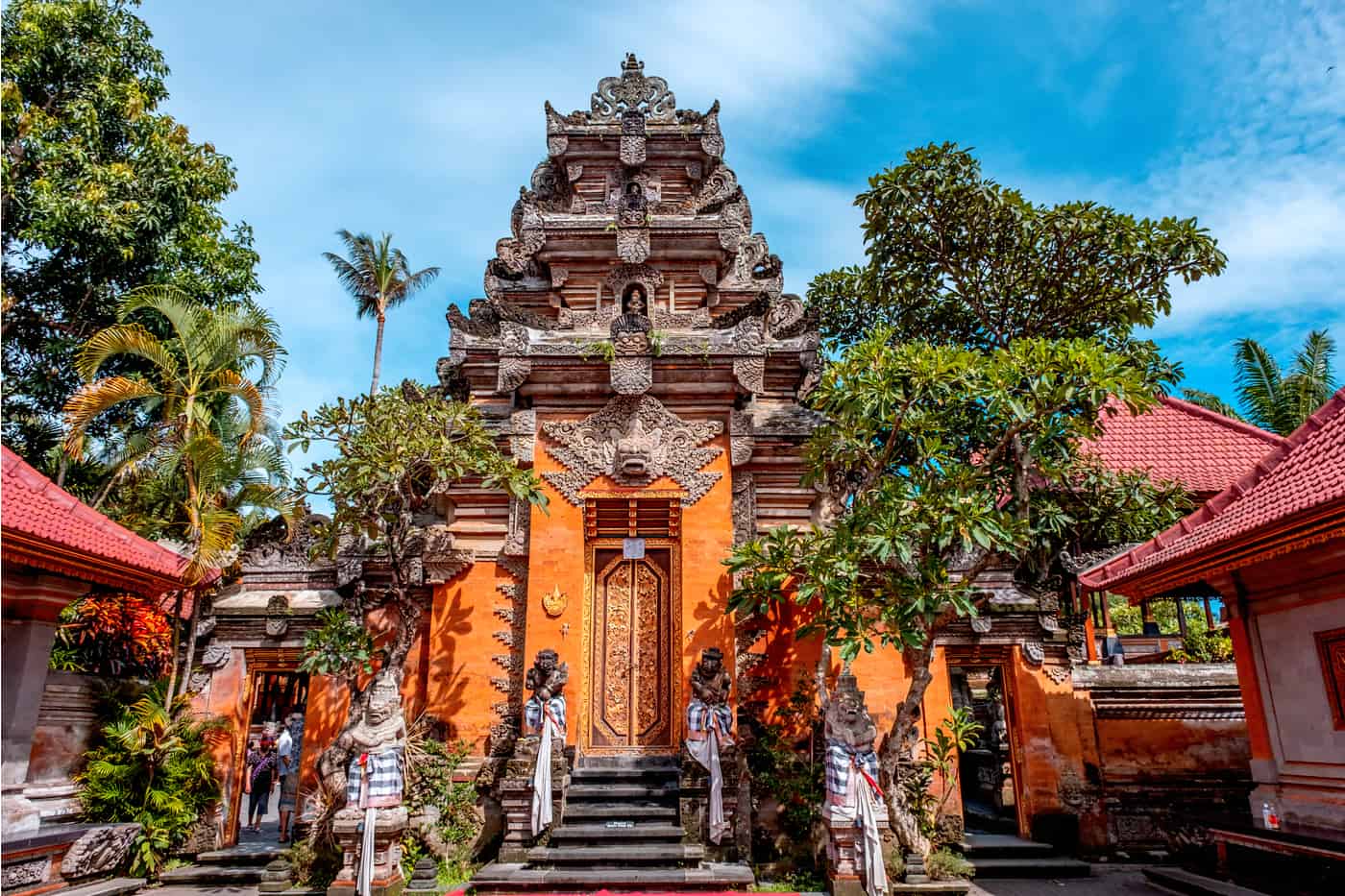 Kick Back and Realign Your Chakras in Ubud
A hub of arts, culture and plenty of yoga, Ubud has quickly become the go-to for travelers looking to escape the noise and nightlife in Kuta — myself included. I originally planned to spend a couple of days in Ubud, but within hours of arriving, I was extending my stay to a month. Surrounded by lush rice paddies, rolling hills and temples, it's one of the prettiest spots on the island.
What also attracted so many travelers to come, and even stay long term, was the town's thriving arts scene. Traditional Balinese art continues to line the streets and fill the market stalls. The Ubud Art Market is a maze of aisles brimming with vendors selling paintings, decor, sculptures and elegant wood carvings. Just a brief walk away are art museums such as the Pura Lukisan, which focus on the many artistic styles within Bali.
The oft-chaotic traffic, a quintessential modern Bali experience, appears in Ubud too. But thankfully it's an amazing town to walk around. Follow the footpaths to the terraced rice paddies, where the road switches to a dirt path just wide enough for the scooters to move along. Alongside flooded paddies full of floating ducks, stumble upon simple warungs for lunch in paradise.
Cycle from Kintamani to Ubud
Another aspect that makes Ubud such a great place to stay in is that it's the perfect base to explore the northern half of the island. From Ubud, you can easily make the journey to the coastal towns of Amed, Lovina and Candidasa. But Ubud is also surrounded by stunning rice paddy-filled landscapes, best seen on an e-bike ride ($68 per person).
Leaving from your Ubud hotel, you'll be transferred to beautiful Batukaru Temple, then make your way on two wheels past stunning landscapes to Jatiluwih. This area is UNESCO-protected and for good reason: it's so beautiful! You'll cycle through bamboo forests and thick jungle, stop in at local villages, and take a thousand photos of the gleaming rice fields. Once you've worked up an appetite, you'll enjoy an authentic Indonesian lunch at a local restaurant, or a Balinese afternoon tea if you're cycling later on in the day.
Cycling through Bali's rice paddies was one of my highlights from my time on the island, despite not being much of a cyclist, so I can't recommend this activity highly enough.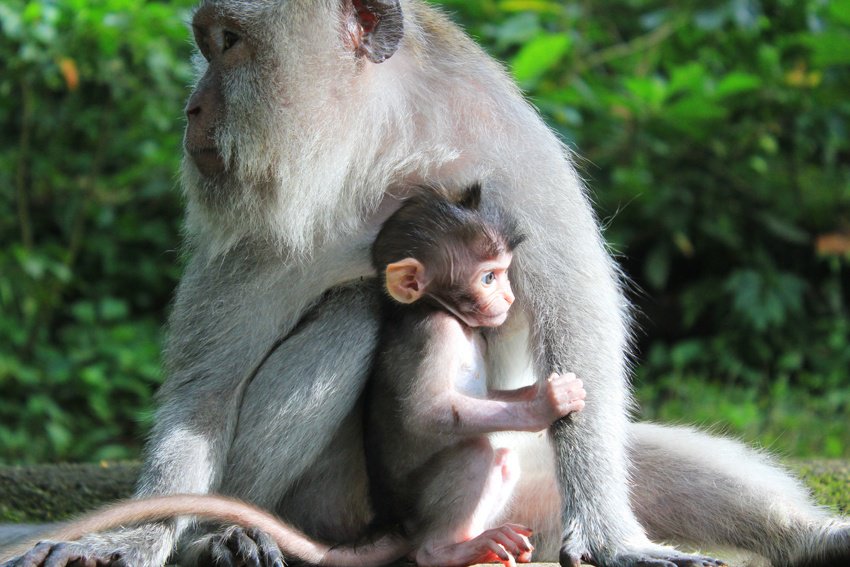 Get Attacked Lost in Ubud's Monkey Forest
One of the most popular attractions in Ubud — and Bali for that matter — is Ubud's infamous Monkey Forest. Within walking distance of the center of town, paved walkways guide you through the forest. The jungle is teeming with monkeys jumping from tree to tree, relaxing in the temples, or roaming around, searching for tourists that forgot to leave food outside the forest.
One of the main sites within the forest is Pura Dalem Agung Padangtegal: a 14th century temple. Surrounded by the overgrown forest and morning mist, the monkeys reign supreme. It provides an interesting aura, and visitors are under no illusion that they're anything but guests.
Before visiting, try to leave as much of your belongings at your hotel. The monkeys are smart, and often devious, with a reputation for thievery. As tempting as it may be to bring some food and interact, it's also best to admire the animals from afar.
Sign up for a Cooking Class
If you have some spare time in your Bali itinerary, fill it in with a local cooking class. From wherever you are on the island, you won't be far from learning the secrets of Balinese cuisine.
I may be biased, but Indonesian cuisine is immensely delicious. With a diverse amount of options and some of the best vegetarian food around (hello, gado gado!) there's bound to be something that steals your heart.
After a few days of eating out a warungs trying everything from nasi goreng and sate to tempe manis, it's time to learn the tricks of the trade. Held at an organic farm, join local chefs ($36) in bringing your favorite Balinese dishes to life.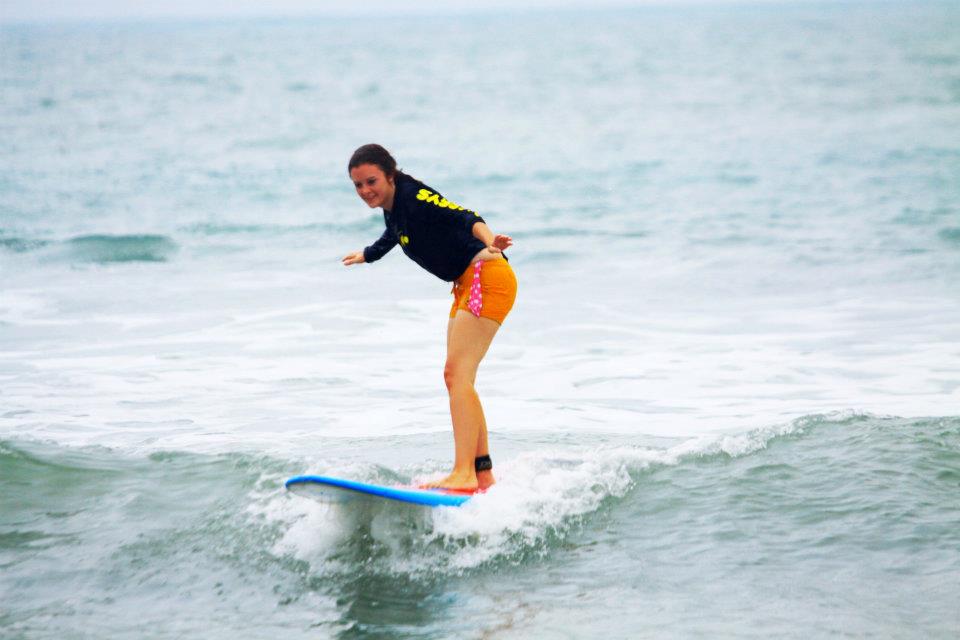 Learn to Surf
With the beautiful white sand beaches glistening under the afternoon sun and the waves crashing in the distance, Bali is an amazing choice for a beach vacation. With a bevvy of surf breaks and a great price point, Bali is also a perfect place to catch your first wave.
Along many beaches from Kuta to Uluwatu, you'll spot signs offering surf lessons. With boards already laid out on the sands, you could be out among the surf breaks within moments. You'll find a variety of lessons on offer, from single classes among the whitewash to multi-day lessons.
With the help of Bali Green Surf School, get up to speed with a 2.5 hour lesson ($45) with great instructor/student ratio. If you're looking for some big breaks away from Bali, consider venturing to the Nusa Islands (listed below).
Uluwatu
Famed for its enchanting clifftop vistas, and home to some of the best beaches in Bali, Uluwatu is a must visit. Close to the international airport and Kuta, Uluwatu still feels like a distinct part of the island.
The laid-back vibe and surf breaks attract experienced surfers, while the many luxury resorts bring in high-end travelers. From Bingin Beach to Padang Padang, you'll have plenty of different beaches to choose from. The water tends to be clearer, with a variety of places to relax backed by beachfront restaurants and bars.
The southern end of Bali is also home to the Uluwatu Temple. Set on a cliff-face above the crashing waves, the temple offers a great insight into Balinese heritage, matched only by the amazing views. The temple is also a great place to experience the Kacak fire dance.
For $62, spend the day beach-club hopping your way across Uluwatu, visiting all the best spots: Sundays Beach Club, Omnia Dayclub, and, of course, the famous Rock Bar.
Hiking through Tegallalang Rice Terraces
While the rice fields around Ubud are wonderful to explore, there's something utterly spectacular just outside of the town. The traditional rice fields on the side of the steep hills of Tegallalang offer visitors as much a visual experience as a cultural one.
The Tegallalang Rice Terraces is one of the most photographed landscapes in Bali. Using an ancient irrigation system which dates back to the 9th century, the cascading fields offer a timeless beauty. It's even more pronounced in the weeks leading up to the harvest. In this period, the staircase of rice fields is a lush green and a dreamy site to walk through.
Visitors should keep some cash handy on their walk through the fields as many residents of the terraces will ask for a fee to continue along. There are also some spontaneous activities to try, including the Instagram-famous swing that sends you soaring over the rice fields below.
Opt for a tour of the hottest Bali spots on Instagram, including Tegallalang and the jungle swing, for just $72.
Go Scuba Diving
There's a good deal of amazing scuba diving sites around Bali providing picturesque day trips and memorable multi-day experiences. Offering crystal clear waters, colorful reefs, vibrant marine life and the odd shipwreck, you'll have plenty of ways to plan your perfect scuba dive trip.
One of the most popular spots to scuba dive is off the coast of Padangbai. From the east coast of Bali, you can experience "muck diving" where divers explore the black sand for surprises hovering on or underneath the surface. A beginner SCUBA experience in Padangbai comes in at $120 and includes an introduction to diving in shallow water, then head out deeper to see all of that fantastic sealife that makes this part of the ocean so special. As an added bonus, you can use this trip as a credit towards completing a PADI Open Water Diver course.
Another magnificent spot for diving is in Tulamben, where the USAT Liberty met its end. Found just beneath the surface, it's one of the most accessible wrecks in the world. A beginner diving experience is $110 and as with the Padangbai dive, counts towards your PADI Open Water certification.
And if you fall in love with diving as much as I think you will? You can sign up for a three-day Open Water course ($400) and get yourself qualified for more challenging dives.
If you're already fully qualified to dive, you can experience the wonder that is Tulamben for $100.
A variety of islands, just minutes from Bali, also offer exceptional diving, including Menjangan and Nusa Lembongan. Here you can explore deep sea walls and drift dives with amazing visibility. Swim with dolphins or spot the rare mola mola.
Scooter through the Sidemen Valley
The island of Bali is home to some amazing drives, from the coastal highway between Sanur and Amed to mountain trips in the north. But one of the most beautiful roads in Bali connects Ubud to Tulamben and Amed. Rent a scooter and venture around 90 minutes northeast of Ubud, into the Sidemen Valley.
Here you'll find an older version of Bali, frozen in time without tourism development. Discover a world of endless cascading rice fields backed by the ominous Ganung Batur. Small villages dot the countryside, breaking up the array of greens with humble abodes.
The sweeping road meanders through the valley and over the rolling hills. Stop along the way to explore the small towns, try local food and take in traditional culture. Continue until the scenery dramatically changes, where the scars of volcanic eruption change the scenery from rich green to dry brown with the turquoise ocean as the backdrop.
Hire a scooter for $15 per person per day and have it delivered to your accommodation on the island, or simply hit the streets in search of a rental. Make sure to bargain on price!
Amed
The road through the Sidemen Valley leads you towards Tulamben and the Liberty shipwreck. From there, you can continue east until you reach the quiet town of Amed. I love this part of the island, lined with sparkling black sand beaches (that will absolutely scorch the soles of your feet in the midday sun — bring flip-flops!)
Yes, being a volcanic island, there are so many black sand beaches in Bali, but in my opinion, Amed is one of the very best.
This part of the island is pretty quiet, so it's not a place to come if you're down to party. The slow-paced town features a line of budget-friendly but beautiful coastal villas. With few scooters passing by, your nirvana is rarely interrupted by the outside world. Enjoy amazing views of the coast with Batur looming above. Directly off the black sand beach is a vibrant coral world, magnificent for snorkeling.
A snorkelling-themed day trip tour to Amed comes in at $65.
Try Kopi Luwak
One of the most expensive and exclusive coffees around the world, trying Kopi Luwak is an interesting Balinese experience. Many tours to the coffee plantation leave from Ubud with just a short drive needed.
With the help of a friendly guide, make your way through the plantation and learn why Kopi Luwak has earned its reputation. The Luwak or Asian palm civet, is a cute but feisty animal who eats the coffee fruits before digesting the beans.
From there, the coffeemakers go to work, peeling off the exterior layer before grinding and slow-roasting the coffee. The result is a delight for those who enjoy strong black coffee. Dark and rich, the coffee has a distinct flavor profile that isn't for everyone but is well-worth trying.
Go Whitewater Rafting
One of the main reasons travelers come and return to Bali is the serenity. Days by the beach or wandering through beautiful rice terraces is a great way to relax. But over the years, Bali has developed a range of adventurous activities perfect for those that want some thrills and families looking for fun group activities.
Along the island's Ayung River, go on a whitewater rafting adventure with enthralling Grade III rapids on offer. With the help of your guide, navigate the troughs and corners with ease with plenty of photos to help remember the hair-raising experience.
On this whitewater rafting trip, you'll pay $72 for two rafting sessions and a gourmet Indonesian lunch at the end of it all.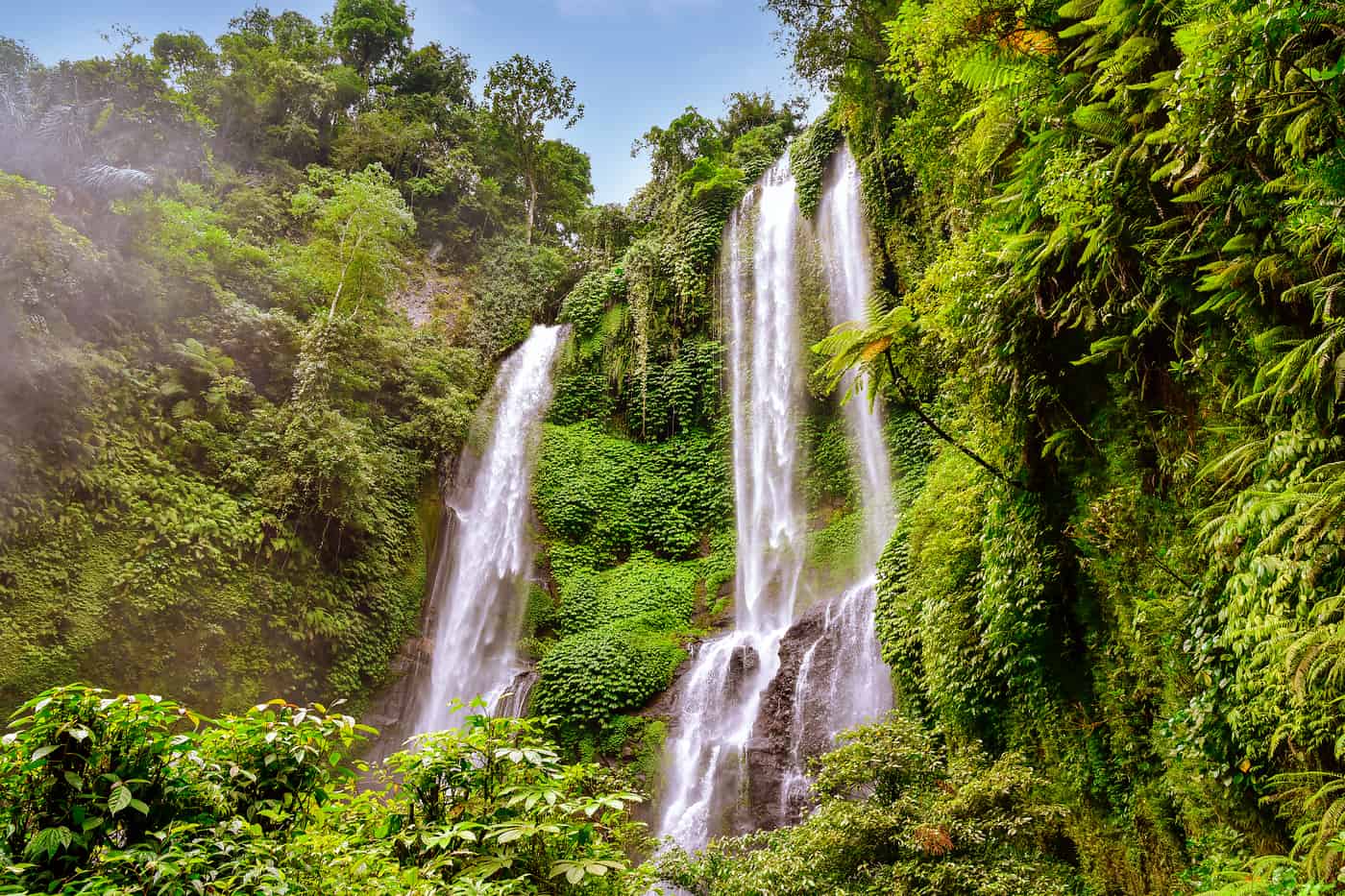 Discover the Sekumpul Waterfalls
A series of seven waterfalls, Sekumpul is one of the most stunning sights in Bali. North of Ubud, in the Singaraja region, the waterfalls splice the jungle into sections, with the mist rising along the cliff.
A forty-minute downhill hike is required to reach the Sekumpul Waterfalls. Each step is worth it thanks to the prize at the end. Although always a beautiful sight, the falls glisten on a clear day, with rainbows scattered across the landscape.
From the base of the waterfalls, you can enjoy a refreshing swim and rest the legs before the return journey. Like many popular tourist spots in Bali, visitors will have to navigate entrance fees, some legitimate, some not. For this reason, it pays to sign up for a private tour and leave the stress at the door.
If you don't want to go it alone, a waterfall hiking tour is priced at $70 per person.
The Nusa Islands
One of the best day trips you can make away from Bali is to the Nusa Islands. Comprising Nusa Lembongan, Penida and Ceningan, you can experience a dreamy environment away from the crowds.
Just 25 minutes on a fast boat from Sanur, it's easy to see at least one of the three in a single day. Although you'll likely fall in love and wish to stay longer. Lembongan is home to several gorgeous retreats, with excellent diving and surfing on offer. Not to mention the amazing Devil's Tears where the waves crash over the rocky outcrop to create spectacular scenery.
You can make your way to Nusa Ceningan by crossing the iconic yellow bridge that connects the two islands. But you'll need to jump on a boat to reach Nusa Penida, where diving is the top attraction. Explore a mystical underwater world featuring manta rays and turtles.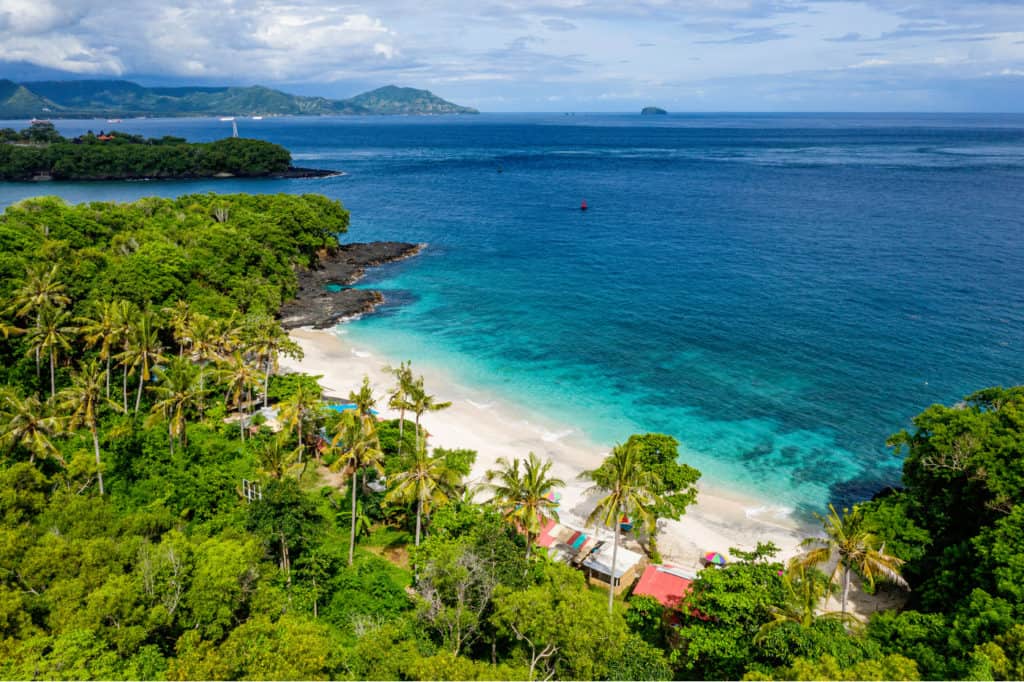 Discover Bias Tugel Beach
One of the best and certainly the most underrated beach in Bali is Bias Tugel. Tucked away from the unassuming port town of Padangbai, experience sparkling white sand, wild beach swell and beachside shacks serving cheap eats and cheaper beer.
There are two ways to access the remote beach. From the southern end of the town's harbor, drive up the hill, turning into a parking area. From there, you can venture down the steep hill to the hidden oasis featuring the whitest sand on the island. If you're in Padangbai for a few days, you'll have time to reach Bias Tugel via the secret path. From the Ferry Port Authority Office, trek along the coast before the path turns sharply inland and over the hill.
Soon the trees dissipate, opening up to amazing sandy shores. Kick back on the beach and watch the gnarly surf rise and fall. When you're peckish, grab some lunch at the shacks, washing it all down with an ice-cold Bintang.
Join a Yoga Class
With Hindu temples dotting the island, surrounded by mountains, valleys and beaches, Bali has an aura of spirituality. Many travelers come to Bali in search of peace, which has given rise to several yoga retreats.
Ubud is a popular destination for those wishing to try yoga for the first time or for seasoned veterans looking for a multi-day experience. One of the best spots to go in Ubud is the Yoga Barn. Featuring an array of options, enjoy single classes or embark on a cleansing program lasting several days.
Other common spots to try yoga in Bali include the coastal town of Canggu or in Nusa Lembongan. In the latter location, find retreats offering a thorough experience, including accommodation.
Explore Canggu
One of the hippest towns in Bali, Canggu is an ever-developing location where healthy-eating, acai bowls and yoga are always in vogue. Here, expats and digital nomads mingle and brand new villas offer luxury accommodation along the coast and among the rice fields.
With the number of expats living in the area, Canggu is not the spot to seek local culture. But the array of delectable restaurants offering cuisine from all around the world and the many beachside bars makes it the perfect place to indulge.
A day here is simple. Wake up with the sun, enjoy an espresso and a breakfast bowl before heading to the beach for a morning swim. Explore the rice paddies, Echo Beach and Tanah Lot before returning to Batu Bolong in the evening. Watch the sunset on the bean bags that line the beach before enjoying the live music at Old Man's.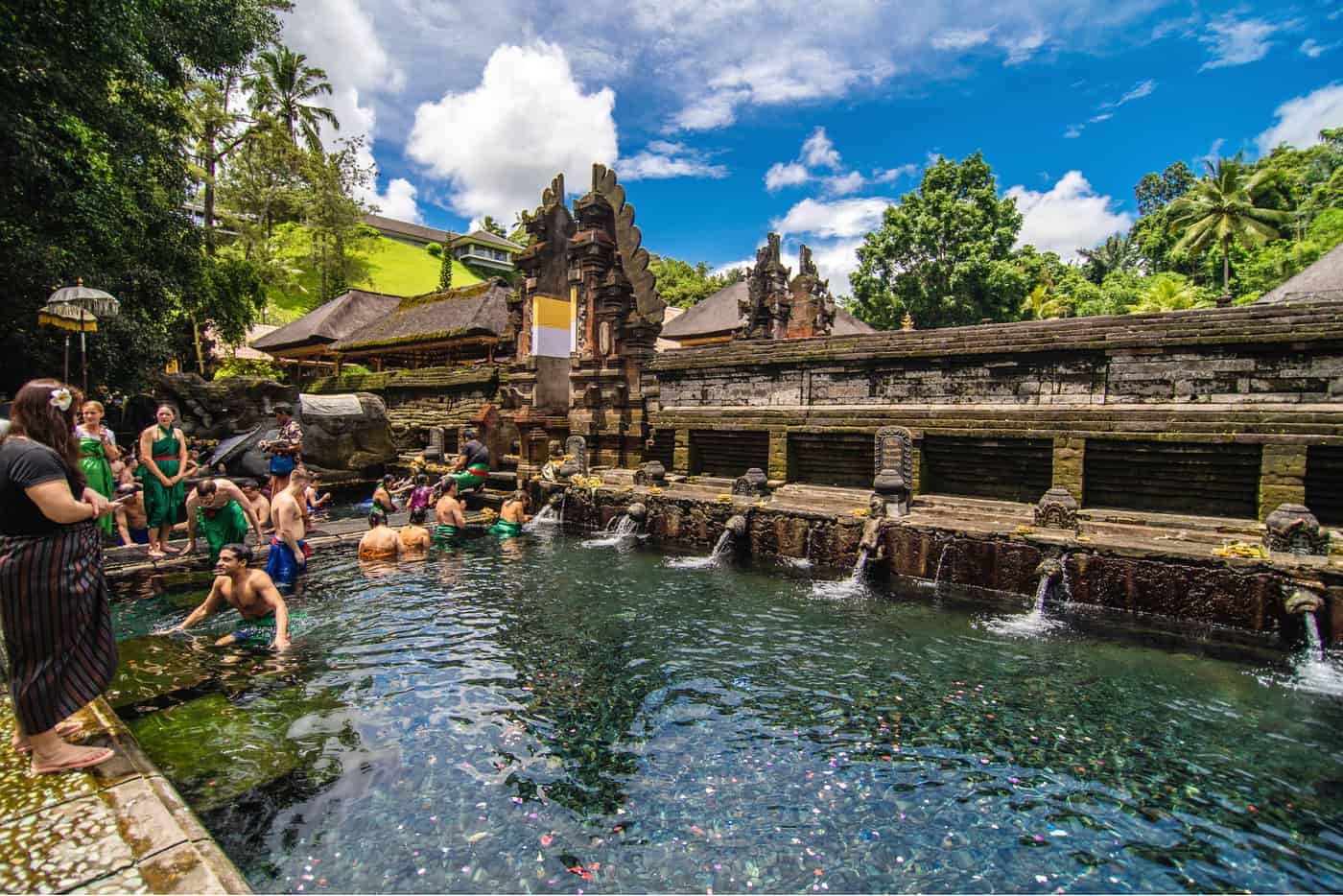 Bathe at Tirta Empul
Built over a thousand years ago, Pura Tirta Empul is a national heritage site home to Bali's sacred purification ritual. For centuries, Balinese would arrive at the temple to partake in the ritual. Fed by a natural spring, there is a large pool where locals would enter to cleanse and pray under the many water spouts.
Surrounding by the dense jungles of central Bali, the well-preserved site continues to cleanse locals to this day. It's an incredible feeling to wander into such a historic temple. Travelers can also partake in the ritual but must respect the customs. These include entering the water fully clothed. Remember to explore the temple prior to your cleanse, as you're not allowed to drip water through the courtyards.
Go Dolphin Watching
Along the northern coast, Lovina is a beautiful yet oft-forgotten Balinese town. As travelers flock to Canggu, Ubud and Uluwatu, very few venture to the other side of Ganung Batur.
With its stretch of rich black sand, Lovina offers a quieter coastal experience with local eats and peaceful days by the water. The best reason to head north to Lovina, however, is to see the dolphins. There are many boat trips that will take you out on the Bali Sea for what is sure to be a memorable experience.
Departing before sunrise and on a traditional fishing boat, experience life up close to the dolphin pod as the sun glides above the horizon. Small group tours are priced at $54 per person.
The Gili Islands
Comprising three islands enveloped by idyllic beaches, turquoise waters and amazing snorkeling, the Gili Islands are an exceptional paradise. You can easily bike ride around the largest isle of the three, Gili Trawangan, without stopping to catch your breath. As for the other two? Well, they're progressively smaller and just as cute.
Each island has something unique to offer. Trawangan has the biggest nightlife and offers a tropical getaway to suit all budgets. Arrive on boat, jumping into the clear water before chucking your bags onto a donkey-led cart, and riding to your hotel.
Gili Meno is a popular honeymoon destination. With little development, Meno is a natural paradise where you can wander aimlessly along stunning beaches and explore turtle sanctuaries.
Last up is the smallest island. Gili Air offers the best in local culture out of the three. With several authentic villages, and enchanting homestays, check out from the world with traditional eats and memorable sunsets.
Spend the Day at a Beach Club
As important as it is to experience local culture, learn about Balinese heritage and try all the food on offer, sometimes you just need to be a classic tourist for the day. Along the many sandy beaches of Bali are exclusive beach clubs featuring infinity pools, modern designs and DJs. Some are over-the-top and others are more relaxed, creating a wide variety to suit couples, friends or families.
Entrance fees to each club can range from "OK, not bad" to "fine, take my money". It's all about the experience that you're after. Some of the popular beach clubs include the gorgeous Sundays Beach Club. Ride down the funicular to your own private beach. Relax or trying some stand-up paddleboarding. After dark, bonfires scatter along the sand.
The most renowned beach club in Bali, however, is Potato Head. The island's OG offers an infinity pool right on the beach with international DJs spinning tracks all day long.
Have Some Fun at Waterbom
Speaking of touristy experiences, one of the top things to do in Bali with kids is to visit the Waterbom. The exciting water park has everything from enthralling slides to a lazy river. Spend your time between the hair-raising rides and the manicured gardens, offering the chance to lower your heart rate before going again.
As the kids run amok, the old folks can kick back with some fish spa therapy or a reflexology session. Before everyone gathers and one of the many on-site restaurants. If Waterbom wasn't enough to satiate your desire for thrill, then venture over the Bali Wake Park for waterskiing and wakeboarding.
Entrance is priced at $100 for a family of four to spend the day.
Watch the Sunset at The Rock Bar
In Ayana Resort, The Rock Bar is the place to go to capture that dramatic Balinese sunset. Perched over the cliff-face, enjoy uninhibited ocean views with the sounds of the waves crashing below. The refined bar is the place to put on your best shirt or dress and enjoy an upscale evening.
As the sun falls, the colors mix in with the blues of the sky and ocean. Soon, the reds, oranges and purples emerge victorious, lighting up the horizon. In unison, the cocktail sipping pauses and the crowd looks on in awe as the blazing sky fades and the stars begin to glisten.
Kuta
The big brother of other popular travel spots like Canggu and Seminyak, Kuta was the original Bali destination. While not the place to seek Balinese culture, there's something captivating about the town that makes it worth the visit, even for just a day. Kuta Beach is a popular surf spot, with many lessons on offer. Hawkers sell gifts, and coolers full of cheap beer line the beach.
After catching all the sun and waves you need, freshen up for the bright lights of Jalan Legian, Bali's most happening nightlife spot. A scene more akin to Thailand than a regular Bali evening, walk under the shroud of neon lights, jumping between pubs and clubs until the early hours.
Drive around Bali
Covering just over 2000 square miles, Bali is half the size of Hawaii's Big Island. After arriving at Ngurah Rai International Airport, most venture straight to Canggu, Kuta or Uluwatu before spending their time on direct trips to Ubud and the surrounding islands.
But one of the best ways to see Bali is by following the coastal roads the whole way around. Starting in Kuta, ride or drive up the east coast, passing Pura Tanah Lot on your way to the remote western coasts. Here, there are few hotels with sprawling farmlands lining the ocean.
Head along the north coast, passing Lovina, Tulamben and Amed. From there, the road reaches its most entrancing. The winding cliff-side roads offer endless views as you meander from village to village all the way to Sanur.
Where to Stay in Bali
For budget travelers:
Stay in the middle of nature at WW Backpackers in Ubud. This hostel is right in the middle of a forest but only a short walk away from the center. A bed in a 10-person dorm is only $7 per night. Sadly, there are no private rooms available.
The Farm Hostel is where you must stay when you're in Canggu. It's pretty chilled out, and the common areas always have people mingling. A bed in a dorm is reasonably priced at $13, and breakfast comes with your booking.
For mid-range travelers:
Ubud: Sabana Ubud – $58 a night for a deluxe room with a queen bed and balcony. Ubud takes trendy accommodation to a whole new level. Sabana Ubud is a class example of this. The beautiful boutique hotel offers guests an outdoor swimming pool, a tranquil garden, and a bar where you can enjoy a nightcap. The rooms are fully air-conditioned and have charming views that you won't be able to get enough of. Take a trip to the famous monkey rainforest that's only an 18-minute walk away.
Canggu: D-Anyar Stay and Surf Canggu – $52 for a double or twin room with a private bathroom. This cute homestay is the perfect location if you're a lover of the beach and want to try your hand at surfing. You have access to an outdoor swimming pool, free private parking, and free Wi-Fi at this peaceful spot.
If you'd like to book surfing lessons or onward travel arrangements, the staff at the front desk will be more than happy to help you out. When booking accommodation in Canggu, it can be such a challenge because there are so many options to choose from. You won't be disappointed when you spend a night at D-Anyar Stay and Surf Canggu.
Enjoy Bali, But Don't Forget Travel Insurance!
One final note.
If you've read any other posts on Never Ending Footsteps, you'll know that I'm a great believer in travelling with travel insurance. I've seen far too many GoFundMe campaigns from destitute backpackers — in Bali, especially! — that are unexpectedly stranded in a foreign country after a scooter accident/being attacked/breaking a leg with no way of getting home or paying for their healthcare. In short, if you can't afford travel insurance, you can't afford to travel.
Travel insurance will cover you if your flight is cancelled and you need to book a new one, if your luggage gets lost and you need to replace your belongings, if you suddenly get struck down by appendicitis and have to be hospitalised, or discover a family member has died and you need to get home immediately. If you fall seriously ill, your insurance will cover the costs to fly you home to receive medical treatment.
I use SafetyWing as my travel insurance provider, and recommend them for trips to Indonesia. Firstly, they're one of the few companies out there who will actually cover you if you contract COVID-19. On top of that, they provide worldwide coverage, don't require you to have a return ticket, and even allow you to buy coverage after you've left home. If you're on a long-term trip, you can pay monthly instead of up-front, and can cancel at any time. And they're the only company I've found who covers travellers riding scooters in Southeast Asia. Finally, they're affordable, and have a clear, easy-to-understand pricing structure, which is always appreciated.
Related Articles on Bali

🙈 Attacked in Monkey Forest
🏄🏼‍♀️ Learning to Surf on Kuta Beach