My luxury travel experiences have been few and far between.
I say I'm a budget traveller through choice but I can't really afford the alternative. I'm okay with it — I can't deny that budget travel has suited me well over the last four years.
Sometimes, though, I find myself wondering what it would be like to throw my money at travel. To stay at five-star luxury resorts, be chauffeured from place to place, and eat meals at restaurants that have tablecloths.
Buying presents for a budget traveller, ie, my boyfriend, can be tricky. Like me, Dave carries everything he owns on his back, so if I buy him any kind of tangible present, he has to throw something out in order to make room for it. It's why we usually opt to buy each other experiences instead.
This year, I wanted to do something special for his birthday. We were travelling around the Maldives on a budget, having a wonderful time, and avoiding the overwater bungalows so many associate with the country.
So I booked two nights in one.
I was concerned. Dave can be pretty scathing when it comes to luxury travel. I had this horrifying vision of him complaining about the wealthy, obnoxious tourists that surrounded him. About how the food was 10 times the price it had been on the local islands. About the lack of Maldivian culture. About how he was paying $10 for the same bottle of water he was paying $1 for a few days ago. Sorry, I know I'm wildly stereotyping here.
So, luxury travel. Does it suit me? Did Dave hate it? What's the deal?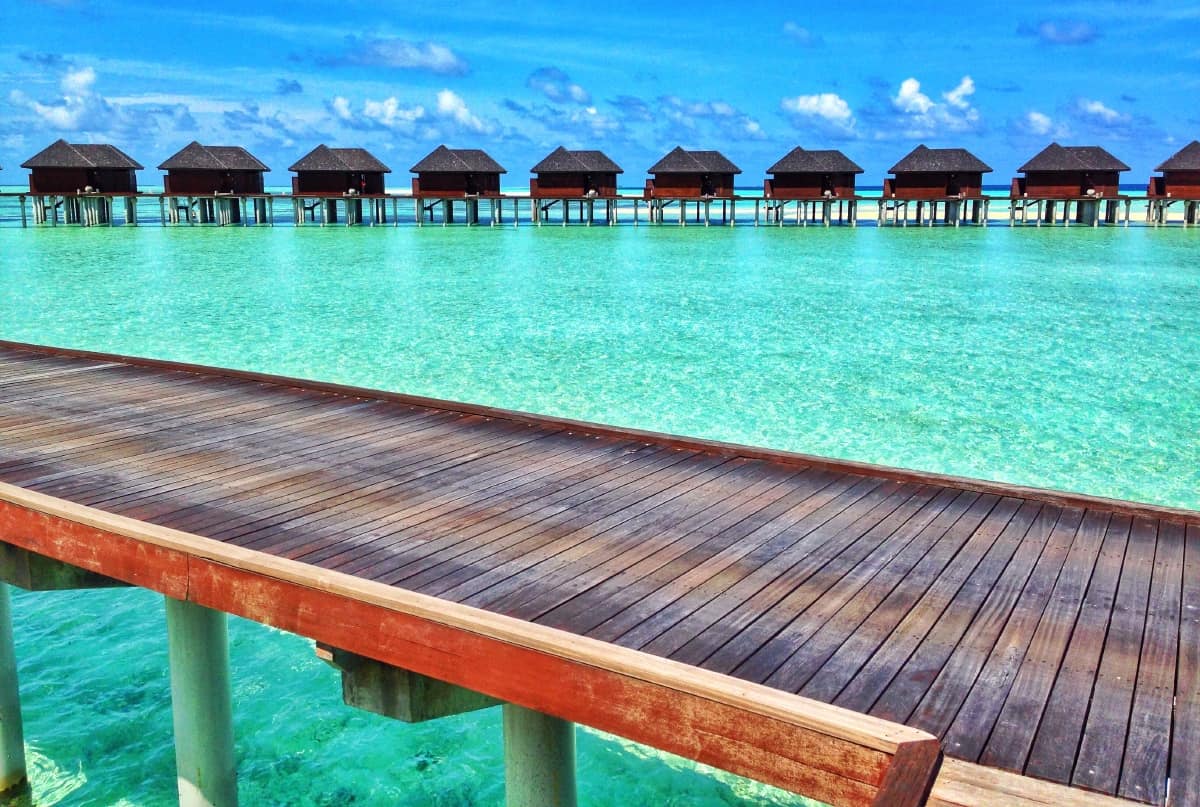 Damn, the Resorts are Expensive
I allocated myself a budget of $200 a night for our stay.
Then I doubled it.
Then I tripled it.
If you want to stay specifically in an overwater bungalow, you'll struggle to find anything for less than $400 a night, and don't forget we visited during low season. In high season, prices double. Oh, and this isn't the all-inclusive price, either. This is the no-inclusive price for nothing but accommodation.
The reviews aren't that amazing either. At my new price point of around $500 a night, there were an awful lot of complaints on The TripAdvisor. Some of them were about strange, irrelevant things. Like:
We stayed here back in December 2012 over new year. 12 of us went and booked 3 water villas and 2 beach villas. The accommodation was very nice although I feel for the price could have been a little more modern. The food was nice although no pork. I used the gym a few times and played some tennis although not for long as it was to hot. We also flew with British Airways first class however the plane was old so was very disappointed with the dated 1st class cabin. Would of expected BA to put new planes on to this exclusive destination. Just a warning, our boat transfer from male to our island was terrible! It broke down and we had to sit and wait half an hour to be transferred onto another boat with all our cases. Coming back a storm hit and we though the little boat was going to sink. I'd recommend a sea plane. Again for what we paid we should have been transferred by sea plane anyway. The resort was a decent 4 star, if I go to the Maldives again I would try somewhere better. [all sic]
Why on earth is this person complaining about the flight on a hotel review? And, and, and… oh god, too much. This review is hilarious. It also made me nervous because this person sounds like the sort of person Dave would not enjoy spending his birthday with.
Some of the reviews, though, were about poor customer service, and about the resorts trying to squeeze every last penny out of you. My biggest fears, pretty much. I wondered if I should just up my budget to $2,000 a night — those places had incredible reviews.
I didn't, obviously, because that's an insane amount of money.
In the end, I decided to go with Olhuveli Island for several reasons. It was perfectly located between two of the islands I was visiting: Maafushi and Guraidhoo. The overwater bungalows looked gorgeous, and it had reasonable reviews when compared to resorts of a similar price.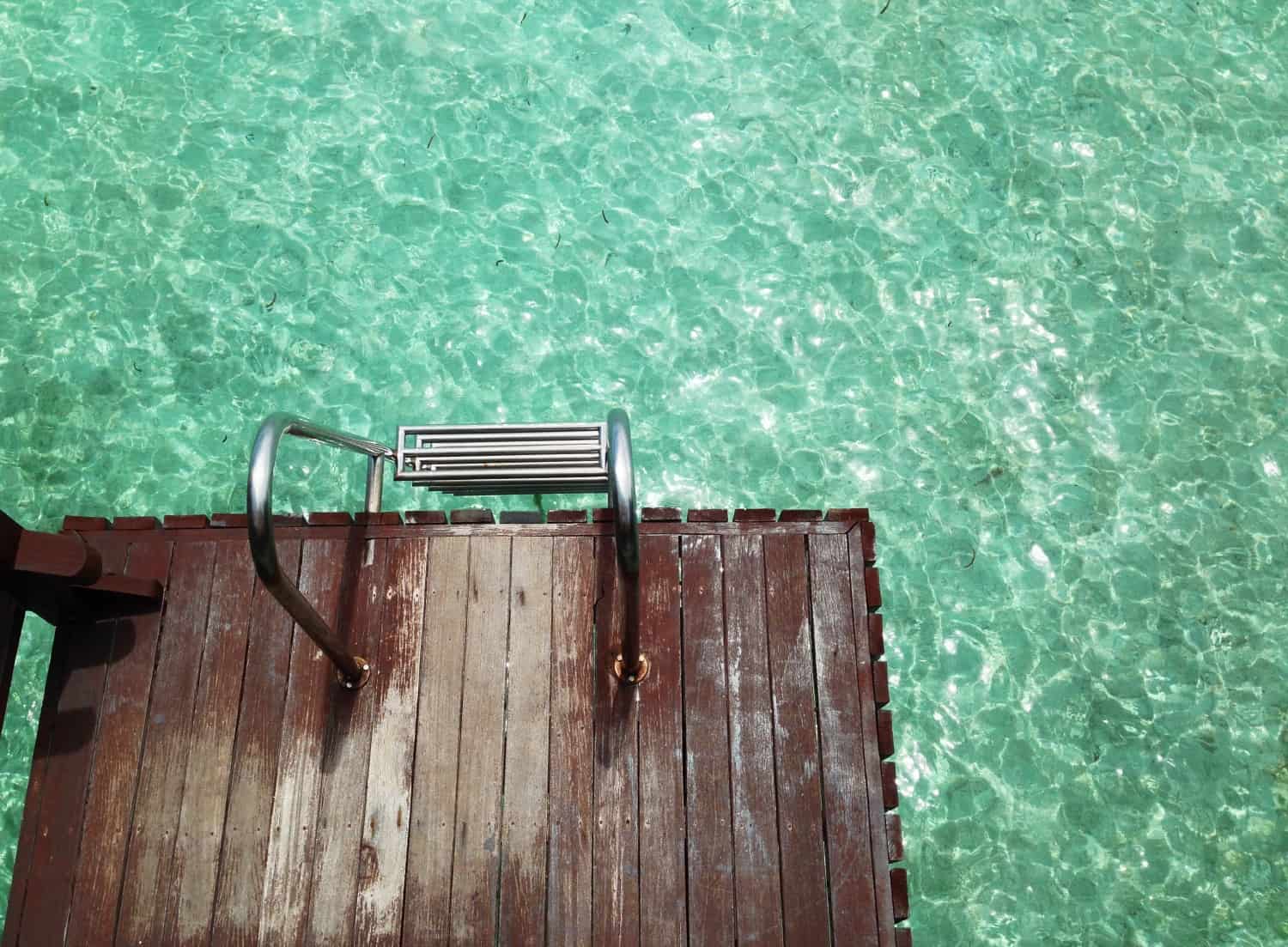 At the Resort, Things Are Unnecessarily Pricey
I expected this, of course, but it was still shocking.
Want to take a speedboat from Male Airport to Olhuveli? That'll be $280 per person each way.
Want to take it from Guraidhoo, an island six kilometres away? That'll be $200 per person each way. Dave and I could have spent $800 to travel 12 kilometres. Come on, guys. It felt like they were trying to rip me off before I even arrived.
My tip: Take the local ferry ($2 each) to a local island (we chose Guraidhoo) and arrange a transfer with someone there. We ended up arranging the transfer with our guesthouse owner on Guraidhoo for $20 per person each way.
It wasn't just transportation, either. Want to get online? That'll be $11 a day. Rent a snorkel and mask? $14 a day. A bottle of water? $6.
For comparison: on Maafushi, Fulidhoo, and Guraidhoo, Dave I paid $50-70 a night for our guesthouses. Wi-fi was free, snorkels were free, and a bottle of water was a dollar or two from a convenience store.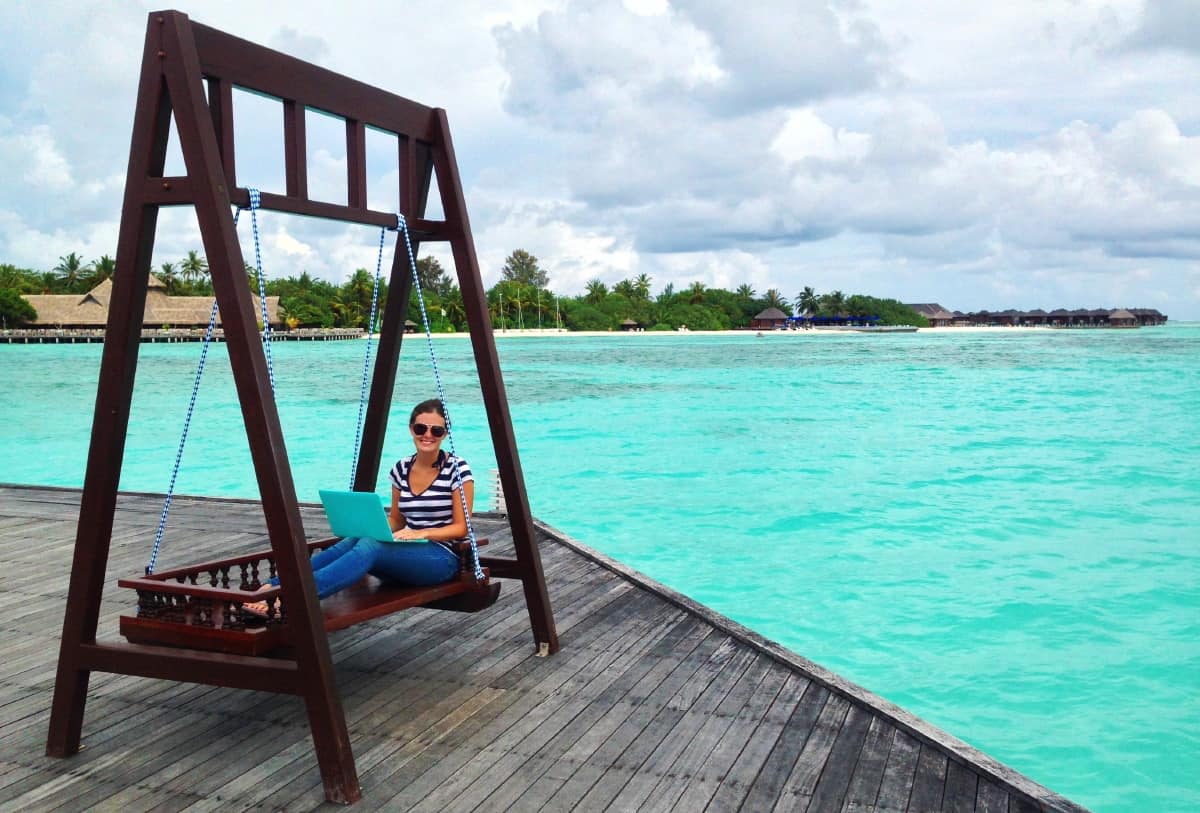 I've Received Better Customer Service at $1 a night hostels in Laos
Now, this was disappointing. I don't know, I mean I'm used to crappy customer service and it's never really something I've ever complained about, but when I'm spending over $500 a night? I guess I just expected better.
Just Take My Money Already!
It was weird. A few minutes after booking the bungalow, I got an email from someone at Olhuveli asking for my card details because they couldn't process mine. Fortunately, my dad's a bank manager and I outsource all of my banking malarky to him. A quick phone call told me my bank had blocked my card for suspicious activity (haha). I got it unblocked and emailed them the details.
No reply.
I waited a week and followed up with them.
No reply.
I waited another week and followed up.
Finally I got a response, telling me that my card details hadn't worked again. I gave my dad a call and he said there was no sign anyone had attempted to take the money from my account.
I replied to ask what was going on, and suggested they tried my card again, and there was no reply.
I followed up after four days and there was still no response.
I followed up every day for the next week and was ignored over and over and over.
By this point, it was a couple of weeks before Dave's birthday and I was starting to panic.
So I emailed customer service to complain. This kicked the guy's ass into gear and he finally got replied, telling me my card didn't work again.
I called my dad and he told me that someone had tried to put the transaction through but had entered the wrong expiry date. Are you kidding me?
I followed up and was ignored again.
Dave's birthday present was looking like it was going to be a fish curry.
With a final push, I emailed every email address I could find for the hotel, and finally, finally someone figured out how to put my card details through.
WHY WAS THIS SO HARD?
It didn't make the best first impression. Everyone seemed so weirdly incompetent.
Where Have You Gone?
We got to Olhuveli early, and were met at the jetty by a woman who checked us in, told us our room wouldn't be ready for another hour, and to meet her back there at 12 o'clock. No worries, we went for a swim in the infinity pool.
She stood us up. We waited for her for over an hour and she never showed.
My Name is What?
We arrived at our room and spent a few delirious minutes flailing in excitement. I then spotted a welcome letter on the bed, opening with, "Dear Mr and Mrs Chen Yai Yu".
It's hard to get your guests' names right, right?
I Just Want to Get Online!
Our stay included free Wi-Fi, but the network was secured. I called reception to ask for the password, they put me on hold for ten minutes, and then hung up.
I called back again, someone else answered, they put me on hold, and hung up.
I had to call five times before someone could give me the password. It took over half an hour.
But Nobody Told Us About the Free Drinks?
It was our final night, and Dave and I made our way to a cocktail bar to watch the sunset. We ordered our drinks and the waiter stared at us in confusion. He said, "But you can get free drinks every night at the other bar. Why don't you go there?"
Dave and I had been paying for our drinks throughout our stay because nobody had told us we were entitled to free cocktails. How many other things did we miss out on?
All in all, I expected better. Much better. As I said in the title of this section, I've received better service from $1 a night dorms in Laos.
The Resorts Operate on Resort Time
"Welcome to resort time!" beamed the woman who met us from our boat and would later stand us up.
The Maldives is officially five hours ahead of GMT, but resorts have adopted their own time, and it's not consistent. Olhuveli is one hour ahead of Male, some resorts are half an hour ahead, and some are 90 minutes ahead. Why? The Maldives doesn't observe daylight saving time, so the resorts create their own to give you more hours of daylight while you're there.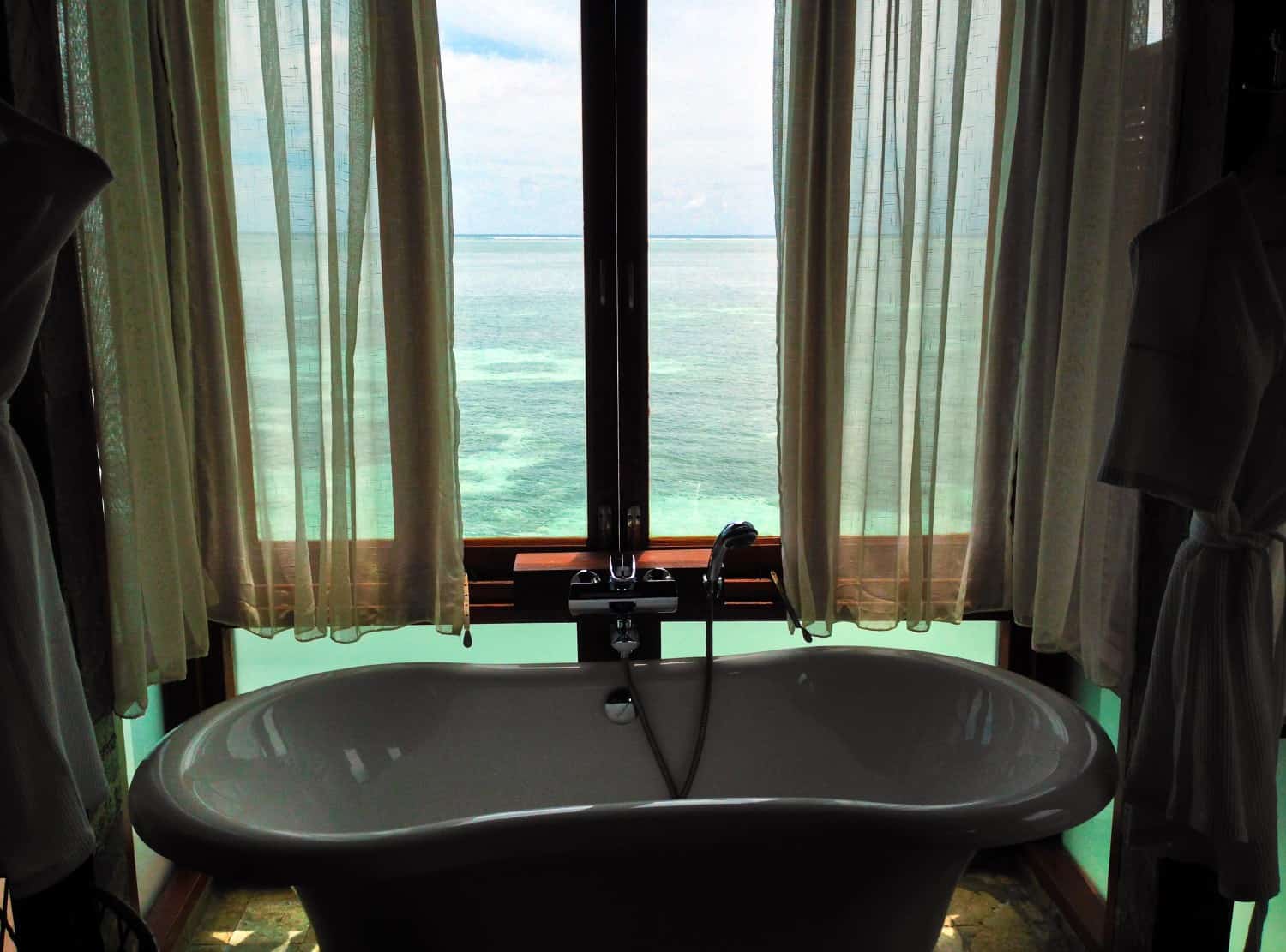 Our Bungalow was Incredible
I started off this post on a negative, but aside from our customer service woes, the rest of our trip was the best. This has to be the most extravagant, beautiful place I've ever stayed at. I don't know if I'll ever be able to top it. I loved the ridiculous shower head that felt like it was bigger than some of the bathrooms at hostels I've stayed in, the jacuzzi on our balcony, and the view from the bath. Yeah, I thought about bathing five times a day there.
My favourite part was waking up in the morning, padding onto the balcony and jumping straight in the sea.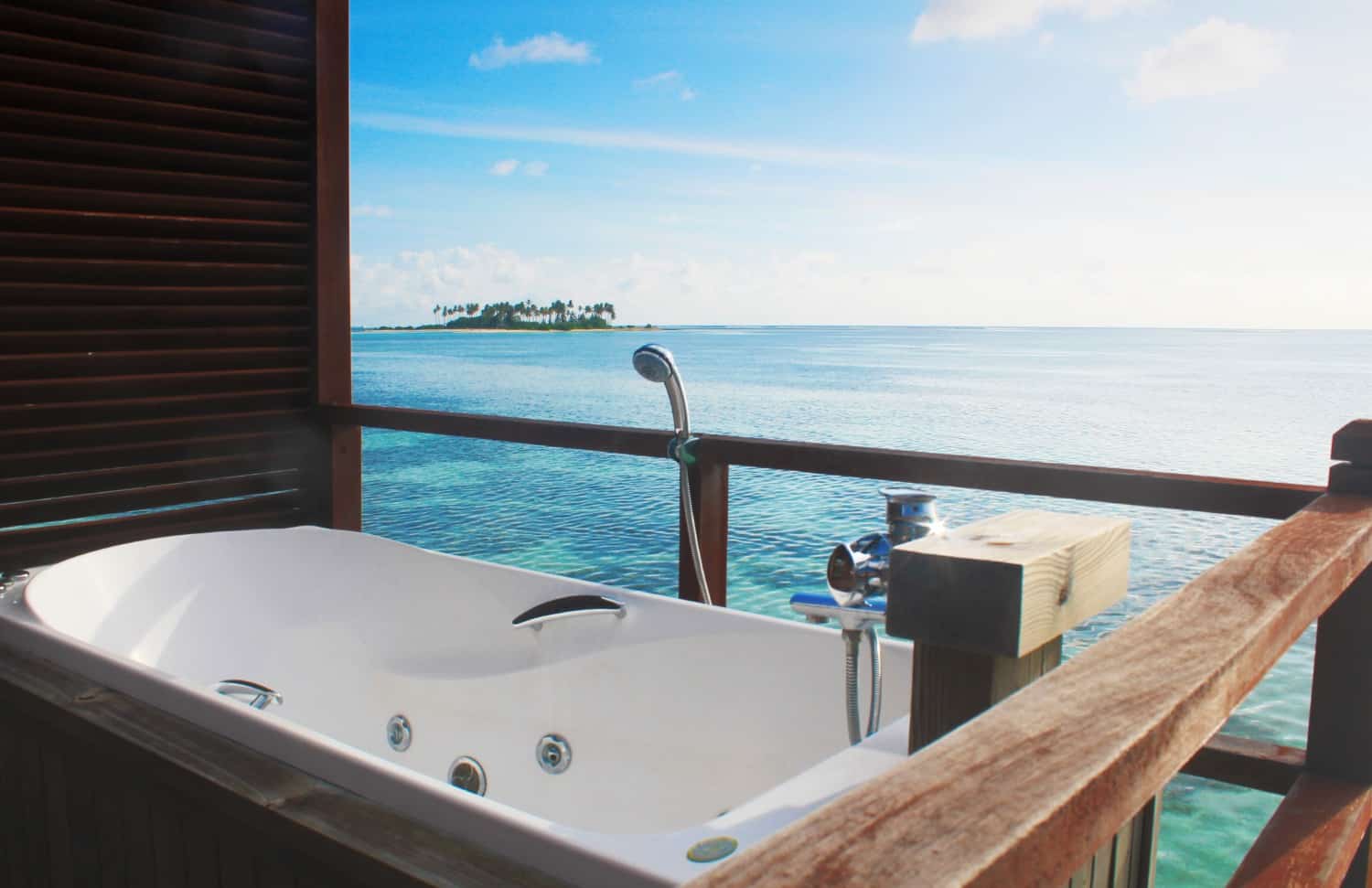 I Need This Jacuzzi In My Life
Dave and I would spend our mornings splashing in one of the resort's swimming pools, and our afternoons squished up together in this jacuzzi. Oh my god. This jacuzzi! Favourite part: peering over the edge and seeing enormous fish, baby sharks, sting rays, and sea snakes(!!) hanging out below us.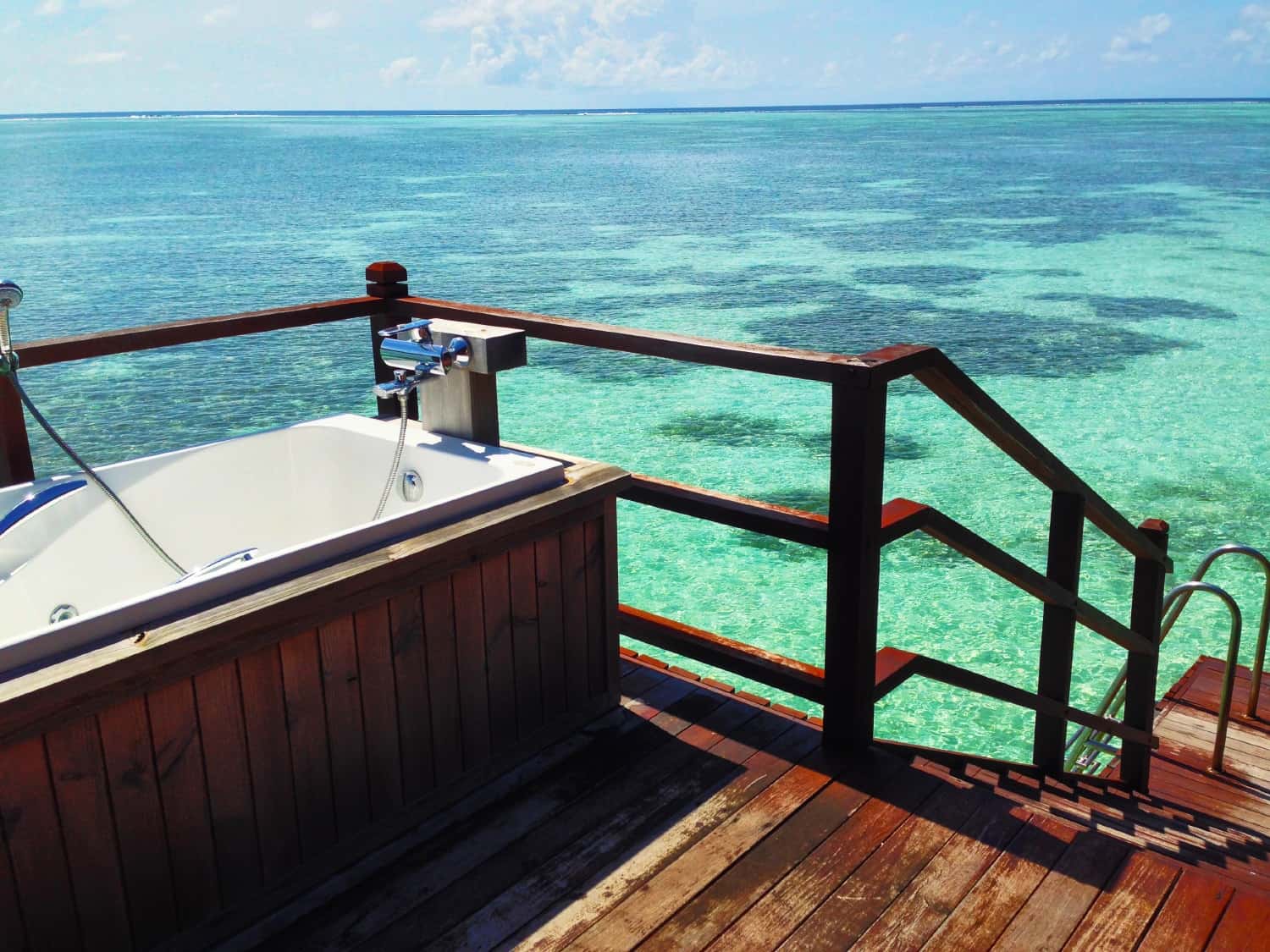 Baby Sharks!
Hundreds of them, swimming all around the resort, some of them only half a metre from the beach.
The Food Was Surprisingly Good
I expected the food to be terrible. I figured it'd be designed for bland Western palates (side note: WHO HAVE I BECOME?), there'd be no Asian food on offer, and it would be around $50 a meal. I was only partly correct.
The food was on par for Australian prices — typically around $20-30 for dinner, although Dave and I were totally going for the cheapest options. The food was delicious, though, so I didn't begrudge spending the money.
There wasn't really much in the way of Maldivian food. I fell in love with Maldivian breakfasts on the local islands, for example, but at Olhuveli, there was, of course, only a buffet breakfast (one of the best I'd had, though!). For dinner, there were a couple of curry options that could have been local dishes, and there was also a pizza place, some Thai and Indian food options, buffet dinners…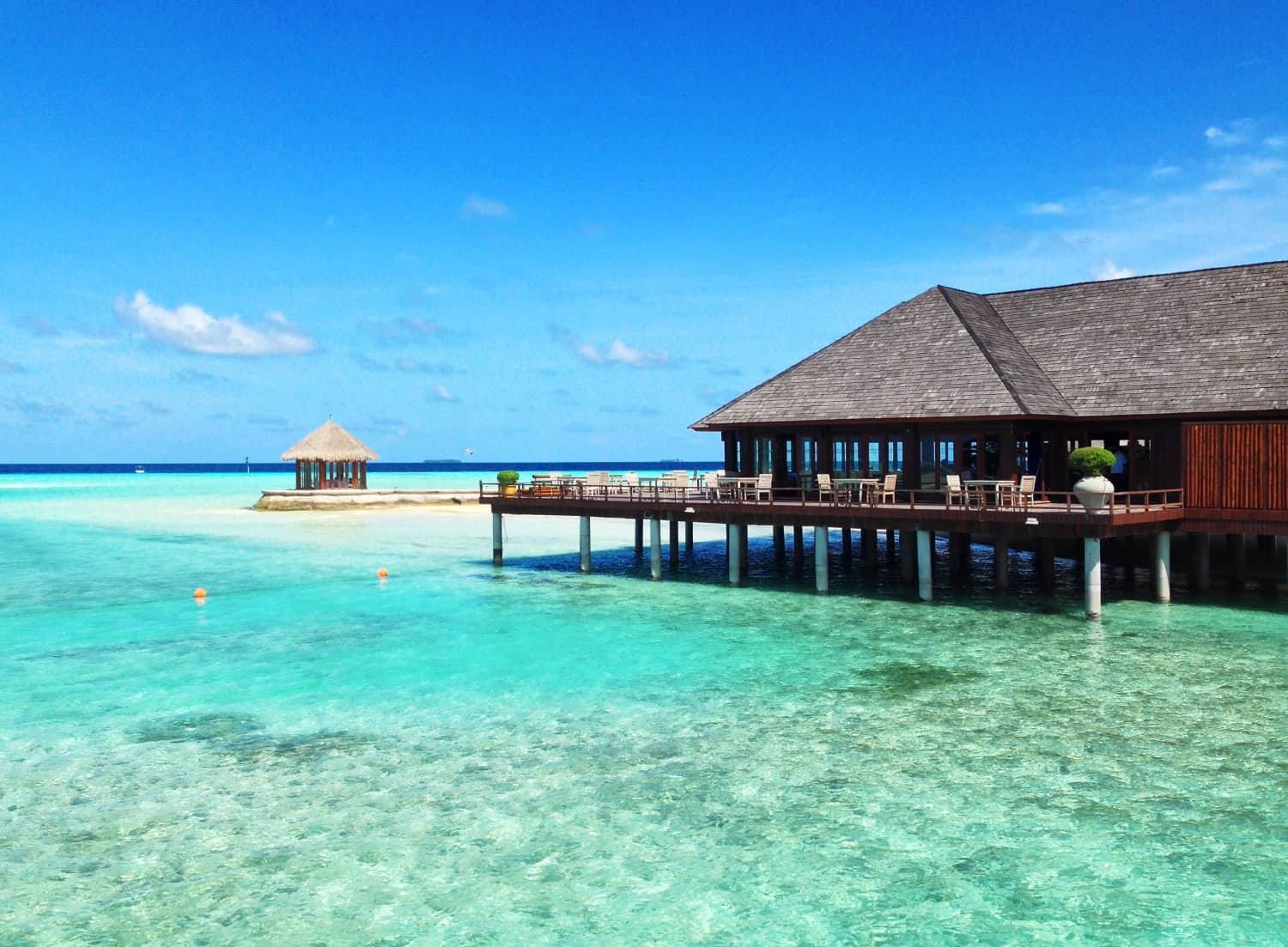 You Don't Learn Anything About the Local Culture and Life
On the local islands, Dave and I found it easy to learn more about the Maldivian way of life. About how tourism is growing at an insane rate, how our entrepreneurial guesthouse owners were planning to take advantage of this, how everyone knows everyone's business because the islands are small so it's hard to keep secrets, how trash on the islands is an enormous problem, and stories of the 2004 tsunami.
On the resort, I don't think I had more than a one minute conversation with any of the staff.

It Means More When You Pay For it Yourself
Up until around a couple of years ago, I dabbled with sponsored travel on Never Ending Footsteps with mixed results. It was a wonderful feeling to get things for free in exchange for a review and I thought I was living the ultimate dream. In the end, though, I decided it wasn't for me.
Our stay at Olhuveli showed me that it's so much more meaningful when you pay for something out of your own pocket. Knowing that I'd been working my ass off and bashing out 9,000 words over six days for a freelance client so I could afford to splash out on this? It meant more. When you're blowing two months worth of travel expenses on two nights, it makes you pretty determined to have the time of your life.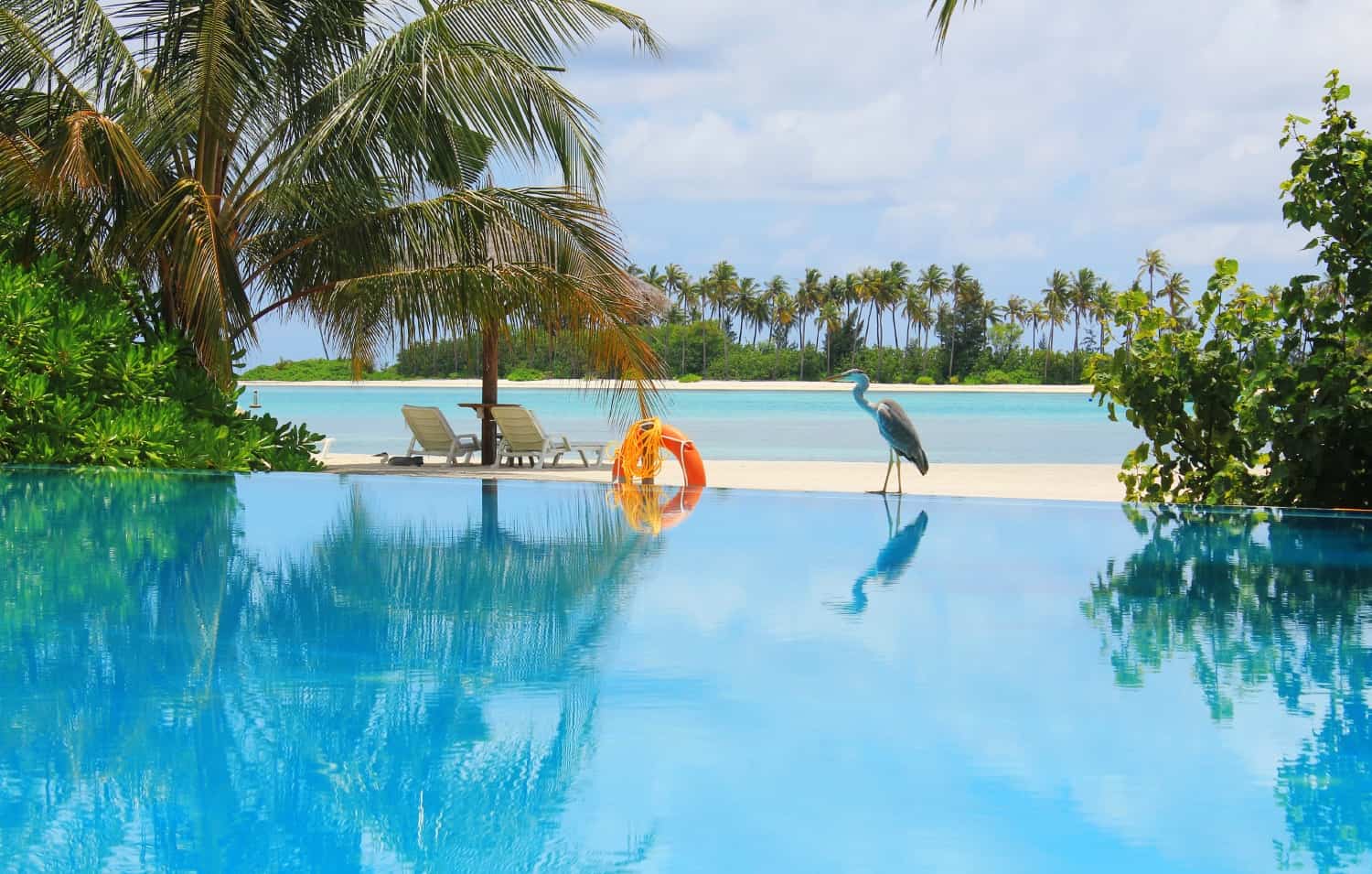 Dave Loved It!
Nothing could fill my heart with more joy than having Dave turn to me and announce he'd had the best birthday of his life. He confessed he'd had many of the fears I mentioned at the start of this post but most had been unfounded and the rest he could ignore because Olhuveli was so goddamn beautiful.
Yeah, it was overpriced and yeah, the customer service sucked, but it was still one of our ultimate travel experiences. Olhuveli Island was stunning — easily one of the best places I've stayed, despite the atrocious welcome. Also, the jacuzzi.
I can't afford to be a luxury traveller, but I'm starting to think that maybe a few times a year I should throw my money at travel and see what happens.
Related Articles on the Maldives

💰 Travel the Maldives on a Budget? It's Totally Possible!
🏖 Falling in Love With Maafushi
🏝 Fulidhoo: The Only Tourists on the Island
🙅🏼‍♀️ Scammed in Guraidhoo: The Shady Guesthouse Owner
Save This to Pinterest