Fulidhoo Island is tiny. At 600 metres in length and 200 in width, travelling there from Maafushi was going to make the latter feel like a metropolis.
I'd fallen in love with Maafushi and, like most places I visit, was devastated to leave. I'd spent a perfect five days shunning my travel blogging tan (non-existent because I spend every day inside working) and splashing around in the ocean. If I hadn't booked our accommodation in advance, I would have pushed to stay longer.
Or maybe not. I knew nothing about Fulidhoo — I had no expectations. Would it be prettier? Quieter? A party island? Full of trash? Without beaches? As with every internal battle I fight over whether to stay or see somewhere new, the desire to explore won.
On our final day in Maafushi, I was reminded how rare independent travel currently is in the Maldives when our guesthouse owner was convinced we needed to take the ferry back to Male.
"The ferry to Fulidhoo is at 11:40 am, right?" I asked him.
"No, no. The ferry is at 7 in the morning."
"Oh, but the official timetable says it's 11:40?"
"No. You must leave here at 6 o'clock."
"But, look!" I took my laptop over to him and prodded at the screen. "It says Maafushi to Fulidhoo at 11:40."
"No, you don't want Fulidhoo. You want Male!"
"But we're going to Fulidhoo?"
"You're going to Fulidhoo?"
"Yes."
"Oh."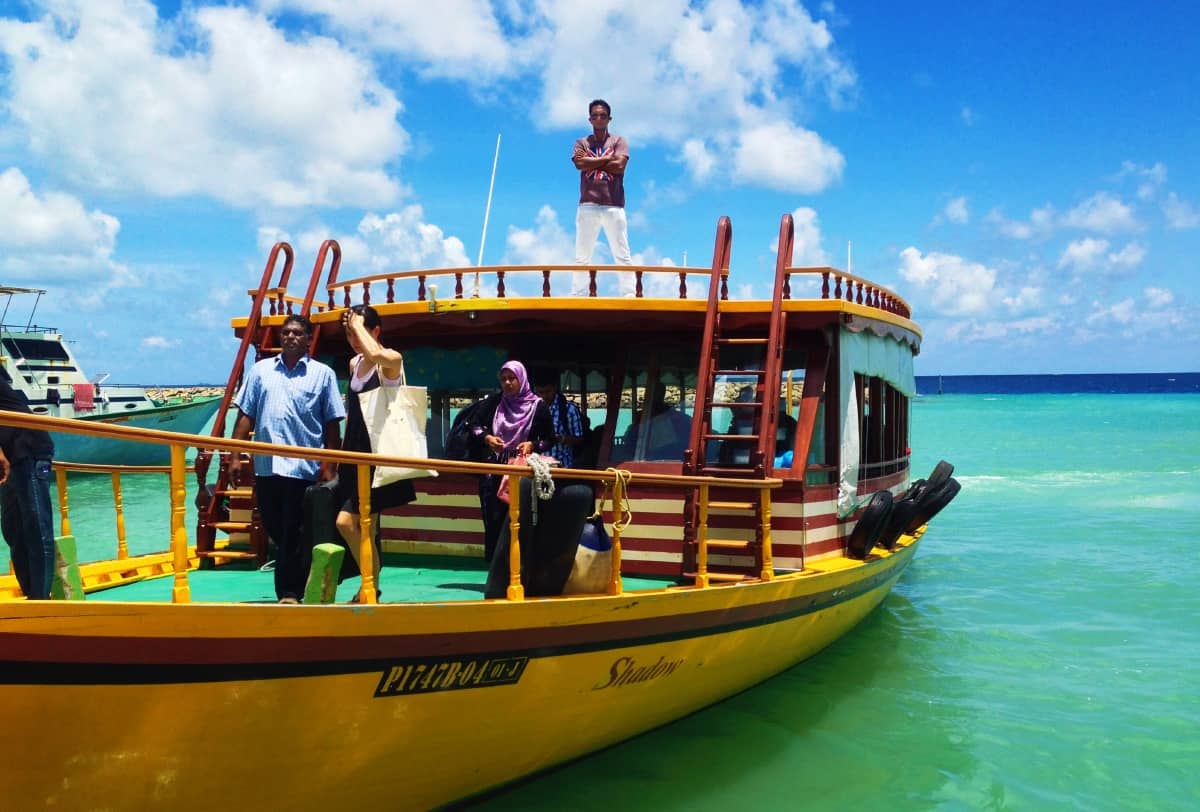 Obviously travelling by ferry is near-impossible to avoid in the Maldives, which is a shame as I'm prone to motion sickness; especially seasickness. And so, the thought of spending two hours on a ferry in the middle of the ocean had me packing plastic bags like a backpacker leaving a dorm room at 6 in the morning.
I climbed aboard, threw double the dose of Dramamine in my mouth, and found space on a wooden bench alongside the window. I sat down, closed my eyes and waited for the nausea to hit.
Except it didn't. The Maldives is 99% ocean so I expected the sea to be rough. It wasn't. The waves were calm, the sea was flat, and I was fast asleep within minutes. The Maldives was proving to be full of surprises.
Even more surprising than the lack of sickness, was the fact that my partner, Dave, still had cell service in the middle of the ocean. After we'd been sailing for an hour, I couldn't see land in any direction, and yet, he still had a super-fast data connection. I guess that's what happens when there are no tall buildings to block the cell towers.
Passing in and out of sleep for much of the two hour long journey, I only fully awoke when Dave let me know we were a few minutes away. I couldn't wait to catch my first glimpse of Fulidhoo. I crossed my fingers and prayed it wouldn't be like the smoldering pile of trash that one Maldivian island has turned into.
Fortunately, Fulidhoo looked even more stunning than Maafushi. Look at the colour of that water!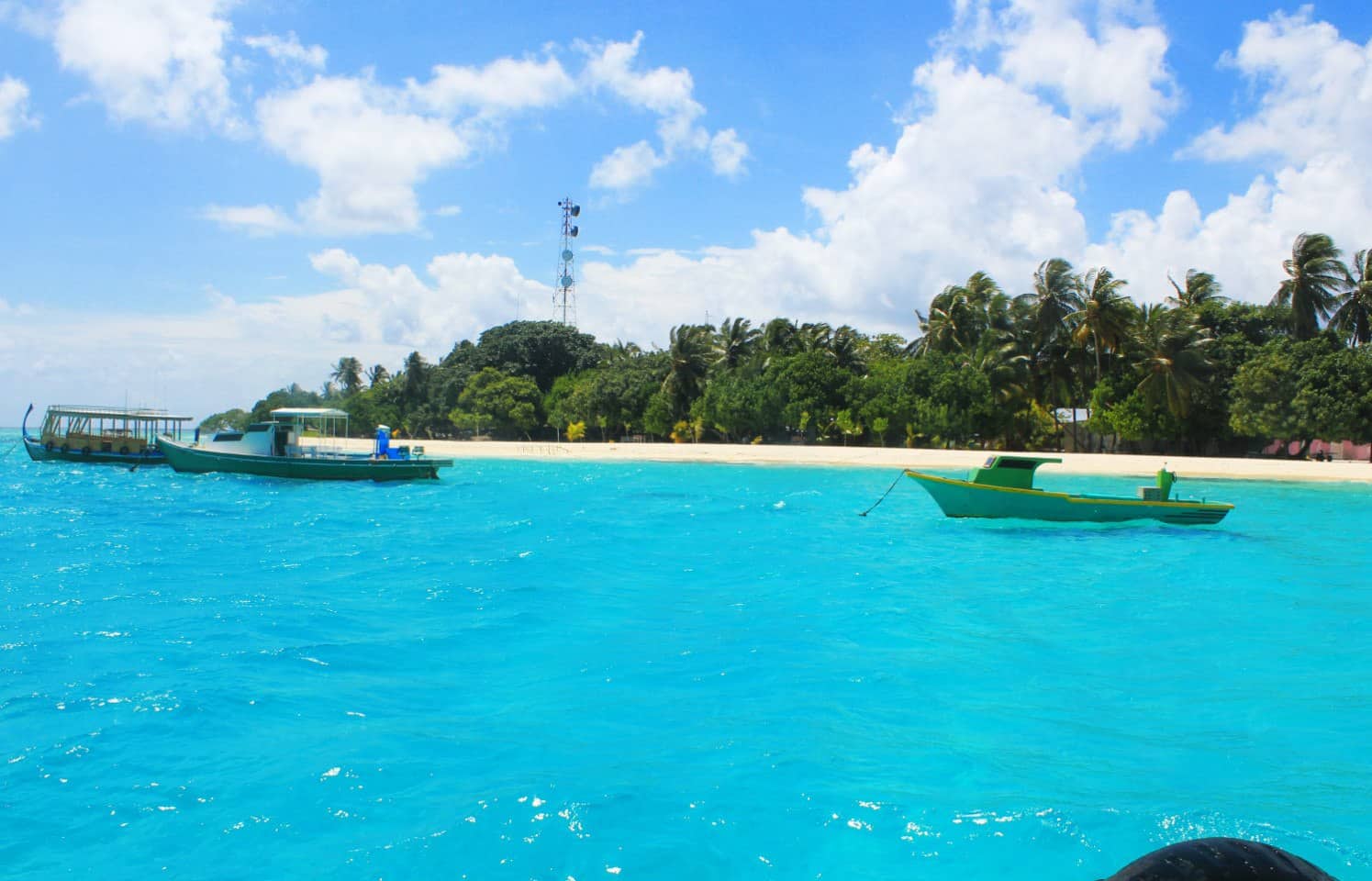 I grabbed my backpack and wobbled off the ferry, where our guesthouse owner was waiting for us.
"Hello, Lauren!" he called out, shaking my hand and then reaching for Dave's. He carried our bags over to his wheelbarrow and motioned that we follow him down the sandy lanes.
"Welcome to the Maldives!" he announced with an enormous grin on his face. "Let me give you a tour of our beautiful island."
"Great!" I smiled. "It looks wonderful already."
"Yes! We are a very small island and tourism is very new for us. Here, we only have two guesthouses on the island! This is the other one." He pointed at a small building to our left.
"Wow! Really? Only two guesthouses?"
"Yes. In fact, there are just six beds on Fulidhoo for foreigners. I think you are the only ones here right now," he chuckled.
Note: this was back in 2014, when independent tourism was very new to the Maldives! On a recent visit, we discovered that there are now over 15 guesthouses on the island! Things have changed rapidly here, but don't worry: it's still such a wonderful island.
"Here is our mosque," the owner continued, showing us the bright yellow minaret overlooking the beach.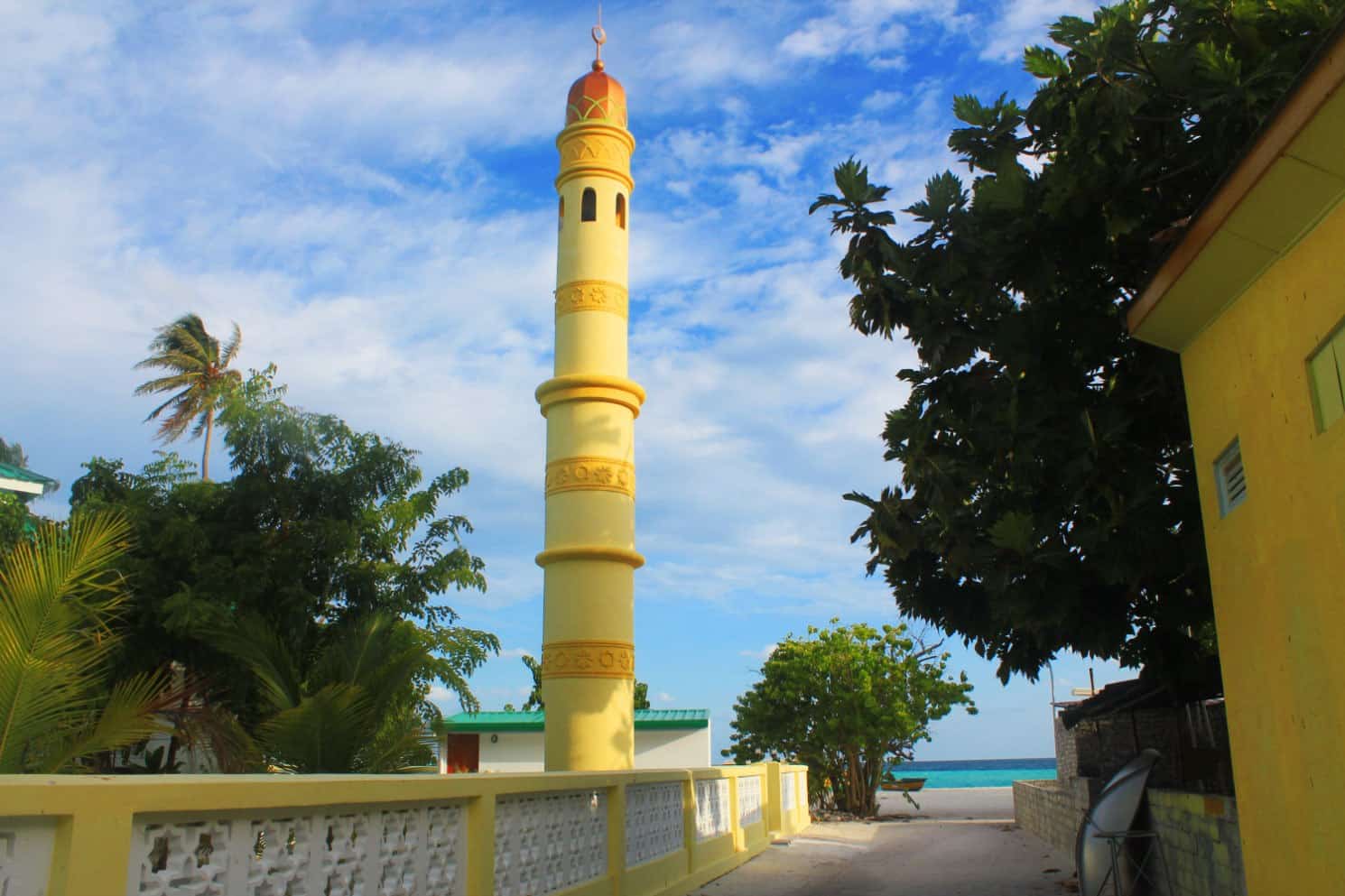 "And this is our convenience store," he pointed at a small building a few steps along. "You can find everything you could ever need there. It's open all the time."
We took a turn to the right and we were at the guesthouse and the end of our tour. I usually spend the first day in a new place sleeping off the effects of my motion sickness pills, but I was alert in Fulidhoo. I wanted to rush outside and explore as much as possible.
I dropped my bag in our room and walked back out onto the street, grabbing Dave by the hand. I quickly dropped it in case shows of affection were seen as offensive in the Maldives.
"I want to go this way," I pointed through the palm trees outside our garden, where I could see a small beach.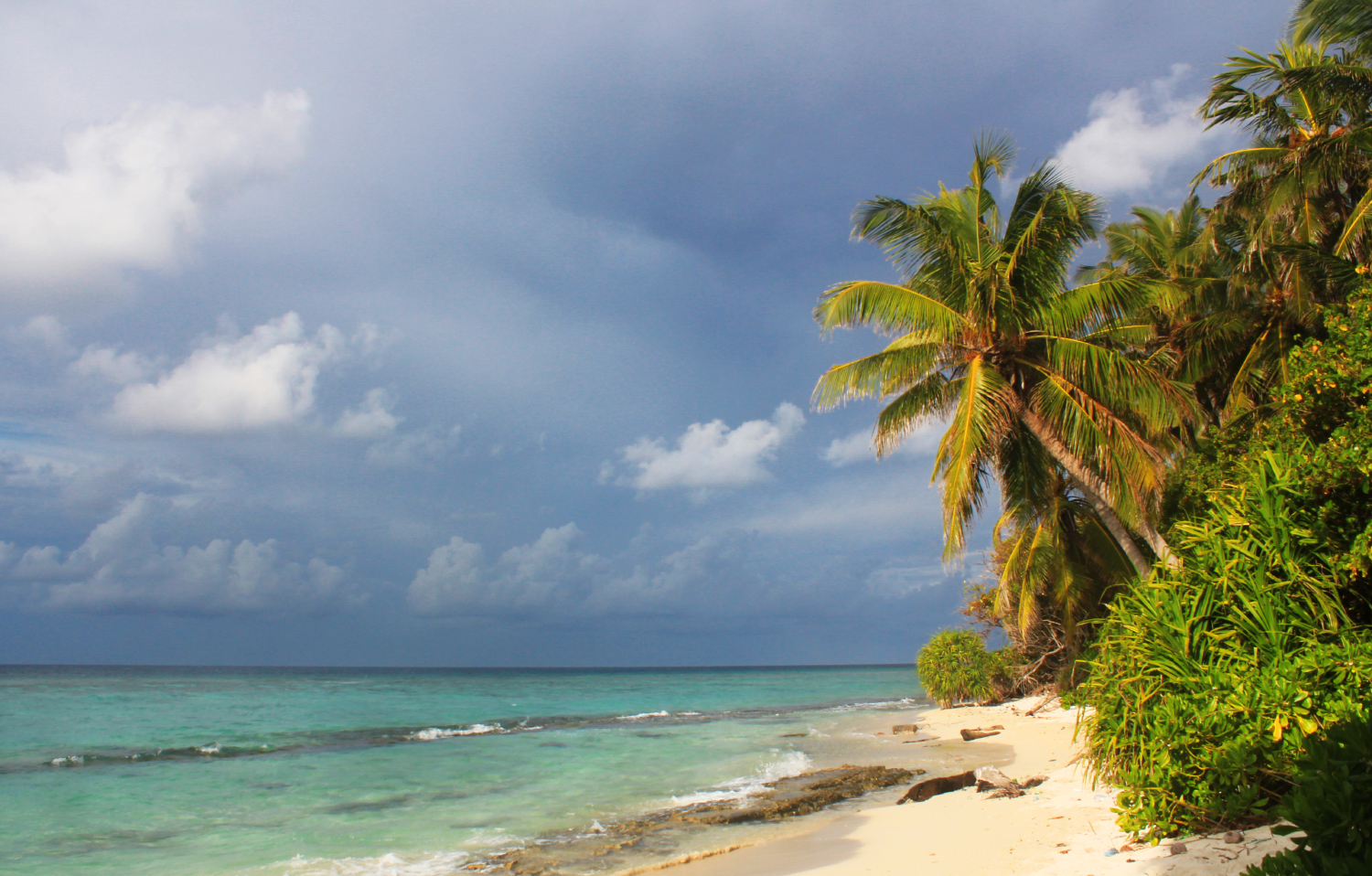 The tide was rapidly coming in and most of the beach was under water. I couldn't see more than a few metres to either side because of all the bushes and trees.
"Shall we just walk along here and see where we end up?" I asked Dave, slipping off my flip flops.
"Yeah, if you like. I don't think we'll get very far, though."
I padded along the soft sand, ducking under the leaves of leaning palm trees, and skirting around miniature crabs. Judging by the amount of trash on the beach, we were clearly on the wrong side of the island. There wasn't anyone around, there was nowhere to lie down a towel and relax, and there were–
"GIANT CRABS!" I wailed, throwing my head back and gurgling in horror.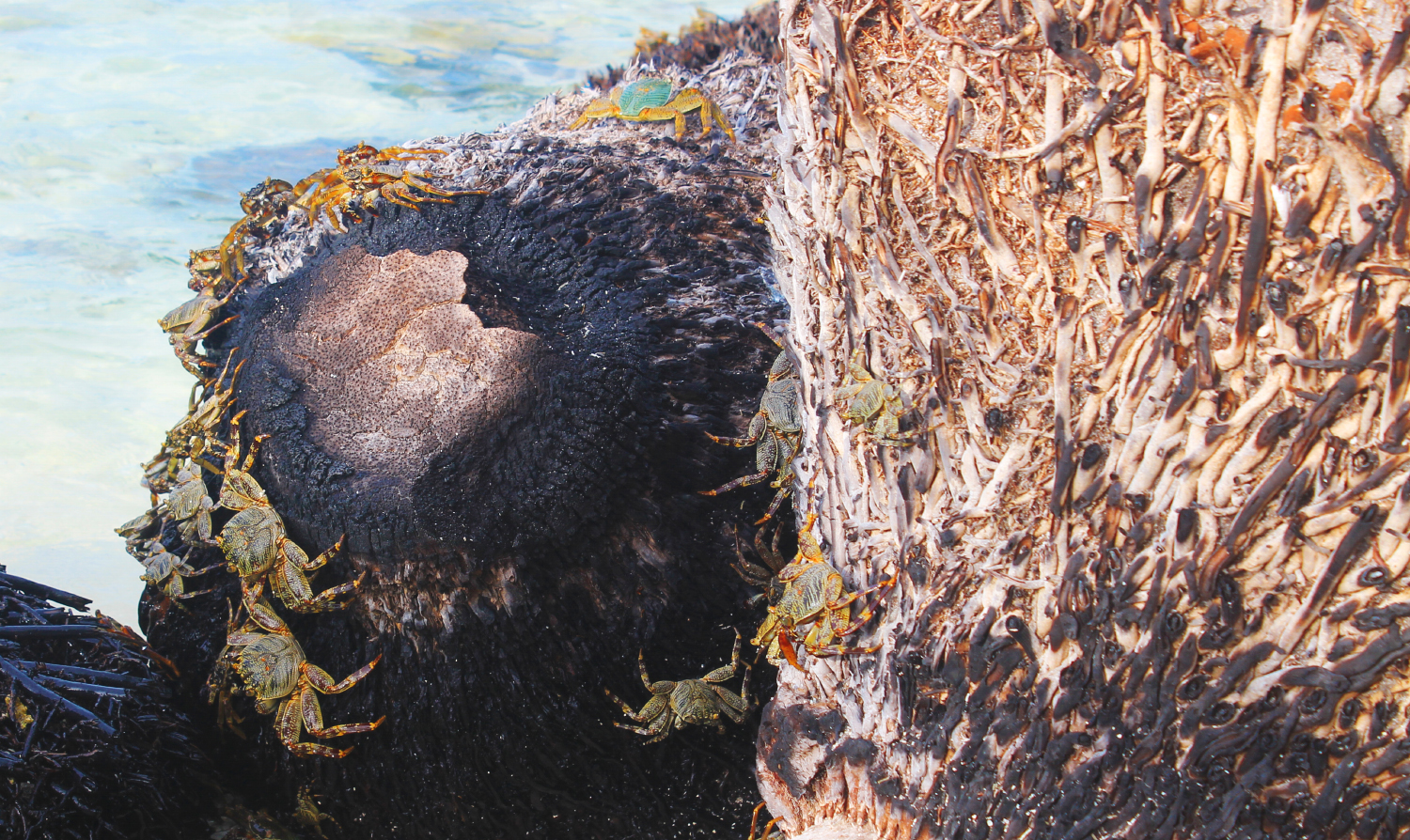 We had reached Crab Stump.
"Uh, Dave?"
"Yep."
"I think we need to turn back."
We wandered back the way we came, disappointed by our first impressions of Fulidhoo. There wasn't much of a beach and the crab-infested stretch of sand we'd just wandered along wasn't the most appealing.
"Pick a direction, any direction," I announced, once we were back outside the guesthouse.
Dave frowned in thought. "Let's try left."
We walked down the sandy path to the furthest side of the island from the guesthouse. Curious locals stared as we passed, avoiding eye contact if we said hello; visitors were a novelty back then, unlike now. After a few minutes, we came across a small wooden barrier, similar to the one that blocked off Bikini Beach on Maafushi.
"Have we found our Bikini Beach?" I asked Dave.
"I think we might have."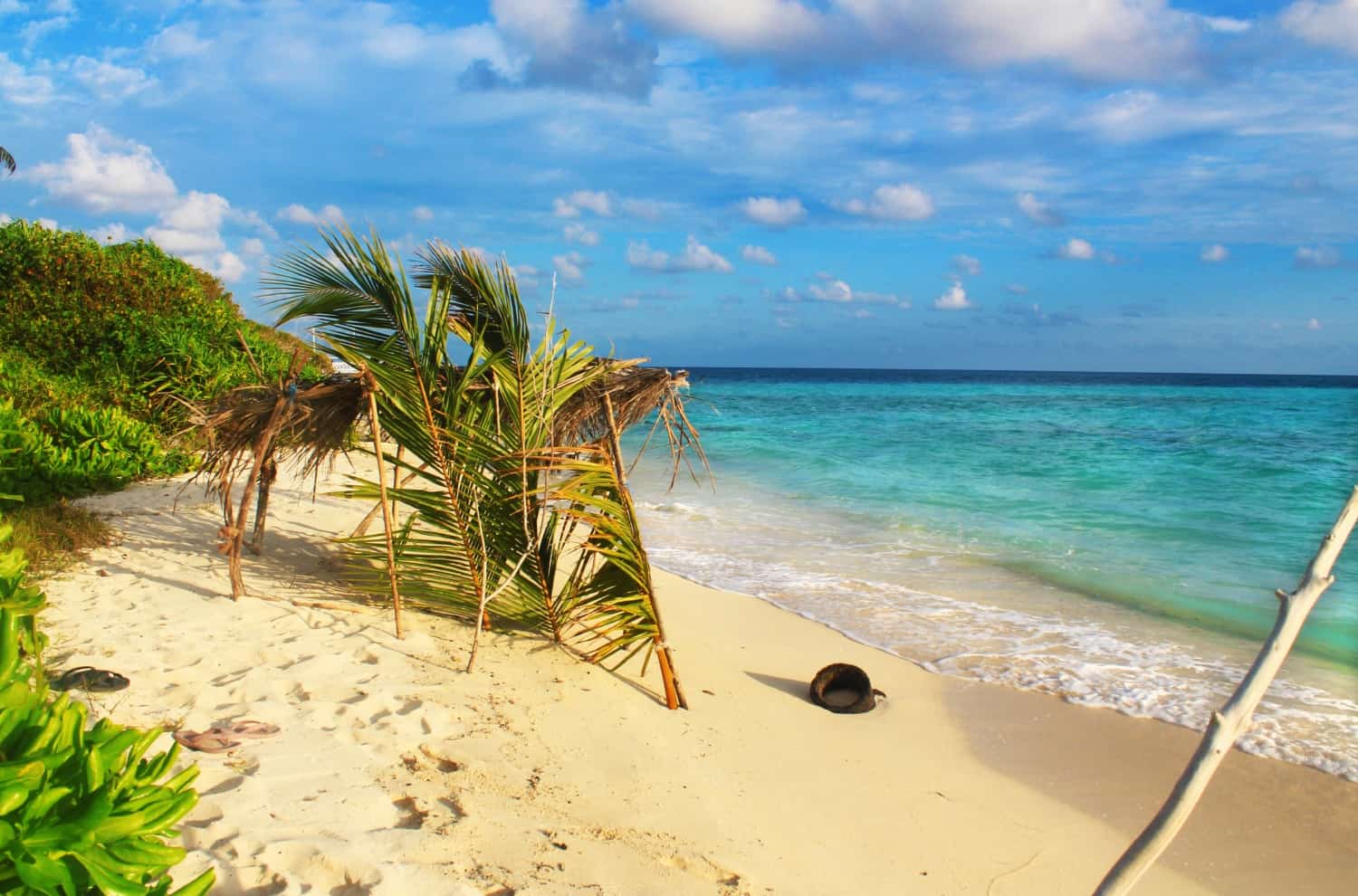 And we had. We'd found Bikini Beach and it was so beautiful. To my delight, there was a small shelter on the sand, made out of sticks and palm tree fronds, perfect for relaxing in the shade.
"It's amazing," I breathed.
I had found my Maldivian island paradise on Fulidhoo and didn't want to leave.
Here's another beautiful photo: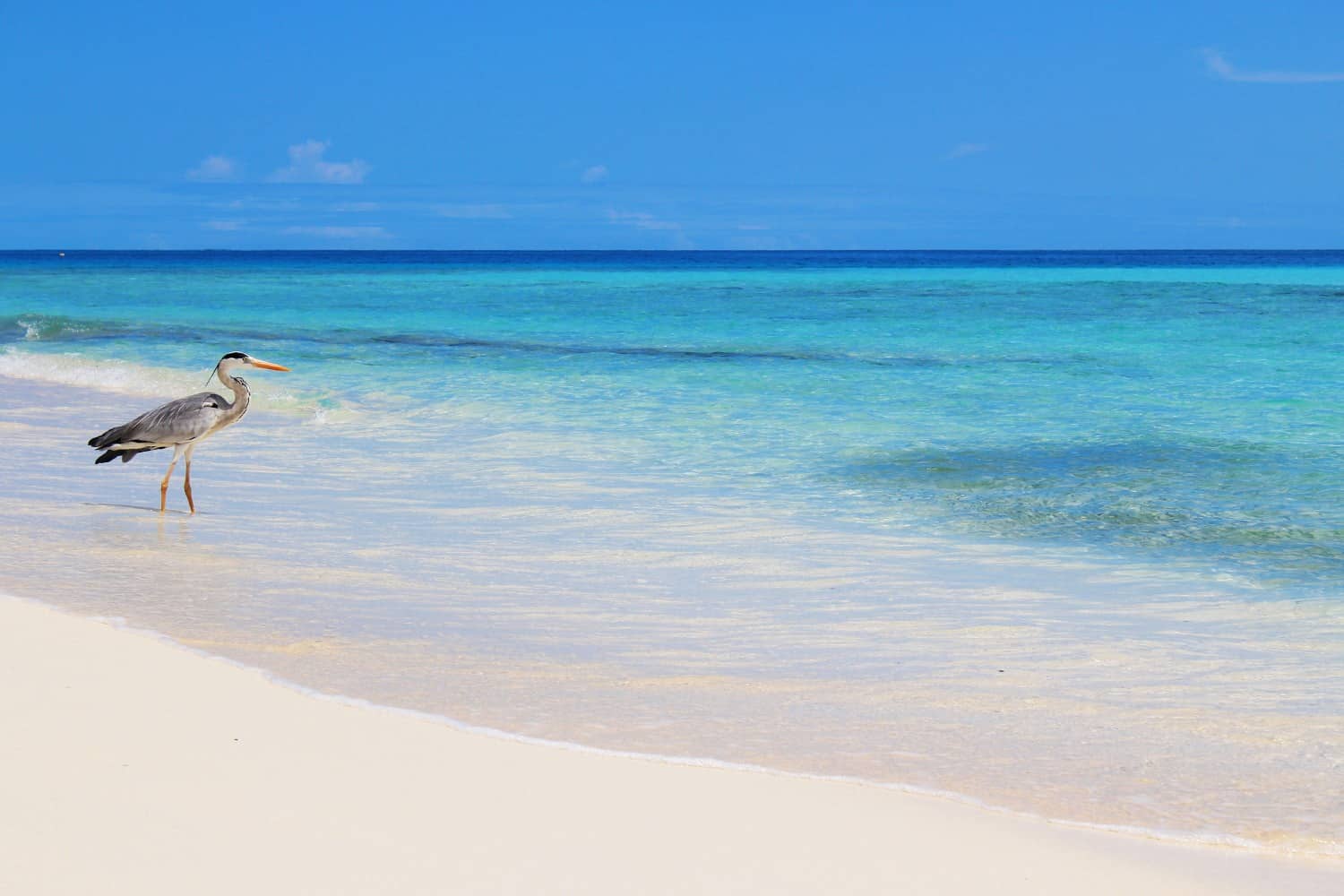 I loved how many herons there were in the Maldives, and I saw them everywhere I went. In Fulidhoo, I even got to watch them fish. See that dark patch on the right hand side of the photo above? That was a swarm of fish, and every so often I'd watch the heron creep forwards, wait patiently for several minutes, and then dive into the water, emerging with a fish flapping in its beak. Badass.
When I wasn't watching herons, I was reading my Kindle and sunbathing on the beach. I couldn't believe we had it all to ourselves.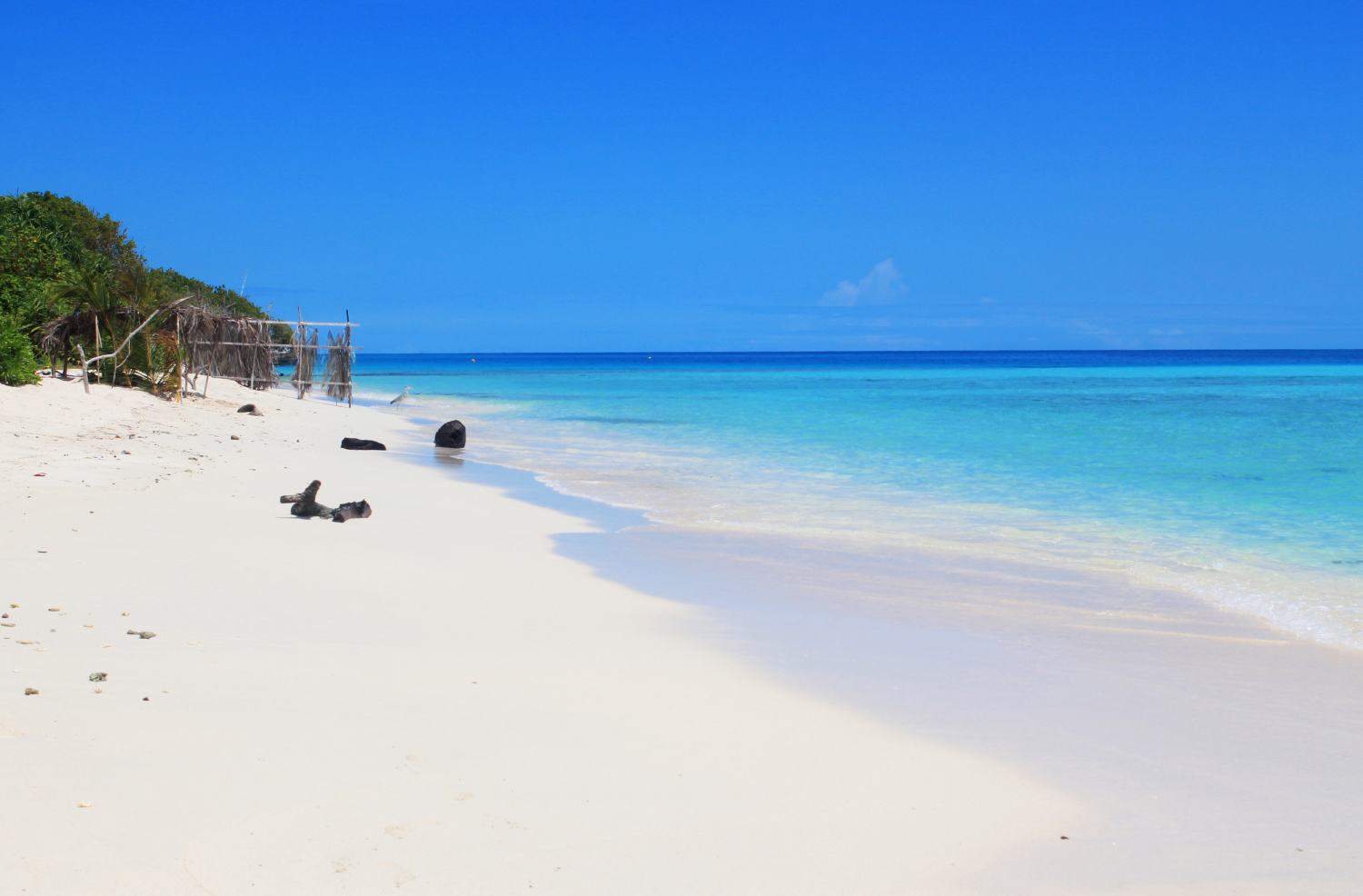 And then there were the fish.
On our final day, we borrowed some snorkeling gear from our guesthouse and set off to Bikini Beach for some underwater fun. I got to see live coral for the first time. I loved swimming with hundreds of colourful tropical fish.
My most exciting fish-based adventure on Fulidhoo was yet to come, however. Upon emerging from the water, I paced up and down the beach while Dave continued snorkeling. I frowned when I came across a giant stretch of seaweed, stretching for 100 metres down the beach
Or was it seaweed?
Was it an oil patch?
No. After creeping closer, I realised it was hundreds of thousands of tiny fish all in an enormous cluster along the shore. I'd never seen anything like it!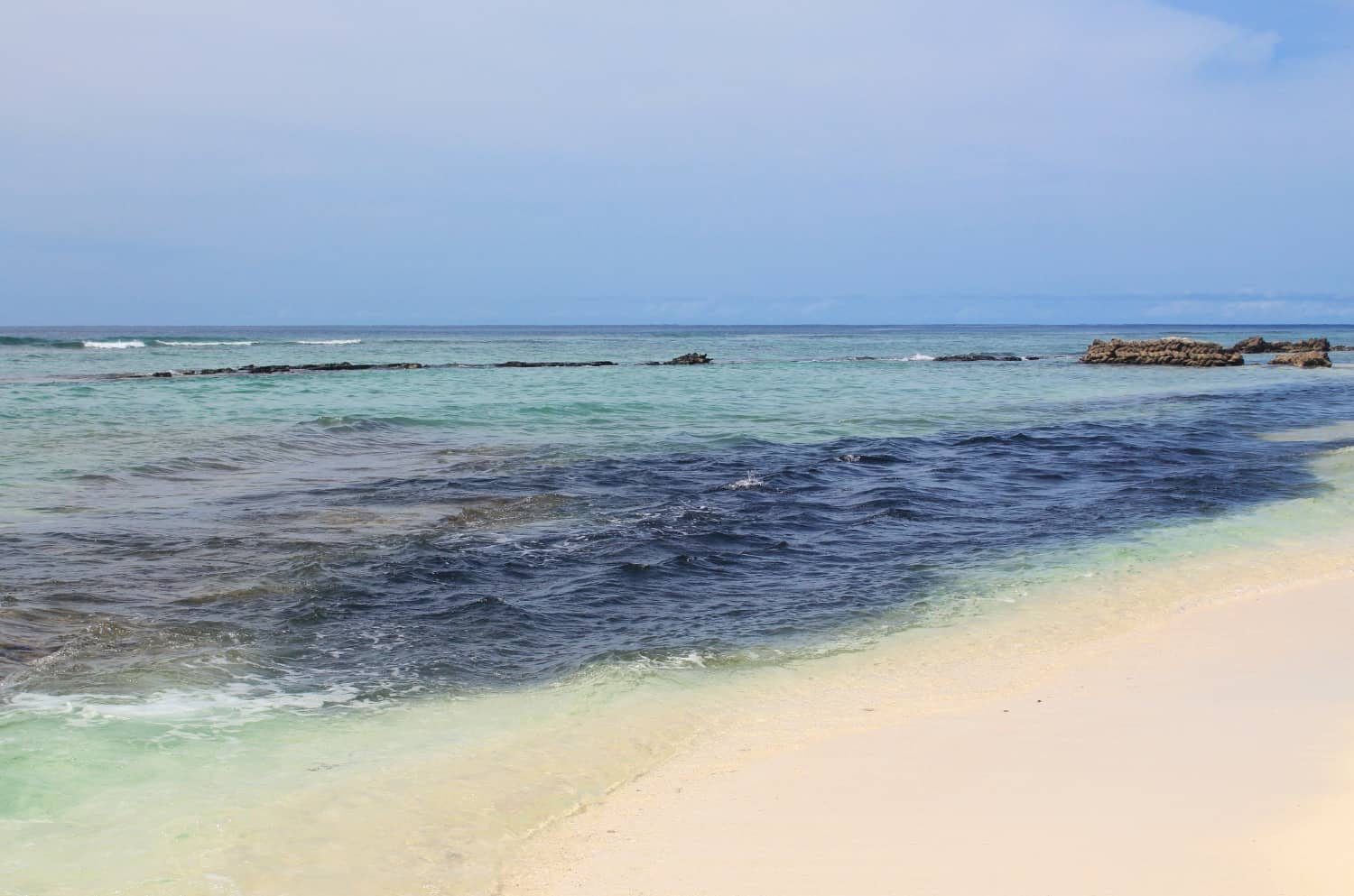 To cap off a wonderful stay on Fulidhoo, I spent a morning sitting on the pier, watching for manta rays. One of the staff at the guesthouse told us he'd seen one from there recently and I was determined to see them for myself.
My hunt was unsuccessful, but look how beautiful the water is! So many shades of blue.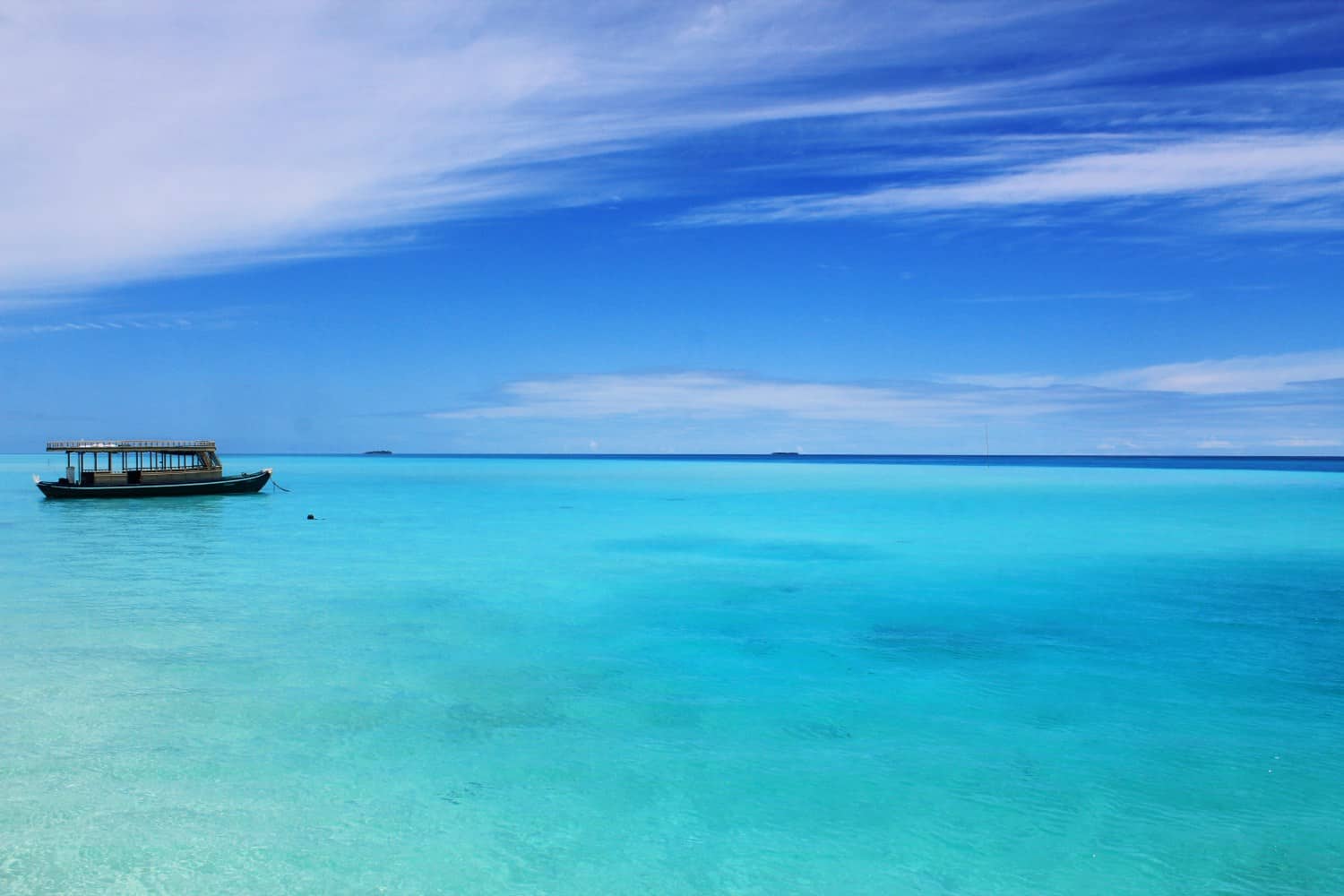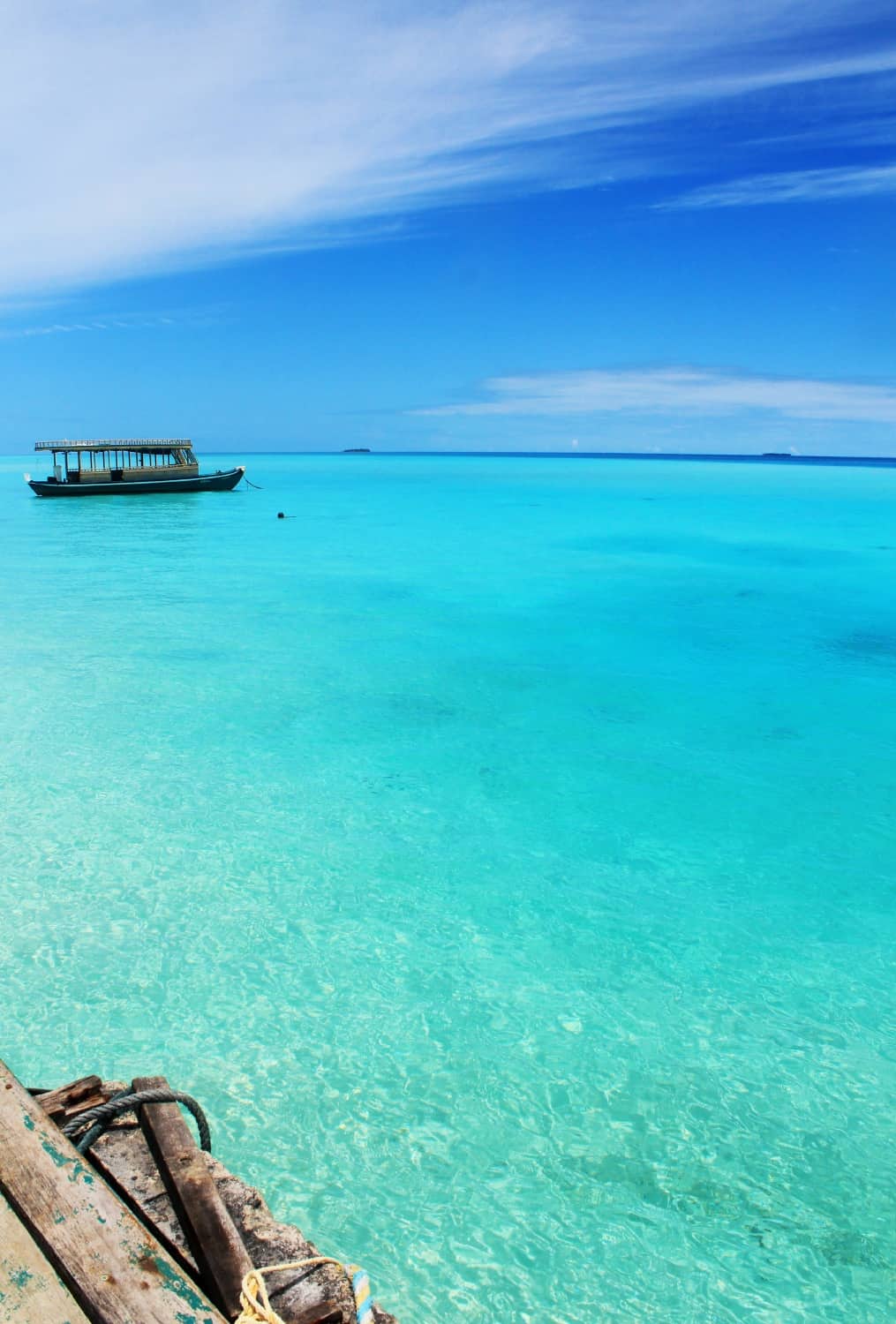 So Fulidhoo wasn't 100% perfect, but it was close enough. It's not often that you can find a perfect beach with nobody else on it, but it's possible in the Maldives. Prepare yourself for limited food options and you won't be disappointed.
Related Articles on the Maldives

💰 Travel the Maldives on a Budget? It's Totally Possible!
🎒 A Budget Traveller Visits a Luxury Resort in the Maldives
🏖 Falling in Love With Maafushi
🙅🏼‍♀️ Scammed in Guraidhoo: The Shady Guesthouse Owner