Antalya is one of the Crown Jewels of the Mediterranean Sea and the perfect place to live the slow life. One of my favorite destinations in Turkey and a place I am dying to go back to.
Shimmering waters greet you with stunning hills in the backdrop. The old town is steeped in history and is exceptionally charming. Antalya's surrounding areas are filled with ancient Roman ruins that rival anywhere outside Italy itself, fantastic beaches, and water sports galore. As if this place didn't have enough going for it, the cuisine is unbeatable.
Many expats have chosen to make this city their home and after being here it is no surprise why. Antalya is an ideal place to stay busy with activities or do absolutely nothing at all. Over the two weeks I did a whole lot of both and enjoyed immensely. The whole energy of the city is simply laid back and upbeat and what makes this place what it is is the people. From smiling shopkeepers, helpful strangers, incredible chefs and musicians and new drinking buddies, Antalyans sure know how to make a visitor feel welcome and the legendary Turkish hospitality is on full display.
In my opinion four days is a great amount of time to spend exploring Antalya and the surrounding areas. If you want to spend even more time here I would say definitely go for it but for sure not less!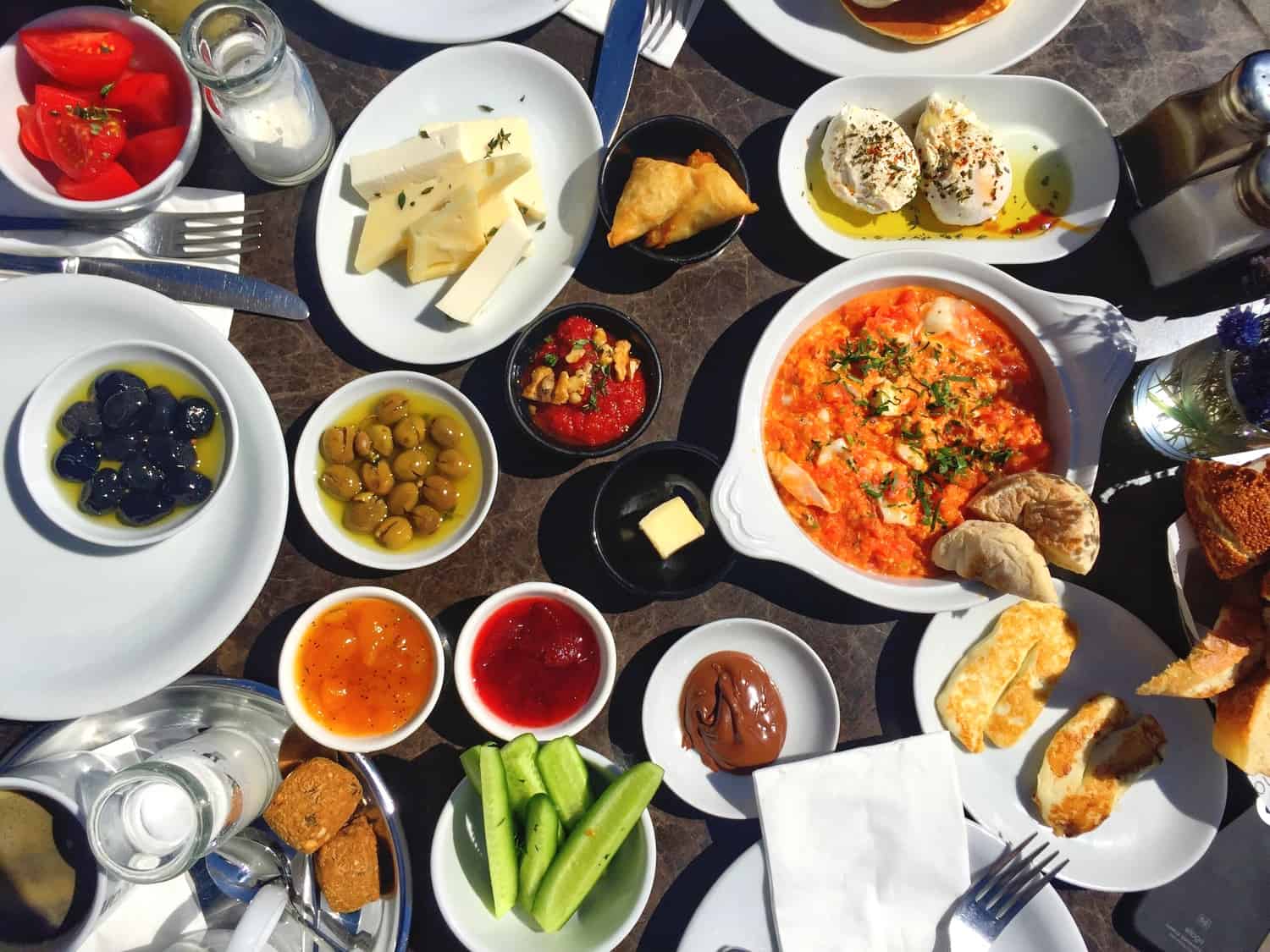 Day 1: The Town
Are you up bright and early because you are excited as all hell to explore? Well, you should be, because the first thing that you need to do is start with a traditional Turkish breakfast to fuel up for the day.
Because these breakfasts? They're incredible.
Turkish breakfasts might be the tastiest breakfasts you can have. If you have taken my suggestion on accommodation below, feel free to have all your breakfasts there as the food is amazing, but if not then I have a great alternative at Sirali Kebap. With a spread so large it is likely to fall off of the table, you might have a hard time eating throughout the day. Did I mention it has a stunning view of the Mediterranean to boot?
After you are thoroughly stuffed, head down and explore the old town and there is no better place to than start at Hadrian's gate. A three arched feat of engineering was built almost 2000 years ago and is still as beautiful as the day it was erected.
Mosey down the cobblestone streets and take it all in. Not only are there tons of cute little souvenir stores, cafes, and shops, but also beautiful pieces of history. Some of the highlights include the Kesik Minare, the lone structure standing from a 2nd century building that flip flopped between a between a church and mosque over history depending on the occupying force at an given time, the Tekeli Mehmet Pasa Mosque, which is beautifully minimal and an oasis of peace from the bustling streets surrounding it, as well as the marina which has fabulous views of not just the ocean but the surrounding hills that provide a stunning backdrop to the picture.
For lunch stop at one of my favorites, Ayar Meyhanesi, an unpretentious seafood place with relaxed vibes and great grub. Let's be honest, being a seaside paradise, you are going to be eating a lot of seafood, and out here that is simply a treat. The octopus and shrimp are the stars here. Get the platter to enjoy everything that the ocean has to offer.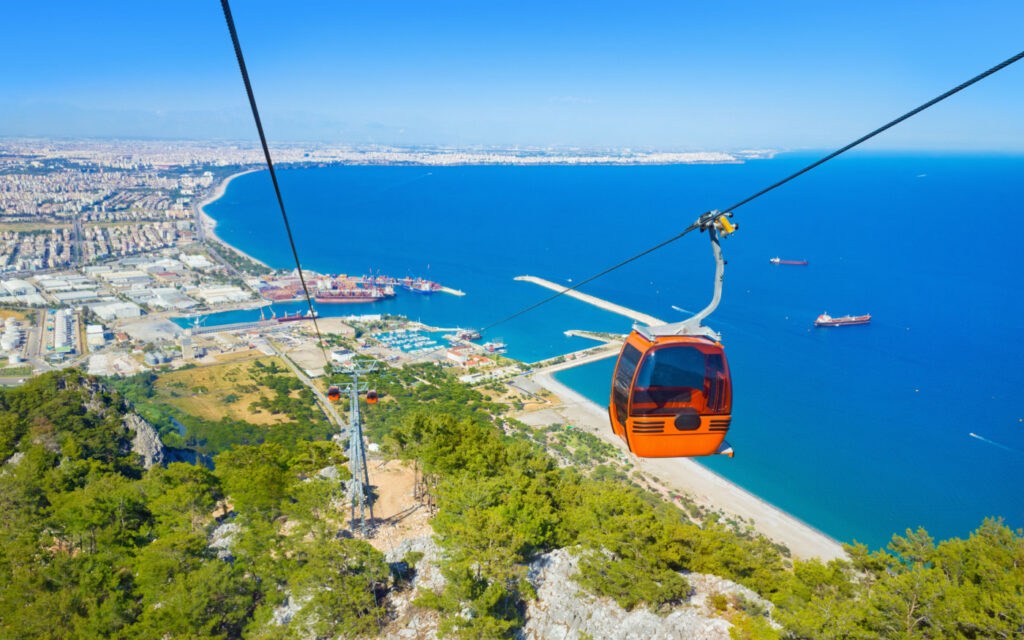 When you have finished your meal, grab a bus or Uber and head to the other side of town to ride the cable car. I am a firm believer that the best way to see a city is to find the highest point that you can and look down on it from above. I feel like it just puts everything into perspective and gives you a greater sense of the city, and there is nowhere that is better suited for that purpose than the Tunektepe Teleferik or Antalya Cable Car. Going up a mountain just on the outskirts of town and with unbelievable views of the town and sea below. At the top there is a cafe where you can watch the setting sun before you go back down.
After coming back to the old town stop and get some food and wine at No.14 Kaleici. The mezze are superb and the live music keeps the vibe going till 1.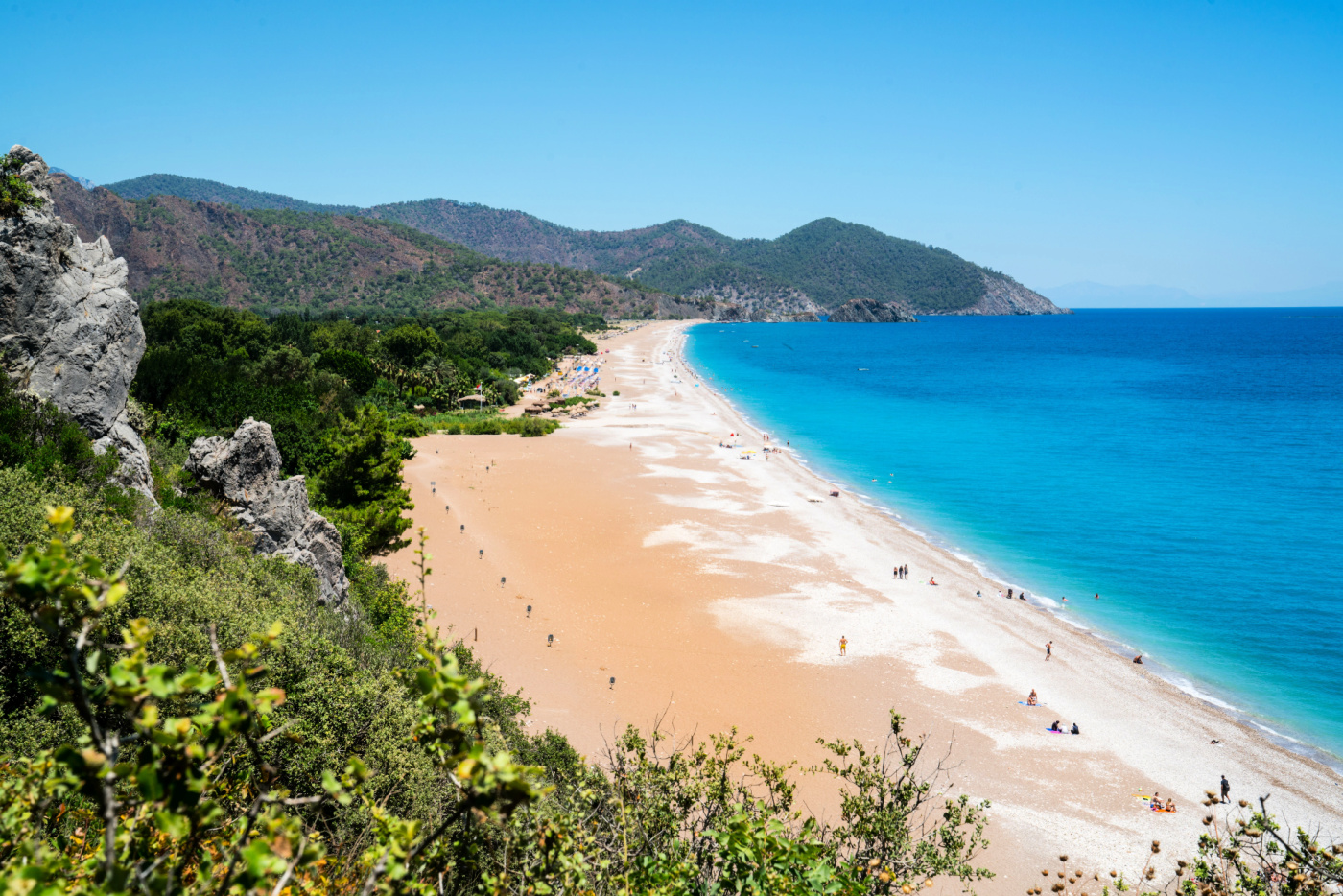 Day 2- Olympos
The town is fantastic and there is always something to do, but you came to the beach to go to the beach, so let's get going! Although there is Lara beach in town, the best stretches of shore are out of the city.
My recommendation for a day out for fun in the sun is going to the sleepy town of Olympos. Now I admit, it doesn't have the powdery white sand of the Maldives or Bahamas, but the vibe is just right and there is so much to see and do in the area I have decided to classify it as a must visit. The backdrop and deep blue waters aren't too shabby either. You could even spend a few days there in one of their iconic treehouses like I did, and have the absolute best time.
This place is about 80 KM out of the city so you are going to want to get an early start, so have a quick breakfast at your hotel and hit the road. The easiest and most hassle free way to get there is by private taxi. You can get your hotel to make the reservation for you and they will ensure you get the best price. You can also rent a car if you have an international license and want to take on the gorgeous seaside drive on your own. Besides being more comfortable, these options will allow you to come back at your own time as well instead of being dependent on the timing of public transportation.
 If you would like to take public transportation, go to the bus station and look for buses going in the direction of Kumluca-Fethiye and get off at the Olympos stop. If in doubt, don't be afraid to ask someone as people are extremely eager to help. The buses leave quite frequently, and they take about two hours to arrive, but the journey is part of the adventure! Looking at the cliffs, sparkling water and clear blue skies will entrance you and you might even reach before you are ready!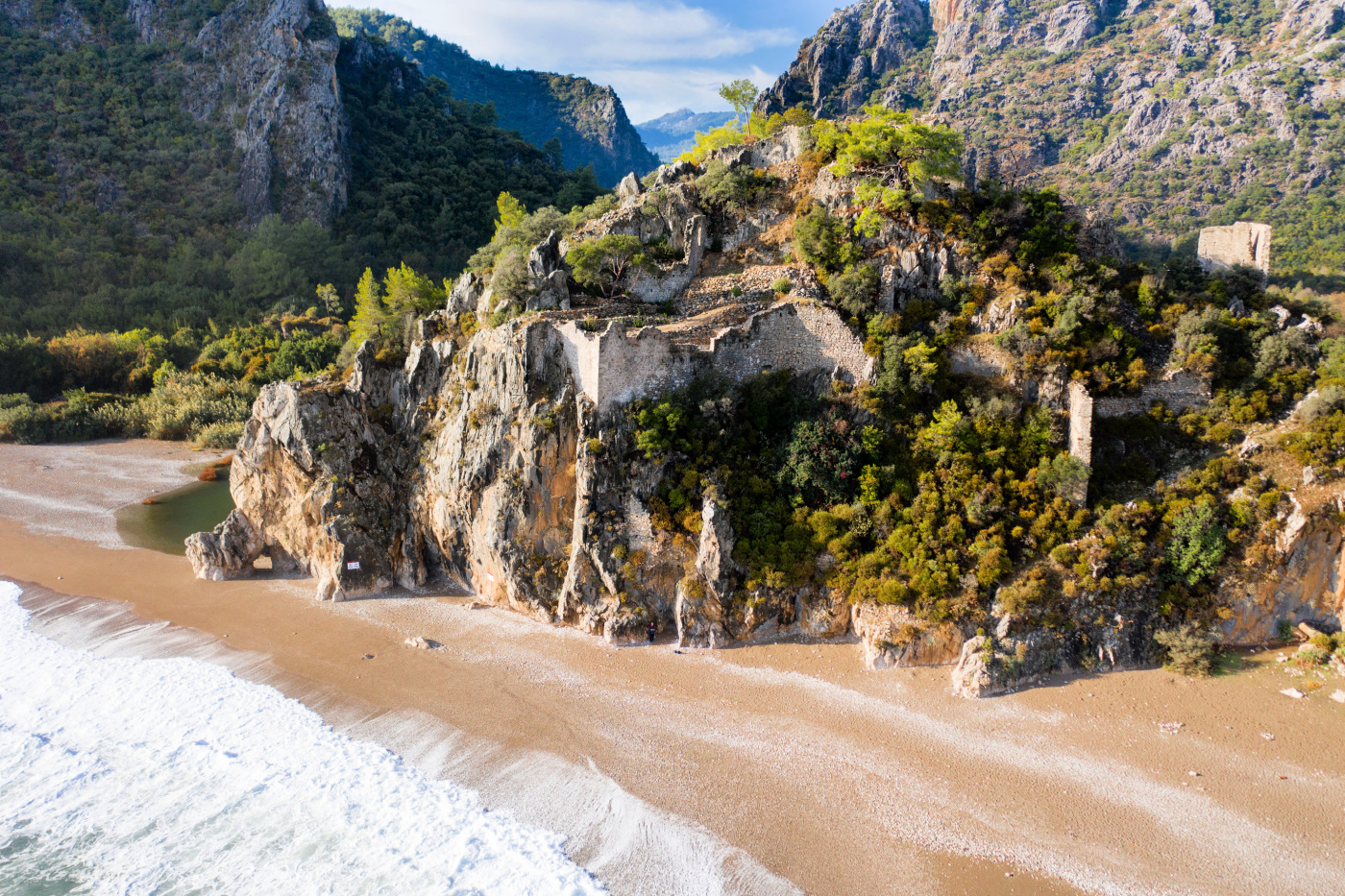 When you get to Olympos, there is a small entrance fee that you will have to pay to enter this ancient city. The place is much more untouched compared to other beaches in the area and that is part of its charm. No chain hotels or restaurants here, just mom and pop guesthouses and mid-sized bars and restaurants. The reason for the lack of development is that this is a protected area due to the endangered sea turtles that lay their eggs in the pebbles from May to October. The government tries to track where they are and surround the areas with wire, but they sometimes miss things so make sure to watch your step. 
Take a short dip and then head in to have lunch and map out the rest of your day. My favorite restaurant is the Dione Restaurant Beach Bar. While the most meals in Turkey I have had have been excellent, I have usually been disappointed by the hummus which seems to be on most menus but has nothing on its eastern neighbors. Nevertheless, this was the best I had in Turkey. The staff are also fantastic and is located right on the beach, so you don't have to go far.
After lunch the world is your oyster. I would say that usually the ruins of the old town are a must see but as we will be seeing a myriad of ancient ruins tomorrow, you can decide if that is something that you need to see.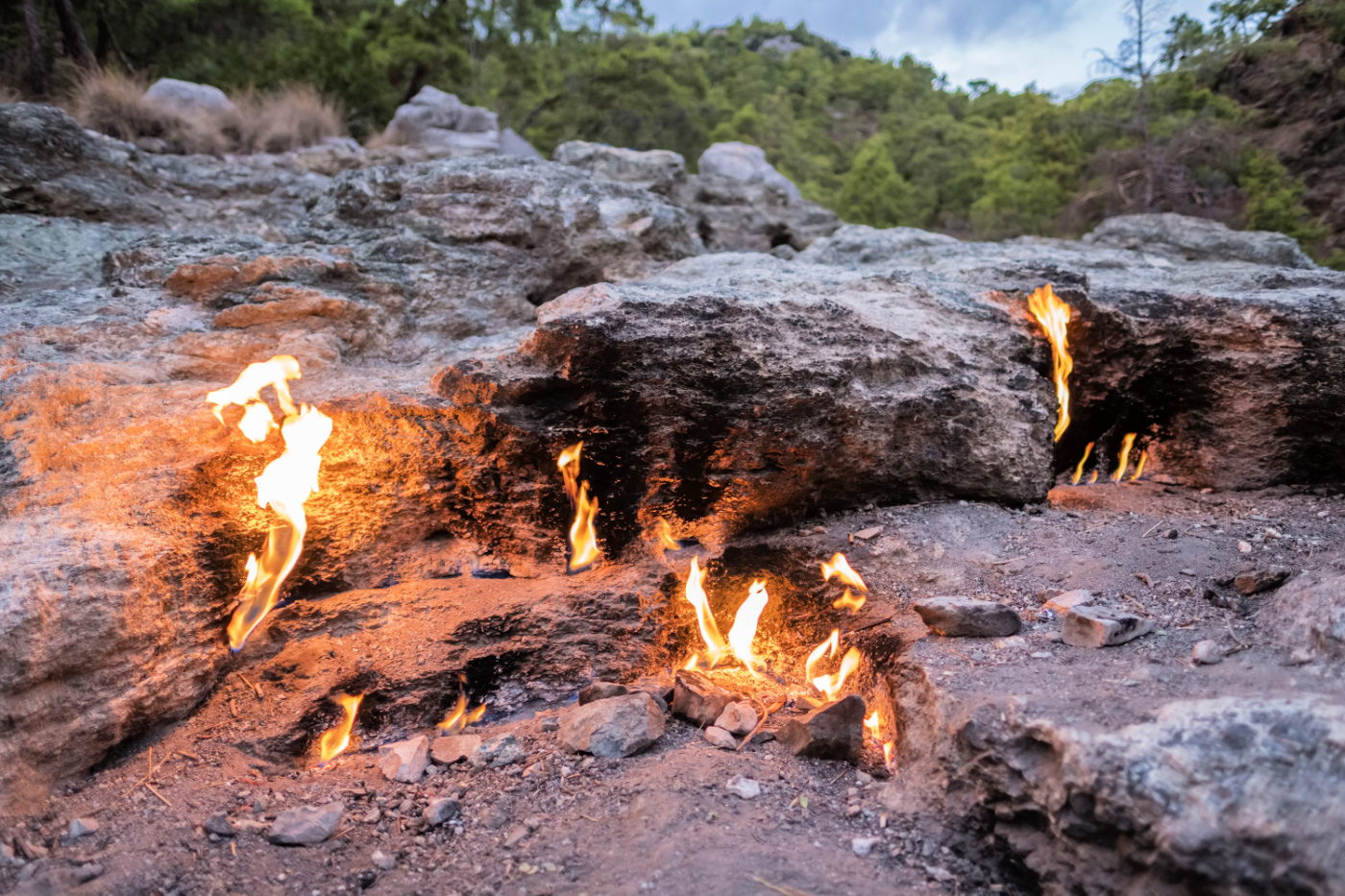 The other item that is on the top of almost everybody's Olympos list is to see the undying fires of Chimera. Again, you can decide if you want to go see it but I will say that it is not for everyone.
First of all, it is about an hour and half walk uphill from the beach and the same time back and it is not easy at all. When you reach the top, you will see several somewhat small flames that are burning on the face of a rock. The flames never go out due to a natural gas leak.
While it is a super cool natural phenomenon, it is not very visually exciting and will take a minimum of three-and-a-half hours of your day to visit. Since you only have one day here, unless you are looking for a trek I would advise you to give it a miss. 
There are tons of activities that can be organized by the local guest houses that are tons of fun. I went on a boat tour with some friends and had a blast visiting different coves, snorkeling, and engaging in general merriment. This is definitely a great option for you.
If that doesn't appeal to you there is so much more to do. You can also find kayaking, scuba, yoga, rock climbing, paragliding, bungee jumping, and many more things I'm sure I'm forgetting.
Or, just sit on the beach, look out at the ocean, grab a book and do absolutely nothing, you do you, no judgments here! If you cannot find anything to do until you go back in the evening, or get bored, I hate to say it, but you might be the problem.
When your activities are finished, get your tired and tanned butt off the beach and with the sun setting have an early dinner before you get back. Walk over to Kadir's Tree House, probably one of the most innovative hotels/hostels I have ever seen. Even though you won't have time to stay in one of these amazing treehouses you can eat in one. There are two bars and two restaurants on the premises. The food is pretty good but not incredible nonetheless the atmosphere is outstanding, and the beer is cold. You will find it extremely hard to pry yourself away to get back to Antalya, but you need to because tomorrow is another full day!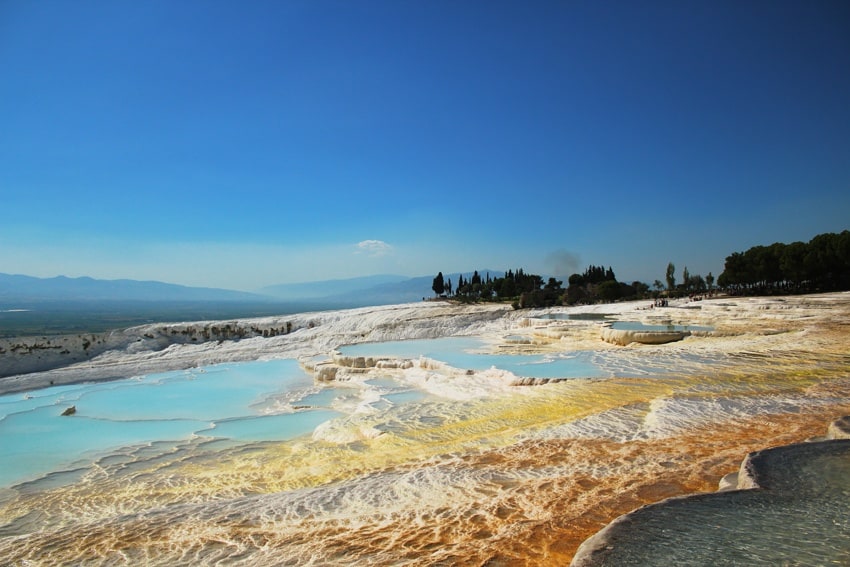 Day 3 – Hierapolis Ruins/ Pamukkale
Today is going to be a long day but so, so worth it. We are going to visit one of the best-preserved Greek ruins in the world and a place in Pamukkale that looks almost out of this world.
One of the most popular tours to take from Antalya itself, you can find tours either in tour offices in town, or through online platforms such as Get Your Guide. If you go with the tours advertised on the street, you will be able to score a much better rate but it's very hit or miss as some of the more unscrupulous companies will promise you anything to get your business. The online tour providers cost more but you can read reviews and pick the experience that best suits you. It really just depends on what your priorities are.
The Get Your Guide tour we did was fantastic, with amazing guides, a smooth ride and sumptuous lunch.
They do drop you at a couple overpriced souvenir shops during the ride but that is par for the course when it comes to group tours worldwide and there wasn't any added pressure to buy. If you are more of a DIY traveler like I usually am, you can self-drive. I didn't do that here, as with the car rental, entrance fees, and gas you will end up spending even more money, plus the whole day trip takes around 10- 12 hours and that is a lot of driving for one day on top of walking around the sites. I undoubtedly enjoyed the naps in the bus on the way back instead of fighting back my eyelids.
It is about a three-hour car ride to get to Pamukkale which is the first stop of the day. If Instagram or Tiktok recommends you any travel videos at all, you will almost certainly have seen these dreamlike pools. Not just famous in the modern day but even in the ancient world as it is said that even Cleopatra herself came to take a dip in these cooling pools and test their mineral healing properties. Very cool to see and swim in but the time I was there was near the end of peak season, so the crowds were still somewhat overwhelming, but still worthy of being a bucket list item.
Next, you will go over just nearby, to the ancient city of Hierapolis. When I say that I was amazed at the scale of the city, that is no exaggeration. Obviously it's a sliver of a shadow of its former magnificent self, but the ruins are intact enough that you can still see, feel and be able to picture how life used to be here.
I'm usually not a tour guide person but I was glad to be with a group here as there was so much interesting information, I would have missed out on just wandering around by myself. The main road and massive theater were by far the highlights for me. 
Take a nap on your way back and get ready for dinner. Seraser was probably the best food I had during the whole trip, everything was amazing, but the beef was the star. The carpaccio is melt-in-your-mouth delicious and the wellington would make even Gordan Ramsey say something nice.
Tomorrow is a relaxing day so feel free to enjoy yourself tonight. I personally love Holly Stone for drinks and live music, but if you are into more house music then Up Shot bar is the place to be.
Day 4 – Relaxation
Last night was fun and you might need a bigger than normal breakfast at the Pablito Bistro. The spread is bigger than you can probably eat but give it your best shot! After that head over to a traditional Hammam spa to get in a nice steam and sweat out the rest of the wine and Raki. Most people just think of Istanbul when they think of Turkish spas, but Antalya has some hidden gems.
If you are looking for a more private and luxurious experience, then I loved going to Sefa Hamam Spa. The massage and spa therapists are world class and I left refreshed and smoother than a wet hard-boiled egg. The rooms are works of art in and of themselves and are the ideal backdrop for the treatments.
It seems like most of the massage therapists here are male, so if that is not something that you are comfortable with feel free to look elsewhere, as there are many fantastic venues around. If you are looking for a more public, cheaper, or culturally immersive experience, the Demirhan Bath has exactly what you are looking for. A place that feels stuck in time with a much more local vibe, rub shoulders with everyday Antalyans and get clean.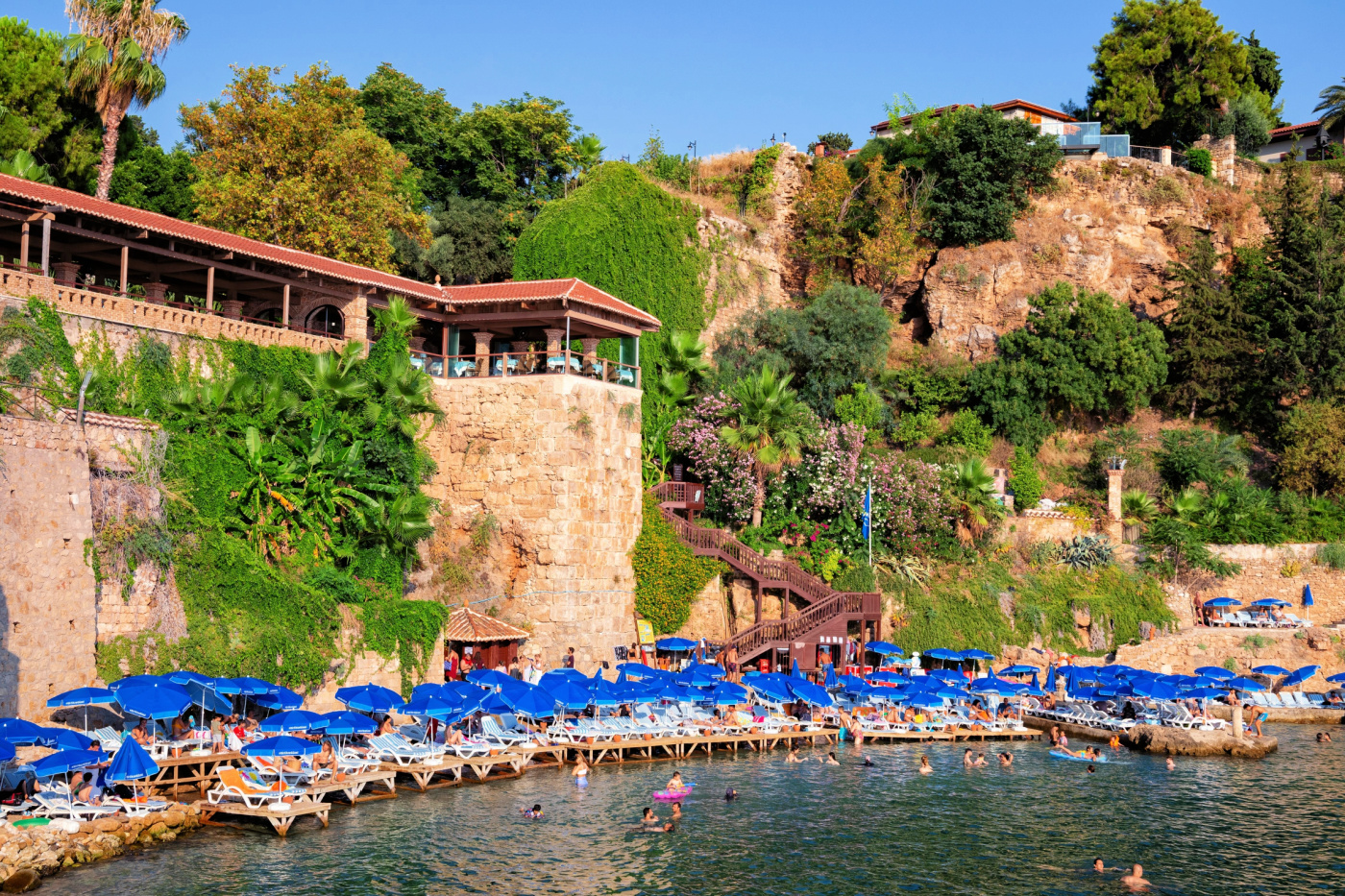 After that head to my favorite beach that is not actually a beach to get some lunch and much needed vitamin D.
Mermerli Beach is a private beach located right in the heart of the old town. It is a private beach, but the entrance is pretty affordable. It is less of a beach and more of a pebbled natural jetty. It is attached to the restaurant up top that you have to go through, and they provide everyone with a chair and umbrella.
Not only is it a perfect place to dive straight into the water without getting sandy, you can also order food and drinks that will be brought directly to your table; what other beach does that?
Swim and then eat, then sunbathe, or sunbathe swim and eat, do whatever feels right in the moment. I probably have never been as relaxed and pampered on any beach as this one.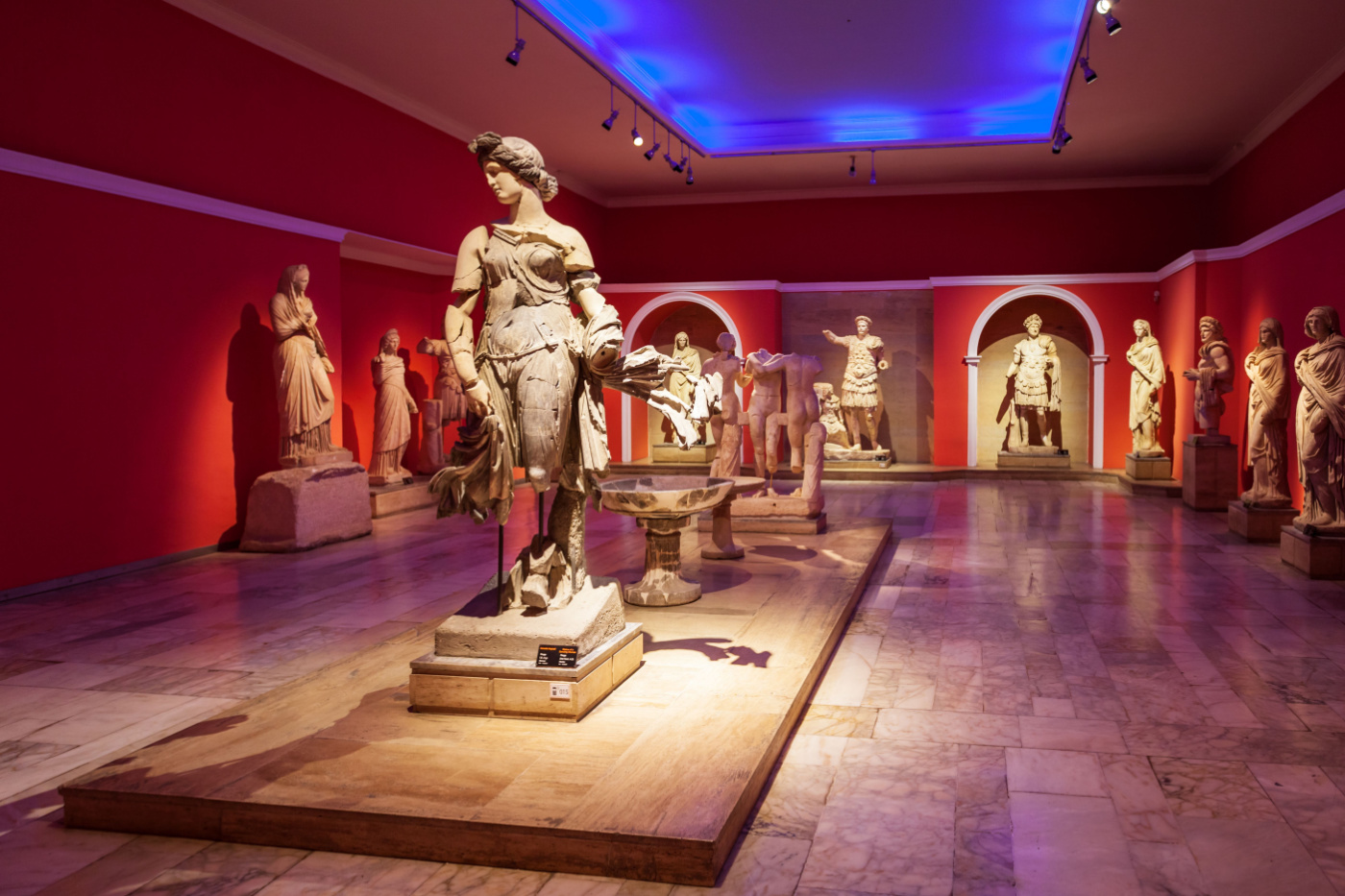 When you are sufficiently roasted and stuffed, head on over to the Antalya Archaeology Museum, one of the largest in Turkey. With 13 exhibition halls chock full of beautiful and fascinating artifacts, you could spend hours here just getting lost in the history. I particularly loved going through the mosaic exhibition.
As the sun sets, end your trip to this picturesque city with a shopping and street food spree at the nearby bazaars. Buy stuff for your walls, your family, your friends, and your dogs back home — they have affordable goodies for everyone. Try Balik Ekmek while you're there (the ubiquitous fish sandwich), Lahmacun (Turkey's delicious answer to thin crust pizza), and Adana kebab (smokey and one of the best uses of beef I can think of).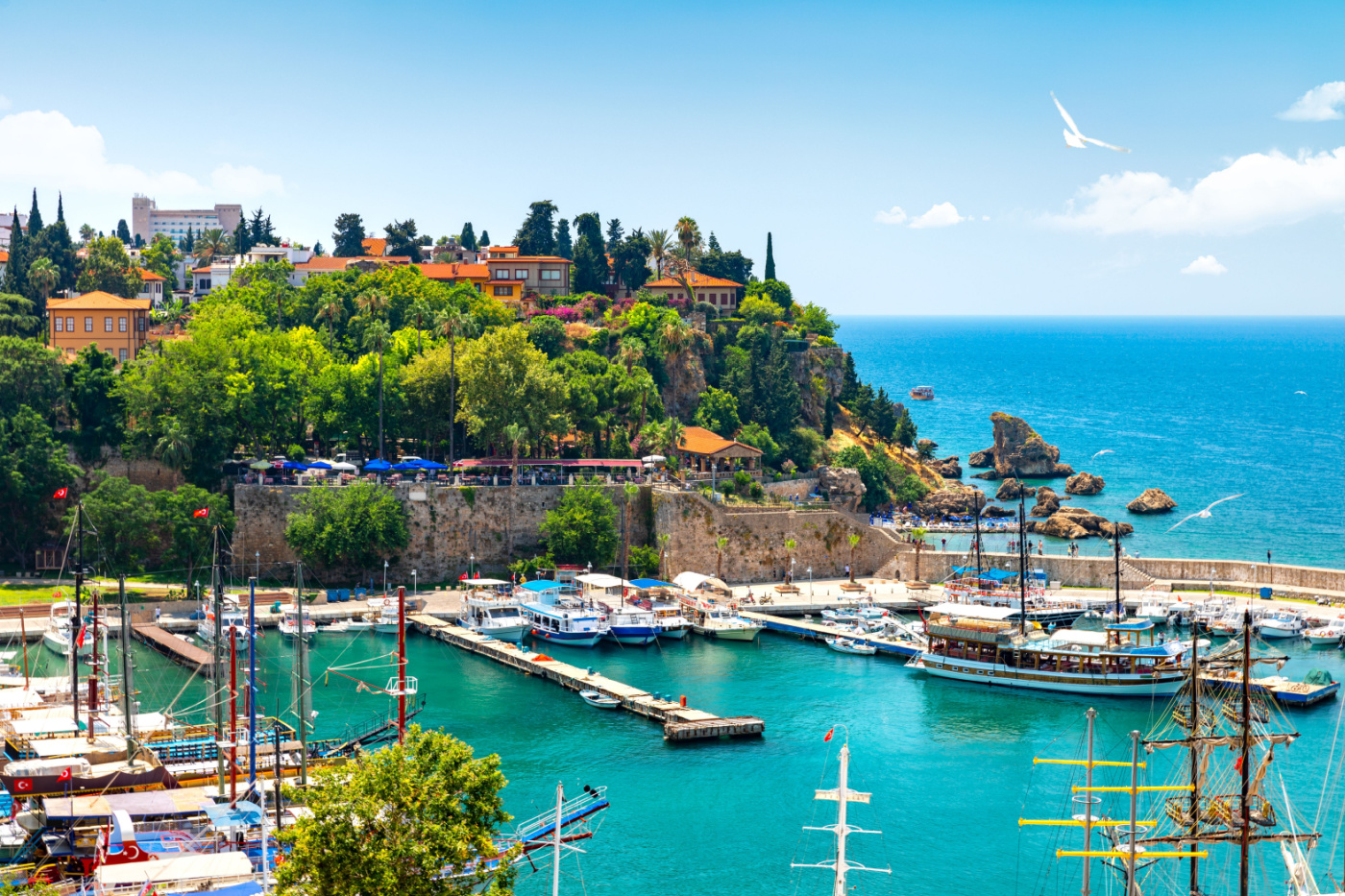 Where to Stay
If you want to make full use of your time in Antalya, staying in the old town of Kaleici is a must. This place oozes charm, is centrally located, near all the shops and restaurants and is home to the best hotels in the city. And best among them in my humble opinion is the White Garden Hotel. Smack dab in the middle of all the action but still maintaining a serene atmosphere, the White Garden Hotel is ideal for a relaxing vacation or a romantic getaway. Beautiful heritage style rooms and an incredible Turkish breakfast, what more could you ask for? 
When to Go
As with the vast majority of places the best time to visit is during the shoulder season. This would be around April- May and October- November. This is when the sun is shining, the summer rush of tourists are gone but the heat is at a manageable level. I visited during late August/ early December and while I had a blast it was truly sweltering, and as with anywhere near the sea the humidity only exasperated the problem, and the crowds were a little large for my liking. Nonetheless it was amazing weather for getting in the water.
The winter is a little cold for beach and water activities so while it is still worth traveling to for the old town, you will be missing out on a huge part of the Antalya experience. It is also a little more rainy this time of year so take that with a grain of salt. On the plus side, rates for hotels and tours will be much more affordable than they already are.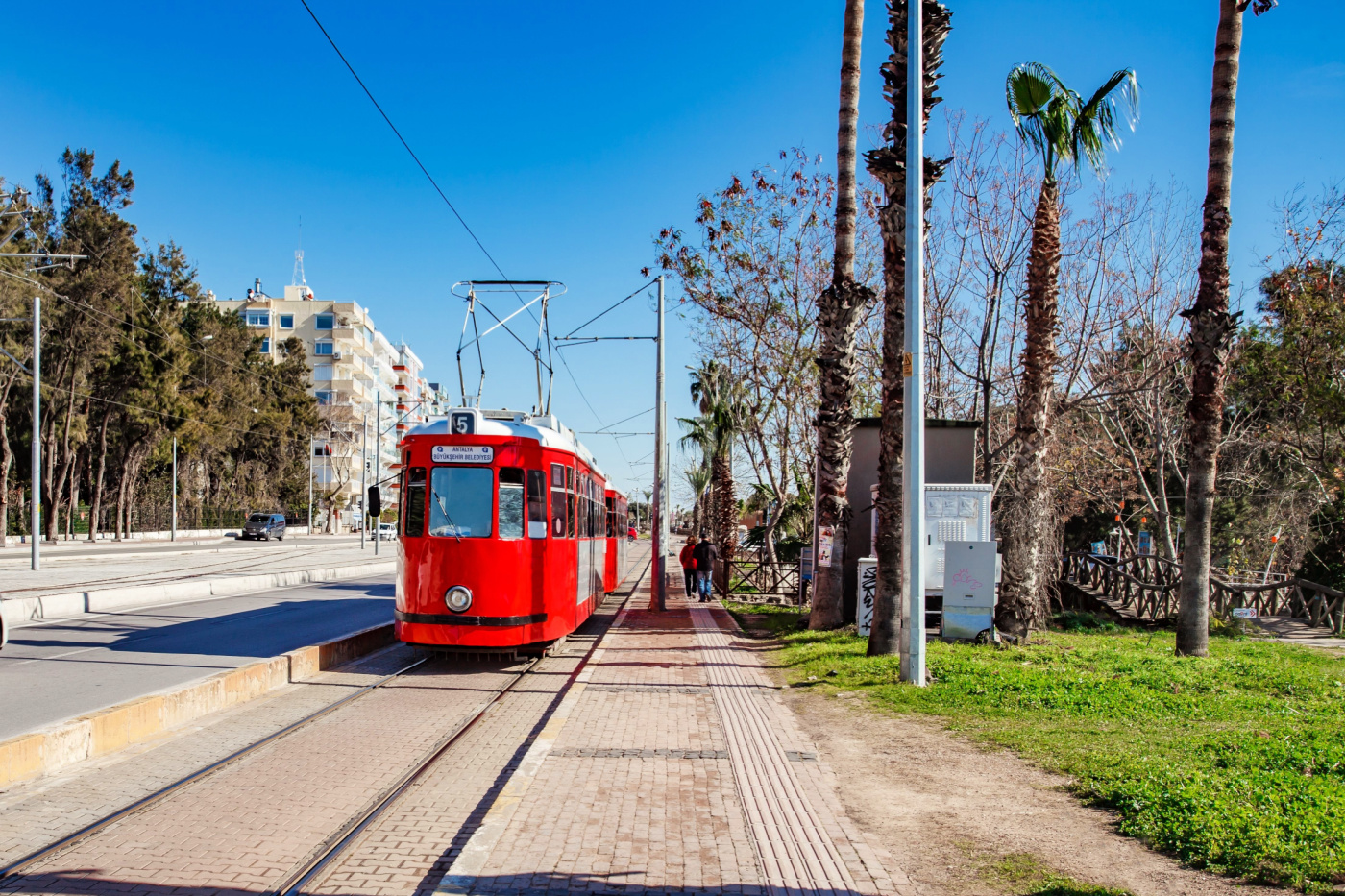 How to Get Around 
Getting around Antalya is pretty easy. Buy an AntalyaKart card for access on the trams and buses, these are really cheap, and you can top up at many stores or at any tram stop. The tram is also the most convenient and cheapest way to get into the city from the airport or bus station. If your destination is anywhere on the tram line, I would highly recommend using this method of transportation as it is clean, moves fast and comes every few minutes.
The only problem is that it doesn't go to many parts of the city and for the other areas your options are pretty limited to buses and Uber. The buses are also nice, but the only problem is they are not very regular but if you don't mind waiting they are a great alternative.
When all else fails Uber is your friend, I wouldn't try hopping in a normal taxi as many don't have the meter running and I can almost guarantee you the price will not be the local one. I traveled over a month in Turkey and while being amazed at the hospitality of the Turks, that does not extend to taxi drivers apparently.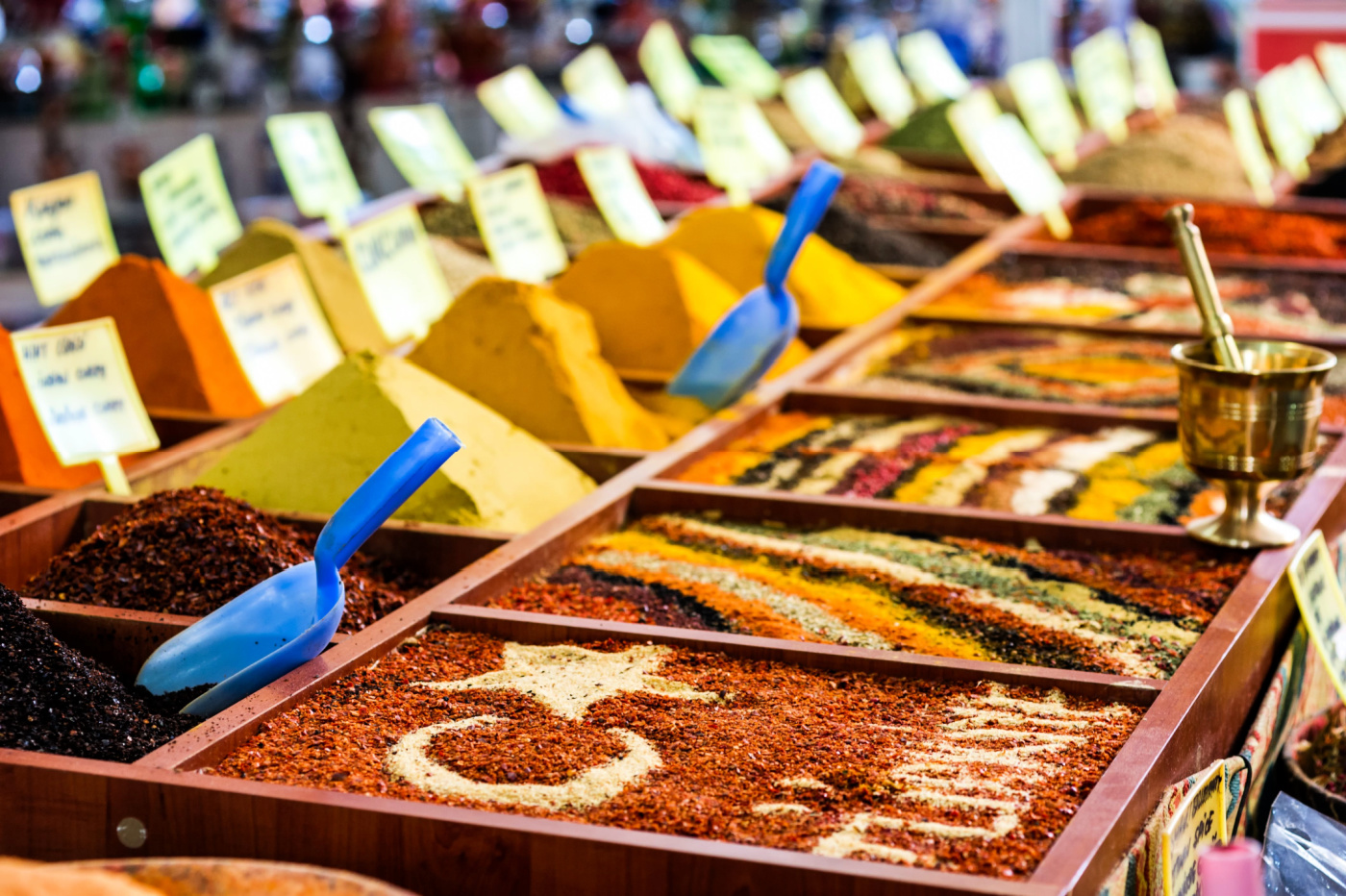 Tips and Tricks for Visiting Antalya 
I say this for almost everywhere but buy a sim card! Trying to figure out where you're going without Google Maps is not fun. Sim cards are easy to find and can be bought anywhere. Uber is also very helpful here so being able to access Wi-Fi can be a lifesaver.
Learn a little bit of the local language to ingratiate yourself with the locals. Turkish people are renowned for their hospitality and most people you encounter will have some level of English. However, trying or even butchering a little bit of their local language will go a long way. Merhaba is the word for hello while thank you is teşekkürler (Teh-sheh-kull-erhz). It looks intimidating, but you'll quickly get the hang of it!
Ask before you take someone's photo, especially women, as many Turkish people are not comfortable with their photos being taken by strangers (something we have in common).
If you are buying something in the local market, just assume the price is around half of what they are trying to sell it for and bargain hard! They expect it but make sure you're still friendly and don't take the negotiation process too personally.
Clothes in local retailers (not the open-air markets) are extremely cheap and fantastic quality as well. I stocked up on so much while I was there, and it was a great place to refresh my wardrobe during long term travel.
If visiting a local mosque, make sure to respect customs and take off your shoes before entering. You'll need cover your head, shoulders, and knees if you are a woman.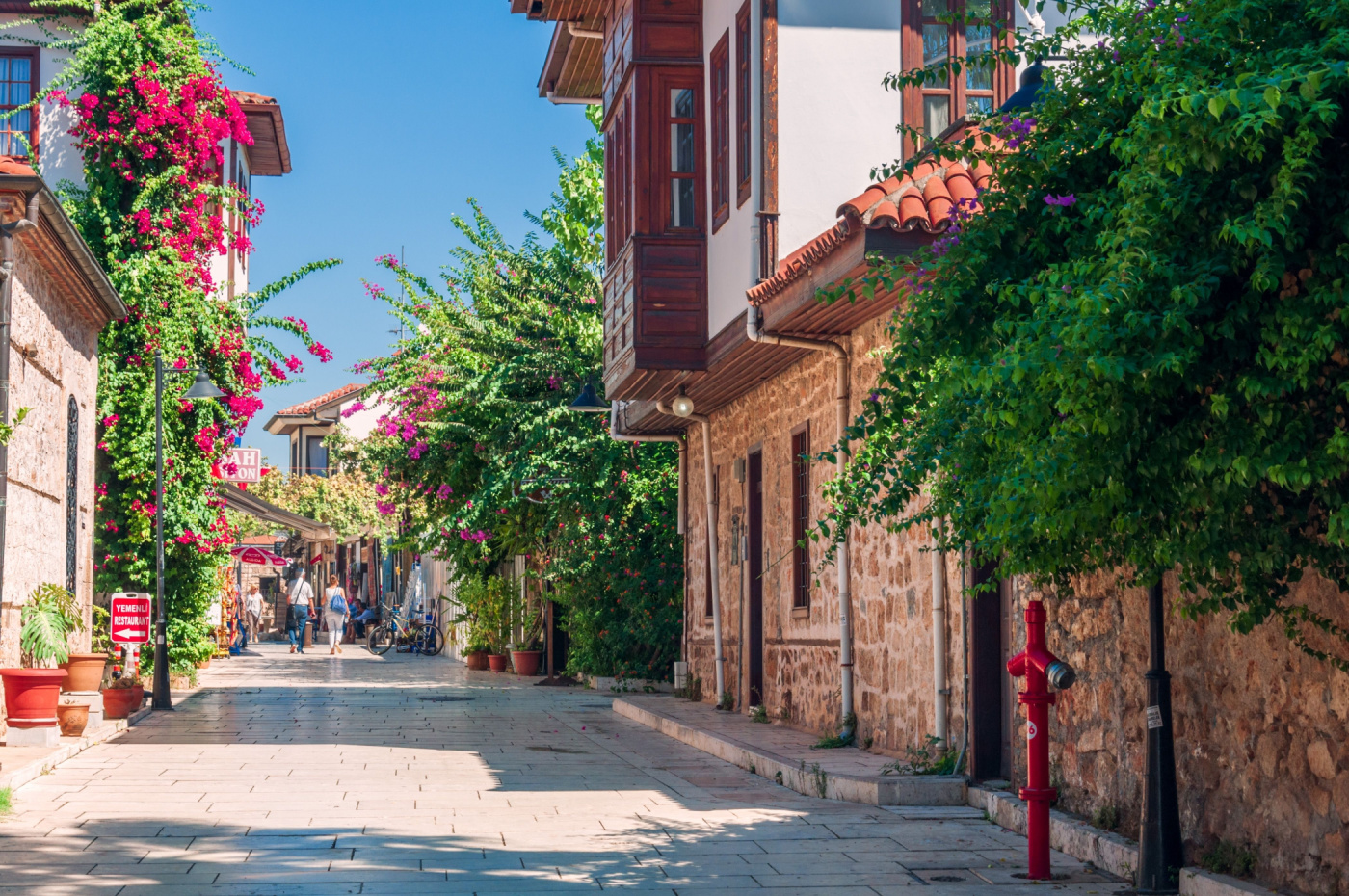 And That Was Antalya!
Antalya is one of my favorite places to visit and the kind of place you can keep coming back to again and again.
Whether as a base during in depth travel of southern Turkey or a place to come for a cheeky holiday weekend, there is never a wrong reason to come here.