Borneo is all about the wildlife.
There's so much to see! You've got the proboscis monkeys, pygmy elephants, and Bornean orangutans — all of which can only be found on this island. And then you've got the sun bears, the pangolins, and the mouse deer — animals that are simply the absolute best. If you're into animals in any kind of way, Borneo is going to be a must-visit destination for you.
There are fireflies, too.
I was looking for a day trip to take while I was spending three weeks in Kota Kinabalu, and was captivated by the idea of catching fireflies. There are several different firefly-spotting tours in Borneo, so I opted for the one that sounded the like it would attract the least amount of tourists. We'd be out of the city for eight hours, and when we weren't driving back and forth in a minivan, we'd be out in the rainforest. On the agenda was proboscis monkey-spotting, river-cruising, and plenty of firefly-gazing.
Having never seen a firefly before in my life, I was more than a little excited when we were picked up from our hotel a few days later.
An hour later, we clambered out of the minivan and I winced.
Beneath a giant open air building stood a hundred tour participants wearing fluorescent orange life jackets. It was loud, it was chaotic, and it was the exact opposite of what I'd been hoping for.
I'll hold my hands up here and confess to my crimes of travel snobbery.
Huge groups taking organised tours is kind of absolutely not my form of paradise. It's not the idea of tourism that makes me cringe — after all, I am a tourist — but the hundreds of people following each other through designated cookie-cutter stops like they're on a production line. It all feels so manufactured and lame.
This tour looked exactly like my idea of hell.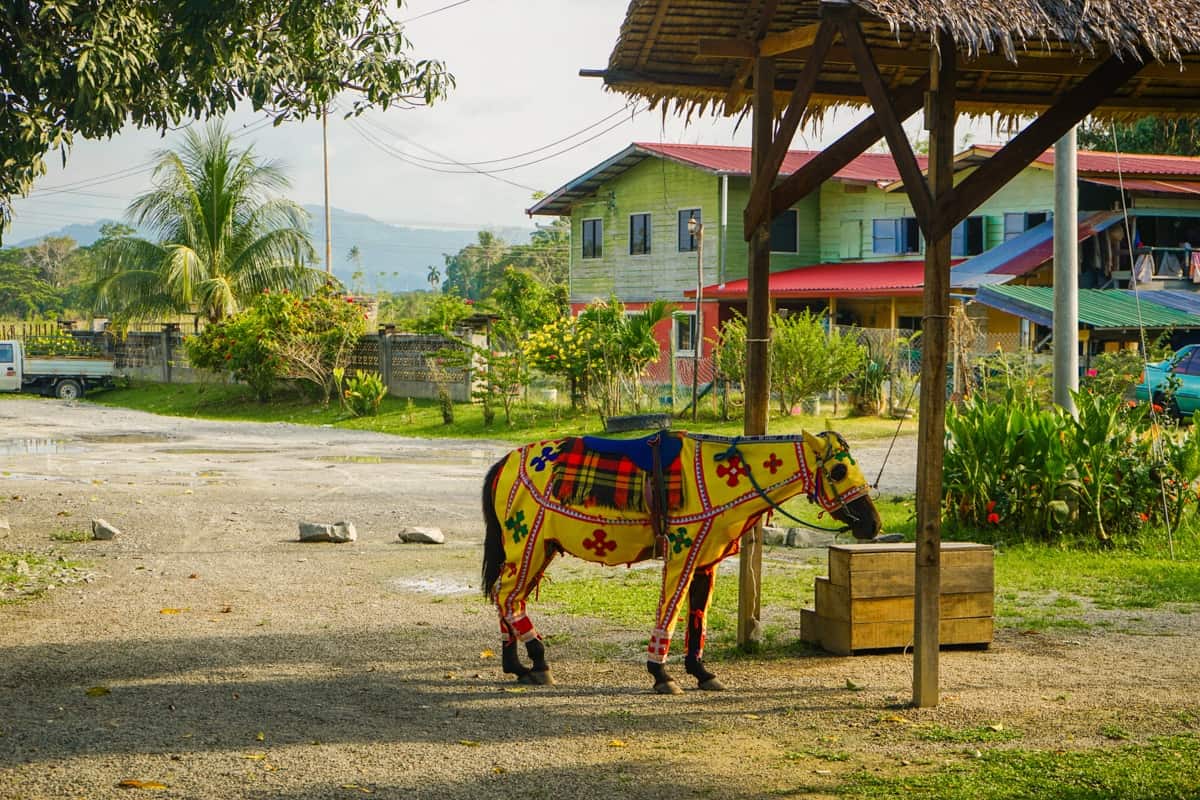 "Look at that random horse," I said to Dave, pointing in its direction. It looked like it was wearing a bright yellow onesie with a tartan blanket on top. "So weird."
I would later come to discover that Kota Belud used to be a small cowboy town and is known for being home to the Bajau horsemen. They're expert equestrians, so Wikipedia tells me, and dress their steeds in colourful outfits.
After sampling a selection of brightly-coloured local snacks, none of which I could recognise or, to be frank, enjoy the flavour of, we made our way on to the jetty.
I breathed a sigh of relief as I watched the larger boats quickly fill up while our guide for the day held us back. Rather than being packed in like sardines, we had a boat for just eight of us.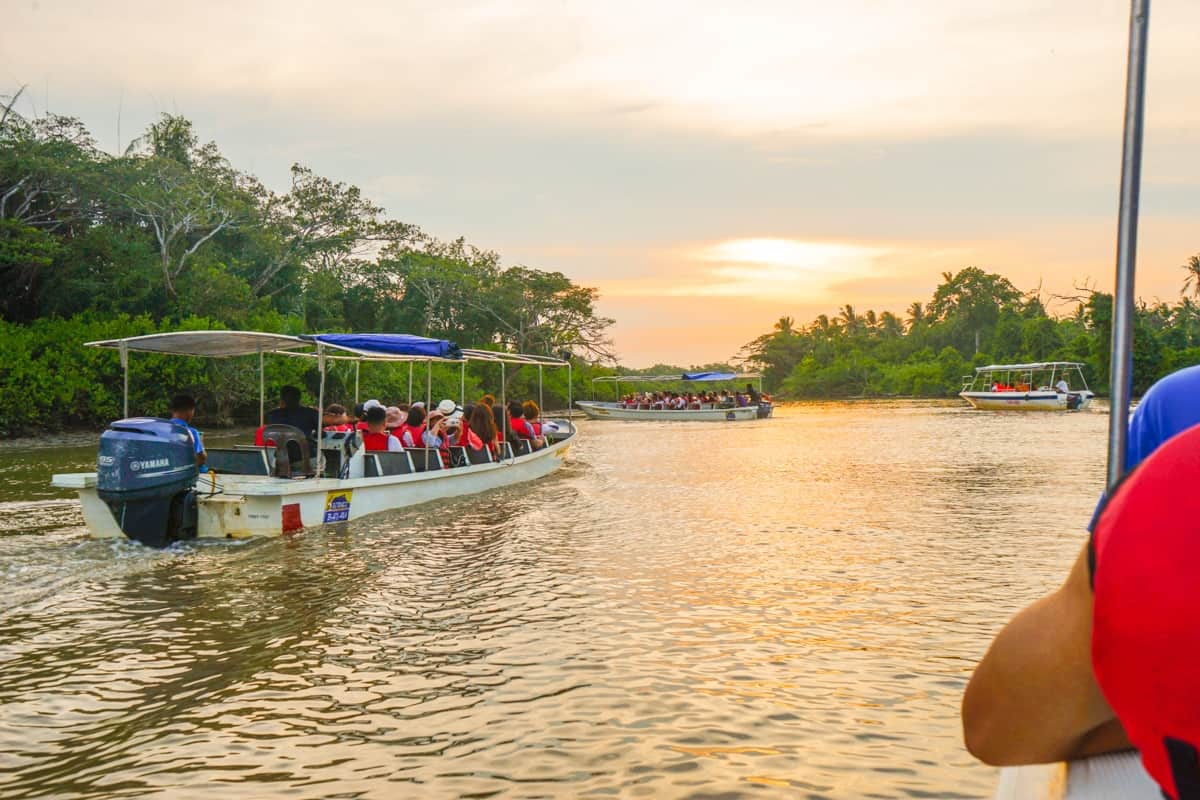 I let out an even larger sigh of relief when our driver paused, letting the queue of larger tour groups roar off into the distance. We waited until they were out of sight and hearing before beginning to drift through the water.
The first part of our tour was all about life on the river.
We were going to be setting off in search of Borneo's famous proboscis monkey, as well as the long-tailed macaques, silver languars (yeah, I don't know what they are either), river otters, water buffalo, egrets, kingfishers, and more.
We puttered along the river, marvelling over the dense rainforest that surrounded us. We had a couple of hours until sunset — otherwise known as Firefly Time — so were going to be cruising around until then.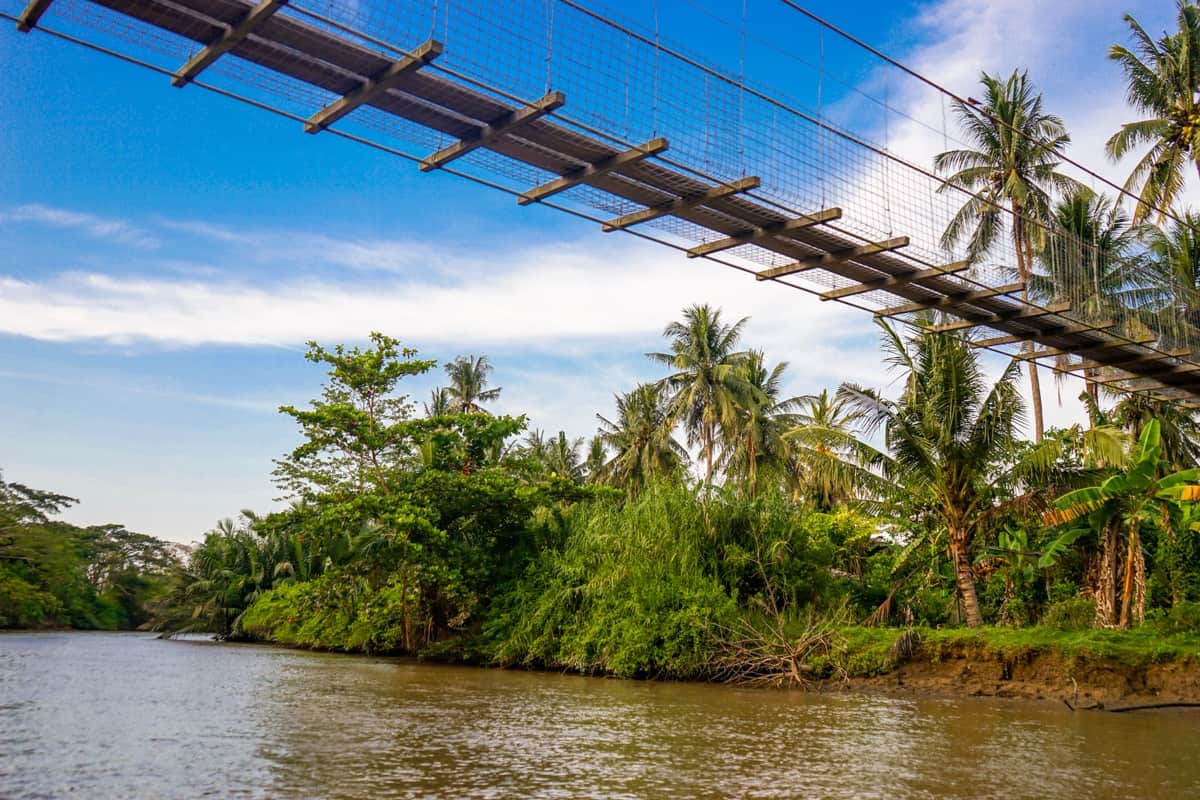 The scent of woodsmoke and citronella filled the air as a nearby mosquito whined in my ear. It was practically the theme tune to my time in Southeast Asia, but I still couldn't get enough of having my senses bombarded by the unfamiliar. A bead of sweat rolled down my back as the sun beat down on our group.
The first part of our tour turned out to be fascinating, as we meandered past the small houses that had been built beside the water. I loved seeing people casually living their lives, listening to children laugh as they splashed in the river, and gazing up at the rickety bridges that crossed from one side to the other.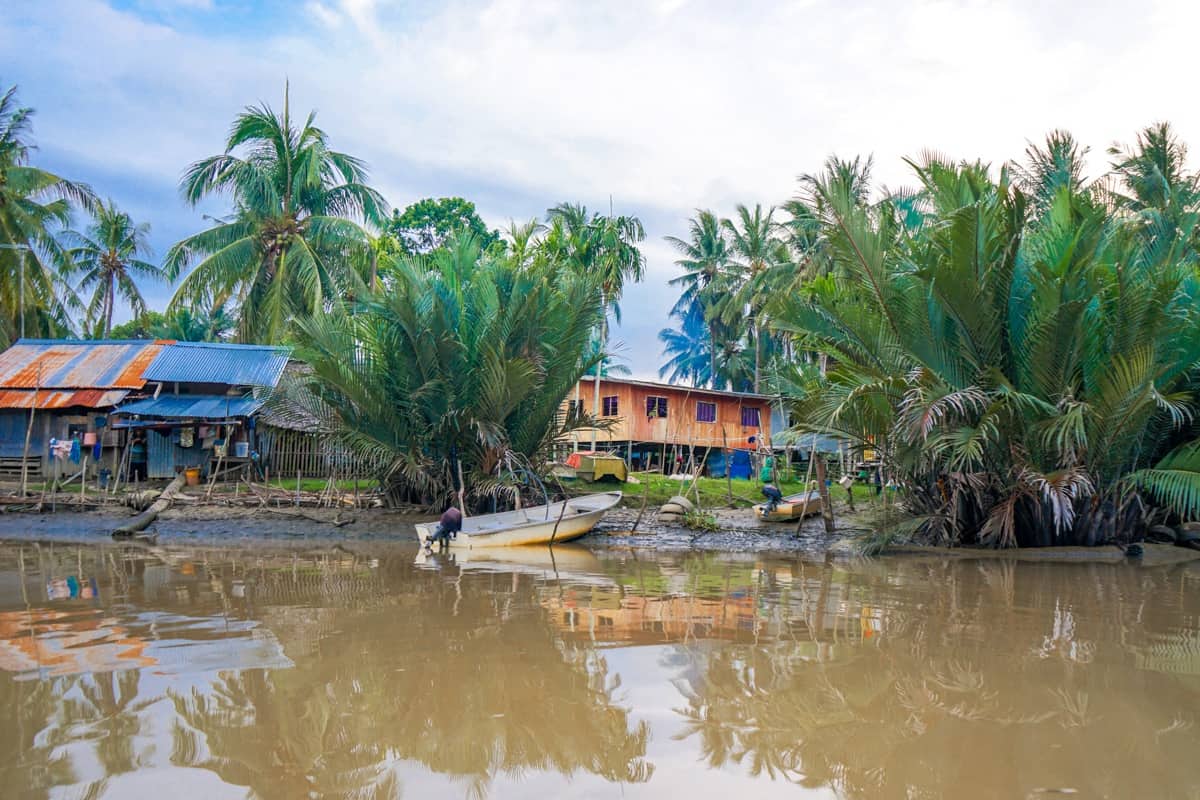 It was all so fascinating to think about how these scenes were their reality, and that this was just another Tuesday in their lives. I'd spent so much money to get to a place so beautiful, and this was just their everyday lives: swimming in a river, playing in the rainforest, hanging out in a place I couldn't stop taking photos of.
Finally, the wildlife I had been hoping for emerged from the trees to the sound of a dozen camera shutters.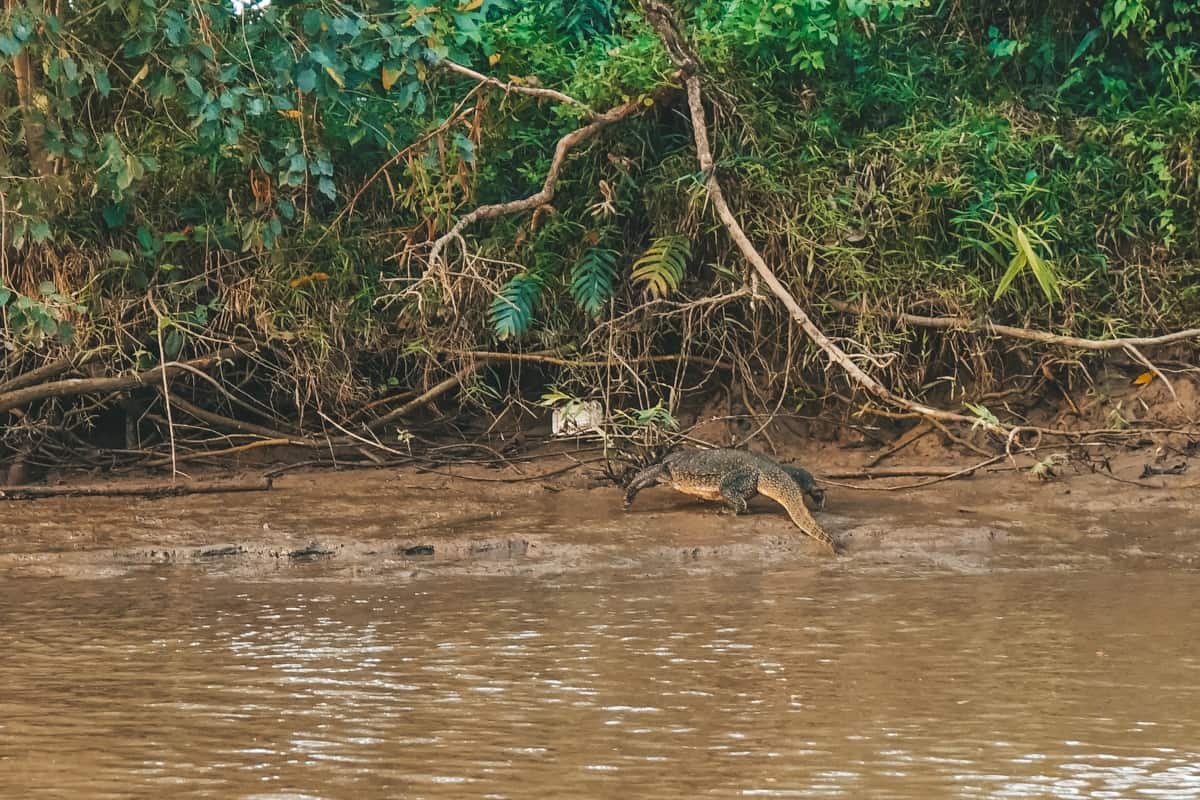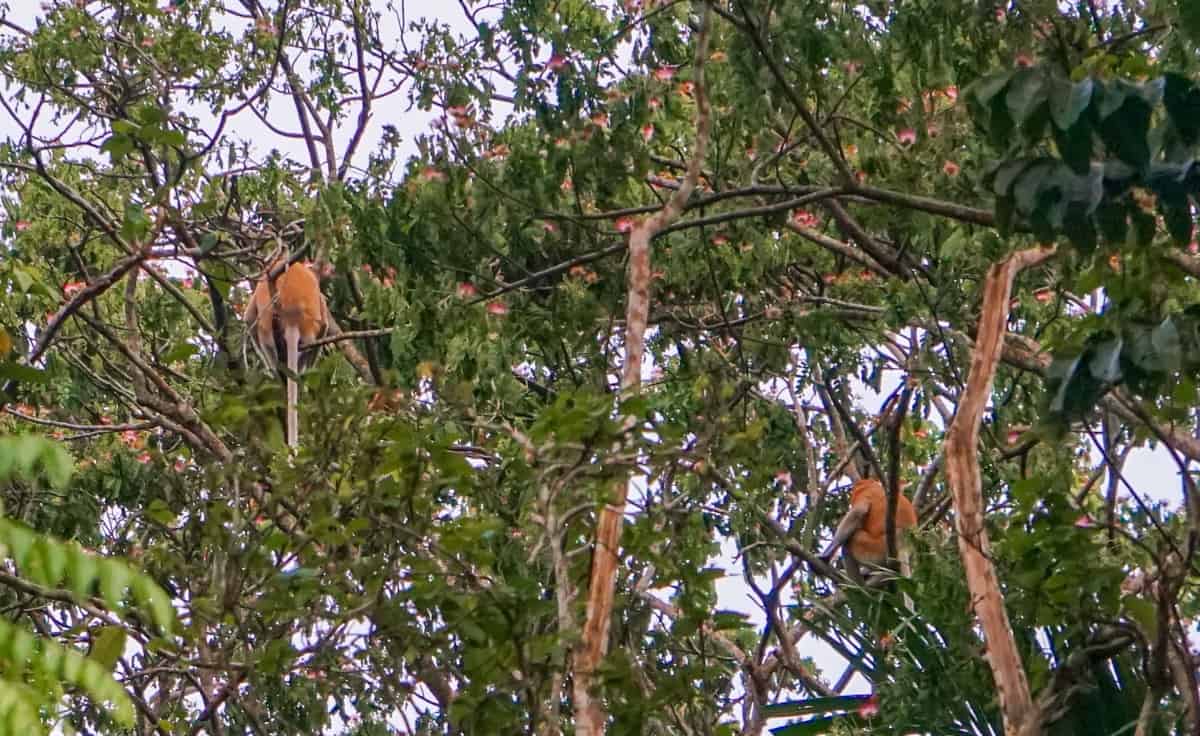 A troop of proboscis monkeys was perched high in the Bornean rainforest, oblivious to the tourists who were marvelling at them from the water.
"I LOVE them," I told Dave.
It was neither the first nor the last time that I would wish I'd brought a zoom lens with me to Borneo.
I'd first spotted these strange pot-bellied, large-nosed monkeys in Brunei, but this time, there were dozens of them and it was so cool to see them in the wild. Fun fact: proboscis have a bright-red penis that's permanently erect and a jet-black scrotum. Love that for them. Here's a photo if you're curious. They're such strange animals!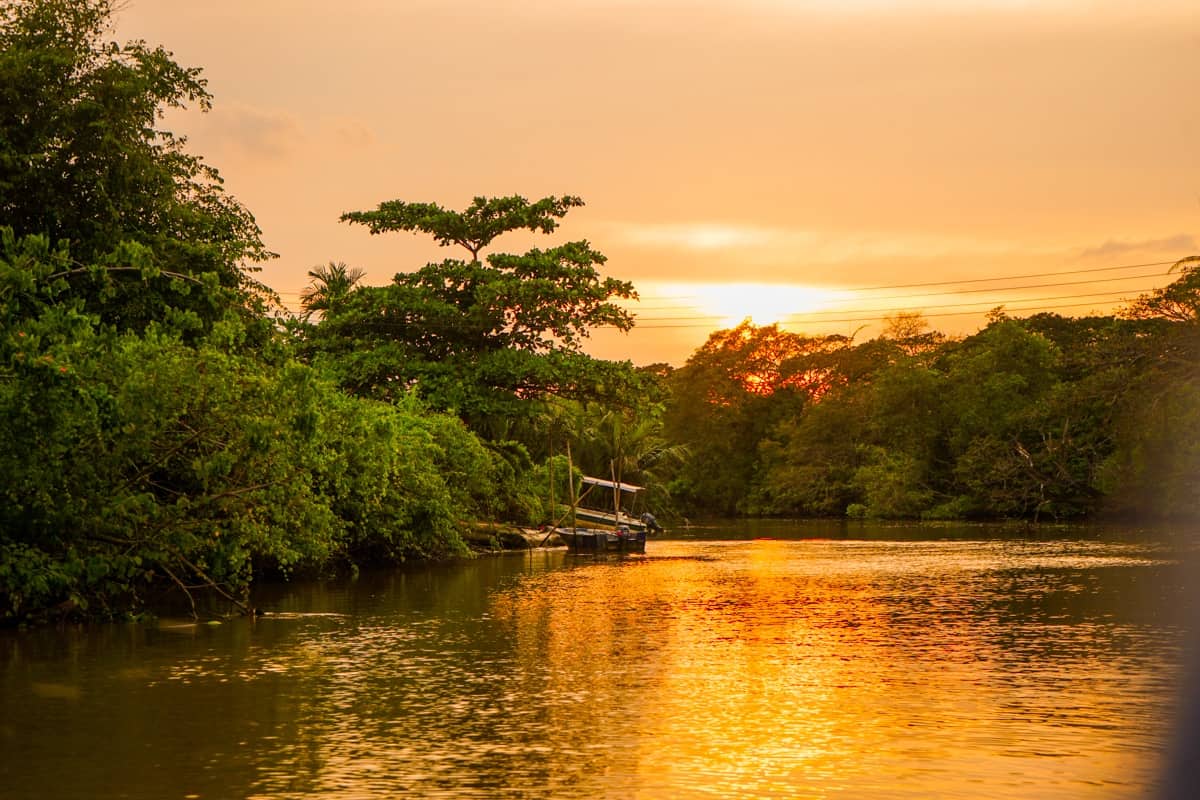 After a glorious sunset out on the water, we ferried over to a nearby jetty and entered an open-air restaurant on the riverbank. We had an hour until darkness was due to fall, which gave us the perfect opportunity to grab dinner.
On these kinds of large organised tours, I'm usually expecting the food to be sub-standard and bland. My prejudice was only reinforced when I realised a buffet was on the cards for us.
In the end, though, it was a decent-enough meal. I grabbed a chicken curry and biryani and impatiently stared out at the river in search of fireflies.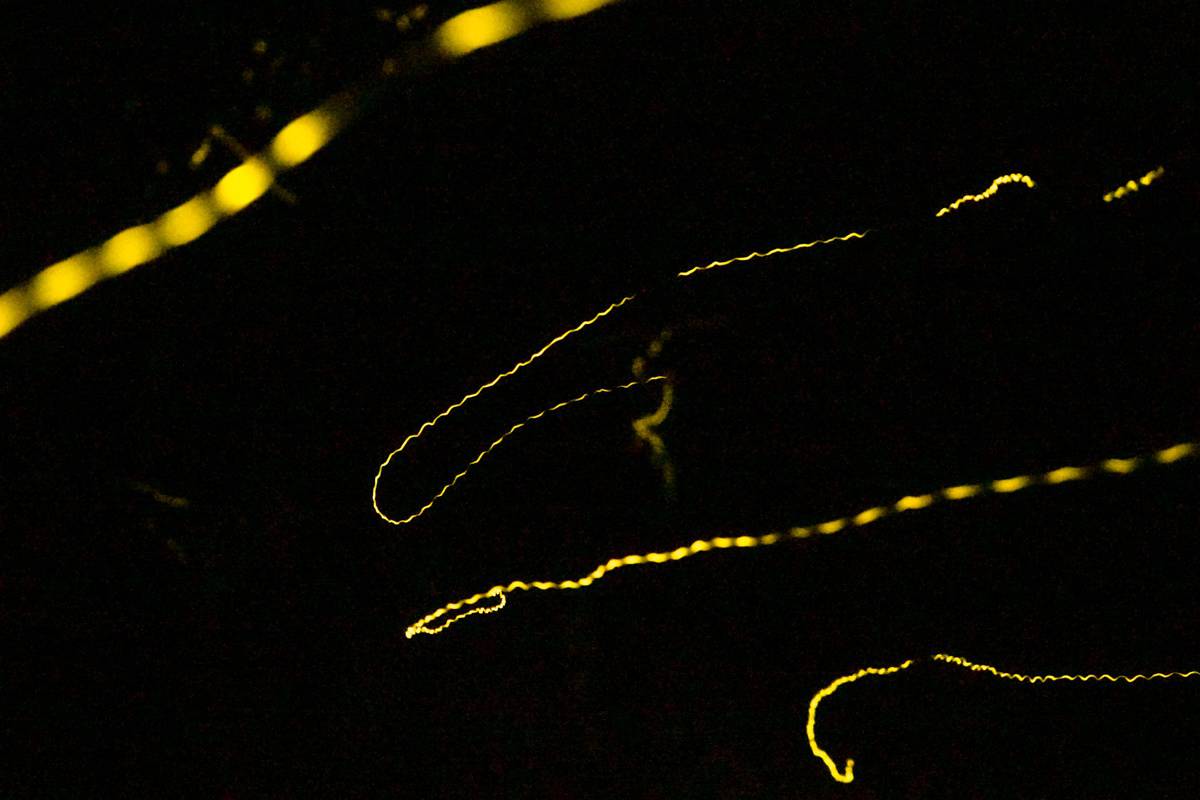 While we were eating, I finally worked up the courage to ask Dave what fireflies actually were. I'd never seen one before, having grown up in the U.K., and was embarrassed to not know anything about them.
"They've got glowing butts, right?" I asked Dave.
He shook his head. "You're thinking of glowworms."
"Oh."
"Fireflies are beetles, I think. Flying beetles with glowing stomachs."
"Huh. Weird."
An excited silence descended upon the group when our guides stood up and motioned for us to clamber back on to our boats.
Once we had our lifejackets strapped on, we roared away from the warm glow of the restaurant and into the jungle, journeying until it was pitch black and there felt like there was nothing around.
Suddenly: whispers. To the left of us, I spotted a hundred flickering lights, illuminating a nearby palm as though it was a Christmas tree. Our guide dropped the engine to a low shudder and we quietly moved down the river, where another cluster of lights came twinkling into view.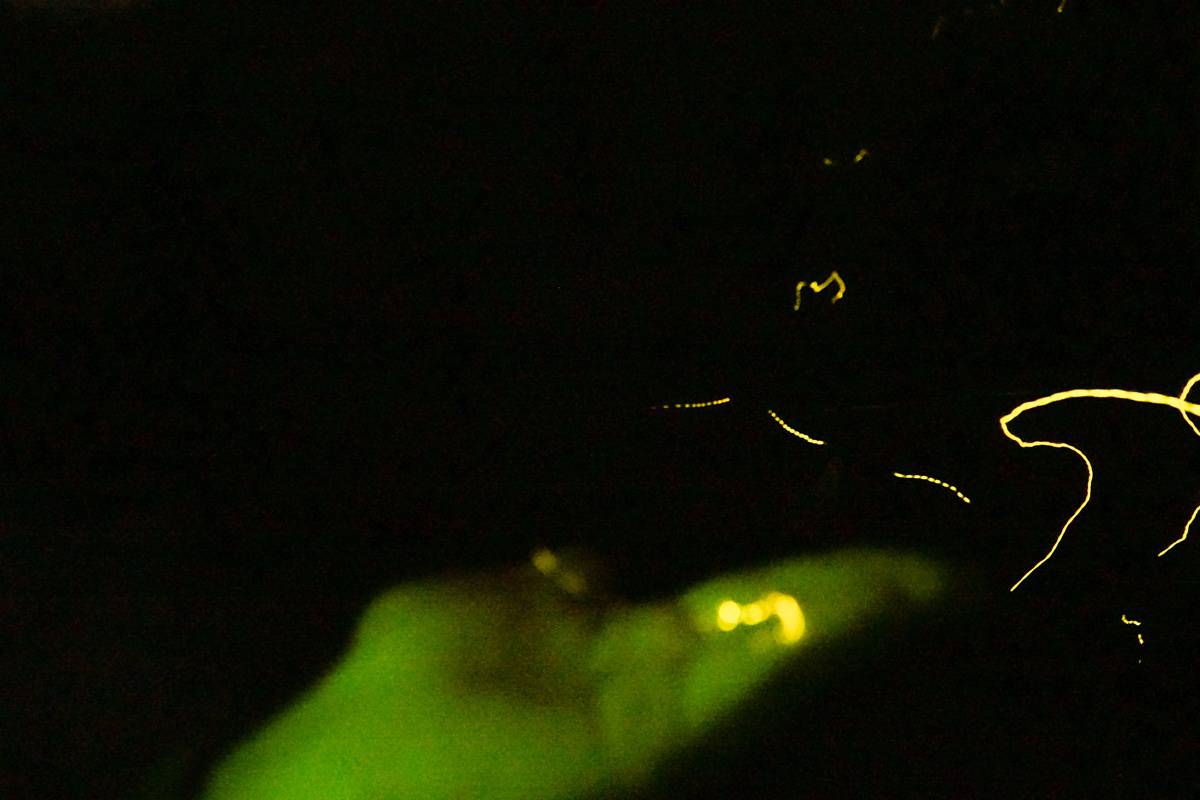 Our guide produced a flashlight and waved it purposefully at the fireflies. I was kind of glad the darkness was hiding my smirk as he waved his torch through a series of movements, like he was performing an awkward dance for us.
I quickly lost my sense of second-hand embarrassment for him and dropped my jaw when a treeful of fireflies took flight and made their way towards our boat.
As they slowly engulfed us, our guide turned off his flashlight and we were surrounded by a shiny galaxy of glowing beetle stomachs.
Perhaps there's a reason why they're called fireflies. It's perhaps a little more romantic and a little less disturbing to say you were excited to be encircled by fireflies than beetles.
Catching fireflies was such an incredible experience.
Magical.
Wonderful.
Breathtaking.
And one of the most surreal moments of my life.
As a single insect drifted past my eyes, I reached out a hand and captured it in my fist.
Damn it, I missed.
Except, no, I didn't. I looked down at my palm and was surprised to see a tiny firefly resting on my hand.
What's so bizarre about fireflies is how they basically weigh nothing. They'll happily land on you, be caught by you, drift on to you, and you'll have zero idea they've done so. I stared down at the glowing ball in my hand and still couldn't feel it was there.
When you're engulfed in darkness, with no nearby city or town to pollute the skies, it makes an experience like this feel like you're tripping balls. You can't make out anything around you. Instead, you just sit there in the warm, humid air and watch a hundred yellow balls of light fly around your face. I felt as though I was racing through the universe.
We had half an hour to spend with the fireflies, although it felt like 30 seconds had passed when our guide told us our time was up.
I attempted to take a mental photo of the scene in front of me, sitting in the middle of the rainforest in a swarm of fireflies. The beetles were so placid, though, that swarm feels like the wrong word to use. Sitting in a soft, cosy blanket of fireflies?
Anyway.
As we turned around and raced back to our minivan, I stared out at the riverbank, lit up like it was Christmas, and turned to Dave.
"Was this not the coolest. Thing. Ever?"
"Totally."
And it really was.
What to Know Before You Go
Where to see fireflies in Borneo: If you want to check out the fireflies while you're in Borneo, there are a couple of places where you can do so.
The first of these is the most popular: heading two hours south of Kota Kinabalu to Klias Wetland for a tourist-packed time. Yes, this area can get seriously crowded with tour boats on river safaris, which was why we decided to give it a miss. It receives pretty bad reviews, most of them mentioning the overcrowding.
The second option is the Kawa Kawa River, close to Kota Belud. It's much quieter and attracts fewer tourists. Given that it more than met my definition of crowded, I can only imagine what the safaris at Klias are like!
Who to go with: We decided to use Amazing Borneo as our tour provider. They receive fantastic reviews on TripAdvisor — far better than any other company listed — and plenty of travel bloggers rated them highly, too.
Overall, I was glad we chose these guys to go with. The guides were professional and the tour was well-run. We got to jump in a boat with only six other people while the others were crowded out with 30 people to a vessel.
How much it costs: Despite being in Southeast Asia, Borneo is far from an affordable destination. Accommodation and activities cost way more than you'd expect, especially if you've been travelling through mainland Southeast Asia for a while. We paid 225 MYR (55 USD) each — prices typically range between 225 MYR and 390 MYR, depending on which time of year you visit.
Where to stay in Kota Kinabalu: We stayed in the best-rated mid-range hotel we could find in the city: the AC Residence at a price of 29 USD per night for a double queen room. It was a lovely, centrally-located place to stay in a city that lacks decent mid-range, affordable accommodation. We extended our stay to three weeks after our first day in the hotel, we loved it so much!
What to read next: Check out my food guide for Kota Kinabalu. It's one of the best cities in the world to eat and I have plenty of recommendations! I also have a guide for how to get from Brunei to Kota Kinabalu and a detailed budget breakdown on how much it costs to travel in Malaysia.