Malaysia might be one of the most pleasant surprises for me.
It was the second country in my year of travelling throughout Asia as a digital nomad and it was always my intention throughout this year to go with the flow. Of course, I had some top countries in mind that I knew I wanted to get to, but when and how, I left up to fate.
So when I was searching for flights out of Guilin (China), Kuala Lumpur was one of the few destination options within close proximity. So I thought to myself, "I guess Malaysia is my next stop!" And well, that stop turned into traveling throughout Malaysia for 6 weeks because I kept wanting to explore and enjoy it more.
I think because I traveled there with no expectations and just excitement for the unknown, my experience was similar to the feeling of going to an amusement park for the first time as a kid—Malaysia evoked a sense of childlike wonder and play.
Whether it was the energy of the locals, the diverse food, the street art, the beautiful nature, I was continuously pulled in by this country. Not to mention, it felt easy to stay there. Your money goes a long way, English is commonly spoken and the infrastructure is very established. I honestly could have stayed longer and I can't wait to go back one day.
It seems that Malaysia is a country commonly overlooked by people traveling through the region. But after experiencing the many extraordinary layers of Malaysia, I don't understand why! One thing is for sure—anytime I talked about it with another traveler, we were both in agreement on how great of a destination it is.
If you have the chance to go or even find yourself in nearby Singapore, then I'd highly recommend making the trip. Have no expectations and get ready to be blown away by this wonderful country.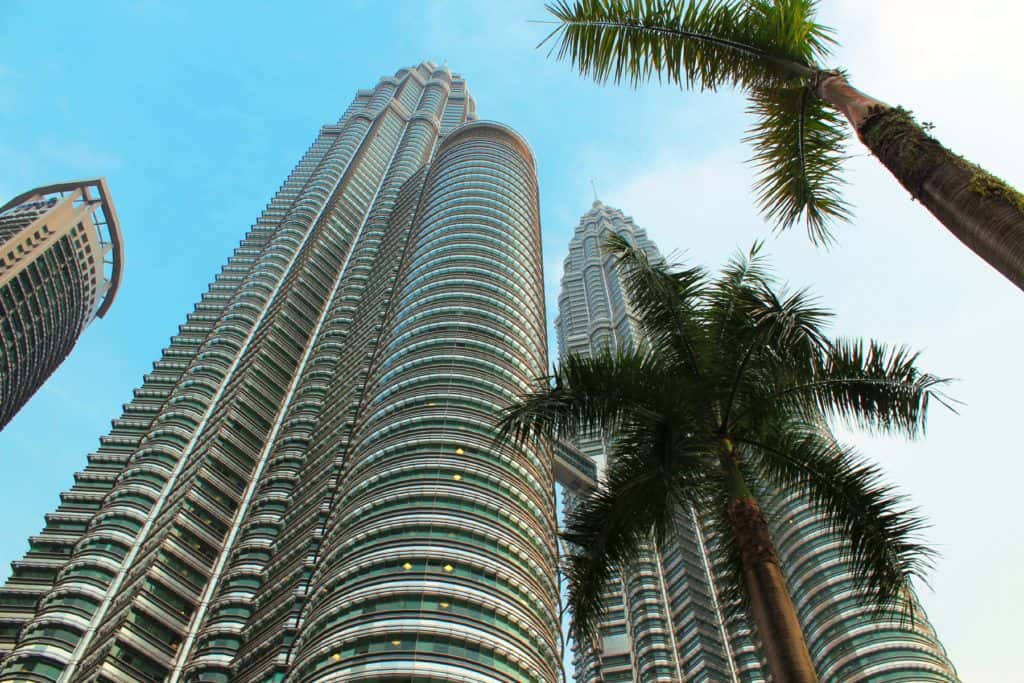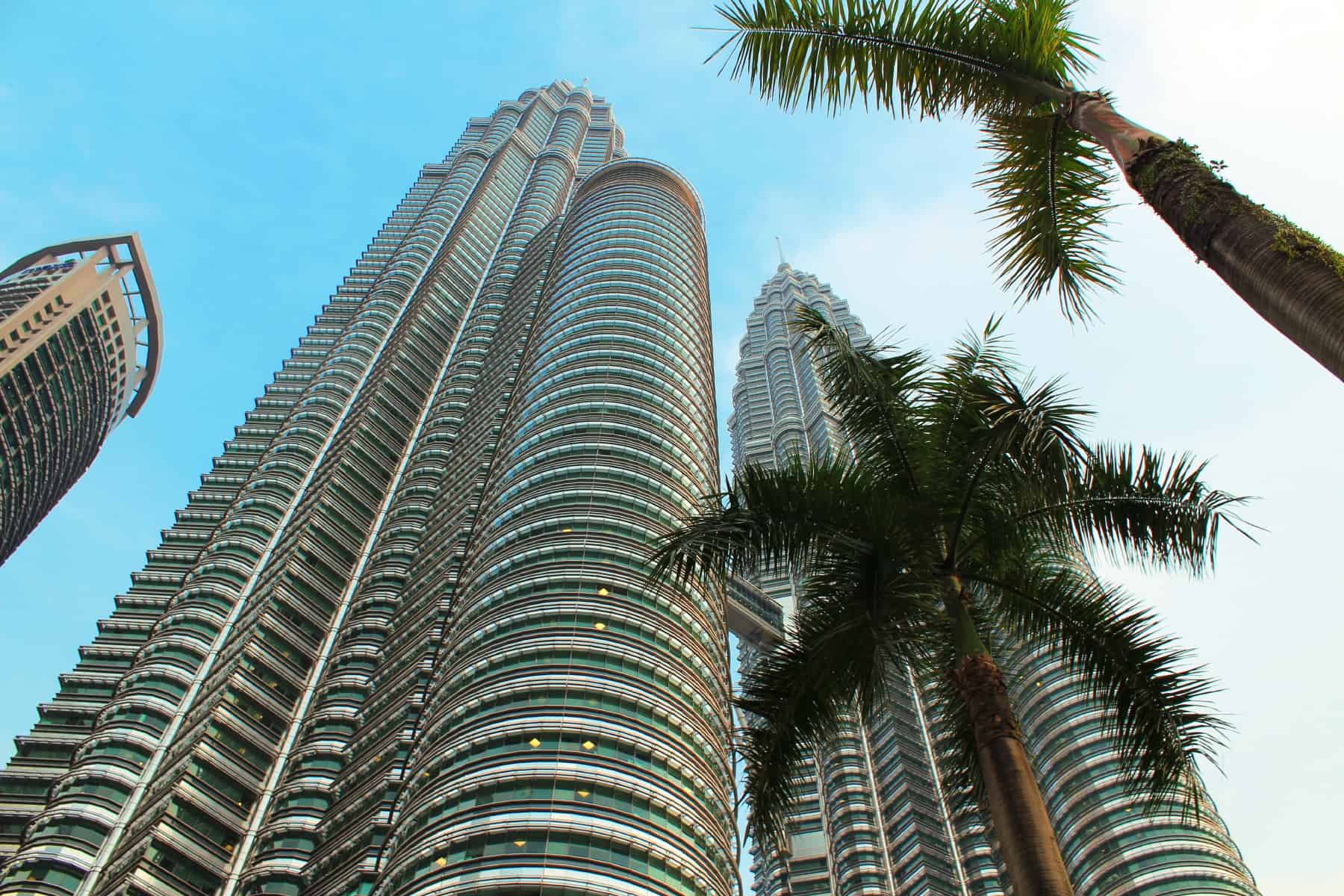 What's Included in this Post
This budget breakdown covers how much I spent on accommodation, transportation, activities, and food while I travelled around the country.
I've not included my flights into and out of Malaysia as this is going to vary significantly based on where you'll be arriving from.
The amounts in this guide are listed in U.S. dollars, simply because the vast majority of my readers are from the U.S. I also included some prices in Malaysian Ringgit (MYR or RM), as this is the local currency that you will use the most.
Now let's talk about expenses!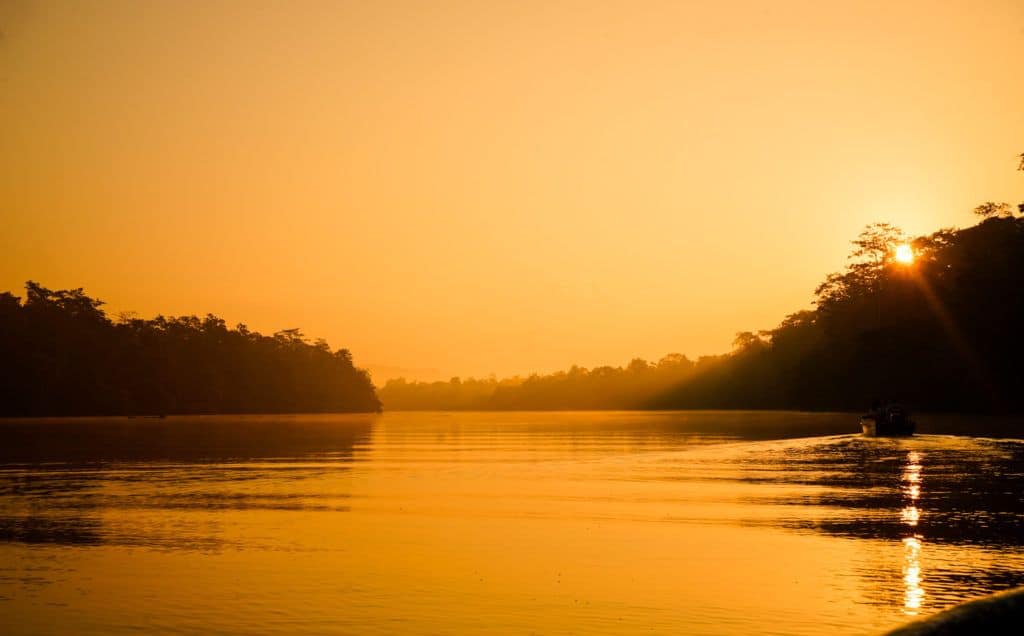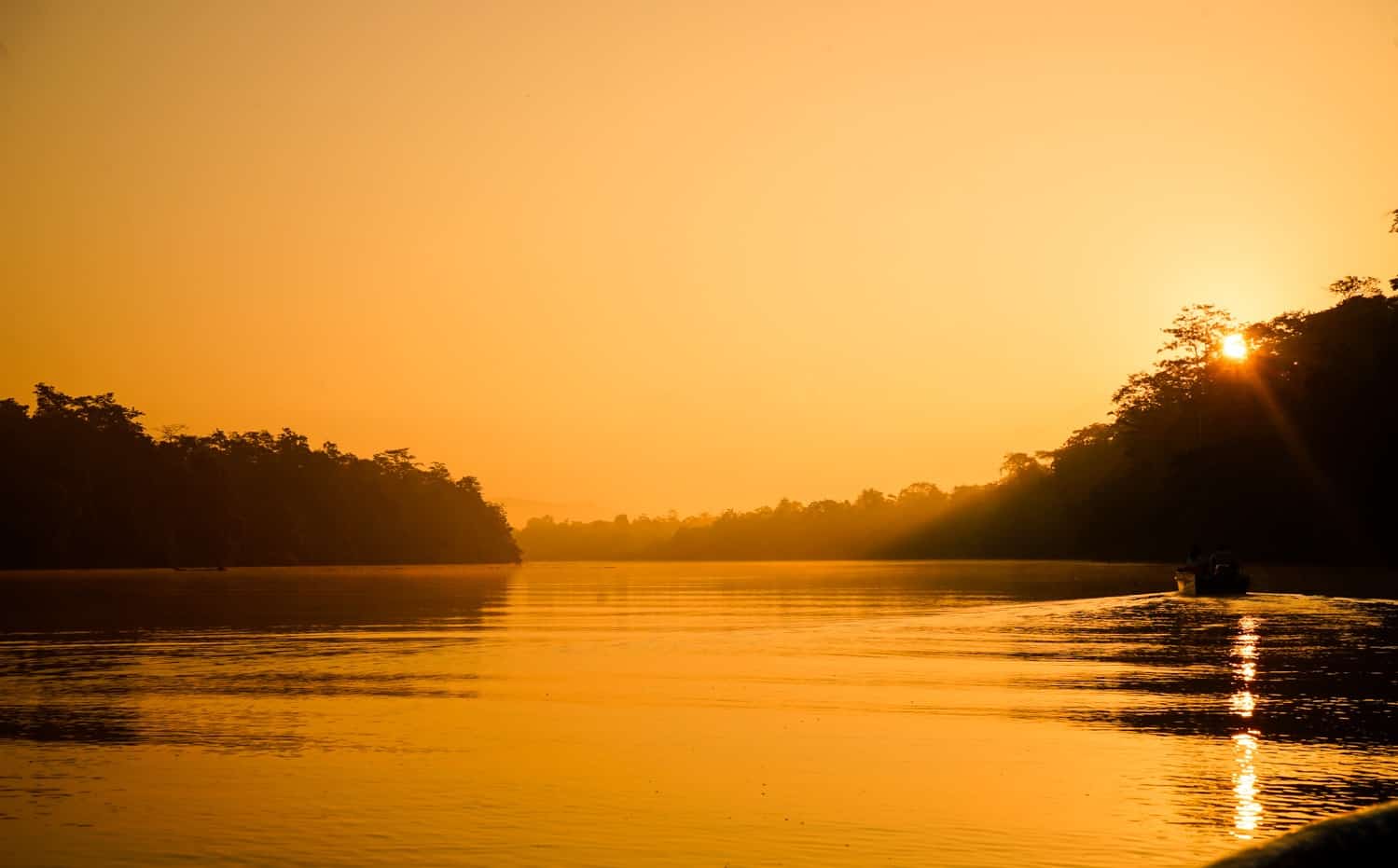 How to Save Money on the Cost of Accommodation in Malaysia
As always with travel, it's possible to cut your accommodation costs down to zero if you have the time and patience to seek out an offer.
Housesitting is a great option for free accommodation. This is where you'll take care of somebody's house while they're away, and usually look after their pets, too. It's best for long-term travellers or retirees as you can't pick and choose dates and destinations, so you need to have a lot of flexibility as to where you go and at what time of year. If you do have that freedom, it's a wonderful way to cut down your travel expenses, soak up some home comforts, and live like a local for a while. I have friends who have housesat in castles before! For free! Trusted Housesitters is the best site for getting started with housesitting, as they have the highest number of listings.
I'm suspecting, though, that for most of you, you're not interested in the free accommodation and just want somewhere clean, safe, and affordable to rest your head each night. If that's the case, there are several options available for you.
The first of these are hostels. In Malaysia, you'll come across hostels all over the country, finding them on tiny islands, in large cities, and even in the national parks. They're one of your best options for saving money.
And, of course, there are always hotels, which will usually come in at around $30-$70 a night for a decent, clean, mid-range property in a central location. I always use Booking, as they have the most accommodation options for the cheapest prices.
The Cost of Accommodation in Malaysia
I primarily stayed in hostels during my travels in Malaysia because they were not only cheap, but also really good quality. Paying $6 – $14 a night for a dorm bed was the perfect scenario for both my bank account and quality of stay. I was very pleased with the cleanliness and hospitality throughout my stays, and I'm sure the price doesn't make a big difference.
That being said, if hostels aren't your jam, you can still find a number of amazing hotel, homestay and airbnb accommodations for a great price. You might be looking at anywhere from $50 – $100 a night for these places, depending on their location in the city.
Here's a list of my favourite accommodation options in Malaysia:
Kuala Lumpur — Sunshine Bedz Kuala Lumpur ($6-$19 a night): Kuala Lumpur is one of those capital cities that's more than just a stopover. I'd recommend spending at least 3 days before onwards travel through Malaysia; and there's no better place to stay than Sunshine Bedz. Not only is the nightly rate incredibly affordable, but it's situated in an A+ location. You're just steps away from major metro stations, food markets and malls. But what really sets this place apart is how far the staff go to make sure that everyone is welcomed and having a good time. They host weekly pub trivia nights and pub crawls to help facilitate connection between solo travelers (which tend to be the majority of people that come to stay here).
George Town — The 80's Guesthouse ($13-$32 a night): Penang, and specifically George Town has my heart. I stayed at The 80's Guesthouse for two weeks and I don't think I could have chosen a better short-term home. It's a clean hostel, from the washroom to the rooms and common area. I found that it also provided a good balance of social activity and a quiet atmosphere. I was able to meet people throughout the day, while falling asleep peacefully at night. Though the prized part of this hostel is the location. Because it's located towards the end of popular Love Lane, you're literally within walking distance of everything. And to see the famous murals of George Town in their glory, this is absolutely paramount.
Langkawi — The Smith House ($48 a night): For an affordable, but luxurious island stay, look no further than The Smith House. The rooms are super spacious, clean, well decorated, and even include a smart TV! You might even feel as though you're staying in a hotel that is much more expensive than it is. The hospitality is also superb, and the staff are quick to greet you and make you feel right at home with their friendliness and helpful organizing. Whatever you want to do on the island, they'll help arrange it. Alternatively, you can relax the day away and soak up the sun by the gorgeous rooftop pool.
Cameron Highlands — Fathers Guesthouse ($6-$28 a night): Located at a peaceful corner, but with close access to the small town of Tanah Rata, Fathers Guesthouse is the perfect place to stay during your time in the Cameron Highlands. After a day of meandering through the infamous tea plantations, forests and lavender farms, you'll find friendly staff, clean amenities and a relaxed atmosphere here. When I stayed at Fathers Guesthouse, I had a bit of a personal issue and wasn't able to go out for dinner one evening. Thankfully, a staff member was able to pick something up and bring it back to me—now that's good service!
Malacca — Old Town Guesthouse ($14 a night): While visiting the historical city of Malacca, I would recommend staying at the Old Town Guesthouse. Not only does it have convenient access to some of the city's must-sees (Christ Church, Jonker Street Night Market), but you can rely on a friendly and welcoming ambiance as soon as you arrive. The colorful walls and paintings make this place come alive, but not as much as the kind owner that takes his time to share recommendations on the best food and attractions in Malacca and Malaysia as a whole. You'll certainly be in for a comfortable, fun stay!
Ipoh — Dé Cafe & Rest House ($10 a night): I'm so glad I made a short stop in the quaint city of Ipoh. It's a great place to visit on your way to or from the Cameron Highlands and it has a lot of the charm that I loved about George Town—only with less crowds! Staying at the cozy Dé Cafe & Rest House means you have convenient access to the best areas of town by foot. Even though it's a hostel, they've done everything they can to make it comfortable, providing comfy beds, curtains for privacy, earplugs and lockers outside the room (so you don't have to hear people getting their things!). Not to mention, the food and coffee served in the cafe is impeccable, and the staff are friendly and always down to chat.
The Cost of Transportation in Malaysia
I found transportation around Malaysia to be quite reasonable and affordable; and I mostly just used it between cities. Because of the accommodations I stayed in, it was really easy to walk around in most cities. That being said, Grab (the Southeast Asia Uber equivalent) really came in handy when I needed to go further.
Buses —For long distance travel between cities, buses are the way to go. They leave very frequently from major bus stations and I found them to be pretty punctual and comfortable. There's plenty of bus companies to choose from in Malaysia (over 100), so I would recommend travelling with any of the below because of their good value and reputations. I mostly travelled with Plusliner and Transnasional and have no complaints!
A one-way bus ticket will cost you around $4 – $12 (RM 20 – RM 48) depending on the time and route popularity. You can also book bus tickets and compare prices of companies on Easybook, this was a super easy way for me to book intercity travel during my time in Malaysia
Motorbike — If you or a travel partner is comfortable, I would recommend renting a scooter or motorbike for daily excursions, specifically in Penang, Langkawi and the Cameron Highlands. It's a cheap, fun and easy way to get around where there might be less frequent local transit. For a day rental, you're looking at anywhere from $4 – $7 a day (RM 15 – RM 30), not including gas which might only cost you around $2 for a gallon.
Grab Taxi — I loved the convenience of Grab, specifically during my time in Kuala Lumpur. Grab isn't in demand outside of major cities (this is when renting a motorbike comes in handy), but it's a cheap and easy way to get around if you need to go a little further out or are short on time. I just looked through a bunch of my grab receipts, and my cheapest one-way fare was 97 cents (RM 4) and my most expensive one was $6 (RM 25). Not bad at all!
Flight — When I was travelling to Langkawi from Penang, my ferry was cancelled last-minute due to rough hours so I ended up taking a last minute flight with AirAsia. In general, I wouldn't recommend travelling by plane for the most part just because buses are so easy and cheap, but if you have to, then definitely go with AirAsia. My flight ended up costing me $30 (RM 124).
Ferry — If you have better luck with the ferry than I did, then this is definitely the best way to travel between the islands of Penang and Langkawi. The Langkawi Ferry leaves twice a day in both directions and costs $14 (RM 60) one-way.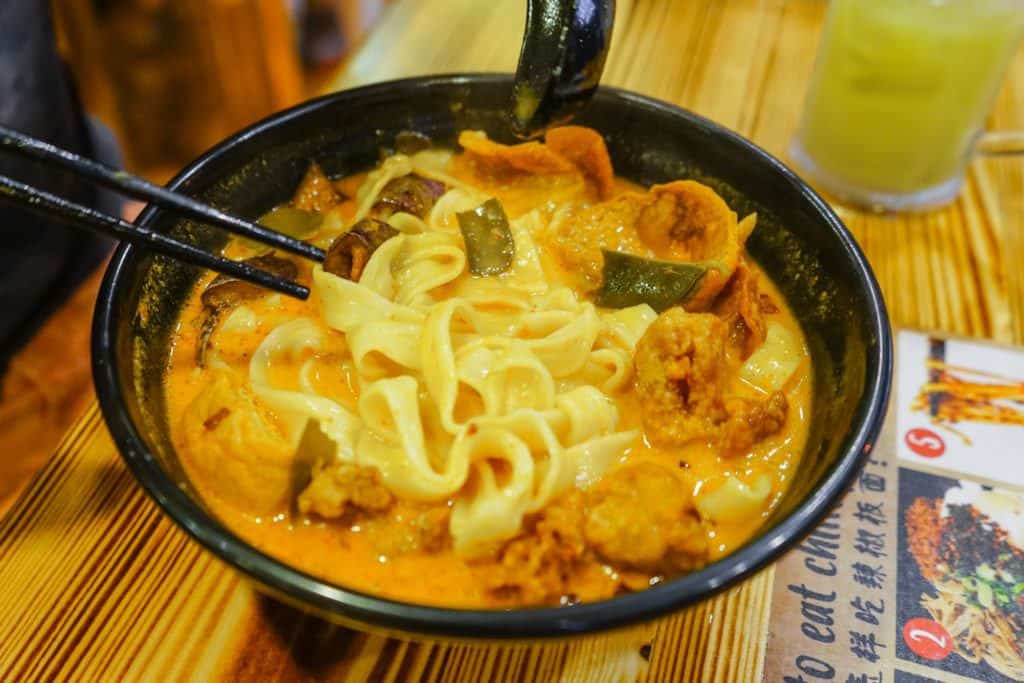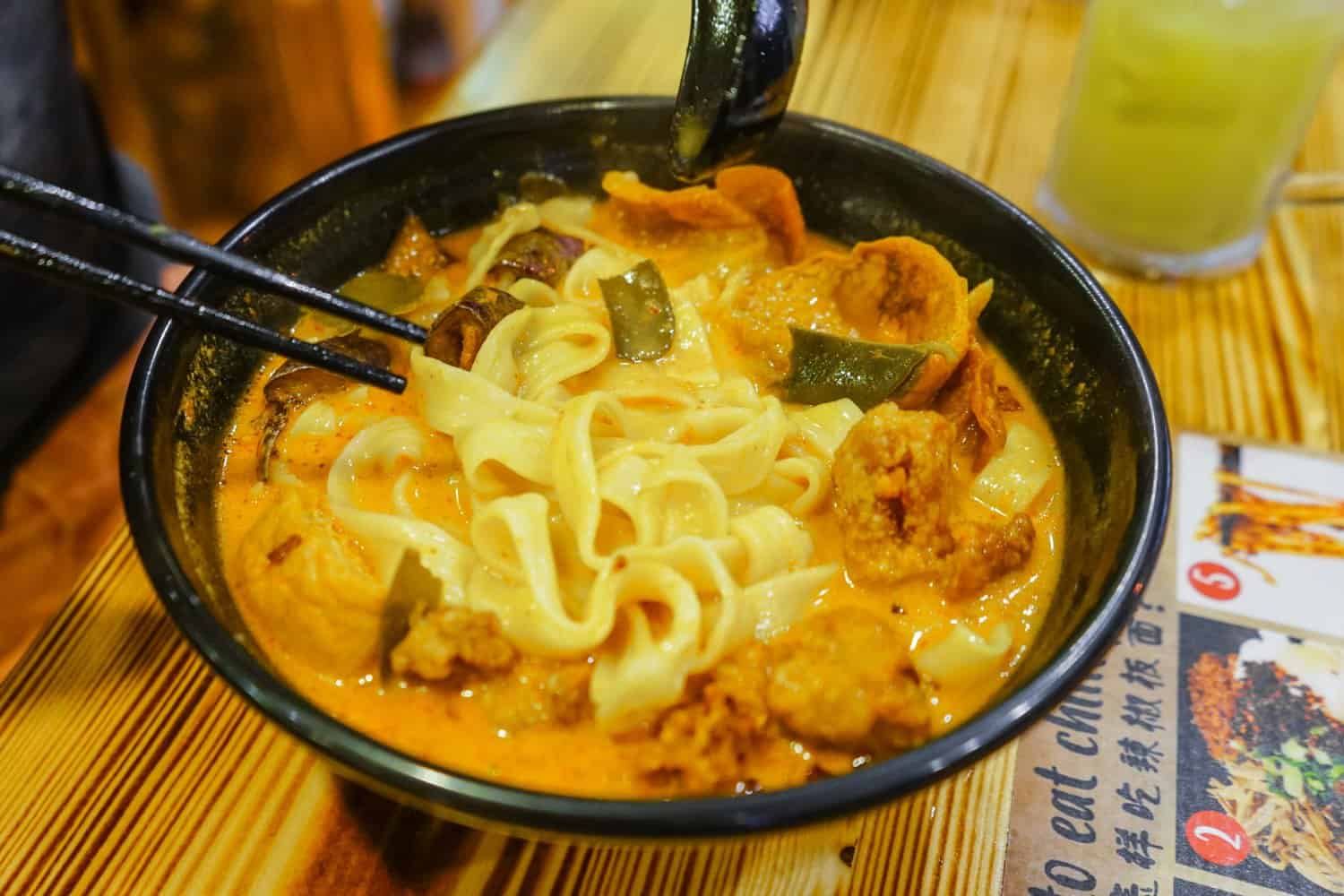 The Cost of Food in Malaysia
Wow. What can I say about Malaysian food that will do it justice? I can easily say that out of all the places I've been, Malaysia has to be in my top 3 for food. The fusion of Indian, Chinese and local Malay flavors make up a variety of dishes and specialties that will stir a party in your belly.
When it comes to Malaysian food, here's some of my favorite dishes that you can't miss out on:
Char kuay teow (stir-fry noodles)
Nasi lemak (rice cooked in coconut milk with a spicy chili sauce)
Banana leaf (a banana leaf plate with rice and a variety of curries)
Laksa (spicy noodle soup)
Cendol (a dessert made with shaved ice, coconut milk, jelly and palm sugar)
Because of the delicious tastes and affordable costs, I mostly always ate out during my travels in Malaysia. Penang and Kuala Lumpur are specifically foodie hot spots, with ample street food markets and stalls. Compared to some other countries, eating out was easy, delicious and cheap. And it's definitely doable on a mid-range budget because the cost of accommodations and transportation are also quite cheap. You'll likely even have room in your budget to go for an extra drink or dessert.
You can expect to pay around $1.50 – $6 (RM 6 – RM26) for street food dishes like the ones I mentioned above. I would recommend getting a couple dishes, paired with a drink and that would really only offset you about $5. Because simple breakfast is included at most hostels, if I were just eating local dishes and street food, then I would usually end up paying around $15 (RM 64) per day.
The other thing worth noting about Malaysia, is that there's an incredible coffee culture scene. I typically worked from a different coffee shop everyday, and found the coffee and food to be of high quality and reasonably priced. So if you're like me and have a huge affinity towards cute cafes and being caffeinated, then add on another $5 – $10 per day (RM 20 – RM 41). If you go to Penang, you have to have a cup of coffee and a piece of cake at ChinaHouse.
The Cost of Activities and Entrance Fees in Malaysia
What I particularly enjoyed about Malaysia the most, is that you could have the time of your life there, even without doing much. My favorite memories mostly involve me exploring the murad of street art, architecture, natural sights, and of course—eating all the food.
George Town and Kuala Lumpur are shining stars in all these ways. I felt so much joy and pleasure spending my days on a treasure hunt for all the famous street murals in George Town. And in Kuala Lumpur, you have exquisite temples and bustling neighbourhoods like Chinatown and Little India to satisfy any wandering soul.
A standout attraction is definitely seeing the Batu Caves, which you might be familiar with if you follow a lot of traveler influencers. The colorful, rainbow painted steps surrounded by gorgeous limestone are just the tip of the iceberg. This is one of the most popular Hindu shrines outside of India, and once you climb to the top and meander through the series of cave temples, you will definitely understand why. Just make sure you don't have any exposed food, or else those pesky monkeys will be all over you.
Beyond the Batu Caves, I still had a blast with all of the other activities I engaged in. A friend recommended that I do a cycling tour in Penang through Lokalocal, and I was not disappointed. This was a great way to see another side of the island up close and through the eyes of someone who has lived there his whole life.
Here's a breakdown of some my favourite attractions in Malaysia and their respective costs:
Petronas Towers: $20 (RM 80)
KL Forest Eco Park: $10 (RM 40)
Parasailing (Langkawi): $29 (RM 120)
Kek Lok Si Temple (Penang): FREE
Boh Tea Plantations (Cameron Highlands): FREE
Penang Countryside Cycling Tour: $29 (RM 120)
If you're like me, and love to make the most of time, then tours are a great way to experience a country. I recommend hopping over to Viator for a range of activities and tours, like the Langkawi Mangrove and Cave Exploring Tour ($37.18) a once-in-a-lifetime firefly experience in Kuala Selangor ($73.75).
The Cost of Miscellaneous Expenses in Malaysia
A local SIM card: I don't know about you, but one of my least favourite aspects of arriving in a new country is having to figure out how to get connected. Specifically: buying a local SIM card so that I have data to use while I'm in the country.
There's locating a store that will sell you one, language barriers to deal with, various forms of ID you might need to bring, scams to navigate, and… well, it's a headache.
This year, I started using Airalo, which sells local e-SIM cards for travellers. What that means is that you can buy your SIM card online before you arrive in Malaysia, and then as soon as you land in the country, you can switch on your data and start using it. It's worked flawlessly for me and now I'll never go back to physical SIM cards. You'll pay $4.50 for 1 GB of data or $25 for 10 GB for Malaysia and can also top-up through the Airalo app.
(Ensure you have an e-SIM compatible phone before buying — all recent iPhones and many Androids are).
Travel insurance: If you've read any other posts on Never Ending Footsteps, you'll know that I'm a great believer in travelling with travel insurance. I've seen far too many Go Fund Me campaigns from destitute backpackers that are unexpectedly stranded in a foreign country after a scooter accident/being attacked/breaking a leg with no way of getting home or paying for their healthcare. These costs can quickly land you with a six-figure bill to pay at the end of it.
In short, if you can't afford travel insurance, you can't afford to travel.
Travel insurance will cover you if your flight is cancelled and you need to book a new one, if your luggage gets lost and you need to replace your belongings, if you suddenly get struck down by appendicitis and have to be hospitalised, or discover a family member has died and you need to get home immediately. If you fall seriously ill, your insurance will cover the costs to fly you home to receive medical treatment.
I use SafetyWing as my travel insurance provider, and recommend them for trips to Malaysia. Firstly, they're one of the few companies out there who will actually cover you if you contract COVID-19. On top of that, they provide worldwide coverage, don't require you to have a return ticket, and even allow you to buy coverage after you've left home. If you're on a long-term trip, you can pay monthly instead of up-front, and can cancel at any time. Finally, they're more affordable than the competition, and have a clear, easy-to-understand pricing structure, which is always appreciated.
With SafetyWing, you'll pay $1.50 a day for travel insurance.
How Much Does it Cost to Travel in Malaysia?
It's time to tally up all of my expenses to see my total travel costs!
Accommodation: $10 per day
Transportation: $15 per day
Food: $20 per day
Activities/Entrance Fees: $10 per day
Average amount spent in Malaysia: $55 a day!
Related Articles on Malaysia

🇲🇾 Where to Eat in Kota Kinabalu
🪲 Catching Fireflies on the Kawa Kawa River
🚍 How to Get from Brunei to Kota Kinabalu