I recently spent ten days on a scooter road trip around the Mekong Delta with Dave and Stuart, similar to the one we did in Northern Thailand last year.
Our time in the Delta was filled with rice paddies, river ferries, bad roads and, well, people carrying strange things on the back of their bikes.
It began just outside of Saigon. As I was happily snapping photos of the changing scenery from the back of Dave's bike, we found ourselves riding behind a guy carrying a door on the back of a scooter. Yes, an actual door. I'd heard of and seen photos online of the ridiculously enormous things that are carried around on bikes in Southeast Asia but up until Vietnam I hadn't actually witnessed it for myself.
Over the next ten days, I set myself the challenge of trying to get a photo of every overloaded bike we passed and had a lot of fun sorting through them for this post. These are some of my favourites:
The photo that started it all: carrying a door on the back of a scooter.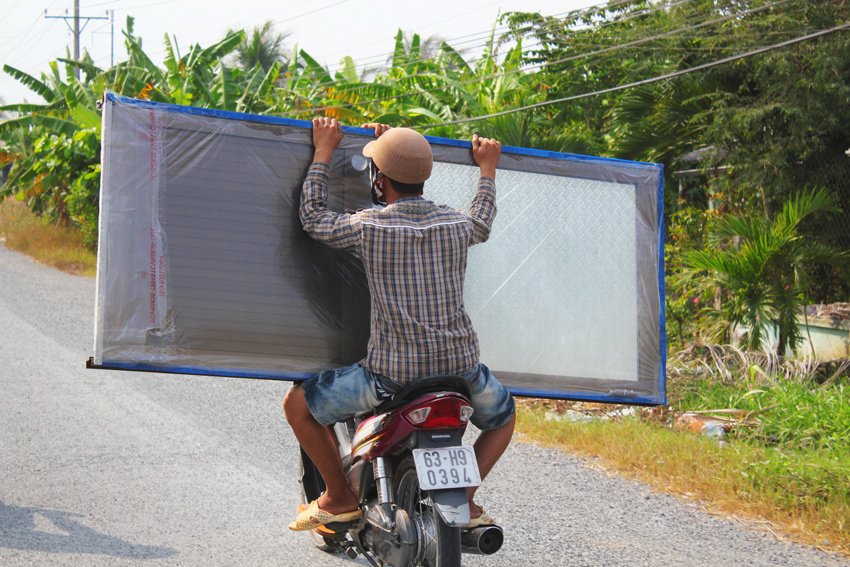 Ten minutes later, we passed something equally as large and even more surprising, I assume this is some kind of ladder and I especially love the fact that the driver is also driving while holding something and has his leg up in the air!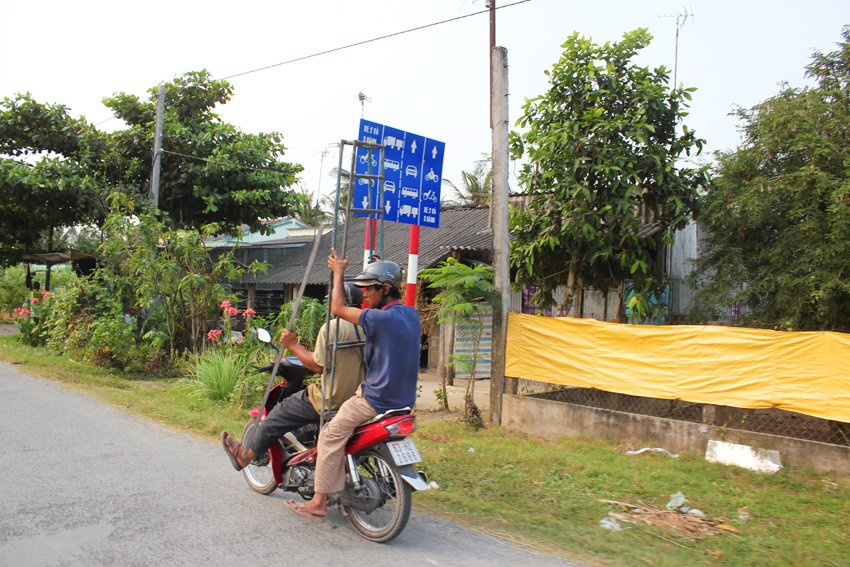 And then we passed this guy, with a scooter piled high with vegetables. I have no idea how he managed to keep everything balanced while riding!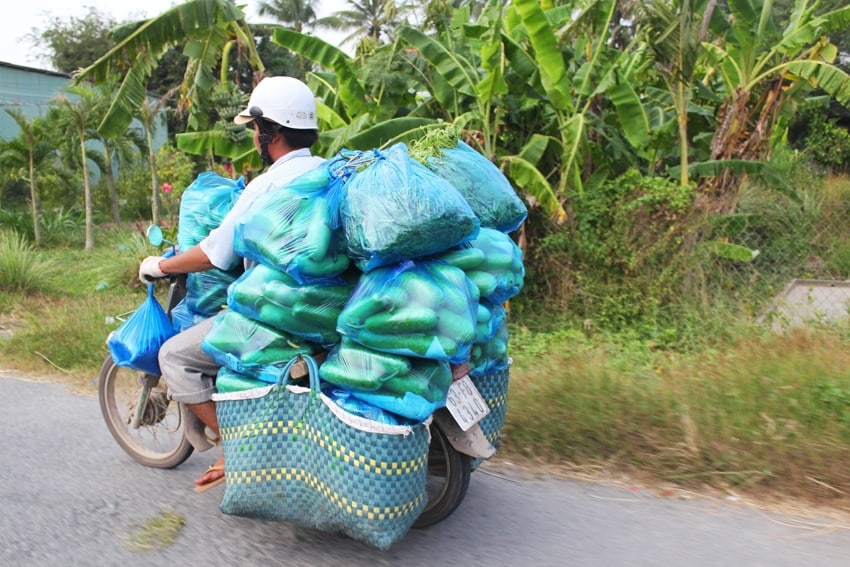 This was one of my favourites! I can't imagine this was particularly comfortable to hold on the pot-holed roads…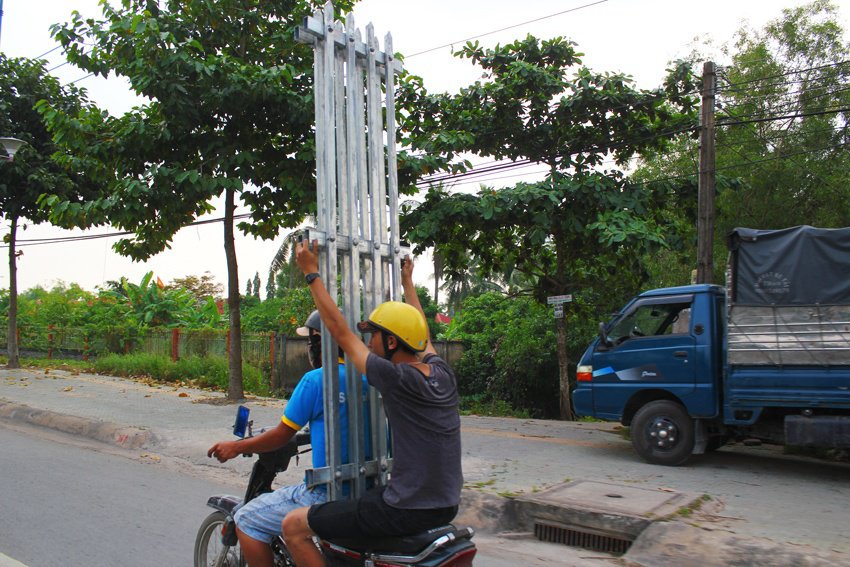 Leaving Mỹ Tho the following morning, I was delighted to see that the crazy carrying madness continuing on from the previous day. I loved seeing this guy carrying huge balls of hay on either side of a stick.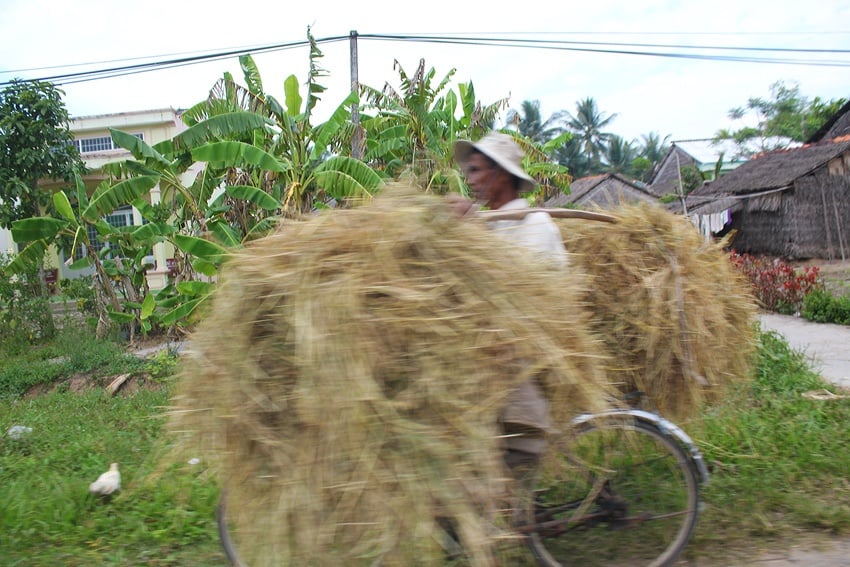 And then a whole assortment of items precariously balanced on this bike!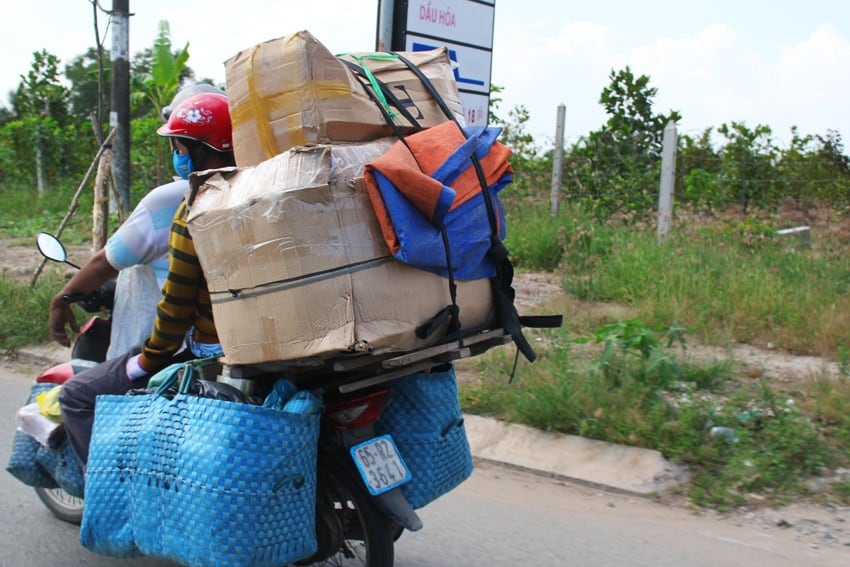 We arrived in Bến Tre and were greeted by another one of my favourites: Santa Claus outfits for children being sold on the back of a bicycle!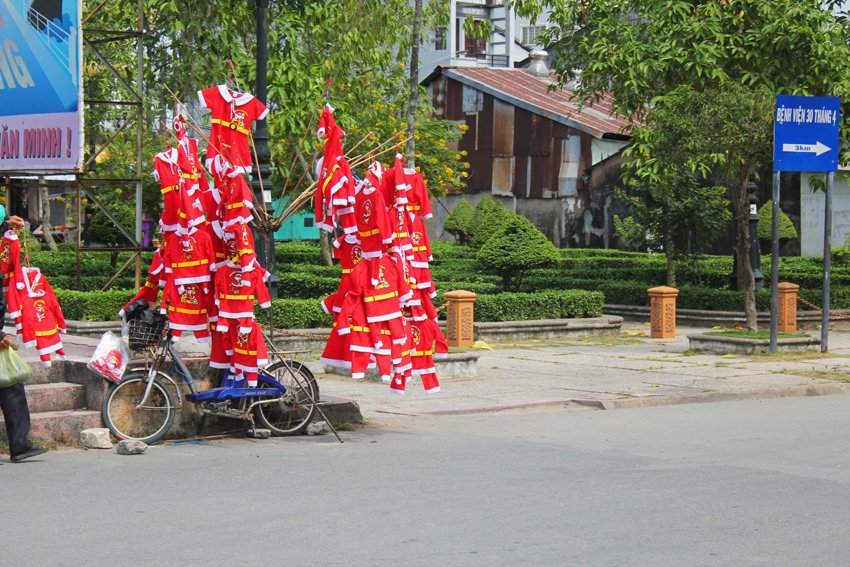 On the drive to Trà Vinh, I couldn't stop laughing at the ridiculous amount of bananas being carried on the back of this bike.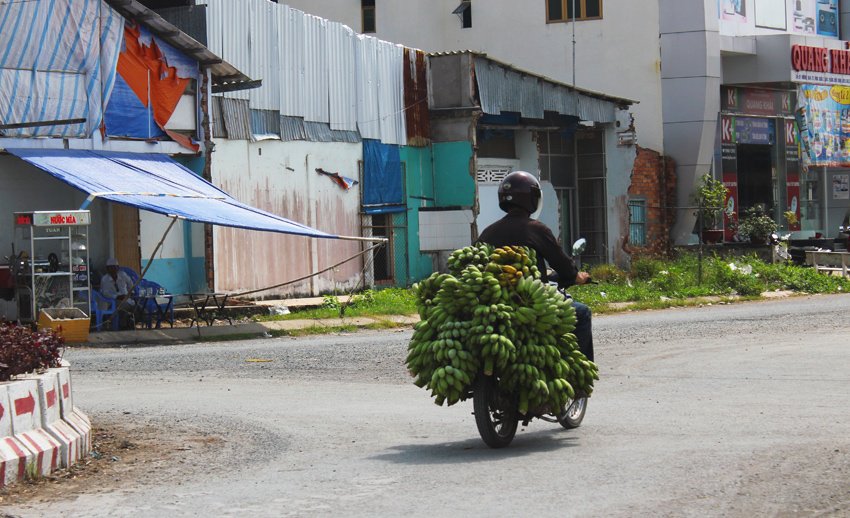 And the crazy number of vegetables crammed onto this lady's scooter.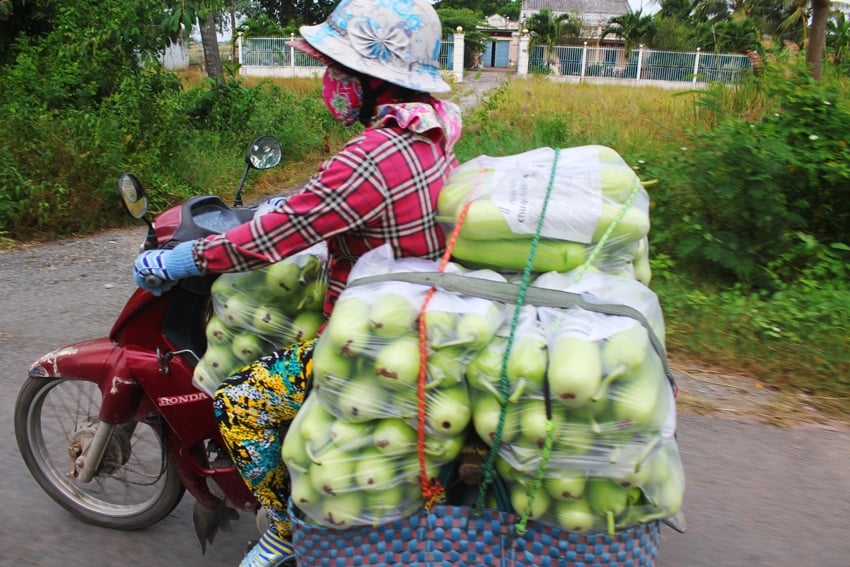 I have no idea what's in this sack, spotted on our drive to Sóc Trăng, but I can't help but feel it's a little off-balance…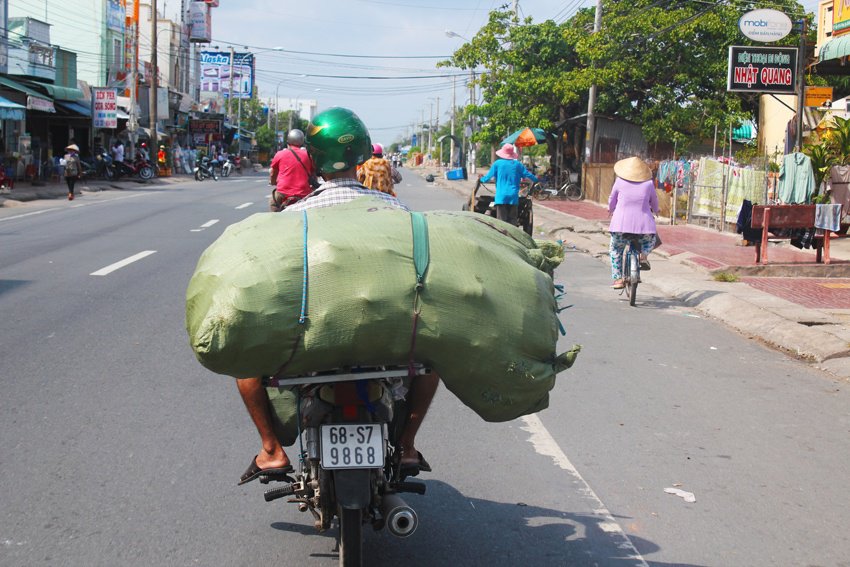 Of course, the items carried on scooters aren't just limited to objects. On the ride to Bạc Liêu we spotted a sleeping baby being carried on the back!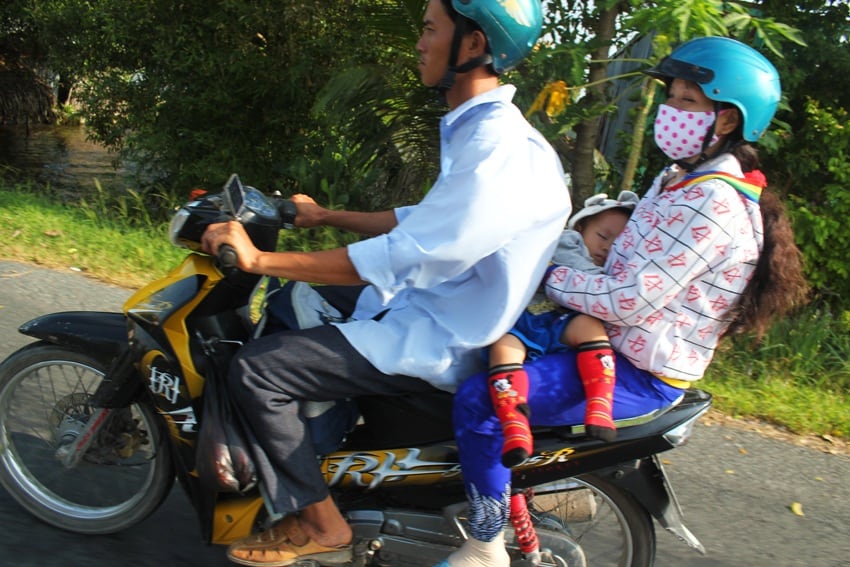 We left Cà Mau for Rạch Giá and soon came across this guy. I love the vibrant pink feather dusters and really long broomsticks along the side!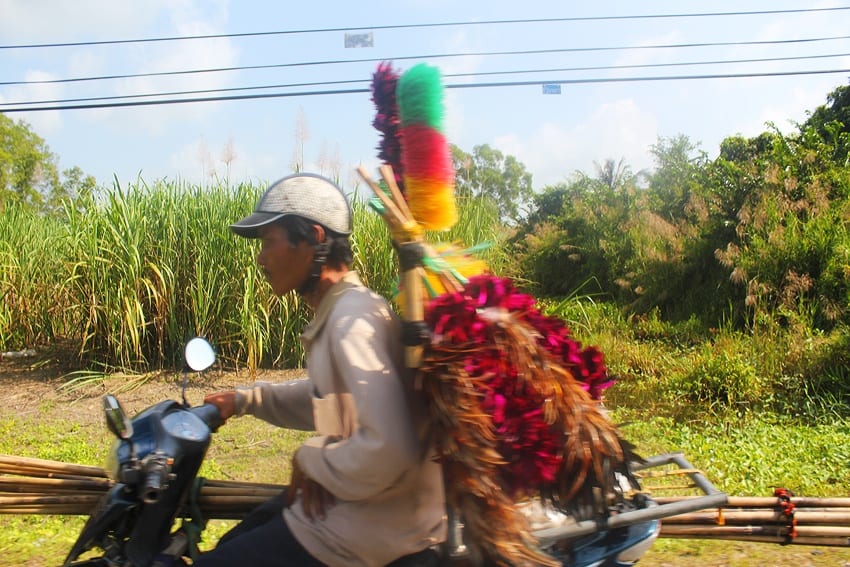 As we neared Rạch Giá, I managed to snap a quick photo of this guy who was carrying a selection of precariously-balanced skateboards for kids.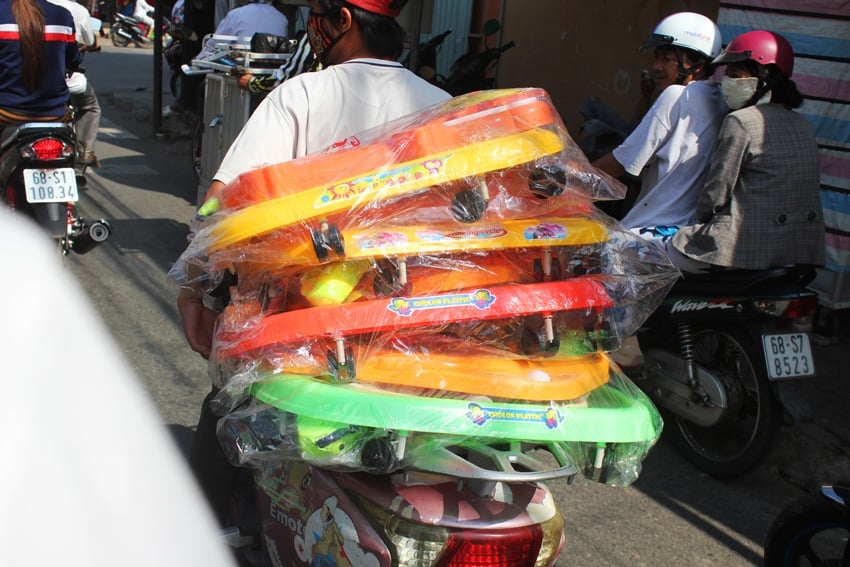 After being told it would take around four hours to get from Cần Thơ to Saigon, we weren't expecting our final day to take almost 12 hours! There were still plenty of things to keep me amused though, including this smelly scooter stacked high with durian!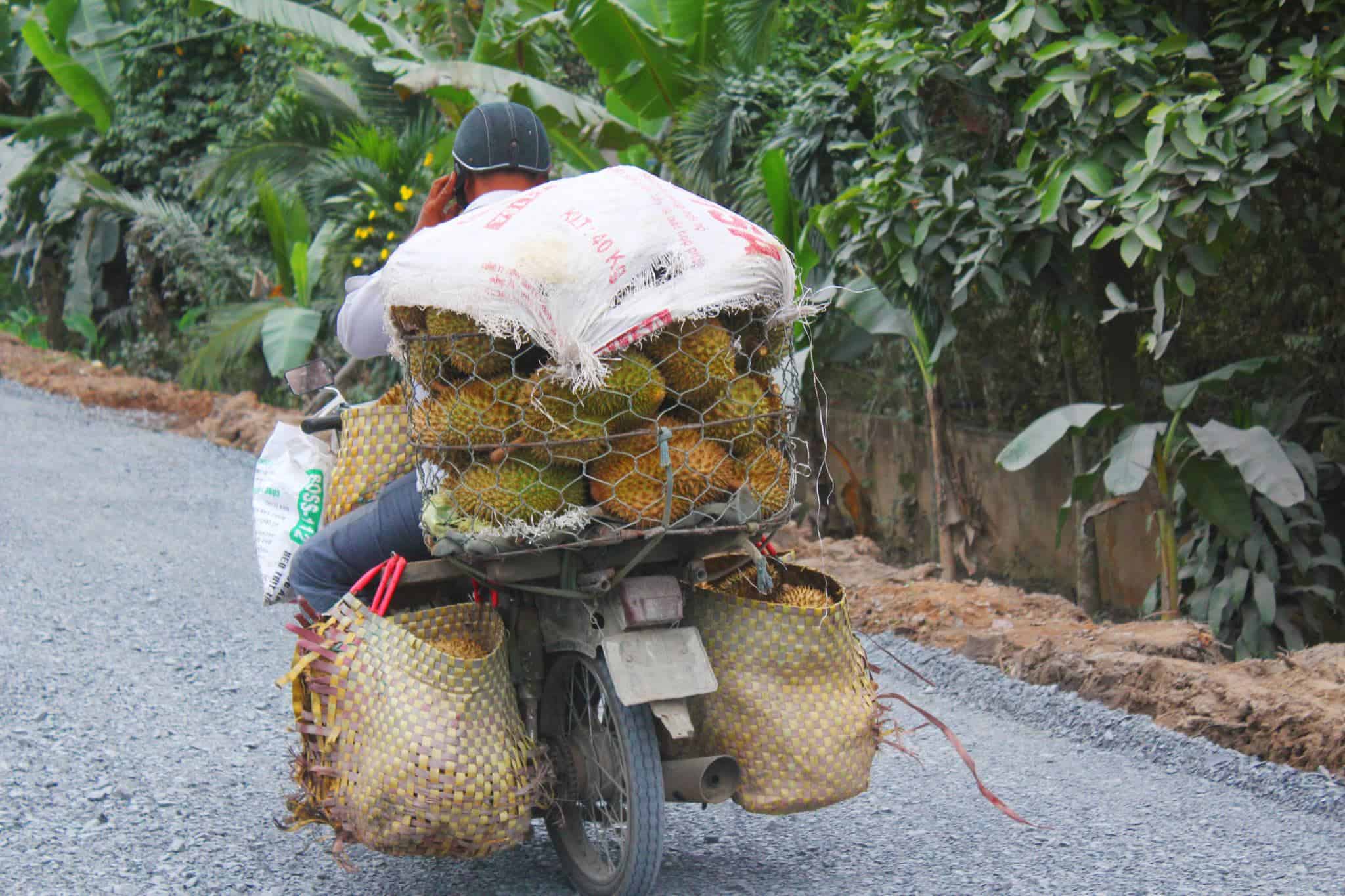 Also seen on the drive was this scooter, carrying hundreds of broomsticks.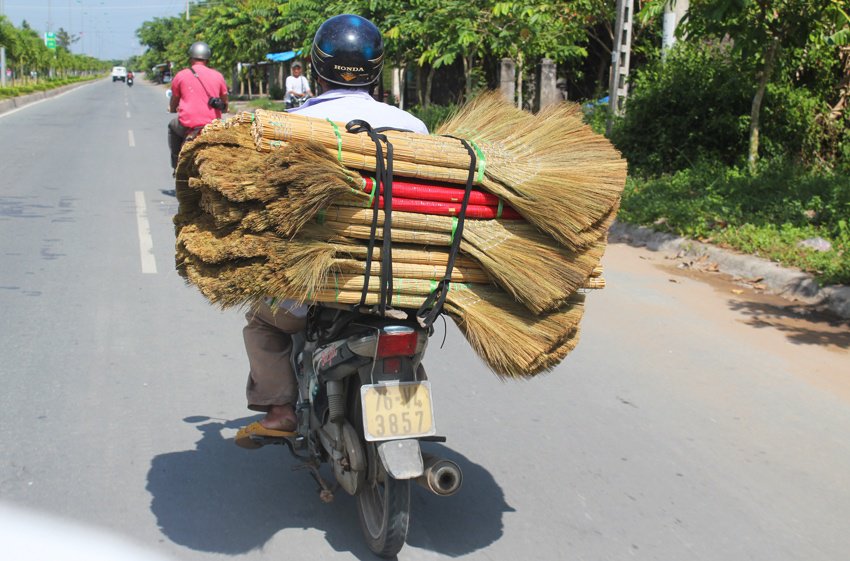 We arrived safely back in Saigon after 10 days of Mekong Madness. I was glad to see there was still plenty of crazy items carried on scooters in Saigon, though here it was common to see people riding bikes stacked high with electronics.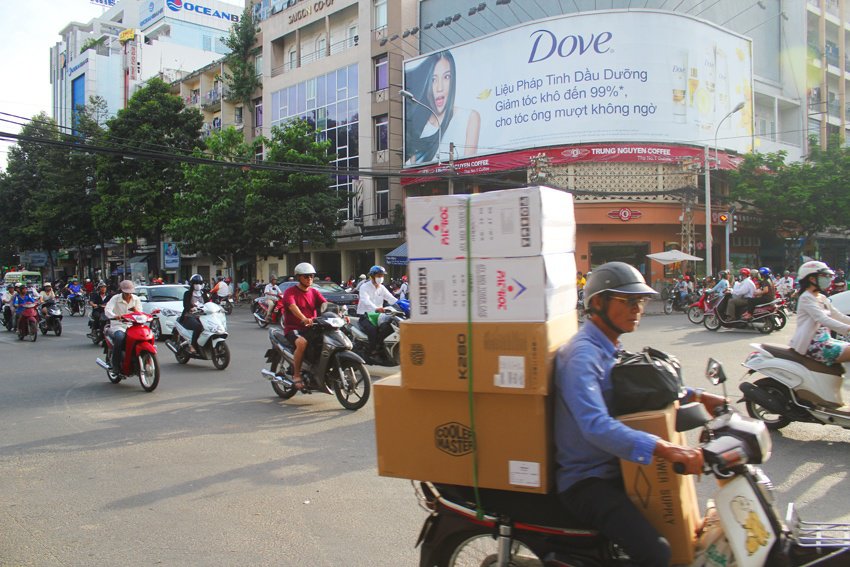 And finally, showing that the bizarre items carried are not limited to just bikes, I present this: a water buffalo being transported along a river, spotted on our ride from Rạch Giá to Cần Thơ.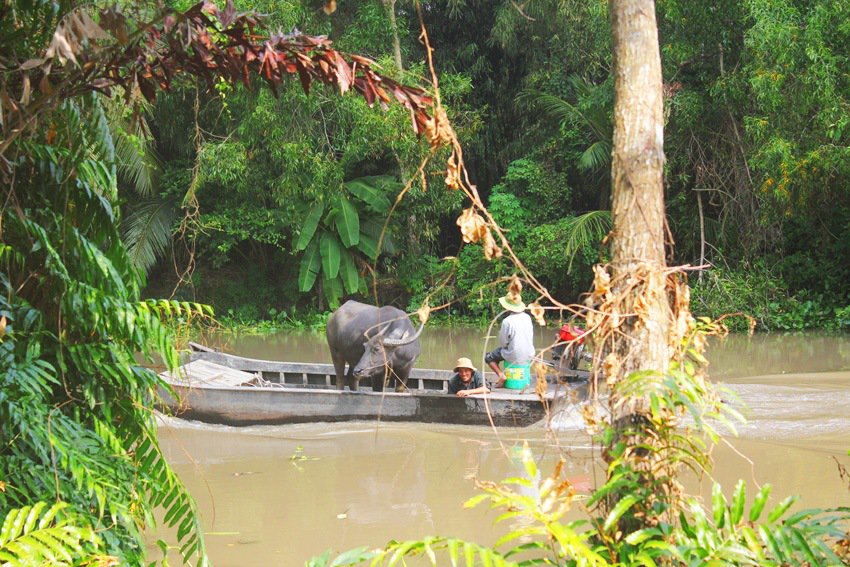 As we were very slowly bumping our way down yet another terrible road, it was often the crazy things on scooters that kept me amused and helped me to forget the pain shooting up and down my spine. I'm excited to announce that I'll be returning to Saigon in a couple of months and though I won't be embarking on any road trips, I can't wait to spend my days attempting not to get run over by ridiculous items gliding past on two wheels.
Which photo is your favourite?
Related Articles on Vietnam

🇻🇳 How Much Does it Cost to Travel in Vietnam?