Vietnam is one of the greatest countries in the world.
I should know: I've spent a almost full year travelling across this country, making my way from the very top to its southernmost point and exploring a hell of a lot along the way.
I've spent months living in Hanoi and Saigon, and celebrated birthdays in Hoi An and Mui Ne. I've rented apartments with local families in lesser-known neighbourhoods, diligently worked my way through every street food cart in the area, then partied my way through all of the best backpacker haunts. I've travelled solo in the country, with my boyfriend and with friends, and even spent a month showing my boyfriend's parents around the country. I spent two weeks riding a scooter through the smallest of towns in the Mekong Delta, visiting places that few tourists have ever passed through.
I've seen so much of this country and yet there's something that still continually pulls me back.
(Confession: it's the food. Vietnamese food is the best.)
But beyond the incredible meals, there's also the beautiful scenery, the friendly people, the amazing architecture, and the most bustling cities. From the awe-inspiring views up in Sapa and the beaches of Da Nang, to the beauty of Hoi An, the scenery at Halong Bay, and the chaos of Saigon, Vietnam offers something for everyone.
Today, I want to focus on what you'll pay for all of this magic. Of course, being in Southeast Asia, Vietnam is an affordable country to visit, in comparison to countries in North America and Europe, so your Dong will take you far. Yep, that's the name of the currency here: the Vietnamese Dong, and you'll find yourself with plenty of opportunity to make jokes about it.
I usually travel on a mid-range budget in Vietnam, along with occasional splurges, and often average around $50 — I've managed to get by on $10 a day when I was a tight backpacker, and splurged on a five-star hotel and been blown away by how much $100 a night can get you.
At the time of writing this, in 2023, $1 equates to around 24,000 VND. You'll usually get 500,000 VND notes out of the ATMs, so remember that those are worth just over $20 each. Be careful with the 20,000 and 500,000 notes, though — they look very similar and could make for quite the expensive mistake!
A quick housekeeping point before we continue: everything in the post I paid for myself – as always, this is a comp- and press trip-free article.
With all that being said, it's time to take an in-depth look into just how much it costs to travel in Vietnam. Let's get started.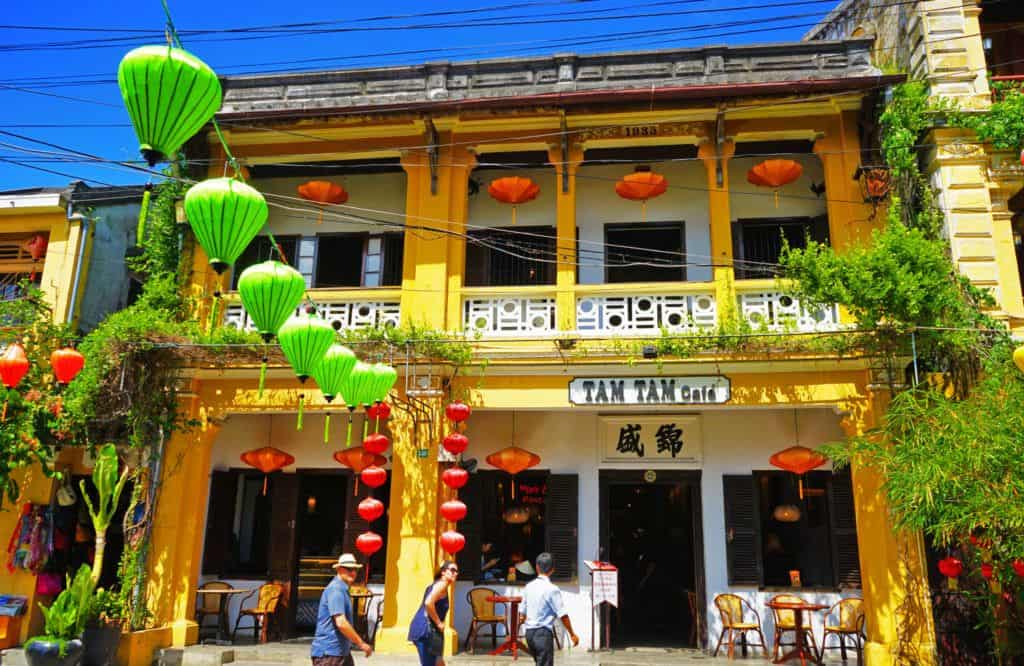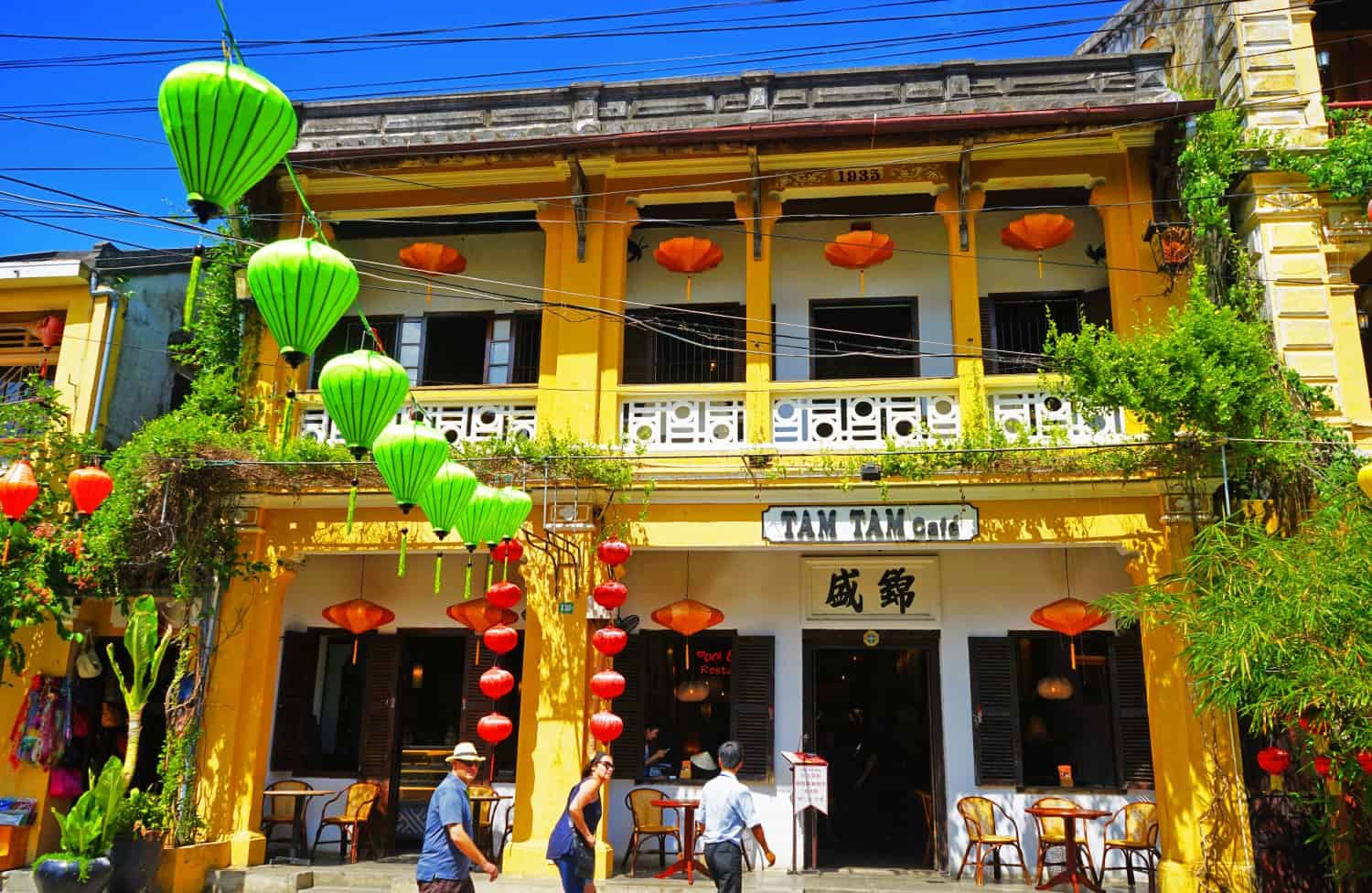 Where to Go in Vietnam
I recommend allocating a full month to travel in Vietnam. Here's how I recommend spending your time over those four weeks:
Hanoi: 5 nights
Sapa: 2 nights
Halong Bay/Bai Tu Long Bay: 1 night
Ninh Binh: 3 nights
Phong Nga: 2 nights
Da Nang: 2 nights
Hoi An: 5 nights
Dalat: 3 nights
Saigon: 3 nights
Can Tho: 1 night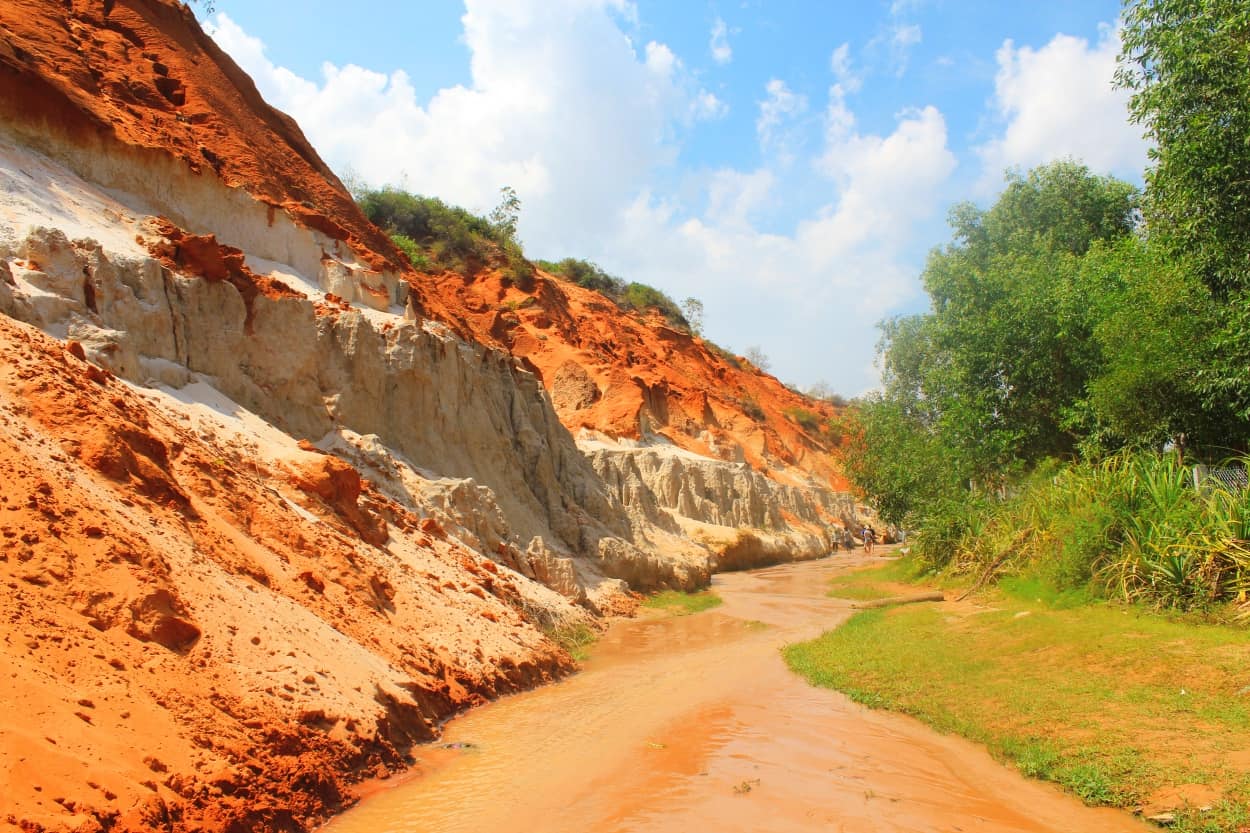 What's Included in This Post
The budget breakdown you're about to read covers accommodation, transportation, activities, food, and miscellaneous costs. All prices are in U.S. dollars, as that's where most of my readers are located.
Flight costs will vary, depending on where you're travelling in from. I recommending using Skyscanner's flight comparison search engine to find the very best deals.
I often book activities and transport online, but generally have found that local travel agents offer cheaper prices. You'll find one on practically every street in tourist-popular destinations, so there's always many places vying for your custom; amounts can usually be haggled.
But if that's not your thing, or you prefer the peace of mind of having things booked in advance, online booking works well, too. More on that below.
Vietnam offers up amazing value for money. Yes, I often splashed out on fun excursions that are a bit pricier, but even then, costs didn't spiral. It's all about balance. 
My ethos is: if I'm not going to experience at least some of the sights and activities a place is known for, what's the point? But equally, I've also found some lesser-known – and free – things to do along the way that I'll be mentioning as well.
Time to jump in.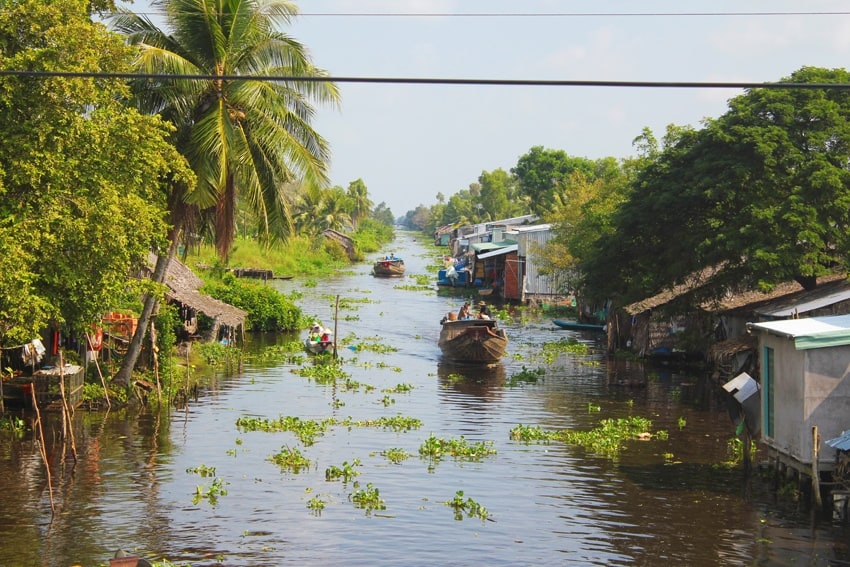 How to Save Money on the Cost of Accommodation in Vietnam
As always with travel, it's possible to cut your accommodation costs down to zero if you have the time and patience to seek out an offer.
Housesitting is a great option for free accommodation. This is where you'll take care of somebody's house while they're away, and usually look after their pets, too. It's best for long-term travellers or retirees as you can't pick and choose dates and destinations, so you need to have a lot of flexibility as to where you go and at what time of year. If you do have that freedom, it's a wonderful way to cut down your travel expenses, soak up some home comforts, and live like a local for a while. I have friends who have housesat in castles before! For free! Trusted Housesitters is the best site for getting started with housesitting, as they have the highest number of listings.
I'm suspecting, though, that for most of you, you're not interested in the free accommodation and just want somewhere clean, safe, and affordable to rest your head each night. If that's the case, there are several options available for you.
The first of these are hostels. In Vietnam, you'll come across hostels all over the country, finding them on tiny islands, in large cities, and even in the national parks. They're one of your best options for saving money.
Hostels in Vietnam are on a par with the rest of Southeast Asia, and you can expect to spend around $5 a night for a dorm bed for a well-reviewed hostel in Vietnam, with the price increasing to slightly about $15 a night for the absolute best of the best.
When it comes to private rooms in hostels, you can expect to spend around $20 a night for a clean, basic room in a good location, so if you're travelling with friends or with your partner, you may find it cheaper to grab some privacy over settling for two beds in a dorm room. $40 a night will get you an exceptionally well-reviewed private room in a hostel or hotel.
I use HostelWorld to find the cheapest hostels, as they tend to have the greatest number of listings at the lowest prices.
And, of course, there are always hotels, which will usually come in at around $20-$60 a night for a decent, clean, mid-range property in a central location. I always use Booking, as they have the most accommodation options for the cheapest prices. I share my personal recommendations below: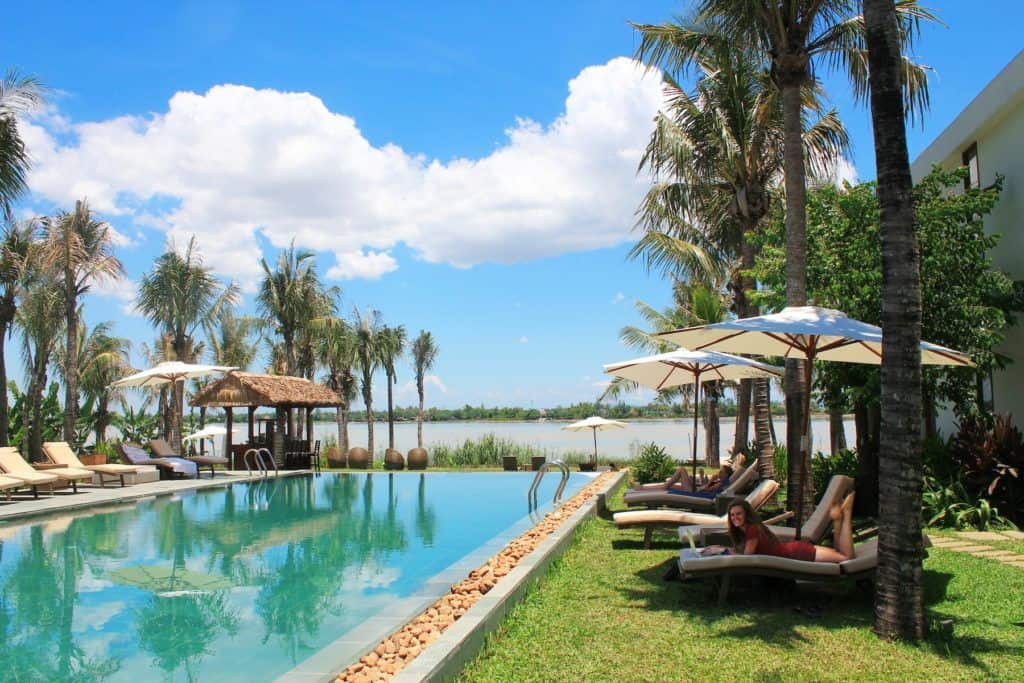 The Cost of Accommodation in Vietnam
Places to stay in Vietnam are excellent value.
There were a couple of exceptions where we treated ourselves and upped the budget a bit, but that's not to say we didn't see quality options within both price brackets.
For the most part, we stayed in hotels and guesthouses and picked places where breakfast was included. That way, our first meal of the day was covered by what was without exception a first-rate buffet, often with eggs made-to-order any which way we preferred. Going forward, whenever I mention breakfast, you can assume it was part of the rate.
Mid-range properties were super-reasonably priced. And even 5* accommodation doesn't cost an arm and a leg – much less than a hotel room in Western Europe, Australasia or the USA, for example.
Hotel staff couldn't do enough for us, from the concierge and the tour desk to the staff at breakfast. Honestly, the Vietnamese people were a delight: really friendly and helpful. Often they were keen to practice their English on us and claimed to not be very good, when in actual fact they were fluent. It put us to shame.
Read on for recommendations on places to stay in Vietnam.
Hanoi: Our stay at this contemporary hotel in the Old Quarter cost us $49 a night, and we can't speak highly enough of this gem.
Just a five-minute walk from Hoan Kiem Lake and tons of restaurants and bars, our superior double was spacious and modern, with wooden floors, splashes of colour throughout, and a feature wall. The breakfast buffet was varied and staff were incredibly helpful, going above and beyond to help us with forthcoming bookings.
For us, the historic centre was definitely the best area to stay in. It was bustling, atmospheric, and within ambling distance of most attractions. Talking of walking: make sure you watch out for the pesky mopeds in Hanoi, and Saigon too. In fact, there were even more zipping about down south.
Sapa: We opted for a homestay in Sapa, because we really wanted to throw ourselves into things. If you go down that route, Mao and her family are the people to choose.
After an overnight train ride northwards from Hanoi, we were met by Mao's sister-in-law. We paid $68 per person for a one-night stay in Mao's home. But that price also covered a two-day excursion. More on the details in the activity section.
It was Mao's mountainous family home that we stayed in. It was basic, but comfortable: mattress-style beds on the floor enclosed by mosquito nets and shared bathroom facilities. The hospitality was warm, and the family were generous with their time.
We loved our night there and would wholeheartedly recommend it.
Bai Tu Long Bay: Boat time! Bai Tu Long Bay is just eastwards of the more famous Halong Bay, but doesn't attract the crowds of the former. It's just as beautiful, so if you want to see those limestone karsts without hundreds of boats surrounding you, this is the way to go.
We chose a two days/one night trip here. Our boat – Viola – was striking yet comfortable – a traditional wooden vessel with 16 cabins featuring dark wood and large windows. We were lucky: the boat wasn't full, so we managed to bag an upgrade to the Honeymoon suite with a balcony to admire the spectacular scenery from.
Our cost came in at $149 per person for the two night trip, but that did include transfers, separate excursions off the boat, and food.
Ninh Binh: Just a couple of hours south of Hanoi we reached Ninh Binh, and this rather lovely homestay. Run by a family of four, the hospitality was first-rate, and our room was large, with pretty views out to the mountains. There was a roof terrace for drinks and excellent local food, and complimentary bicycles.
The property is outside the centre of town on a quiet residential stretch. We were there to get out and about on bikes, so the quiet location worked well for us. We paid $19 a night and were impressed. The family even invited us to join them one night for a home-cooked meal – an unexpected and kind gesture that we took them up on. That was our first taste of jackfruit.
Phong Nha: We pushed the boat out in Central Vietnam – for us anyway – and spent $45 a night. Located off the beaten path a little (about 15 minutes from the centre of town), this peaceful hideaway was set among lush greenery and rice paddies, and came complete with a swimming pool, wonderful views, complimentary bikes, tasty food, and quaffable fishbowl gin and tonics.
Situated just outside the National Park and the caves the area is famous for, we enjoyed sitting al fresco watching the sunset, sipping on a drink with a plate of crispy spring rolls to munch on.
The vibe was French colonial, with plenty of dark wood, wicker furniture and colourful tiles. And the ethos was ethical, sustainable and local, which got a thumbs up from us.
Danang: We continued with a slightly increased budget here, and spent $62 a night at this stylish beachfront property in a bright and airy superior double. .
Just a couple of minutes' walk from the white sands of My Khe beach and about 25 from the famous Dragon Bridge, this spot offered us the best of both worlds.
We made the most of the glorious rooftop pool and terrace and the plentiful breakfast buffet. And friendly staff were on hand to answer our questions – such as where to get the local bus to Hoi An from.
Hoi An: Just 45 minutes southwards on that bus we were advised about, we reached our next stop. We split our time here: three nights a short cycle from lovely Cua Dai beach at this contemporary hotel with a pool overlooking the Co Co river (we paid $40 per night).
Our room was spacious, clean, and it was fab to have a balcony. Plus, we were just a 20-minute ride to the sea. And at the latter smaller property, we loved the eye-catching colourful tiles throughout and enjoyed a splash in the dinky pool.
Saigon: We stayed in this first-rate hotel in Saigon, with pale wood and bamboo decor, knowledgeable staff, a quality buffet breakfast, and a rooftop pool with city vistas. We paid $90 per night and were very happy.
Can Tho (Mekong Delta): We were here for just one night, and up very early for a Mekong Delta boat ride the following day. So we opted for a lower end of the price bracket option. And we couldn't find fault with this virtually riverside boutique hostel, where we paid just $20 per night.
You can expect funky monochrome decor and air-con. Breakfast wasn't included here, but we knew we'd be eating on our floating market trip.
OUR TOTAL COST OF ACCOMMODATION IN VIETNAM CAME TO $1178. THAT'S AN AVERAGE OF $42 PER DAY, OR $21 EACH.
Reminder: in Sapa and Bai Tu Long Bay, the cost I've used in the calculation included a whole excursion – so food, walks etc.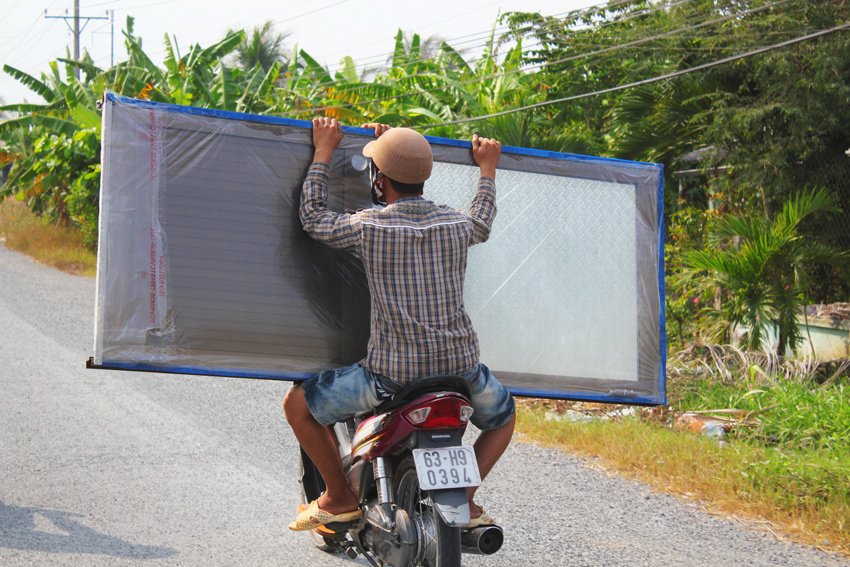 THE COST OF TRANSPORTATION IN VIETNAM
We chose to travel by bus throughout Vietnam for the most part. We generally found these to be clean, efficient and comfortable. Some had reclining seats that were bedlike, for longer journeys.
To reiterate: shop around for prices; we found there were deals to be had. If, however, you break into a sweat when you think about masterfully haggling with the experts, 12Go Asia is my go-to site for booking overland travel in Southeast Asia. They've got buses, trains, and private transport listed, and it's usually only a dollar or two more than you'll pay in person, so it's definitely worth checking out.
Keep in mind that sometimes the buses take less time than advised and you may have to swap buses, which you're not always pre-informed about. For example, from Phong Nha to Danang we switched buses in Hue. And from Hoi An to Dalat, we changed vehicles in Nha Trang (but did get to see a lovely sunrise at the beach there). Really, for the prices we paid, we couldn't complain.
Here's a breakdown of our journeys:
Train from Hanoi to Sapa: $32 per person. Note: we shared our cabin with two other (snoring) people, so would recommend opting for a private cabin if funds allow (around $61 per person).
Bus from Sapa to Hanoi: $12 per person. We used Sapa Express: comfy seats, lovely views, and a very friendly member of staff was on board. Water and a snack were provided, too. The company was also very accommodating when we nearly missed the bus.
Bus from Hanoi to Ninh Binh: $7 per person
Bus from Ninh Binh to Phong Nha: $12 per person
Bus from Phong Nha to Danang: $12 per person
Local bus from Danang to Hoi An: $1 per person
Bus from Hoi An to Dalat: $16 per person
Bus from Dalat to Saigon: $17 per person
Bus from Saigon to Can Tho: $6 per person
Shuttle bus from Can Tho to Ha Tien: $6 per person. Tip: don't buy your ticket from the office, go directly to a shuttle and ask a driver for a price – they charged us less than what was quoted inside.
There are other modes of transport if buses aren't for you. Trains are an alternative (12Go is a top website for those, too), and Grab was available in Hanoi, Danang and Saigon.
Similar to Uber, you just need to download the app. Scooters are an option with Grab; cheaper than booking a car. Watch out for taxis you hail off the street – they have a reputation for trying to rip off tourists, so it's easier to use the app.
OUR TOTAL COST OF TRANSPORTATION IN VIETNAM CAME TO $242. THAT'S AN AVERAGE OF $8.60 PER DAY, OR $4.30 EACH.
THE COST OF ACTIVITIES AND ENTRANCE FEES IN VIETNAM
We saw and did a lot in Vietnam, ranging from rice paddy walks and scenic boat rides to food tours. There were also some well-known activities that we chose not to do, because of personal preference. For example, Phong Nha is famous for caves, but we opted for a bike ride into the countryside instead.
Here's a rundown for you, with costs.
Halong Bay two-day/one-night tour from Hanoi: $150 per person. If there's one thing you have to do when you're in Vietnam, it's to visit their most famous attraction. Halong Bay is incredible and well-worth taking the time and spending the money to see it. The rock formations are breathtaking! We opted for a tour that took us to both Halong Bay and Bai Tu Long Bay, as the latter is free of the tourist crowds. That way, we got the best of both worlds. You can check availability for the tour we booked using the widget below (it is popular, so book well in advance!)
Food tour in Hanoi with Ha Food Tours: $25 per person. An amazing evening; we were fit to burst by the end. Our local tour guide was fun, friendly and very informative. She also gave us recommendations for other restaurants to try (Pho 10 below). We wandered our way around the Old Quarter sampling delights such as Bun Cha, egg coffee (nicer than it sounds!), dried beef salad, crab spring rolls, beef noodles, Bahn Mi, sticky rice, and coconut ice-cream. Told you there was a lot of food! We wouldn't necessarily have known to go into some of the places, and it was lovely to be led by someone with first-hand knowledge of the city. We thought the price offered excellent value for money, when you coupled all of the food with the guided aspect.
Hoa Lo prison, Hanoi (pay at the entrance): 30,000 VND per person (approximately $1.50). This was an eye-opening and moving experience. The former jail was used by the French colonists in Vietnam for political prisoners, and later by North Vietnam for US Prisoners of War during the Vietnam War.
Sapa walking and homestay with Mao and family: $55 per person (two days, one night). The scenery was amazing in Sapa and the Muong Hoa Valley: rice fields, terraces, tea plants, and lush greenery. If you're into glorious views and walking (there was a fair amount, and it was medium difficulty at times), this is for you. We met Mao's sister-in-law in the centre of town, and from there, up we went into the mountains. It was peaceful, picturesque, and a world away from busy Hanoi. Included in the tour were two lunches, plus a plentiful home-cooked dinner and breakfast at Mao's. Do try the rice wine – 'happy water' Mao offers at dinnertime – it was potent, reminding us a bit of sake.
Bai Tu Long Bay boat tour with Premier Travel: $144 per person (two days, one night). Again, the scenery here was pretty spectacular, with limestone rock formations jutting out of the water across the bay. The trip included visiting a pearl farm and an impressive cave, all meals, a summer roll making class, a swim, and a kayak. Just to let you know, it was communal dining, which some people like, and others don't.
Trang An caves, Ninh Binh (pay at entrance): 200,000 VND per person (approximately $8.50). We were really pleased we chose to cycle out to the river and the Trang An caves. They were a much quieter alternative to Tam Coc (we rode via there another day and it was busy). At Trang An, we jumped aboard a small boat just before 4pm; it was quiet on the water. The scenery was wonderful and the caves we went through made the journey exciting and interesting. Watch your head in some of the caves – they were low. We made a few stops along the way and helped to row for some of the trip. It was a lovely way to spend a few hours. Lunch tip: Quoc Khanh Bamboo Homestay (great views, and very tasty pomelo, pork and shrimp salad).
Mua Caves, Ninh Binh (pay at entrance): 100,000 VND per person (approximately $4.50). We cycled from our homestay through paddy fields which was fab. The caves involved a 500-step climb – so it may not be for everyone. Tough, but totally worth it for the amazing and far-reaching vistas.
Scooter food tour in Hoi An: $30 per person. Another fab food tour, guided by two local girls. We rode out to An Bang beach for our first stop and then made our way back to the Old Town, stopping along the way. Food was plentiful, including clams and squid, Banh Xeo, a delicious herbal drink called Mot, Cao Lau, and Quang Noodles. A top evening, and although the cost of the food came to less than $30 a person, the informative guides and scooter should be factored in, too.
Countryside tour in Dalat: $40 per person. One word: loved! We stopped at a cricket farm, the Elephant Falls, a silk factory, a coffee plant, and wandered around a local market sampling bits and pieces. We also enjoyed a lunch pitstop with a fun fruit tasting, and then came the secret aspect. I won't reveal what that was – it was worth it though.
Crazy House, Dalat (pay at the entrance): 40,000 VND per person (approximately $1.75). This really was crazy. An unconventional building constructed by Vietnamese architect Đặng Việt Nga, designed to entice people back to nature. You can also stay there too, if that floats your boat.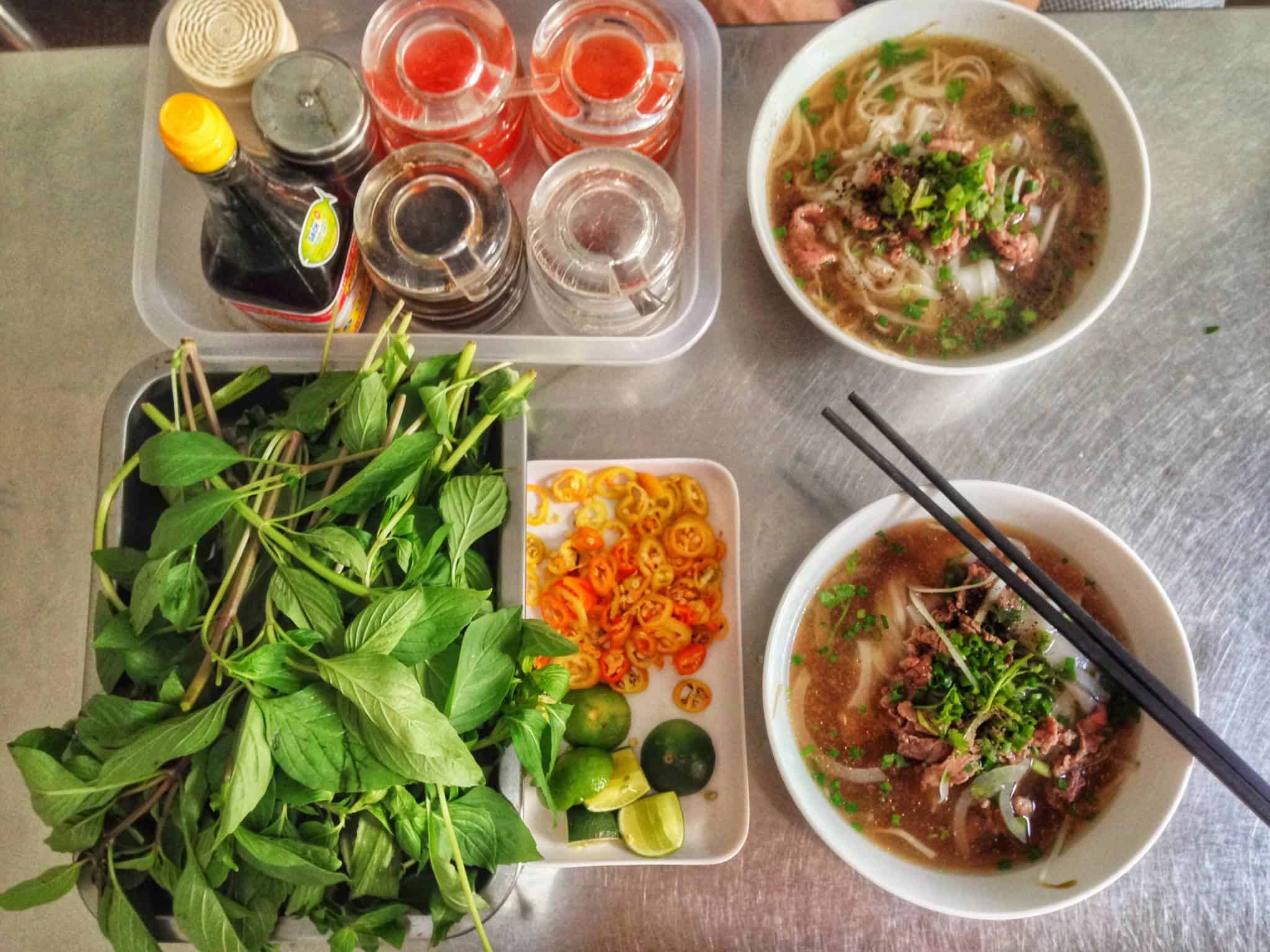 Saigon Pho Trail: $55 per person. A food and walking tour highlighting the 'real' Ho Chi Minh City. We wandered around authentic markets, enjoyed a first-rate breakfast beef pho, calamansi juice, and then a huge lunch. So much tasty food! And a super friendly pair of guides.
Saigon foot scrub: $15 per person. We'd done an awful lot of walking throughout our trip and our feet deserved some attention! There were so many places offering spa services, so we shopped around. Our treatment also included a quick neck and back massage, and a pedicure for me.
Mekong Delta boat ride: $18 per person. We loved this tour so much. It was an early start down to the water where we took a boat tour to the Cai Rang Floating Market. Next, we stopped at a noodle factory and then a cacao plant. A wonderful morning. Our advice? Don't book online, ask your hotel for a tour recommendation.
There were also tons of free activities we enjoyed. They can sometimes be just as enjoyable, we think. Read on for a handful of our faves.
Phong Nha Bong Lai Valley bike ride: This was one of my favourite days. So scenic, not too difficult, and two great places to stop for a beer and food – always a bonus! Their names? Pub with Cold Beer (it did what it said on the tin), and Eco Boar Farm.
Danang beach walk: Non Nuoc and My Khe – wide stretches with fine sand.
Hoi An beach walk: Cua Dai. Another lovely stretch; keep an eye out for colourful crabs scurrying along.
Where I've mentioned bikes, these were complimentary with our hotel stay.
OUR TOTAL COST OF ACTIVITIES IN VIETNAM CAME TO $418.50. THAT'S AN AVERAGE OF $15 PER DAY, OR $7.50 EACH.
Reminder: I've excluded the Sapa and Bai Tu Long Bay tours from my calculations because I included them in the accommodation costs above.
THE COST OF FOOD VIETNAM
I love, love, love food. Wherever we visit, we put a lot of research time into where to eat and what dishes we should try. We like to taste local specialities, and so we kept our ear out for recommendations. The food in Vietnam was among the best we tasted throughout the year, and super cheap too.
I'm going to list a handful of dishes we regularly ate across the four weeks, with an average price.
Like I said before, for the most part, breakfast was included as part of our room rate, so I won't include that in this section. And on a handful of days when we were on an excursion, all of our meals were included. So I'll calculate for the remaining days.
Let's do it…
Lunch:
Bahn Mi: a super delicious snack that we had virtually every day! A baguette (Viet style – much lighter than the French version) filled with BBQ pork, pate, herbs, chilli, and pickled veg. Banh Mi 25 in Hanoi was our favourite by far and cost just 30,000 a pop (about $1.30). Madam Khanh, Queen of Banh Mi in Hoi An was also very tasty (25,000 VND, approximately $1).
Dinner:
Pho: fragrant noodle soup that struck the balance of being fresh yet filling.
Average cost: 65,000 VND ( approximately $3). Our recommendation? Beef pho at Pho 10 in Hanoi. The broth was delicate and the meat rare (it cooked a bit as it sat in the broth). There were sharing condiments on the table – fresh chilli, a fiery sauce and garlic. One portion and a beer came in at 85,000 VND (around $4).
Bun Cha: a tangy broth, with chargrilled pork patties, rice noodles, fresh vegetables and herbs. The average we paid for this scrummy dish was 90,000 VND ($4) per portion. We loved Bun Cha Ta in Hanoi.
Banh Xeo: super cheap and filling crispy pancakes filled with veggies, pork belly and prawns. Just 23,000 VND ($1) a portion in general.
Com Ga: chicken and rice. Simple yet delicious, and cheap at around 46,000 VND ($2) per portion.
Nem Nuong: pork sausage meat, greens, pickled veg, rice noodles and rice paper – a DIY meal where we wrapped the ingredients in the rice paper. So tasty, and only around 92,000 VND ($4) a portion.
Dumplings and wontons: need little explanation! Miss Ly's well-known spot in Hoi An was a noteworthy place to try these. We shared, and paid 80,000 VND each (about $3.50).
A couple of evenings we fancied some Western food. For example, we had a yummy pizza each at Fatfish in Danang. That cost us 195,000 VND (about $8.50) per person. A bit more expensive, but still totally manageable.
Burger Bros in Danang cost us 100,000 VND (about $4) each – comparable to local food prices. And it was a really juicy burger.
A few times, we spent a bit more on Vietnamese meals. For instance, we enjoyed an early dinner at the Pub with Cold Beer. The family who owns the place offered a unique 'kill your own chicken for us to cook' service (you don't have to; they can do it for you if you'd prefer). Dave opted to do the honours – brave man. A while later, a BBQed, spatchcocked bird appeared smelling wonderful. It was served with rice, greens and the most amazing sauces – peanut and fresh chilli. We really loved that meal. It cost us 230,000 VND ($10) each, and was so worth it.
Goc Ha Thanh in Dalat came in at 322,000 each (around $14) – that included a starter of spring rolls, coconut prawn curries, a side of veg, water, and local wine. Who knew very drinkable wine was made in Dalat?!
Average daily food cost: $8.57 per day, or $4.29 each
More on drinks next…
We sipped on plenty of bottled water which was dirt cheap, plus beers, and the odd cocktail here and there. A large water cost us about 50 cents.
In Hanoi, 'fresh beer' (bia hoi) is famous, and even cheaper than water. It cost us around 8,000 VND (35 cents) a glass. We only found this sold in the capital, out of big freezer chests. It was made fresh each day with few preservatives; foamy and quite light in alcohol. We highly recommend you try it.
Otherwise, we tended to share large bottles of local beer; they came in at about $1 a bottle.
Oh, and for lovers of the chocolate bar Bounty, or fans of coconut in general, you MUST pay Cong Caphe a visit. We stopped at outposts in Hanoi and Saigon. Their coconut smoothie was one of the best things I drank (a bold claim I know) – so good and so simple. It was made of coconut milk whizzed up with crushed ice and coffee. Yum. The chocolate and coconut version was equally delicious too. And the price? 45,000 VND each (about $2). Heavenly, and totally worth it.
In Saigon, we visited Pasteur Street Brewing, where a bottle was 70,000 VND (approximately $3). Dearer than local brands like Bia Saigon, but it was craft beer – and very good.
We indulged in happy hour cocktails at Mango Rooms in Hoi An a few times. They cost about 100,000 each (approximately $4). Keep an eye out for 2 for 1 deals – we found them a great way to be able to sample drinks we may not have done otherwise.
Average daily drink cost: $4.82 per day, or $2.41 each
Like I said, we can't talk highly enough of the Vietnamese cuisine. Flavourful, packed a spice punch, and totally delicious. Such great value for money, too.
OUR TOTAL COST OF FOOD AND DRINK IN VIETNAM CAME TO $375. THAT'S AN AVERAGE OF $13.40 PER DAY, OR $6.70 EACH.
MISCELLANEOUS EXPENSES IN VIETNAM
A local SIM card: I don't know about you, but one of my least favourite aspects of arriving in a new country is having to figure out how to get connected. Specifically: buying a local SIM card so that I have data to use while I'm in the country.
There's locating a store that will sell you one, language barriers to deal with, various forms of ID you might need to bring, scams to navigate, and… well, it's a headache.
This year, I started using Airalo, which sells local e-SIM cards for travellers. What that means is that you can buy your SIM card online before you arrive in Vietnam, and then as soon as you land in the country, you can switch on your data and start using it. It's worked flawlessly for me and now, I'll never go back to physical SIM cards. You'll pay $4.50 for 1 GB of data for Vietnam and can also top-up through the Airalo app.
Make sure your phone is eSIM-compatible before buying — all recent iPhones and many Androids are.
Travel insurance: If you've read any other posts on Never Ending Footsteps, you'll know that I'm a great believer in travelling with travel insurance. I've seen far too many Go Fund Me campaigns from destitute backpackers that are unexpectedly stranded in a foreign country after a scooter accident/being attacked/breaking a leg with no way of getting home or paying for their healthcare. These costs can quickly land you with a six-figure bill to pay at the end of it.
In short, if you can't afford travel insurance, you can't afford to travel.
Travel insurance will cover you if your flight is cancelled and you need to book a new one, if your luggage gets lost and you need to replace your belongings, if you suddenly get struck down by appendicitis and have to be hospitalised, or discover a family member has died and you need to get home immediately. If you fall seriously ill, your insurance will cover the costs to fly you home to receive medical treatment.
I use SafetyWing as my travel insurance provider, and recommend them for trips to Vietnam. Firstly, they're one of the few companies out there who will actually cover you if you contract COVID-19. On top of that, they provide worldwide coverage, don't require you to have a return ticket, and even allow you to buy coverage after you've left home. If you're on a long-term trip, you can pay monthly instead of up-front, and can cancel at any time. Finally, they're more affordable than the competition, and have a clear, easy-to-understand pricing structure, which is always appreciated.
With SafetyWing, you'll pay $1.50 a day for travel insurance.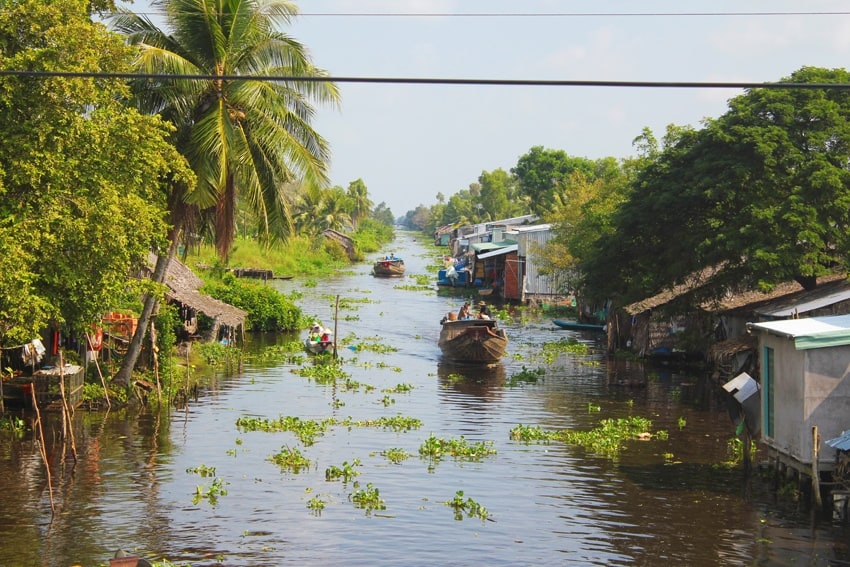 HOW MUCH DOES IT COST TO TRAVEL IN VIETNAM?
Okay, so after adding everything up, here are costs per person:
Accommodation: $21 per day
Transport: $4.30 per day
Activities: $7.50 per day
Food and drink: $6.70 per day
Miscellaneous: $1.50 per day
Grand total spent in Vietnam: $41 per person per day.
Vietnam was excellent value for money, and a highlight of our year. We saw untold wonderful sights, ate incredibly well, and stayed at a range of quality accommodation.
WHAT ARE YOUR THOUGHTS? DID YOU EXPECT TO BE ABLE TO TRAVEL THROUGH VIETNAM FOR THAT PRICE?
Related Articles on Vietnam

🇻🇳 Photos of Ridiculous Things on Bikes in Vietnam