Back in January, Dave happened to casually mention to me that Stuart would be coming to Chiang Mai in a couple of weeks and was planning on doing a road trip on scooters around Northern Thailand. He wanted to know if we would be interested in joining him.
Having ridden around the moat of Chiang Mai on the back of Dave's scooter at least twice by this point, I already felt like a highly advanced scooter passenger.
I knew that this road trip would be a piece of cake.
…Until I saw our planned route.
Day One: Chiang Mai to Chiang Dao: 78km
Within minutes of setting off from Chiang Mai I knew that this adventure wouldn't be as pain-free as I had imagined. I felt every bump in the road and within half an hour my bum was sore, my back was aching and I was wondering what the hell I had got myself into.
Fortunately, it was just a short day of riding. We stopped for lunch in the mountain town of Chiang Dao and after a few minutes of sitting down on something other than a hard motorcycle seat, decided not to move for the rest of the day.
It was a good decision.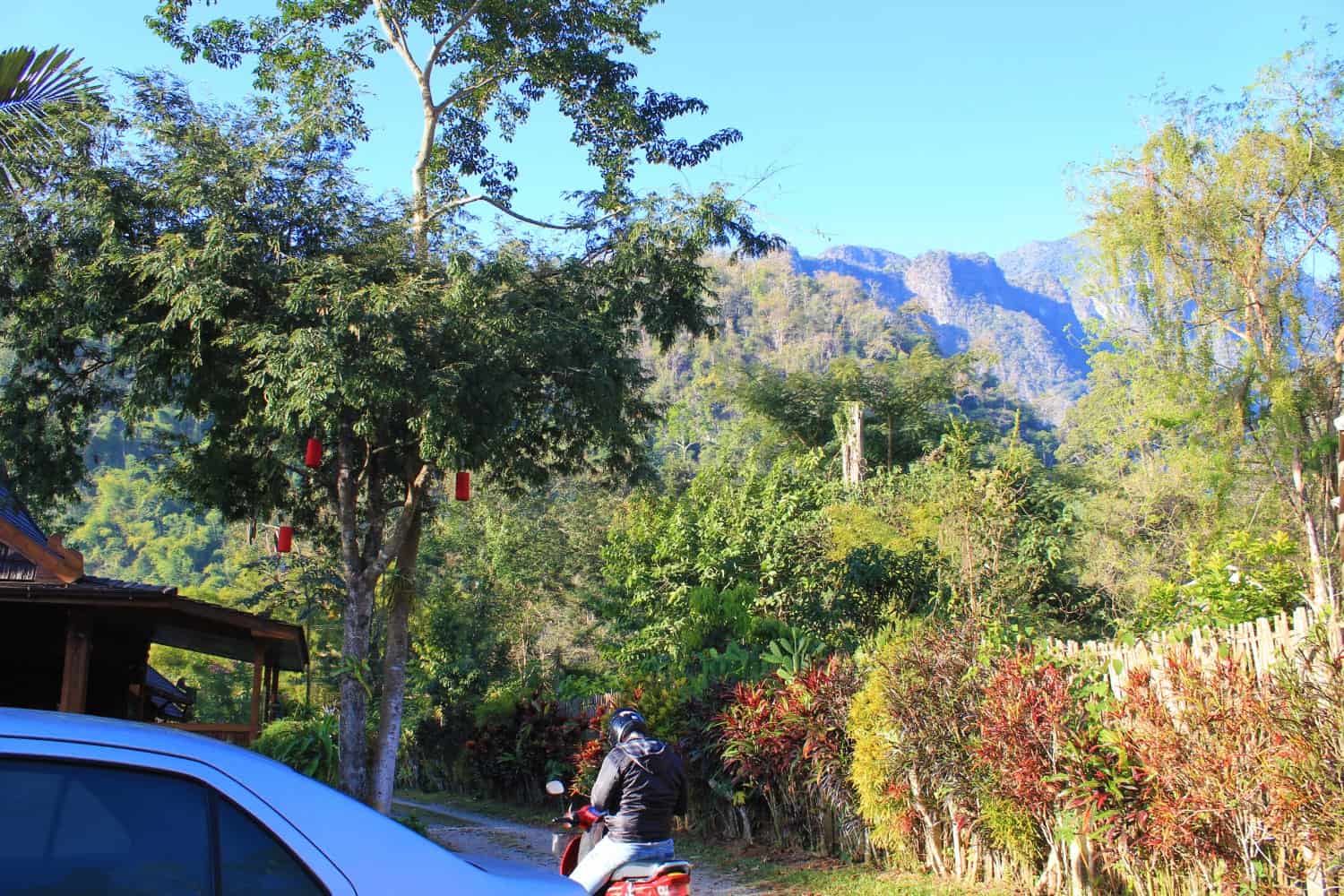 Day Two: Chiang Dao to Phayao: 215 km
For the first time since leaving London, I awoke to see my breath in a cloud in front of me.
Cold.
I hadn't felt that sensation in months.
Wearing five layers, two pairs of socks with my flip flops and a pair of trousers as a scarf, we set off through Chiang Dao. The scenery was much more impressive than that of the previous day. We had left behind the city fumes of Chiang Mai and spent the day riding through rice paddies and mountains.
It was gorgeous.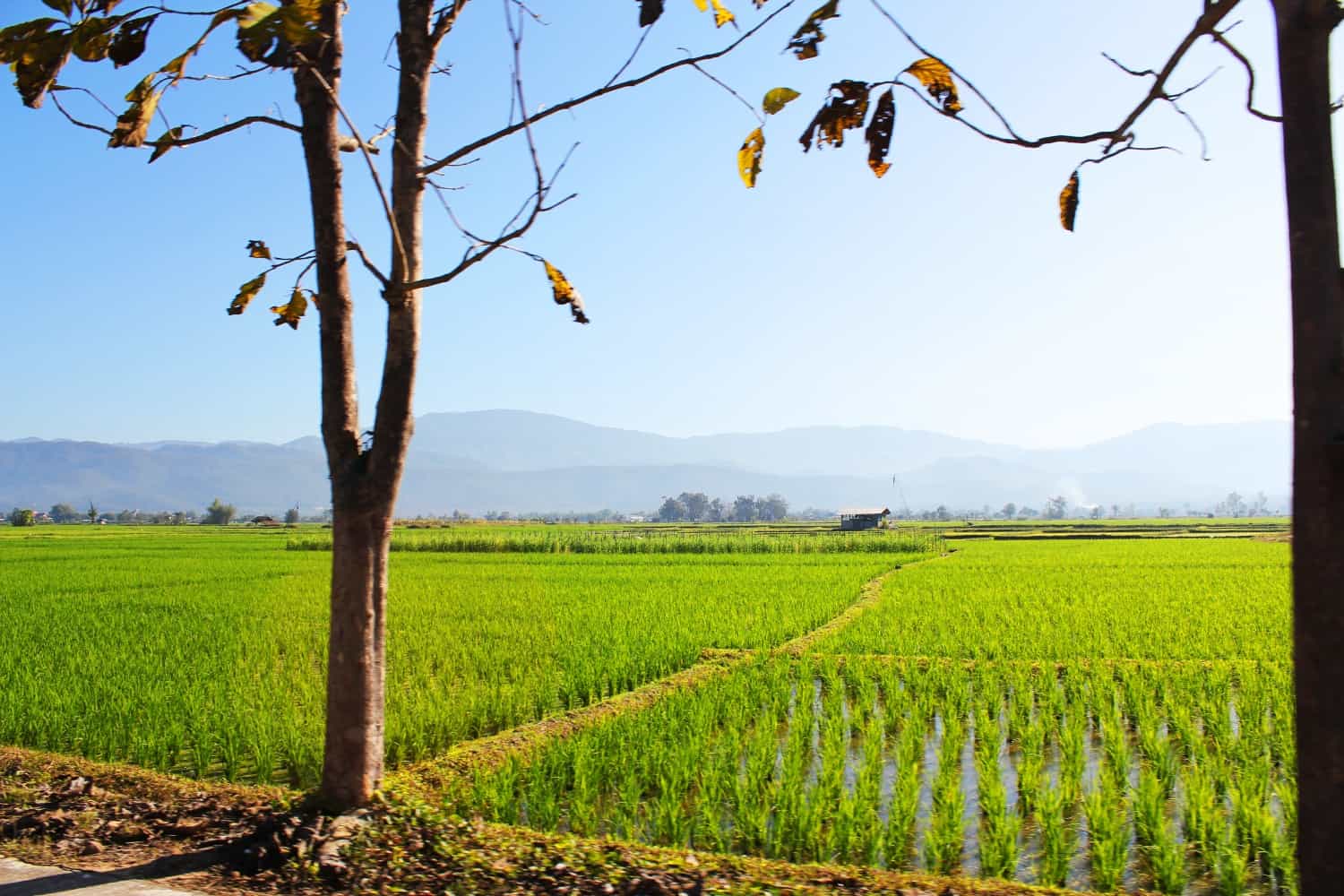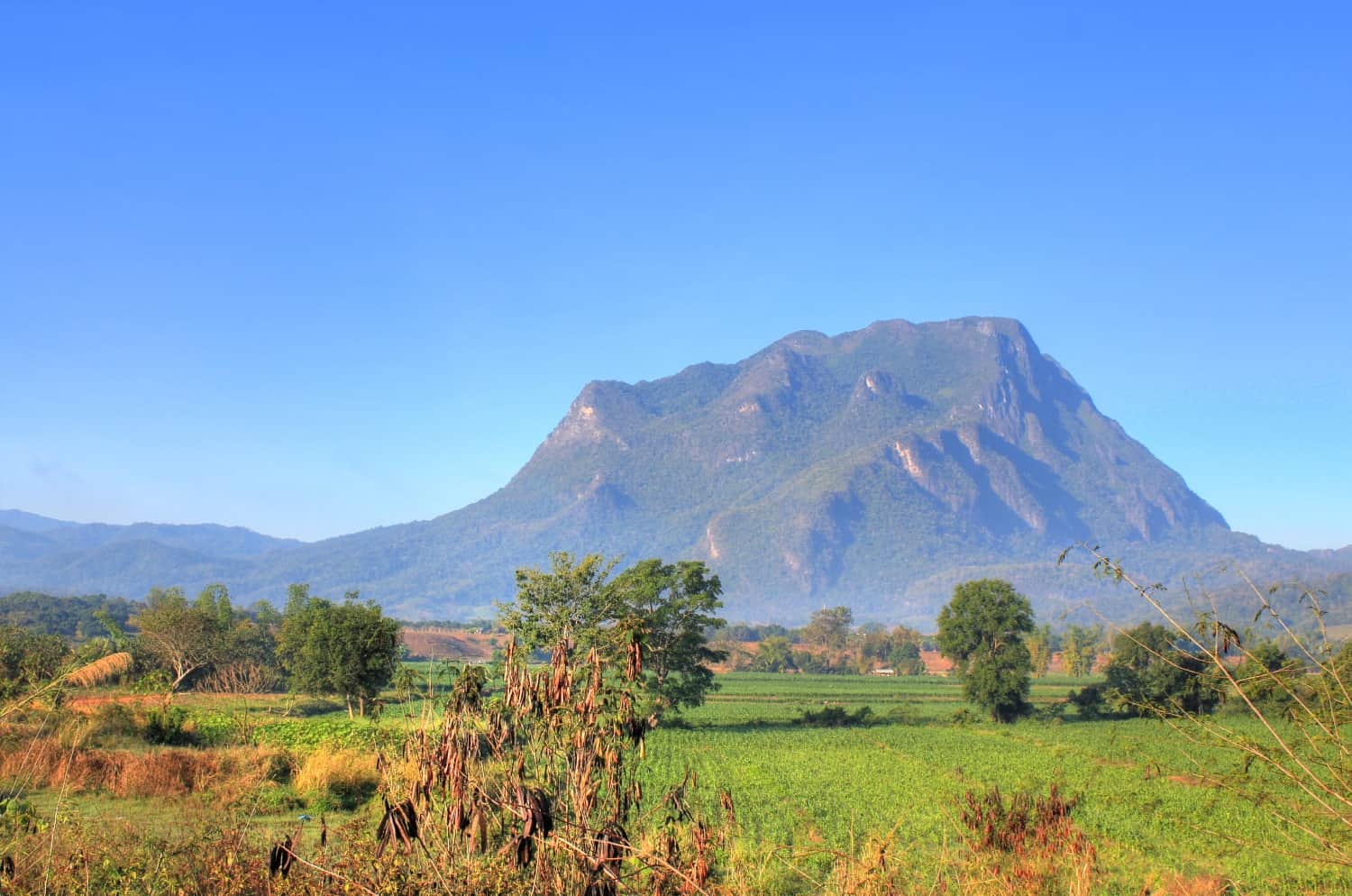 Forced to catch up on the miles that we avoided the day before, my bum was extremely glad to arrive in the pretty lakeside town of Phayao.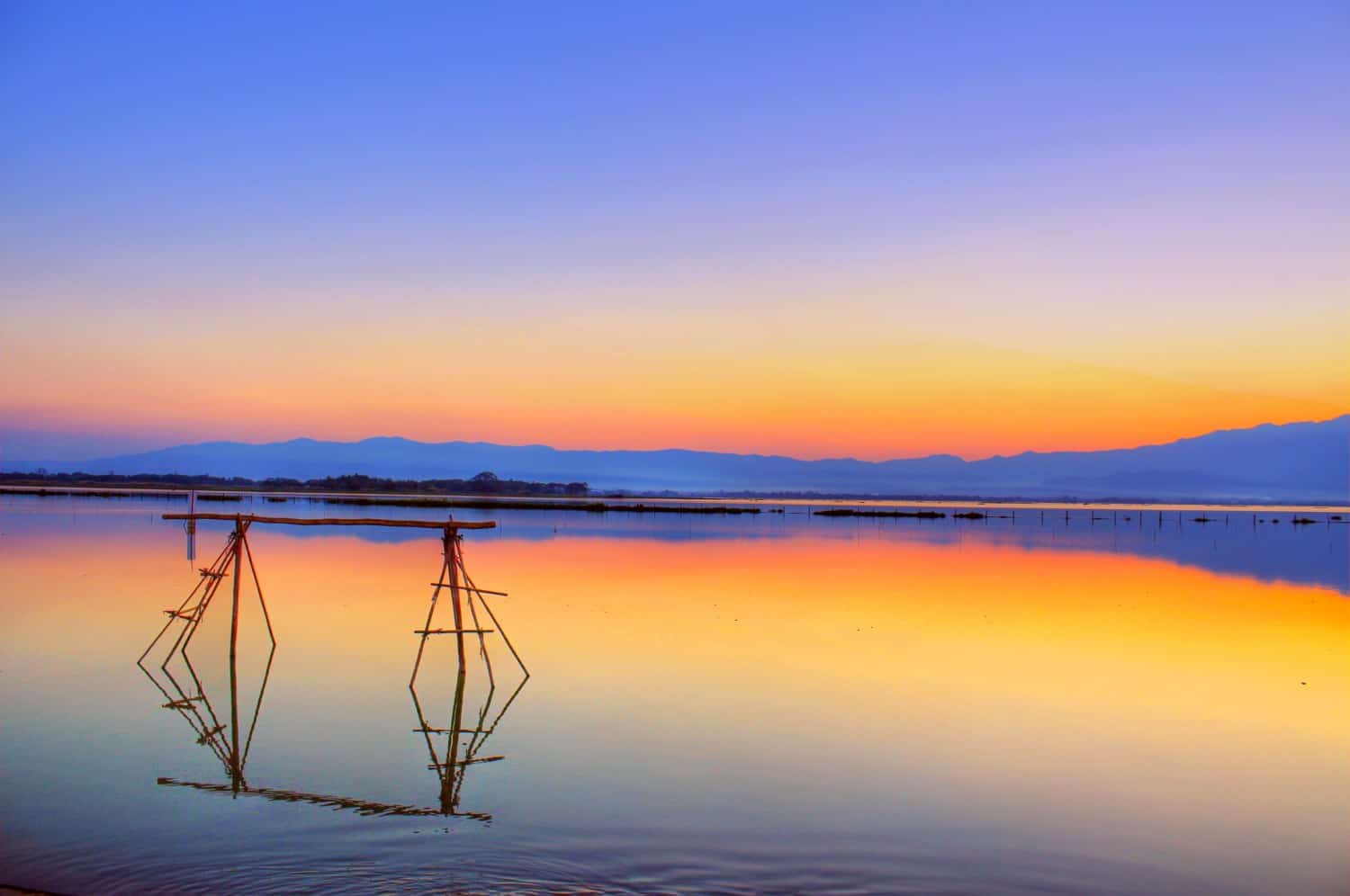 Day Three: Phayao to Phu Lang Ka: 163 km
Before leaving Phayao, we visited a couple of interesting temples scattered around the town.
Our first stop was Wat Sri Khom Kham, which featured a bizarre sculpture garden depicting various different scenes from heaven and hell. The hell section was the most amusing with sculptures showing what happens to you if you lie or have an abortion, among many other sins.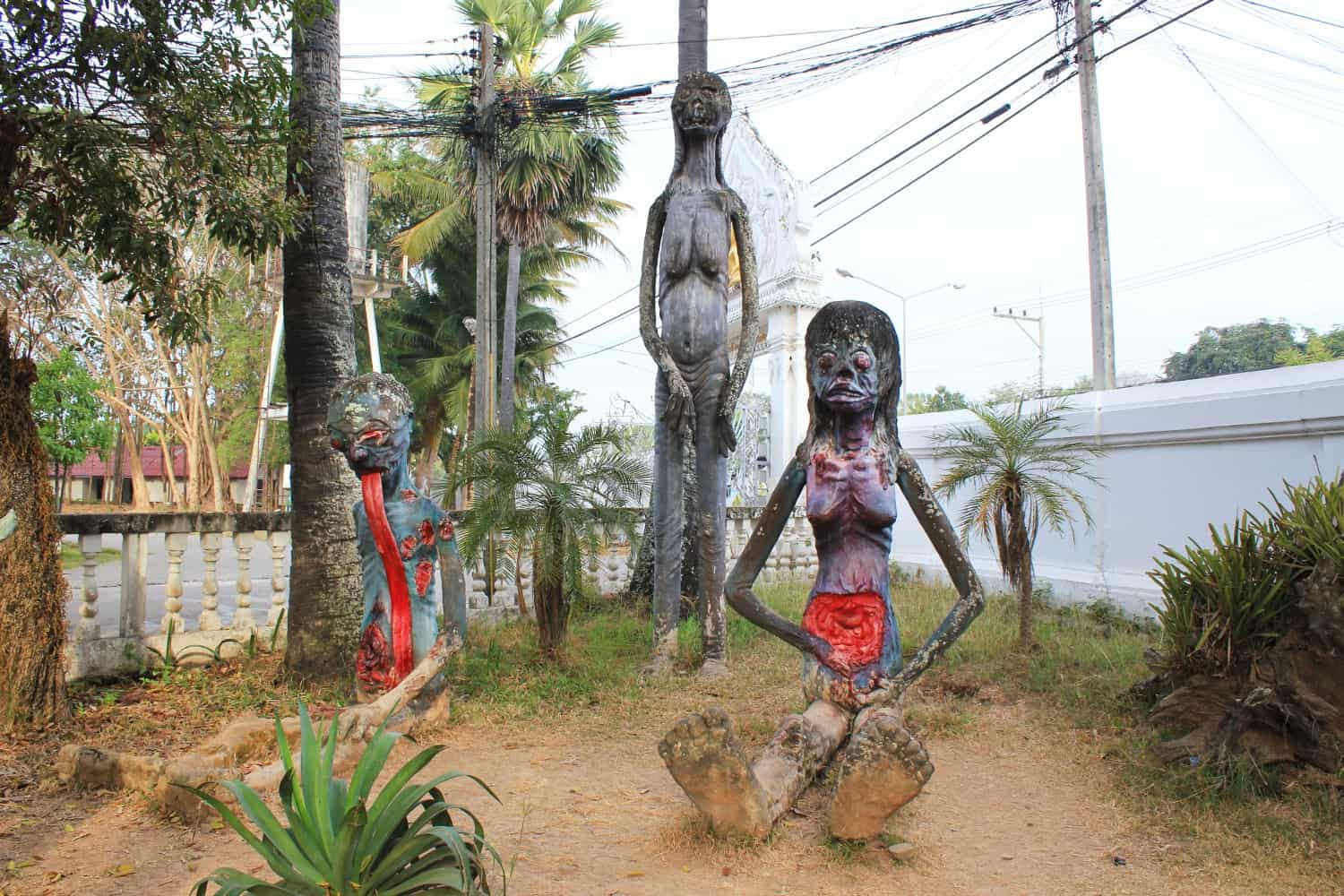 After being suitably terrified by the vision of my impending doom, I calmed myself down by visiting the gorgeous Wat Analayo.
After taking hundreds of photos of the temples, we set off back on the bikes and arrived at Phu Lang Ka by late afternoon. With fatigue setting in, it felt more like 10 o'clock than 4 and I was tempted to go to sleep right then.
I'm glad I decided to stay awake a little bit longer so that I got to witness one of the most amazing sunsets of my life.
Day Four: Phu Lang Ka to Nan: 127km
Not tired enough from all the riding from the previous few days, we decided it would be a great idea to wake up at a ridiculously early time so that we could catch the sunrise before starting our journey to Nan.
It definitely wasn't a bad decision.
As we sat shivering, huddled up on a bench and eating a disgusting breakfast of soggy rice porridge, I couldn't help but smile to myself. This is a part of Thailand that few tourists ever get to see and I felt so fortunate to be able to experience it for myself.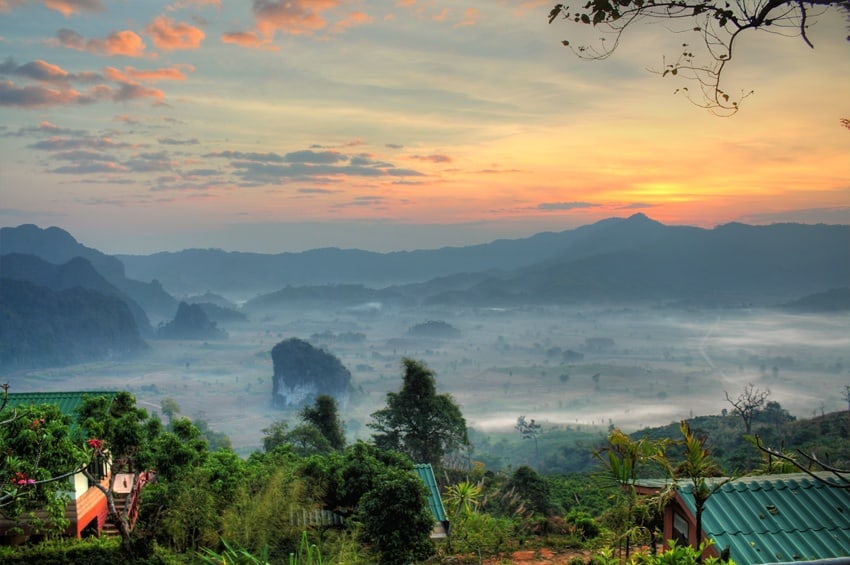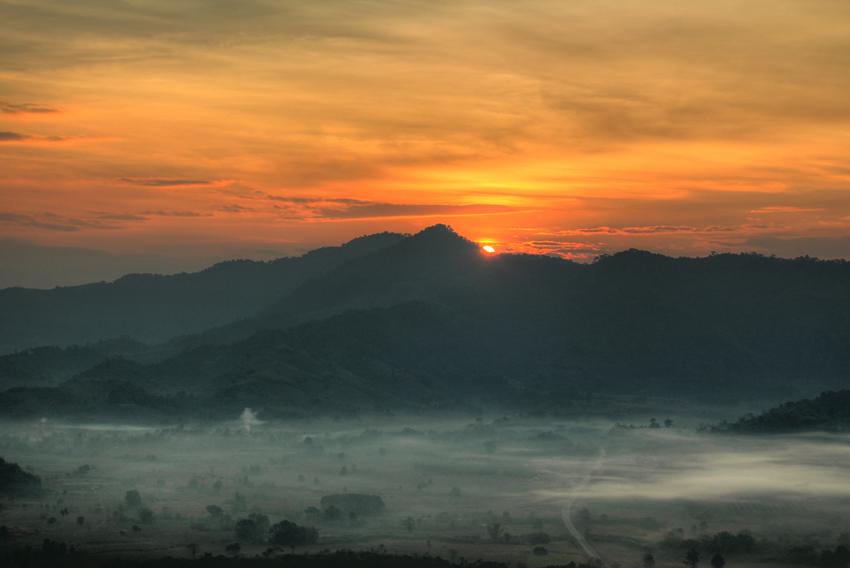 After finishing our terrible breakfast, we hopped back on the scooters and began our trip to Nan. Our route took us down through the mist-covered valley, along the road that you can just make out in the photo above.
Day Five: Nan
By day five, my increasingly sore bum was in desperate need of a rest and as I stumbled out of our guesthouse, wailing in agony, we came to the very sensible decision of staying in Nan for an extra day to recover. A less sensible decision was that made by Dave and Stuart, who told me they were just popping out for a short afternoon ride, but instead spent the entire day riding 350km to the Laos border and back. It was a decision that almost resulted in their deaths.
In contrast, I had a very calm and relaxing day wandering around Nan Town and taking photos of the beautifully intricate temples.
Needless to say, I'm very happy I stayed behind.
Day Six: Nan to Phrae: 202km
Today was one of the longest days of riding, due to our detour to Sao Din. We were promised a series of breathtaking rock formations that Stuart claimed would change our lives forever. I could barely contain my excitement on the drive down.
It was going to be incredible.
Magnificent.
The highlight of our road trip.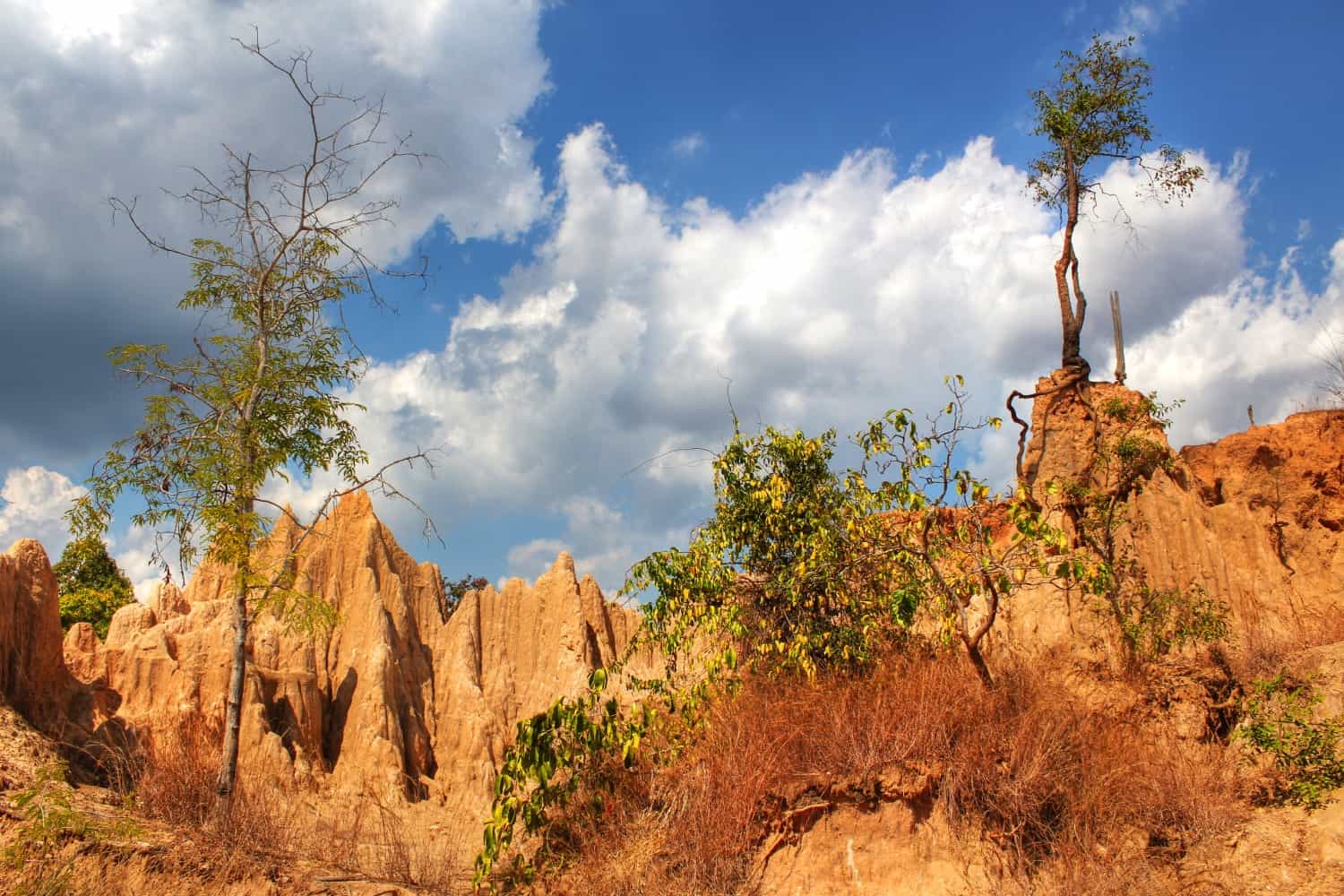 …
Or not.
Day Seven: Phrae to Lampang. 103km
With just a short distance to drive today, Dave and I decided to spend this morning wandering around Phrae and exploring some of the temples.
The highlight was finding a small Monk Gym outside of one of them!
Our day's journey was brief and uneventful – the majority of the ride was via a main road, which is never very interesting. However, when we arrived in Lampang I was extremely excited to discover the streets filled with horse and carriages, offering scenic rides of the town.
Strangely, nobody would agree to a horse and carriage ride with me so I celebrated the final night of our road trip by watching Dave and Stuart eat one hundred plates of pork. Each.
Day Eight: Lampang to Chiang Mai: 155km
I awoke on our final day feeling sad that the adventure would soon be over, but excited to get back to my apartment in Chiang Mai. There were two options for our final route back: the shortest distance along the main highways, or the much longer option through the backroads and mountains.
We chose the latter.
With the mountains being so steep on the way up that I actually had to jump off the back of the scooter just so we could make it to the top, we knew we were going to have problems on the way down.
After five minutes of squeezing tightly on the brakes, the inevitable happened.
All of a sudden, a disgusting smell filled the air and we started speeding down the mountain at scarily high speeds. Clinging onto Dave for dear life, he thankfully thought to put his feet down, creating enough friction for us to slow down, before steering us into the side of the mountain.
Eight days of driving and we almost died a few km from the finish line.
—-
As we arrived back at our apartment in Chiang Mai, I was sad that the trip was over, relieved that I would now be able to rest my aching bum, and excited to have a hot shower for the first time in a week.
As we reluctantly removed our helmets and tied them onto our bike for the final time, we looked over at the odometer to see how far we had travelled.
1385 kilometres.
… And my butt had felt every single one of them.
This road trip was one of the best things I've done on my travels to date. I can't even begin to describe just how amazing it was and the next few weeks will be filled with lots of stories, photos and adventures from my time on the road in Northern Thailand.