You could say the Bazaruto Archipelago was the entire reason behind my trip to Mozambique.
If you've seen any photos of this Southern African country, they'll most likely have been of miles of sandbanks stretching across the ocean. It's on the cover of every guidebook and Vilanculos — the jumping-off point for the Bazaruto Archipelago — is one of the most popular tourist destinations in the country. Given how few people choose to visit Mozambique, though, it's is far from overrun.
In the off-season at least, Vilanculos was a slow and sleepy village, and the sandbanks were just as magnificent as I'd hoped.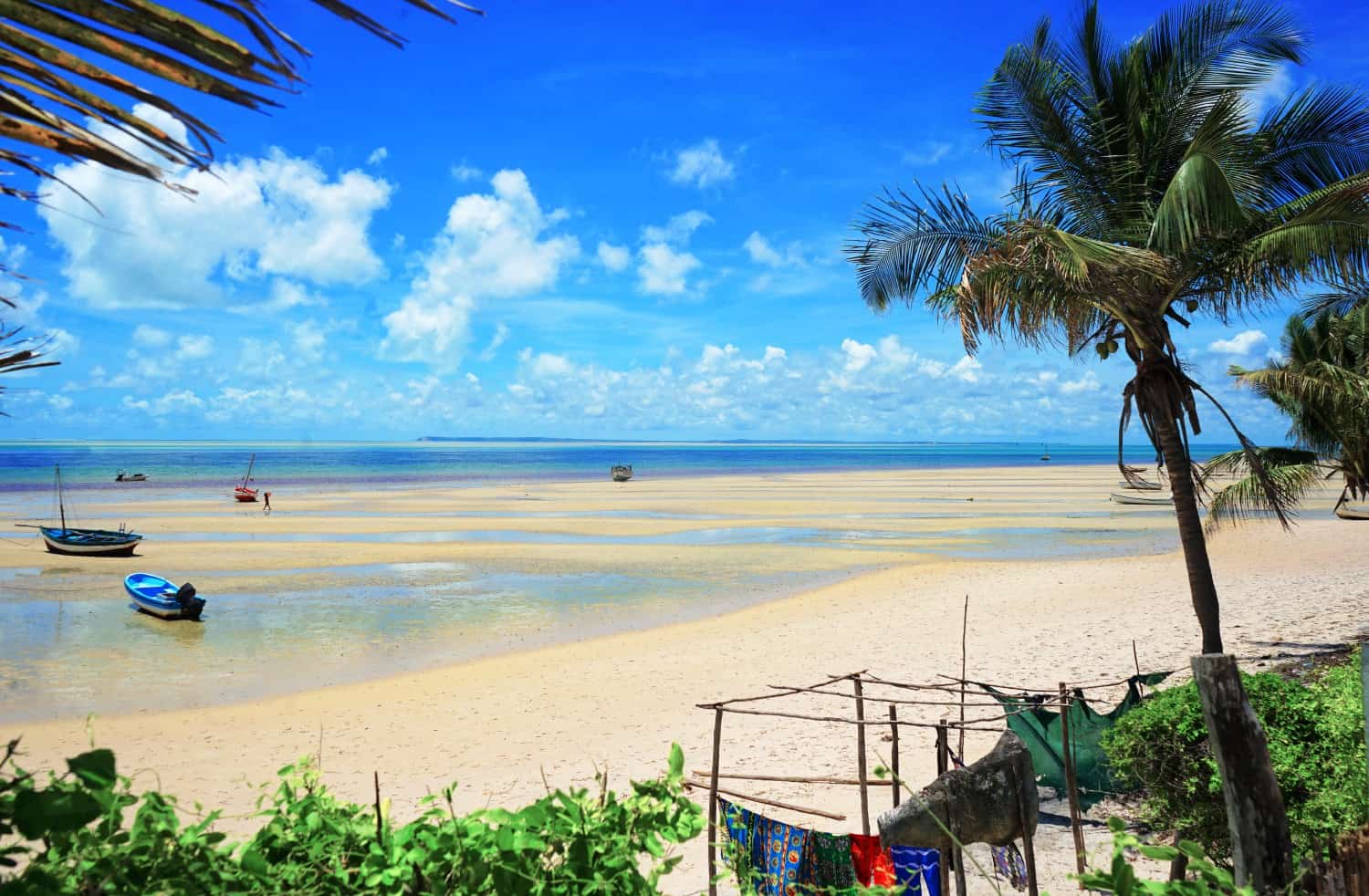 I rocked up to Baobab Backpackers after a long drive from Tofo, grabbed a fresh smoothie from their bar, and took a seat while chatting to the owner of the hostel. Bob Marley was ringing out across the sand, backpackers were lazing in hammocks, and I realised that beach guesthouses are the same the world over.
The are two types of accommodation I love checking out when I travel. The first is just like Baia Sonambula, in Tofo. It's a bit of a splurge, but doesn't feel like I'm wasting my money or receiving bad value. It's eco-friendly, the staff are lovely, and it's somewhere where I feel relaxed and at ease.
The second type is the kind of hostel where you instantly slot into place. It's rare for me to find accommodation where I instantly connect to every traveller I meet there, but in Vilanculos, I immediately felt at home. I made friends quickly and easily, there were always people around to chat to, and the Wi-Fi was speedy.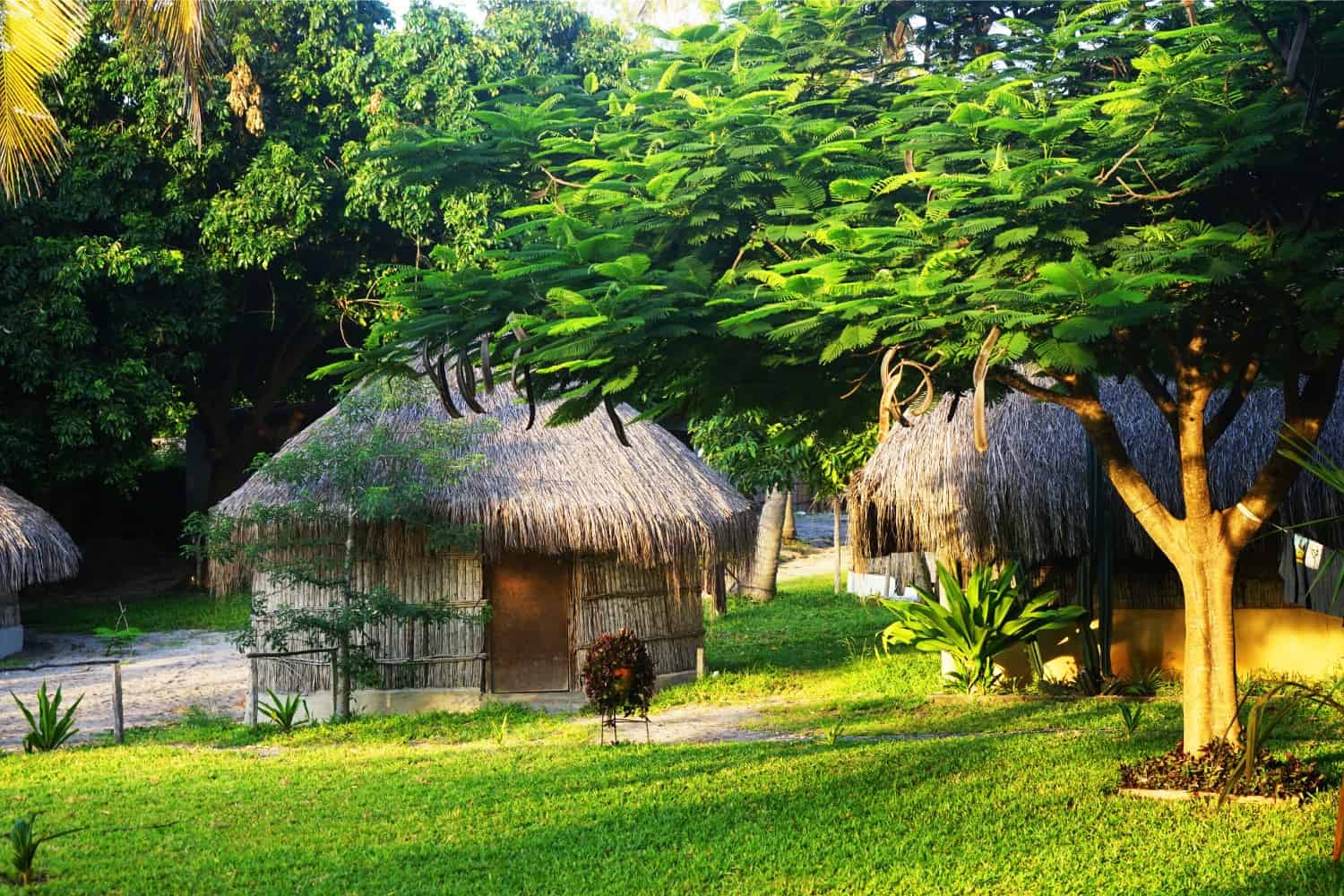 I'd opted for a private room and was placed in a circular wooden hut with a thatched roof. Although it felt like a comedown to be somewhere so basic after the luxury I'd experienced in Tofo, it had everything I needed to live. I had a bed, a mosquito net, desk and chair, and a fan that blew hot air uselessly around the room. It was humid and stuffy, but a place to lay my head at night, and I was grateful for that.
I was not grateful for the cockroach that scuttled over my naked body one night while I was sleeping.
One of the reasons why I decided to go for Baobab Backpackers was because of the wide range of activities that were on offer. Each evening, the owner popped up in the bar and announced which tours were an option for the next day, and they usually involved a day spent exploring one of the islands in the Bazaruto Archipelago.
I signed up for a trip leaving the following morning.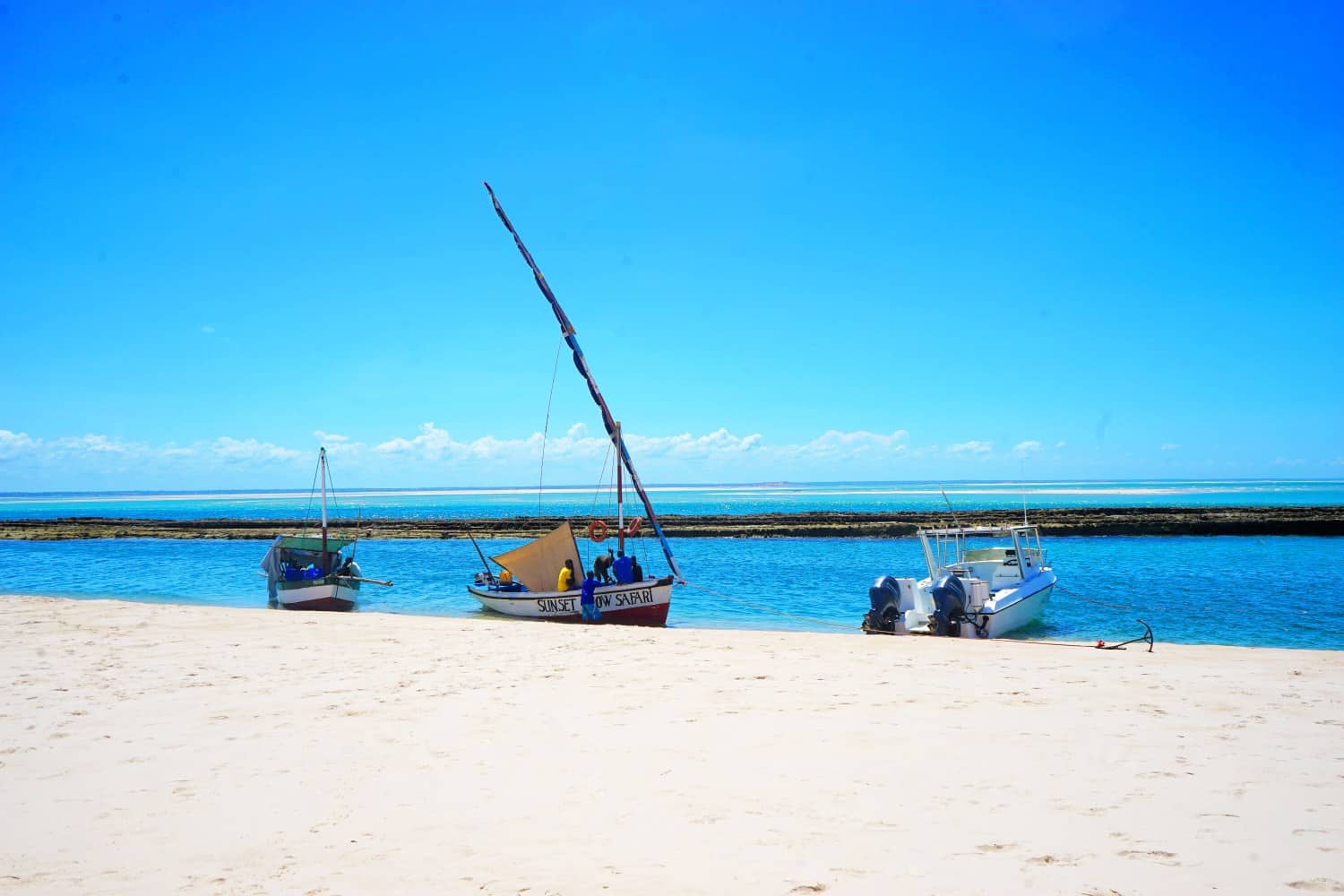 We were heading to Magaruque Island, the third largest in the Bazaruto chain. It's the closest island to Baobab Backpackers and takes two hours by dhow (a Mozambican fishing boat) to get there.
After suffering from seasickness so bad it turned my face green mere days ago in Tofo, I wasn't thrilled about clambering on board another boat, but fortunately, the ocean outside Vilanculos is nothing like the choppy waves near Tofo. Because there are so many islands scattered along the coast and the waters are so shallow, the sea was calm and I felt fine.
As we motored away from shore, I kept an eye on the horizon in search of one of the hundred-odd elusive dugongs that have made the Bazaruto islands their home.
It started raining.
I watched as one of our tour guides — a teenager who was wearing a bright purple t-shirt saying, "Quick! Run away! They're playing banjos!" — pulled out the dhow's sail from a box at the front of the boat and wrapped it around the mast and all of us, so that we were all kind of parcelled up inside. It stopped the ocean from splashing up into our faces, sure, but the sky still rained down on our heads. We couldn't see a thing.
My vision of skipping over pristine sandbanks in the sunshine was rapidly fading.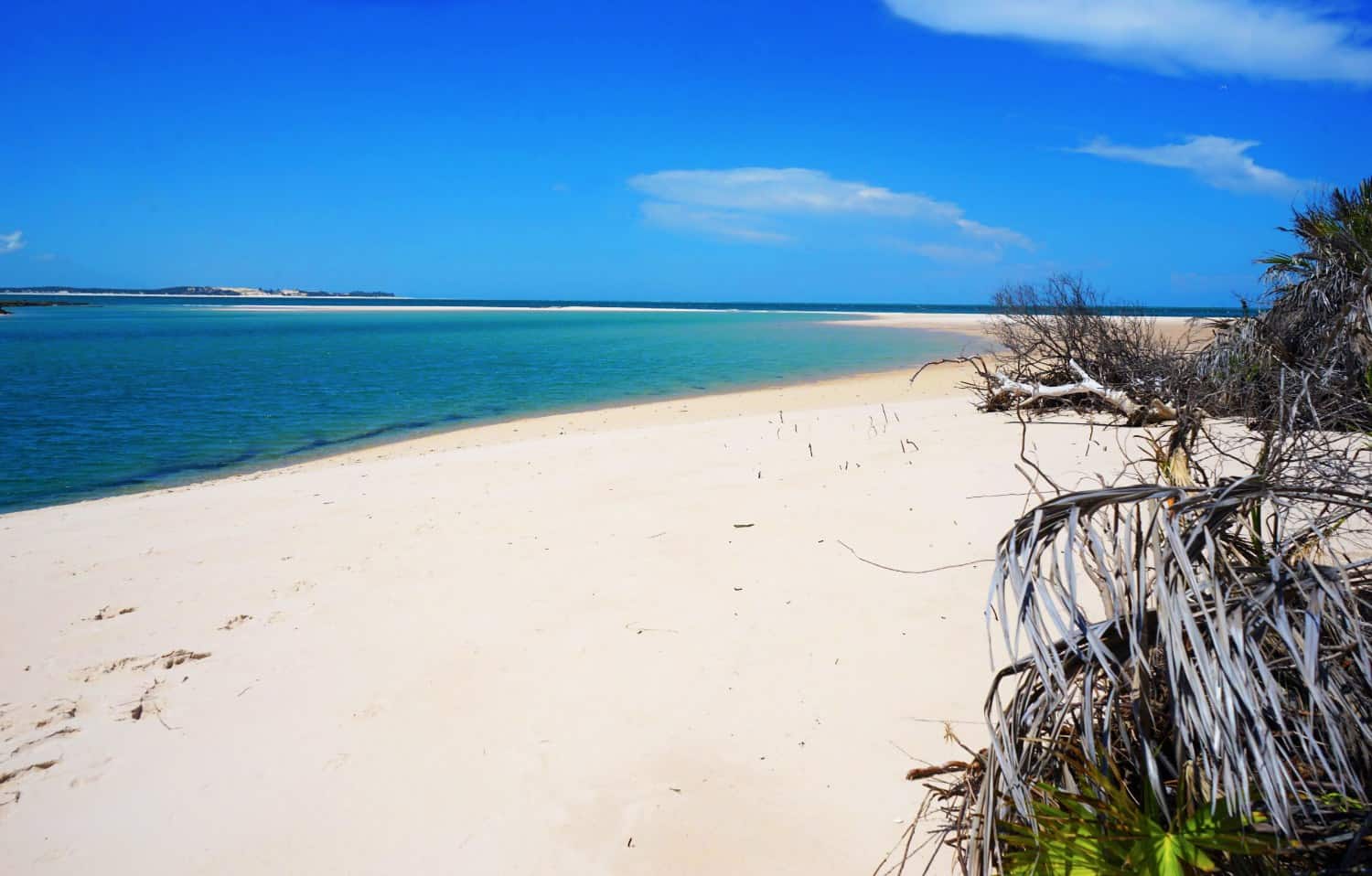 Our dhow consisted of eight Brazilians and an Italian-South African couple. Everyone could speak Portuguese but me, which was embarrassing because I live in Portugal.
Still, I got to experience travel as non-English speakers often do, as our guide spoke only in Portuguese and I had no idea what was going on most of the time. Fortunately, the non-Brazilian couple took pity on me and translated enough that I could learn we'd be snorkelling as soon as we arrived.
Snorkelling.
We pulled up to Magaruque Island just as the sun broke through the clouds, and I was reminded yet again, that for some reason, the weather gods are always taking care of me. In six-ish years of travel, I've only had a handful of days ruined by bad weather. In fact, a mere week after leaving Mozambique, it was hit by a huge and damaging cyclone, but while I had been there? There'd been nothing but blue skies, and this rain had been the first I'd come up against in the country.
Our group clambered up onto the sand, and I felt like sulking when everyone ran to grab their snorkelling gear.
I thought about skipping out on it.
I really wanted to skip it.
After swallowing half the ocean on my recent snorkelling trip in Tofo, I'd sworn off it for good. Again.
But I didn't want to be that person. I didn't want to be the lone grumpy traveller who refused to partake in the fun.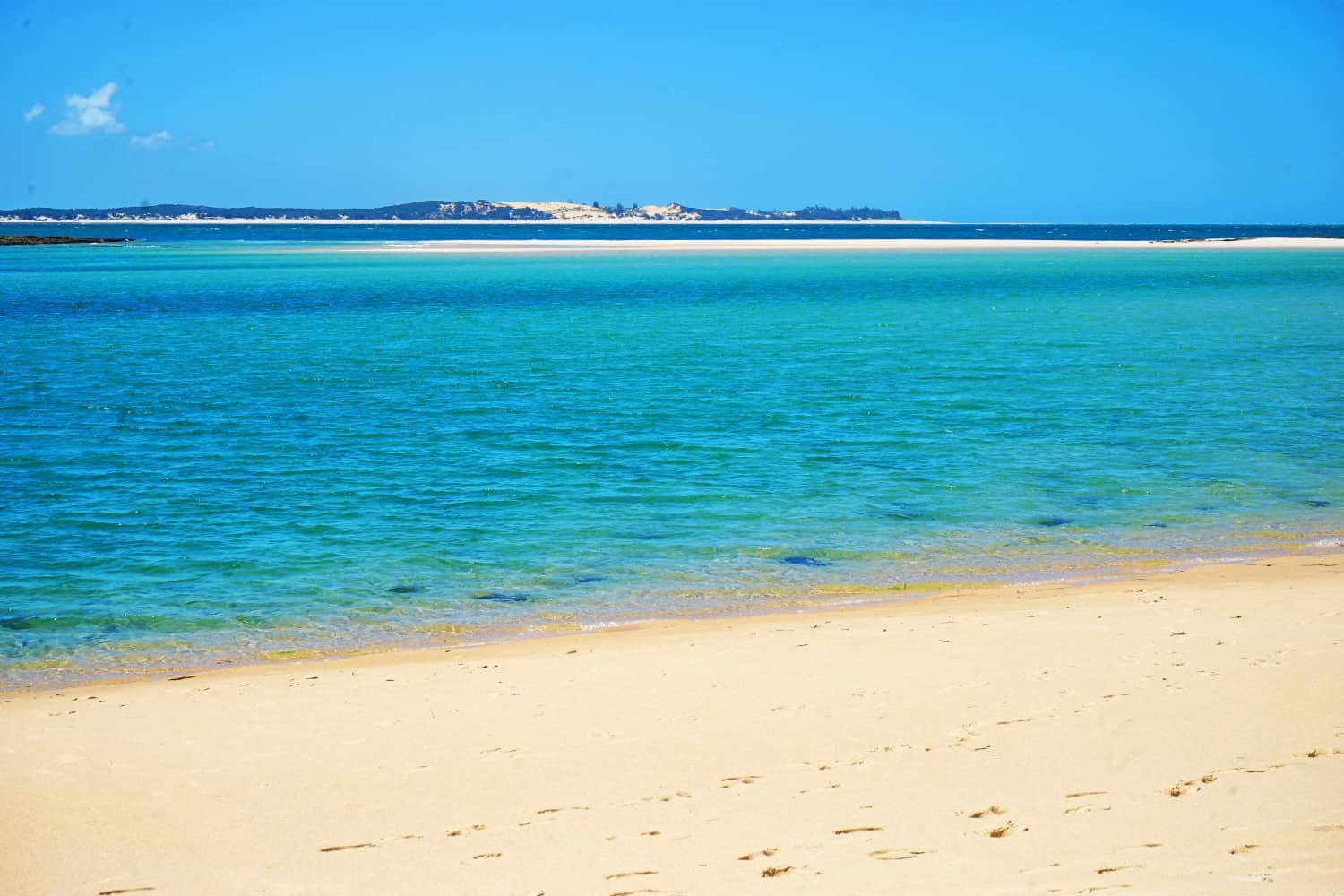 "An octopus!"
I watched as a guy plunged his hand into the sparkling turquoise water to point out the cephalopod. The second he leapt off the ledge and into the water, the octopus took flight, and I shuddered at the thought of having its tentacles wrap their way around my face until I suffocated.
I didn't have long to panic, though, as seconds later, I was jumping into the water and getting swept up in the current. Snorkelling alongside Magaruque Island was exactly what I imagine a drift dive to be like. The current was so powerful that the only swimming I had to do was to slow myself down.
It didn't take long for me to decide this was the best snorkelling experience of my life.
For the first time ever, my mask and snorkel didn't attract every drop of water in the sea, so I could actually see what was around me and enjoy the experience without having to choke down half a gallon of saltwater.
If I'd hadn't had the snorkel in my mouth, I would have been gaping, as the reef next to the island was teeming with sealife. I drifted past stonefish and trumpetfish and parrotfish and… are you surprised I know the names of the fish? Yeah, I'm totally just repeating the names I heard when eavesdropping on a conversation once we were back on dry land.
And let's just say I was glad I had no idea what a stonefish was until I was back in my room and googling it from the safety of my bed. It's the most poisonous fish in the world and touching one of its spines can kill you.
I'm so glad I didn't know I'd been happily swimming next to one of those bad boys.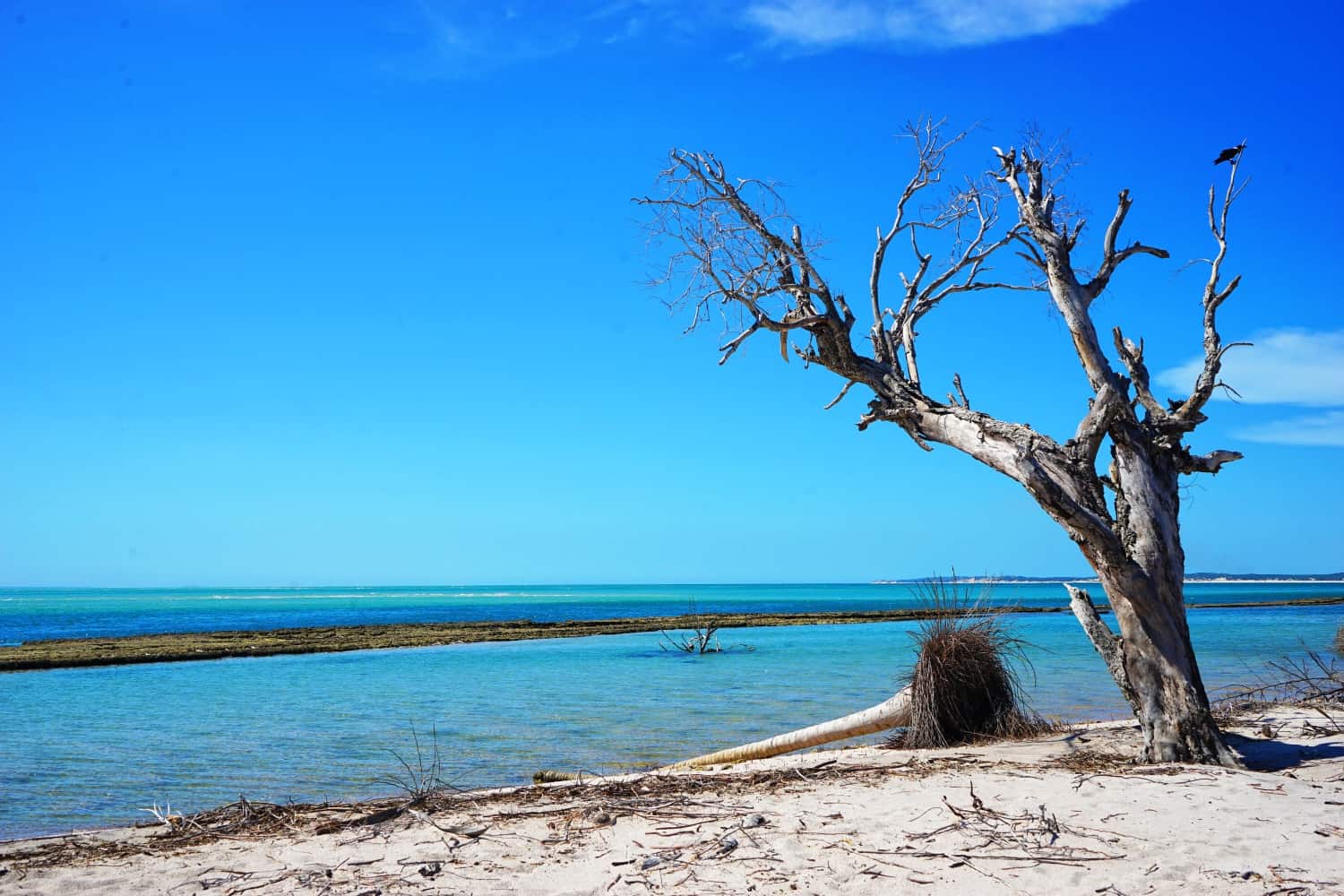 I almost got swept out to sea.
I promise I'm not exaggerating.
See, the thing was, the fins I'd been given were roughly a size bigger than my feet, which didn't seem like that big of a deal when I wasn't in the water.
What I came to discover, though, was that having these baggy fins meant that every time I kicked hard, my feet would slip their way out and my flipper would drift off into the open ocean.
I reassured myself that it was fine.
The current was so strong that I didn't need to kick my feet anyway.
Well, that is until we reached the part that required me to kick very hard.
When we reached the end of our swim, our guide told us to wait until we passed a pile of rocks, then swim our way out of the current and onto a sandbank, where our banjo-hating guide would be waiting for us.
I passed the rocks, kicked my feet, and immediately slipped out of the fins.
Panicking, I reached behind me, grabbed them, and shoved them back on my feet again.
I had now drifted several metres past the rocks and was starting to float away from the sandbank.
Shit.
I kicked as hard as I could, while trying to keep my feet locked in such a way that the fins couldn't come off. I smashed my kneecap into a sharp rock below and yelped as the pain reverberated up and down my leg.
Shiiiiiit.
I'd broken my knee.
I took my fins off, clutched them in my fist, and failed at paddling to shore with one arm.
I drifted another few metres away.
I looked back the way I'd come in desperation and saw the elderly Brazilian grandmother easily paddling her way up to the sand and high-fiving the guide.
I turned my attention back to being swept out to sea.
I opened my mouth to shout for help but inhaled a mouthful of water and retched into the ocean instead.
I threw my flippers back on and tried to do some kind of breaststroke movement to try to propel myself forwards while not losing my fins. I was suddenly learning just how easy it is to drown.
My knee was throbbing, my fins didn't work, and I couldn't kick my way out of this current. I was terrified.
A face popped up in front of mine.
The guide!
What are you doing? he asked.
I don't know.
He grabbed my hand and tugged me to shore through crashing waves, which I, again, unhelpfully swallowed.
I was safe.
My stomach was churning and my head spinning. I looked down at my knee and saw a trickle of blood trailing down to my ankle, then staggered my way over the sandbank and through the shallow waterways back to our dhow.
This time, you guys.
This time I'm really swearing off snorkelling.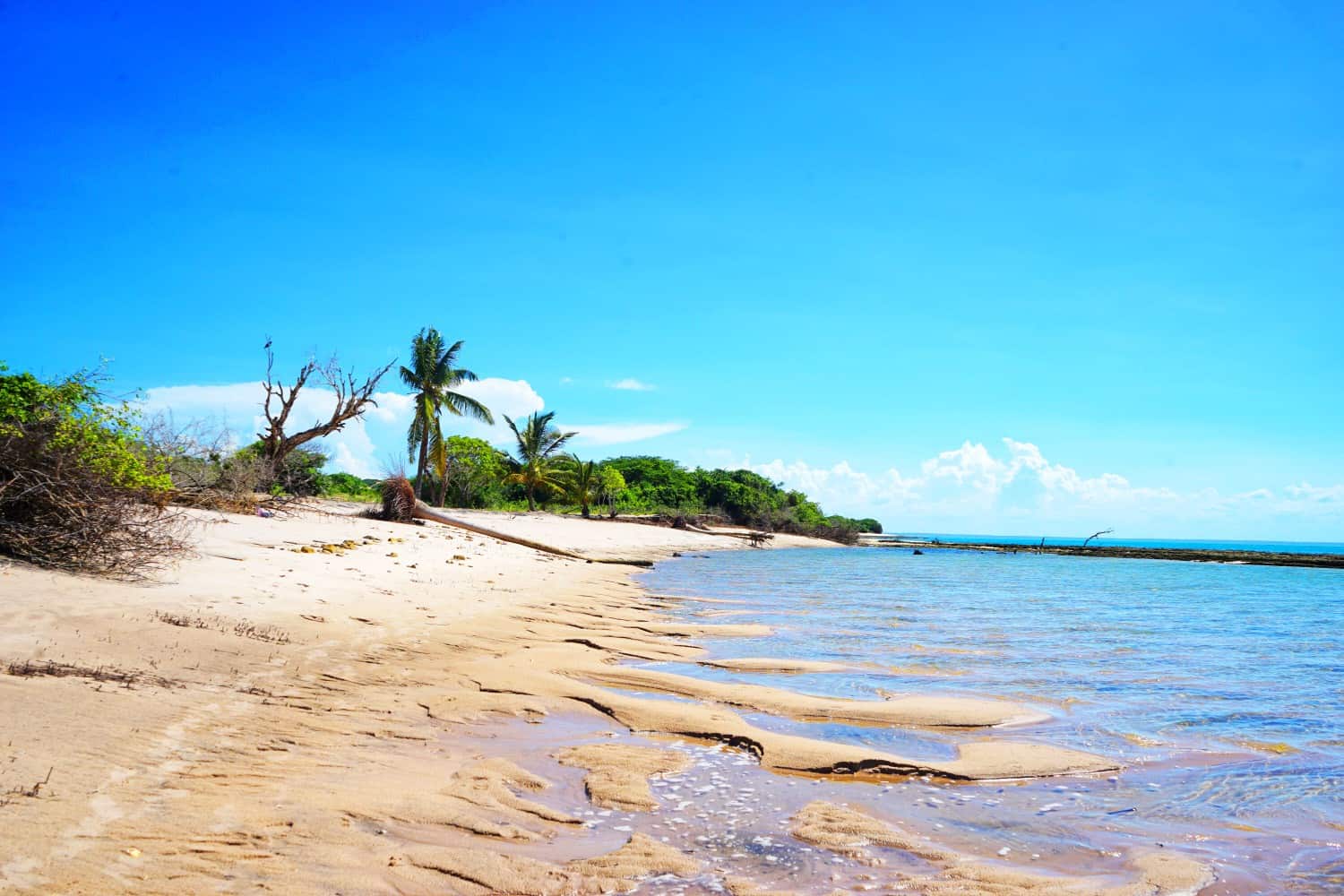 Back on the beach, I spotted flames rising up from the centre of the dhow and its sail engulfed in smoke. It was time for our seafood barbecue!
Like every meal I had in Mozambique, our lunch was fresh and spicy, and some of the best seafood of my life. I grabbed a fish from the grill and loaded up on potatoes and vegetables.
By this point, the clouds had cleared, the sun was out, and we had the entire afternoon to spend exploring the island.
Given that the sandbanks in this part of Mozambique were why I was here in the first place, I spent the vast majority of my time splashing in the water and snapping photos of them stretching out from here to Vilanculos.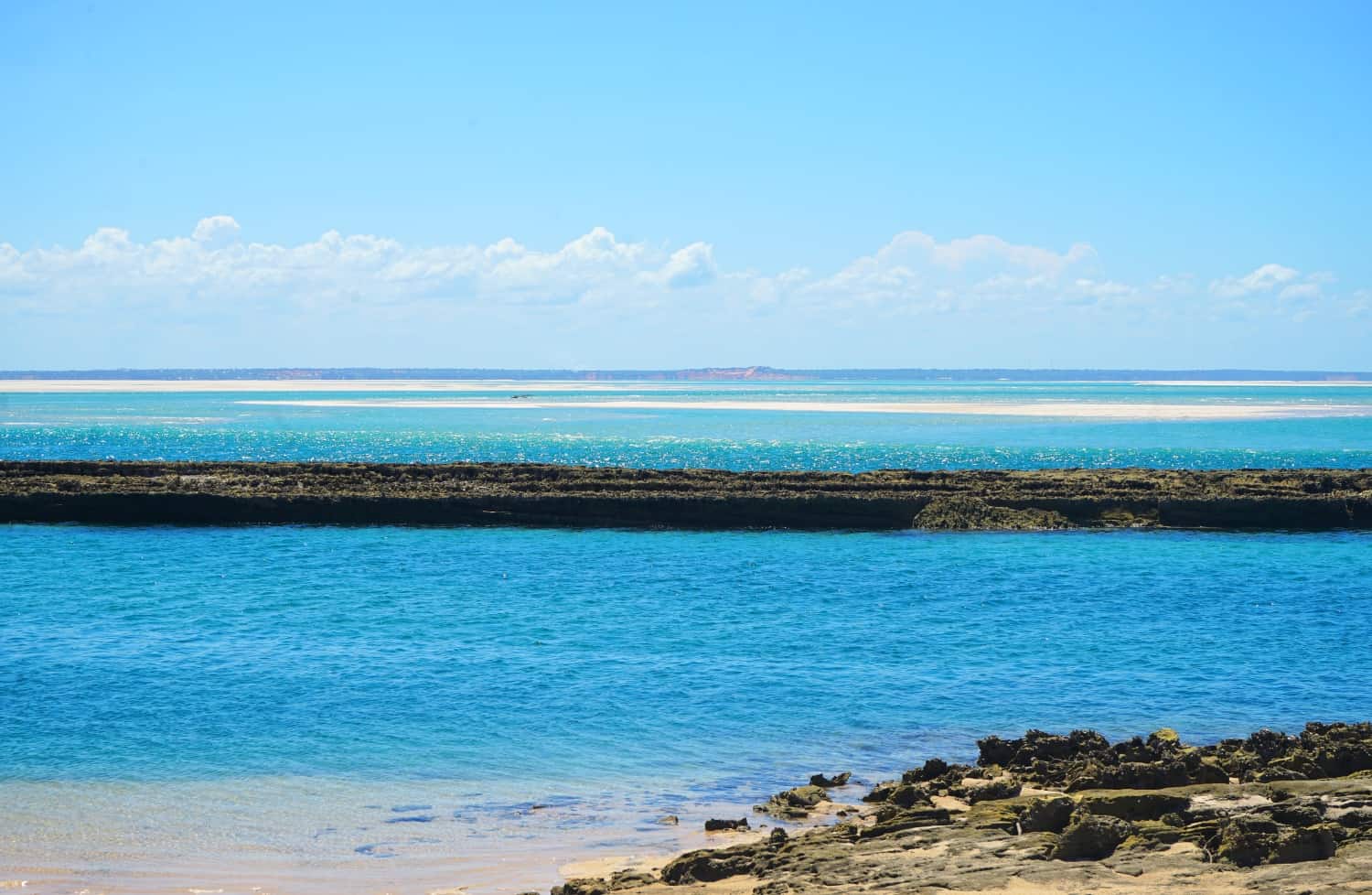 You can stay on several of the islands in the Bazaruto Archipelago, but they're strictly the domain of luxury travellers. To get here, you'll need to pay take a private plane to the island, then you'll quickly be transported to your $300-a-night resort overlooking the ocean.
Magaruque is one of those islands, and there's a tiny runway tucked away out of sight from the day-tripping backpackers. Unless you go searching for it, of course.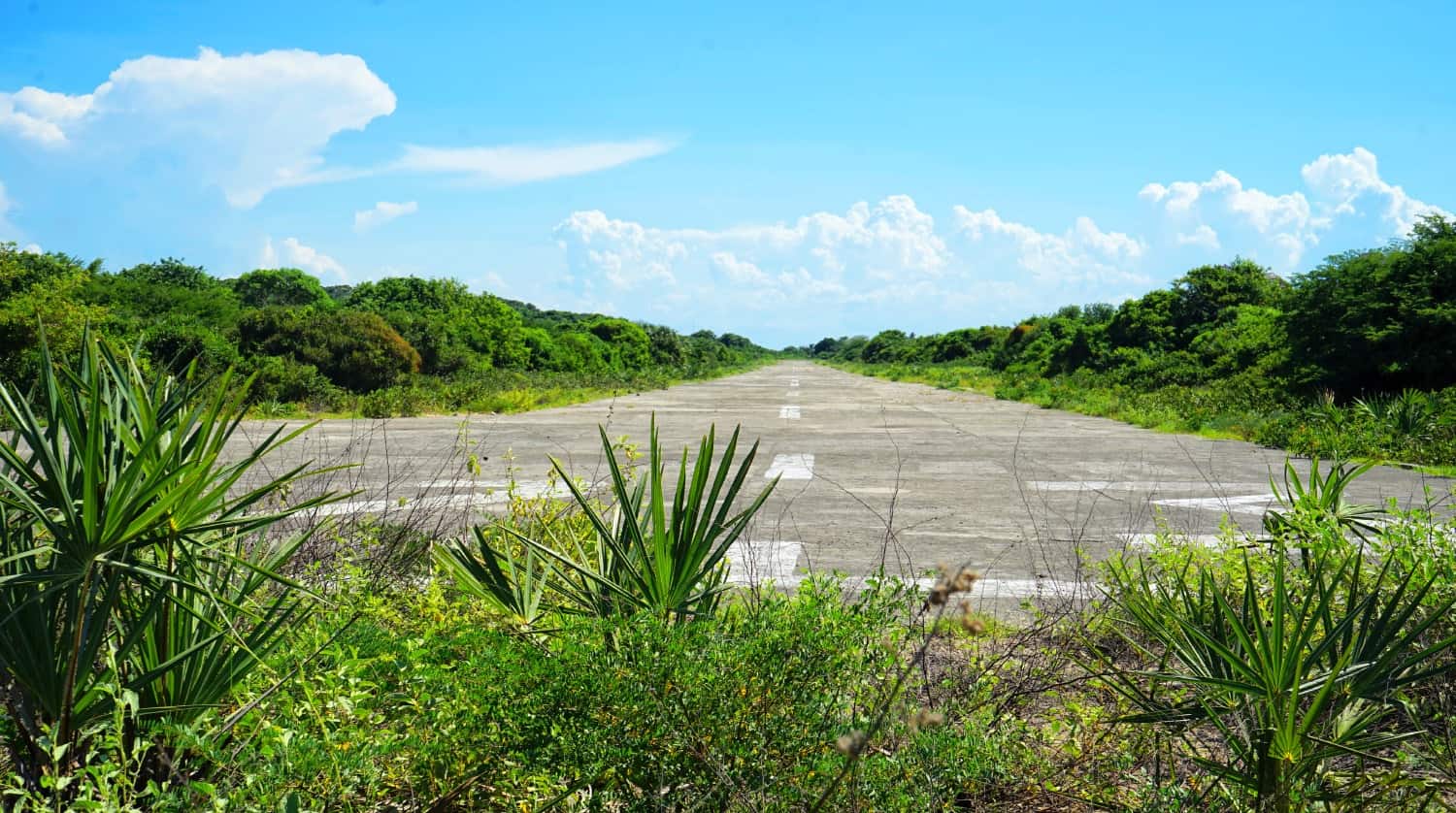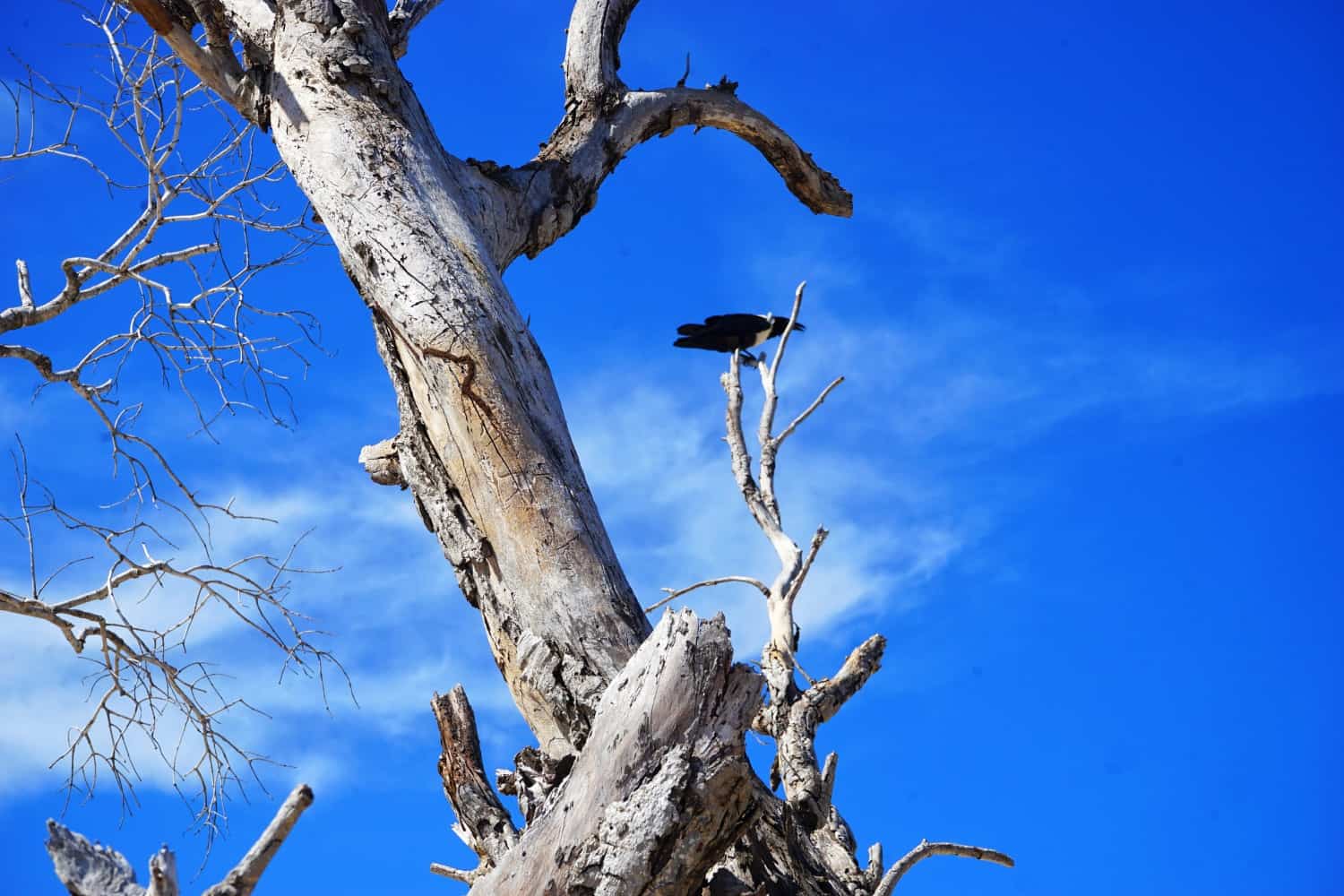 While the others on my group jumped back in the water with their snorkels and fins, I turned in the opposite direction and began to climb a sand dune. I had a feeling that the most impressive views of the sandbanks would come from up there, so I fought my way to the highest point of the island I could reach.
By this point, the tide was coming in, so many of the sandbanks were now submerged in the sea, but it was still a crazy-beautiful view back to where we'd begun our trip.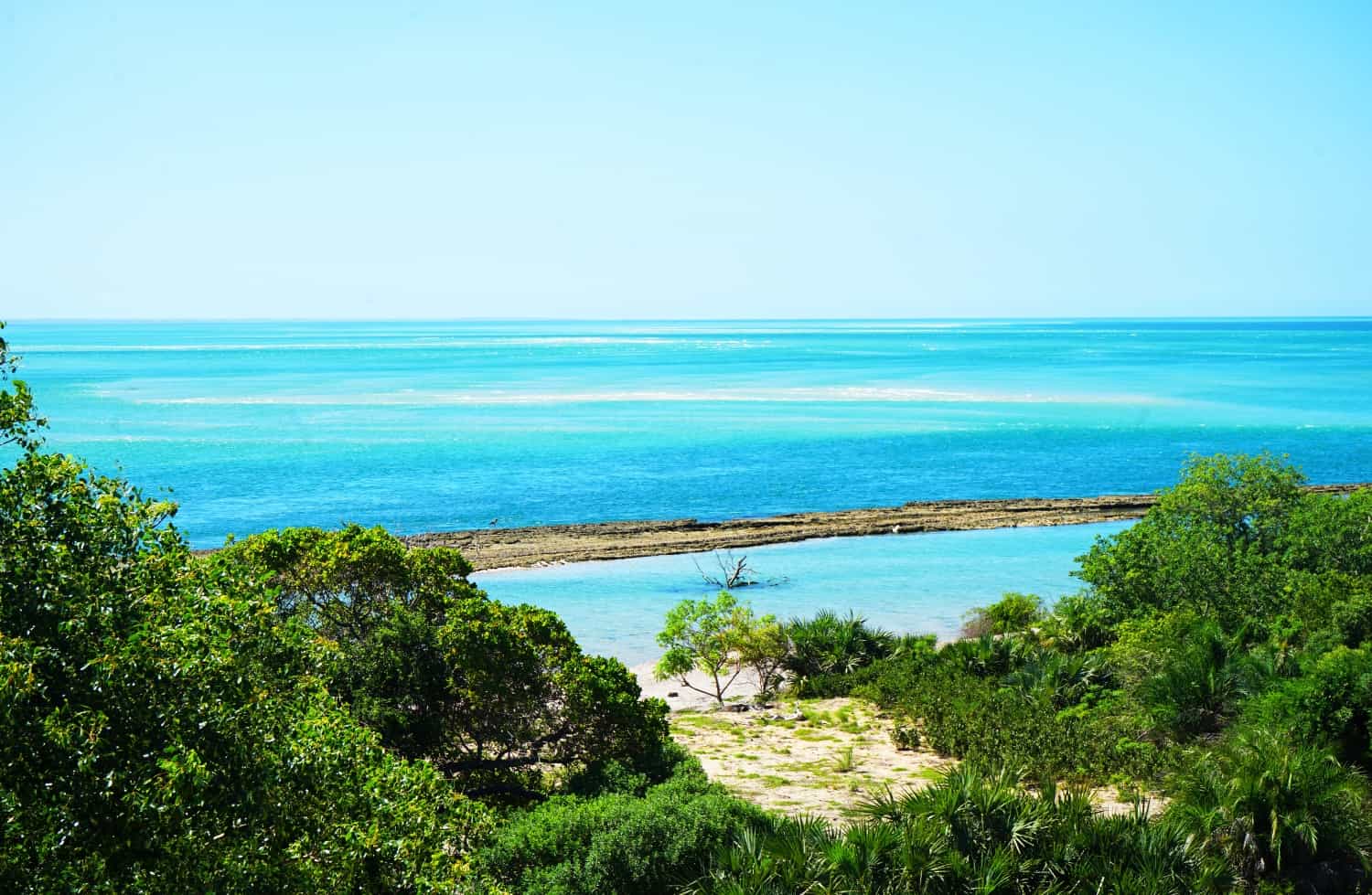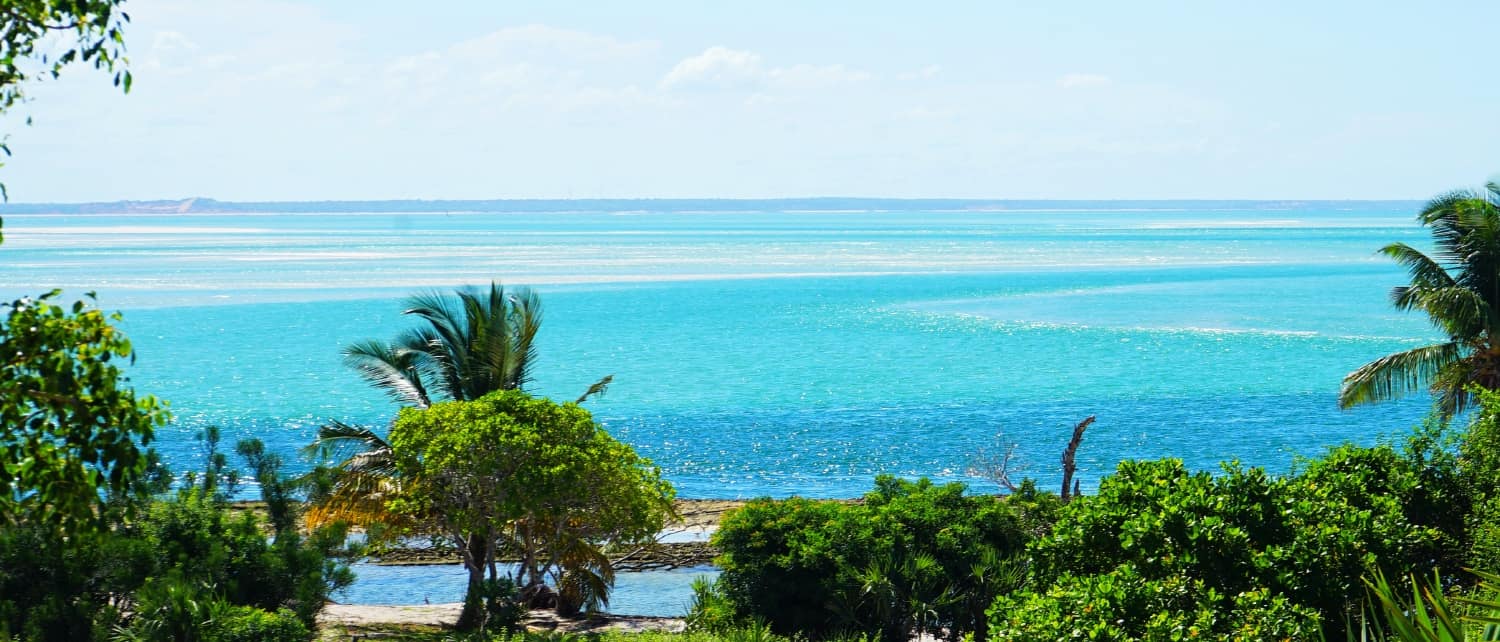 I wish I'd spent longer in Vilanculos.
After returning to my hostel later that afternoon, I discovered there wasn't going to be any island excursions running the following day; my last day in town, and I was gutted.
In a dream world, I would have spent two weeks just at Baobab Backpackers.
I'd have spent my time making friends with backpackers in the hostel, restaurant-hopping my way around the town, getting some work done with the surprisingly fast Wi-Fi, and taking an excursion out to a different island every few days.
Because, despite almost dying, my trip to the Bazaruto Archipelago was my favourite experience in Mozambique.
And yes, I know. Only I could write a post about a perfect day and have it include me almost drowning and cutting open my knee.
Does the Bazaruto Archipelago sound like your idea of paradise? Do you hate snorkelling as much as I do? Let me know in the comments below!
Related Articles About Mozambique

🇲🇿 What's it Like to Travel in Mozambique?
💰 How Much Does it Cost to Travel in Mozambique?
🏖 Introducing Tofo: My African Beach Paradise
Save This to Pinterest