Mozambique marked my first foray in Sub-Saharan Africa and I couldn't have chosen a better country to start with.
I spent a full month travelling across this country, and now? I'm fully obsessed with Mozambique. I can't stop talking about how hard I've fallen for the beaches, the people, the sealife, the food, and the laid-back way of life.
This is one of my favourite countries on the planet and I'm so excited to start sharing why.
But first, let's talk about expenses.
In this post-pandemic world, the cost of travel has been skyrocketing, but Mozambique has managed to remain relatively inexpensive.
Today, I'm going to be revealing exactly how much you can expect to spend on a trip to Mozambique.
I've been recording every single dollar, peso, and baht that I've spent on my travels since 2011 (I now have over 65 budget breakdowns on the site!), aiming to give you an accurate picture of how much you can expect to spend in every country around the world. Today, it's Mozambique's turn and I'm so excited to start sharing.
Let's get started.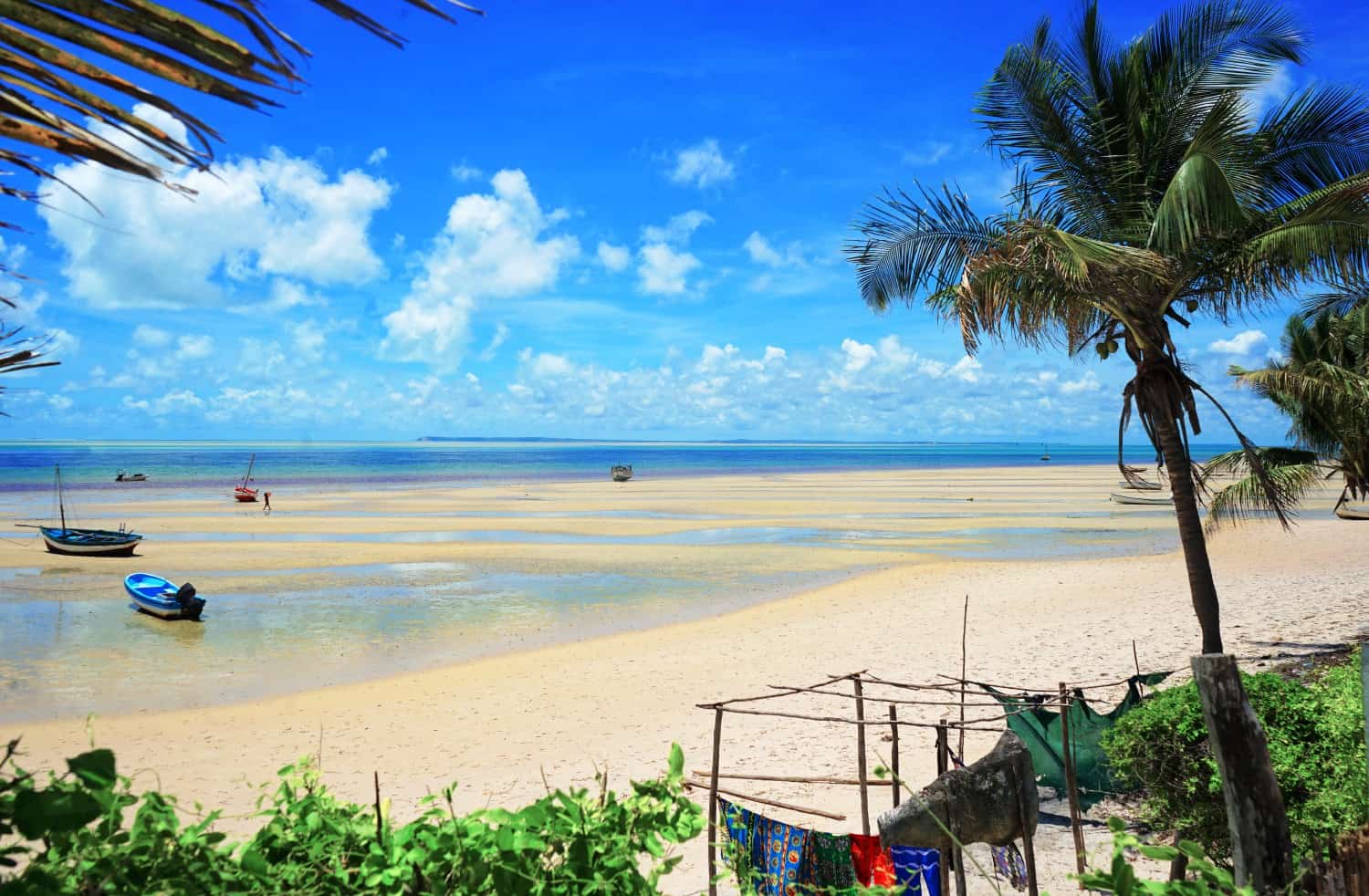 How to Save Money on Flights to/From Mozambique
Let's start with actually getting to Mozambique. This country isn't overrun with tourists, so you won't find the same number of flight options that you would for a country like neighbouring South Africa.
Being based in Europe, I found the flight options to be super-reasonable, thanks to TAAG Angolan Airlines. In fact, my flight was just €250 return from Lisbon, Portugal, meaning Mozambique was cheaper to fly to than many European destinations would have been!
Because of this, do keep an eye on Angolan Airlines' website, just in case a sale happens to coincide with your travel dates.
Mozambique is a former Portuguese colony, so that also means that TAP flies direct into Maputo for reasonable prices (€700 return). If you're based in Europe, then, you may find that it's cheaper to fly first to Portugal, and then onwards to Mozambique.
As always, I recommend heading to Skyscanner to compare flight deals and find the cheapest option.
If you're flexible with dates and itinerary, you'll find the best deals by searching by setting your flight departure date to be across an entire month. This will show you the cheapest dates to fly and ensure you have the very best deal possible.
In general, you'll find that it's cheapest to fly to Mozambique outside of high season; low season is between January and April. Despite this being the middle of the rainy season, I visited in January and only had a single day of wet weather. It meant I was able to take advantage of the lower prices while also lounging on the beaches in the sun. I lucked out, of course, so visiting at this time of year does involve taking a risk on the weather.
September to November marks out the shoulder season, where you'll encounter cooler weather and fewer tourists. If you do have the freedom to visit during shoulder season, I highly recommend it, as it'll mean spending less on flights and accommodation while having to deal with fewer tourists. Shoulder season is my favourite time of year to travel, and it's worth making the effort to do so in Mozambique.
What if you're not in Europe?
Most travellers to Mozambique hail from South Africa, so flights are relatively inexpensive if that's where you'll be coming from — expect to pay R200-500. Many visitors opt to drive across to Mozambique, so that's definitely option if you're keen to keep costs low.
In terms of my North America readers, getting to Europe is surprisingly cheap these days, and I wouldn't expect you'd need to pay more than around $400 for a return ticket. Allow me to introduce you to one of my favourite websites in the world: Secret Flying! I'd estimate that half of the flights I book these days are due to a deal I've found on Secret Flying.
From Europe, you'll then be able to utilise the tips above to score a cheap flight to Mozambique.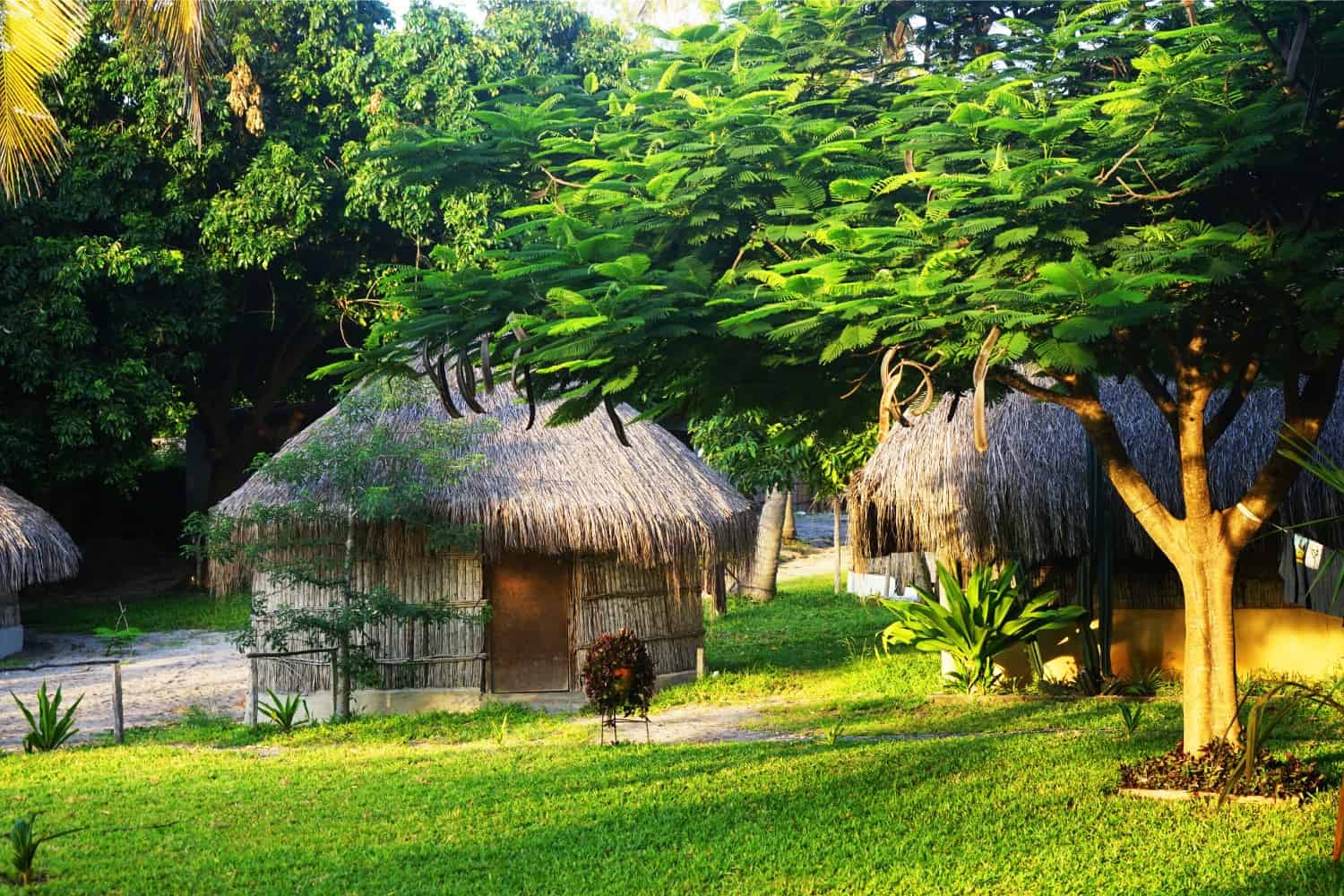 How to Save Money on Accommodation in Mozambique
Like practically every country in the world, prices have increased post-pandemic in Mozambique, so you'll be paying a little more for everything than you would have done a few years ago. Despite that, costs are lower than most Western countries, so accommodation in the country still offers up good value for money.
Let's start on the lower end of the spectrum. If you're willing to put in the time and effort, it's possible to avoid paying for accommodation entirely.
Couchsurfing exists in Mozambique and allows you to stay with a local for free, usually sleeping on their sofa and enjoying a local's insight into life in their country. It's not the most comfortable of living situations, and there aren't a huge amount of hosts in Mozambique, but if you're on a tight budget, it might be worth sending out a few requests to hosts to see if anything comes of it. You can browse through the 10,000+ local hosts on the Couchsurfing site.
Workaway is another option, where you can help provide work (farming, language-learning, charity work) in exchange for food and accommodation from a host. Its an excellent way to spend more time in Mozambique, get to know the country away from the tourist centres, and save on your travel budget.
And then we have hostels. In Mozambique, you'll only find hostels in the most touristy of destinations (think: Maputo, Tofo, Vilanculos). They're usually well-rated, clean, and one of your best options for saving money.
Hostels in Mozambique are on a par with much of south-eastern Africa, and you can expect to spend around €11 a night for a dorm bed for the best-rated hostels in the country
When it comes to private rooms in hostels, you'll be looking at €30 a night for a clean, basic room in a good location, so if you're travelling with friends or with your partner, you may find it cheaper to grab some privacy over settling for two beds in a dorm room. 
In Mozambique, I recommend the following hostels.
Maputo: Base Backpackers is the best spot for backpackers in Maputo, with a central location, helpful staff, and safe premises. Dorm rooms are €17 a night, while a private double is €42 a night. The property is extremely clean, the roof terrace offers up lovely views, and the Wi-Fi is fast. Overall, a great place to stay.
Tofo: Kitesurf Tofo House is the best-rated hostel in the entire country, racking up an average review score of 9.8/10 on Booking! You'll pay €11 a night for a four-bed dorm, or €21 a night for a queen room. What I loved most about Kitesurf Tofo is its location: it's close to the beach and close to the action, but just far enough away that you don't have to deal with any noise. The owners are wonderful, the bedrooms beautiful, and the garden perfect for relaxing in.
Vilanculos: Baobab Beach is the spot where everybody ends up staying in Vilanculos — myself included! It's a fun, lively, friendly hostel, where it's easy to make friends, excursions run everyday, and there's still a calm, quiet atmosphere for when you need to sleep. Dorms start at just €10 a night, while private doubles come in at €32 a night.
And then there are hotels, which I'm going to jump into next.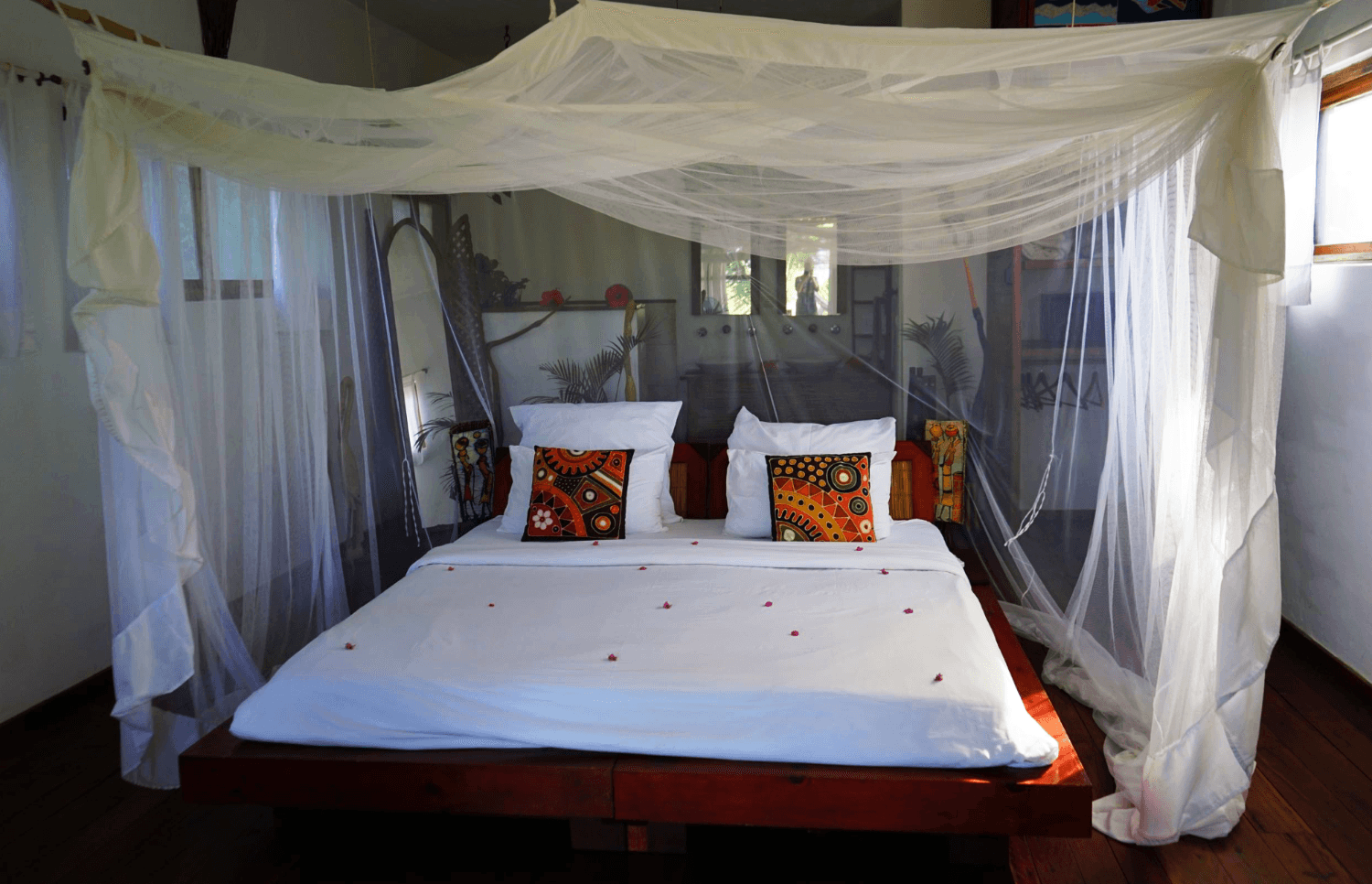 The Cost of Accommodation in Mozambique
The value of accommodation in Mozambique varied quite a bit, depending on which part of the country you were in. Outside of dorm rooms, it was tough to find a well-reviewed guesthouse in Maputo for under $40 a night, but in Tofo and Vilanculos, budget options were everywhere (although didn't always have amazing reviews).
For those of you who want to visit Mozambique on a shoestring, camping is common and can be done in most tourist spots, and especially in the south of the country. There isn't a Couchsurfing scene at all in Mozambique, so don't rely on that if you're used to bouncing your way from sofa to sofa as you travel. There are hostels, and dorm rooms are cheap. The infamous Fatima's (around $8.50 per night for a dorm) is your best option in Maputo and Tofo, although both places get pretty mixed reviews.
What I did: I opted for a real mix of accommodation options. I stayed in the best-sounding budget-hotel in Maputo, splashed out on a luxury eco resort in Tofo, and stayed in a popular hostel in Vilanculos. While quality did vary, the one constant was the bugs and the lack of air conditioning.
Taka-Taka Hotel, Maputo: $37.94/night
This is most likely the best value guesthouse you'll find in Maputo, which was pretty expensive for accommodation. The guesthouse was basic but clean, the staff were friendly and helpful, the breakfasts were free and decent, and it was in a central location.
There was one major downside to this hotel, though. One of the guests who was staying there went to reception and asked what room I was in, and they told him! I had never even seen this guy before, let alone spoke to him. He turned up outside my room at 10 p.m., tried to get inside, and once I got rid of him, continued to knock on my door to invite me to drink with him or introduce his friend to me. I slept with the room furniture up against the door that night and was relieved to be checking out the following day. Ugh.
Baia Sonambula, Tofo: $63.00/night
One of the best places I've ever stayed in and such great value for money! If you want a bit of luxury travel in Mozambique, stay at Baia Sonambula. The staff are incredible, it's located just up from the beach, the rooms are gorgeous, the views are the best, the breakfasts are divine, and you even get free cake and coconut water every afternoon. I spent five nights and considered cancelling the rest of my trip in order to spend even longer there. I'm currently trying to convince all my friends to take a trip to Mozambique with me and it's mostly so that I have an excuse to return to Baia Sonambula.
Baobab Backpackers, Vilanculos: $31.23/night
Baobab Backpackers is a standard backpackers hangout on the beach. It's rustic, there are cockroaches, and the rooms are hot and humid. If, however, you're looking for a chilled out spot on the beach to make friends and be well-looked after, this is the place for you! Despite the relative discomforts (especially after my stay at Baia Sonambula), I really liked it and would stay here again. Lots of activities and excursions for you to take, there's a restaurant on-site, which is useful if you're feeling lazy, and the staff are so, so lovely.
Total cost for accommodation in Mozambique: $522.51 over 11 days = $47.50 per day.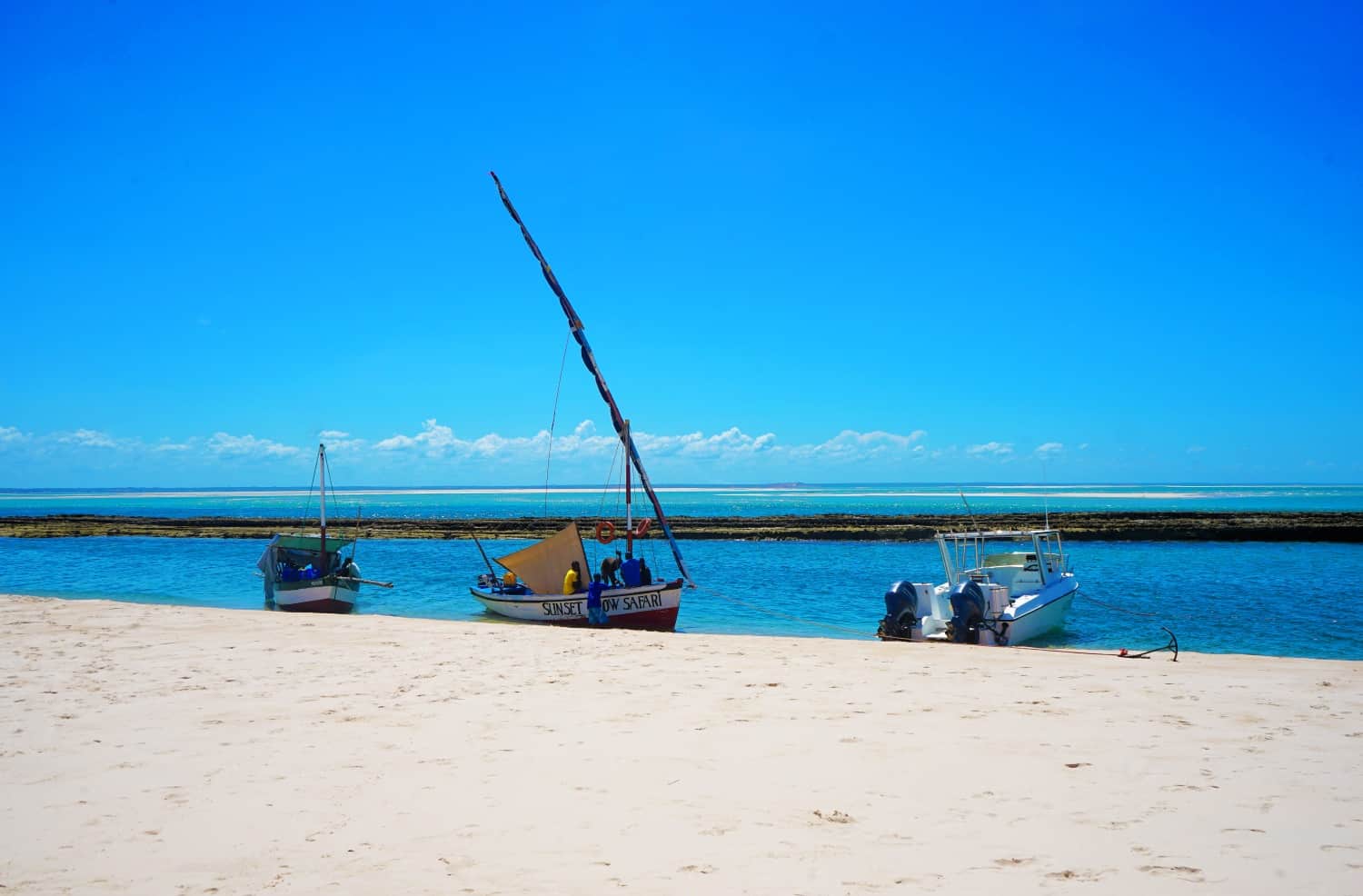 The Cost of Transportation in Mozambique
Transportation is unbelievably inexpensive if you're willing to suck it up and ride the chapas. To quote from my post about what it's like to travel in Mozambique: Imagine a humid minivan with poor suspension, swerving its way over pot-holed roads on a thirty-degree day. Now imagine filling it with 10 times more people than the recommended capacity until you're all packed in the back like sweaty sardines. Maybe throw a child on your lap, a broken seat below your legs, and some smelly food in there, too. Now, get the driver to rip you off on the price.
Before arriving in the country, I planned to travel overland from place to place to save money, but it only took two days for me hand in my backpacker card and swear off using them. Unfortunately, though, if you're not willing to use the chapas, don't want to hitchhike, and don't want to rent a car, there aren't many other inexpensive overland transport options you can take.
So, yeah. I definitely splurged on transportation on this trip. I flew from Maputo to Inhambane for $100, then took a free hotel shuttle to Tofo (the entire journey would have been around $12 total by chapa), then to get from Tofo to Vilanculos, I splurged on hiring a private car after finding out the overland journey would involve a ferry, multiple chapas, and many hours stood alone on the side of the road attempting to flag a ride down. I didn't feel comfortable hitchhiking as a solo woman.
Cities and towns in Mozambique are small, so you can walk basically everywhere you need to. I explored Maputo and Tofo on foot, and took tuk-tuks in Vilanculos in the evenings for safety reasons (the guesthouse staff told us it was unsafe to walk around at night). It cost around $1-2 each way to most places in the town.
Flight from Maputo to Tofo: $100
Private car transfer from Tofo to Vilanculos: $100
Three tuk-tuk rides: $5
My total cost for transportation in Mozambique: $205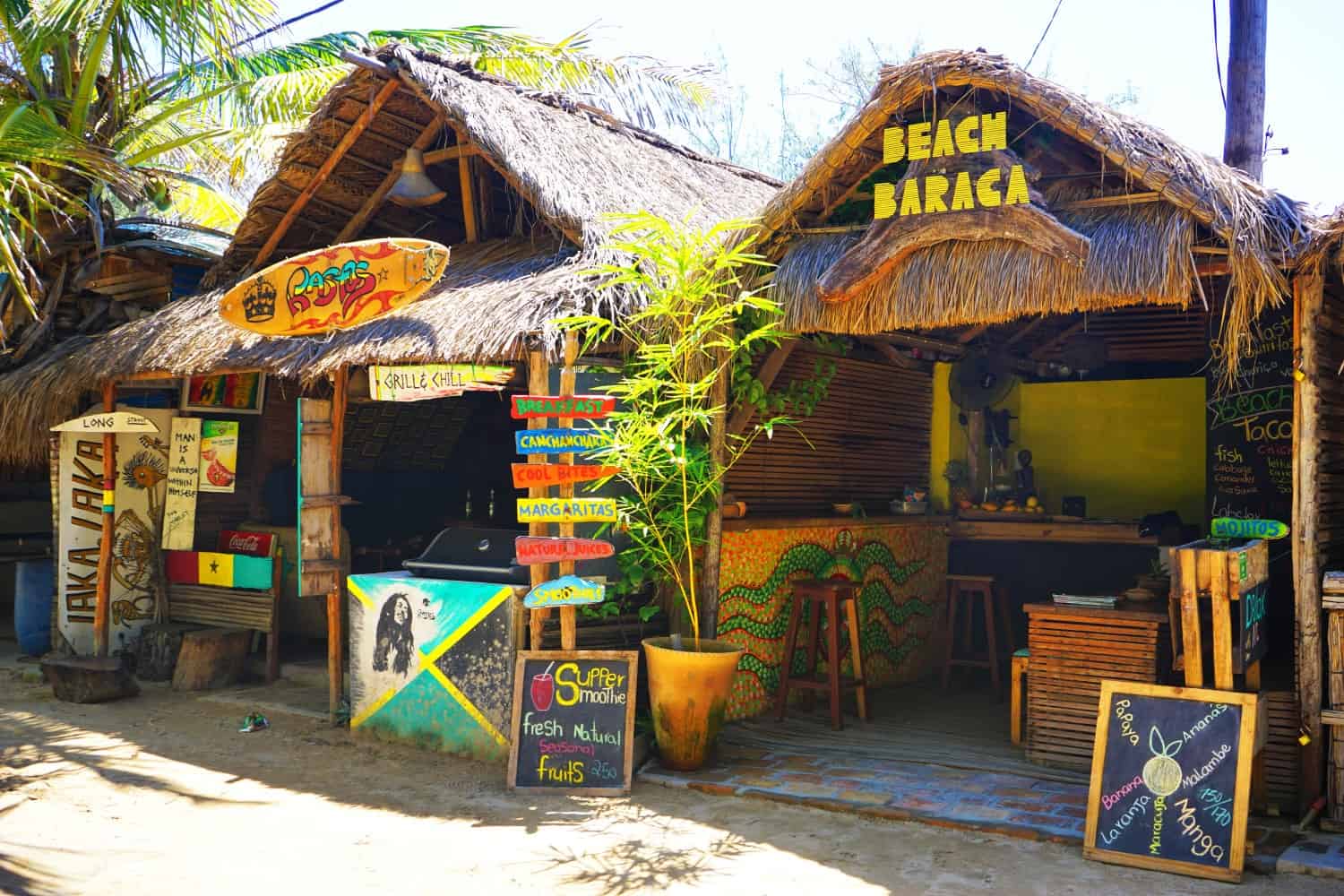 The Cost of Food in Mozambique
Food is cheap, cheap, cheap and delicious in Mozambique, and you definitely won't go hungry. Portions were huge!
It was super-common for breakfasts to be included in the price of your room, and they were all pretty standard breakfast fare of toast, butter, scrambled eggs, some fruit, and coffee. Baobab Backpackers didn't include breakfast but had a restaurant on site where you could grab an enormous omelette before hitting the sandbanks.
In Mozambique, you'll find peri-peri-smothered everything and the enormous seafood platters will fill your stomach. Yes, if you're not a fan of heat or seafood, you may find yourself having to hang out in tourist restaurants every now and then. The seafood is delicious, though, with some of the best prawns and crayfish I've ever had the pleasure of eating and some seriously great deals. A seafood platter split with two friends came to $6 each in Vilanculos, and was washed down with a $2 beer.
Overall, expect to spend $2-7 per meal.
For something local that's without Portuguese influence, there's a dish called matapa, which is stewed cassava leaves, cooked with seafood and covered with peanuts, garlic, and coconut milk. I didn't try it because I can't eat peanuts, but friends who did liked it more than they expected.
Drinkingwise, I used my Grayl water purifier bottle that kills 99.999% of all viruses, bacteria, and cysts in water, making it completely safe to drink. I drank the tap water everywhere in Mozambique, didn't get sick, saved money on water bottles, and didn't pollute the country with my plastic waste. I highly recommend grabbing one of these for your trip. If you're short on space, a Steripen is a great option for making tap water drinkable.
Fruit is insanely cheap in Mozambique, and especially if you eat multiple portions of it a day — you'll find deals like 30 mangoes for $0.20 while you're wandering around the markets, and the locals will be bemused if you want to buy just one.
I spent just $62 on food during my 11 days in the country. That's $5.63 per day!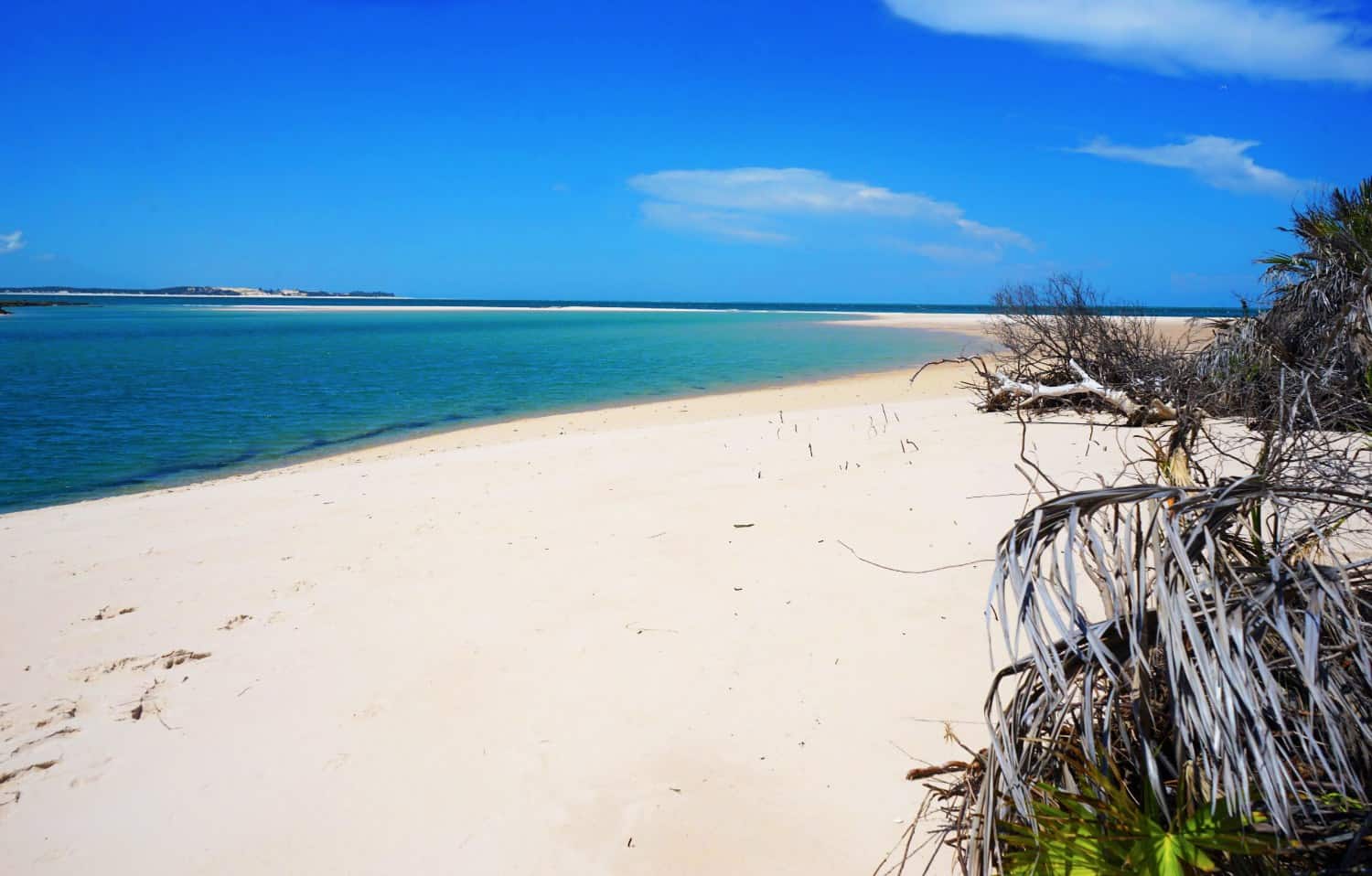 The Cost of Activities in Mozambique
To save money on activities in Mozambique, you should plan to wait until after you've arrived in the country to start booking experiences. Like many places around the world, the prices listed online for tours and activities are drastically higher than what you'll pay by turning up and asking around.
It's worth mentioning, too, that if you're a solo traveller, you'll find it beneficial to stay in hostels and take advantage of the group tours that are run for travellers. When looking at tours outside of my accommodation, group tours were rare and private ones charged at least twice as much if you were alone.
So what trips did I take?
In Tofo, I jumped on an ocean safari with Diversity SCUBA for a morning with the whale sharks. The ocean safari is aimed at the rare non-divers who opt to travel to Tofo, and involves spending two hours motoring across the ocean and jumping in whenever you spot whale sharks, manta rays, dolphins, and whales. It's $40 for the tour, and I received a 10% discount because I was staying at Baia Sonambula. If you are a diver, you'll pay $40 for a single tank.
In Vilanculos, I opted for an island excursion that was arranged through Baobab Backpackers. It cost $50 to spend a full day on Ilha de Magaruque and included snorkelling equipment and a fish barbecue lunch. This was my favourite experience in Mozambique and well worth the money I spent! I wish I'd had longer in Vilanculos so I could have jumped on another one of their tours.
In Mozambique, it is possible to rock up and negotiate with the local fishermen to hire a dhow for the day at a cheaper price, but you're taking a risk by doing so. Hotel staff warned me of the dangers of doing this (potentially to convince me to take their tours) and said that the fishermen could take you out to an island, then ask for more money to bring you back.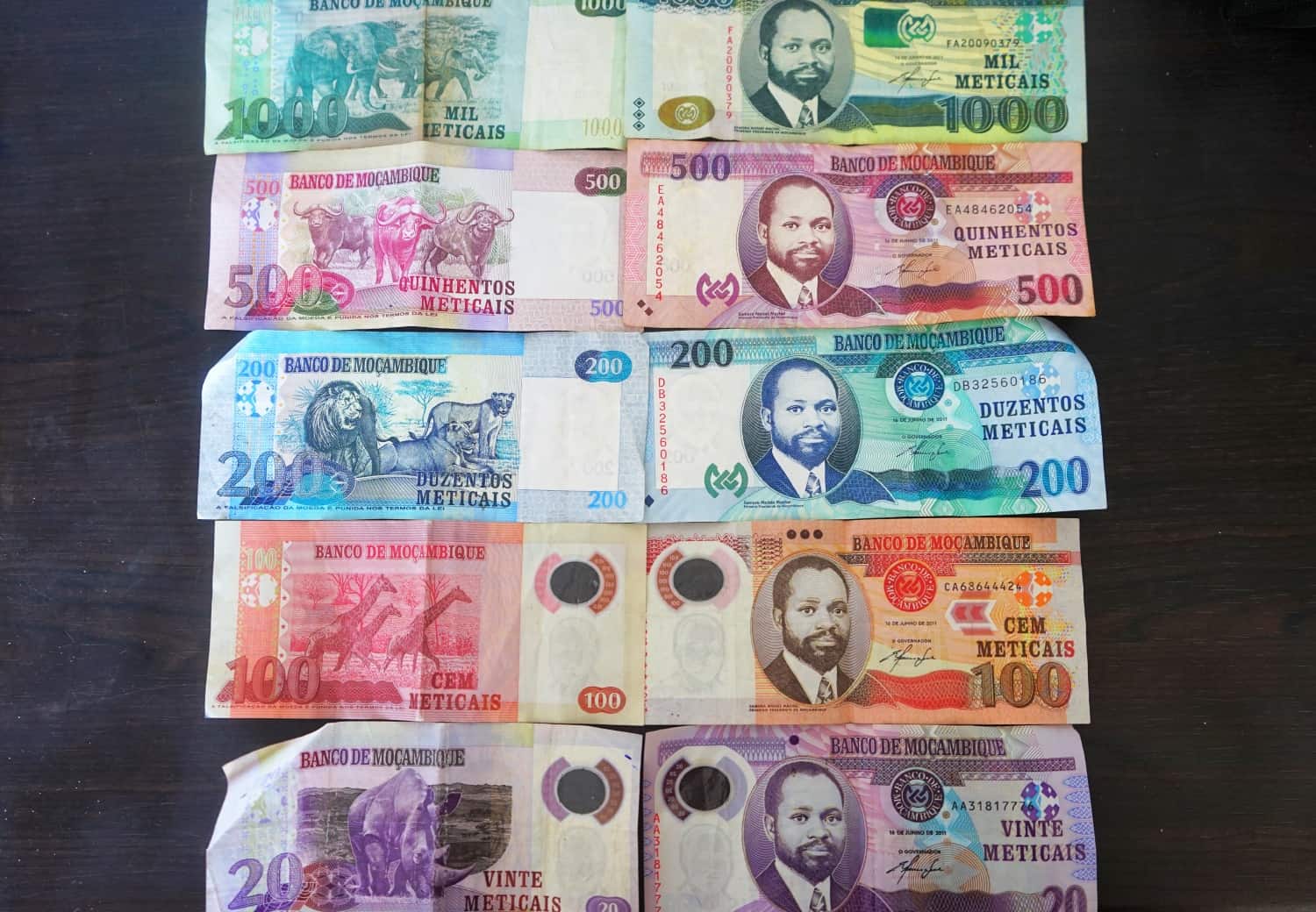 The Cost of Miscellaneous Stuff in Mozambique
Visas: The Mozambique visa is reasonably pricey at $77 for a single entry tourist visa. Citizens of all countries can get a visa on arrival as long as you can prove you're a tourist (print out of a copy of your flight out of the country and accommodation confirmations). Members of SADC countries don't require a tourist visa when visiting Mozambique.
A local SIM card: Now. I don't know about you, but one of my least favourite aspects of arriving in a new country is having to figure out how to get connected. Specifically: buying a local SIM card so that I have data to use while I'm in the country.
There's locating a store that will sell you one, language barriers to deal with (in Mozambique, I did struggle with this), various forms of ID you might need to bring, scams to navigate, and… well, it's a headache.
This year, I started using Airalo, which sells local e-SIM cards for travellers. What that means is that you can buy your SIM card online before you arrive in Mozambique, and then as soon as you land in the country, you can switch on your data and start using it. It's worked flawlessly for me and I'll never go back to physical SIM cards. You'll pay between $8 for 1 GB of data and $36 for 10 GB of data and can top-up through the Airalo app.
Anti-malarial tablets: Mozambique was the first country where I took anti-malarials! The country has one of the highest risks of malaria in the world, and cerebral malaria is common, so you'll really want to make sure you take anti-malarials and take them properly. I opted for generic Malarone tablets, which were $2.42 per tablet. Doxycycline is a much cheaper alternative at $0.19 per tablet, but requires you to also take the tablets daily for a month after you leave the country and is an antibiotic, which I definitely didn't want in my system.
Travel insurance: If you've read any other posts on Never Ending Footsteps, you'll know that I'm a great believer in travelling with travel insurance. I've seen far too many Go Fund Me campaigns from destitute backpackers that are unexpectedly stranded in a foreign country after a scooter accident/being attacked/breaking a leg with no way of getting home or paying for their healthcare. These costs can quickly land you with a six-figure bill to pay at the end of it.
In short, if you can't afford travel insurance, you can't afford to travel.
Travel insurance will cover you if your flight is cancelled and you need to book a new one, if your luggage gets lost and you need to replace your belongings, if you suddenly get struck down by appendicitis and have to be hospitalised, or discover a family member has died and you need to get home immediately. If you fall seriously ill, your insurance will cover the costs to fly you home to receive medical treatment.
I use SafetyWing as my travel insurance provider, and recommend them for trips to Mozambique. Firstly, they're one of the few companies out there who will actually cover you if you contract COVID-19. On top of that, they provide worldwide coverage, don't require you to have a return ticket, and even allow you to buy coverage after you've left home. If you're on a long-term trip, you can pay monthly instead of up-front, and can cancel at any time. Finally, they're more affordable than the competition, and have a clear, easy-to-understand pricing structure, which is always appreciated.
With SafetyWing, you'll pay $1.50 a day for travel insurance.
---
Things to Know About Money in Mozambique
You'll pay for most things in Mozambican Meticals (pronounced meti-caish), but the South African rand and U.S. dollars are widely accepted, too.
ATMs often run out of cash, and some of them just wouldn't work with my Visa debit card, so if you can't get money out of the first one you try, don't panic! Try a few others before concluding that your card has been blocked.
Expect to pay with cash in restaurants, but all accommodation I stayed at had card readers, and so did the tour companies.
Tipping isn't expected. I like to tip a small amount anyway.
You can't change meticals outside of the country! I forgot about this and took a whopping $150 worth of meticals out of Mozambique with me, turned up in South Africa, and discovered nobody would change them. Fortunately-ish, Portuguese currency exchange places do change meticals, but at an appallingly bad rate. I got just $70 for mine once I landed back in Lisbon. If you don't live in Portugal, though, don't expect you'll be able to change your money once you've left.
---
And that's how much it costs to travel in Mozambique! I spent around $950 for my 11 days in the country, which works out at $86 per day.
It's not the cheapest country in the world, but it's far from the most expensive, either.
I wasn't making much of an effort to keep my expenses down, so if you're happy to stay in hostels, eat cheaply, travel overland, and minimise the number of activities you do, you could most likely travel around for as little as $20 or 30 a day.
Have you been to Mozambique? How did my travel expenses stack up against yours?
Related Articles About Mozambique

🇲🇿 Mozambique Travel Guide: What's it Like to Travel in Mozambique?
🏖 Introducing Tofo: My African Beach Paradise
🤿 A Perfect Day in the Bazaruto Archipelago
Save this to Pinterest: