The concept of Bali means many different things to many different people. Some are enticed by the incredible stretches of white sandy beaches and world class surf. Others by the intense parties and clubs that will have you bumping and grinding to the early morning. But if your vision of this island paradise is lush forests and jungles, breathtaking waterfalls, internationally renowned dining, stunning architecture and temples, and spas that pamper you from head to toe, then Ubud is the place for you.
Walk or take a scooter through magnificent rice fields, sit in a private pool overlooking a waterfall or stroll through a forest surrounded by thousands of monkeys, there are a multitude of things to do here that are hard to find elsewhere. Ubud and Bali in general are hardly off the beaten path as it is one of the biggest travel destinations in the world and for good reason. However, there are still plenty of places to go where you can get lost and while you still will have the crowds in the main town, compared to some of the more popular spots on the coast it is by far more manageable.
I spent a month in Bali last year and while I enjoyed it as a whole immensely, I used Ubud as my base of operations and would do it again without a doubt. The serenity it provided after occasionally visiting the more happening spots was much needed and was the perfect place to recharge. Spending three days in Ubud is ample time to see all of the major attractions but if you can stay longer just to get some much-needed R&R from your day to day life back home or from a long period of travel I would highly suggest it.
I will be writing this assuming the perspective of renting a scooter to ride around because in my humble opinion, that is the best way to get around as locations are a bit far from each other, ride sharing apps are banned and local taxis price gouge quite a bit.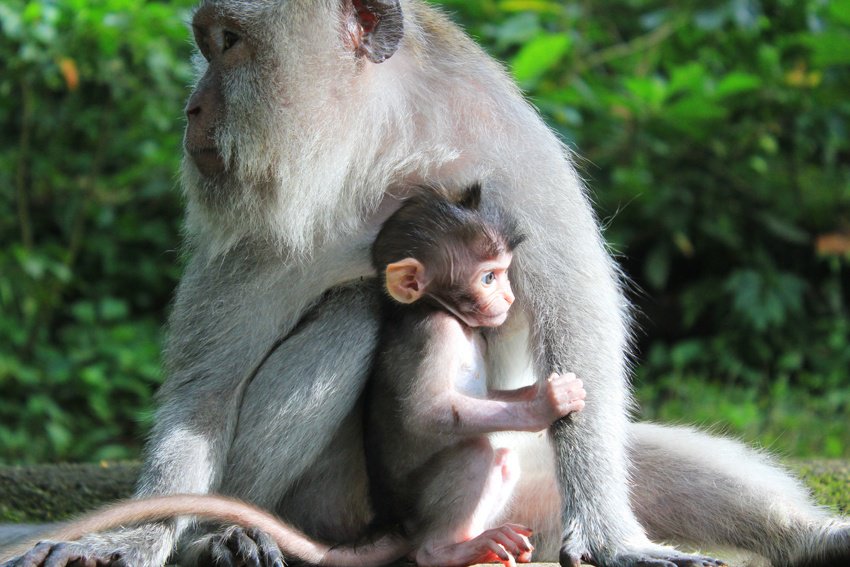 Day 1 – The South
Since you are fresh and full of energy, let's get up nice and early and get on the road! We can start with an early breakfast at Milk and Madu. Looking for your average breakfast staples? They have got them in spades! Full breakfasts with sausage, eggs and pancakes, the works. Although this is Ubud, the yoga and health-conscious heart of Bali, so if you want to go with the crowd, the smoothie bowls are some of the best in town.
Then head on down to the Sacred Monkey Forest. The vibrant green forest is full of our small hairy ancestors and you can observe them uncaged in their natural habitat. The primates have become quite used to onlookers so they can get quite close, however I would strongly caution against feeding or petting the monkeys. Although it is explicitly stated in the rules, you still see tourists doing them all the time. This causes the monkeys to become aggressive over time and makes the whole experience less fun for everyone.
Trust me: I'm speaking from experience.
The whole park takes a couple hours to get through and is definitely a highlight of the trip seeing nature and animals up close. 
After that you're going to be jealous watching all the monkeys snack on the delicacies of the jungle so let's go get something to eat. If you leave Ubud without trying Babi Guling, you are doing it wrong. Babi Guling is a roast suckling pig with outside skin that is crispier than a cricket in a deep fryer and the inside skin more juicy than a Tropicana factory. It was my favourite thing that I ate in Ubud, and luckily for you, some of the best in Bali is just next door at Babi Guling Ibu Gendut.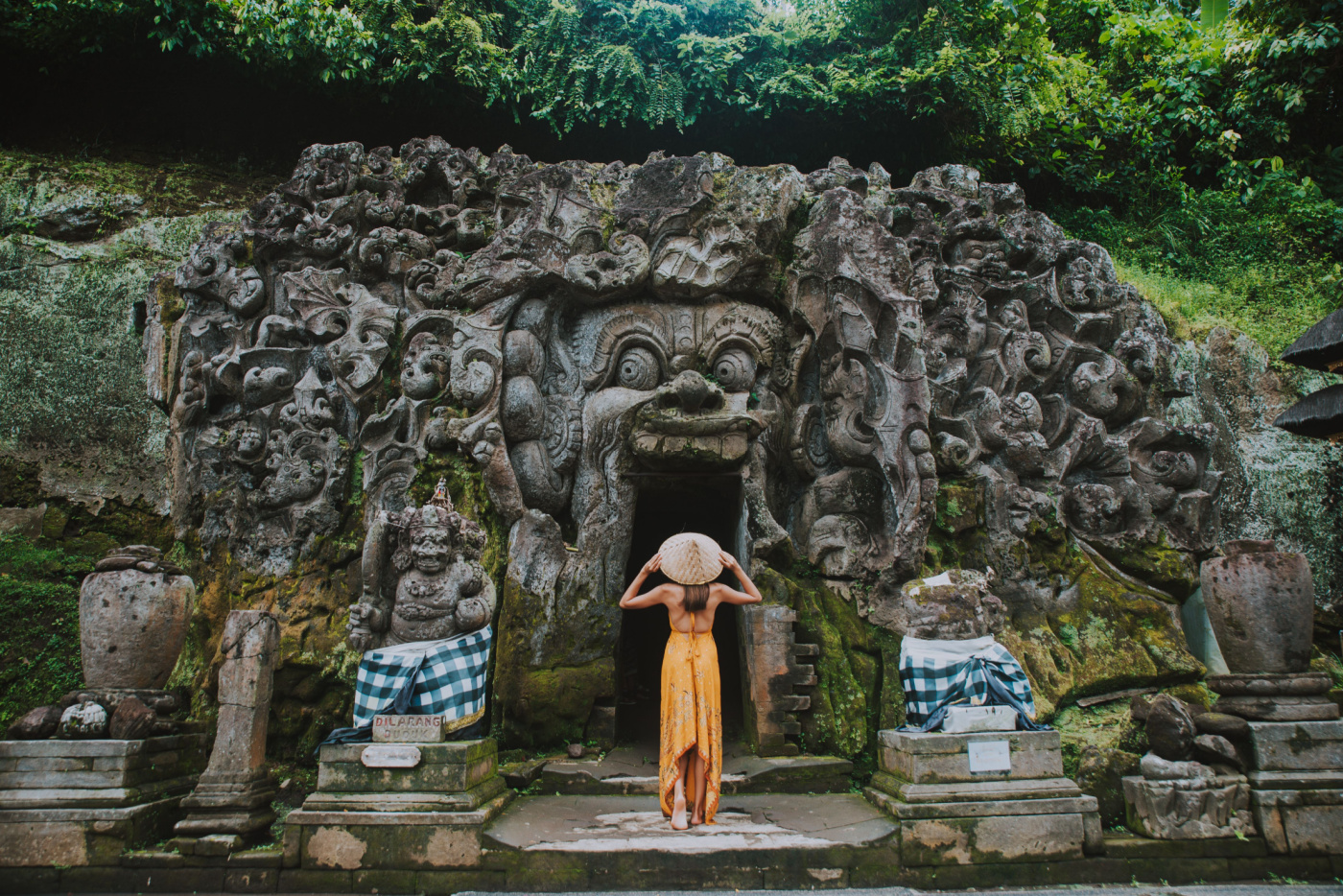 After stuffing yourself silly, waddle back and climb on your bike for a short drive up to Goa Gajah. Otherwise known as the Elephant Temple, this 9th Century Temple is a sight to behold. The entrance looks like a screaming face which is about as impressive as it is terrifying. I overheard a guide say that all the scary looking faces are meant to scare off the evil spirits, and it seems like it is doing a bang-up job, because I didn't sense any evil spirits at all!
The designs carved in the rock are so intricate and the grounds so beautiful, this temple was originally a place to meditate. It looks like it would be a little harder to do that right now with all of the other visitors, but I can see how it would be an amazing place for that if it was a little quieter. A perfect place to wander around and soak in some of the most incredible designs you will find anywhere.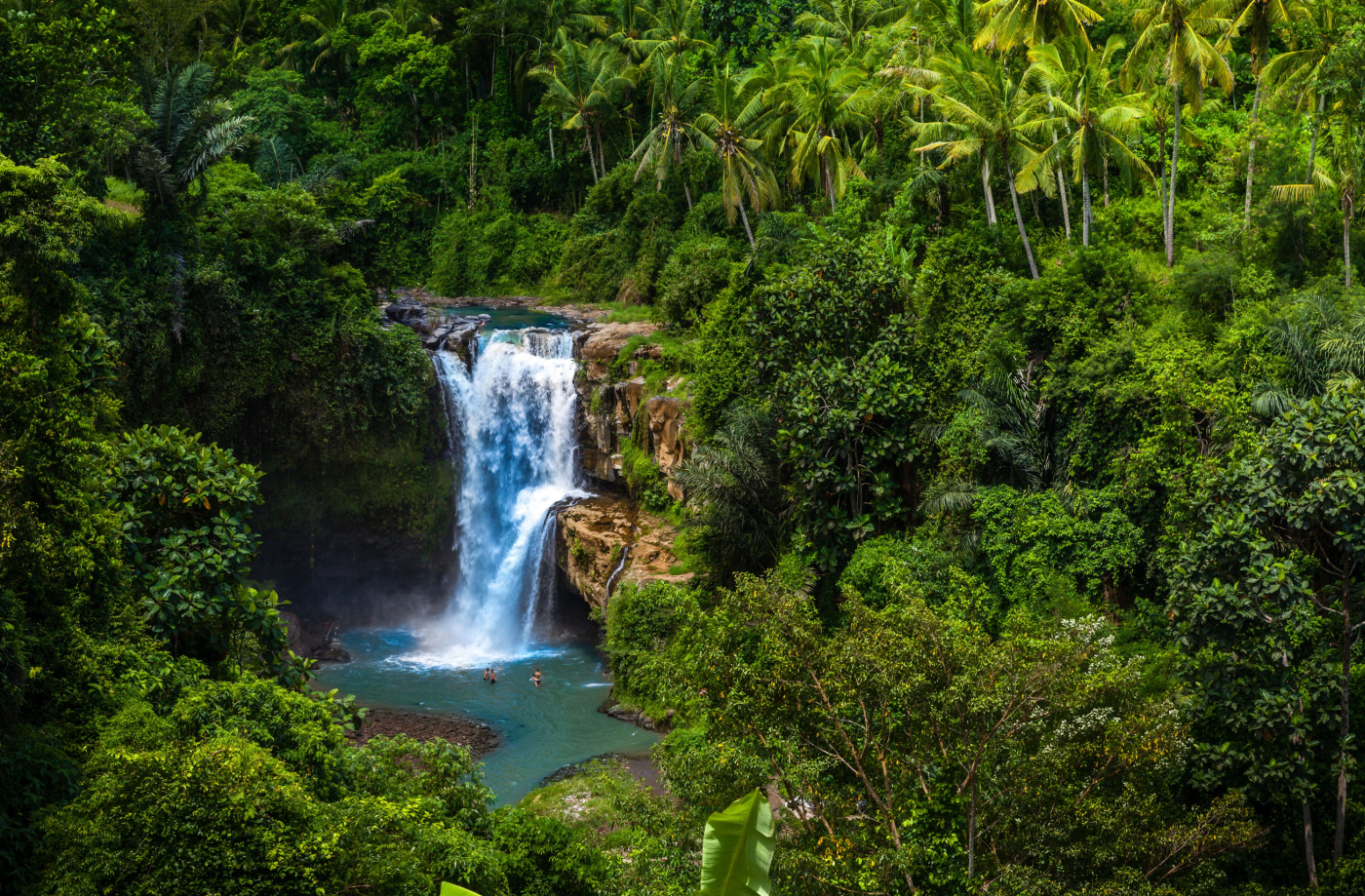 We will end our day at the Tegenungan Waterfalls about a 20-minute drive away, but on your way down there you would be remiss if you didn't see the Setia Darma House of Masks and Puppets. Puppets and masks are integral parts of Balinese culture with shows and performances having a huge part in festivals and get-togethers. This small museum showcases some unique and rare items and gives you a further glimpse into the local culture. You can go through the whole thing in about 45 minutes, and I definitely think it is worth your while.
Lastly, you will reach the Tegenungan Waterfalls, a powerful waterfall that cascades down rocky cliffs. Your experience can vary depending on the season. If you go during the rainy season, you will see this place in its full roaring glory. However, the water will be pretty muddy and there will be too much water pressure to swim in. If you go during the dry season, the water will not have nearly the same power, but the water will be clear and you can swim to your heart's content.
Although I think, no matter what season you go, the best place to experience the waterfall is at the Omma Beach Club. Located just a stone's throw away from the waterfall, you can enjoy the view of rapids from Omma's infinity pool, which is free with the purchase of a drink or food. The club is also a bit elevated giving you sight of not just the waterfall, but a panorama of the surrounding jungle as well. And doing it with an ice-cold beer in hand? Absolute paradise.
The food and cocktails at the day club are not too shabby as well and the deck is the ideal place to watch the sun go down. It is honestly one of the most picturesque dinner and drinks I have ever had. The staff is also insanely friendly and the music is good too. Make sure you don't have more than a couple though because you still have to drive back! So take it slow, take it all in and come back to the hotel to rest up for day two.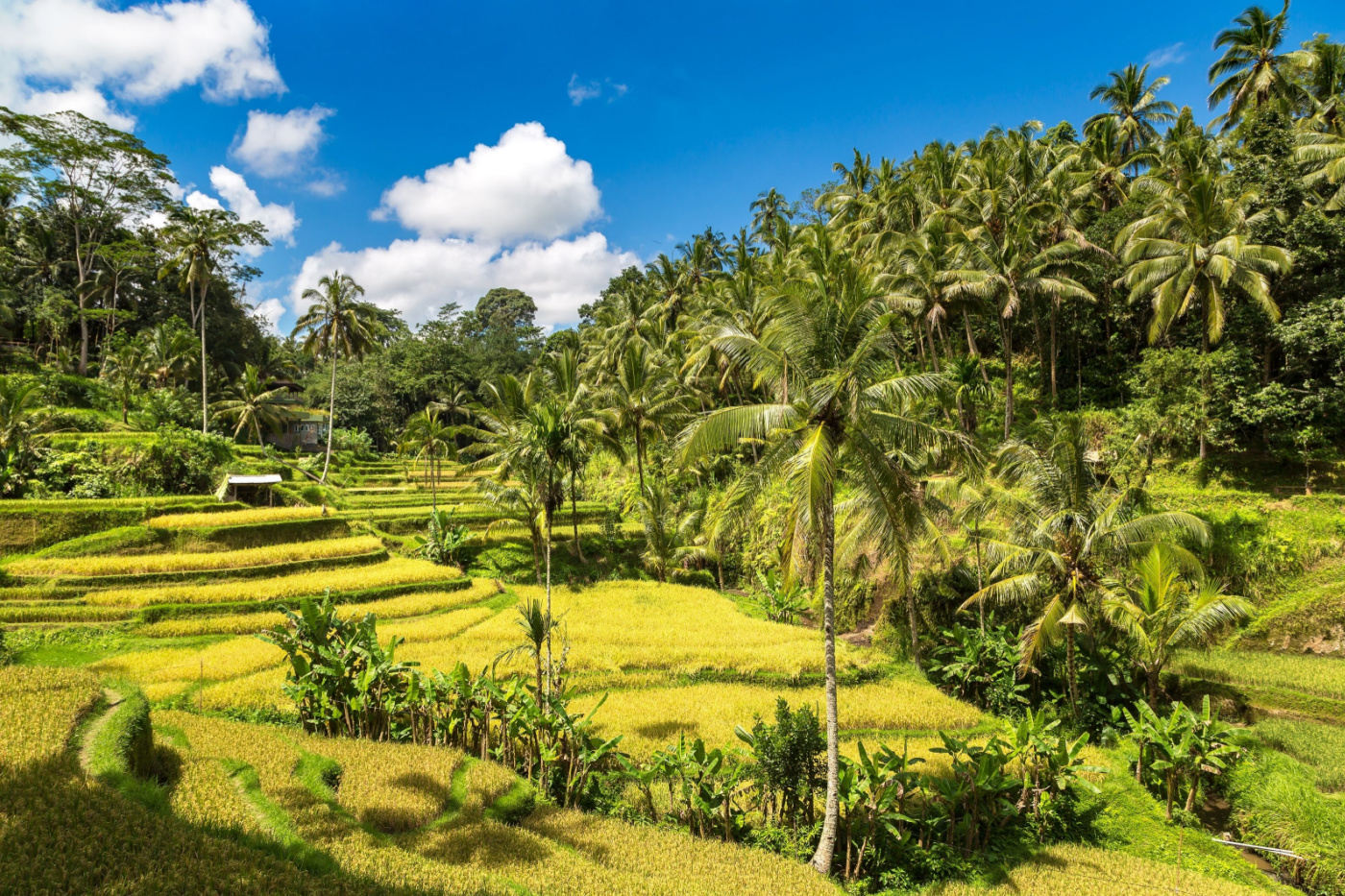 Day 2 – The North
Day two is all about the views so get started at Zest Ubud just outside the main town. It is vegan if you are, but if you are not you can't even tell the difference, and I do not say that lightly. I am not vegan by any stretch and am usually quick to call out places that claim you won't notice, but here I really didn't notice! The pancakes are fantastic and you feel light, healthy and energized to start your day. However, the calling card here is the incredible elevated views from the 360 degree windows that make you feel like you are eating in a tree house.
Next, hop back on your bike and drive to the Tegalalang Rice terraces. The entrance is free but you will have some people asking you for tips for going through different sections but these are not much at all. The vibrant green rice paddies are simply a joy to walk through and transports you to a simpler time. This is also where many of the most famous Bali and Ubud instagram photos are shot. The iconic swings and nests are located here and the photos can be yours for a small fee. If you just want the photos and then the swings are worth it, but if you are just wanting to ride them for the fun you might want to give them a miss. They don't actually go that high and it can be pretty pricey to ride for two minutes.
After you have explored all the nooks and crannies of the terraces, go for lunch at Cretya and get the closest you will get to a drone shot view of the paddies in real life. A very similar concept to Omma at the waterfalls yesterday but nevertheless it is hard to beat the perspective from an infinity pool. It sounds repetitive but trust me it is not to be missed. I also found the food here to be even better than Omma and would spend the whole day here if I had the time, laying in the lap of luxury. But alas only three days in Ubud and still so much to see, so it is time to head out!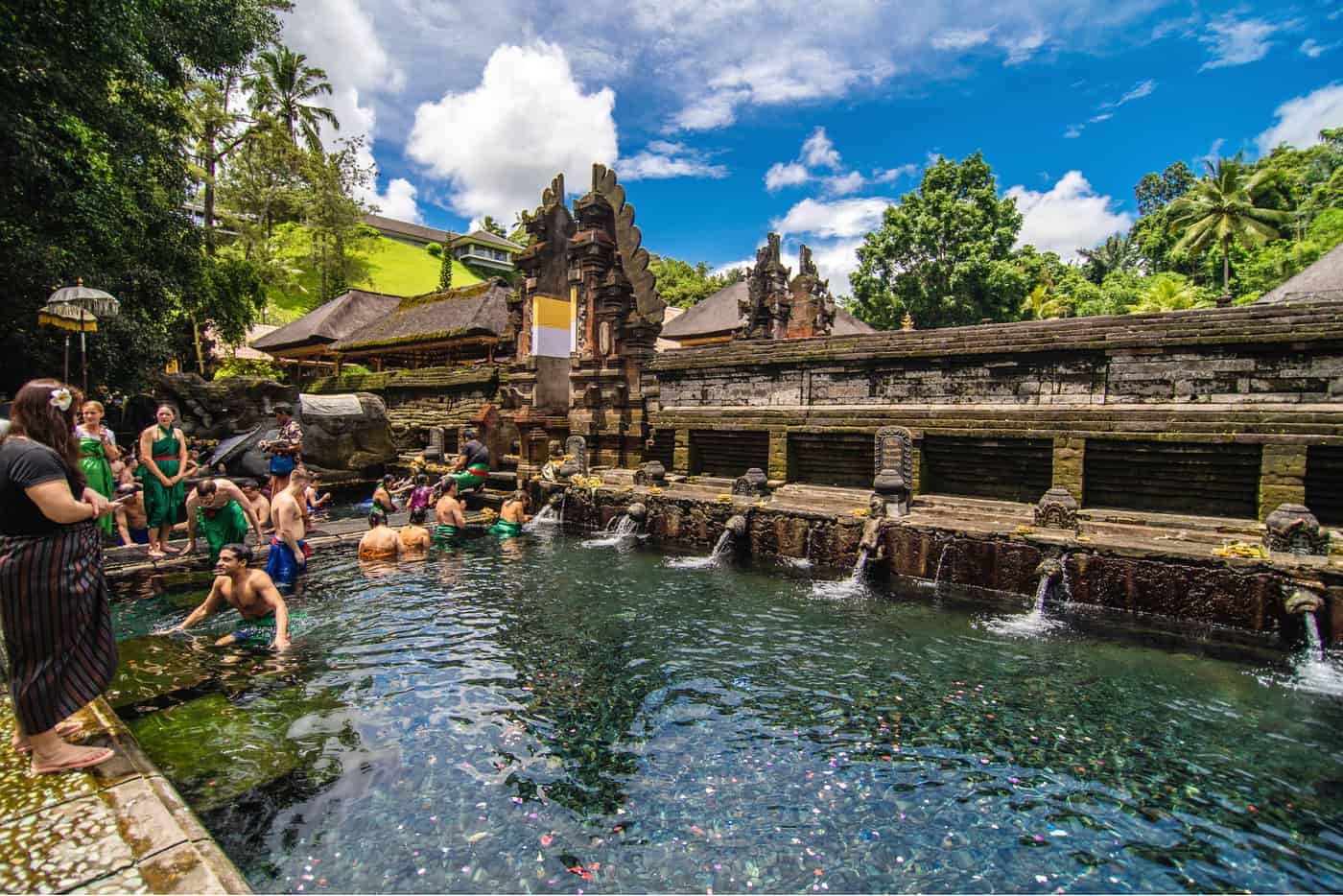 Drive out even further north to my favorite temple in Bali, the Pura Tirta Empul. The temple is over 1000 years old and dedicated to the god Vishnu. While I love visiting religious sites in the different countries I find myself in, I sometimes feel out of place especially when I am not as familiar with the religion. The difference here is that the Pura Tirta Empul allows locals and visitors alike to participate in the cleansing ritual. There are ceremonial baths in which you and the other visitors wade into. From there you will be lined up to be washed by spouts that cleanse each person one by one. It was surprisingly quite a moving experience and doing anything at sunset just makes everything even more magical.
Now the sun is going down and it is time to head back. It is about 30 minutes back into town traffic permitting because it's time to have dinner and boy are you in for a treat. Nusantara by Locavore is truly a delight for the senses. If you want to get a taste of the best of Balinese cuisine as well as less represented regional dishes from the rest of the Indonesian archipelago, look no further. I personally feel like Indonesian food is criminally underrated and is one of my all time favorites. The mix of sweet, savory and fiery spice is absolutely delicious, and if I wanted to introduce a dear friend to the rollercoaster ride of Indonesian and Balinese food, this is the place I would take them.
After dinner don't worry, you are going to be staying in town tomorrow so have a nightcap! Ubud is not really known for its party scene compared to the rest of the island but that doesn't mean that there isn't anywhere to let your hair down. Cp Lounge is the best place to go to meet fellow travellers, with a chilled communal bar area, pool tables, live band and a separate night club in the corner. If you are looking for a more craft cocktails vibe, go to No Mas bar for creative cocktails and even better live music. 
Day 3 – The Town
Let yourself sleep in a little today and have a late breakfast and little dip in the hotel pool. You deserve it after the night you had last night! After you feel a bit more fresh, let the relaxation continue at the Ubud Traditional Spa. Massage is an artform in Bali and Ubud is its epicentre. A little out of town but they offer a free shuttle! Hands down in the top three massages I have had in my life.
Go for the Ubud royal massage where an aristocratic treatment is no joke. With this treatment you will have two of the most well-trained therapists in Bali, calming each muscle in your body in perfect unison, like a well-practiced symphony of relaxation. The only tiny regret that I have is that I was in such a state of serenity that I missed out on the last ten minutes because I was fast asleep! The ambience peaceful, the architecture mesmerizing, the staff impeccable and the tea delicious. 10/10!
Let them whisk you back to town and on to lunch. Now this is a recommendation that I am pretty sure you won't find on any other travel blog, but I couldn't not include this hidden gem. Seeing as I ate here more than any other place in town during my stay, not putting it in would be straight up unethical. Double Dragon Temple is an absolute must try in Ubud. It is cheap (which you will be thanking me for when you see the price of dinner) but absolutely delicious and the best bang for your buck of all the places I ate. It is Cantonese street food and having been to Hong Kong numerous times, I would even recommend it if it was in Hong Kong, it is that good. Everything is amazing but the dumplings and the creamy sesame noodles are both can't miss. 
This hole in the wall is located with the local artisan markets, so after eating just head out and get to shopping. Whether you are looking for a beautifully scary mask to adorn the walls of your home, the cutest batik print outfit for your little nephew/niece back at home, or a penis shaped bottle opener as a conversation piece, there are so many cool things to see and buy. You might be purchasing an additional bag from the same stall just to be able to fit everything in. Haggling is expected and even encouraged as they do hike up the price expecting some amount of push back, nonetheless it is all in good fun.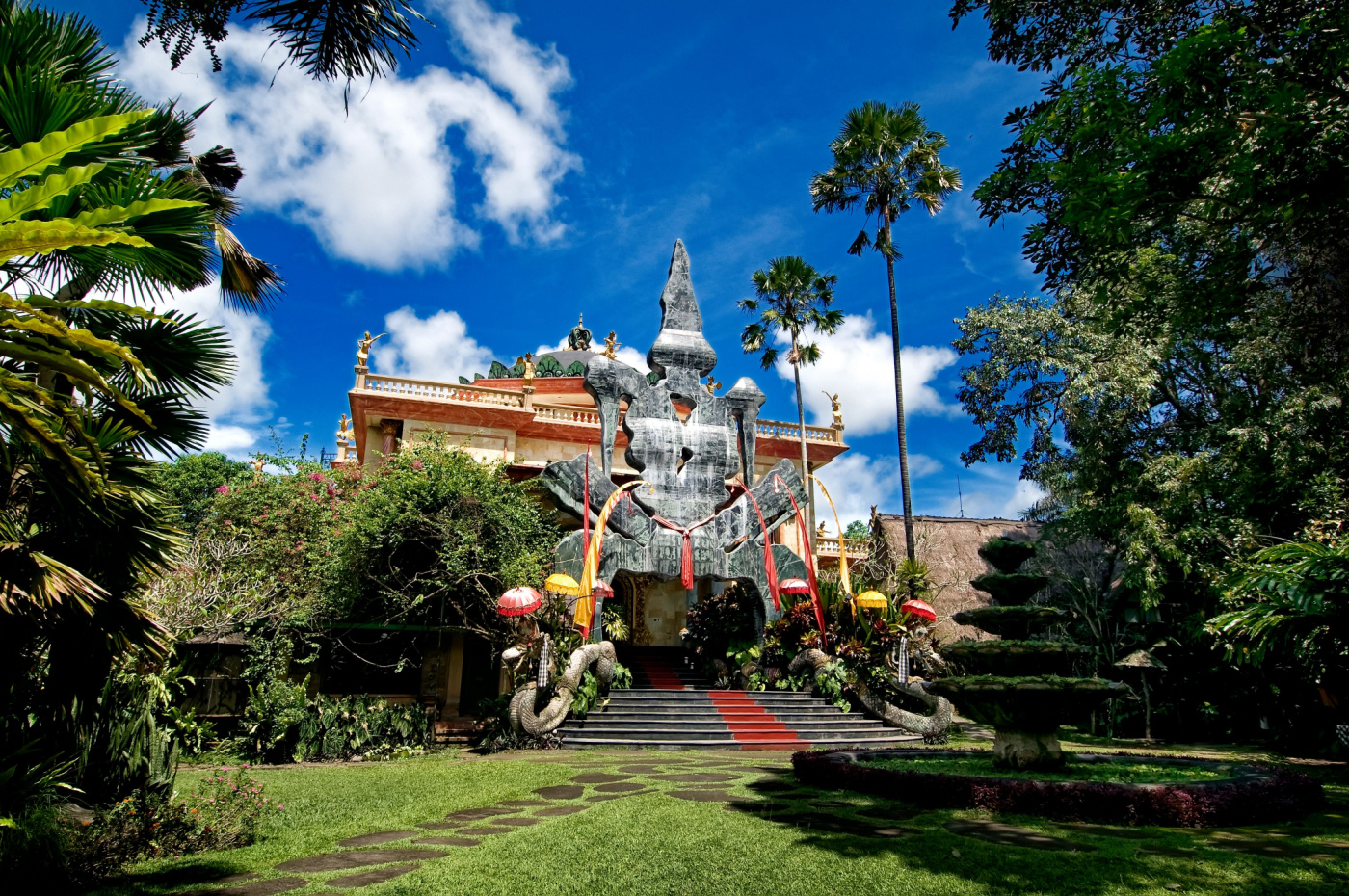 After you have bought more than you can fit in your suitcase, get your daily dose of culture, and mosey up to the The Blanco Renaissance Museum. The former residence of renowned painter Antonio Blanco, this is more than just a museum. The entire complex stretches over two acres and encompasses both the stunning colonial style house, but also a gorgeous garden with parrots and a myriad of other exotic birds. The paintings themselves are complex and many give a perspective into the world of Balinese dance as Antonio's wife served as a Balinese dancer as well as his muse.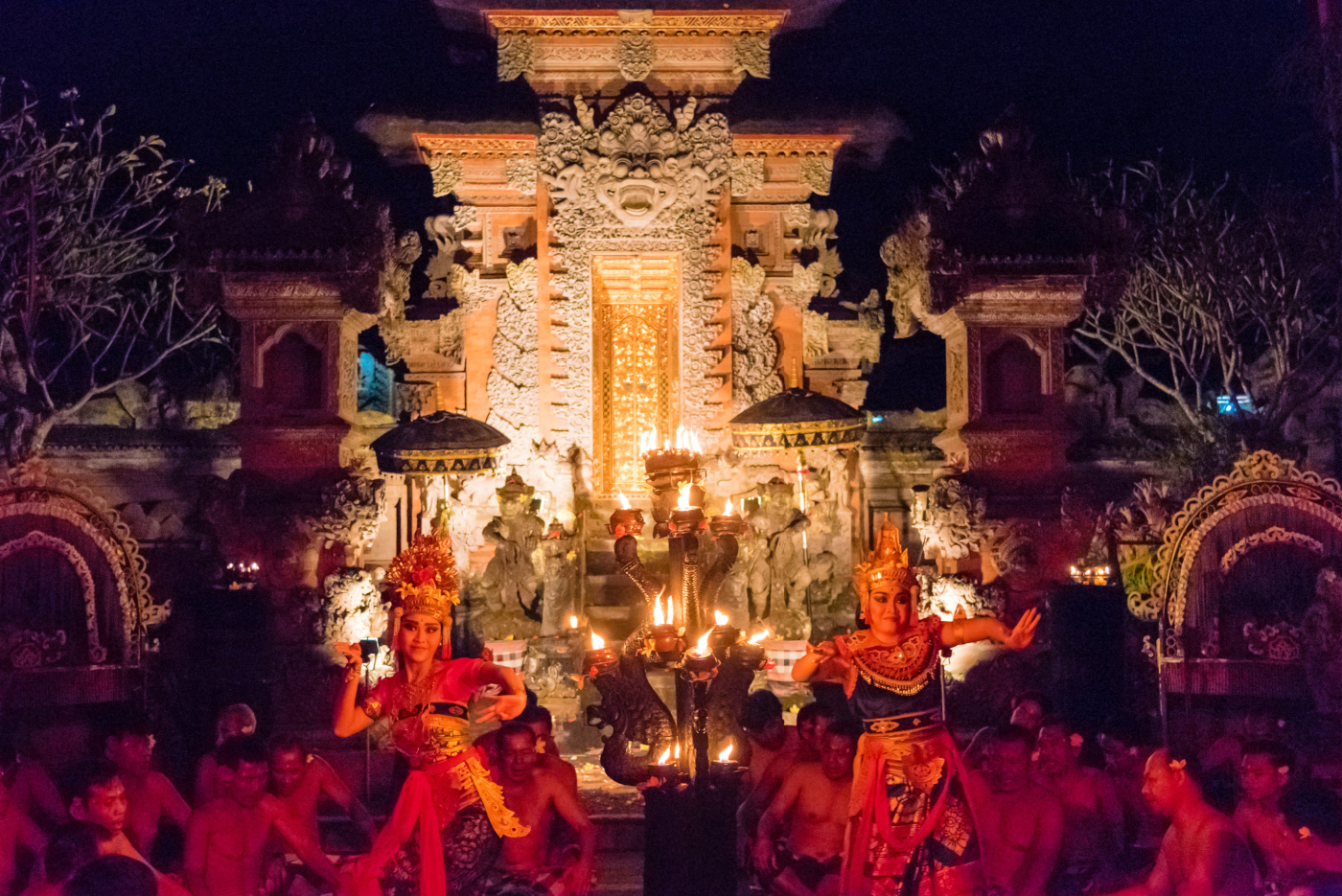 Another experience that cannot be missed in Ubud is the Kecak fire dance at Pura Dalem Taman Kaja. It is hosted several times a week and you can buy tickets directly at the gate, or from one of the young gentlemen passing out flyers on the street. It starts off with over 50 men chanting in mesmerizing harmony and ends with fire dancing. I don't want to give away any more than that because I want you to be as shocked as I was, but if that description does not intrigue you, I'm not sure what will!
Following the performance now it is time for your final meal of the trip, and no culinary tour of Ubud would be complete without a stop at Moziac. An institution on the world food scene, Mozaic has been opened and winning awards for over 20 years. It might seem counterintuitive to be eating French Michelin starred fine dining in Indonesia, but I would wager that a restaurant of that caliber back in your home country would cost triple the price. So, this is about as guilt free for your wallet as fine dining can be with the six-course tasting menu coming in at under 80 USD. 
I usually don't go to too many fine dining places as it is hard to justify the cost, but coming here was so worth it and one of my most memorable experiences here. The food here is not just delectable but the presentation, atmosphere and service transform this venue from food to works of art.
Time to head back to your hotel, and get packed for tomorrow's flight, and try to figure out the quickest way you come back.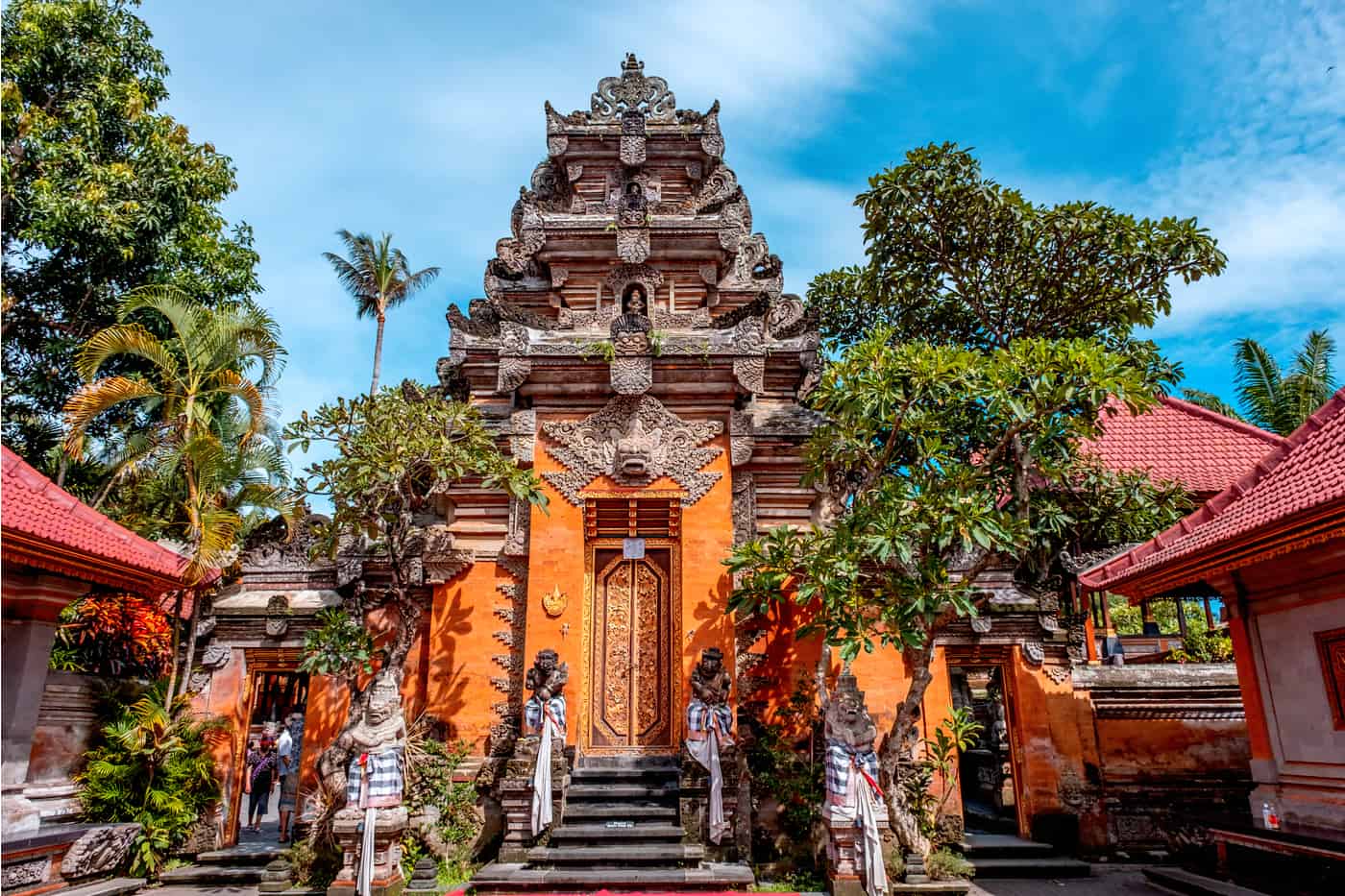 What to Know Before You Go
Know where to stay
Knowing where to stay in Ubud is a matter of balance. While you might be tempted to stay in town and be close to all of the action, the average Ubud traveller is looking for peace and relaxation and the town can be hectic and a half especially during high season! On the other hand, you might think that you need to go far out to enjoy the tranquillity of the forest, however you might soon realize that dining options and activities are quite the trek to get to. And missing out on either of those in Ubud would be a tragedy because they are world class!
Luckily for you I have found you the perfect blend of both. The Sabana Ubud is located about a kilometer from the monkey forest and about two kilometers from the heart of town. All of the peacefulness of a rural area, while being just a 25-minute leisurely walk or five minute scooter ride from everything. The property also helps with town transfers at any time.
The interior though is a steal at any location or price point. Fresh and clean feeling, with shining white walls, tasteful decor and lush foliage incorporated seamlessly into the property. Modern amenities but not lacking character or soul. Amazing food, the most helpful staff and one of the coolest pool areas I have seen. I have not stayed anywhere else in Ubud and to be completely truthful I probably won't bother when I come back as I don't really feel like being disappointed. Very fair pricing. Did I mention they have a rooftop bar facing the sunset? Need I say more?
Know When to Go
As with most high-volume tourist destinations, the rule of thumb is that the best time to go is during the shoulder seasons April – May or September- October. The weather during this time is great and the crowds have thinned out from high season. High season is June – August as it coincides with summer holidays in many countries. The temperature can get really hot and the crowds thicker so I would avoid this time if possible. If you do end up going during this season, make sure you book hotels ahead of time and make restaurant reservations in advance as things go quickly.
The rainy season lasts from November to February. My last trip to Ubud we went at the beginning of December and while it did rain every day, it only rained a few hours a day around the same time, and you just learned to work around that. There was only one day that it rained the whole day where it ruined our plans. It was also pretty nice as it cooled everything down, the prices were down, and the crowds were not bad at all.
Know how to get around
Transportation in Bali is kind of a tricky situation. The first thing that you have to realize about Ubud is that public transportation is non-existent. The other thing you need to know is that the taxi union is strong in Ubud so ride sharing apps have been banned. In other parts of Bali, Gojek, Bluebird and Grab are mainstays and can help you navigate and save you a bunch of money. No such luck in Bali
There are basically only two ways to get around Ubud, renting a scooter and taxis. If you have any experience riding a scooter or motorcycle, I would highly recommend this option. It gives you freedom, it allows you to get in and out of crazy Ubud traffic easier and is very economical.
If you have not driven anything of the sort though Bali is not the best place to learn and I wouldn't recommend it. The traffic is unpredictable and you will be sharing the road with a lot of other first timers as well. You will not spend a day walking around Ubud without seeing a foreigner in boardshorts on crutches. If you decide to ignore my advice as no scooter rental place asks for licenses, take some time to practice in a non-crowded place just to get a feel for it. Keep your helmet on and keep some change in your pocket in case the police stop you and ask you for a bribe. I don't condone paying bribes but if the choice is between that or jail, you have to do what you have to do. I have driven for months and have never been stopped but I have heard of some people getting stopped on your first day.
If you have not ridden a scooter before and want to stay safe, a private taxi is your only option. I would suggest booking through your hotel, but you can also book with random guys you see on the street, they are everywhere. Don't be afraid to haggle but even so get ready to pay more than you want to.
Tips and Tricks
I say this everywhere but buy a Sim card! Especially if you are driving, trying to figure out where you are going without Google Maps is not fun. Sim cards are easy to find and can be bought anywhere.
If you are renting a scooter don't be cheap. Don't try to find the cheapest available option, go to a reputable shop with good reviews and bike insurance, there are a lot of scams about so be alert.
If you are visiting a temple or holy sight make sure you dress appropriately, covering shoulders and knees.
Learn a couple words like Good Morning ( Selemat Pagi) or Thank You ( Teri Makasi) , the local Balinese are generally very friendly but giving some words your best shot will make them even more willing to help you out.
Bargain for items as it is part of the custom, but at the same time be respectful and in good fun, don't take it personally or drive too hard a bargain over a few cents.
Don't smile too wide at the monkeys at the Sacred Monkey Forest, they could take the baring of teeth as a sign of aggression.
There are holes and drops in the sidewalks so be careful especially at night.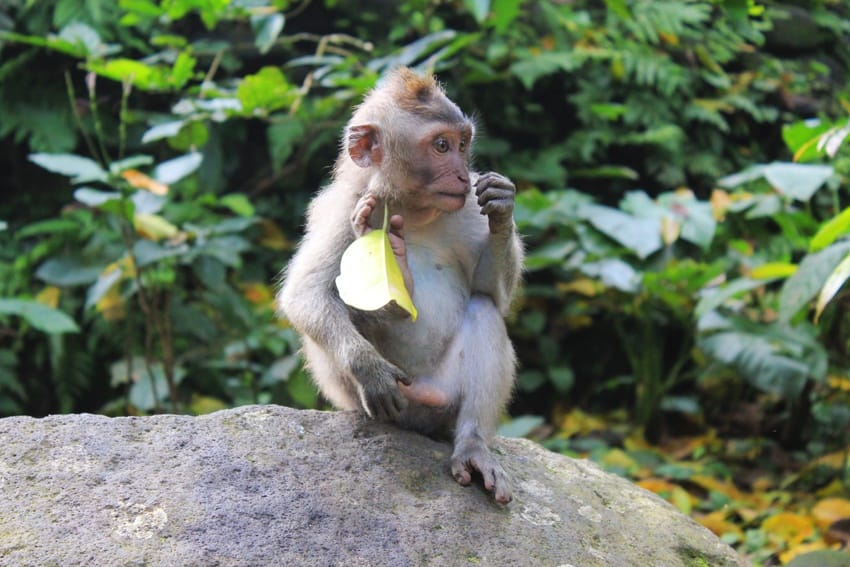 There are few places in the world that are as fun to spend three days in as Ubud. This list could be for a week and there would still be things that would have to be left out. Ubud is a place that I have been several times and a place where I know I will return. The kind of place you jokingly or not look at property websites for after you leave because you could imagine yourself there long term. No matter how long you spend in this magical place, I'm sure it will leave a deep imprint on you as it has left on me.