Lush rainforests, towering volcanoes, serene beaches, and friendly locals make Costa Rica my ultimate travel paradise.
Living by the saying "pura vida" or "pure life", Costa Ricans take pride in their country's natural beauty and maintain a relaxed lifestyle. You'll find this way of life quite contagious throughout your travels in Costa Rica making it so hard to leave!
Costa Rica is home to 5% of the world's biodiversity, and you can explore it all with zip lines through the rainforest canopy, hikes to waterfalls, or nature walks in national parks. For those who love animals, you can venture into turtle nesting sites, visit a sloth sanctuary, or go on a dolphin tour. Costa Rica is also perfect for surfers, with some of the best waves in Central America. You can learn to surf at Costa Rica's many surf schools or take on bigger waves at renowned spots like Witch's Rock and Playa Negra.
Of course, no trip to Costa Rica would be complete without relaxing on the beach. With over 800 miles of coastline, you're sure to find your perfect spot. Whether you want to surf, sunbathe, or simply take in the incredible views, Costa Rica's beaches have something for everyone.
Here are my top 25 things to do in Costa Rica!
Zip-Lining Through the Rainforest
One of my favorite things to do in Costa Rica is to see the rainforest from above by zip lining. Swinging from platform to platform high above the ground, you'll get an adrenaline rush as you take in the incredible views of the jungle below.
Whether you are on the Pacific side or Caribbean side of the country, you will find a multitude of opportunities to go zip lining as the country is full of jungle experiences.
There are plenty of different levels of zip lines to suit any comfort level, so don't be afraid to give it a try even if you're scared of heights. For those who seek an even bigger thrill, many of the tours offer a Tarzan swing at the end where you can leap off a platform and swing back and forth through the treetops. I am not big on heights, but this was definitely one of the highlights of my trip!
The most popular place to go zip lining is the Monteverde Cloud Forest, but you can also do so in Manuel Antonio National Park, Guanacaste, and La Fortuna.
Warm Up in the Hot Springs in Arenal National Park
Costa Rica is home to an abundance of volcanoes, and one of the most popular tourist destinations is Arenal National Park which features a cone shaped volcano that last erupted in 1968. The surrounding area is full of hot springs, formed by the heat from the volcano's lava.
The water averages around 95-100 degrees Fahrenheit, and it is incredibly relaxing to soak in after a long day of hiking. There are over a dozen different hot springs to choose from in the area, each with its own unique features. Some have waterfalls, some are clothing optional, and others even have mud baths.
Walk Among the Clouds in Monteverde
Monteverde is a small town located in the mountains of Costa Rica known for its lush cloud forest. The cloud forest is one of the most biodiverse ecosystems in the world, and it's easy to see why when you're surrounded by towering trees and colorful flowers.
You will see the treetops covered in a thick layer of fog, hence the name "cloud forest." The best way to explore the cloud Forest is by taking a canopy tour which consists of zip lines and suspension bridges high above the ground.
You can also take a nature walk through one of the many trails in the area, or even go horseback riding through the forest. Keep your eyes open for some of the many animals that call the cloud forest home, including sloths, monkeys, and toucans. No matter how you choose to explore it, Monteverde is a must-see while you are in Costa Rica.
Take In the Incredible Views of Arenal Volcano
As I mentioned before, Arenal National Park is home to a cone shaped volcano that last erupted in 1968. Unfortunately, you cannot hike to the top of the volcano anymore. However, you can still take in the incredible views of Arenal from several different viewpoints around the park.
There are many different hiking trails around the volcano, ranging from easy to difficult. No matter which trail you choose, you're sure to be rewarded with stunning views of the volcano and the surrounding landscape.
If hiking isn't your thing, you can also take a boat tour on Lake Arenal which offers views of the volcano from a different perspective. Or, for those who are looking for an even bigger thrill, you can go whitewater rafting on one of the many rivers in the area.
Go Birding Through the National Parks
Costa Rica is home to over 850 different species of birds, making it a mecca for bird enthusiasts from all over the world. You can go birding in any of the national parks, but some of the best spots are in La Selva Biological Station and Braulio Carrillo National Park.
La Selva is located in the northeastern part of the country and is home to over 400 different species of birds. The best time to go birding here is during the early morning hours when the birds are most active.
Braulio Carrillo National Park, located in the central part of the country, is also home to a large number of bird species. In addition to birds, you can also spot sloths, monkeys, and other animals while you're hiking through the park.
My favorite bird to try and spot is the resplendent quetzal, a brightly colored bird found in the cloud forests of Costa Rica. It is the national bird of Costa Rica, and it is truly a sight to behold. Whether you're an experienced birder or you're just getting started, Costa Rica is the perfect place to go birding. You're sure to see some amazing species that you won't find anywhere else in the world.
Spend a Week at Surf Camp in Santa Teresa
Santa Teresa has quickly become a hot spot in Central America, thanks to its beautiful beaches and world-class surf. The waves here are some of the best in Costa Rica, making it the perfect place to learn how to surf or improve your skills.
There are several surf camps located in Santa Teresa where you can spend a week or more learning how to surf from experienced instructors. After a long day of surfing, you can relax on the beach or explore the town. Santa Teresa is exactly what you would imagine a beach town to be with palm tree lined streets and little bungalows. It is very easy to get stuck in Santa Teresa and end up staying much longer than you originally planned. Trust me, I know from experience.
Santa Teresa is also great for vegetarians and vegans as there are several plant-based restaurants in town. My personal favorite is El Avocado, which has delicious vegan tacos and burritos.
Whether you're a seasoned surfer or you've never even been on a surfboard before, Santa Teresa is the perfect place to catch some waves and enjoy the laid-back lifestyle, it truly is paradise.
Explore the Capital of San Jose
San Jose is the capital of Costa Rica and the largest city in the country. It is a bustling metropolis with a lot to see and do. It is often overlooked by tourists who head straight for the beaches, but there are plenty of ways to spend a day or two in San Jose.
Some of the must-see sights in San Jose include the National Museum, which houses a large collection of Costa Rican art and artifacts; the Jade Museum, which has the largest collection of jade in the world; and the Pre-Columbian Gold Museum, which houses a collection of over 1,600 pieces of gold from Costa Rica's indigenous people.
In addition to the museums, there are also several parks and plazas worth exploring in San Jose. Be sure to visit Parque Nacional, a large central park that is popular with locals and tourists alike. It is the perfect place to enjoy a Costa Rican coffee while people watching.
I recommend heading out on a nature walk in San Jose, where you'll discover a hidden ecosystem in the heart of the city. On your two hour walk, you'll encounter sloths, birds, butterflies, and a variety of plants and insects. So cool!
Check Out the Most Beautiful Beach in Montezuma
Montezuma is a small beach town located on the Nicoya Peninsula, just a quick drive from Santa Teresa, it makes the perfect weekend escape. I recommend taking an ATV to make your journey a bit more exciting! The town is known for its laid-back atmosphere and beautiful beaches.
The most popular beach in Montezuma is Playa los Suecos, which is also considered to be one of the most beautiful beaches in Costa Rica. This secluded beach can only be accessed by a short hike through the jungle, but it is well worth the effort.
If you are looking for a more laid-back beach experience, head to Playa Grande. This beach is located in the town of Montezuma and is popular with locals and tourists alike. It is the perfect place to relax and soak up the sun.
Spot Multitudes of Sloths
If you are lucky, you will have the opportunity to spot a sloth while you are in Costa Rica. These slow-moving animals are native to the rainforests of Central and South America and can be found in many of the national parks in Costa Rica.
While they may look lazy, sloths are actually very active creatures. They spend most of their time high up in the trees, where they sleep, eat, and mate. However, if you are not so lucky, you can see sloths at the Sloth Sanctuary of Costa Rica, which is located just outside of Puerto Viejo.
The sanctuary is home to over 150 sloths and was created to rescue and rehabilitate injured or orphaned sloths and to educate the public about these amazing animals.
Visitors to the sanctuary can take a tour, meet the resident sloths, and learn about the work that the sanctuary does to protect these animals. The tour is an ethical way to get up close and personal with these creatures, and it is also a lot of fun.
White-Water Rafting in the Rainforest
One of the most fun and thrilling things I did while in Costa Rica was white water rafting through the rainforest. This is an experience that I will never forget – it is an incredible way to see some of the country's stunning scenery while also having fun.
Many of the rivers in Costa Rica are perfect for white water rafting, but I would recommend the Pacuare River. This river is located in the central part of the country and flows through some of the most beautiful scenery in Costa Rica. The water rafting is suitable for all levels, so don't worry if you have never done it before.
You will experience a few falls and bumps along the way, but that is all part of the fun. And, you will have a professional guide with you at all times to help you navigate the river and keep you safe. Keep your eyes open for wildlife as you raft, as you are likely to see an abundance of monkeys, sloths, and other jungle creatures along the way.
Canyoneering Through Waterfalls
Canyoneering is a relatively new sport that is gaining in popularity, and Costa Rica is the perfect place to try it. This outdoor activity involves rappelling down waterfalls, swimming through pools of water, and hiking through the jungle.
Personally, I think this is a bit harder than it looks, but it is definitely a lot of fun. I would recommend doing this activity with a group of friends or family so that you can help each other out and encourage each other along the way. It can be easy to get in your head when you are rappelling down a waterfall, but if you have someone to cheer you on, it makes the experience that much better.
Canyoneering is the perfect way to explore some of Costa Rica's hidden gems. Many of the country's best waterfalls are located off the beaten path and can only be accessed by hiking or rappelling. So, if you are looking for an adventure that will take you out of your comfort zone as well as away from the tourists, this is definitely the activity for you.
Take a Yoga Class in Nosara
One of my favorite towns in Costa Rica is Nosara – it is an extremely chill town and a bit more hippie than the rest of the country. This small town is located on the Nicoya Peninsula on the Pacific coast and is known for its surf beaches and yoga retreats.
Many people come here to earn their yoga certification, but you don't have to be a yogi to enjoy taking a class. There are plenty of studios in town that offer classes for all levels.
Not only is yoga a great way to relax and de-stress, but it is also a great workout. I always feel so refreshed and rejuvenated after taking a yoga class. And, Nosara is the perfect place to do it with its stunning beaches and laid-back vibe.
Visit La Paz Waterfall Gardens
The La Paz Waterfall Gardens are one of the most popular tourist attractions in Costa Rica. Located just a few hours outside of San Jose, these gardens are home to five different waterfalls, as well as a butterfly garden, a hummingbird garden, and a reptile exhibit.
Personally, I really loved the hummingbird garden. I had never seen so many hummingbirds in one place before and it was truly magical.
The waterfalls are stunning and definitely worth the hike up. The best part is that you can swim in some of them so make sure to bring your swimmers. Keep in mind that the gardens are located in the mountains so the temperature can be chilly, even in the middle of summer so bring a change of clothes to keep from getting cold.
Explore the Caves at Barra Honda National Park
Barra Honda National Park is located in the province of Limon on the Caribbean coast of Costa Rica. The park is home to a network of caves that were formed by coral reef millions of years ago. Barra Honda is the only place in Costa Rica where you can go caving, making it a must-do activity if you are visiting the area.
There are three main caves that you can explore, and I would recommend doing a guided tour so that you can learn about the history and geology of the caves. The caves are so cool and ethereal, it feels like you are in another world. My favorite part was seeing the stalactites and stalagmites that have formed over time.
The limestone formations date back to the Tertiary period, making them millions of years old. The caves were first discovered by two brothers in the 1940s who were looking for a place to hide from the police. Now, the caves are a popular tourist attraction and offer visitors the chance to explore a natural wonder that is unlike anything else in Costa Rica.
Visit a Coffee Plantation in Tarrazu
Costa Rica is famous for its coffee, and Tarrazu is one of the best places in the country to learn about the coffee-making process. Located in the Central Valley, Tarrazu is known for producing some of the highest quality coffee beans in Costa Rica.
Most of Costa Rican Coffee is grown on small family-owned farms and is rich and flavorful. The coffee beans are hand-picked and then sun-dried before they are roasted. The roasting process is what gives Costa Rican coffee its unique flavor.
After the beans are roasted, they are ground and then brewed where you are able to sit down, relax, and enjoy a cup of their fresh Costa Rican coffee while taking in the stunning views. You can also buy freshly brewed coffee to take home with you from many of the farms for your friends… or yourself. Don't worry, I won't judge!
Set Sail on a Sunset Cruise
One of the best ways to experience Costa Rica is from the water. Watching the sun set over the Pacific Ocean while sipping on cocktails and listening to music is the perfect way to end a day in paradise.
If you are looking for a romantic evening, there are cruises that offer private tables for two where you can share a bottle of wine and watch the sun set. There are also party cruises that are perfect for groups of friends who want to let loose and have a good time. These cruises usually have a DJ on board so you can dance the night away while enjoying the stunning views of Costa Rica. This is my personal favorite – if you can catch a good DJ performing, it is sure to be a night to remember.
Go On a Safari in Corcovado National Park
Corcovado National Park is located on the Osa Peninsula in southwest Costa Rica. The park is one of the most biodiverse places on Earth and is often referred to as the "Jewel of the Osa." Corcovado is home to an abundance of wildlife, including monkeys, sloths, tapirs, and jaguars.
One of the best ways to experience Corcovado is on a safari tour. You will have the opportunity to see all sorts of wildlife in their natural habitat and learn about the ecology of the rainforest from your guide. You can make your way through the jungle on foot, or by boat. If you go by boat, you can even go swimming in some of the rivers and lakes inside the park.
See the Bluest Waters in Puerto Viejo
Puerto Viejo is a small town on the Caribbean coast of Costa Rica and one of the most popular beaches among tourists. The town is known for its laid-back vibe, beautiful beaches, and stunning blue waters so it is easy to see why. Puerto Viejo is the perfect place to relax and enjoy the Caribbean lifestyle.
There are plenty of things to do in Puerto Viejo, from exploring the jungle to relaxing on the beach. But one of the best things to do is to take a dip in the crystal blue waters. The water is so clear that you can see all the way to the bottom and the waves are very small making it perfect for swimming.
Party All Night Long in Tamarindo
Tamarindo is a beach town on the Pacific coast of Costa Rica that is known for its surfing, beautiful beaches and mostly… its incredible nightlife. The town has a party atmosphere and there is always something going on. Whether you want to go dancing at one of the many nightclubs or bars, or just relax on the beach with a cocktail in hand, Tamarindo is the place to be.
Keep in mind Tamarindo is known for being a hotspot for US tourists and vacationers making it slightly more expensive than other places in Costa Rica as well as a bit more crowded. But if that doesn't bother you, then Tamarindo is definitely the place to let loose and have some fun.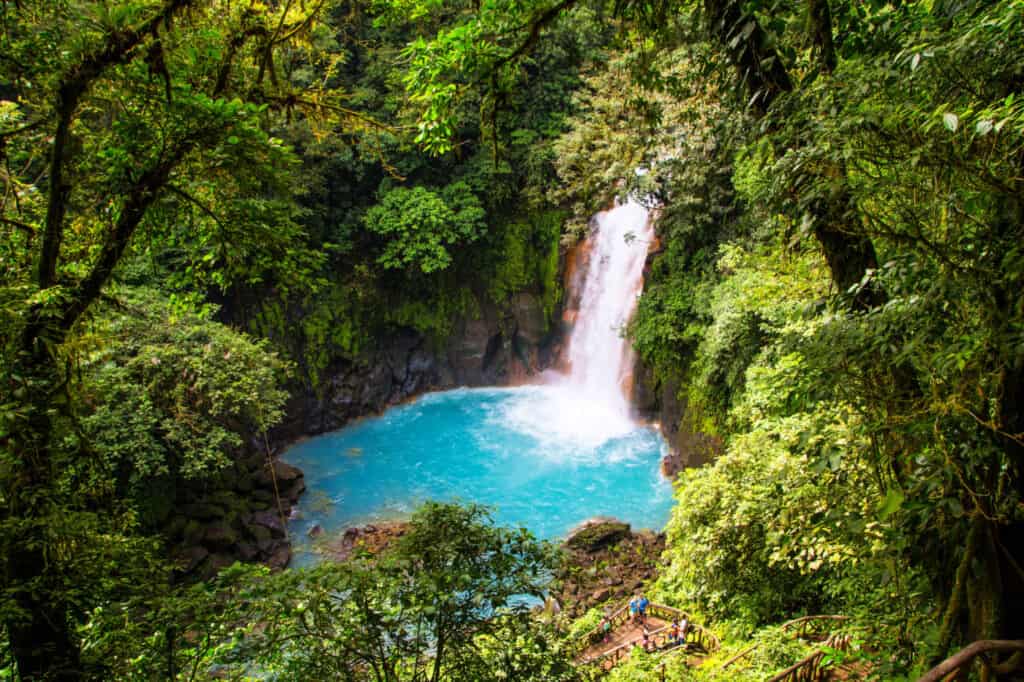 Explore Costa Rica's Best Waterfalls
Costa Rica is home to some of the most beautiful waterfalls in the world. From the towering La Paz Waterfall Gardens to the secluded Catarata de la Toraja, there is a waterfall for everyone to enjoy.
One of the best things about these waterfalls is that they are all easily accessible. You don't have to hike for hours to reach them. And, if you don't want to get wet, most of the waterfalls have viewing platforms where you can take in the beauty of the falls without needing a change of clothes.
Kayak in Tortuguero National Park
Tortuguero National Park is located on Costa Rica's Caribbean coast and is known for its water canals, wildlife, and lush rainforest. Like many of the national parks it is home to an abundance of animals, including monkeys, toucans, iguanas, and sloths.
One of the best ways to explore Tortuguero is by kayak. You can paddle through the canals and get up close to the wildlife. Be sure to keep your eyes peeled for turtles, as the park is one of the main nesting sites for green sea turtles.
Release Baby Turtles Into the Ocean
Costa Rica is one of the world's most important nesting sites for sea turtles. Every year, hundreds of thousands of turtles come to lay their eggs on the beaches of Costa Rica. Conservation activists help to protect the turtles and their nests from poachers and predators.
One of the best things I did during my time in Costa Rica was participating in a turtle release. Seeing the little guys make their way into the ocean for the first time was an amazing experience. It's something that I'll never forget.
The releases happen from July to October and mostly depend on the tides. You can usually find a release to participate in by asking around at your hotel or hostel, or by contacting one of the many turtle conservation organizations in Costa Rica. It's an incredible experience to watch these tiny turtles make their way to the water and an excellent way to support conservation efforts in Costa Rica.
Go Whale Watching Off the Coast of Peninsula de Osa
Costa Rica is one of the best places in the world to go whale watching. The country's Pacific coast is home to a number of different whale species including humpback whales, sperm whales, and pilot whales.
Whale watching tours depart from a number of coastal towns but the best place to see whales is definitely Peninsula de Osa. This remote peninsula is located in the southwest corner of Costa Rica and is only accessible by boat. The journey to get there is half the fun as you'll cruise through pristine rainforest and mangroves.
Once you reach Peninsula de Osa, you'll be rewarded with some of the best whale watching in the country. The waters around the peninsula are teeming with marine life and you're almost guaranteed to see whales on your tour.
Snorkel With the Sealife in Cahuita National Park
Cahuita National Park is located on Costa Rica's Caribbean coast and is known for its white sand beaches, coral reefs, and abundance of sea life. The park is a popular spot for snorkeling and diving as the reefs are full of colorful fish, turtles, and other marine creatures.
This is a great place to snorkel if you're a beginner as the reefs are located close to the shore and the water is fairly shallow. There are also a number of dive shops and tour operators in Cahuita that offer snorkeling tours. These tours will take you to the best spots for snorkeling and provide you with all of the gear you need.
If you're not interested in taking a tour, you can also rent snorkeling gear from one of the many shops in town. Just be sure to ask about the best spots for snorkeling before you head out.
Lastly… PURA VIDA!
No trip to Costa Rica would be complete without experiencing the country's famous "pura vida" lifestyle. Pura vida is a Costa Rican expression that means "pure life" or "simple life". It's used as a greeting, a farewell, and everything in between.
Pura vida is all about enjoying the simple things in life and taking the time to appreciate the world around you. It's a laid-back lifestyle that can be contagious. After spending some time in Costa Rica, you may find yourself saying "pura vida" all the time.
So there you have it, Costa Rica is full of adventure and is the perfect place to experience the pura vida lifestyle. Whether you're looking for adrenaline-pumping activities or a relaxing beach vacation, you'll find it all in Costa Rica.
So what are you waiting for? Start planning your trip today.